This section is all about planning Cancun weddings and in surrounding areas like Riviera Maya and Playa del Carmen. Cancun destination weddings? You mean this town isn't just for spring breakers? That's right! Avoid those months when college students take over the Caribbean side of Mexico, and you'll be among the many happy couples who have their weddings in this Mexican paradise.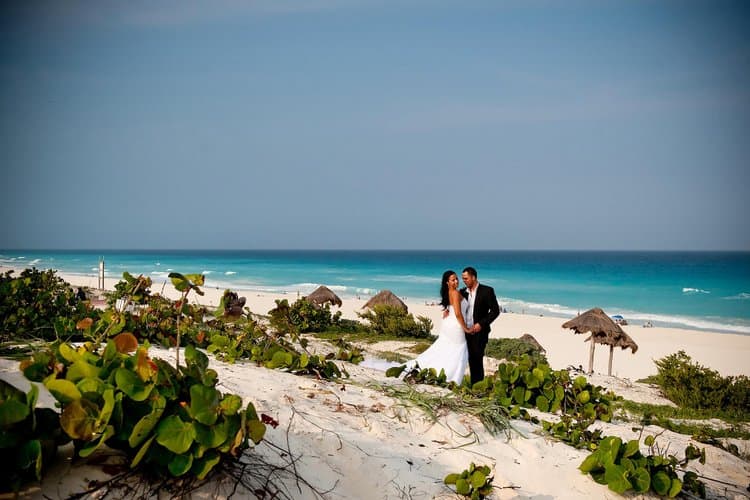 So, what makes Cancun Weddings so special?
I've visited Cancun many times, and I have a soft spot for it because that's where I had my very own destination wedding. So as you can imagine, I can rattle off a hundred reasons why Cancun destination weddings are amazing! This page zeroes in on the top reasons why you should consider getting married in Cancun and some of my favorite beaches and resorts.
Check out this post for an inside look at some of the best destination wedding venues in Cancun – plus exclusive video interviews with the in-house coordinators.
1. Amazing Scenery
The backdrop is so spectacular you won't even need decorations. Cancun has one of the most stunning turquoise waters and white-sand beaches you will ever see. It will take your breath away – and will make for some truly amazing photos.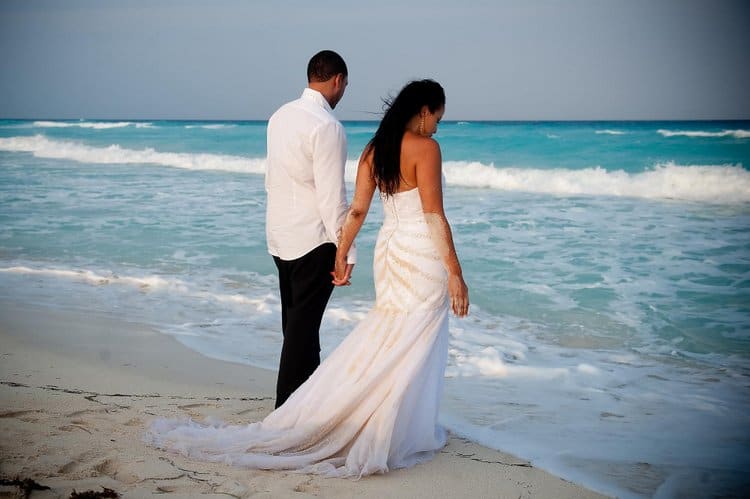 2. Location, Location, Location
Cancun is just a short plane ride from the east coast of the U.S. and prices are relatively cheap compared to flights to other places. As soon as you mail invitations, there's a good chance your guests will get excited because – let's face it, who doesn't want to vacation in paradise? Your big day might just be the excuse they need. So, be warned– one possible side effect is more guests than expected.
The best part of getting married in Cancun? After the celebration, you can leave your guests behind and head to a nearby town like Playa del Carmen, Isla Mujeres or Conzumel for your honeymoon.
3. World-Class Resorts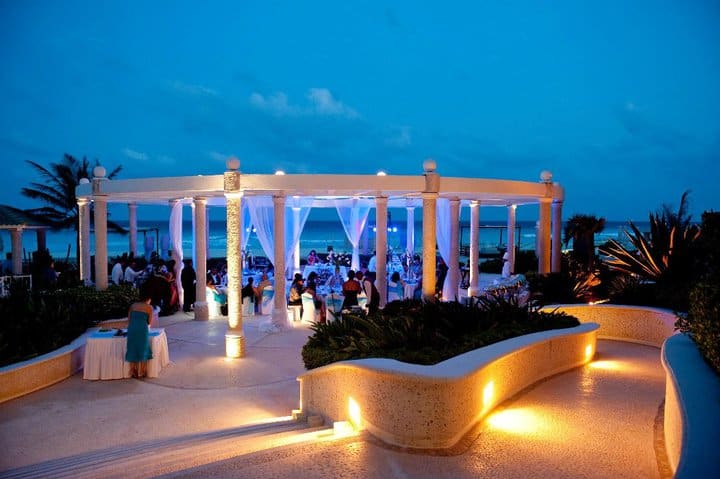 Not only does Cancun have a plethora of all-inclusive and non-inclusive resorts, but almost all of them have mastered the art of planning weddings. They will take care of your every wish and ensure that you have the ceremony and reception of your fantasies.
See my favorite Playa del Carmen, Riviera Maya and Cancun destination wedding venues as well as marriage requirements.
More: Cancun Wedding Venue Directory
4. Fun Activities
With so much to see and do, you can rest assured your guests will never get bored. You'll find everything from snorkeling, scuba diving, water sports, historic ruins to fun ecological parks, and exciting nightlife you'll be hard-pressed to find anywhere else.
5. Affordable
You'll be amazed to know that despite everything Cancun has to offer, you'll spend just a small fraction of what you would back home. Everything from the flights to hotels and packages have very reasonable price tags. And You'll get a lot of bang for your buck.
Related Posts
Unless otherwise noted in the caption, all images on this page are copyright of DestinationWeddingDetails.com. Photos were taken by Morgan Lynn Photography. Images may not be re-used without expressed written consent. All Rights Reserved.