That's it! Playa Del Carmen is officially at the top of my bucket list for beach vacations. We've shared enough gorgeous weddings from this region of Mexico, and I can't stand it anymore! Beth and James made a great choice in having their destination wedding at Secrets Capri Riviera, right on the beach surrounded by friends and family. And their story is one for the books – I love hearing about friendships that blossom into more… it's so romantic and genuine!n You can just see it in these photos shared by Carrie House Photography.
These two had a great vision for their big day – which was actually a full week's vacation full of food, fun, sun, and relaxation for their guests. Everything from the welcome beach bonfire, to gorgeous ceremony and celebration right on the water, to relaxing days by the pool at the resort… Beth and James were able to show their guests a great time.
I love how relaxed and casual, yet classy, the wedding party looked. Beth gave her bridesmaids the simple task of finding a dark green gown they felt comfortable in, and look how well coordinated these ladies look! The simple green and white is mimicked in their gorgeous bouquets. And of course, it's not a fiesta without some pyrotechnics! I absolutely LOVE the photo of the sparklers lighting up the dance floor during their reception – I feel like I can hear the cheering from here!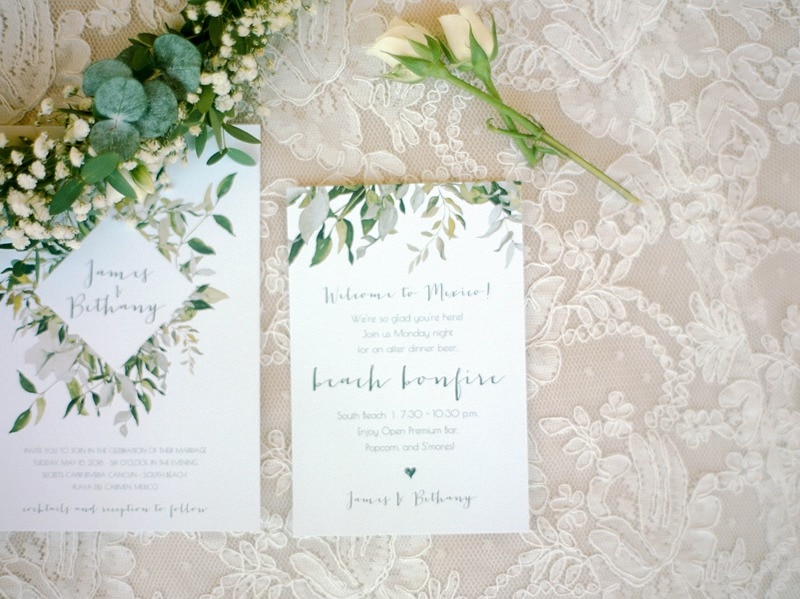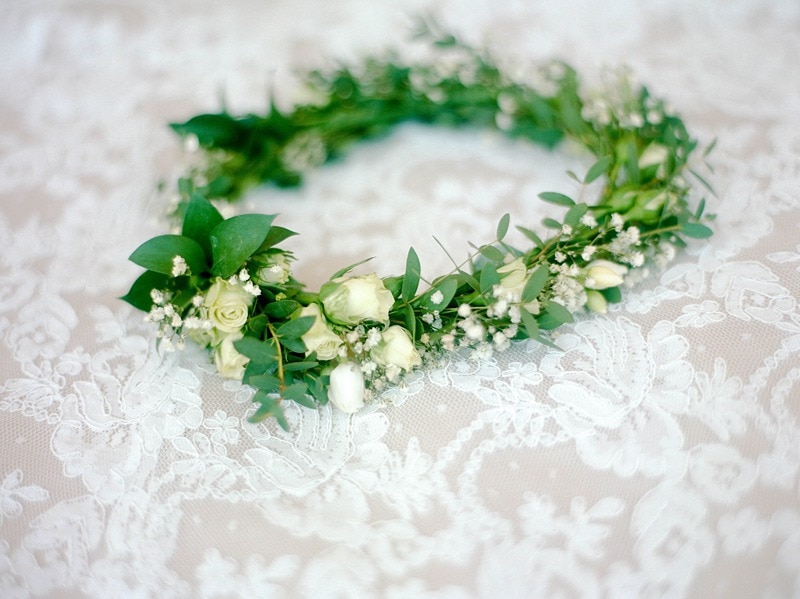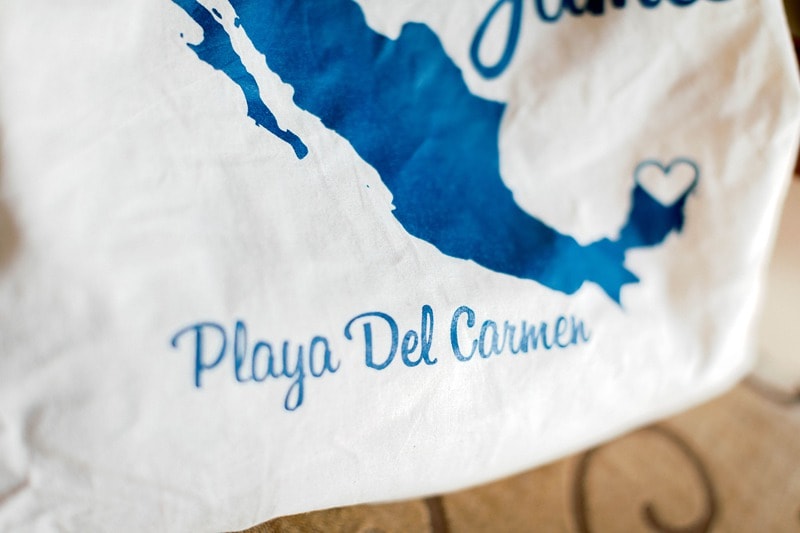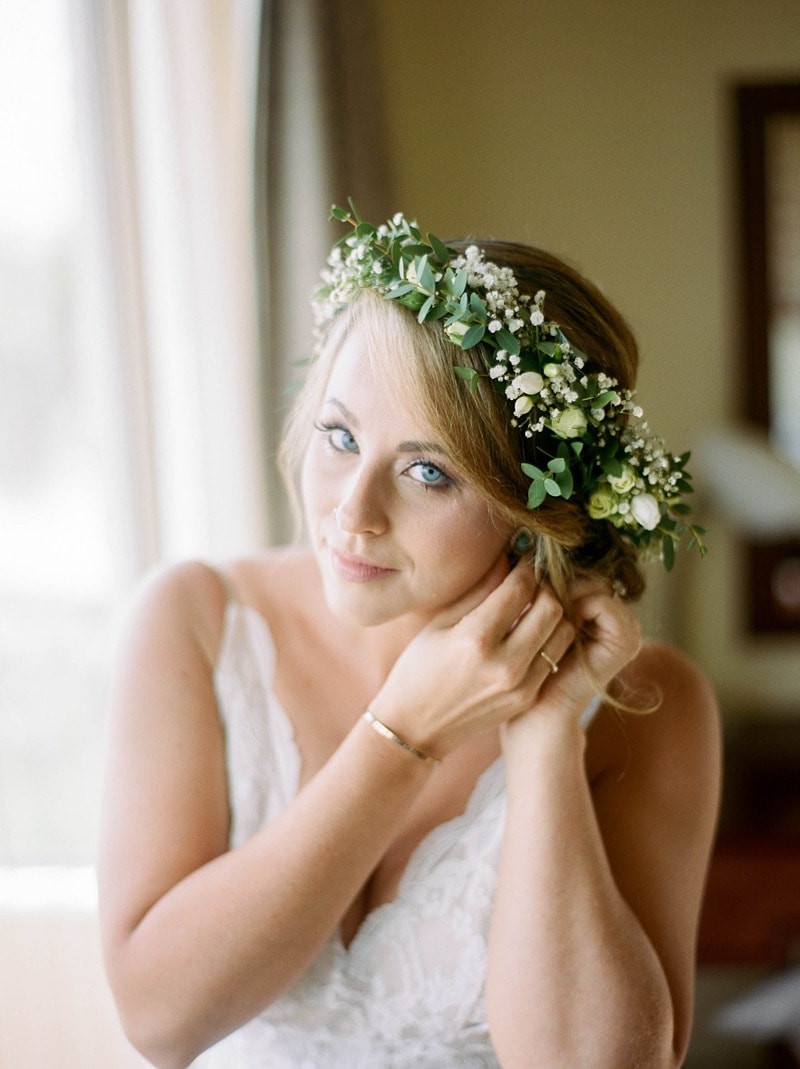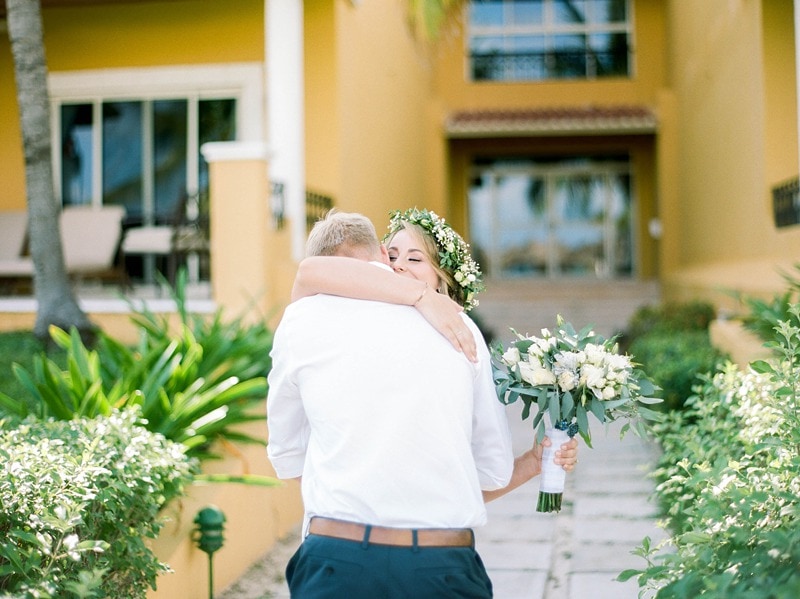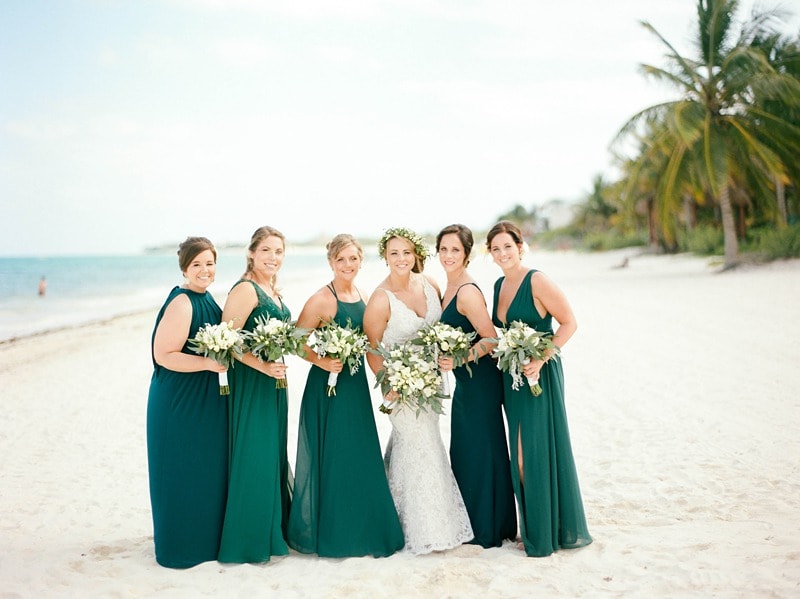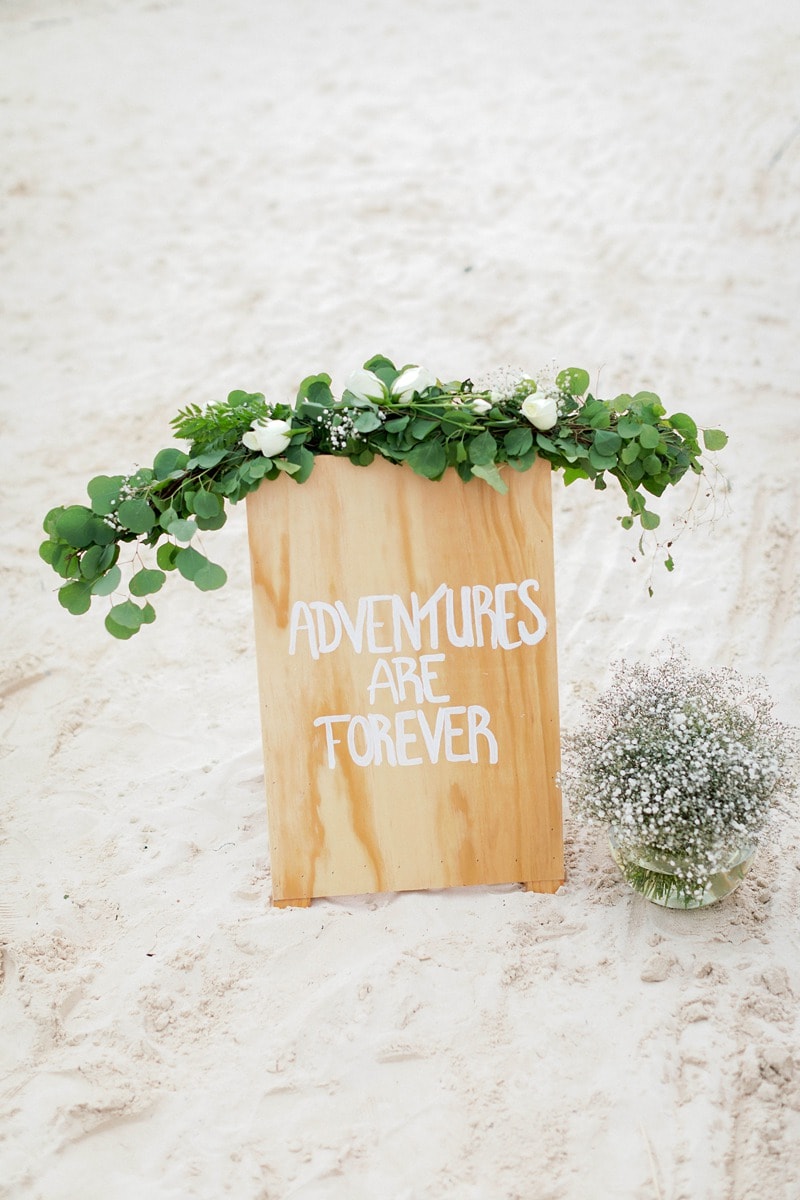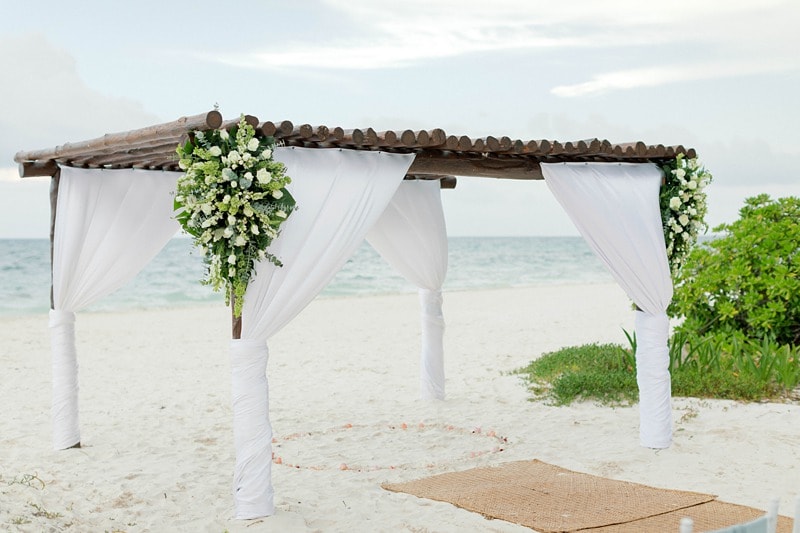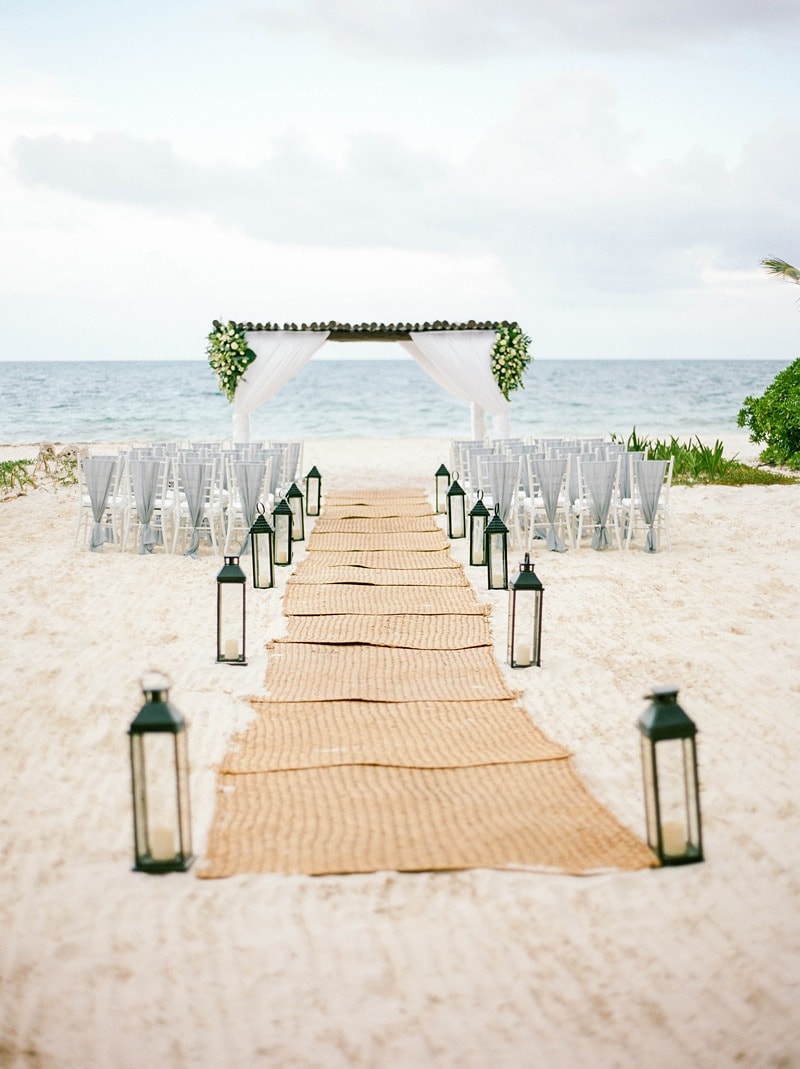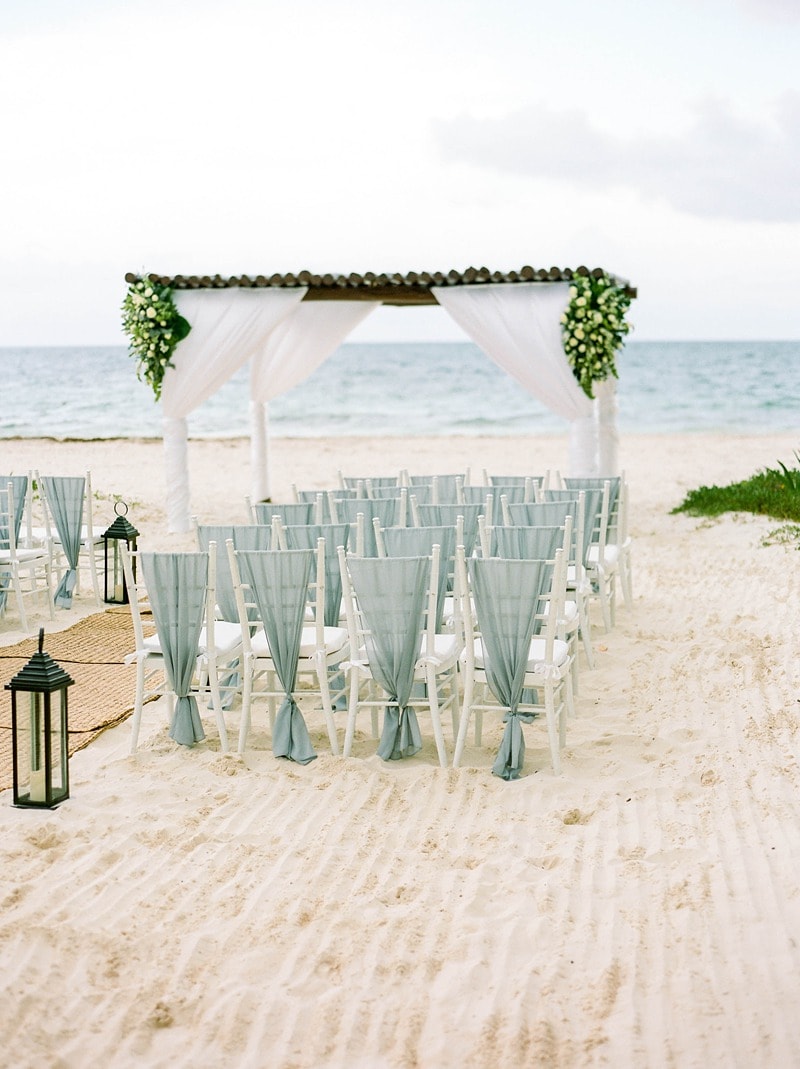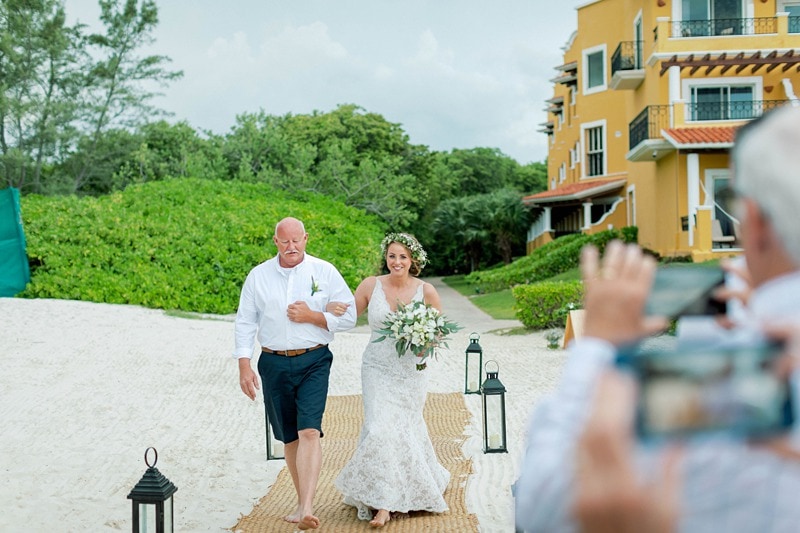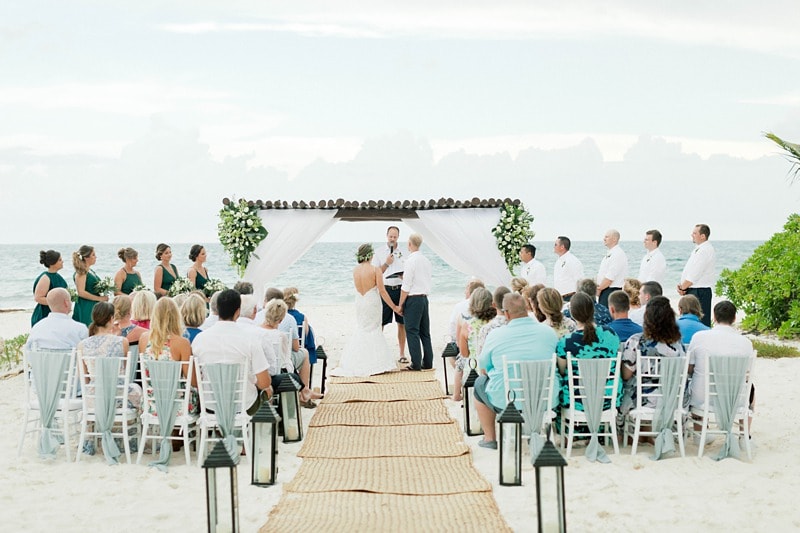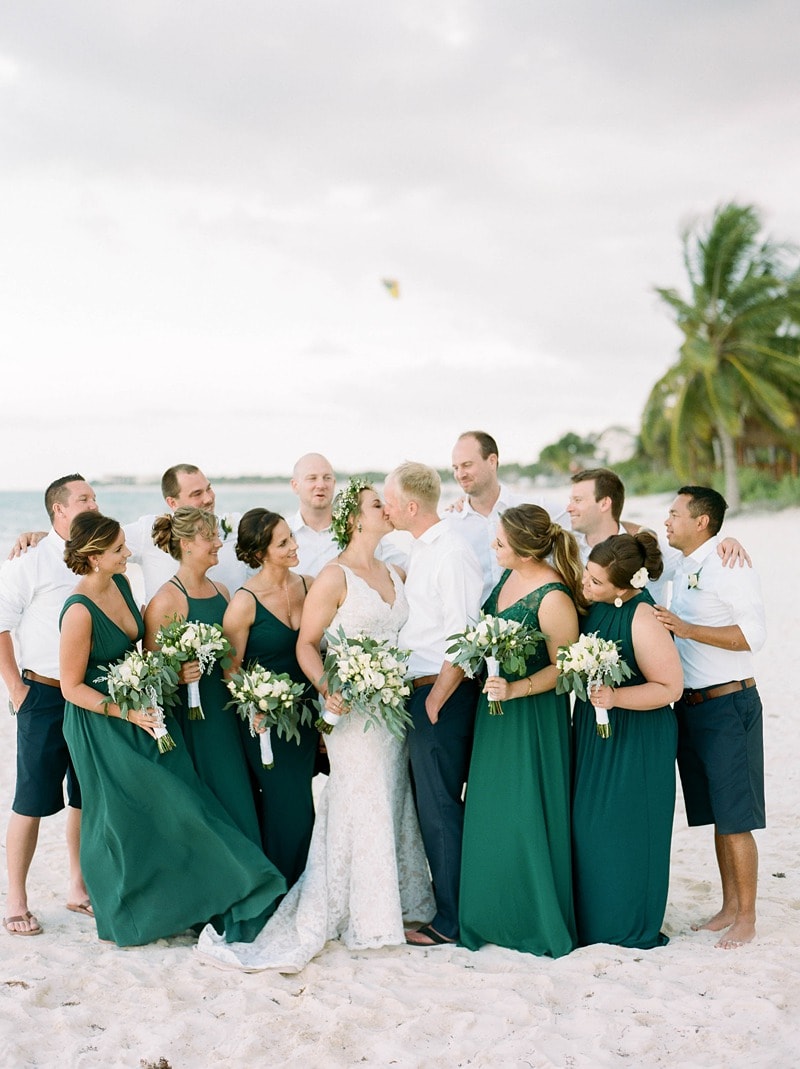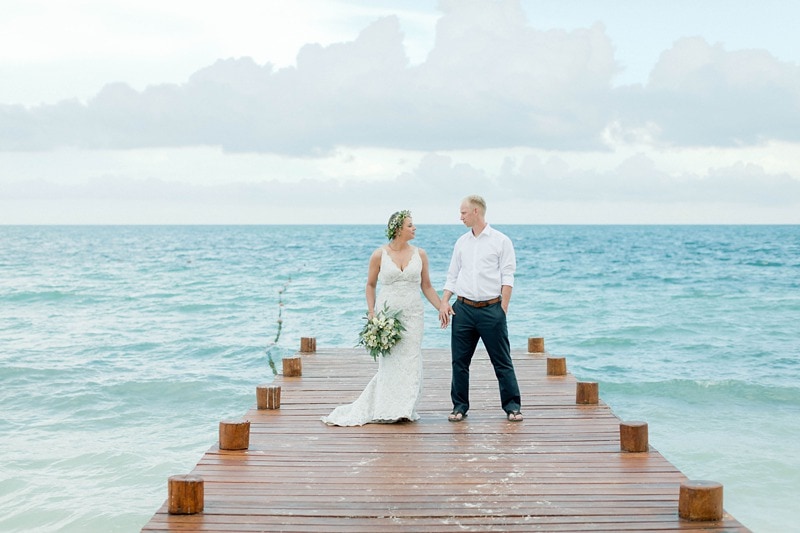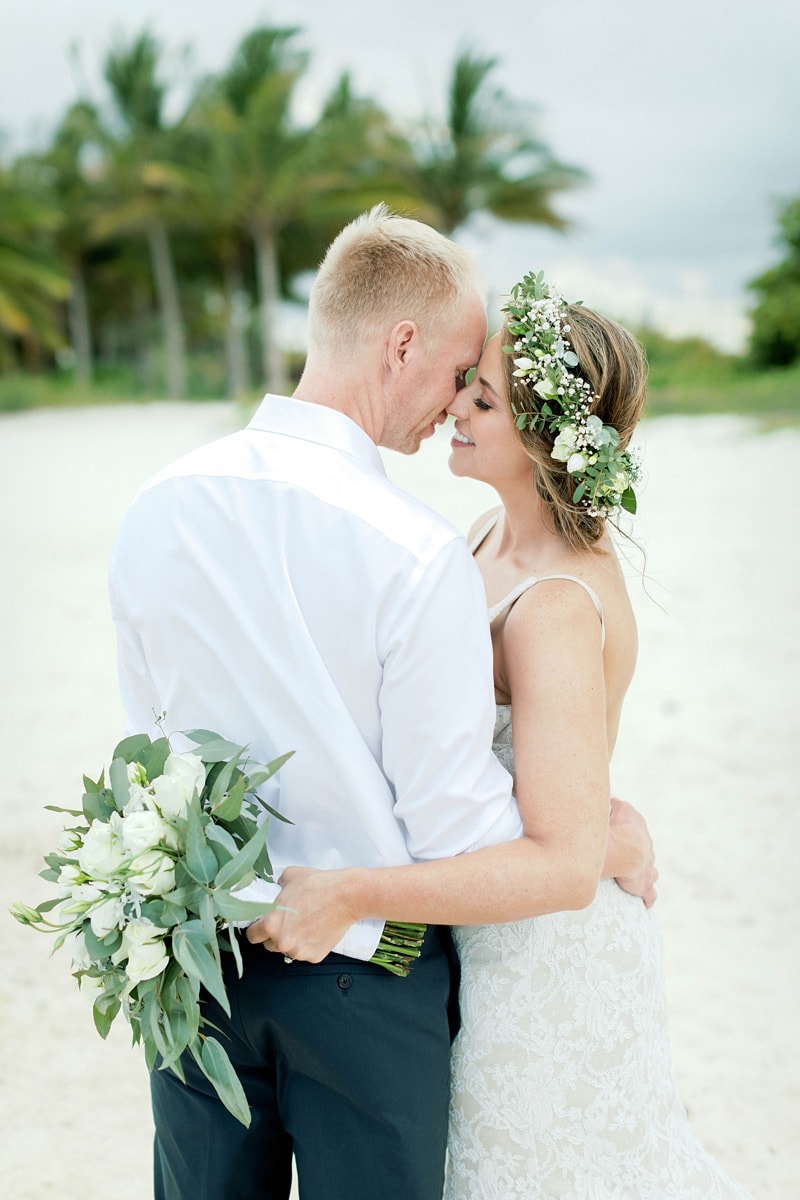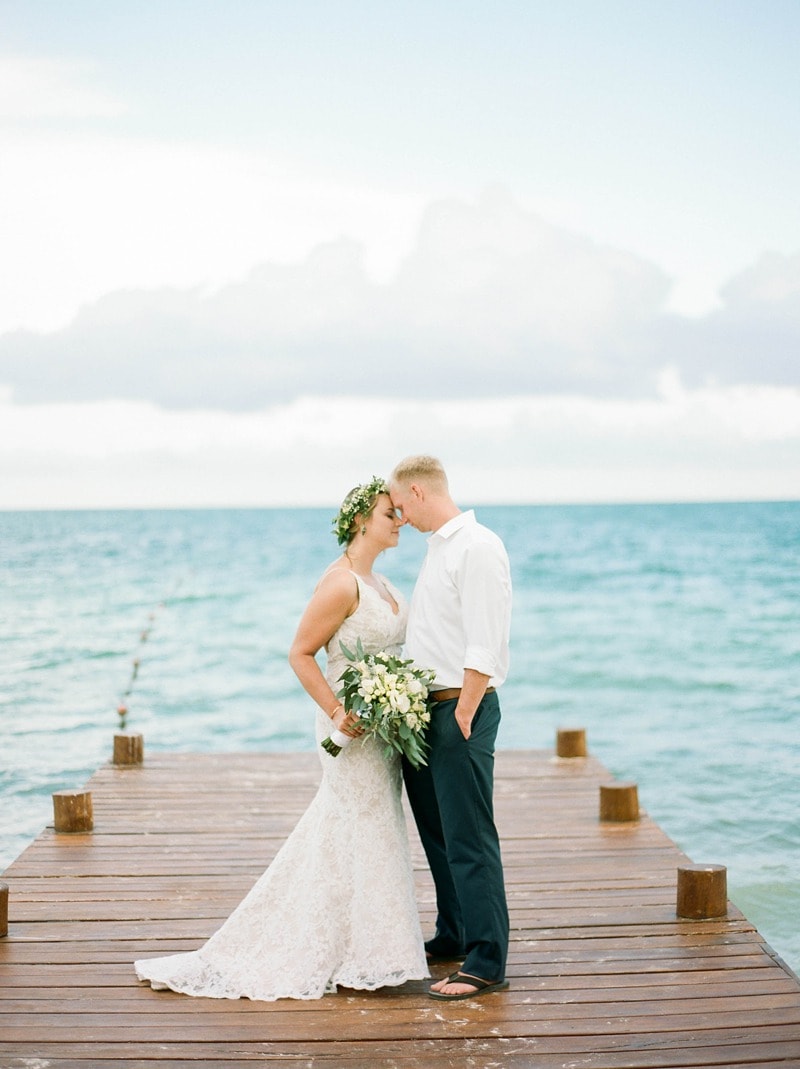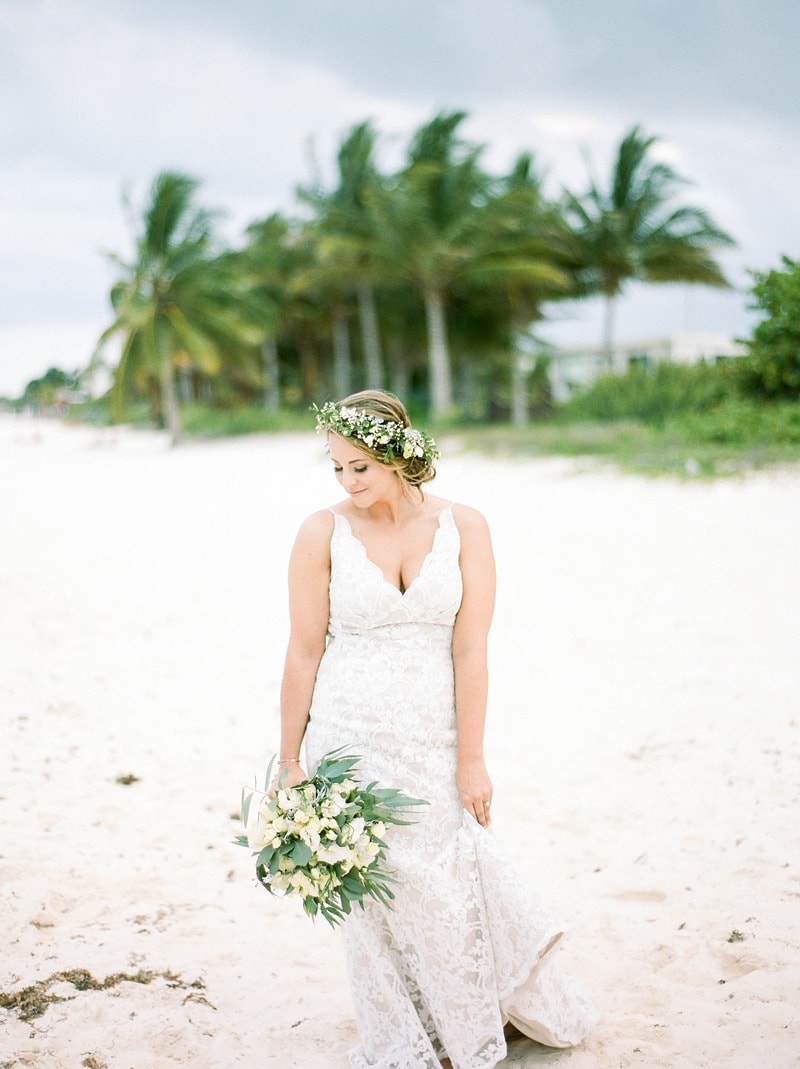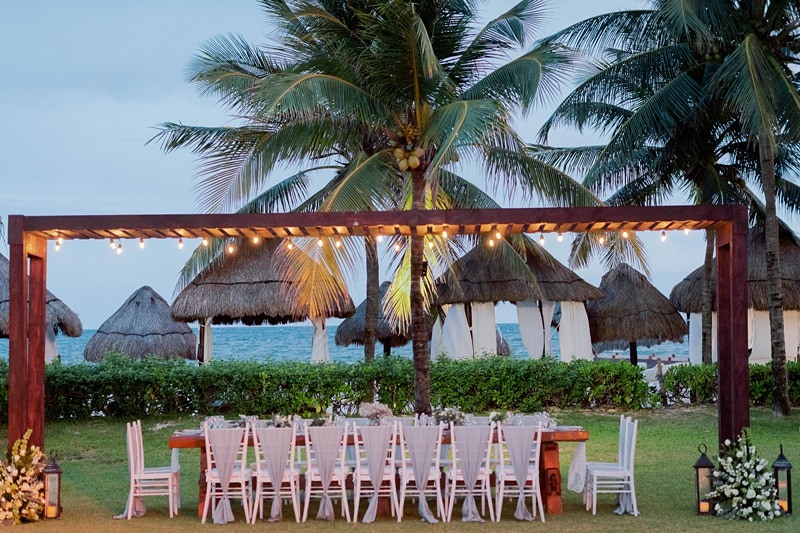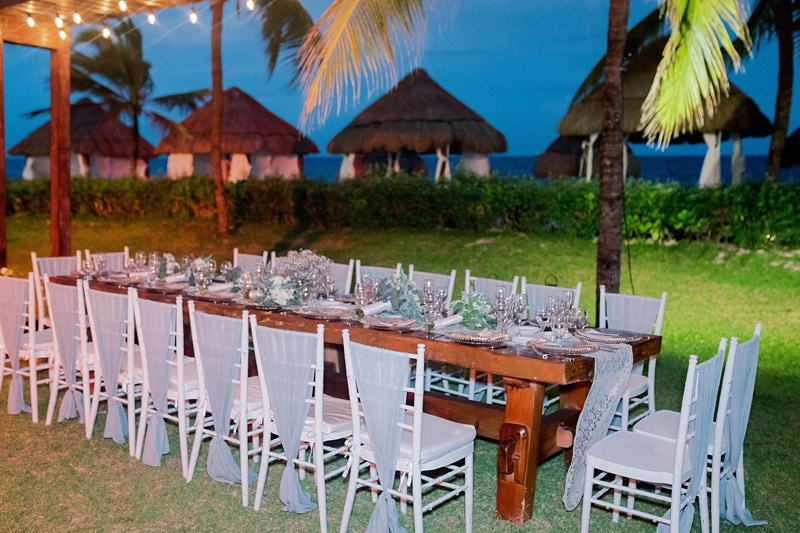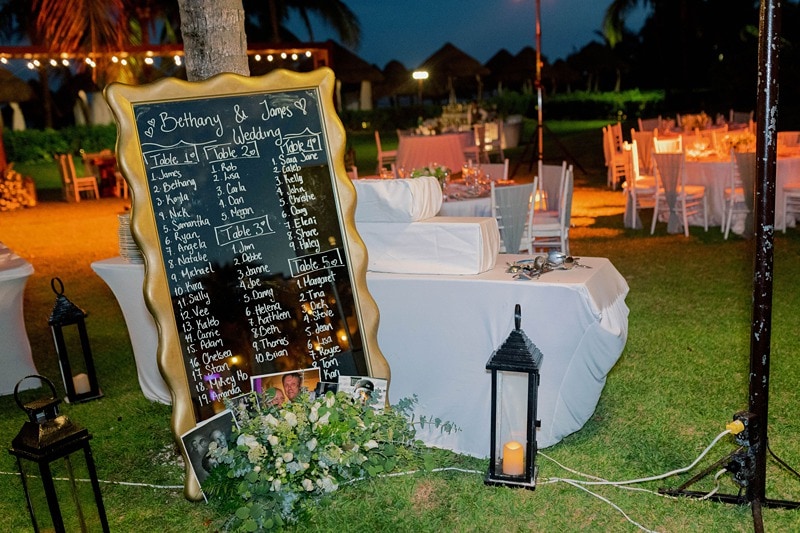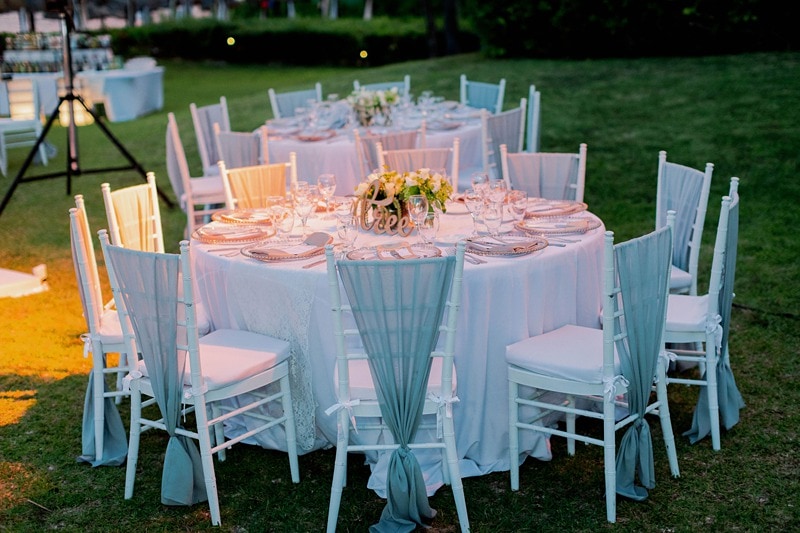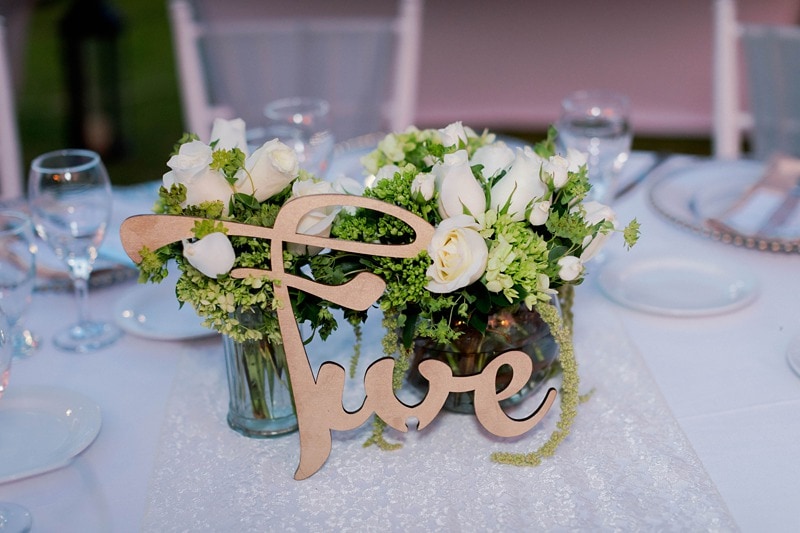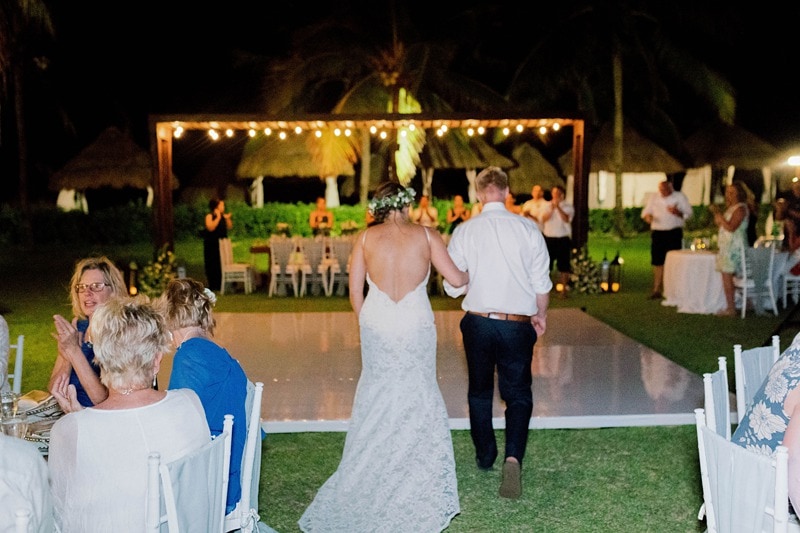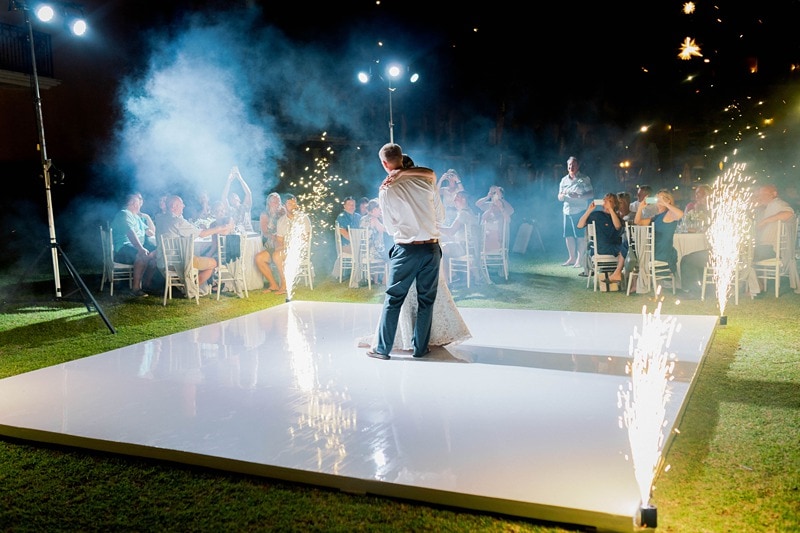 Q&A with the Bride
Tell us a little a bit about your wedding vision and style
The primary vision for our wedding was truly simplicity! We didn't want ourselves, or our guests, to ever feel stressed or anything but relaxed during our wedding. We hoped to accomplish this by keeping it at the top of our mind during every decision. Our guests literally came from all across the country – and Cancun was such an affordable and central location.

We selected a color palette that we felt was versatile (greens & blues) as well as complementary to the location.
Tell us about your attire
Our attire was probably the element we thought about and struggled with the most. We wanted to find the "perfect" balance between relaxed & easy going and beach bridal chic. I (Beth) found my wedding dress at a small boutique near my home and thought it was a great balance between beach-appropriate and formal wedding dress.

For our bridesmaids, I asked each of them to simply find a long, dark green dress. I wanted each girl to wear something they felt comfortable in, met their price point, and loved the "randomness" of the mix-and-match.

James' casual outfit was all from Banana Republic, and was the perfect compromise for us! He wore navy pants, and groomsmen navy Dickie shorts! We loved how it turned out!
What was the most important to the two of you while planning your destination wedding at Secrets Capri?
James and I recognized that having a destination wedding, while the absolute right choice for us, would mean asking a lot of our family and friends. Thousands of dollars in travel and accommodations, time away from work and family – and all of that on top of "normal" wedding guest and bridal party costs. SO, with that in mind – it was MOST IMPORTANT for us to ensure our guests not only had the most fabulous, fun time – but also felt appreciated.

The two most important elements for us (when it came to our guests) was to ensure the food was good and dancing fun! As such, we elected to have a buffet so multiple entrees could be offered. Both us, and our guests, felt the food was fabulous!!

After dinner, we had a few hours of dancing. We put a lot of time into coming up with music lists (which included both rap, for the groom, and country, for the bride.) We asked the DJ to strictly stick to our song list – and are glad we did! Everyone had a fantastic time!!

We also planned a welcome oceanside bonfire the night before our wedding day. This was important to us – it gave everyone the opportunity to connect (or reconnect). The setting and vibe was exactly what we hoped for!
What were your favorite parts of your wedding day?
Our ceremony was absolutely perfect – and one of our favorite memories! We asked James' best friend, Kaleb, to officiate our wedding – and he did an outstanding job! The ceremony was so personalized to us; Kaleb asked our parents, siblings, best friends, etc. for their stories and reflections on us as a couple, and then included those comments in his program. It made us feel "at home" AND happy that our closest family/friends were apart of the ceremony in another way.

We had also decided to write our own vows. Both of us feel comfortable speaking in front of crowds, and were planning to simply memorize or speak-from-the-heart during the ceremony. Last minute, we decided we should write our vows out JUST IN CASE! Boy, we're glad we did – we're so happy to be able to look back on the vows we exchanged and read those words over and over again.

Our other favorite part was the speeches given before dinner. I (Beth) have two sisters who were both maids-of-honor and he (James) had 5 "better men" vs one best man. We asked one of my sisters and one of his men to give a speech – both were so touching, yet funny and personal. There was also a surprise speech coordinated by James' best friends (Kaleb & Adam.) Their grandfather, who James has great respect for, recorded a speech to be played. It was the most special gift of our entire wedding!
Tell us about your wedding flowers.
Flowers are important to me (Beth.) For many, many years, I have pressed and framed flowers to commensurate special moments in our life. I wanted a large, natural bouquet filled with shades of green, blue, and white. Once I found a few examples of bouquets I fell in love with, I sent them to our wedding coordinator (who worked directly with the florist) to create our bouquets and arrangements.
How was your wedding cake?
Three words: It. Was. Delicious! We did a simple cake (layers of white chocolate and red velvet) with "naked" sides. I wish we had been able to bring some home.
What did you do for favors?
We didn't do traditional wedding favors but instead gave welcome bags filled with goodies and beach essentials to all once they arrived at our resort. We ordered custom canvas bags; each person (or couple) received one bag that included customized tumblers (which could be taken to the bar and kept drinks cold for many hours!), hangover kits, snacks, water, details about the resort and wedding festivities. The bags also served as beach-bags for many guests! We're so happy they served a few different purposes!
Did you include any family heirlooms?
We wanted to acknowledge close family members (grandparents and cousin) who have passed away. We did this by posting photos of these members on our large, mirrored seating chat posted at the entrance. Many members who were in attendance commented to their appreciation for this gesture. On my bridal bouquet, I also pinned two blue broaches ("something blue") which were given to me by my grandmothers. It felt very good to have them "there" with me on my wedding day.
Do you have any advice for couples planning their destination weddings now?
We were so, so happy with our wedding and beyond happy we chose to have a destination wedding. Our (constructive!) destination-wedding advice would be:

1.) schedule your wedding day sooner in the trip vs later. Our wedding was on Day 4 of the 7-Day trip; unfortunately, many guests (as well as ourselves) first felt the effects of booze, sun, and foreign food starting that day. While lots of fun was had, energy was a little lower than the first, second, and third days.

2.) plan dinners with groups of guests ahead of time. We made a concerted effort to have a meal with every one of our guests. While we almost fully accomplished this, we did miss some guests. It would have been helpful to coordinate when we were going to eat with who ahead of time (ergo: his mom's family Monday night, her family Tuesday night, his friends Wednesday night, her friends Thursday night, his dad's family Friday night, etc.)
What was the best part of having a destination wedding?
Hands down, the time we got to spend with our guests. At most weddings, the bride and groom will "do a lap" around each table to quickly say HI. We got to spend meaningful time with each guest – whether during a meal, while lounging at the pool, or just hanging out in the evenings over a glass of wine, we felt like we got to truly connect with everyone!
What was the biggest challenge of planning your destination wedding?
The unknown. We were not able to visit the resort prior to arriving for our wedding, so we did as much research as possible to learn about other guests' experiences. We relied a lot on our wedding coordinator and trusted that what she presented was what could truly be produced. We were EXTREMELY lucky that everything that was promised (and more!) came to life exactly as hoped & expected!
Vendors
Photography: Carrie House Photography
Venue: Secrets Capri Riviera
Makeup: Zoe Elizabeth
Wedding Dress: Merrily Ever After