Jason & Lynsey obviously had no problem deciding on Santorini as their wedding destination of choice; they spent less than 24 hours there last year before realizing it is where they would tie the knot. The couple exchanged vows in a beautiful secluded ceremony venue overlooking the caldera.
Their guests were then treated to a rustic yet sophisticated reception in a private beach club. The white-washed wood, twinkly fairy lights, eucalyptus, and earth tones embraced the charm of this island, while gold touches made it feel like a magical celebration. Check out the photos of all the beautiful details, captured by Kapetanakis Studio.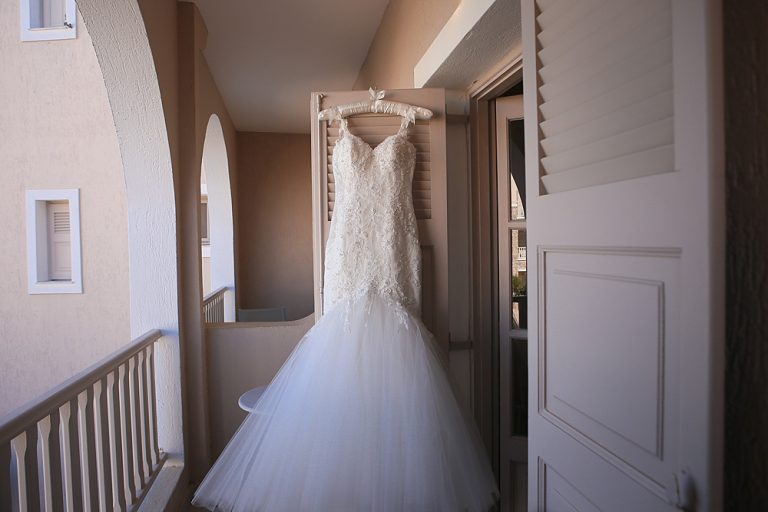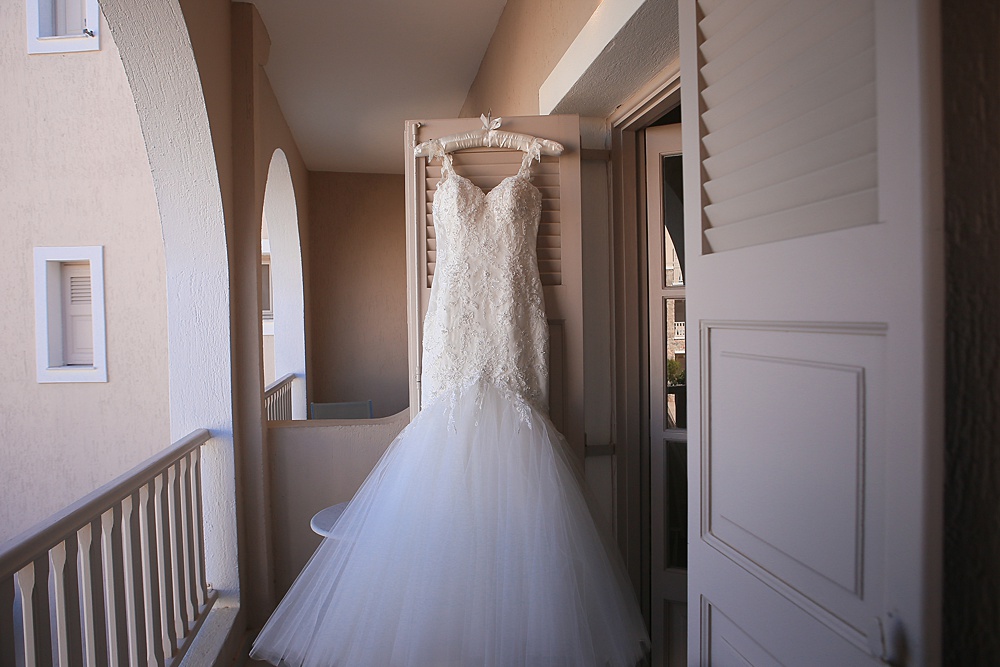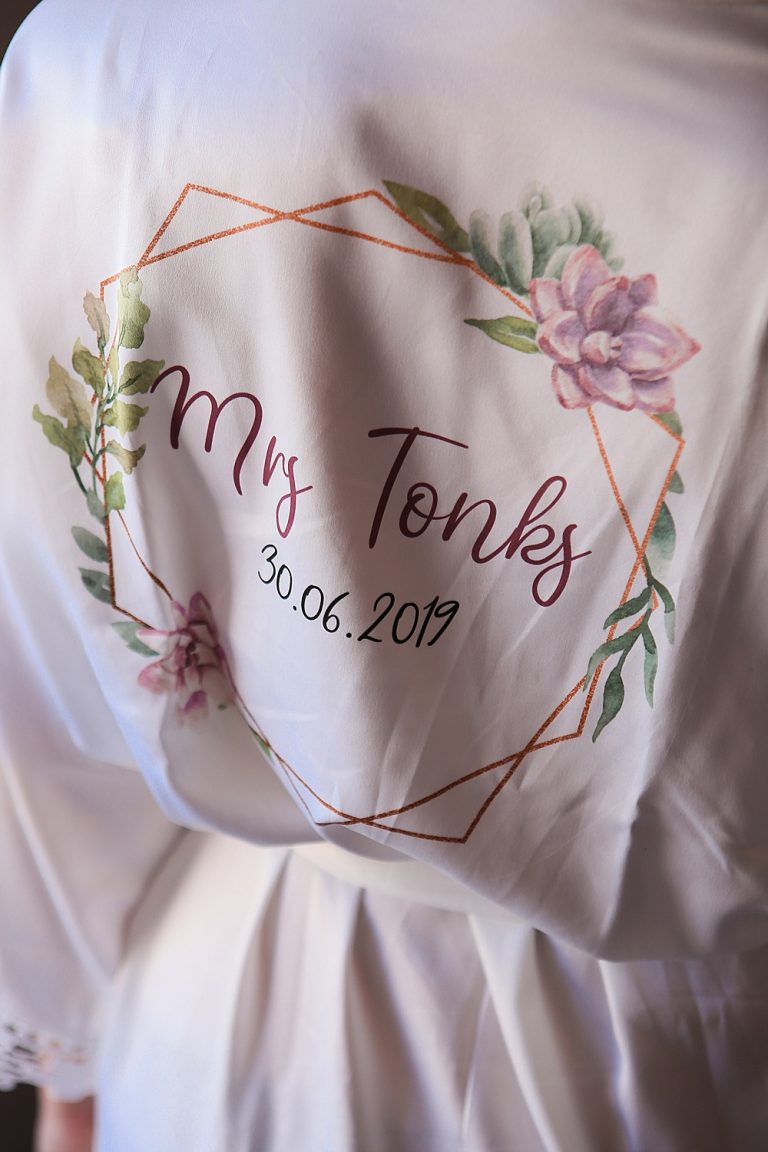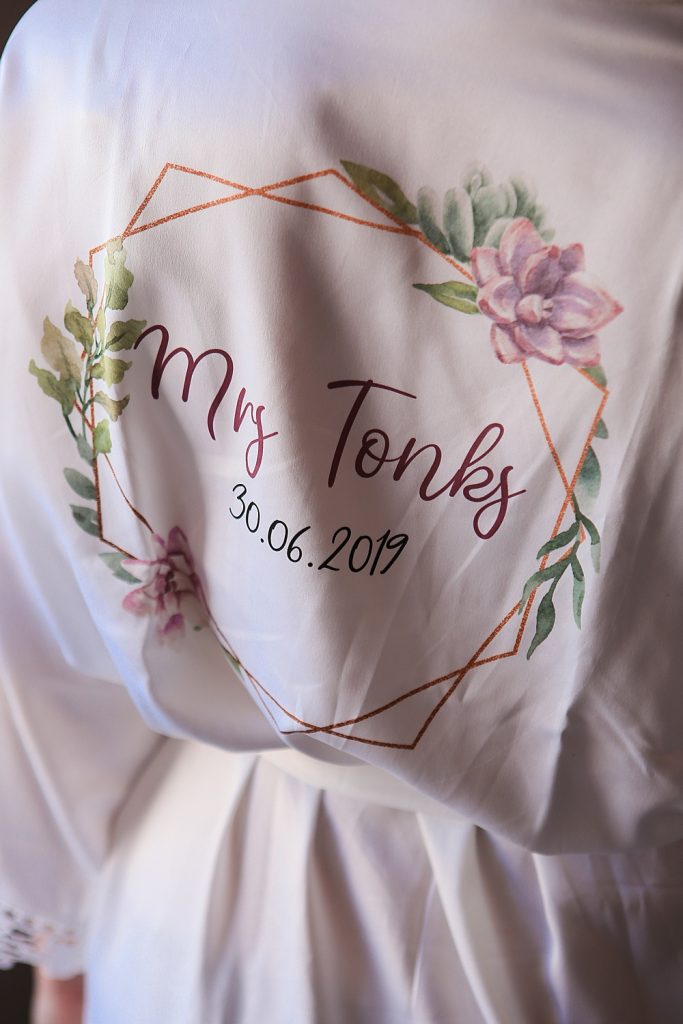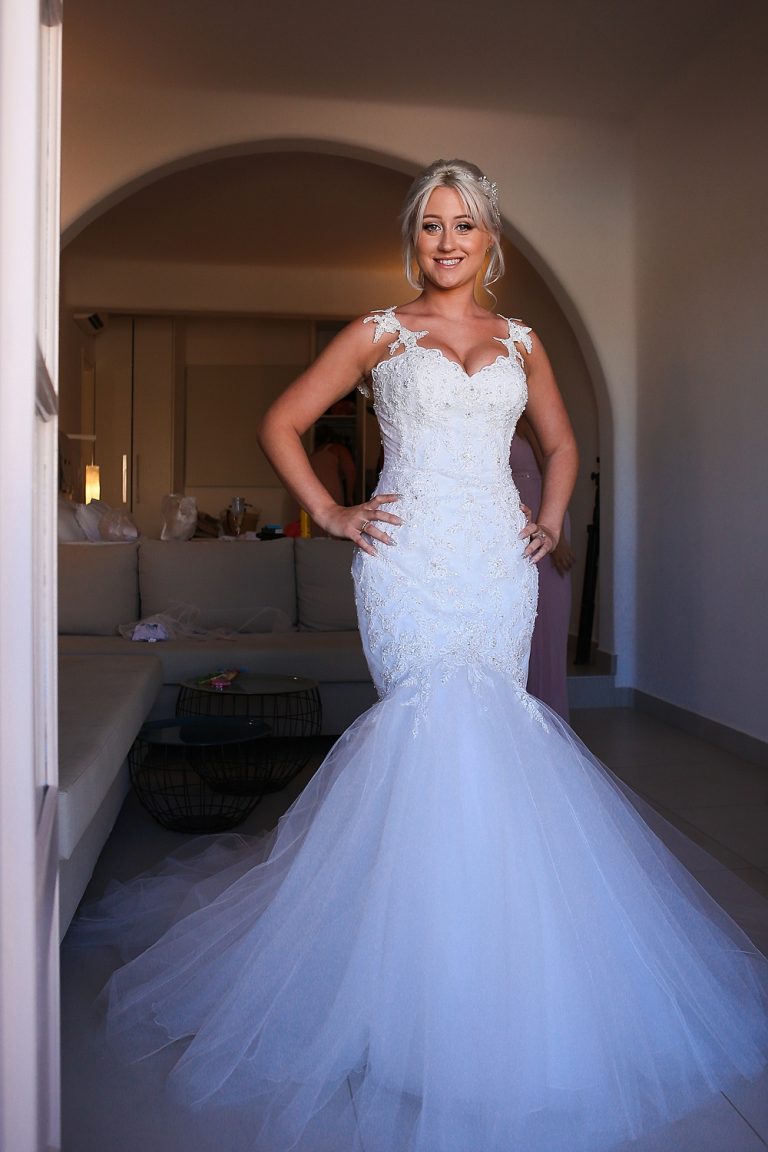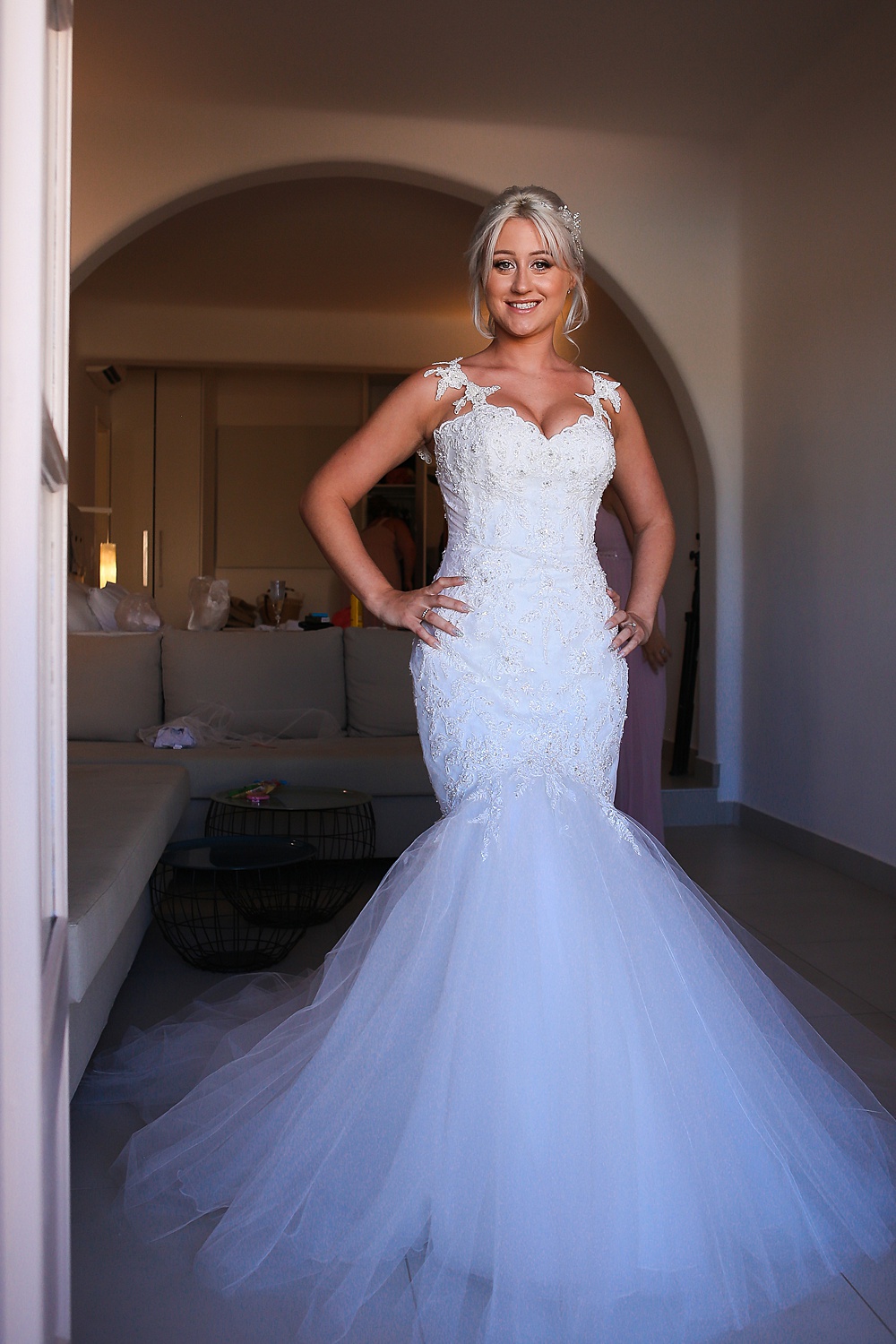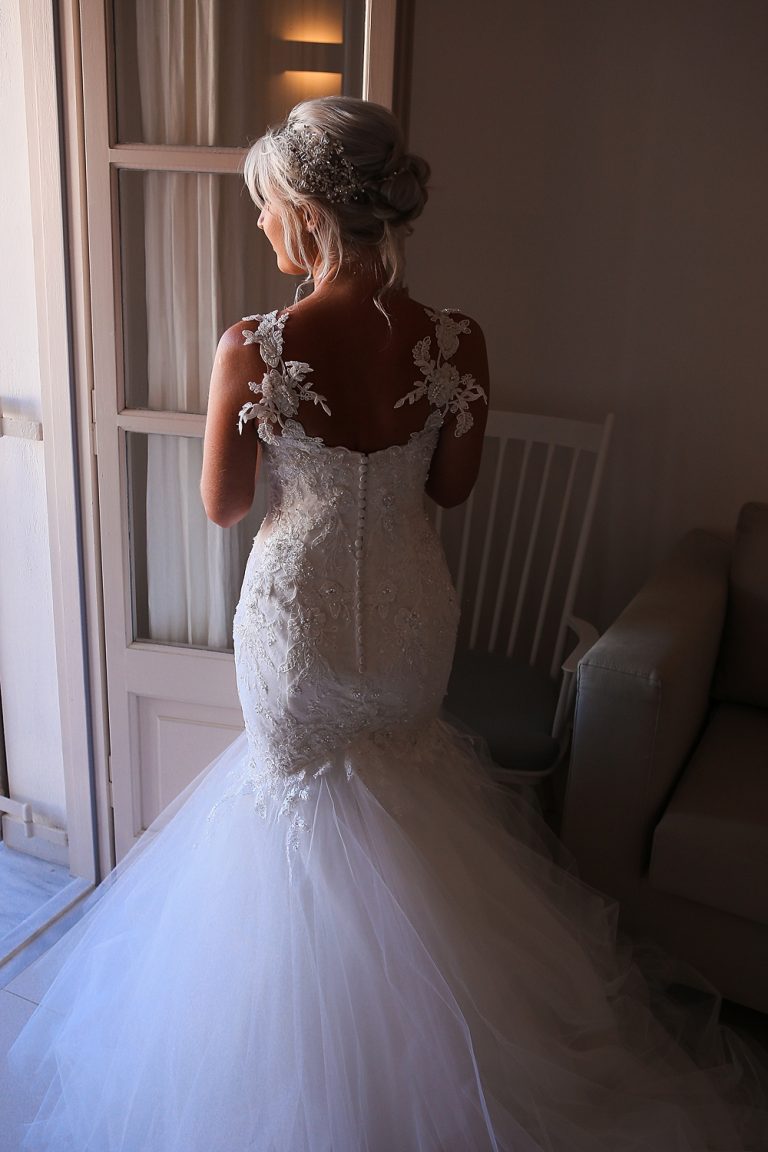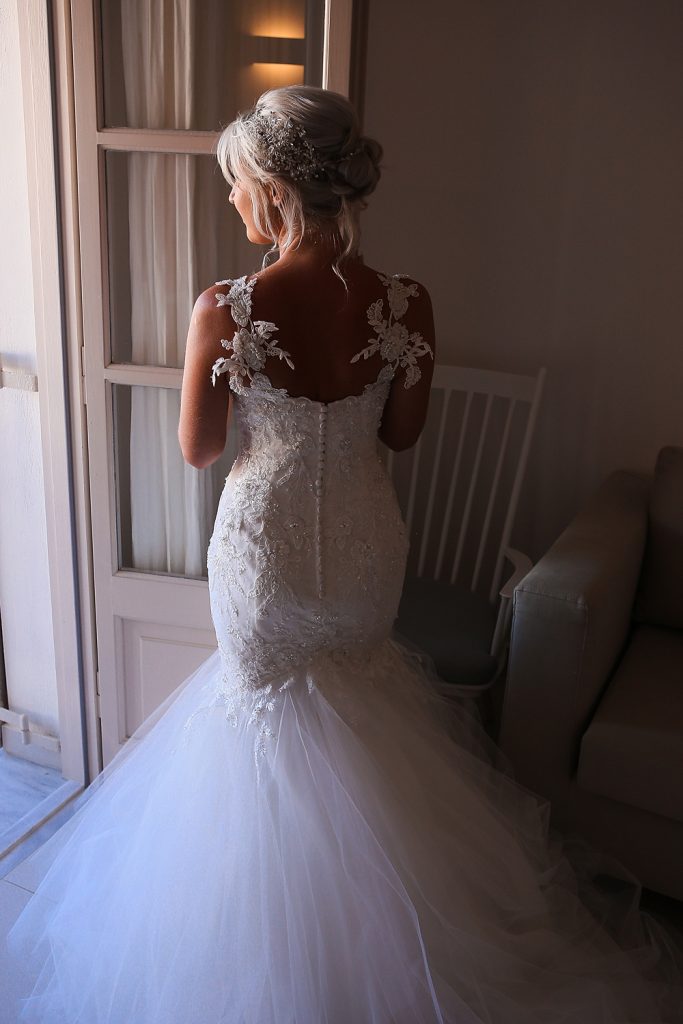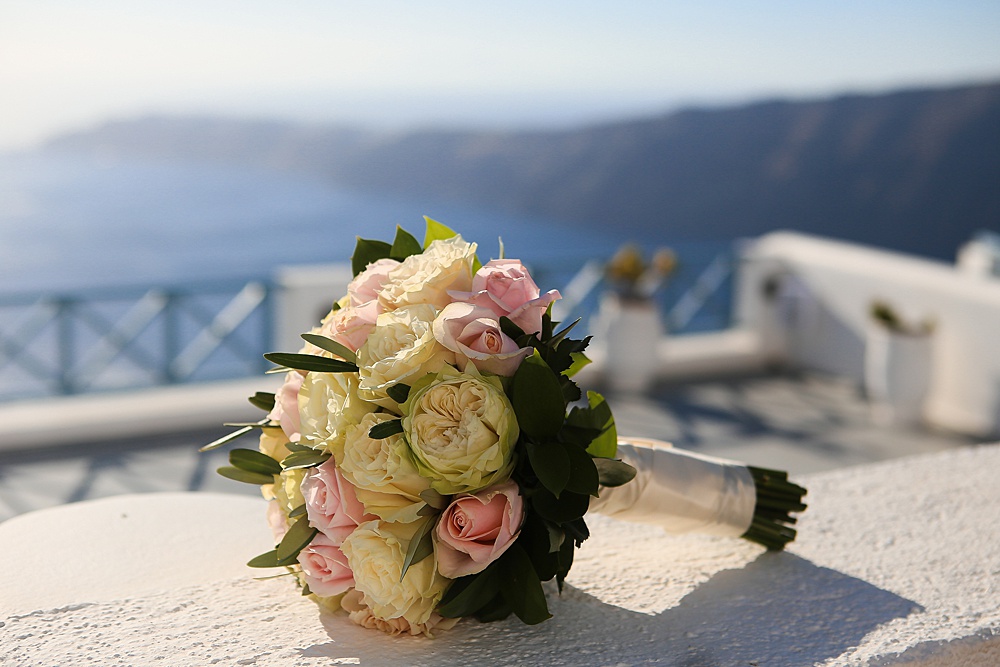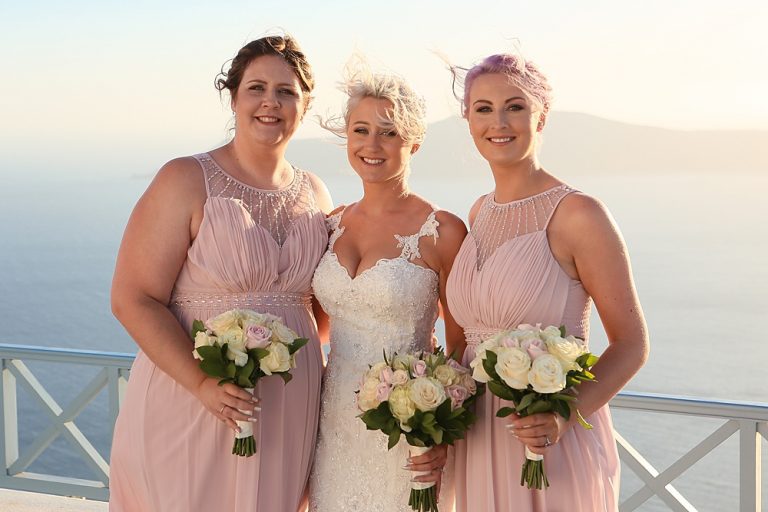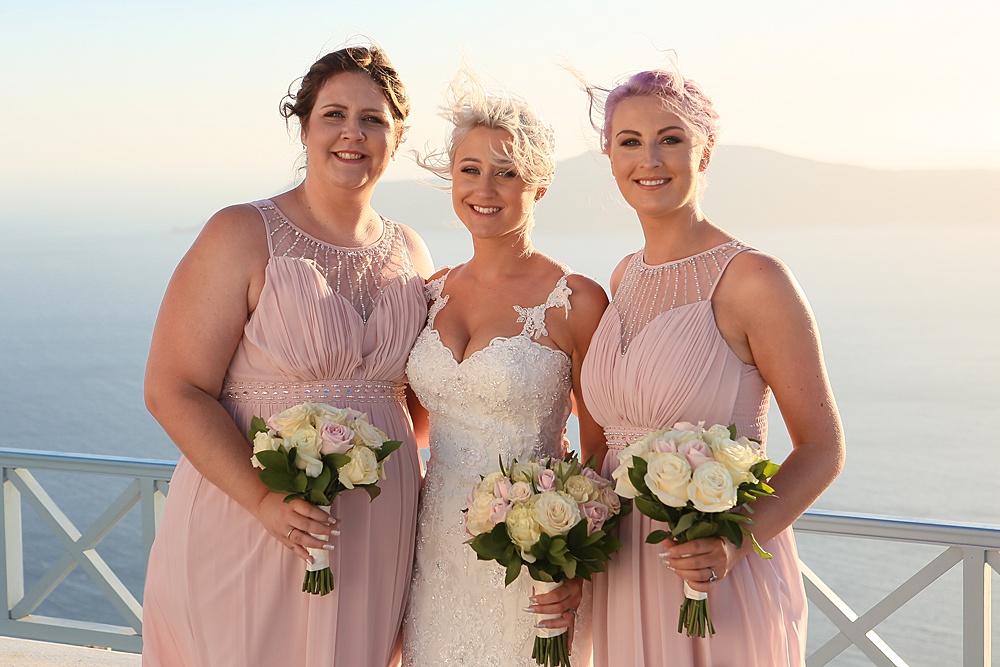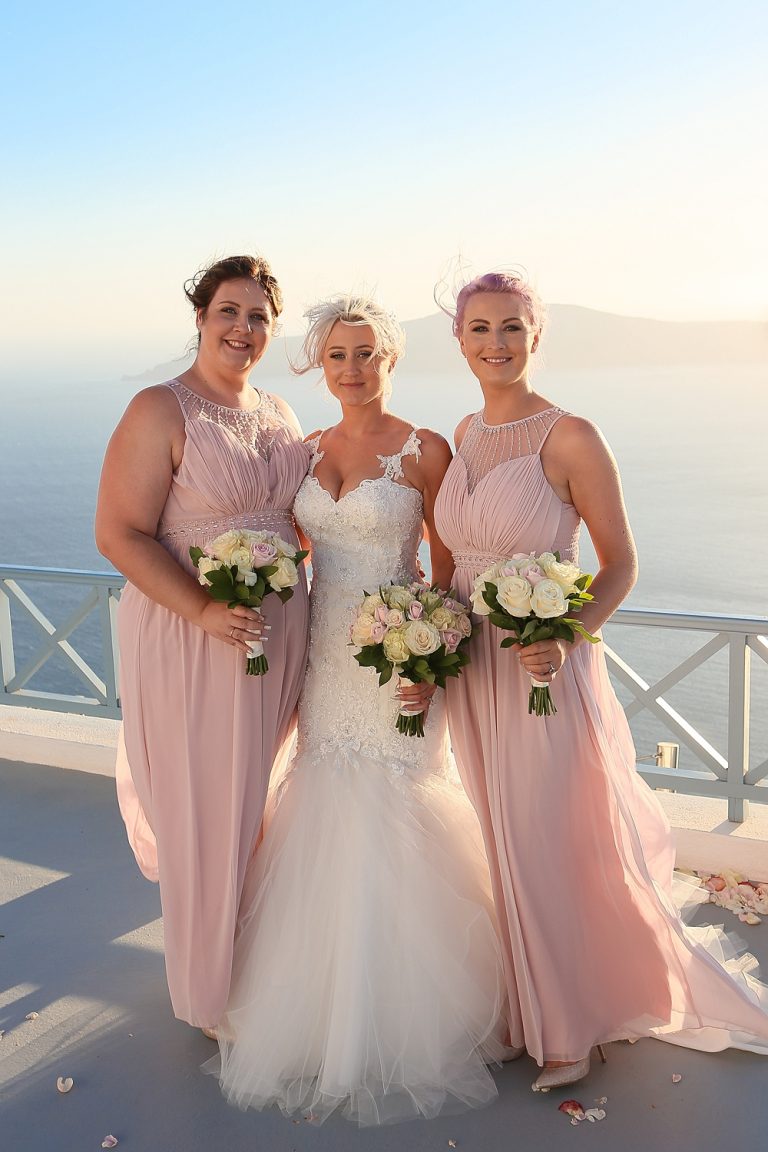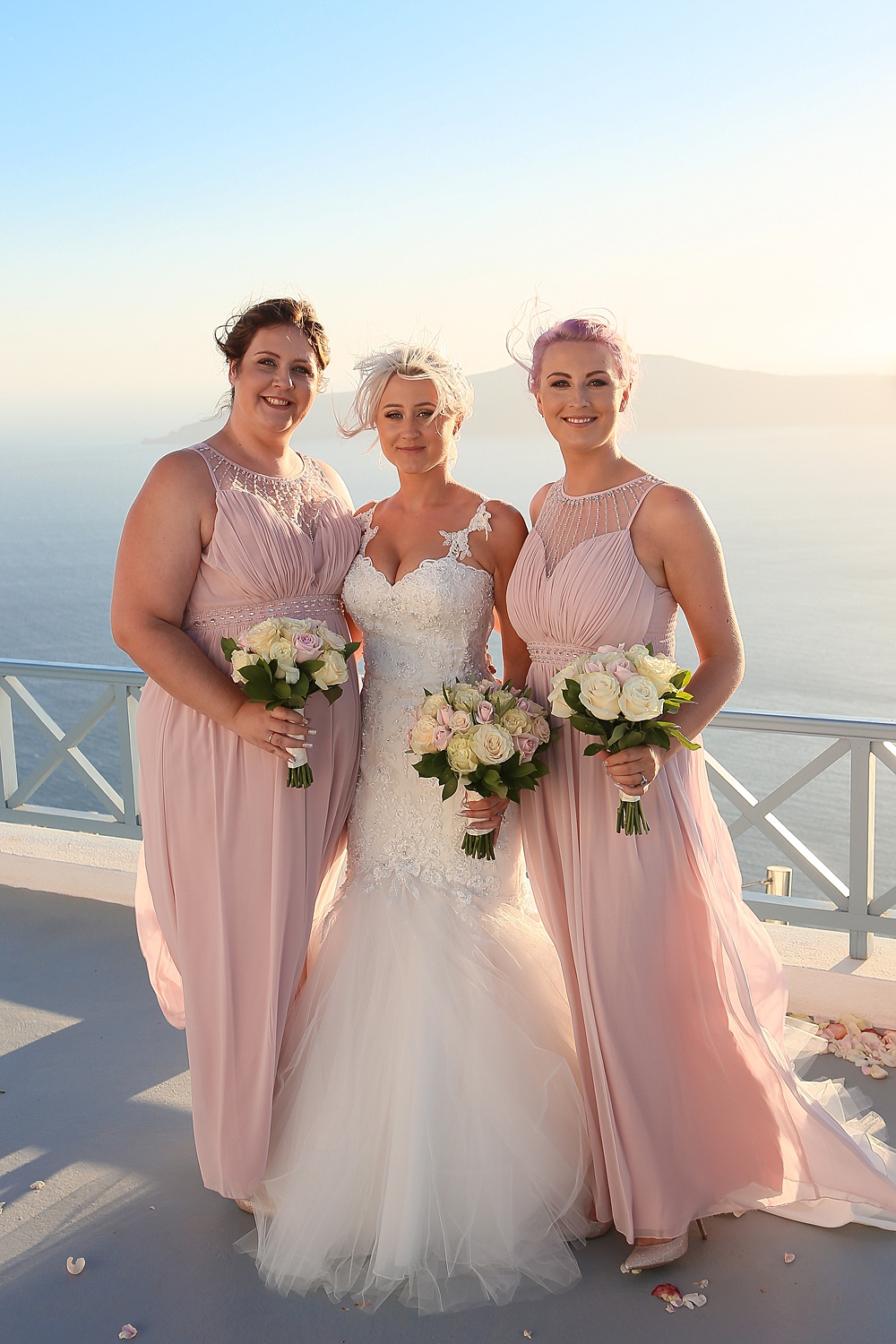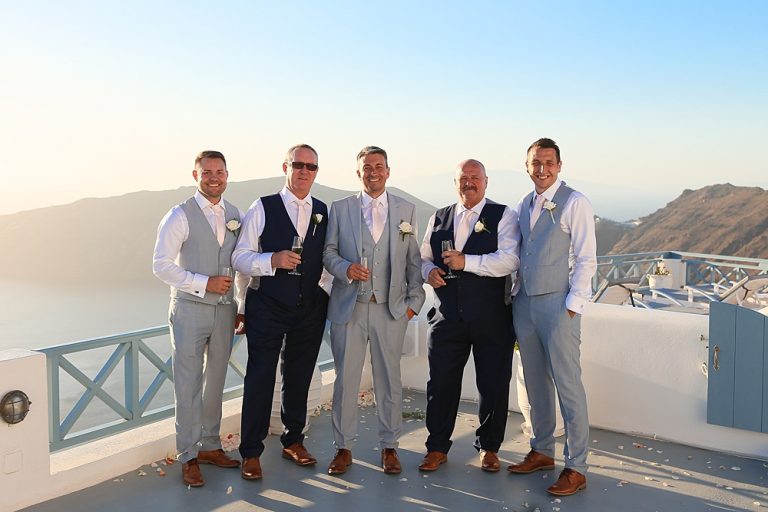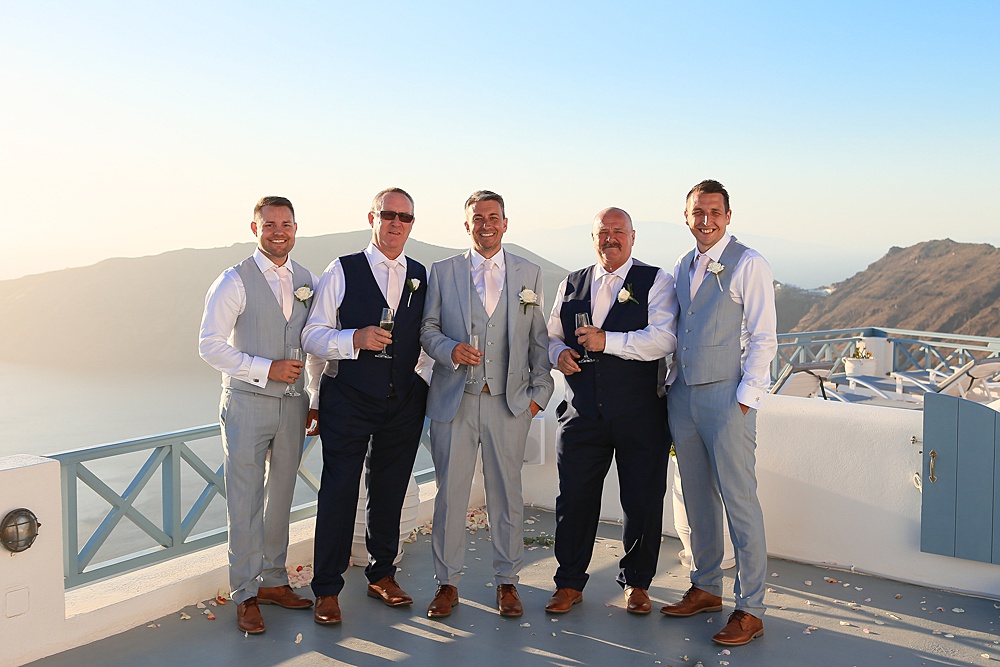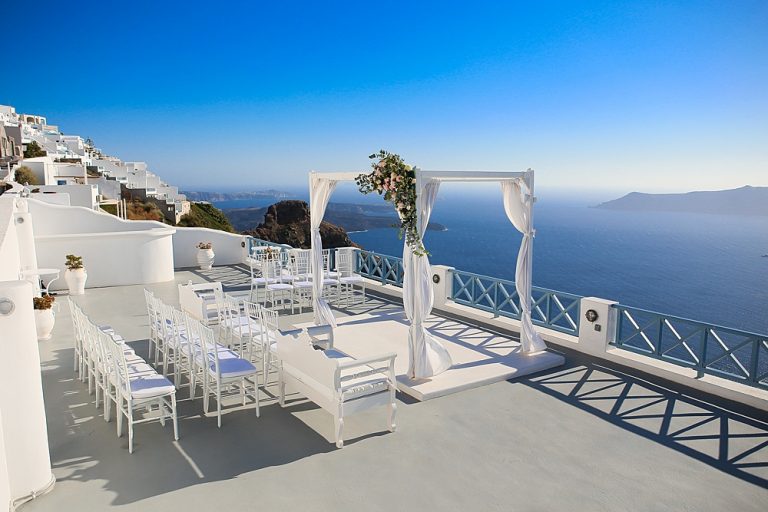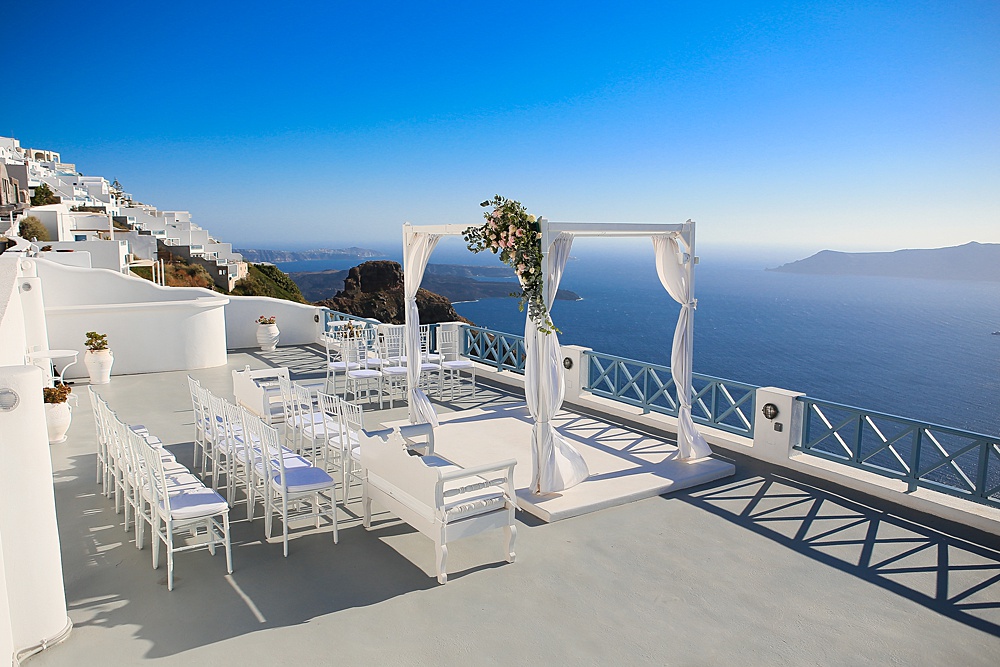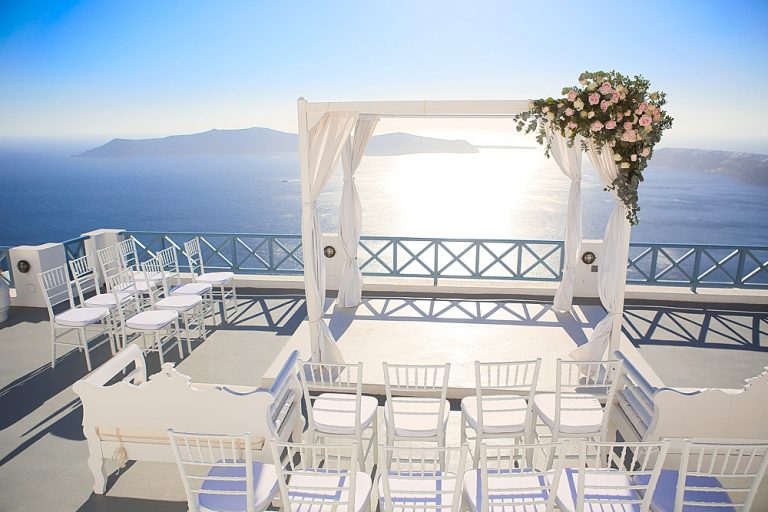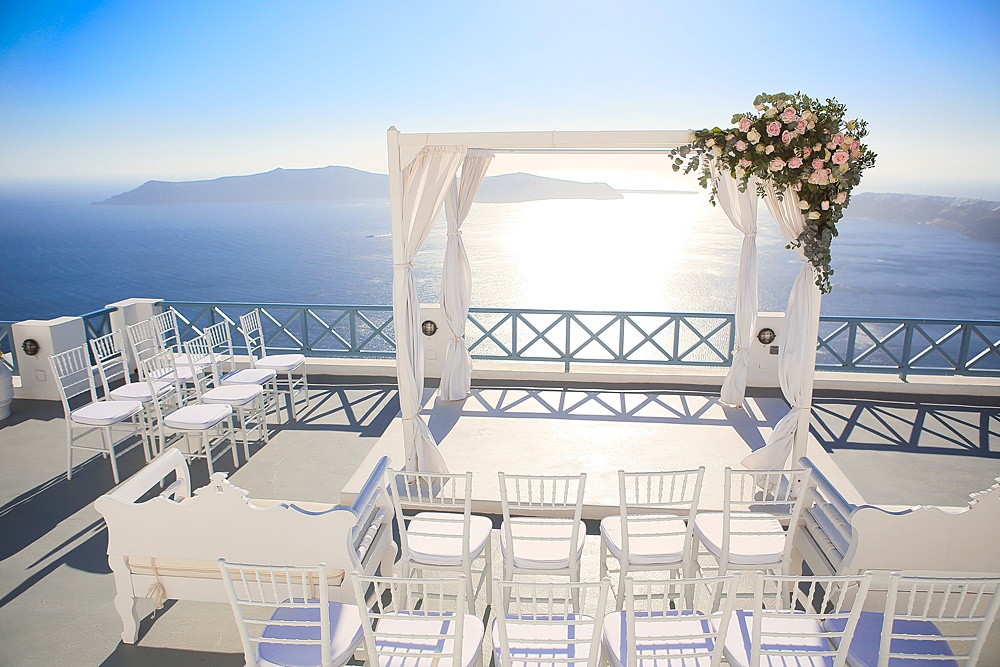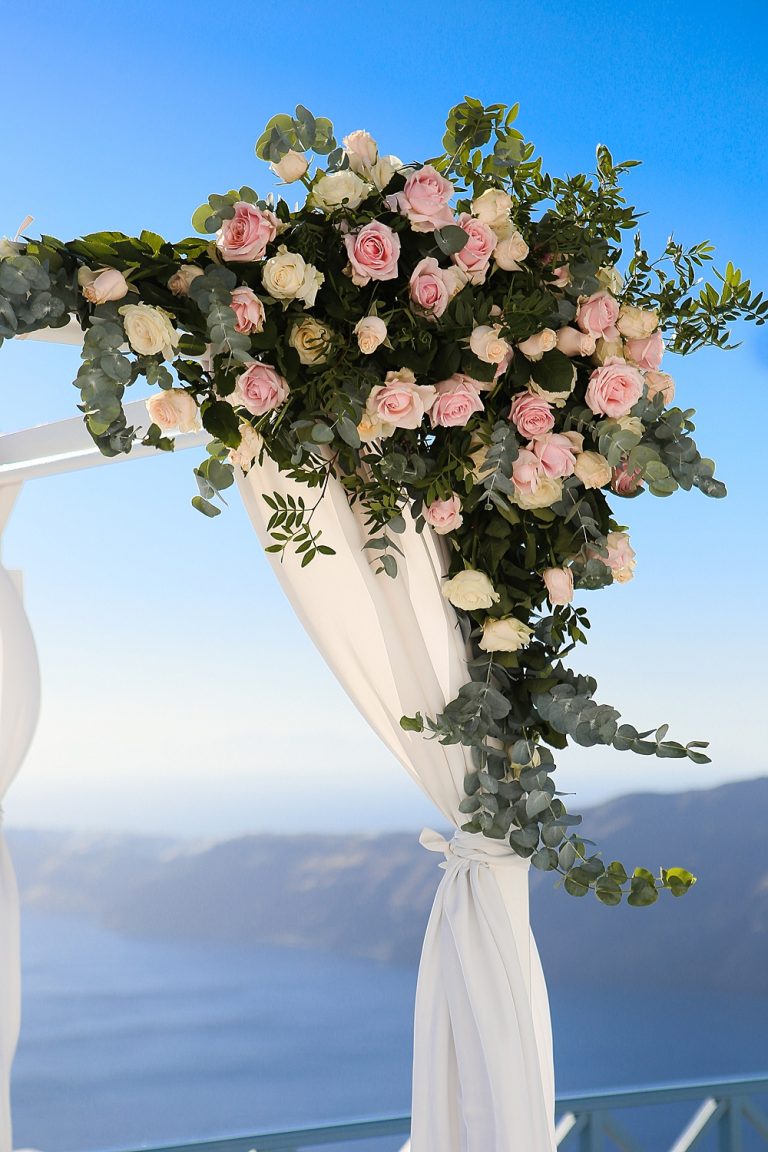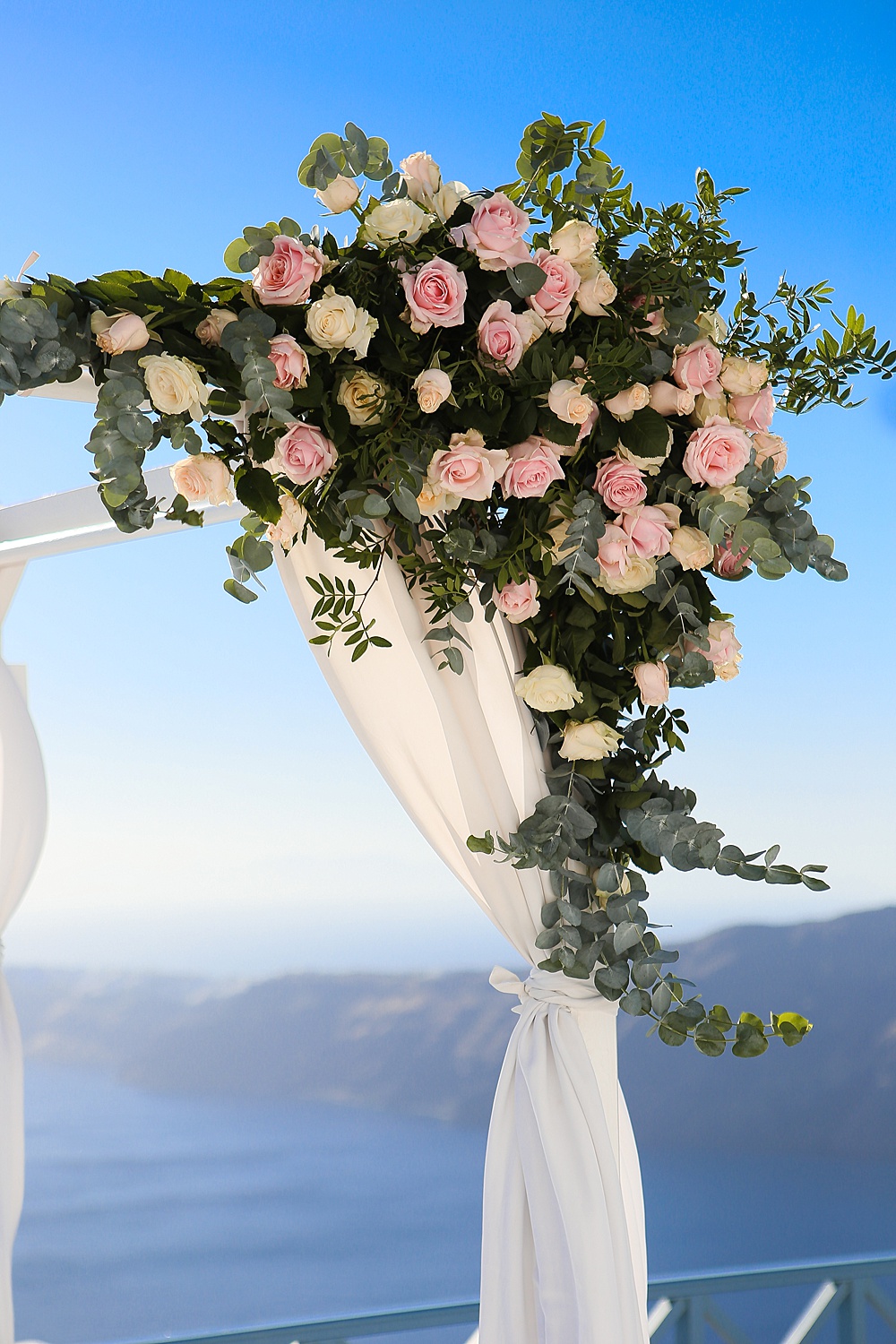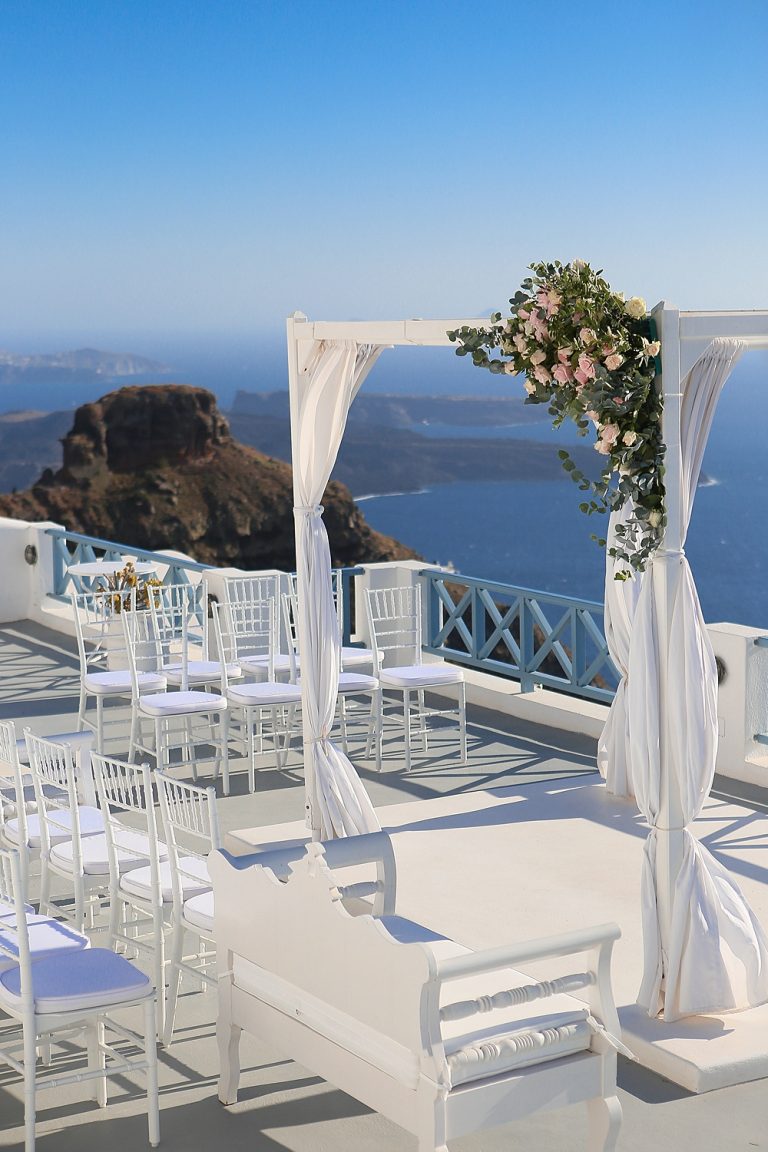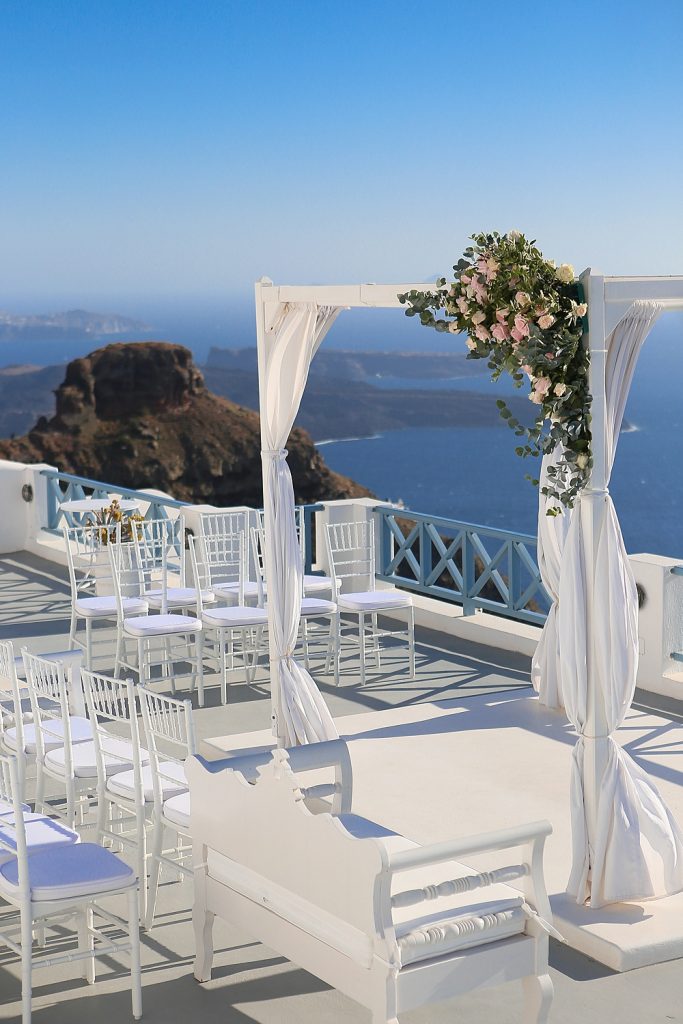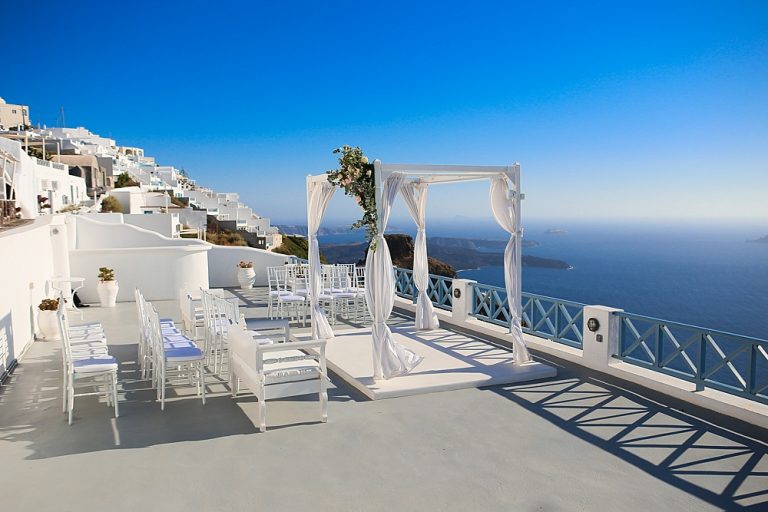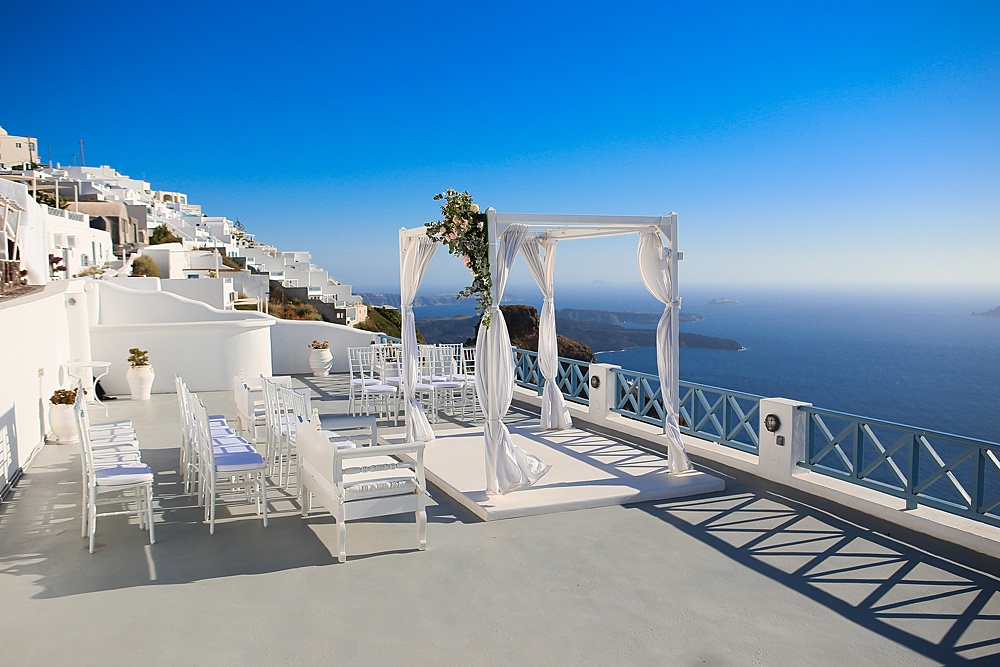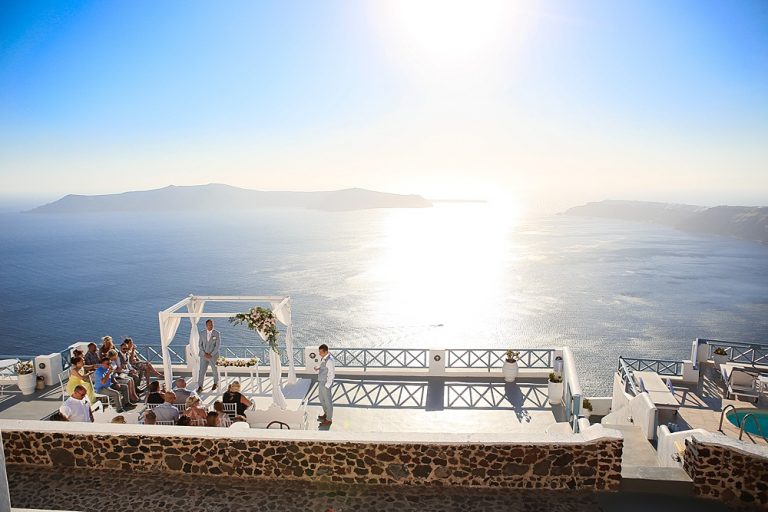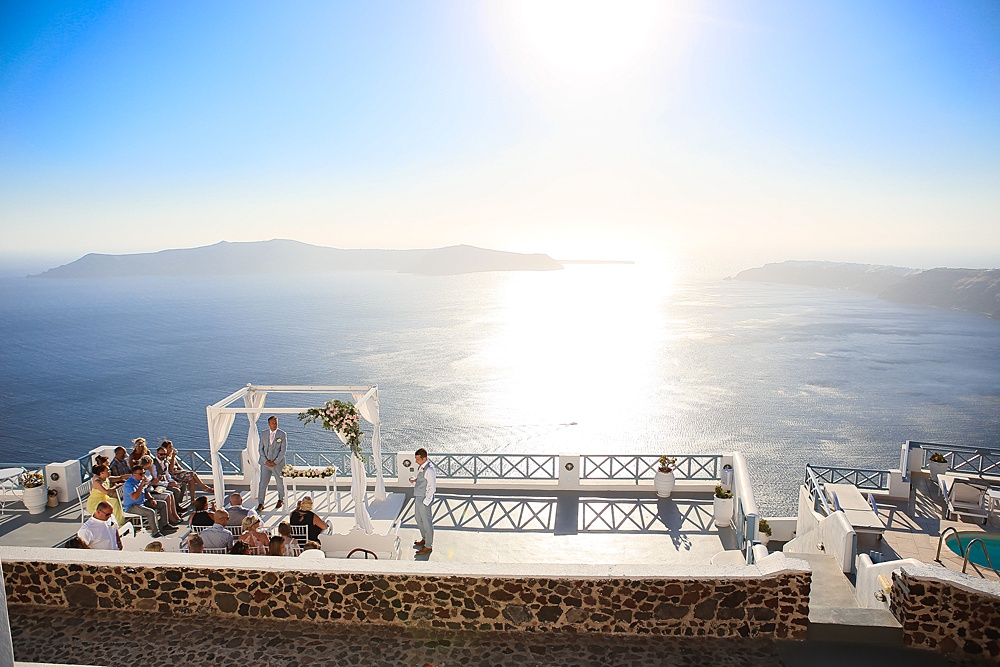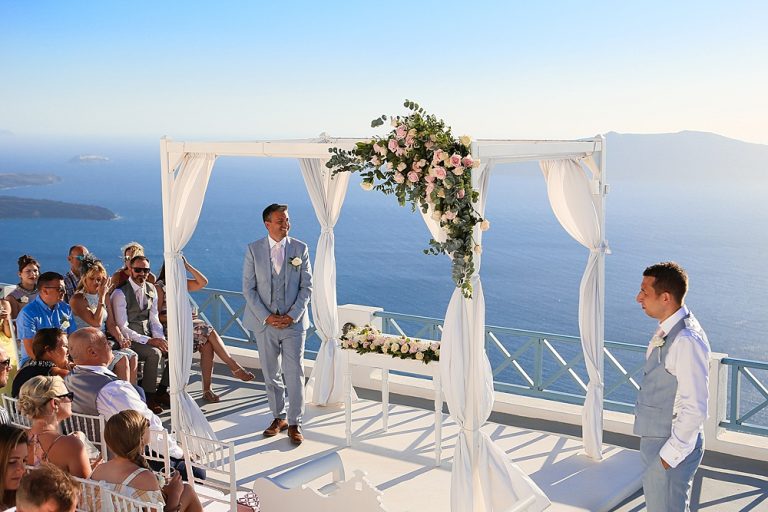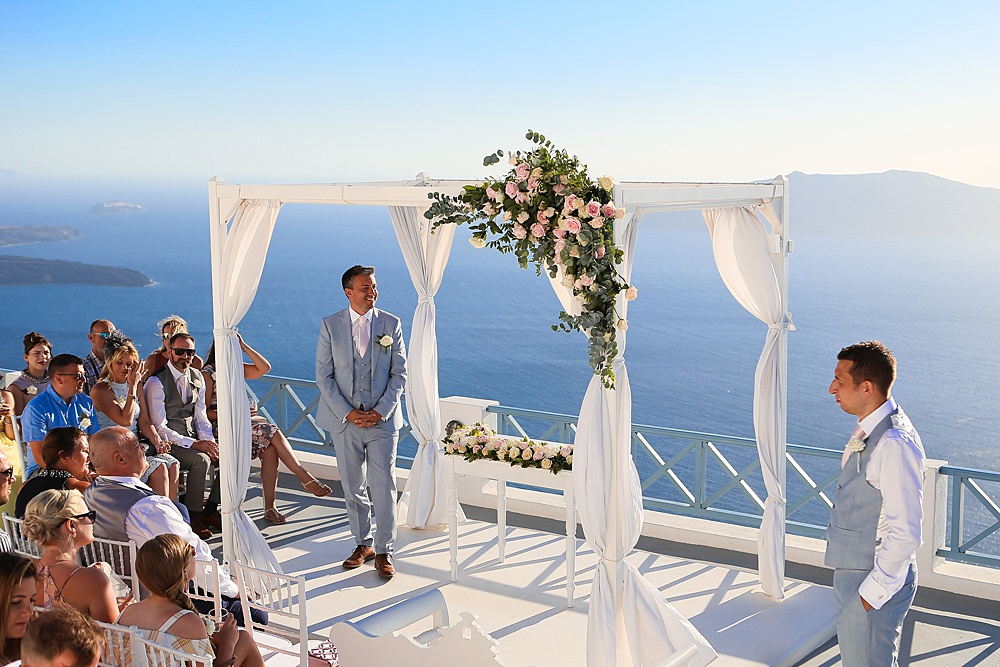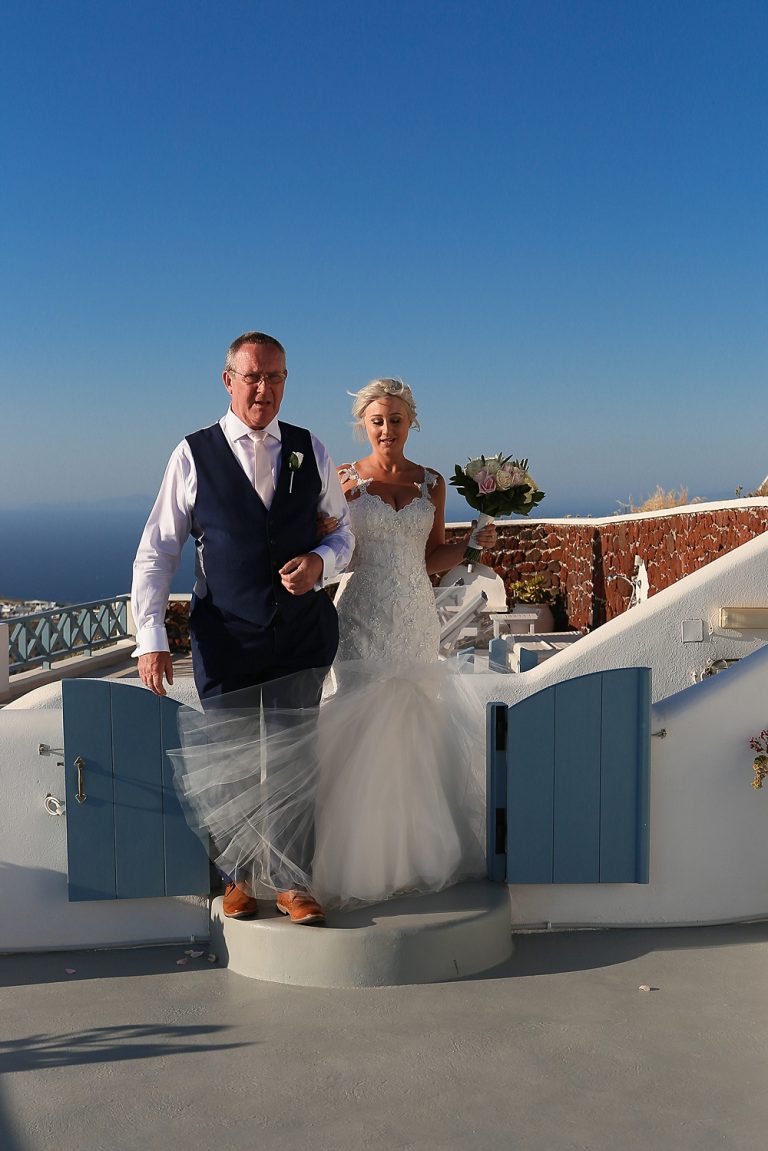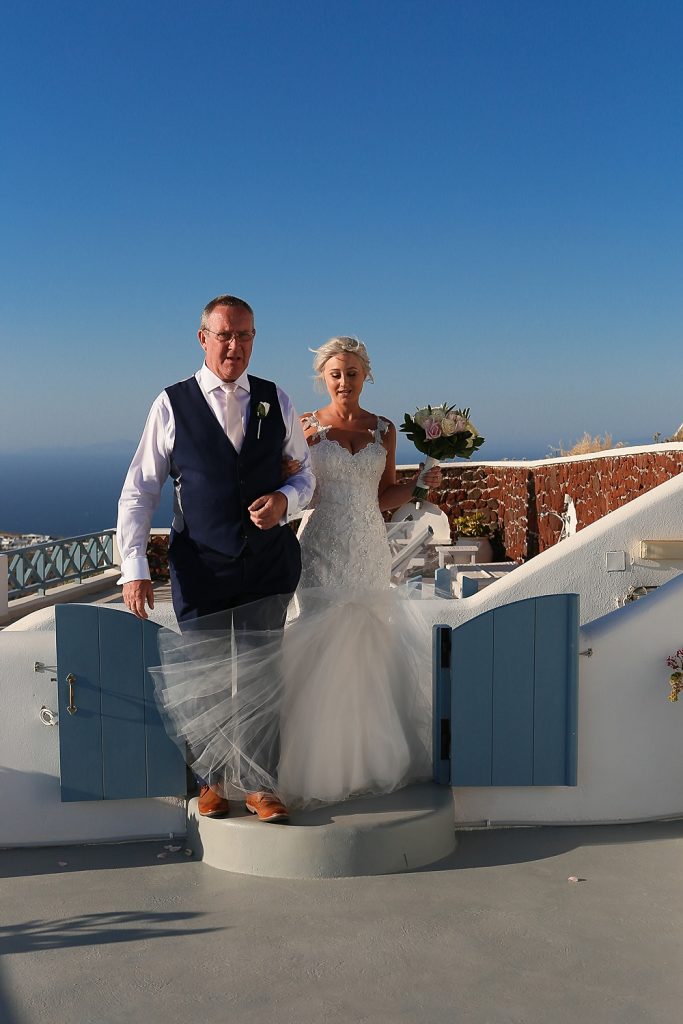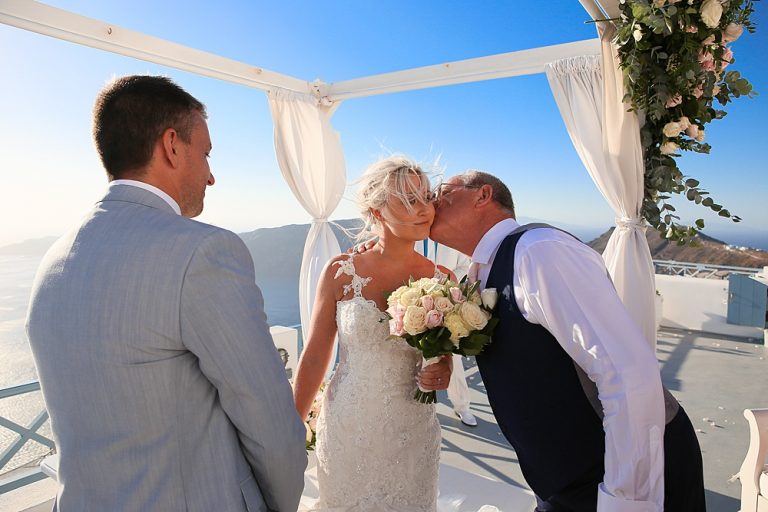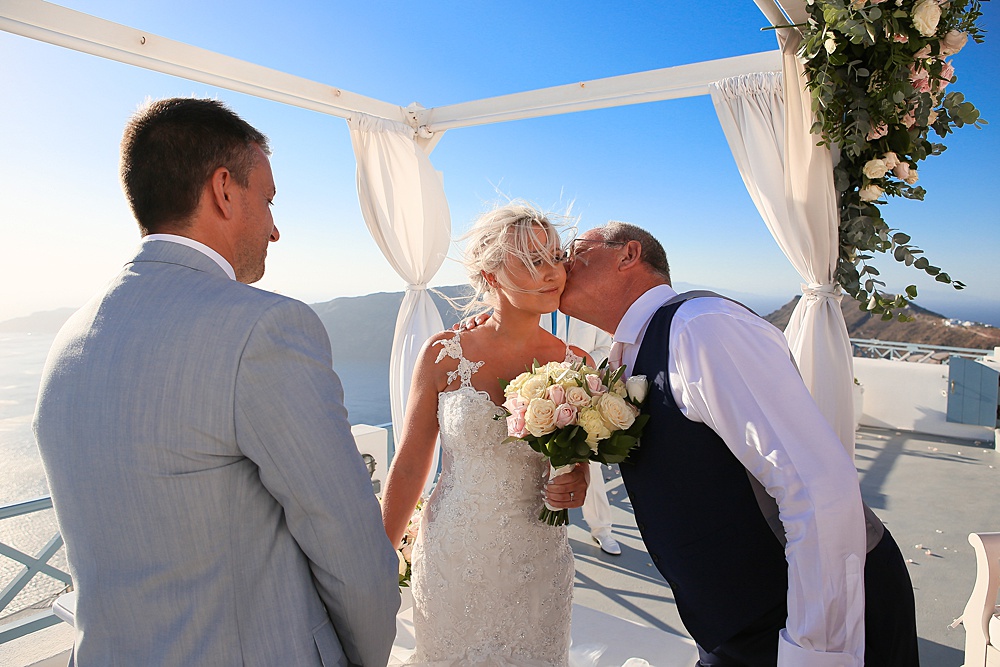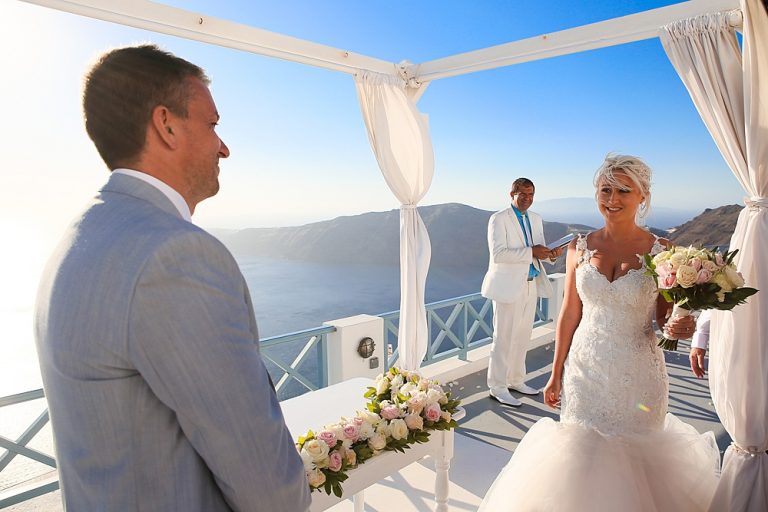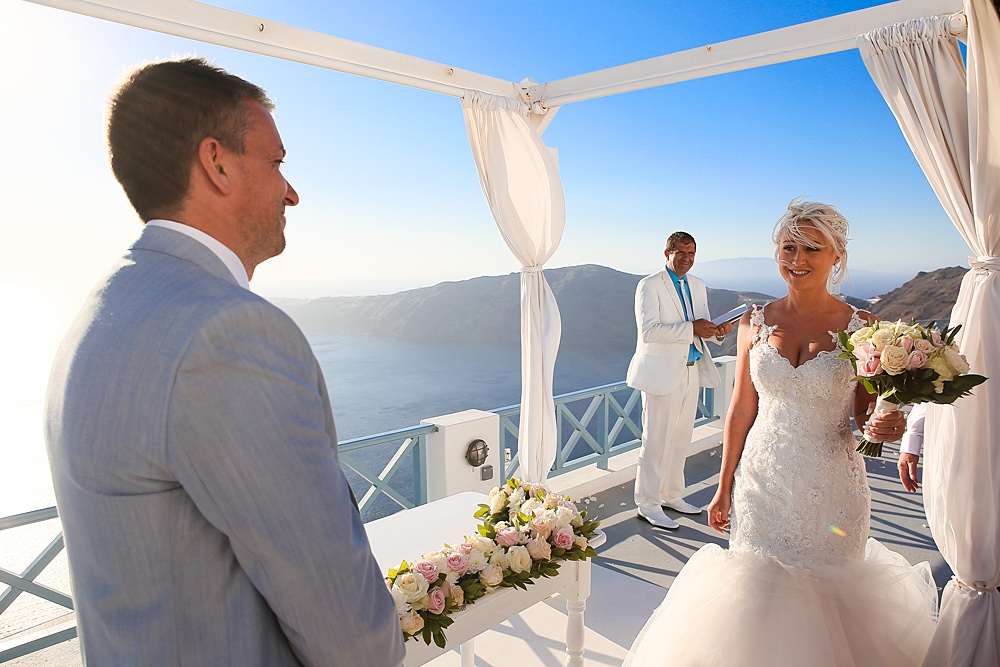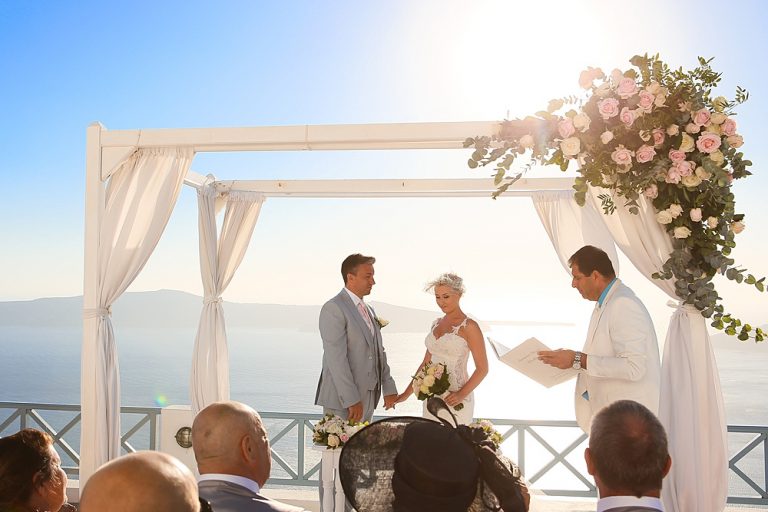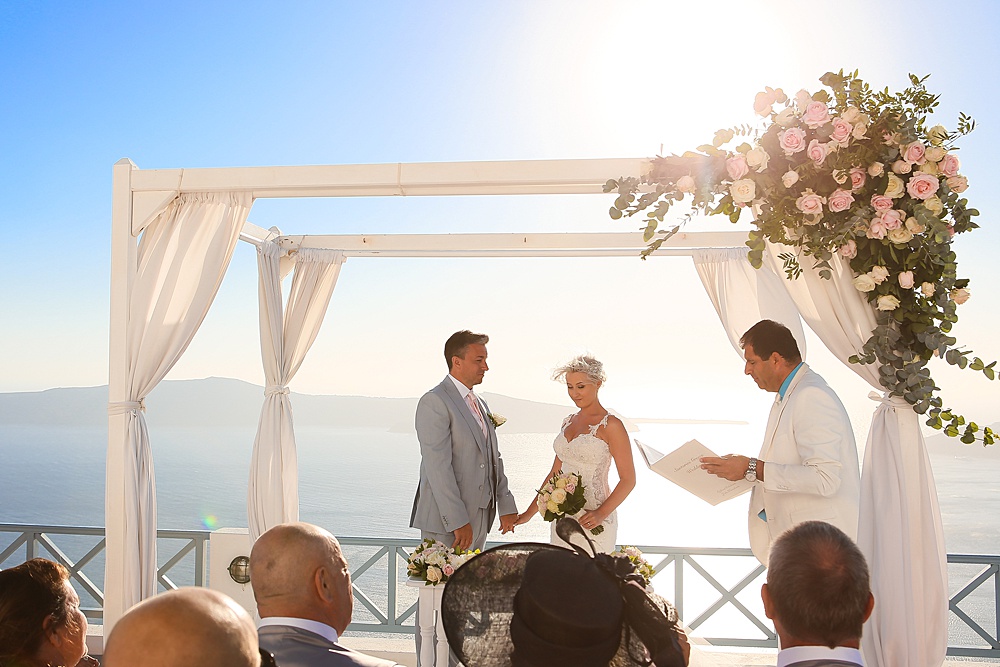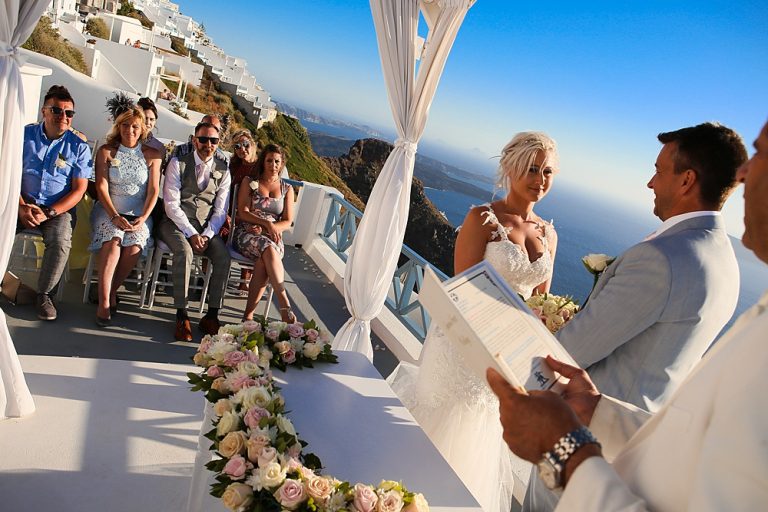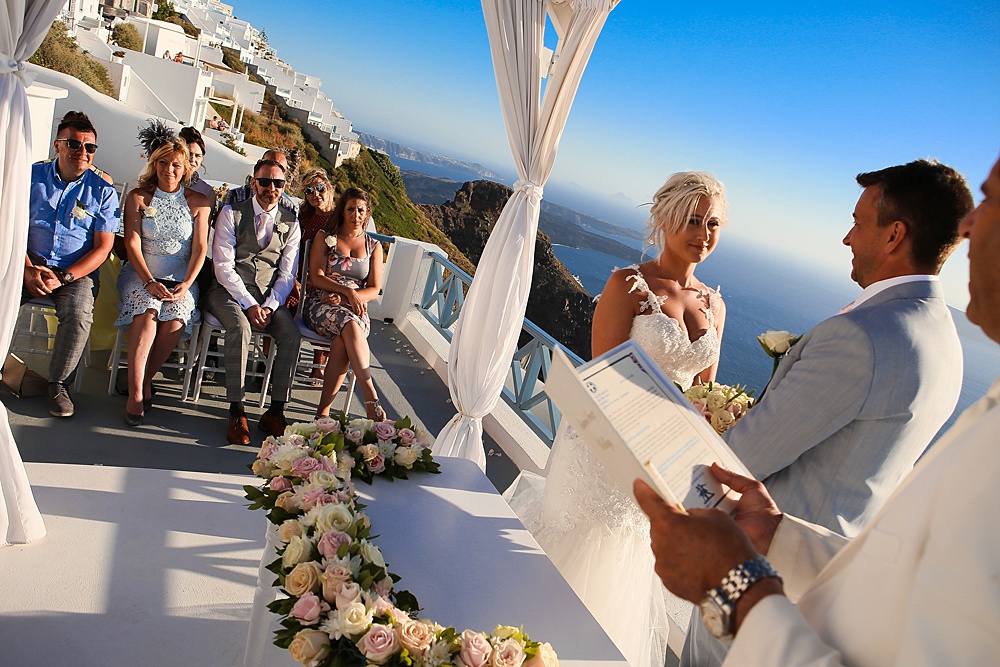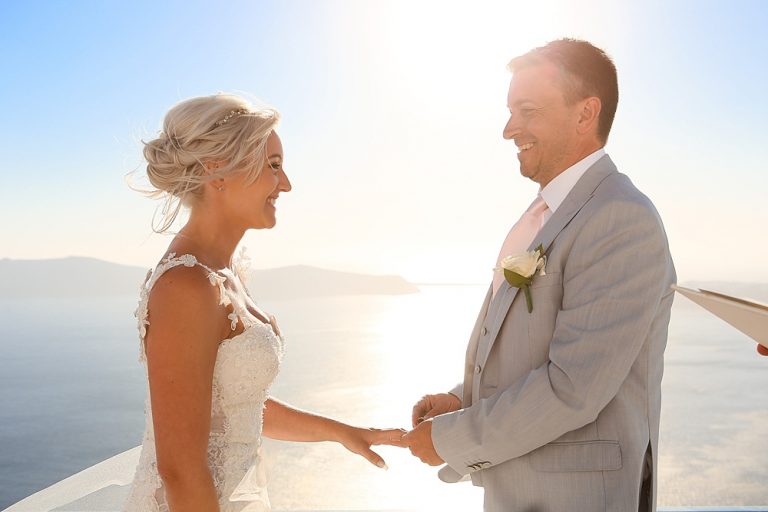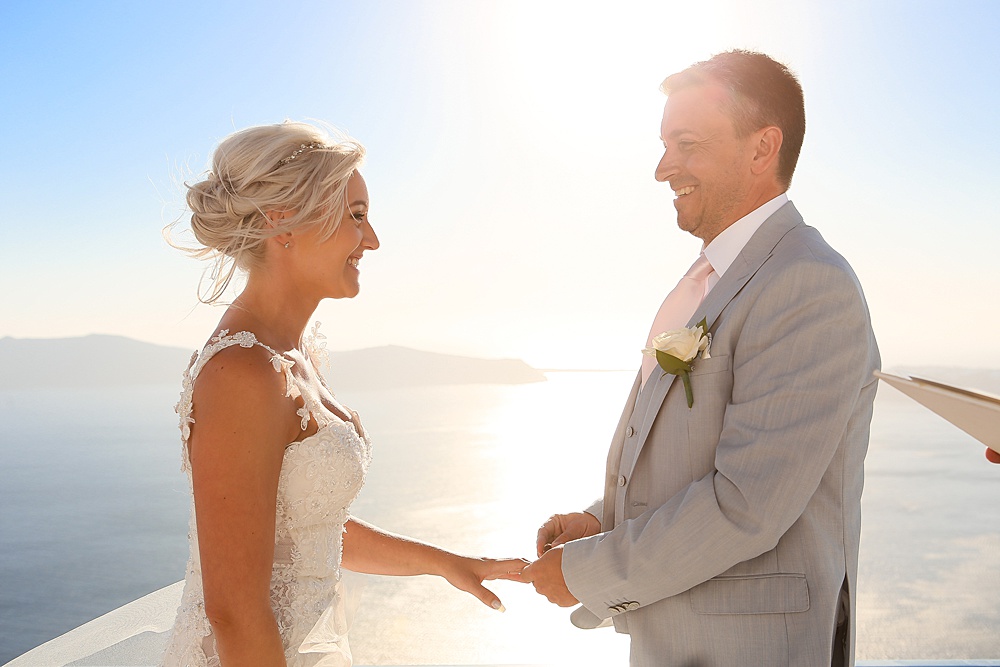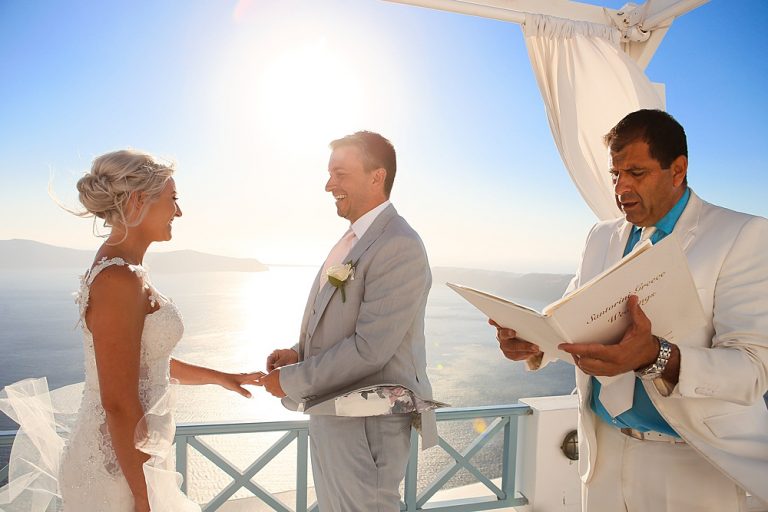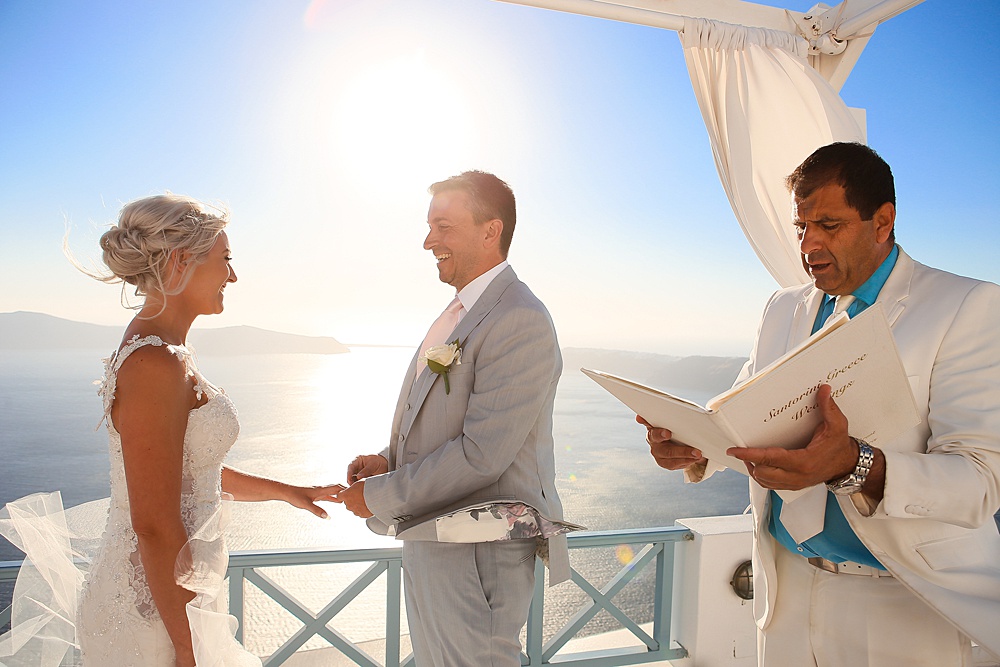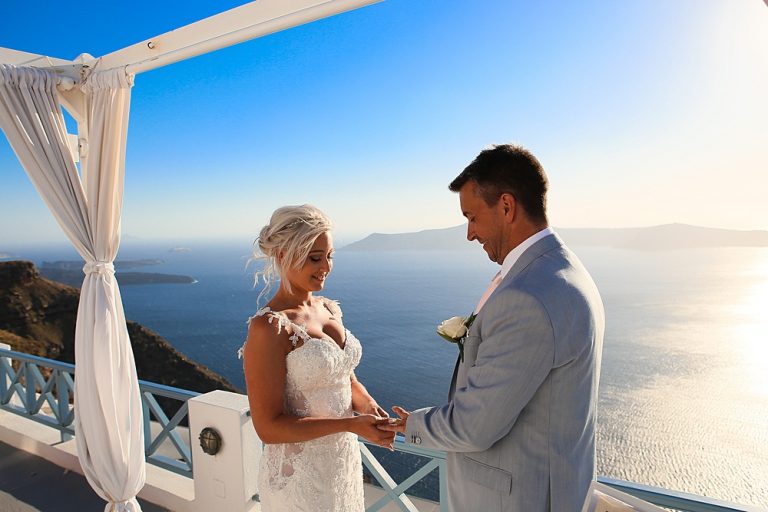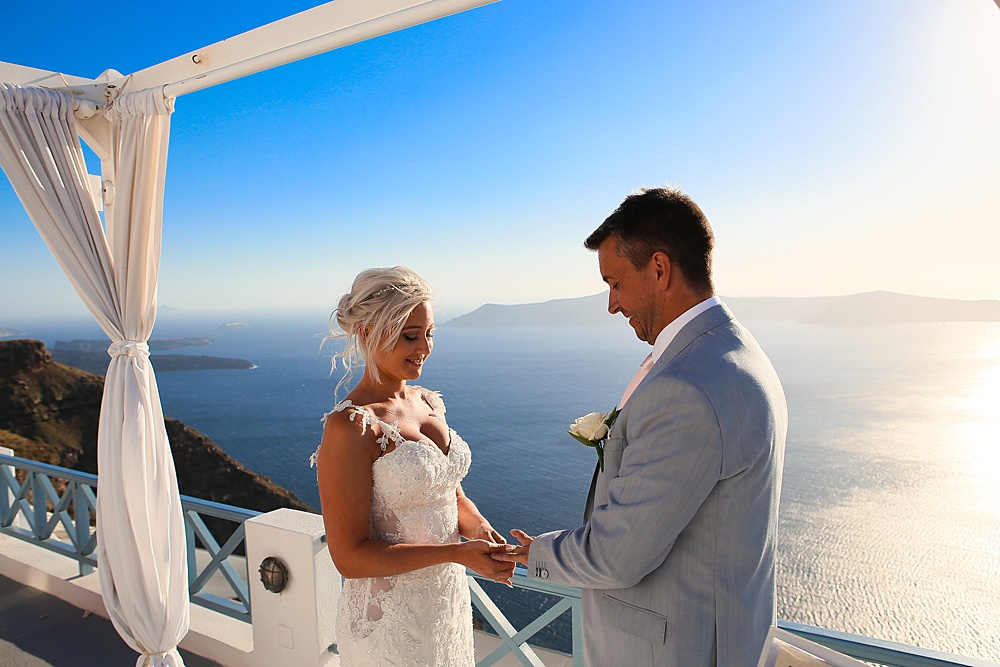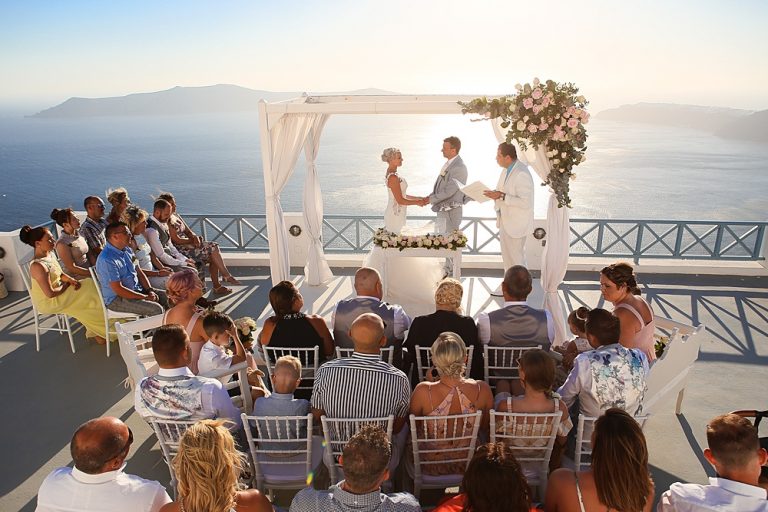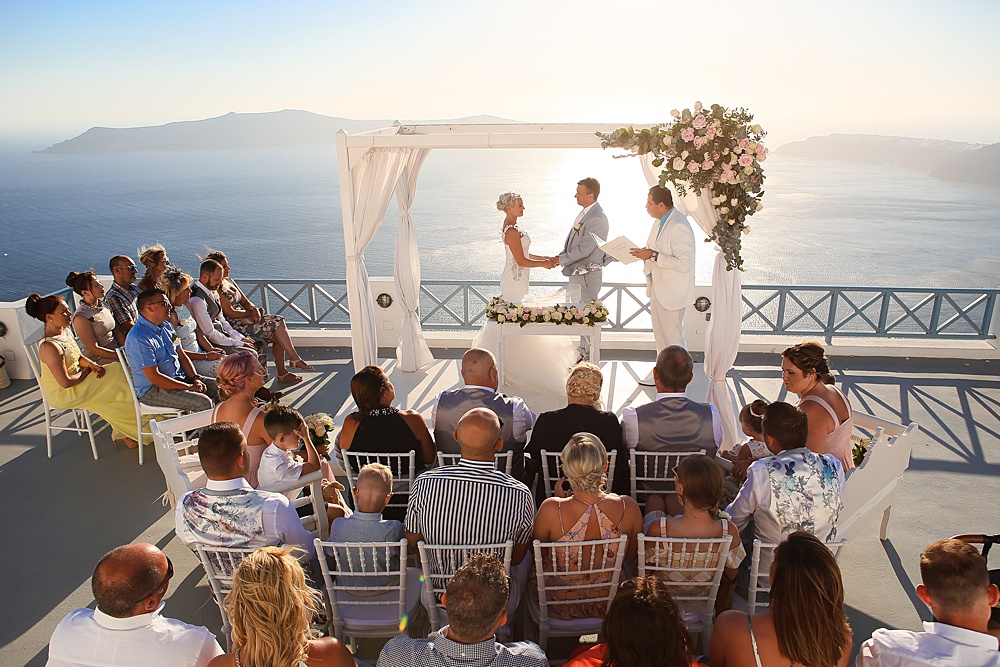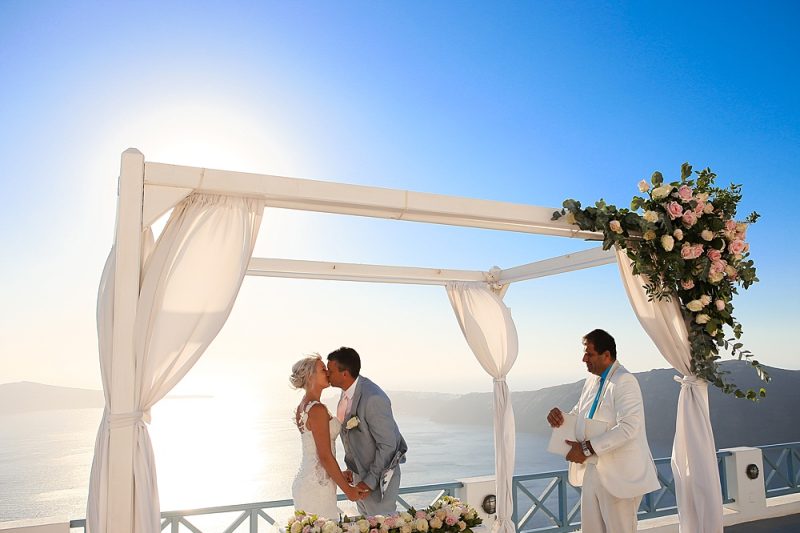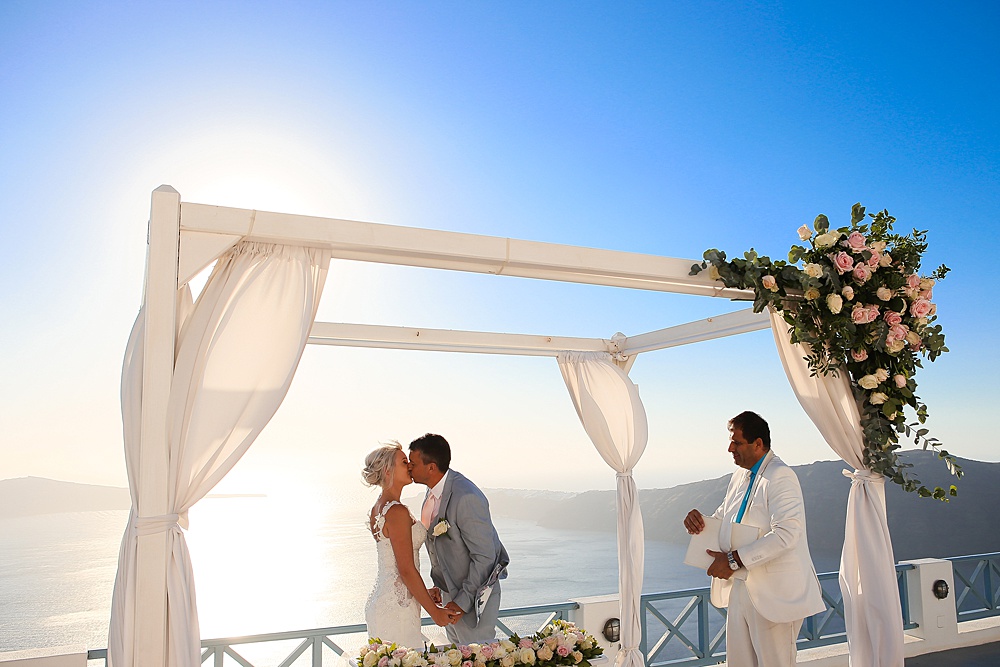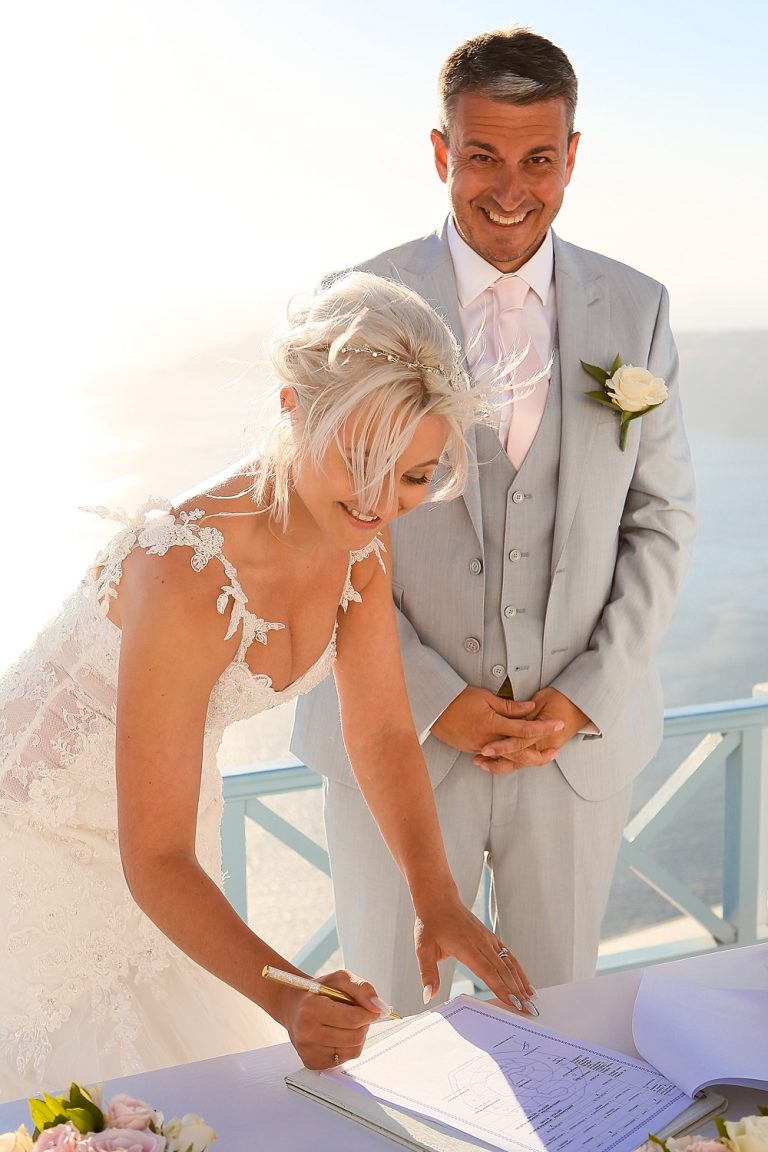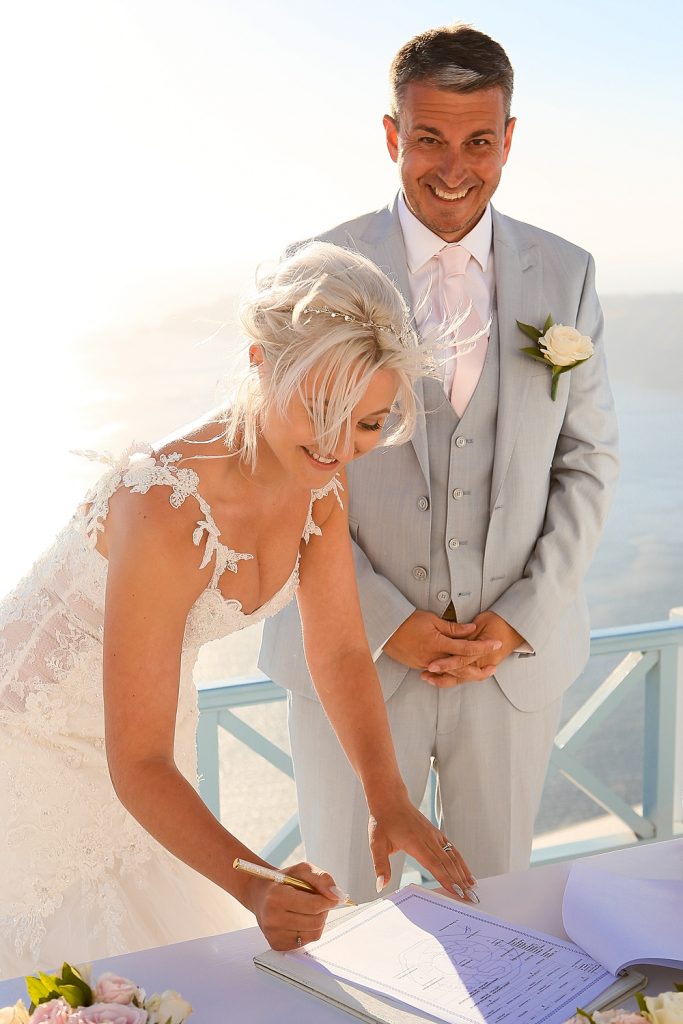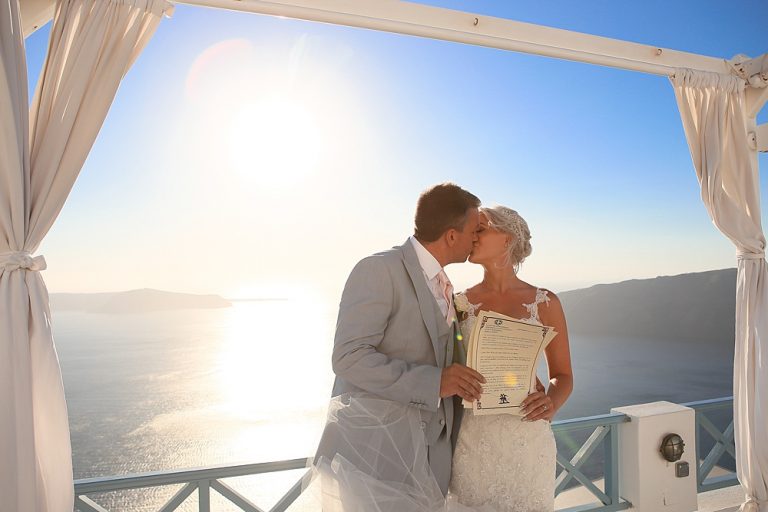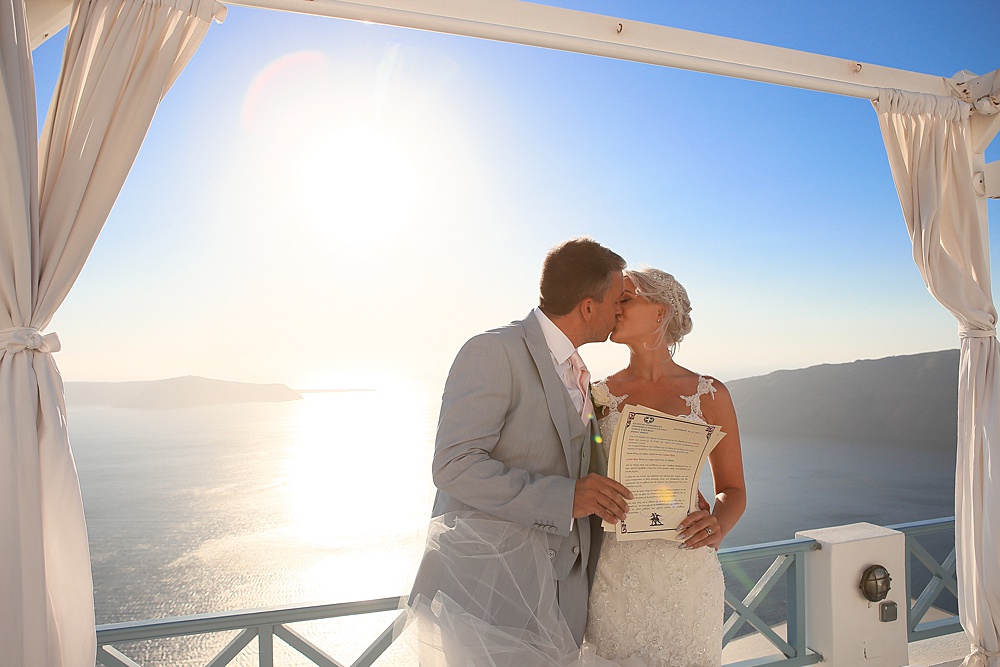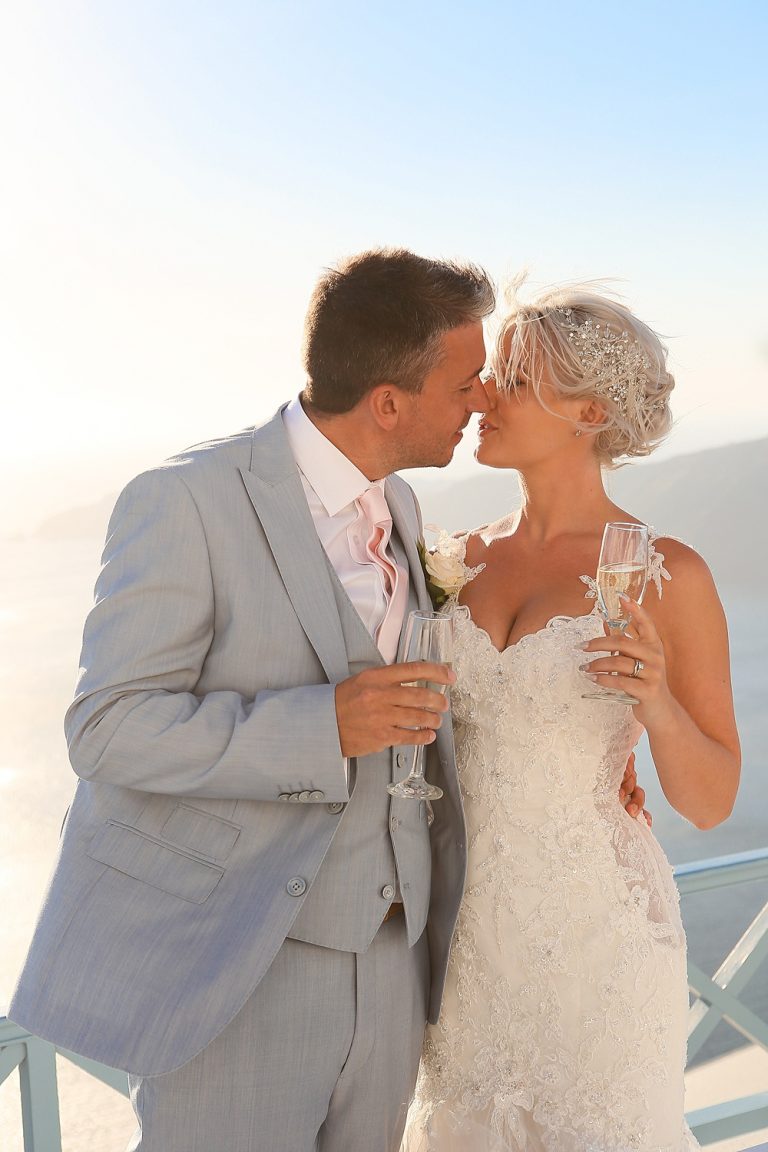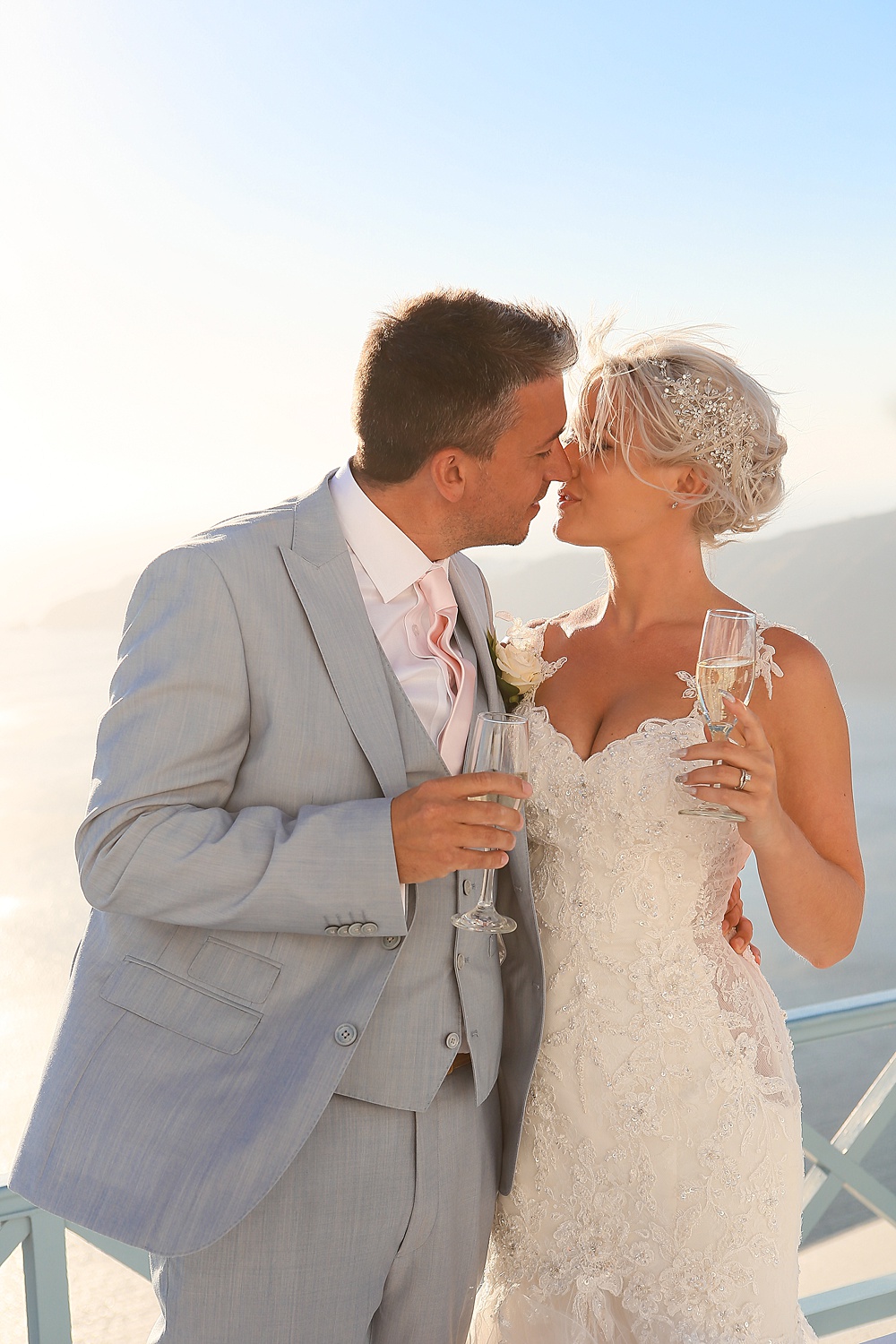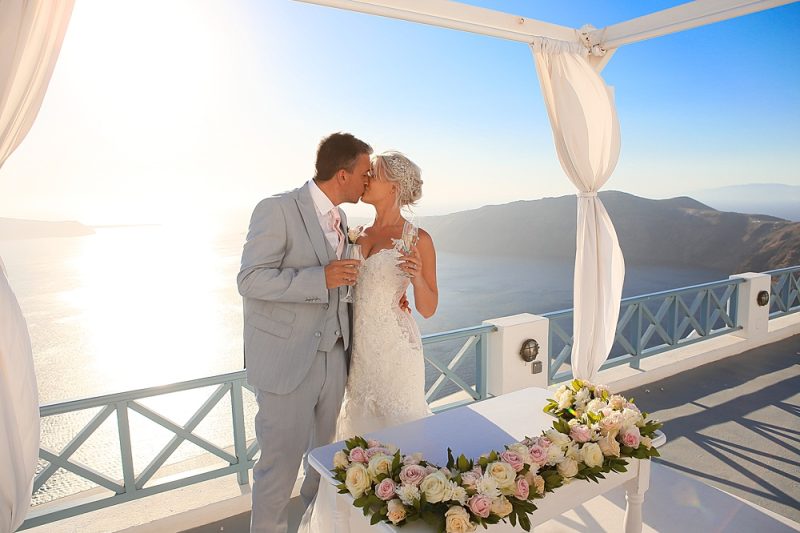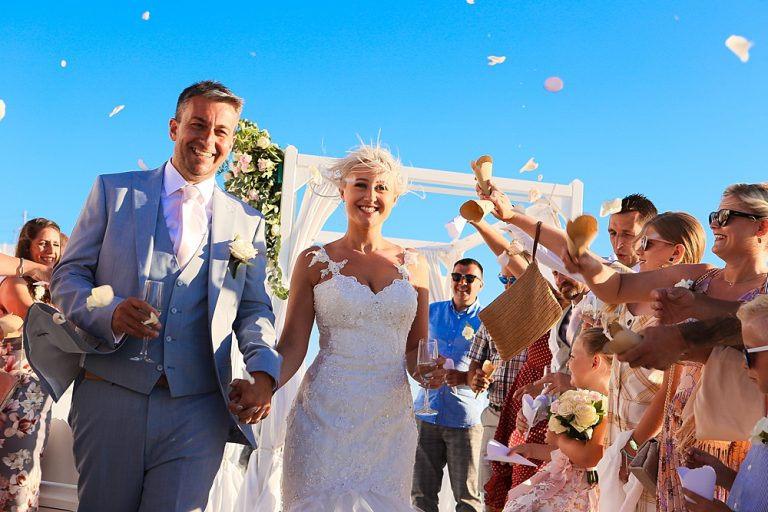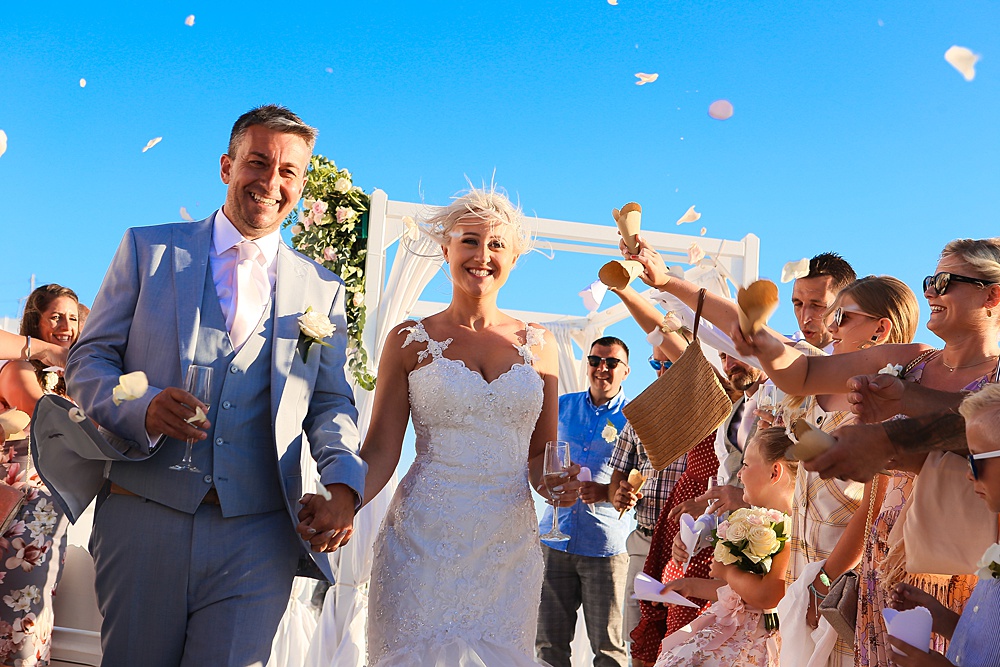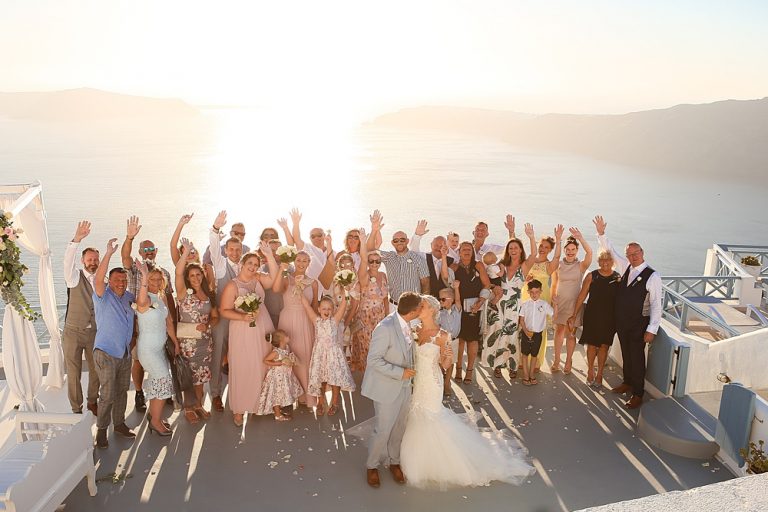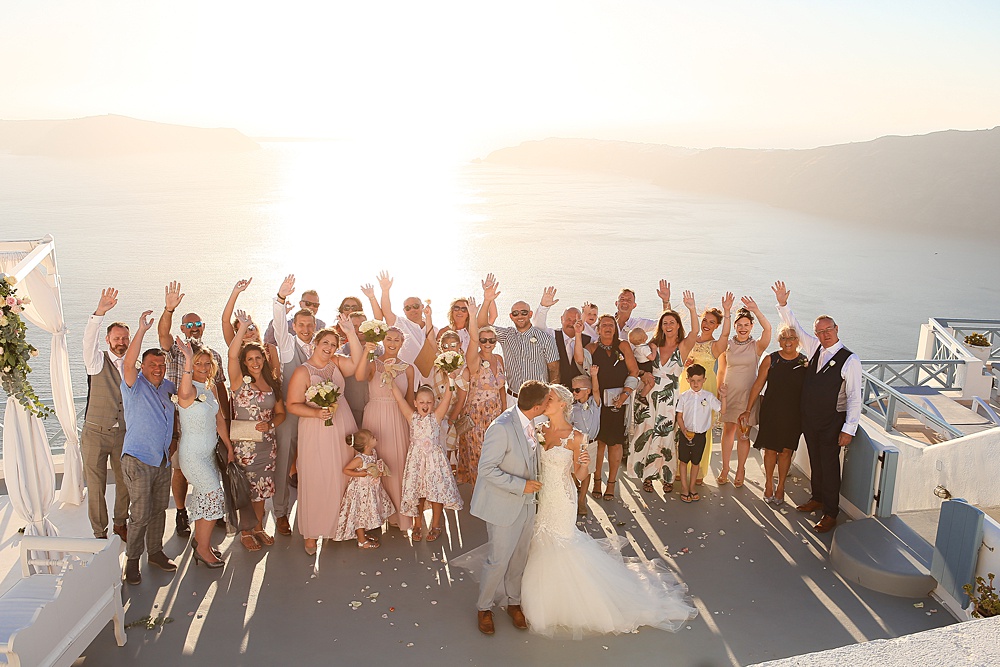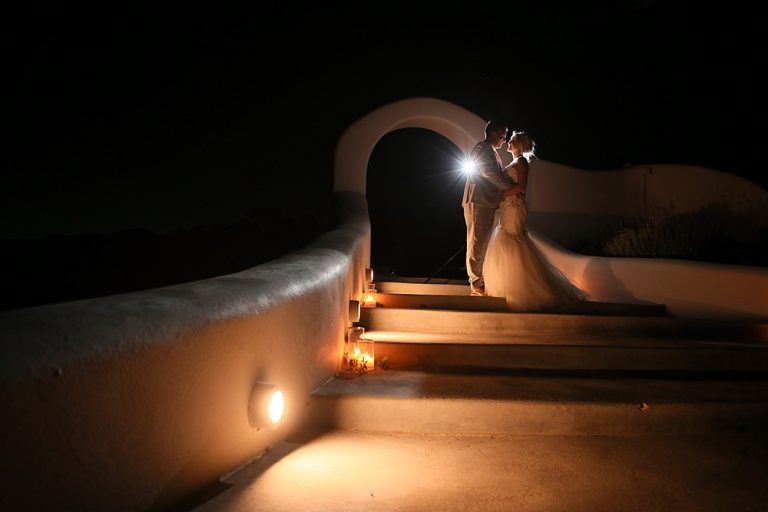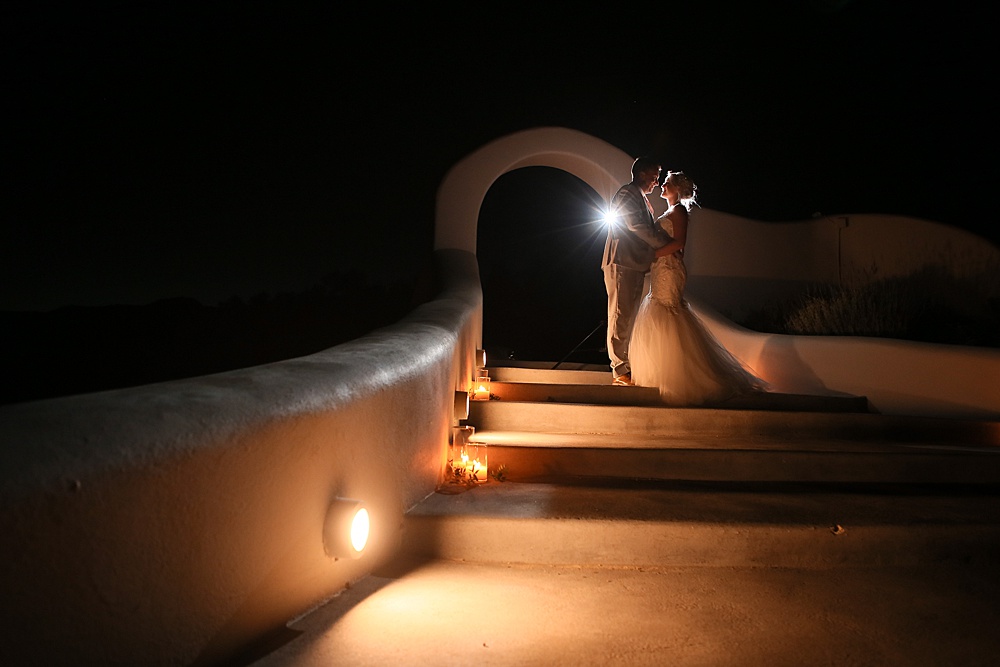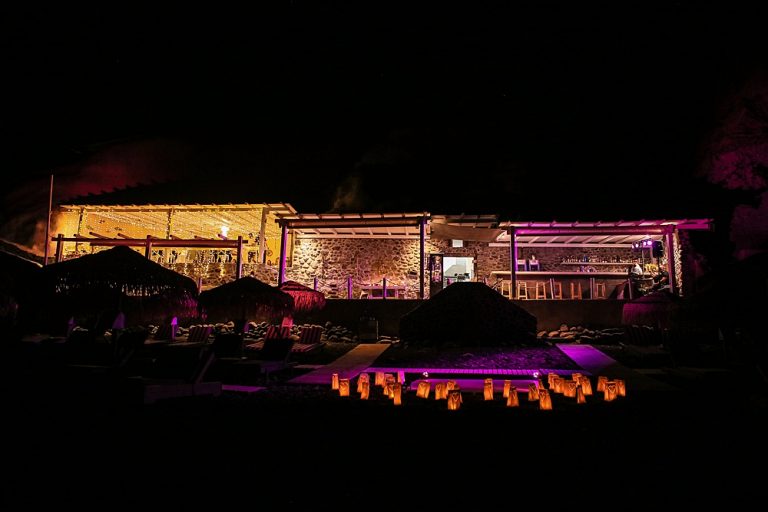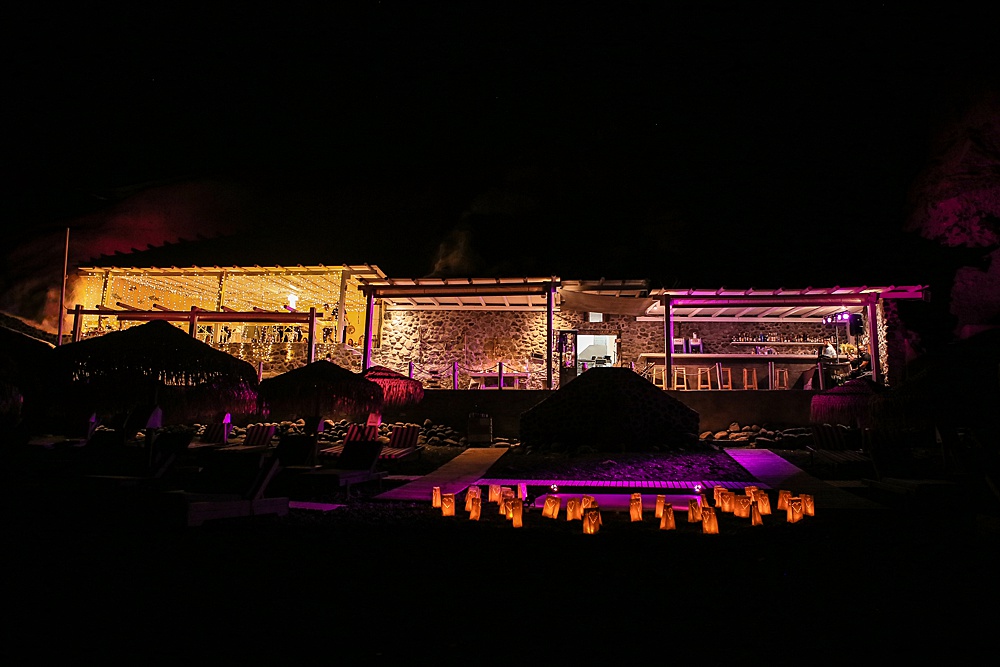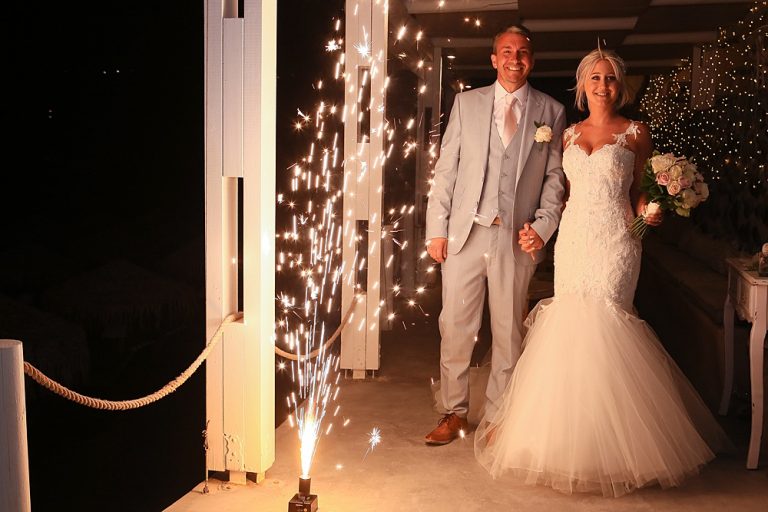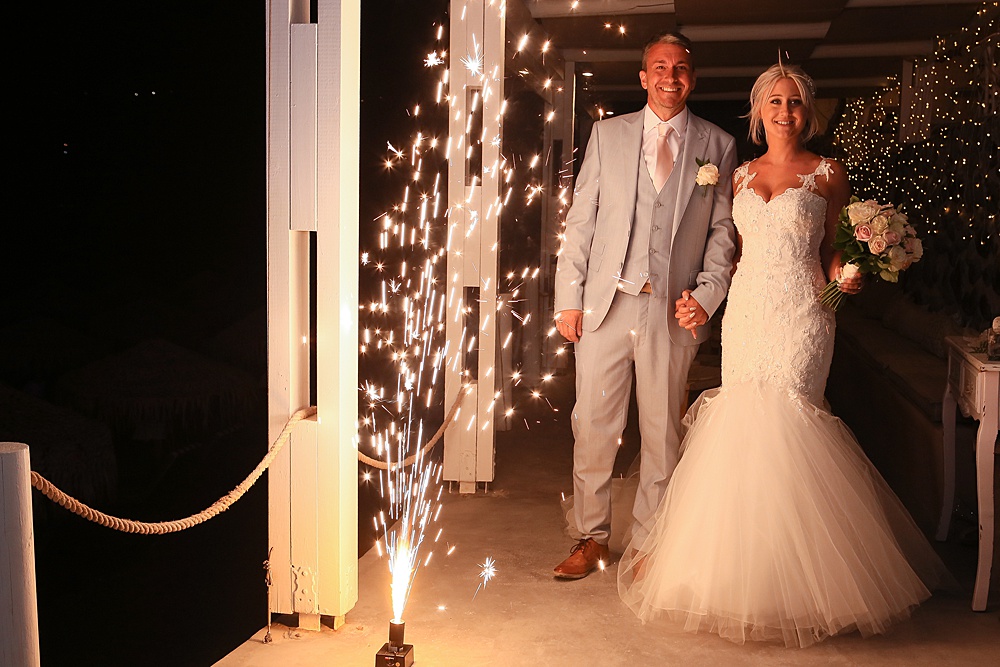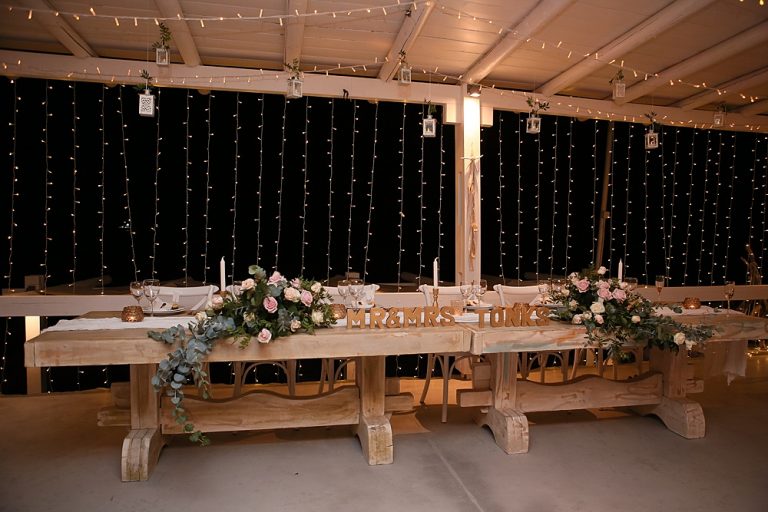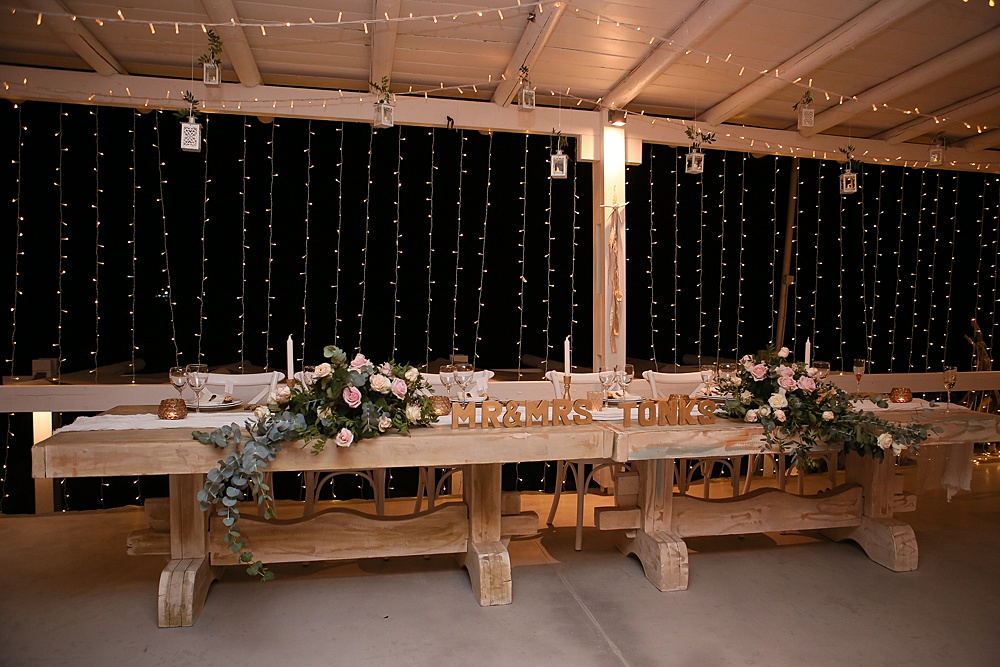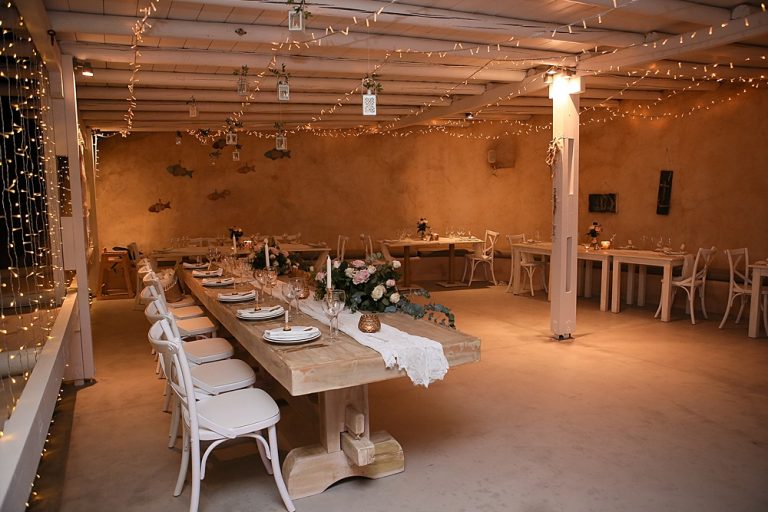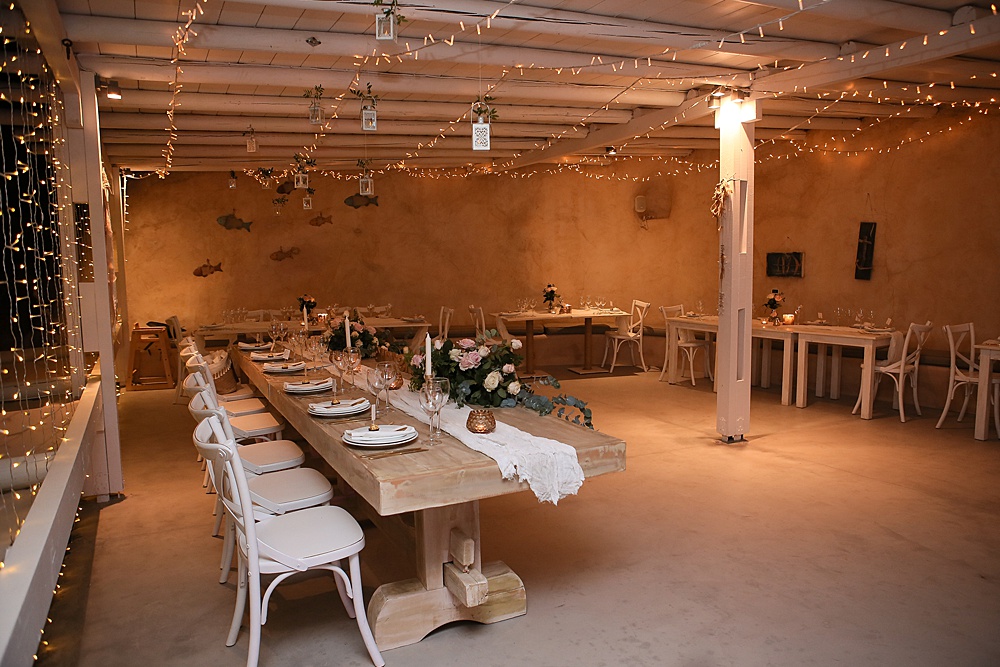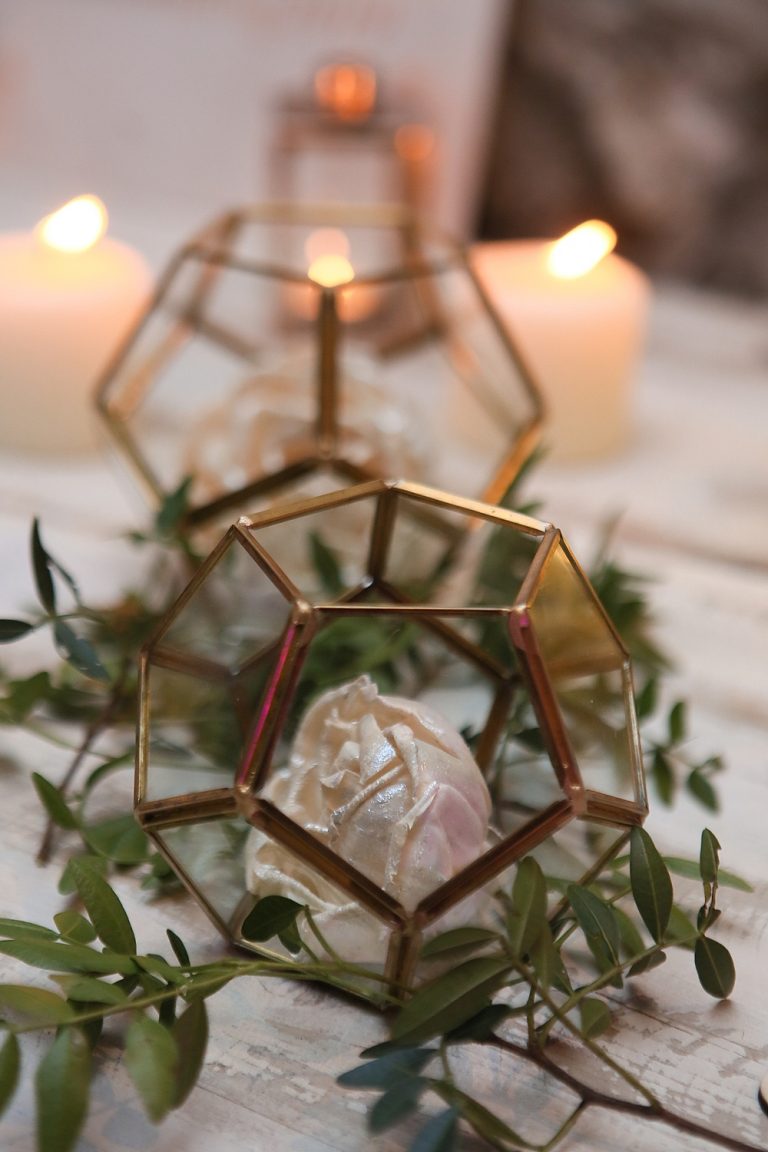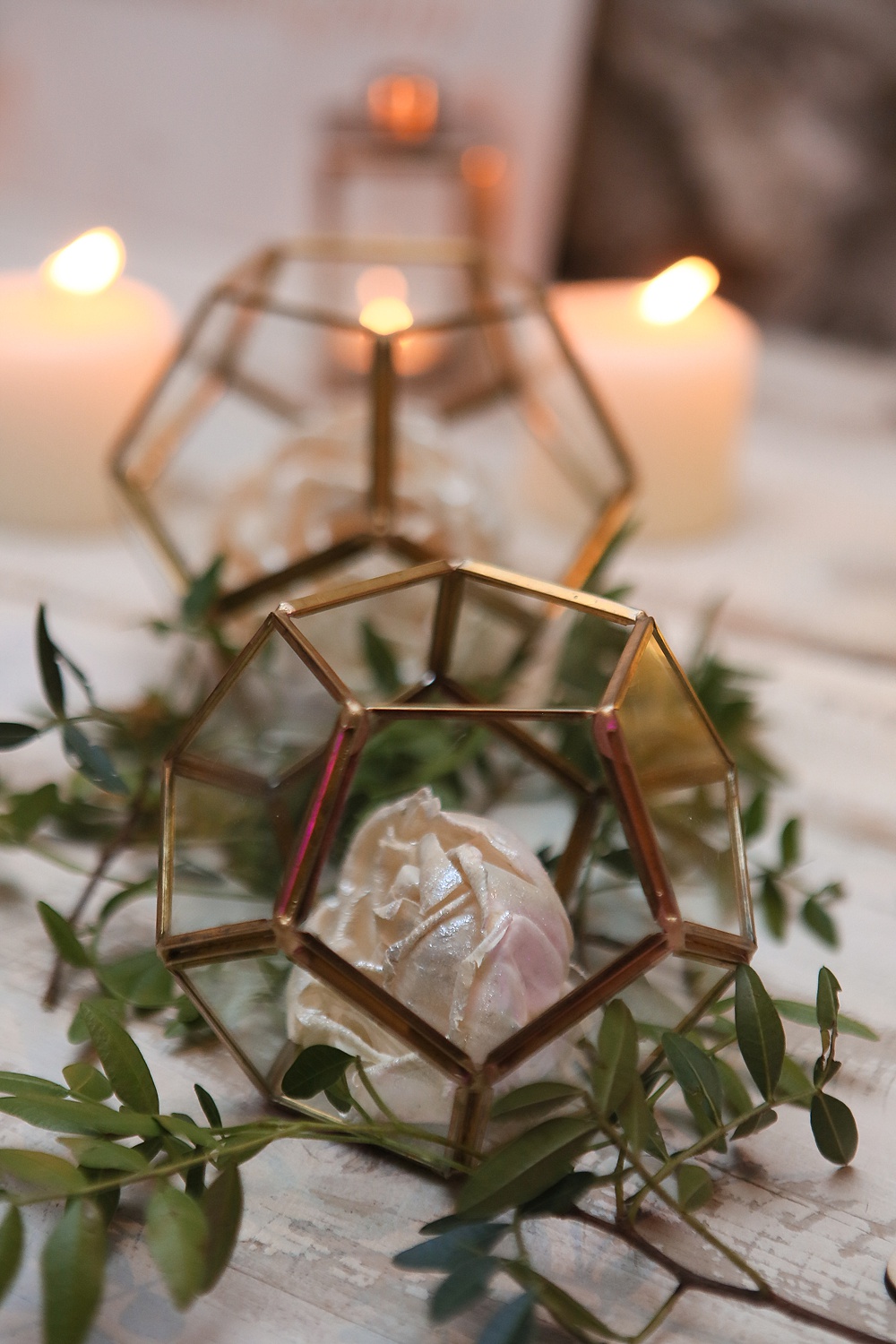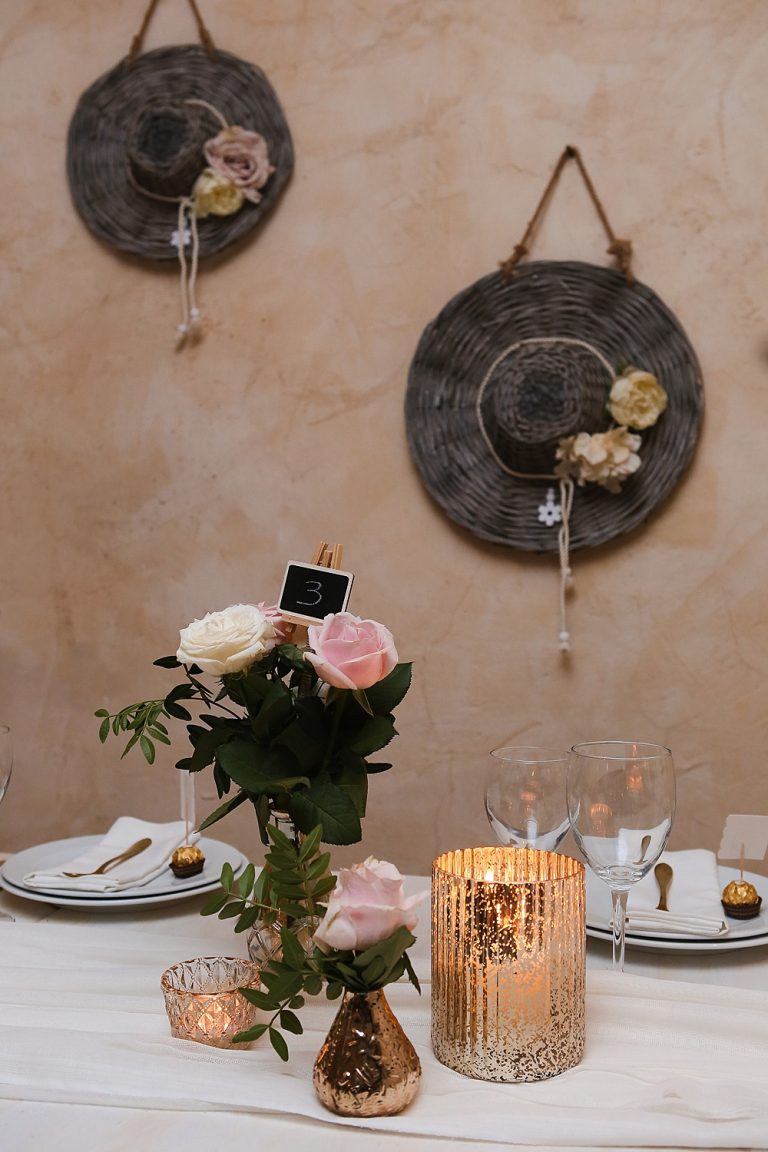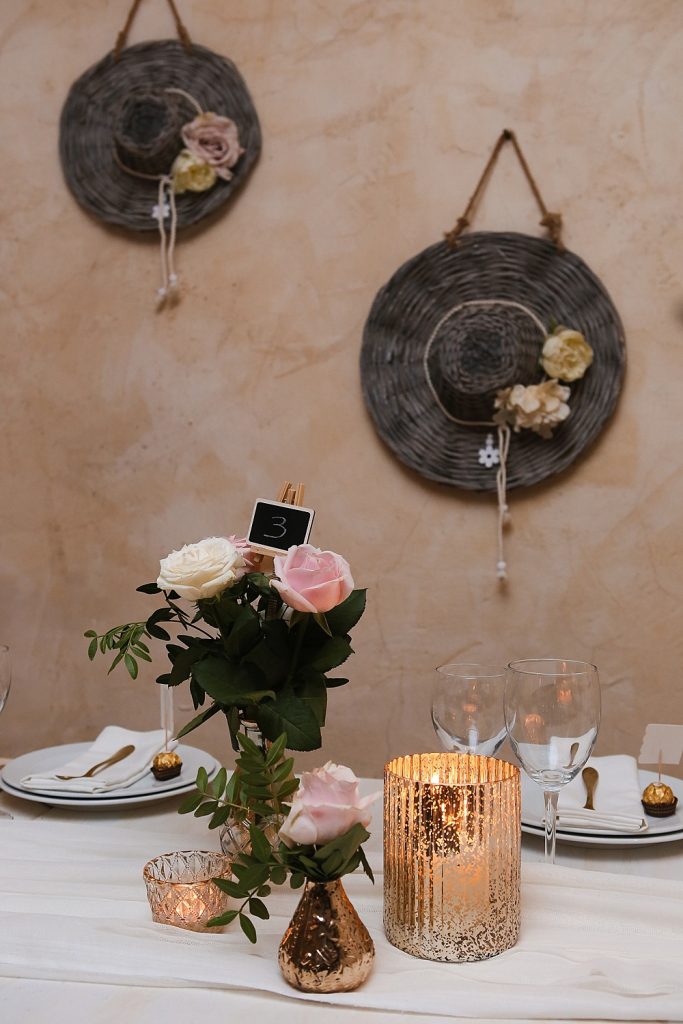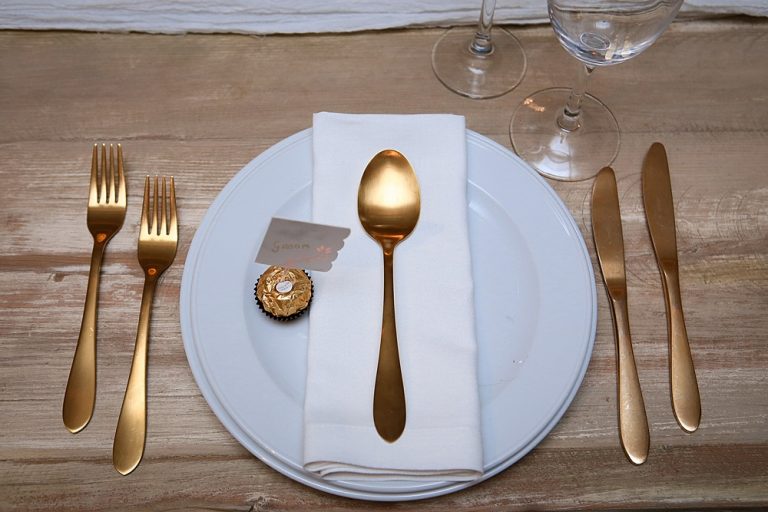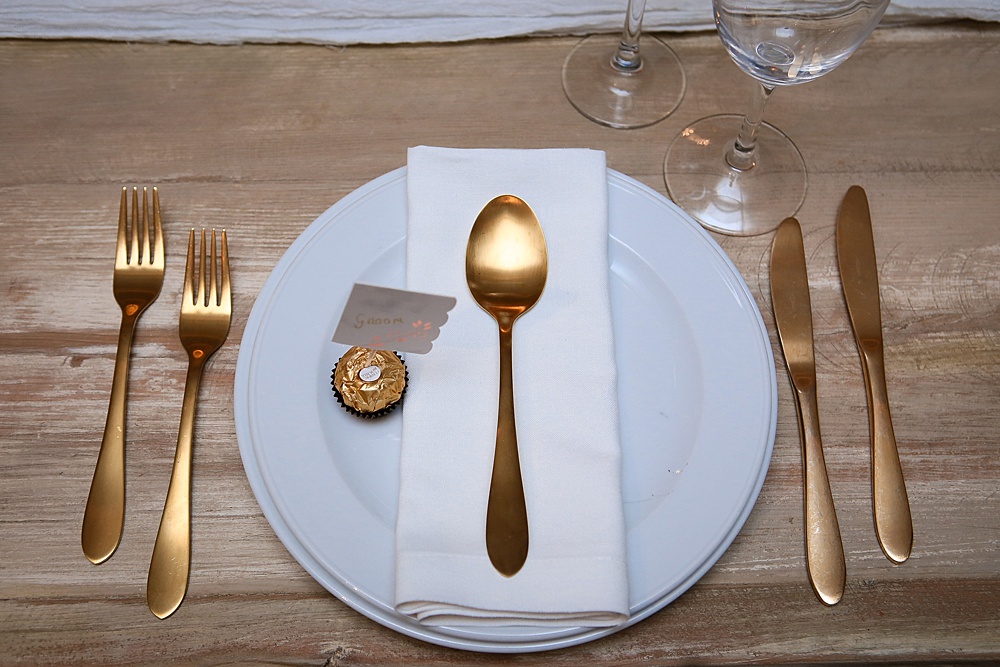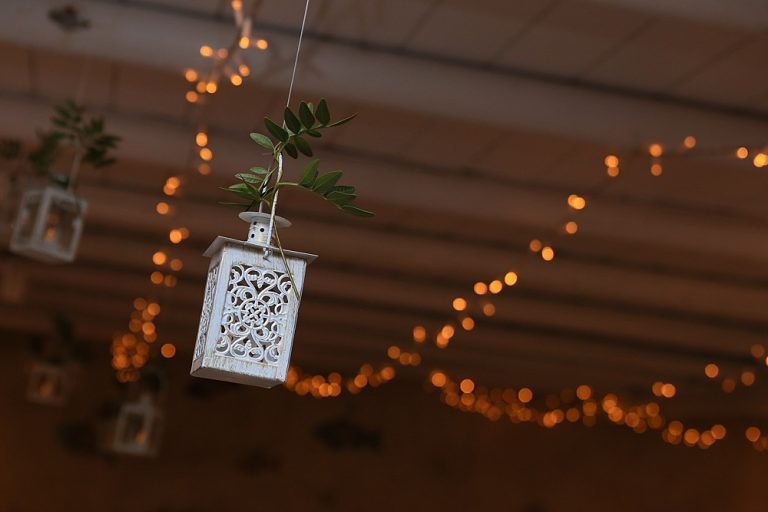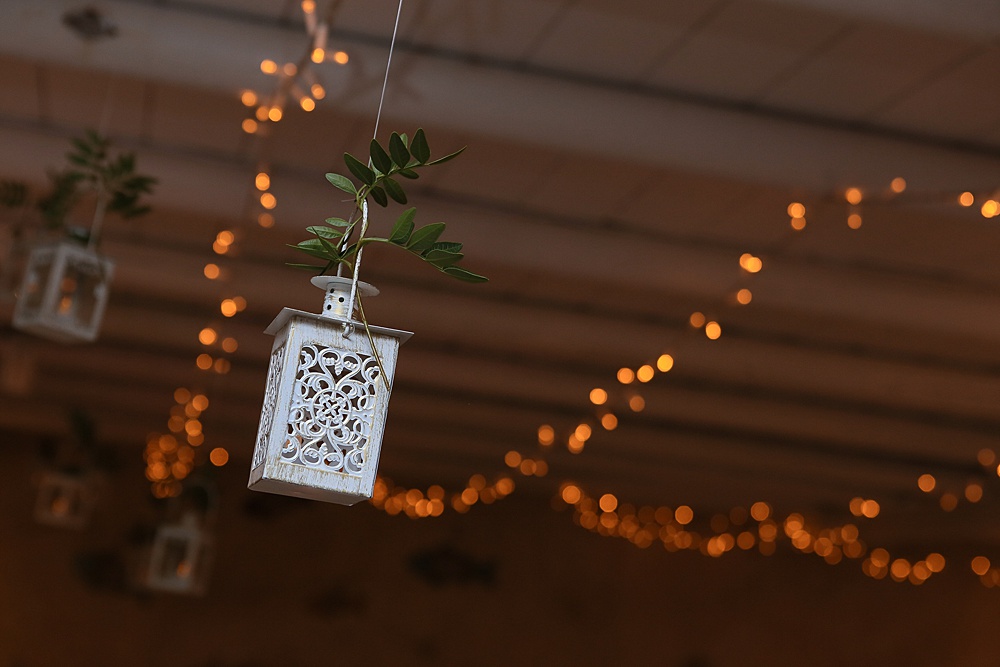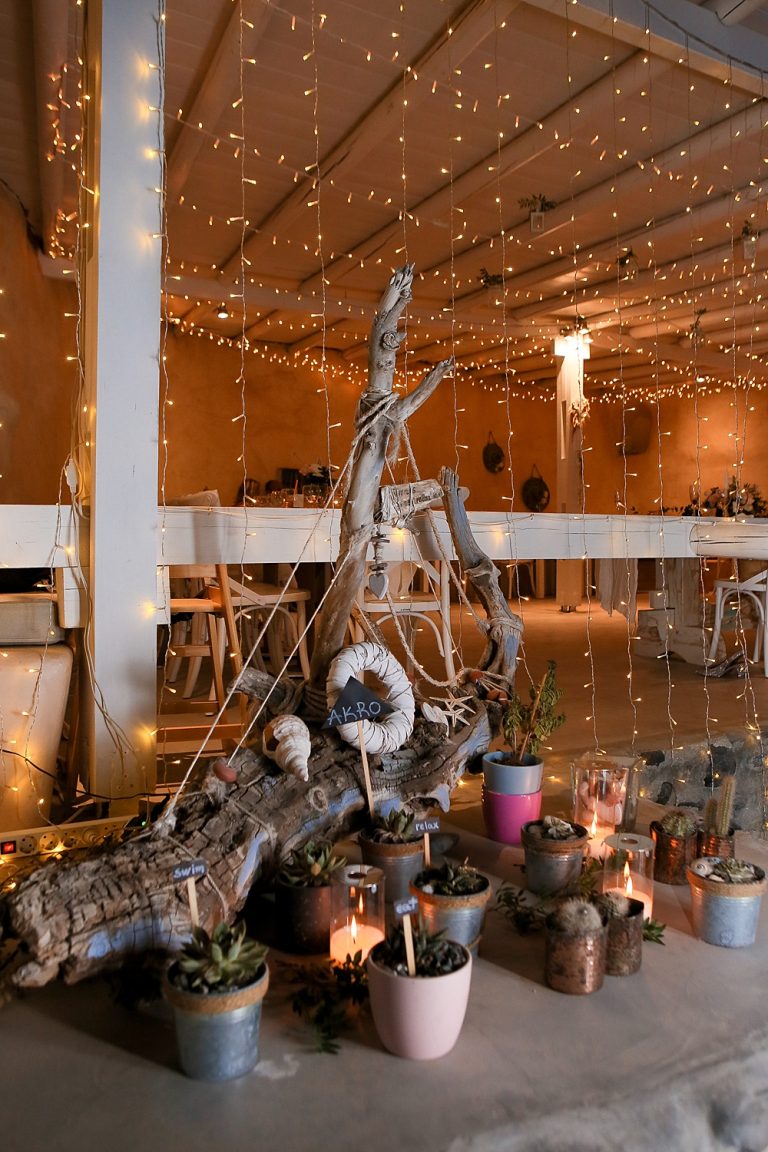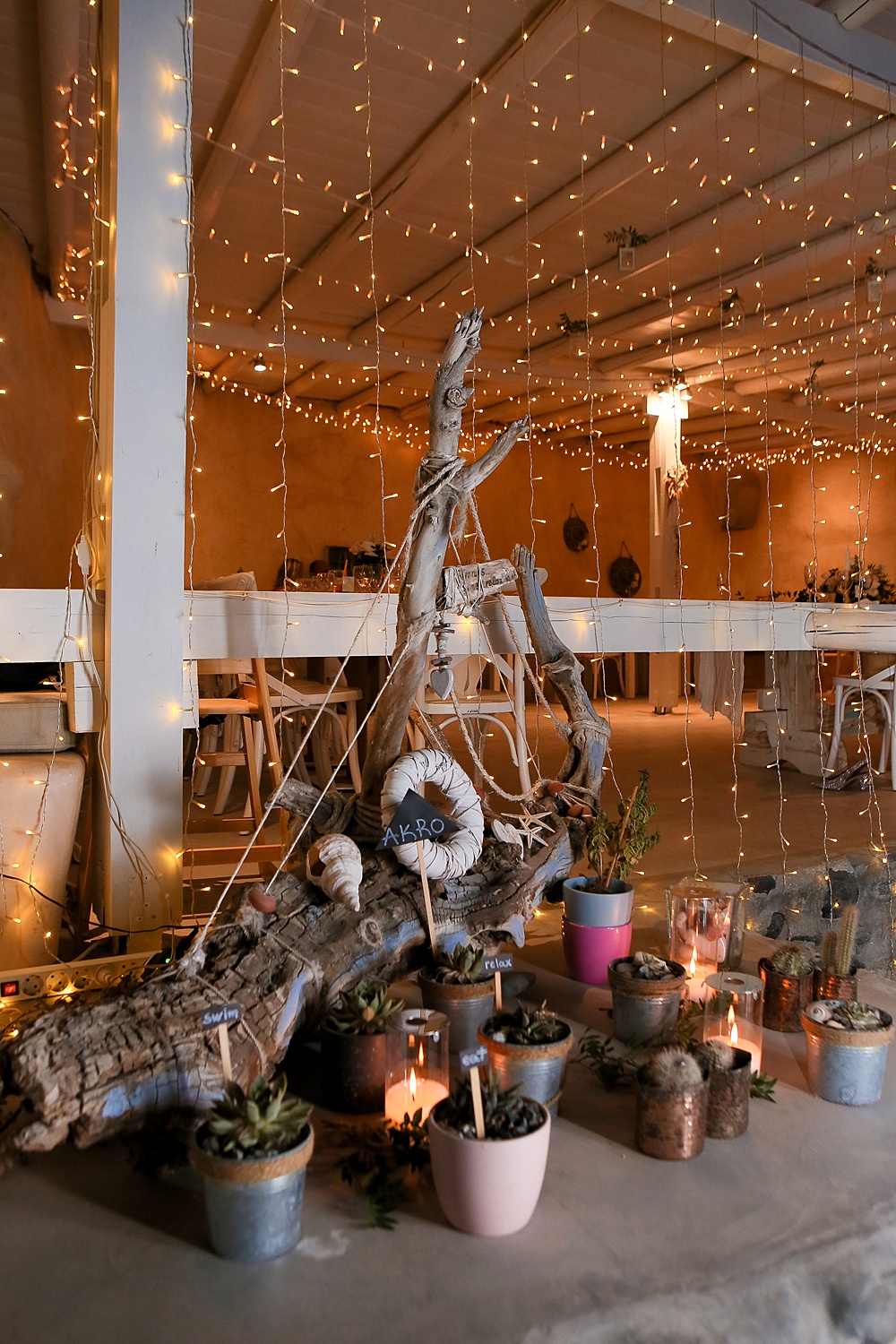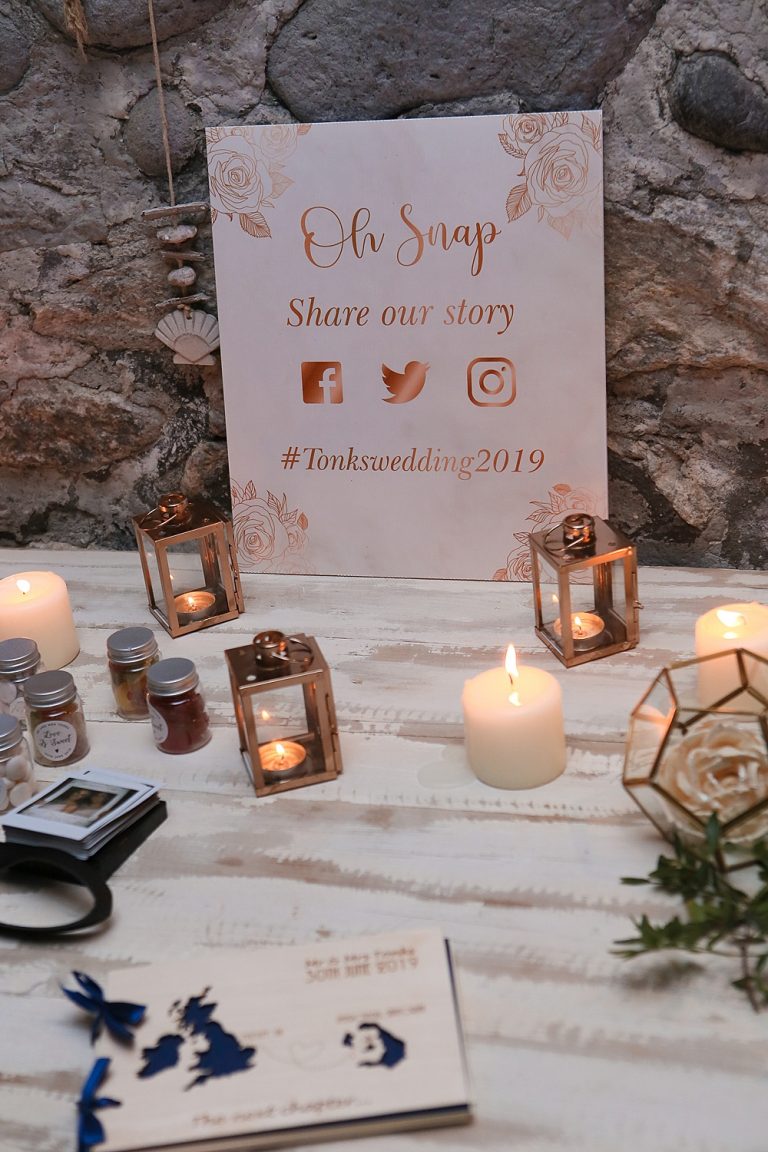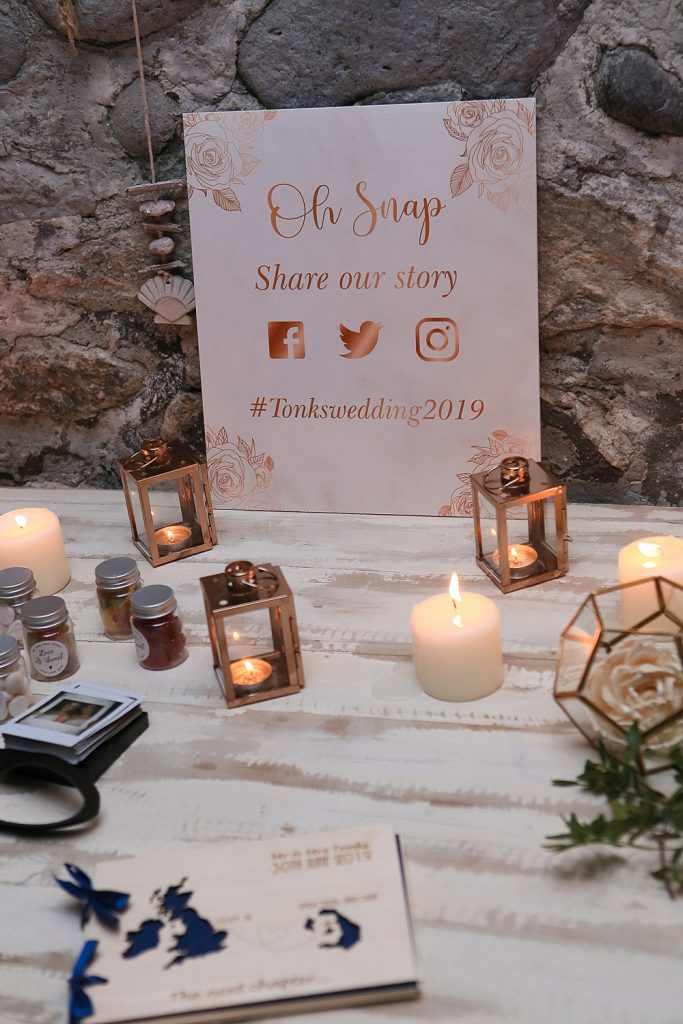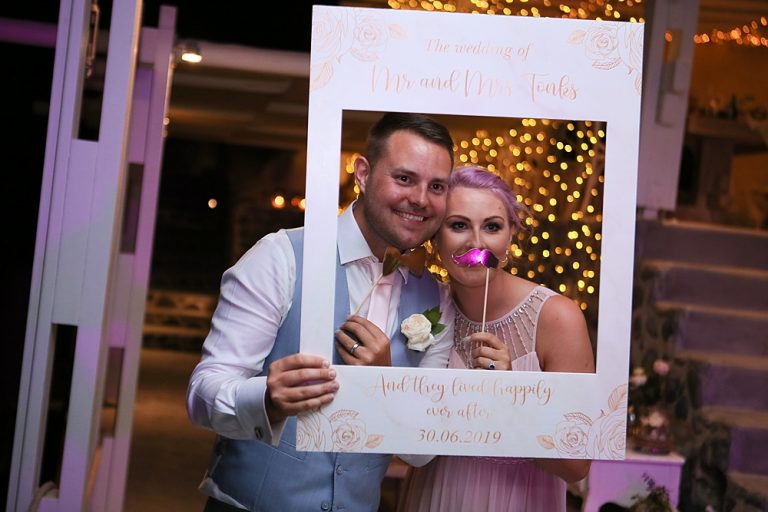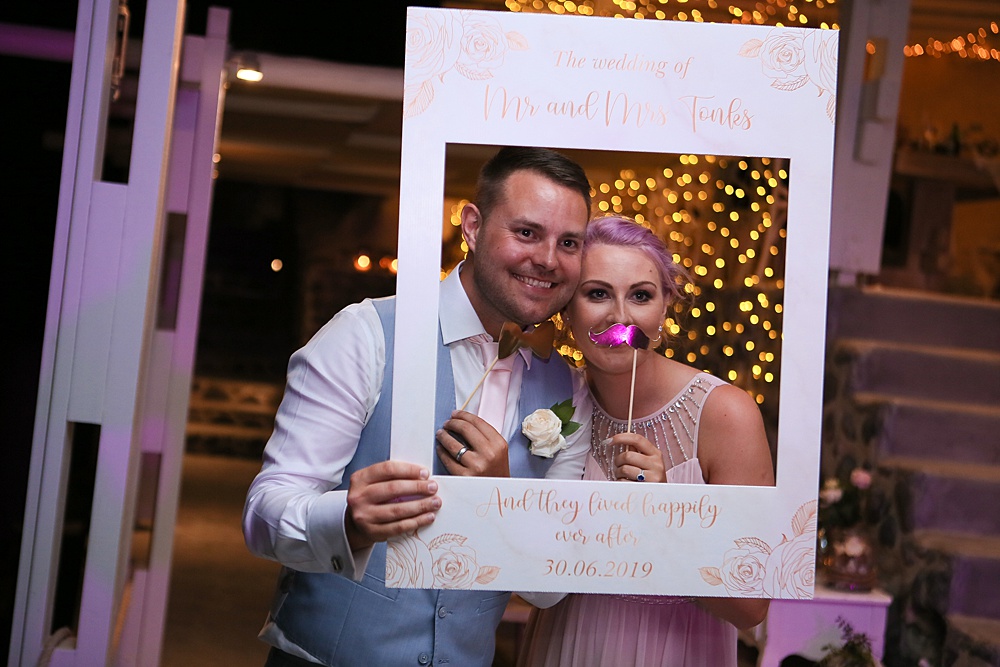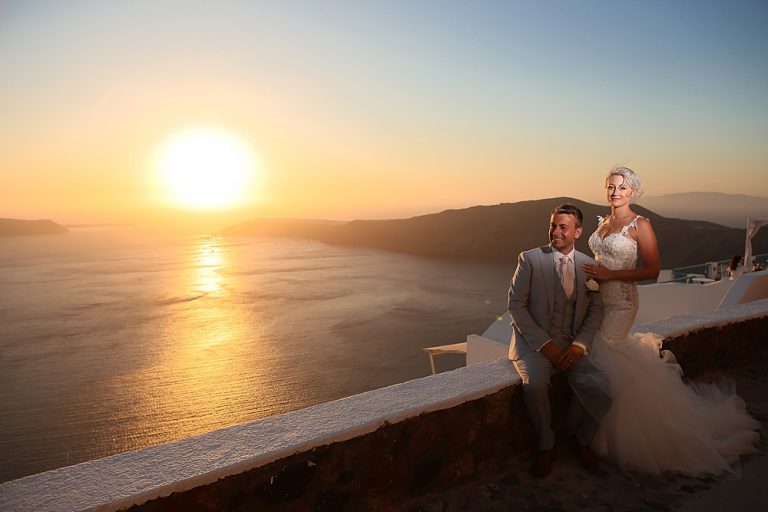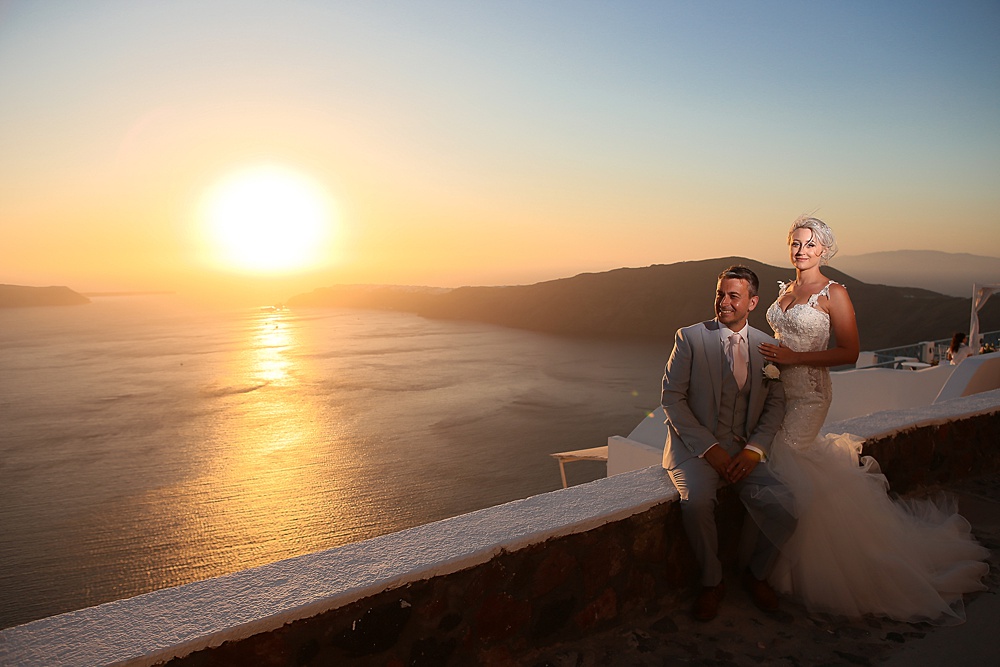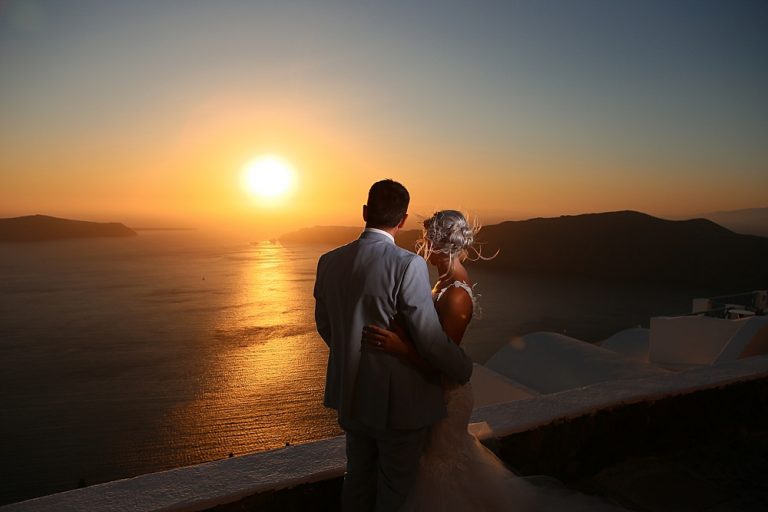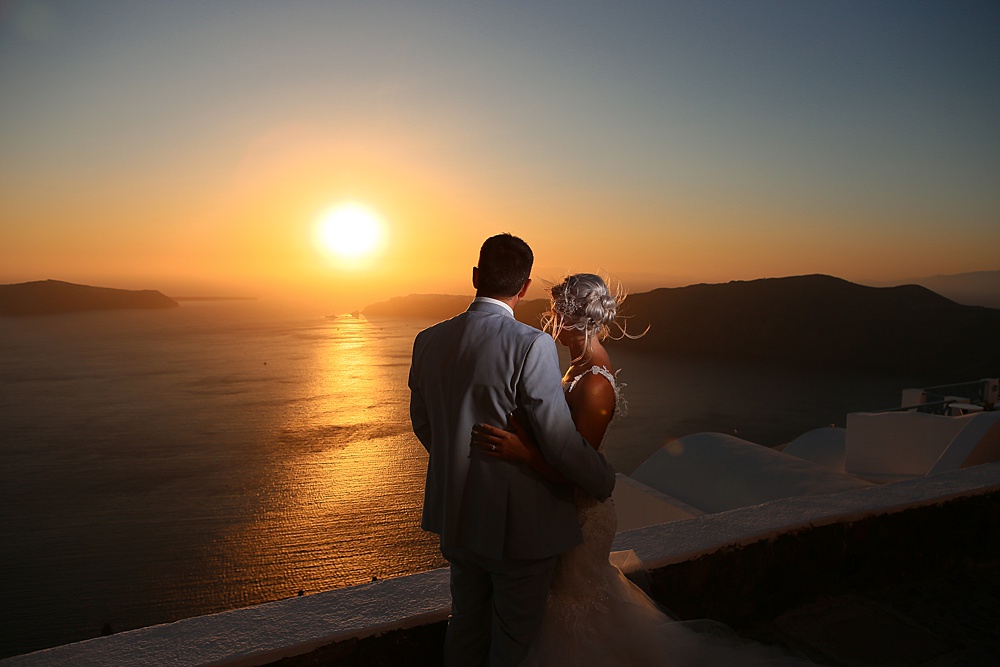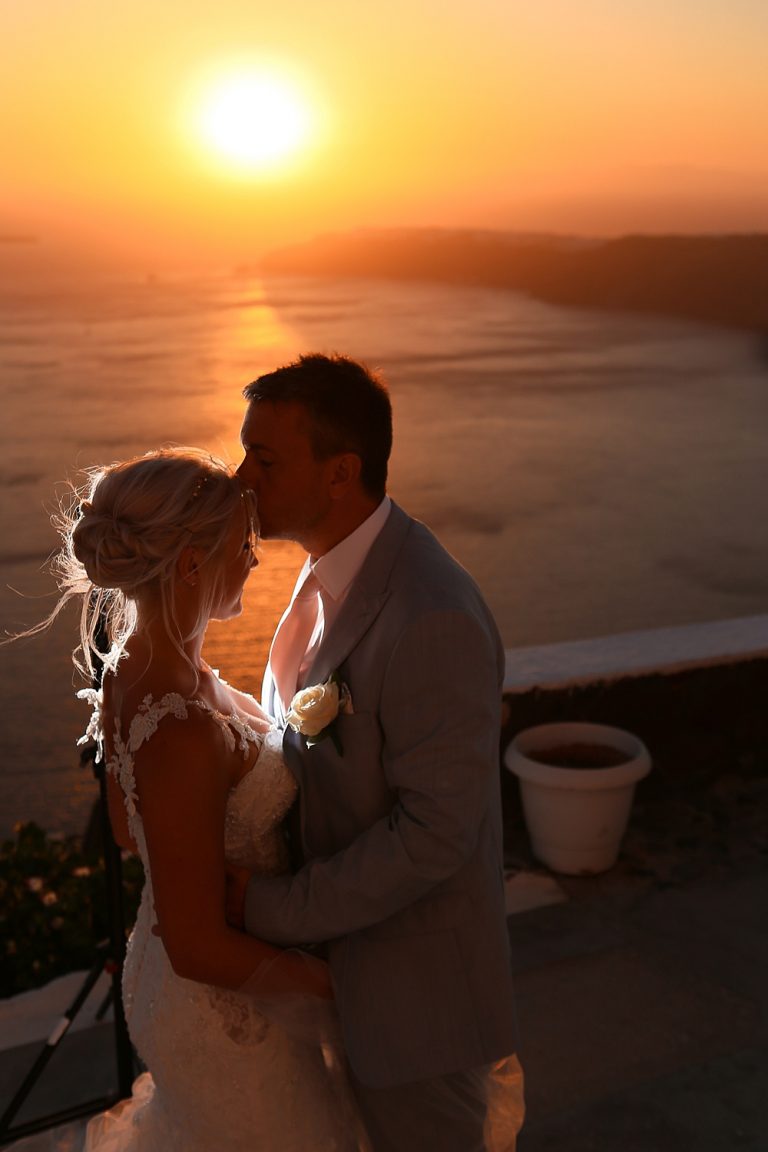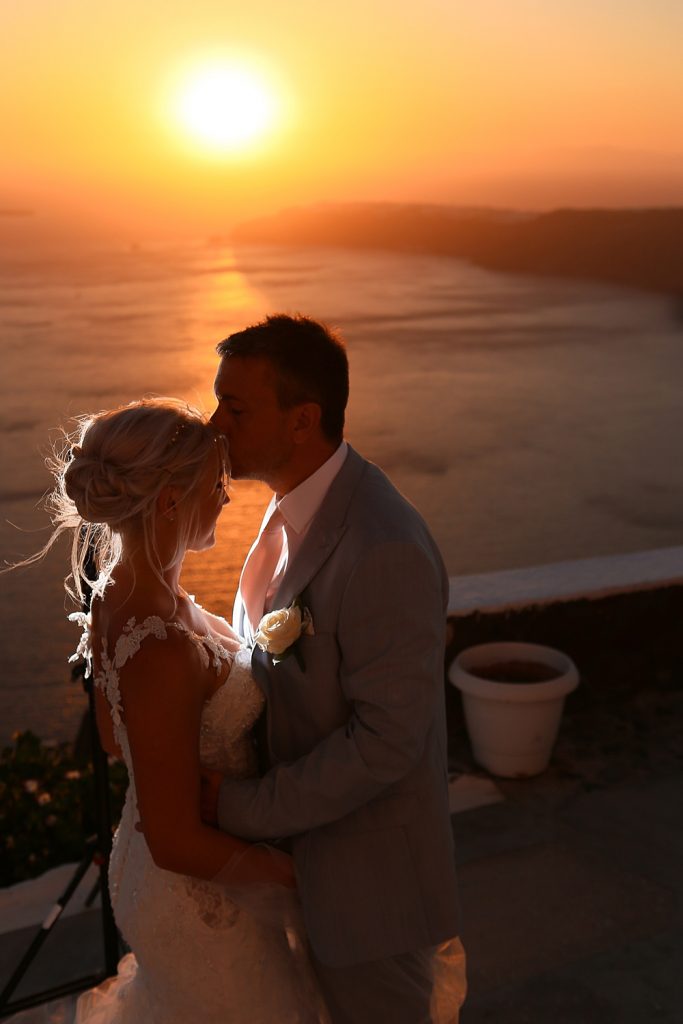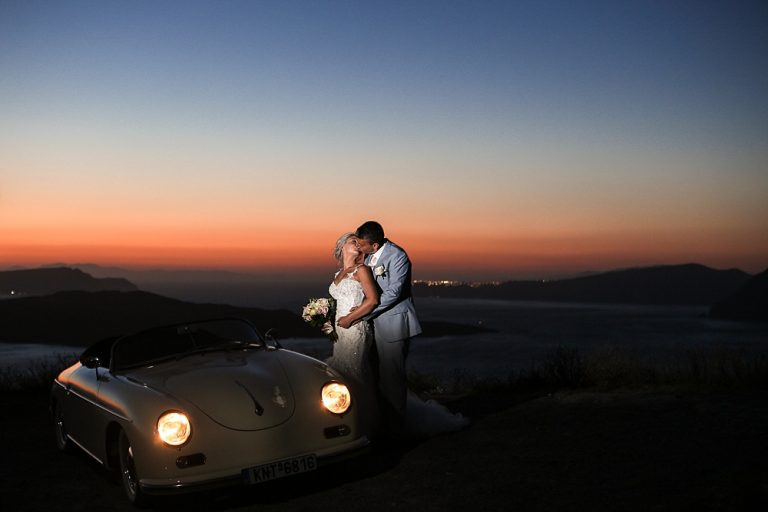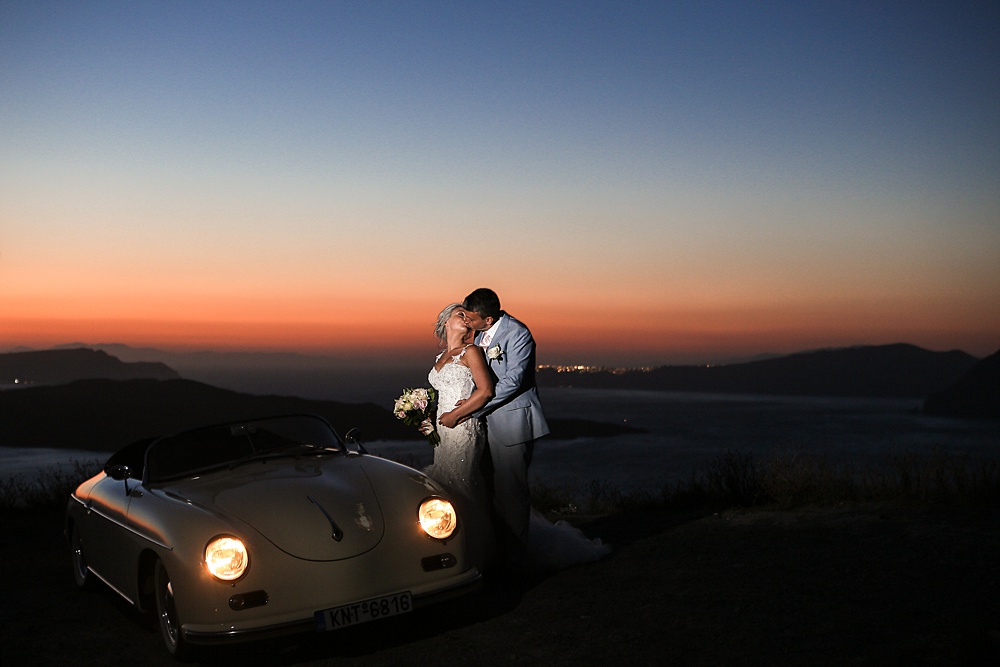 Q&A with the Bride/Groom
How did you meet?
We met through a family member, I suppose it is a typical childhood love story, 'I fell in love with me best friends older brother'. I had recently changed jobs and was working at a department store, instantly making friends with my now sister-in-law. Our friendship grew over time and had often heard stories of her brother but never put a face to the name. One day she was shopping in store with her brother. Initially I didn't make eye contact as I was quite shy and a little embarrassed, as part of my role was to demonstrate the latest gifts/gadgets, and on that particular day it was a robotic puppy! Our eyes locked, he made a joke (thankfully) as I was so embarrassed. The next thing I know we were on our first date and here we are 13 years later Mr and Mrs.
What is your proposal story?
Jason surprised me not only with a ring but my childhood dream car! It was a Saturday morning and I was getting ready to attend our niece's birthday party. Jason had told me he had to pop out to get something. As you can imagine I was less than impressed as we were a little behind schedule for the party. A short time after he returns home with a 2 seater sports car, the car I had always dreamed of when growing up. He presented the car to me. Little did I know that the car actually wasn't the main gift…. He asked me to sit in the car so he could take a photo. I don't know who was more excited at this point, me with this impromptu surprise or him as he knew what was to come. I remember him watching me the whole time, but obviously now I know it was the suspense. He then asked me to look inside the glove box, and as I did, he dropped to one knee and asked that magical question.
Tell us a little a bit about how you chose your wedding destination.
So we had fallen in love with Santorini the year before whilst on holiday. We were literally on the island less than 24 hours when we decided it was the perfect place to marry. We had arranged with a company from back in the UK to view several venues, all equally lovely, each given their own unique touch but nothing really standing out. We had planned to fly back home and discuss further before making a decision. We then were contacted by Flora, and had arranged to meet on our final day of the holiday. Flora completely amazed us with her choices. She took us to places off the 'beaten track'. Those beautiful venues that aren't over promoted and so not usually coming up on a generic searches. We instantly fell in love with the final venue we visited and booked the wedding then and there. It was perfect for us, a beautiful secluded venue overlooking the caldera. It was so perfect for an intimate romantic wedding.
Tell us about your attire choices.
Wedding Dress was a Veni Infantino couture piece. The bridesmaids/flower girls wore blush, a true summer color that is ideal for a destination wedding and showing off a beautiful summer glow. Jason (groom) wore a full 3 piece light blue French connection suit, his 2 best men wore the same suit but without a jacket, showing off the detail of the waistcoats and giving the look a complete summer feel. All ties were blush to incorporate the colors of the bridesmaids.
What was the most important to the two of you while planning? Was there anything that you chose to splurge on or skip?
The most important thing to us was having our nearest and dearest around us. We are very fortunate to have a network of incredible people around us. When planning a destination wedding its important to think about your guests, people have different financial situations and work commitments, so it is important to be as accommodating as possible without it affecting your special day. We chose to splurge on a classic Porsche as a wedding car, not only did this look amazing for the photos but bought back the connection to our engagement. We also paid for exclusivity of the venue. We hired the reception venue for the evening and paid for an open bar. Our guests had gone through lot of expense in joining us, many of them being with us for the week before and after the wedding. So it was important for us to look after them and show them the best time possible! We opted for Fireworks for the first dance, it was probably the quickest €500 we have spent, but was such a wonderful surprise for everyone, you can hear the gasps when watching the video back. It is a moment we will never forget.
What were your favorite parts of the day?
Ahhh we have so many! But we just asked asked each other and we have the same favorite. Lynsey – "walking down the steps and seeing Jason standing there, he looked so incredibly handsome". Jason – "watching Lynsey appear from the top and walking down the aisle towards me, best moment of my life".
Tell us about your wedding flowers.
Keeping in the same elegant style, we had pale pink and white roses.
Tell us about your wedding cake.
A traditional cake with a Greek twist, it seemed to go down a storm with our guests as we actually didn't get to taste it! LOL
Please describe any DIY, handmade, or personal details.
Family is incredibly important to us, and so tried to involve as many of them as possible with the planning and personal details. Lynsey's sister is a designer and worked very closely with us making the wedding invitations. Lynsey's mom made all the flowers and button holes for the guests. We handpicked all the table decorations, and took them with us. We actually had so many that we had to distribute between 8 of the guest suitcases!
Did you include any family heirlooms or special traditions?
Not traditions as such but when choosing my hair piece, I managed to source a company from Poland. It was a small village neighboring where my grandfather had grown up. I had visited this destination many times with him as a child. Unfortunately he died some years ago and so wasn't able to attend the wedding. I instantly fell in love with the hair piece and the story behind it and knew it was the one I would wear on my special day as I almost felt a little piece of him was with me.
Do you have any advice for couples planning their destination weddings now?
Our top piece of advise would be to research. We spent hours trawling the Internet for advise on destination weddings and still had so many questions unanswered. We were fortunate enough to take our research further and fly out to the destination before hand. Sometimes things can appear different online. So if you can, and budgets permits then go for it! The key to a successful destination wedding is having a wedding planner and use local where you can! After all they know the location better than anyone. Trust them with your special day and allow them to give you the day of your dreams. Make sure you do your research, read the testimonials, speak to others who have either already done it or are planning. There are so many group chat/ sources of information. Also don't be scared to go that extra mile, after all you only do it once. And last but not least always trust your heart, If it doesn't feel right, it probably isn't
What was the best part of having a destination wedding?
The best part of having a destination wedding is the time you spend with your guests both before and after. Quite often when people get married it's just one day of celebrations. But with a destination wedding it's almost an extension of the day, most of our guests flew out for 7 days, so each day we were meeting and greeting our new arrivals and able to spend quality time together. There always seemed to be something going on everyday, somebody that you know at the bar, in the pool etc. We even managed to fit in another mini stag and hen party!…. amazing!
Vendors
Photography: kapetanakis studio | Ceremony Venue: ilioperato hotel | Reception Venue: akro hideway | Event Planning: unique and forever Events | Floral: Santorini s FLowers | Wedding Cake: petranart | Hair: marianna Nomikou | Makeup: eleni iliopoulou | Vintage Car: santorini motor club | DJ: antonios detsis | Wedding Dress: French Connection | Groom's Attire: Moss Bros | Bride's Shoes: Jimmy Choo | Bridesmaid Dresses: Monsoon | Headpiece: Blue Sky Horizons