Making your destination wedding legal can be complicated and pretty overwhelming depending on where you're getting married. But here's the worst-kept secret among destination wedding couples: You can have the destination wedding of your dreams without the legal hassles required in your destination.
Many couples simply get legally married at home before or after their symbolic destination wedding. This post will guide you through all the different options for making your destination wedding legal, along with the pros, cons, and tips for each.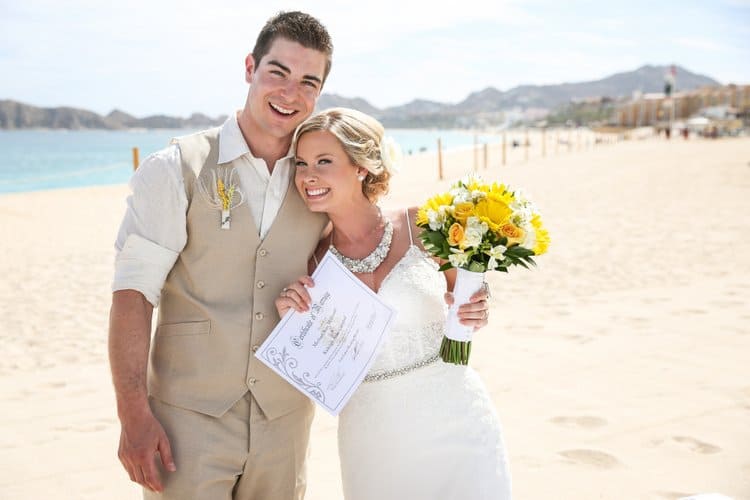 Getting Legally Married in Your Destination
Marriage requirements vary from country to country and even from State to State within each country. And with a few exceptions, it's usually complicated. For example, the requirements for making your destination wedding legal in Mexico vary depending on which Mexican State you will be getting married in. As a U.S. Citizen, you may be required to get a blood test and provide a lot of paperwork including original birth certificates which have to be translated into Spanish by a certified translator. If you're divorced/widowed, be prepared to hand over even more documents. Not to mention that you have to then legalize your marriage license in your country of residence.
Advantages
You will be officially married on the day of your destination wedding. This is really the only advantage I can think of. If you have others, please let me know in the comment box below.
Disadvantages
The cost of translating documents and getting blood tests can range anywhere from $150-500 or more in some countries.
It takes extra time and effort to schedule blood tests and get documents translated.
If you're divorced, countries like Mexico and Costa Rica have a waiting period before you can get married again.
If you are a same-sex couple, you should also be aware that sadly, LGBT weddings are still illegal in some countries. Read more about LGBT-friendly wedding destinations here.
Tips
Research your destination's marriage requirements on their Official Tourism Board website, or ask your wedding coordinator as soon as you get engaged.
Make sure you have all your paperwork in order as far in advance of your destination wedding as possible.
Arrive at your destination a few days before the ceremony and confirm that they have all the necessary documentation to make your destination wedding legal.
Getting Legally Married at Home
If you read the above and got a panic attack, don't fret because you have options for making your destination wedding legal – at home.
You can do what I did and skip all the paperwork, translations, notarization, and blood work, by doing the legal part the good ole' fashion way – in city hall or by an officiate/judge in your hometown.
All you have to do is get a marriage license at home, then go to city hall or hire an officiate who is allowed to perform legal ceremonies in your state/city/country. If you live in the United States, US Marriage Laws is a great resource to help you understand your state's marriage requirements. You can also contact your city or town clerk's office who will guide you in this (much less complicated) process.
If you get legally married at home, you can then select a "symbolic wedding" package for your destination wedding.
A symbolic wedding will look exactly like a legal wedding. The only difference is that during your destination wedding, you will sign a paper of no legal significance (but that can be your little secret). As an added bonus, symbolic wedding packages are typically more affordable.
You have the option of getting legally married either before or after your destination wedding, so let's recap both options.
Getting Legally Married Before Your Destination Wedding
Advantages
There's no need for blood tests in a foreign country.
You don't have to translate any paperwork.
There's no waiting period to get your legal marriage certificate.
It's less complicated.
It's cheaper.
Did I mention that it's cheaper?
Disadvantages
Your friends & family could feel duped into flying out for your wedding, only to find out later that you were already legally married (read my tips below for ways around this).
If you're old-fashioned and traditional, you might feel a little weird about having "two wedding dates". Keep reading for tips on how to get over it.
Tips
Worried about how friends/family will react? Unless you tell them, no one has to know that your destination wedding is not the legal one because the entire symbolic ceremony will look exactly the same.
Feel weird about having two wedding dates? Celebrate your destination wedding as your official wedding date and just think of the hometown ceremony as "legal paperwork". You don't even have to exchange rings or vows at your legal ceremony. I personally don't even remember when I got legally married! We only celebrate our anniversary on the date of our destination wedding.
Don't change your name! This is a biggie. The name on your plane ticket and travel documents (passport or license) must match in order to avoid any issues at the airport. If you booked your flight with your maiden name, then I highly recommend changing the name on all your documents after you return home from your destination wedding.
Getting Legally Married After Your Destination Wedding
Advantages
It's one less thing to worry about before your destination wedding, plus…
All the same advantages of getting legally married before your destination wedding apply here as well
Disadvantages
If you're having a Catholic destination wedding, a legal marriage license is required

before

the ceremony at most destinations. See here for more on Catholic Wedding requirements. Make sure you discuss the details with your priest and wedding planner.
Tips
If you're having an at-home reception after your destination wedding, you can combine it with your legal ceremony for ease and budgeting reasons.
Final Thoughts
How will you make your destination wedding legal? Will you make your destination wedding legal at home before or after – and why? Are you telling your family? Tell us in the comment box below.
And while you're here, check out these other posts: