Planning a destination wedding is a really unique experience, and only someone who has been-there-done-that can really help you navigate all of the challenges you might face on your planning journey.
That's why I created this platform in the first place. It is my passion project to help demystify the process and help you figure out how to plan a destination wedding. And over the years, I've built a pretty awesome community of newlywed destination brides who have come back to share their own experiences with others who are just getting started. Today, I'm really excited to welcome one of those brides as a guest contributor.
Brianna is a Southern California bride who had her destination wedding in Spain, set in a beautiful seventeenth-century castle in Girona, just outside of Barcelona. Brianna learned a lot about how to plan a destination wedding and discovered some of the untold truths of prepping for the big day abroad.
She's sharing a few tips and tricks from the perspective of a recent real bride to help future destination brides have the perfect wedding day. As an added treat, we are also sharing some stunning photos from Brianna's wedding, which were captured by WeddingsArt Photography. Brianna shares some real gems here so I hope you take notes. Take it away Brianna!

10 things nobody tells you about how to plan a destination wedding
(By Brianna Schrader)
1. Budget for conversion rates and international taxes
It seems obvious that there might be a conversion rate in your destination country but what you may not consider is that it's continually in flux and how that might affect your payments. When planning your destination wedding, think about timing. For instance, if you're planning a summer wedding in Europe, you may want to put more money down with your vendors in the winter months, when the Euro is typically weaker rather than paying everything off in the summer when the Euro is strongest due to tourism.
Also, keep in mind each country has it's own tax rate and some may be higher than you expect. Spain, for instance, had a VAT tax of 21% so when budgeting, be sure to include the VAT in your overall budget as it likely won't be included in the estimates your vendors send.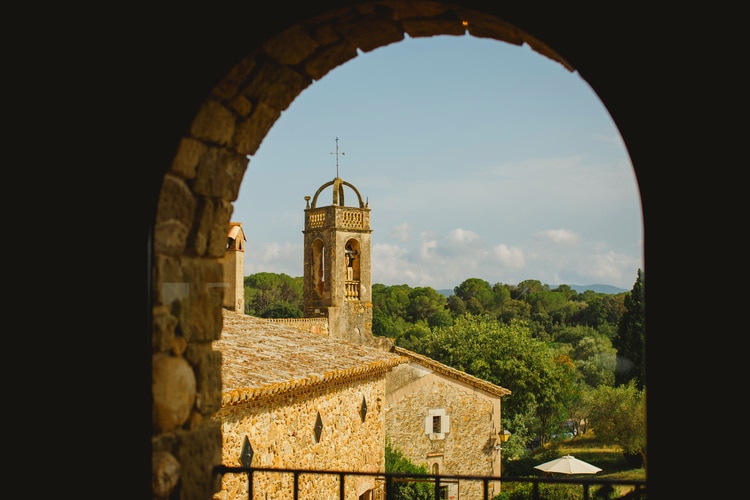 2. How to get your dress there + what to do with your wedding dress after the wedding
Getting your dress to and from your wedding is something you may not think about until you start packing, but it should definitely be on your list of considerations. Not only are you packing for the wedding day, but also the days leading up to the wedding and likely your honeymoon after. In other words – you're going to have more than you think, especially if you're taking personal details like wine corks, photos, bridesmaid/groomsmen gifts.
It adds up quickly! It may affect what kind of dress you want – if the dress of your dreams is an elaborate ball gown with a dramatic train, it may not be the easiest to carry on. And trust me – you need to carry it on with you, above your head as you fly, no exceptions. If any airline tries to make you check it – this is the time to bring on the bridal tears.
The worst thing that could happen is a lost wedding dress with only days until your wedding. I carried my dress on in a garment bag and after the wedding folded it up in my suitcase, but mine was slim fitting and not very heavy.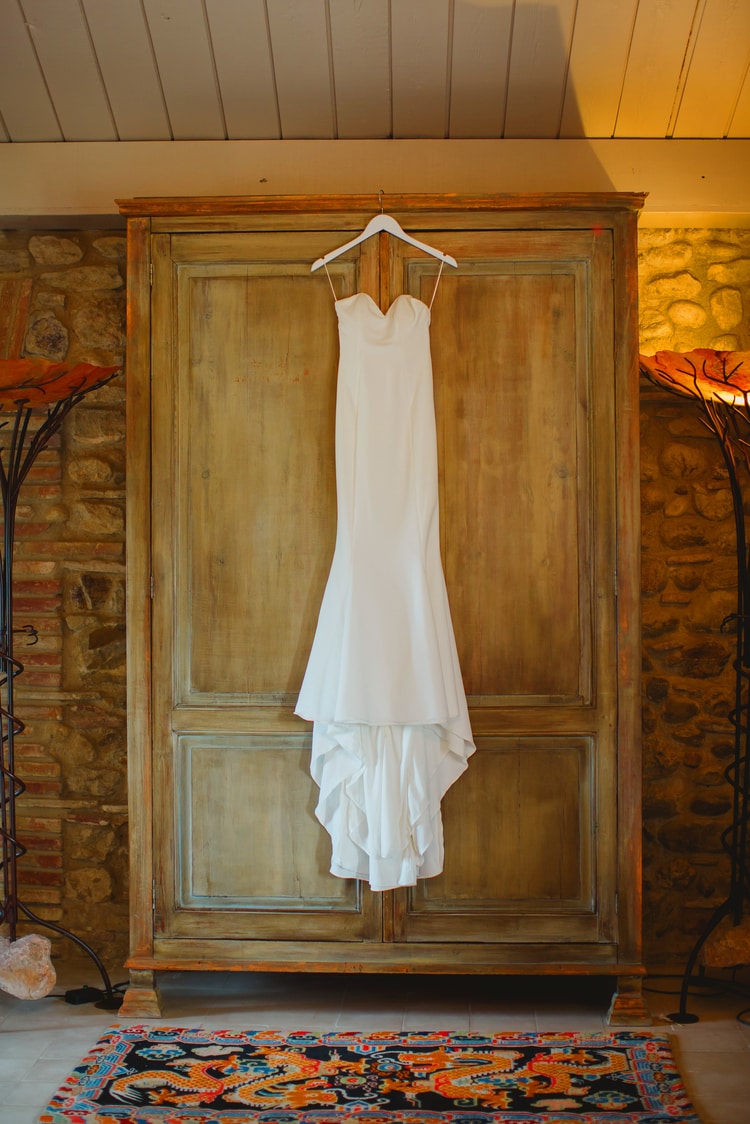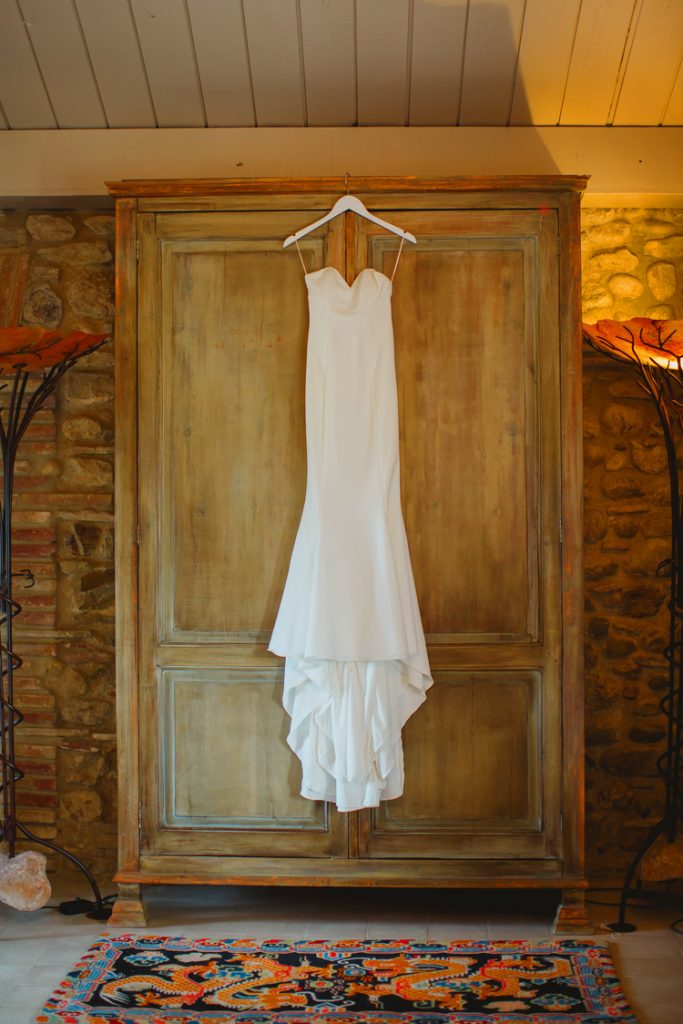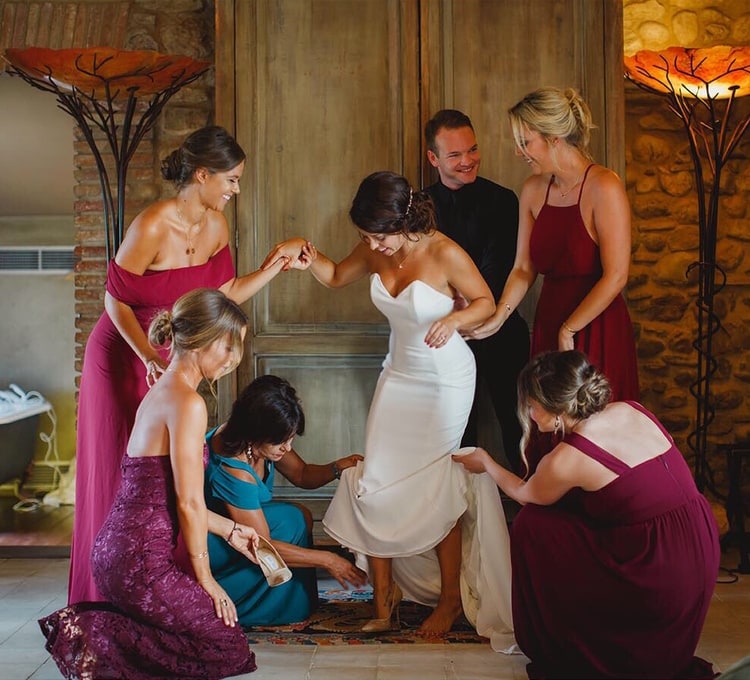 3. Create a Pre-wedding itinerary
The days leading up to your wedding in a foreign location with your closest friends and family could arguably be the best part of having a destination wedding and hold many of the memories you make on the trip (besides the big day, of course). Create loose activities for those who are interested, but not mandatory.
At the end of the day, it's your wedding but also their vacation. Instead of a full day of activities, consider one happy hour or meet-up location a day. Anyone who wants to join you for the day outside of that is a plus! Things will be flexible and may change, but keep a WhatsApp or Facebook messenger group so everyone's in the loop and can come and go as they please.
4. Email updates – but don't overdo it
Invitations are helpful (and necessary) and you can put as much information as you want on them. But chances are things will change or people will lose the invites before the wedding. For our wedding, we made passports with the weekend activities, updated our wedding website frequently – but it truly wasn't enough. Coordinating a large group to a different country can be challenging if it's not an all-inclusive, one-stop resort. Using an email service like MailChimp or just a general email blast can help streamline things like hotel or reservations, transportation, booking questions, etc. Just don't overdo it and start spamming your loved ones. 🙂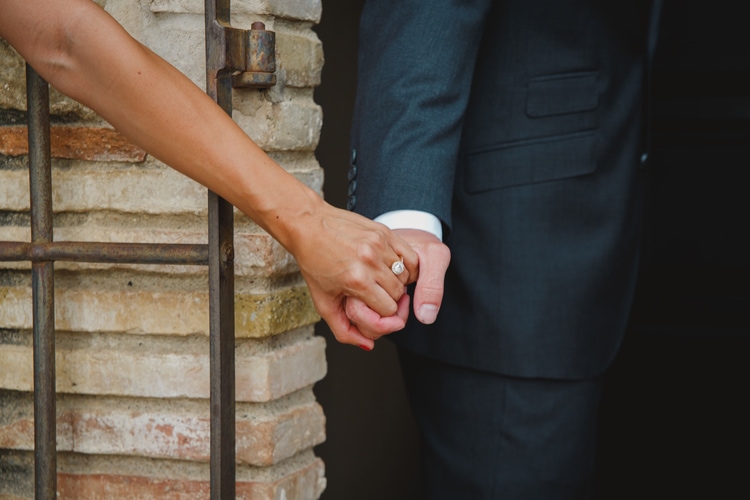 5. Make time for beauty treatments
Might not be as easy as you think. If you leave for your wedding a week before the big day like I did – you may not want to get your nails done that early or get a spray tan before you leave. My key learning here was just because you're in a different country, doesn't mean they don't have the same beauty treatments we do.
Almost everyone has shellac manicures and spray tans. If you're not able to do your hair/makeup trial before the big day – head to your destination a few days early to squeeze it in. While there are many things you can't control in a destination wedding, there are some you can make time for before you book your departure date.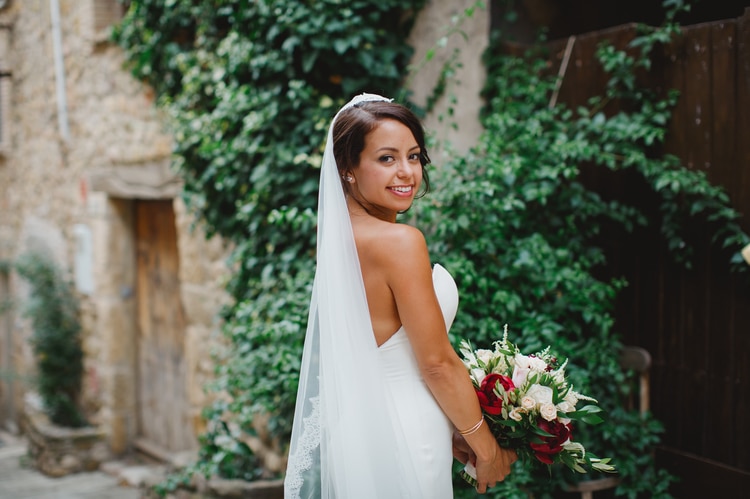 6. You'll have to relinquish control (tastings, meeting all vendors, etc.)
The biggest learning I had when planning my wedding in Spain was giving up control and not sweating the details. I'm a complete Type A, OCD, over-planner and in many ways giving up control helped me actually enjoy the big day more. I wasn't consumed by what the seating chart was going to look like or how many candles each table had. With a destination wedding, you have to know going into it that being in the location of your choice is the best decision of all.
Anything you see on Pinterest might seem important now, but nobody except you will remember those details after the big day. It's important that you have a local wedding planner who understands your vision and who you trust because they'll be the ones helping select florists, recommend restaurants, or even tasting your food if you can't make a trip before the big day. Mine was an absolute Godsend and the best decision we made (big shout out to Elaine at ASpanishDo!!!)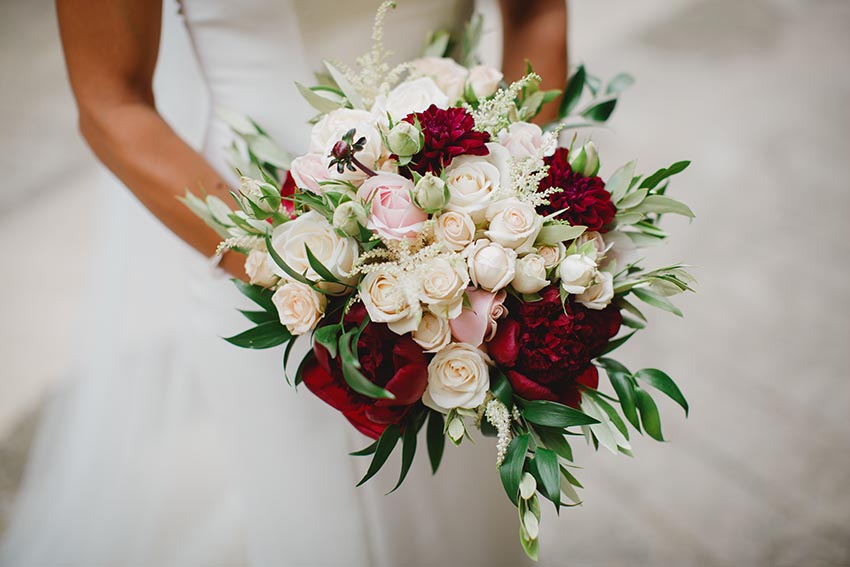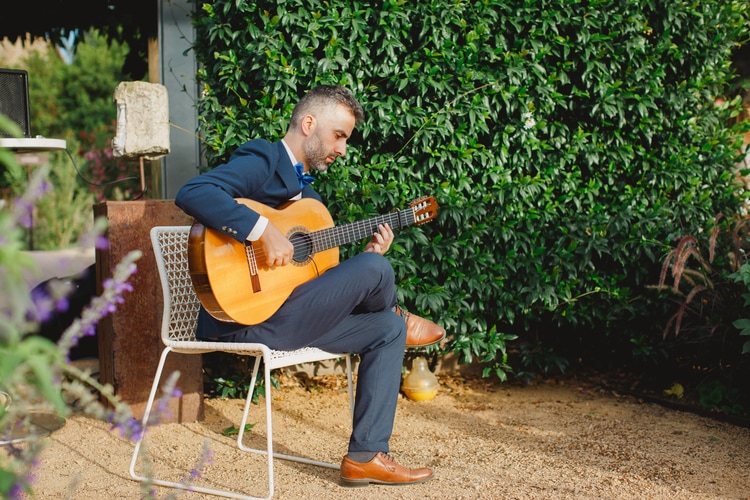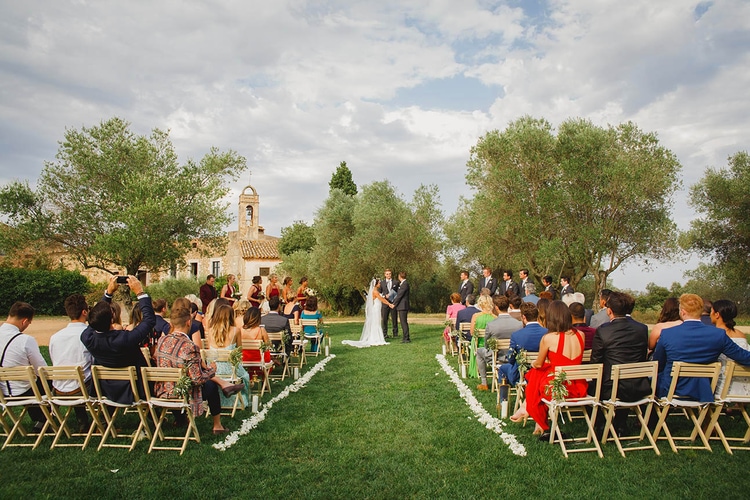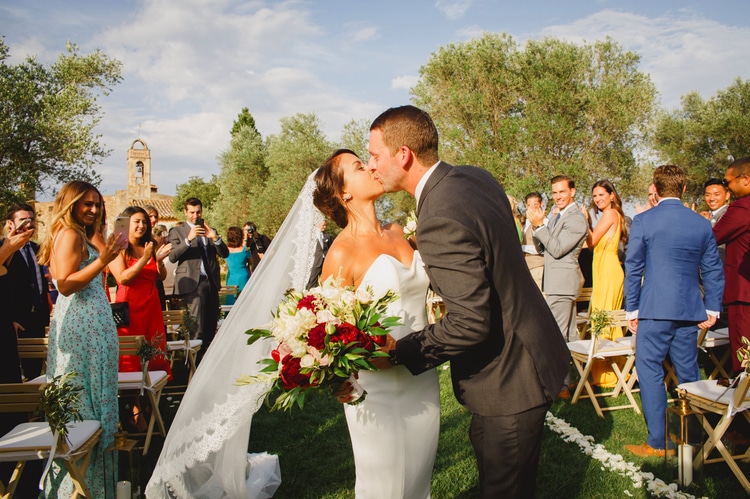 7. Be considerate of your guests' costs
Yes, you're spending a pretty penny for flights, gifts, decor, music, and everything else that goes into your wedding. But be considerate of how much your guests are spending to see your big day. We gave our friends and family a year and a half to save up for the trip, knowing that most of our friends are mid-20's and don't have a few extra thousand to throw around at any given time.
We also let our wedding party choose when they wanted to do the bachelorette/bachelor trips and ended up holding them a full 12 months before the destination wedding. It didn't take away from the celebrations, but actually helped spread things out a bit. Plus, nobody wants to go to Vegas and spend a ton of money on a bachelorette a month before a big international trip.
I also selected bridesmaid dresses that were all under $100 so they didn't have to break the bank for some costly designer dress nobody will ever wear again. And truthfully, the dresses looked just as good as the high priced ones!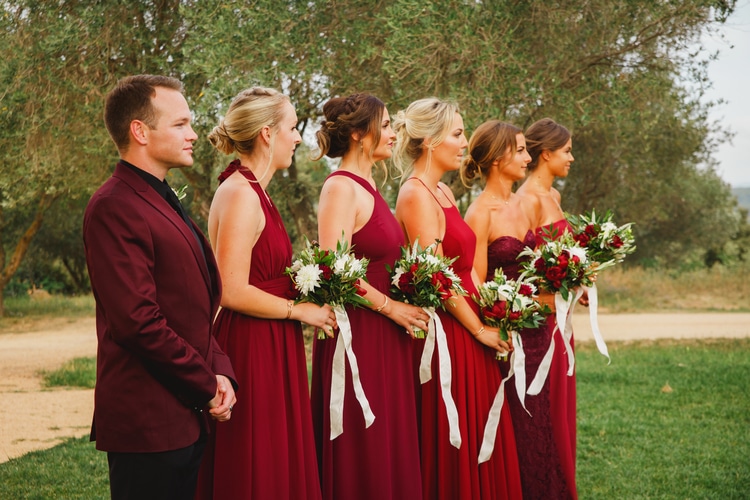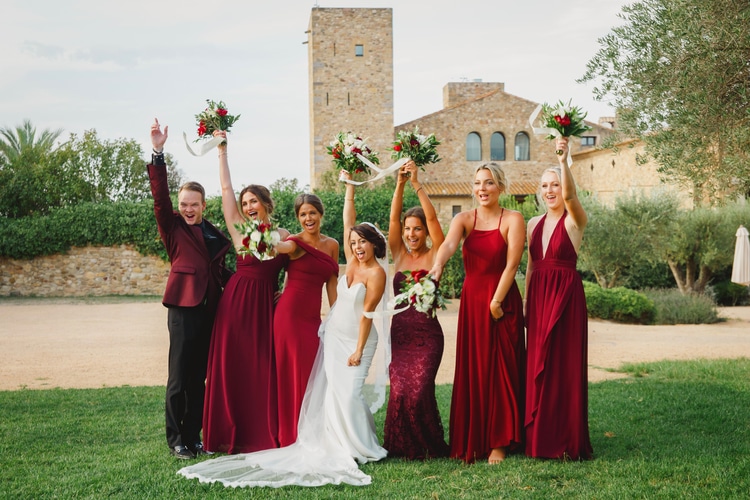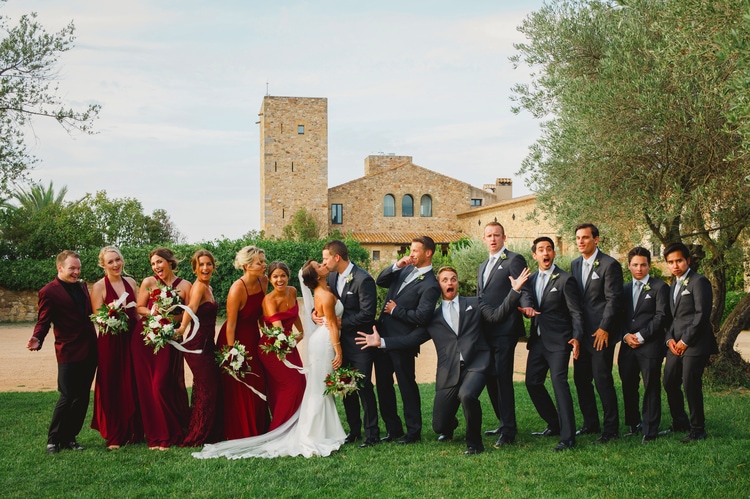 8. Consider those who can't make the big trip
Local receptions are more appreciated than you might think. It takes the guilt off those who can't make it either due to financial reasons, timing, etc. A local reception doesn't have to be elaborate, and in fact, can be quite simply a family member's house or reserving a small room at a local spot for cocktails one evening.
9. How to make final payments
In the States, it's typical to deliver final payments to your vendors by check, but internationally it's a different story. Checks may not always be an option, therefore carrying a lot of foreign cash or paying additional costs for wire transfers (about $40) may be required. Talk to your vendors beforehand to see how they handle this with international couples to figure out your best option. Making smaller payments throughout the year rather than only a deposit and final check may help you in the long run.
10. At the end of the day, it's about YOU
If you had any initial thoughts of a destination wedding, it's because it's what you and your fiancé wanted – not anyone else. So regardless of what may go wrong, it's out of your control. We had a couple of injuries to friends at our wedding, but they made it just in time for the dinner and celebrations and that's all you can ask for. You can only do and plan so much but the most important thing is you enjoy every second of it. So eat the food, dance all night, and sing to your favorite Journey song at the top of your lungs, because it's a day (or week) unlike anything else!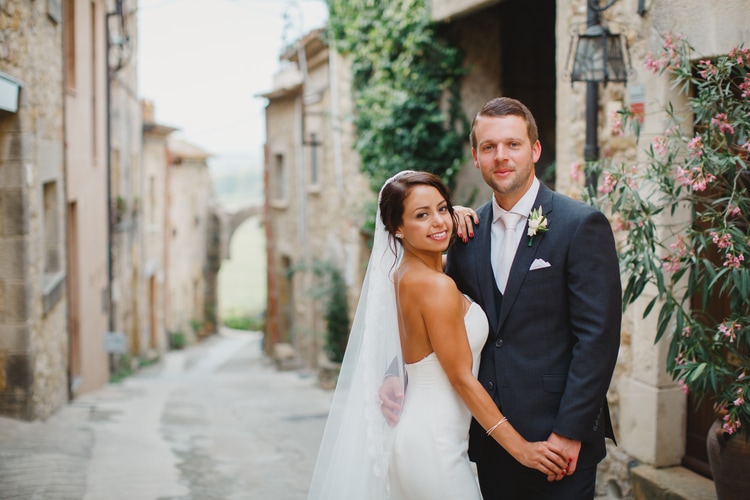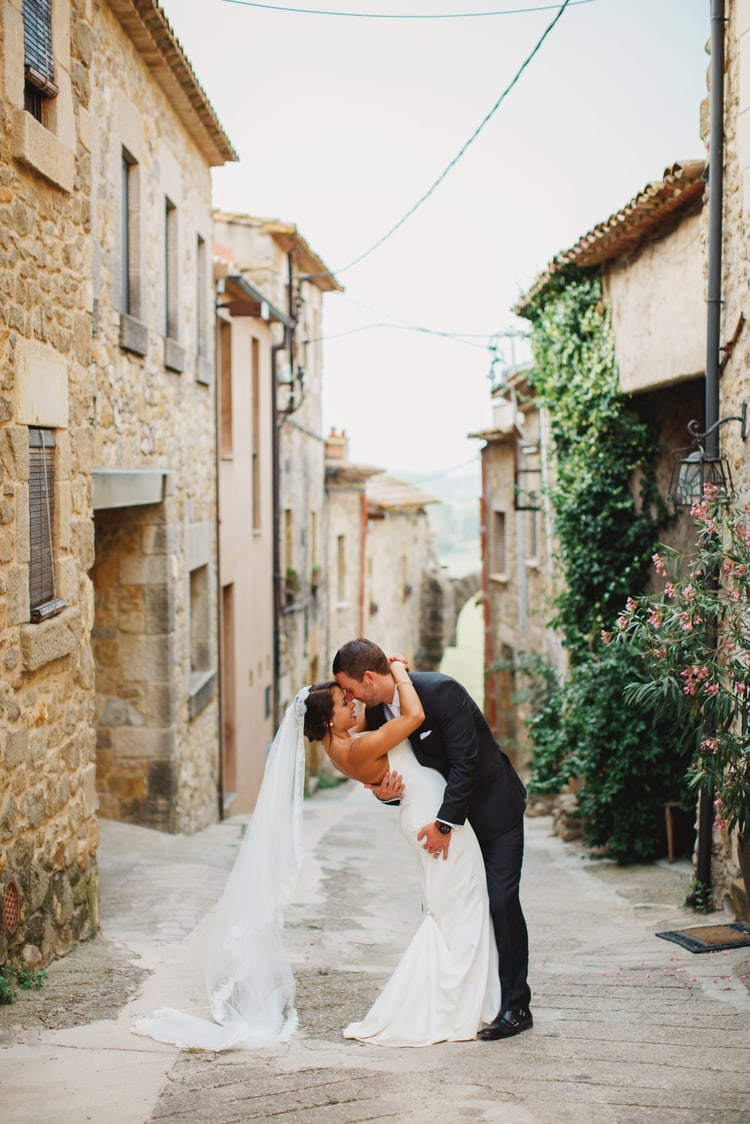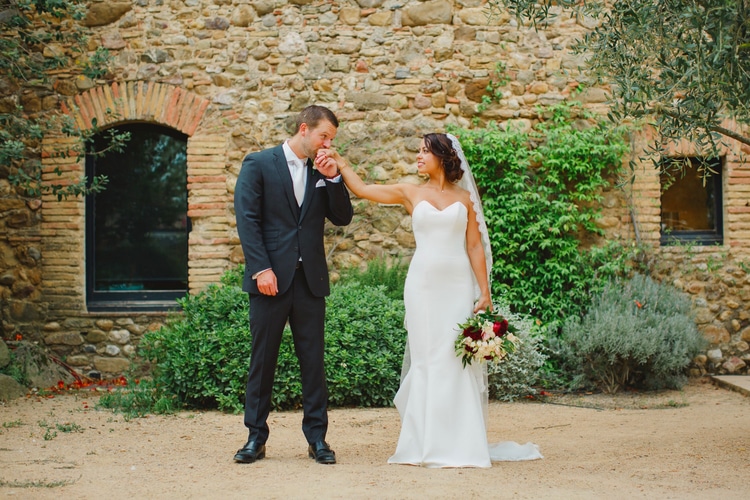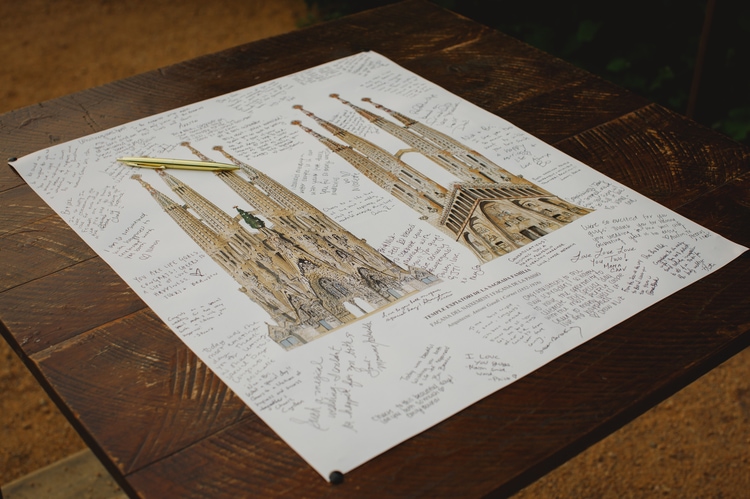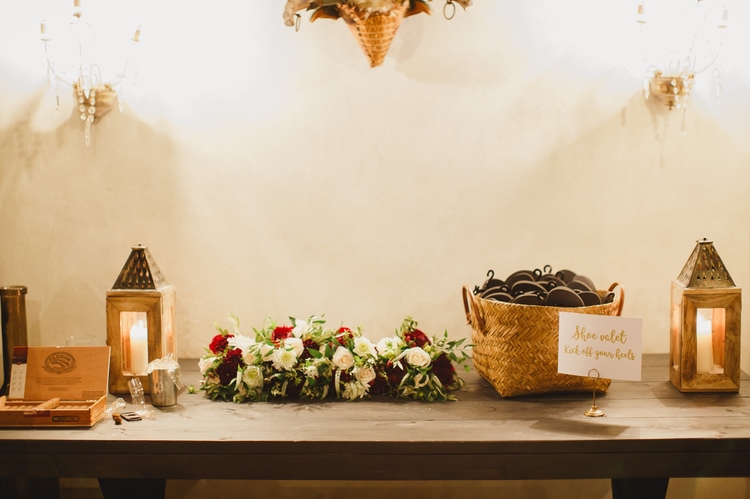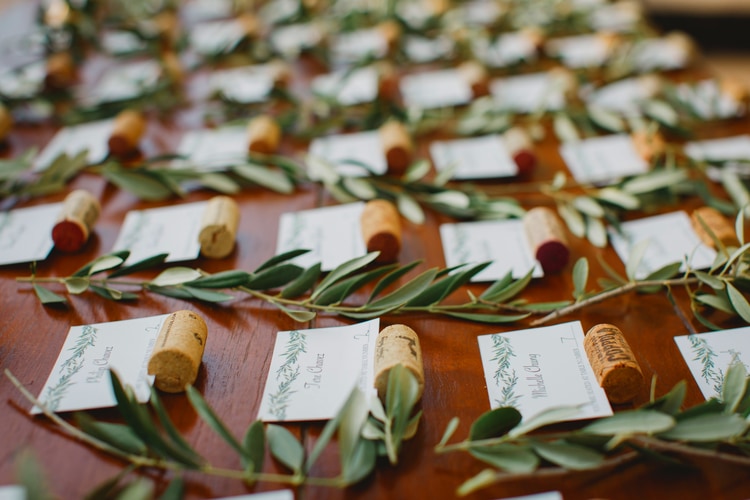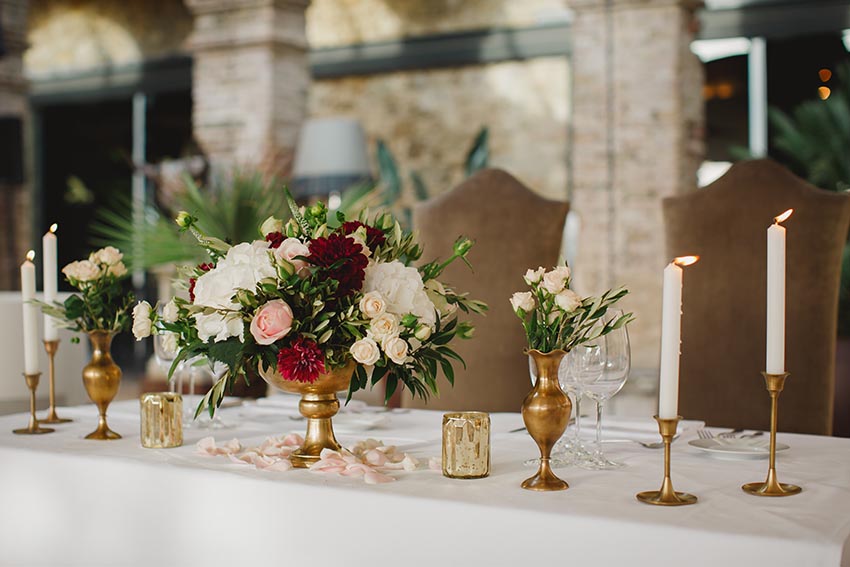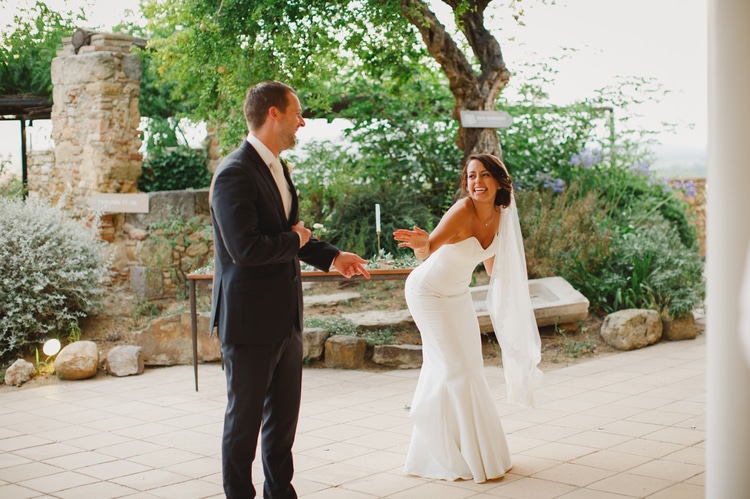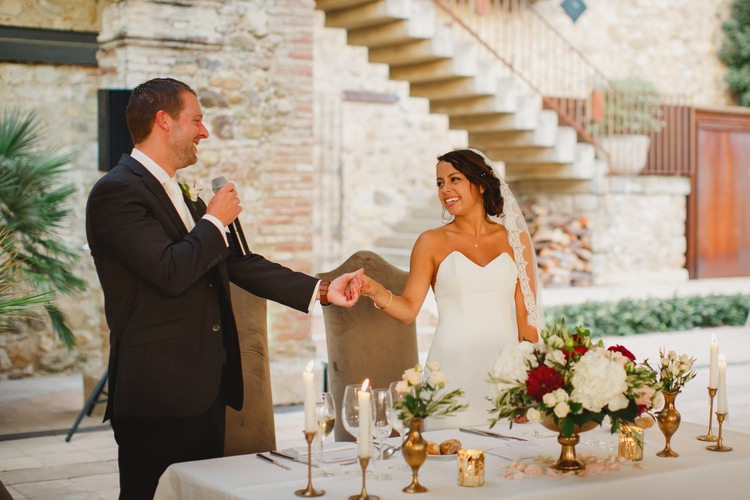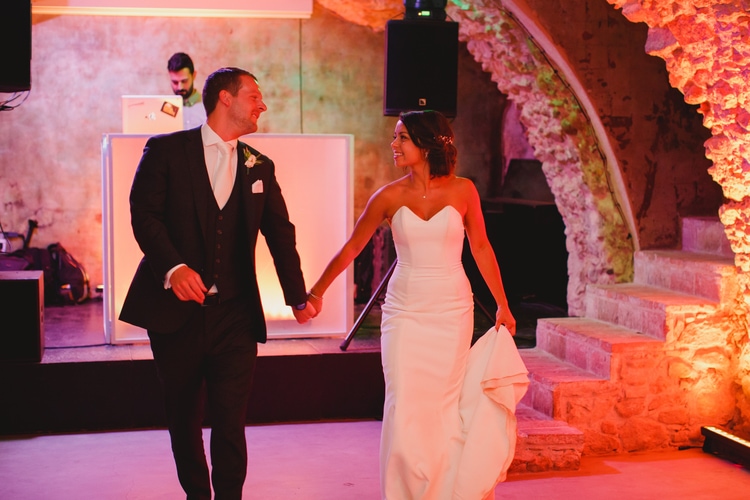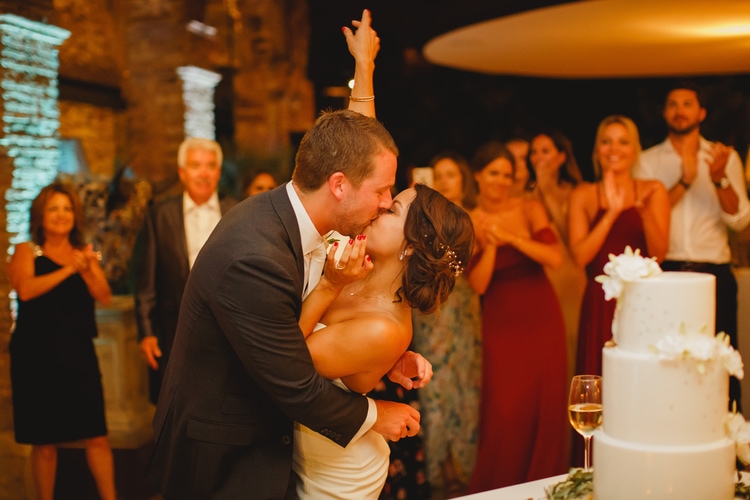 Vendor Credits:
Photographer & Videographer: WeddingsArt Photography
Wedding Planners: A Spanish Do
Venue: Castell d'Emporda
Bride's Dress: Sarah Seven
Hair & Makeup: Teresa Snowball
Bride's Shoes: Jimmy Choo
Groom's Attire: Malibu Clothes
Groom's Shoes: Hugo Boss
Flowers: Paradiso Barcelona
DJ: Kamal Events
Spanish Guitarist: Paul Bosauder
While you're here, make sure you check out these other posts to help plan a destination wedding: