Finding the perfect beach wedding bouquets for you and your bridesmaids is no easy task! I've compiled a gallery of bouquets to inspire you and get your creative juices flowing!
Seaside weddings tend to be more relaxed and casual than traditional celebrations, which means you can have a lot more fun with your bouquet than if you were tying the knot in your local church. Think bold colors, exotic blooms, beach accents…the sky's the limit!
Make sure you check out our updated gallery with 23 gorgeous bouquets from real destination weddings.
Beach Wedding Bouquet Ideas
Seashell and Starfish
Let's face it, when you think of beach themed wedding bouquets, the first thing that usually comes to mind is seashells and starfish. You can get gorgeous bouquets with all those seaside elements custom made to match your style, theme, and personality. Besides being a really unique and memorable idea, the best part is that you can pack them in your suitcase and keep them forever!
See more gorgeous seashell beach bridal bouquets.
Beach Wedding Bouquets Made of Fresh Flowers with Seashells and Starfish
If you love the idea of seashell bridal bouquets but want to also blend in some fresh flowers, you're in luck because it's very easy to have the best of both worlds.
Just take your favorite bloom and add a few beach-themed accents by gluing some starfish and/or seashells to wire and inserting them between the stems. That's it! The stems will hide the wire so that all you see is the seashell or starfish almost 'floating' above the flowers.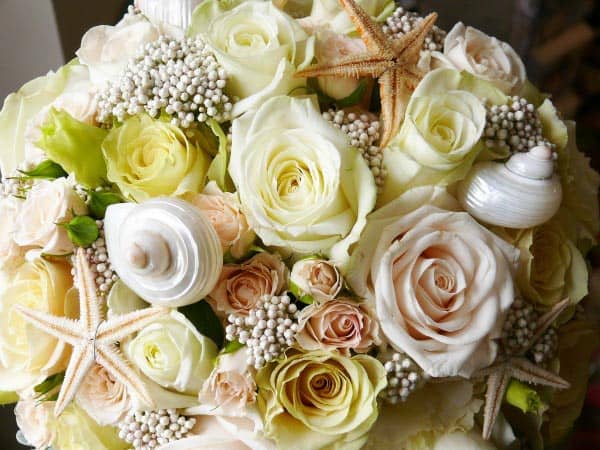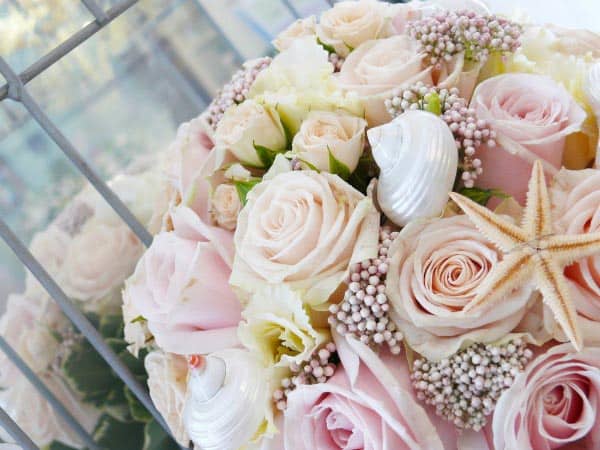 Another idea is to add a small starfish or seashell detail to the stem of your bouquets like the one pictured below.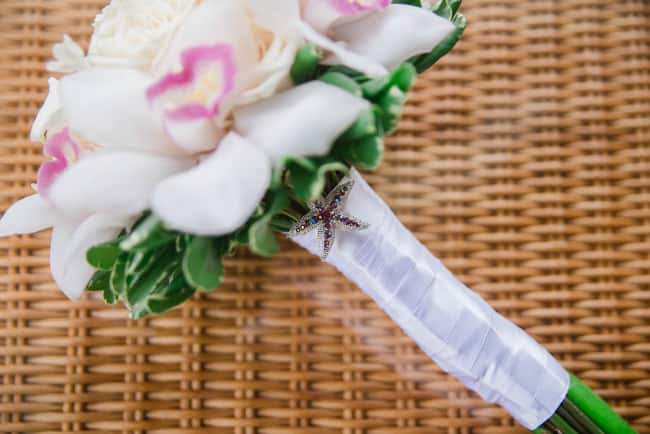 Orchid Bouquets
Orchids are a really popular choice because it is such an exotic and absolutely breathtaking flower…that loves the heat! It also happens to come in a variety of colors and types to suit every taste and budget. It's the native flower of some beach wedding destinations like Costa Rica, so if you happen to be tying the knot there, you'll be happy to find a really wide variety of exotic orchids.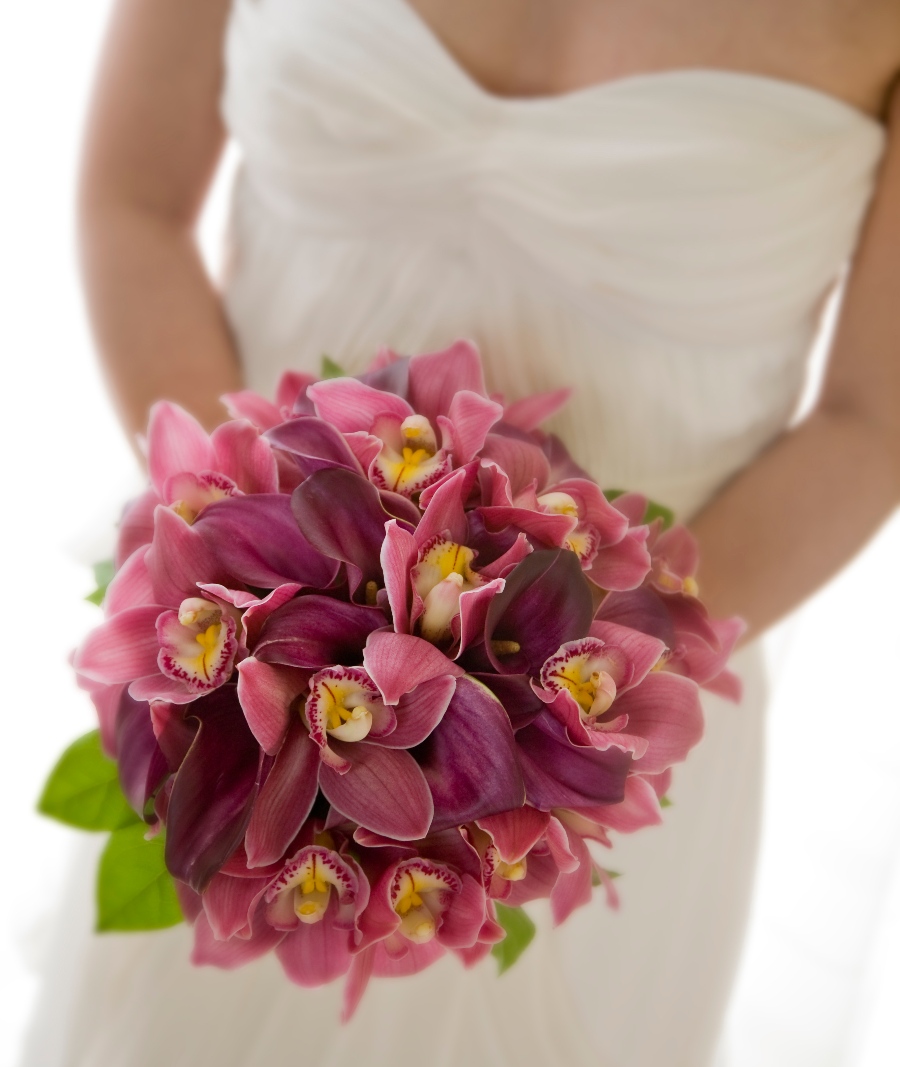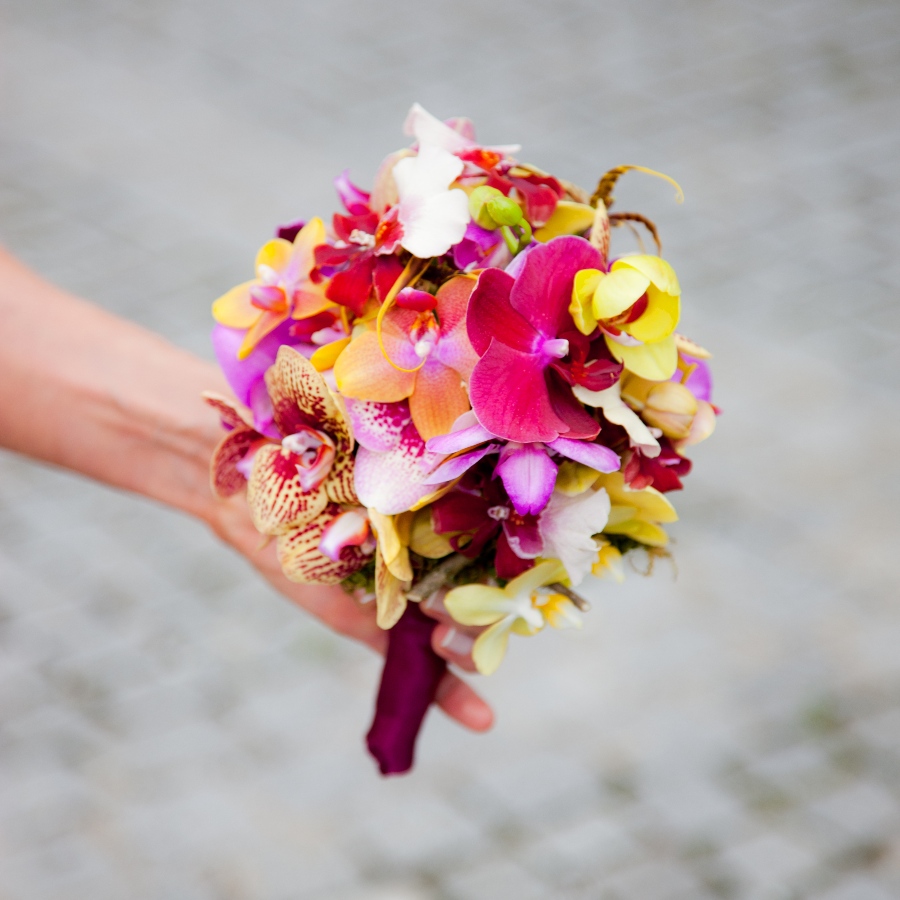 I love the idea of mixing orchids with other types of flowers in tropical colors.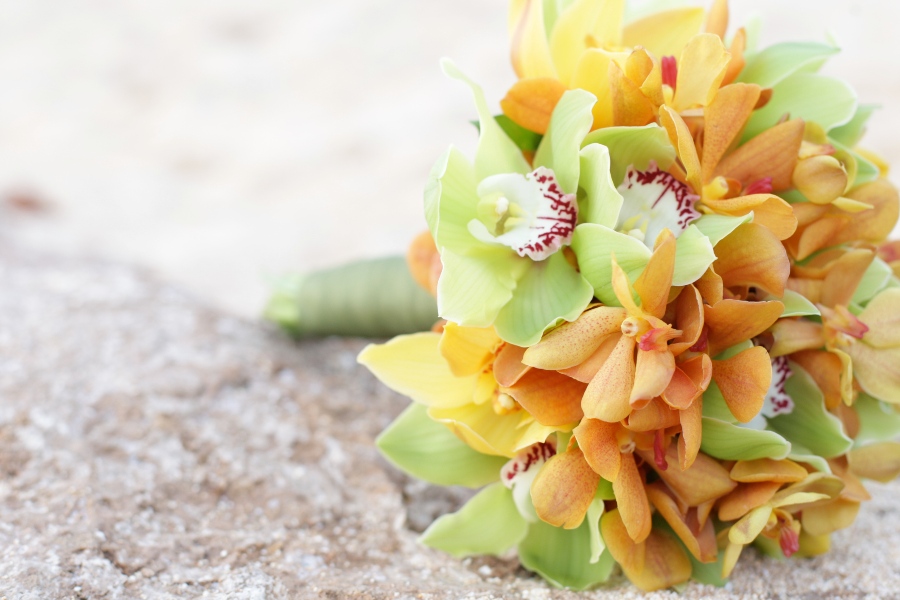 Tropical Beach Wedding Bouquets
If you want to capture the beach theme, have fun and make a statement – go with bright, tropical bridal bouquets and centerpieces. Just have your florist blend in different flowers in a variety of bold, eye-popping colors for a really stunning look.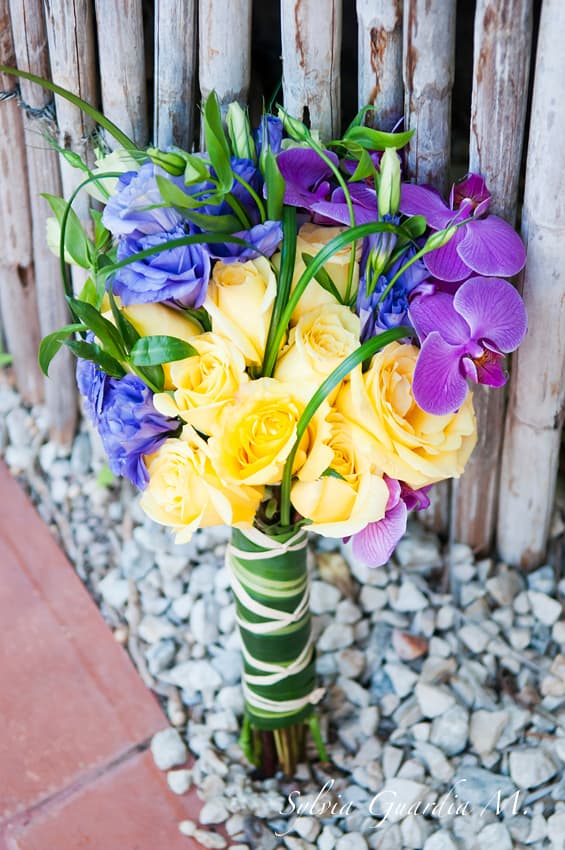 Credit: Sylvia Guardia M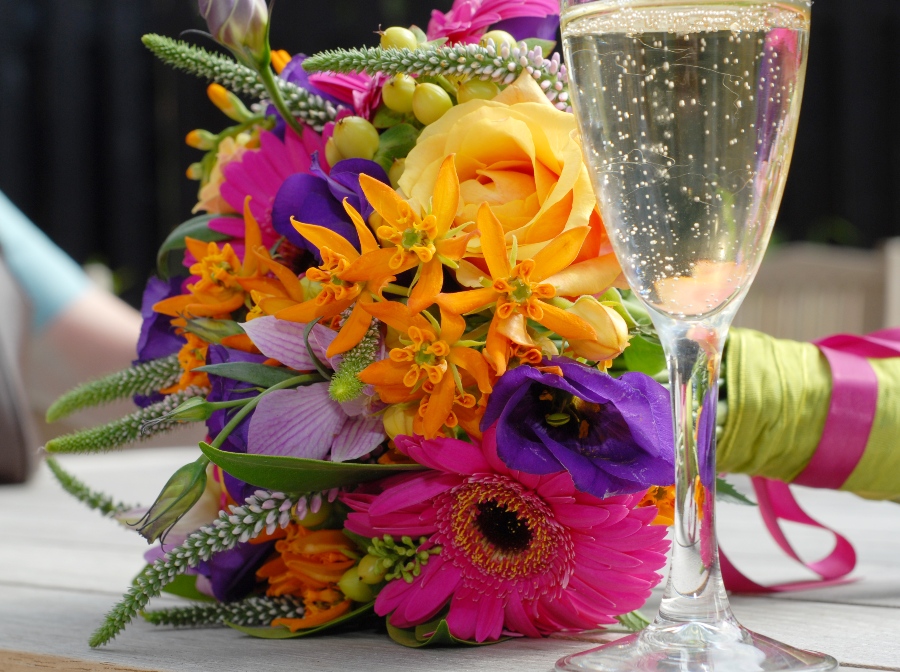 Pink and fuchsia are always a favorite for seaside nuptials because it's a fun color that really pops against the neutral colors of the sand and ocean. If you're planning a sunset ceremony, try blending in different shades of colors you'd find in a tropical sunset like orange, fuchsia and yellow!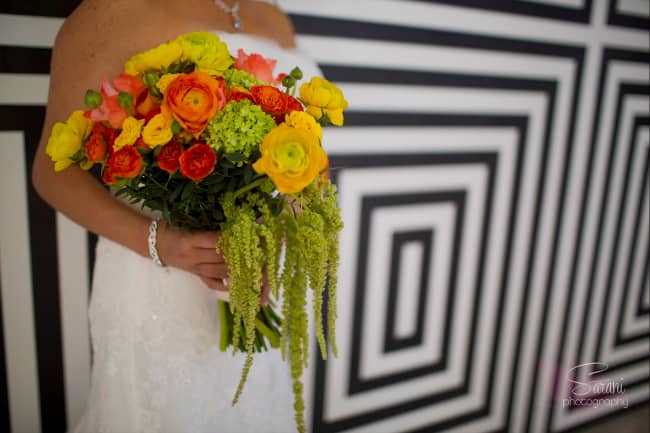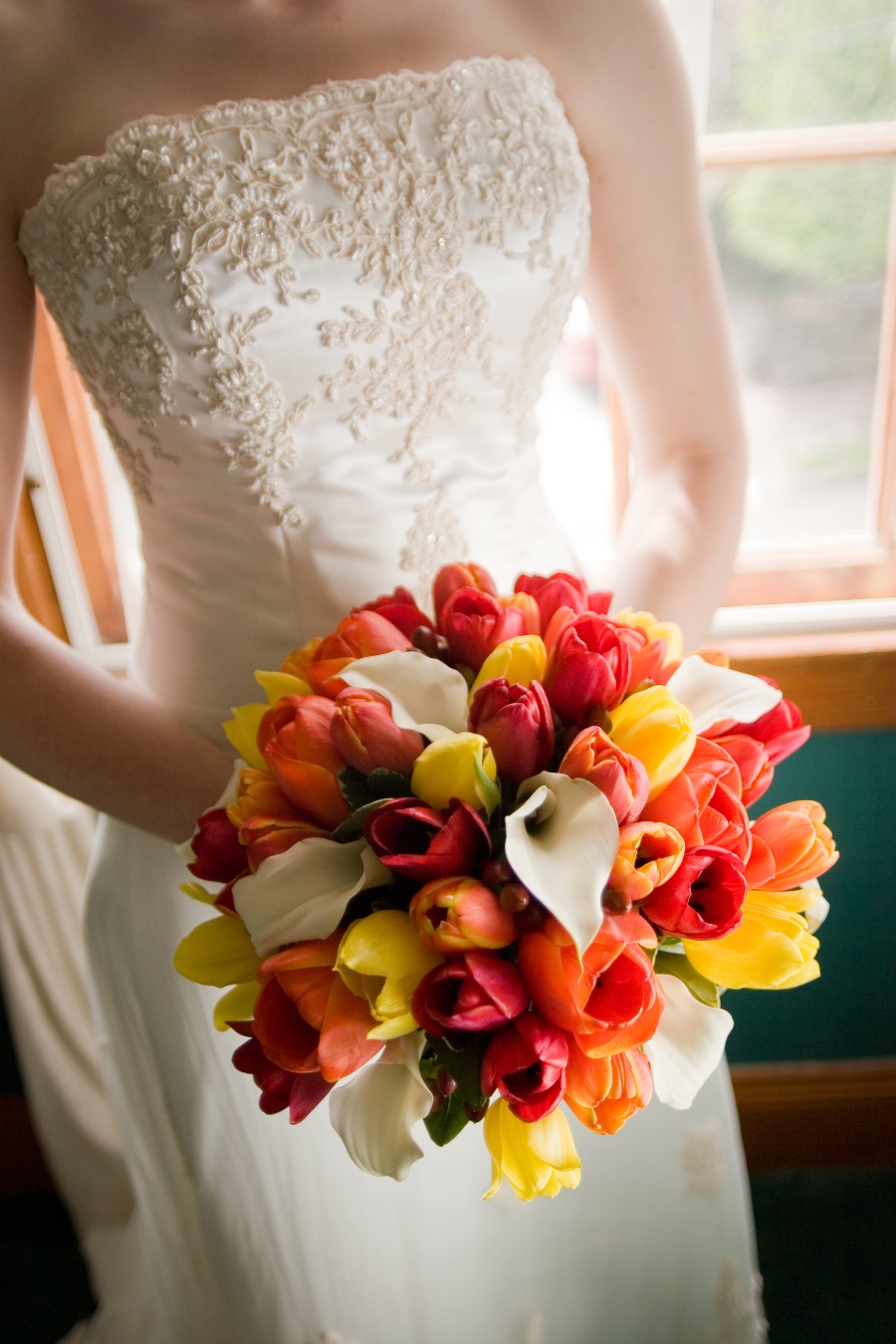 Orange & Yellow Bouquets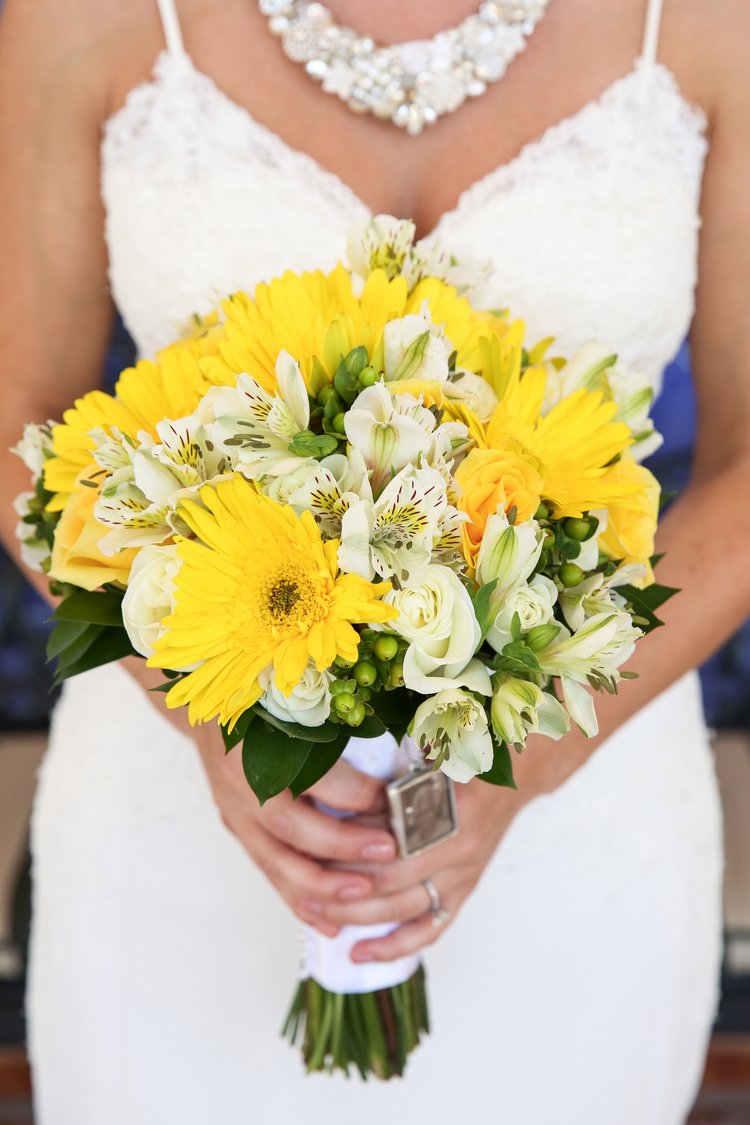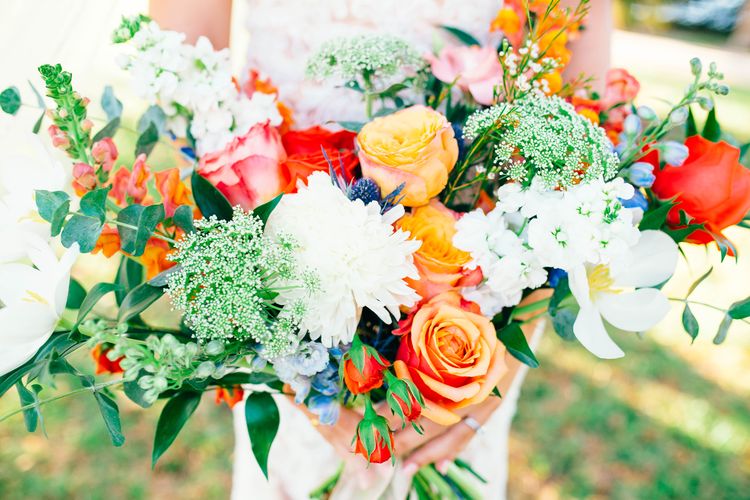 Pink Bouquets
All pink bouquets are popular for all kinds of weddings because it's such a soft, feminine, and pretty color. Here are a few to inspire you.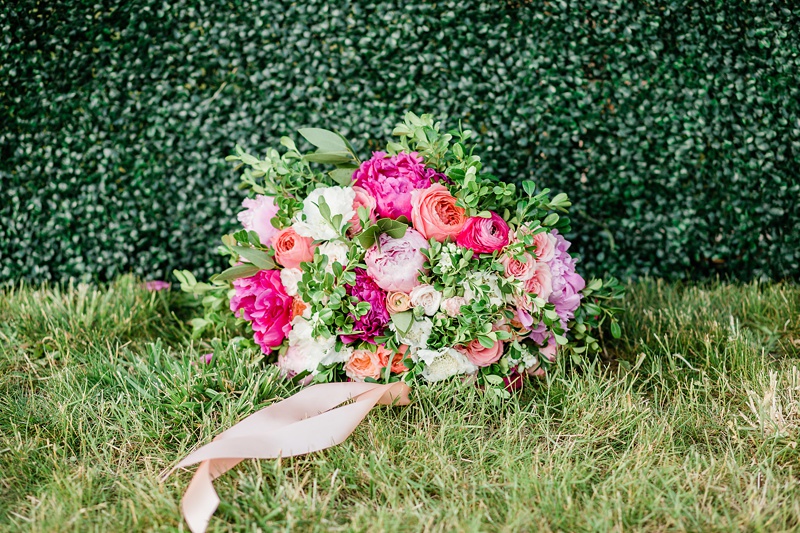 Unique Beach Wedding Bouquets
If you're not into seashells, but still want something unique that you can pack in your suitcase and keep forever, there are many unique alternatives. I love anything that is unique and out of the norm, which is why I was blown away when I first saw these flowerless bouquets.
Pictured on the left is a beautiful DIY brooch bouquet that included meaningful pieces from the bride's deceased family members. The brooch bouquet had her grandfather's wedding cuffs, her great grandmother's wind up watch set to the time they were married, and her great-grandparent's wedding pins.
The travel themed bouquet pictured on the right was made of a vintage map for a destination wedding in Paris.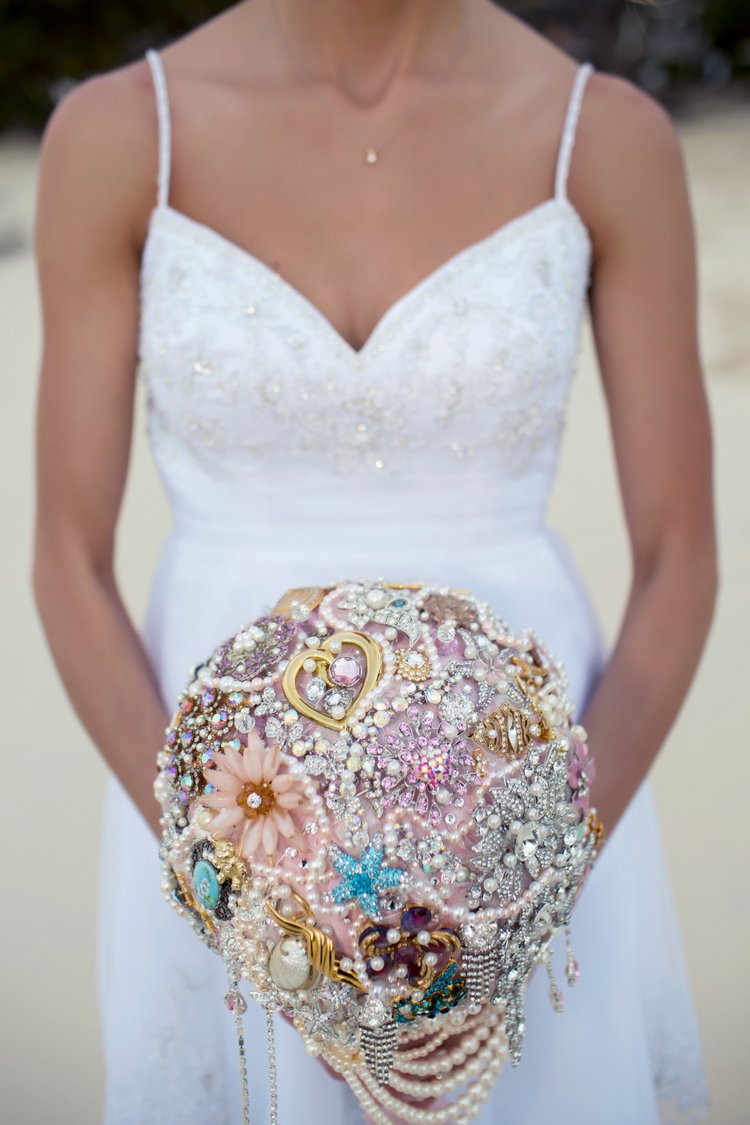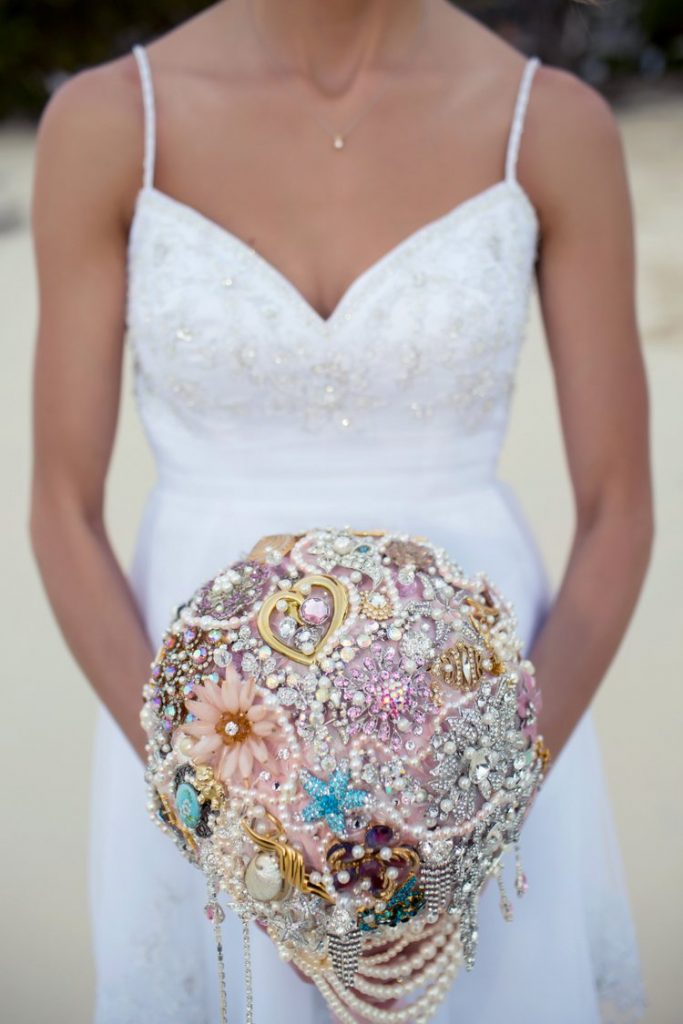 Check out more unique and travel-ready wedding bouquets arrangements.
Calla Lily Beach Wedding Bouquets
Calla Lilies are simple, elegant, and dramatic! This gorgeous flower comes in several different colors with the most common being white. But although you might think white is blah – what makes them stand out is their long, thick green stems and large blooms.
They are perfect if you're going for a simple, elegant look.
Calla Lilies are perfect for a beach wedding because it's a strong flower that can withstand the heat. They are timeless and will look great whether you're having a modern, laid back beach ceremony or a more formal celebration.
You can add a pop of color by adding a satin ribbon to match your color palette as I did to my bouquet, pictured here.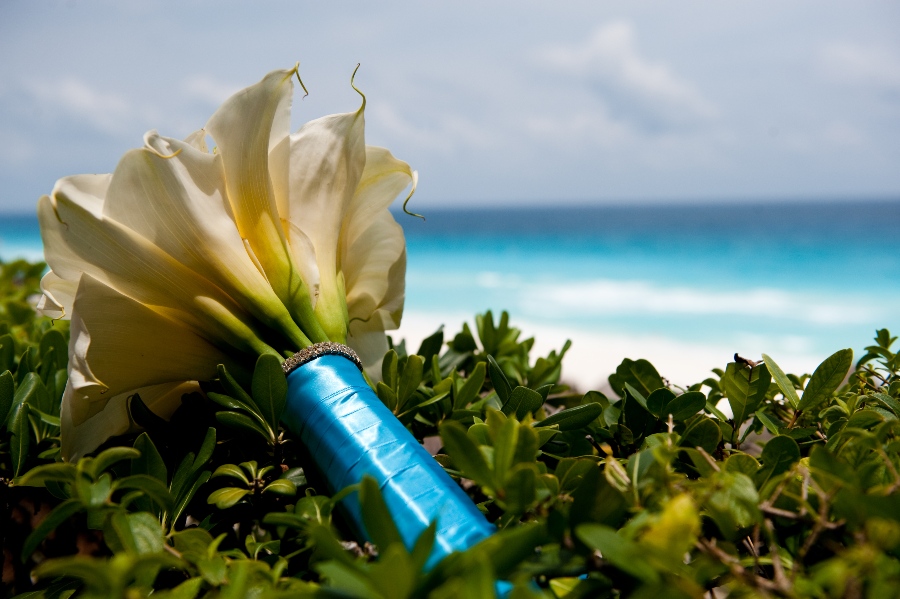 Callas are also a popular choice for brides who can't find blooms to match the bridesmaid dresses. If your color palette consists of aqua or turquoise, you have probably searched high & low for matching flowers and come up empty. It's a popular color for beach weddings but when was the last time you saw turquoise flowers?
White Calla Lilly bouquets will look gorgeous against almost any color bridesmaid dress.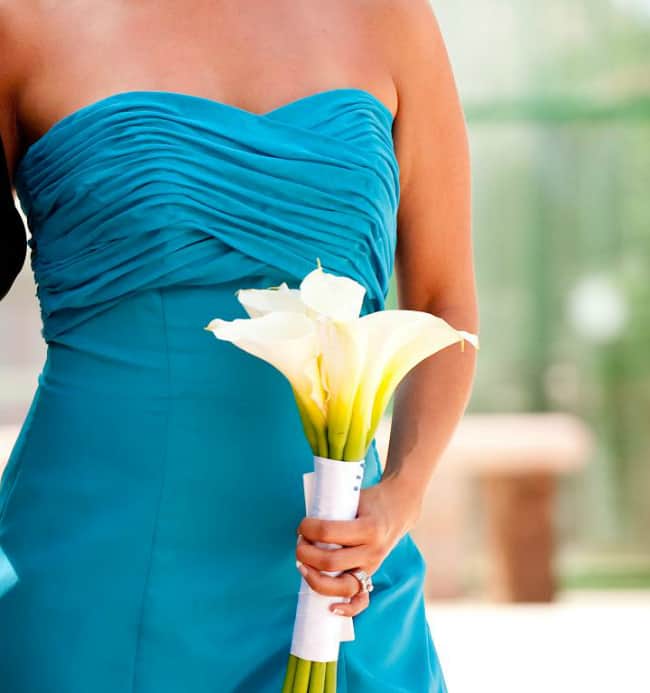 Next > More photos of unique beach theme bridal bouquets.
Related Posts