Destination wedding welcome bags and favors are a great way to show your appreciation to guests who have traveled the distance and spent a lot money to attend your big day. But all too often, wedding gifts for guests just get dumped in the trash or left behind because they're impractical. That's why I asked hundreds of former destination brides & grooms to tell me about the wedding welcome bags and destination wedding favors their guests loved, as well as the misses.
We rounded up their answers below in our list of the 24 best wedding welcome bag ideas. But before we get to that, let's answer some basic questions you may have about destination wedding gift bags.
So . . . what are destination wedding welcome bags?
These are essentially wedding gifts for guests who are traveling for your big day. At a traditional hometown wedding, couples usually provide their guests with wedding favors when they leave the reception; destination wedding welcome bags deliver the same special impact, just sooner!
Welcome bags, out of town bags, and favors are used interchangeably throughout this post because essentially "destination wedding favors" are placed inside a "welcome bag" and given to out of town guests.
Sounds fun! But why wedding welcome bags over an after-wedding favor?
It's important to remember that guests are not only attending your wedding, but they're also on vacation. You're their host and travel advisor, of sorts. A wedding welcome bag will not only show them how grateful you are for their attendance, but that you're ready to provide them with a wonderful experience from the moment they step off the plane.
Do I have to give destination wedding welcome bags to guests?
Do you have to? No. Would it be a really nice gesture and token of your appreciation? Absolutely! This is your big day and you make the rules. I know you're putting a lot of time and money into your dream day, and that can be overwhelming. But remember: So are your loved ones. They're taking off work and spending their own money on travel to celebrate your love. All things considered, a welcome bag is just a small gesture to show your gratitude and set the tone for a memorable week or weekend.
But at the end of the day, it's your call. Your guests won't expect welcome bags so they'll be pleasantly surprised to receive them. On the other hand, if you skip them, they won't miss them since they weren't expecting them in the first place.
What to Put in Your Wedding Welcome Bags
Below is a list of the 24 best destination wedding welcome bag contents and favors according to real destination brides we polled. The biggest welcome bag hits are items that your guests wouldn't think to bring for themselves, items they could easily forget to bring, or gifts that will make their trip easier and more comfortable.
Here are the top wedding welcome bag ideas for hotel guests in no particular order.
Disclosure: Some products in this post are sold in our shop and others are sold by third parties (Etsy, Beau-Coup, and Amazon). We earn a small commission for purchases made through some third party links, at no additional cost to you.
1. Wedding Welcome Bags
Wedding bags are probably the most popular destination wedding gifts for guests, and with good reason. Not only are beach bags a practical gift that your guests will put to good use during the trip (and future travel), but you can also fill them up with some fun destination wedding favors. The beautiful welcome bags pictured below can be easily personalized with your wedding destination, your names and wedding date all for a very affordable price.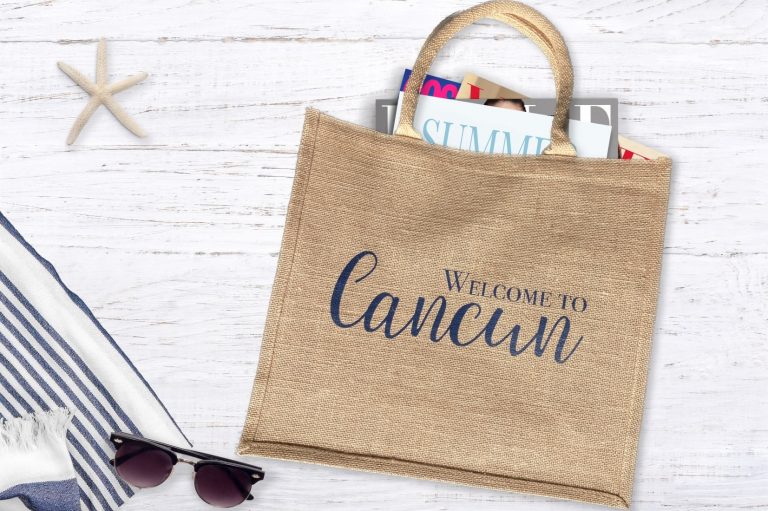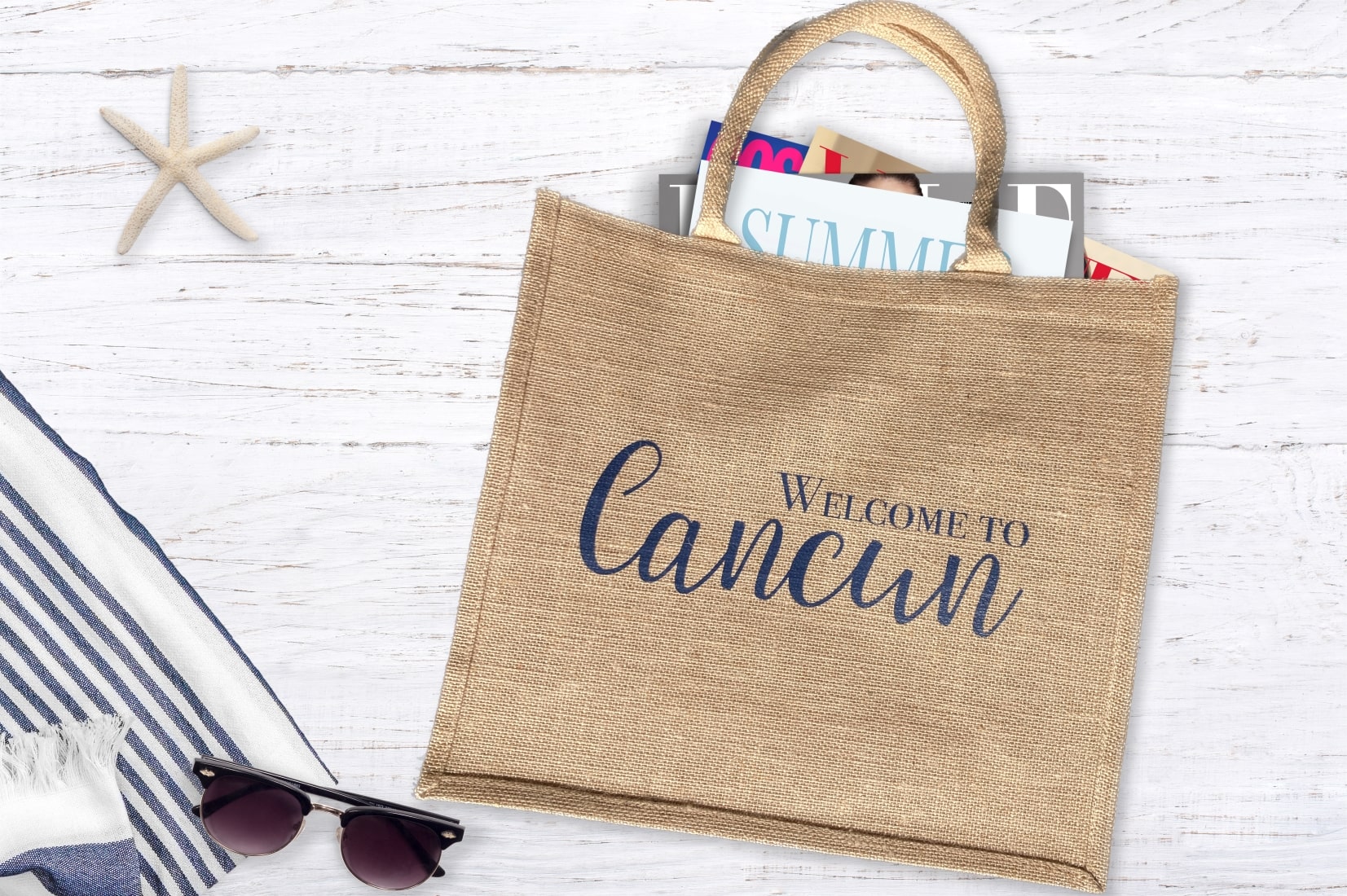 Personalized Burlap Wedding Welcome Bag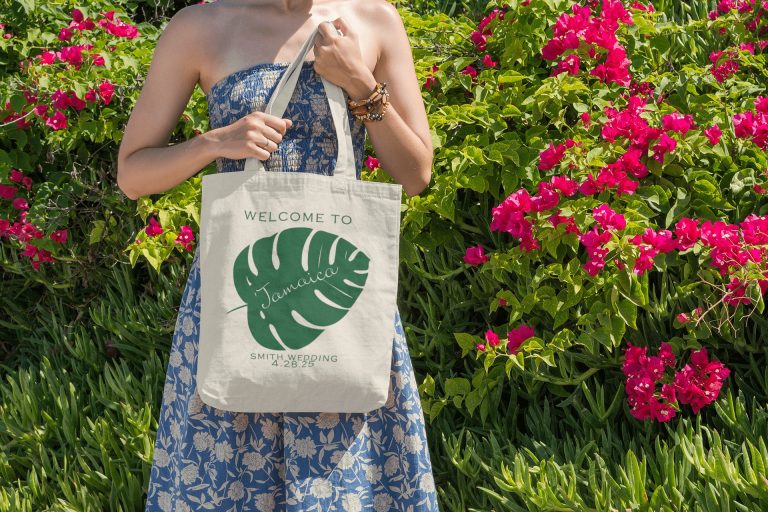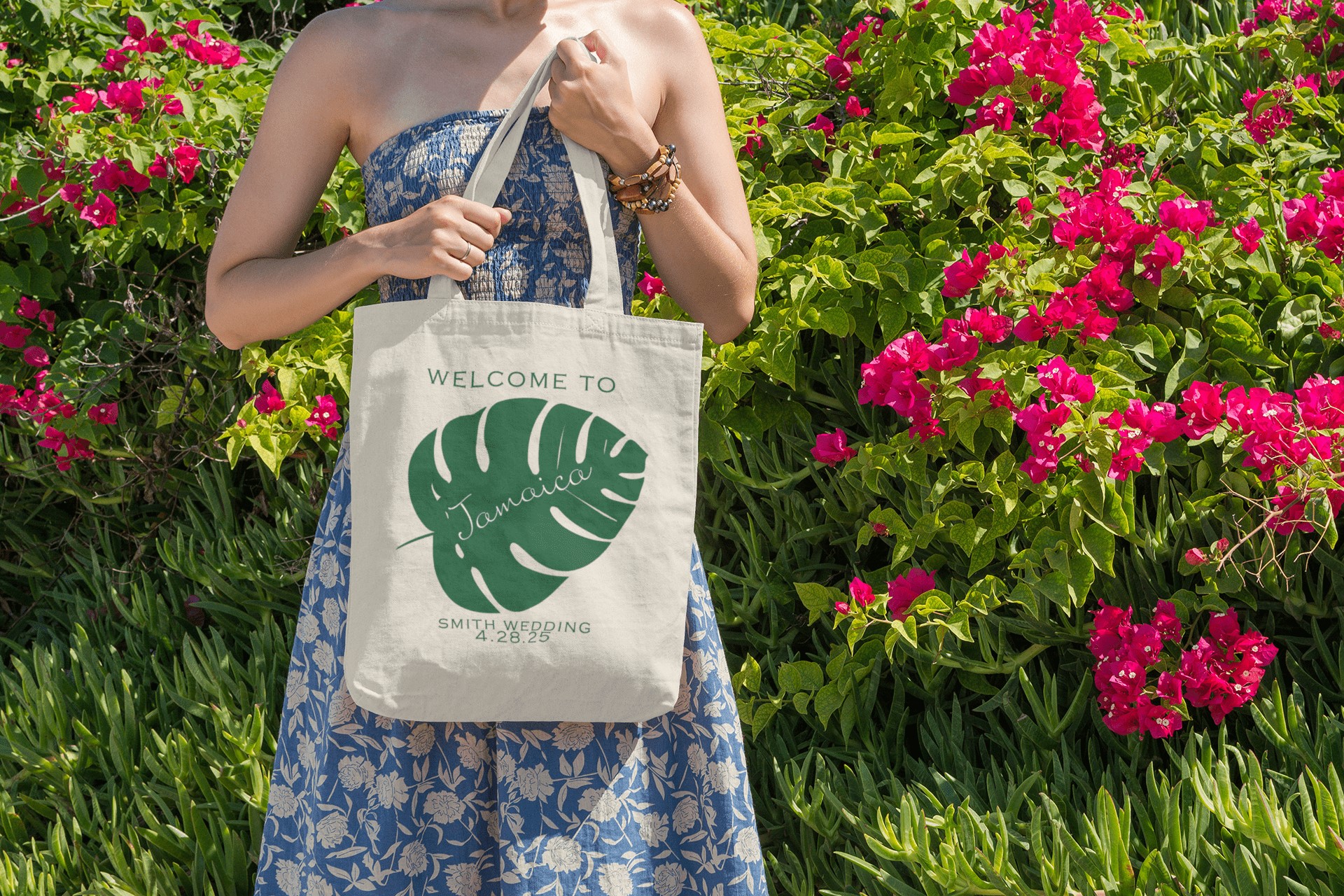 Palm Destination Wedding Welcome Bag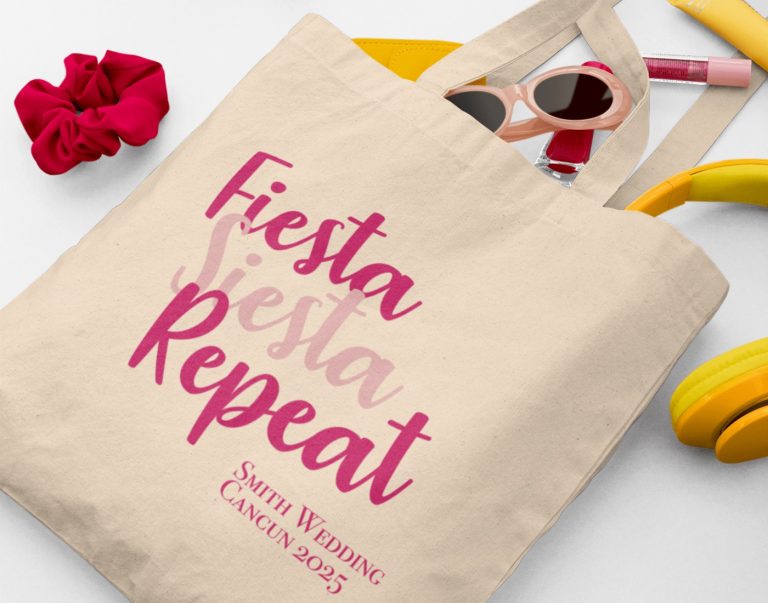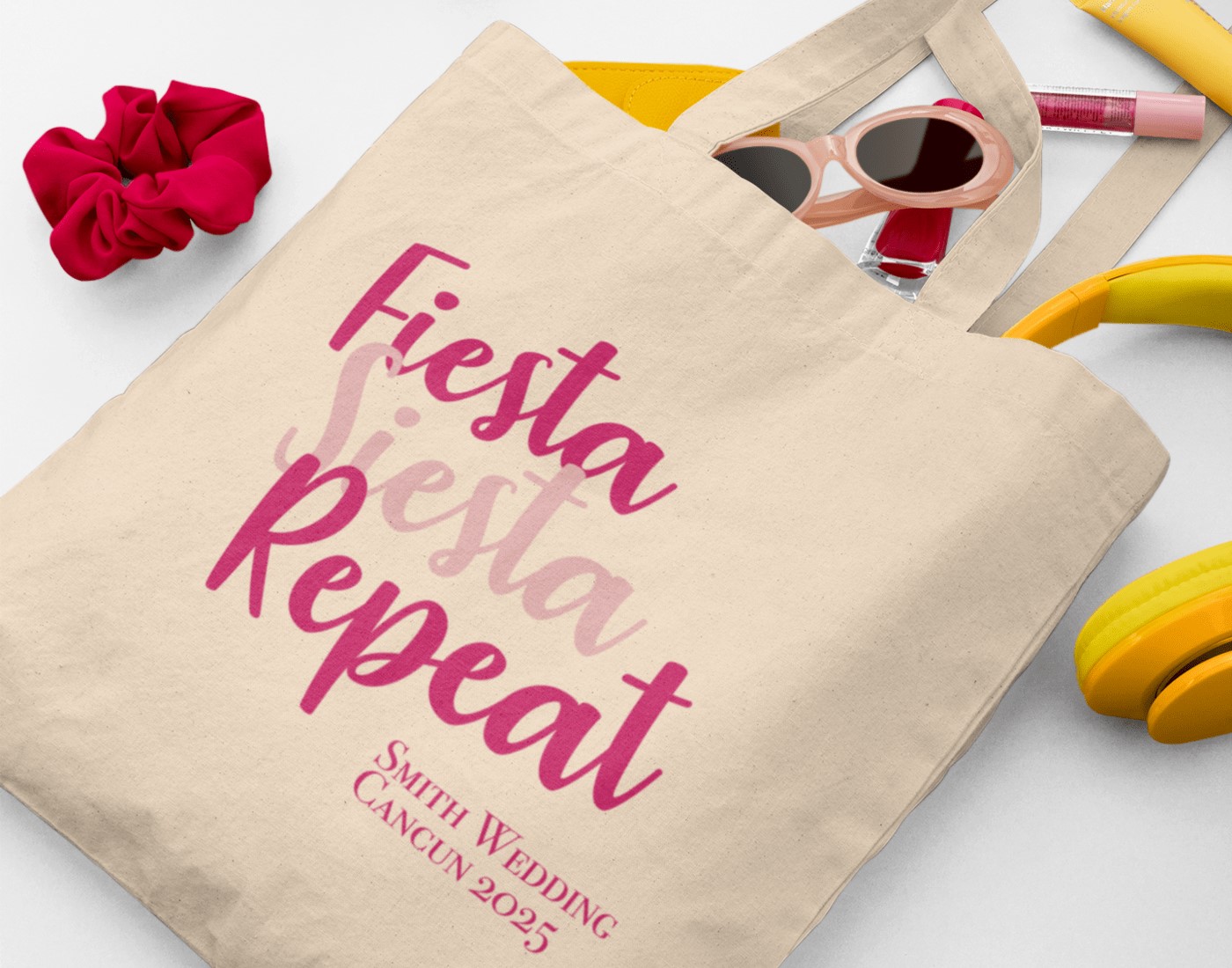 Blue Palm Destination Wedding Welcome Bag
2. Welcome Letter & Itinerary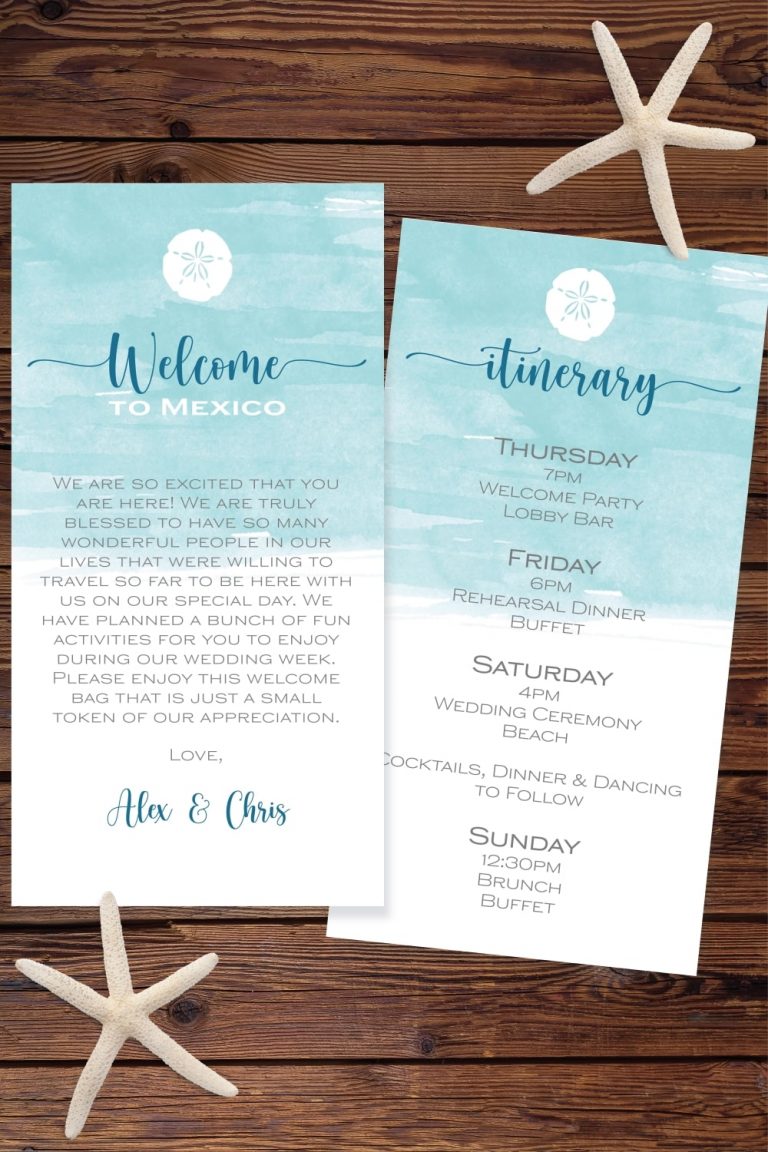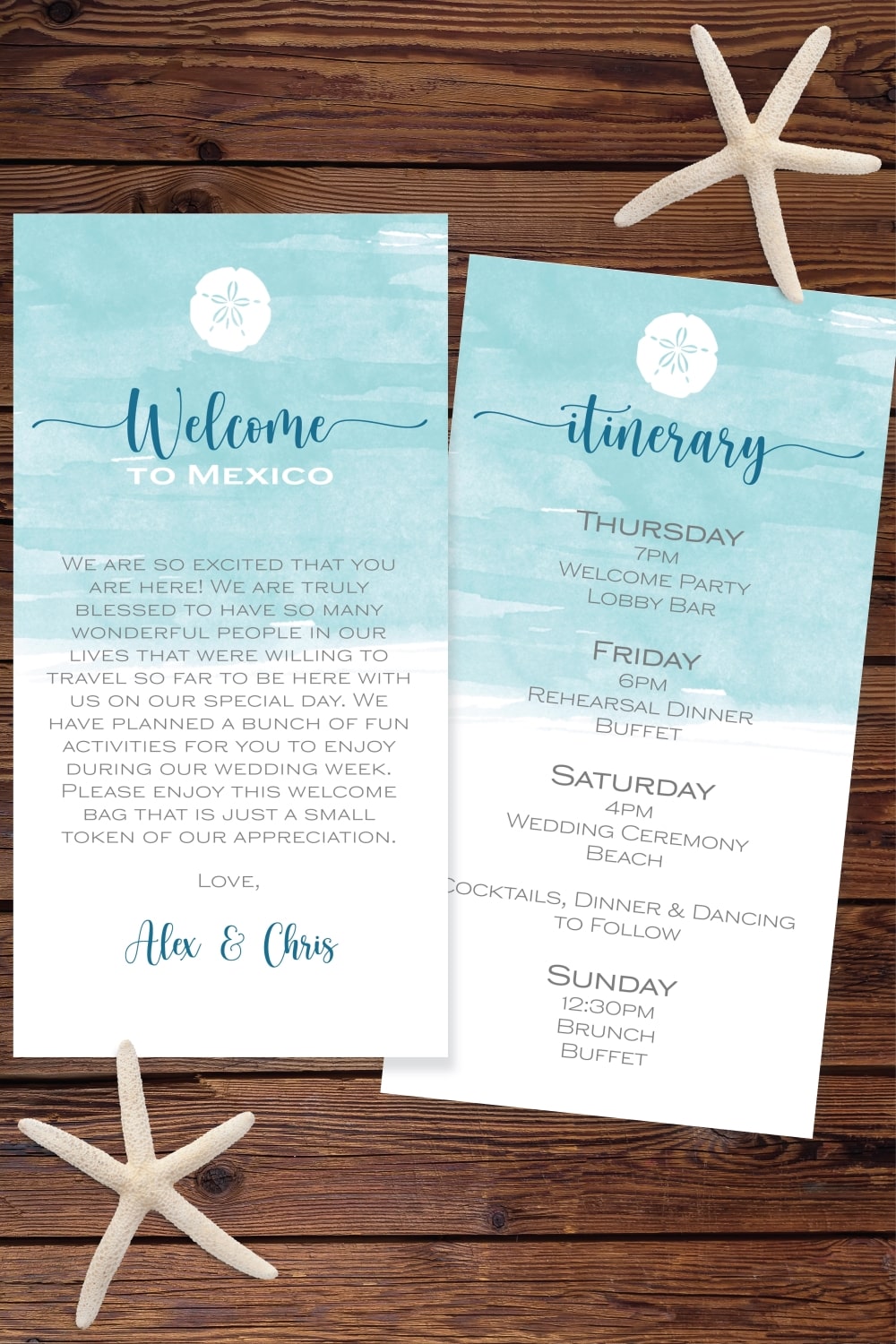 Welcome Letter & Itineraries available in 25+ colors & designs
A welcome letter is a simple but very impactful item that should be a part of every welcome bag. When we're caught up in the wedding planning journey, it can be easy to forget just what a big sacrifice our guests are making. They are taking time off work/school, spending thousands of dollars and using up their own vacation time just to attend your wedding. A welcome letter is a really personal touch that you can add to your gift bags to express your appreciation.
Although it may seem small, my guests loved their welcome letters and many took them home as a keepsake. There are some really gorgeous high-quality cards with a thoughtful welcome letter on one side and a full itinerary on the reverse side. You can personalize them with any wording you'd like and there are tons of gorgeous designs to choose from.
3. Flip Flops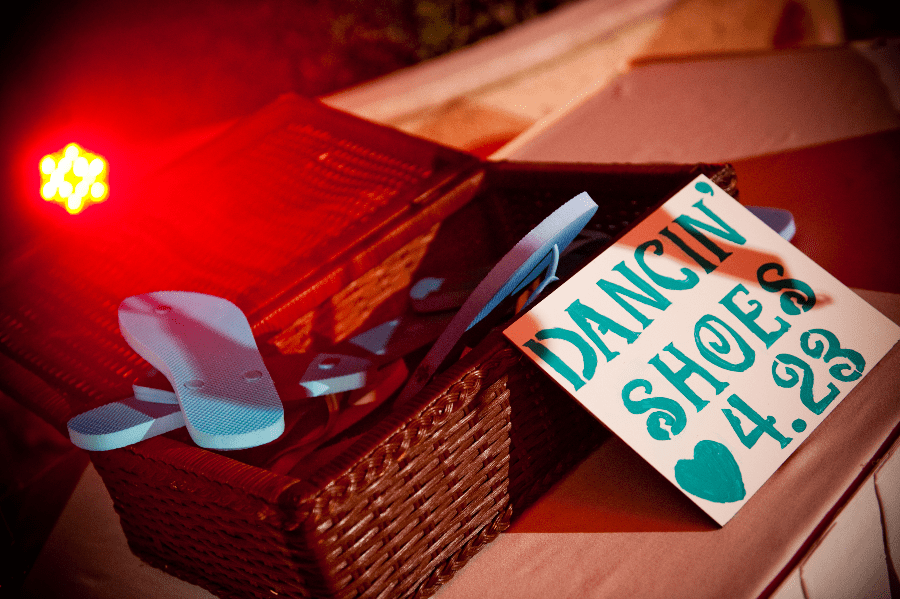 I gave flip-flops as wedding gifts for guests who attended my destination wedding, and I can personally attest to the fact that they were a huge hit. Hand these out at the reception and your guests will have absolutely no excuse for not hitting the dance floor. You can buy flip flops in every color and size imaginable at Old Navy for less than $5 each. And if you can find a coupon online or buy these in the winter months, you can get them for even less. You can also find flip-flops like the one pictured above on Etsy with cute personalized tags.
4. Pashmina Shawls
Pashmina shawls are a perfect destination wedding favor, especially if you're tying the knot on the beach or in a tropical location that gets cool when the ocean breeze ramps up. A Pashmina in your wedding colors is a beautiful wedding gift for guests that they'll use again and again. Etsy has gorgeous pashmina shawls in almost every color under the sun.
5. Liquor
Mini liquor bottles are a really cheap and fun destination wedding favor to throw in your wedding welcome bags. But to make it even more special, try to find liquor produced in your wedding destination. For example, mini tequila bottles are great Mexican wedding favors. And mini Barcelo or Brugal bottles would be a hit for a destination wedding in the Dominican Republic.
Keep in mind that you can't travel with liquor or mail them, so your best bet is to buy these when you arrive at your destination. And you can even personalize the bottles with some labels or cute favor tags like these.
6. First Aid Kits for Wedding Welcome Bags
Wedding First-aid or "hangover recovery kits" have to be one of the most fun and practical items to put in your destination wedding welcome bags. You can buy really cheap travel-sized items like Tylenol or Advil, vitamin c, band-aids, and ear-plugs and just put them all in a super cute personalized bag like the one pictured here which comes in tons of other gorgeous designs and colors!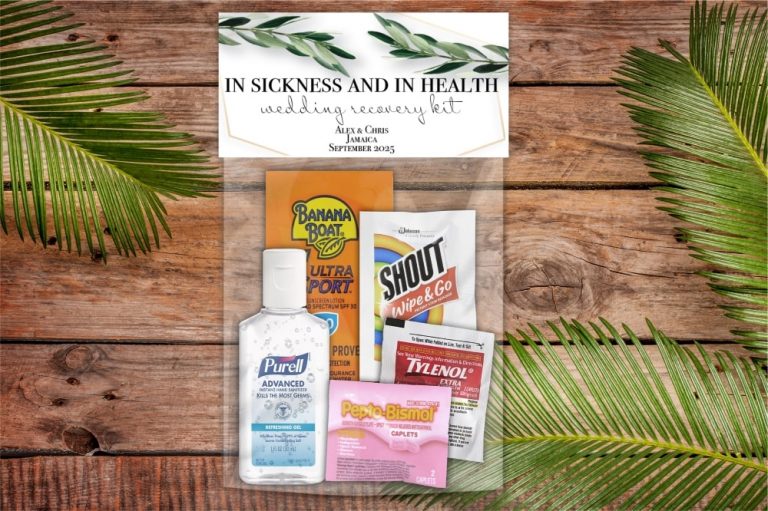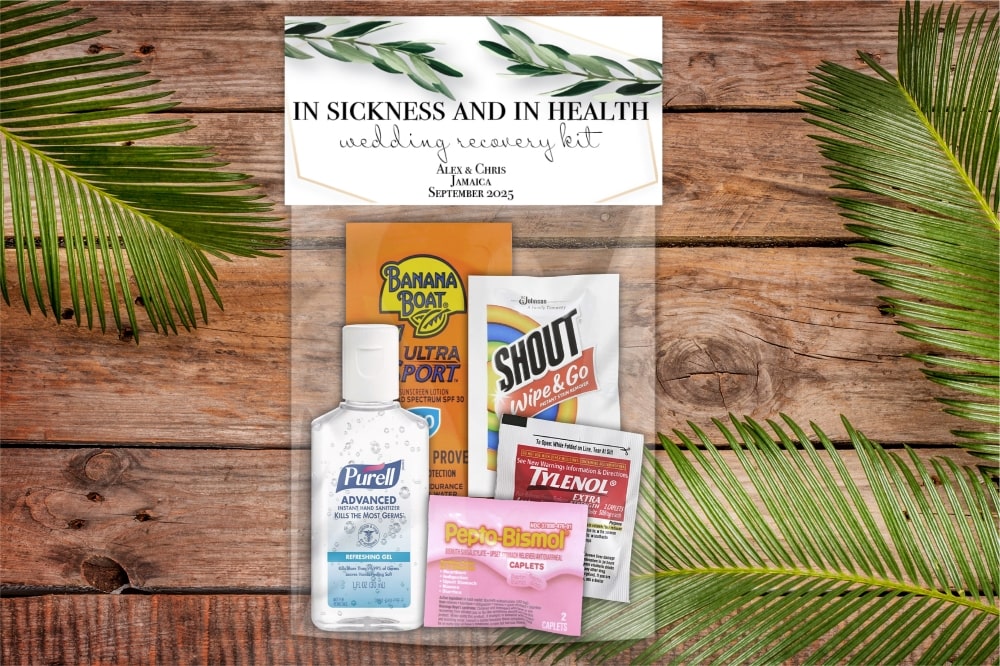 Destination Wedding Hangover Bag & Topper – Available in 25 other colors & designs
And you can keep the whole theme going by ordering matching door hangers, welcome letters/itineraries, and key card holders.
7. Deck of Cards
Another great favor to put in your wedding welcome bags is a personalized deck of playing cards. Not only will guests enjoy them on the trip, but also back home.
8. Waterproof Key Card Holder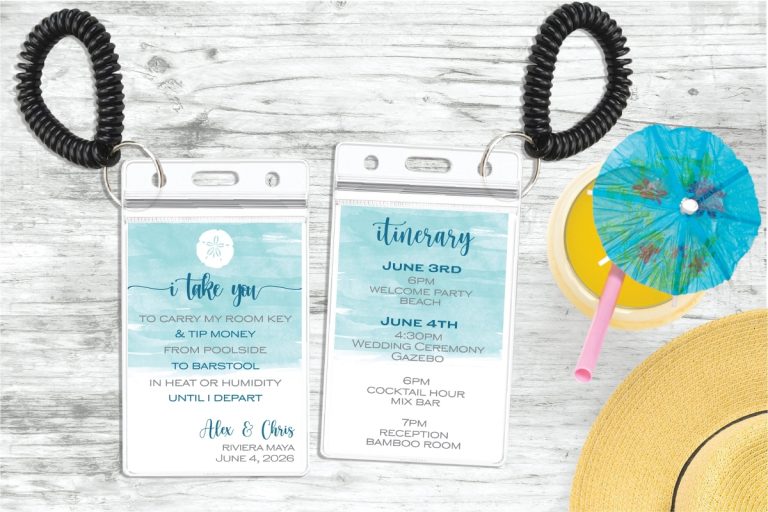 One of the best hotel wedding welcome bag ideas is room key holders! How many times have you been on vacation trying to figure out what to do with your money, credit cards, and hotel key card while you lounge poolside? This is something your guests will never think of bringing themselves, but they'll be super grateful you did!
Not only are these key card holders practical, but they're also a really personalized gift! It comes with a double-sided card that has a fun poem on one side and your wedding itinerary on the reverse so your guests will know where to be at all times.
There are many different designs to choose from, you get to personalize all the wording on it, and it comes fully assembled — all for less than $2.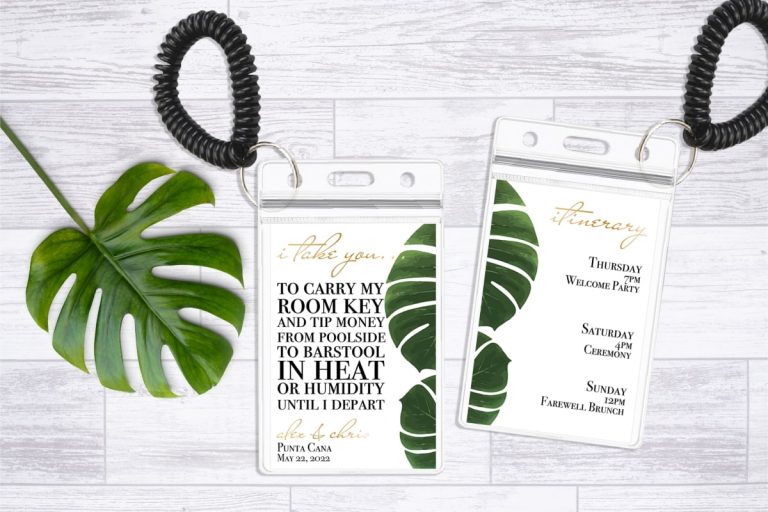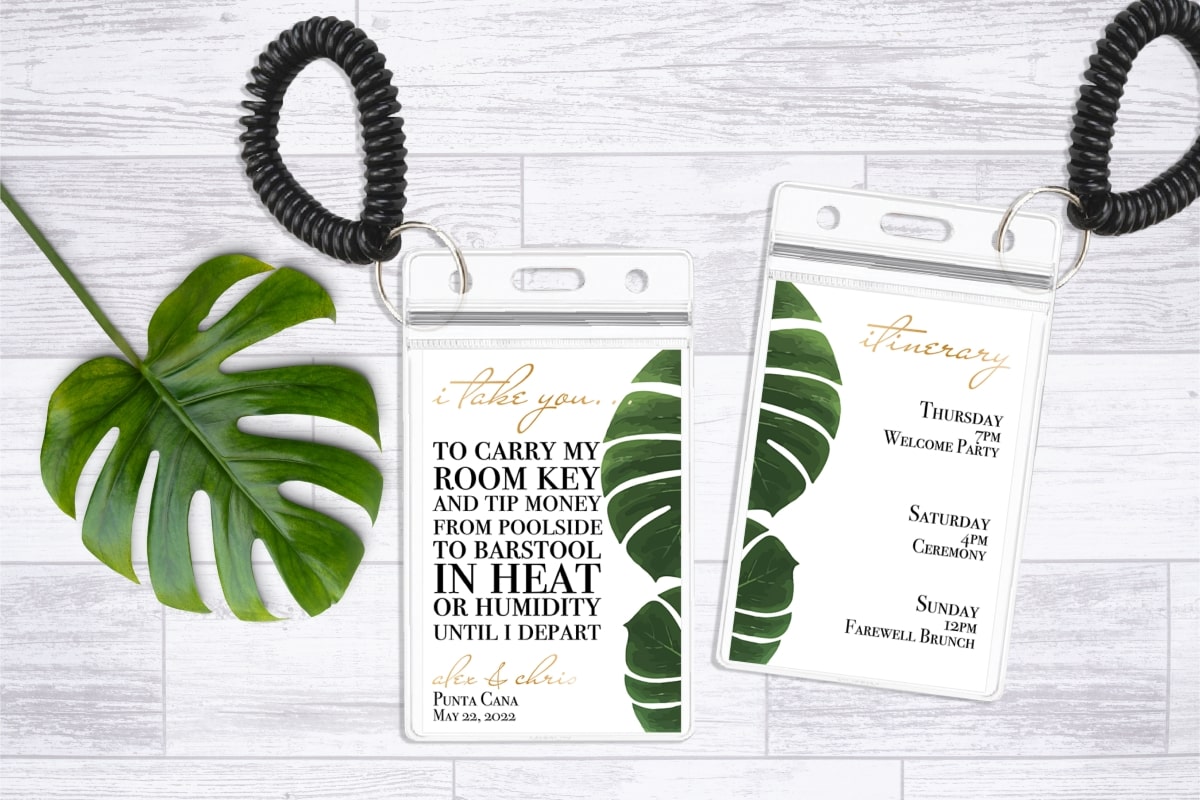 9. Cigars
Many of the brides/grooms I polled, chose Cuban cigars as a popular destination wedding favor. I gave away cigars at my destination wedding reception in Mexico, and they were a huge hit so I can personally vouch for this idea.
You can hire a cigar roller at most destinations; but if you have budget constraints, you can just buy the cigars and display them in a personalized humidor, which you can then keep as your own wedding keepsake. And you can even get some personalized matches to go with the cigars.
10. Candy
Edible favors are always a hit at both traditional hometown weddings and destination weddings. But what I especially love about this idea is that you can put your treats in some fun packaging that will really make an impression. There are so many cute travel and beach themed candy packages, that the hard part will be narrowing down your choices. Here are some of my favorites.

Mini Globe Party Favor
from:
Beau-coup.com
11. Door Hangers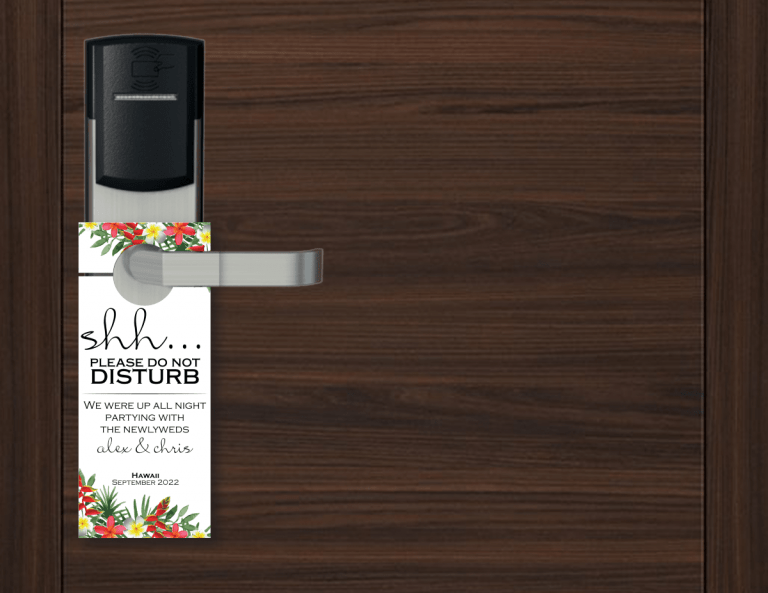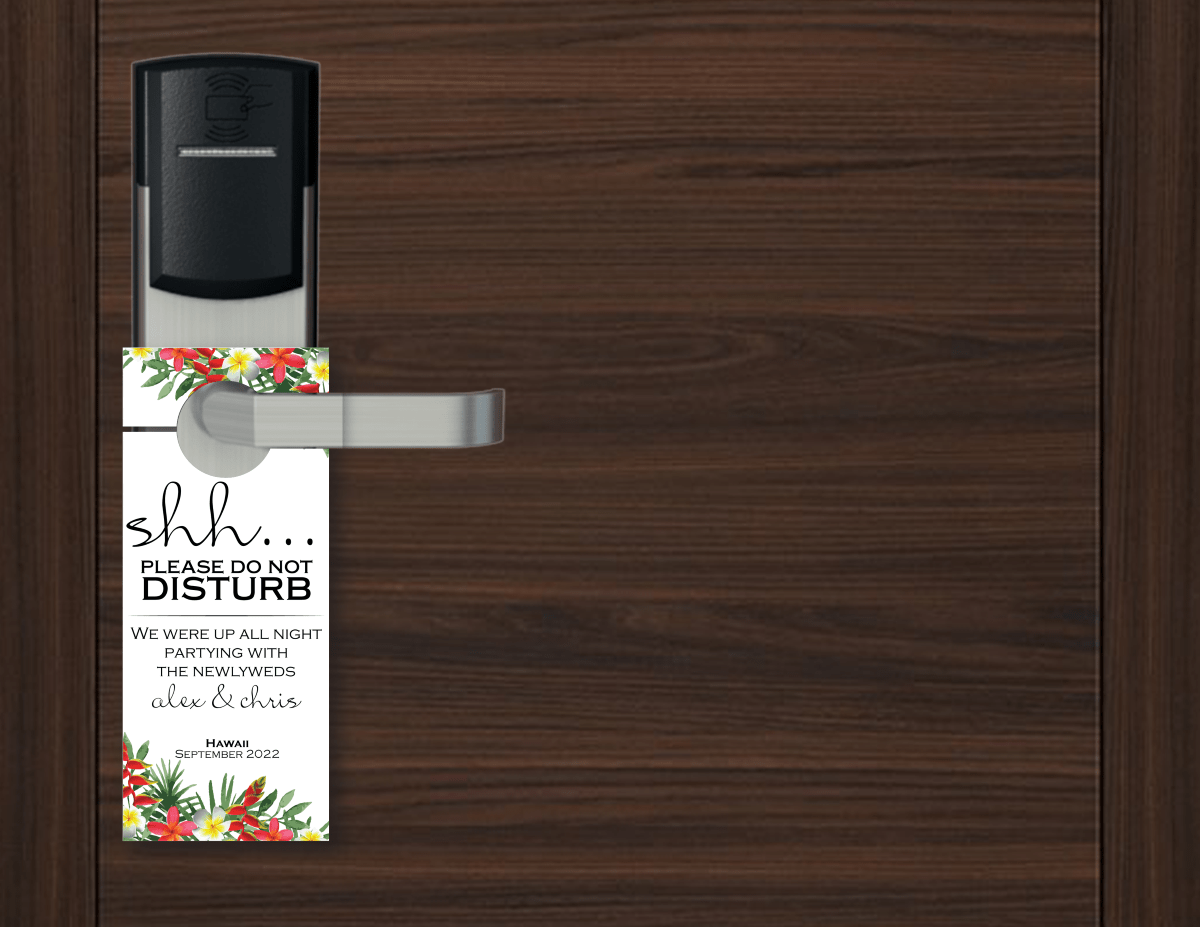 Hotel Wedding Door Hangers available in 25+ designs & colors
Cheeky, no? These affordable and personalized door hangers are such a cute gift. Everyone will know that you had the most amazing wedding ever when they see these hanging all over the resort. And they'll help your guests get some much-needed rest (or alone time 😉) after your epic reception.
12. Coasters
Another hit? Travel themed coasters because it's something guests can take home and put to good use for years to come.
13. Lip Balm
Lip balm with SPF always comes in handy, and you can add some really cute travel or beach themed labels with your name and wedding date for a personalized touch.
14. Shot Glasses
Who doesn't love shot glasses? I collect them everywhere I go. A fun idea is to put one shot glass on everyone's place at the reception table and ask them to use their custom shot glasses during the toast.
Another great idea is to use the shot glass to direct guests to their tables. You can put an escort card in each shot glass next to a fun sign that says "Take a shot & find your seat". Can you think of a better way to get the party started?!
We also love the shot glasses that can double as a votive candle holder making it an even more practical wedding favor to put in your gift bags.
15. Luggage Tags
Probably the most practical of all destination wedding favors is the luggage tag. These can double as table seating cards to make them even more useful.
16. Bottle Opener
It's usually hard to call a bottle opener "adorable" but I will anyway. These are super adorable, functional, and a perfect little favor to put in your destination wedding welcome bags. Your guests will put these to good use at the resort and back at home too.
17. Wine Stopper
If you have some wine lovers on your guest list, then they are going to love this destination wedding favor! I am always searching for wine bottle stoppers and would be thrilled to get this in a wedding welcome bag. They're practical, fun and inexpensive!
18. Fans
If you're tying the knot in a tropical location, fans are a very inexpensive and really useful addition to your wedding welcome bags. I'm kind of obsessed with fans as a destination wedding favor, so I was like a kid in a candy store when I was researching different fans for this post.
Personally, I adore these program fans that guests can also use too cool down during your nuptials. You know they'll end up folding your beautiful programs to fan themselves anyway–why not do it for them with much more style!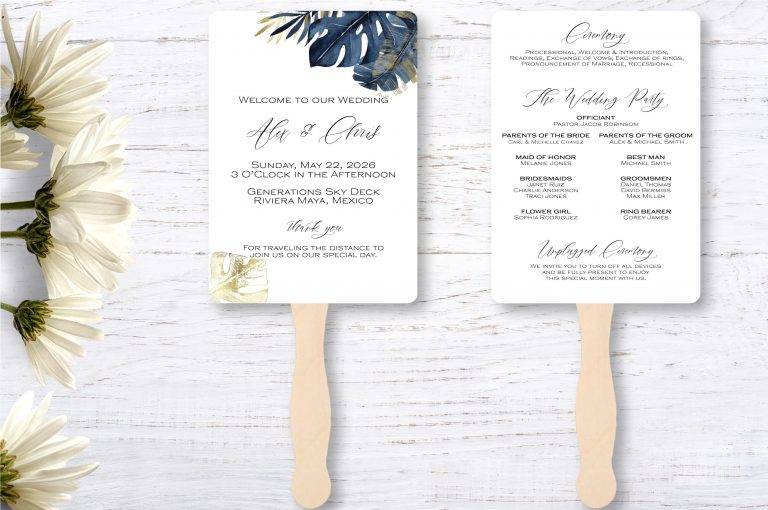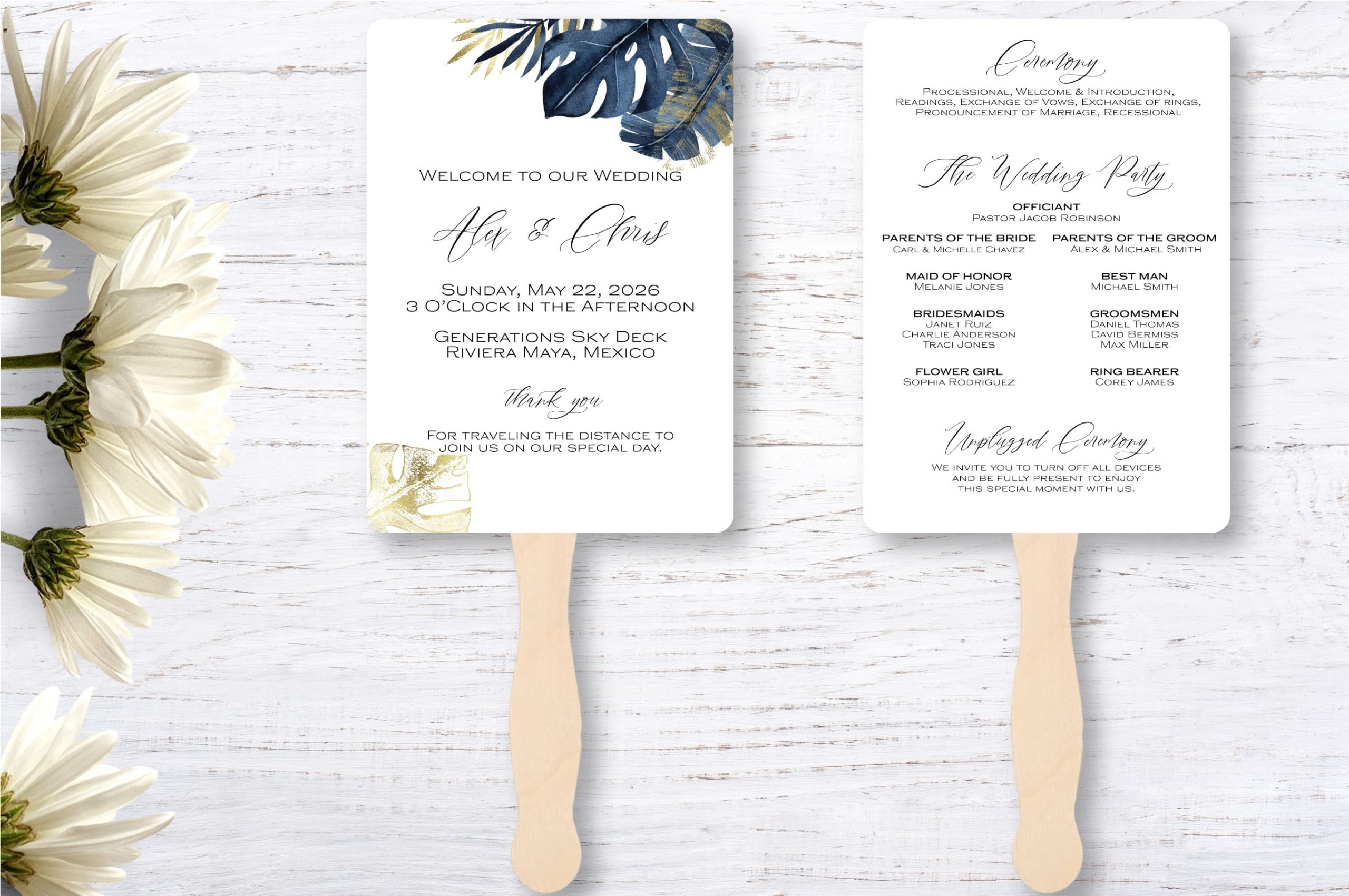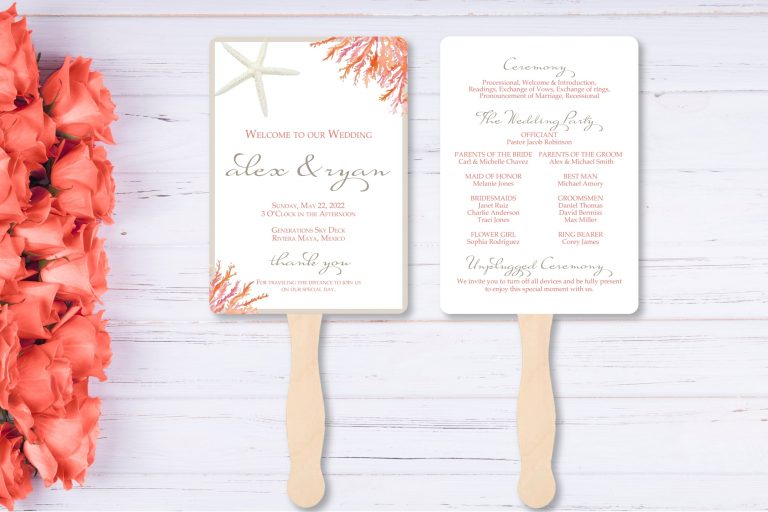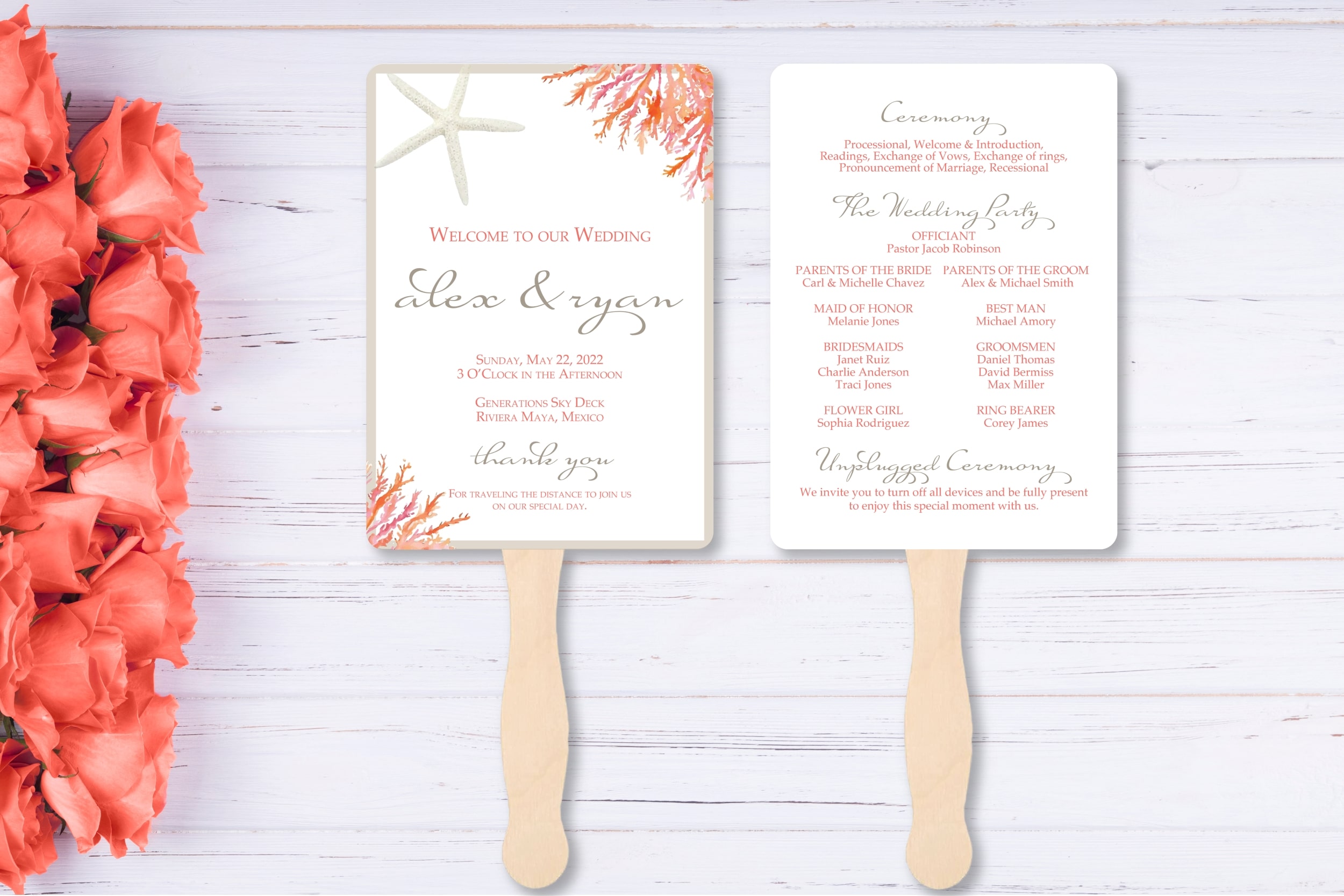 Wedding program fans (available in various designs & colors)
19. Can Sleeves
Bottle or can sleeves are such a popular destination wedding favor that you can now find them in a ton of colors and styles to match your wedding theme.
20. Water Bottles/Tumblers
Another hugely popular item among the brides we surveyed, was personalized water bottles. This is such a practical gift, especially for a destination wedding. Your guests can use it to refill their favorite drink at an all-inclusive resort, or fill it up with water when going on an excursion trip. And the best part is that they can also bring this back home with them and use it in their daily lives.

Tropical Beach Tall Tumbler
from:
Beau-coup.com
21. City Guides
Remember: You're their host and travel guide on this magical getaway. A city guide providing them with a list of cute coffee shops, delicious restaurants, local shopping, the best sightseeing, and more will guarantee that each guest has the time of their life.
22. Treats from Local Vendors
Celebrate your destination even more by highlighting the best finds from local vendors. You could include handmade sweets and other local treasures that will make your guests feel a warm welcome.
23. Kid-Friendly Wedding Welcome Bags
If your destination celebration is kid-friendly, make sure your wedding welcome bag includes a few goodies for the young ones. Something as simple as a beach toy, coloring book, or travel game will make them feel special and keep them busy.
24. Mini Aloe Vera Gel
I wish I would have thought about adding Aloe Vera Gel to my own destination wedding welcome bags. This is something most people won't think to bring but can come in super handy. If you're not familiar with aloe vera gel, it is what many consider the holy grail when it comes to soothing sunburn. You can buy travel size bottles at any drug store that sells travel size products (i.e. Walgreens, CVS, Walmart). While researching this post, I found these 2-ounce bottles of aloe vera gel which come with personalized labels!
Wedding Welcome Bags & Favors: The Misses
Anything that your guests will intuitively pack for their trip, or that the resort provides is going to be a waste of your time and money. Also, keep in mind that some people are picky about the brand they use on their hair. With this in mind, here are some items that you'll probably be better off leaving out of your welcome bags.
Anything too heavy, breakable, bulky or that will just be hard for guests to pack and travel with
Let's Talk dollars and Cents.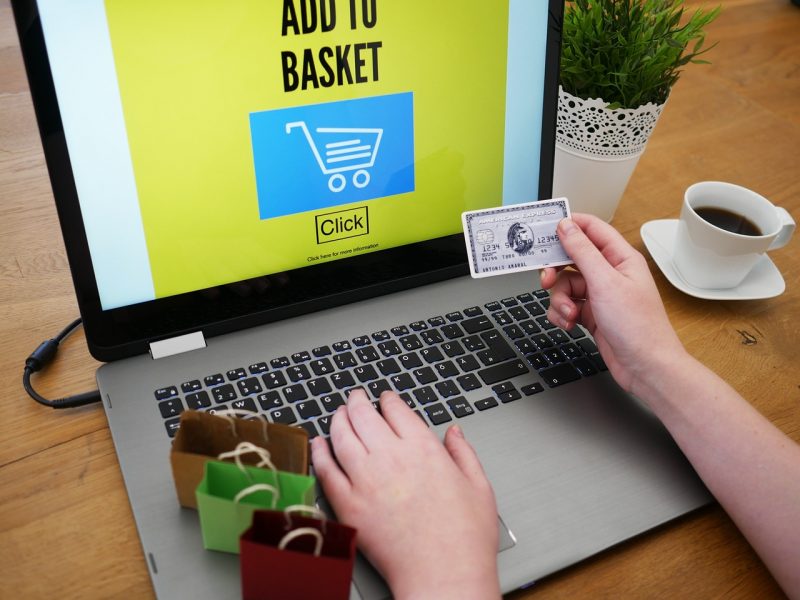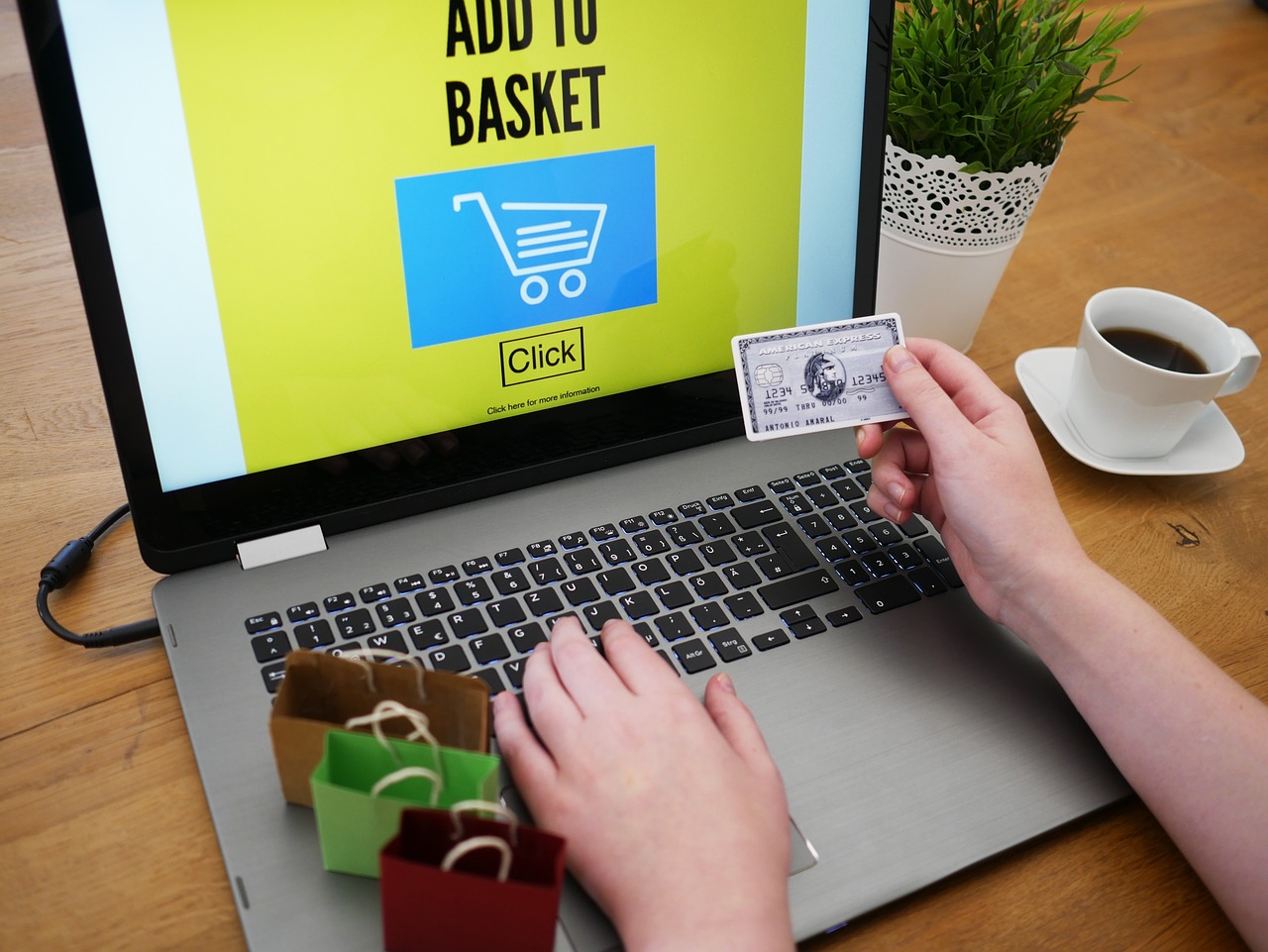 Who pays for the wedding welcome bags?
Since the bags also serve as destination wedding favors, it is usually the couple (or their parents) who cover the cost. But if you're concerned about this added expense, there are many ways to craft personalized bags without breaking the bank (keep reading to learn how!).
What is the average cost of welcome bags?
The overall cost of destination wedding welcome bags ranges from $10 – 100 per bag, but the average is $15-25 per bag (including the contents). You get to decide how simple or elaborate you want your welcome bags to be, which will impact the overall cost.
Keep reading for some money saving tips & ideas below.
How much should I spend on my destination wedding welcome bags?
In short, it depends on your budget and how big your guest list is. Don't feel pressured to spend too much–it's the thought that counts, not the dollar amount. The more personalized you make each bag, the more luxe it will seem.
If you have a smaller guest list or a big budget you may be able to splurge and spend $20-40 on each bag. But if you have a lot of guests or a tight budget, you can give out a few fun and practical goodies that are only $2-3 each. For example, a hangover recovery kit or resort key card holders.
If you're still seeing dollar signs, remember that these bags will not only include an array of useful goodies to make your guest's trip more comfortable, but they also contain your wedding itinerary, and they serve as a keepsake wedding favor for guests. So you're killing 3 birds with one stone!
Are wedding welcome bags per person or room?
Good news for your budget: The wedding welcome bag is per room. However, I do recommend personalizing each bag based on the occupants of the room. For example, if there are two guests in a room, and you're including something they'll each need (i.e. flip flops or lip balm), then include two in the one bag. And if the room includes kids, why not provide a few toys to keep them busy? Their parents will be grateful too!
Any money-saving tips?
Of course! I was the queen of deals for my own big day so I hear you loud and clear. First, make a list of the items you'd like to include in your destination welcome bags and begin to prioritize them. Which goodies are a must-have? Dedicate your dollars to those!
Then make sure you take advantage of discounts. Wedding season is an all year round thing so there are always discount codes and promos to take advantage of. A good way to get discounts is to sign up for vendor newsletters to get 10% (or more) off your purchase. Also, make sure to follow wedding social media accounts to stay in the loop for any deals or promotions.
Time to pack! How do you travel with destination wedding welcome bags?
Packing for a destination wedding is tricky! Your packing list is long enough before you even add all these goodies for your guests. To make things easier, here are a few things to remember before you get ready to go:
1. Research your destination's duty-free allowance.
Every international destination has a duty-free allowance. That is, the max value of merchandise you can bring into the country tax-free (this is why you see all those "duty-free" stores in airports). Before you start planning your wedding welcome bag, research the allowance for your destination because every country is different. For example, as I write this post, Mexico's allowance is $500 in addition to your personal luggage (this can change, so always research the most updated allowance on the Customs Agency website for your destination).
The more you research upfront, the better your chances are of passing customs without any issues.
2. Keep the receipts for all of your welcome bag contents.
If customs questions you, you'll be able to quickly prove that you're abiding by their maximum allowance, and they won't be able to over-tax you based on their own inaccurate assumptions.
3. Do's & Don'ts to pack your welcome bags efficiently!
Do your best to keep the wedding bag contents as small as possible. For instance, pack travel size gifts, foldable items, etc.
Don't assemble the welcome bags until you arrive. Grab that first cocktail and have a gift-packing party after you check in to your hotel.
If you're feeling anxious or think your merchandise may surpass the duty-free allowance, simply split up the items between your luggage and that of a family member or close friend.
Another tip is to pack all gifts into a cheap checked bag. Once your nuptials are done, you can leave the bag behind or pack it with souvenirs on the way home.
4. Explain the purpose of your wedding favor bags
Even if you have a receipt for all items, it would help to write a letter in English and your destination's local language explaining the purpose of the merchandise in your bag. Also make sure you attach the aforementioned receipt to make this backup plan both effective and personalized.
Check out these posts for more packing tips:
Can I Mail Destination Wedding Welcome Bags?
Are you thinking it may be easier to mail the wedding welcome bags ahead of time? Before you run to the post office, there are a few things you need to keep in mind.
Firstly, this is the riskiest option because packages can get lost in the mail and never make it to your destination. Another thing to keep in mind is that your merchandise will still need to clear customs even through the mail. And finally, you'll need to check with your resort ahead of time to ask if they're even willing to receive your mail. Some will not.
How do you give out destination wedding welcome bags to guests?
Ok, so you've planned, paid, packed, and arrived! It's time to distribute the wedding welcome bags to your loved ones. Now, what's the best way to do this? Depending on your venue, itinerary, and general availability, here are a few ways you can give out welcome bags:
My personal favorite? Hand them out yourself. Your loved ones are flying hundreds, if not thousands, of miles to celebrate your love story. Greeting them in the lobby or knocking on their hotel door with a smile and a welcome bag is just one way to let them know how happy you are that they came. Although this option requires some info-gathering and time management, I think it's well worth it.
If personal delivery is not your style, host a welcome party and pass out every welcome bag at once.
Just picture your guests' surprised faces when they open their rooms to find welcome bags on their beds. Check with your resort in advance to see if they'll put the bags in the room, or give them to each guest at check-in. Although, some resorts will not do any of these options, others may do it as a courtesy or for a fee. In any case, it's worth asking. After all, the worse they can say is no.
Give the bags to your guests at home to start their travel off right. This will immediately show them how much you appreciate their attendance. Not to mention, you get to skip issues with customs!
Pin this for Later
So there it is! The ultimate guide to a warm welcome. I hope you feel prepared to plan and pack your wedding welcome bags. I know your guests will love you for them. Don't forget to pin this for later. Happy planning!