Destination Wedding welcome bags and favors are a great way to show your appreciation to those who have traveled the distance and spent a considerable amount of cash to attend your big day. But all too often, wedding favors just get dumped in the trash or left behind. That's why a few months ago, I asked hundreds of former destination brides to tell me about the wedding welcome bags and destination wedding favors their guests loved, as well as the misses.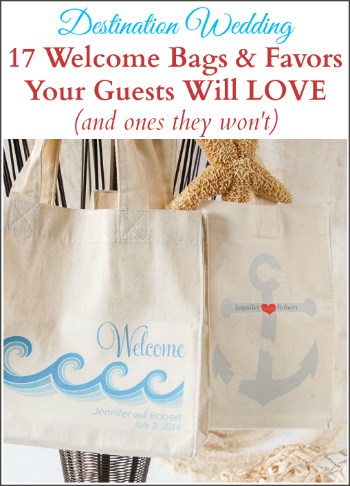 Side Note: I'm going to use wedding welcome Bags/Out of town bags and favors interchangeably throughout this post because for a destination wedding you can do one or the other. Many brides choose to put the "destination wedding favors" inside a "welcome bag" and hand it out when their guests first arrive. You can even arrange it so the resort can hand them to guests upon check-in, or for a nicer touch, you can greet them with their bags when they check in.

So without further ado, below is a list of the best destination wedding favors according to the destination brides I polled.

The Hits
The biggest welcome bag hits are items that your guests wouldn't think to bring for themselves, items they could easily forget to bring, or gifts that will make their trips easier and more comfortable. Here they are in no particular order.
1. Wedding Welcome Bags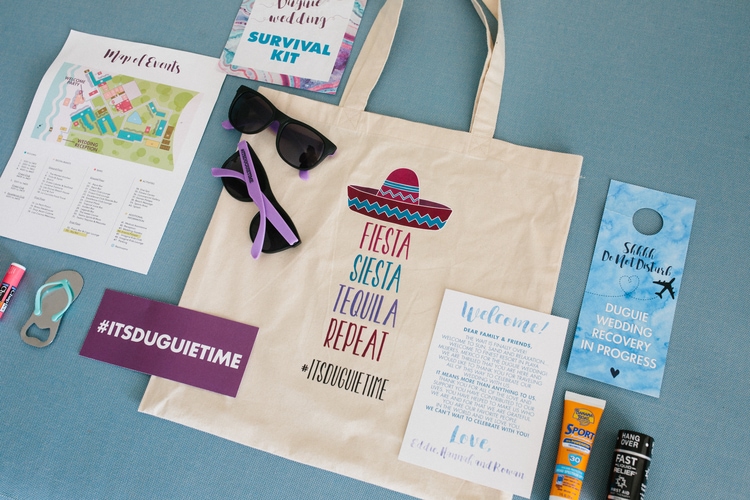 Wedding bags are probably the most popular destination wedding gifts for guests, and with good reason. Not only are beach bags a practical gift that your guests will put to good use during the trip (and future travel), but you can also fill them up with some fun destination wedding favors. Zazzle has a ton of cheap wedding welcome bags, like the ones pictured below which are priced at less than $10 each. What I love is how easy it is for you to personalize their existing designs with your wedding details.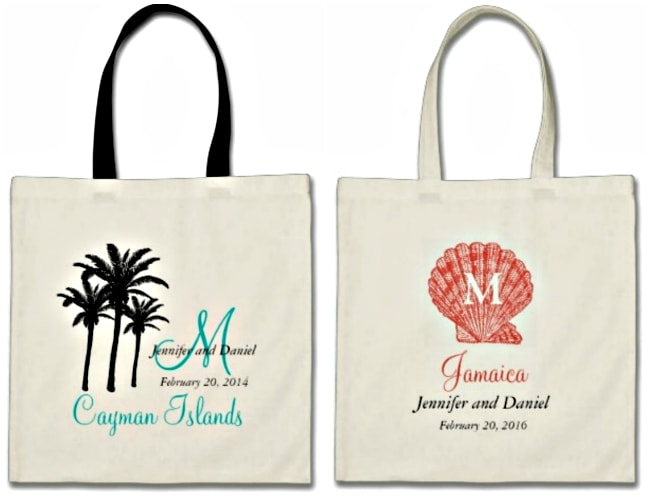 If you already designed your own custom monogram, you can upload it to Zazzle and create a completely customized destination wedding welcome bag like the one I designed below.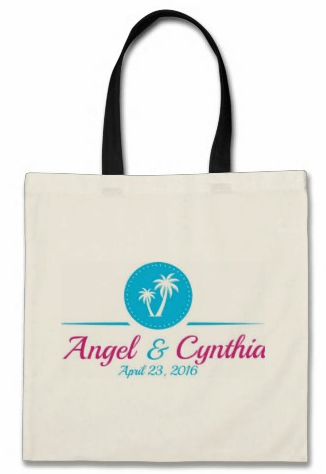 Below are a couple of other really cool and cheap destination wedding welcome bags I found (click the image for more details).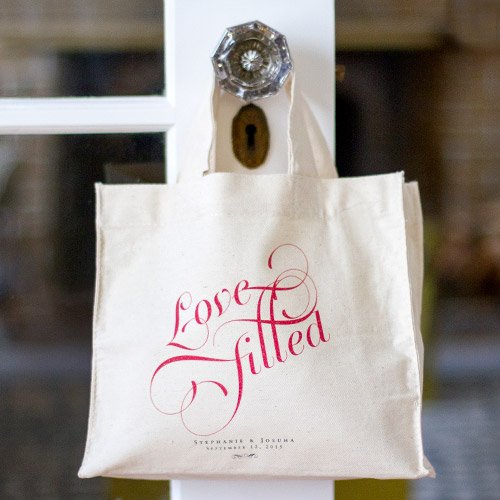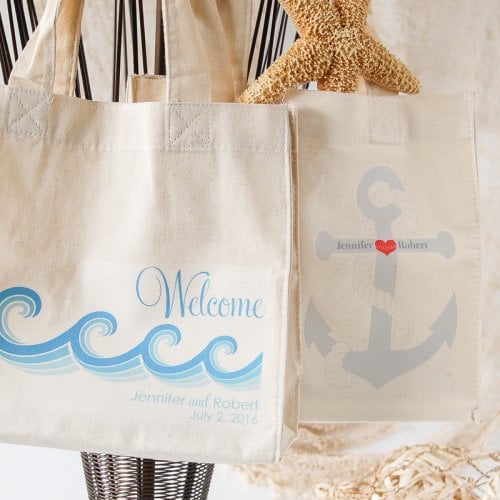 2. Flip Flops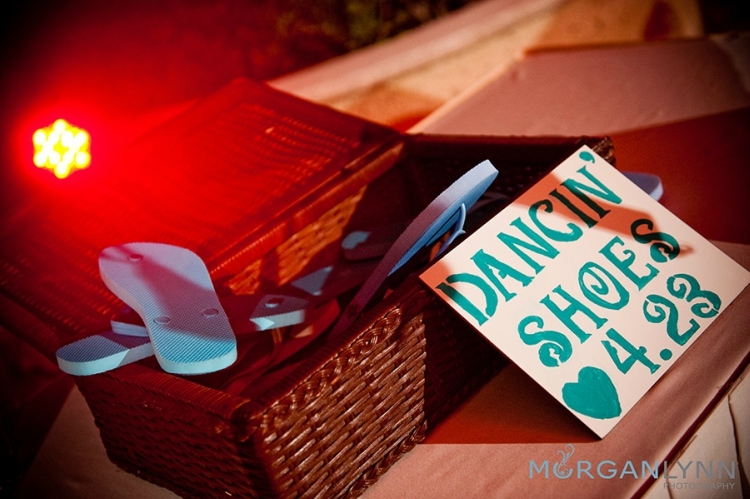 I gave flip-flops as wedding gifts for guests who attended my destination wedding, and I can personally attest to the fact that they were a huge hit. Hand these out at the reception and your guests will have absolutely no excuse for not hitting the dance floor. You can buy flip flops in every color and size imaginable at Old Navy for less than $3 each, which is a steal. And if you can find a coupon online or buy these in the winter months, you can get them for even less.
I also really love the cute XO embossed flip-flops pictured below.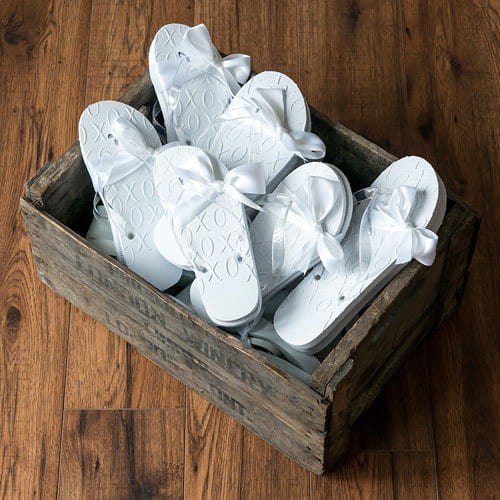 XO embossed flip flop wedding favors
3. Pashmina Shawls
Pashmina shawls are another gift that female guests are always happy to receive. These are a perfect destination wedding favor, especially if you're tying the knot on the beach or in a tropical location that has cool winds in the evening. Dessy has pashmina shawls in almost every color under the sun. But if you're not as picky about the color, Beau-Coup has a pretty good selection of pashmina shawls at a slightly more affordable cost. They have 6 different colors to choose from (aqua, pink, champagne, black, grey, ivory) and you can even have them customized with an embroidered monogram or other text.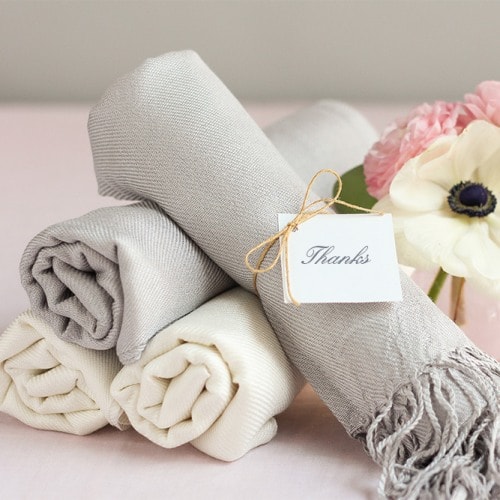 Sold by: Beau-Coup
4. Liquor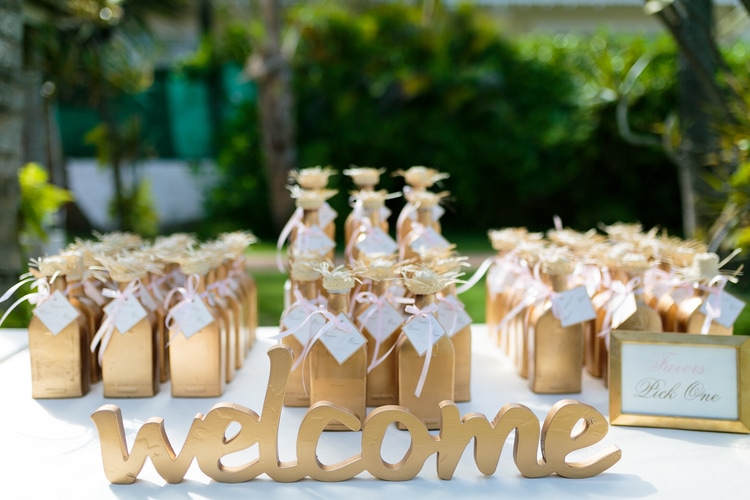 Mini liquor bottles are a really cheap and fun destination wedding favor to throw in your wedding welcome bags. But to make it even more special, try to find the traditional liquor from your wedding destination. For example, mini tequila bottles are great Mexican wedding favors and mini Barcelo or Brugal bottles would be a hit for a destination wedding in the Dominican Republic. Keep in mind, that you can't travel with liquor or mail them, so your best bet is to buy these when you arrive at your destination. To personalize the bottles, all you have to do is order some labels or cute travel themed favor tags like the ones pictured below.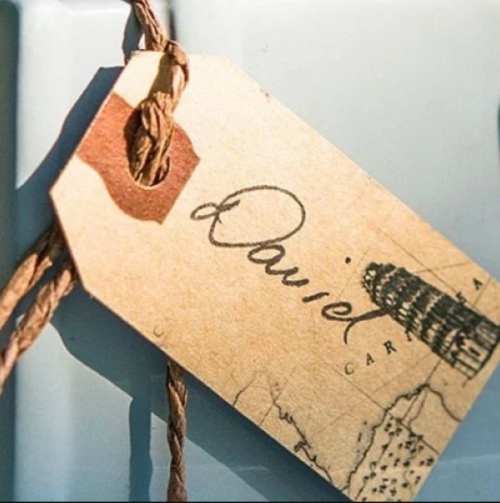 5. Cigars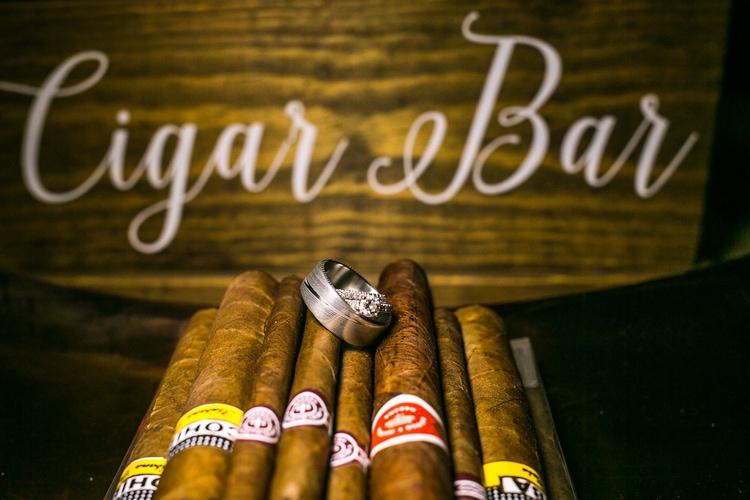 Many of the brides I polled, chose Cuban cigars as a popular destination wedding favor. I gave away cigars at my destination wedding reception in Mexico, and they were a huge hit so I can personally vouch for this idea. You can hire a cigar roller at most destinations; but if you have budget constraints, you can just buy the cigars and display them in a personalized humidor, which you can then keep as your own wedding keepsake. You can even get some personalized matches to go with the cigars.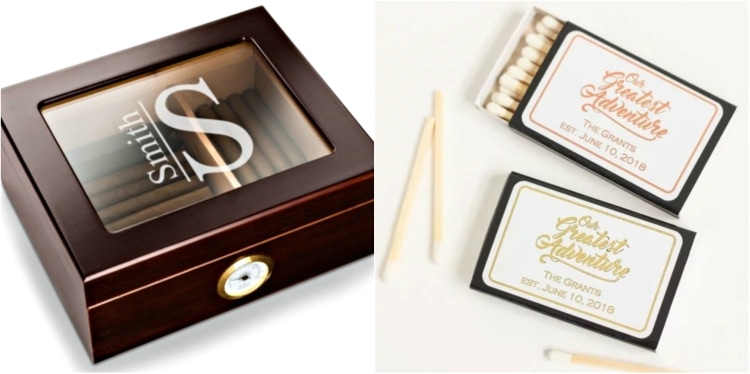 6. Candy
Edible favors are always a hit at both traditional hometown weddings and destination weddings. But what I especially love about this idea is that you can put your treats in some fun packaging that will really make an impression. There are so many cute travel and beach themed candy packages, that the hard part will be narrowing down your choices. Here are some of my favorites.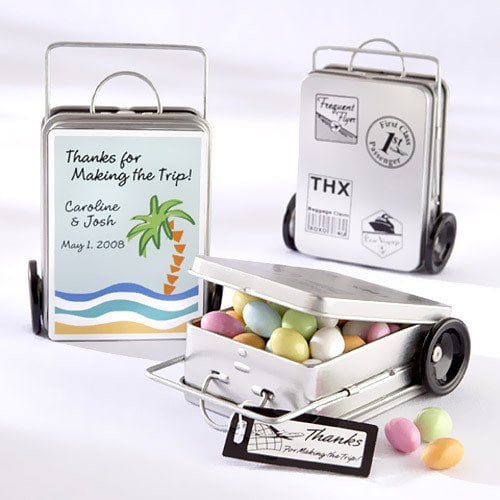 Mini Suitcase Favor Tins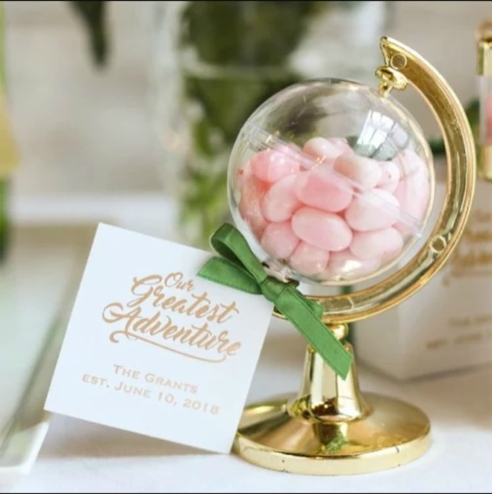 Candy globe destination wedding favors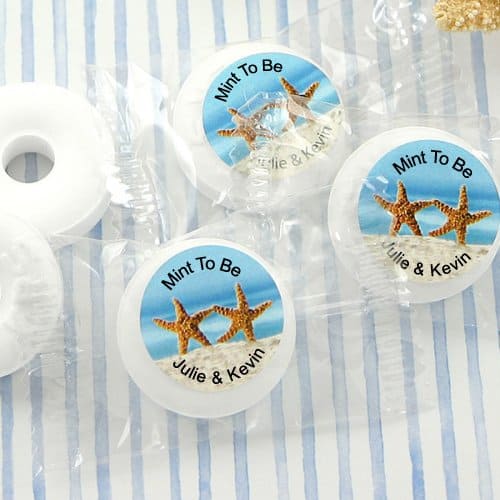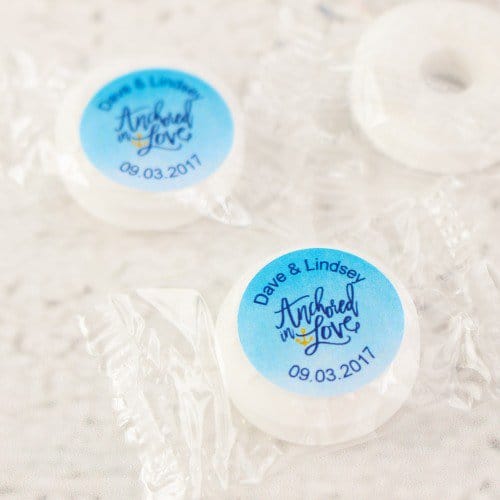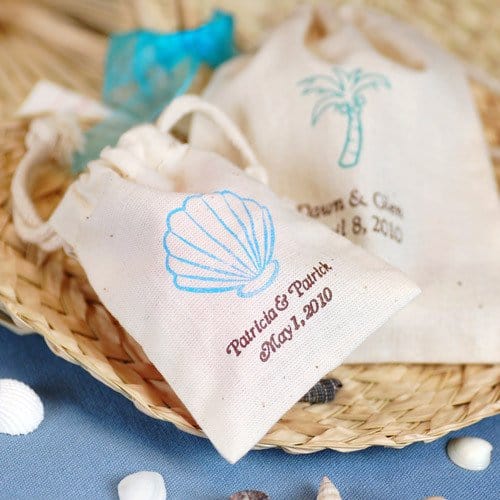 Personalized Natural Cotton Wedding Favor Bag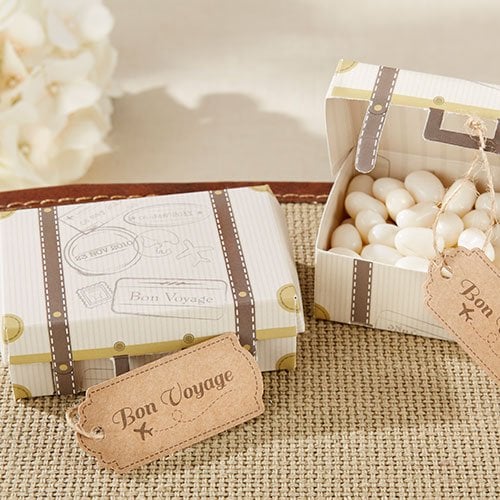 Bon Voyage Vintage Suitcase Favor Box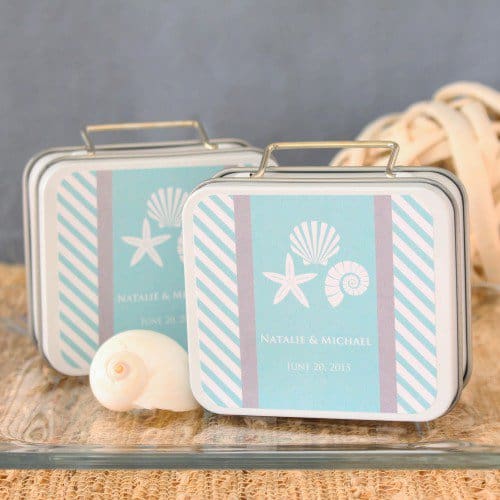 Suitcase candy favor tin
7. Coasters
Coasters are also a favorite because they're something guests can take home and put to good use for years to come.
8. Lip Balm
Lip balm with SPF always comes in handy, and you can add some really cute travel or beach themed labels with your name and wedding date for a personalized touch.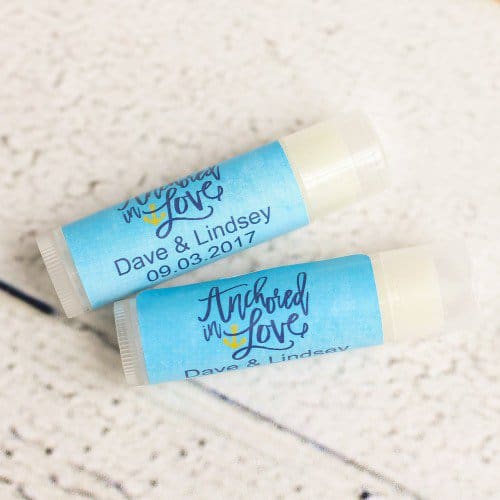 "Anchored in Love" personalized lip balm wedding favors
Personalized Lip Balm Wedding Favors
9. First Aid Kits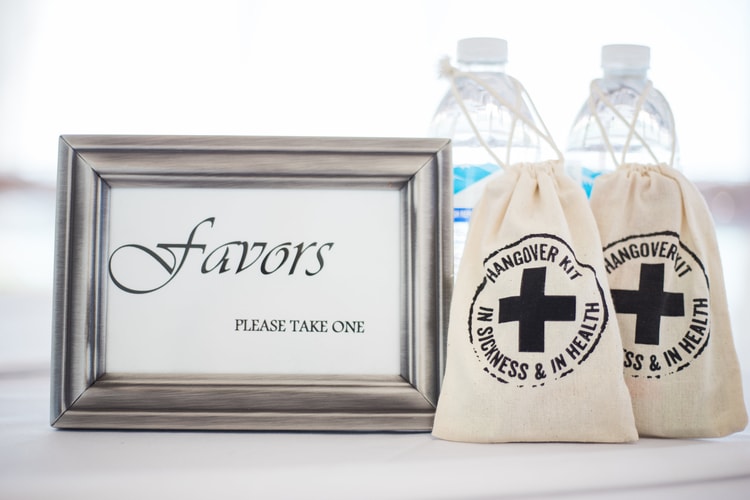 First-aid or "hangover kits" have to be one of the most fun and practical items to put in your destination wedding welcome bags. You can buy really cheap travel-sized packages of Advil, Alka Seltzer, band-aids, and ear-plugs at your local drug store and just put them all in a super cute personalized bag like this one.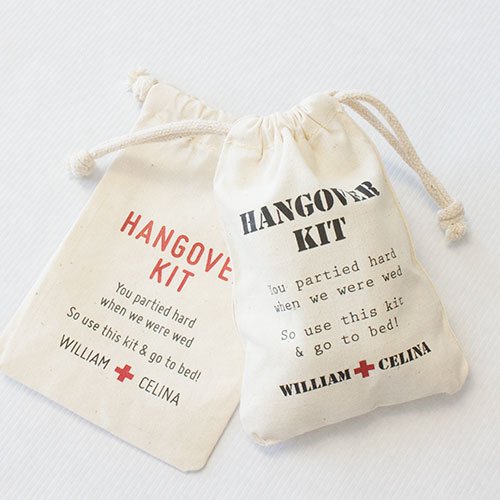 10. Deck of Cards
A deck of playing cards is another great favor to put in your wedding welcome bags for guests to enjoy both on the trip and back home.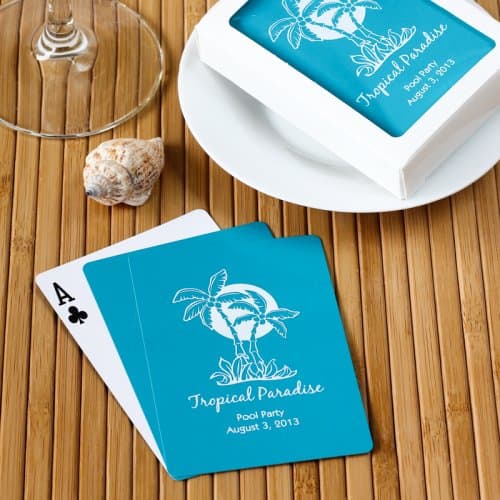 Customized Playing Cards
11. Waterproof Key card holder
How many times have you been on vacation trying to figure out what to do with your money, credit cards, and hotel key card while you lounge poolside? This is something your guests will never think of bringing themselves, but they'll be super grateful you did! You can order waterproof key card holders and pair them with some cute personalized cards to insert in the key card holder like the ones I found below on Etsy.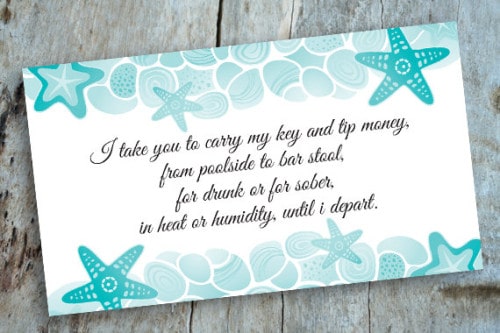 Printable Key Card Design – by Etsy
12. Shot Glasses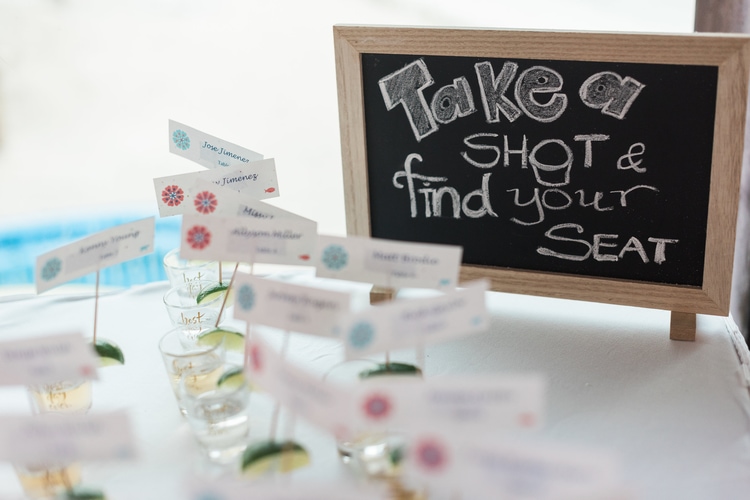 Who doesn't love shot glasses? I collect them everywhere I go. A fun idea is to put one shot glass on everyone's place at the reception table and ask them to use their custom shot glasses during the toast. Another great idea is to use the shot glass to direct guests to their tables. You can put an escort card in each shot glass next to a fun sign that says "Take a shot & find your seat". Can you think of a better way to get the party started?!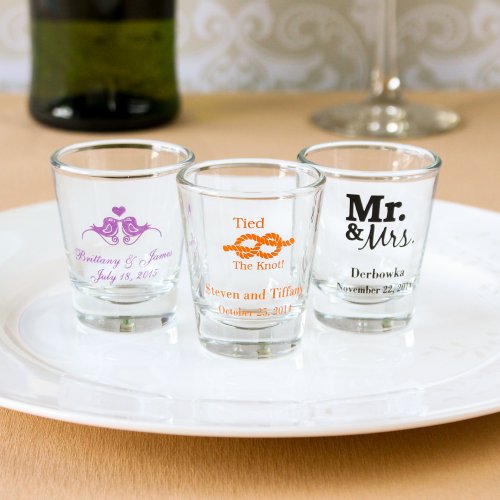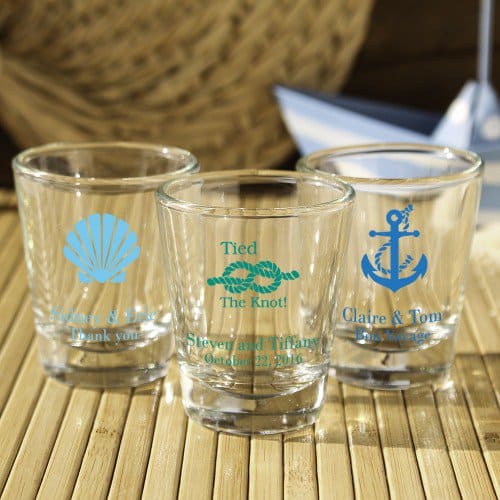 Personalized beach wedding shot glasses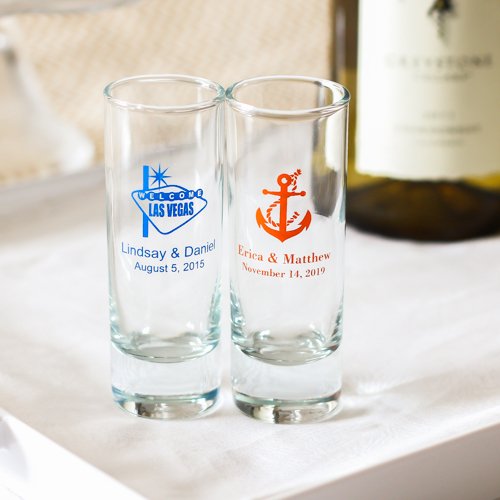 13. Luggage Tags
Probably the most practical of all destination wedding favors is the luggage tag. These can double as table seating cards to make them even more useful.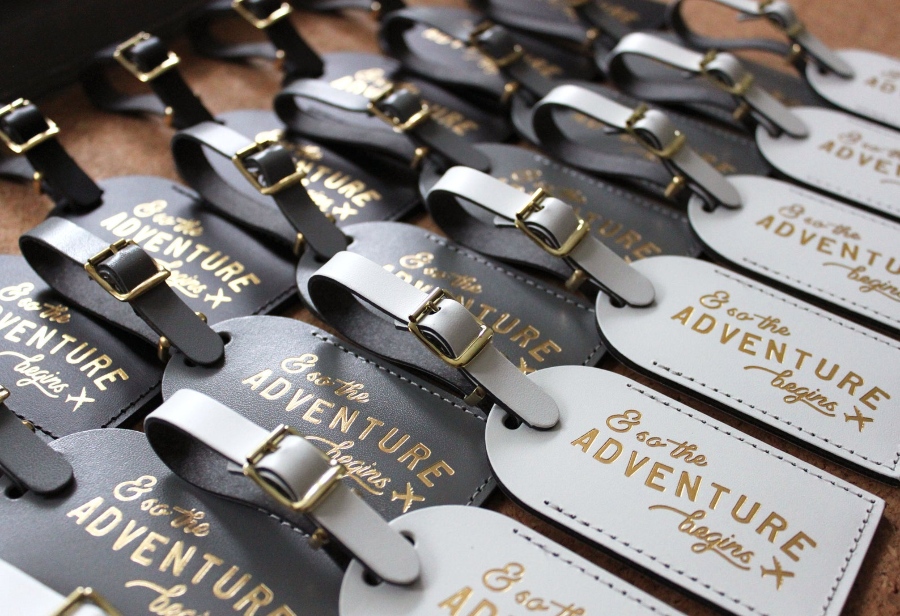 14. Bottle Opener
It's usually hard to call a bottle opener "adorable" but I will anyway. These are super adorable, functional, and a perfect little favor to put in your destination wedding welcome bags. Your guests will put these to good use at the resort and back at home too.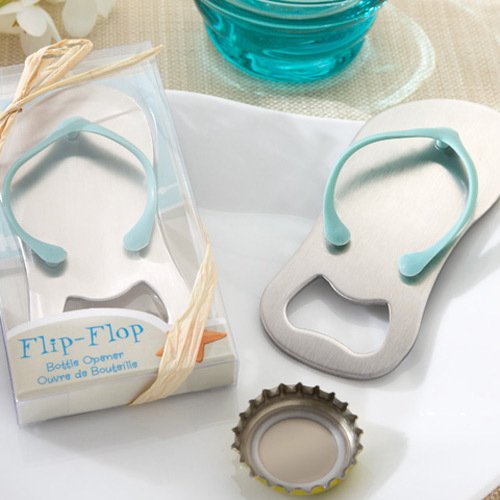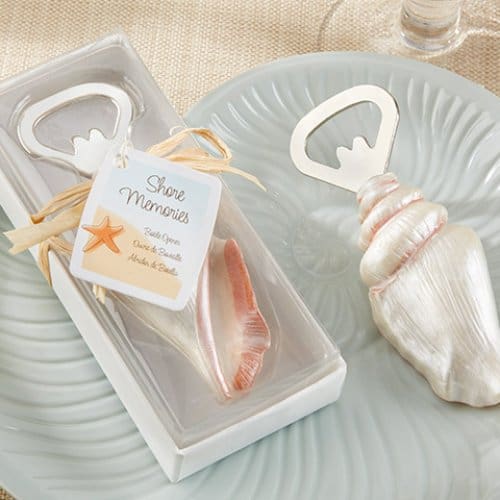 Seashell Bottle Opener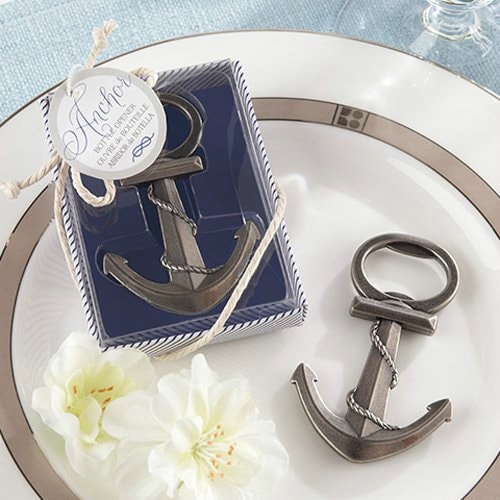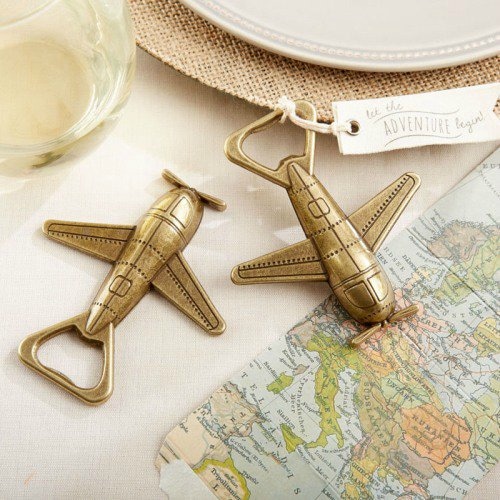 15. Wine Stopper
If you have some wine lovers on your guest list, then they are going to love this destination wedding favor! I am always searching for wine bottle stoppers and would be thrilled to get this in a wedding welcome bag. They're practical, fun and inexpensive!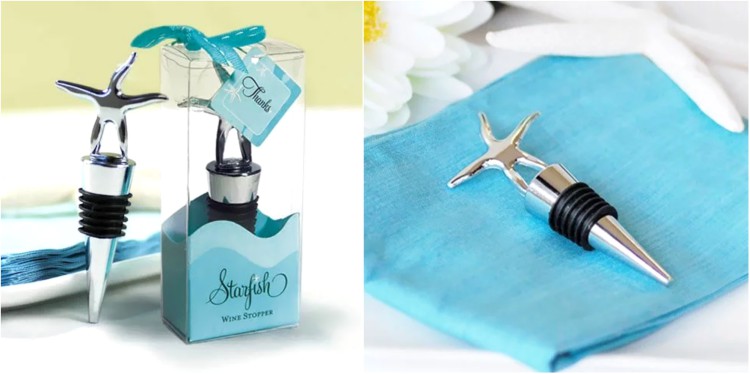 16. Fans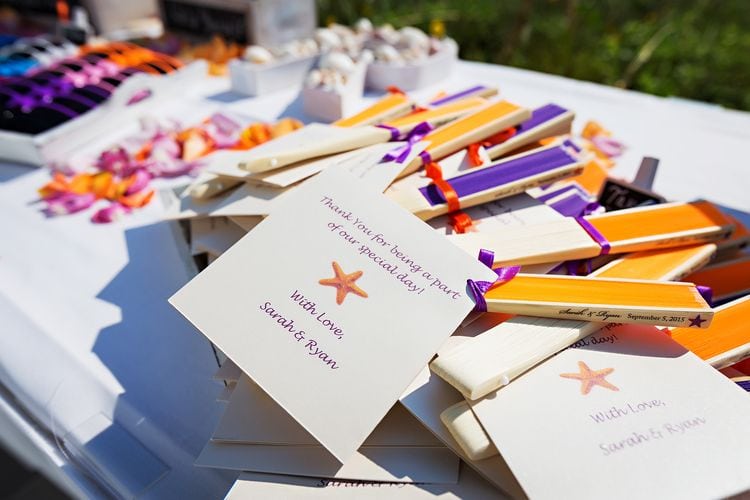 If you're tying the knot in a tropical location, fans are a very inexpensive, cute and really useful addition to your wedding welcome bags. I'm kind of obsessed with fans as a destination wedding favor, so I was like a kid in a candy store when I was researching different fans for this post. Here are my favorites.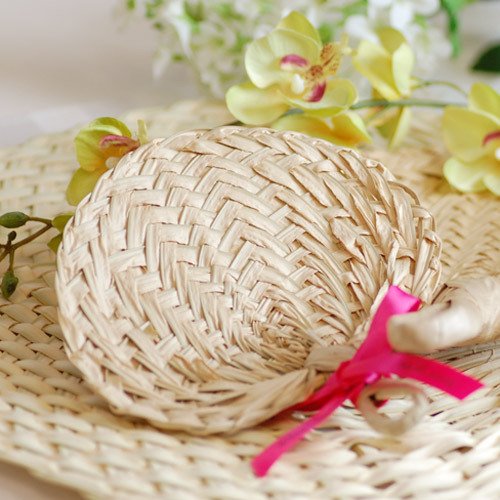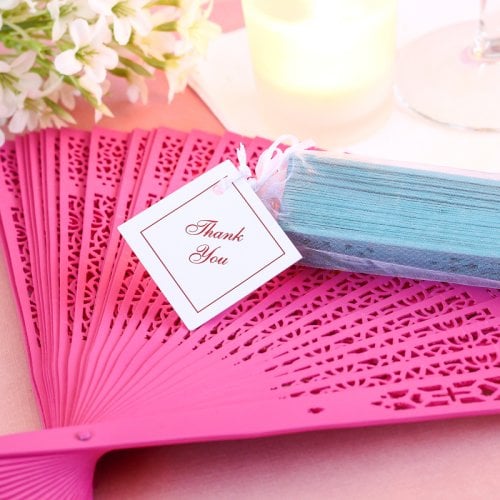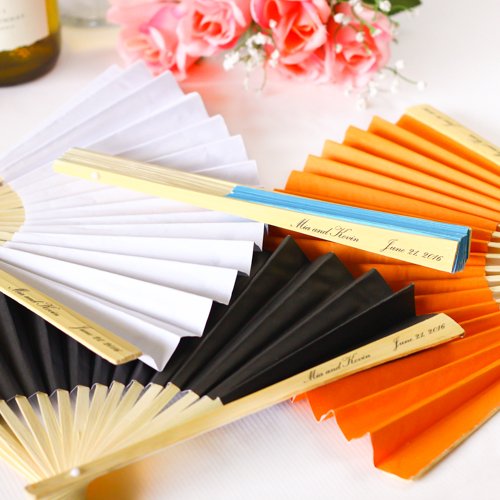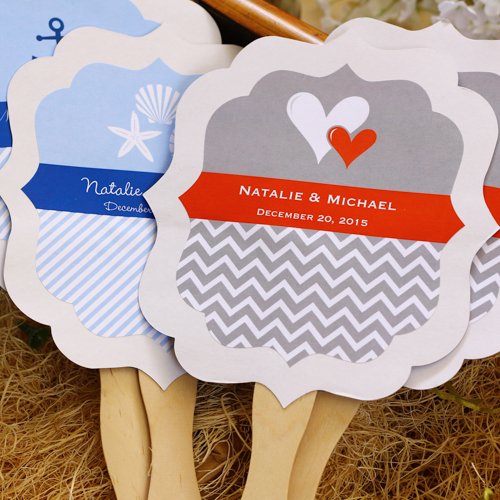 17. Koozies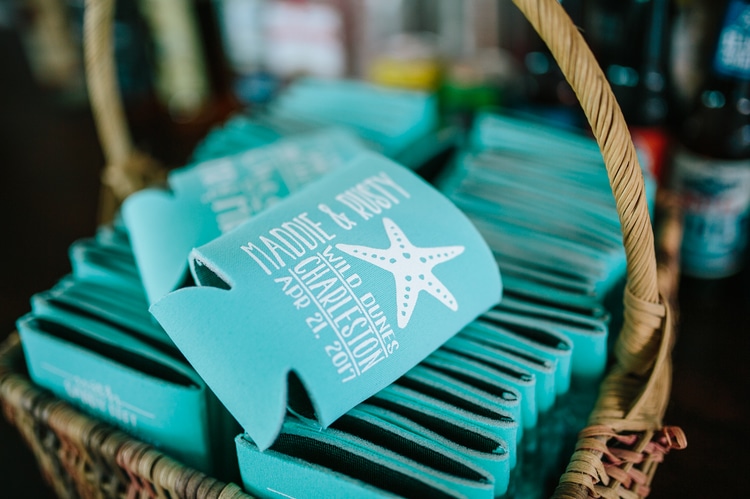 Koozies are such a popular destination wedding favor that you can now find them in a ton of colors and styles to match your wedding theme.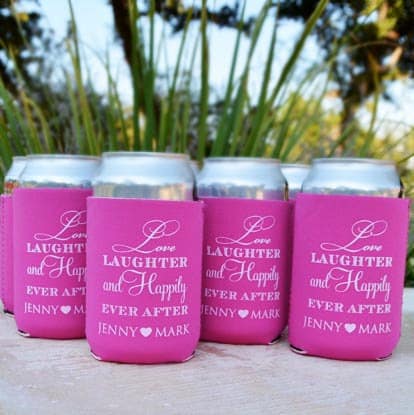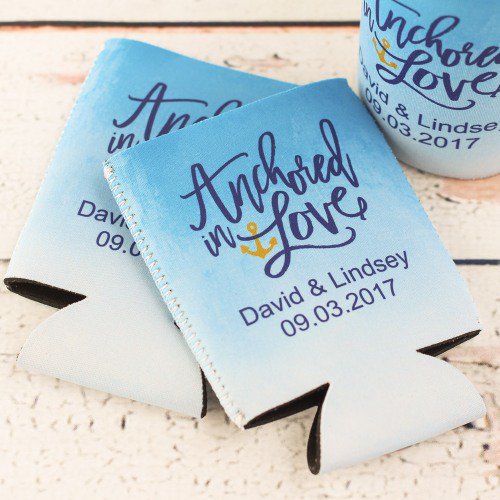 Personalized can sleeves
18. Mini Aloe Vera Gel
I wish I would have thought about adding aloe vera gel to my own destination wedding welcome bags. This is something most people won't think to bring but can come in super handy. If you're not familiar with aloe vera gel, it is the holy grail when it comes to soothing sunburn. You can buy travel size bottles at any drug store that sell travel size products (i.e. Walgreens). While researching this post, I found these 2-ounce bottles of aloe vera gel which come with personalized labels!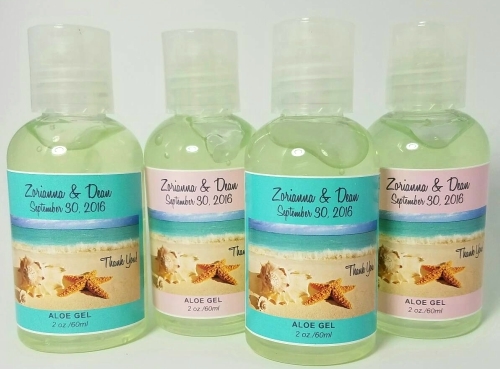 Aloe Gel Favors available on Etsy
The Misses
Anything that your guests will intuitively pack for their trip, or that the resort provides is going to be a waste of your time and money. You also have to keep in mind that some people are picky about the brand they use on their skin/hair. Here are some items that you'll probably be better off leaving out of your welcome bags.
Shampoo/Conditioner

Sunscreen

Toothpaste

Towels

Beach Balls

Key Chains
Like everything else related to destination weddings, you have to put a little more thought into welcome bags and favors than a traditional hometown bride would. For starters, you'll probably have to haul these trinkets in your luggage, so it's important to choose items that are not too bulky.
You also have to keep in mind borders & custom regulations when bringing products into the country where you're getting married. Read more on traveling with favors and how to avoid run-ins with Immigration and Customs patrol.
All that aside, the fun part of destination wedding welcome bags and favors is that you can really give your guests something practical, super cute and that gives them a taste of the wedding destination.