Okay, trust me, get ready for a crazy love story that you've definitely never heard!
Studio Under the Sky and a team of vendors, planned a styled elopement shoot at one of the hidden gems of Kauai – Black Pot Beach. With the venue and vision set, the only thing missing was the models. But here's the plot twist. When they met the models, they discovered that the two were actually planning on getting married themselves but had put off a big celebration due to personal reasons. So, instead of just posing for the camera, they turned the whole day around and eloped right then and there!
Obviously, this isn't a traditional elopement, but a beautiful quirk of it all was that the couple didn't opt for rings. Instead, they wore a kukui nut bracelet and a kukui nut necklace to commemorate their big day. When it came to the reception, they rolled with the punches. But it wasn't hard when everything was already so beautifully set out. From the amazing bouquet of proteas and lilies to the intimate picnic setting where they could enjoy local delicacies surrounded by nature. Every detail of magical elopement wedding was perfectly captured by the lens of Studio under the Sky.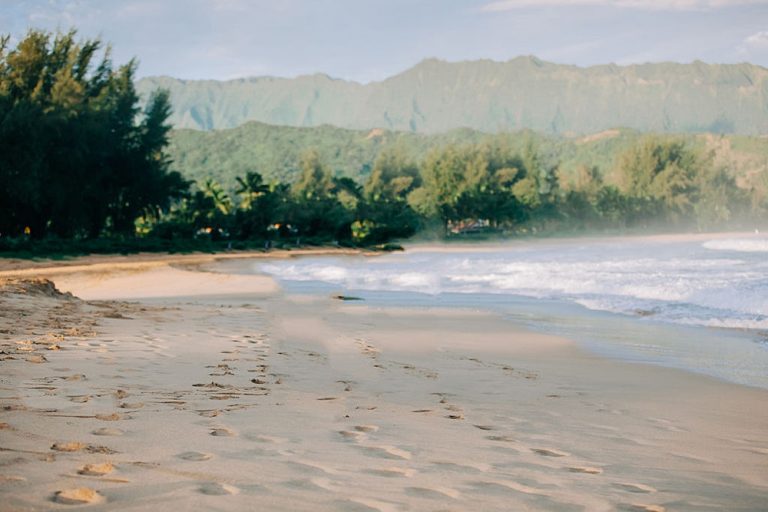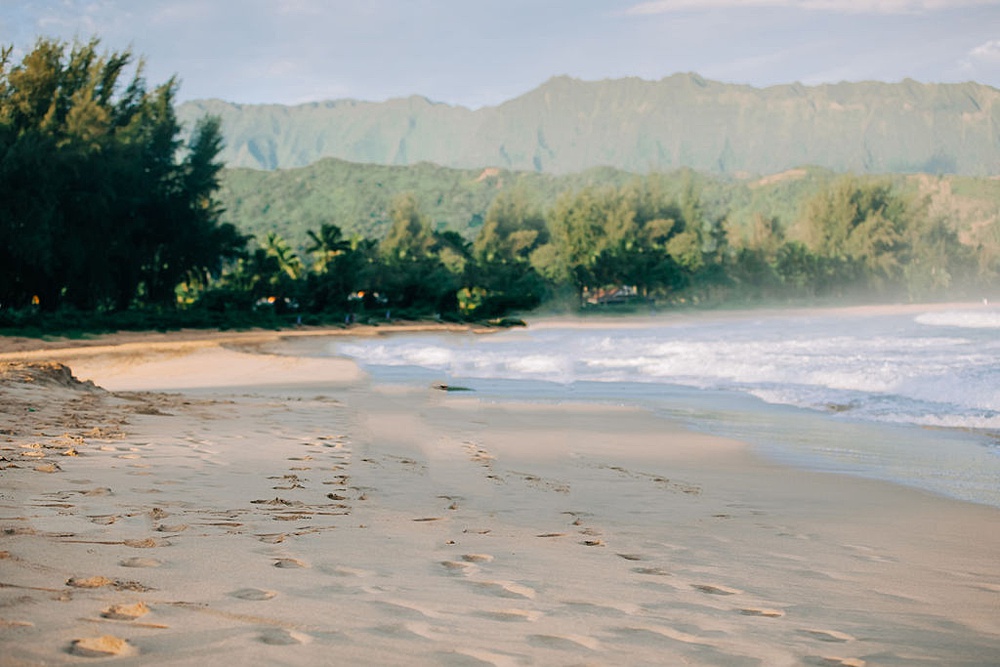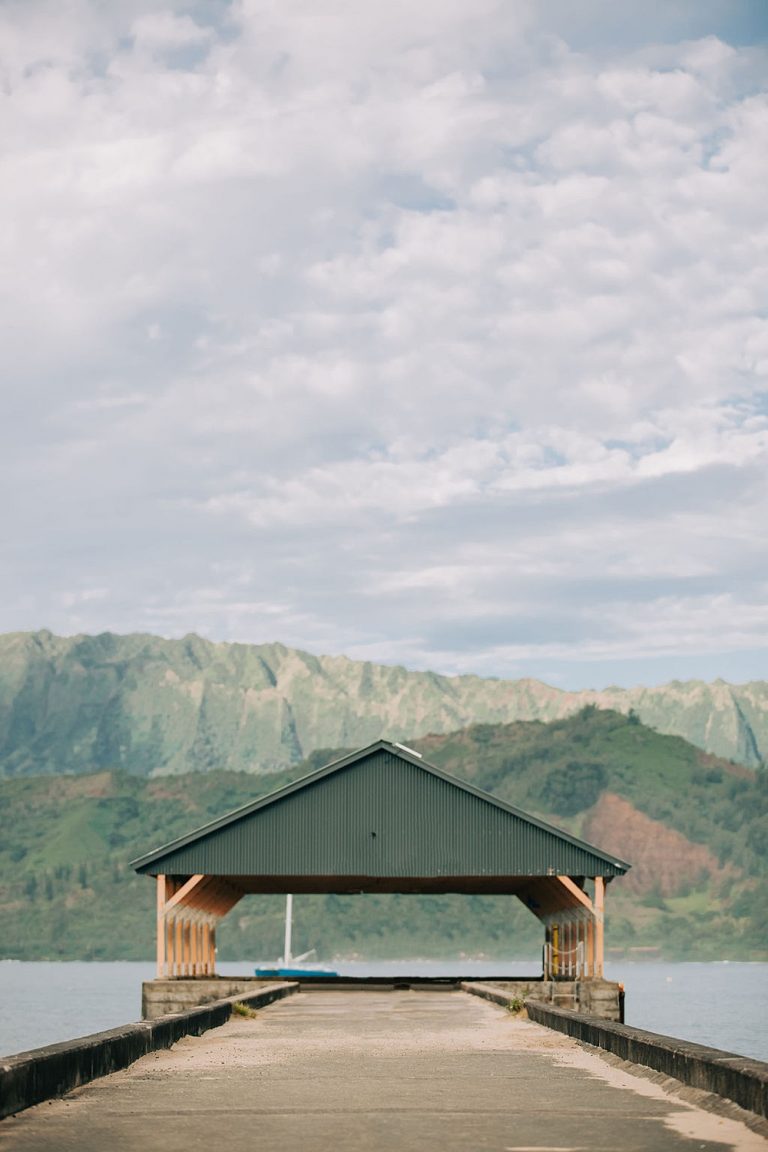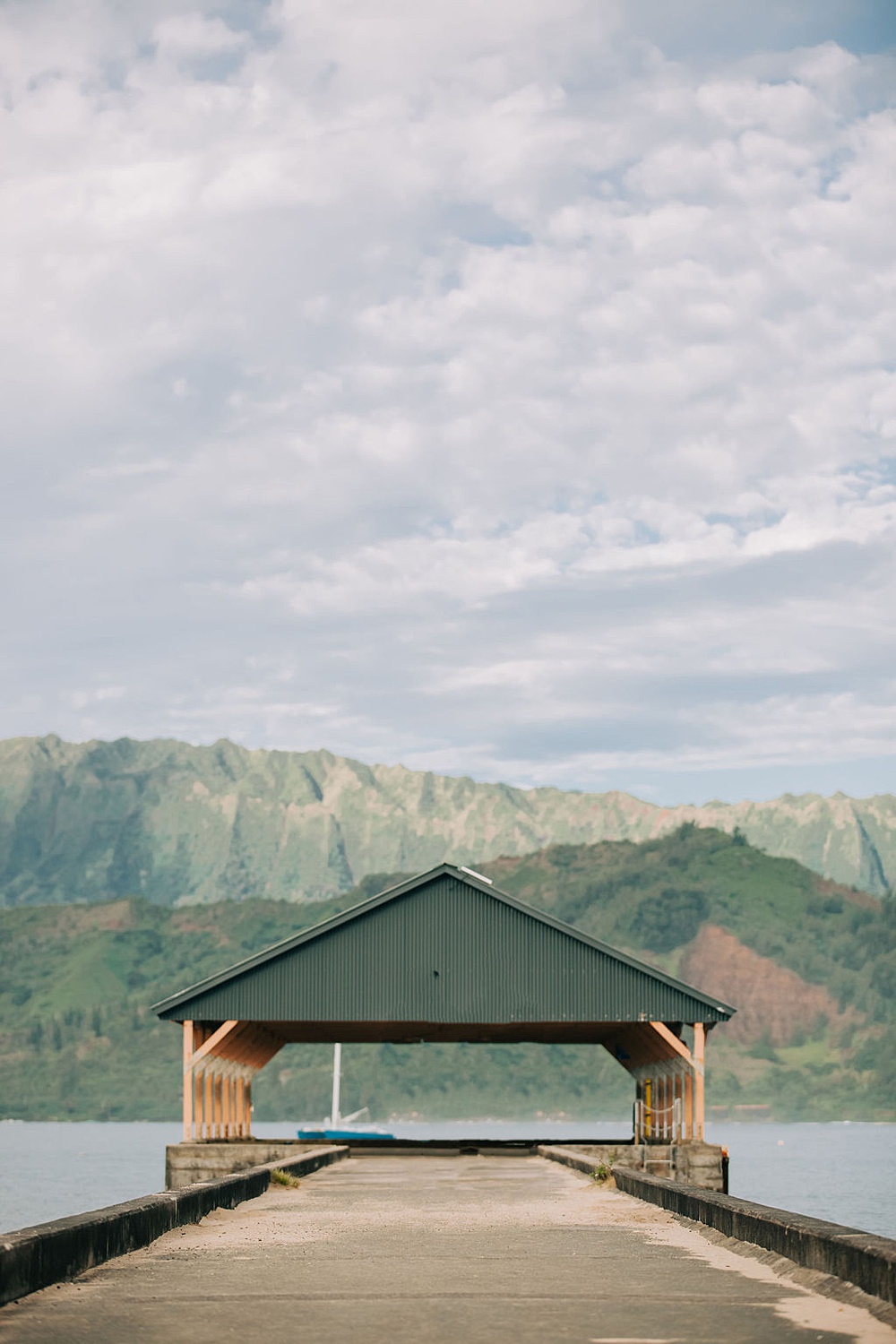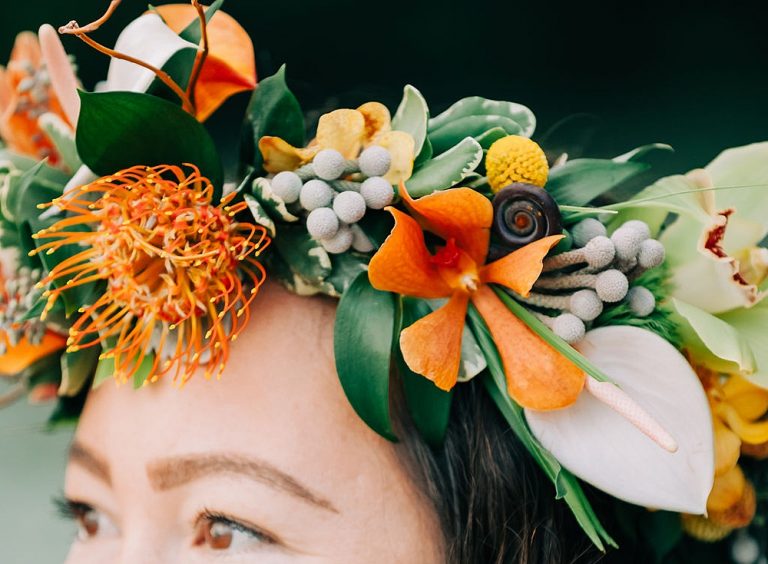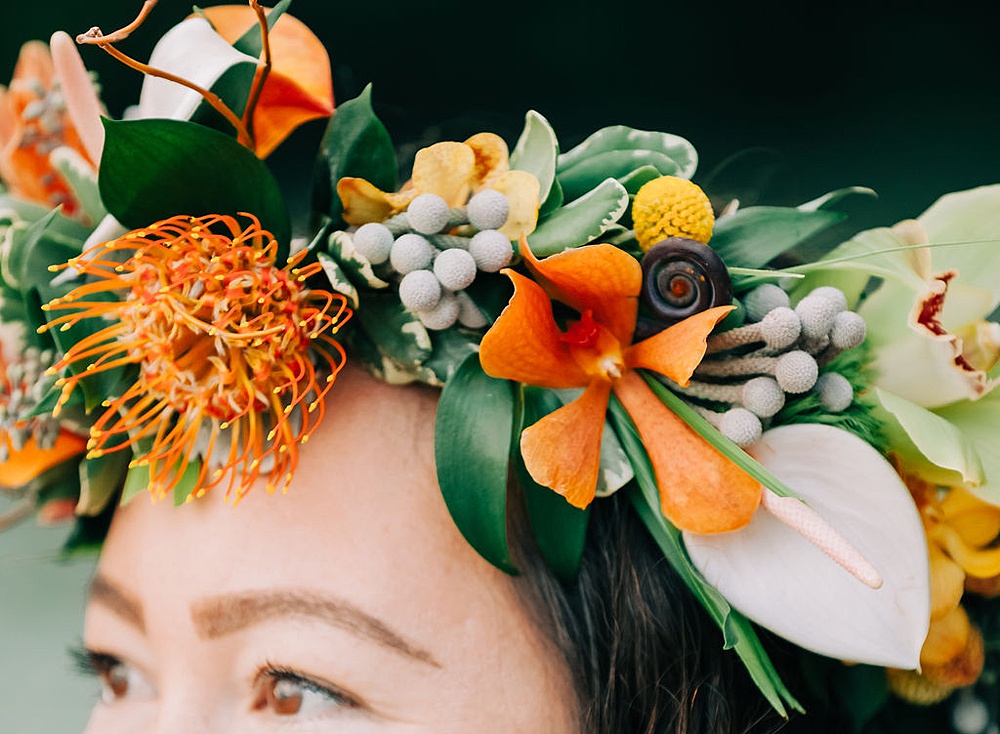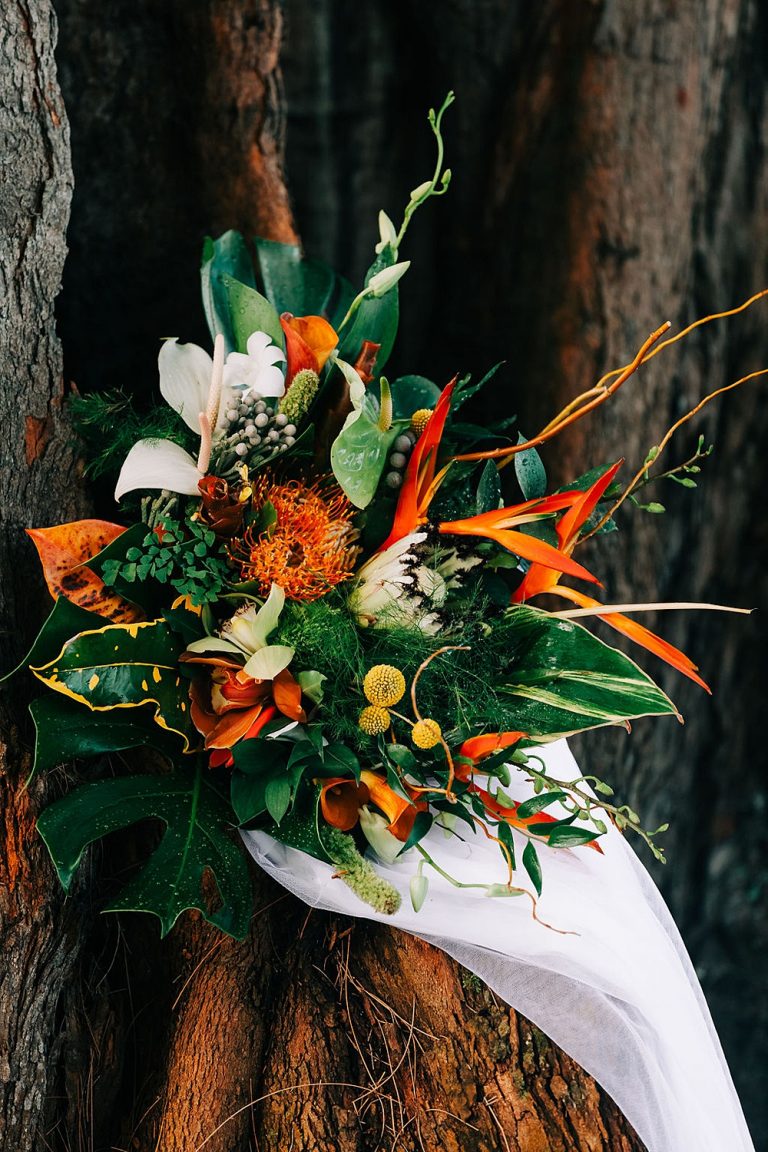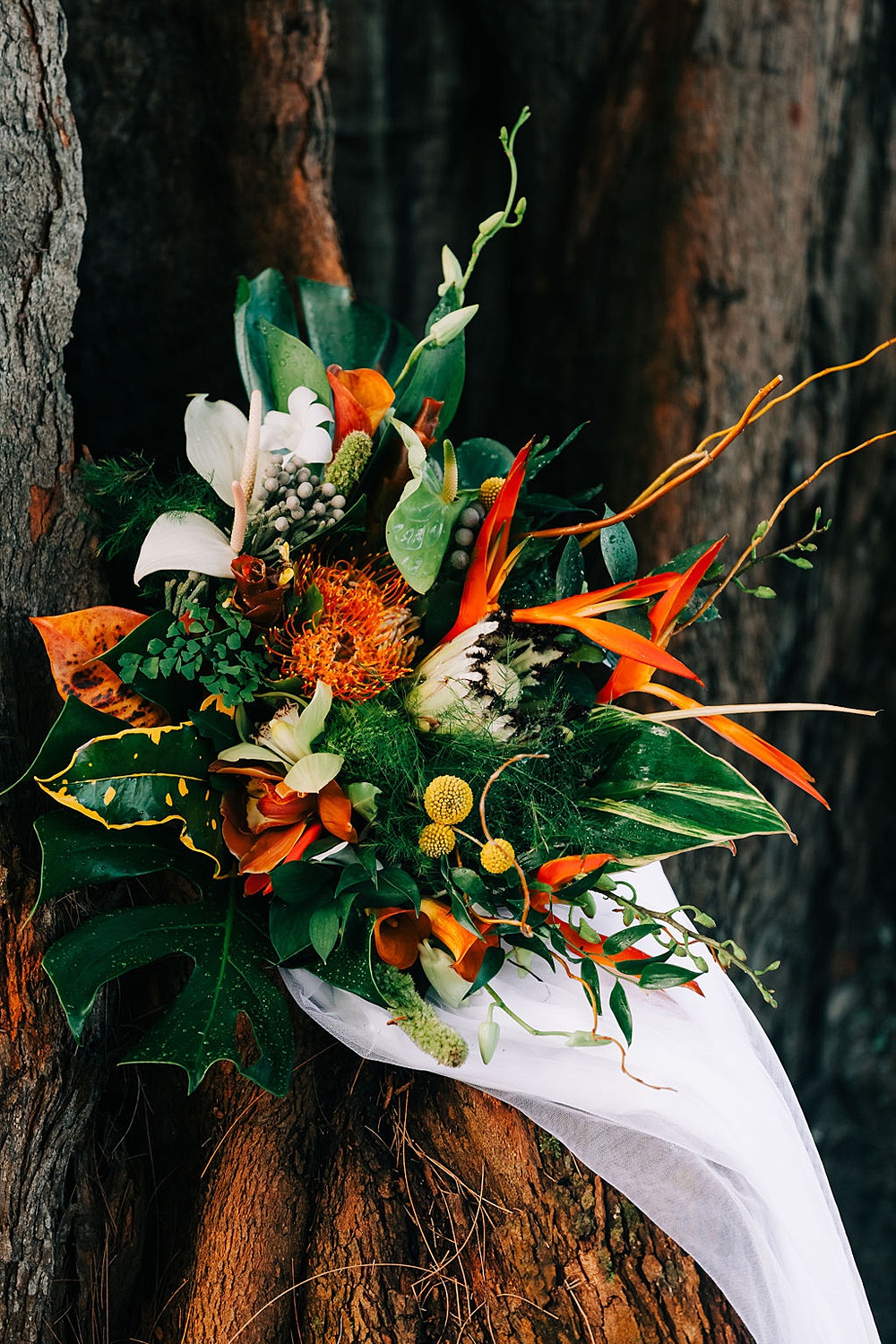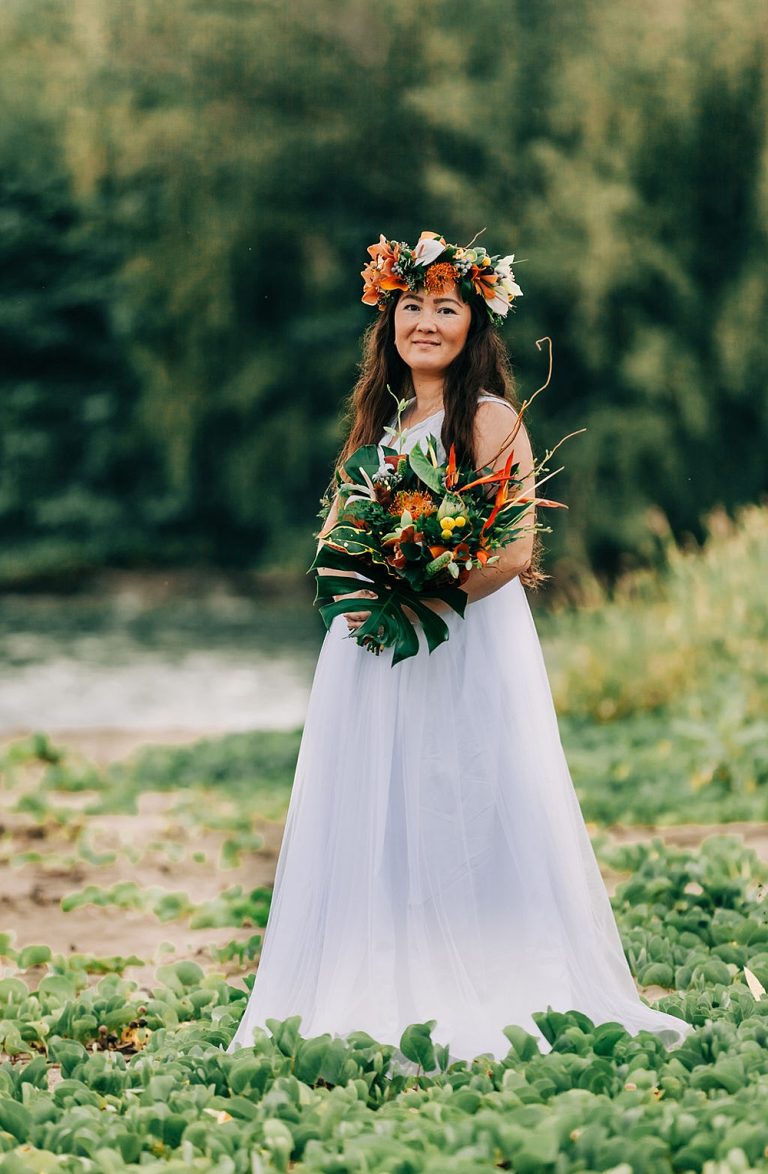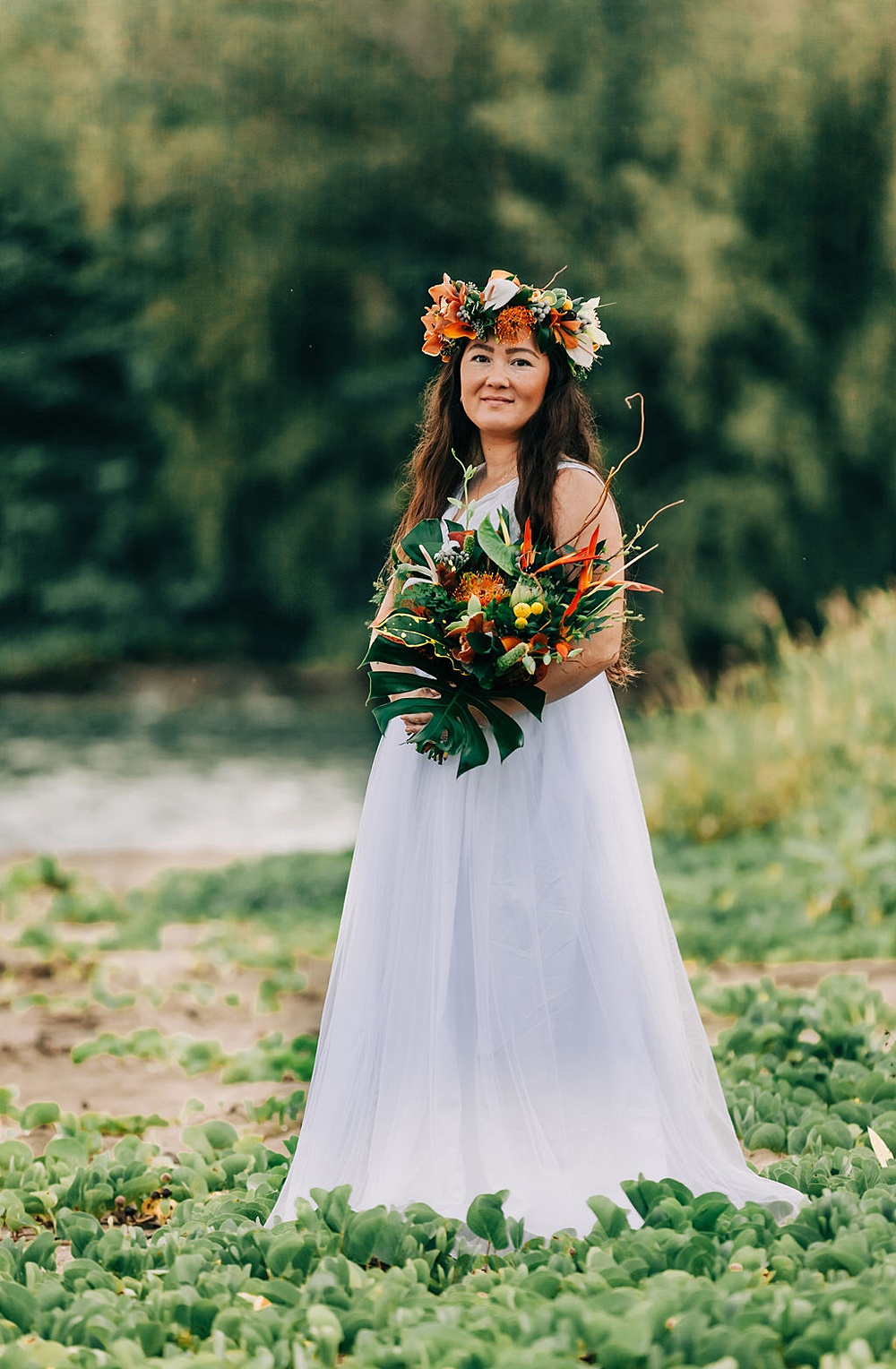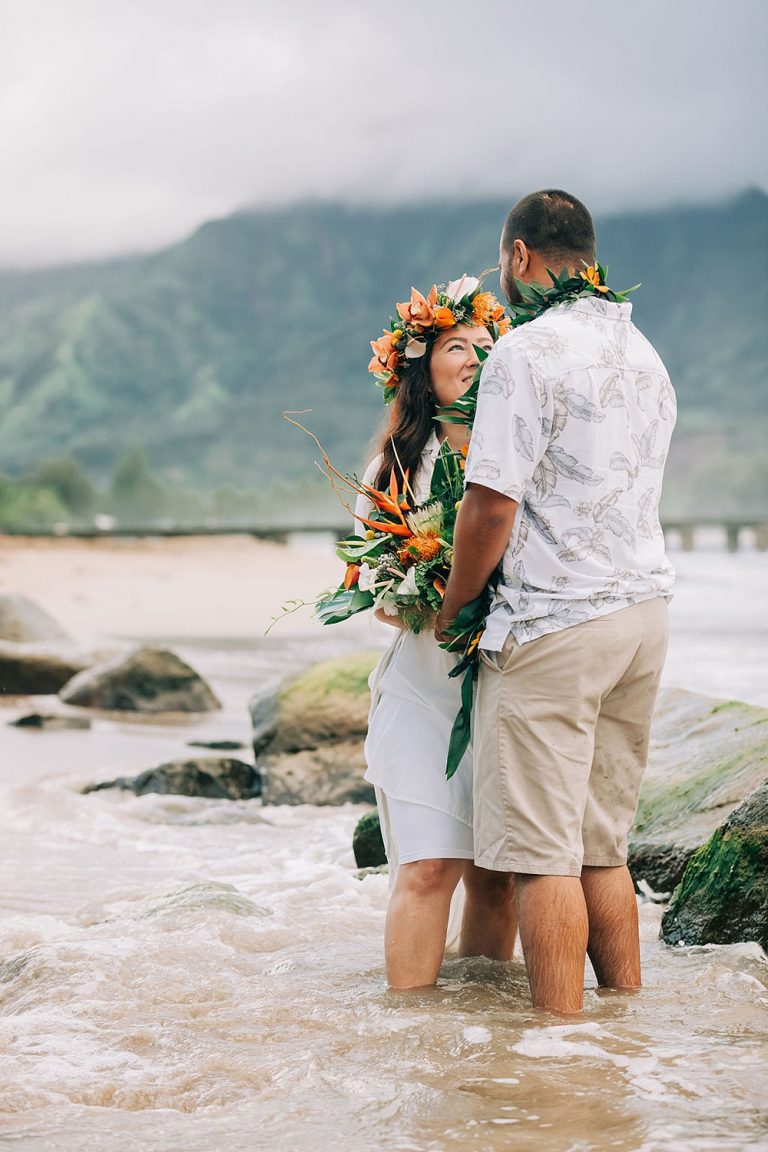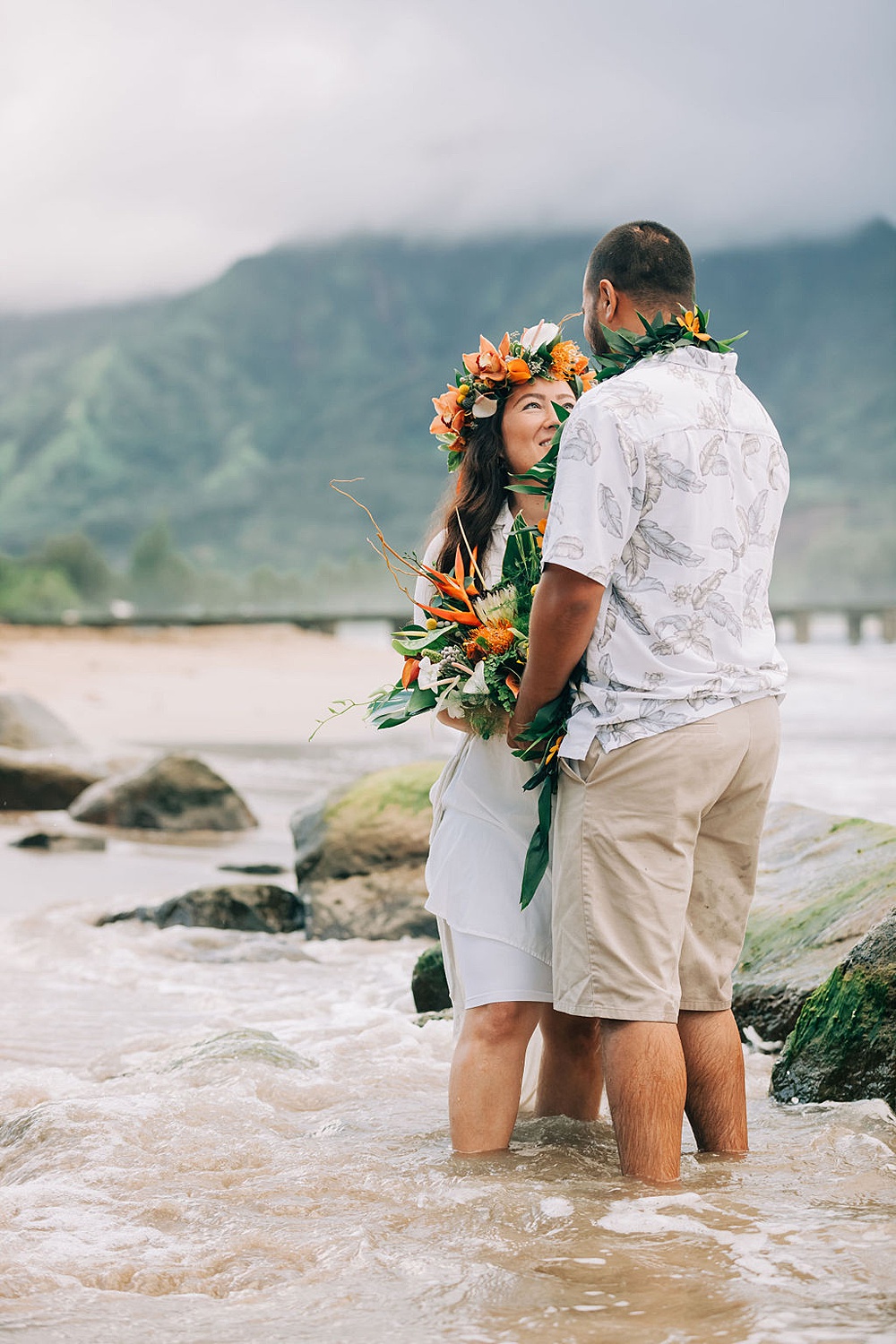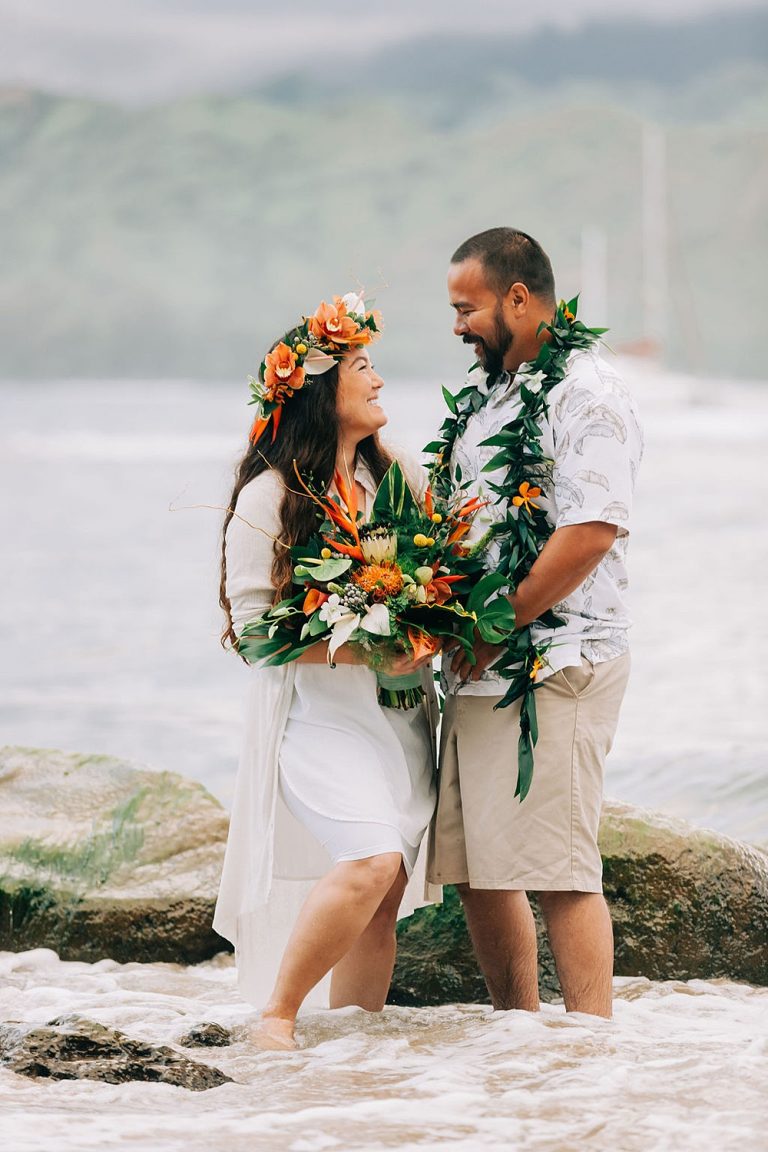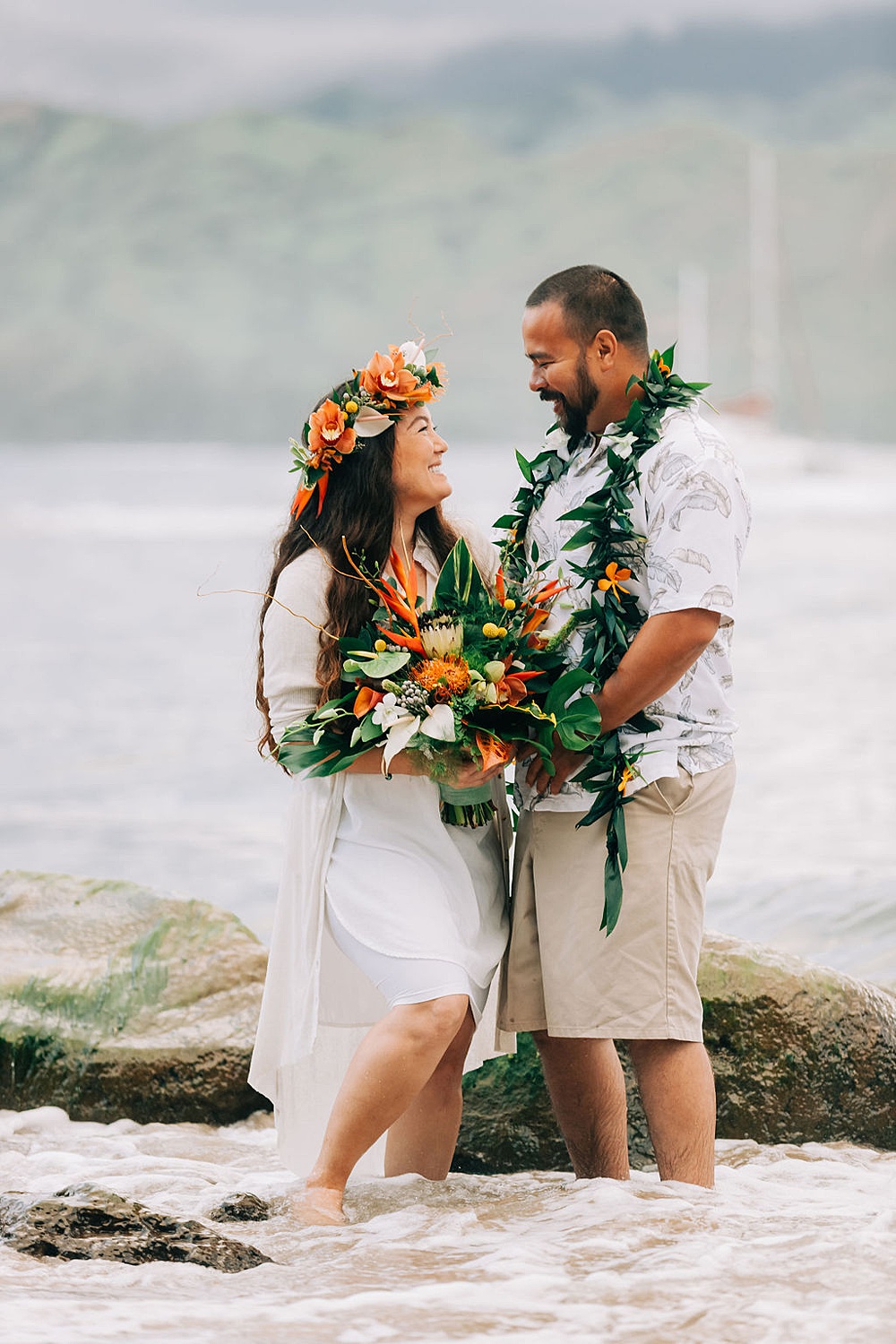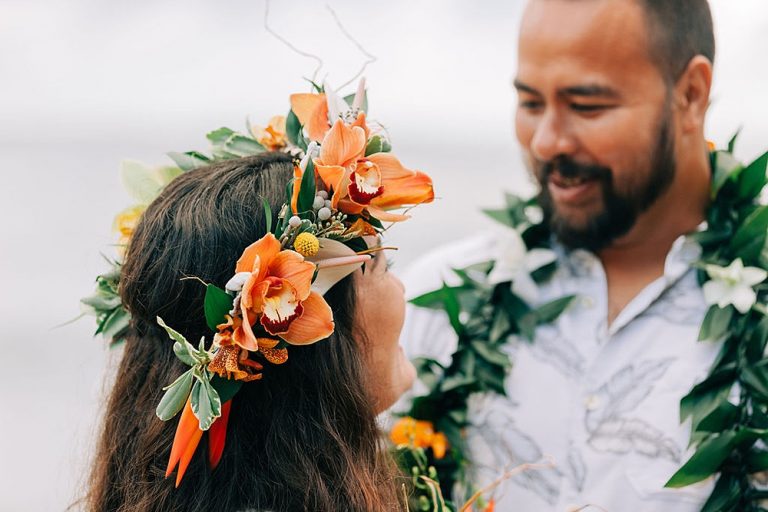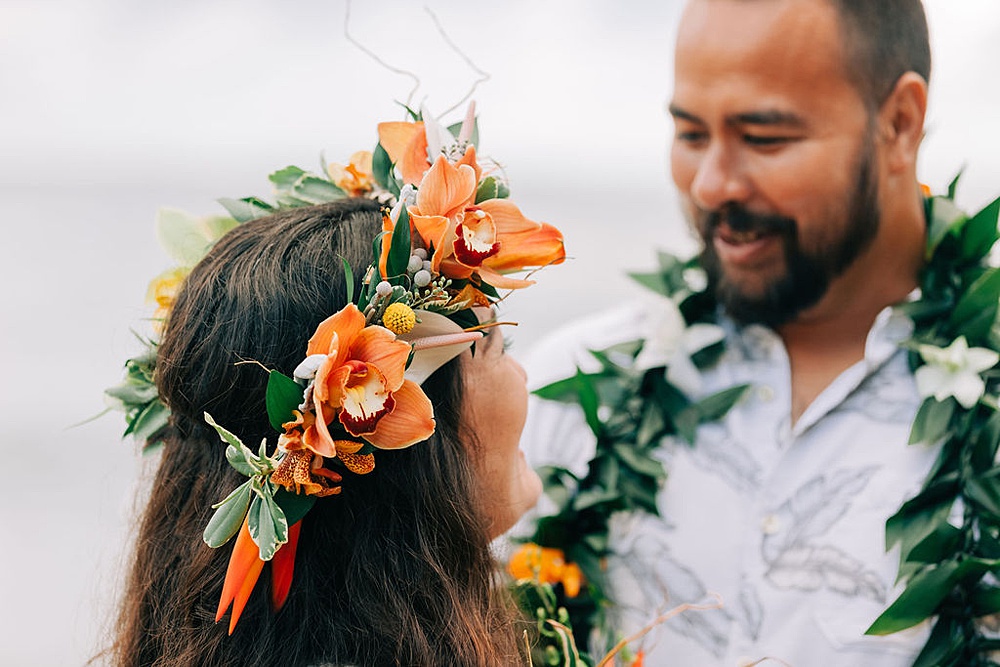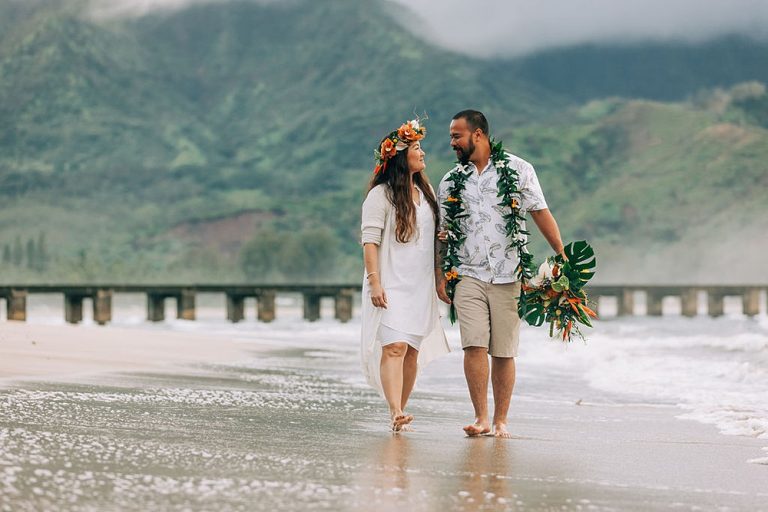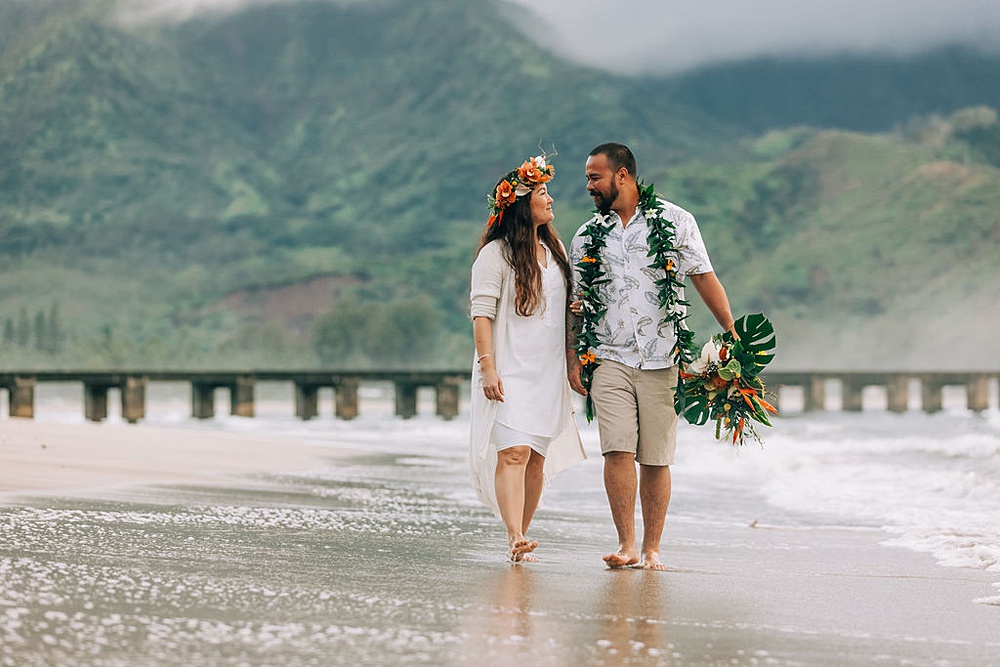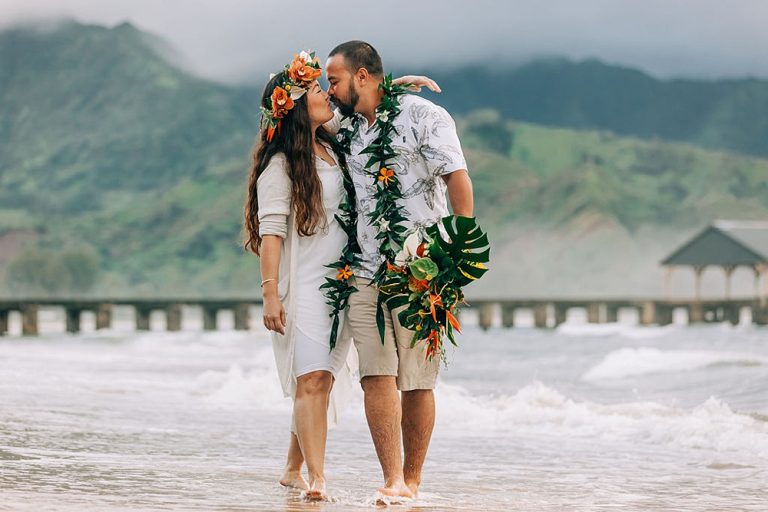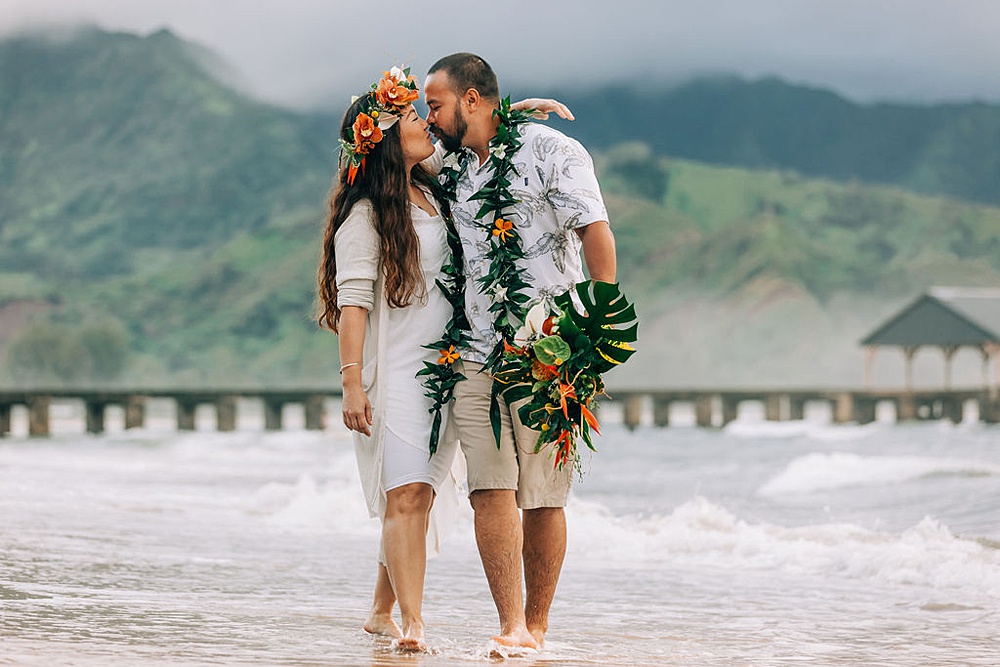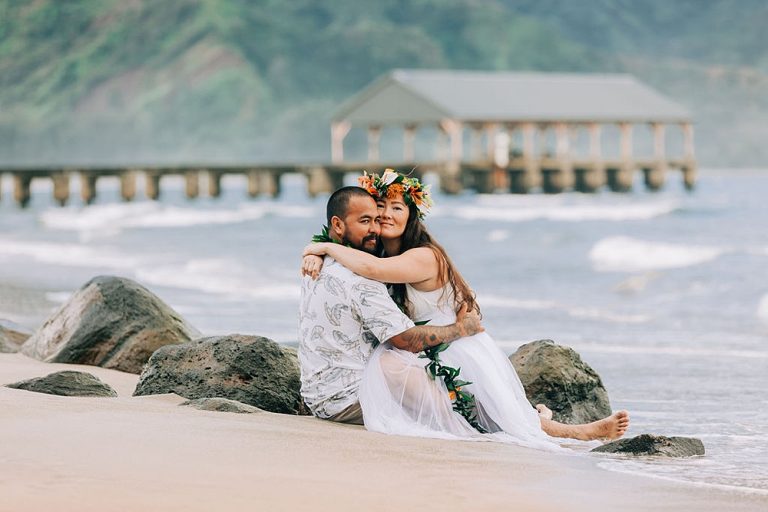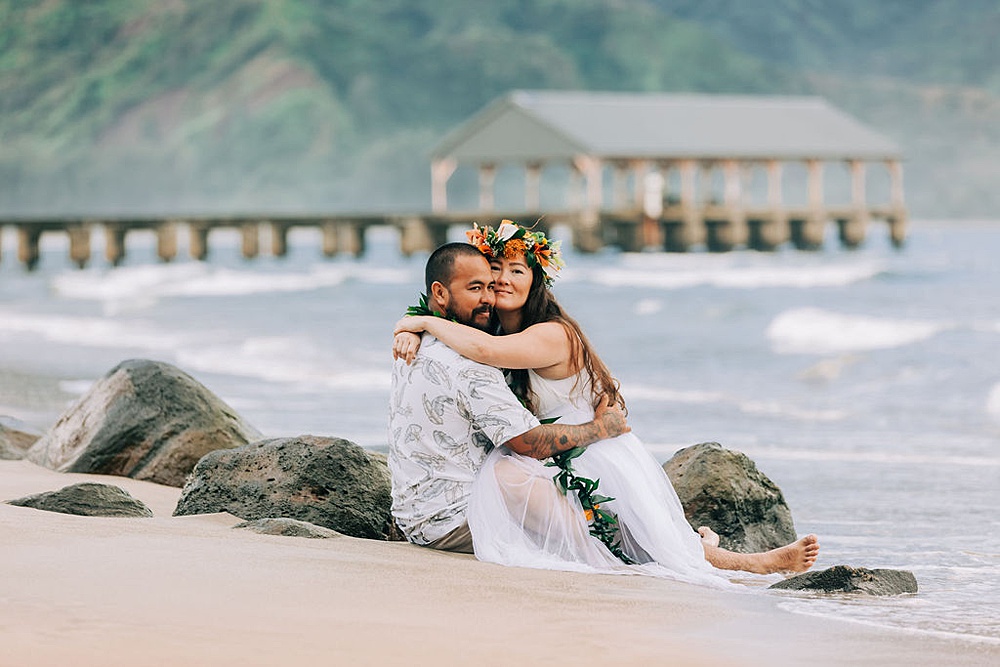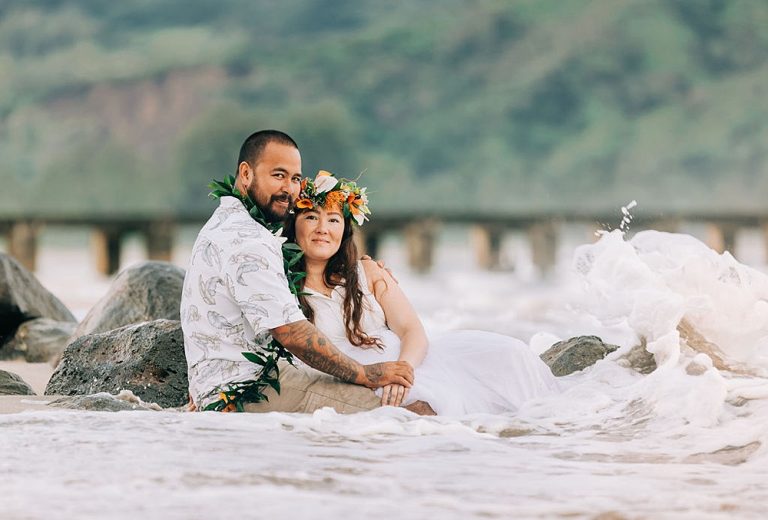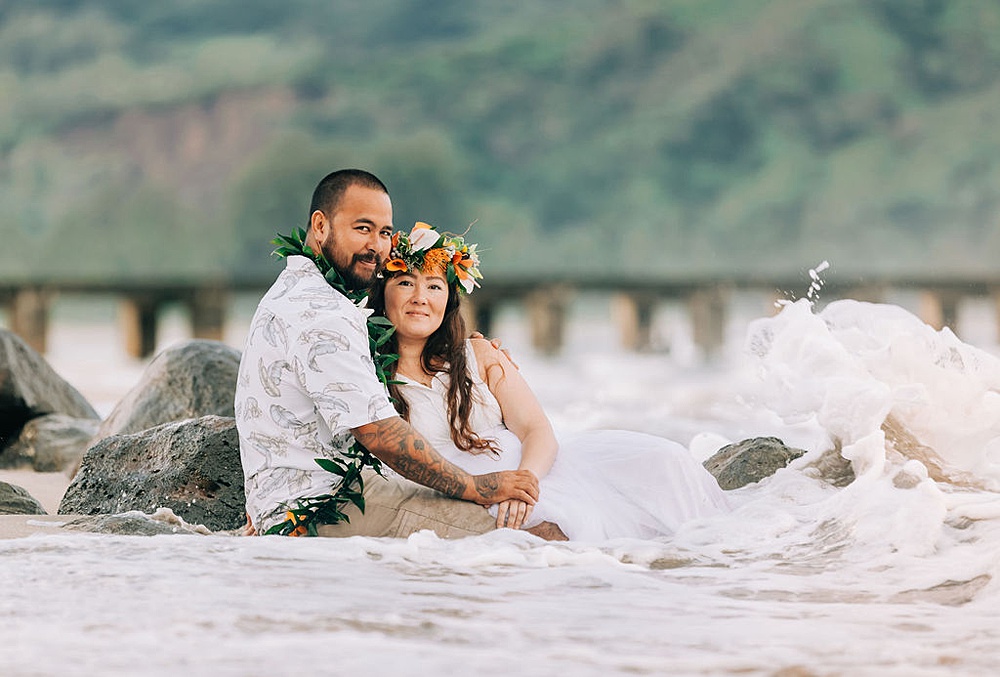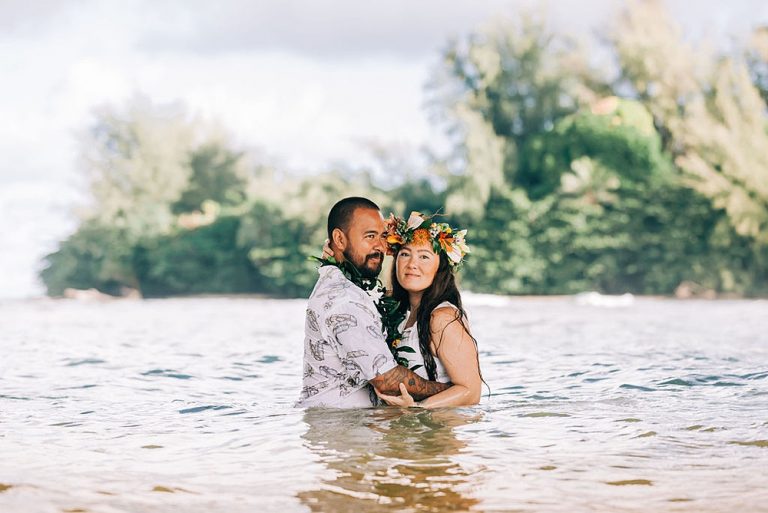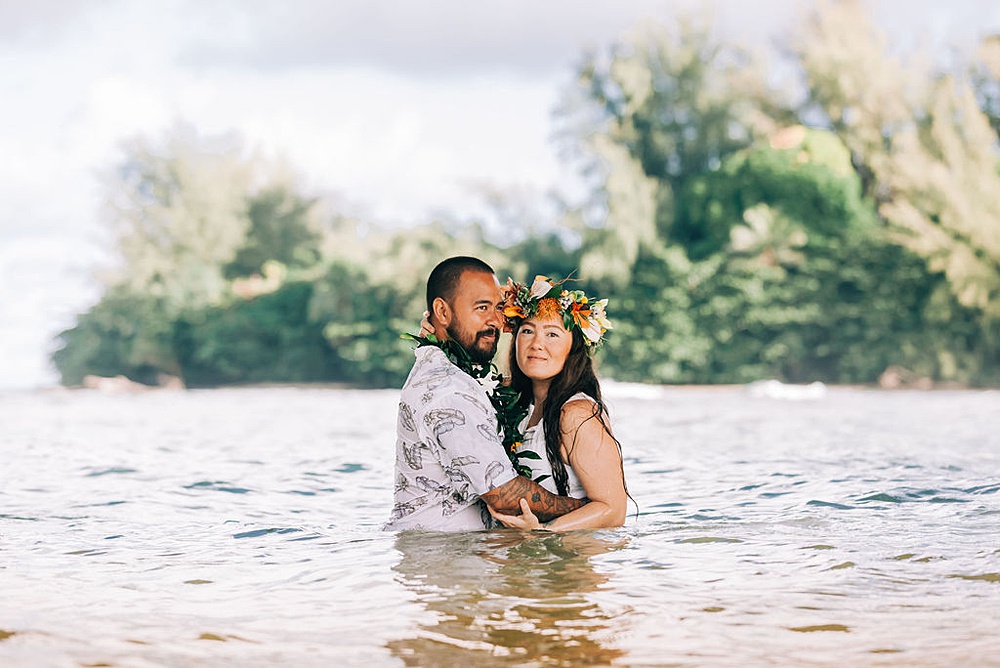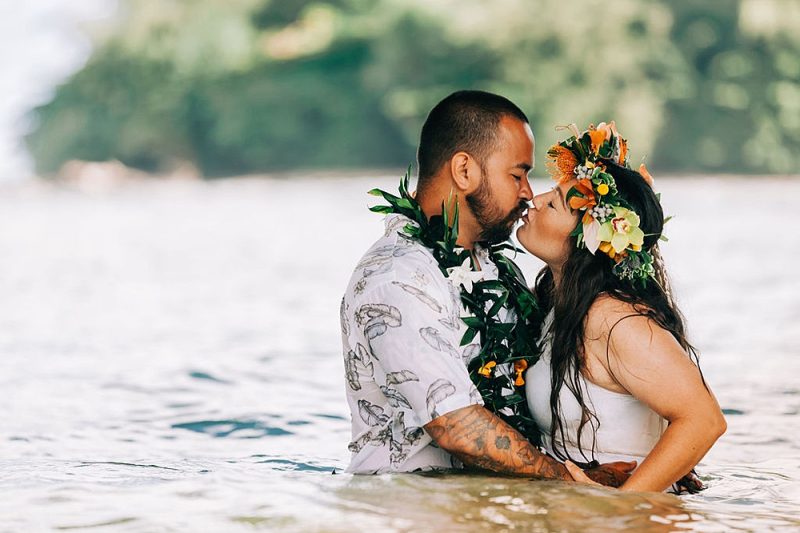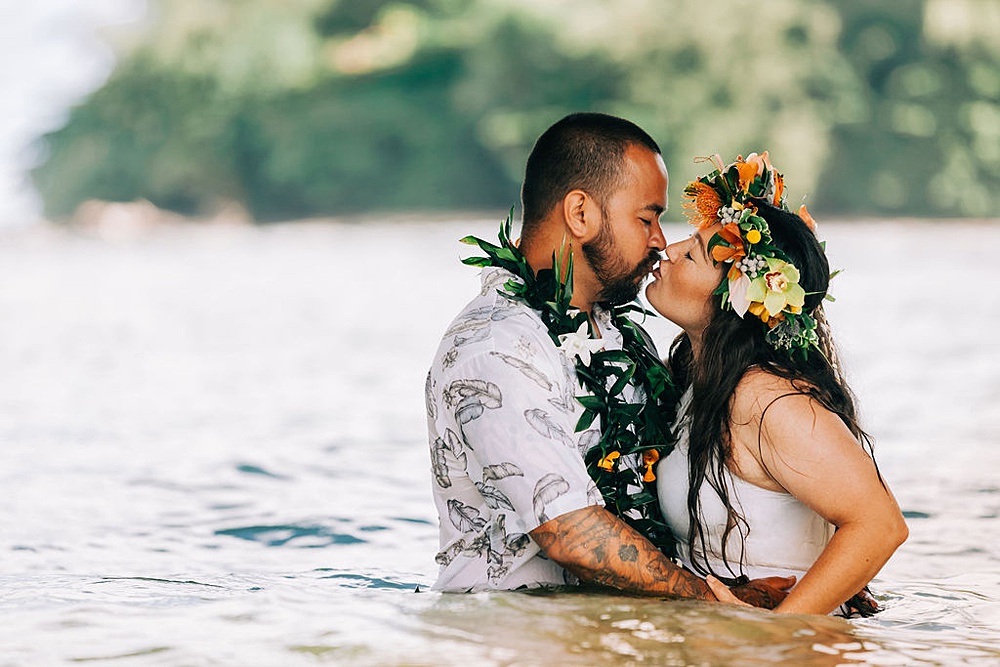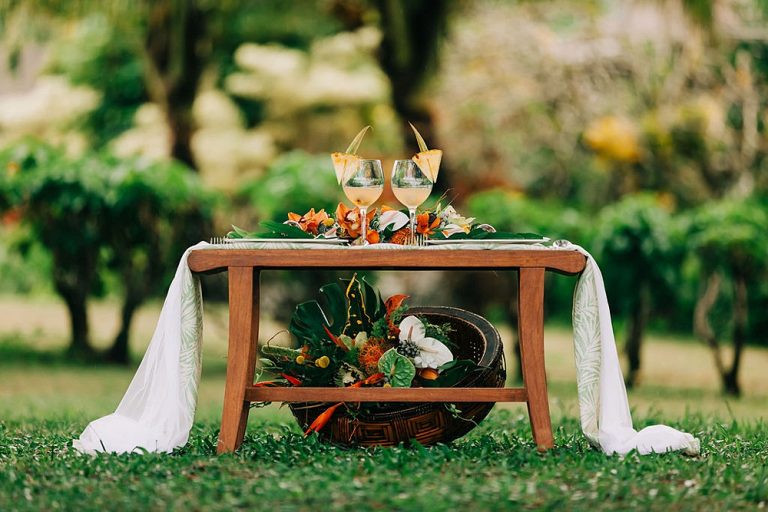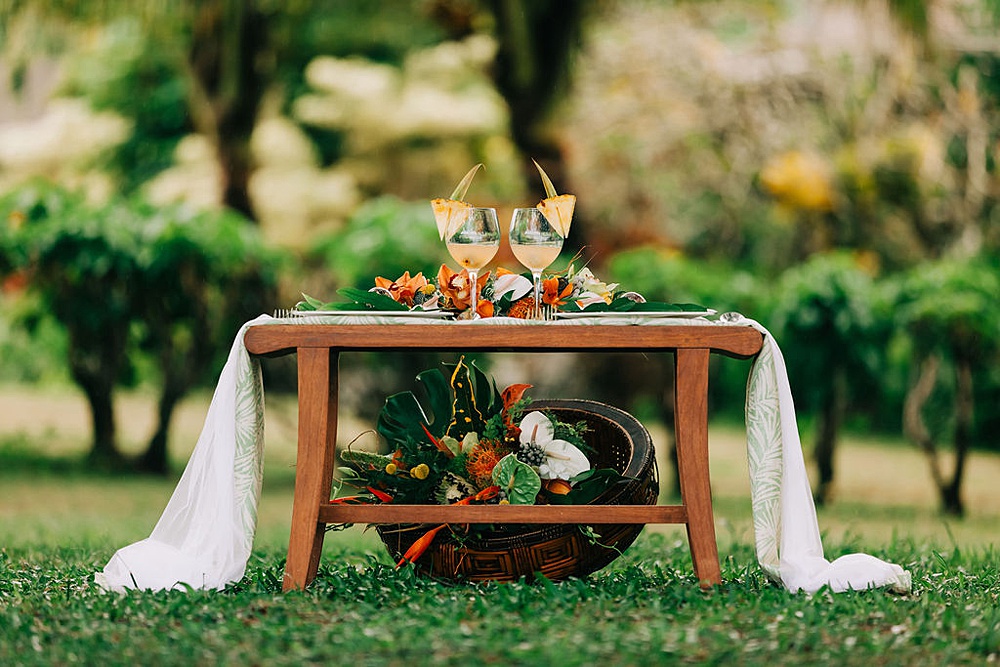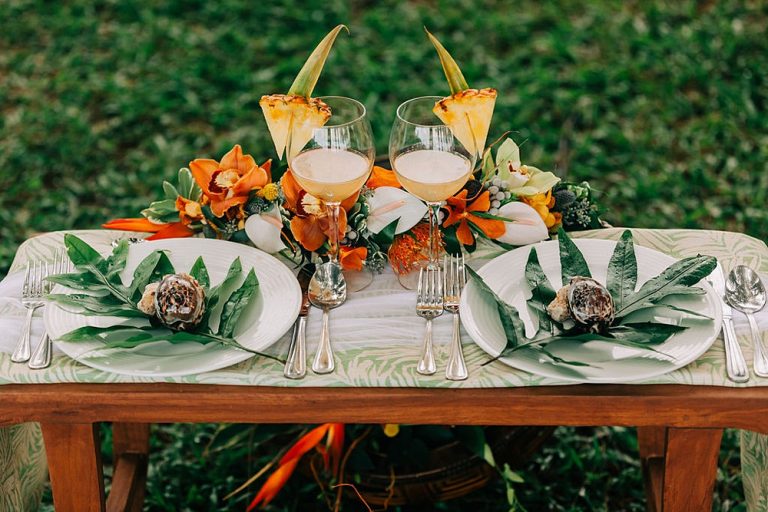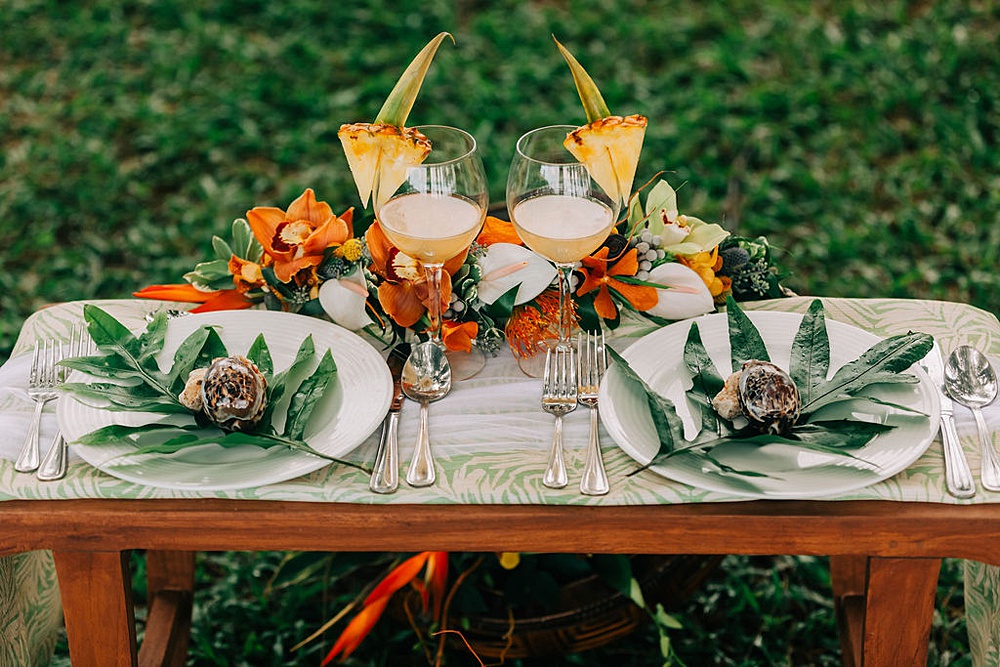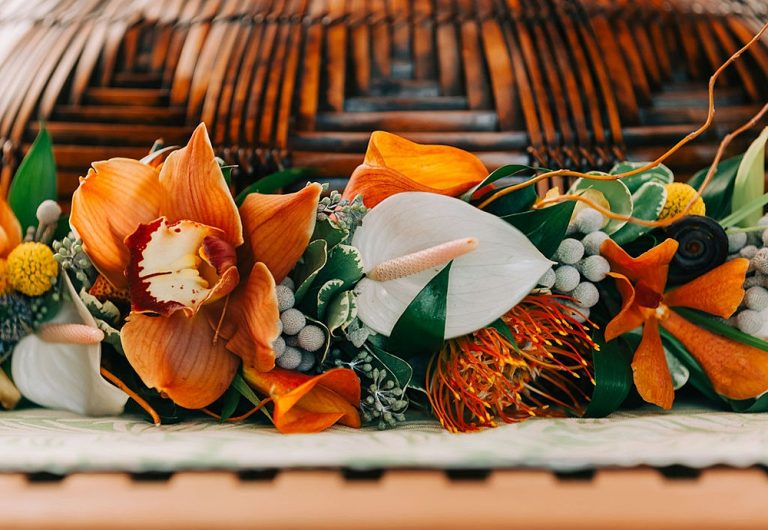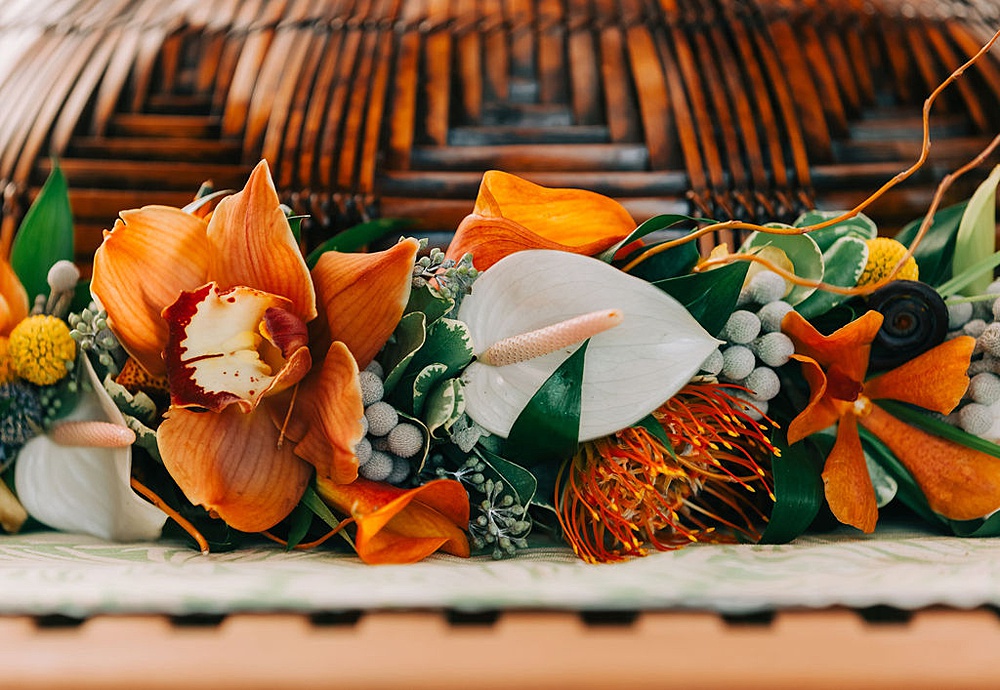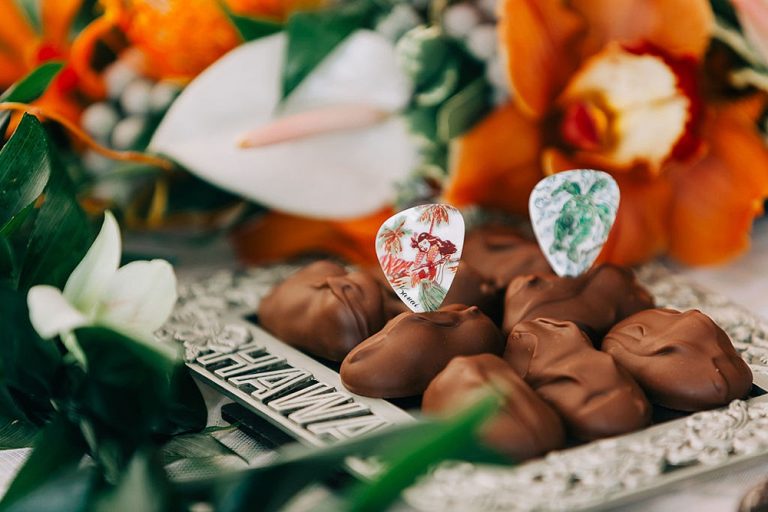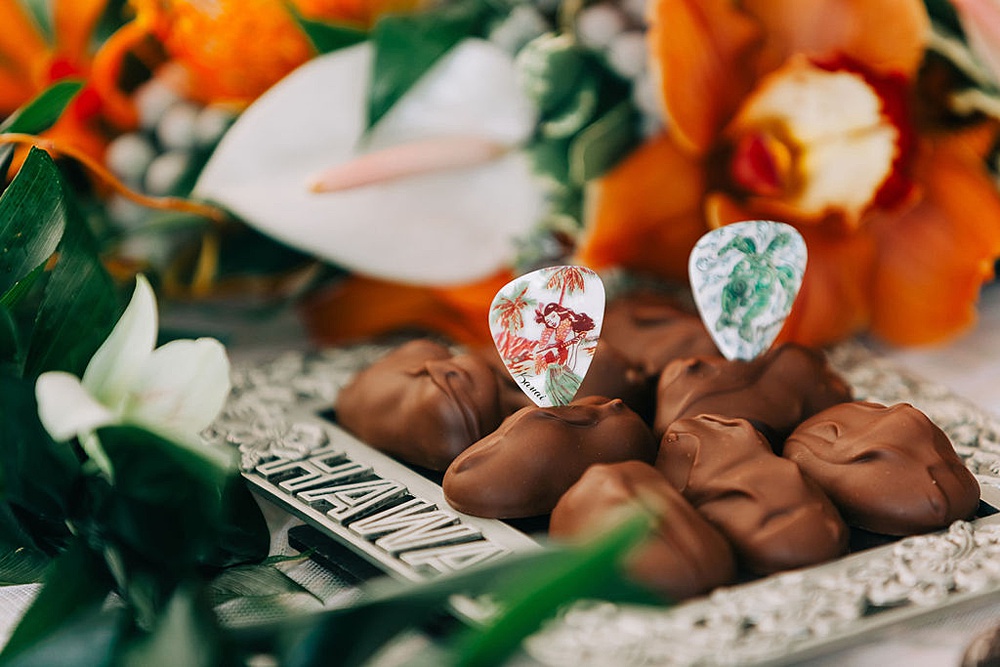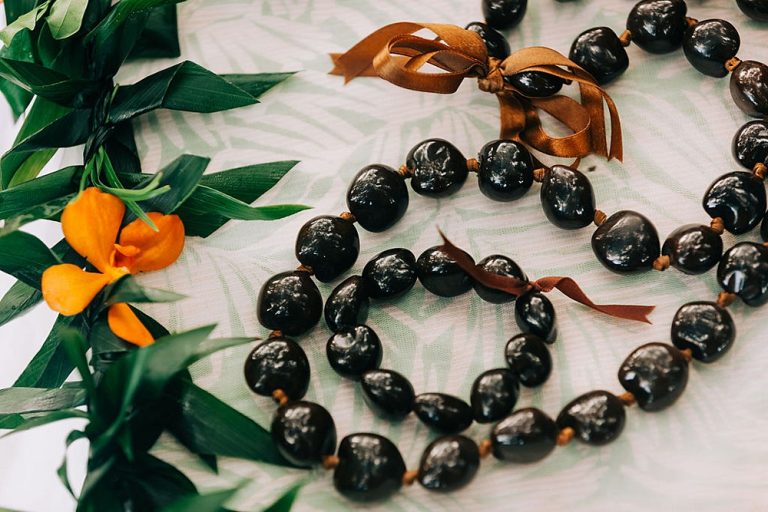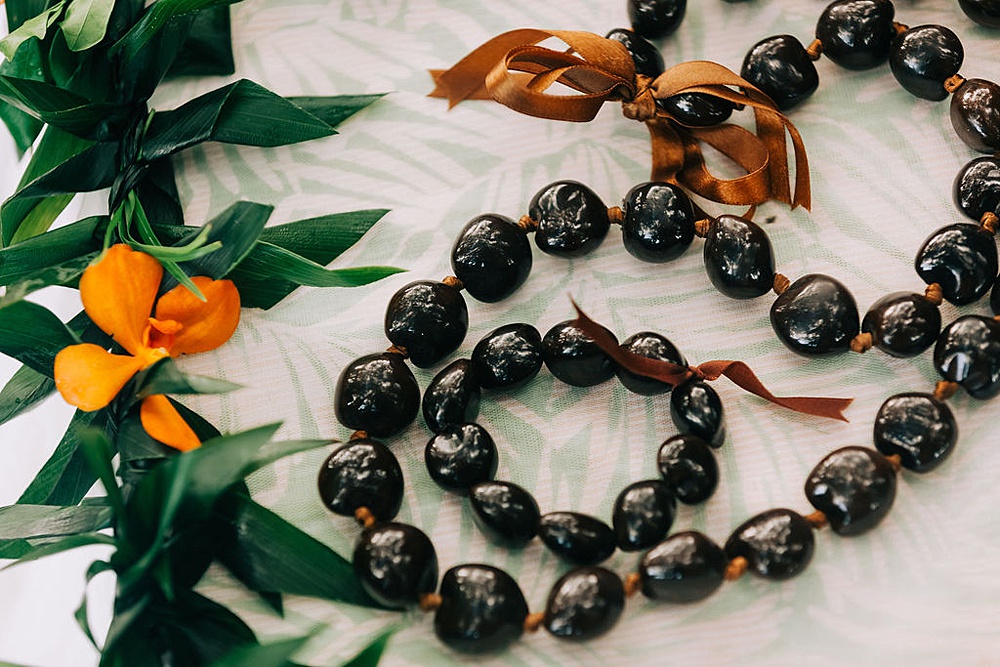 Q&A with the Vendors
What was your design inspiration?
Minimalist wedding day celebration/ elopement/ featuring the couple's favorite things decorated mainly by the location itself along with a few additional personal favorites.
Describe your flowers.
This elopement had a working name: Dressed in flowers. Flowers are the focal point as the elopement takes place on the "Garden" Island featuring plethora of amazing flora everywhere. The amazing florist/ designer embraced bolder color combination featuring vibrant oranges and yellows along with unexpected blooms complimenting our unique couple.
Describe your cake.
The bride and groom were not fans of a traditional cake idea. They did not want to have a lot of left over cake with no guests. However they certainly embraced chocolate covered nuts – a local specialty. They did not just loved this treat idea, it was in fact the background story of how they met….tasting them at a local shop. To make it a bit more special and personal, his and hers guitar picks decorated the spread and replaced the traditional cake topper.
Tell us about your attire choices.
When we met our couple, we discovered that they actually planned on getting married. Due to personal reasons, they have not planned a large ceremony or any celebratory festivities. They have had their outfits picked out and purchased from a local boutique, and we were happy to roll with it, as it fit our idea for this minimalist shoot. The bride changed into the outfit we have provided for some formal shots.
Please describe any DIY, handmade or personal details.
This minimalist couple opted for a kukui nut bracelet and a kukui nut necklace in place of traditional rings and kept them as display items to commemorate their Big day.
Describe the tablescape elements.
This elopement styled shoot turned into an actual elopement. We have incorporated the couple's custom drink (recipe available) into the table scape along with their own hand carved shells and coral pieces from the couple's backyard. The setting was inspired by a picnic setting elevated to an appropriate beach wedding dinning experience. The key piece to the set up was recycling the flower arrangements used in the ceremony, minimizing waste and still creating personalized event worthy forever memories.
Vendors
Photography: Studio under the Sky | Ceremony Venue: Hanalei Beach | Event Planning: Studio under the Sky | Floral: Kealoha Flowers | Wedding Treats: Hawaiian Host | Hair & Makeup: Beautifully Confident Make-up by Gennia | Wedding Dress: Aellatelier | Jewelry: Hawaii Flower Lei