If you've been searching for the ultimate destination wedding checklist, look no further! Chances are you're probably overwhelmed by the numerous tasks that lie ahead of you now that you've decided to take the plunge and tie the knot away from home.
Not only are you planning a wedding, but you're also planning a vacation for you and your guests as well as a honeymoon. It can be really overwhelming and things can quickly fall through the cracks if you're not organized.
There's so much to do, but where do you start? Use this destination wedding checklist to keep you organized, right on schedule, and most of all, sane!! You can even download it here for free.
Your Destination Wedding Checklist: 9-12 months before
Decide on your wedding style
Before you can do anything else, you and your fiancé need to decide how big or bold you'd like to go. Will this be a large celebration with 150+ guests? Are you looking for something more intimate? You'll also want to decide on the level of formality before you start planning.
Determine your budget
Once you've considered the size and style of your wedding, it's time to crunch numbers. Create a detailed budget for your big day, and don't forget all the little things like stamps and thank-you cards. Account for the money you have now , what you'll realistically be able to save in the next few months and any contribution from parents.
Decide on a wedding destination and research the rules
So, where do you want to get hitched? Somewhere warm and tropical? Maybe in the mountains? Create a short list of dream wedding destinations and begin to research the requirements for a legal marriage in each. If you're stuck between two, this research may help you choose the easier option. You can hire a destination wedding travel agent if you want help from start to finish.
Start vetting venues & vendors
Now that you've narrowed down a location, research venues and local destination wedding vendors. Request proposals and images to see if they match your wedding budget and style.
Pick a wedding date
After you select your wedding destination and venue, it's time to choose a date. You may want to research the times of year with the best weather, or maybe months with the smallest crowds. Learn about some destination wedding dates to avoid. Also, you have to make sure your chosen venue is available on the date you want. No matter what, make sure you run the date by any loved ones you need to have by your side.
Do a site visit
If time and budget allow, visit your destination wedding location before you book. You don't want any surprises when you arrive, after all. Try to do this after you've narrowed down your vendors so you can schedule food tastings, beauty trials, and maybe even an engagement session with your photographer.
Lock down your location
When you've done all the research you can, double-checked your dates, and reviewed your budget, it's time to put down the deposit on your venue. This is a huge step! Enjoy it.
Get organized with a wedding folder or binder
Planning a wedding is a huge project with so many moving pieces. Help yourself stay organized so you can enjoy the process. Whether digital or paper, create a system where you can store your budget, paperwork, contracts, to-do lists, and any inspiration for the big day.
Create your guest list
Solidifying a guest list can be extra hard for destination weddings. Often, the list is smaller than it would be for a hometown wedding. Just remember that wedding etiquette is a bit different for destination weddings–it's OK to stick with your closest crew. If you need somewhere to start, simply write down everyone you'd even consider inviting. Then begin separating out your top-tier guests–you know, the ones you couldn't imagine the day without. From there, work with your partner to consider how many guests you can afford, parental input, and other factors. You've got this!
Collect contact information
Gather your guests' email and mailing addresses as soon as possible. You can keep track of them all using this RSVP tracking sheet. This way you can start planning save-the-dates and other communication.
Choose your bridal party
You and your fiancé should decide how many loved ones you want in your wedding party. Once that's settled, it's time to personally invite each bridesmaid and groomsman to stand by your side. Make sure these invites are sent out sooner than later so they can begin to save for travel and attire.
Say 'yes' to the dress (or tux)
The moment you've been waiting for: wedding dress and attire shopping! Make sure you consider your destination's climate when searching. Consider unpredictable elements like temperature, wind, sand, and water. Read this guide to choosing a destination wedding dress for more tips.
Your Destination Wedding Checklist: 6-9 months before
Choose an officiant
It's important to give this choice a lot of thought. After all, they're running the ceremony and play a memorable role in your nuptials. If you are religious, you'll need to find someone local who practices your faith. If you're choosing a friend or family member, you need to provide them with the time and resources to get ordained.
Lock down a photographer
If you haven't done this already, make sure you do it ASAP because the good ones get booked quickly! For many couples, the photographer is one of the most important vendors because they capture the memories that will last forever. If the budget allows, I recommend setting up an engagement shoot with your photographer. This is the perfect opportunity to get to know each other. Wedding photos are an intimate thing, and being familiar with your photographer will make it less awkward and way more fun.
Reserve a block of hotel rooms for guests
When hosting a destination wedding, it's proper etiquette to reserve rooms for your guests so they don't have to stress about lodging. It's also far more fun if all of your guests are staying in one place because they can socialize before and after the nuptials. If you decide to hire a travel agent, share their info with your guests.
Create your wedding website or App
Consider trying easy-to-use destination wedding websites or an app. This is the best way to share wedding details with guests. And these platforms offer life-saving tools like a guest list and RSVP manager, email services, personalized website design, and some even offer a travel concierge to assist with booking hotels and other amenities.
Send out save-the-dates
Make it official by sending out your save-the-dates at least 6 months before the big day. Make sure you include the date and destination of your wedding along with your wedding website URL. Or you can even send your wedding website as the 'save the date'. Now your guests can have access to all the fun details, and everyone can be as excited as you!
Finalize your floral arrangements
Confirm your floral vendor and send them arrangements that inspire you. Don't forget your wedding bouquet, bridesmaids' bouquets, boutonnieres, centerpieces, and other arrangements.
Settle on a menu and cake–yum!
Once you've enjoyed all those free tastings, it's time to settle on a final menu and wedding cake (or other dessert). When choosing, consider your and your fiancé's favorite dishes, loved ones' dietary needs, and how the food can reflect your beautiful destination. For example, you could include locally grown ingredients or the country's signature dish.
Book your live band or DJ
Music can make or break a wedding, so make sure you do your research and book your entertainment quickly. Pros of a live band: unique, lots of energy, and an opportunity for mashups and medleys. Pros of a DJ: more affordable, wider variety, no musician breaks.
Accessorize, accessorize!
Now that you have your wedding attire, it's time to add the frosting. Consider shoes that will be comfortable for you and your destination (sand can be tricky). Think about the possibility of windy conditions when you pick a veil or other headpiece. Other accessories to shop for are jewelry, a garter, and wedding night lingerie.
Decide on your bridesmaid dresses
There are so many options for bridesmaid dresses, so here are a few ways to narrow them down. First, do you want to mix and match or go with one style? Then, do you want to go long or short? These two questions alone will help you get focused. If you decide to mix and match, there are brands specifically created for this purpose, especially if you'd like your bridesmaids to pick their most flattering neckline. If you're comfortable assigning a color and letting your bridesmaids choose their own gowns, you can give them a list of requirements (neckline, length, fabric, modesty) and sign off on each purchase. Custom dresses can take a long time so make sure they order now.
Create a wedding registry
You may not want to admit it, but creating your wedding registry is just plain fun. Note that destination registries can be a bit different. For example, you can include the gift of experiences during your wedding weekend (couples massage, off-resort excursion, etc.). And make sure you have a wide range of price points available since your guests are already spending money on travel. They have budgets just like you!
Your Destination Wedding Checklist: 4-6 months before
Get those passports ready!
It can take up to three months to get a new passport, so make sure you do this at least four months prior to departure. It might be helpful to send a friendly reminder to wedding guests, too.
Get any required vaccines or blood tests
Depending on your destination, you may be required to get certain vaccinations or blood tests. Do the research and share your findings with guests so they can take it off their to-do list too.
Buy your bling
Sure, you've been staring in awe at your engagement ring for months now, but it's time to buy the wedding bands. This is a good time to purchase a cute ring box for wedding day photos, too.
Order the wedding invitations
More beautiful mail! It's time to order your formal wedding invitations. In addition to the RSVPs and plus-ones, now's the time to ask for meal preferences.
Book your travel
Time to book your flights! Pay attention to travel time, layovers, etc. to save as much energy as you can for the wedding. Encourage your guests to book their travel too.
It's all in the details–so buy them!
So much personalization can appear in the little things, like your guest book, cake topper, centerpieces, and other décor. When ordering, be mindful of how you will get these items to the destination without spending too much money on extra luggage or shipping.
Honeymoon attire time
More shopping? No problem. It's time to start planning and shopping for your honeymoon attire. Treat yourself to some new, fun outfits.
Arrange wedding day transportation
First, if you plan on leaving the venue for wedding photos, make sure a limo or bus is ready for your wedding party. If your wedding is off-resort, you'll also want to check that wedding guests have easy access to transportation from their hotel to the venue.
Plan the pre-wedding events
Think through how you'd like to welcome your guests. Are you having a welcome reception with cocktails and appetizers? Is there a pre-wedding excursion or pool party? And don't forget to finalize all the details of your rehearsal dinner, like the menu, welcome speeches, and actual rehearsal.
Get the groom's and groomsmen's attire
Decide on coordinating groomsmen attire and accessories, like their ties and pocket squares. Keep the weather in mind when designing their looks. A wool suit would not do well on a beach, after all.
Check on those bridesmaids' dresses
Because custom bridesmaid dresses take a long time to ship, it's important to double-check that your 'maids are on top of it. That way, you can put out any fires now vs. when it's too late. If they've received their gowns, ask them to check the fit and begin planning alterations.
Plan those playlists
Sure, every DJ loves a must-play list, but don't forget a do-not-playlist. If "YMCA" and "The Chicken Dance" would ruin the mood, you've got to let the DJ know! Keep updating each list with new songs and guest requests for the next few months.
Your Destination Wedding Checklist: 2-3 months before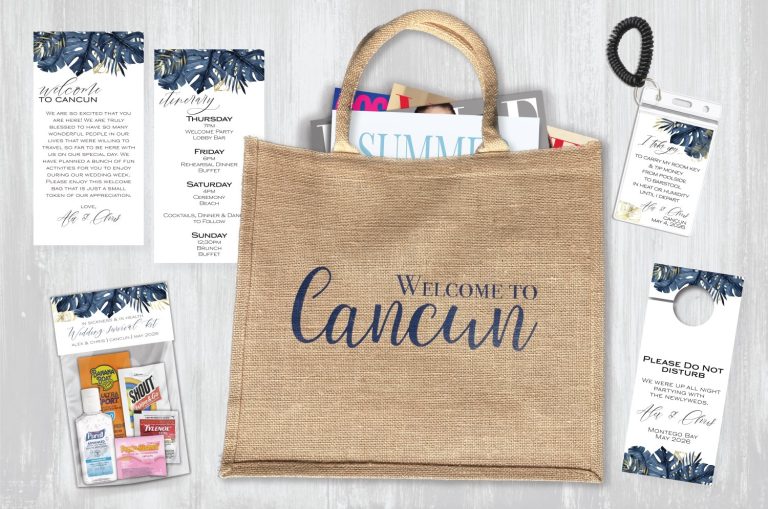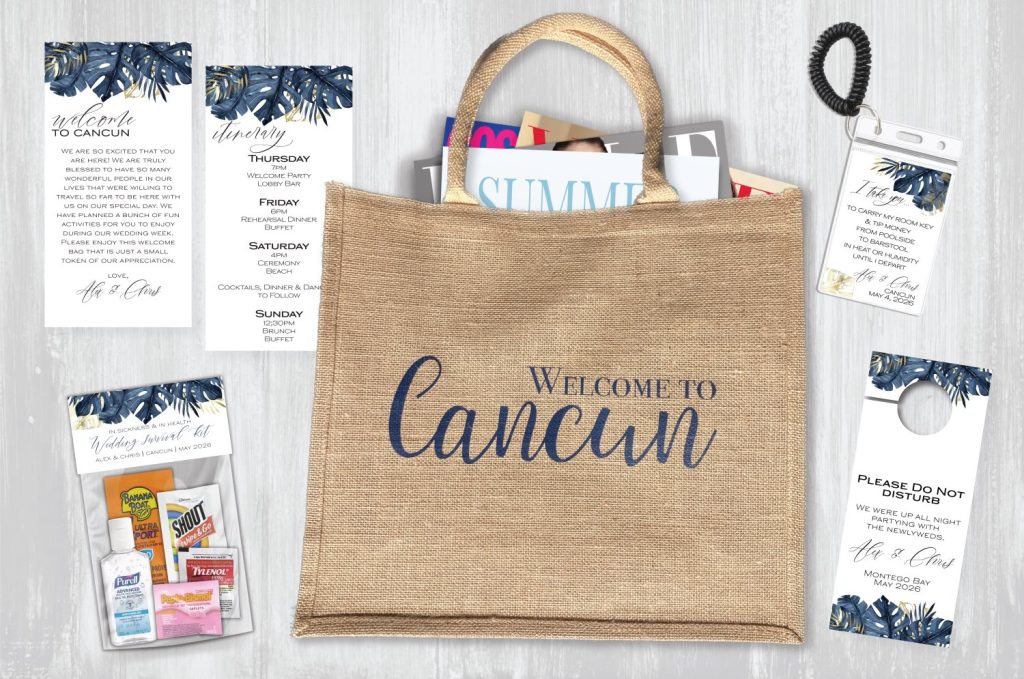 Finalize favors and welcome bag items
One way to show gratitude to your guests is through destination welcome bags or wedding favors. Either can be both creative and practical. For example, you could give them hotel key holders or hangover recovery kits.
Get final confirmations from every vendor
Use that wedding binder to double-check every detail with every vendor. Make sure they have an accurate schedule, guest count, and contact information. And get it all in writing!
Mail out the invitations
Once you've double-checked all the details, send out the invites. Get ready for the RSVPs to start rolling in!
Finalize your hair and make-up artist
If you haven't done this, now is the time. Ask your local planner or the resort you're staying at for referrals. Stylists love inspo pics, so have those ready before trials.
Find a gift for your fiance
Some couples like to give each other a personalized gift before they say "I do." If this is you, it's time to brainstorm and buy your loved one a little something. Stuck? Try Etsy for one-of-a-kind items.
Buy your bridal party gifts
It's time to show your wedding party some love! They've gone above and beyond to stand by you on your special day, so show them how much it means to you with a thoughtful gift. You can go sentimental and personalized, or consider practical items for their stay, like a beach tote or Pashmina.
Your Destination Wedding Checklist: 1 month before
Attend the final gown fitting
When checking the final fit of your wedding dress, make sure it feels comfortable and looks gorgeous with your accessories, shoes, and whatever bra/underwear you'll be wearing on your wedding day. This is also when you'll learn to bustle the dress, so bring a bridesmaid to learn the ins and outs before the big day.
Plan your wedding dress delivery
Once you've had that final fitting and everything is perfect, make arrangements to pick up your dress or have it delivered to your home.
Organize the welcome bag contents
Double-check that you have all the goodies for your welcome bags. If you're personalizing each bag for each guest, now's the time to get organized.
Decide on your welcome bag delivery
There are a few ways to make sure your guests get their thoughtful gifts. You can hand deliver them, give them out at the welcome party, or have the resort place them in each room. Either way, you'll need to get the bags to your destination, so make sure you read our tips on how to travel with your wedding welcome bag.
Order your programs
Ceremony programs are a small detail that guests love. They get to follow along during the nuptials, learn the names of your wedding party, and save them as a souvenir. For warm destinations, consider program fans!
Finalize those vows & readings
One of the most memorable moments of your nuptials will be when you exchange wedding vows. If you're writing them yourselves, I recommend starting now. It can take a few drafts to get them just right. If you're going with something pre-written, great! Send it over to your officiant so they can review and reference them. The same goes for any ceremony readings. Make sure you select them and send them to the reader so they can practice.
Confirm hotel reservations
Call your hotel or resort and double-check on reservations–yours and your guests.
Settle on a seating chart and place cards
The ever-looming seating chart needs finalizing. Now that you have a final head count and plus-ones noted, you can create an ideal seating chart. Consider who will want to sit near you, loved ones with connections, and make sure you give any singles a fun place to dine. Once it's designed, create your place cards and have them printed.
Your Destination Wedding Checklist: 2 weeks before
Confirm all travel and accommodations one more time
It may sound like overkill, but, seriously, check your reservations one last time. Make sure your flights are booked, hotel rooms are reserved, and every guest has their travel and lodging locked down.
Re-confirm the details with every vendor
With just two weeks to go, it's time to triple-check with your vendors. Is everyone on the same page? Make sure nothing has fallen through the cracks. The extra effort now means more fun and relaxation later.
Review your RSVPs
Take a good look at your RSVP list to get a final headcount. Make sure you have their arrival date, lodgings, and contact information saved.
Your Destination Wedding Checklist: 1 week before
Start packing
I promise, it's not too early to start packing. As this list proves, there are so many moving pieces to organize and check off. Start a week early to identify any last-minute needs and determine if loved ones need to take some items in their luggage due to lack of space or duty-free allowance rules. For more, check out our destination wedding packing tips.
Your Destination Wedding Checklist: When you arrive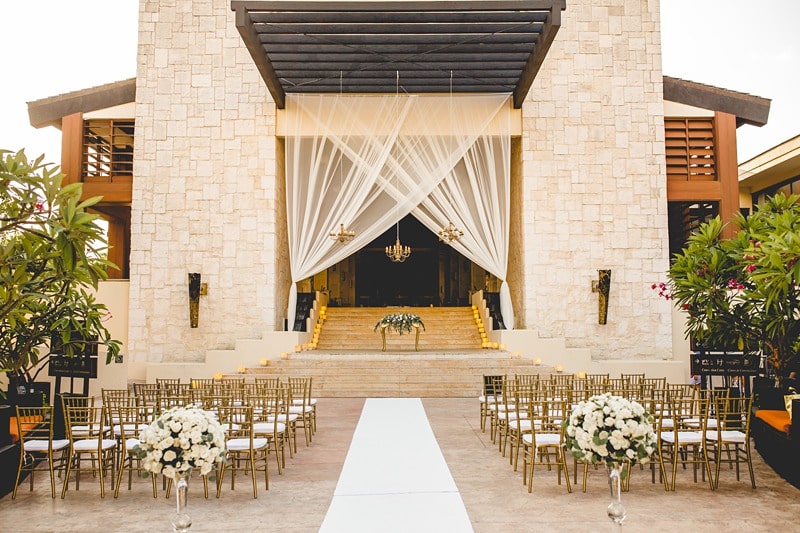 Inspect Your ceremony & reception venues
You've arrived! If any details don't match the description, have a conversation with the vendor or planner as soon as you can.
Do a walk through or rehearsal
It's extra important to rehearse for a destination ceremony because the conditions are often less predictable. If your 'maids are walking through sand or fending off wind, it's important they get a little practice.
Apply for a marriage license
It's important to do some research before you leave so you bring the proper documents to receive a foreign license. If you're getting married at a resort, they will sometimes prepare the documents for you as a courtesy. Just ask!
Finalize everything with your officiant and planner
Now that you've seen the spaces and experienced the rehearsal, it's important to check off all the details with your wedding team. This is when you pass the ball so you can be present and enjoy yourself. Go through the schedule, ask any remaining questions, and pass along contact information. You're almost there!
Take care of any required blood tests
Some countries require blood tests after arrival. Since this isn't exactly romantic, I recommend checking it off right away. Then you can focus on the good stuff.
Assemble and deliver the welcome bags
Create an assembly line and get those bags organized. You can see if the resort is able to place them in the rooms for you, or you can choose to deliver them yourself so you can personally greet each guest.
Arrange delivery of floral arrangements
Make sure your planner or vendor knows when and where you'd like the bouquets and boutonnieres delivered. The less you have to worry about on the big day, the better.
Get your beauty trials
If you didn't have a chance to visit your hair and makeup vendors before the wedding week, now's the time to enjoy those beauty trials. It's so important to do a test run so the big day is seamless. If planned accordingly, you could have some gorgeous hair and makeup for a pre-wedding party.
Lock down the menu
Again, if you didn't have a chance to do food tastings in advance, arrange a quick tasting or menu review with your vendor. You deserve to have exactly what you want.
Ensure a wrinkle-free wedding dress
Have your dress steamed or pressed the night before the wedding. Odds are it got a bit wrinkly during travel, and it's too beautiful to let that slide.
Mani/pedi anyone?
Enjoy a little self-care with a manicure and pedicure before the big day. Invite your bridesmaids and other loved ones to make it more memorable. But make sure you do this the day before so it's not ruined by any water fun.
Your Wedding Day Checklist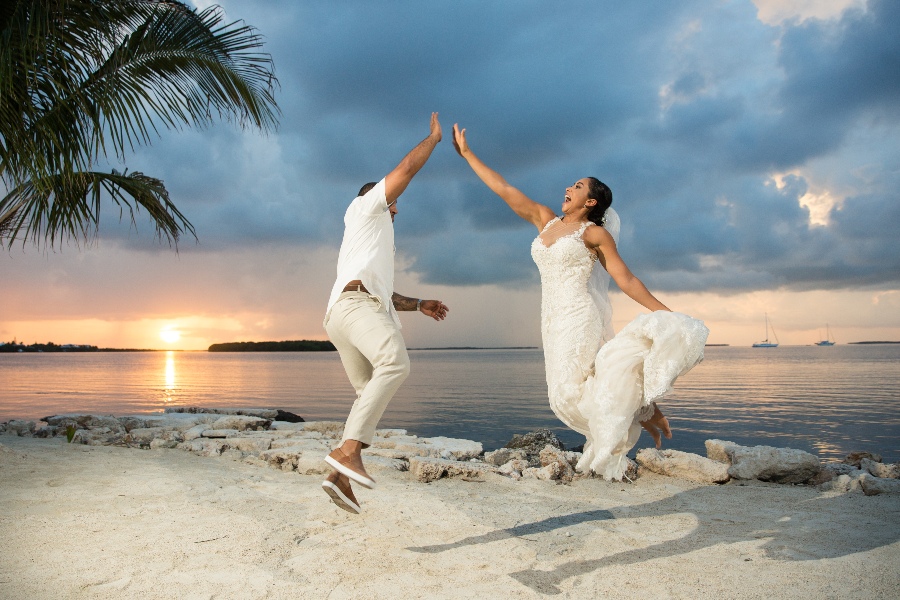 Make sure you have your rings
After your photographer gets a detailed shot of your wedding bands, make sure they get to the right person. If you're sending them down with a ring bearer, do not pass them over until right before the ceremony… I don't think I need to explain why.
Give your fiance their gift
Send a friend or family member to your fiancé with your personalized gift. Make sure the photographer is ready to capture their reaction.
Breathe. Be present. Celebrate!
Give yourself a pat on the back–you did it! You've checked off everything on this massive destination wedding checklist and are ready to get hitched. Now, enjoy the day and have fun!
Download & Print this Destination Wedding Checklist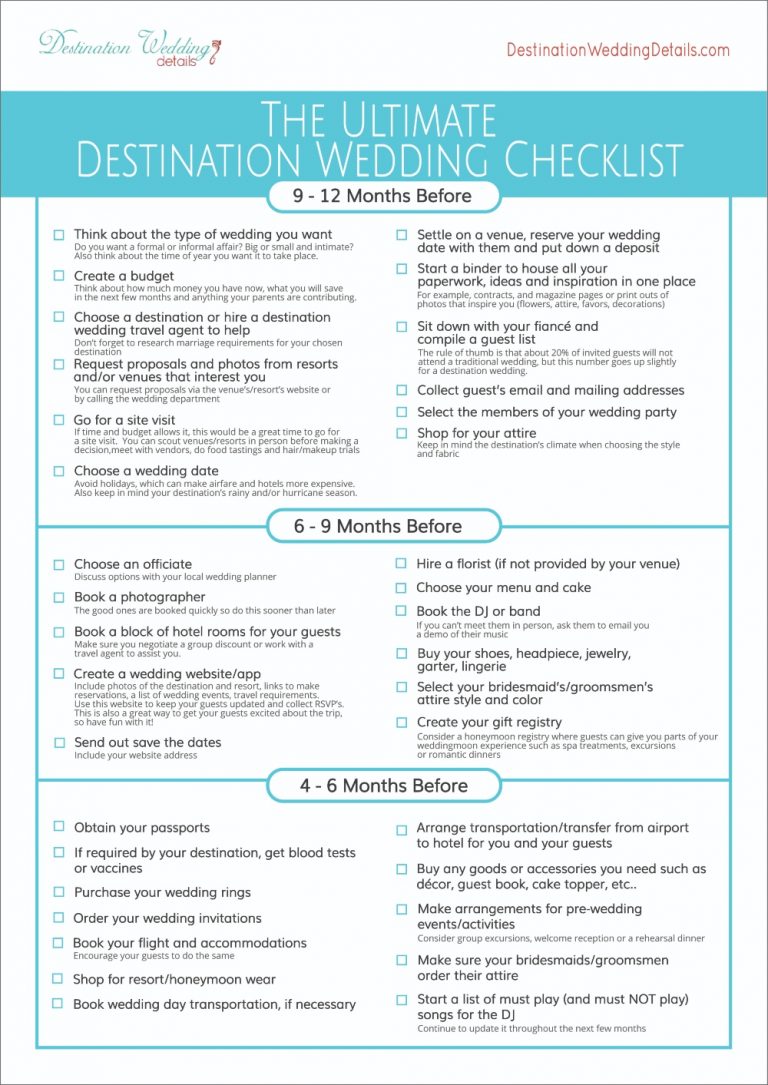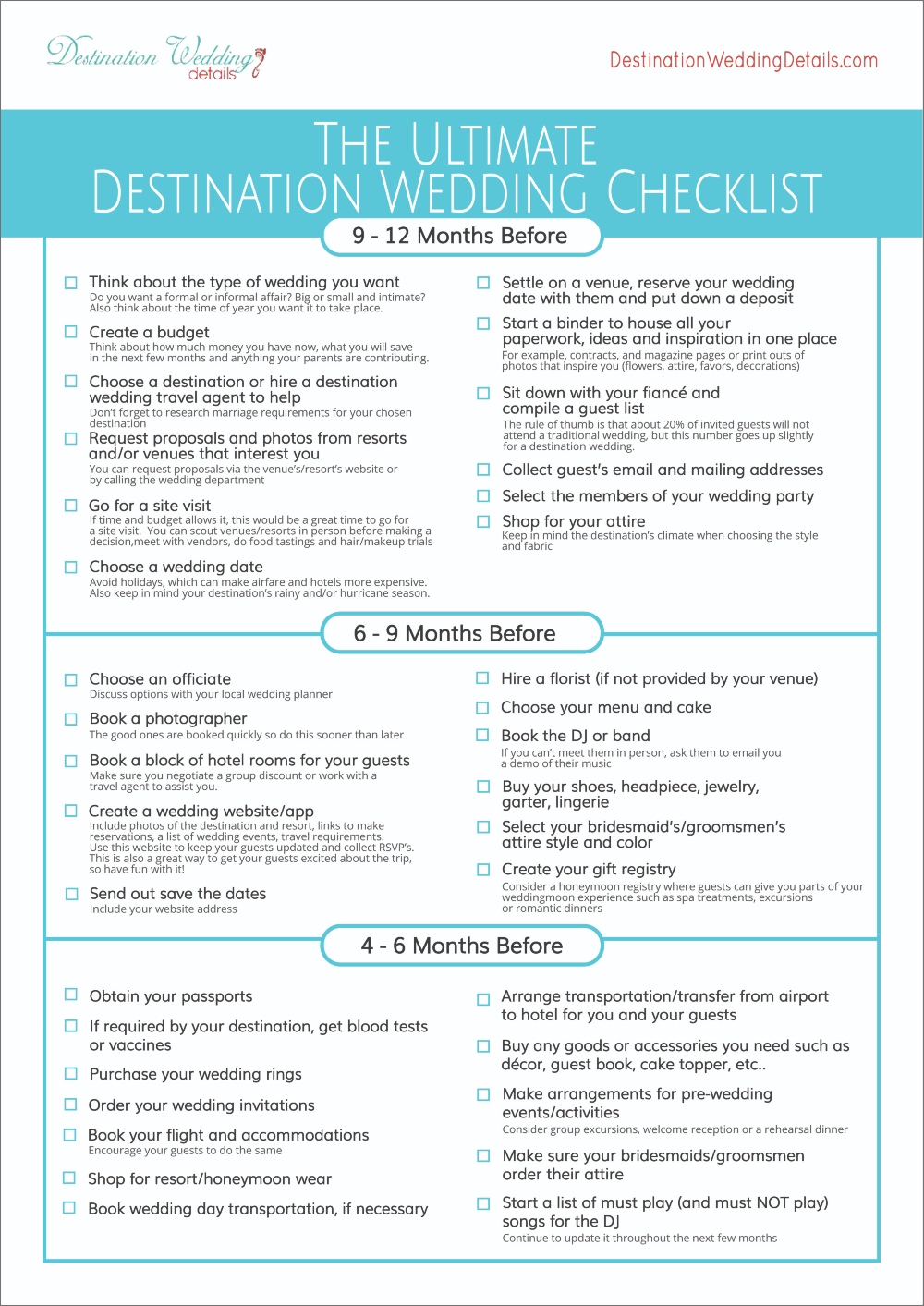 Related Page:
Get Personalized Destination Wedding Checklist Alerts Sent to Your Inbox
Fill out the form below to get personalized alerts sent right to your email reminding you of everything you need for your destination wedding.
The checklist will sync up with your wedding date so you'll receive customized emails guiding you throughout the entire planning process. You'll receive an email with a list of to-do's when you're 9-12 months away from your destination wedding date, another email when you're 4-6 months, etc.. all the way up to the big day. I'll make sure you don't forget a thing on your to-do list.
Each checklist to-do will include super helpful links to destination wedding articles with tips, photos, and some awesome ideas to help inspire you. Even better, we'll send you some exclusive discount codes and freebies for everything from the save-the-dates to the thank you cards!
Fill out the info below to start getting your personalized destination wedding checklist!
Have you read these posts yet?