Searching for casual beach wedding dresses? We might have just found the answer to your prayers!
Obviously I LOVE everything about beach ceremonies. I mean what's not to love? You're exchanging vows with the soft, grainy sand beneath your feet and the soft, salty spray of the ocean in the air. There is a fantastic sense of freedom, nature, and romance. But while it may be a casual, scenic, and serene way to exchange vows, it requires a lot of planning and preparation, especially when it comes to selecting a gown.
Luckily for you, Wtoo has launched a line of casual beach wedding dresses that boast some styles that are designed specifically for destination brides. I'm so excited about these designs because they are simply breathtaking! Not only will they keep you cool and comfortable, but also looking chic!
Casual Beach Wedding Dresses
This dress is stunning, isn't it? It's made entirely of chiffon so it's lightweight but elegant. It will move with your body as you walk down the aisle or sway in the ocean's breeze while standing still. And I absolutely adore this gown's decorated empire waist silhouette.
Plus, the dress design is easy to wear on most forms because it cinches you just below the bust and drapes over the rest of your body. Now you won't have to worry about enjoying a few cocktails and a big slice of cake!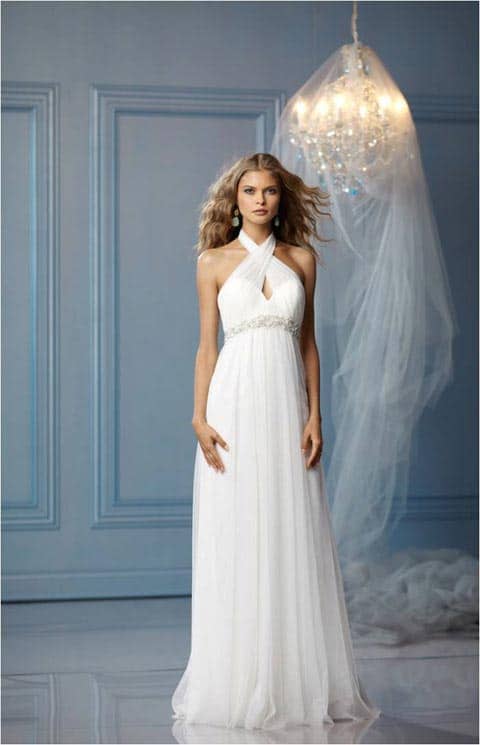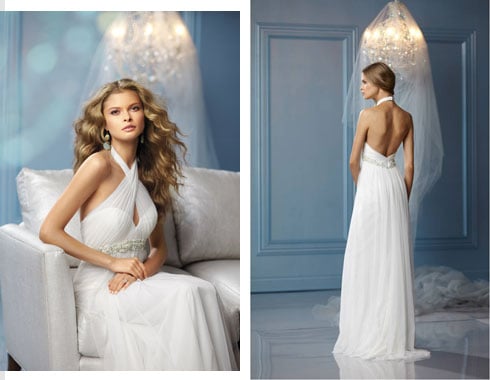 A long and flowing gown will create a romantic look as you walk in the sand. But an interesting neckline is also an easy way to give any short casual wedding dress a touch of elegance and extravagance. These two casual wedding dresses boast a unique version of an illusion sweetheart neckline that has a complete vintage look and feel to it. These necklines are great because they allow guests to focus on your face and upper body.
These dresses pictured below are hot, hot, hot! A lightweight ivory gown with an alluring split front hemline proves that showing a little skin can look sexy, carefree, but very appropriate considering your sandy setting. You can also opt for a ruched deep v-neckline or a scoop neck with thin spaghetti straps to provide some support and light coverage.
Strapless dresses are so popular for casual beach weddings. Modern brides can consider trying on dresses that boast a bandeau style top with multiple strands of beads built into the dress' neckline. I personally love how it will easily add sophistication to the most casual of dresses and eliminate a need to wear a lot of jewelry. The last thing you want is something to make you feel as if you are weighed down.
It will also look extraordinarily unique paired with a fit and flare silhouette as you make your grand entrance.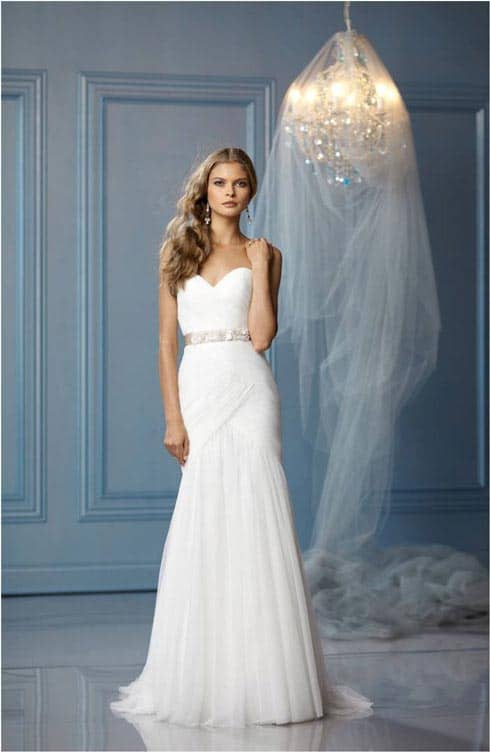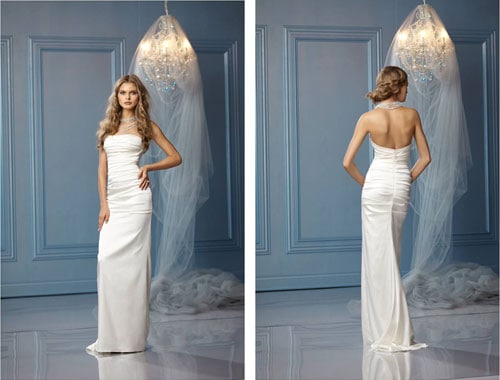 If you just want to keep your look casual and simple, allow your dress to truly be the star of the show by wearing a streamlined dress covered in subtle lace overlay. No jewelry, shoes, or a lot of make-up is worn by a beach goddess bride.
A lacy textured dress will mix the right amount of casual elegance in order to complement the nautical sights and sounds around the ceremony venue. Some of the back designs of these lace creations are simply to die for! They will certainly give your guests something to look at when your back is facing them during some of the ceremony!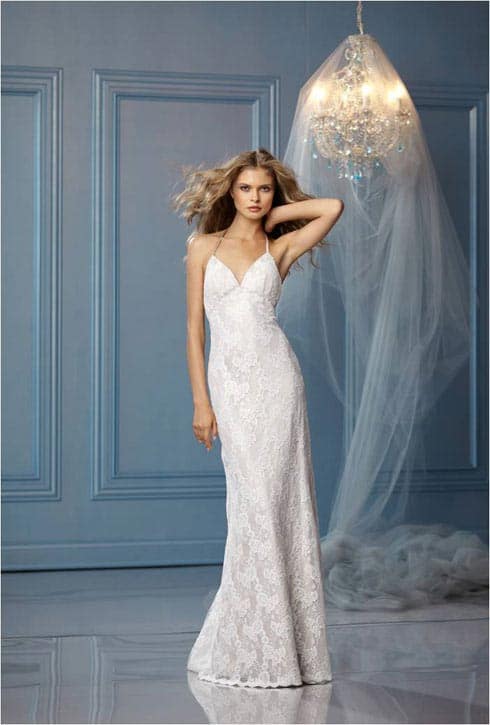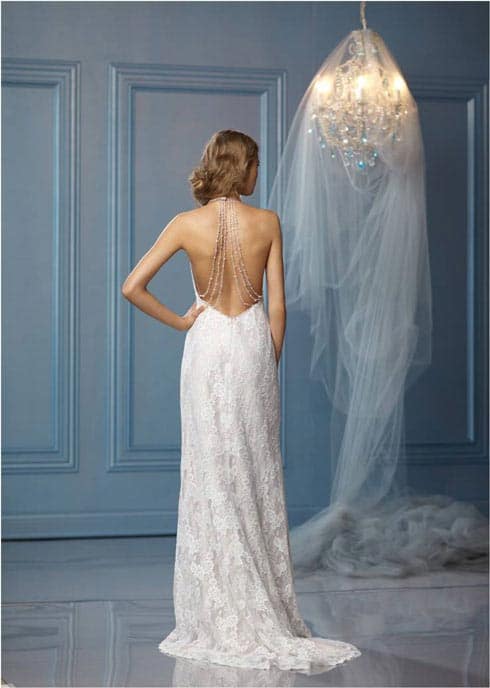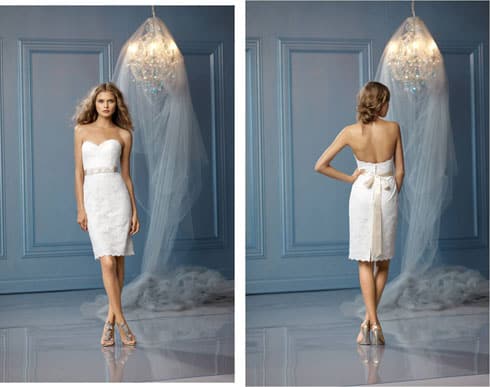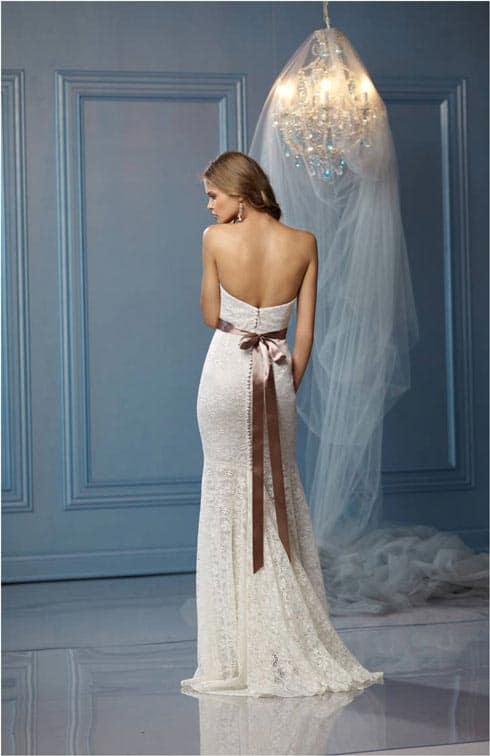 Photo Credits: All the designs featured on this page are from the Wtoo Destination Bridal Collection.
Related Posts You'll Enjoy
Gallery of Beautiful but Informal Destination Wedding Dresses
13 Gorgeous Bridal Gowns for 2020-21 Destination Weddings
Everything you need to know about buying a wedding Dress online without getting scammed
Our Guide to Choosing the Perfect Destination Wedding Dress
Gallery of Short Bridal Dresses