Short wedding dresses are a hot trend especially for beach weddings. A short wedding dress is not the most traditional look, but you can rest assured that you can still wear a design in a shorter style while getting everything you've always wanted in a wedding gown…minus the extra inches!
Keep reading to discover dresses that are short, chic and stylish!
Best Short Wedding Dresses For a Beach Wedding
Consider a knee length dress in smooth fabrics like silk or organza. Sure to make the non-traditional bride swoon, you can find dozens of styles that boast a beaded bodice, an overlay skirt hemline, and even flirty skirt bottoms filled with fashion forward feathers, lace, or floral embellishments.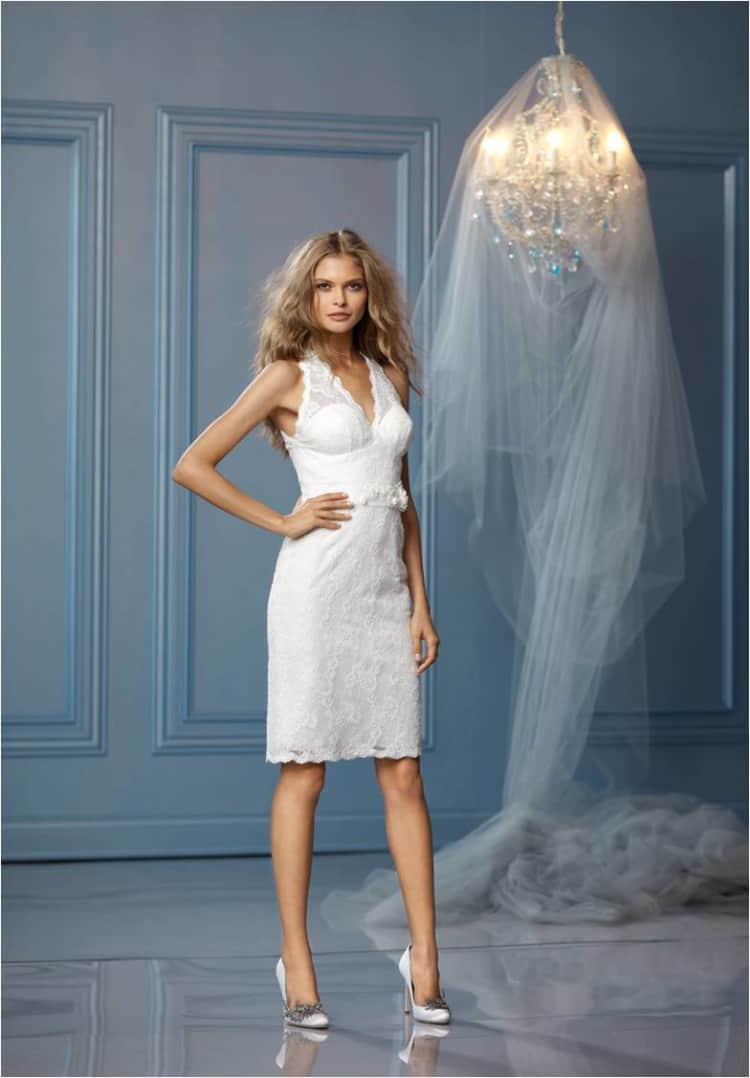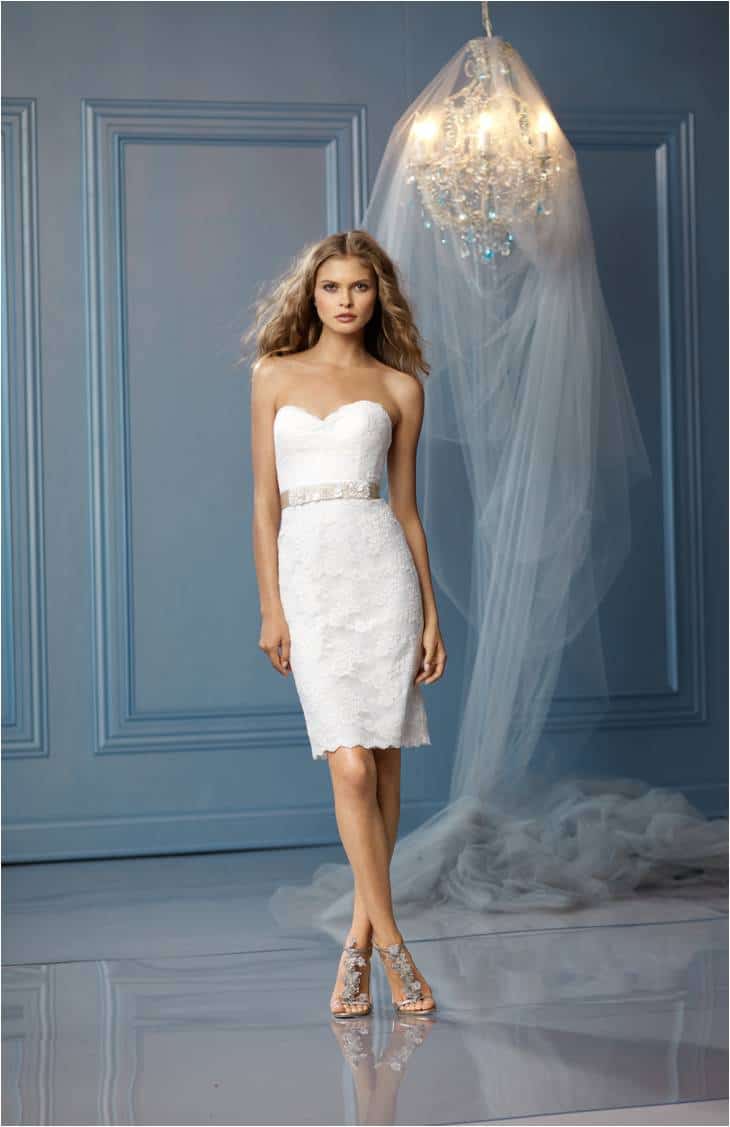 A high and low hemline dress is also ideal for non-traditional brides. You get the look of a ladylike gown thanks to a ruched and decorated bust line, and some seriously sexy sass thanks to a short front hemline!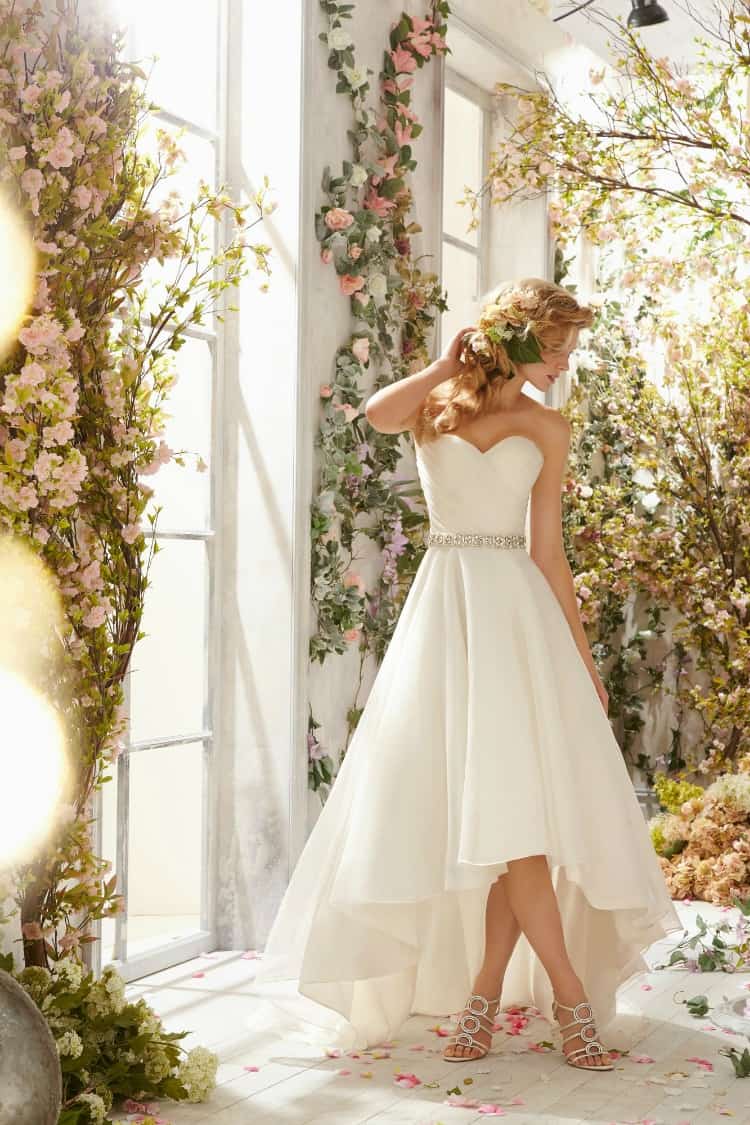 Click here to see more photos of high/low hemlined dresses.
If you are a lover of vintage fashion and retro looks, you should consider short wedding dresses that boast a tea length hemline like the one in this gorgeous Maggie Sottero number.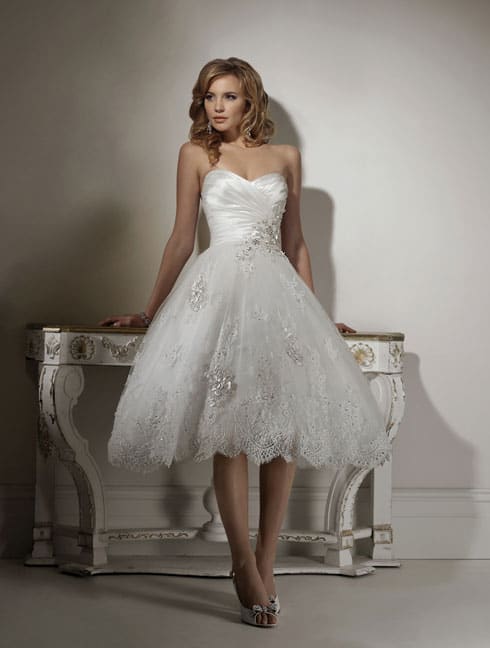 Dress by Maggie Sottero, Image Courtesy of BestBridalPrices.com
I absolutely love the tea length dress pictured below with an embroidered lace bodice and tulle skirt. The first image shows the dress with a jacket, which is super cute. But check out the second pic without the jacket – that sweetheart neckline is to-die-for.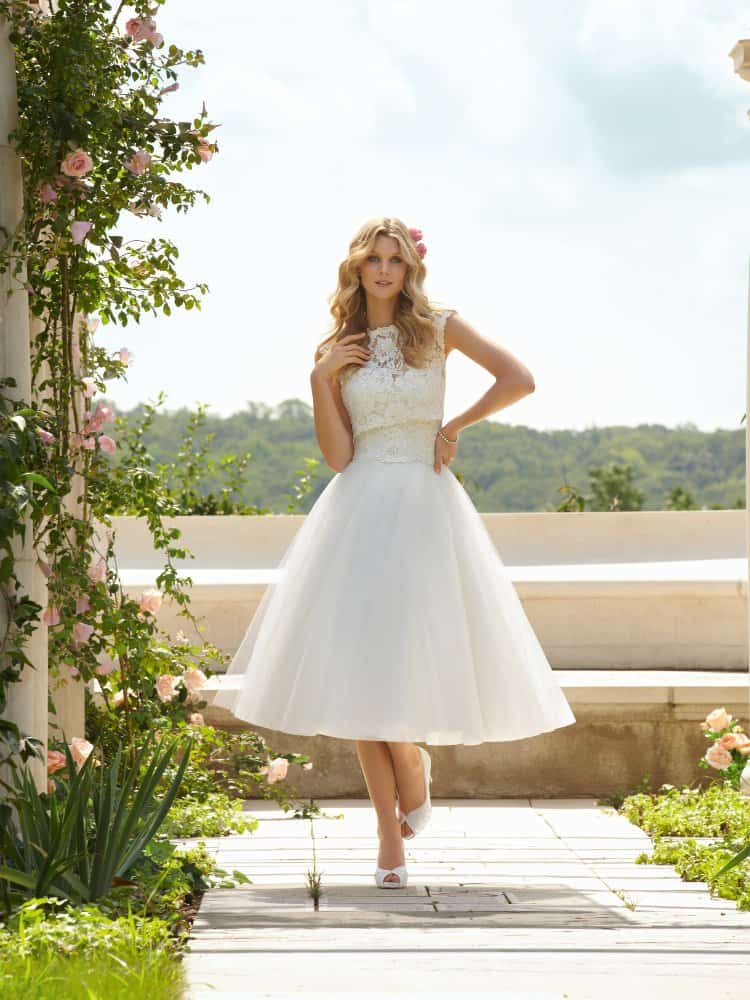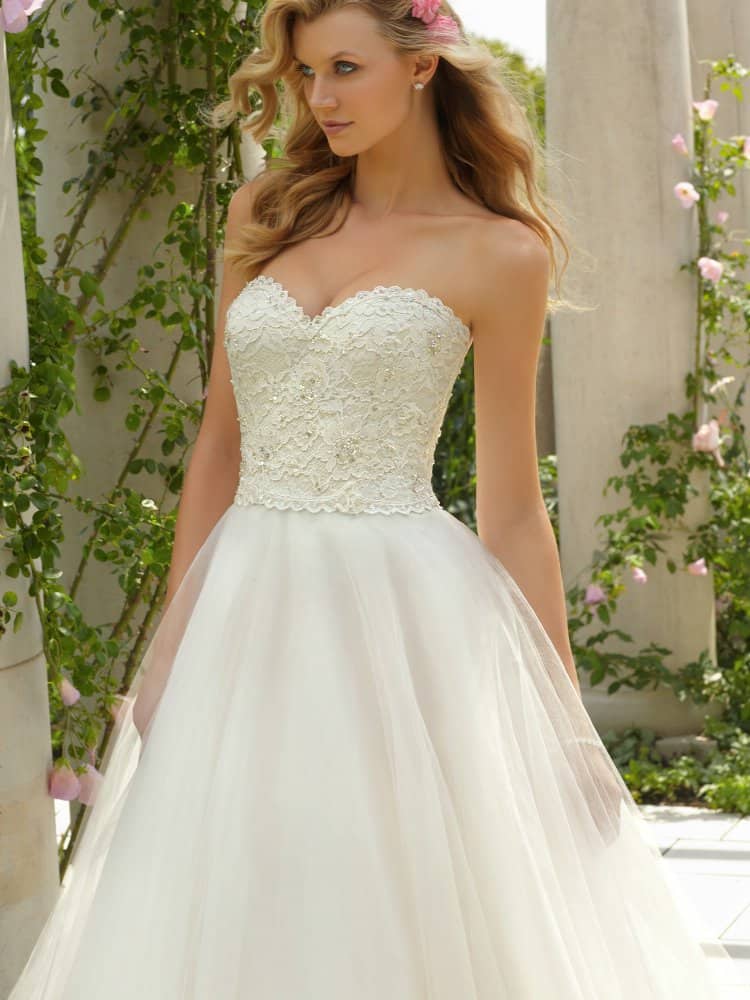 Go completely retro by selecting a short dress that boast a sweetheart or sequined strapless neckline, metallic accents, a tulle bottom, floral embroidery, spaghetti straps, or even an illusion neckline. Be sure to put the finishing touch on your antiquated look by pinning a birdcage veil on your loose beachy hair do.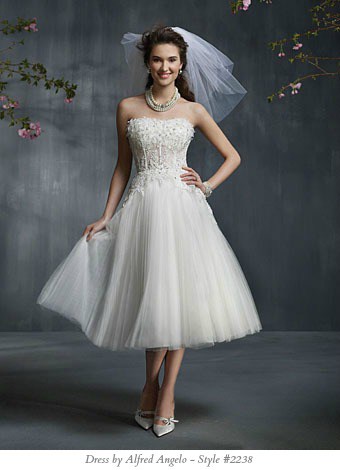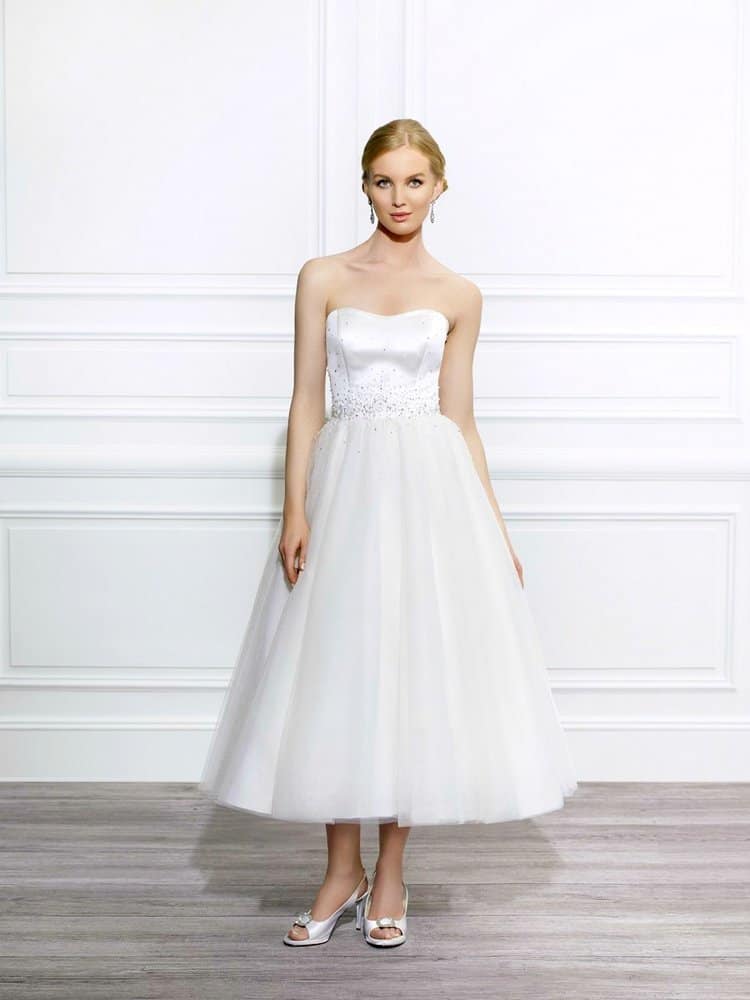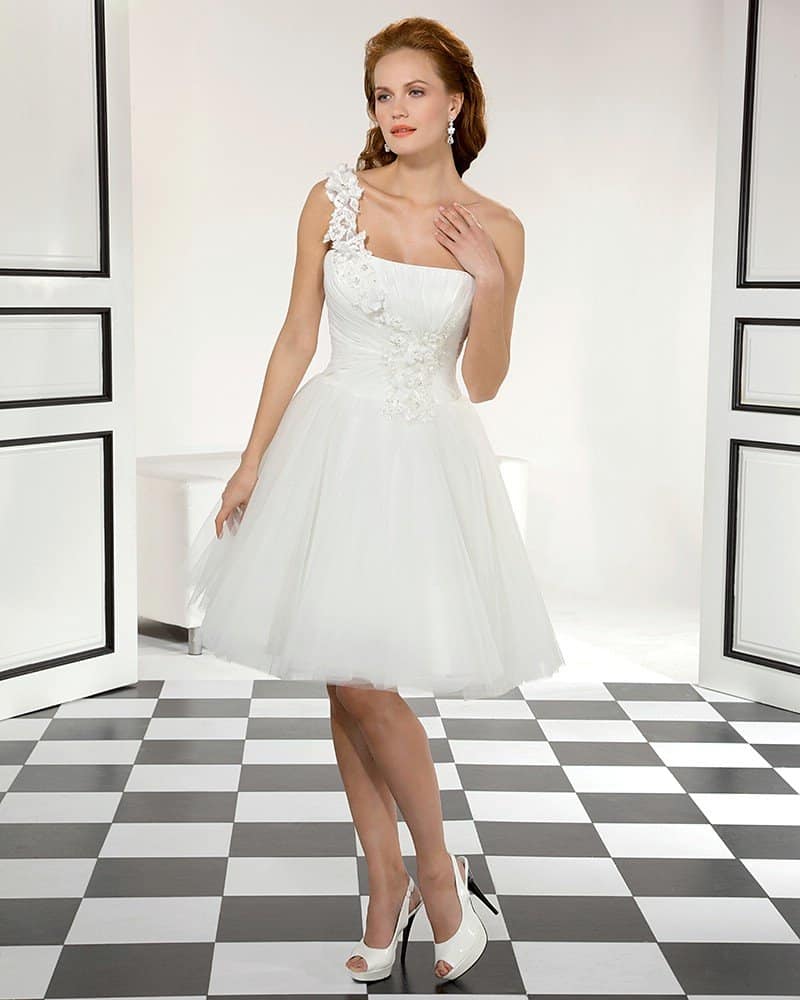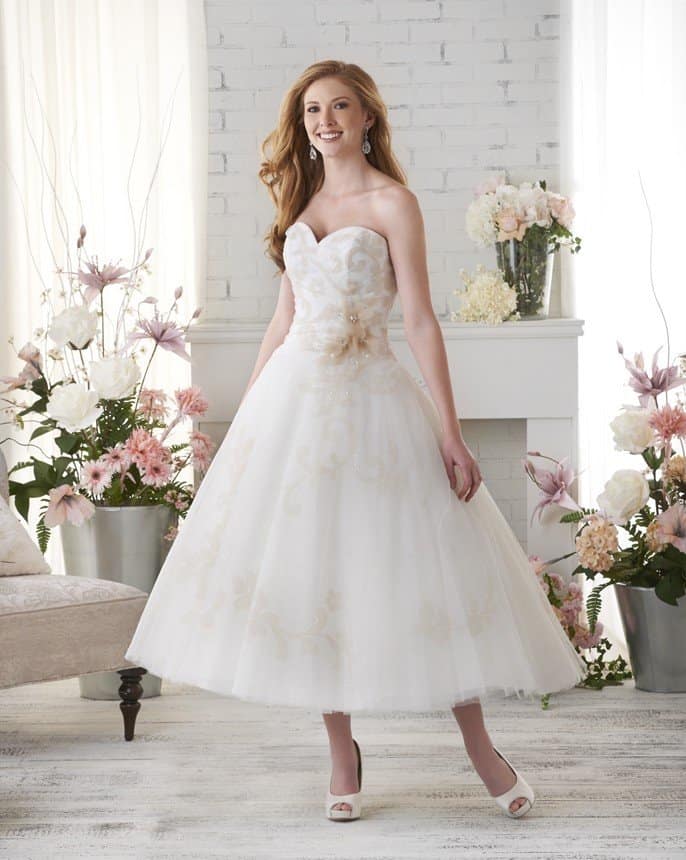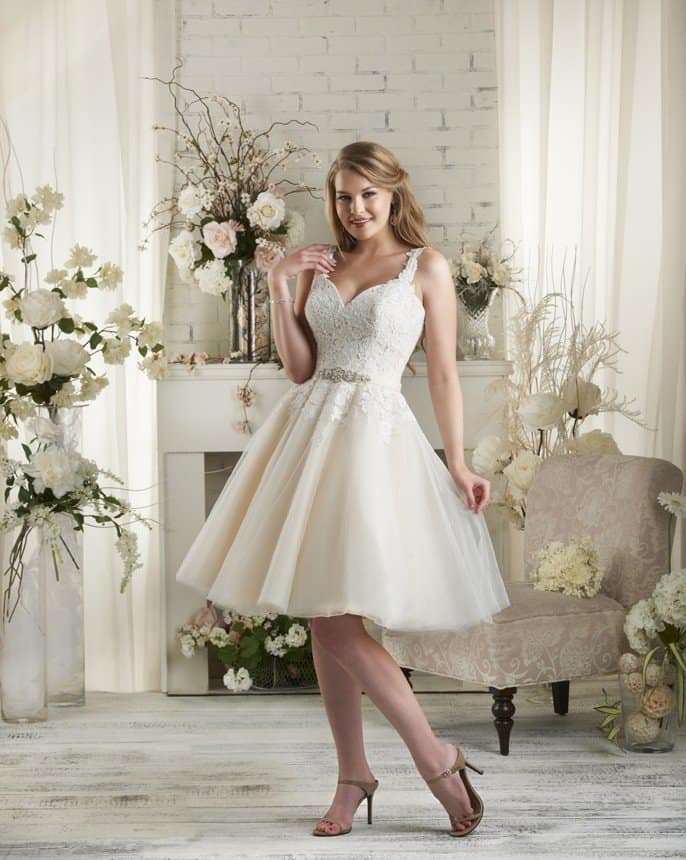 If you have a classic style, select a short, A-line dress designed in soft organza, charmeuse, or satin. Opt for embellishments like ruffles, organza floral appliques, and subtle spaghetti straps that have just a bit of shine and sparkle sprinkled throughout the dress'. Ruching and draped designs on these short dresses will be figure friendly, as the design elements conceal lumps and bumps, and help lengthen the look of your feminine form.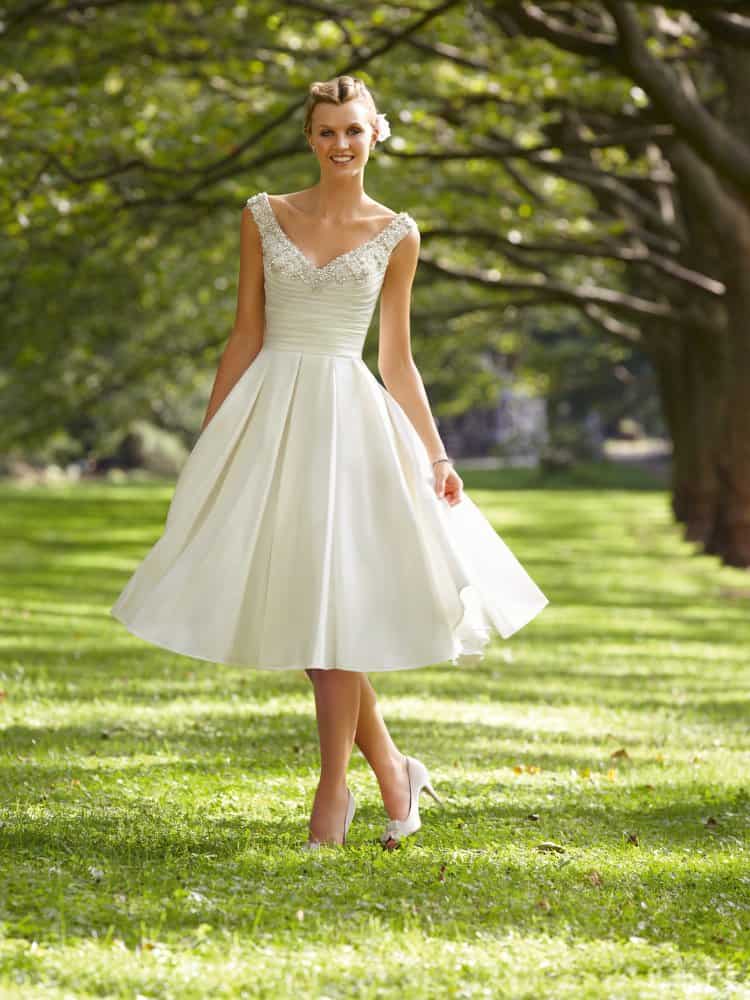 If you have a feminine and romantic sense of style, select a tea length gown designed top to bottom in luxurious lace. This traditional texture looks especially amazing in a high low hemline, which is short in the front and longer in the back. It is simple, completely chic, and looks amazing with rhinestone accents and a sheer fingertip veil.
As you can see, there are many short wedding dresses that will not only be appropriate to wear beach side, but will also convey your personal style!
Photo Credits:
Related Posts You'll Enjoy
Everything you need to know about buying a wedding Dress online without getting scammed