With family in both Canada and Australia, Katie and Josh knew that Hawaii (already a very special place to the two of them) would be the ideal place for their destination wedding!
They envisioned a tropical, tiki-inspired wedding full of modern vintage details and chose a gorgeous venue with natural elements like lush, tropical gardens, and a breathtaking mountain backdrop. Their florals were tropical perfection that added just the right amount of bold color to complement the event without distracting from the natural beauty that surrounded them.
Be sure to check out the amazing stationery from their big day including a custom vintage postcard-inspired wedding poster and the coolest "color in yourself" guest sign-in! Their wedding looks like such a fun event in these photos by Sarah Jual!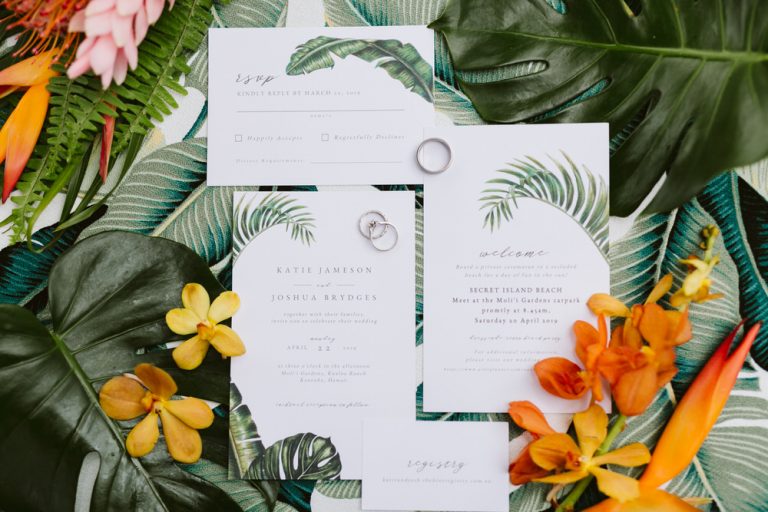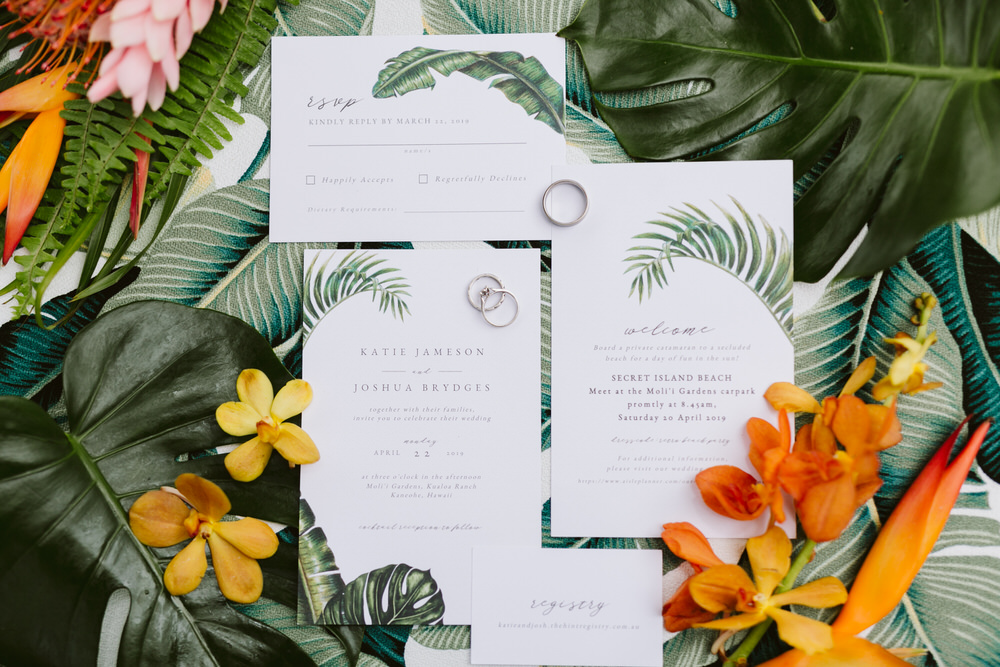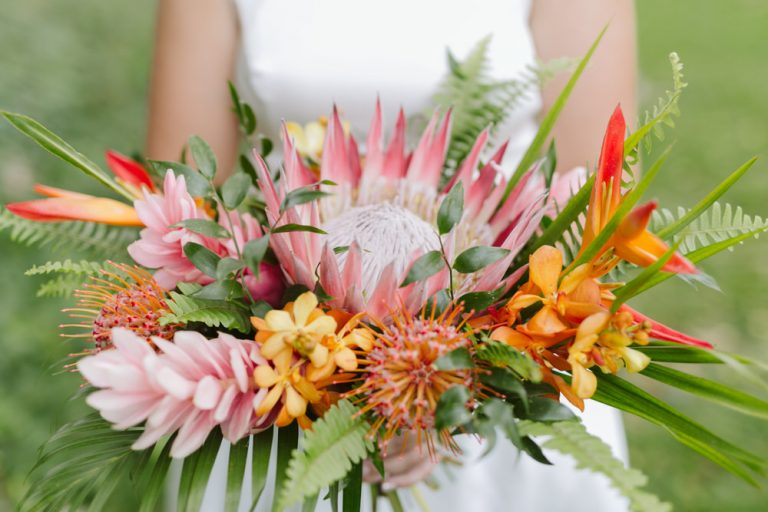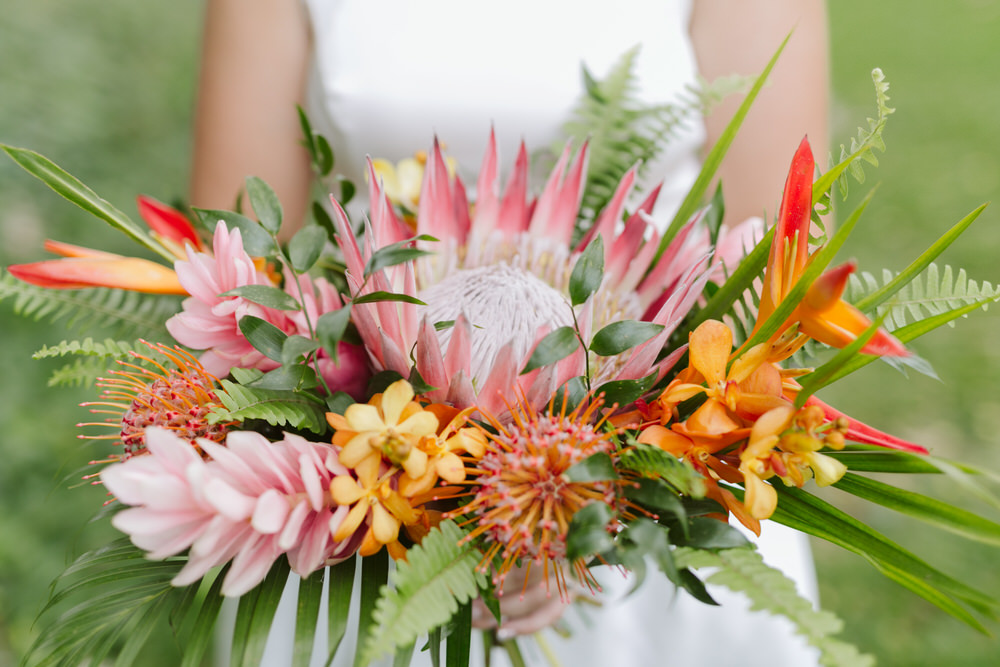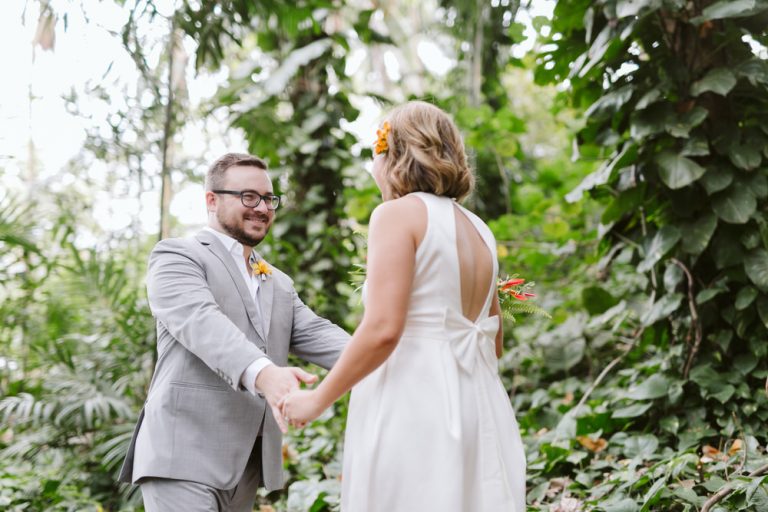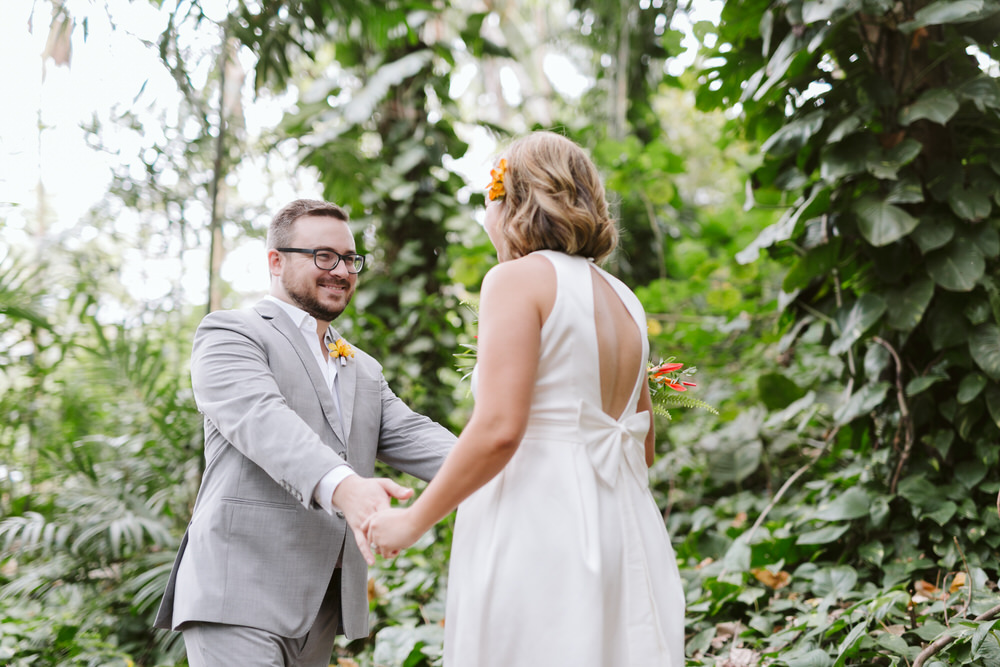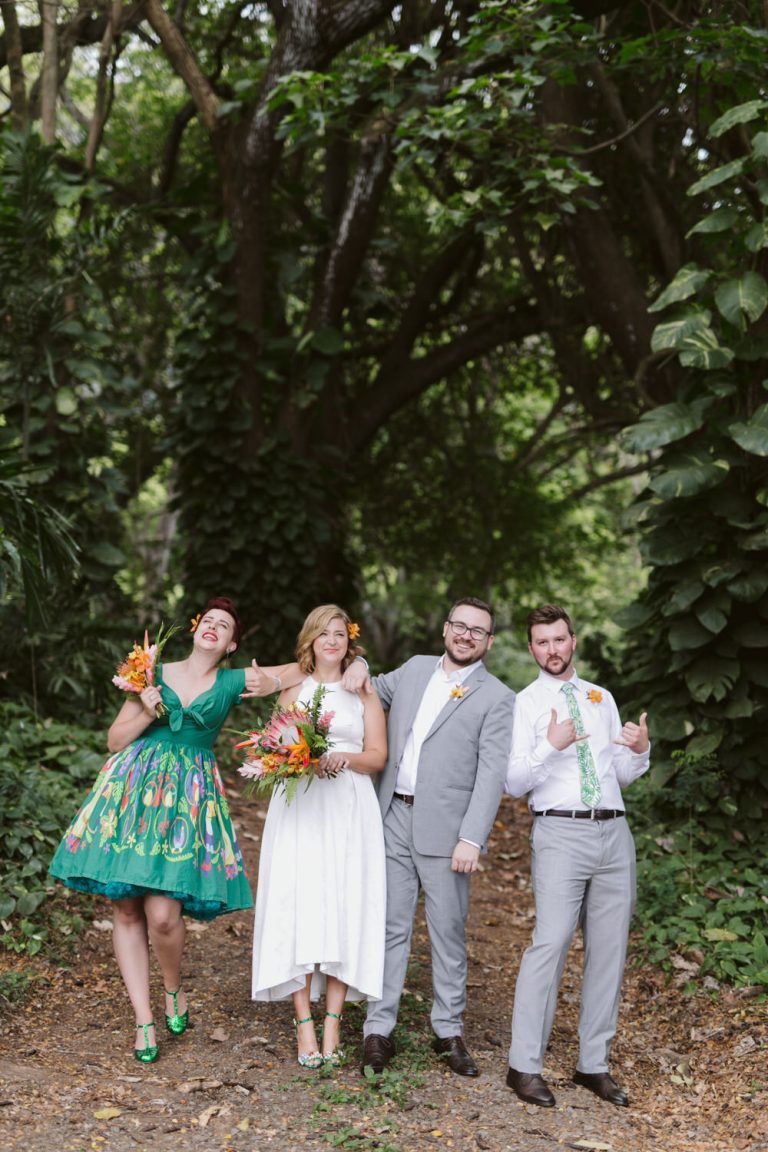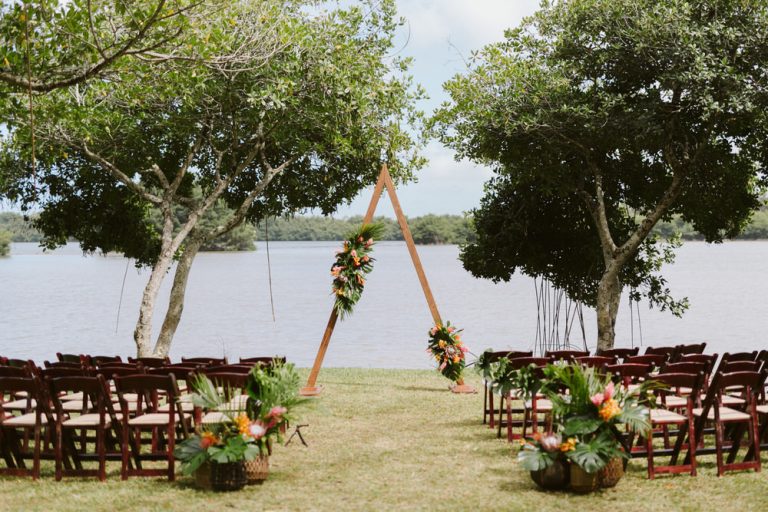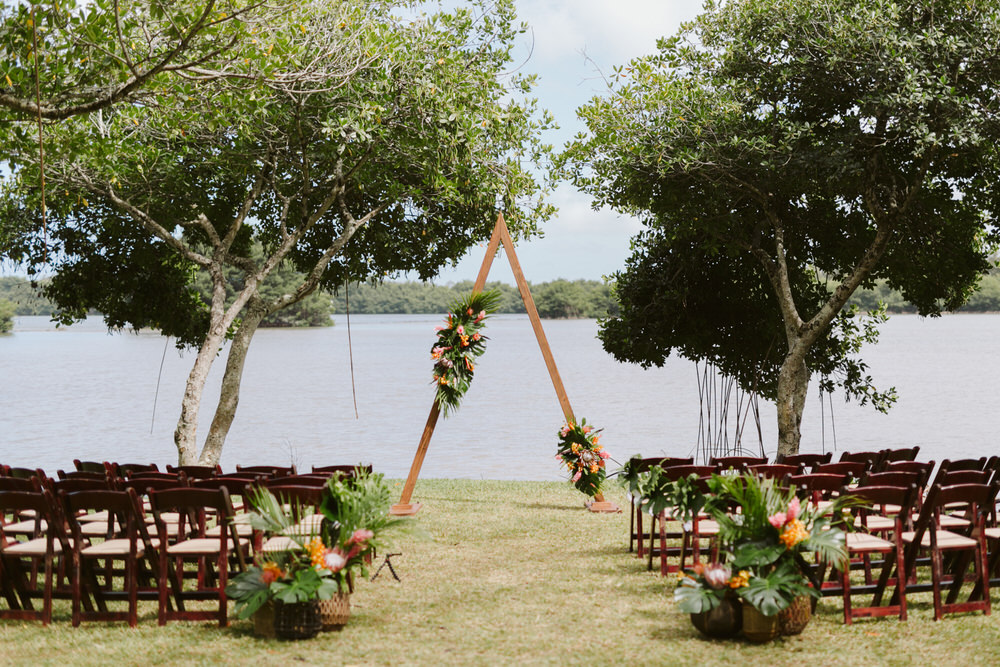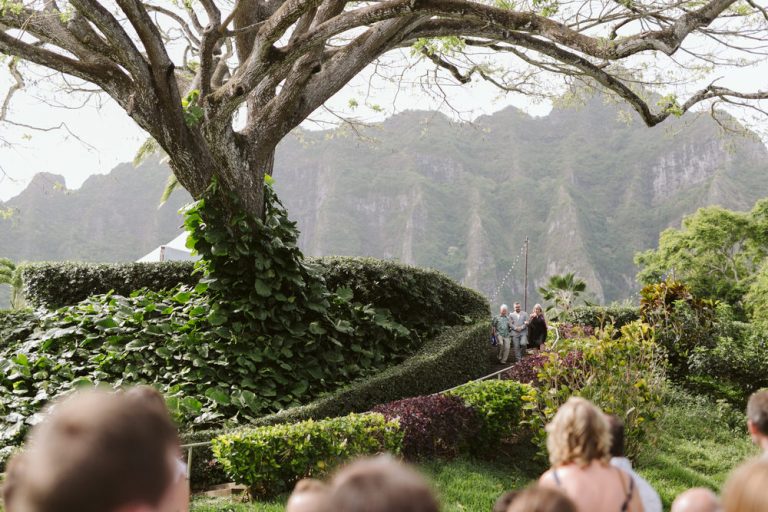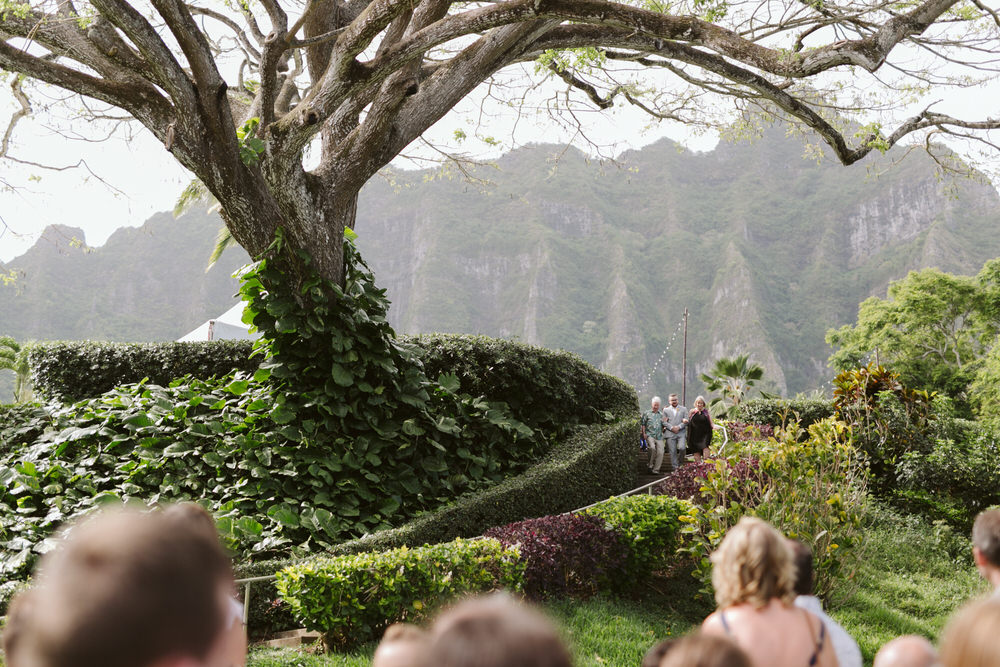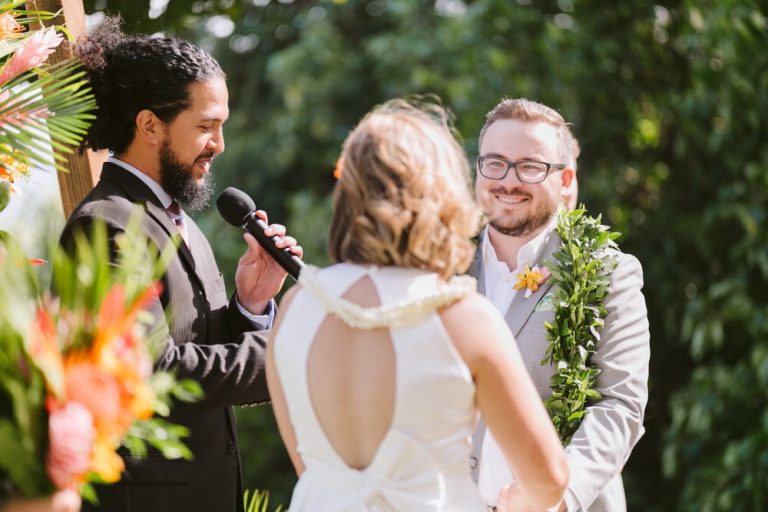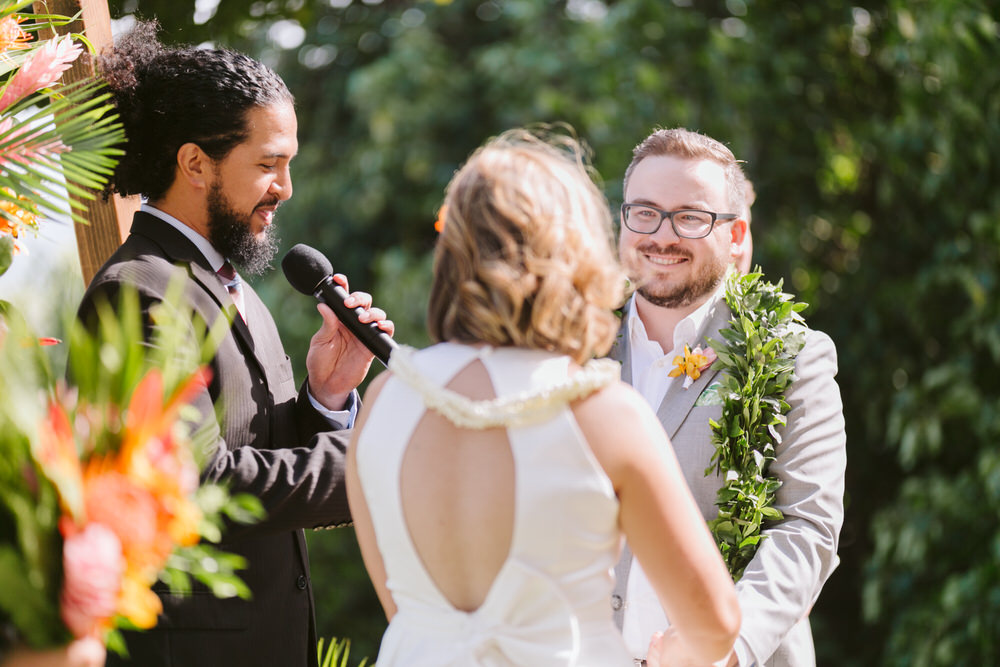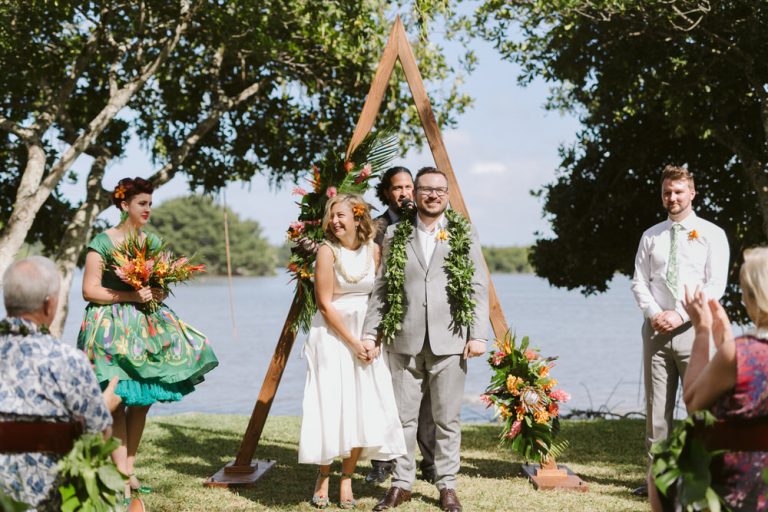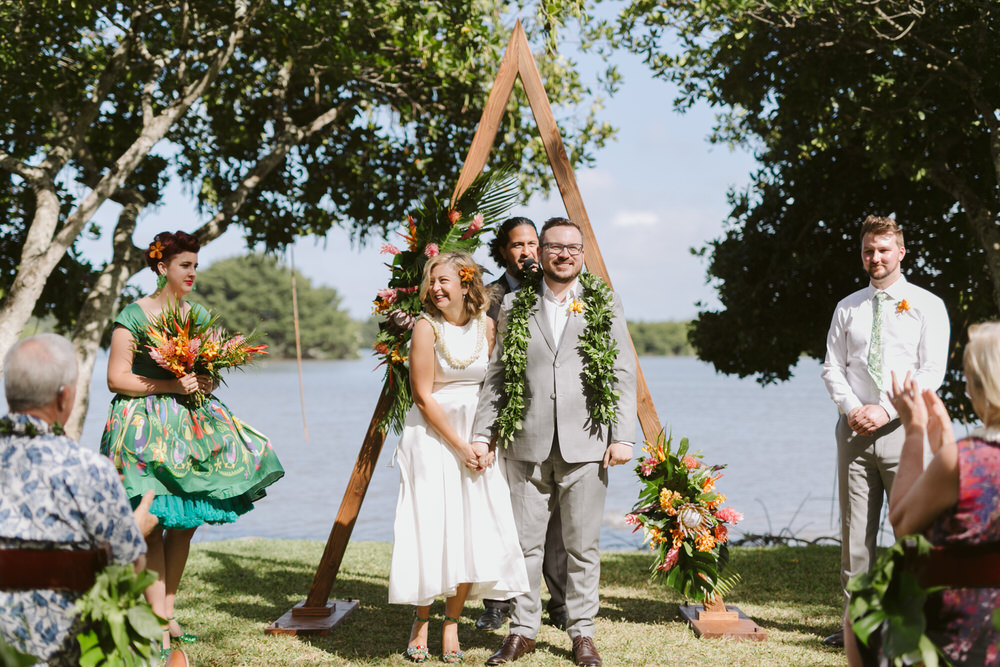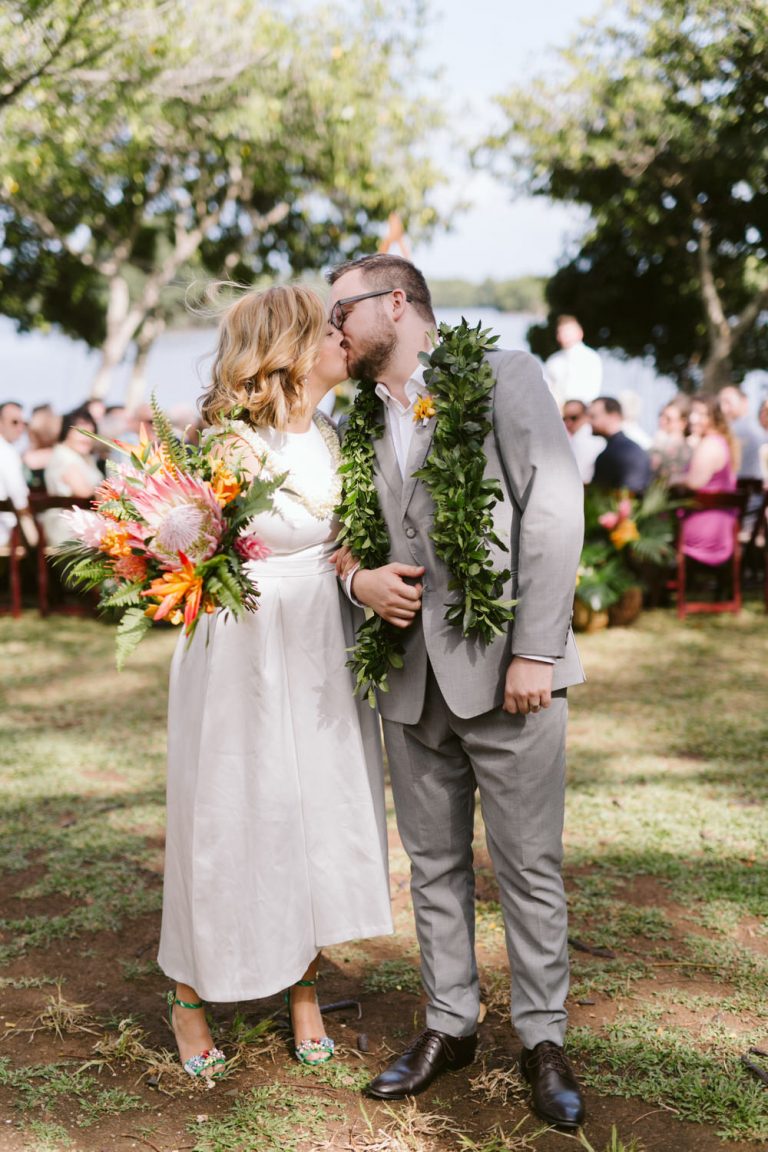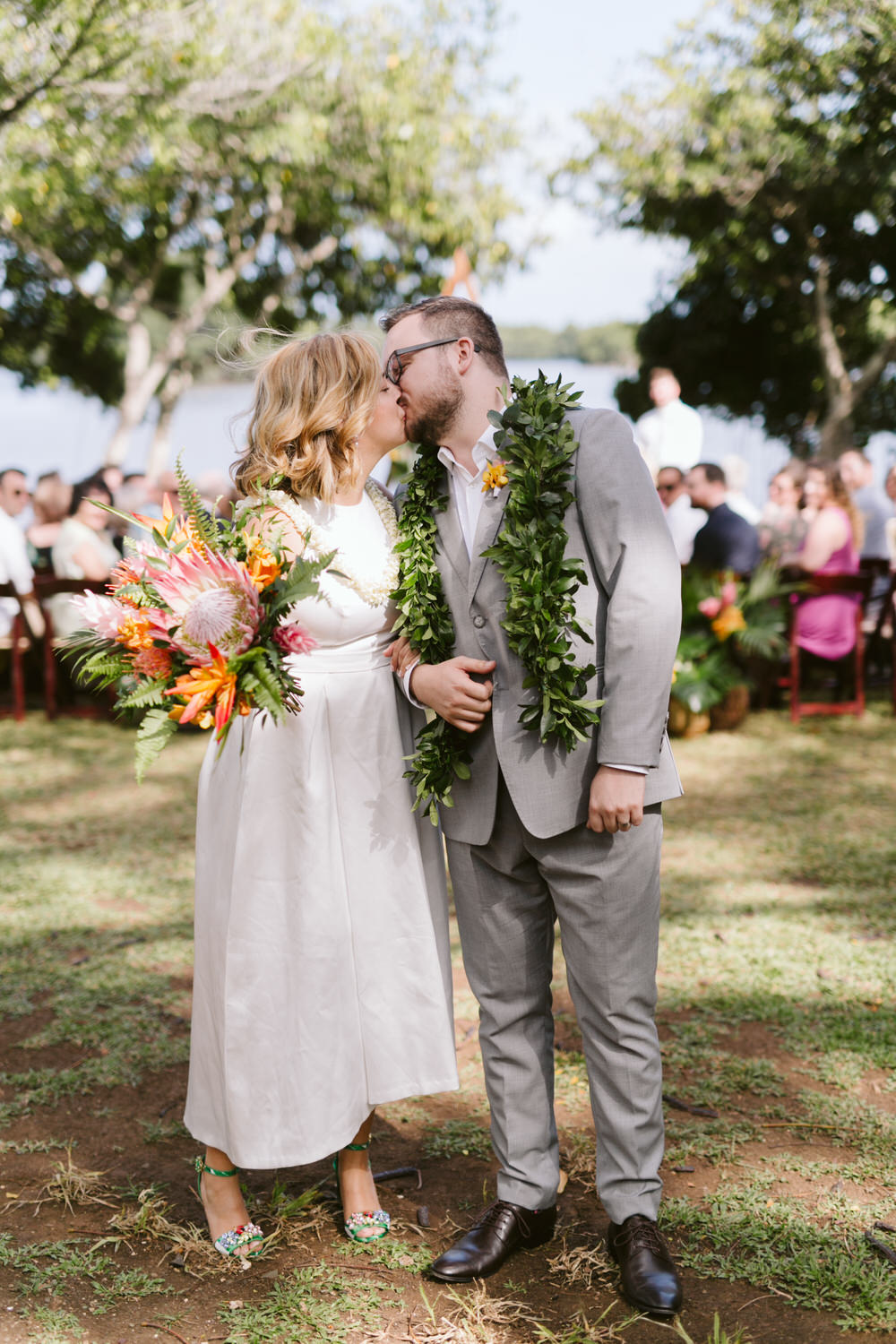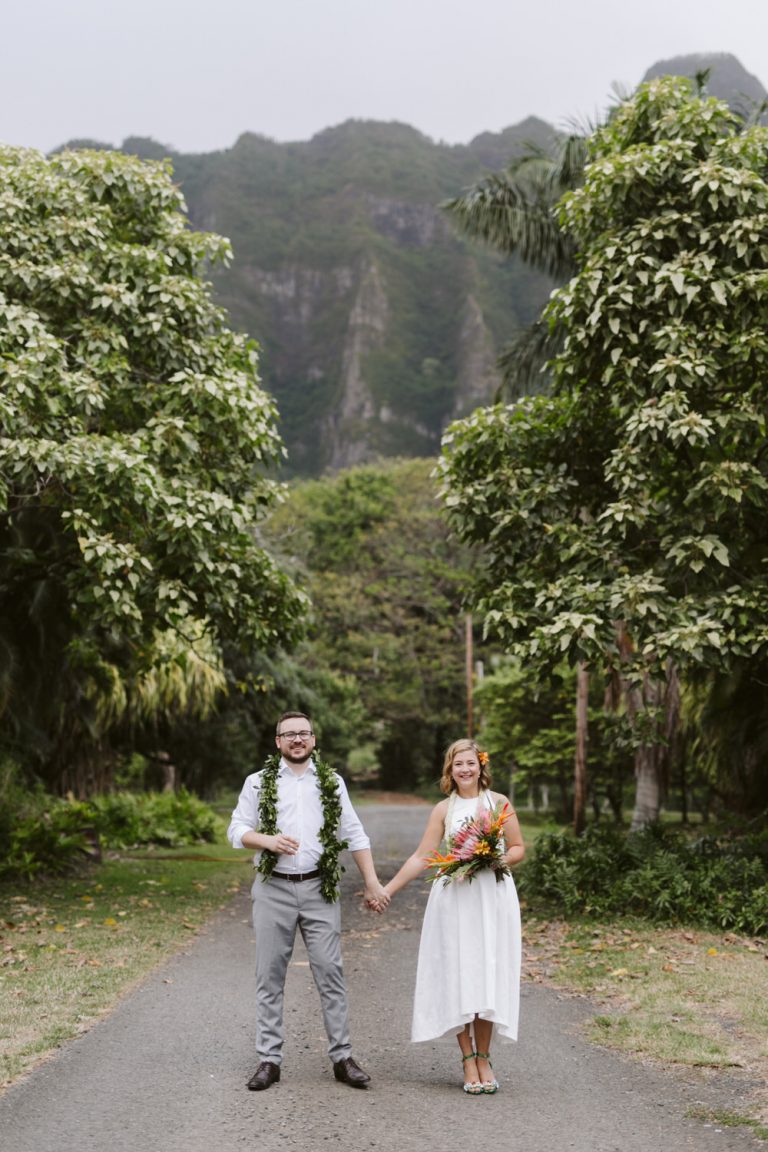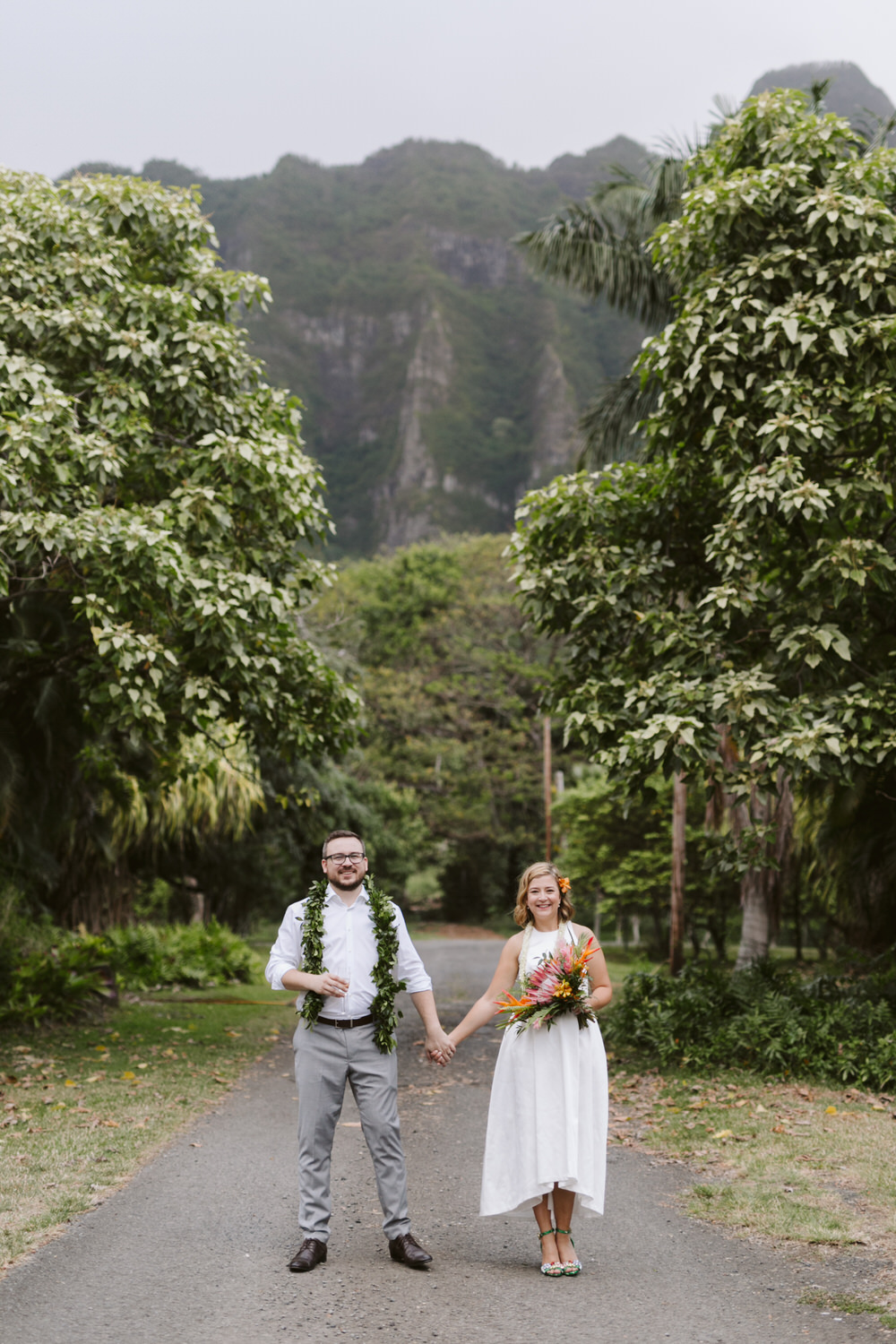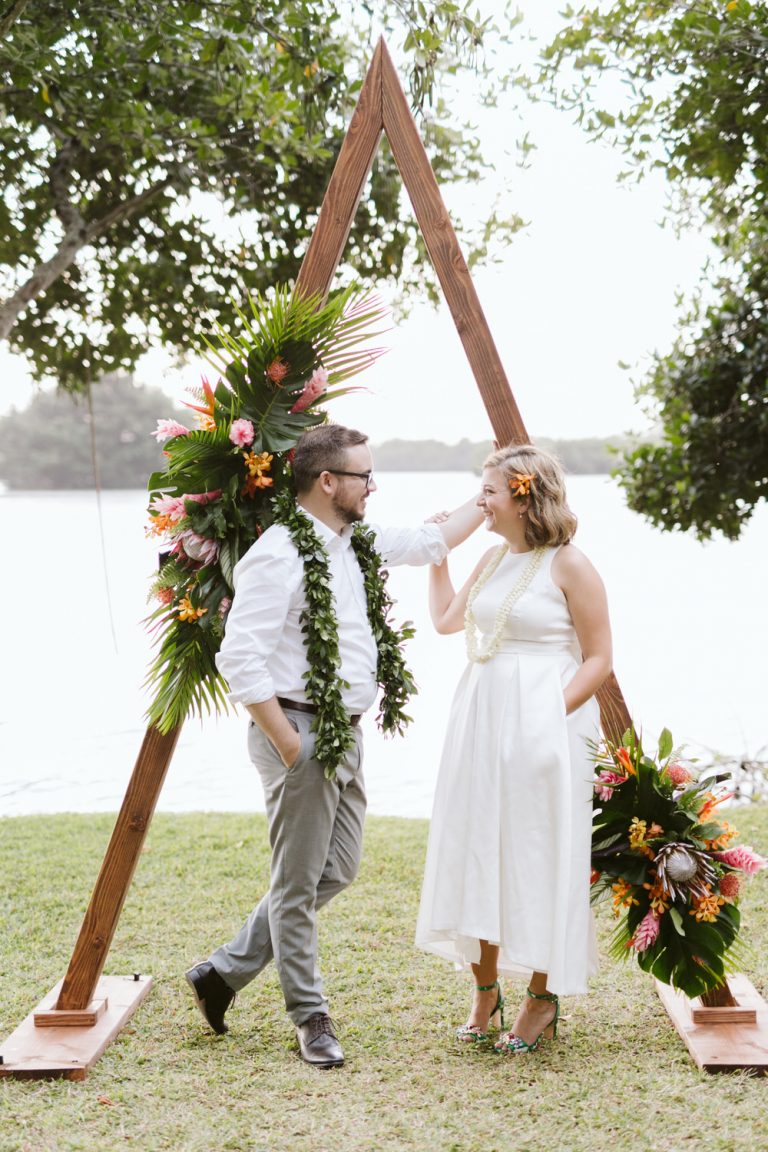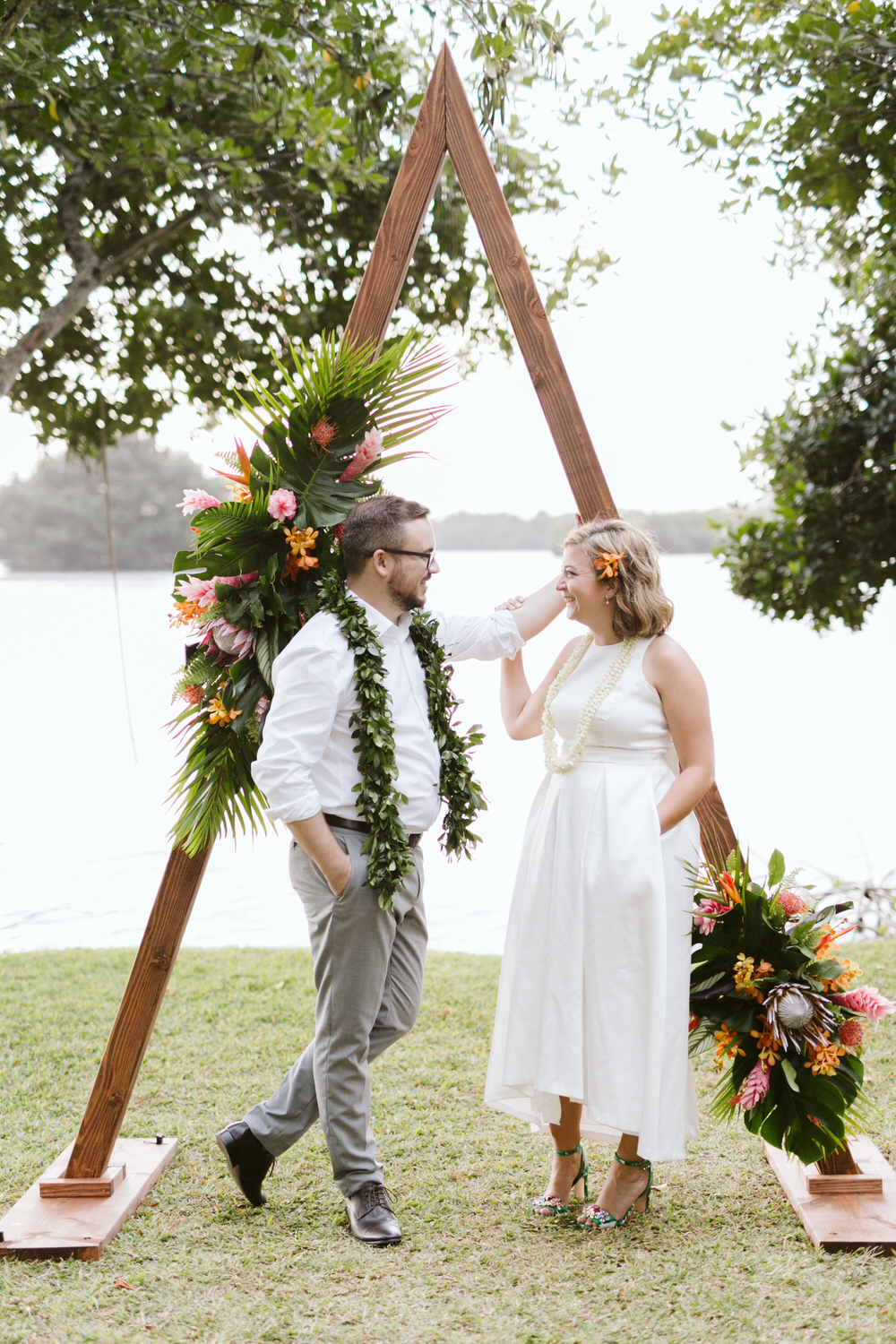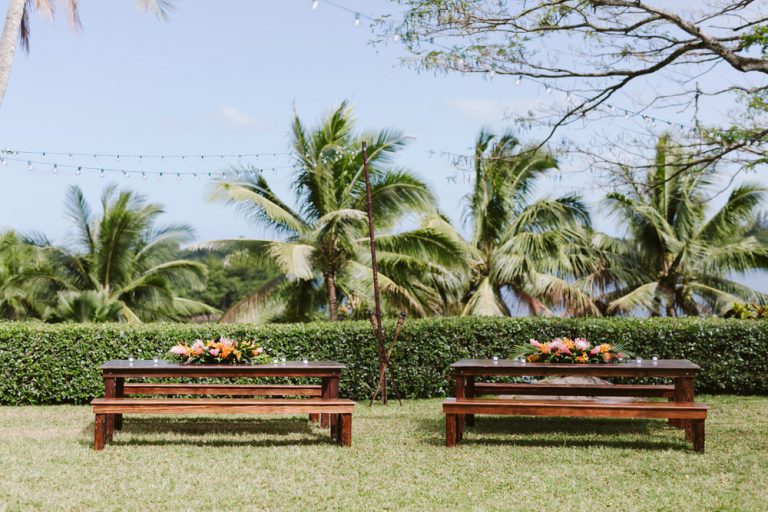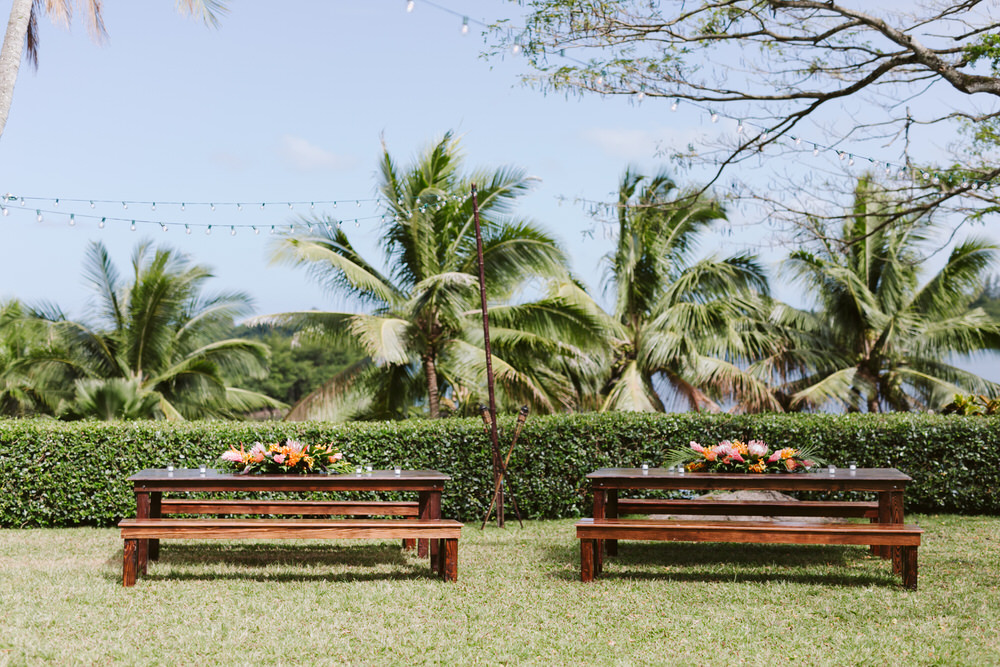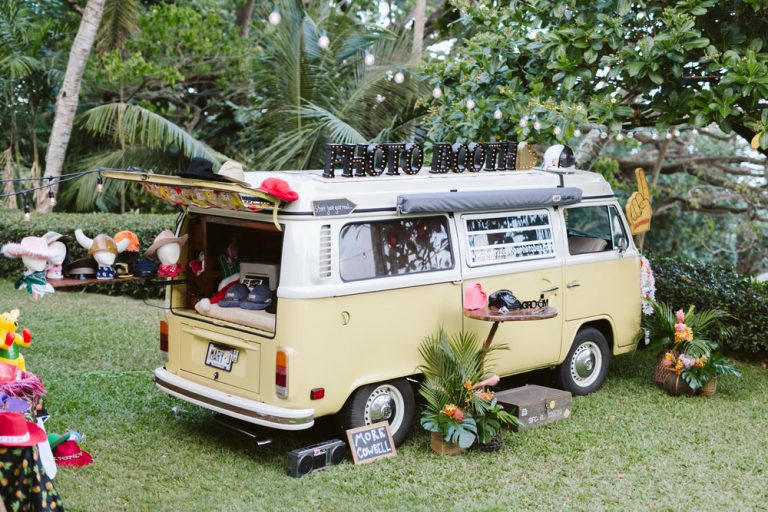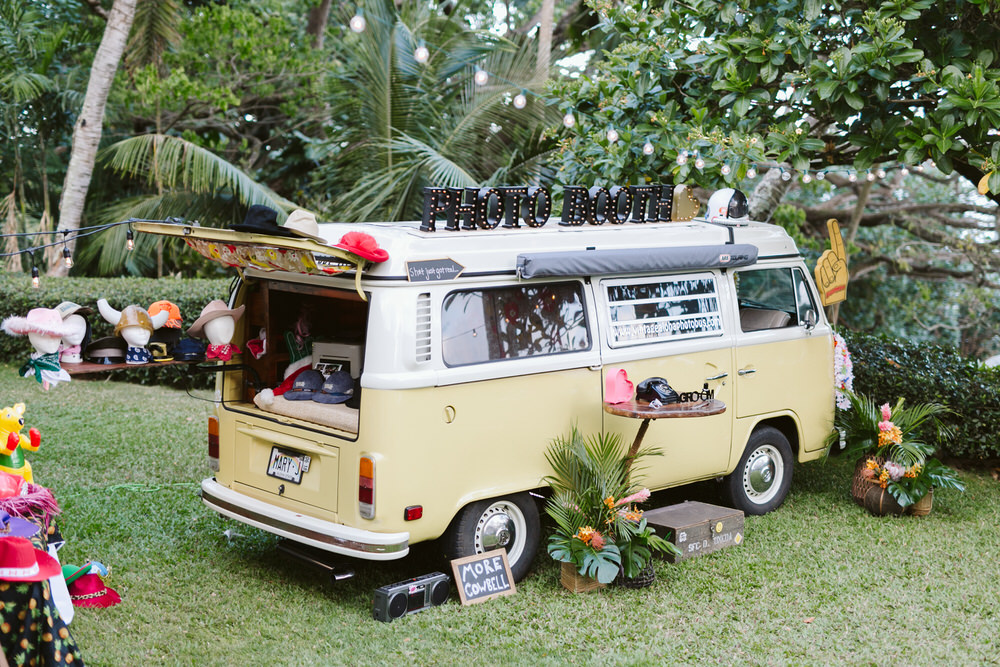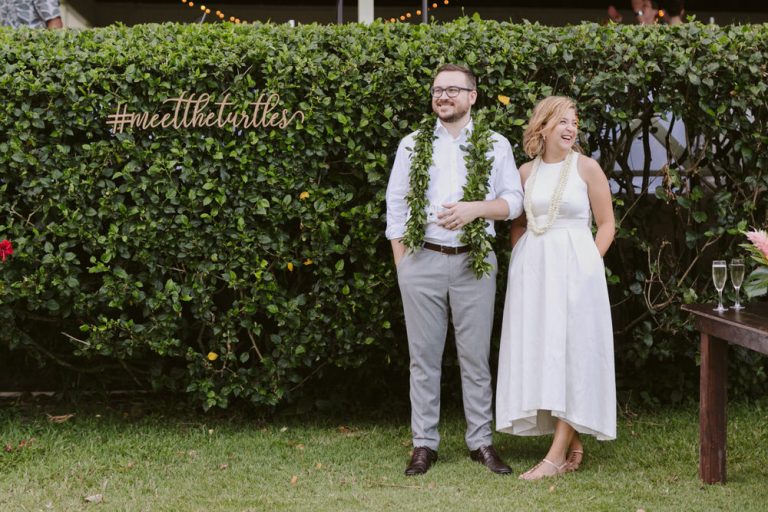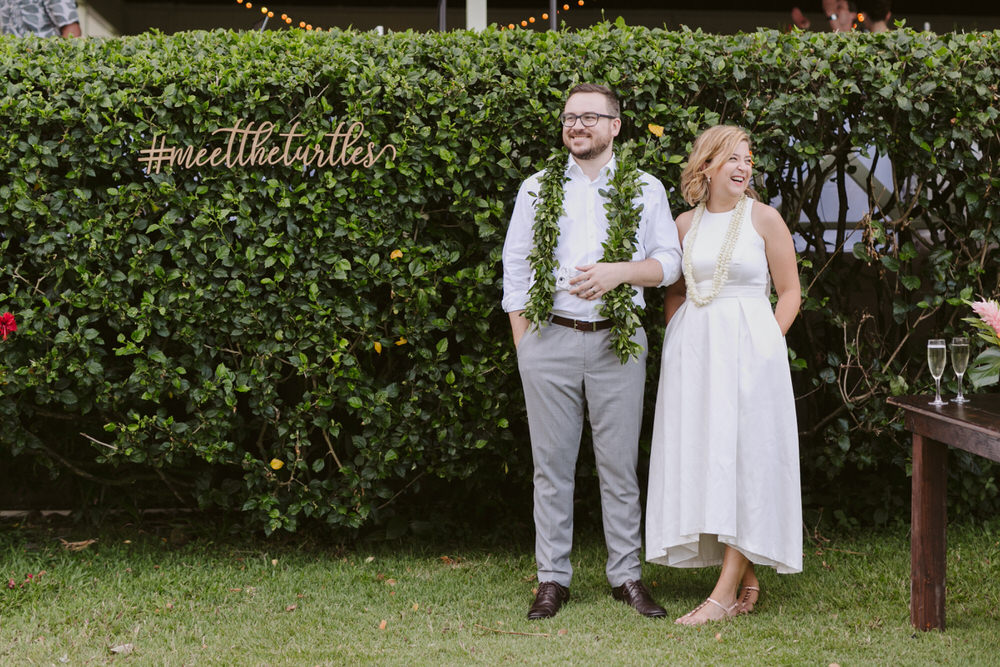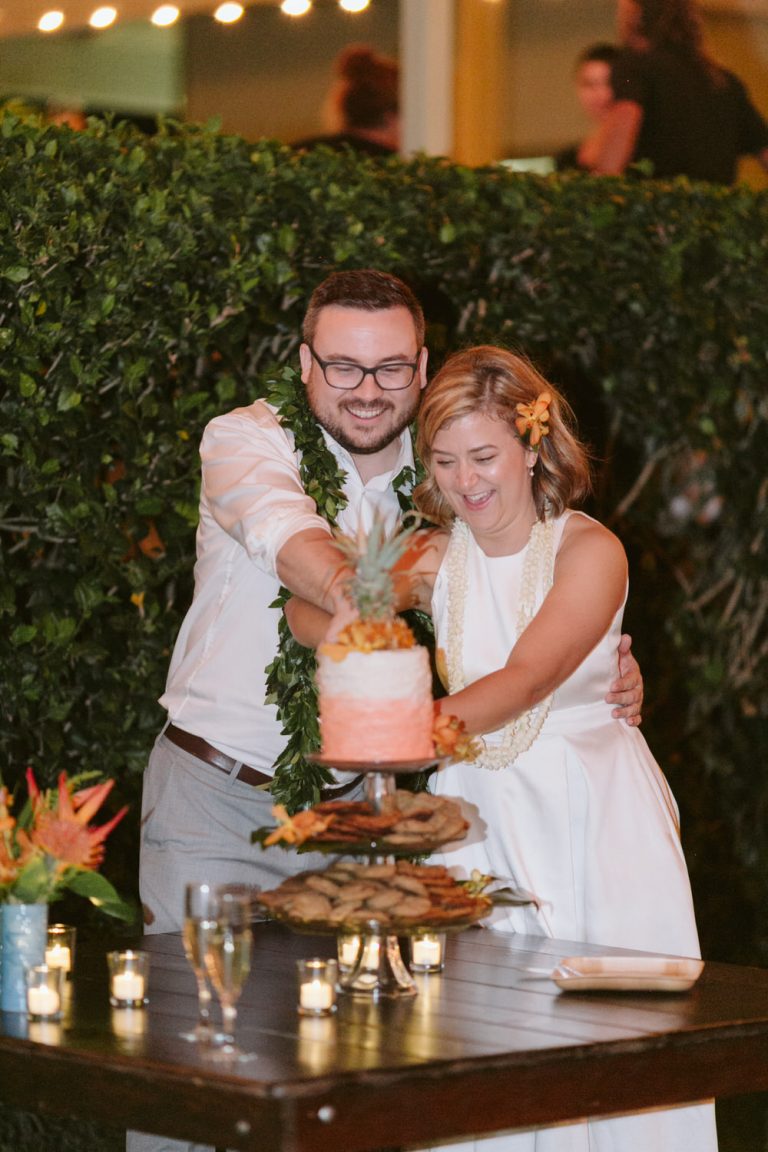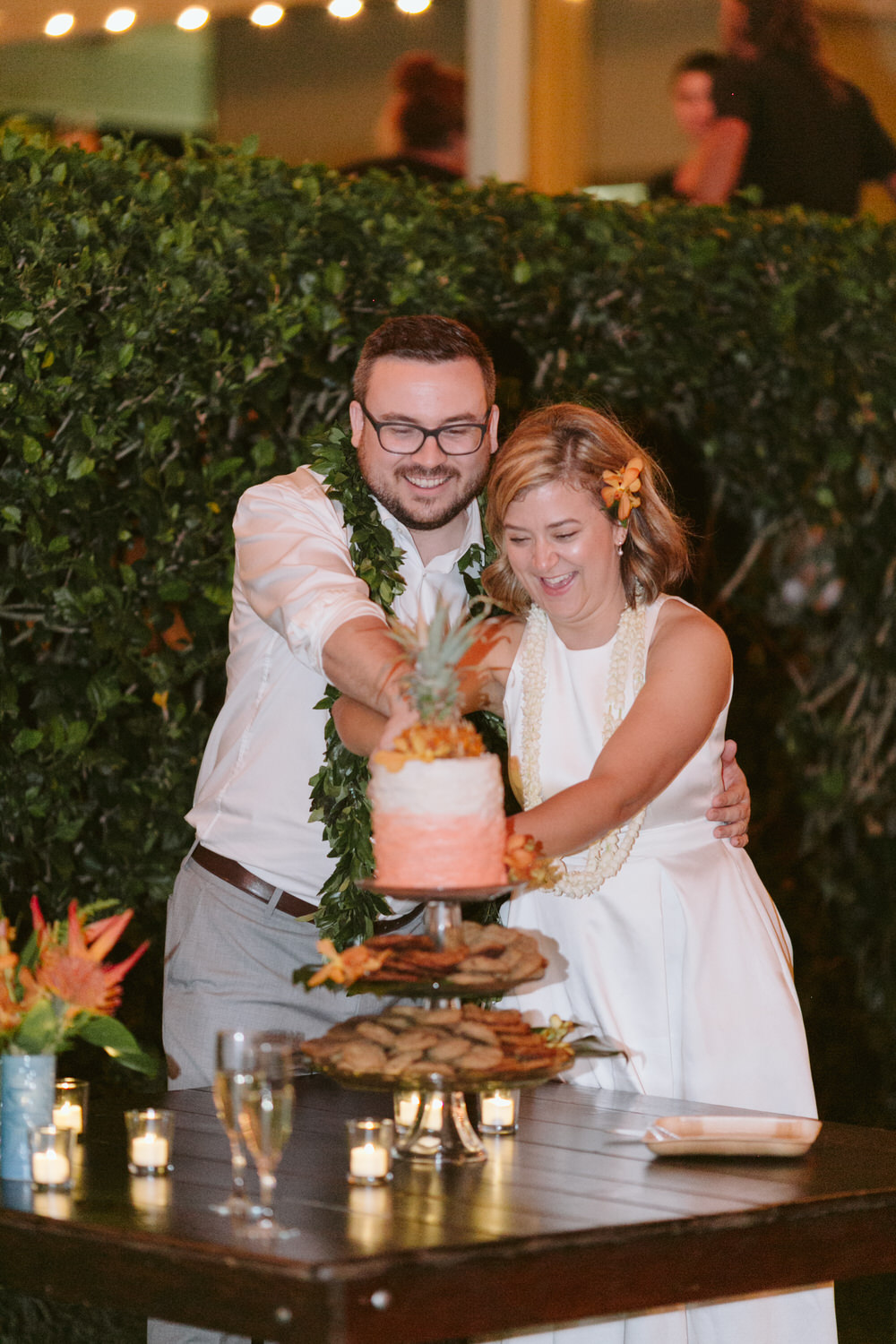 Q&A with the Bride and Groom
How did you meet?
We met in 2010 on a university ski trip. Katie was studying abroad in Calgary, Canada, and Josh happened to be running the trip! We managed a long-distance relationship for the better part of a year before Josh ventured to Sydney, Australia (Katie's hometown) on his own study abroad for 12 months. Following that, Katie followed him back to Canada for 2 years, and we've since been back in Australia for about 5-6 years!
What is your proposal story?
In December 2017, we went on a 4-week winter trip to Europe. A series of mishaps with weather and flights led to our luggage going missing for around 4 days. Josh was overly concerned (he's normally very relaxed about things like this) and spent 3 hours on the phone with various airlines before eventually locating our bags and arranging their delivery. Katie was impressed at his initiative but didn't think about it too much. Little did she know he had packed an engagement ring! We spent Christmas in Copenhagen, Denmark. Once again, Josh's outdoor daytime proposal plans were thwarted by weather. He ended up surprising Katie after dinner on Christmas day in the plaza of the Amalienborg palace. It was raining lightly and a little cold but neither of us noticed (or maybe that was the wine from dinner?)
Tell us a little a bit about your wedding vision
Hawaii has always held a special place for both of us. It was our first overseas trip together, we've visited with both our families and it's halfway between Australia and Canada – what's not to love! In keeping with that, we wanted an outdoor venue that paired with our green, tropical tiki plan, and Moli'i Gardens ticked all the boxes: lush, tropical gardens, mountains, water, and with multiple spaces for different aspects of the day (we didn't want to have separate ceremony and reception venues). Louise at Love Letter Weddings helped us add pops of pink and orange and incorporate our love of travel into our decor, and we DIY-ed a few aspects to make it ours.
Tell us about your attire.
The designer dress Katie originally wanted was slightly out of her budget, so a friend suggested that she inquire with a well established label/tailor in Hoi An, Vietnam (Yaly Couture) while on a trip there in 2018. They were able to design and make an even better wedding dress for her for a fraction of the cost in 4 days flat! The eventual dress was made from white mikado silk with a hi-lo hemline and a full skirt that fell just above the ankle, and open back with a detachable bow. She paired her budget dress with tropical jungle print heels from Dolce & Gabbana, embellished with rhinestone bugs. Her jewelry and accessories were a combination of various family heirlooms and gifts. Josh's suit was also from Yaly Couture, which he wore with a white shirt from Hugo Boss and brown leather shoes from Australian label Acquila. The Maid of Honour (Katie's sister, Liz) wore a dress from Vintage Inspired by Jackie with a customized neckline. The dress featured a print inspired by the Enchanted Tiki Room at Disneyland!
Was there anything that you chose to splurge on or skip?
We chose to spend the most on food, because of every wedding we have ever been to, that is what makes or breaks it! We also chose to do a reconnaissance trip to Hawaii 10 months prior to the wedding (with our mothers in tow!). This extra expense gave us the chance to see our venue in person, and meet with various vendors including our amazing photographer Sarah Jual. It also cemented that we couldn't have pulled any of this off without the services of our wedding planner, Louise from Love Letter Weddings. We saved some cash by doing quite a few decor items ourselves, skipping a videographer, and purchasing all our drinks for the bar from costco!
What were your favorite parts of the day?
The ceremony was a complete blur for both of us, but we really enjoyed finally getting to mingle with our guests during a cocktail hour. We didn't regret our choice to not have a sit-down meal, but rather continuous food and drink with plenty of casual seating options. It meant the whole event flowed so well. It was all over way too quickly!
What did you do for favors?
We put these together ourselves, and were so happy with them! Each guest received their favors during cocktail hour to use throughout the evening – re-usable metal drinking straws presented in a handmade canvas bag.
Did you include any family heirlooms or special traditions?
Katie carried a vintage handkerchief that was her grandmother's, which was her something old. Her pearl earrings were also grown on an oyster farm the same bay where her parents lived. Katie's dad also made the box for the rings with wood from a tree in his yard.

We also added personal touches to our food and drink menu, and Ke Nui Kitchens made sure we were well fed and watered. We each designed a cocktail (Josh chose a "Rye-Tai", his whiskey take on a Mai-Tai; Katie went for a Grapefruit Gin and Tonic). There was also a taco bar and a noodle bar (our favorite foods), mini pavlovas and a midnight snack of chicken and waffles.
Do you have any advice for couples planning their destination weddings now?
If you are planning a destination wedding, hiring a local wedding planner is INVALUABLE! It might feel like a big expense, but having a local who can be your eyes, ears, and boots on the ground made the whole day (the whole week, really) run so smoothly. We wish Louise and her team could manage our everyday lives!
What was the biggest challenge when planning your destination wedding?
Initially, it was challenging when we arrived in Hawaii as while all our friends were enjoying a vacation, we had to switch to full-on preparation mode. Wrangling close to 100 family and friends all vying for our attention also proved a little tricky.
What was the best part of having a destination wedding?
The best part was seeing our family and friends from all over the world in one place and having an amazing time. One year on, it seems like people are still talking about the amazing time they had.
Vendors
Photography: Sarah Jual
Venue: Kualoa Ranch Hawaii Inc
Floral: love letter weddings
Furniture Rentals: Aloha Artisans
Rentals: Accel Rentals
DJ: The Perfect Wedding DJs
Ceremony Musicians: Jeremy Hirokawa
Photo Booth: The Vintage Aloha Photo Bus
Hair & Makeup: Reveal Hair and Makeup
Catering: Ke Nui Kitchen
Bride and Groom Attire: Yaly Couture
Bride's Shoes: Dolce & Gabanna
Bridesmaid Dresses: Vintage Inspired by Jackie
Check out our Hawaii Destination Wedding Guide for more real weddings, tips, vendors, and more.