When these photos of Jaynice & Daniel's destination wedding in Puerto Rico landed in my inbox, I was completely blown away. Every detail from the attire to the flowers and decor was absolutely stunning. But what I love most is that the entire wedding was an epic celebration of love, family, culture, and travel.
After Hurricane Maria devastated the island, Jaynice & Daniel were forced to delay their plans. But these pictures by Camille Fontánez are proof that some things are worth the wait! I'm so moved by this couple's story and the deeply meaningful details of their big day. Daniel's Puerto Rican heritage motivated them to want to host a multi-day affair with a big guest list so they could play a small part in stimulating the local economy when Puerto Rico needed it most. And that's just the beginning! Once they chose the perfect venue, they found ways to incorporate family, travel, and romance into every detail.
The Moroccan look and feel that influenced the vibrant colors and decor were inspired by the year Daniel spent living in Morocco while Jaynice was in Ethiopia serving in the Peace Corps. I love that they chose to have an unplugged ceremony. I can only imagine how amazing and emotional it was having 128 people locked into the moment as they exchanged their vows. And the way they were able to incorporate a memorial to honor loved ones who've passed away was just beautiful.
Check out all the gorgeous details below and make sure you scroll down to read our interview with the bride where she shares her inspiration and advice for others who are planning a destination wedding.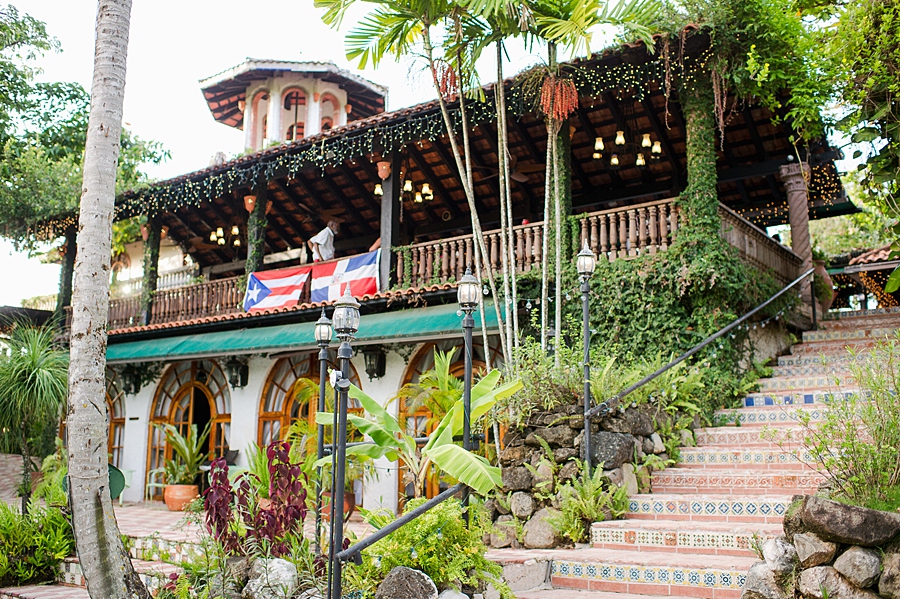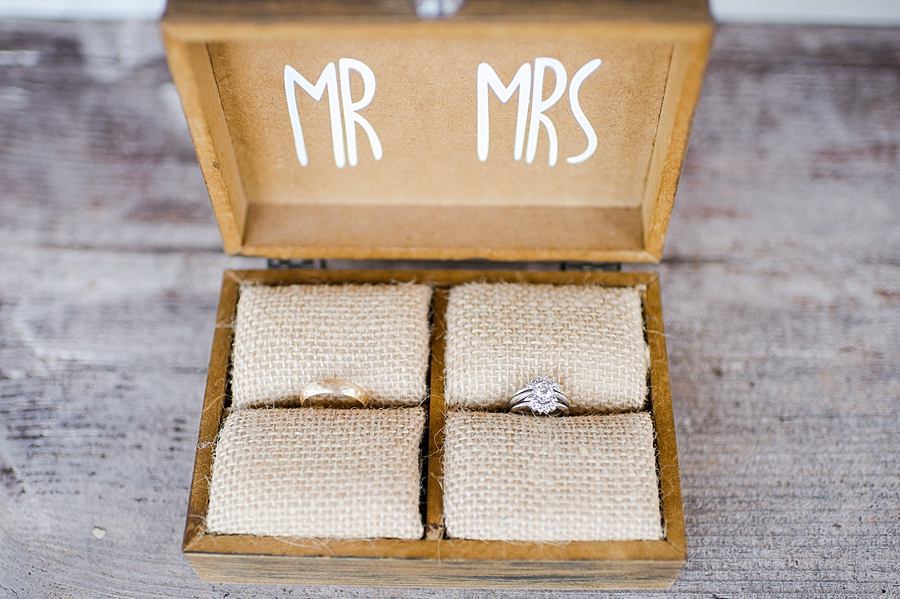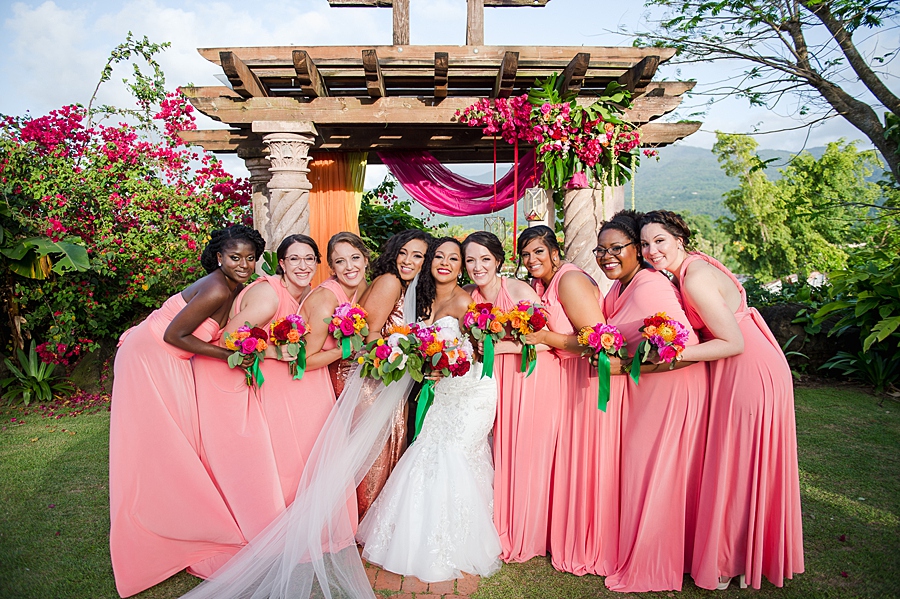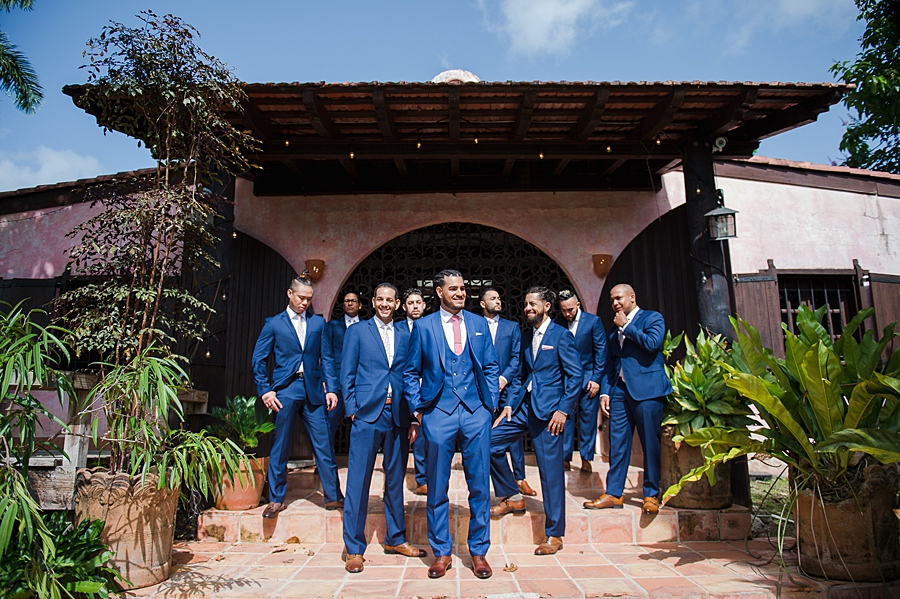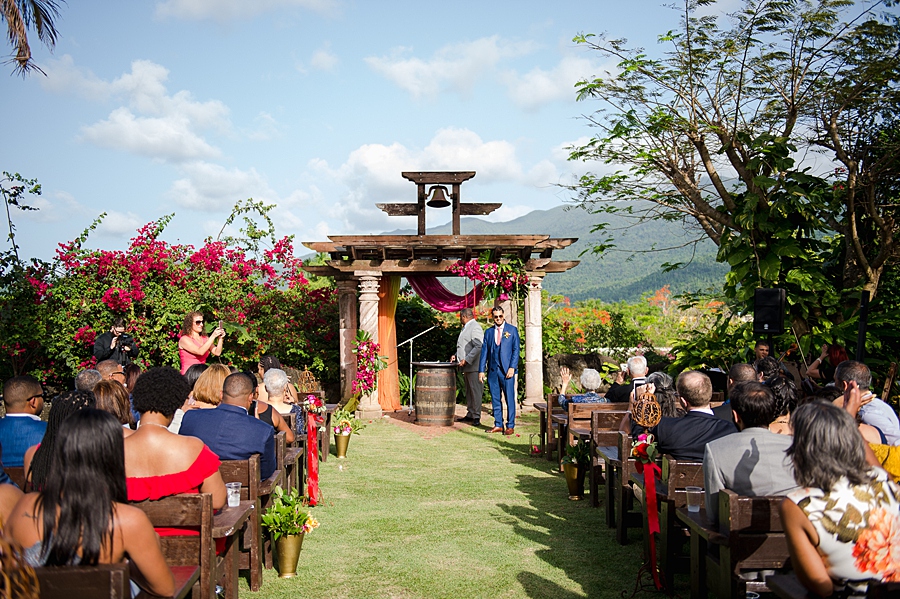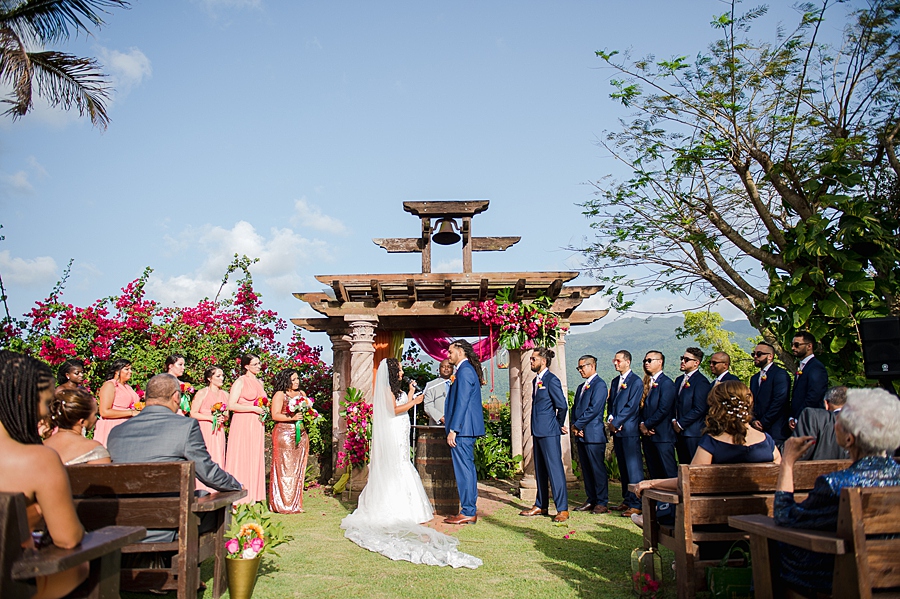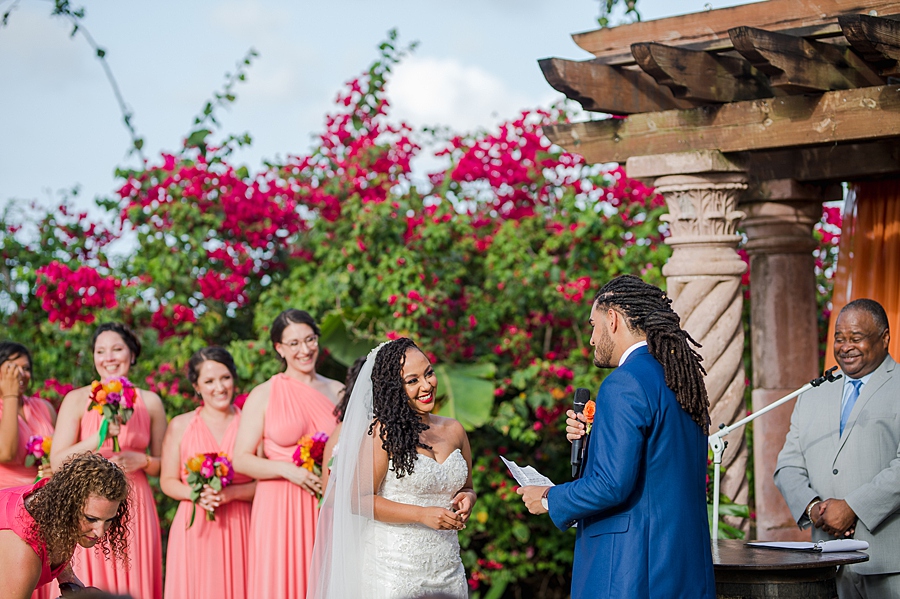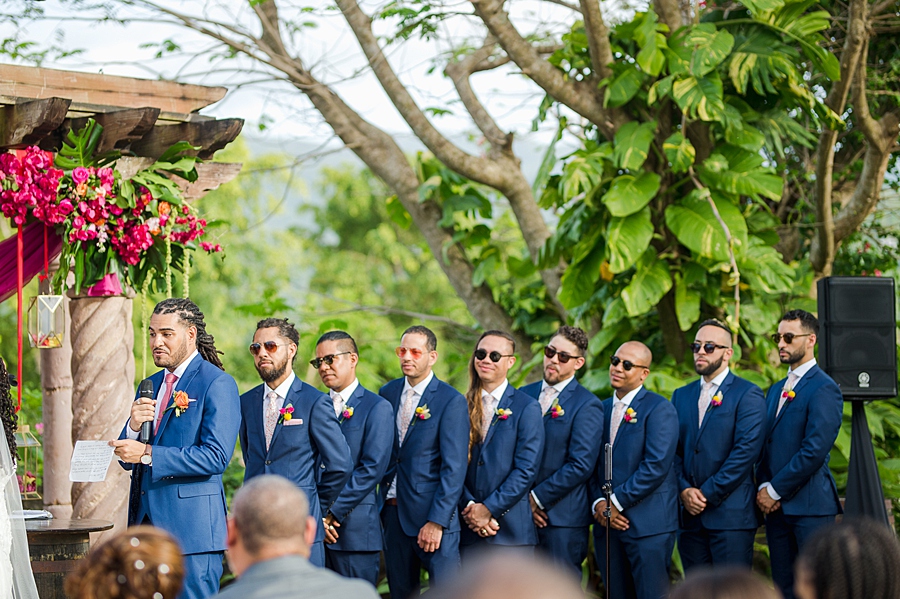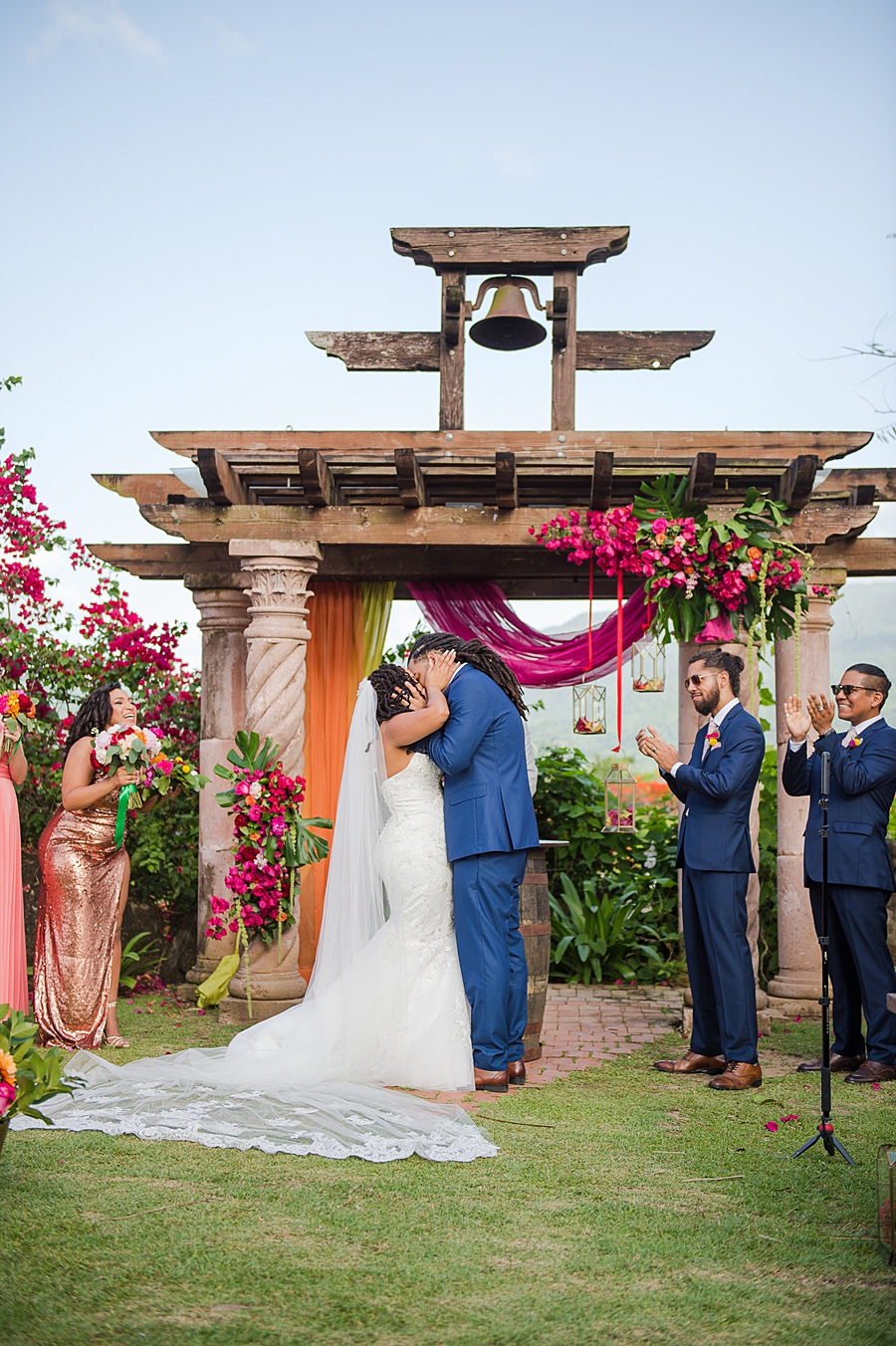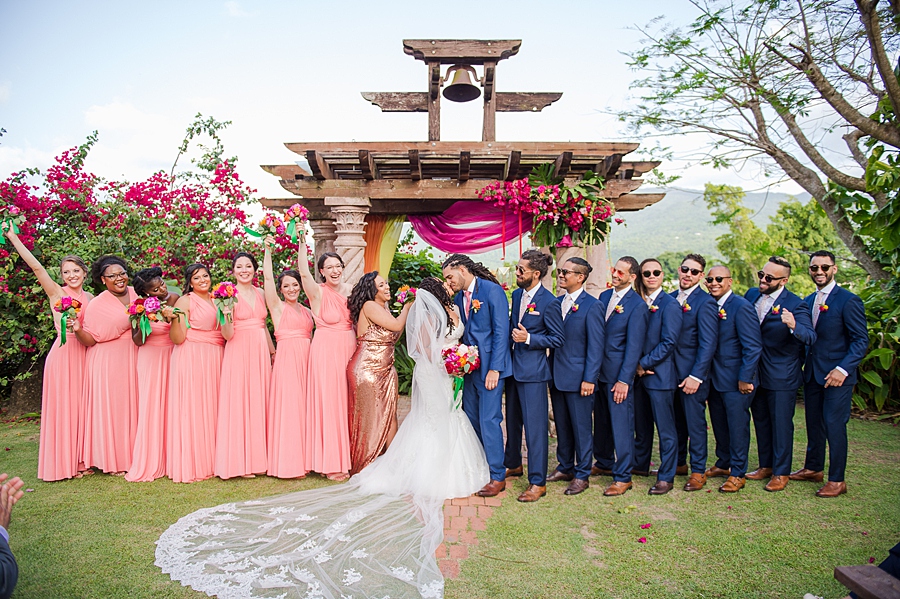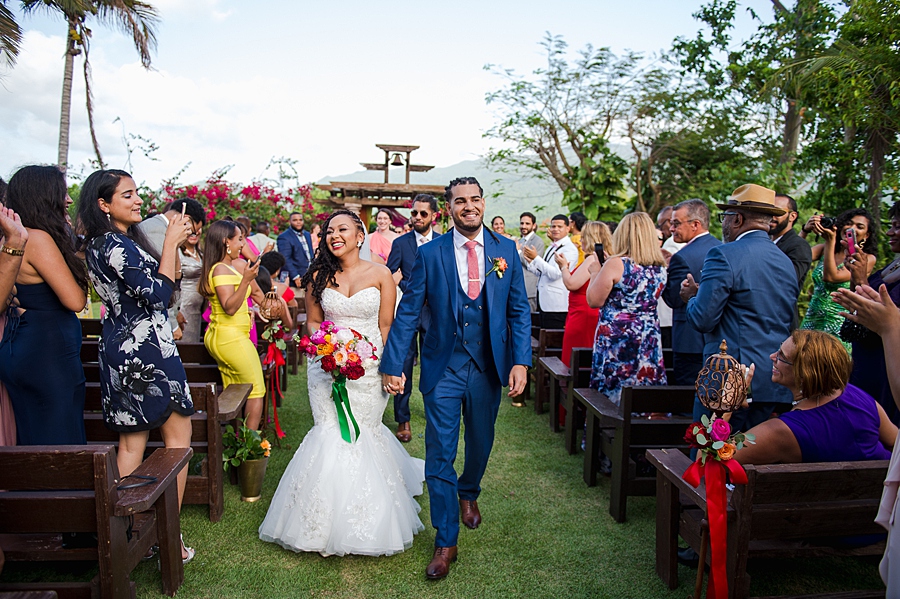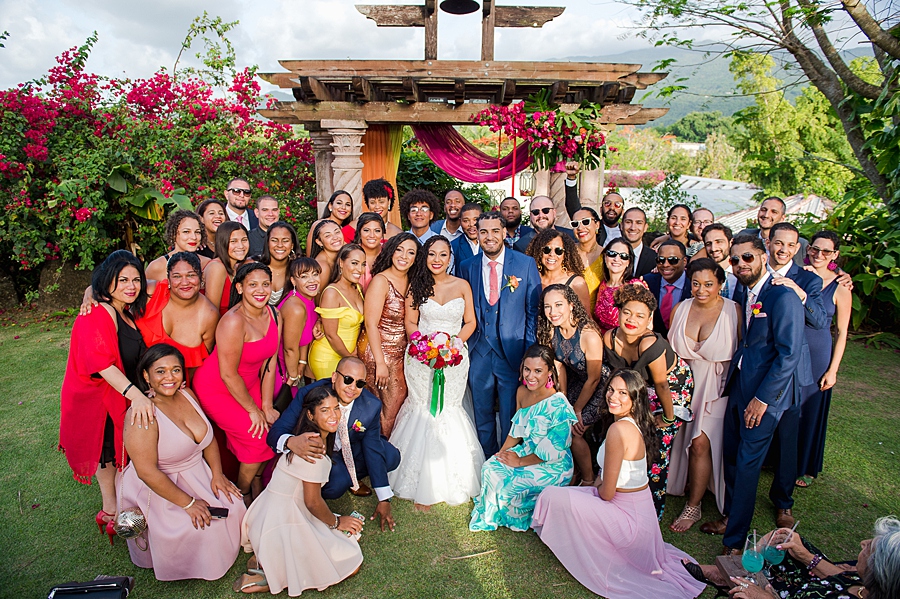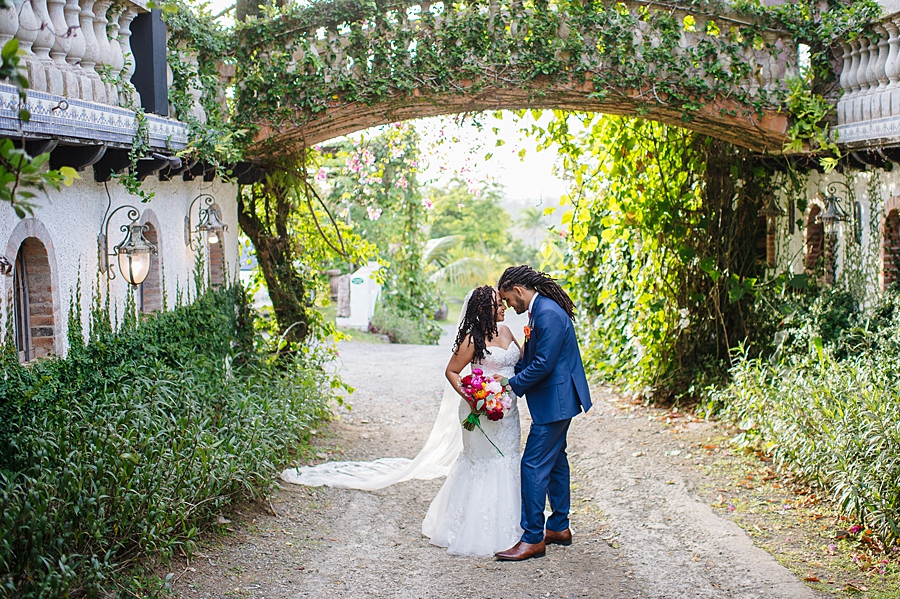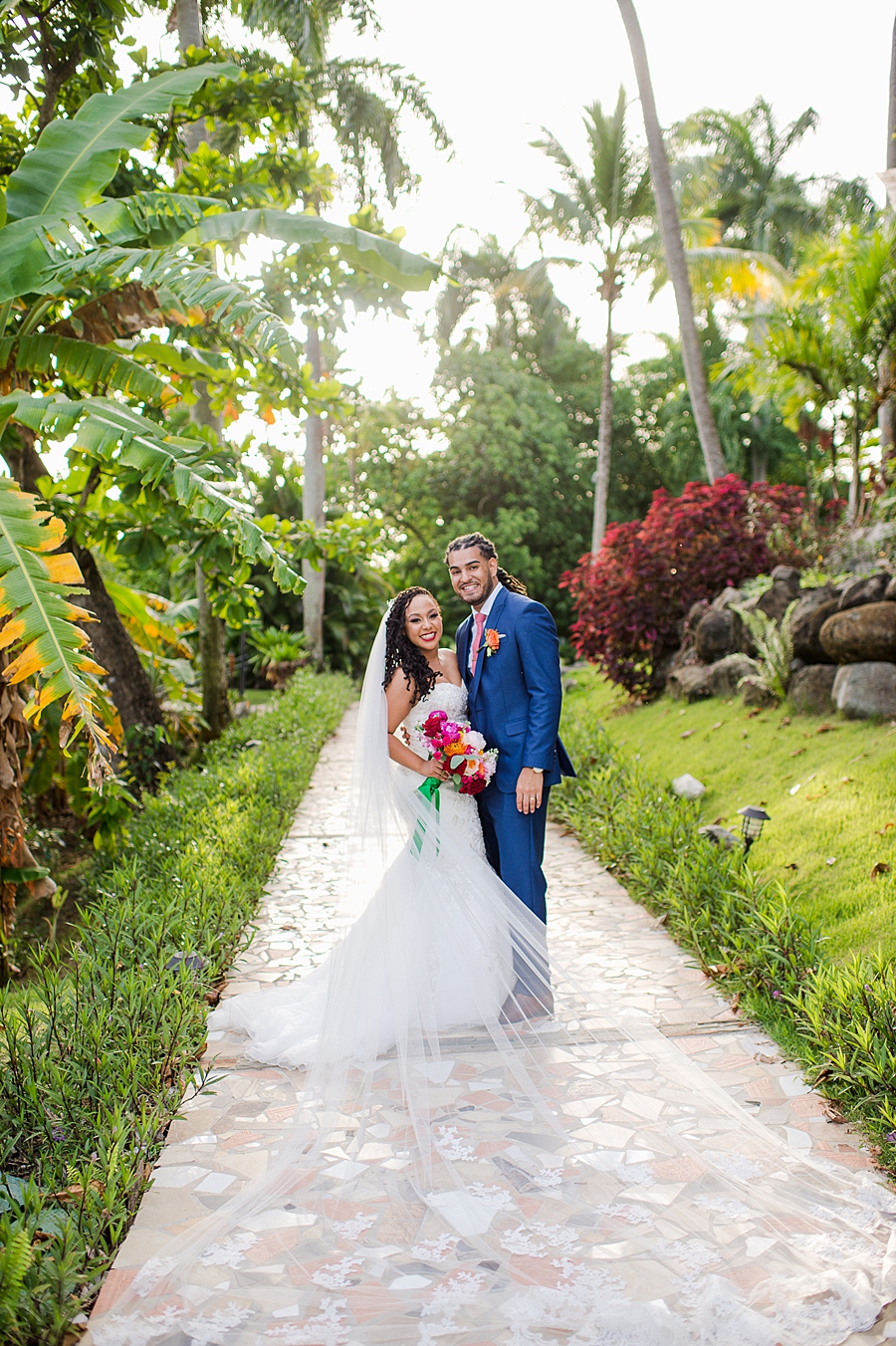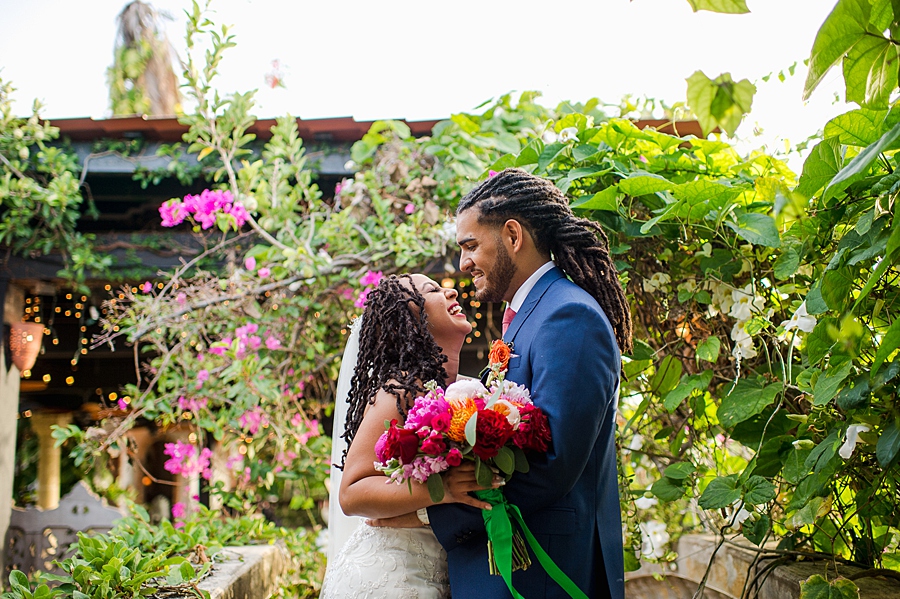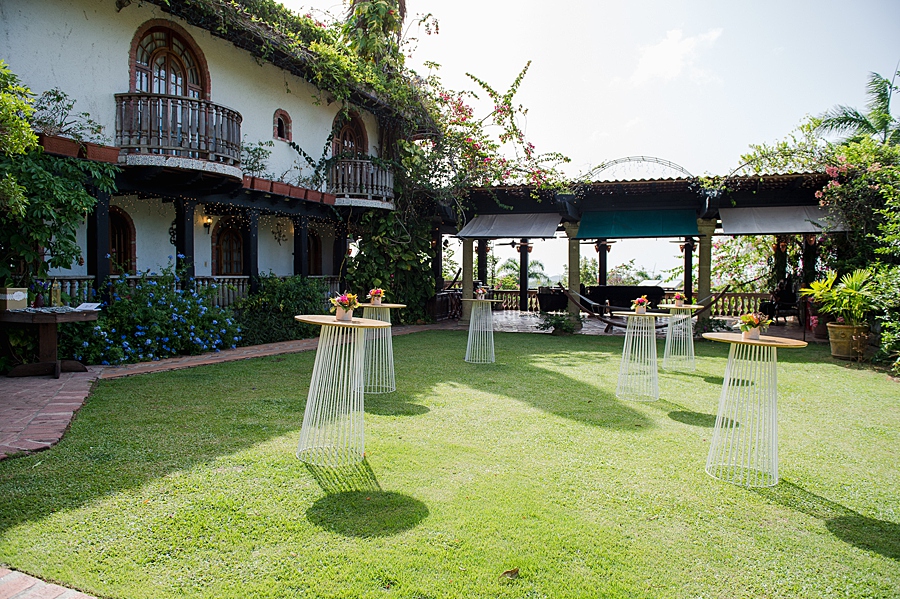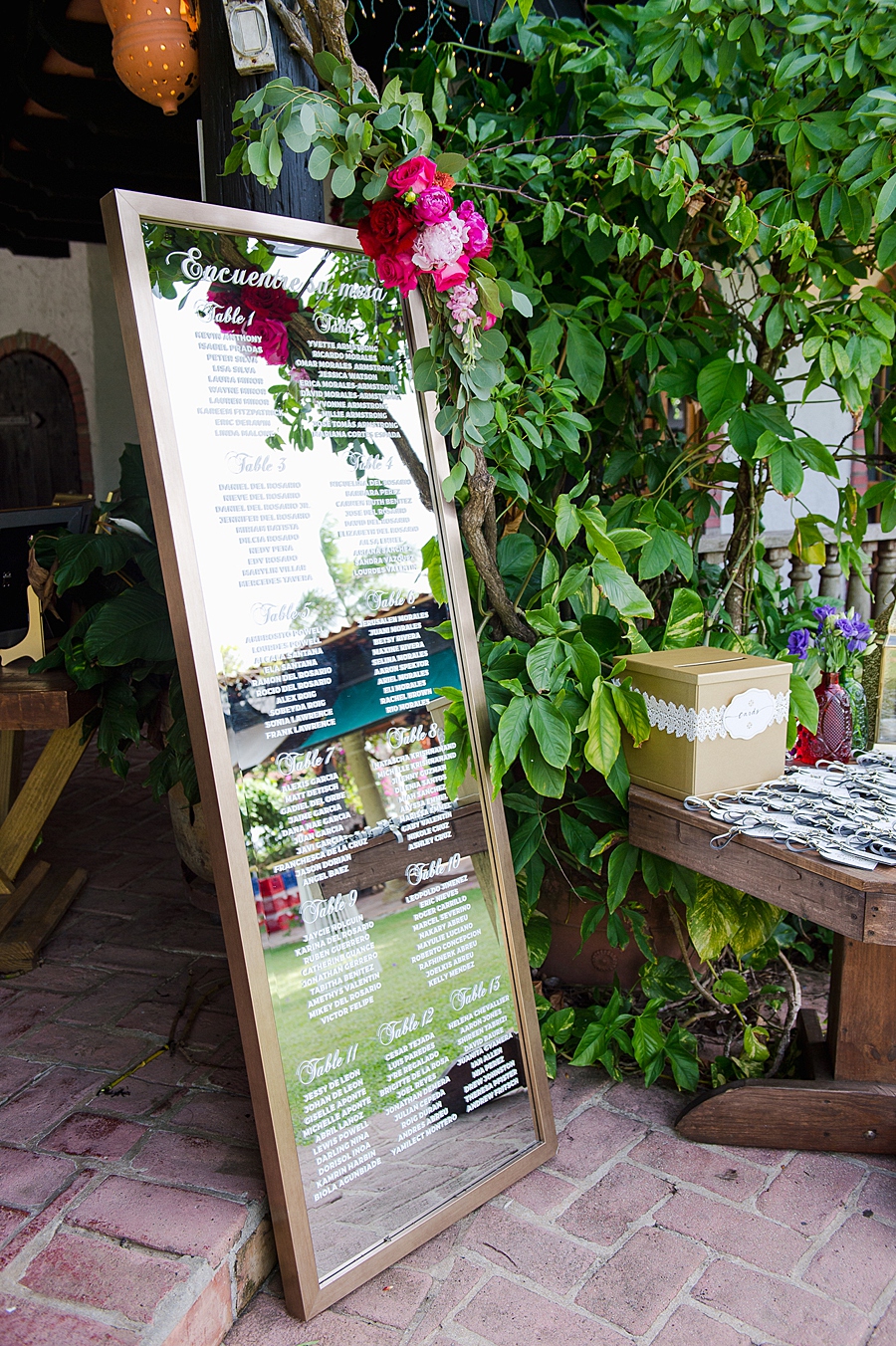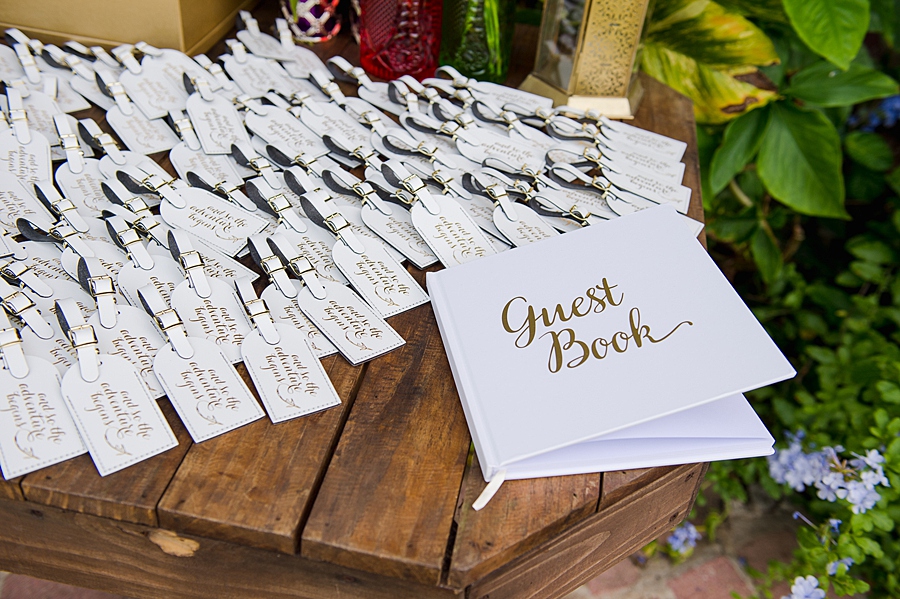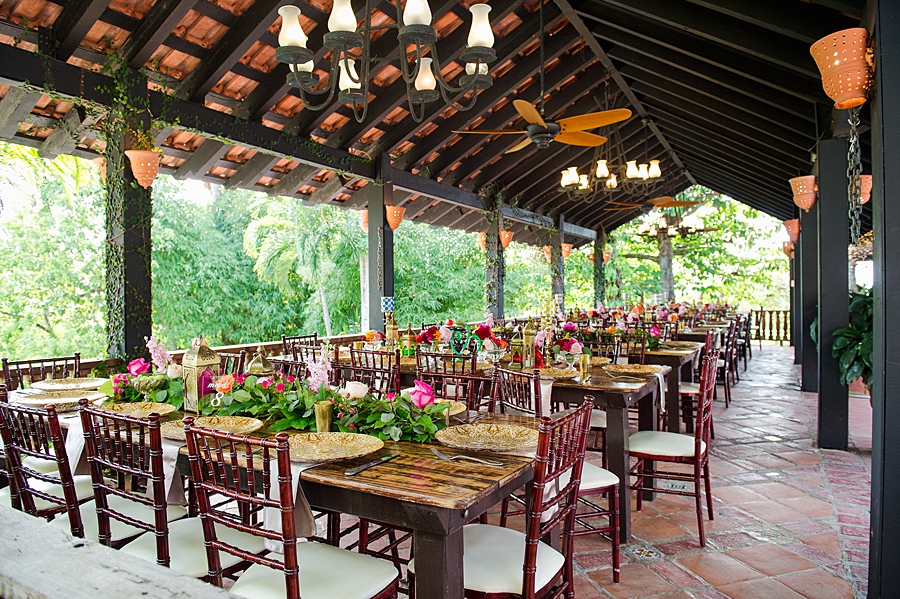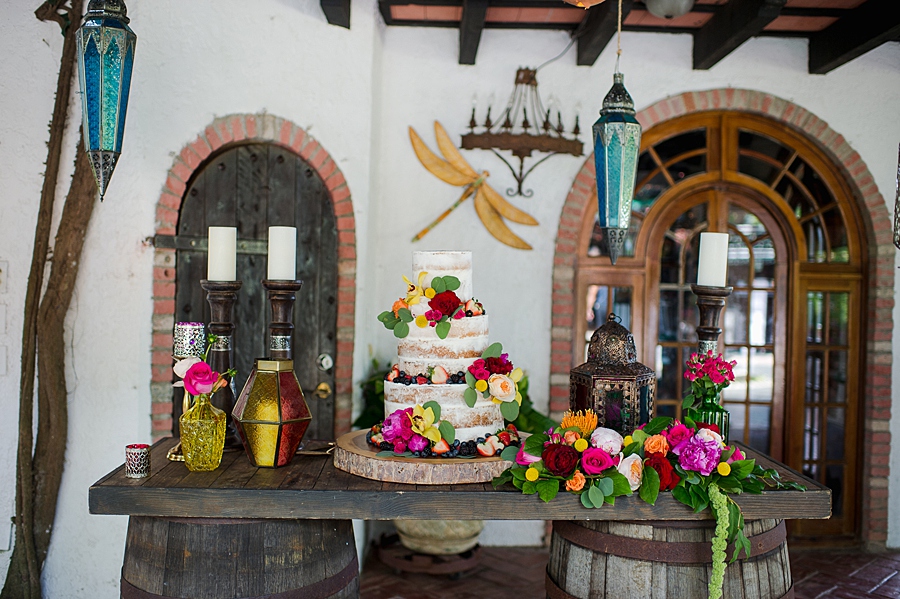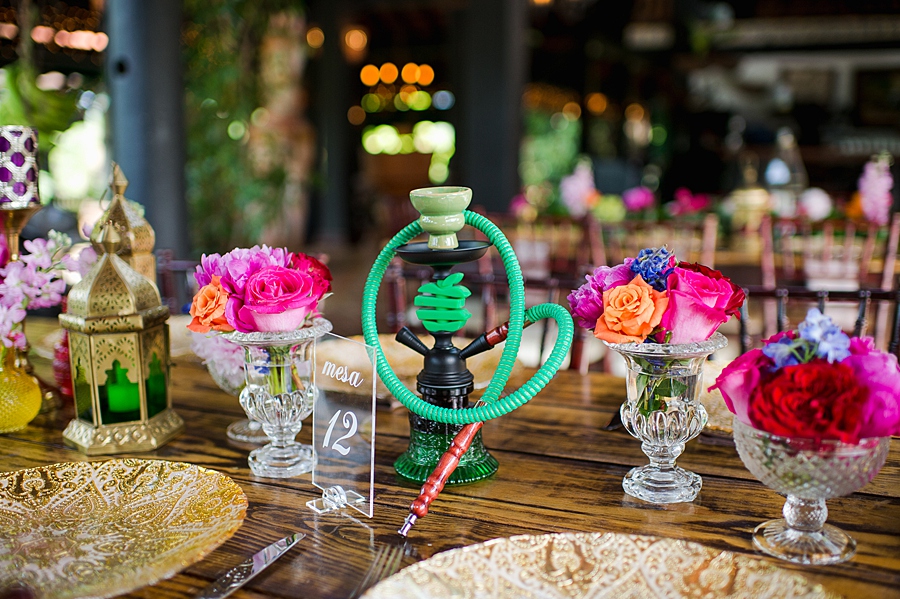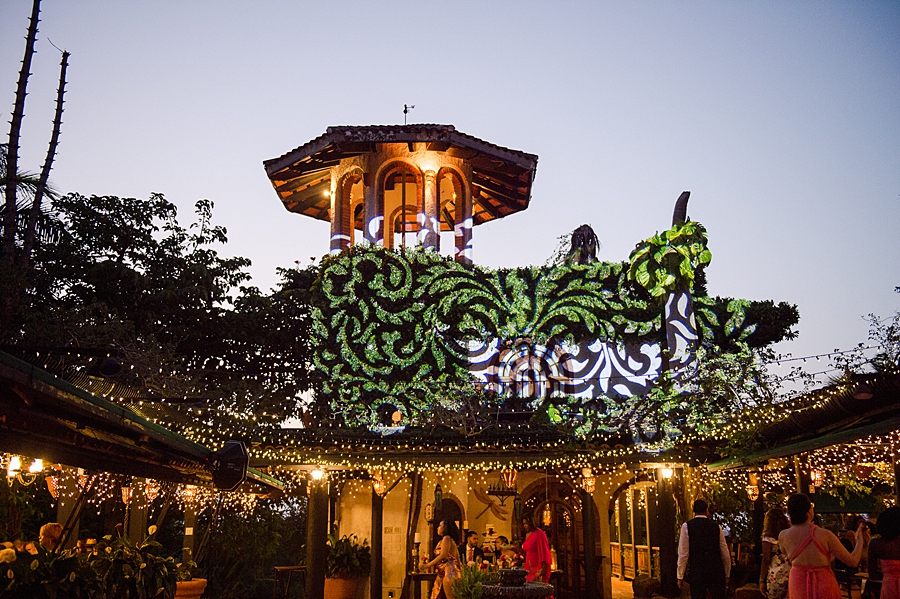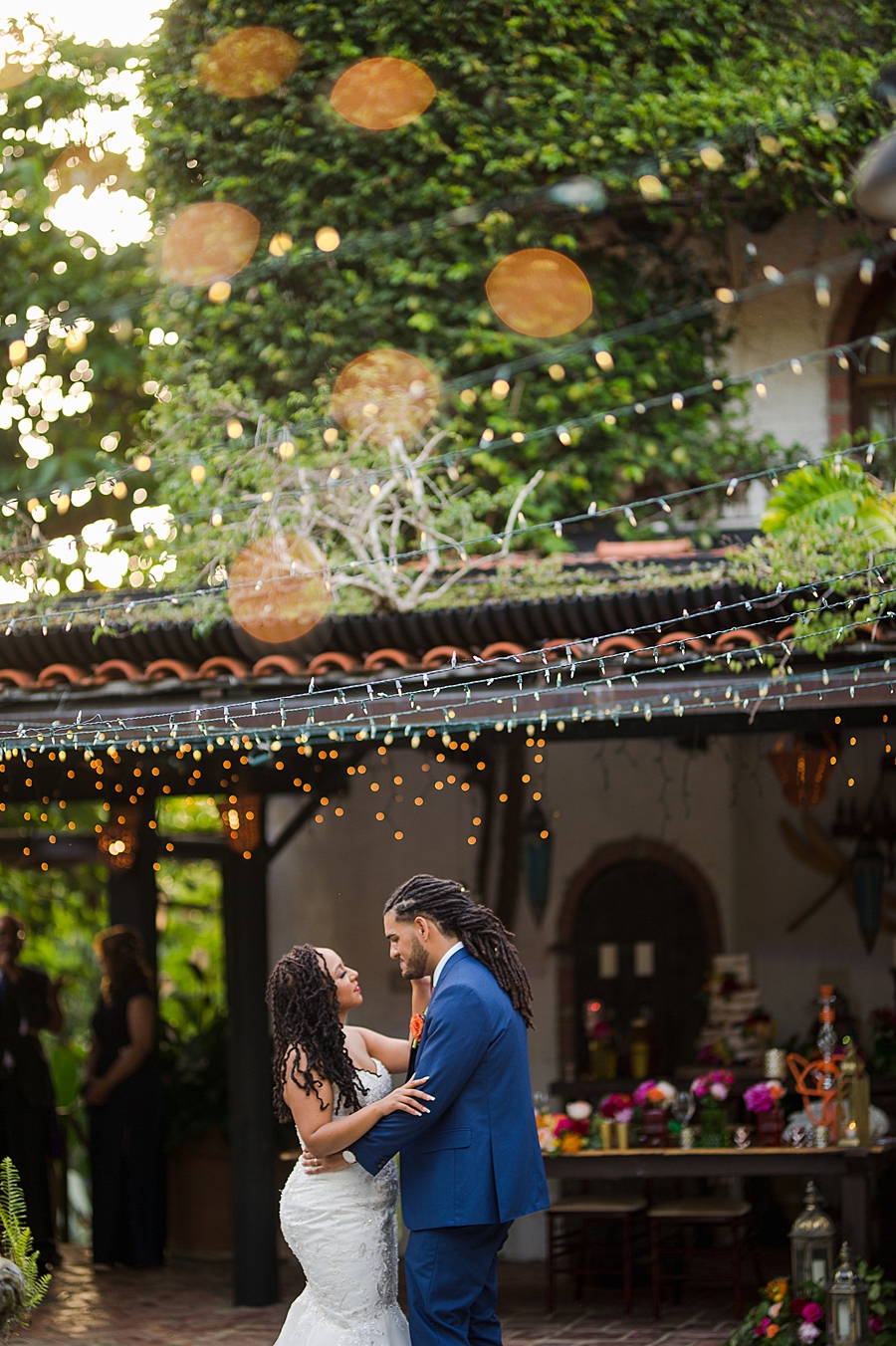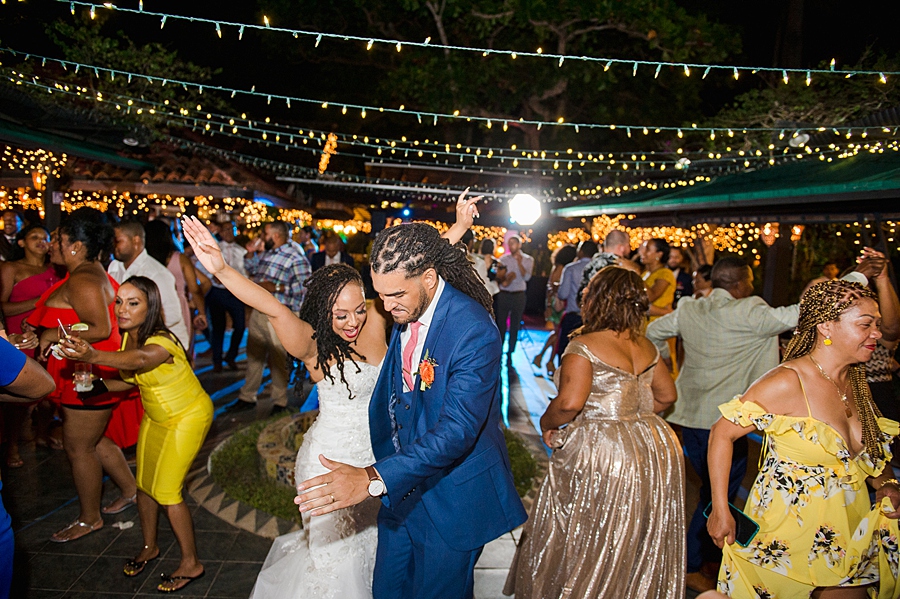 Q&A with the Bride
Why did you choose to have a destination wedding in Puerto Rico and at Hacienda Siesta Alegre?
We knew we wanted a destination wedding because travel is a significant part of our individual and collective lives. We chose Puerto Rico (where Daniel is from) because of its beauty, the deep personal meaning the location has, and, with the ongoing economic crisis in Puerto Rico, we wanted to put the dollars we (and our guests) spent into the Puerto Rican economy. In the wake of Hurricane Maria, we doubled down on our commitment to having our wedding there, opting to change the date instead of the location.

The Hacienda Siesta Alegre, in addition to being breathtakingly gorgeous, offered us the opportunity to engulf our wedding moment in the natural beauty of El Yunque. There was space for the bridesmaids and our immediate families to stay on the premises and for the groomsmen to stay at the nearby (and affiliated) Villa Loma Sol, which provided ample opportunity to continue the party the entire weekend. The sun, the ambiance, the privacy, and the magic of it all exceeded our expectations.
How many guests attended your destination wedding?
128
What was your wedding theme?
The wedding had a Bohemian Chic/Moroccan theme. We decided on this theme because it blended my love of bright colors with Daniel's love of Morocco. Daniel lived in Morocco for a year while I was living in Ethiopia serving in the Peace Corps.
What were your sources of inspiration when choosing your colors, flowers, cake, etc..?
I'm a very vivacious person with a big personality. I come from a very vibrant culture so I'm drawn to bright colors because they are indicative of high energy, life, and joy. I chose magenta, poppy, shamrock, and burnt orange as our wedding colors and they worked perfectly with our Bohemian/Moroccan theme. We also chose a semi-naked cake because it went beautifully with the rustic venue. The flowers we left up to the wedding planner and decorator.
Was there anything special that you incorporated into your wedding décor/theme?
We incorporated a number of special things:

We worked with a company called Lili Weds in Puerto Rico that created a mirror seating chart for us. All of our guests' names were engraved under their table numbers on a beautiful long mirror, which was not only unique but also stunning.
Prior to our wedding, we put together a playlist of our favorite love songs over the decades, music that our parents and our cousins also grew up listening to. That playlist helped set the tone as our guests arrived and waited for the ceremony to start.
Daniel got cigars for his groomsmen – the same ones that his late grandfather (Rest in Peace) used to smoke on his family farm in Naranjito. During the reception, they smoked the cigars and made toasts in his honor. Though he couldn't be there in person, his spirit and the familiar smell of his favorite cigars filled the air.
We framed pictures of our loved ones that had passed and created an alter for them. It was beautiful to have them there with us.
What was your favorite wedding detail and why?
Daniel asked Kevin Anthony, our mentor of 20 years, to request that our guests put away their phones during our ceremony. While I was initially unsure about making this ask, it was wonderful to have everyone paying close attention while we recited our vows. We both cried during our ceremony and the emotion in the air was palpable; everyone cried with us. I totally recommend asking your guests to put away their phones during your ceremony.
Was there any tradition that you skipped?
We skipped the "first look" photoshoot and are happy we did. It was magical seeing each other for the first time at the ceremony. That feeling, in the moment, is spectacular (and we still caught the moment on camera and film).
What was the most memorable moment of your wedding day?
There were so many memorable moments during our special day. Among them was when our friends and family members picked us up in the air and we crowd-surfed. It was so much fun!
What was your favorite part of having a destination wedding?
My favorite part of having a wedding in Puerto Rico was having all of my family concentrated in one place. Everyone was there to be with us, to celebrate us, and to be together. We had so many pool parties, gatherings, dinners, and laughs during that weekend. It was also beautiful to see my Dominican family fall in love with Puerto Rico. That is my husband's land, it is my great-grandfather's land, it is the land my children will be from, so it was a really meaningful thing.
What was the biggest challenge in planning your destination wedding?
It was a big challenge to stay within budget. We definitely blew past our initial budget because you get what you pay for. If you want a beautiful wedding and peace of mind, you have to pay for it. There's really no way around that.
What's your advice to other couples planning a destination wedding in Puerto Rico?
Get a wedding planner! Our wedding planner was excellent. I know I drove her crazy but she and her assistant made sure our wedding was flawless. Having a wedding planner gave us the space to relax on our wedding day and just enjoy ourselves. It was totally worth it!
Is there anything else you would like to share about your destination wedding in Puerto Rico?
It was magical. We wish we could relive it. And we feel so lucky that we were able to have that experience before this pandemic changed everything. We are very, very fortunate.
Vendors:
Photographer: Camille Fontz
Wedding Planner: Eventus by Zahira
Bridal Gown & Shoes: David's Bridal
Bridesmaids Attire: Dessy (Maracaine Jersey Twist Dress)
Venue: Hacienda Siesta Alegre
Favors/Welcome Bags:  Etsy
Florist: Natalia Liriano
Cake/Baker: C+M Contemporary Cake Designers
Hair & Makeup:  QZA Make Up Pro
Stationary/Seating Chart: Lili Weds 
Related Posts