Your destination wedding program is one place where you can easily inject your personality and have some fun without breaking the bank. The perfect destination wedding programs will not only provide the details of the ceremony but will also have plenty of space to thank your guests for traveling the distance to attend your wedding. While a traditional wedding program can be boring and a detail that no one remembers, these destination wedding programs are sure to make your big day shine.
Disclosure: We earn a small commission for purchases made through links in this post, at no additional cost to you. It's one of the ways we keep this site running.
Destination Wedding Program Ideas
1. Program Fans
Destination wedding program fans are not only practical but super cute and unique. This program fan has a gorgeous monstera palm leaf design that is perfect for a tropical beach wedding. And because it's double sided, there's plenty of space for all the details of your ceremony. You can also get this in huge variety of other modern and classic designs and colors!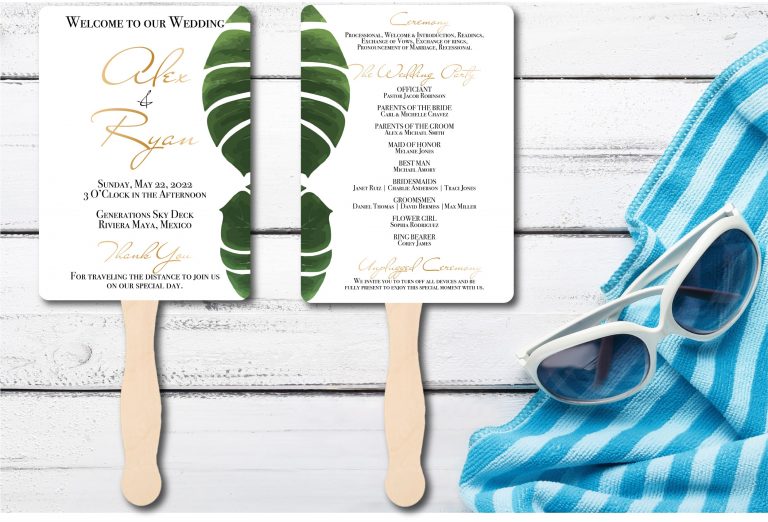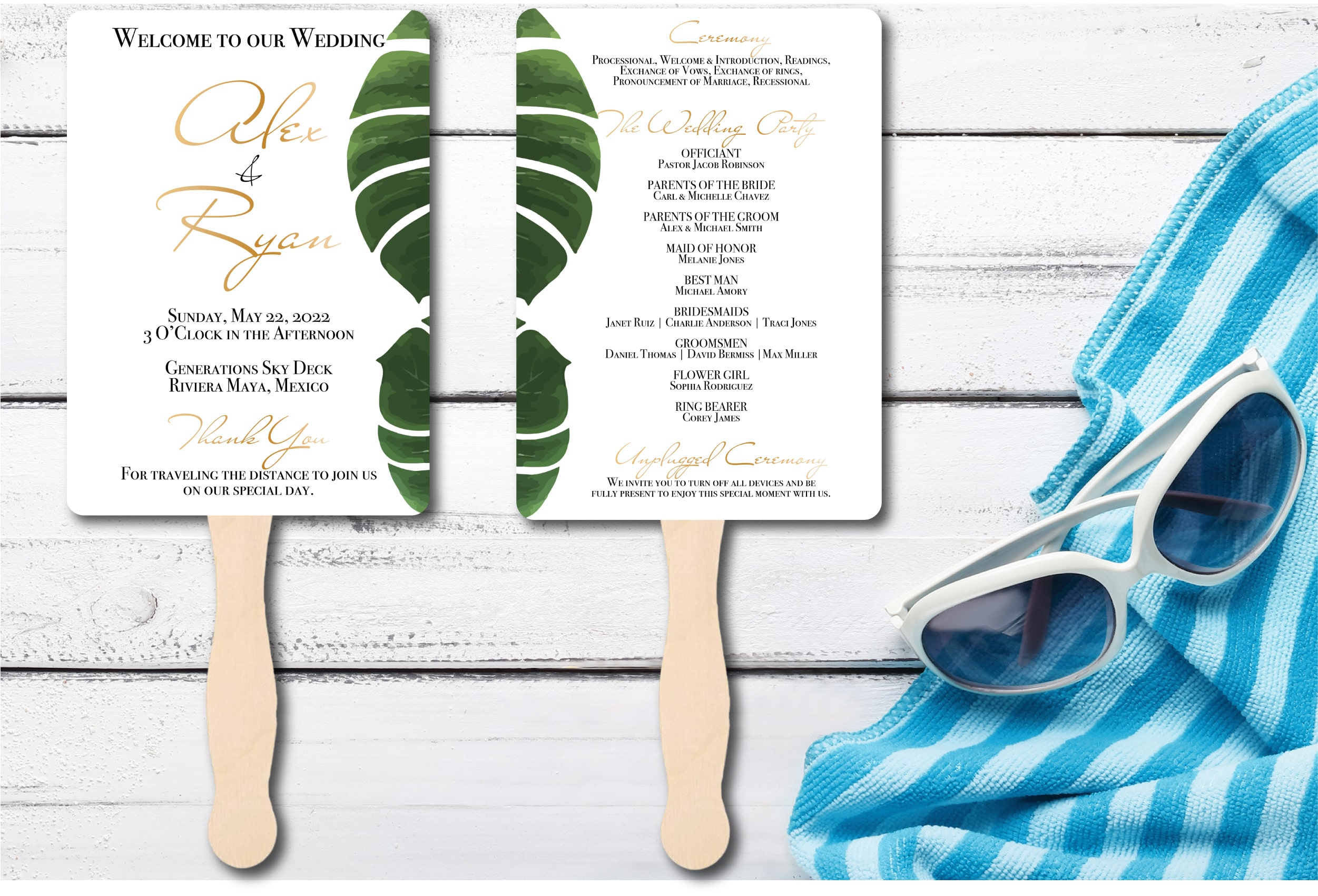 2. Magazine Wedding Program
Have you ever wanted to be on the cover of a magazine? This incredibly unique wedding program is so practical and fun at the same time. You can add so many details to this and will make for a memorable keepsake.
3. Newspaper Wedding Program
Extra! Extra! A destination wedding is a big deal and there's no grander way to share your story than in a newspaper-themed wedding program. You can include photos and tidbits on the bridal party, crossword puzzles, thank you notes, etc. The sky is really the limit on what you can include in these fun and unique programs.
4. Heart Shaped Program Fans
I absolutely LOVE these custom heart-shaped program fans – and so will your guests. This unique program comes with a custom illustration of your exact bridal party's silhouette! And you can choose from over 40 colors to truly match your wedding palette. This is sure to be a memorable keepsake for you, your guests, and especially your bridal party. You can get these printed and fully assembled or download it and print them yourself for a more budget-friendly option.
5. Infographic Wedding Programs
Infographics are all the rage nowadays but no one will expect them at a wedding. It is a really fun, creative, and unique way to present all of the details of your ceremony and some fun facts about the couple. You get to choose from a ton of colors and icons to make this a true reflection of your personality. I'm kind of obsessed with this idea.