Looking for unique destination wedding ideas? Do you want your big day to be different and not a clone of every one else's?
Every single detail of your destination wedding will let your guests know that this is going to be unlike anything they've ever experienced. Below are some creative destination wedding ideas for everything from the invitations to the thank you cards – and everything in between! Use these ideas as they are, or to get your juices flowing and inspire you to come up with some of your own!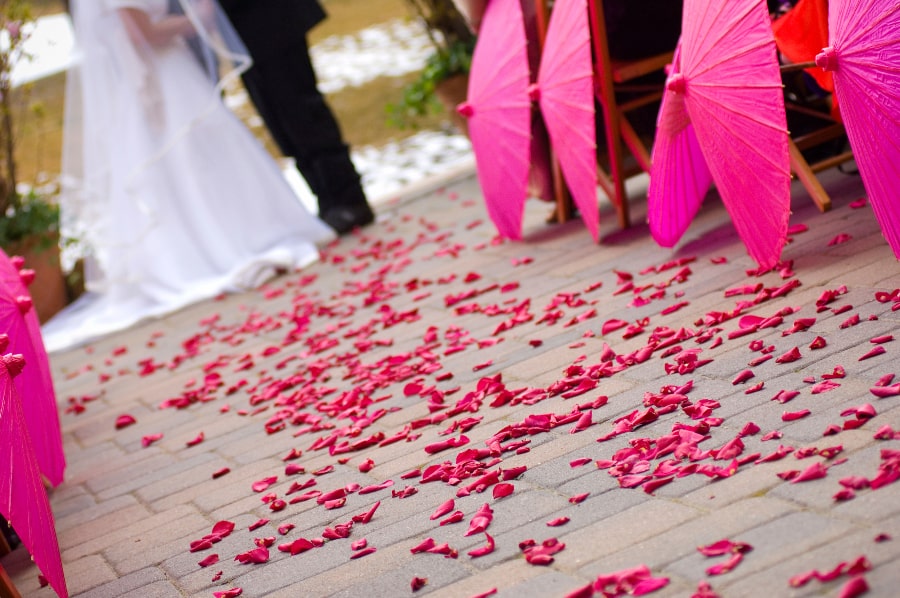 Destination Wedding Ideas:
save-the-dates | Invitations | Local Themes | Welcome Bags & Favors | Registry | Ceremony | Reception | Guest Book | Thank You Cards
Destination Wedding Ideas: Save-the-dates
Sending out Save-the-dates is critical for destination weddings because unlike a traditional marriage, your guests will need plenty of notice. This is also your very first opportunity to wow your guests, get them excited and set the tone.
Send out luggage tags with your wedding date. Not only is this unique, it's also useful. Get a free Template
For something your guests have surely never seen before, send out a message in a bottle. To recreate this idea, you just need a medium sized corked glass or plastic bottle.Next, add some sand and seashells, sand dollars and/or starfish.Finally, create your save-the-dates to reflect a scroll with an image such as an old world map of your destination or a compass. Write the date and your wedding website URL. Put some customized labels on the bottle and voila! You will send out something so unique that is sure to blow your guests away.Get cheap but gorgeous Message in a Bottle Invitations here.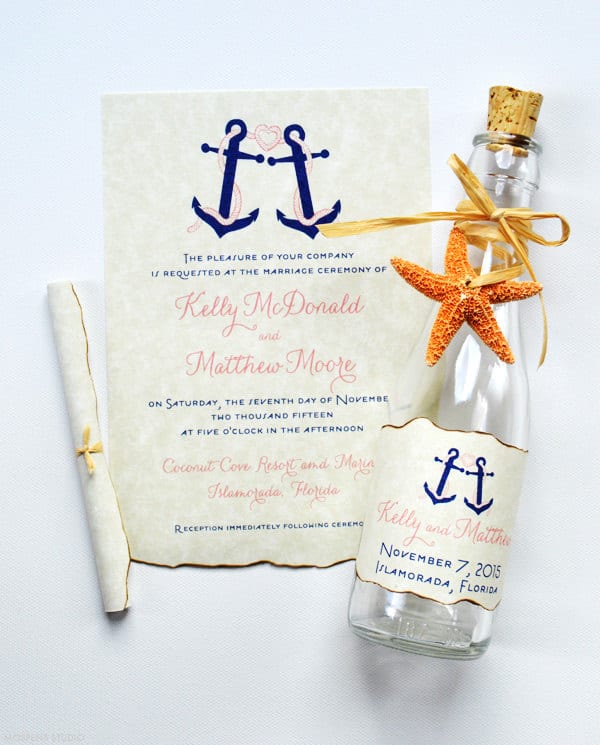 Remember the paper planes you made by folding paper sheets when you were a kid? Use it as an inspiration to create simple but fun and unique save the dates. Get a template here.
More: Unique and fun destination wedding save the date ideas.
Destination Wedding Ideas: Invitations
For an international wedding, send your guests a passport invitation. Include a picture of the happy couple, map of the location and info such as travel, date/location of ceremony, reception, rehearsal dinner, etc…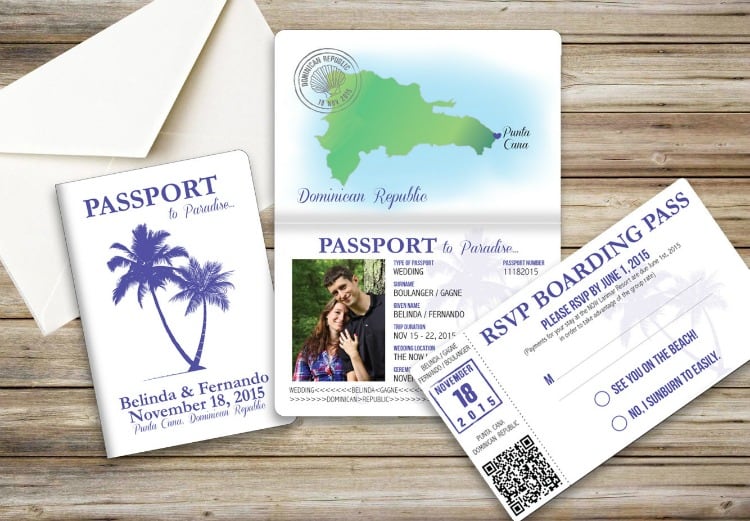 Another creative invite that is sure to get your guests in a traveling mood is a boarding pass invitation. Send out multi boarding passes so you can use the first card as the formal invite, and the other cards to communicate the wedding week itinerary and travel info. Hold all of these cards together in a boarding pass holder similar to the ones you get from the airlines. Click here for more awesome destination wedding invitation ideas or beach theme wedding invitations.
Destination Wedding Ideas: Immerse Your Guests in the Culture
Weave your destination's culture into your ceremony and reception. You don't have to go overboard – just small details will make a big impact. Here are some thought starters:
If you're having a Mexican destination wedding, ideas can include setting up a tequila bar at your reception with an assortment of premium tequilas (or Rum in Puerto Rico or Jamaica) and custom shot glasses . Just ask the venue to set up a table with different bottles of tequilas for your guests to sample. You can even cover the table with a serape (traditional Mexican cloth) for an added touch!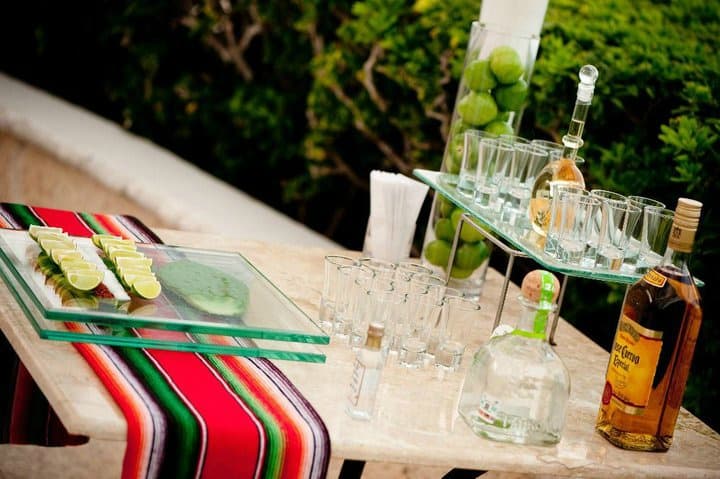 Have some fun and bring out the kid in everyone by setting up a piñata full of some local candy.
Planning a Dominican Republic or Cuban destination wedding? Ideas like a cigar roller with custom matches are sure to be a hit with your guests!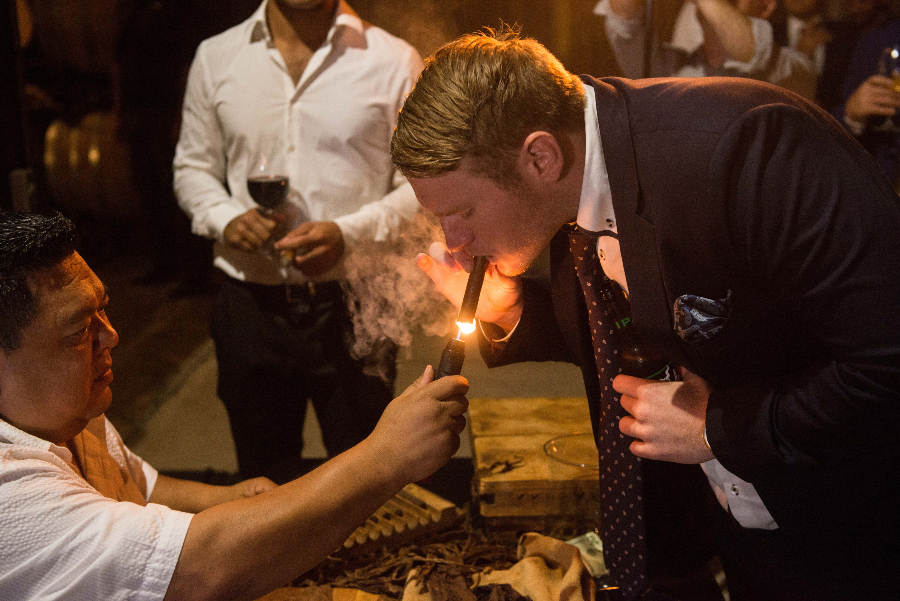 Entertain your guests at the reception or rehearsal dinner with some of the local flair. For example, Mayan fire dancers in Mexico, Salsa dancers/instructors in Puerto Rico, a steel drum band for a Caribbean destination wedding or hula dancers in Hawaii. Get more ideas for destination wedding themes.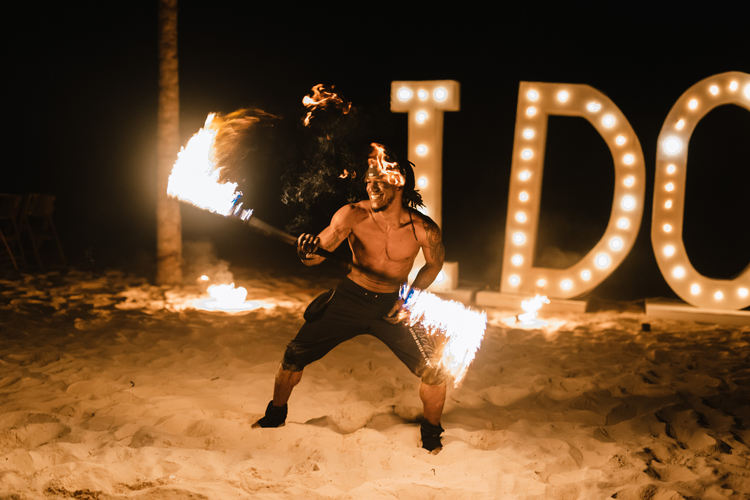 Destination Wedding Ideas: Welcome Bags/Favors
Thank your guests for traveling the distance by placing welcome bags in their rooms or arrange to have the front desk hand them out at check-in. Buy inexpensive tote bags that can double as beach bags and fill them with local treats like candy, small liquor bottles (i.e. Tequila in Mexico or Bacardi in Puerto Rico) or coffee in Costa Rica. And add some useful items such as flip flops and local area maps.
They say the best favors are edibles. No one can resist a yummy treat at the end of a night full of dancing and drinking. Think of treats you can just buy at your destination – for example in Jamaica you can give away Mini Rum cakes or Jerk seasoning that your guests can take home to recreate the local flavors.
Keep your female guests warm from the evening ocean breeze by giving them Pashmina shawls as favors. For more ideas, check out our post with 17 welcome bag and favor ideas.
A welcome letter is a great way to not only greet your guests, but also keep them informed on all the week's events and any other important info. Design your letter in the form of a travel brochure. Put a nice picture of your locale on the front cover. Inside, put the day, time and location of any pre-wedding event as well as the ceremony and reception. You can also add other useful tips like the local currency exchange rate and how to get around.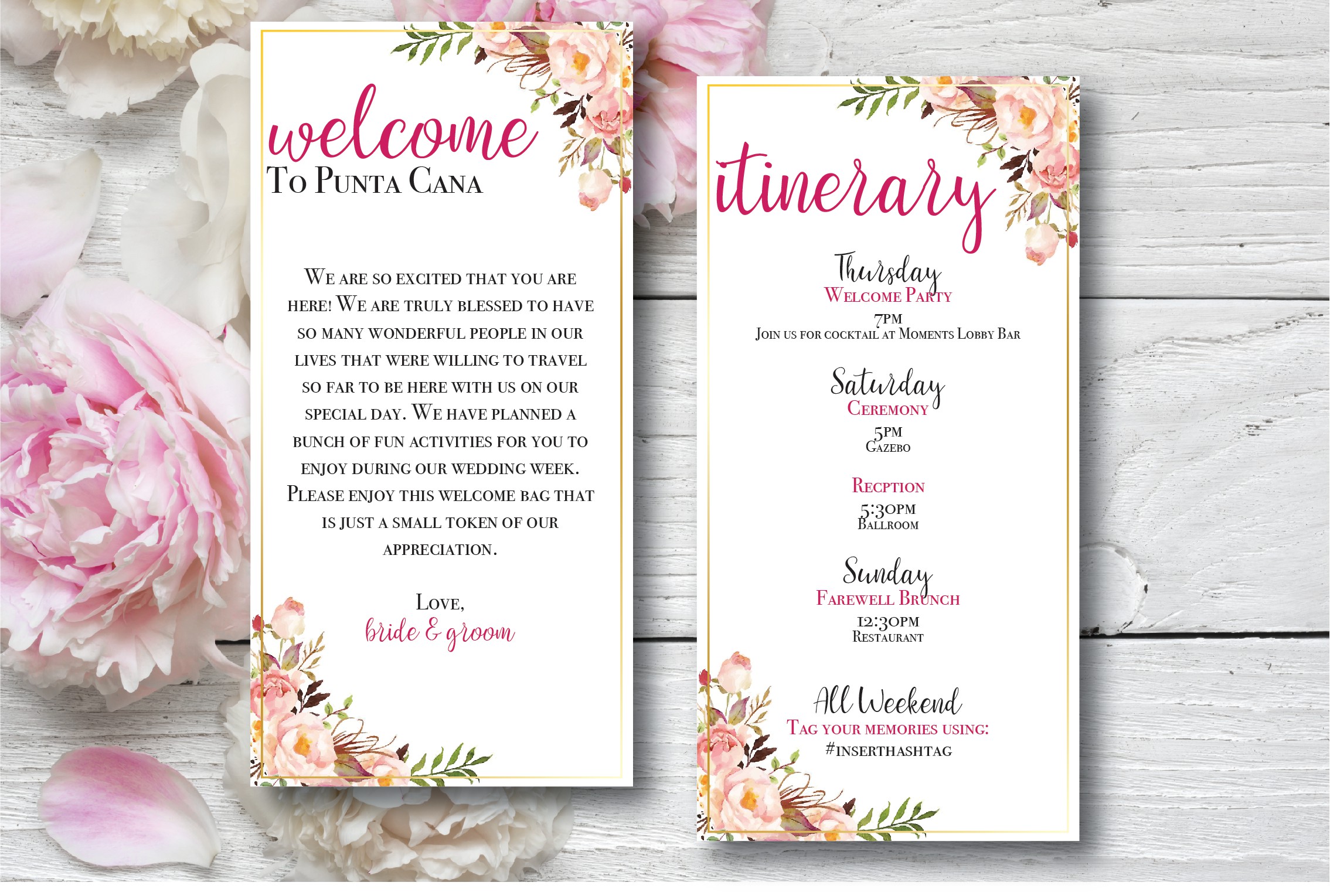 Registry
You're not having a traditional wedding so why have a traditional registry with blenders and toasters you don't even need?
Create a honeymoon registry so your guests can give you parts of your trip such as dinner, spa treatments, excursions, upgrades to the honeymoon suite and much more.
Destination Wedding Ideas: Ceremony
Add a personal touch to your destination or beach wedding with a custom aisle runner that has your monogram/logo on it. Not only will you feel like a true princess walking down the aisle, this will also look great in pictures!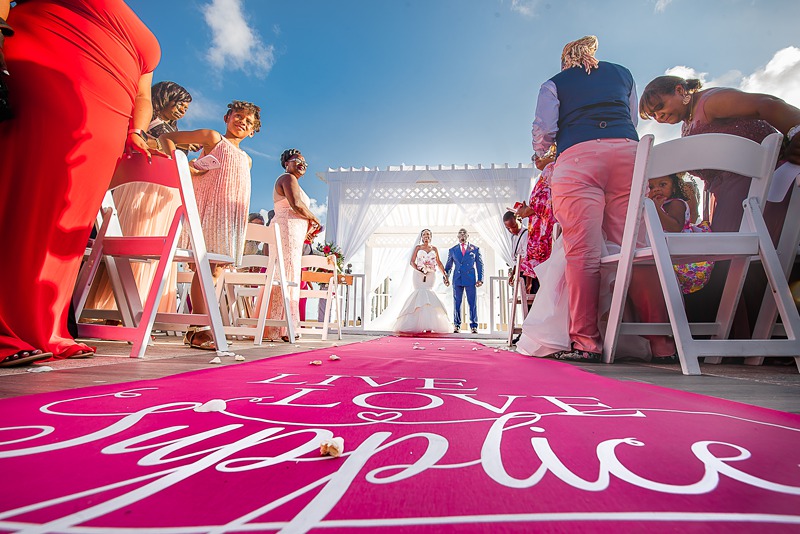 Dress up your wedding arch with some hanging capiz shells for a stunning, simple and unique look.
Instead of the plain old programs that everyone usually ignores or throws away at weddings, keep your guests cool by having your ceremony program attached to hand woven palm leaf or straw fans.
Make your ceremony program more substantial and personalized. If your destination wedding is smaller or intimate, you can get a lot more personal. Create a booklet with your monogram/logo on the front cover and a heartfelt thanks to your guests for traveling from afar.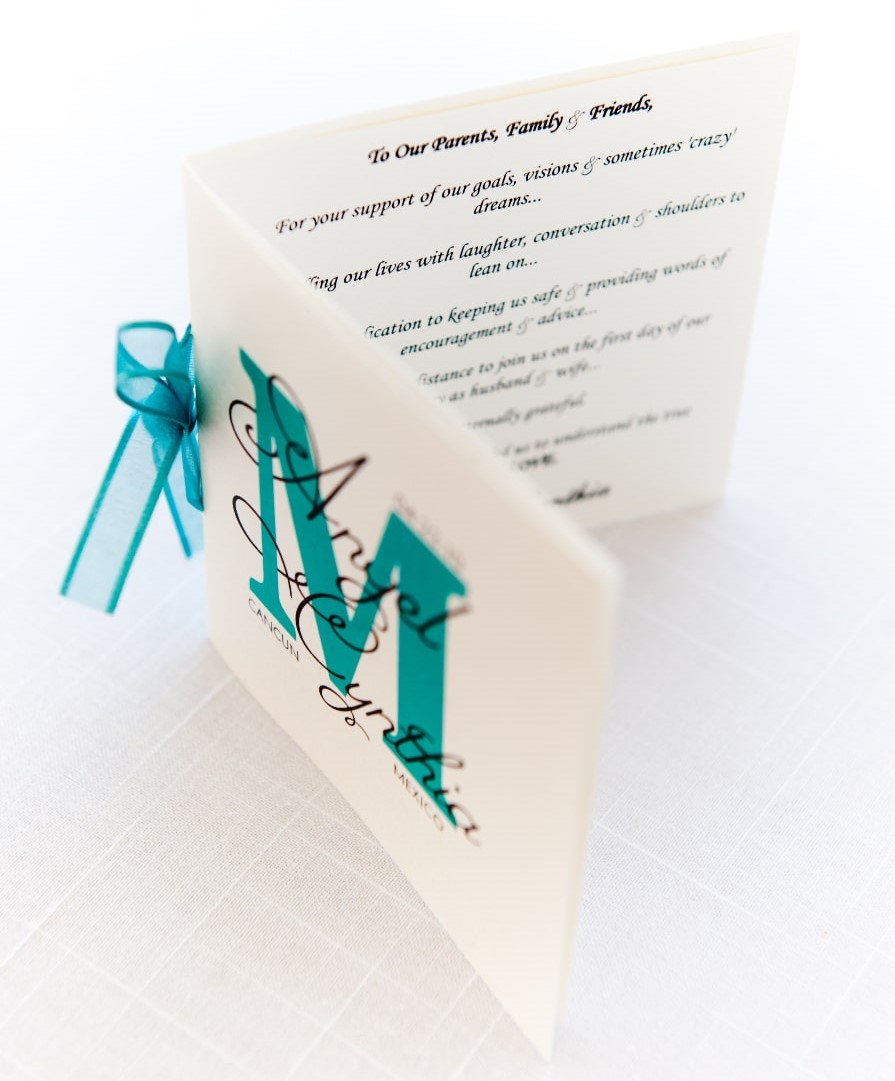 Instead of bouquets, have your bridesmaids walk down the aisle with parasols that match your color palette.
If you want a unity candle, but are worried that the flame will go out with the wind, consider a sand ceremony instead. If you're using multiple colors in your wedding palate, just get sand in the same colors and have your fiance pour in one color while you pour in the other. The result will be gorgeous!
If you're getting married in Mexico, have the flower girl carry the petals in an upside down sombrero.
Here's a cool beach wedding idea. Instead of the traditional ring pillow, have the ring bearer carry a large seashell full of sand dollars, starfish and topped with the rings.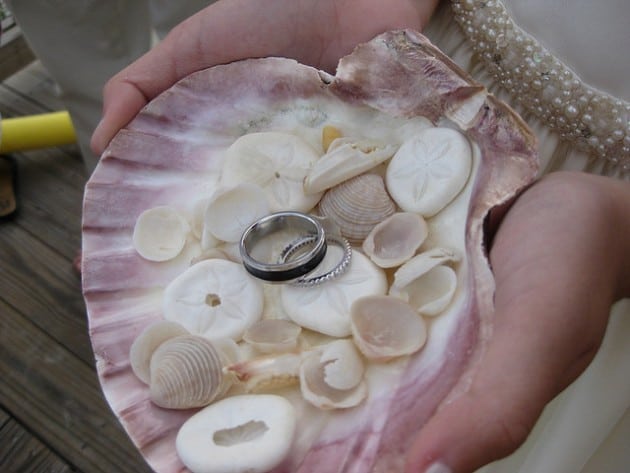 Destination Wedding Ideas: Reception
Escort cards are the first thing your guests see when they walk into your reception and although it's a simple detail, it can make a big impression. Here are some destination wedding ideas for escort cards: Get some cocktail umbrellas in your colors and cut strips of paper with your guests names printed on them. Wrap the names around the umbrella stick and glue one side of the paper to the other side. Then stick the cocktail umbrellas to a piece of Styrofoam, place inside a tray and fill the base with sand to cover the Styrofoam. Another idea is to put the umbrella sticks in lemons, limes or oranges especially if your colors happen to be green, yellow or orange!
For the table numbers, take pictures of yourself holding up a card with each table number. Frame the pics and put them on each table.Here's another cool beach wedding idea for table numbers. Get a picture of each table number drawn in the sand and some starfish…this can be done by actually going to the beach and drawing the number in the sand or just have someone with graphic design skills do it in photoshop.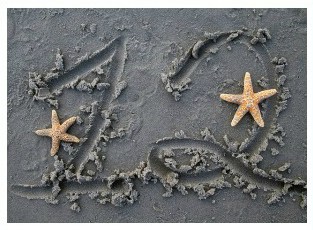 If you want to make sure your guests hit the dance floor, provide some comfort. Place a basket full of flips flops at the reception with a sign that says "Dancing Shoes". These are guaranteed to be a hit with the ladies and one of the most useful destination wedding ideas.

Give your guests maracas and ask them to shake them to request a kiss instead of tapping their glasses.
Looking for beach wedding ideas? Create a romantic beachy feel by lining the shore with tiki torches.
Add some fun and décor to your pool side reception with some floating pool fountains which dance to the music.
Instead of a slideshow set up digital picture frames on the escort card table or on each guest table. Upload it with pictures of your childhood all the way through your engagement.
Save money and reclaim some creative control over your wedding cake by buying a plain white sheet cake and decorating it yourself with some silk, sugar or tissue paper flowers that match your color scheme. Just ask someone to place the flowers on the cake before the reception.
If your female guests are like most of the gals I know, they'll dread the bouquet toss. This tradition is especially dreadful if you're having an intimate destination wedding where there will only be a handful of single ladies. Ditch tradition and just hand the bouquet to the next couple in line to get married or the couple who's been married the longest. Not only is it a very thoughtful gesture, you'll also save some gals the embarrassment.
Beach Wedding Guest Book Idea
A picture is worth a thousand words – especially when paradise is the backdrop!
One of my favorite destination wedding ideas is the instant guest book. Buy an instant guest book with an instax camera (a more modern version of the Polaroid). Your guests simply take a picture with the instax camera, wait a few seconds for it to dry and then insert into the appropriate slots on each page of the book, next to their message/wishes for you. It's so easy and simple. Your guests will have fun with it and it will be a wonderful memory for you.

Set up a makeshift photo booth with a hanging blanket/cloth tied to the culture (I.e. Mexican serape) and props (sombreros).
Have a local artist draw a hand painted portrait of you exchanging vows during the ceremony. Then have someone take the canvas to the reception venue and have all your guests sign the edges.
Here's another of those creative destination wedding ideas your guests will have a lot of fun with. Buy a dry-erase board and ask each of your guests take turns writing a wish on the board. Have someone take a picture of the person holding the board with their wish written on it. Once you're back home, print all those photos and put them in an album for a memorable and unique guest book that's sure to put a smile on your face for years.
For more ideas, check out our post with 11 Alternative Destination Wedding guest book ideas.
Destination Wedding Ideas: Thank You Cards
The reason you can get so creative with destination wedding ideas is partly owed to their more intimate nature compared to a hometown affair. Thank you cards are a great example of this.
Here's an out of the box idea that you can pull off only if you have a more intimate destination wedding (less than 75 guests).
Send everyone a Thank You mini-magazine or travel photo book that recaps and tells a story of the weekend through pictures.
This is incredibly easy to do and surprisingly affordable!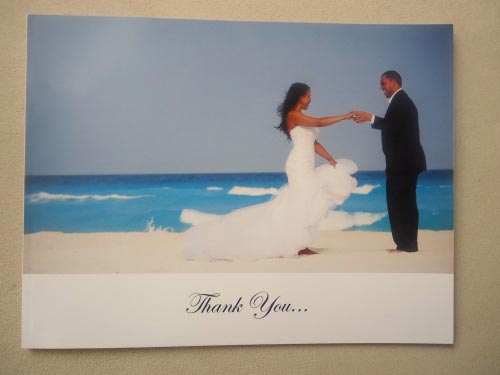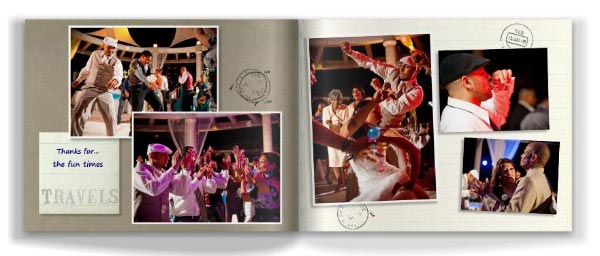 Just put your most magazine-like photo on the cover (a trash the dress picture would be perfect!) and fill the inside pages with fun photos of guests having fun during the trip.
You can put sentimental or humorous captions on each page thanking everyone for the week.
This is a very unique and creative thank you card that your guests have surely never received before! And it's a fantastic way to thank them for going the extra mile (or thousand miles) to attend your destination wedding.
Want to recreate these wedding photo thank you cards for yourself?
Get step by step instructions with pictures, prices and all the info you need
Another great destination wedding idea is a postcard with a picture of the happy couple in a location that you would typically find on a postcard of your destination (for example, on the cobblestone streets of Puerto Rico, by the waterfalls of Jamaica, a volcano in Costa Rica).
I will be updating this site with more destination wedding ideas so keep coming back for more fun, unique and creative details to personalize your big day!
Sign up below to have cool and unique destination wedding ideas delivered right to your inbox!