We all know that there's absolutely nothing traditional about tying the knot on the beach or an exotic destination. The good – actually the GREAT part – is that you get to break the mold and incorporate some really unique and out-of-the-box ideas that you can't even dream of with a hometown traditional celebration.
The not so good news? There are a lot of challenges you have to tackle that most brides/grooms never have to worry about – your cake is no exception to these rules.
And since my job here at the DWD is to help you navigate the planning Do's & Don'ts of tying the knot away from home or on the beach, we'll dive into all the challenges you need to be mindful of when choosing beach wedding cakes.
And then we'll get into the good stuff with some cool ideas that will make yours memorable!
Beach Wedding Cakes: Tips & Advice
Beach Wedding Cakes – Mistakes to Avoid
If you're tying the knot in a very warm, humid month, avoid buttercream. As the name implies, it's made out of butter and it is not a friend of the sun and heat. Your beautiful and yummy work of art could very well melt by the time you get to the cutting ceremony. Get fondant instead which will do a much better job of holding up to the heat.
Unless you have money to burn, don't have your cake shipped abroad. Not only will you incur a ridiculously high expense, but it also may not arrive in the best condition.
Keep the bugs away – protect your beach wedding cake by covering it with netting or keeping it in the box as long as possible. You might also consider placing insect-repelling candles on the table, or for a really beautiful touch, you can surround the table with insect repelling torches.
Beach Wedding Cakes: Ideas for a Small Celebration
Destination beach receptions tend to be more intimate than a traditional hometown reception, so while a huge 5 tier cake might be very appropriate at home, it might not make the most sense for a smaller guest list. Cakes are expensive so if the thought of dropping a couple of hundred dollars on something that'll go to waste makes you cringe, I've got some cool alternate ideas.
If you're having a very small intimate celebration with less than 10 guests, have your baker make petite personal cakes for each person. This is an awesome option for couples who want to maintain a hint of tradition with a splash of modernity! See pictures of petite cakes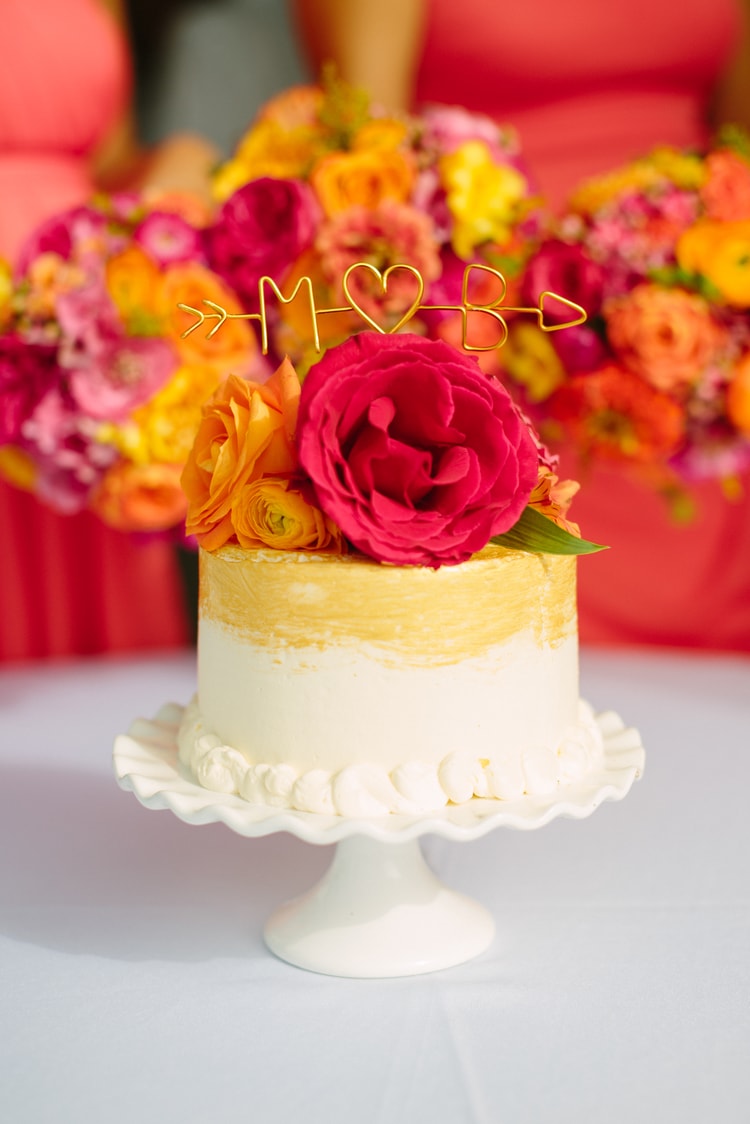 Let them eat cupcakes! An ever-growing trend, cupcakes can take on an even more useful and practical role at a beach destination ceremony and reception. Top each one off with a seashell or for just go with naked cupcakes for a fun and unique alternative to tradition.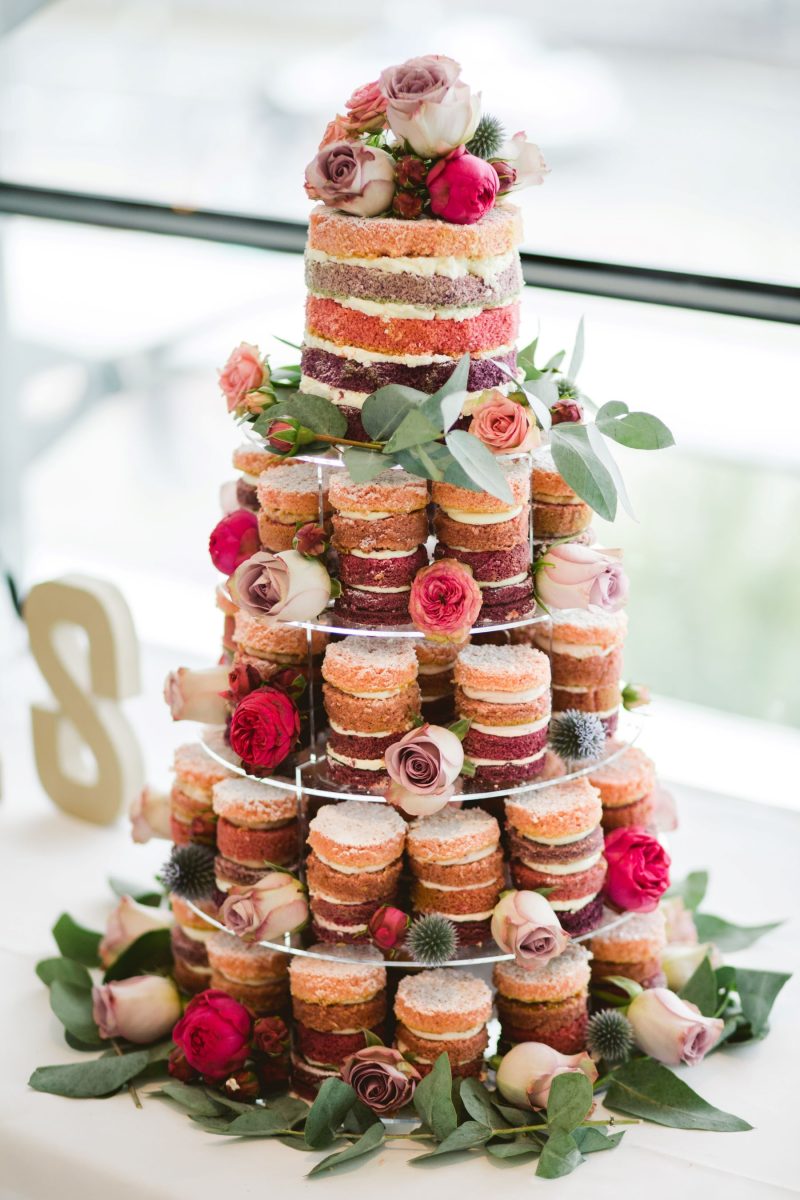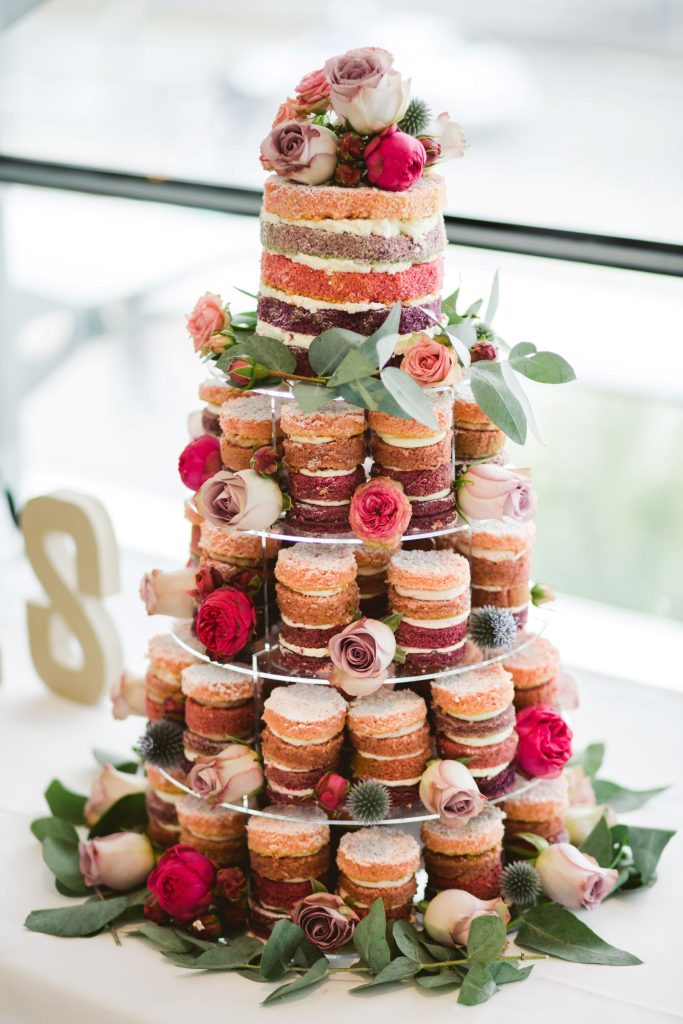 Fake the Cake – another secretly growing trend is the idea of partly fake cakes. Your baker will create 2 or three tiers using Styrofoam decorated with real fondant/frosting, flowers, seashells, etc.. but they'll top it off with a real tier which will be used for the cutting ceremony and to serve your guests. No one will ever know your little secret. You'll get your elaborate cake, you'll save money and you won't feel guilty for having to throw away all that leftover cake! Still hesitant about the idea? Well, take a look at this pic and tell me if you'd ever guess that only the top layer was real? I didn't think so, and neither did a single guest at this wedding.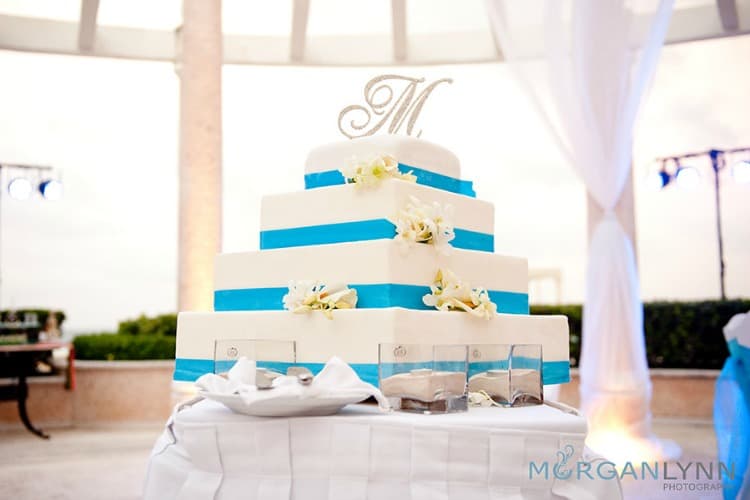 Beach Wedding Cakes on a Budget
Faux cakes – I know, I know, I already talked about this above but it's worth repeating because not only is this is a great way to avoid waste at a small reception, it's also a great money-saver! And I'm speaking from experience here because I personally saved some serious money using this little trick…but shhhh, please keep it between us because years later my guests still wonder where all that delicious cake went!
If you're tying the knot in a location that has large retailers like Costco, Walmart, or Sam's club (i.e. Cancun, Puerto Vallarta, Hawaii, etc..), consider getting a sheet cake and decorating it yourself. It may sound crazy but some of them are absolutely delicious and you'll save a ton of money! You can buy some really cheap cake toppers or edible starfish and seashells online for a decoration that is simple, understated but beautiful, and best of all budget-friendly.
Be wary of cutting fees – Getting married in a resort or venue? Make sure you ask about cutting fees which can add up to big bucks! Some venues can charge upwards of $12 per person!
More cost-saving ideas and tips
Browse Galleries of Beach Wedding Cakes
The beach wedding cakes you'll find in each of these sections, all have a few things in common- they're unique, modern, sleek, and classy but still fun. I've gone on the hunt for the most gorgeous designs I could find and have gathered them all in this section for your viewing pleasure along with some helpful tips!
I know you're aching to see pictures, pictures and more pictures of awesome beach themed cakes. And you'll find plenty of them on this site. You can start by checking out the thumbnails below for photo galleries of our favorites.
Cover Photo: Morgan Lynn Photography