Has anyone ever used the word "peppy" to describe a wedding? Because that's exactly what comes to mind after browsing the photos of Megan and Branden's bright & colorful Seabrook destination wedding –I'm smitten with the adorable, well, everything!
These two have such a classic yet trendy style that meshed incredibly with this amazing venue. And that kids table looks like a blast! Are adults allowed? 😉 A huge shout-out goes out to Courtney Bowlden Photography for capturing all the details of this stunning wedding and sharing it with us today. Enjoy!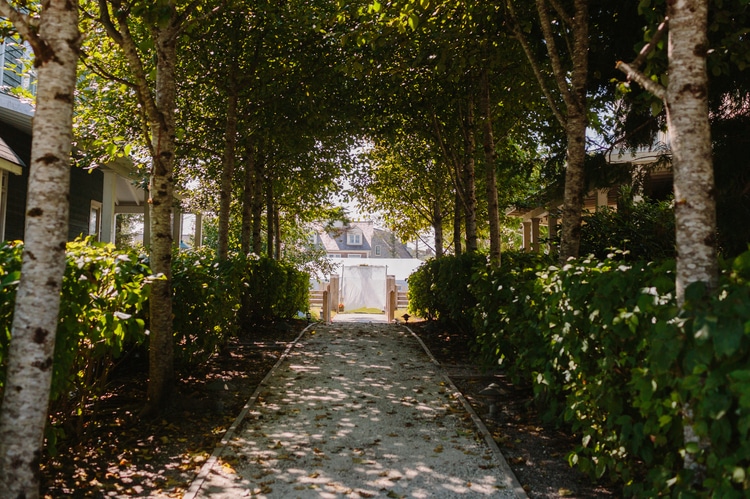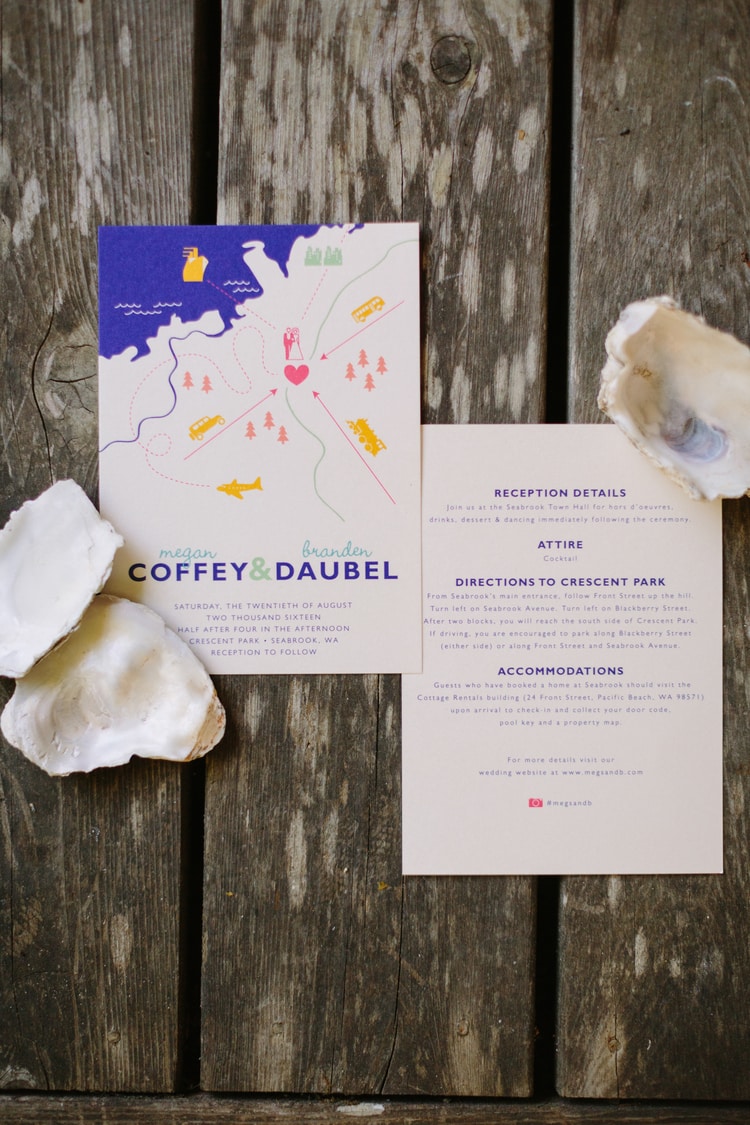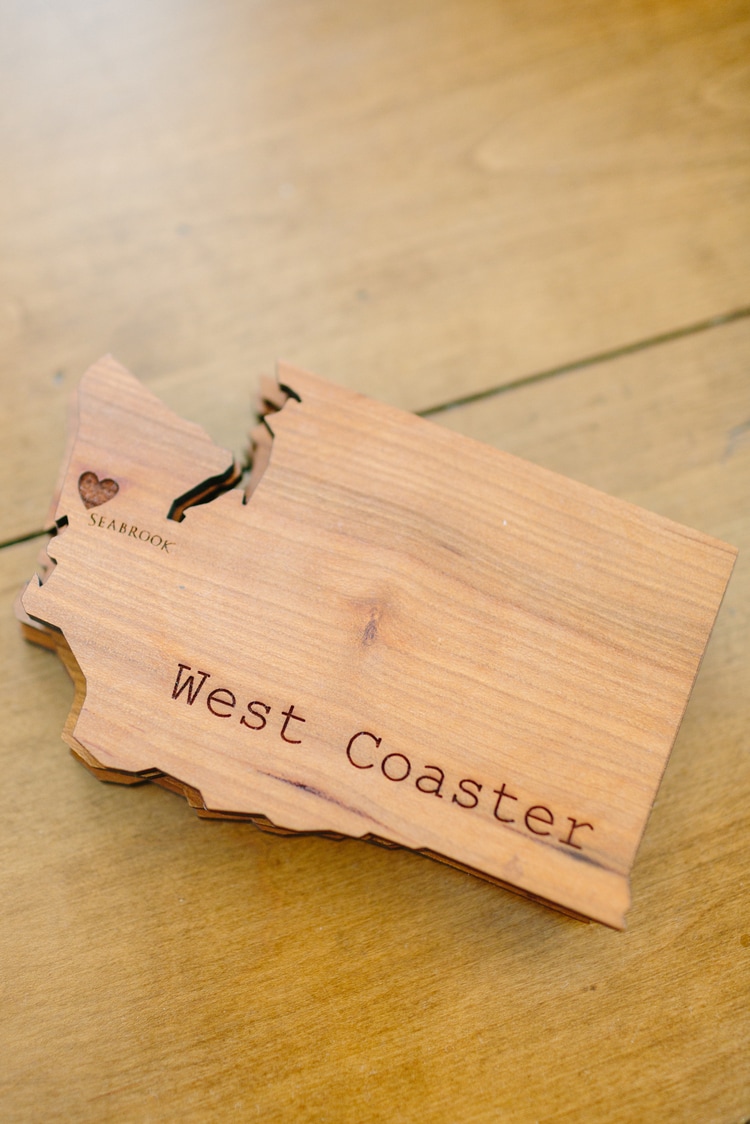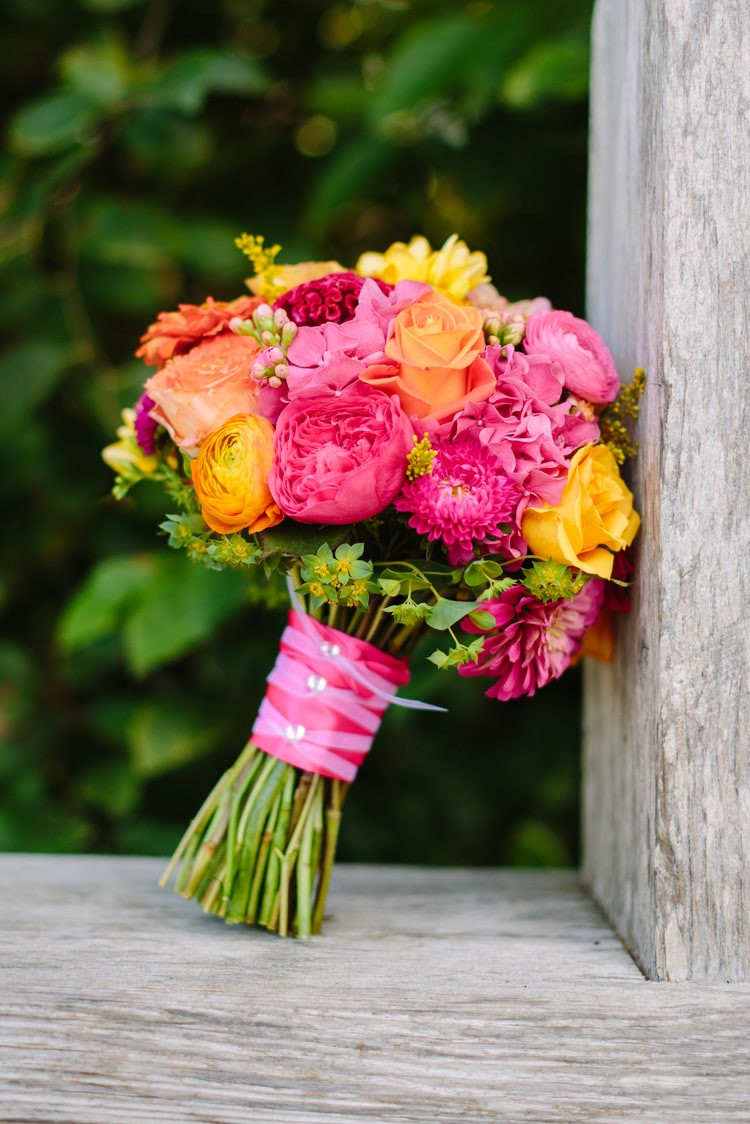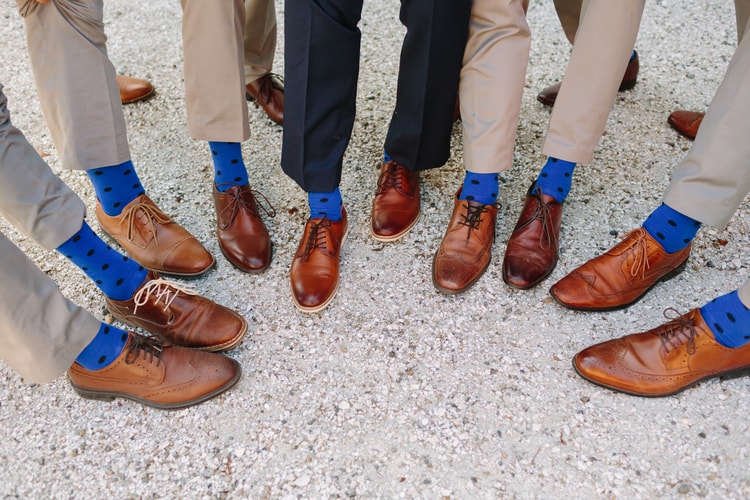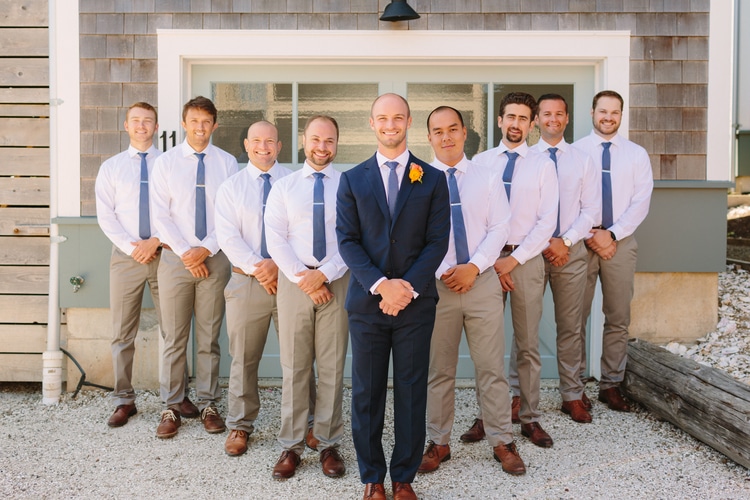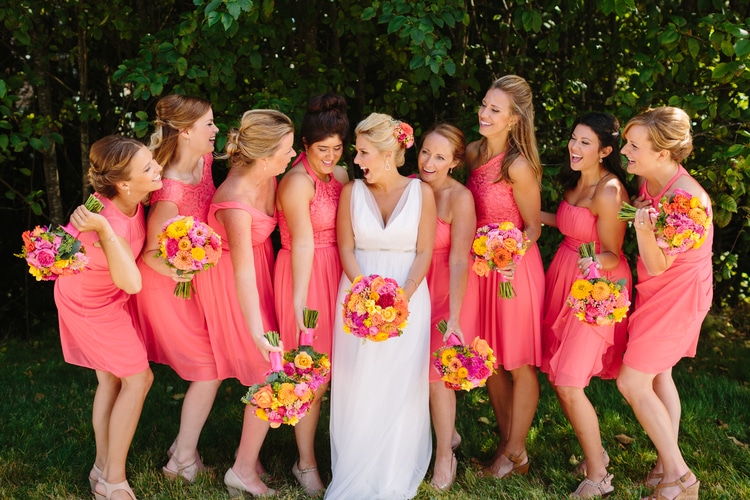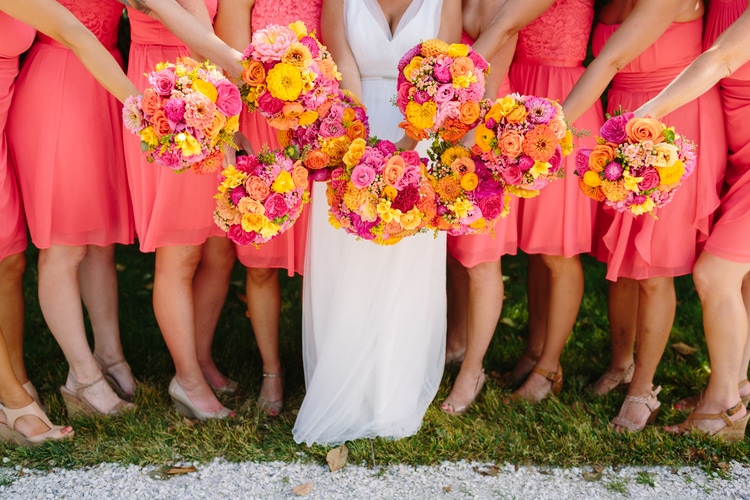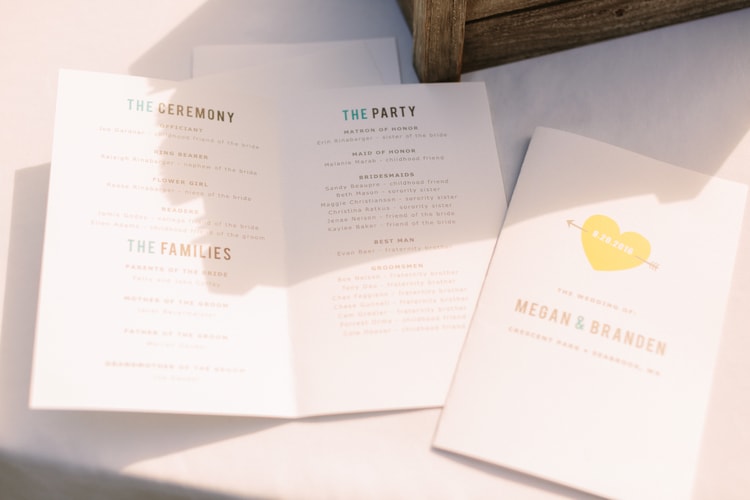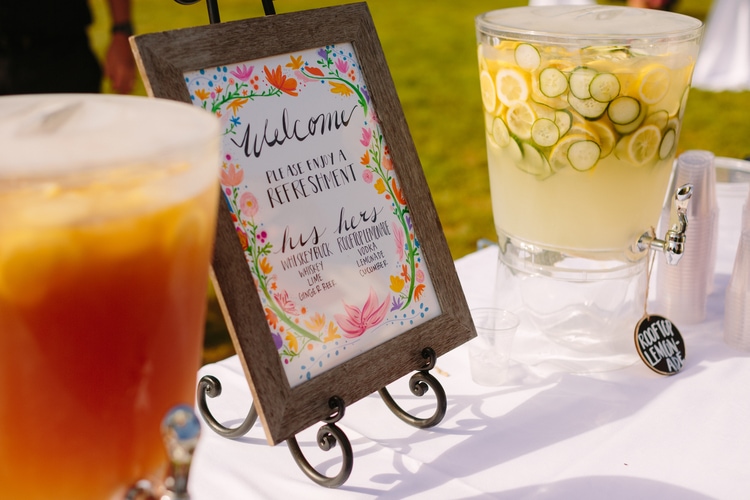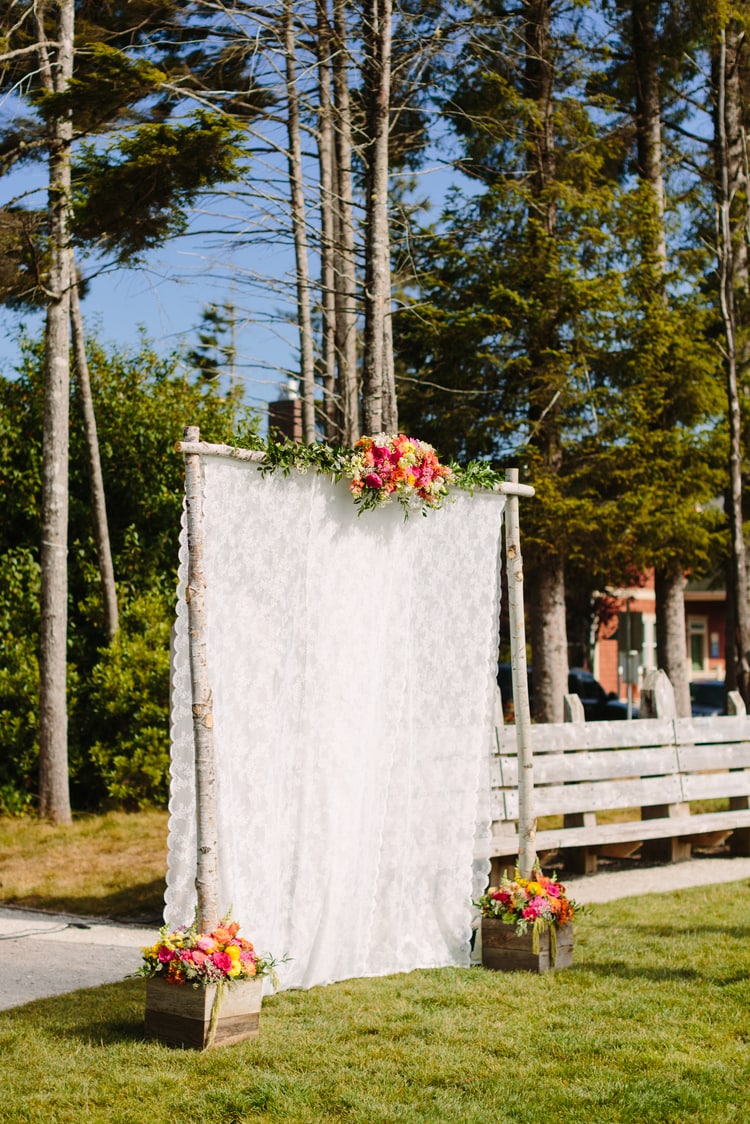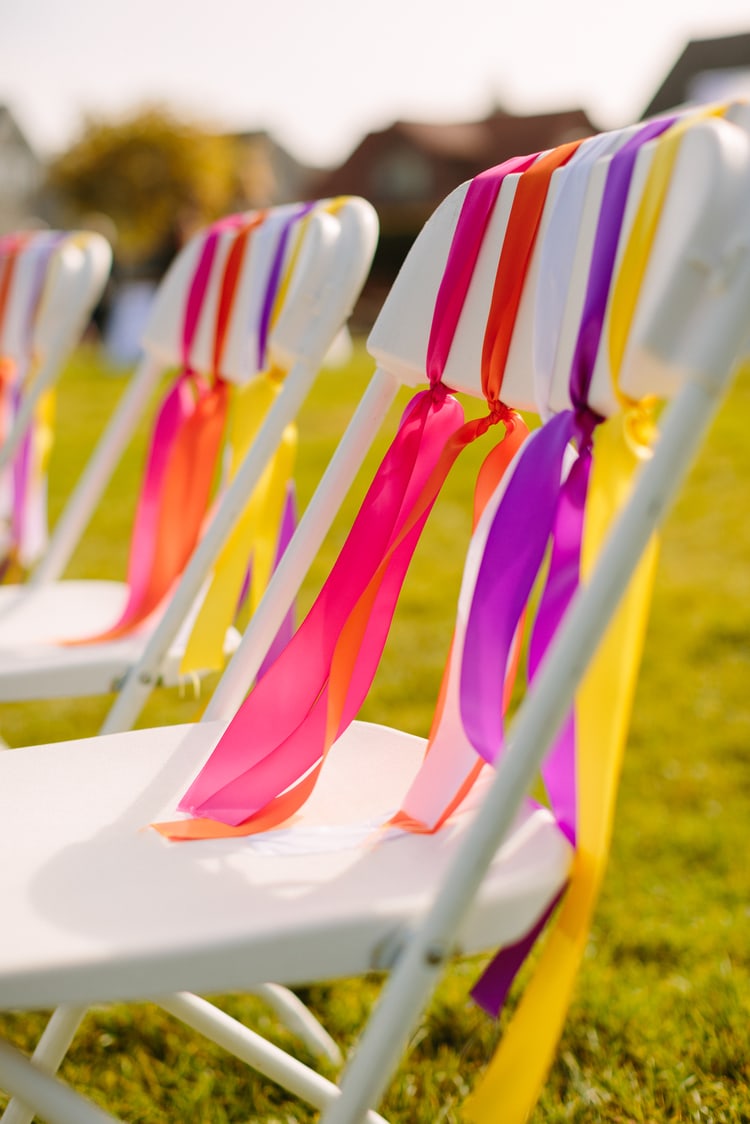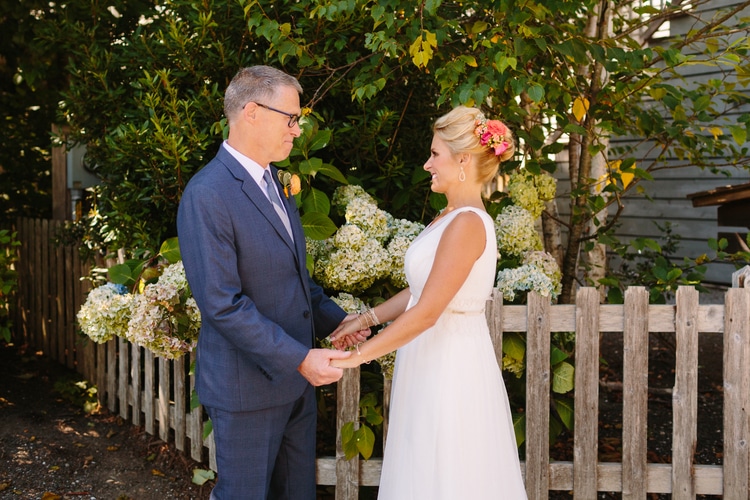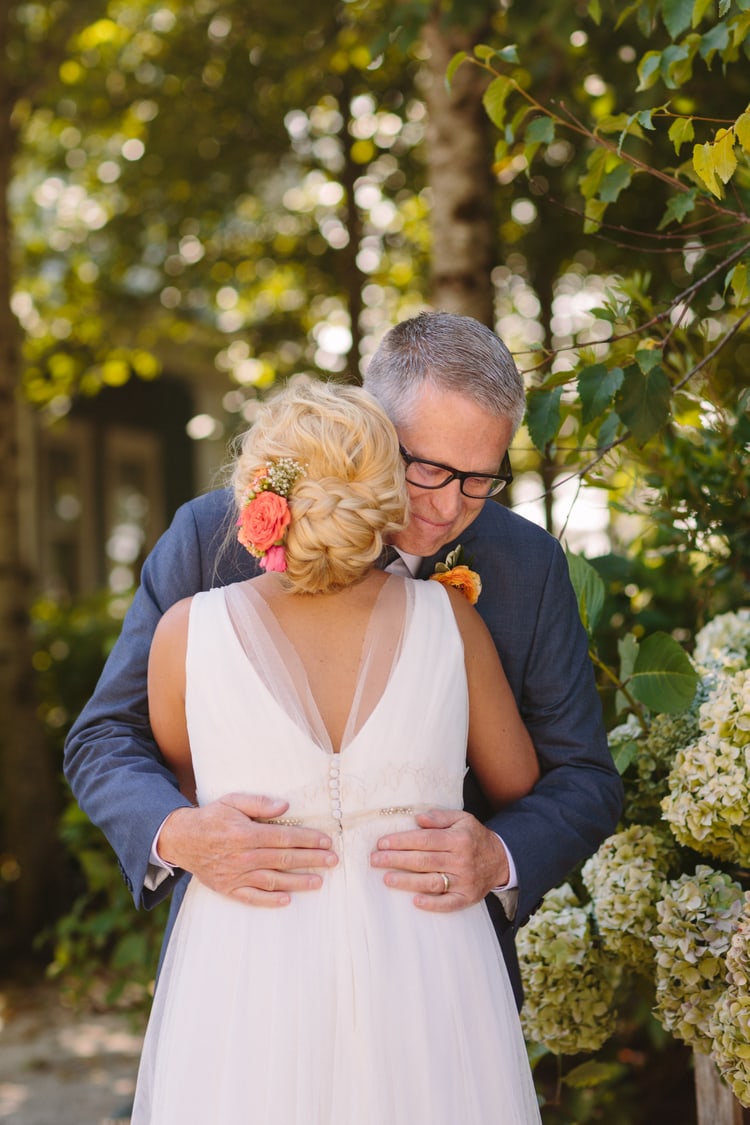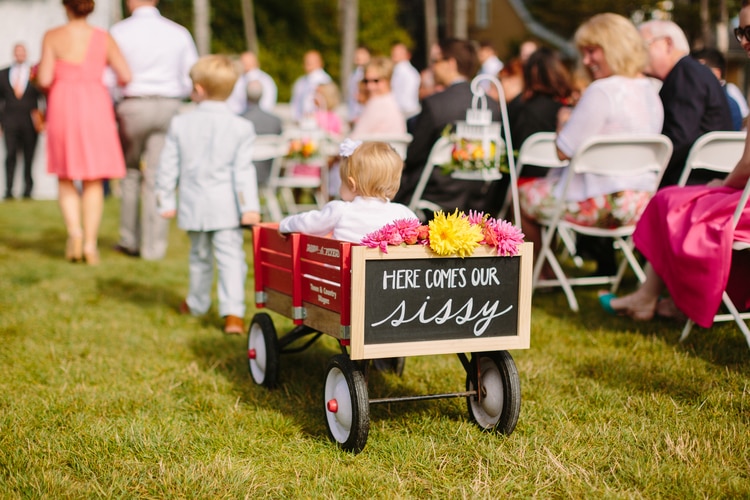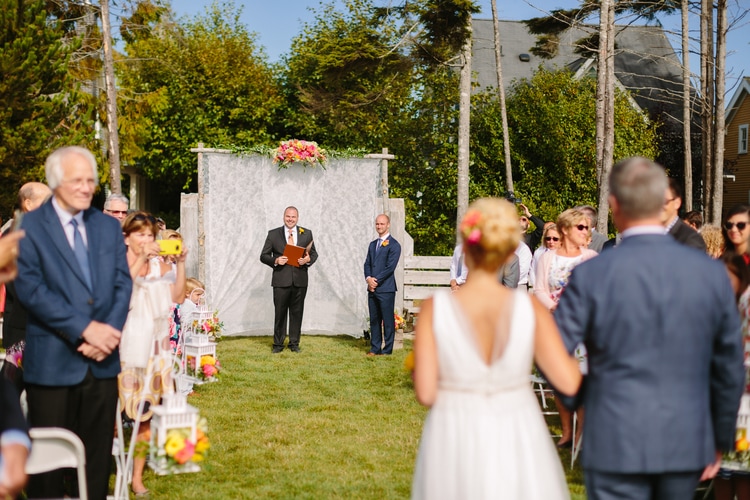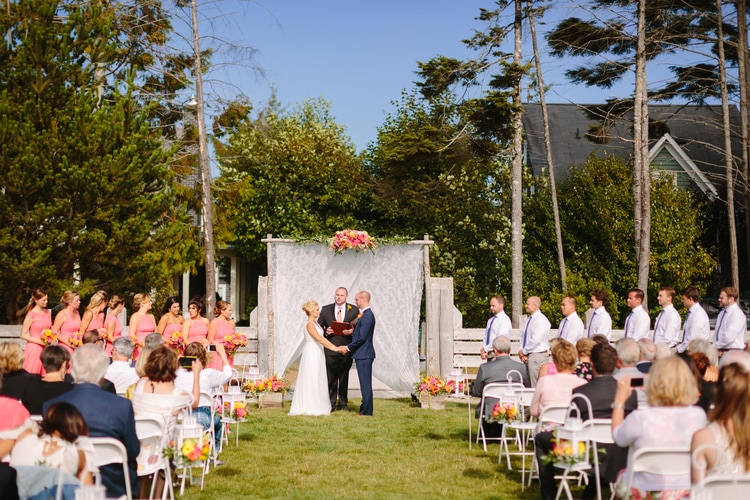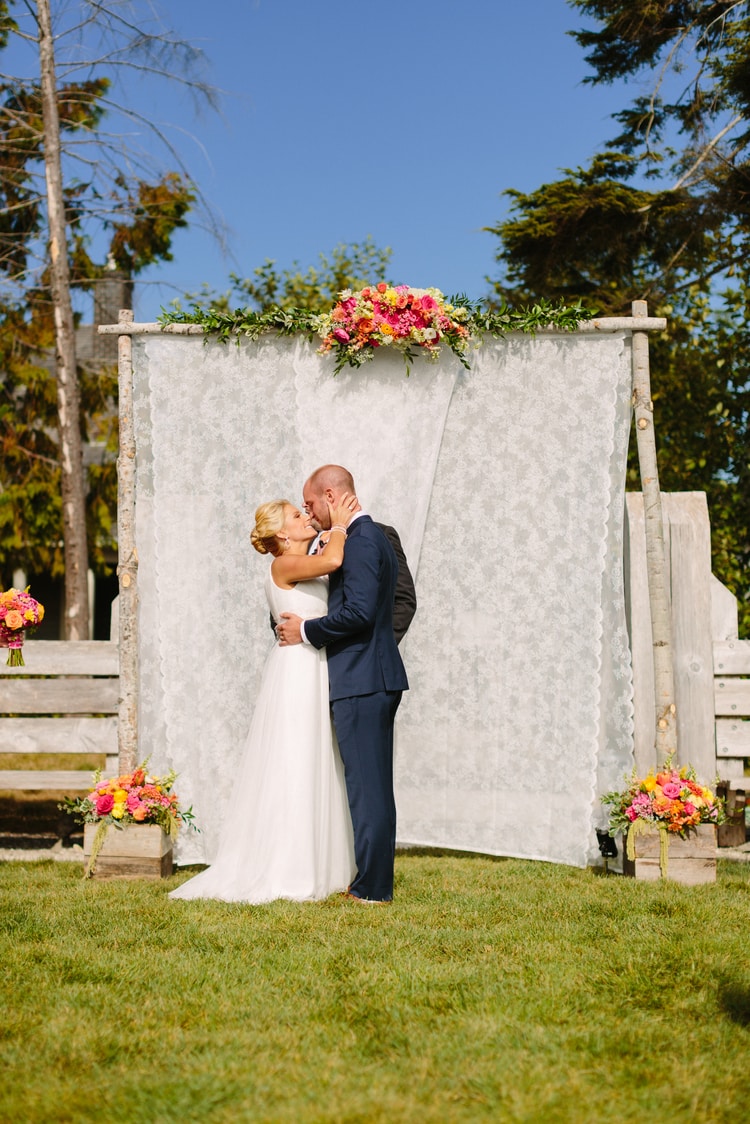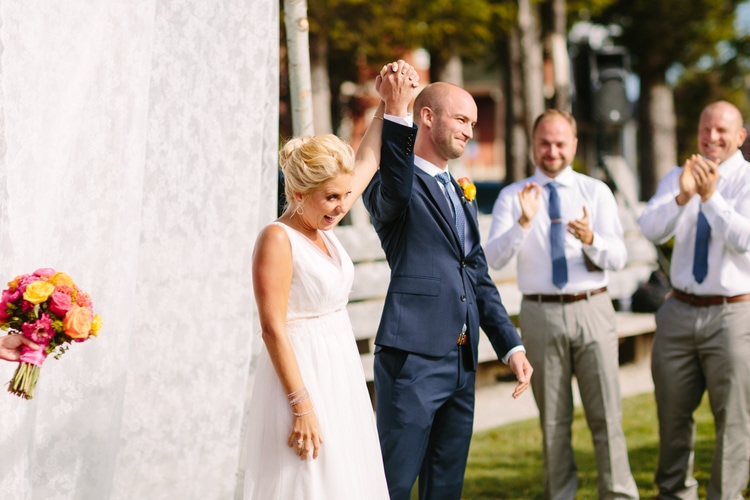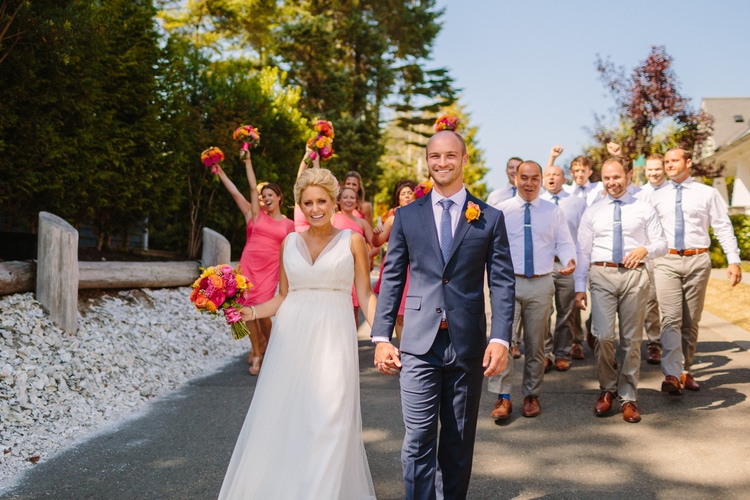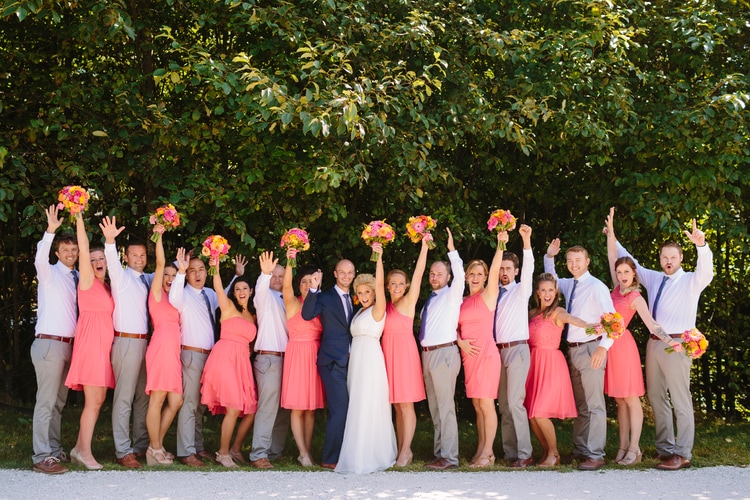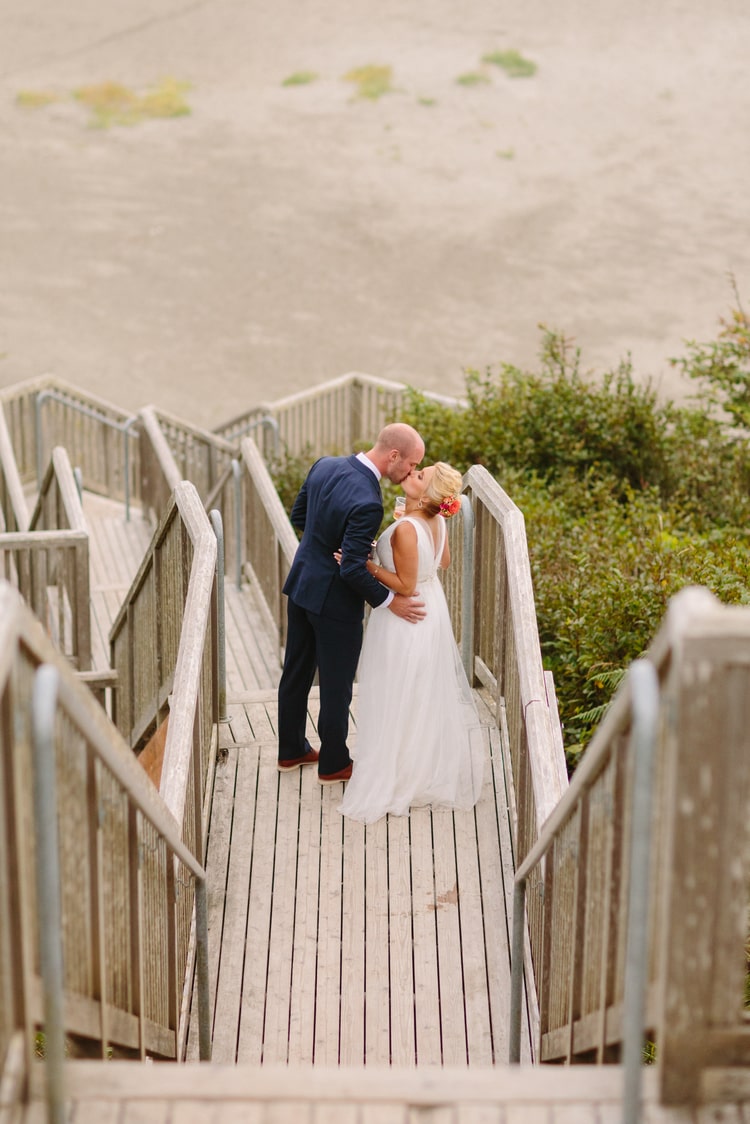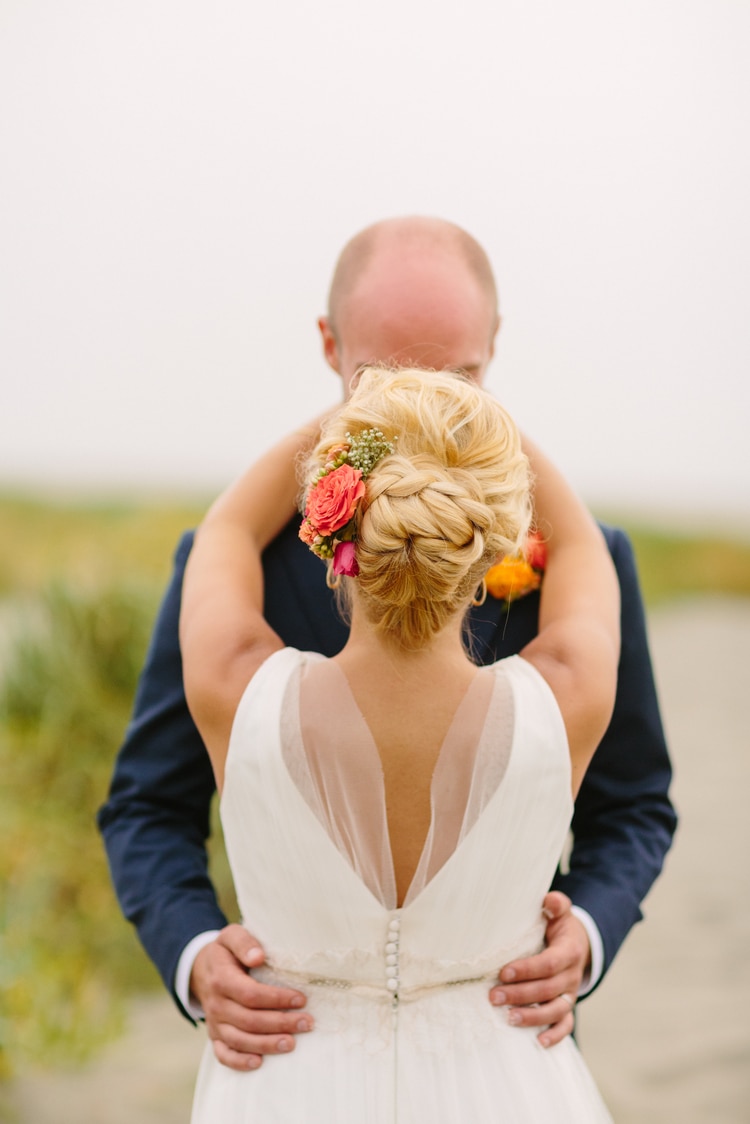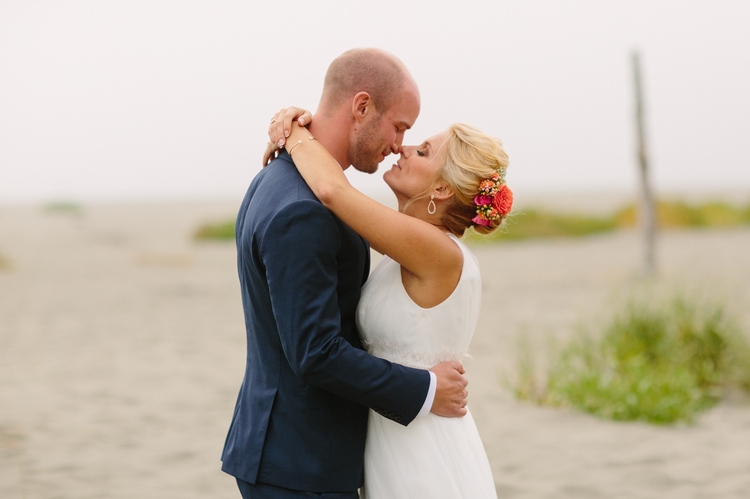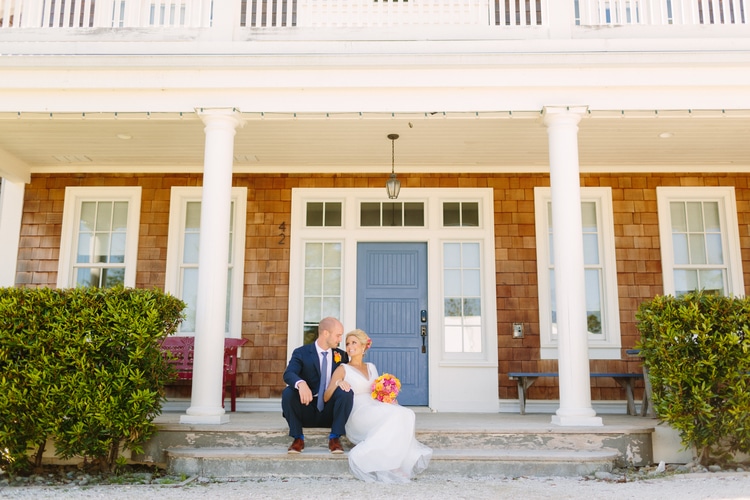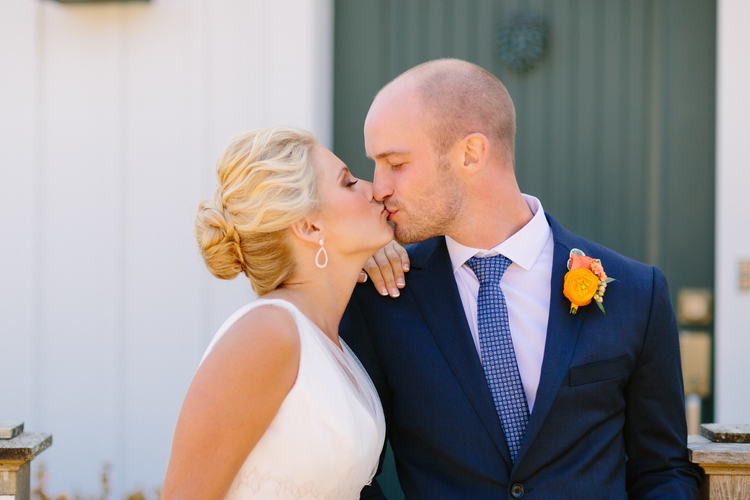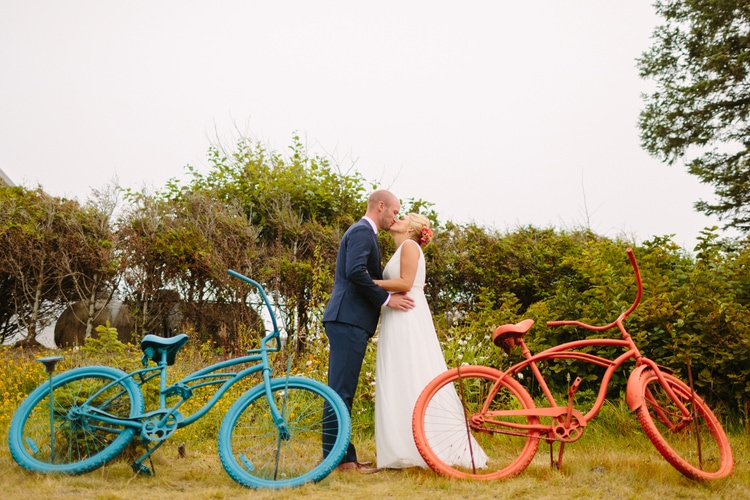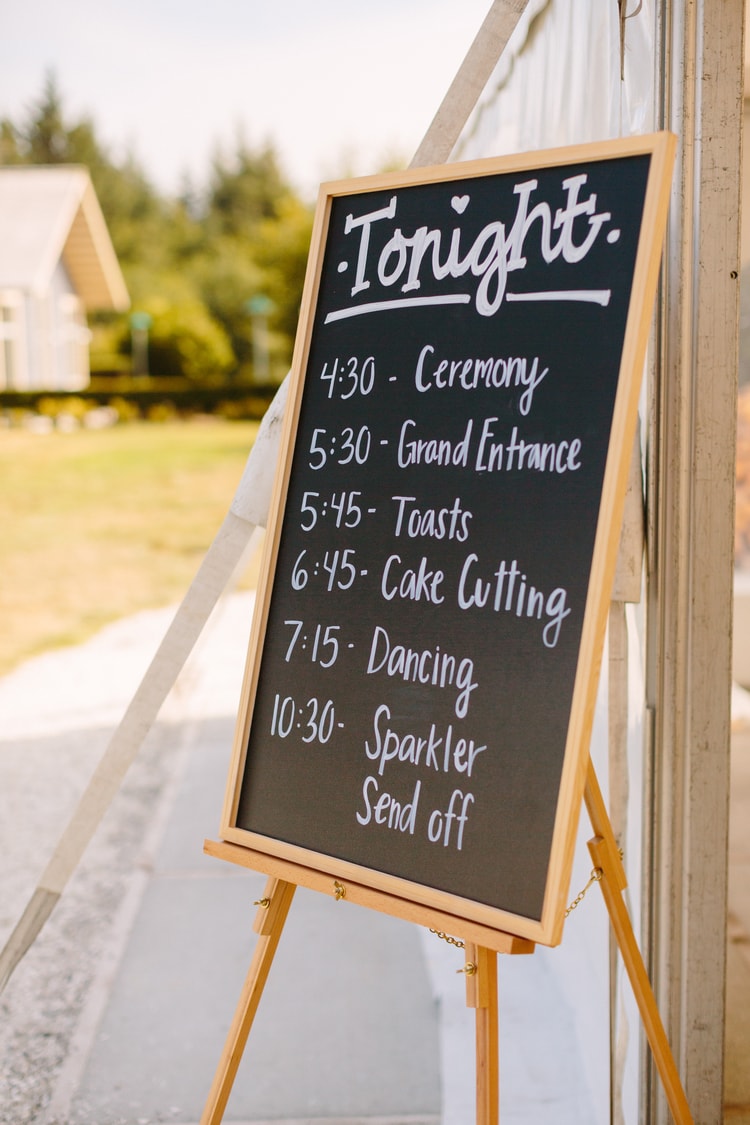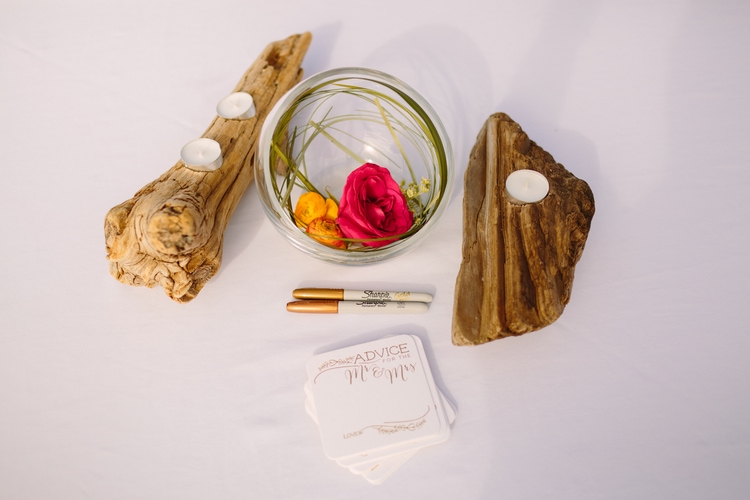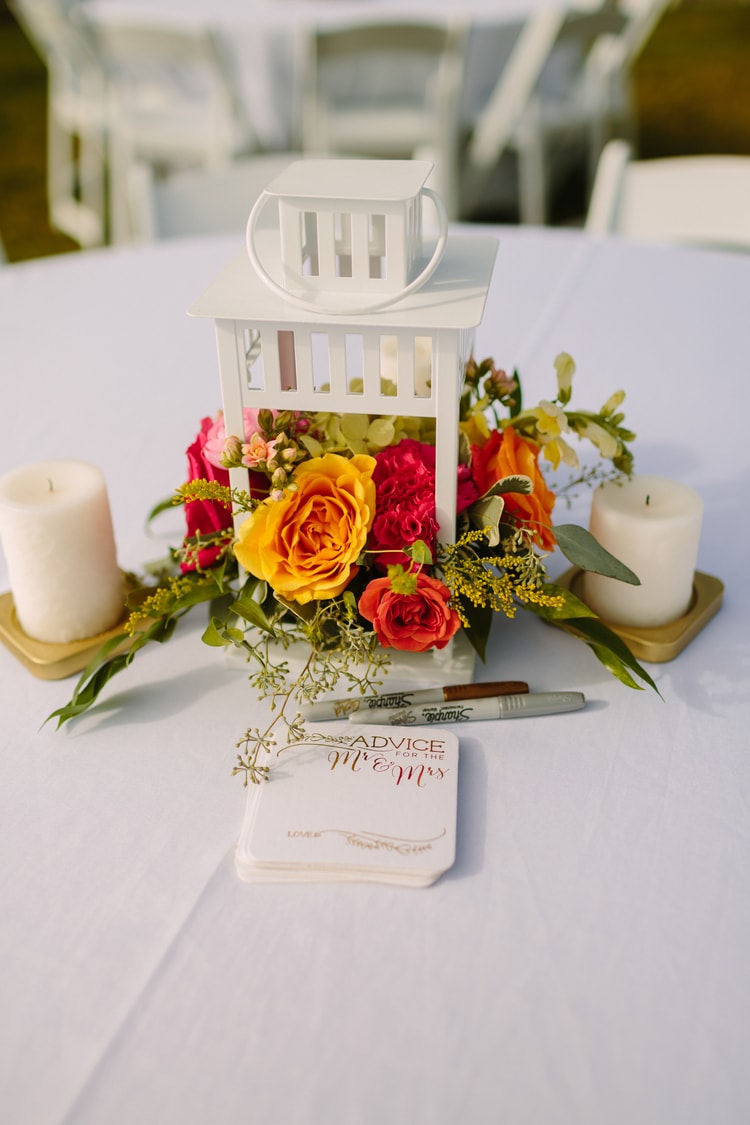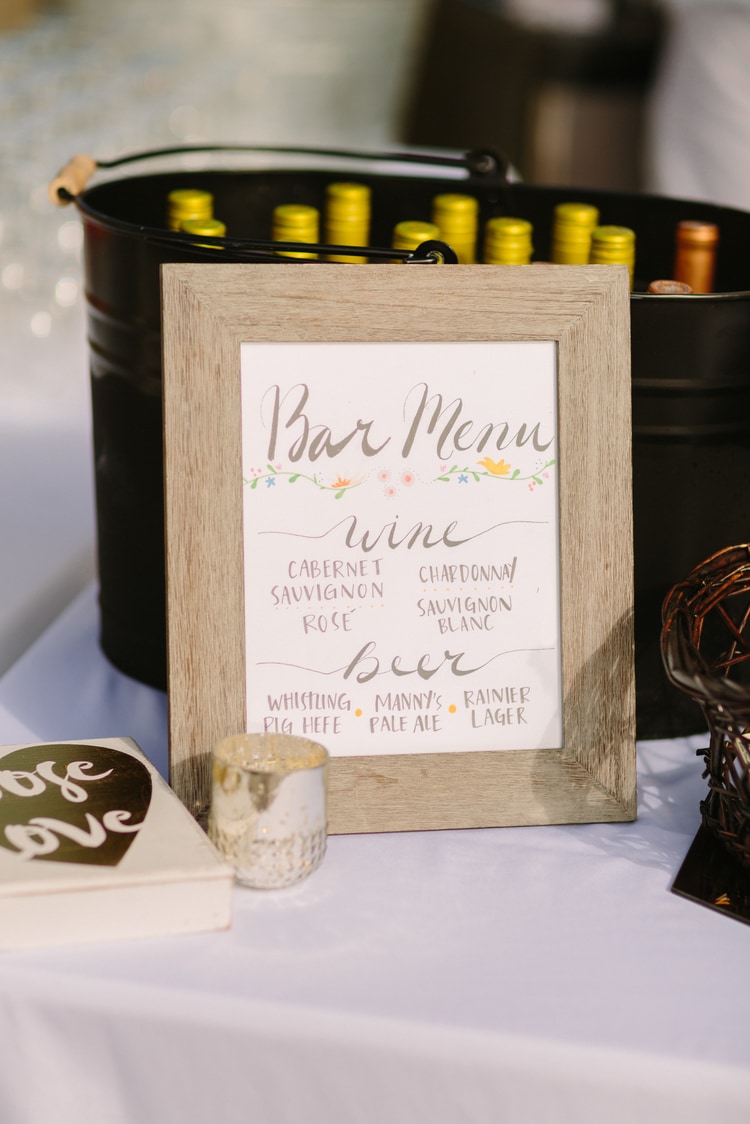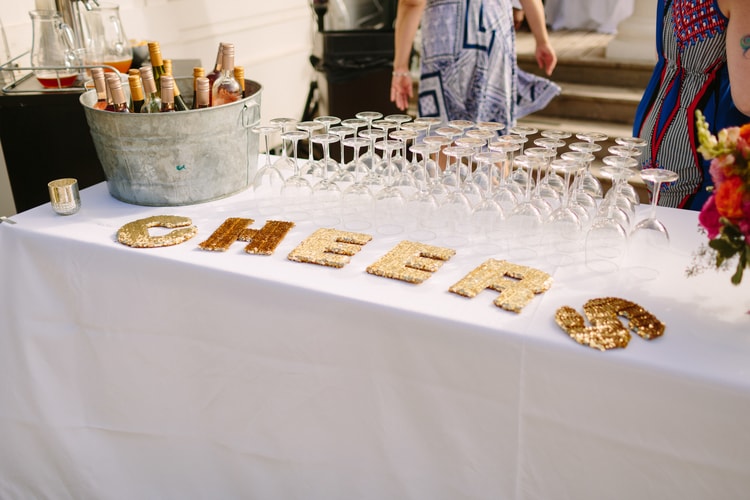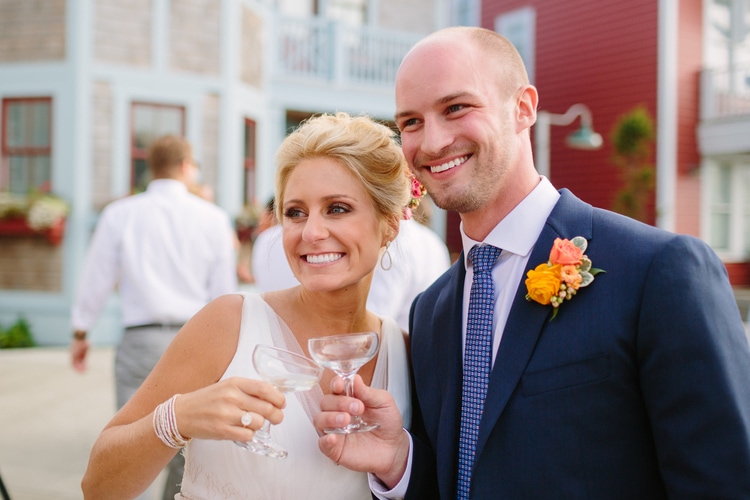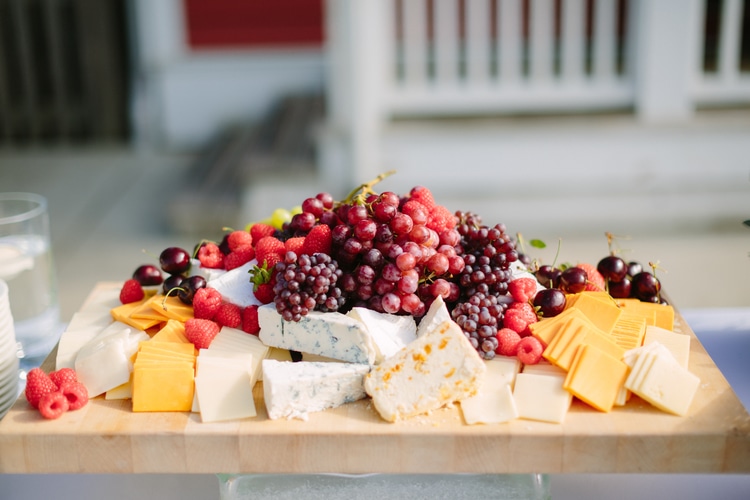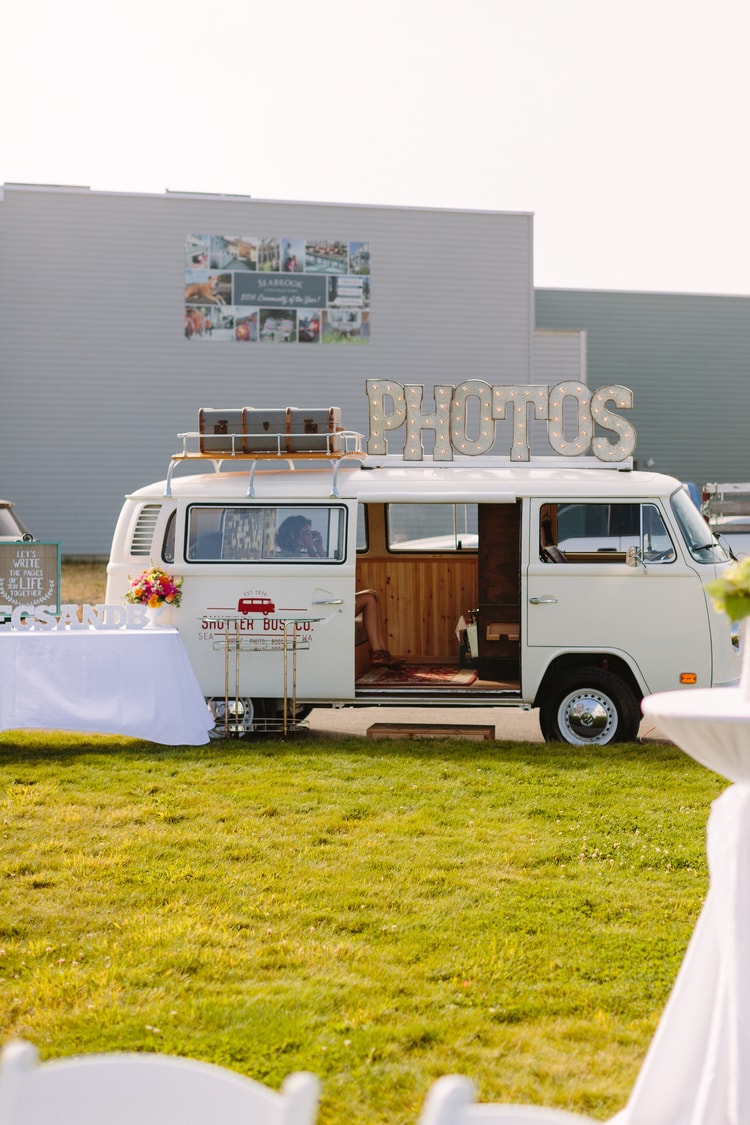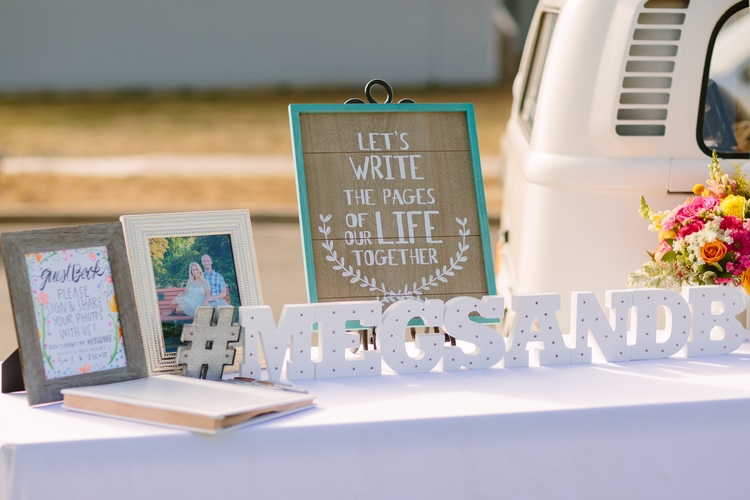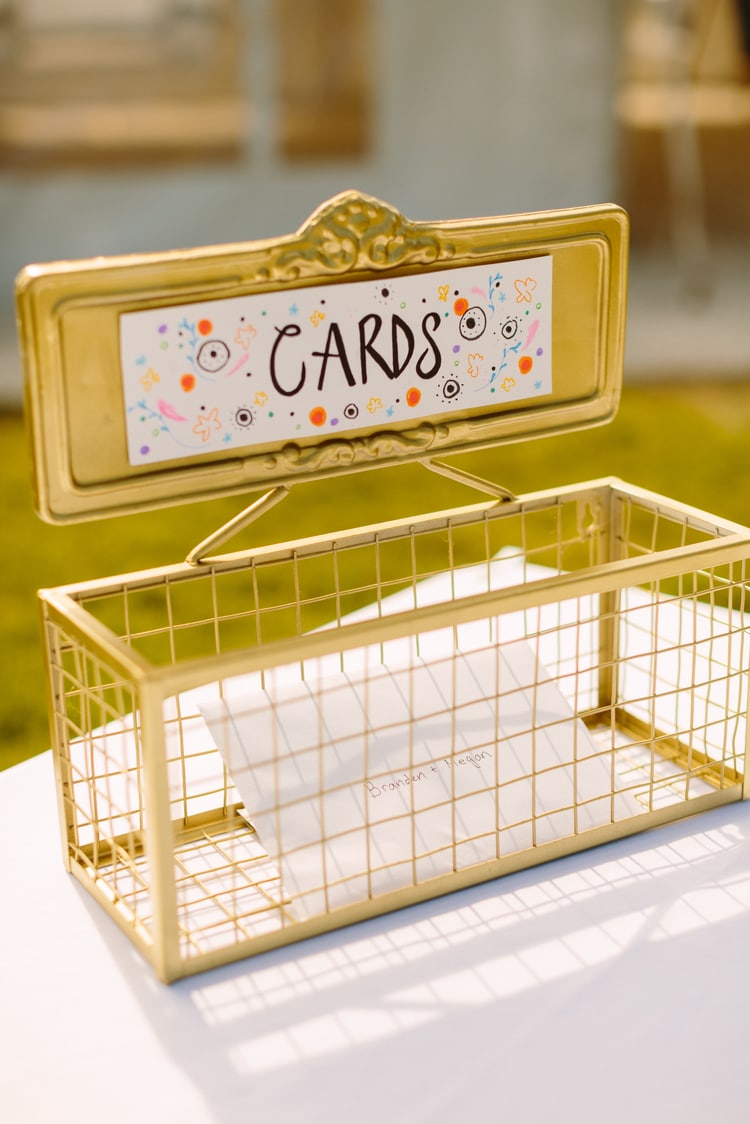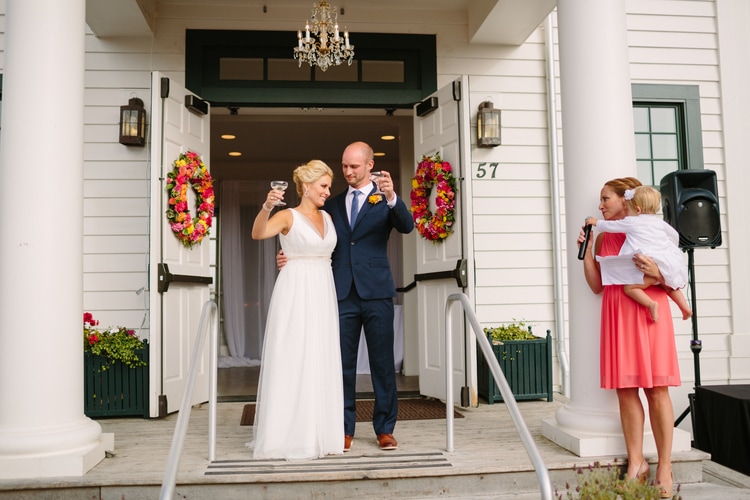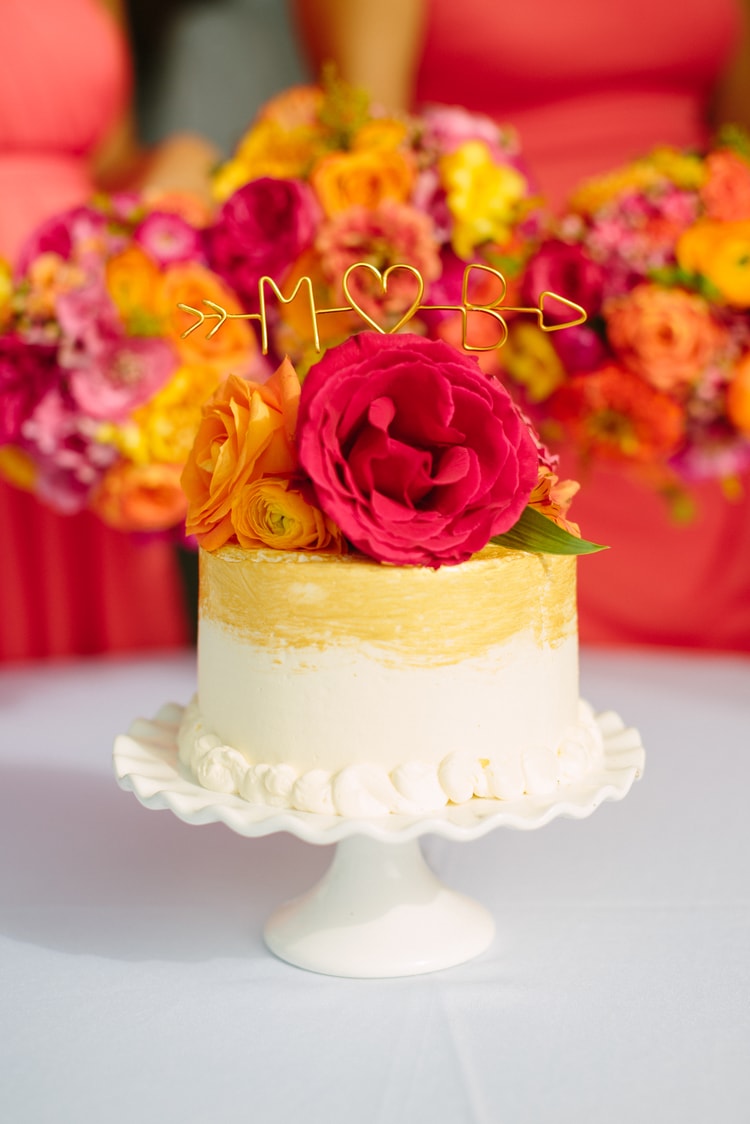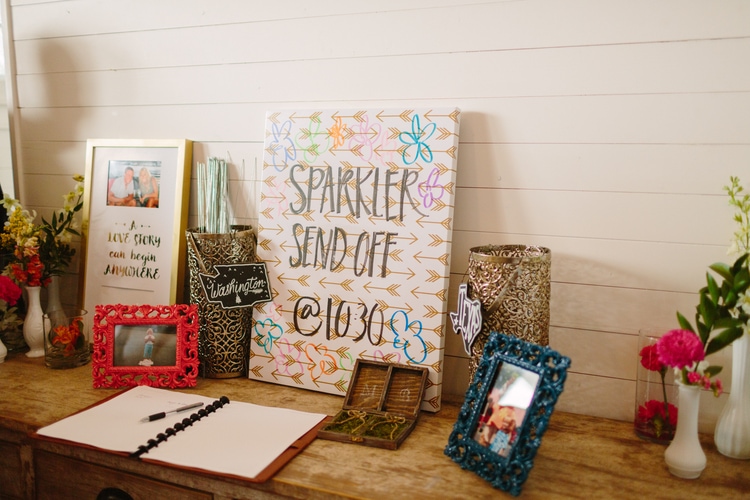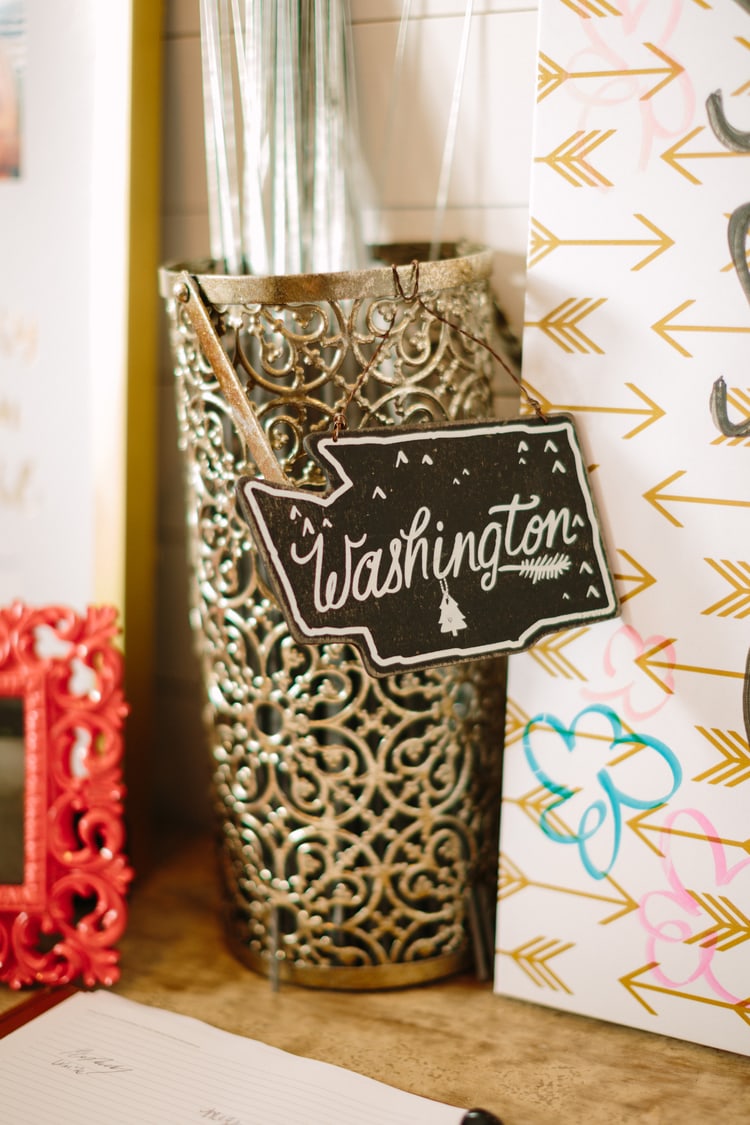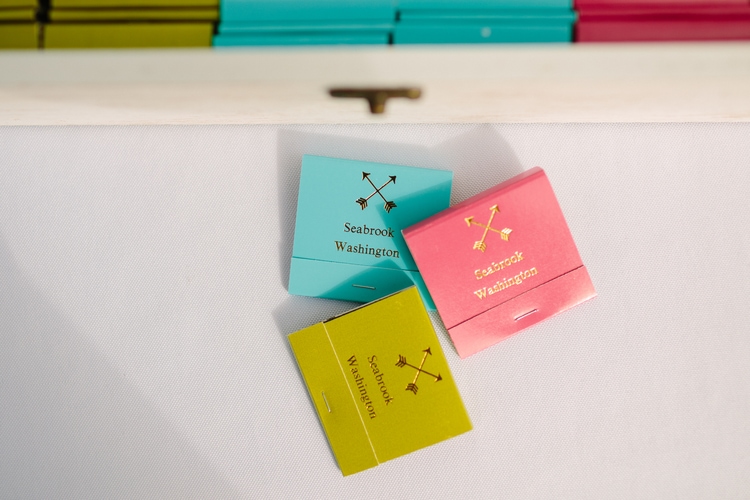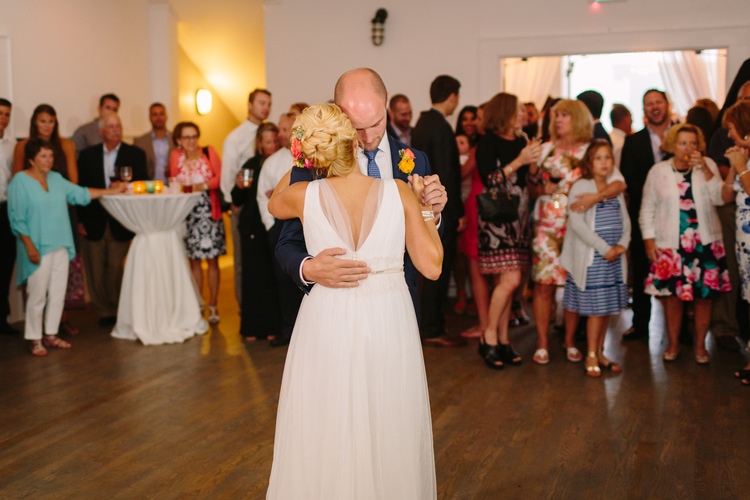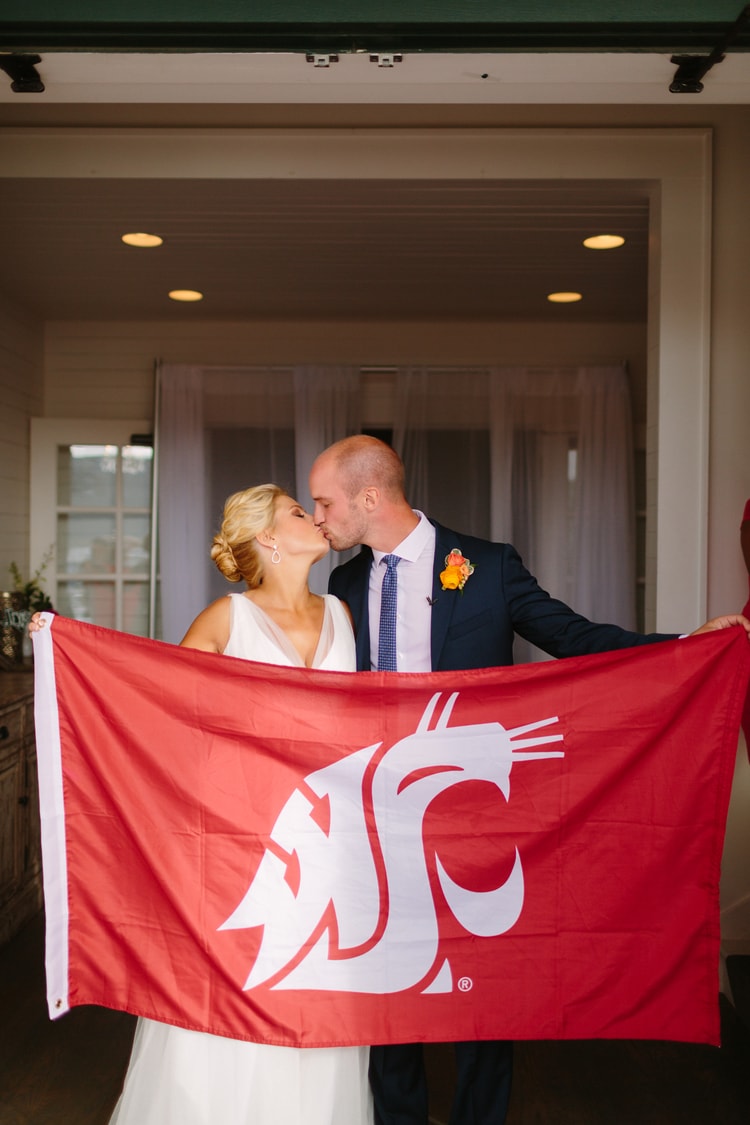 Real Destination Wedding Q&A with the Bride
What is your proposal story?
After seven years of being together, Branden proposed at the top of Oyster Dome in Western Washington on a rainy and cold Labor Day Weekend. The views were outstanding though!
Tell us a little a bit about your destination wedding (your vision, color, style, and location).
My vision for our wedding has always been to be vibrant & fun! I did want to follow more traditional aspects of a wedding ceremony and reception but also incorporate some more informal ways of doing things that reflected who we are as a couple. We were set on a destination wedding in the Washington State area that would allow 200+ guests and were so happy to have found Seabrook, Washington as an option. It offered the perfect setting for a weekend getaway and a great venue for an indoor/outdoor summer wedding. It was also extremely kid and dog friendly. Most importantly, I wanted to find a venue that would allow our guests to walk to/from our wedding to their lodging– and Seabrook did just that. All house rentals were within 1-10 minutes walking distance from our venue. I felt like this was the safer and most ideal option for our friends and family that were able to stay on the property. For color, we focused on bright, summery colors that really aligned with our personalities. Plus, I thought they would look nice against the backdrop of an ocean-side venue.
Tell us about your destination wedding attire.
When I first went to try on wedding dresses, I was aiming for midi/A-line gowns that were vintage inspired with lace and other beaded details. However, being only 4'11" I personally (and quickly) realized that this style did not suit my body type. Although beautiful and unique, they made me look shorter than I already was! I started looking at empire-waist style dresses that would hopefully be forgiving and provided a nice flow to them. My plan was to spend a lot of time on the dance floor so I knew I was focusing my hunt on a comfortable wedding dress. The search proved challenging as very few designers make empire-style dresses, but I finally found "the one" at I do Bridal in Seattle. After some modifications and (a lot of!) shortening, the dress turned out just as I wanted. I do not wear heels much and when I do, they're usually wedges. I wanted something dressy to match the wedding dress and after much trial and error, I found the perfect, comfortable wedding wedges from Macy's that were great for a grass ceremony! My husband knew he wanted to wear a navy suit, and he found the perfect one at Bonobo's. It offered stretch and fit his athletic build. The customer service was also top-notch which helped sway the purchase. Plus, he can wear it again for more formal settings!
What was the most important to the two of you while planning?
My number one priority was for our guests to feel excited and comfortable throughout the wedding weekend. I really wanted to ensure they had a good time. We were so appreciative that they were willing to make the trip to the coast and hoped they'd consider Seabrook as a nice Pacific Northwest destination wedding weekend getaway. Secondly, I wanted to make sure we had a good selection drink options. We knew we would only be serving beer and wine at the reception, but thought a His/Hers cocktail would be a fun addition to the wedding ceremony. They were refreshing for our guests during the 80-degree ceremony and I think it set the vibe for what was to come the rest of the evening. We also placed a huge emphasis on not doing a formal sit-down dinner. We wanted the guests moving and socializing with one another, and felt that a sit-down dinner would discourage the flow of the wedding. Waiters offered passed and displayed appetizers, plus a late night snack of pizza and a wide variety of bite-sized desserts. Music was also a key focus for our wedding. I wanted a DJ that could really keep the flow of the wedding moving while keeping the crowd engaged and hyped up. Our DJ did a wonderful job with the transitions and played just the right songs for each aspect of the afternoon and evening. One big splurge was our wedding photo bus! We had not originally intended on doing a photo-booth but I found the VW bus option and couldn't resist. I think our guest had a great time with it. Plus, they could take away a copy of their pictures, and place the duplicate copy in our wedding guest book. It turned out to be a great wedding takeaway plus a good and hilarious memory for us.
What were your favorite parts of the day?
The day went by far too fast. I wish I could relive each and every moment. We could not have been any luckier on the weather front. Having a decent forecast on the Washington coast can be very unreliable even when it's the end of August. However, we were incredibly fortunate that the sun was shining bright, the temperature was warm and the rain stayed away as long as it could. I loved getting ready with my girlfriends, we had lots of yummy snacks, drinks, and great party music. I'm sure the boys had just as much fun, eating, drinking and playing basketball. The group pictures were also fun (especially when you combine 16 wedding attendants with an excited bride and groom). In addition, we loved having our immediate and extended families all in one place for the family photos. For the ceremony, we decided to write our own vows. They were personal, emotional and while reading them, it was as if it was just he and I alone in the park together. A dear friend was our officiant. He combined history, humor plus a slightly more serious tempo and it was exactly what we wanted. It was a very special moment. My favorite memory from the reception was our best man and maid & matron of honor speeches. All three blew us away. Laughter was had and tears were shed. I am so grateful to be able to have these memories available to re-watch on our sneak-peak and full-length wedding videos.
Tell us about your destination wedding flowers.
I wanted the flowers to match the colors of the wedding. Lots of bright summery options – pinks, yellows, oranges, and white with some greenery. I thought they paired well with the bridesmaid dresses and the navy and grey suits. The flower arrangements were far better than I ever could have imagined. I absolutely loved the bouquets, the wreaths on our venue door, and the arbor built by my father-in-law. I wanted to ensure that the flowers were able to be re-purposed from the wedding ceremony to the reception and the florist created exactly what I had visioned. The arbor idea was one of the very first images I pinned for our wedding!
Tell us about your wedding cake.
Neither of us are big cake eaters, but we still wanted to have a more traditional wedding cake cutting. We went with a smaller more formal design for our cake, but then offered a variety of desserts for our guests to enjoy later in the evening. We chose some options that fit our taste buds, like cookies, brownies, fruit cobblers, creme brule etc…
What did you do for destination wedding favors?
In addition to offering the Photo Bus + pictures, we also provided personalized matchbooks that were up for grabs for our wedding guests. Then, at the end of the evening – we all had fun with a sparkler send-off!
Do you have any advice for couples planning their own Seabrook destination wedding?
For couples planning weddings right now, I think the most important first step(s) is to gauge headcount and budget. When we started making our guest list, we quickly realized that our number would well be over 200 attendees (especially knowing that we were also welcoming kids). With that piece of information, we were able to eliminate several venues based on size and cost alone. Then we tackled budget – although we did go over the budget with a few "splurges," the cost of our wedding seemed to align pretty closely with what I had suspected. Our plan for an appetizer only wedding turned out like we had imagined, but the price seemed to almost be equal to what a sit-down dinner would have been, once you take into account all appetizers, snacks and dessert options. I still preferred our method for a non-formal dinner but probably should have added a couple more food options as I did not want our guests leaving hungry.
What was the best part of having a Seabrook destination wedding?
The location we chose ended up being exactly what I had envisioned. I was extremely happy with our destination wedding venue. Plus – their personalized service was amazing! They went above and beyond.
What was the biggest challenge of planning your destination wedding?
A few challenges with it being a destination wedding is that it's hard to know exactly what areas to design and decorate and it can be tough finding vendors that were willing to travel out of the way. We ended up paying some delivery fees for those outside of the area (which was most of our vendors). I created a couple vision boards and 4-5 different table settings for our cocktail tables, as well as the larger lower tables that were available. That helped with the wedding planning evolution.
Vendors:
Photography: Courtney Bowlden Photography
Ceremony Venue: Seabrook
Floral: Aisle of Blooms
Event Planning: Wishes! Wedding Coordinating
Beauty: Off White
Videography: final take
Rentals: Vintage Ambiance
Photo Booth: shutter bus
Linens: Platinum Designs
Wedding Dress: BHLDN
Groom's Attire: Bonobos
Bridesmaid Dresses: David's Bridal