Traditionally, wedding dress shopping is done in a physical wedding dress boutique. But, over the past decade or so, many modern brides are confident enough to break the tradition, and take on the convenience of buying their wedding dress online!
While buying a wedding dress online may be easier, and a heck of a lot cheaper, there is a lot you need to know before you get started. But don't worry – I've done a ton of research and tapped into some expert advice about buying a wedding dress online. And it's all here so that you can buy the wedding dress of your dreams, from the comfort of your home, without getting scammed.
Why You Should Consider Buying a Wedding Dress Online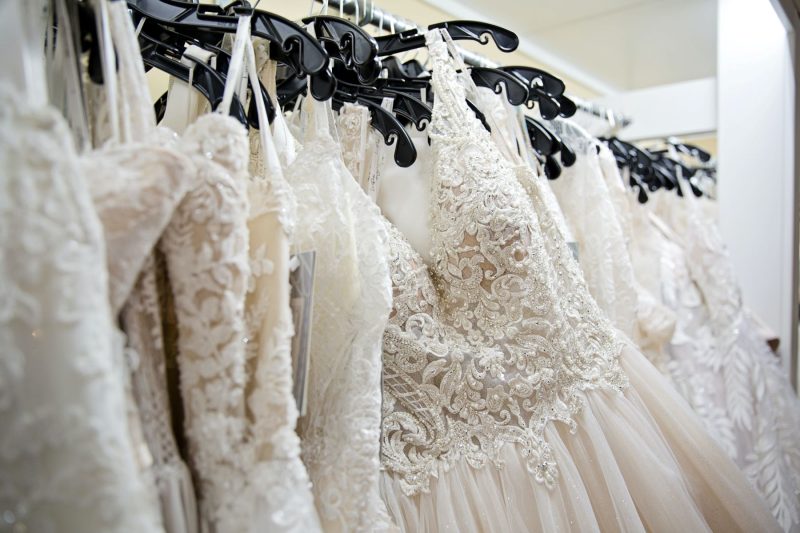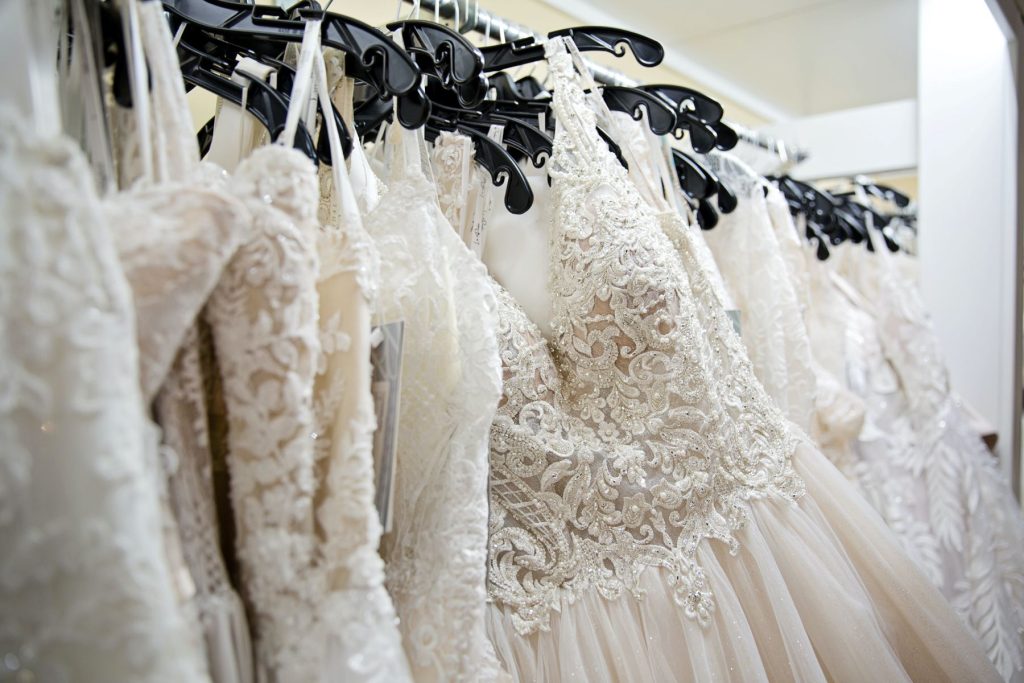 Buying a Wedding Dress Online is Cost-Effective
The main draw for buying a wedding dress online is the amount of money you save. You can buy a totally legit, designer wedding gown and save anywhere from 40%-50% compared to what you'd pay in a brick and mortar store. When you are shopping online, you are not physically walking into a store, which has lots of overhead costs. Stores have to pay rent, their employees, utilities, and taxes. Actually, you end up paying a lot of that for store owners because they tend to hike the prices up on their gowns just to stay afloat, let alone make a profit.
It is Convenient
Think about it- when you shop online, you are sitting on your own couch. You don't have to travel anywhere in search of the perfect style. So, just consider how much you're saving in gas costs and wear and tear on your car. I can also tell you from first-hand experience, that you'll have a lot more options online. When you go into a bridal boutique, they'll have a pretty good selection of dresses but they may not have the dress of your dreams. So you might end up having to go from store to store to find "the one". When you shop online, you'll have a much wider selection of dresses to choose from, all in one place.
Where to Buy an Authentic Wedding Dress Online
So now you have a better idea of the advantages of buying online, but I'm here to tell you that you have to be super careful about where you shop because there are tons of scammers out there. The thing is that although some people will make you believe that every online wedding shop is a scam, that is just not the case. There are some truly legit ones out there. But weeding out the bad apples can be tricky.
When you search for wedding dresses online, it seems as if all the sites you come across appear to be "reputable." But, some are so much better than others. It's important to read consumer reviews regarding each site you visit. A customer who has gotten ripped off or scammed is sure to publish a post, so pay attention. One of the biggest scams brides go through is paying a fortune for a gown that the site claims to be "designer," but ends up being a cheap knock-off; looking nothing like the picture posted online.
You should never shop a site that you have never heard of before or one that is not featured in a major magazine. Never shop anywhere that doesn't offer returns! Never shop online from a vendor that doesn't have enough information listed on their website, like contact information or that doesn't have phone customer service available!
The following sites are totally legit, must-shop stops when you are searching the web for the dress of your dreams.
Disclosure: We earn a small commission for purchases made through some of the links in this post, at no additional cost to you. It's one of the ways we keep this site running.
BHLDN
BHLDN (pronounced beholden) is part of Anthropologie so you know they're the real deal. They have a great site with stylists who are available to help you find the dress of your dreams. Their stylists can give you styling and sizing advice, reassurance, tips on the perfect accessories for your dress, or just a second opinion. It's a very organized website that spells everything out for you when it comes to ordering online and understanding their policies.
They carry some absolutely stunning authentic gowns from major designers. And they have brick and mortar stores in 16 major cities across the U.S. so you can go and try on the dress in person before buying it online. Oh – and another thing I love about them is that if your dress is in stock, it usually takes only 5-7 days for it to arrive! With an excellent return policy, top-notch customer service, and exclusive dress styles, BHLDN is one of the best options for buying a wedding dress online.
Lulus Bridal Shop
Although they are a huge fashion brand, Lulus just recently unveiled a bridal line for the more casual bride who is looking for gorgeous and affordable styles. Their easy-to-navigate site is known for its impeccable customer service and they have an excellent return policy.
Lulus | In Amazement White Tulle Embroider…
Lulus Exclusive! The Lulus Luxe In Amazement White Tulle Embroidered Sleeveless Gown wi… [More]
Online Wedding Dress Shopping Tips
Ok, so now you have a better idea of the pros of buying a wedding dress online and how to avoid getting ripped off. But there are three key tips you need to keep in mind once you actually start shopping for a wedding dress online.
1. Pad Your Date
If you want the perfect dress, you have to have enough time for the dress to reach you. Don't expect to have your ideal dress overnight. While some online retailers will ship an in-stock dress within a week, others can take up to 6-12 months to ship a dress (the same goes even if you were buying in a store).
When selecting a shipping date, you should aim to have your dress shipped well in advance of your travel date – not your wedding date. This is a biggie. If a retailer asks for your wedding date, you need to give them your travel date because that is the date they will aim for when shipping your dress. To be even safer, pad the heck out of that date.
You also have to consider alteration time. This can take about 3-6 months, on average! It's smart to book a seamstress even before you place your dress order. She can take accurate measurements so that you can purchase the right size dress. You can give her a time frame as to when your dress will arrive and set up future appointments as well. And speaking of seamstress….
2. Get a Great Seamstress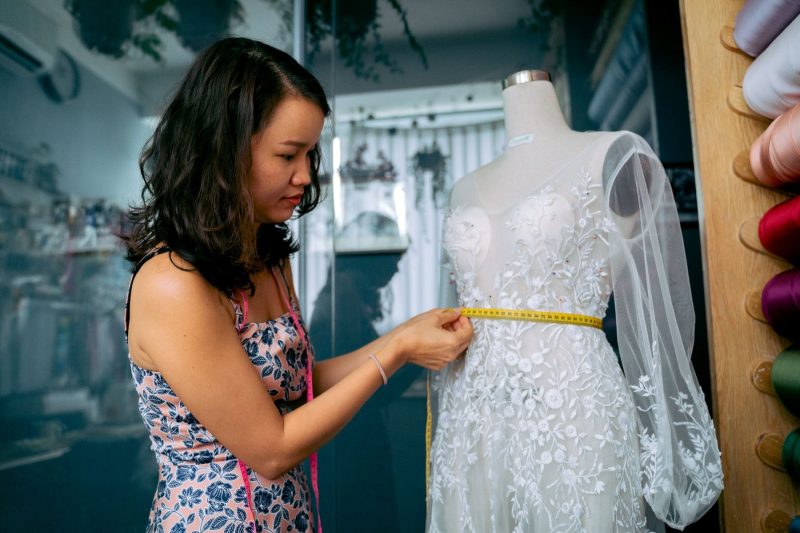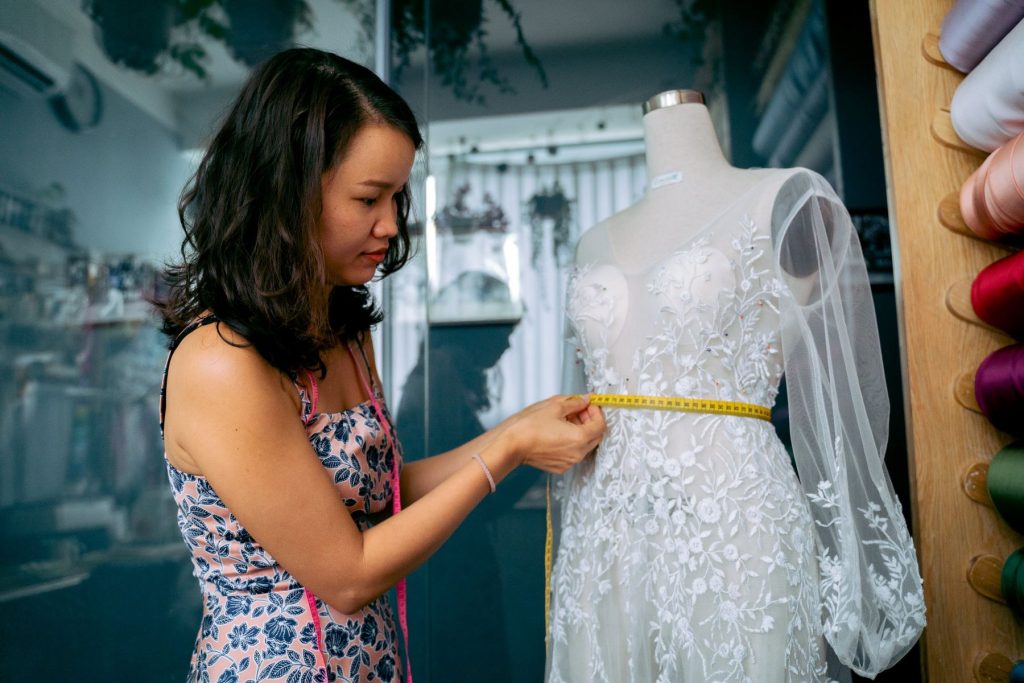 This is what will make or break your online wedding dress shopping experience. You need to make sure you have an awesome seamstress on hand who has vast experience with wedding dress alterations. This also leads to my next piece of advice, which is….
3. When in doubt, order a size up
A great seamstress can take in a large dress and make it fit your body. But not even a miracle worker can fit you into a dress that is too small. Most of the good online wedding dress shops will have size charts or a stylist who can help you pick the right size. But if you're debating between two sizes when buying a wedding dress online, always go for the bigger size. And then let your awesome seamstress work her magic.
Stay educated, aware, confident, and time-oriented during this process. If you are, you'll get the dress you love, at a price you deserve!
Disclaimer: The information and opinions in this post are for general guidance only. Although we make every effort to ensure that the content is both current and accurate, errors can occur.
Other Posts You Might Enjoy