Say hello to an explosion of color with this amazing Indian destination wedding! When choosing a location, being by the water was essential for Nirjary & Amit. The bride is a wedding planner herself and knew she wanted something unique for her own big day. Cabo fit all their criteria, and plans for their beach wedding began!
Every moment of this wedding celebration was filled with color, fun, and lots of dancing! I love all of the colorful hanging tassels at their Pithi. It makes such a statement! For their beach ceremony, the design included a mirror arch and thousands of hanging shells. Then the couple and all their guests wore shades of green to complement the ocean hues. Talk about perfect planning! The reception was all about luxe glamour with dozens of candelabras and chandeliers. They even had their first dance to "Tale as Old as Time" from Beauty and the Beast completing the oh so romantic feel!
Nadia D captured all the amazing outfits and moments you definitely can't afford to miss!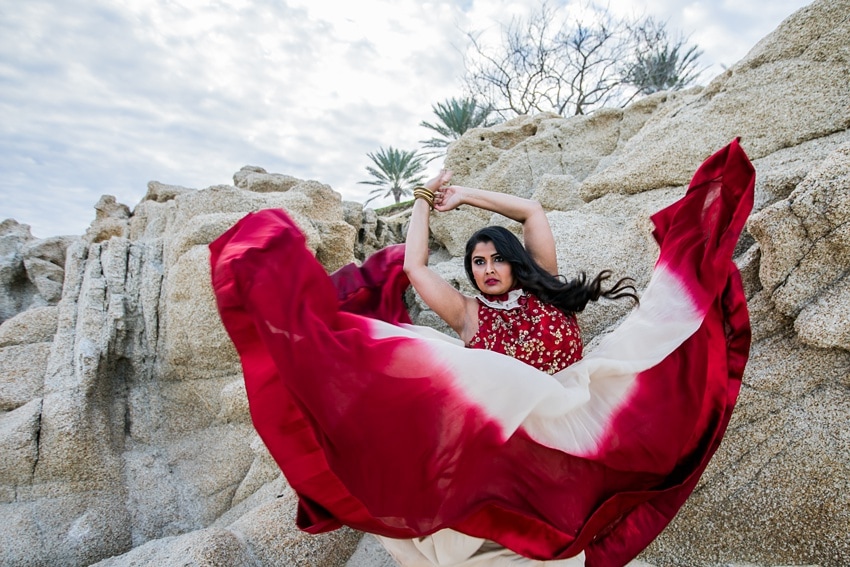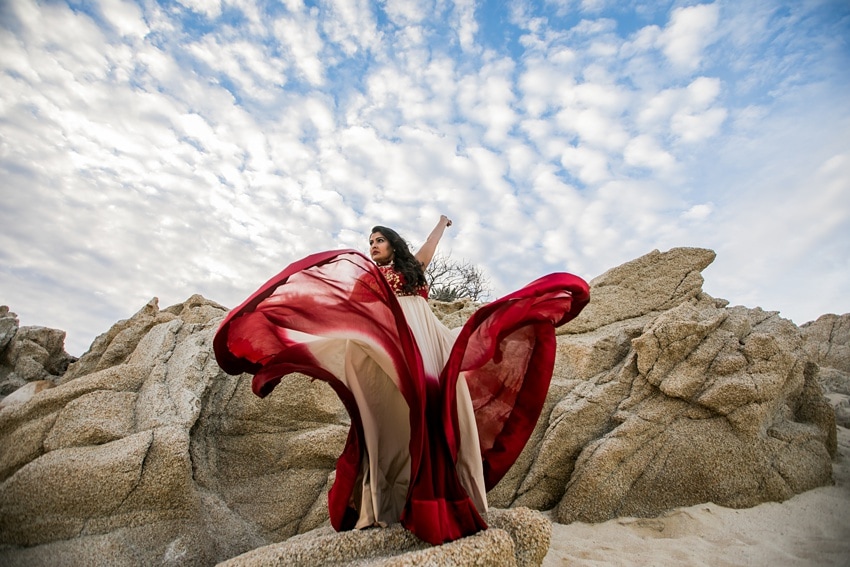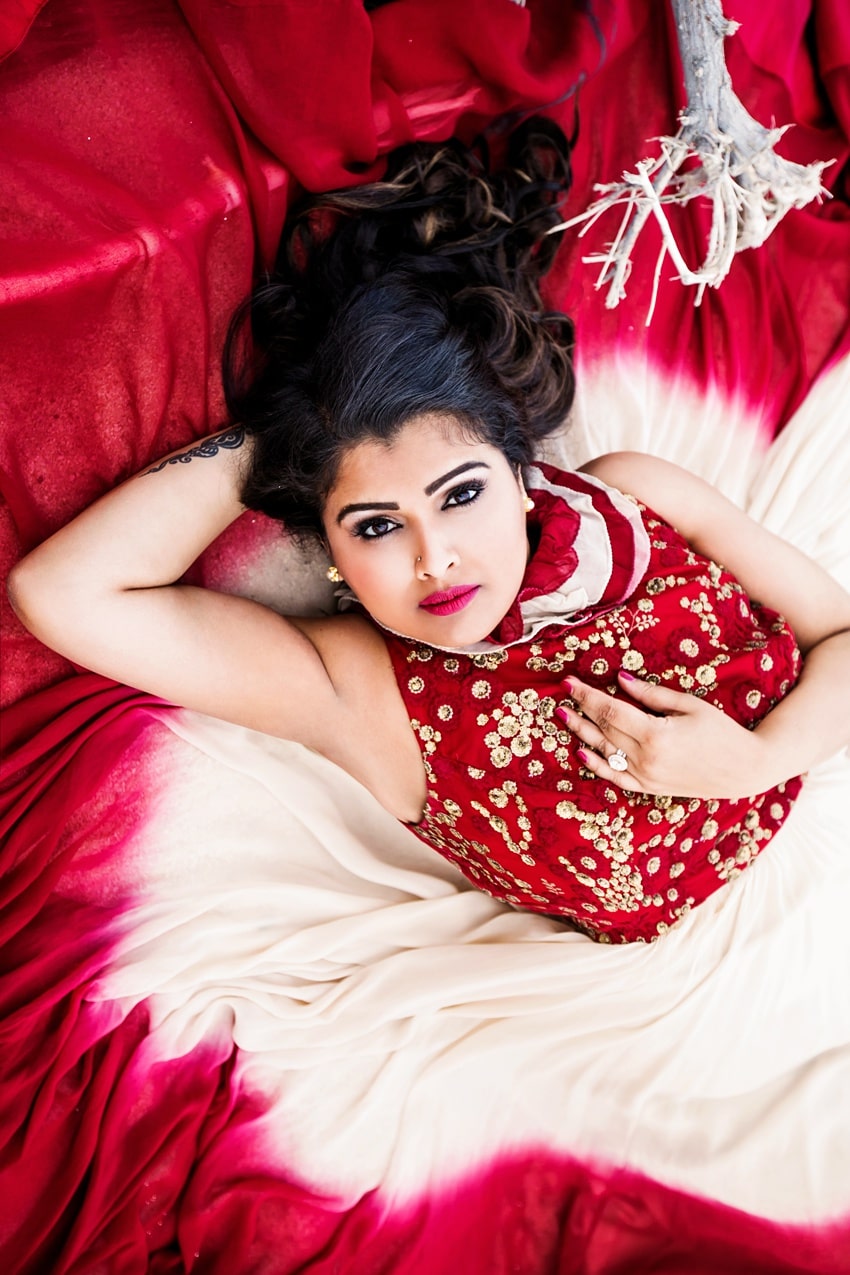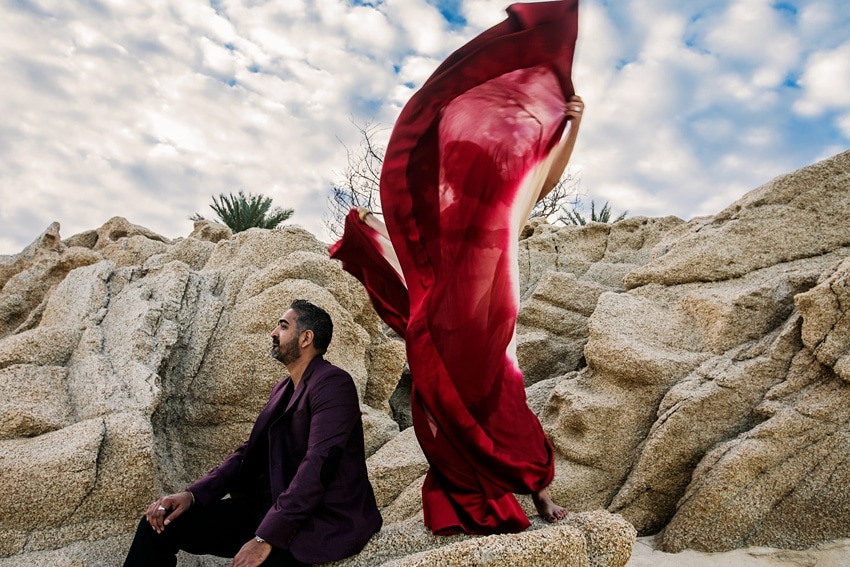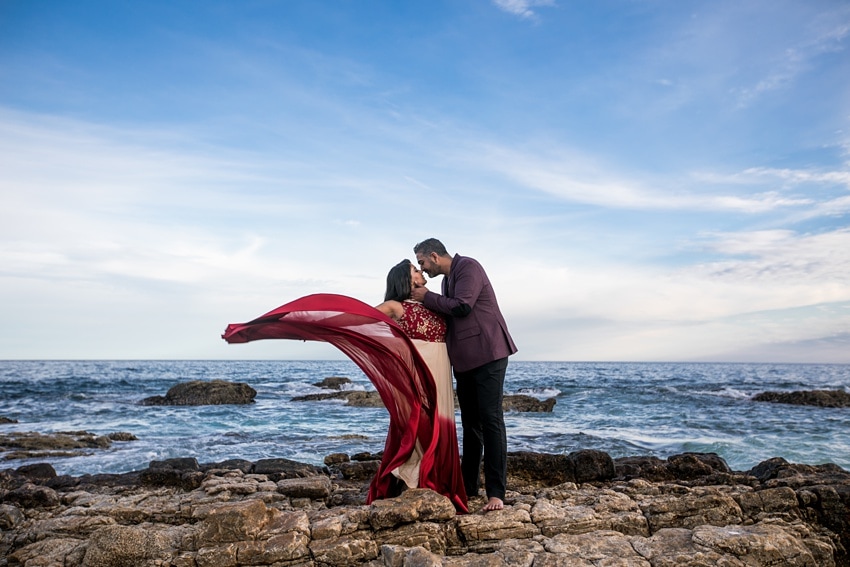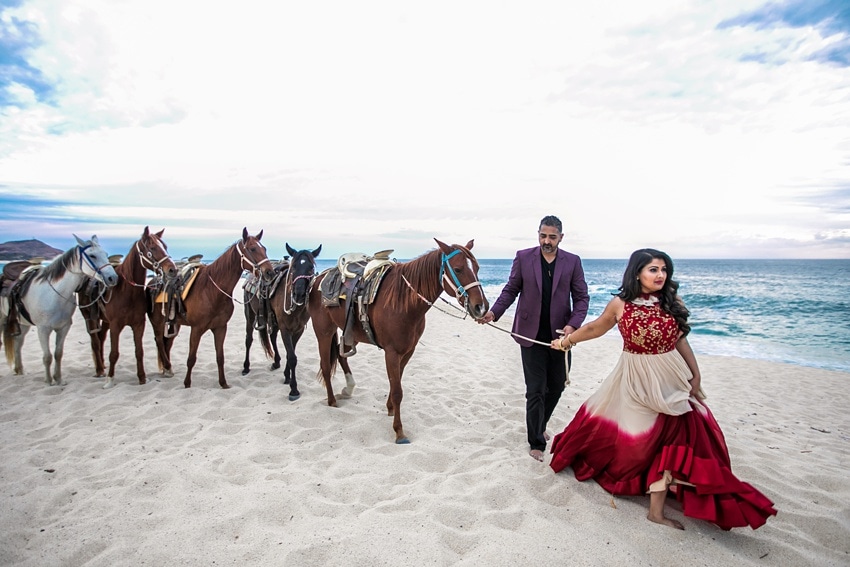 Pithi
















Grah Shanti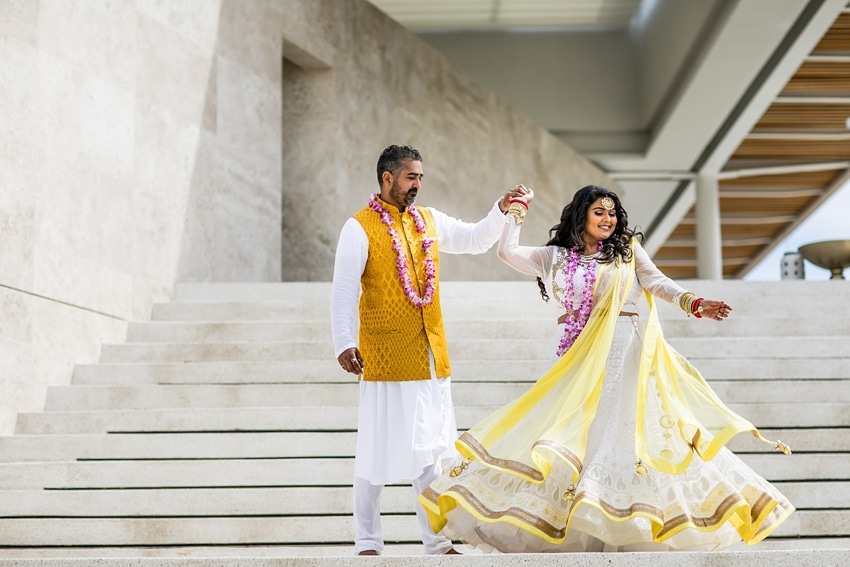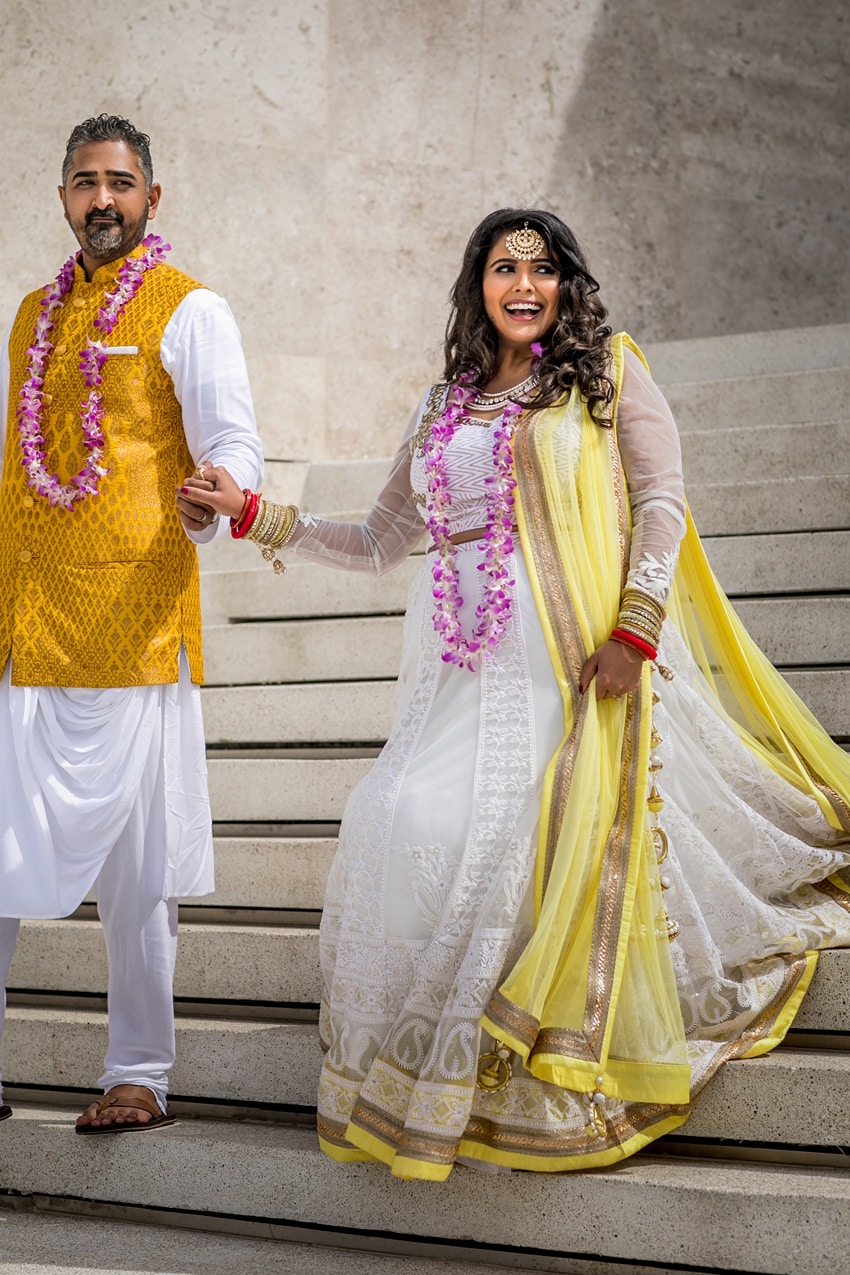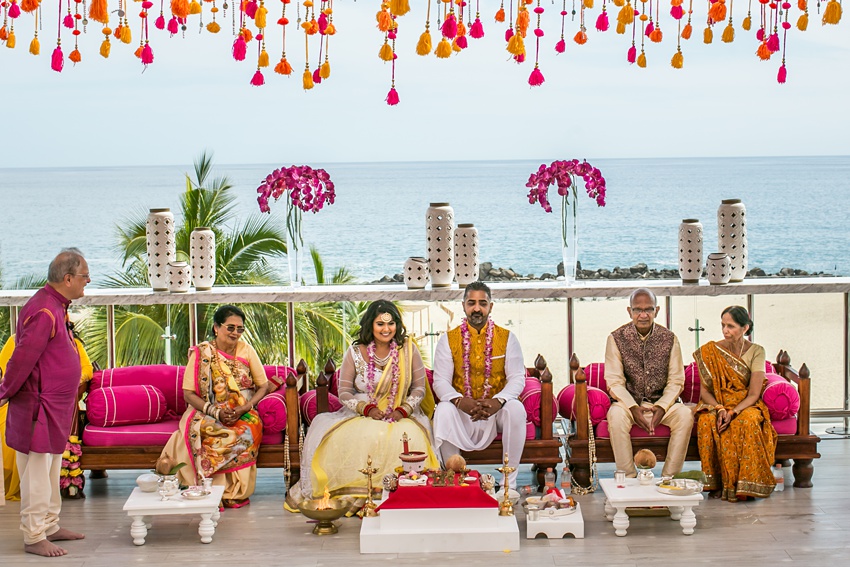 Mendhi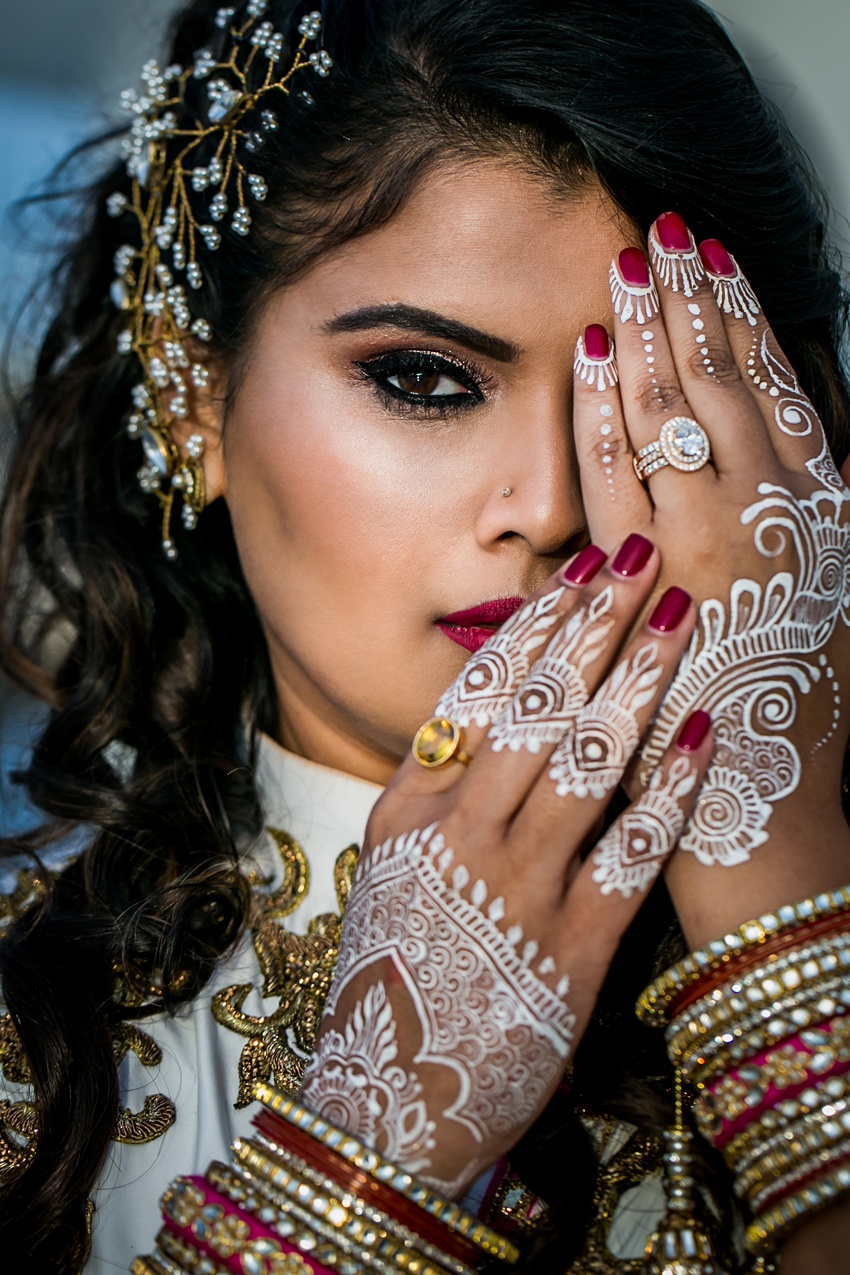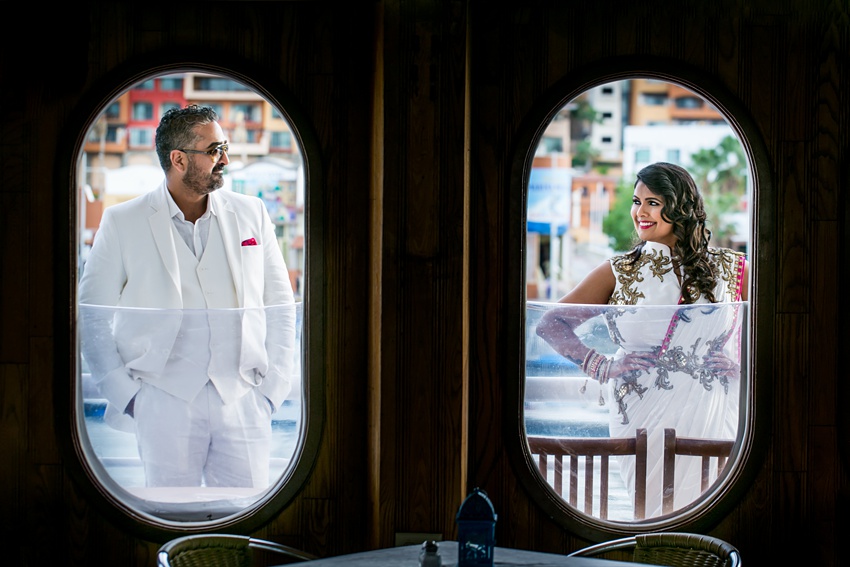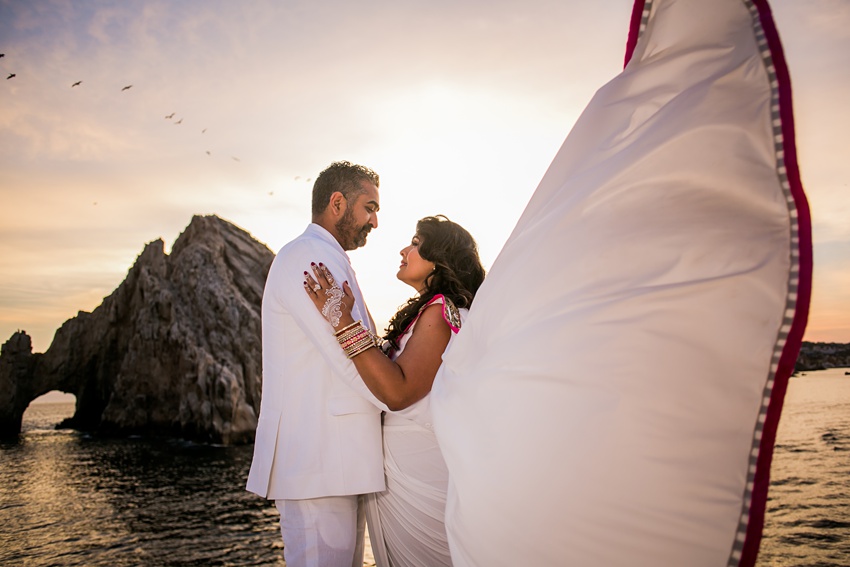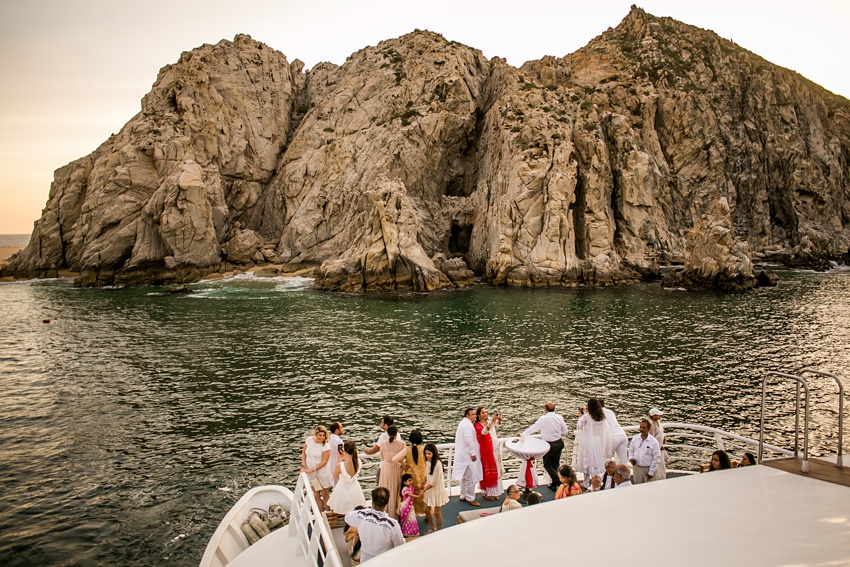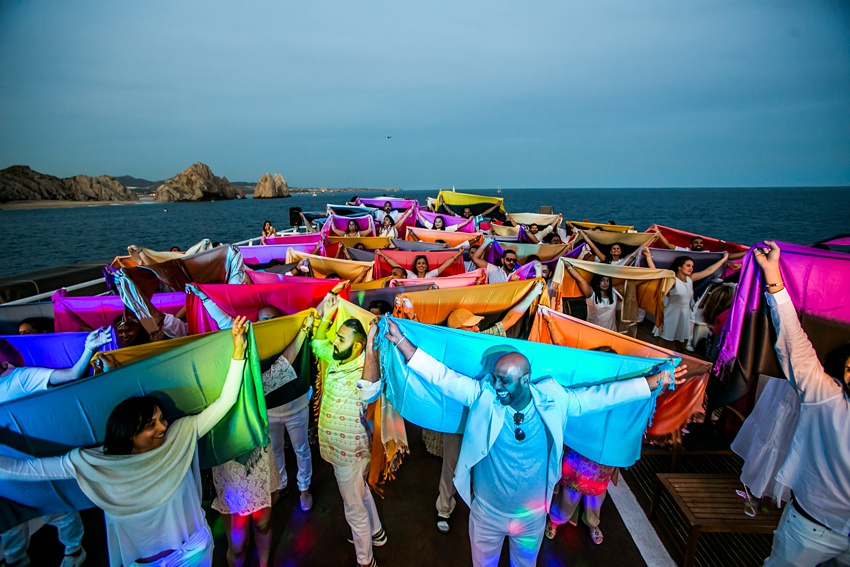 Sangeet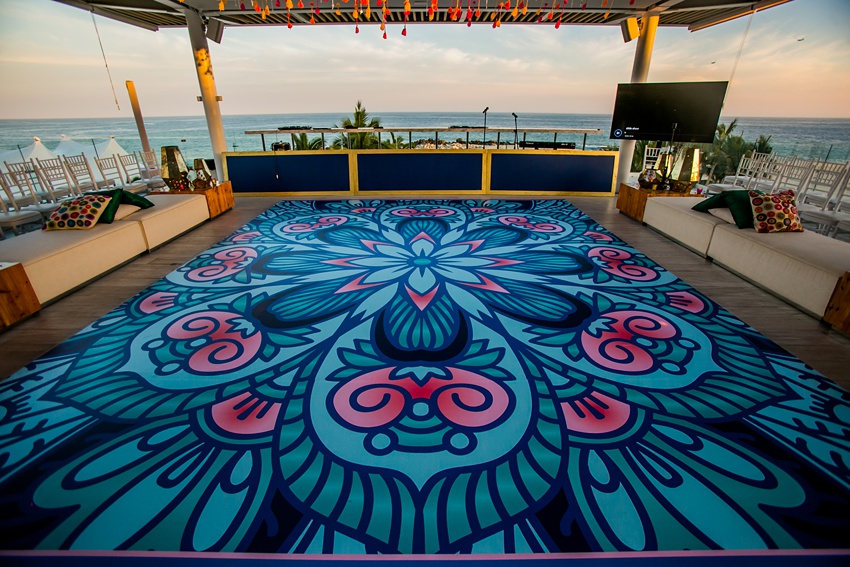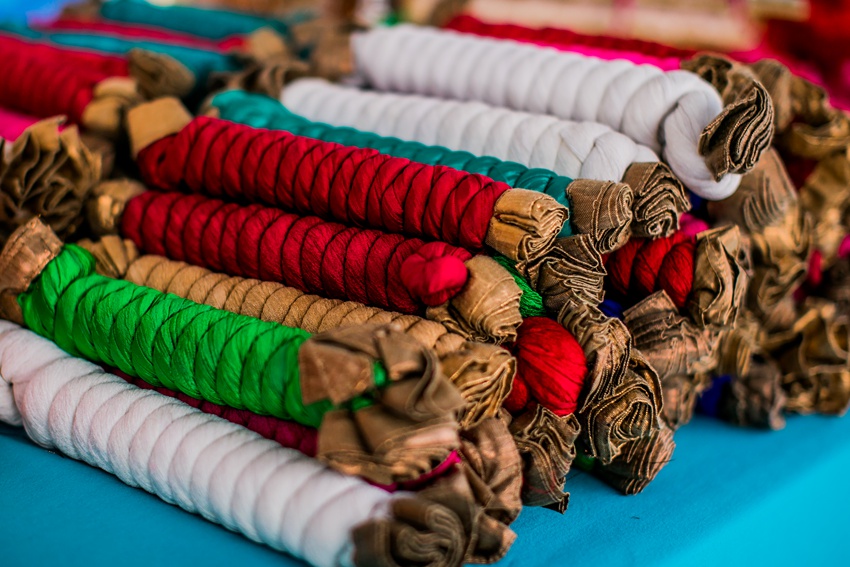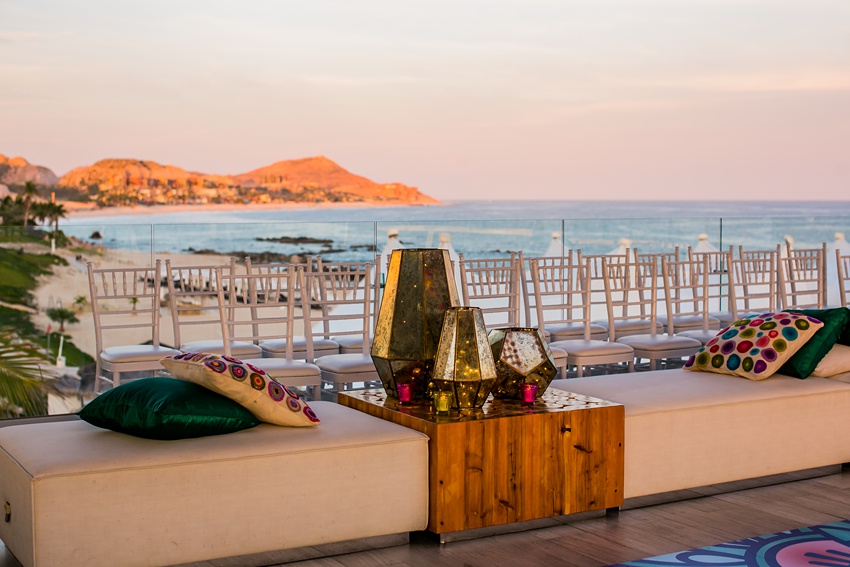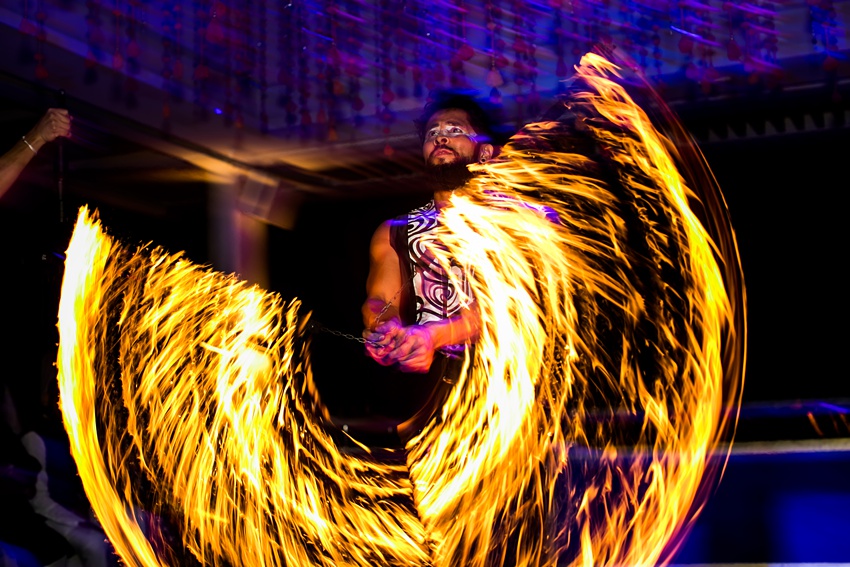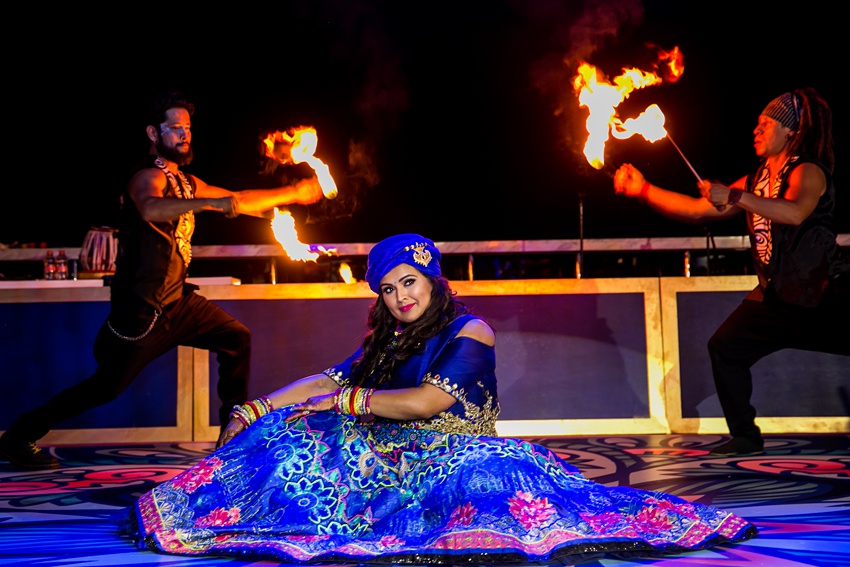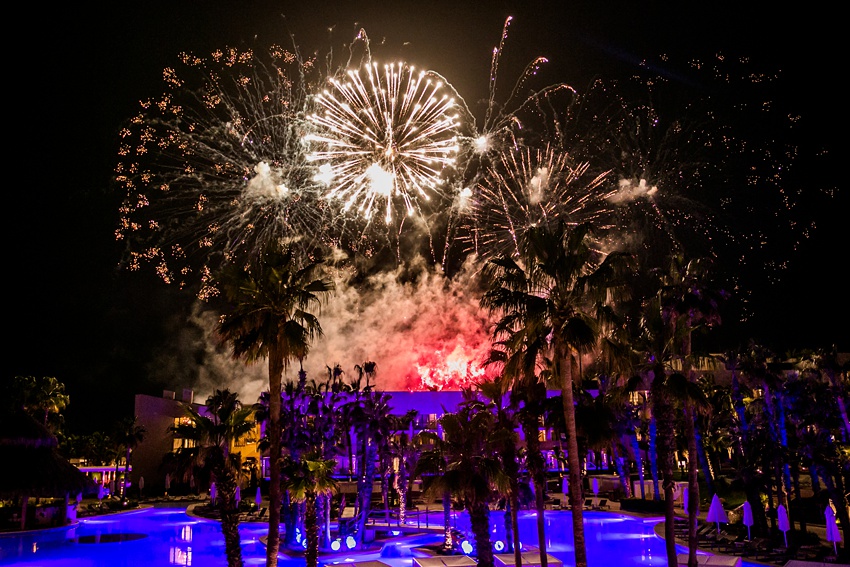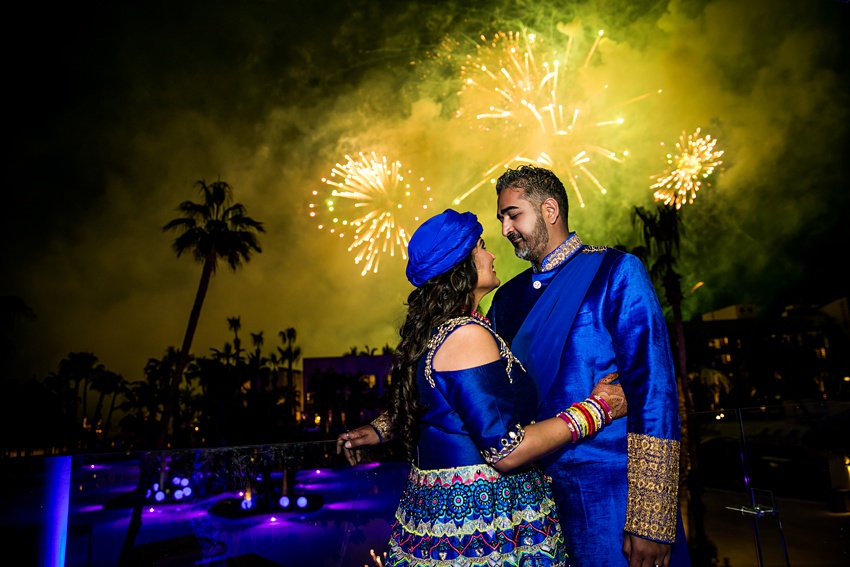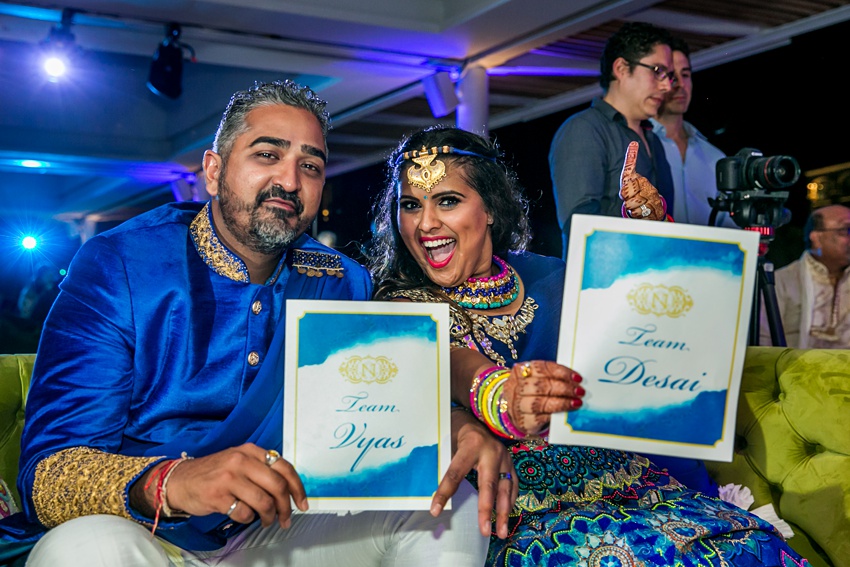 Ceremony/Vivah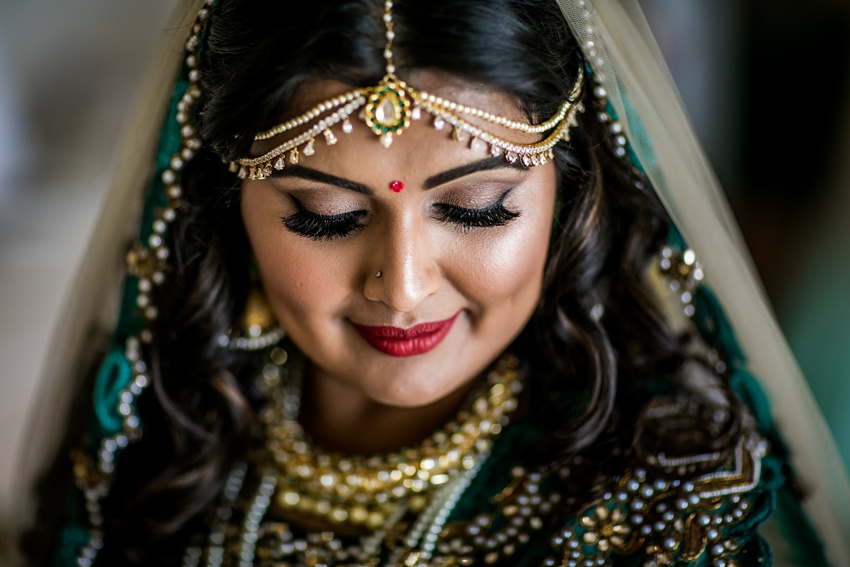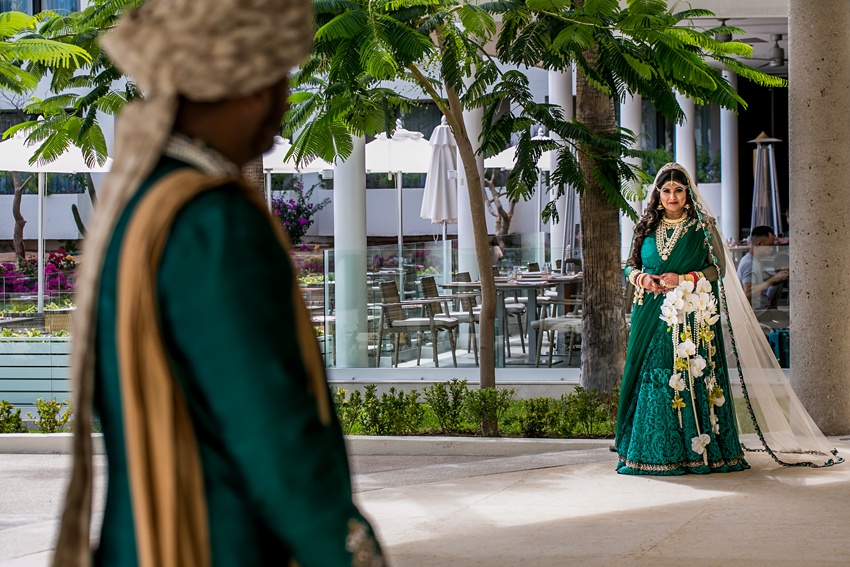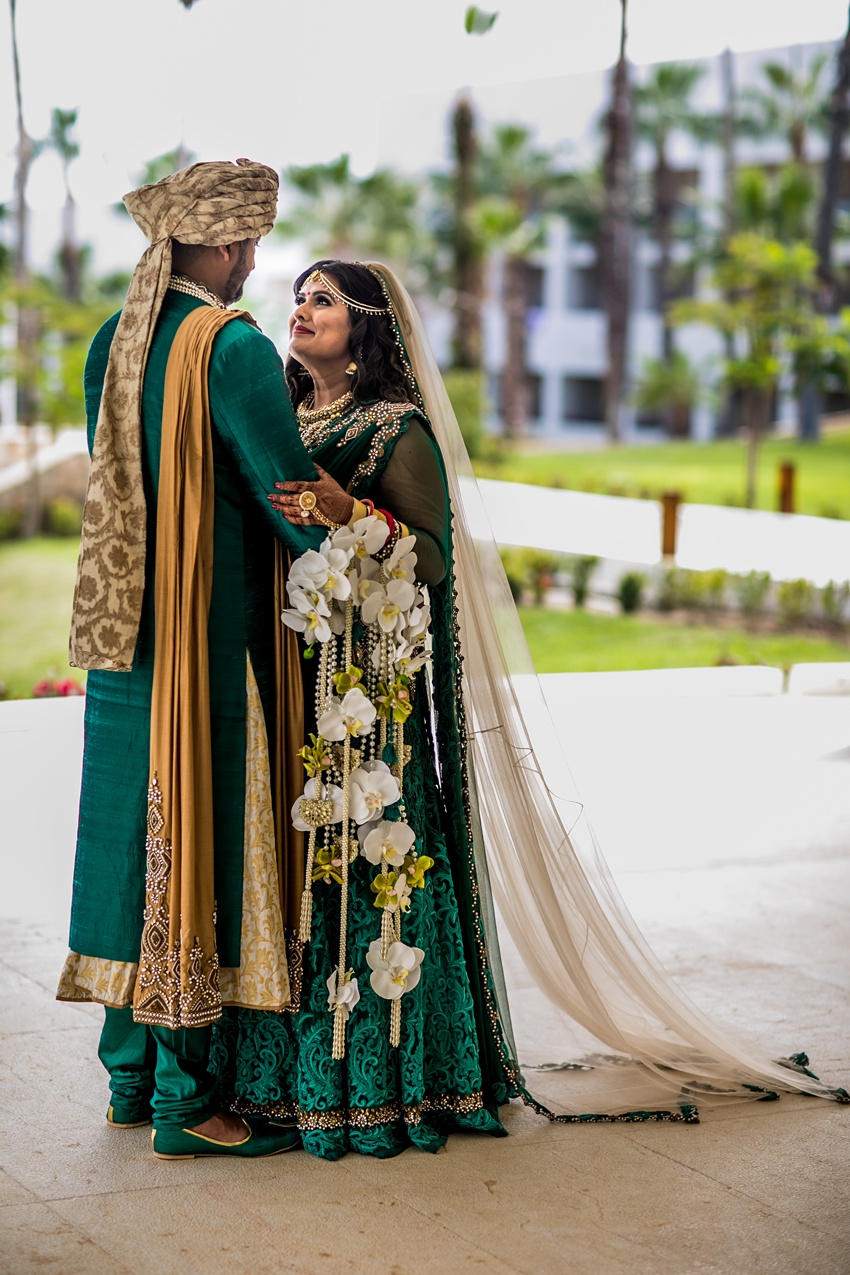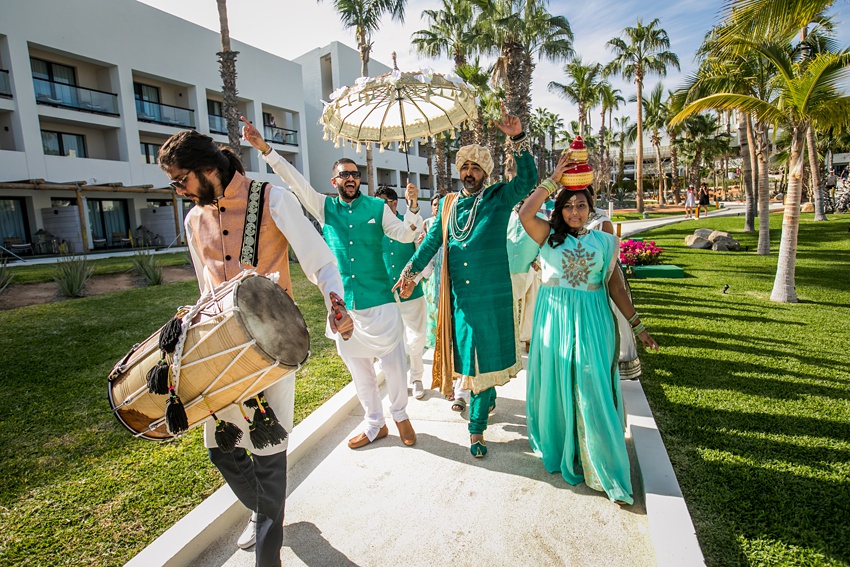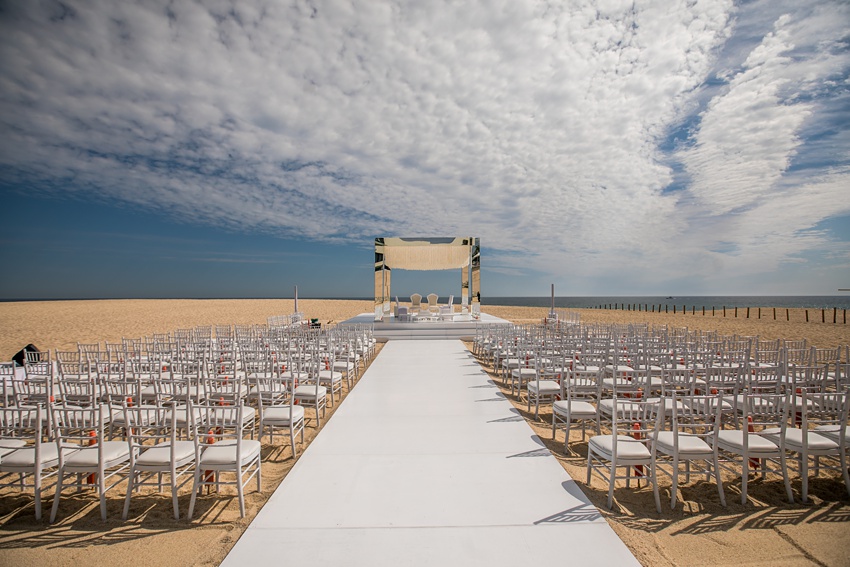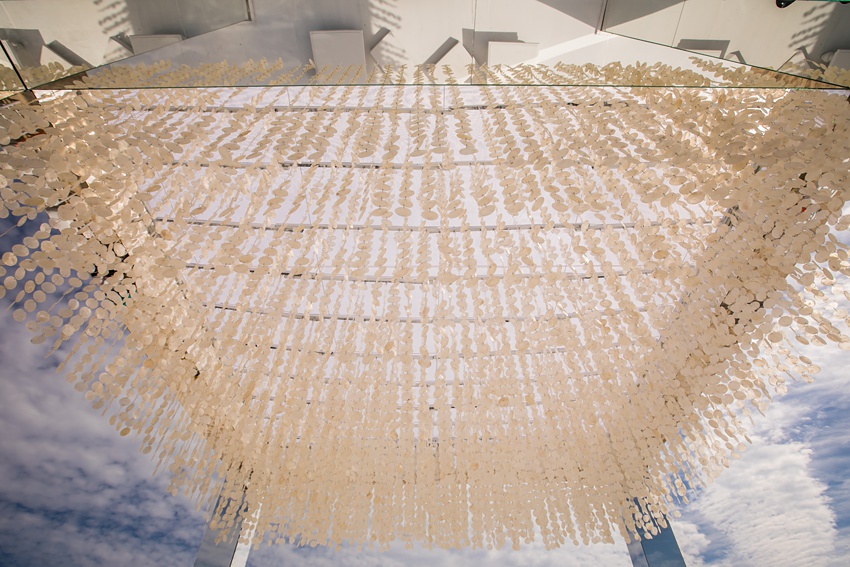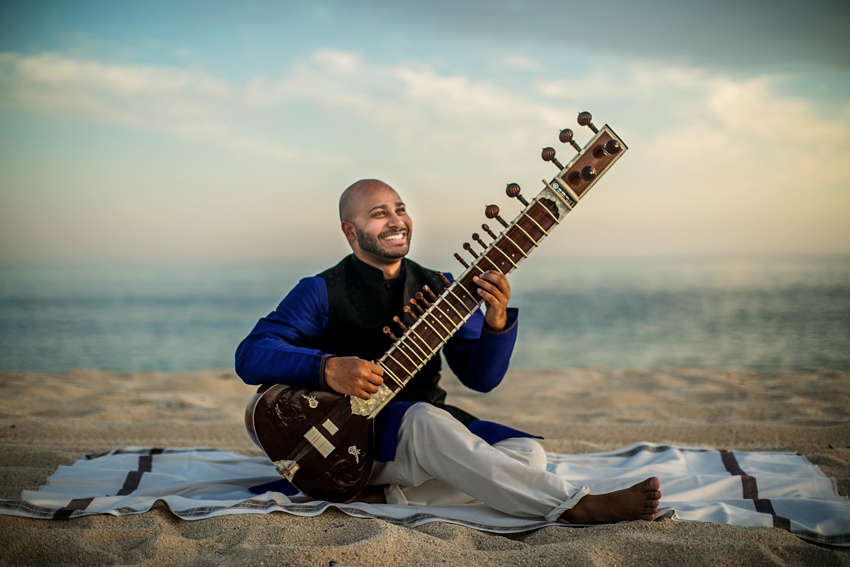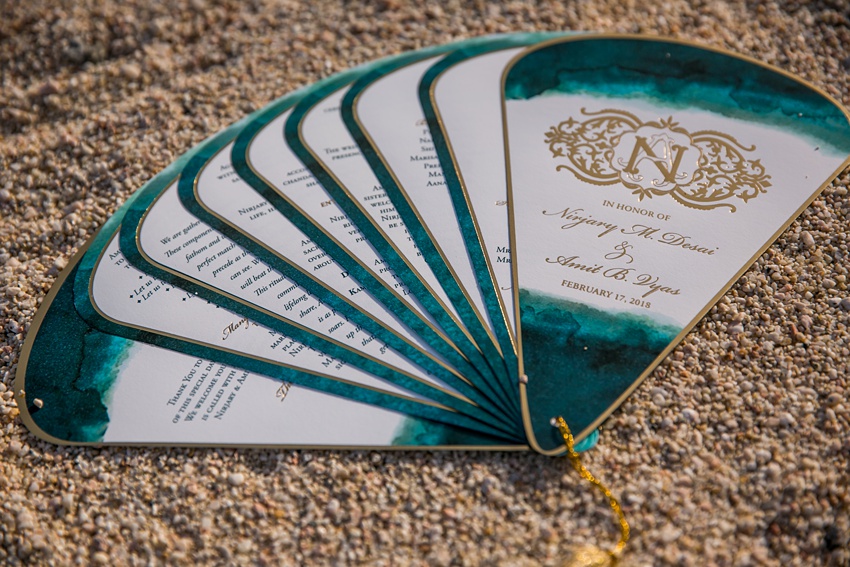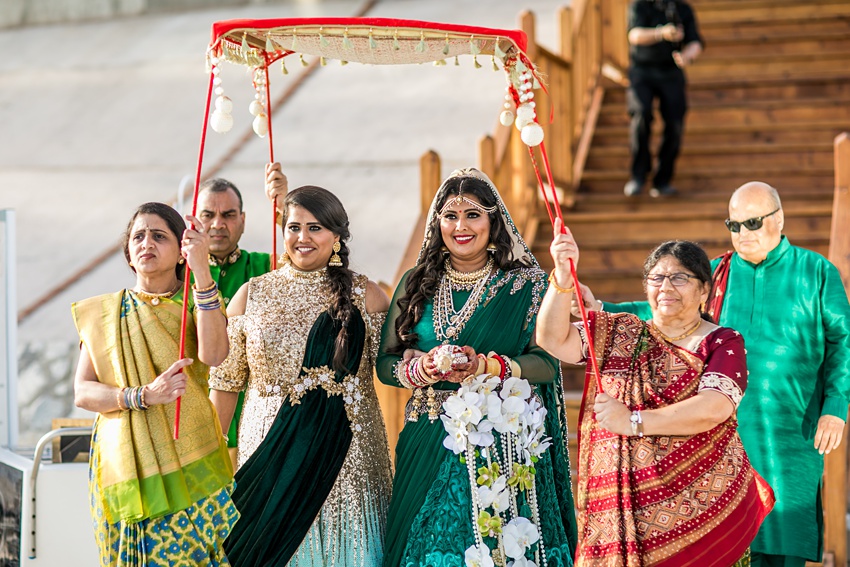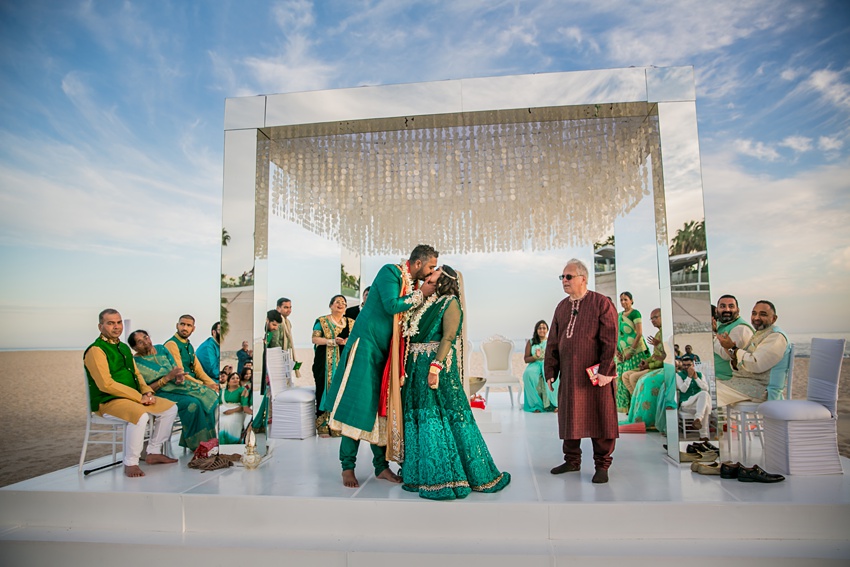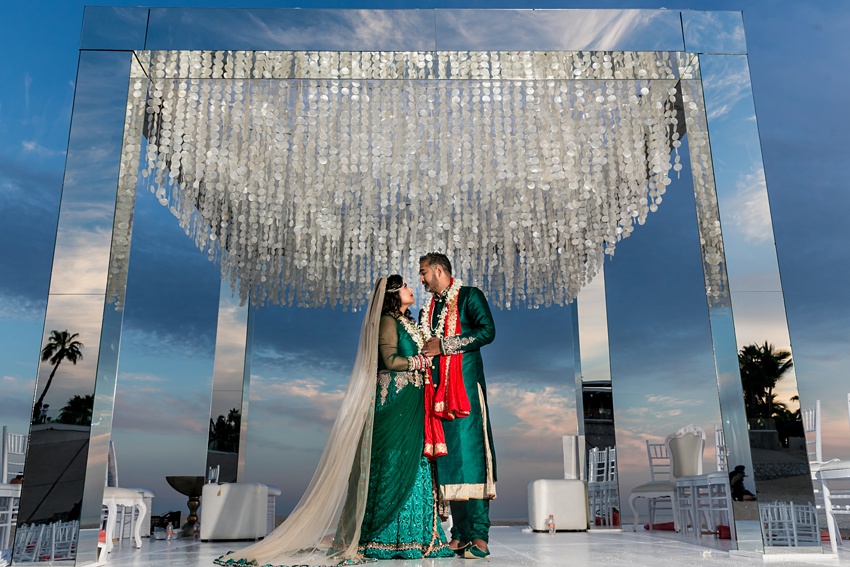 Reception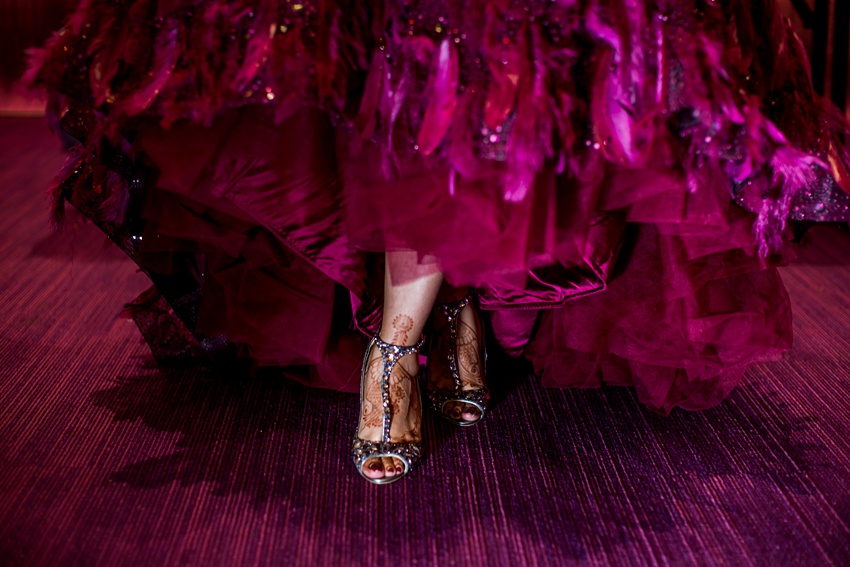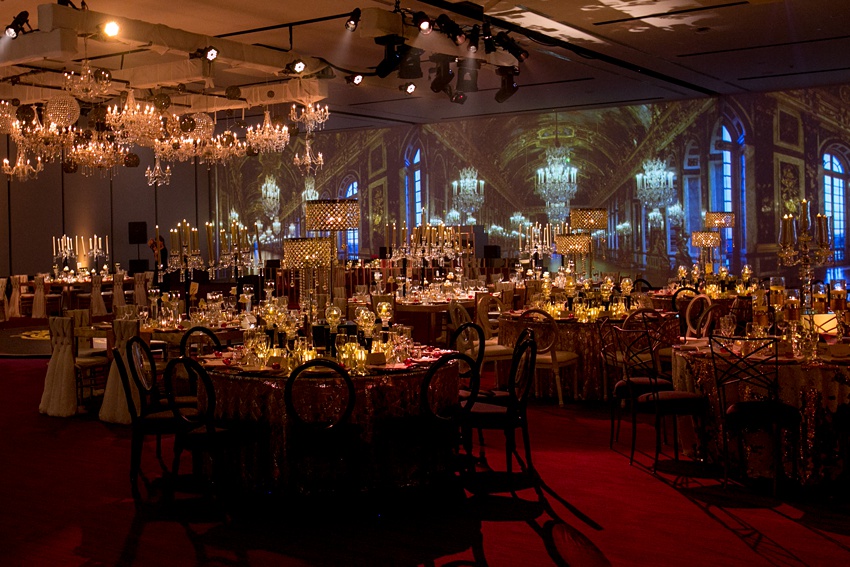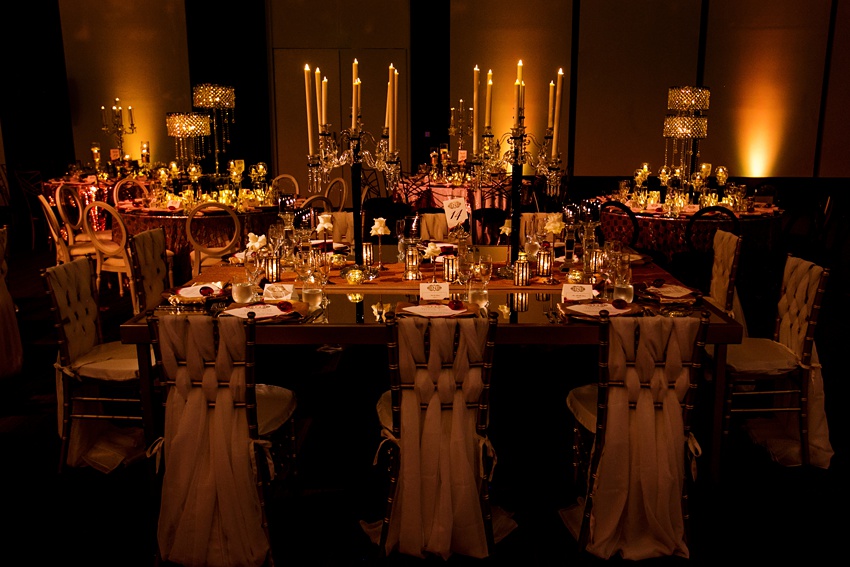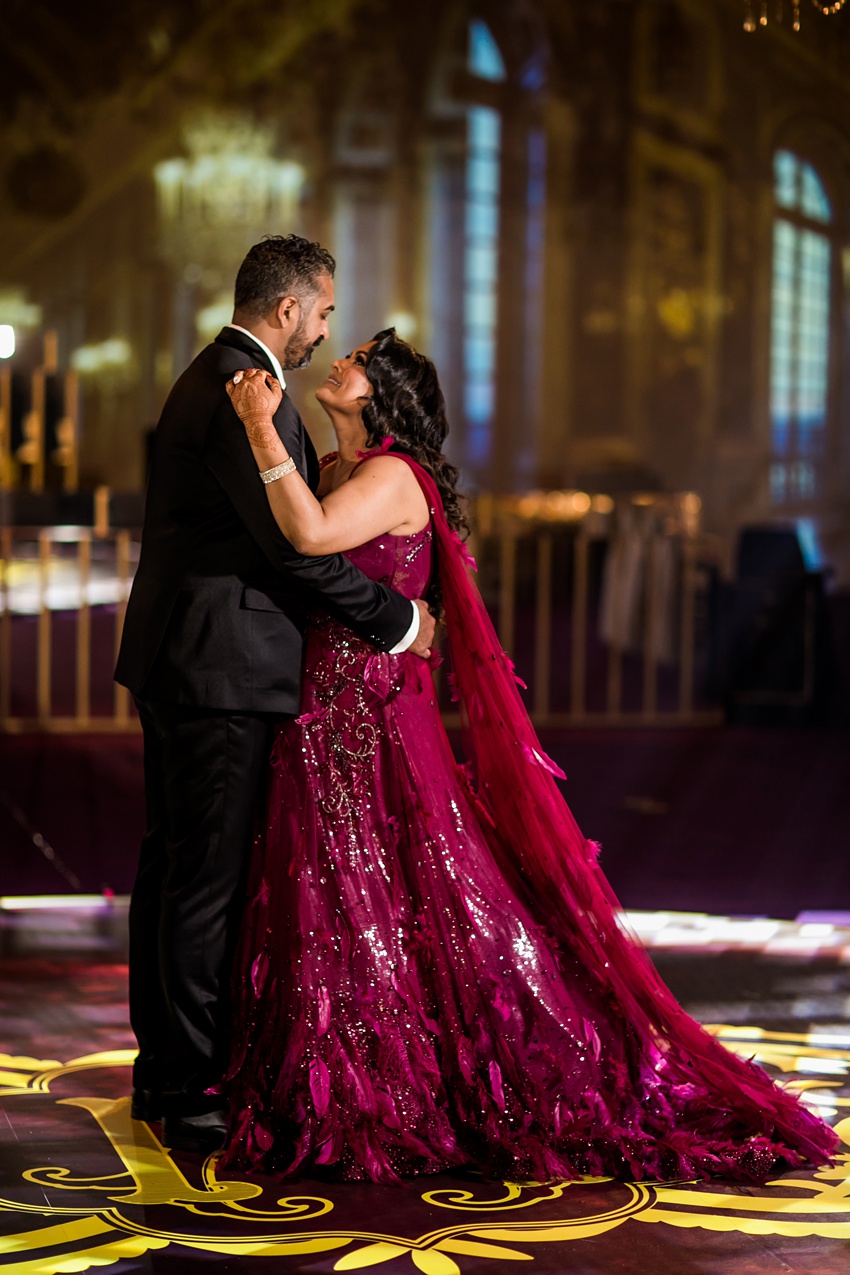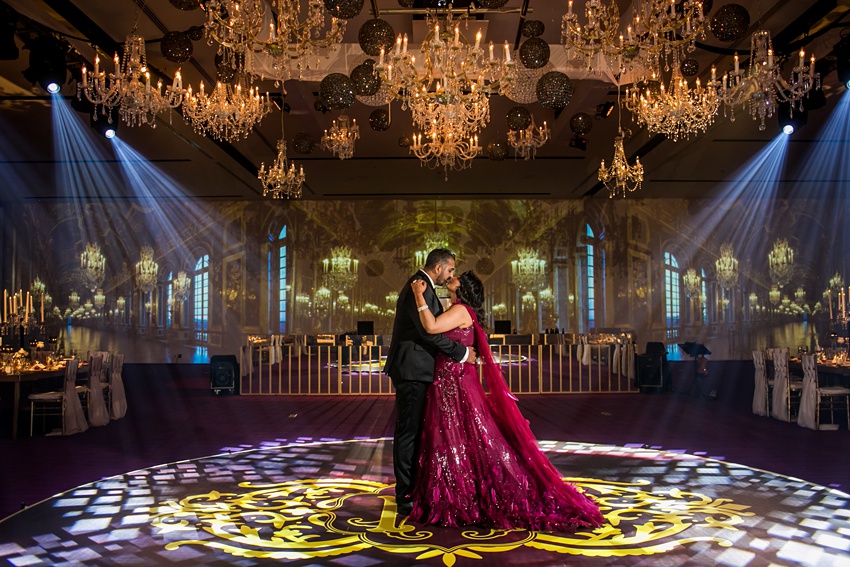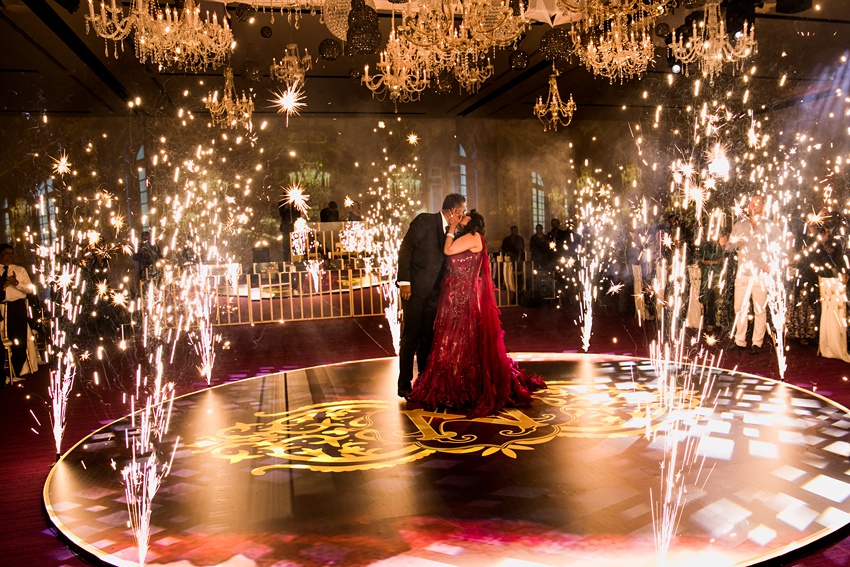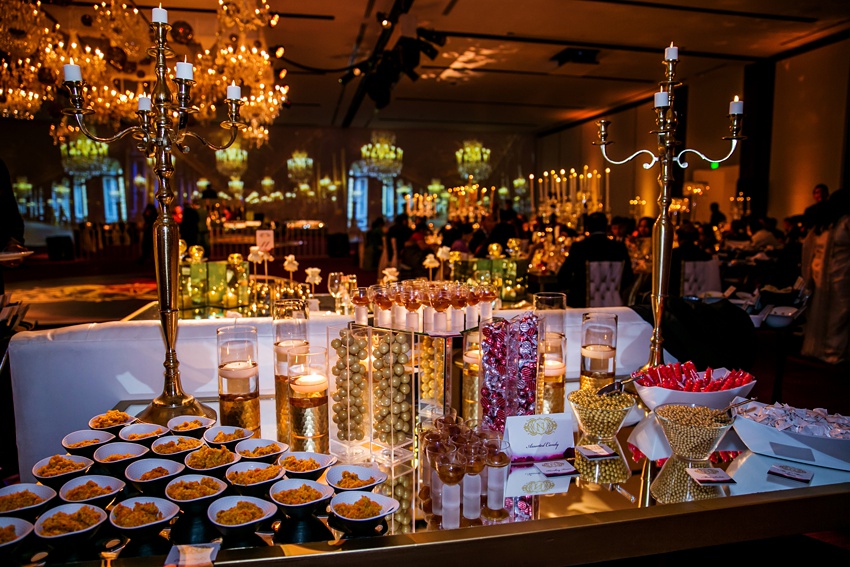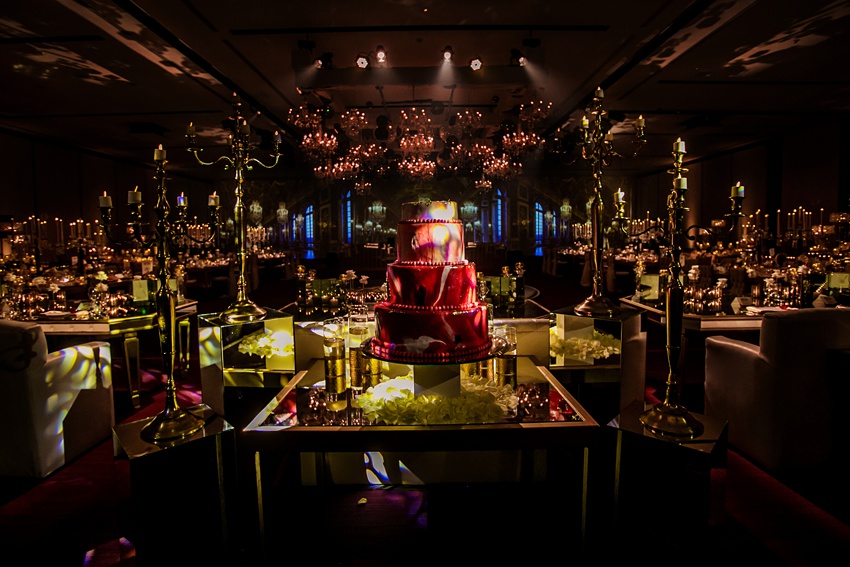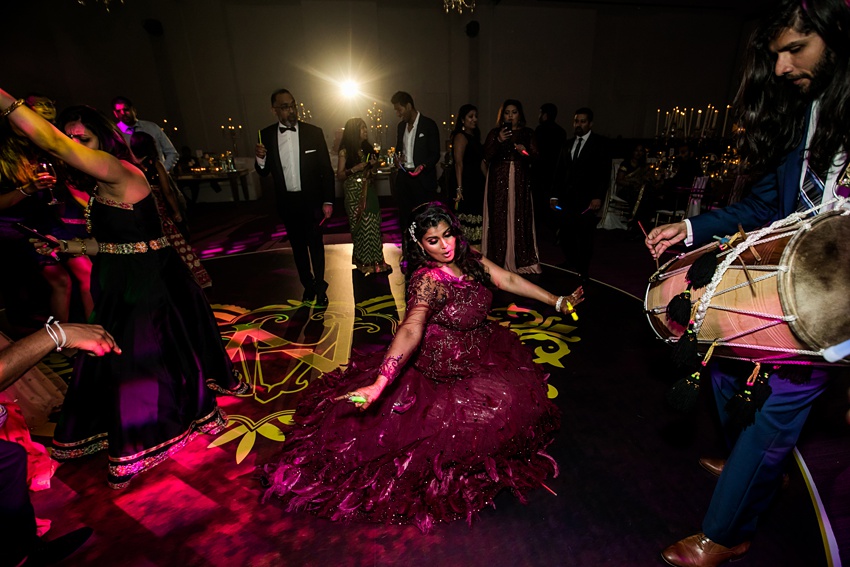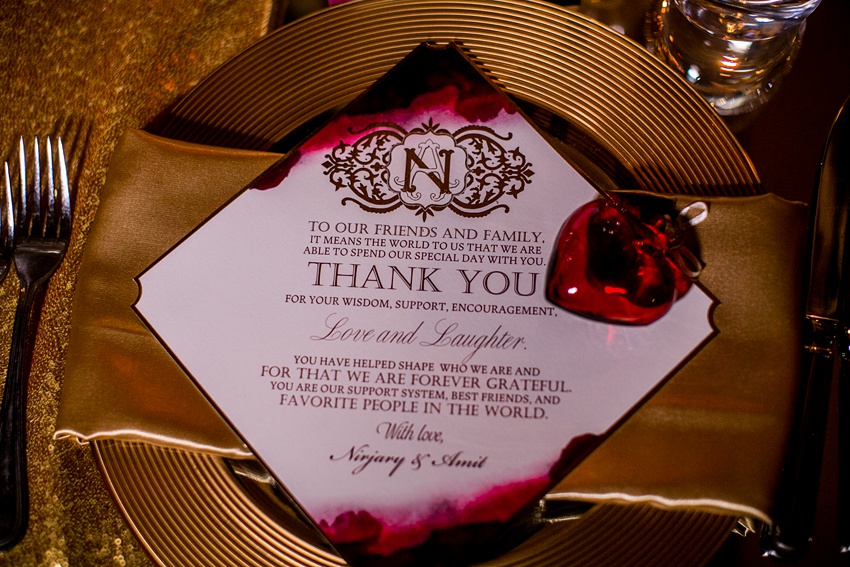 Q&A with the Bride
Tell us about your Indian Destination Wedding in Cabo – your vision, inspiration & vendors you used:
Amit & I got married in Cabo San Lucas, Mexico at the Paradisus Los Cabos in a beach-side fete ordained by a traditional Hindu Brahmin that was intimate with 175 of our closest and dearest family & friends. The day was absolutely perfect with the weather. Since I'm a planner and have worked with other bride's on their weddings, I knew I wanted to get married on or near the water.

Both Amit and I are Pisces and we are true water signs and felt so at peace. I wanted to be super relaxed on that day, so I started with waking up early, meditating and making sure my room was super clean and spotless and everything was set-up and ready for the photographers and cinematographers and my family and bridesmaids that were to join me in the getting ready process. Amit on the other hand, woke up pretty late and started his morning with mimosa with his groomsmen.

I chose a color palate with all water colors. Our wedding day trousseau were deep jade green designed by Archana Kocchar from Mumbai, and we asked all of our guest and our family to dress in shades of green. Our décor was truly zen like on the day of the wedding with a mirrored column Mandap cascading from above with a Capice shell ceiling that when the wind blew just chimed and created a surreal effect .

I had access to work with the best in the business and chose to work with designer Vikram Panickar of Vikram Design and locally we worked with Yahwee Garcia of Del Cabo Events to bring his local swag and pizazz and resources.

We started with a Groom's procession Baarat that went through the resort and ended on the beach, and once the ceremony finished we all got changed and headed to a Black Tie Formal Reception with a theme of everything candle lit, crystals, chandeliers, and the palace of Versailles Hall of mirrors. Since am pretty allergic to floral we only had about 54 roses in the whole room so you will see very little use of floral during all the wedding events.

My reception dress was something I sketched out and had brought to life. I love feathers and one thing I wanted was for my dress to create drama. At the reception I had one of my former brides who is a Yale school of music graduate in Opera, sing our first dance song to Tale As Old as Time from Beauty and the Beast accompanied by a local duo of violin and bansuree (Indian flute) and a piano. The feeling was super ethereal with all the fog and haze and lighting, it felt very romantic. We served a menu that was family style and later danced the night way till 6 am.
Why did you choose to have a destination wedding in Cabo?
I wanted to get married somewhere that I had not done a wedding and both my husband and I wanted something intimate and on a beach. We both love being on water.
What did you and your husband feel was the most memorable part of all the destination wedding events?
The most memorable part for us was being able to spend time or at least talk to each one of our guest. I think for both of us, the most incredible moment was during the wedding ceremony when we were both under the Mandap (Altar) and we looked out at all the people there, knowing that they truly cared about us and wanted to be there. The Capice Shells clinging like wind chimes, the sounds, views, the love we felt in that moment, and the energy of all 5 elements (Earth, Wind, Water, Fire, Sky/Sun) being present during our ceremony was truly magical.
Did anything surprising happen that was funny or significant?
There were many surprises that we planned for our guest during each event. I think one thing my husband was not expecting was a dance performance by me with fire dancers. Also during the reception we had one of my former clients who is an amazing Opera singer sing our first dance song to "Tale As Old at Time" from Beauty and the Beast. And In door fireworks for our grand entrance! It was truly a fun week full of amazing family and friends who came from all over and lots of laughter!
Tell us about your pre-wedding photo session:
Where do I start with this. Our favorite photographer who is also a great friend & like a sister, Nadia D documented our events and wanted to take Amit and I out to play and shoot in downtown Cabo and surrounding areas. We took a day trip into the old city and got to experience local Cabo life in many artistic allies, streets, road side cafes and bus stops. Then we changed and went for a shoot on the beach behind the hotel. The waves, clouds and day just gave us amazing things to shoot with such as a line of horses, tree debris, and clouds for days.