Beach theme wedding invitations are a great way to set the tone and give your guests an idea of what's to come. After the arduous task of searching for a destination, negotiating pricing, and nailing down a date, the real fun begins when you get down to choosing your invitations. The wedding industry has responded to the growing trend of beach ceremonies with some really cool and creative invites, some of which you can check out below.
Beach Theme Wedding Invitation Ideas
Here are a few ideas to help inspire you.
Beach theme wedding invitations using real seashells
First up is one of my favorite invites, because it literally brings the beach to life! These unique beach theme invitations are all accented with real seashells, a textured faux-sand product and raffia. Not only are these unique, classy and fun, but the pocket fold design also makes them practical! In a word – fab!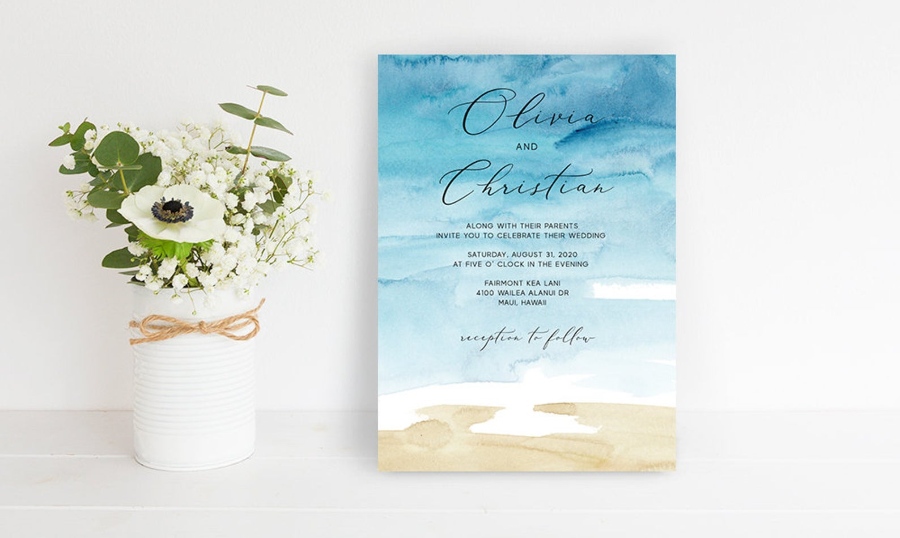 Sandal Beach Theme Wedding Invitations
I love this idea, because it's a complete departure from tradition, yet is still elegant and fun all at the same time. Because they're cut in the shape of flip flop sandals, it's a fun, contemporary and unique beach wedding invitation that none of your guests will expect. But the nice font and satin ribbon add a touch of elegance.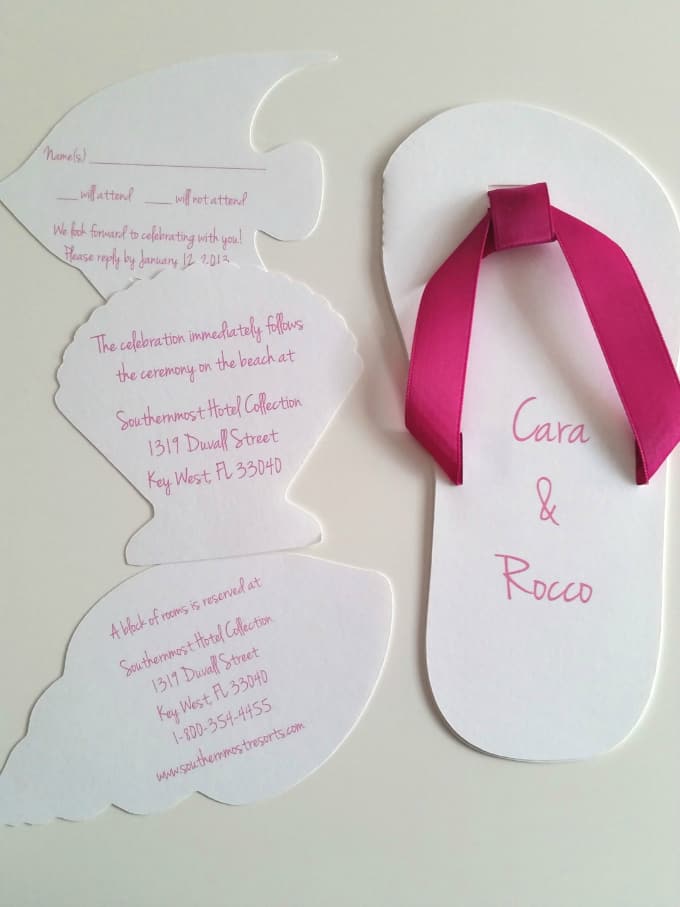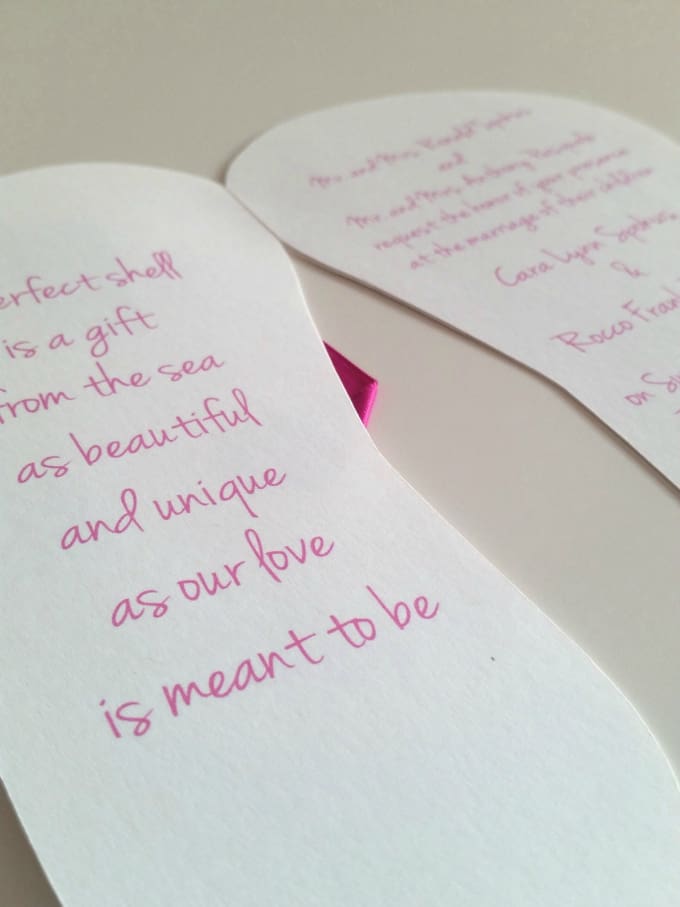 Flip Flop Invitations sold by Belly Bean Cards via Etsy
Ocean themed Invitations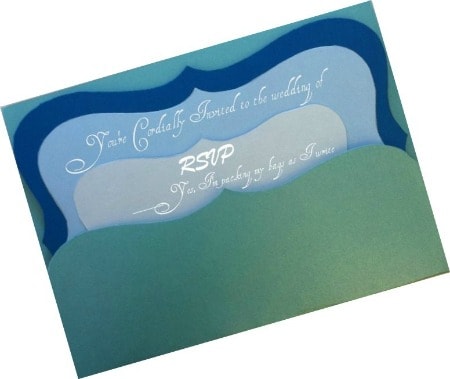 This is another cool idea that uses fun shapes to weave in the beach theme.
To create these DIY invites, I simply purchased a set of 3 different sized bracket shaped cards at paperpresentation.com. I used cards in different shades of blue to mimic the different shades of blue/green you see as you look into the depths of the ocean.
You can of course get these in your own color palette if you prefer, or even use darker or lighters shades of blue.
What's awesome about this idea is that aside from being unique, it's practical. You can use one card as the formal invite, another for important info such as dress code, itinerary or travel info and the small card can be used to RSVP.
Simple Designs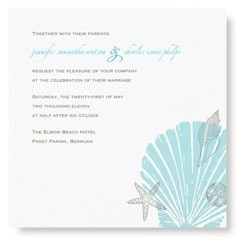 Does the idea of using contemporary shapes for your beach theme wedding invitations seem too radical for your taste? Wanna stay a little on the traditional side, while still weaving in some seaside element into the theme?
You can have the best of both worlds with some traditionally square white card stock that incorporate imagery such as seashells, seahorses or starfish. This is a great DIY project because it's so easy to do.
You can buy the cardstock of your choice and find beach theme illustrations online. Just make sure you don't use stick figures or clip art that look too amateur.
Bamboo Pocket Fold
Who said beach theme wedding invitations couldn't be glamorous too? I love, love, love the texture of the hand crafted bamboo gatefold, but what really sets these apart is the oyster shell embellishment. There's no doubt these invites will show how classy, unique and modern of a destination or beach theme ceremony you're planning!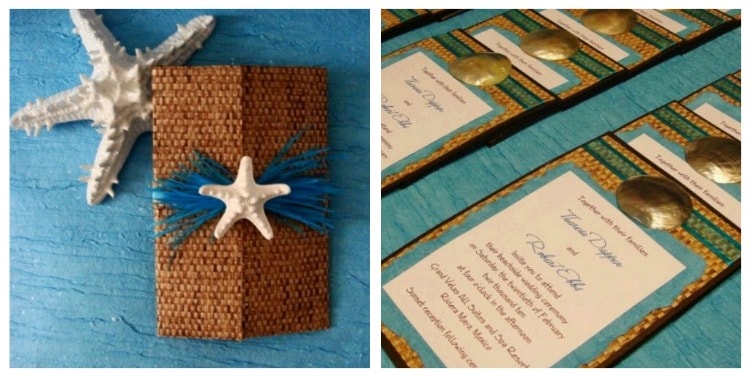 I hope you'll find inspiration in some of these creations! Keep scrolling down to see more.
Shop My Favorite Beach Theme Wedding Invitations



Below is a collection of some gorgeous cards sold by my affiliates. I hand picked each of these myself to save you the trouble of weeding through hundreds of invites that don't tie into the beach theme. I love all of these because the layout, graphics and fonts are simply perfect for a laid back beach theme ceremony, but the high quality luxurious paper they use make them look and feel way more expensive than they are.
I'm all about chic, classy, fun and modern invitations and I think all of these beach theme wedding invitations are amazing! And the best part is that most of them have a matching suite (response cards, thank you cards, menu, etc).

Shoreline Chic – $4.79

Sand and Surf – $4.79

Beach Bungalow – $4.79

Shoreline Treasures – $5.96

Sweet Starfish – $1.49
from: Shutterfly, Inc.

Posh Palm – $1.98
from: Shutterfly, Inc.

Seaside Palms – $1.98
from: Shutterfly, Inc.

Shades of Sand – $1.69
from: Shutterfly, Inc.

On the Horizon – $4.59

Tropical Bliss – $4.59

Seaside Wonder – $4.59

Seaside Style – $4.79

Vivid Blooms – $1.59
from: Shutterfly, Inc.

Beach Flowers – $4.59

Starry Pair – $8.32

Sea Stars – $4.59

Seashell Sway – $4.39

Destination Bliss – $20.76
Make sure you check out the articles below for other destination wedding invitations.
Similar Pages
Sponsored Links