I probably spent just a little too much time creating this post. But I never once grew tired. In fact, with every new photo I uploaded, I grew more and more excited. That, my friends, is how absolutely perfect this beach wedding in Florida was.
Kristen and Dan love the beach, so a destination wedding in Naples, Florida was an easy choice. And The Beach House at the Ritz Carlton set the perfect stage for a relaxed and intimate affair with 50 of their closest friends and family. For their décor they took full advantage of the beautiful beach setting with a bright aqua color palette and lots of starfish weaved throughout every detail in the most subtle and classy ways.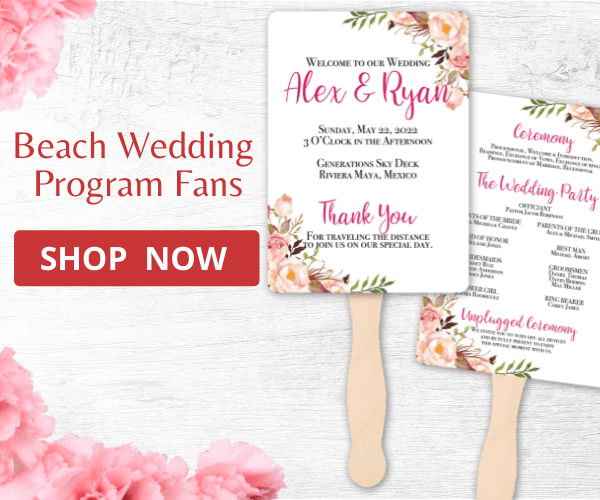 With dramatic centerpieces, tons of personalized details, and a unique canvas which was hand painted during the ceremony, this destination wedding is one for the books– and it is worthy of many a Pinterest repins!
I could go on forever but I'll let the photos (and the bride) speak for themselves. Thank you so much to Tonya Malay Photography for once again gracing our blog with her amazing talent!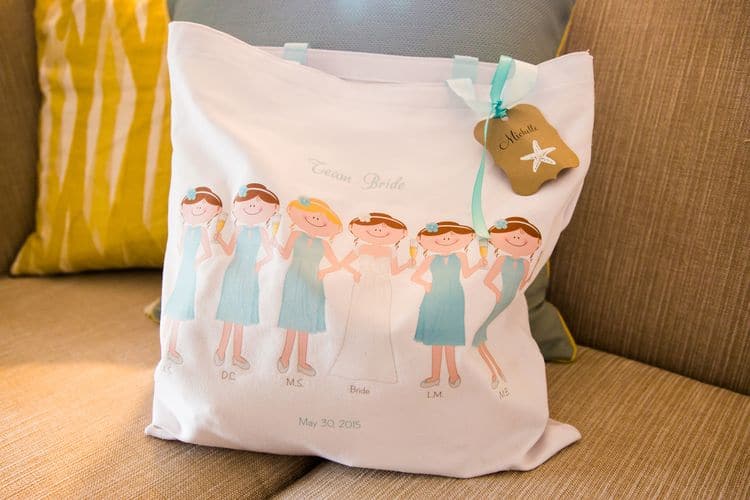 What types of flowers did you pick? Any sentimental significance?
We had Roses and Peonies with touches of aqua and starfish. My Aunt died a year before my wedding from lung cancer; we loved her dearly and missed her a great deal during all of the wedding events. My cousin offered for my something borrowed and blue to use her tiffany blue scarf. We had it wrapped around my bouquet stem. So the scarf ( and my Aunt's memory ) is front and center in all the pictures just like she would have been if she could have been there. It was an awesome thought and I loved how it turned out.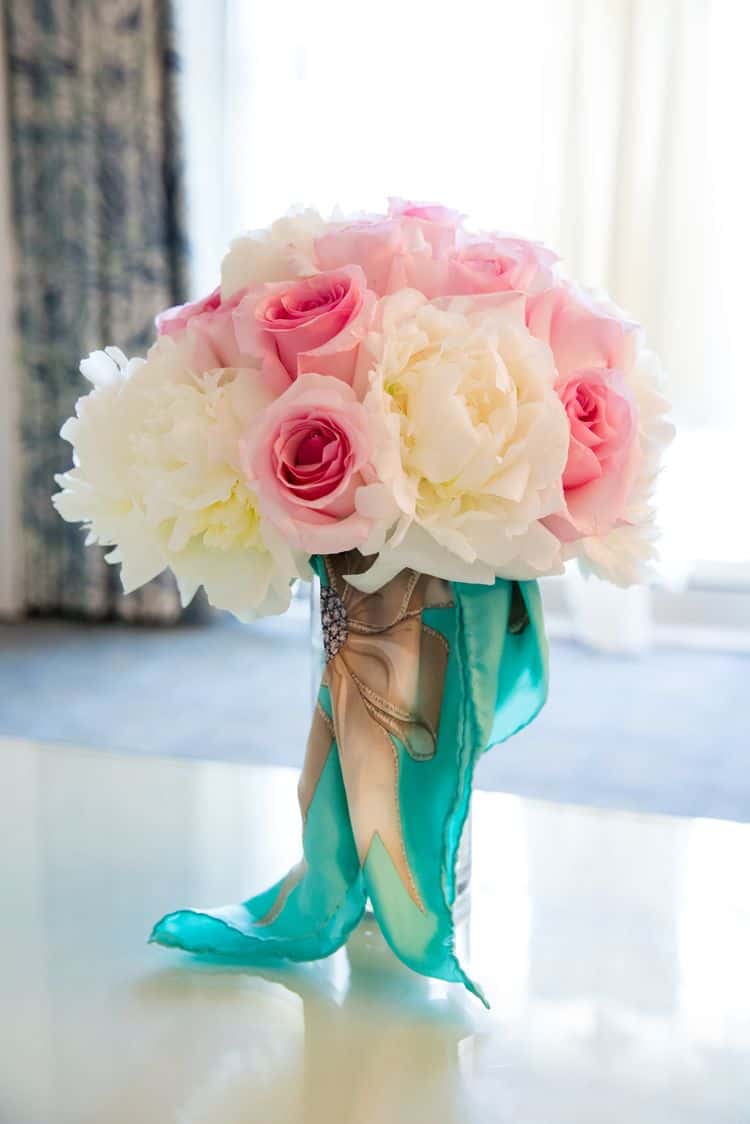 Tell us about your wedding day fashions.
We went with a beach casual look: the guys in a light tan suit and the girls in a turquoise dress. The guys had a turquoise tie to coordinate!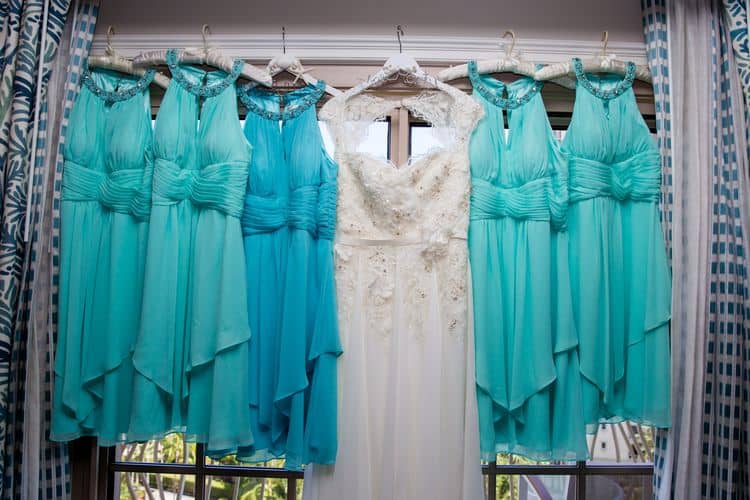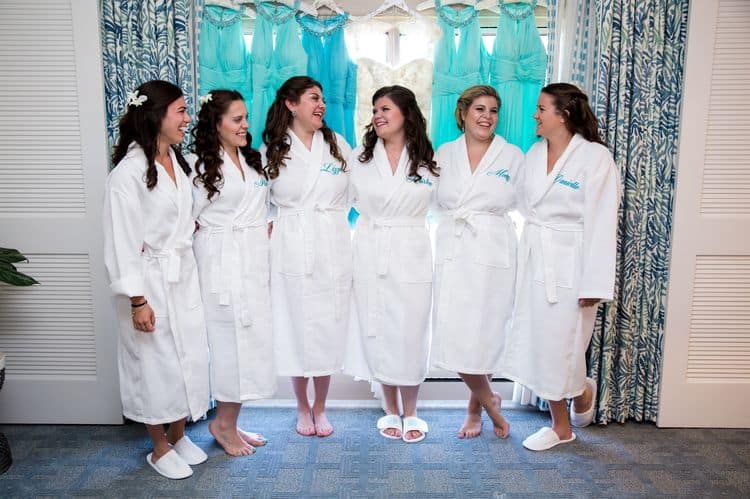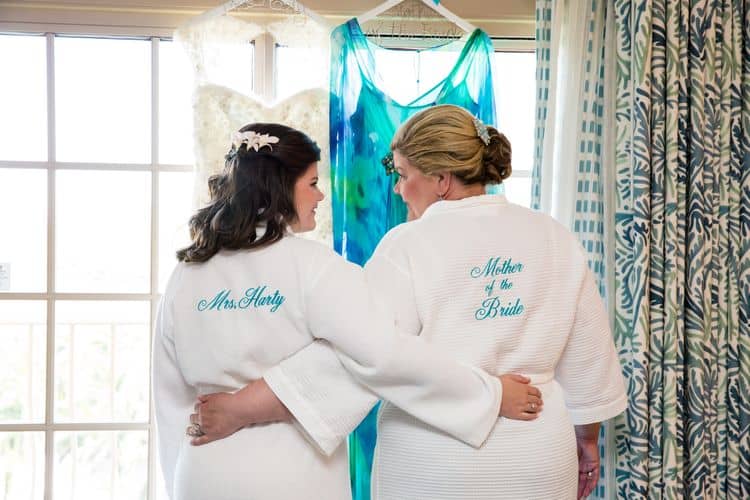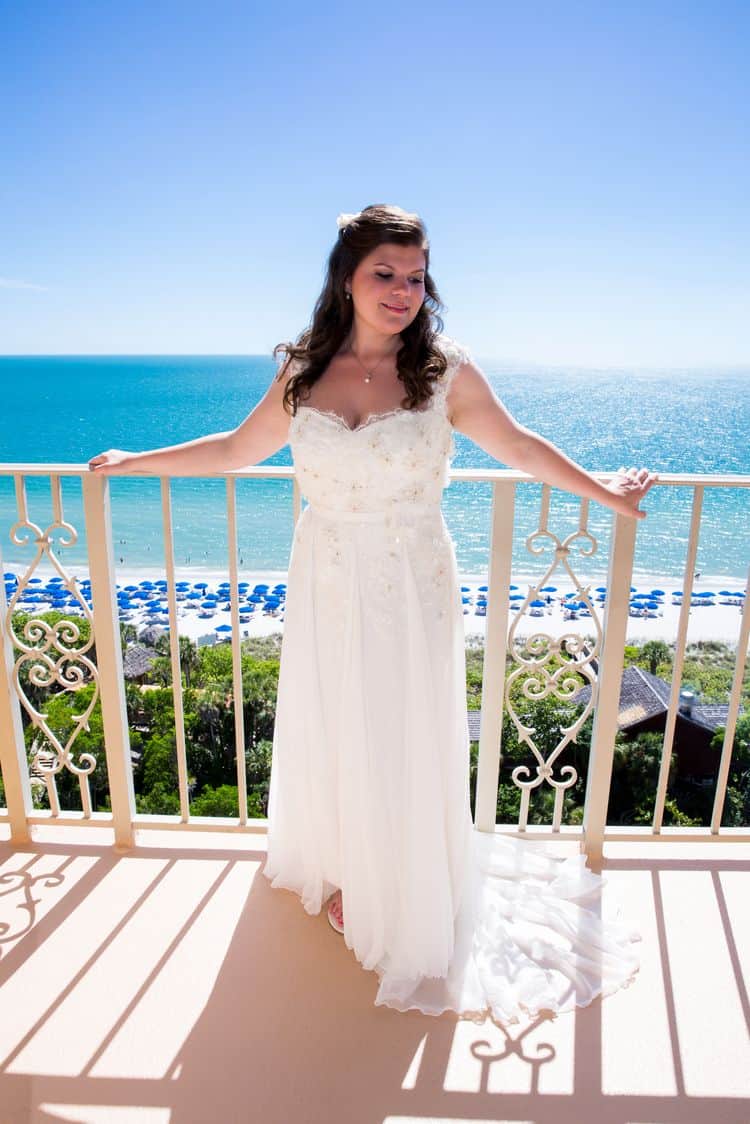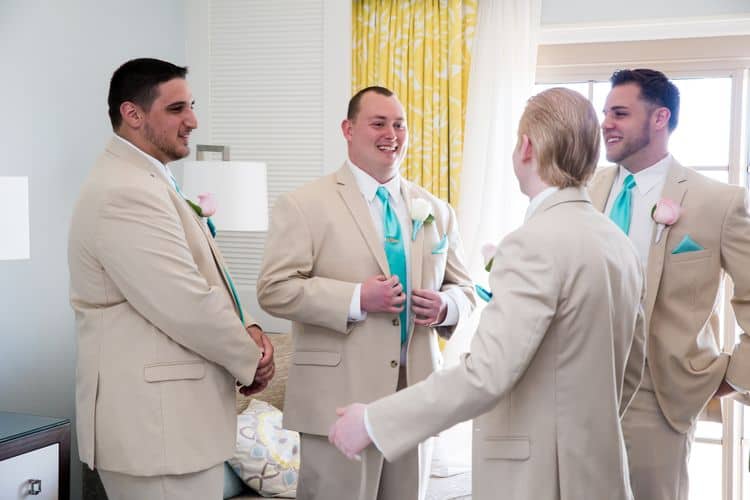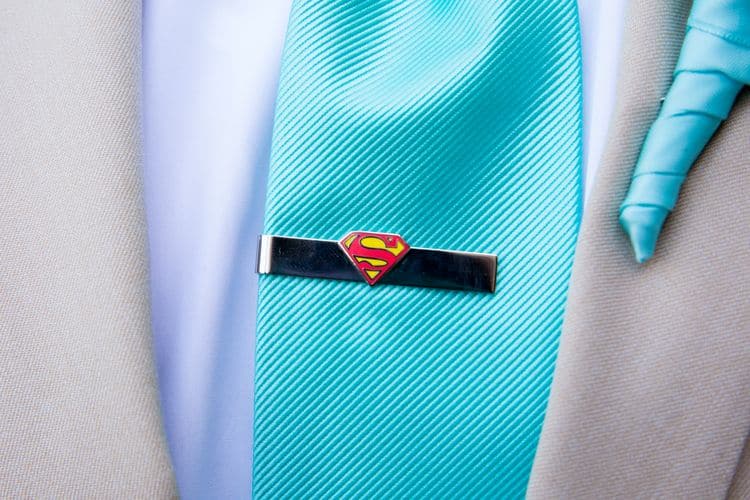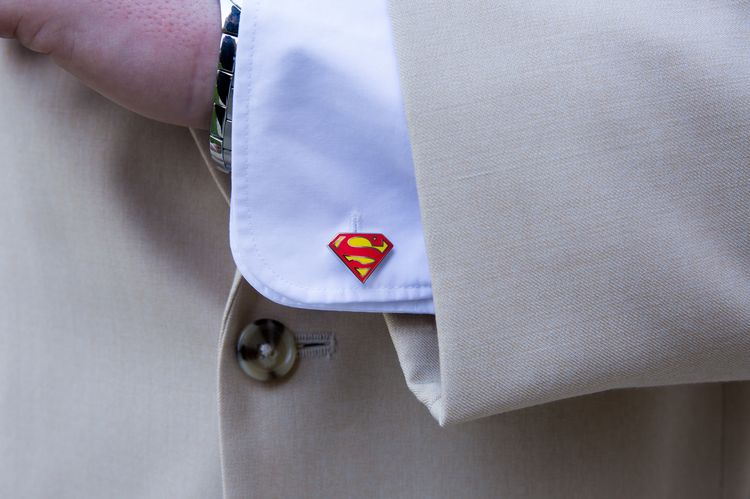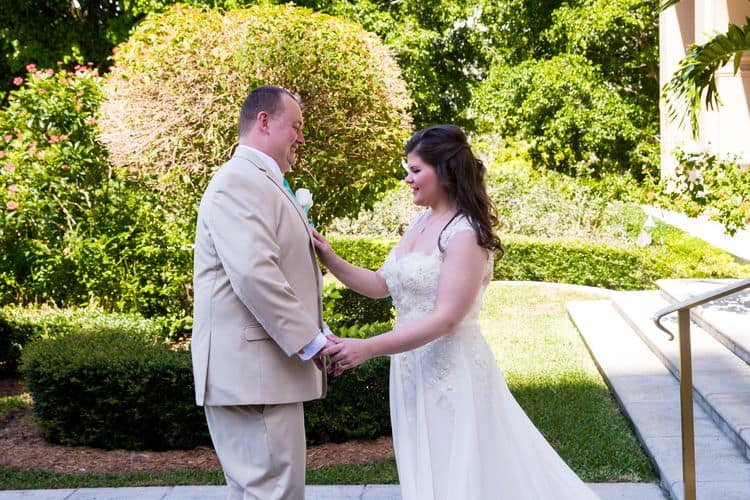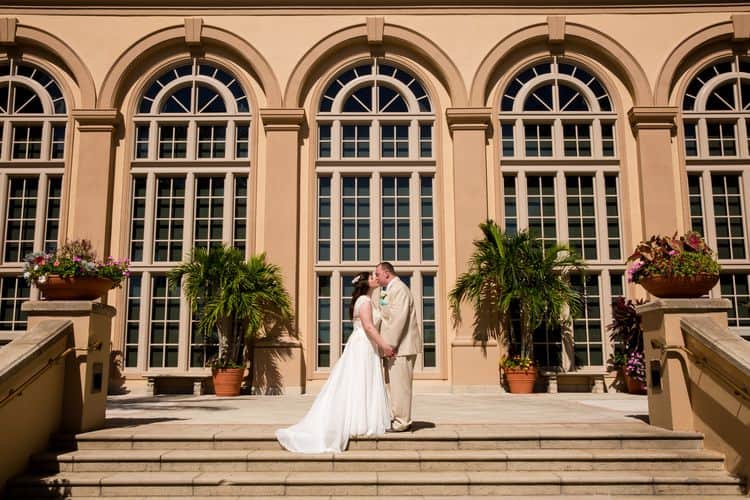 Was there something unique or special that you incorporated into your wedding décor/theme?
We played off of the beach theme as much as possible, using aqua blue and a starfish in as many details as possible. The invitations, menus, programs, table décor and other décor items used the color and starfish as much as possible.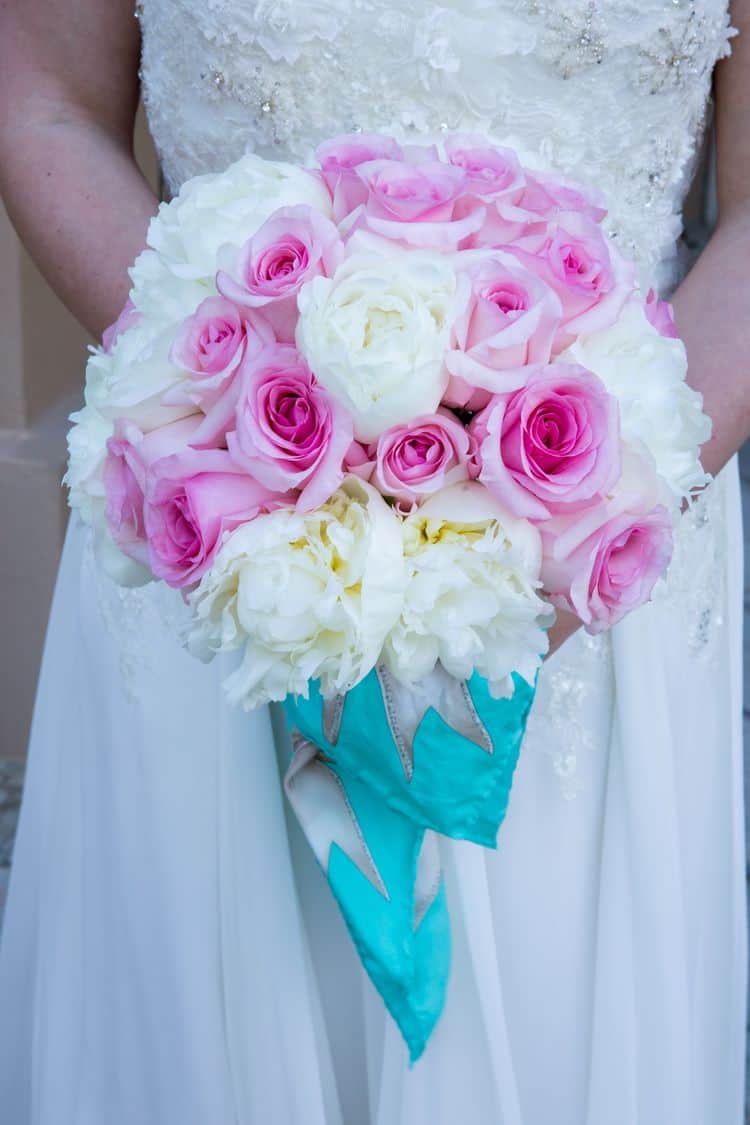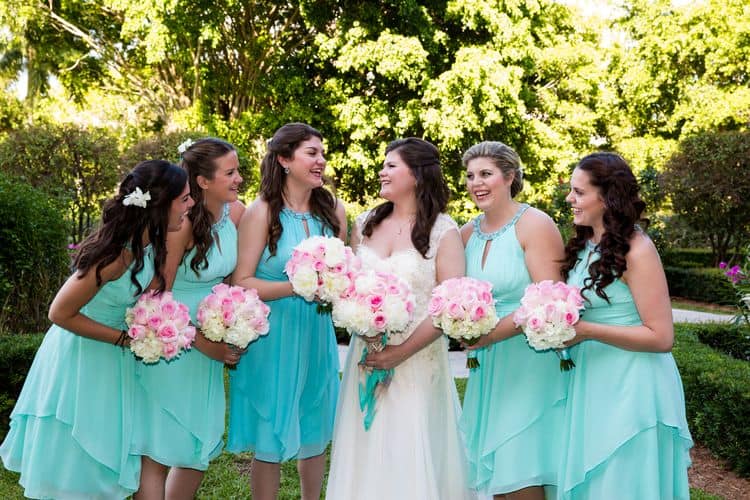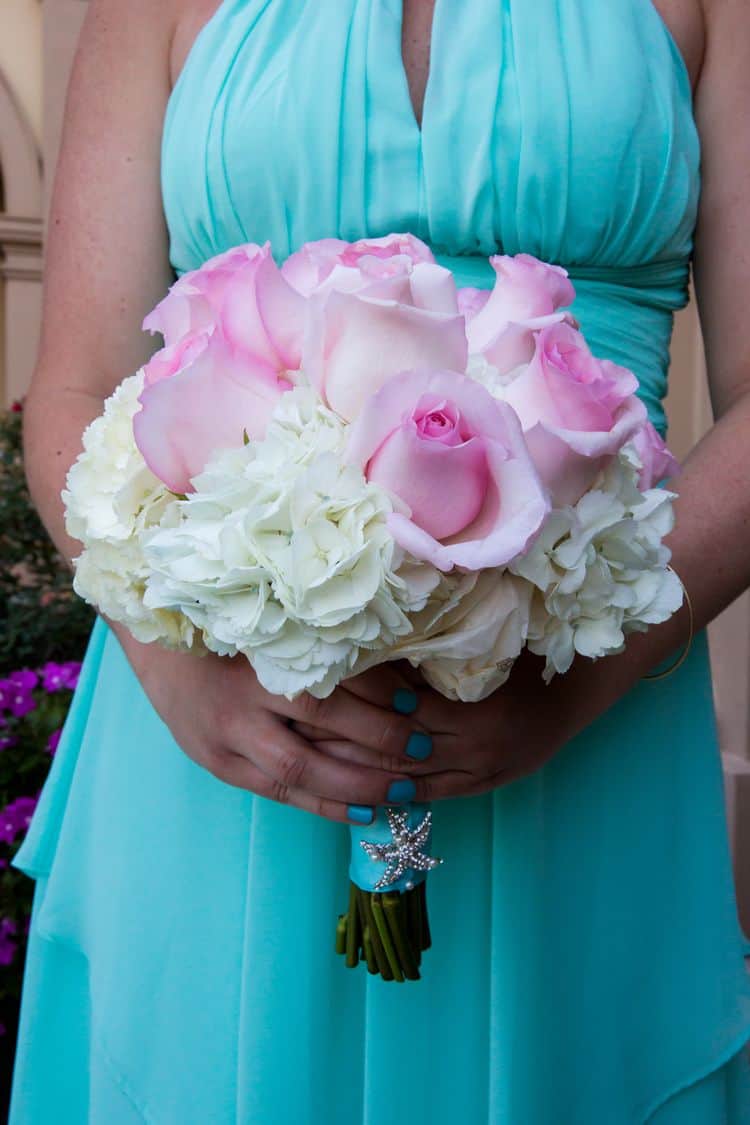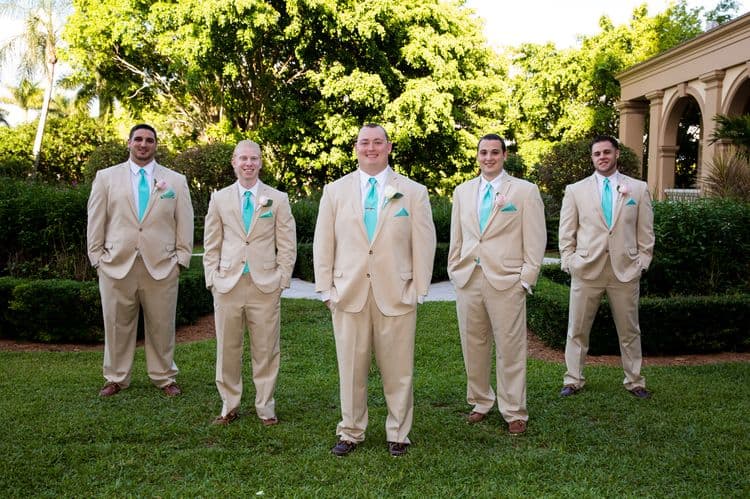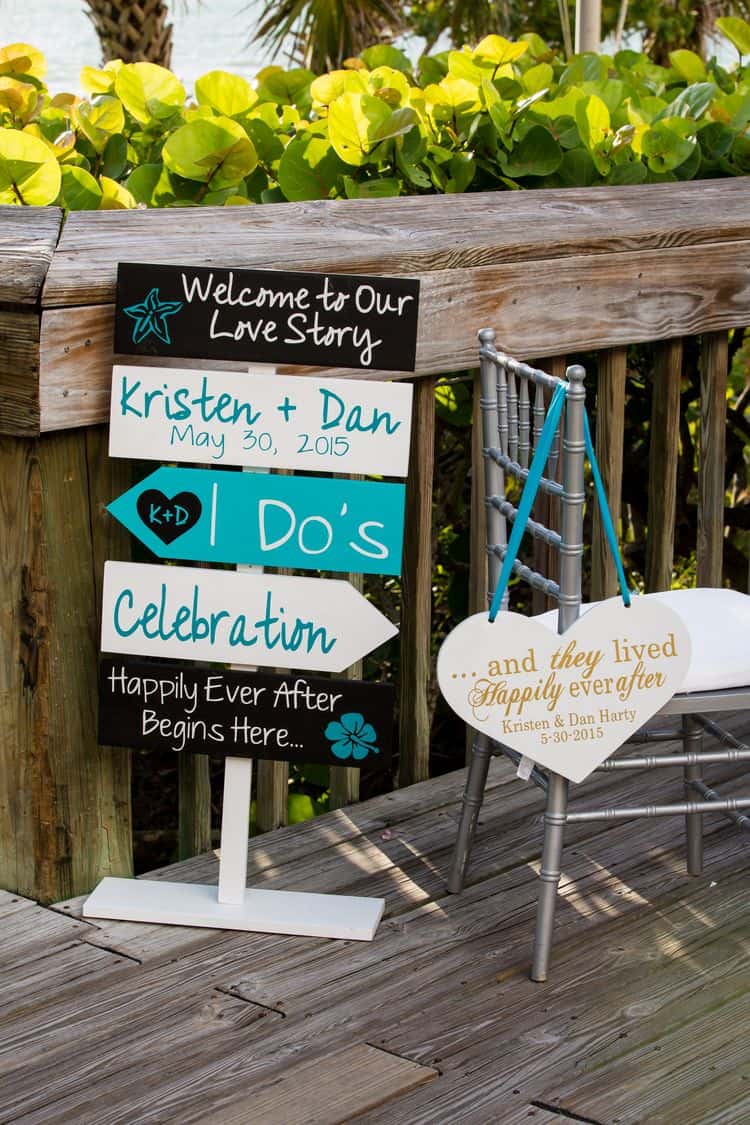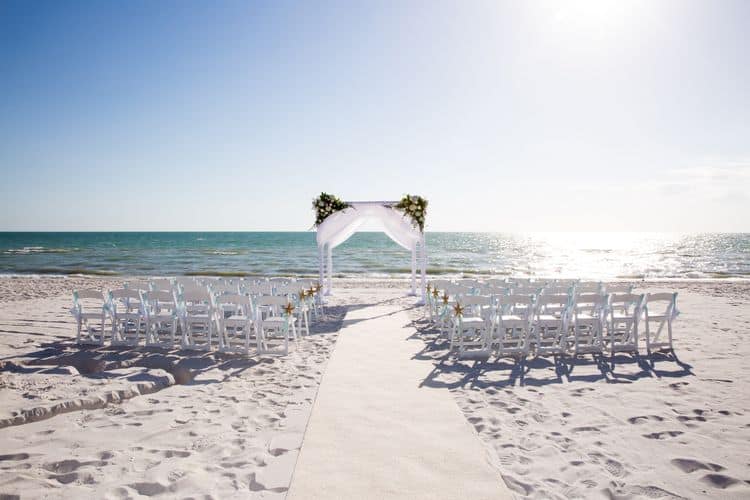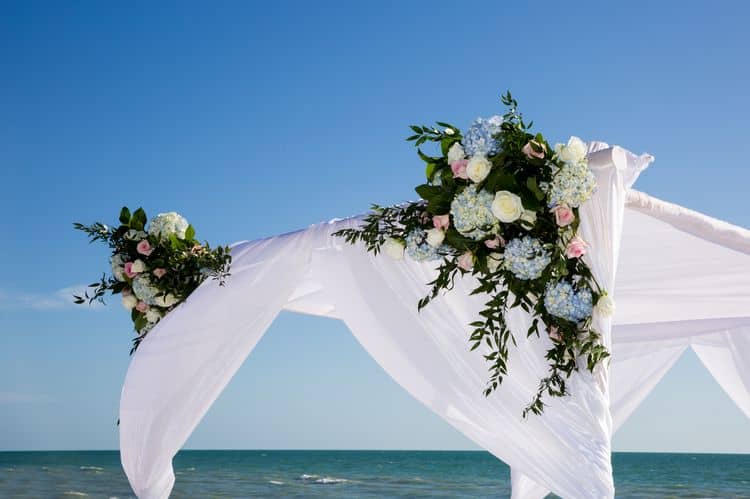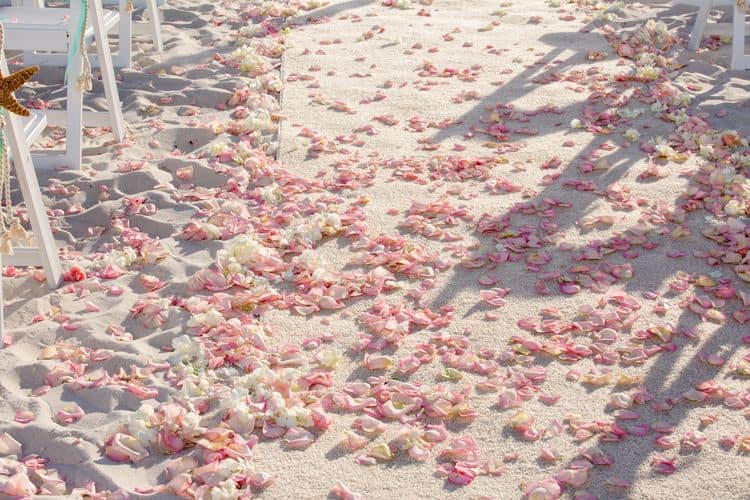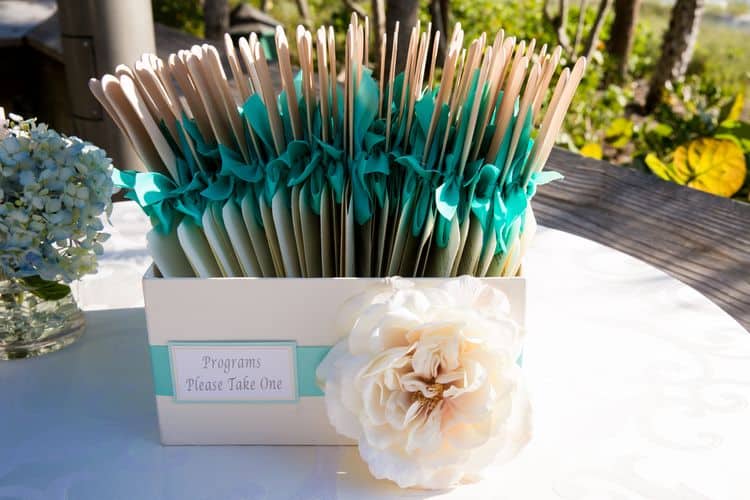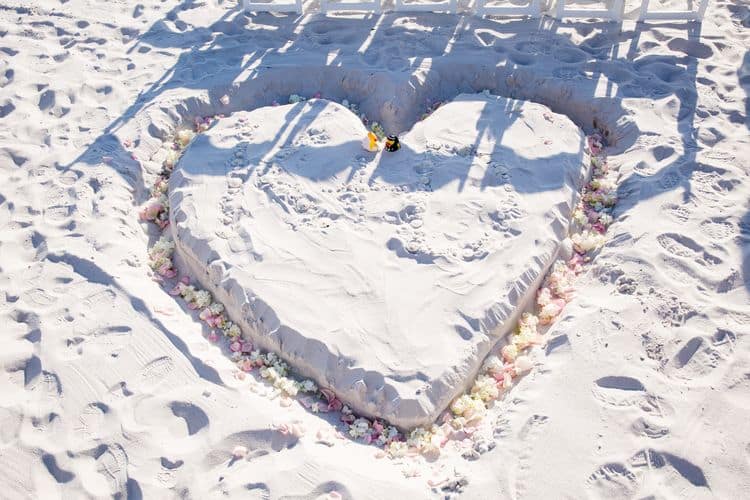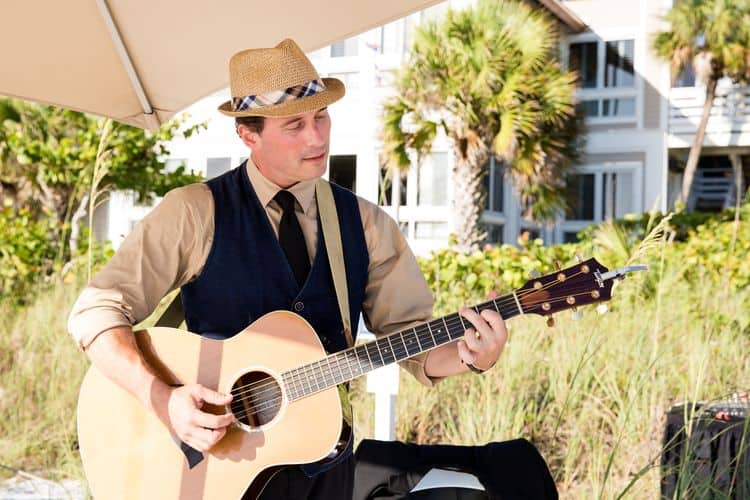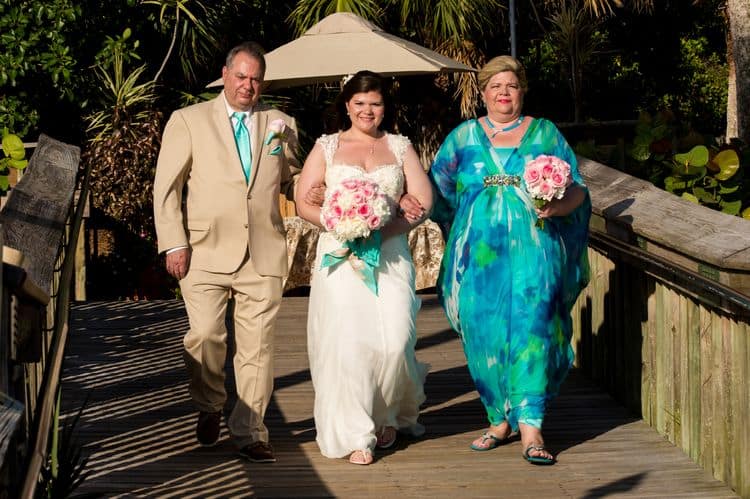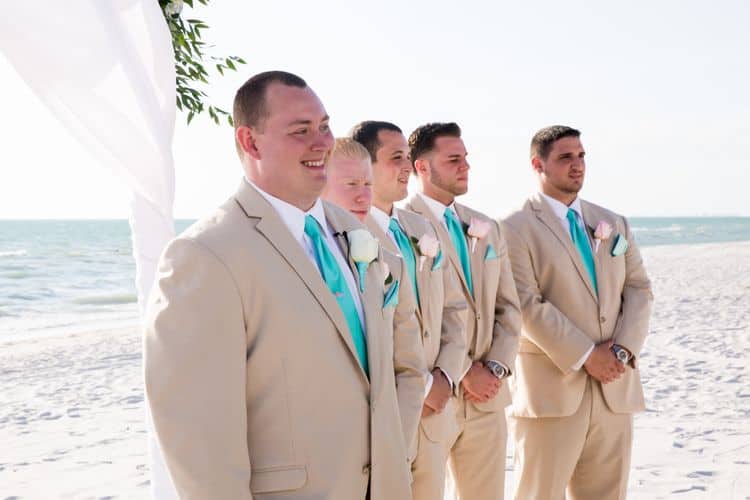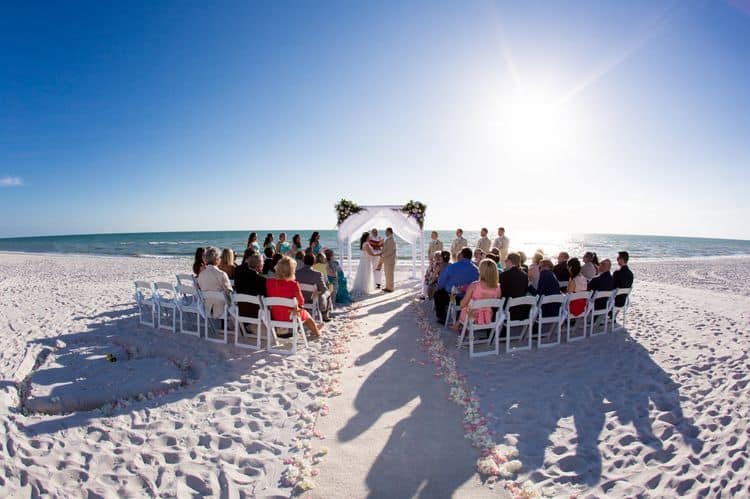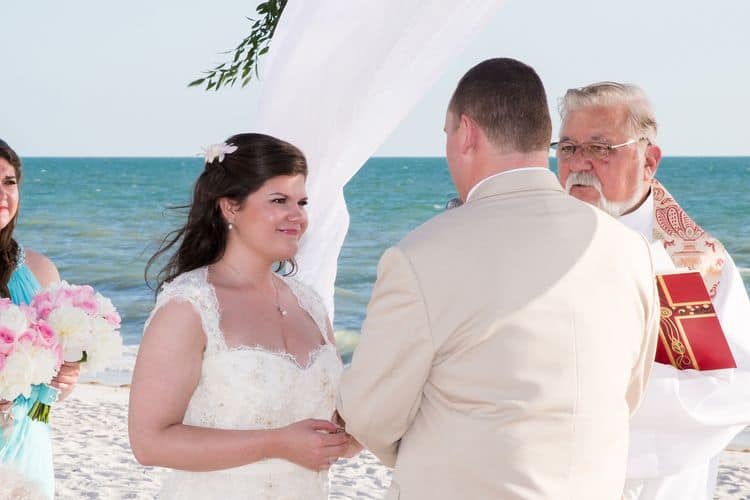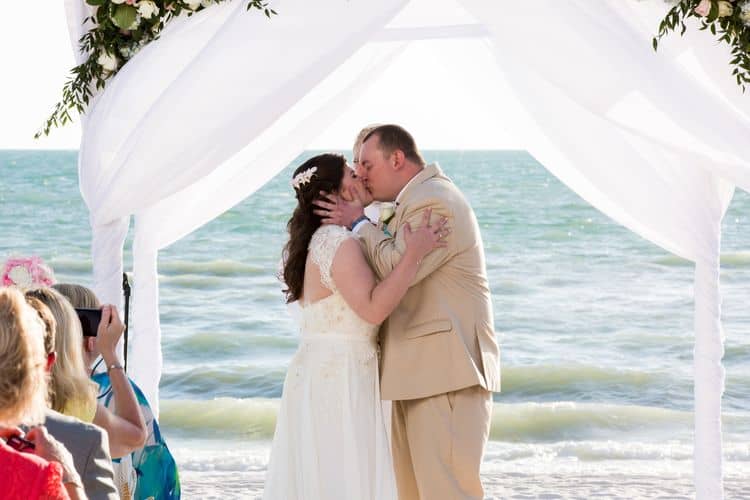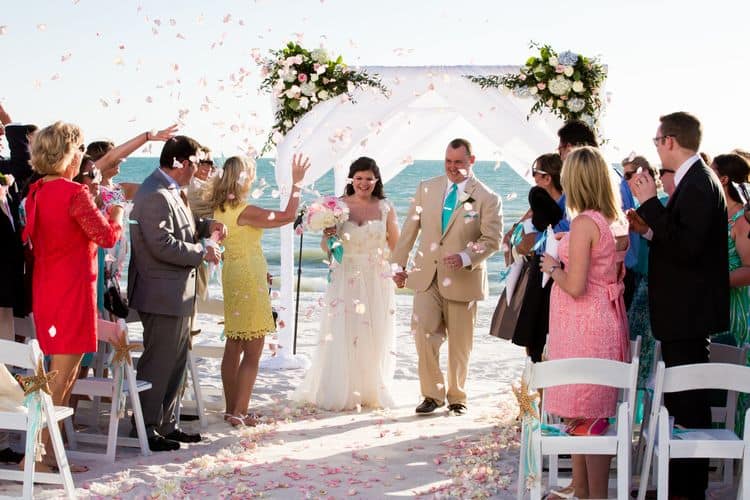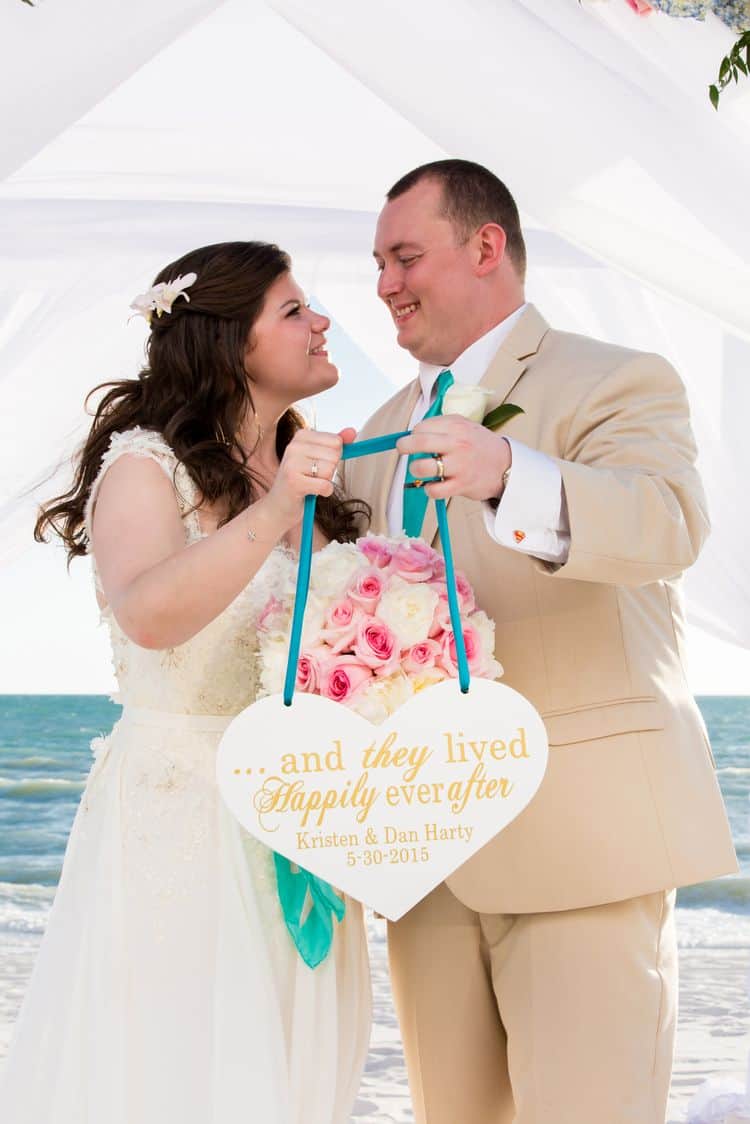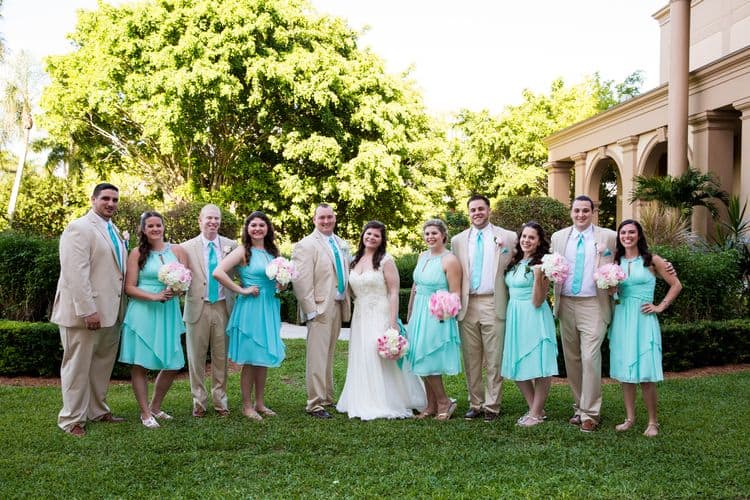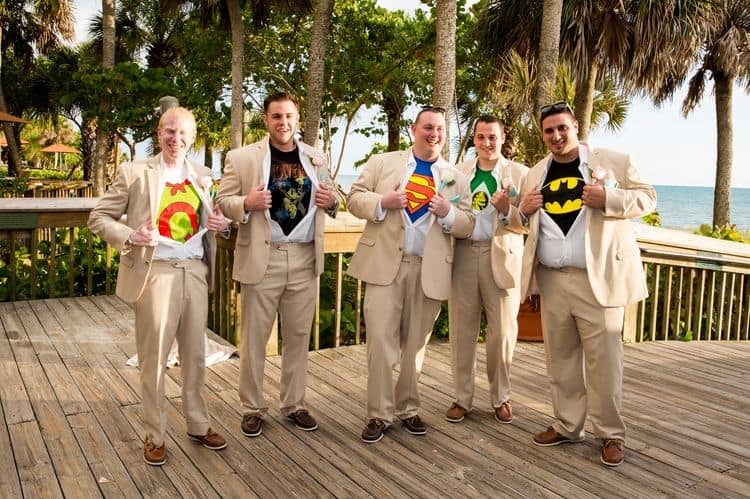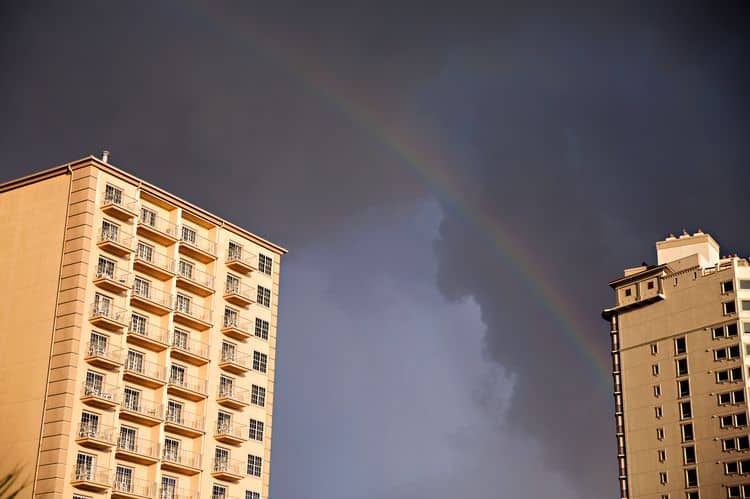 Can you tell us a little bit about the amazing Canvas painting of your ceremony? Where did the idea come from?
My Mom saw the artist, Inez Hudson painting at someone else's wedding at the Ritz on a wedding blog. She showed it to me and we both thought that was a cool idea. She painted a great deal of it at the ceremony, but added in details afterwards. We love it too!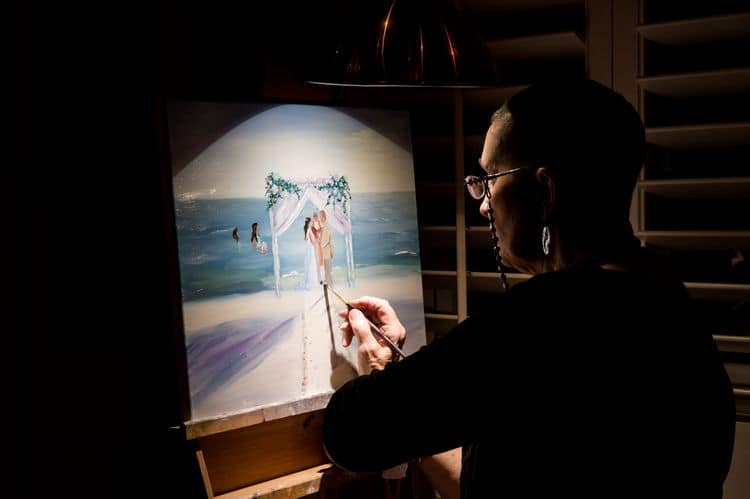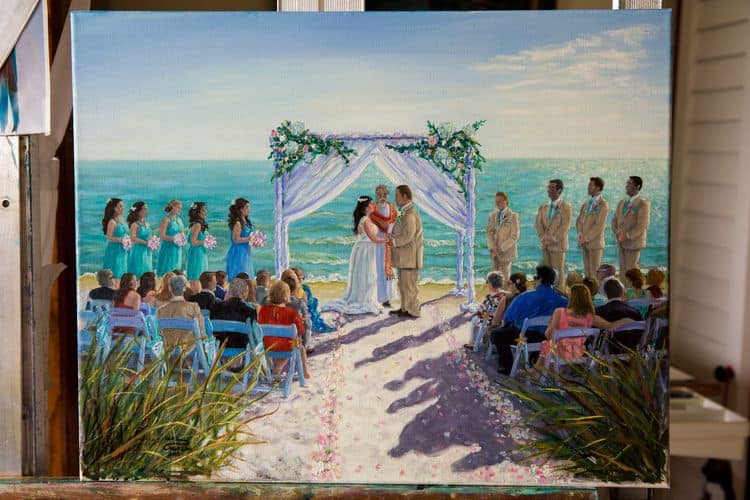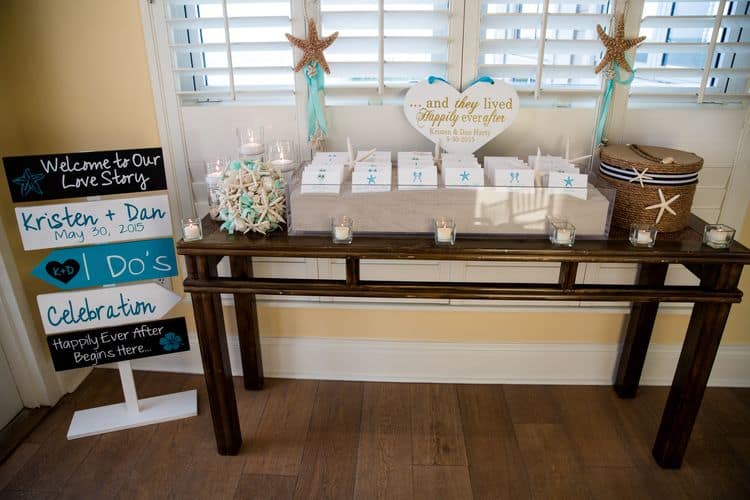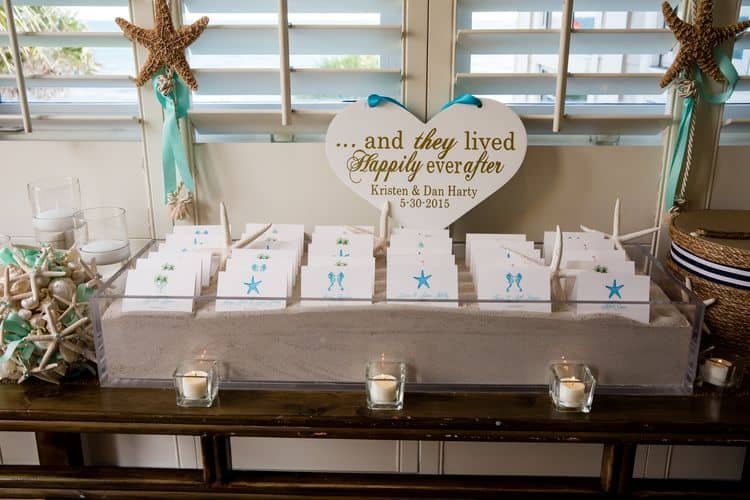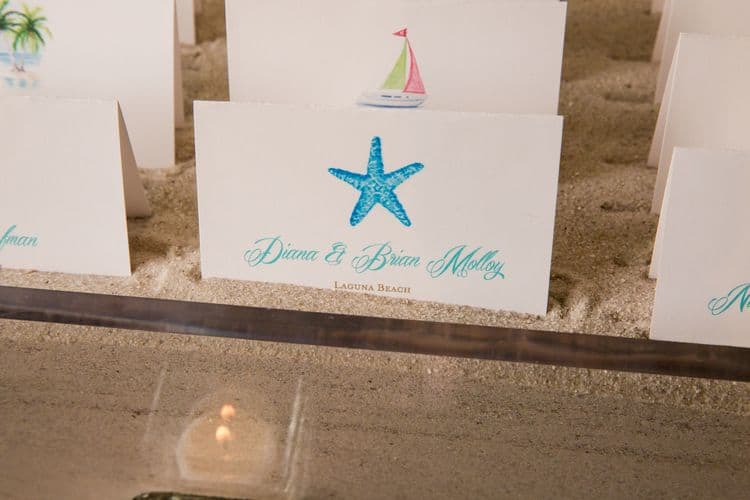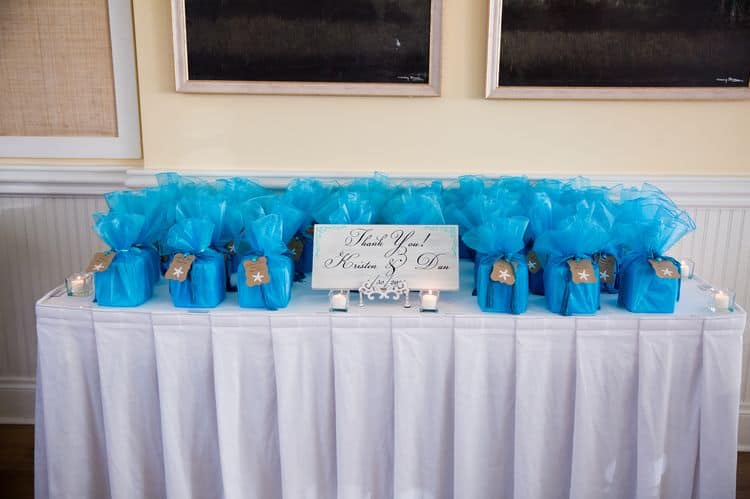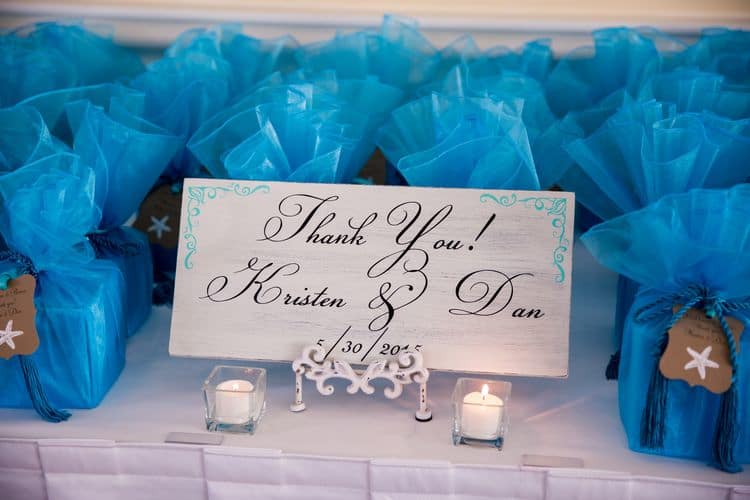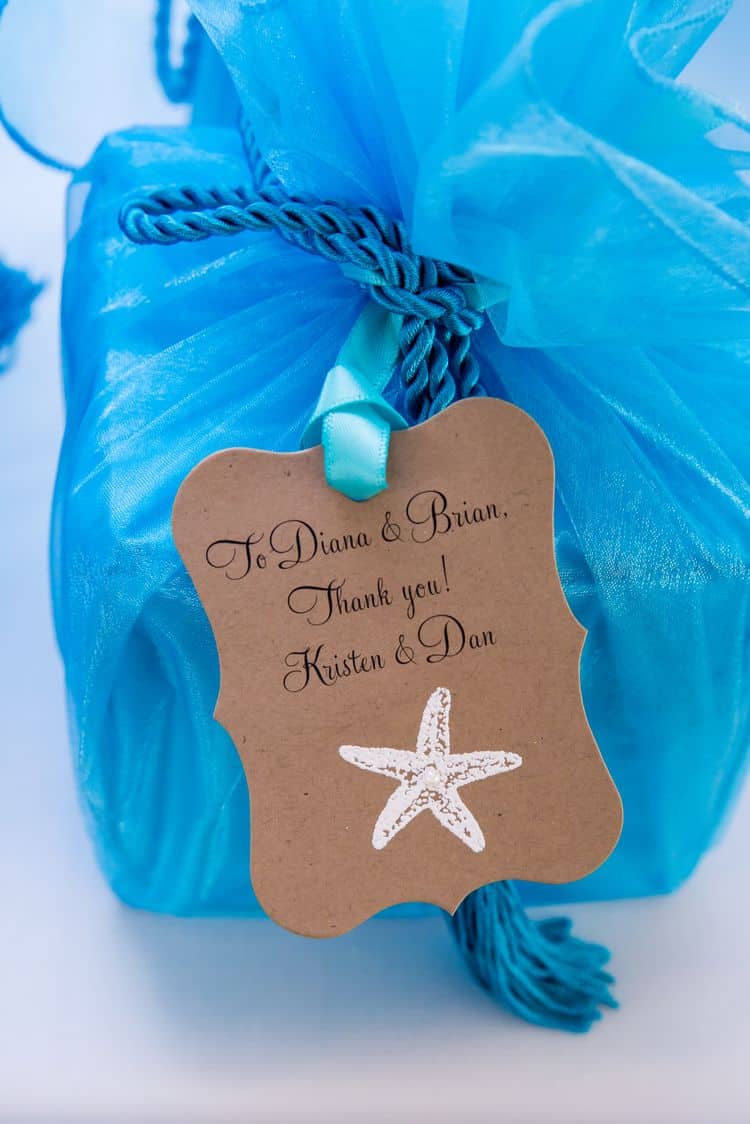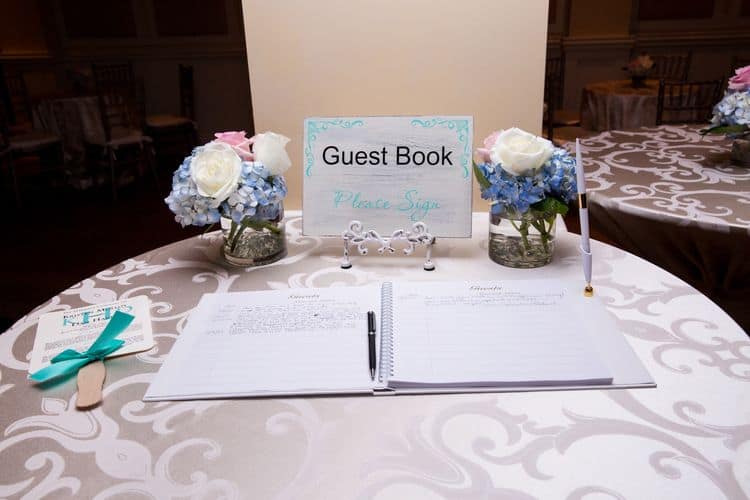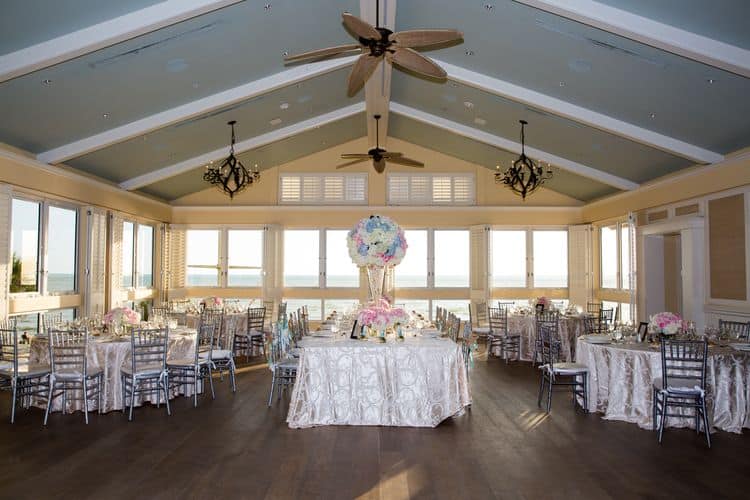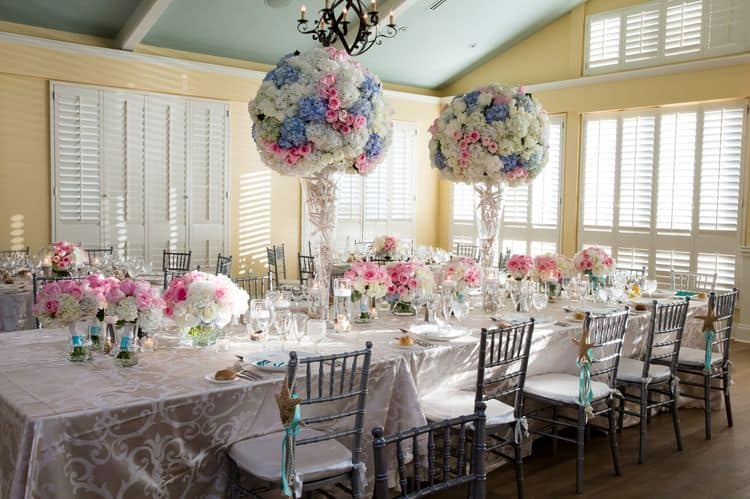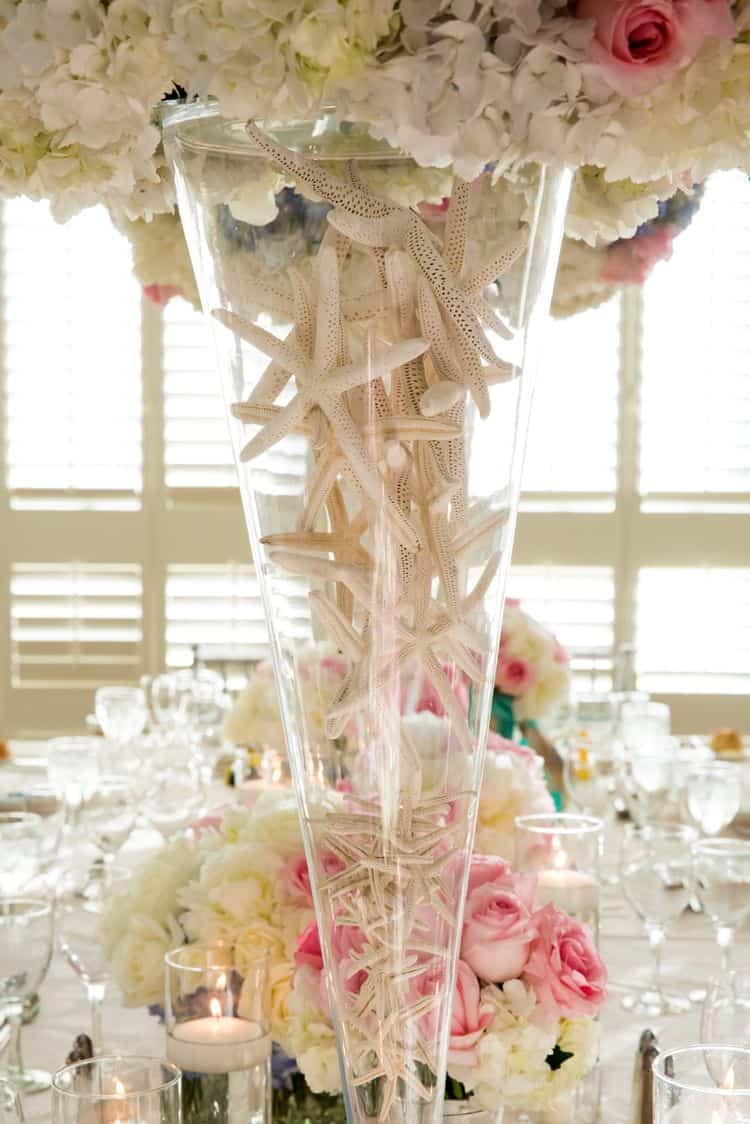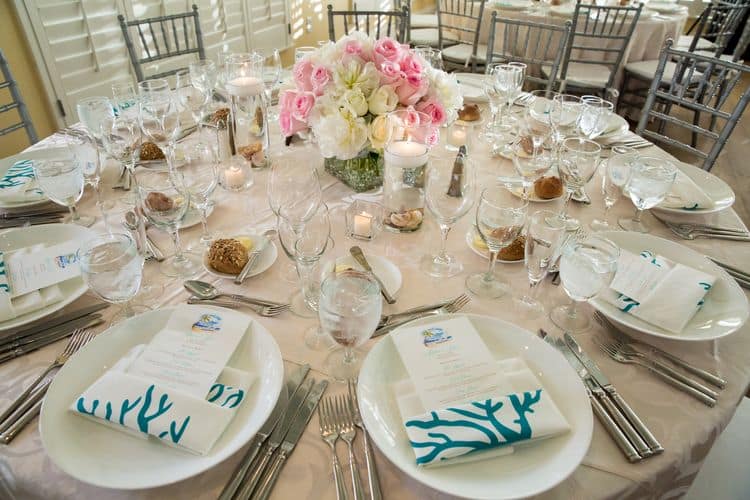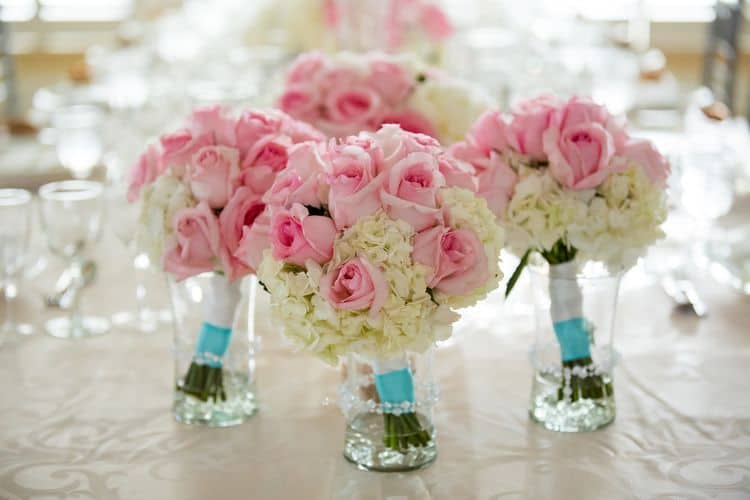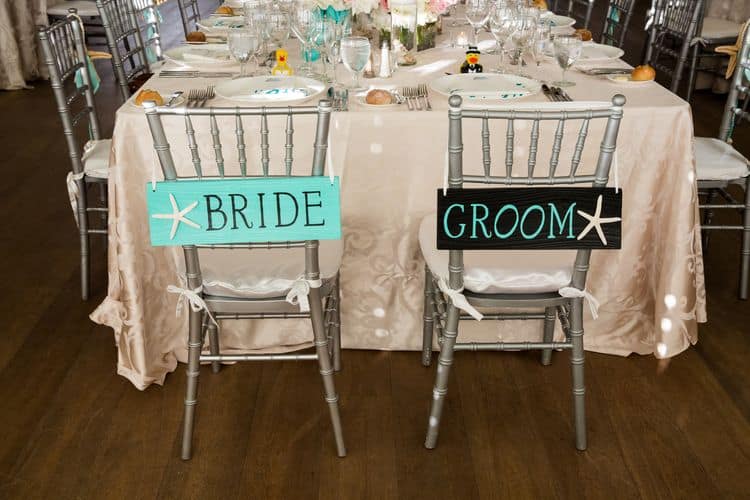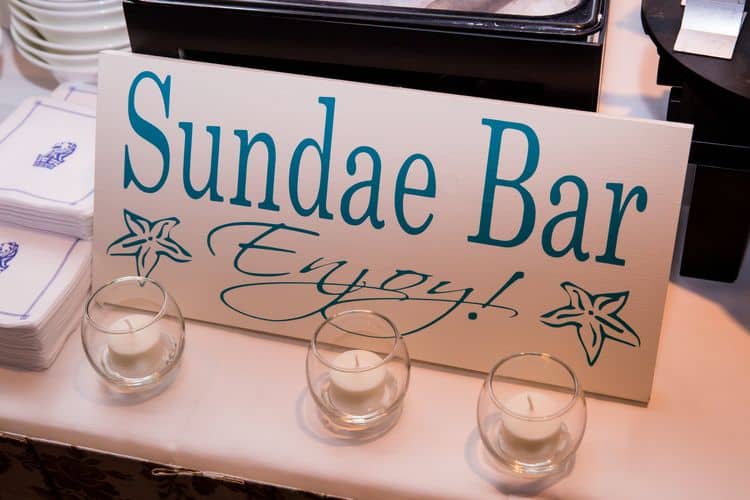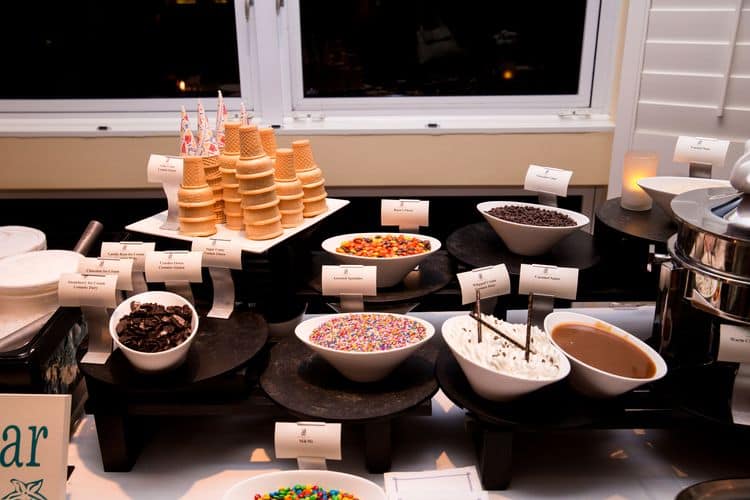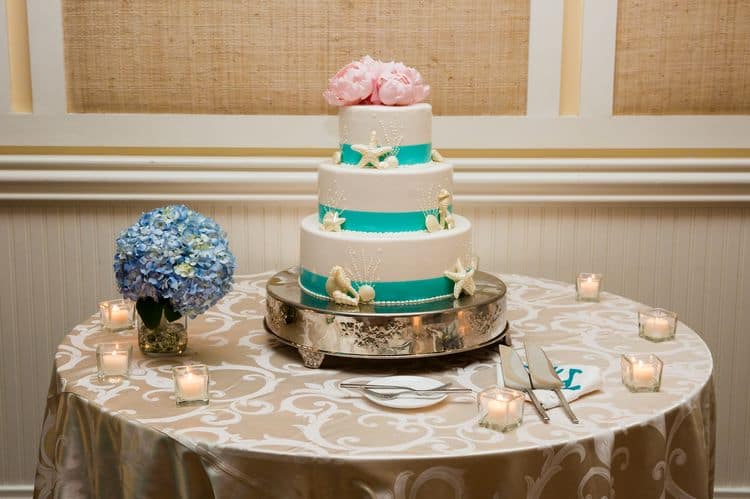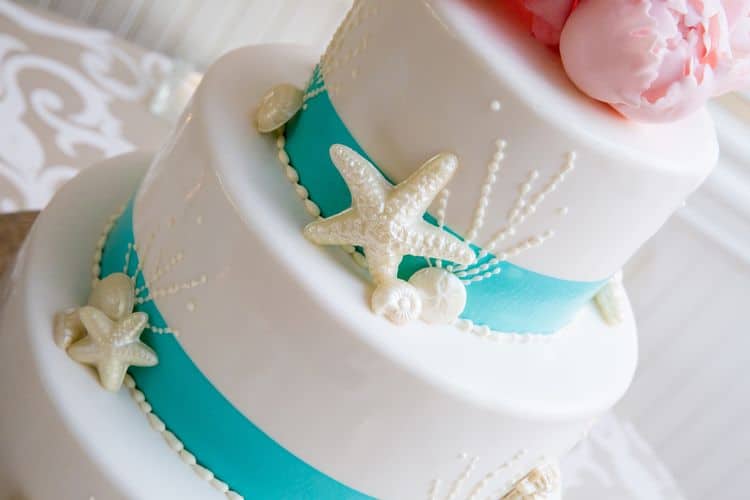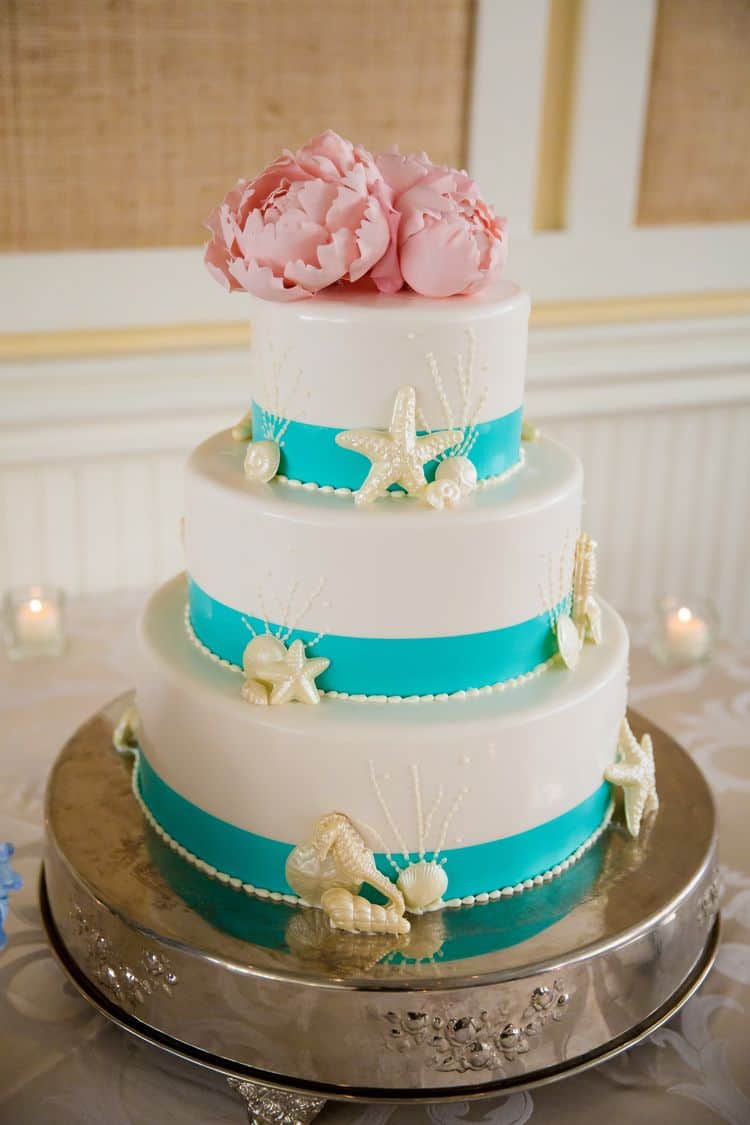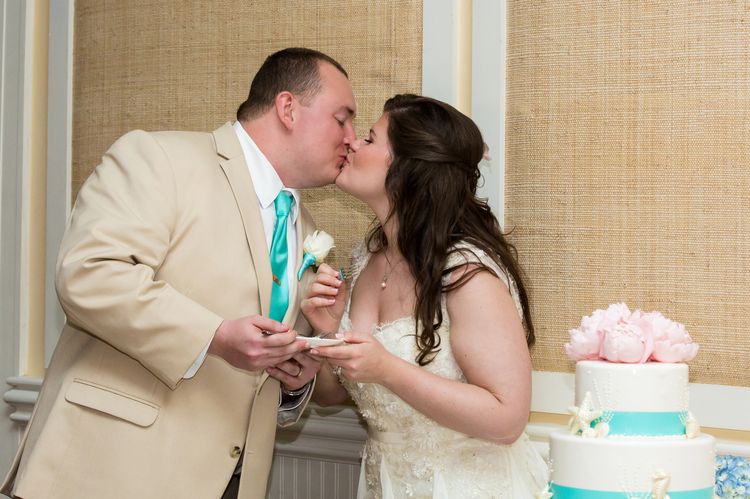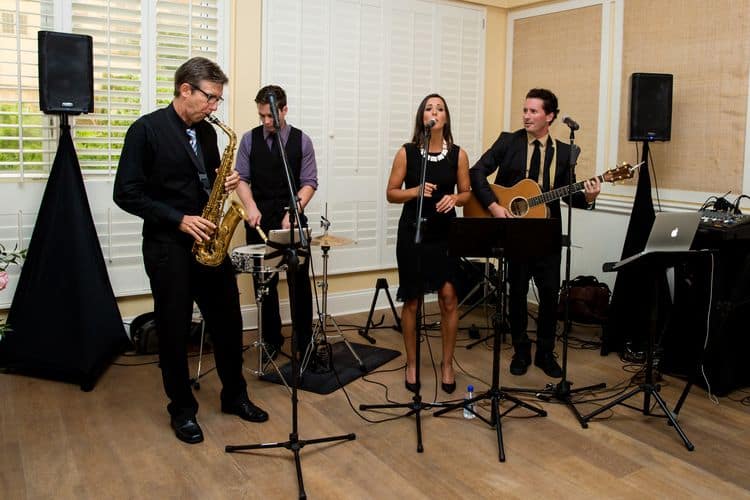 Real Destination Wedding Advice from the Bride
Why did you choose to have a beach wedding in Florida? And what made you decide on your venue?
We love the beach, and the Beach House at the Ritz Carlton is the perfect venue for an intimate beach wedding.
Which element of your day best reflects you as a couple?
The small beach wedding represented us. We had the people we care the most about at our favorite place! The beach!
What was the most memorable moment on your wedding day?
The ceremony on the beach, seeing each other for the first time in the butterfly garden, the amazing speeches. Kristen loved her first dance with Dan and her Dad and dancing in general!
Was there any tradition that you skipped for your destination wedding or a tradition that you put a "destination wedding" spin on?
Since we had a destination wedding, we decided to have a "welcome dinner" the night before, instead of the traditional rehearsal dinner. The groom's nickname is Superman, so we decided to make the theme of the welcome dinner Superman – ( groom's cake, table seating, Superman Beer Mugs) in his honor. My Mom thought that since the wedding is all about the bride, the welcome dinner should be all about the groom. Dan really loved it, as well as our guests.
What was your favorite part of having a destination wedding?
Getting to spend a weekend with the people we love the most- it was amazing. Also, arriving a couple days prior to the wedding really helped us to relax before the big day.
What was the most memorable part of your wedding day?
During the ceremony we had bright sunny weather. After we went into the beach house for the reception it started to pour and we had a beautiful rainbow. Also, my sister (liz) gave an amazing speech that brought my whole wedding party table to tears, along with Dan (the groom) and many of the older adult men who attended.
What was the biggest challenge in planning your beach wedding in Florida?
Because this was the first destination wedding in both of our families, the hardest part was getting everyone to understand that this would be a smaller wedding with only the people we really loved in an amazing place. Some family members had a hard time understanding that we would not be inviting everyone we might have if we had a local wedding. But everyone told us at the wedding, that this was the best wedding they ever attended. They loved the smaller intimate group and loved the concept – it just took them a while to get there.
What is your advice to other couples planning a destination wedding in Naples, Florida?
Pick a place you can visit yourself before deciding; and meet and bond with your planner. Our event coordinator (Evan) at the Ritz was amazing and we couldn't have done it without her. We made two trips ahead of time which really helped us plan every detail.
Vendors
Photographer: Tonya Malay Photography
Venue: Ritz Carlton Beach Resort of Naples
Bridal Gown: Elie Saab, Pronovias NYC
Shoes: Betsey Johnson
Men's Attire: Men's Wearhouse
Canvas Painting: Inez Hudson
Musicians: Brett Foreman Band
Musicians: Talent and Entertainment Productions
Invitation Designer: Mospens Studio
Video: Naples' Original Video Productions Inc.
Hair & Makeup: The Spa at the Ritz Carlton Naples