Coordinating your beach wedding attire? Keep reading the rest of this page for advice on styles, fabrics, and accessories that will help you create a fashionable and functional bridal look!
Were you invited to a beach wedding and are wondering what to wear? Click here for tips on what guests should wear to a beach wedding.
We've said it before, but it bears repeating – it's your wedding and you can and should wear whatever you feel beautiful and comfortable in. You might read or hear well-intended advice that you should only wear a certain style of attire to your beach wedding but that's just not true. We've covered hundreds of real destination weddings on this site, and we stay on top of all the fashion trends.
We've seen beach brides wear everything from an elaborate princess ballgown to a simple short mini dress. It's your day – do what you want and don't let any 'expert' dissuade you from wearing that dress you fell in love with and have been dreaming about since you were 5.
That being said, if what you're after are comfort and function, we are here to share some advice on how to accomplish that.
Tips for Selecting Comfortable Beach Wedding Attire for Brides
Best Attire Fabric
Chiffon, organza, tulle, and jersey cotton are the most popular fabrics for bride's and bridesmaid's beach wedding attire. Those fabrics are lightweight, making them easy to travel with. They're also easy to steam once you unpack them after a long trip and best of all, they're lightweight and comfortable to wear. Soft fabrics will also sway in the ocean breeze and keep you cool in warm temperatures.
Click here to see photos of designer beach bridal gowns
Best Dress Length
You have so many options when it comes to the length of your beach wedding dress. The default is the more traditional long dress with a train. If you're going to wear a long gown, you should get your fittings and alterations with the same footwear you'll be wearing to your ceremony. Are you going barefoot or wearing flats on your wedding day? Then you should not wear heels when your seamstress is doing alterations on your dress. If you do, the dress will be too long and you'll risk tripping down the aisle.
If you're wearing a long and flowing gown, you'll also have an easier time if you choose a fabric that can easily brush clean like chiffon. And make sure your seamstress bustles the train so you can move around with ease at the reception!
If you are very low maintenance and feel like a long dress will be too much hassle, you can go with a shorter style. A dress with a short, tea-length, or staggered hemline is fun and functional making it ideal for a beach wedding.
Click here to see photos of tea length and short beach wedding dresses
Style and Fit
Choosing a beach wedding gown with an A-line silhouette in one of the fabrics we mentioned above, will give you a universally flattering fit and boast a traditional style. Sheath style dresses also boast a fit and flare style and put a modern twist on a classic silhouette.
Beach Wedding Hair Accessories
Once you choose your dream destination attire, consider how you will accessorize your look. I personally love the drama of a long veil blowing in the wind, but if that's not your thing, there are many other alternatives.
A fingertip veil may be more your style because it looks elegant, traditional, but it won't skim the sand or create an overly formal vibe for your casual and relaxed ceremony setting. Many are designed with scalloped edges, are lined with lace, or have floral embroidery on their edges.
Many brides opt for cute, vintage birdcage veils. These netted veils fall slightly below the nose and create a modern and fashion-forward look. Some are embellished with flowers or feathers to add some instant elegance to your attire.
You may choose to completely skip a veil as part of your attire and opt for fresh flowers in their hair, or other embellishments like a crystal-lined feather, a silky and smooth fabric rose, or a dazzling artificial floral clip. These can easily be added to an updo or loose hair.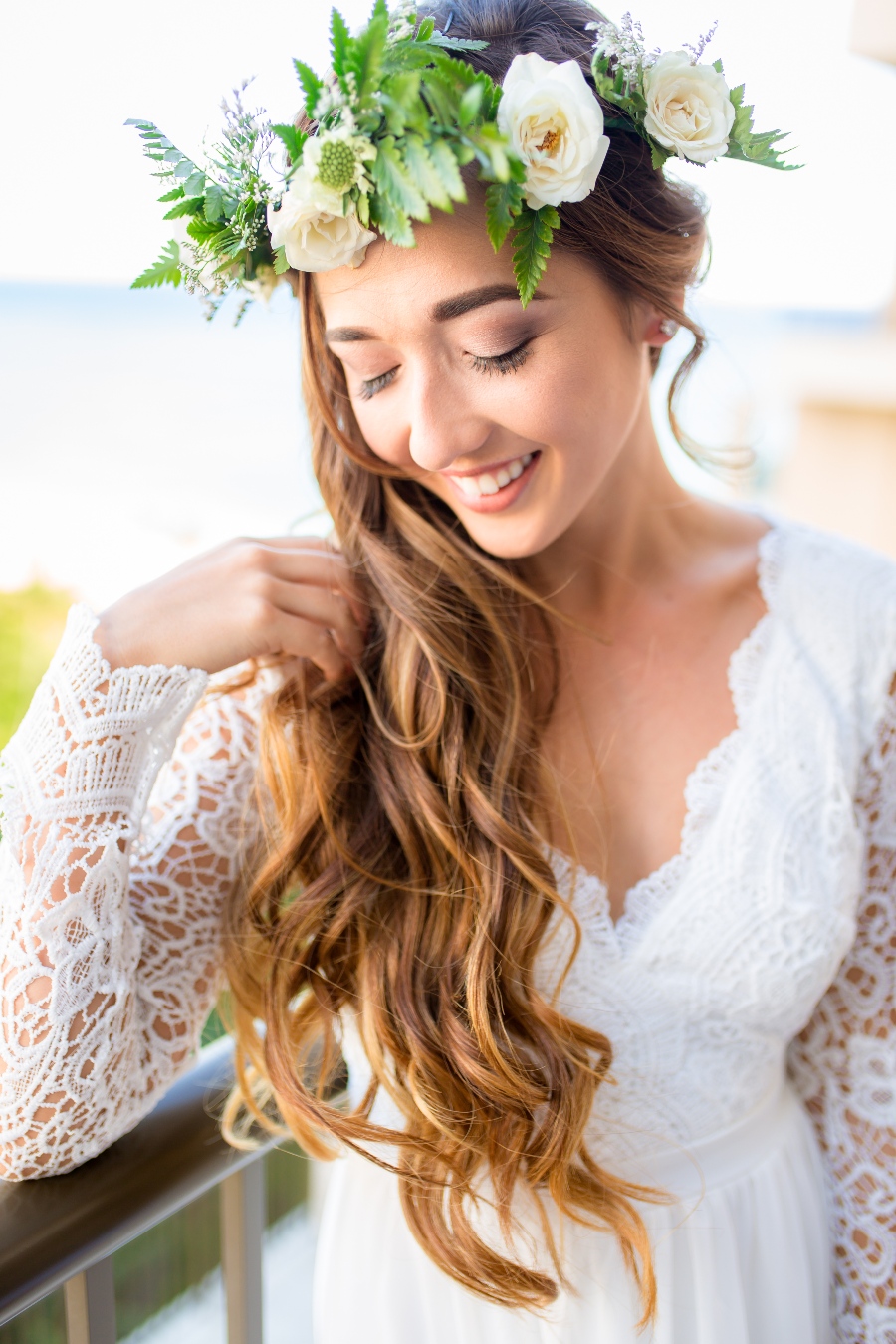 Check out images of 28 gorgeous hairstyles from real beach brides
Beach Wedding Attire for Brides: Shoes
If you're not afraid to make a statement and truly embody the essence of the beach, you might choose to walk down the aisle in barefoot sandals.
You can also purchase flip flops that have a pearled glaze or are embellished with sparkles or beadwork. Flat, strappy sandals will also work if shoes are a must for your beach nuptials. If you're tying the knot right in the sand, avoiding heels is a good decision, as you will sink or slip up on the sand. You can shop for gorgeous wedding shoes and sandals at really great prices at Dessy.
Before you begin shopping for the perfect beach wedding attire, be sure to consider some of the points outlined above to make saying, "I do", a stylish and chic affair!
Related Posts You'll Enjoy