Cancun has always been like a second home to Cherie and Michael who regularly vacation there with family – so it was a no-brainer to hold their gorgeous destination wedding at the Hard Rock Cancun this year… right on the same beach they got engaged! 80 of their closest friends and family were able to join them for a fun, adorable celebration of their love.
I love the shot by the folks at FineArt Studio Photography that captures the gift given the couple gave to their mothers – a pin with photos of their parents who have passed. I am such a sucker for ceremonies that include memories of family members who aren't present – it's so special and sentimental.
When it comes to the ceremony, I thought Cherie and her girls looked absolutely gorgeous – the color scheme, attire, decor… everything fits with a breezy beach wedding. I just want to kick back and have a mimosa with them! And what's the best part of an ocean-side wedding? The opportunity for some knockout sunset photos. Those are some of my favorite of this bunch.
I love the progression of these photos, you can tell how the night gets more fun as it goes on – everyone seemed to have a blast out on the light-up dance floor!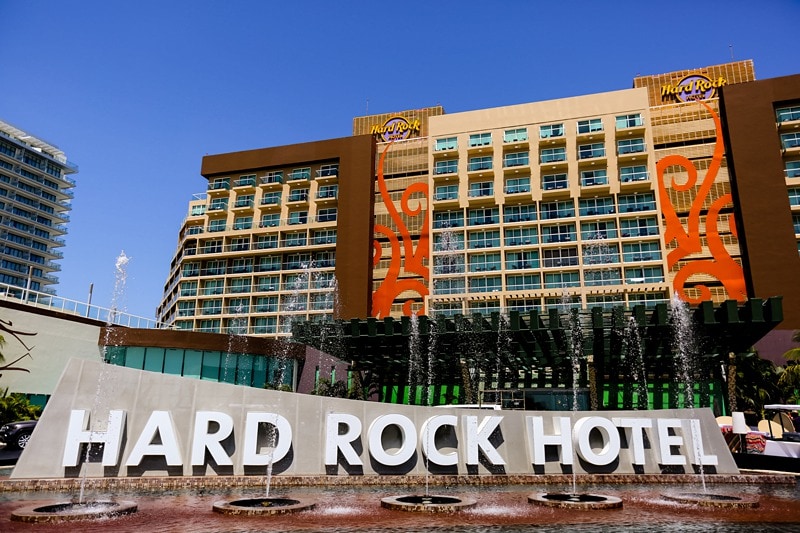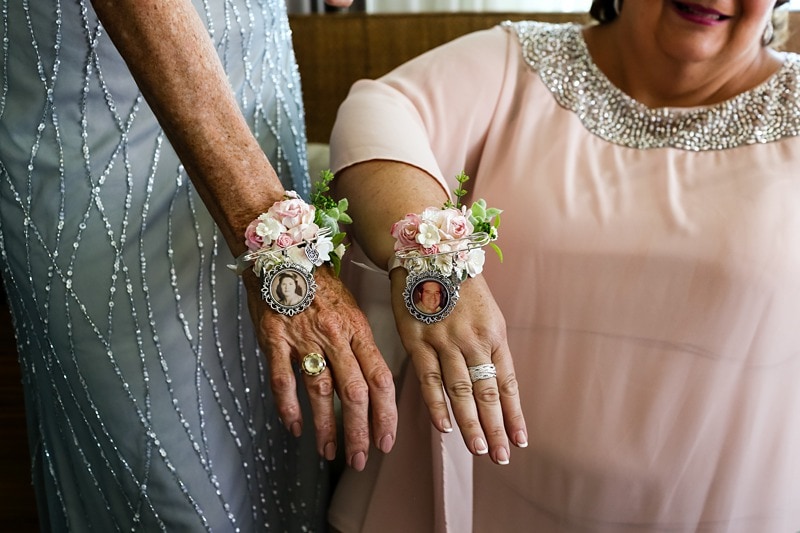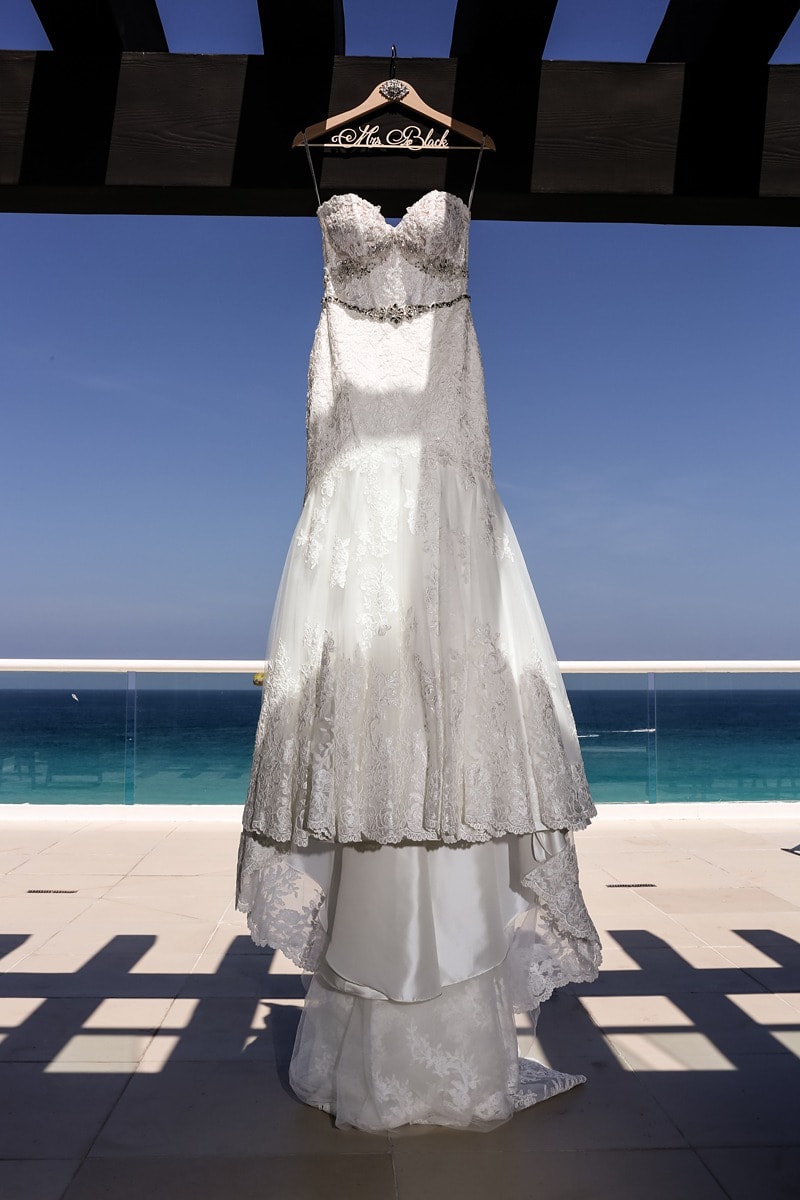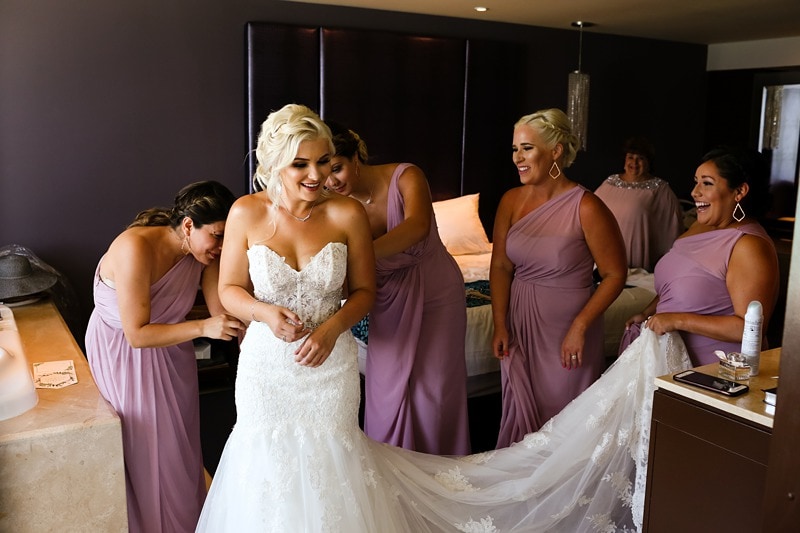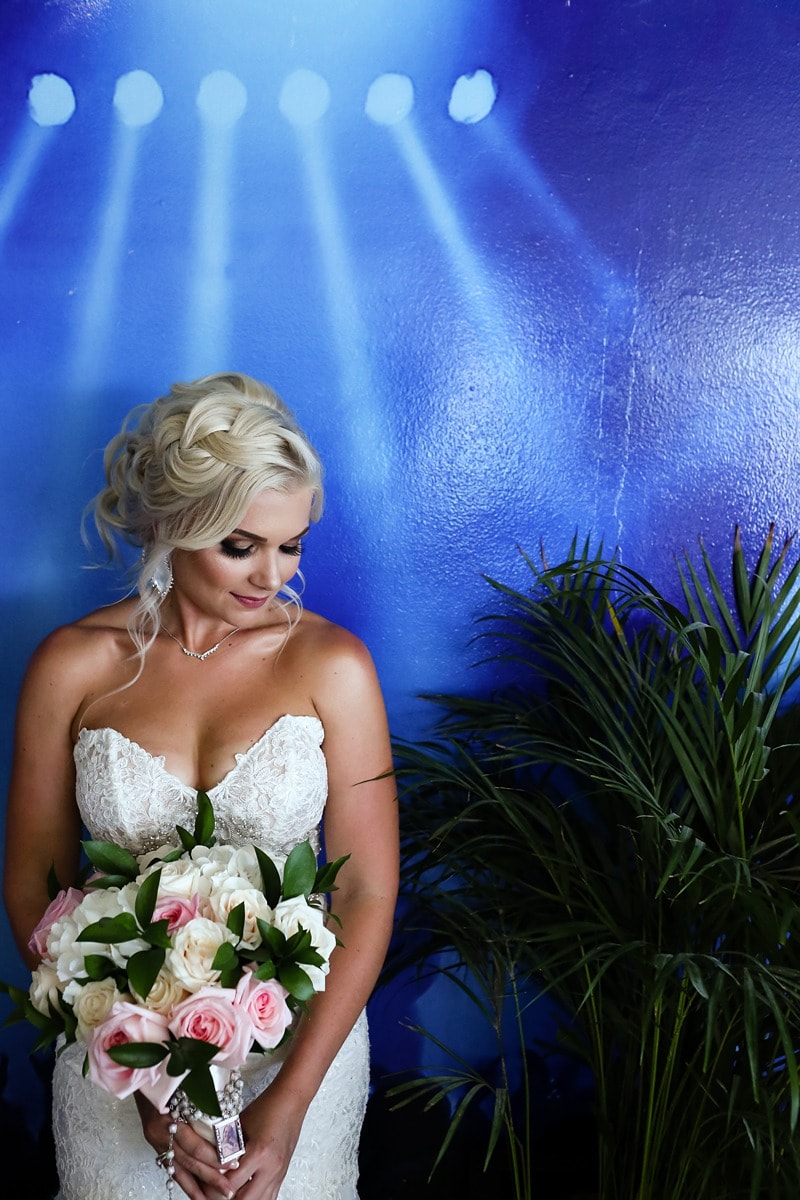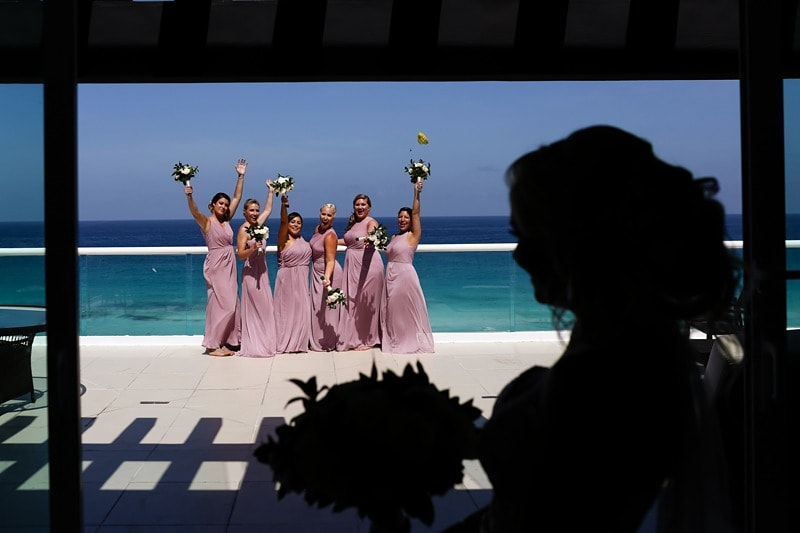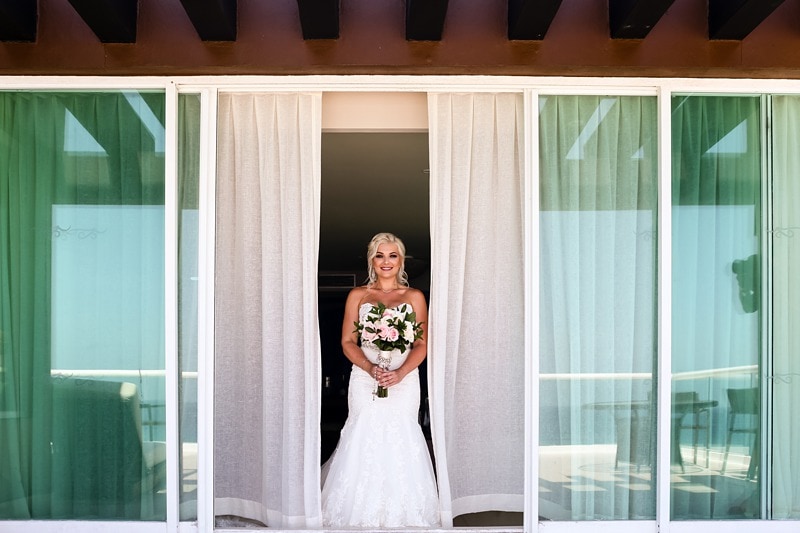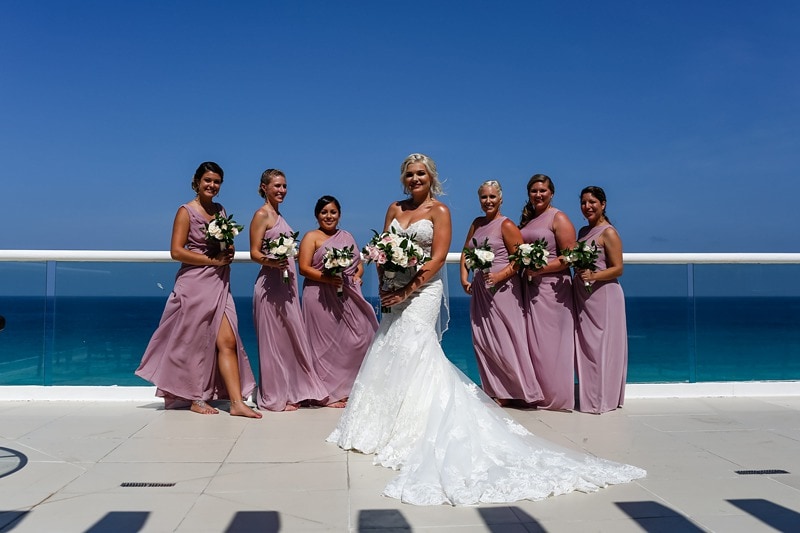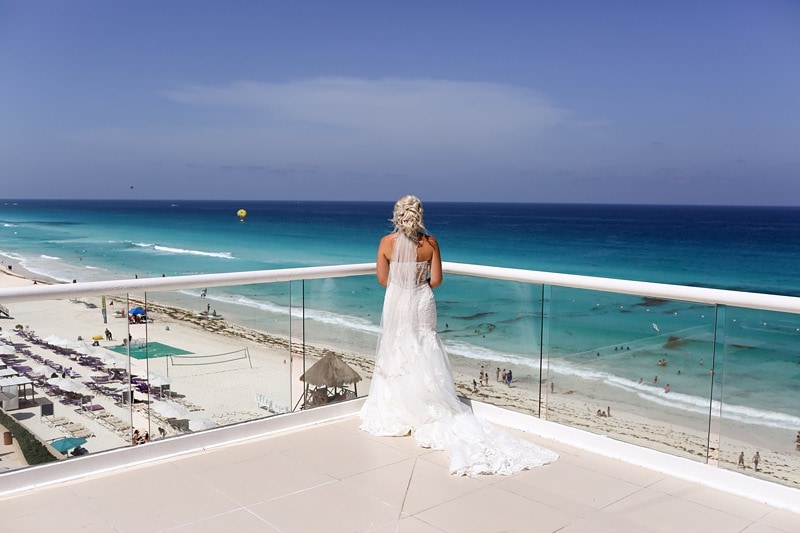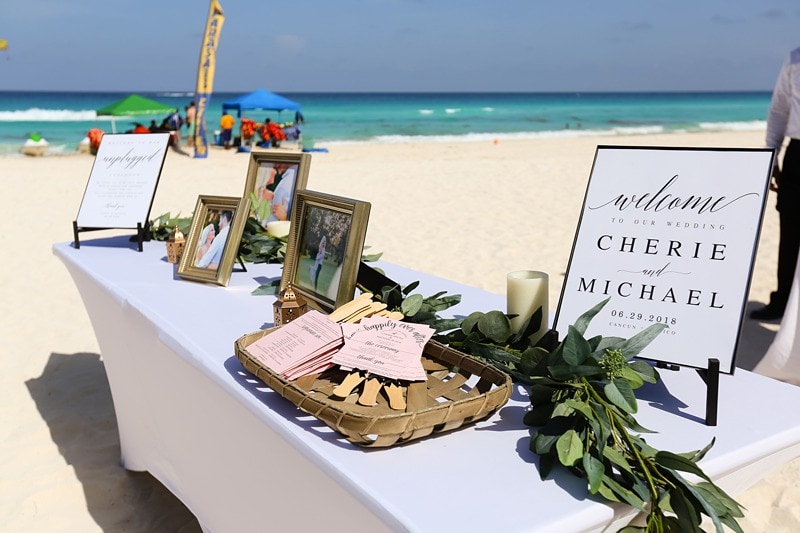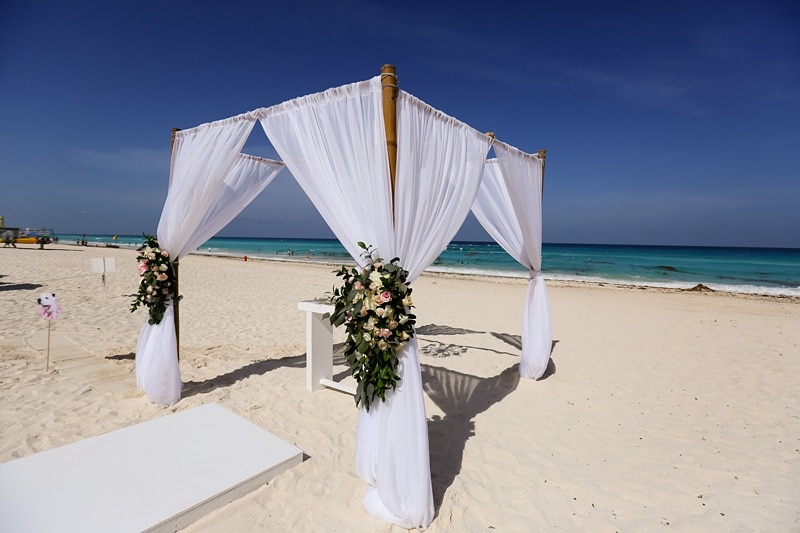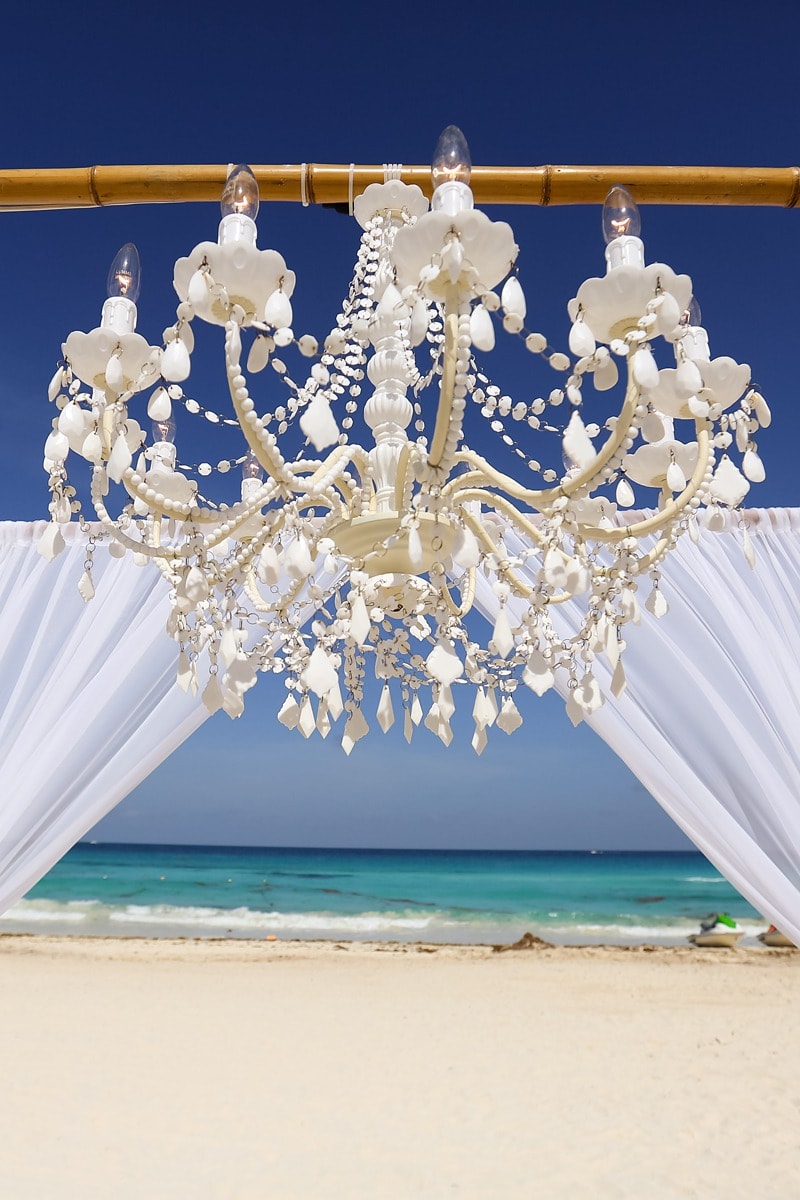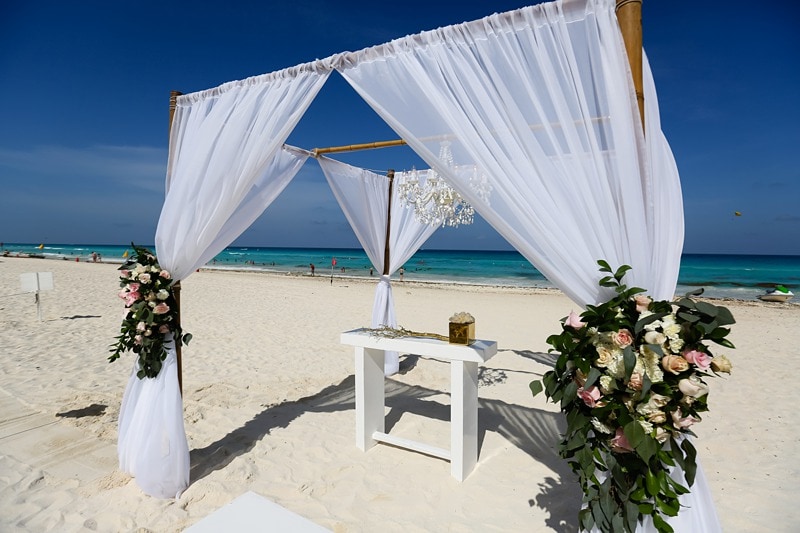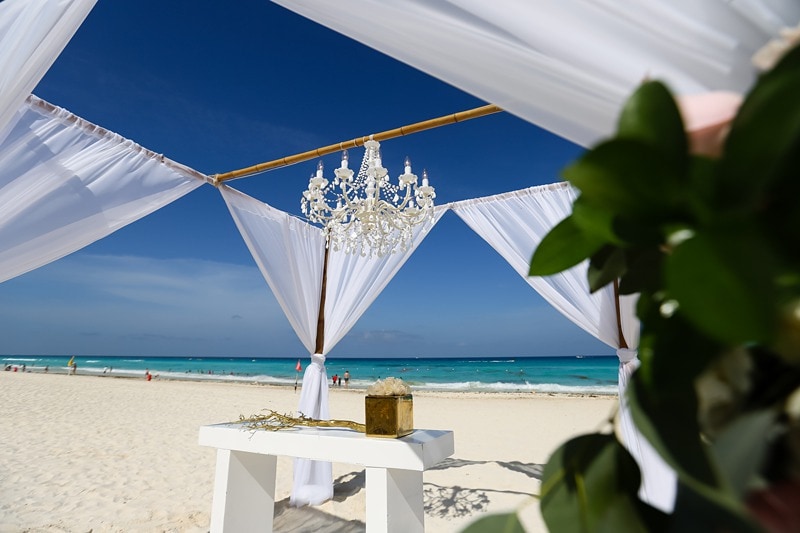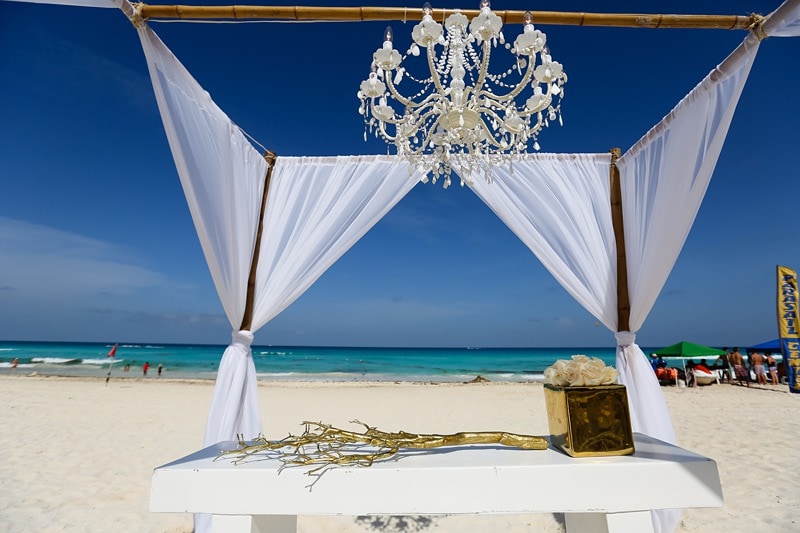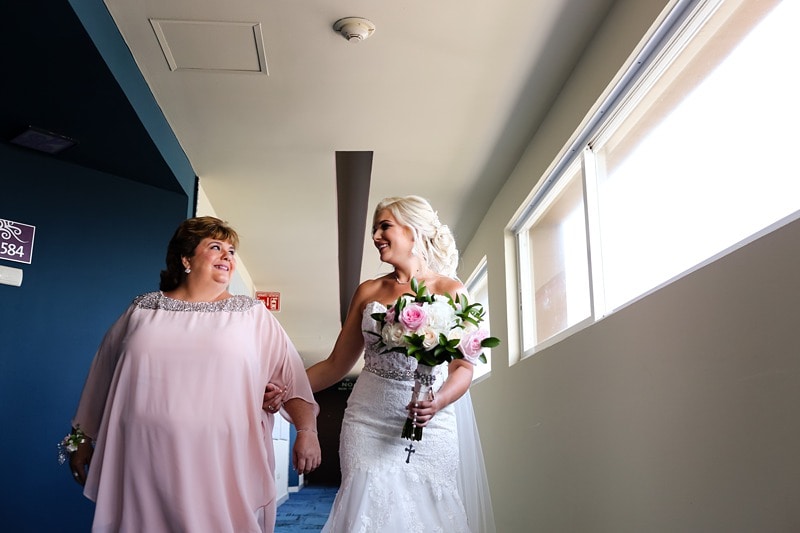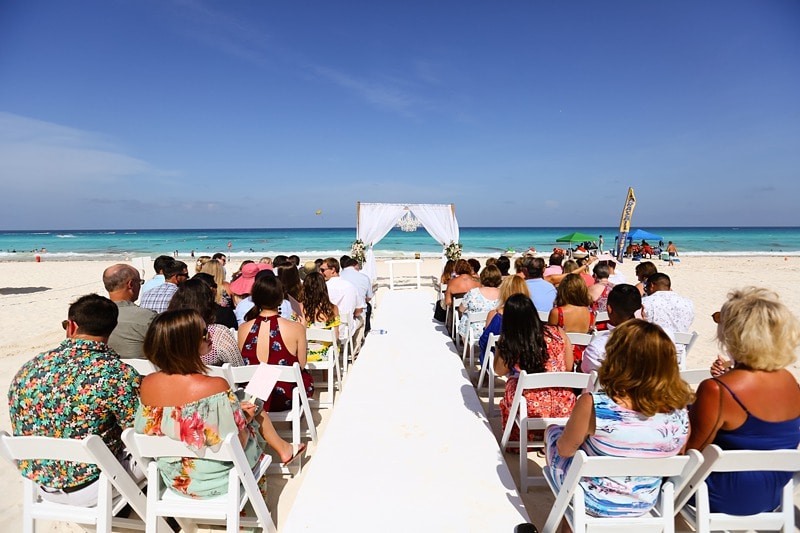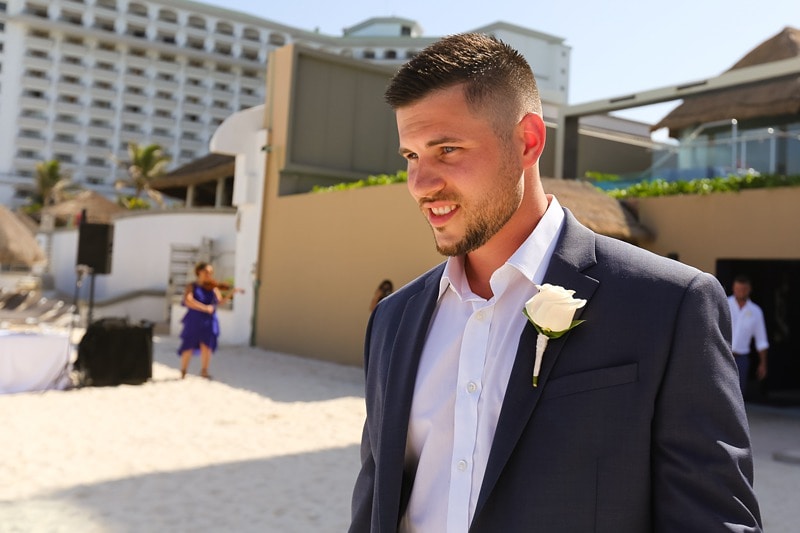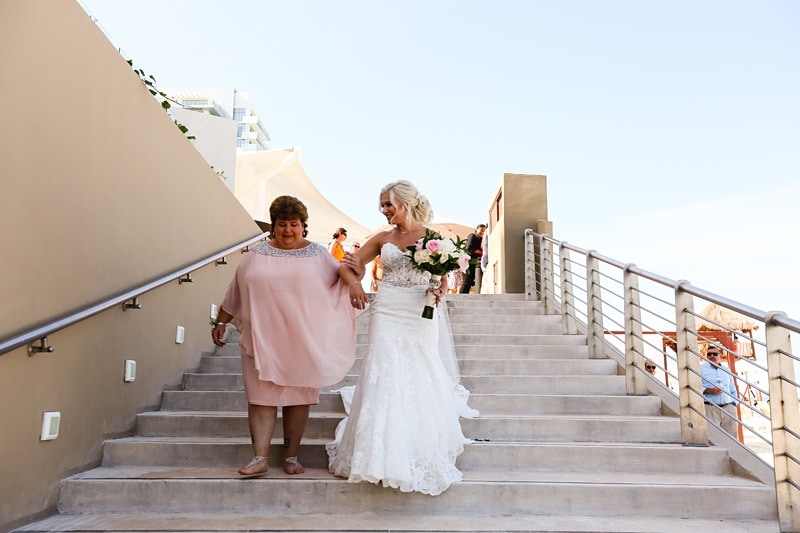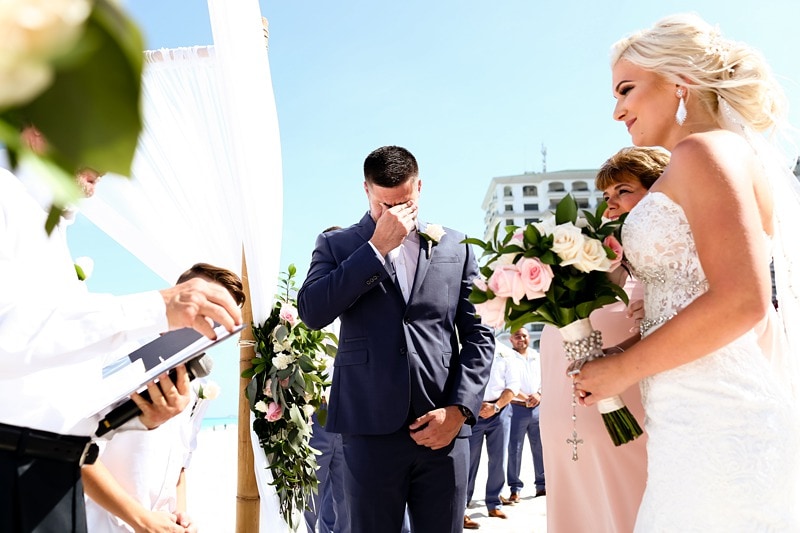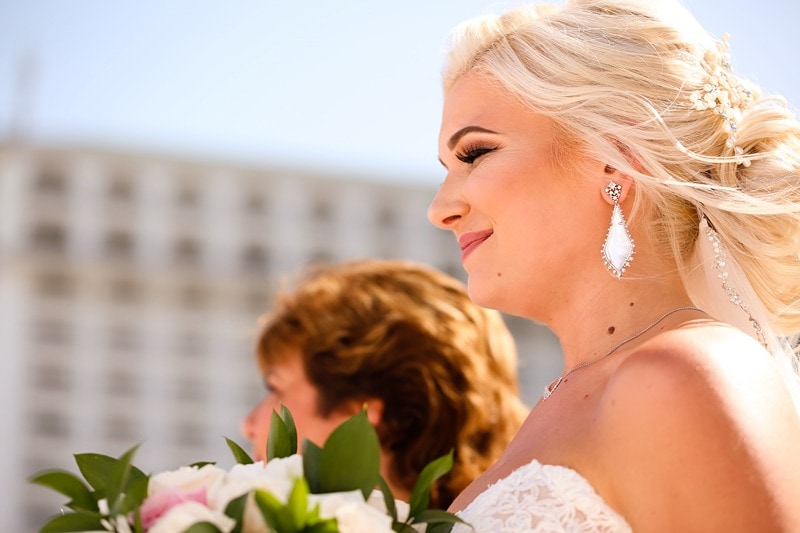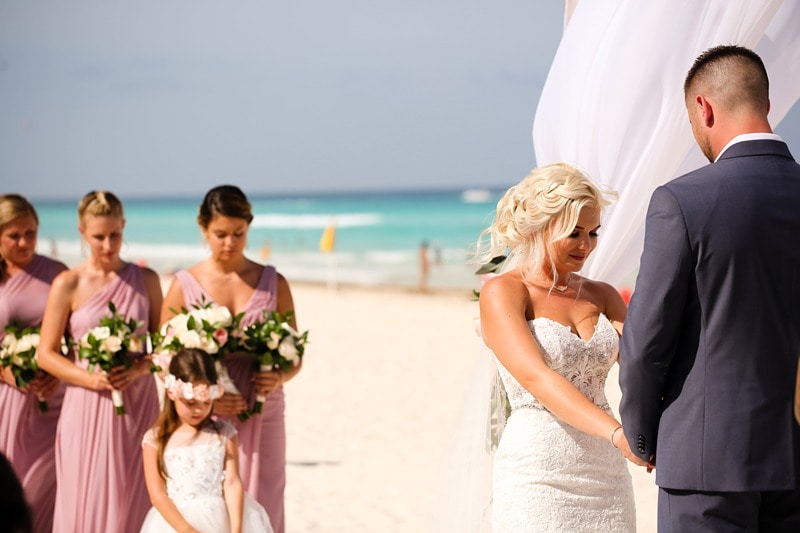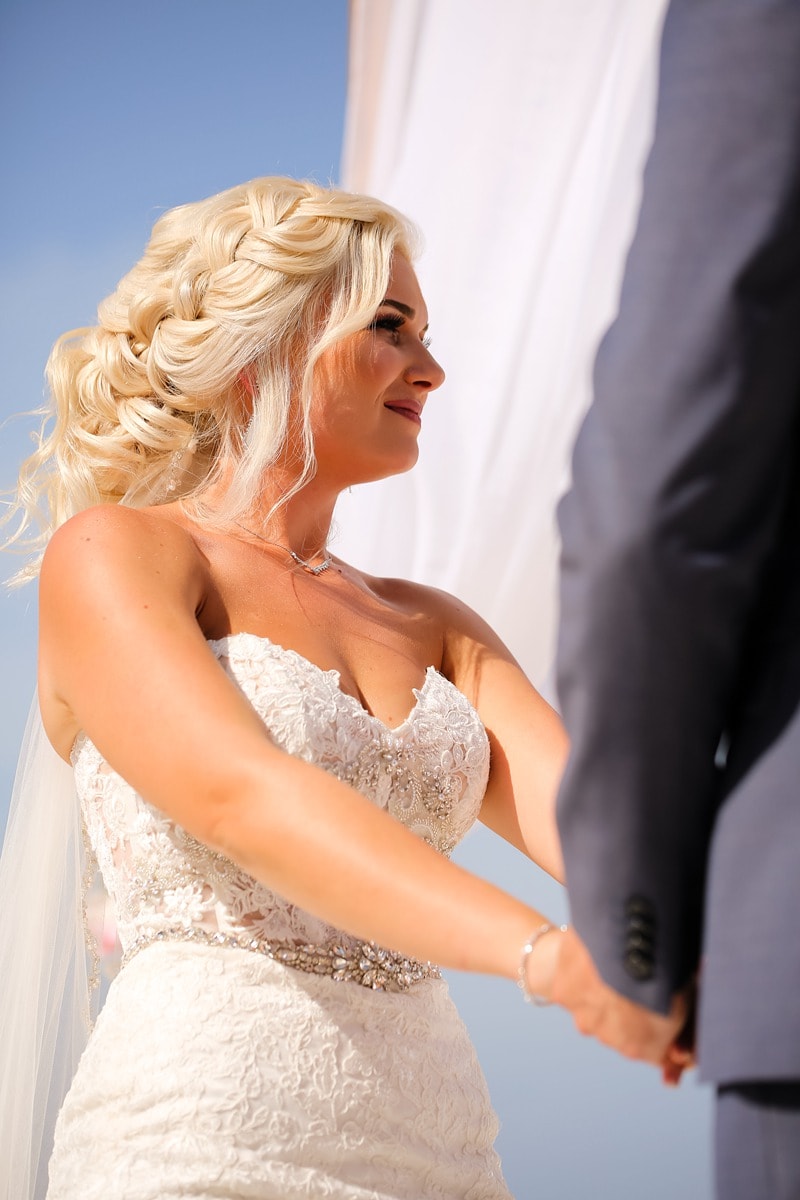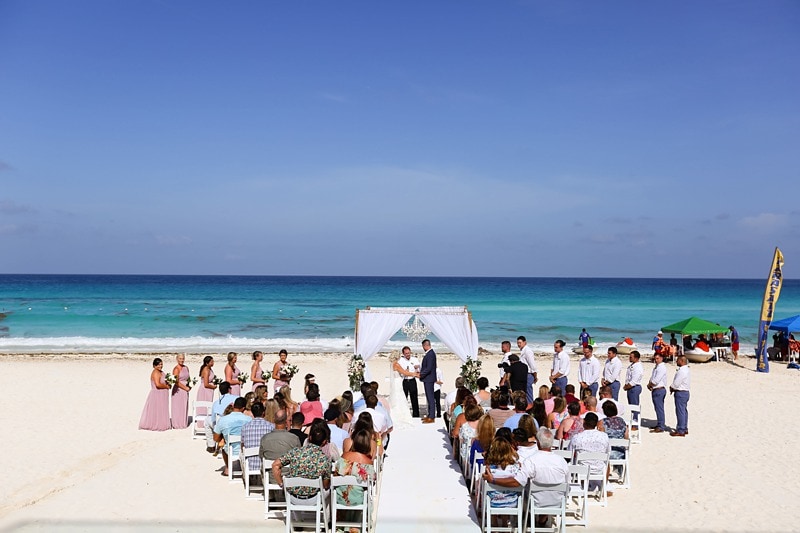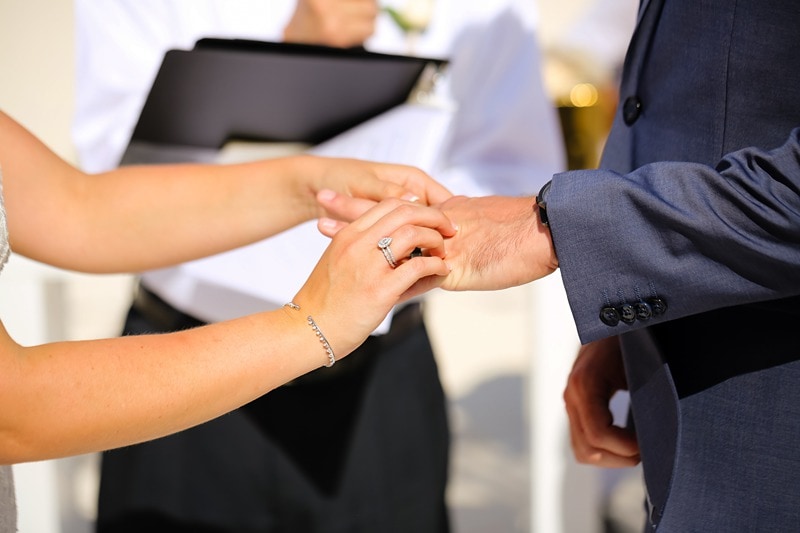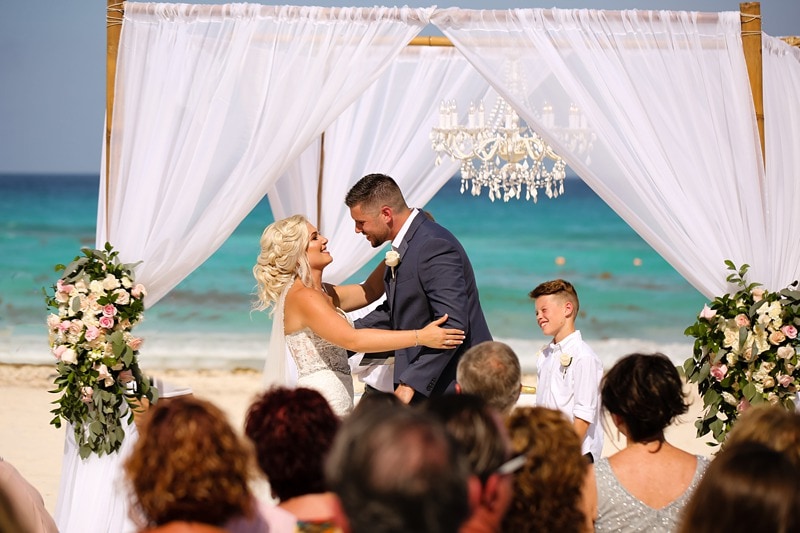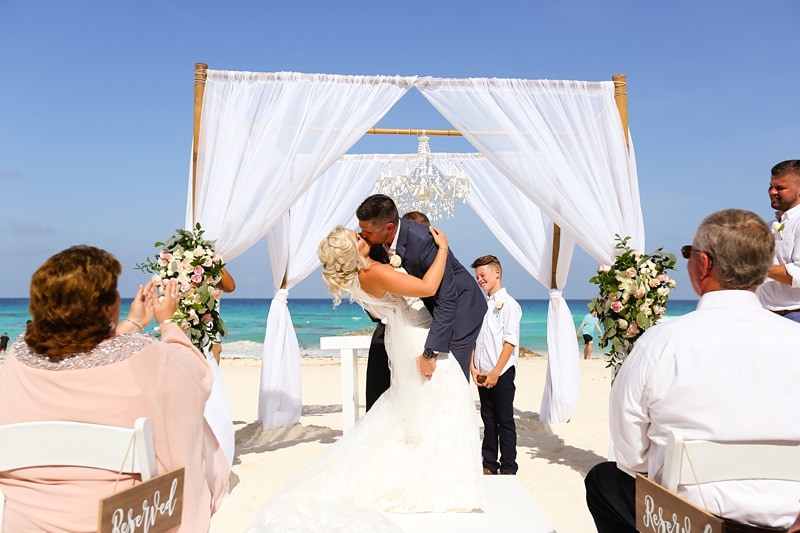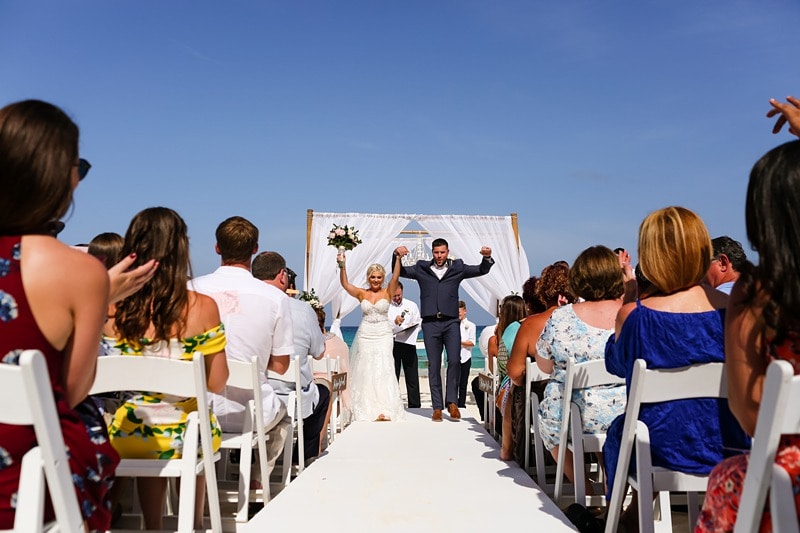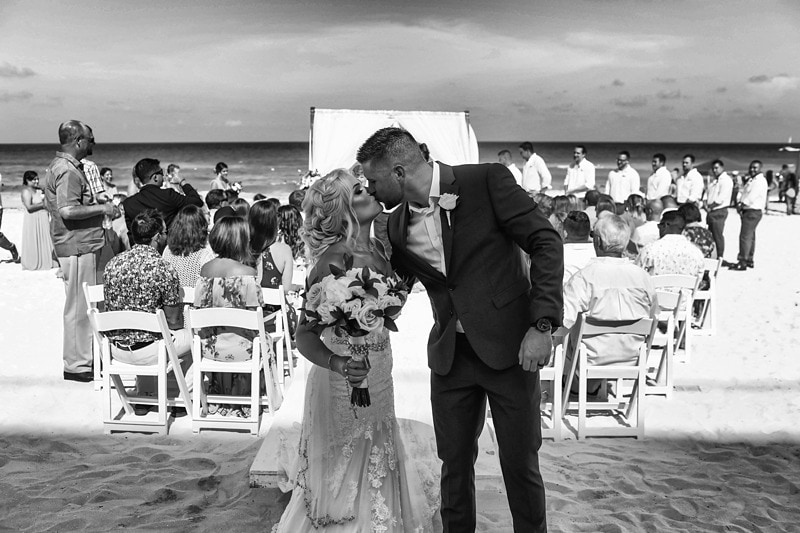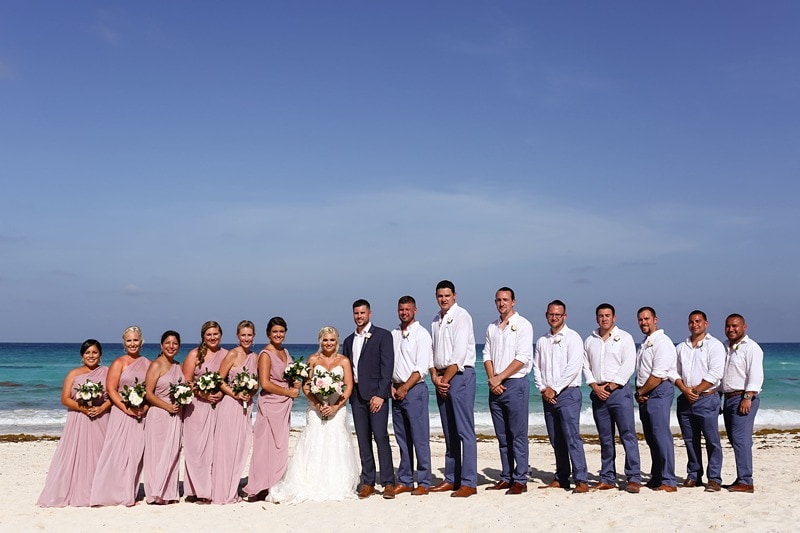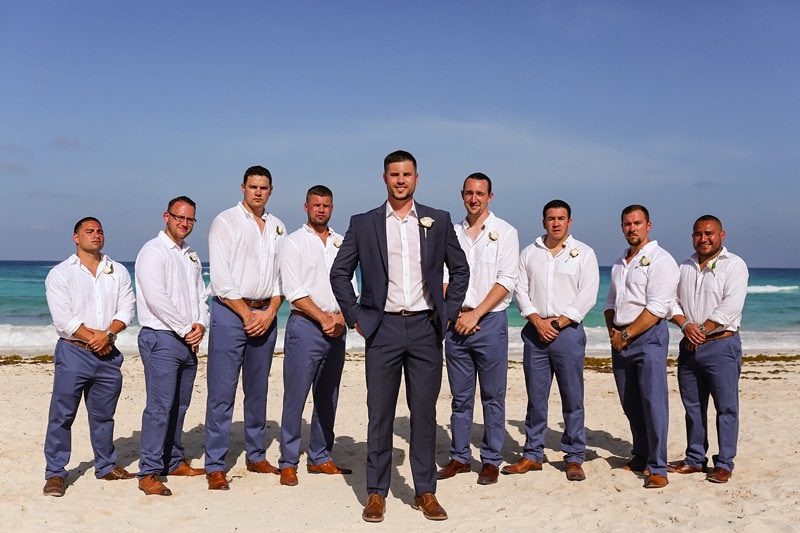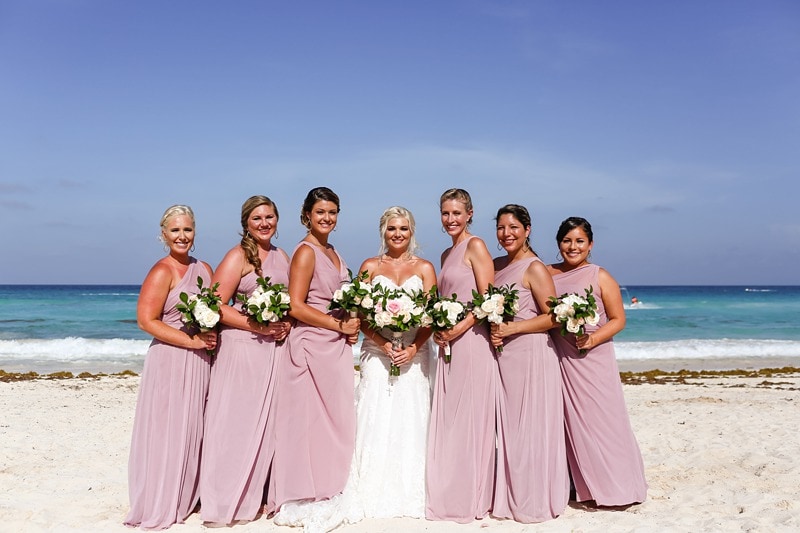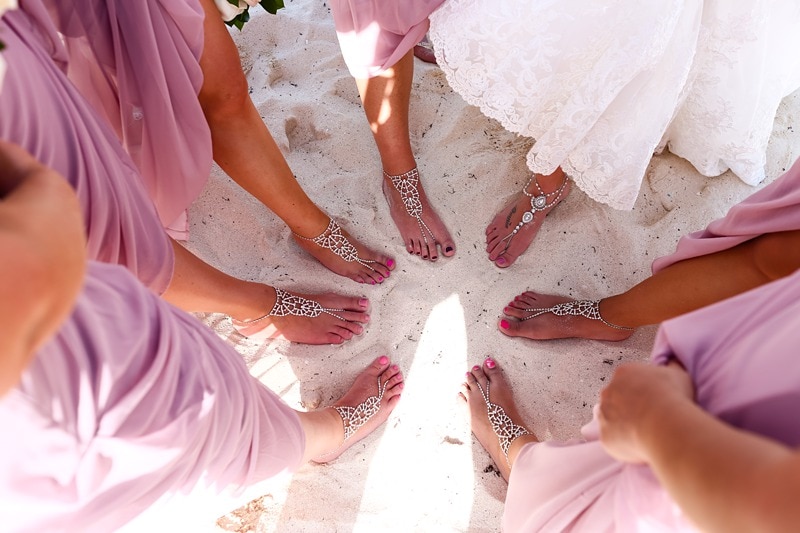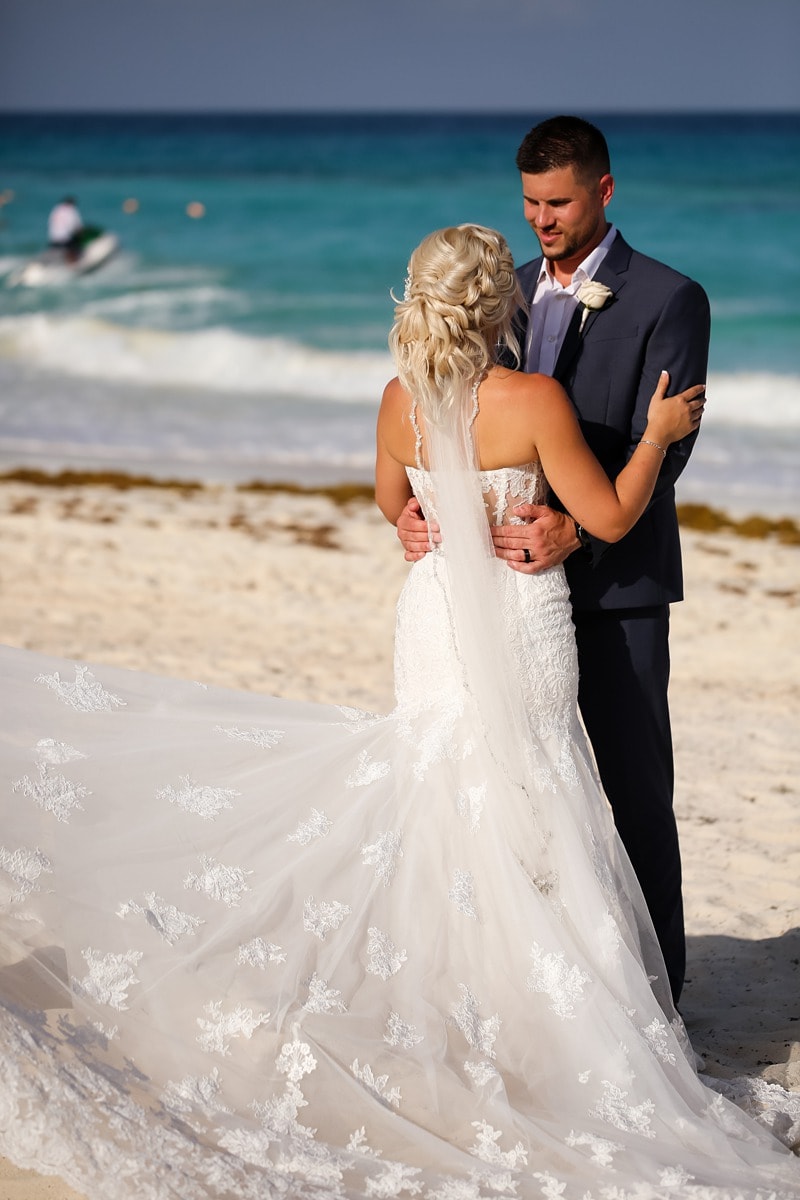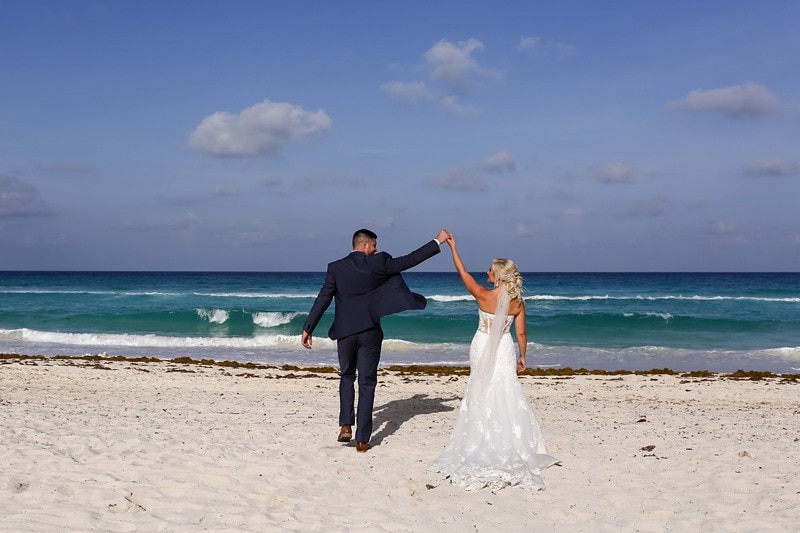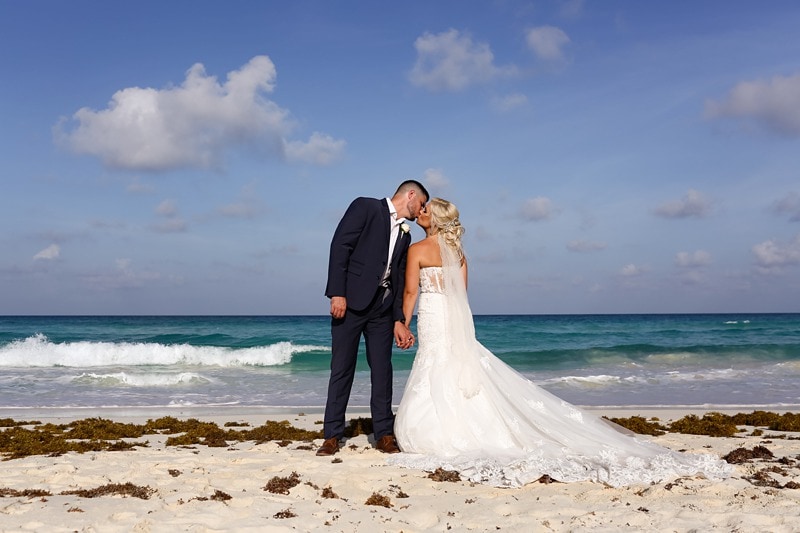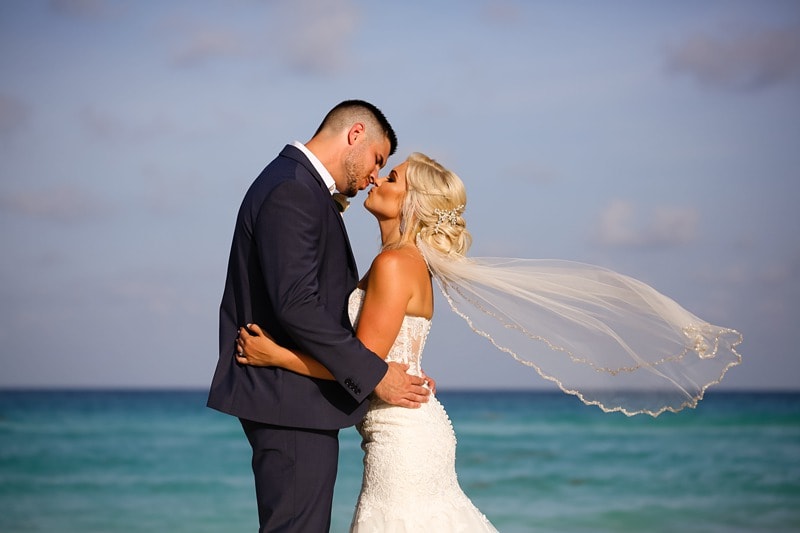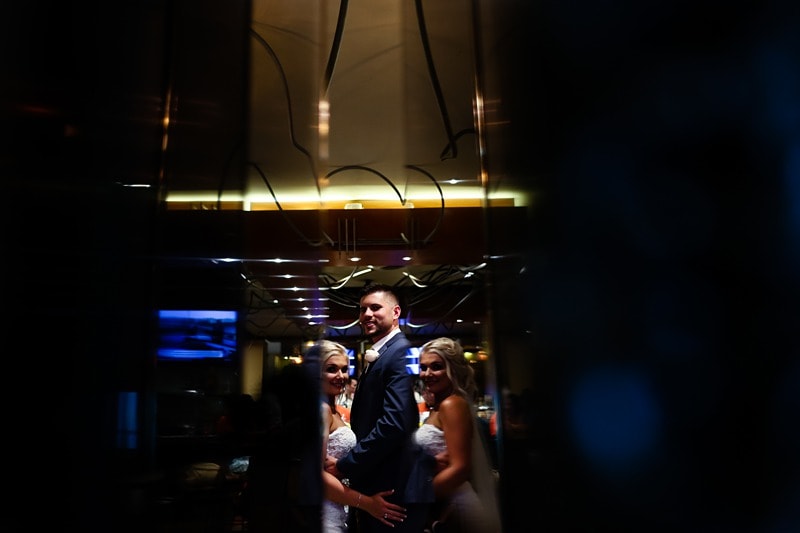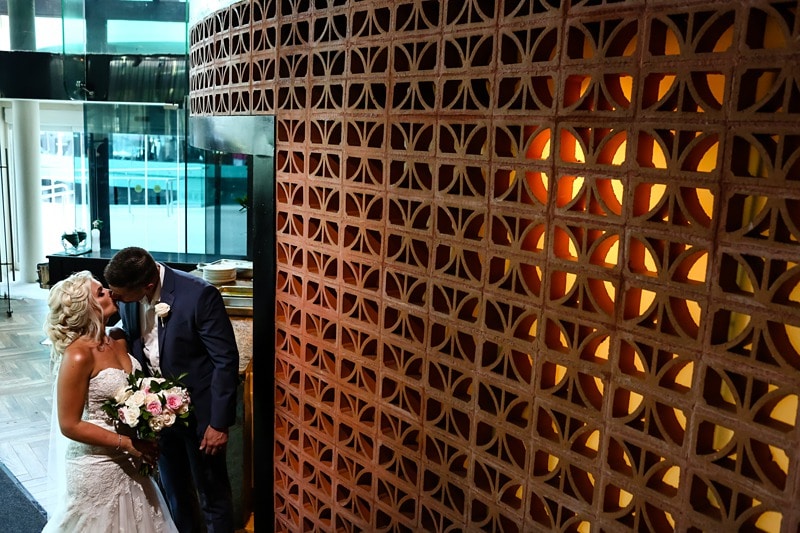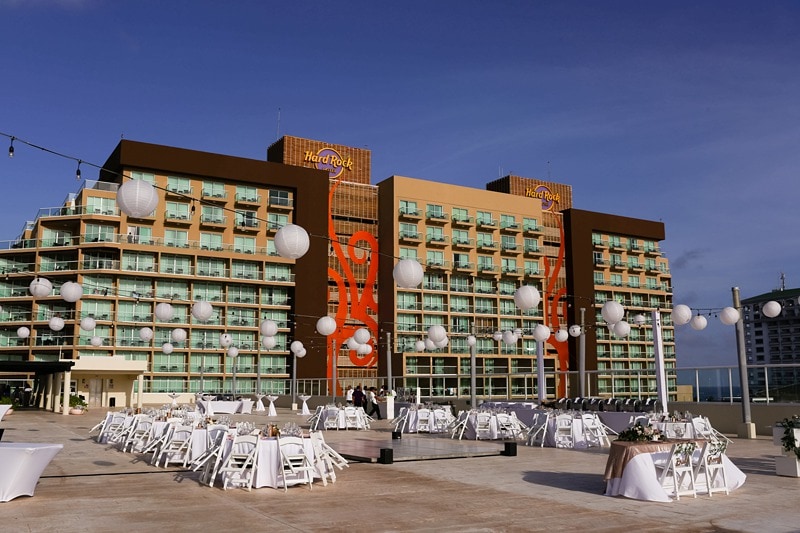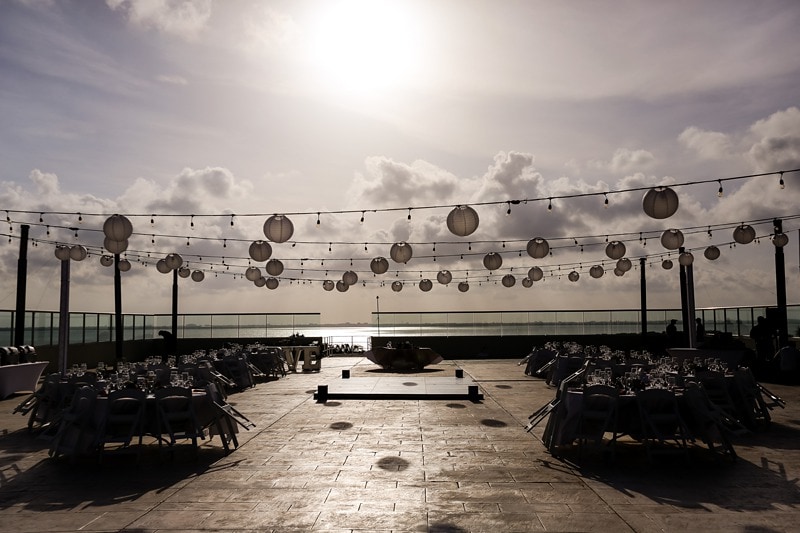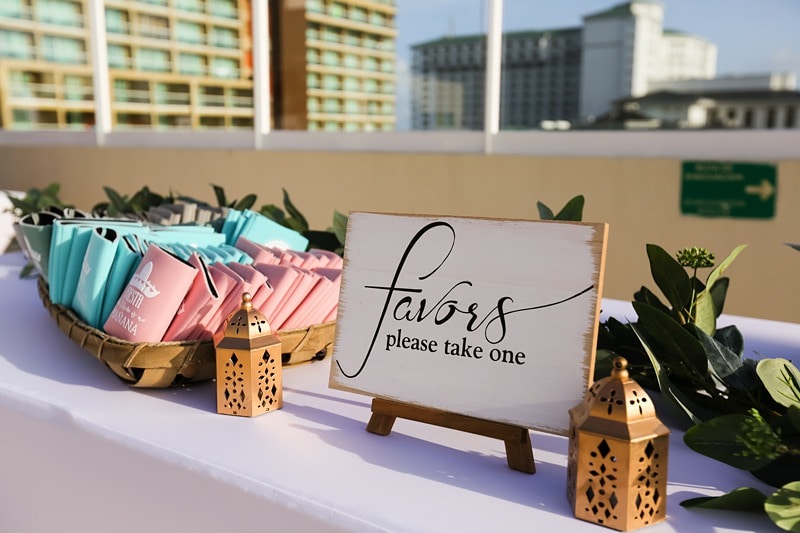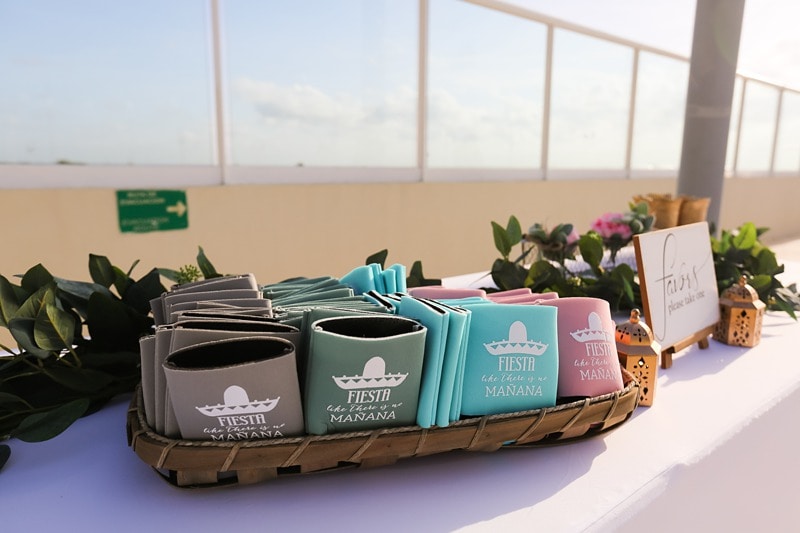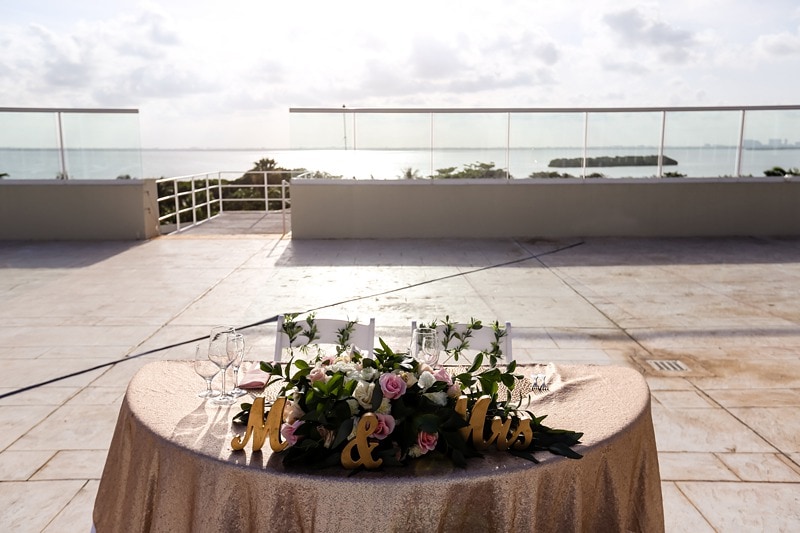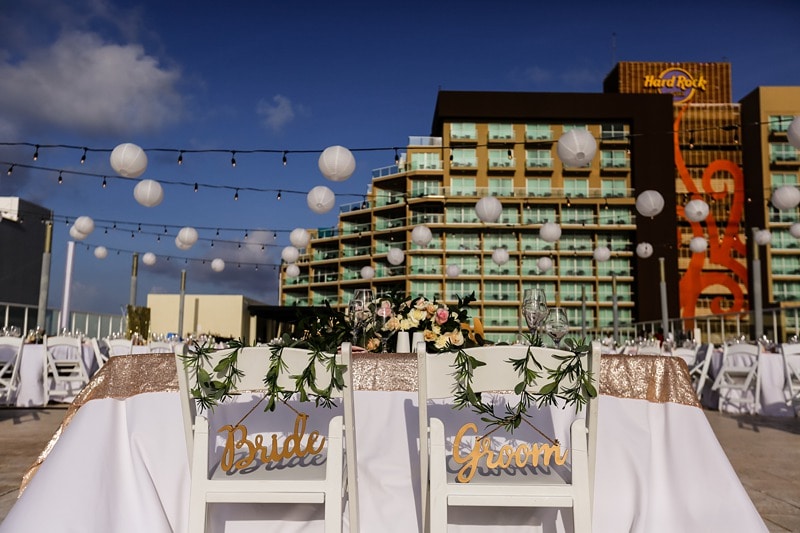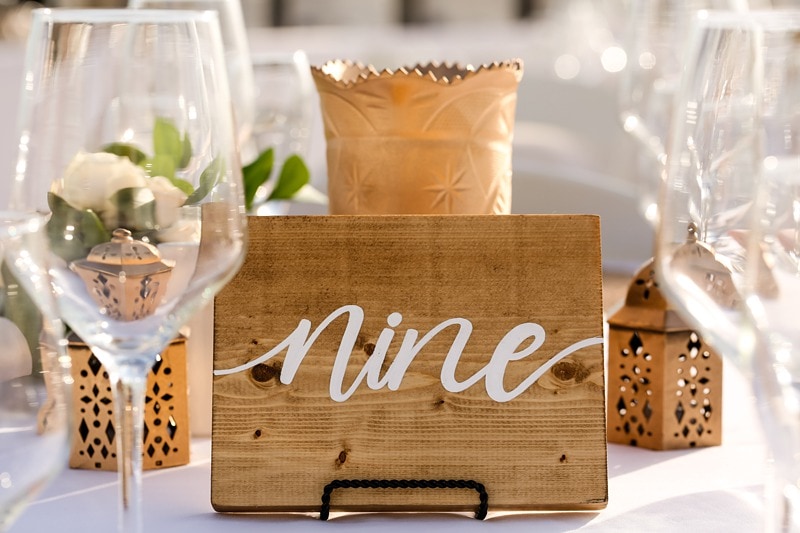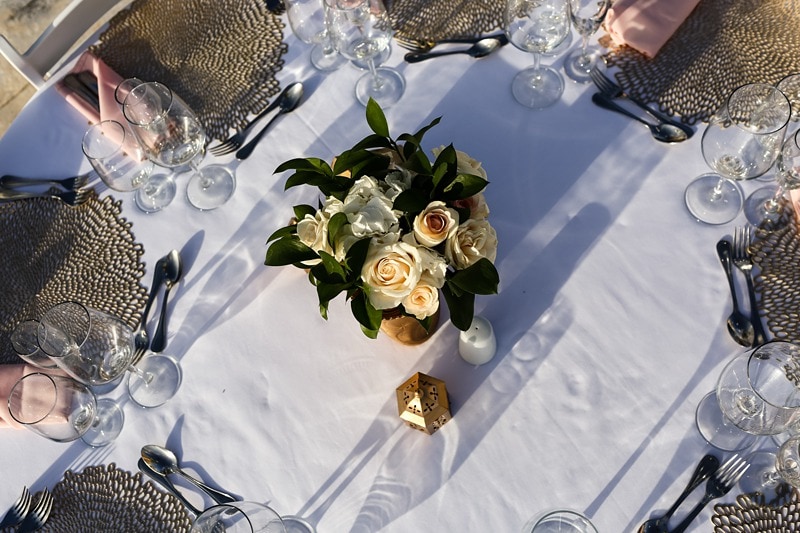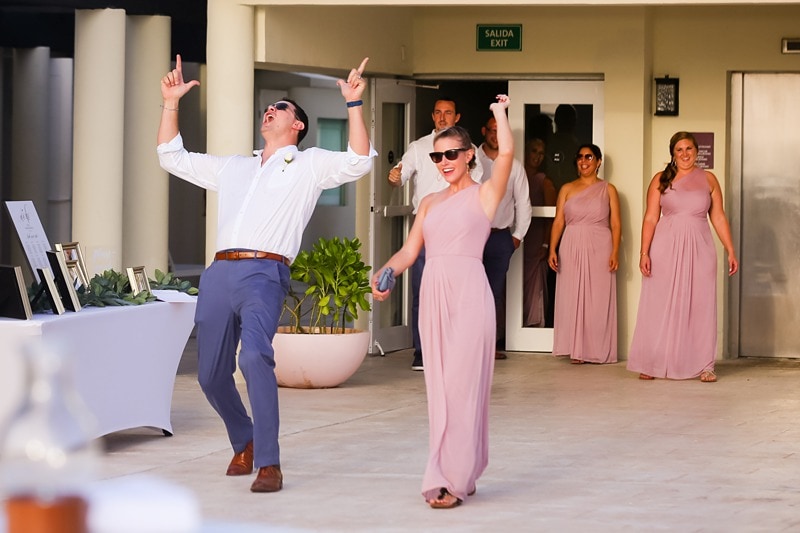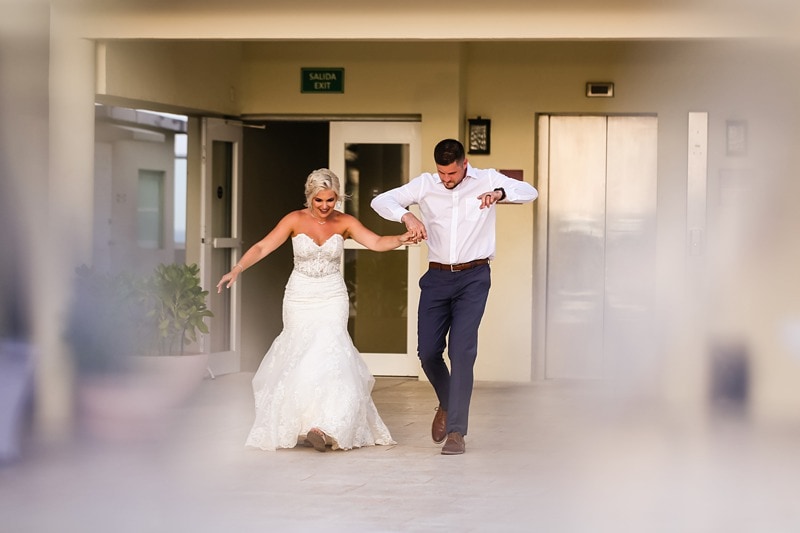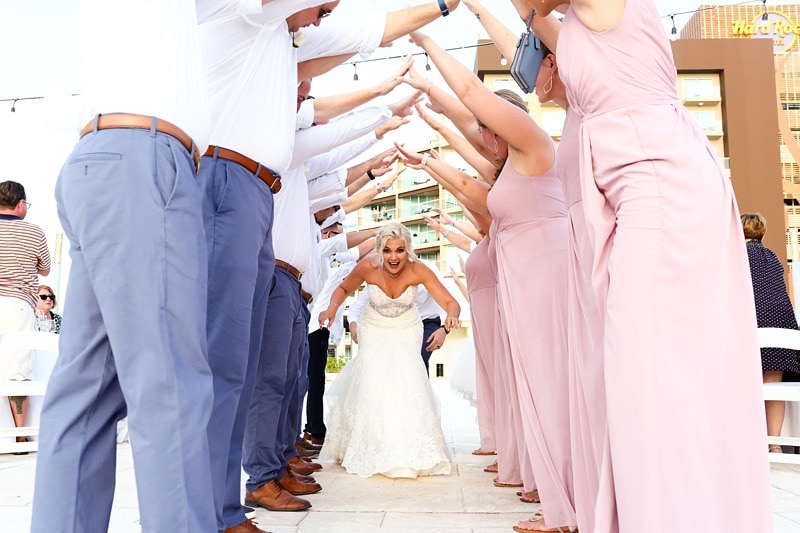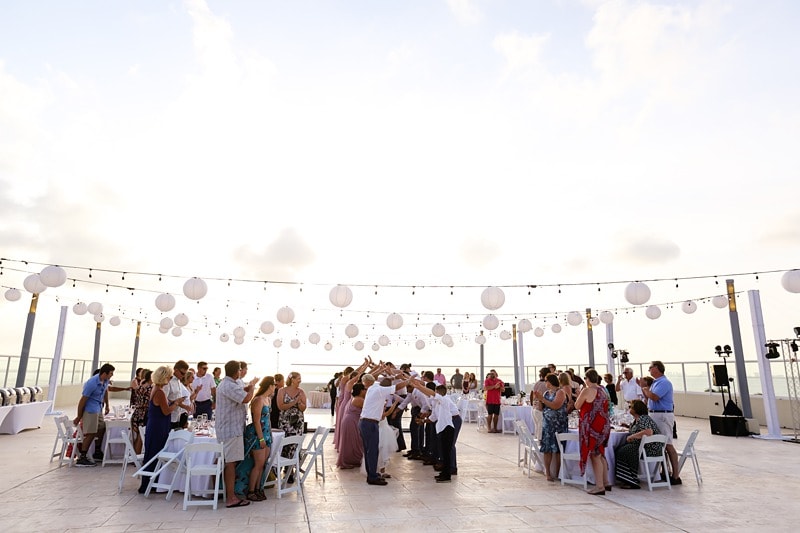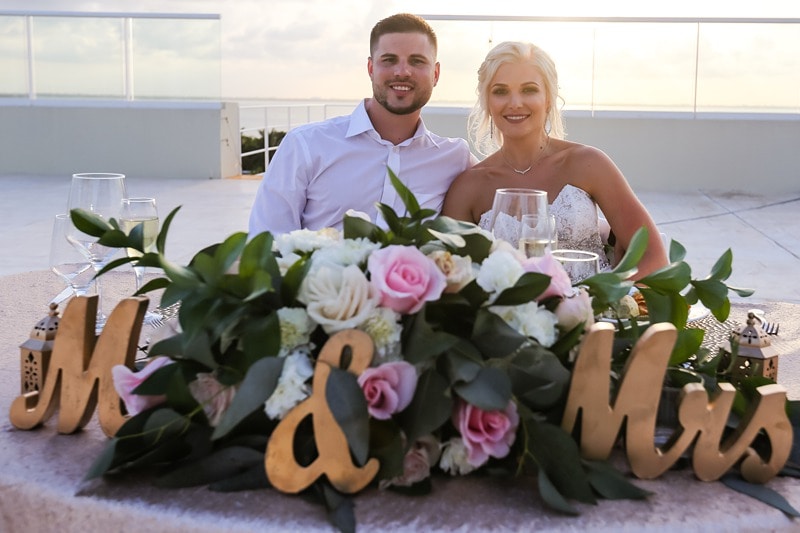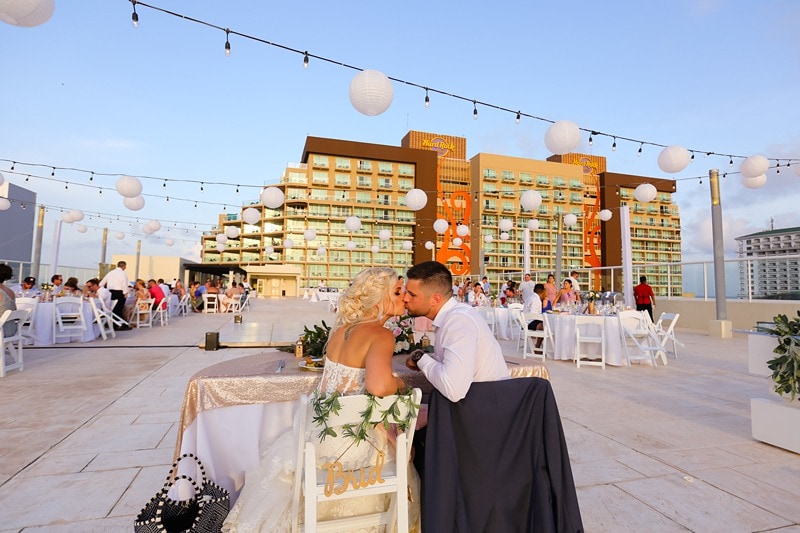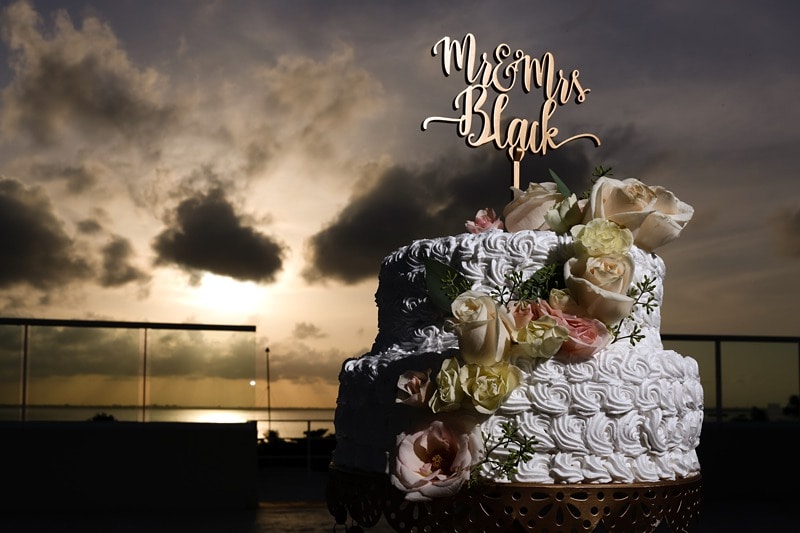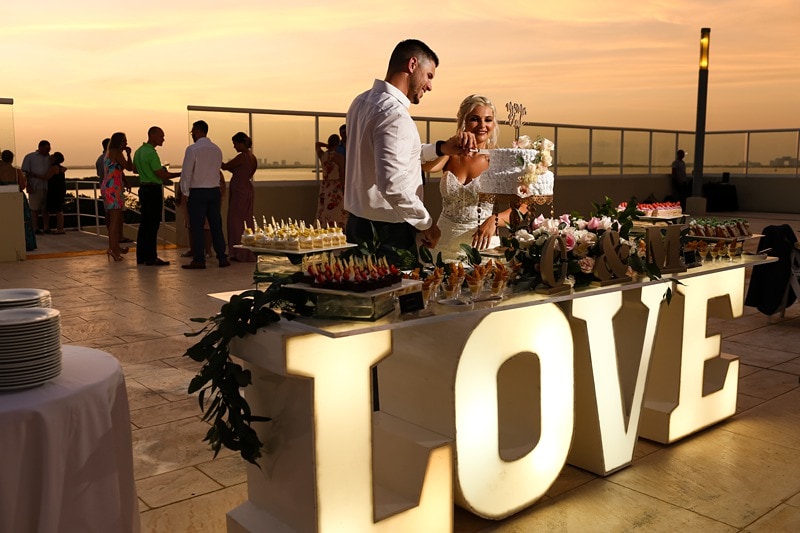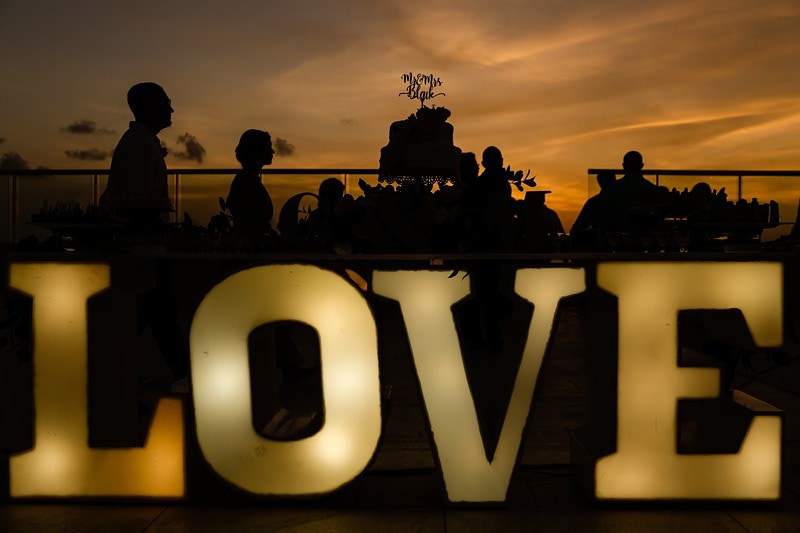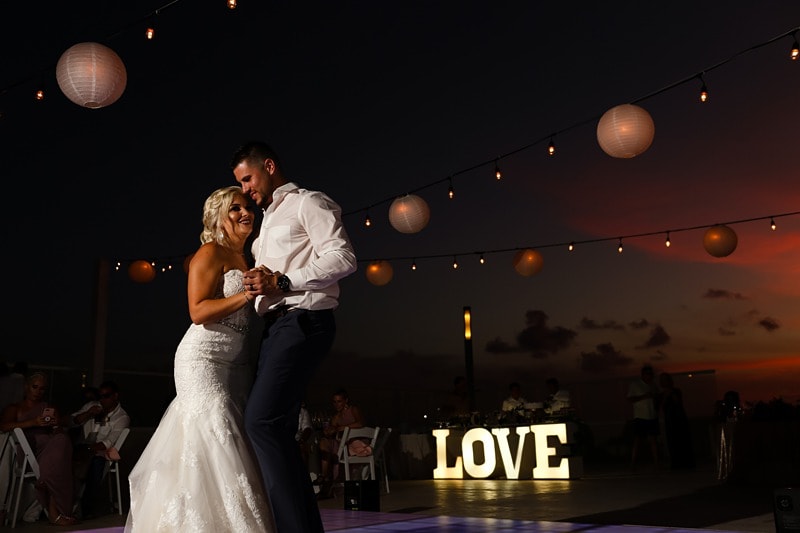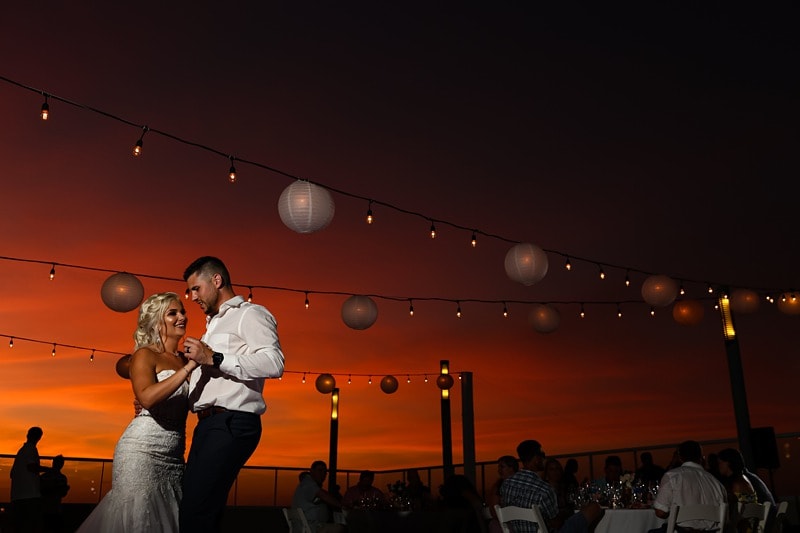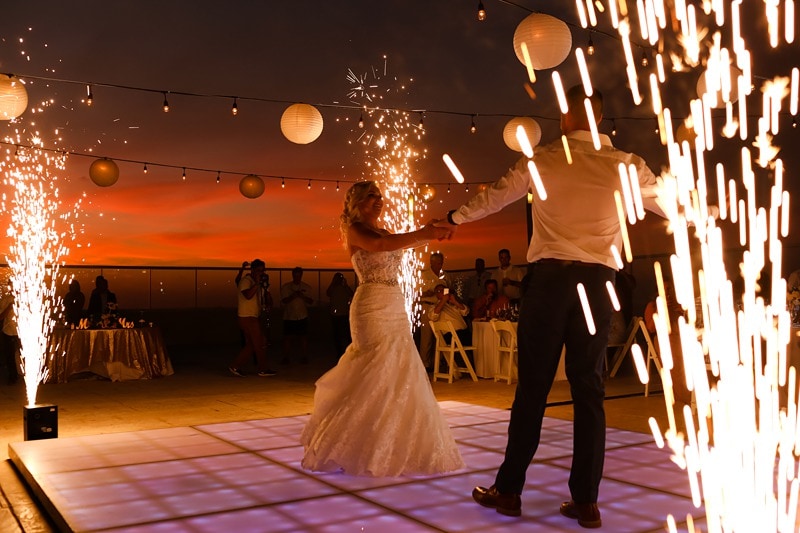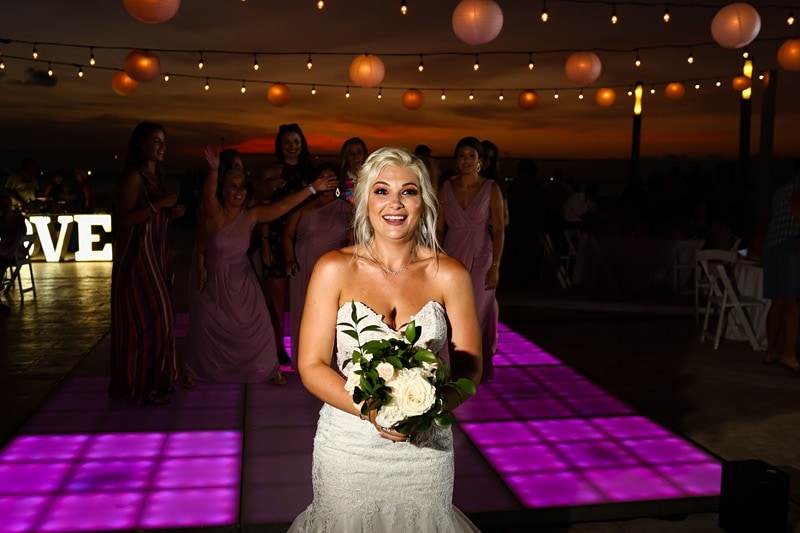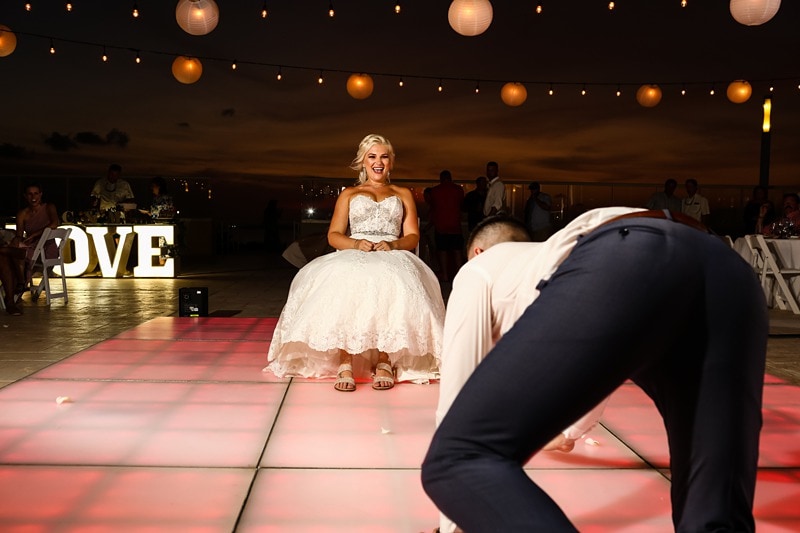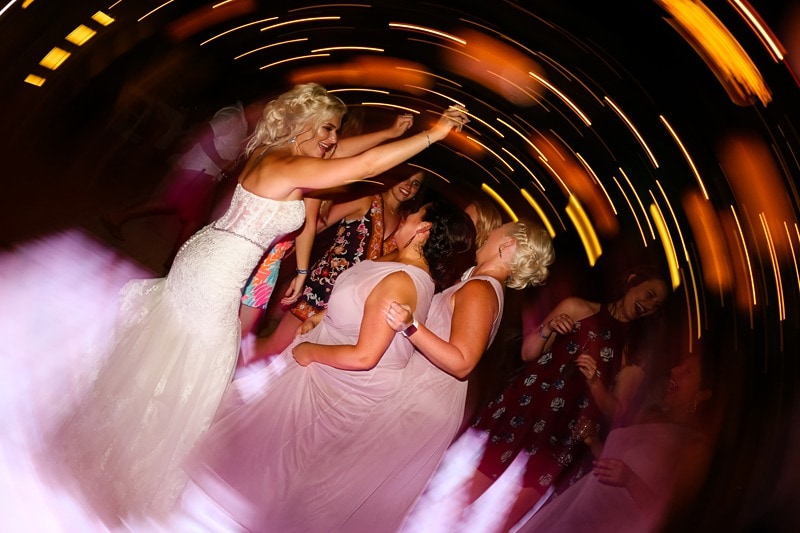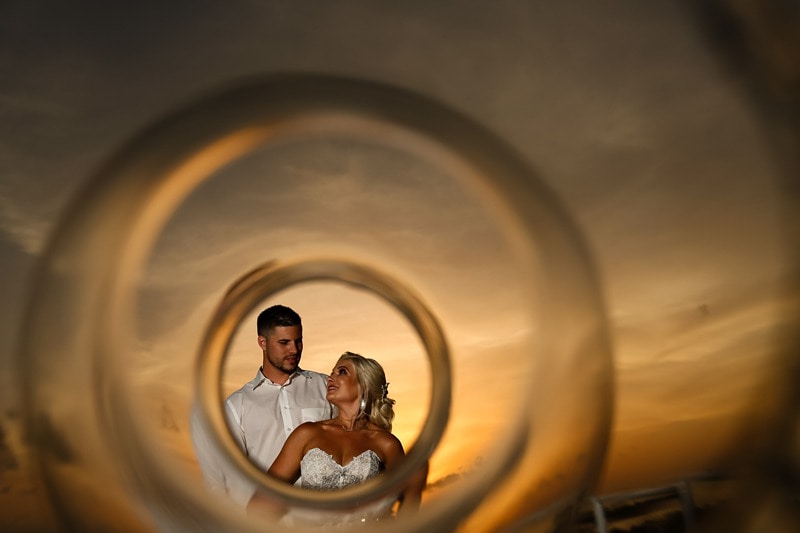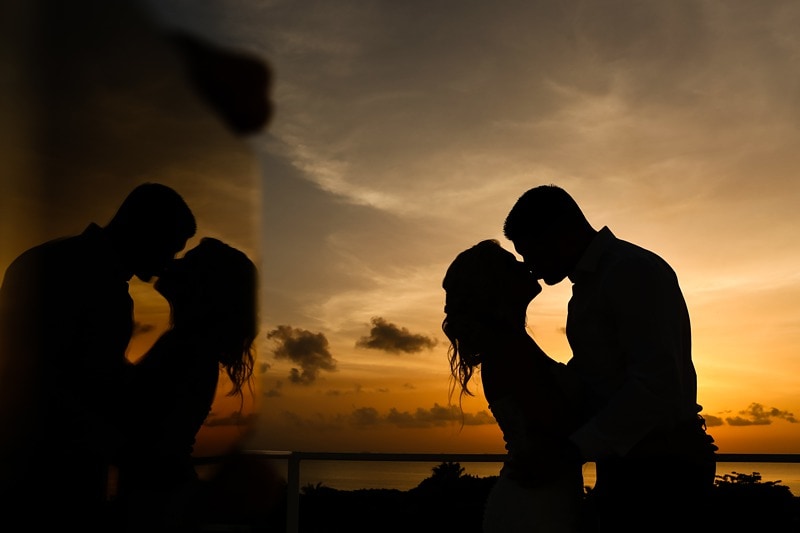 Q&A with the Bride
Why did you choose to have a destination wedding at Hard Rock Cancun?
We take a family trip to Hard Rock Cancun each year and in 2016, Michael proposed to me on the beach on our trip. We were undecided on where to get married in our area and in 2017 on our yearly trip, we saw a couple getting married at the Hard Rock and it seemed super laid back so Michael and I decided later that year to just go back to Mexico and get married on the same beach we got engaged. Plus- we wanted our whole family to go to Cancun and this was the perfect excuse!
How many people attended your destination wedding at Hard Rock Cancun?
80
Did you have a wedding theme?
No specific wedding theme. I just wanted to stick with gold and greenery with blush pink and navy colors.
Was there something special that you incorporated into your wedding décor/theme?
It was really special to watch my mom and mother-in-law open their gifts from us on the wedding day. We got each of them a pin to put on their corsage that had a picture of their parents who have passed. It was really special for each of them and a great way to honor those who could not be present.
What was your favorite wedding detail and why?
Our favorite wedding detail was that our Uncle Carl was our officiant. We wanted our ceremony to feel personal and meaningful so it was super special to have him tie in our faith and family to our ceremony.
Was there any tradition that you skipped or a tradition that you put a "destination wedding" spin on?
We originally were so sad our dog, Sadie Black couldn't be at our wedding. We decided the show couldn't go on without her so we got a large cardboard Sadie face made, and she was able to stand in the wedding as a Bridesmaid and also served as a photo booth prop and also danced the night away with us at the after party.
What was the most memorable part of your wedding day?
The most emotional thing that happened on my wedding day was definitely walking down the aisle to my husband and in that moment- it was just us! We were surrounded by our family, friends and plenty of onlookers from the beach but once we locked eyes, it was so emotional and nothing but happiness! Our Uncle Carl (our officiant) asked us to turn to our guests and take it all in and that was full of smiles and loves that we will always remember!
What was your favorite part of having a destination wedding?
Our favorite part of having our destination wedding was the unforgettable backdrops on the beach and sunset terrace along with having most of our family and friends on a vacation with us the whole week! We always enjoy going to Hard Rock each year but having everyone there made it super special! Everyone raved about the resort and loved having a mini vacation along with our wedding.
What was the biggest challenge in planning your destination wedding?
The biggest challenge was being unable to have all of our family and friends at our wedding. Traveling and committing to a destination wedding is difficult for some and we had moments where we got upset that some guests couldn't make it but that is something that comes with a destination wedding. In the end- it was lovely! And those who missed out enjoyed the video/pictures!

The second challenge was the weather! All week there was rain forecasted for our wedding day and I was stressing out over it. I was not going to be happy with a ballroom ceremony/reception. But in Cancun it rains almost every day! By Thursday I had stopped looking at the weather forecast and by Friday (our wedding day), it was all sunshine! Remember- you have zero control over the weather and you just have to go with it and hope for the best! Luckily, there is always a backup plan in place for bad weather!
What's your advice to other couples planning a destination wedding?
Plan the wedding of YOUR dreams! Some people won't be able to make it, and that is ok! The wedding is ultimately a celebration for you two and it will all work out!

Set a budget and stick to what is important to you for your wedding. It is really easy to go over budget but you can also usually bargain with your wedding vendors. Lastly- enjoy it! The day flies by and before you know it, its over. Soak up every second of sunshine and love that comes with a destination wedding!
Is there anything else you would like us to know?
Funny Story- I had bought a pair of Betsey Johnson heels for the wedding reception and I ended up going from my barefoot sandals straight to flats for the reception. The only time I sat down was to eat for 15 minutes at our sweetheart table- which I highly recommend doing! It was one of the few times my Husband and I go to sit and talk without interruptions.
Vendors:
Photographer: FineArt Studio
Venue: Hard Rock Cancun
Bridal Gown: Essence of Australia
Groom's Attire: Express
Bridesmaid's Attire: David's Bridal
Favors/Welcome Bags: Etsy
Bridal Shoes: My Bare Sandals
Florist: Tulipania
Hair & Makeup: ST Makeup Artistry
DJ: DJ Discomovil
Photobooth: Quiroo Photobooth