As you plan all the details of your destination wedding, entertainment is one crucial detail that you should not overlook – guest entertainment!
Because after all – the food might be delicious, the decorations picture-perfect, and the cake finger-licking good, but if the music sucks, everyone will notice and remember it. The music selection can make or break any wedding reception. But the stakes are that much higher with a destination wedding because after your guests travel thousands of miles, you want them to have a great time, don't you?
I know that when I was planning my destination wedding, my biggest fear was an empty dance floor. I wanted everyone to have a blast and the time of their lives. If you feel the same way, your music vendor(s) will be one of your most important hires.
So let's break down the different options so that you can make an informed choice, shall we?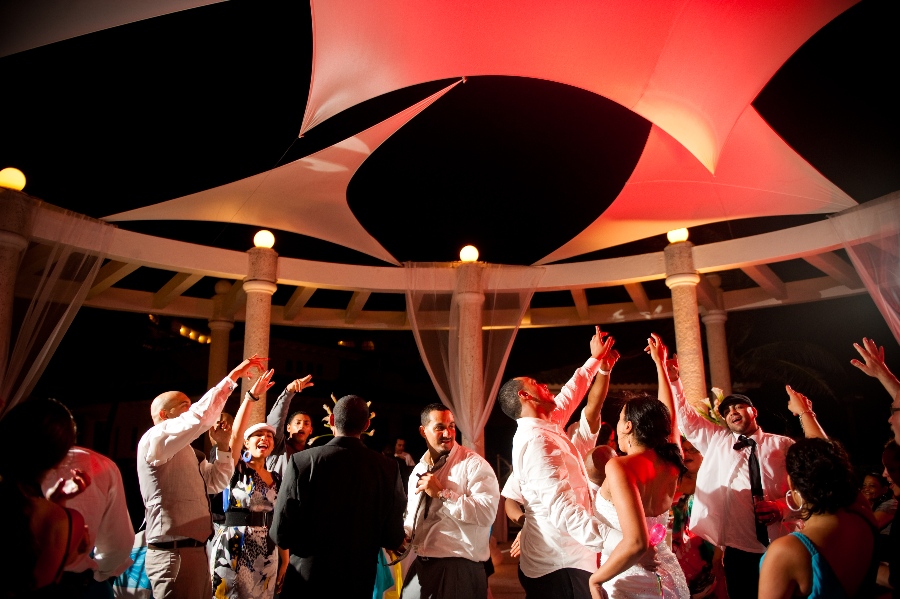 Hire A DJ For Your Destination Wedding
The benefits of hiring a DJ are obvious. You pay a professional to mix some songs, energize the crowd and do what they do best, while you just kick off your shoes and dance the night away.
A great DJ can work the crowd and adjust their extensive music selection to make sure the dance floor is always full. This is usually the go-to option for U.S. weddings since it's easy to find DJ's that can accommodate any musical taste.
But finding a great DJ abroad can get a little trickier because you probably won't be able to meet them in person and won't know what to expect until the day of the wedding.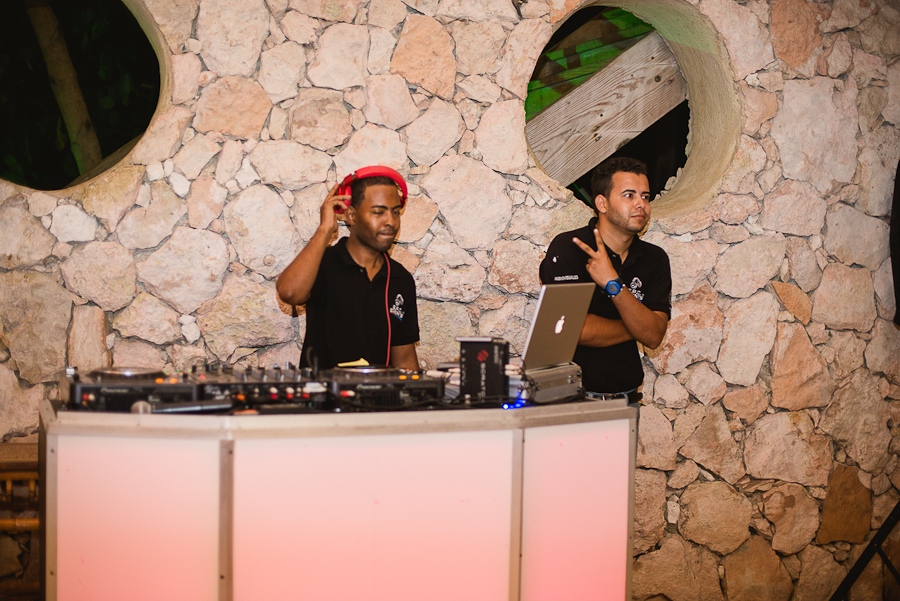 You might start panicking (as I did) that a DJ in another country won't be familiar with some of the popular music from your home city/country. If you're planning a site visit to your destination, I highly recommend that you meet with the DJ in person and ask them to do a demo so you can get a taste of their style.
Another great way to ease your concerns is by asking the DJ to send you an audio or video demo from a past wedding. In the age of youtube, this shouldn't be difficult.
And if you're a bit of a control freak (like yours truly), you can do what I did and give your DJ a list of songs to play at your wedding. I started jotting down songs that my hubby and I both loved months before my destination wedding.
But more importantly, we made sure that it was a balanced list that would appeal to the young and old, dancers and non-dancers alike. We chose a variety of songs that we knew were popular and would bring everyone to the dance floor.
I handed the list to my DJ and told him to mix it any way he wanted to as long as he stuck to that list. And the end results were amazing.
Another fun idea is to ask your guests to send song choices on your wedding website or using a special hashtag on twitter or Facebook. You can gather all of their song choices and hand it to your DJ with full confidence that your guests will love the music selection.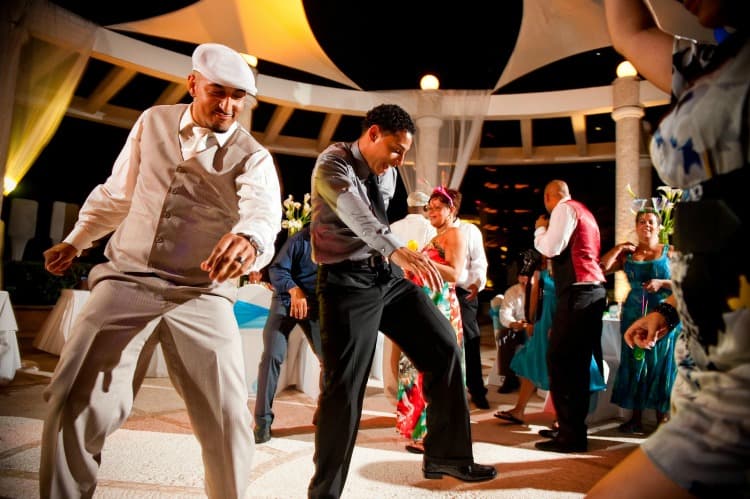 Some people advise against this approach because "you should trust the professional do what they're paid to do". I agree that if you're hiring a DJ you should trust him but if you have limited choices because you're abroad and you feel the slightest hesitation, go with your gut.
This is your wedding and your money so if you're worried that they're going to play techno all night when you're more of a pop music fan, then you have every right to give them a play and/or do-not-play list.
My friend, you can't hit the rewind button and relive your wedding day all over again. So if this is one area that you can take some control over, I say do it. Just make sure your DJ is on board and comfortable with that approach from the start.
In my case, I had a jam-packed dance floor every minute of my 5-hour reception and I never had to worry about YMCA or the Macarena making it into my wedding playlist.
How do you find a good Destination Wedding DJ?
If you have a local DJ that you absolutely love and you can afford it, fly him to your destination. Some DJs (especially up and coming ones) will jump at the opportunity to get an all-expense-paid trip to paradise.
But if you're on a tighter budget, you can start the search with your local wedding planner. They usually have a few trusted DJ's that they work with and can recommend.
You can also browse our vendor directory. Just type the search query "Wedding DJ" + your destination. For Example "Wedding DJ Aruba".
And when all else fails, you can always rely on good old Google!
Get Live Entertainment
A live band is an awesome idea for a destination wedding. First of all, they bring a big presence and a dynamic to the reception that can't be replicated. They can interact with your guests differently than a DJ can. Sure they tend to be a bit more expensive but it's usually worth it.
I particularly love the idea of a local band for a destination wedding because it's an awesome way to infuse the local flavor and culture into your wedding reception.
How cool would it be to have a salsa band at your Puerto Rico Wedding, a steel band in a Jamaican Wedding, or a Mariachi at your Mexican wedding?! I love, love, love the idea.
Many couples hire a live band for part of the wedding reception and a DJ for the rest of it. It's a good way to offset the cost and add a little bit of variety to the reception.
How Do You Find a Destination Wedding Band?
Similar to a DJ, you could ask your local wedding coordinator for recommendations. If you're going for a site visit, you can try some of the local clubs/lounges and check out live bands in person to see if any of them draw your interest.
Create an iPad/Phone/Laptop Playlist
If you're on a tight budget or you just don't like the idea of handing off musical control to someone else, you can create your own playlist on your phone, iPad, or laptop and plug it into the venue's sound system.
This is an increasingly popular option for a lot of couples, especially those getting married abroad. You can use some of the tips I mentioned above, such as keeping a running list of your favorite songs or soliciting song choices from your guests.
You can set up different playlists for the cocktail reception, the first dance, mother/son dance, father/daughter dance, and the reception dance party. You can then assign a responsible friend/relative to switch between playlists at the appropriate times during the reception.
There are also some great apps like "Music DJ" available on Itunes that lets you create all your different playlists, and the songs will fade in and out so there are no awkward silent moments in between songs.
You can also create a playlist on Spotify, Amazon Music, or any similar music service.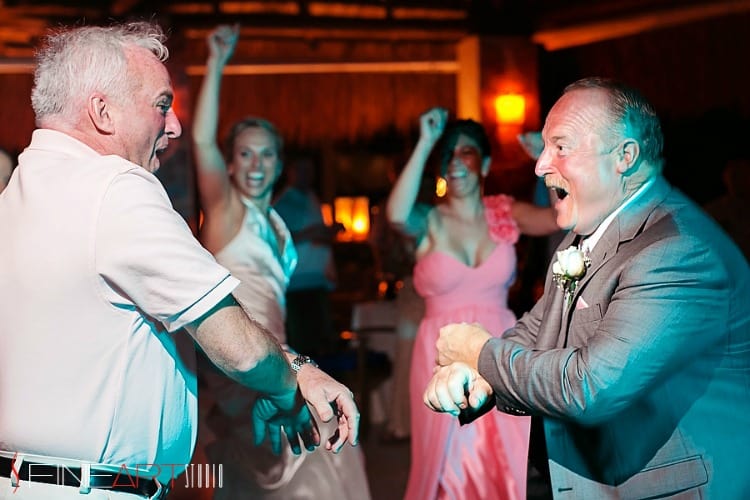 Have a Silent Disco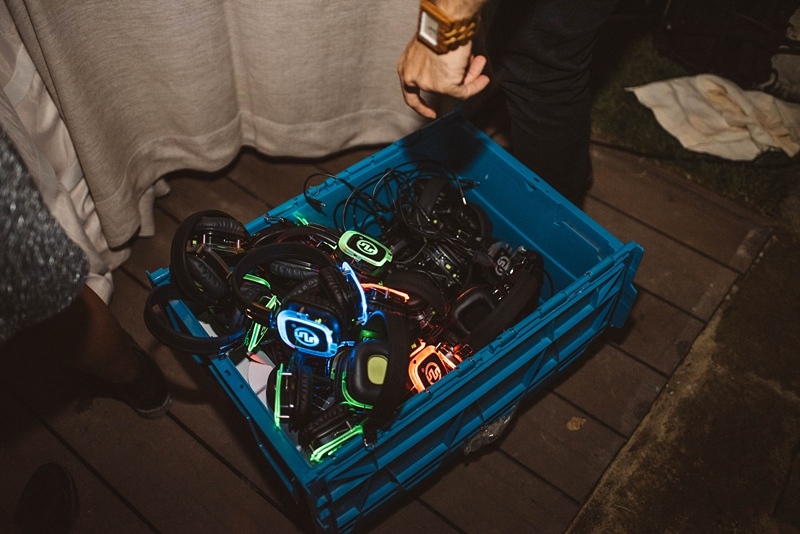 Ever heard of a silent disco? This is a trendy idea where each of your guests wears noise-canceling Bluetooth headphones and jam out to their own music. You can read all about it directly from this real bride who had a silent disco at her wedding in Italy. She said her DJ mixed songs on 3 different stations and each guest got to choose what they wanted to listen to.
This was a brilliant idea because although her venue had noise restrictions, guests were able to keep the party going until 4 am. And everyone got to dance to their own beat.
Final Thoughts
With proper planning and research, it won't matter whether you hire a DJ, a live band, or plug in your device's playlist. The way to get a lively crowd on the dance floor is to put plenty of thought into your music selection because it is one of the most important parts of your entire wedding.