I hear it time and again – a couple gets engaged, they decide they want to have a destination wedding and get really excited at the idea…until a million questions start flooding them all at once. They feel overwhelmed and have no idea where to start. Does that sound like you? The first question is usually: "Do I need to hire a destination wedding travel agent?" (or maybe now you're asking yourself "What does a destination travel agent even do?")
Don't worry, it will all make sense by the end of this post. In this guide, we'll break down how to find, hire, and work with a destination wedding travel agent.
Disclaimer: The information in this post is for general guidance only. Given the changing nature of laws, rules, and regulations, there may be inaccuracies in the information contained in this content as time passes. We are not responsible for any inaccurate or omitted information or for the results obtained from the use of this information. You should discuss specific details with your travel adviser.
Should You Hire a Destination Wedding Travel Agent?
Most people will say that if you're having a destination wedding, you absolutely need a travel specialist. I'm not one of those people that believe there is one right fit for everyone. The truth is that if you have a lot of experience planning travel, weddings, and you have a lot of time on your hands, there's nothing wrong with planning it all yourself. But why would you take on all that added stress when you can hire an expert at absolutely ZERO cost to you?! That's a question only you can answer.
What you should know before you make your decision is that the great destination wedding travel agents get paid a commission by the resorts and airlines so you don't have to pay anything for their services. Experienced travel specialists have visited all the resorts and they know the destinations and wedding venues inside and out.
They can offer unbiased feedback and help guide you because they know based on firsthand experience, which resorts are good and which ones aren't. They already have great relationships with the resort's wedding staff so they can get answers & perks more quickly than you can on your own. And best of all they will handle all of your guests' travel arrangements so you don't have to tackle that monumental task on top of everything else you're already doing.
A great travel professional will partner with you to alleviate the stress of planning your destination wedding travel and will be there as a sounding board for one of the most important days of your life. Check out this video for a breakdown of 5 good reasons to hire a destination wedding travel agent.
How to work with a Destination Wedding Travel Agent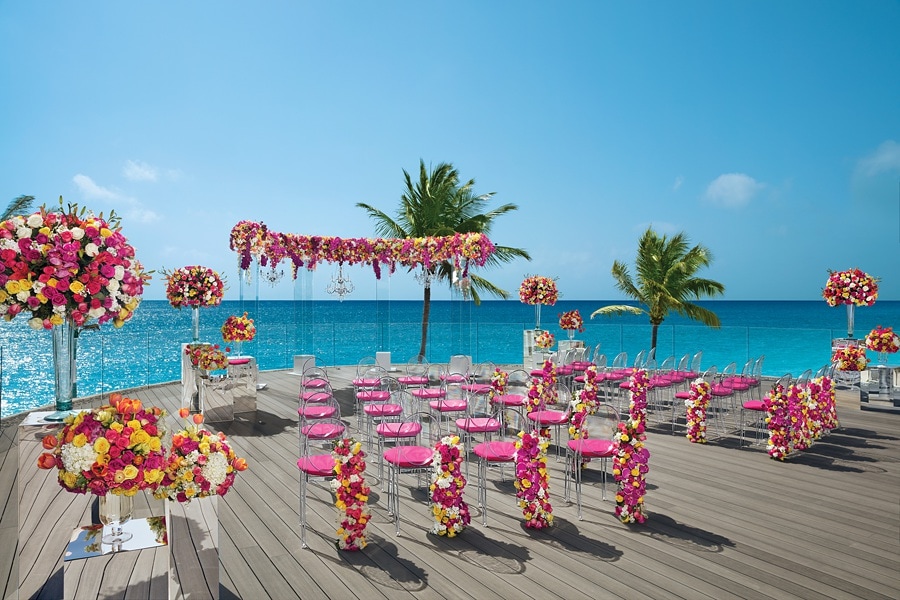 Once you decide that you want the assistance of a destination wedding travel agent, you'll probably start wondering how it all works. How do you find a destination wedding travel agent? How exactly do you work with a destination wedding travel agent? Where does their work stop and the wedding planner's start? How do destination wedding deposits and room blocks work?
To help us break down the entire process of working with a destination wedding travel agent from beginning to end, I interviewed Jack Benoff, president of Vacationeeze, who has decades of destination wedding travel experience. He broke down all the steps in the process of working with a destination wedding travel agent so you can know what to expect.
1. how to Find a Destination Wedding Travel Agent
There are now over 100,000 individuals in North America that say they are travel agents but maybe 95% of them do it part-time. And many of them don't have any experience with weddings. You can find destination wedding travel agents in our Vendor Guide or ask friends for recommendations. It is very important that you not only find someone with experience planning destination wedding but also someone who is a great fit for you, which leads to step 2….
2. Questions to ask a travel agent for destination weddings
Before you hire a destination wedding travel agent, we suggest you set up a phone interview to make sure they're a good fit. Here are some questions you can ask.
How many destination weddings have you planned?
How long have you been helping clients plan weddings?
Do you do this part time or full time?
Are you available via text, phone and email and what is your response time?
What are your favorite destinations and resorts and why?
How often do you travel?
Do you host site visits for clients?
Have you ever managed a wedding at the resorts I'm interested in?
Ask them about the venues and packages at the resort you're interested in to see if they really know their stuff or if they are just reading the resort website.
You can also ask them for a reference from a past client or even a few resorts themselves.
In addition to these questions, it's a good idea to do a bit of research on your own. For example, check them out on Facebook and Instagram to see where they've traveled. Browse their website and social media to see if they've won any industry awards or awards from the resorts. And last but not least, check out reviews on WeddingWire or The Knot.
3. Provide the Travel Agent Some Basic Information to get started
Once you settle on a destination wedding travel agent you feel comfortable with, you'll need to give them some basic information so that they can start narrowing down options. You don't need to have it all figured out at this point but here's a list of some of the information that would be helpful for you to have when you first contact your chosen travel agent.
The approximate number of guests you're expecting and if any guests will be under the age of 18
The dates you're considering.
Do you have already have a preferred destination or resort in mind?
What cities will most guests be flying from?
What events would you like to host, and what type of venues are you thinking about for each event?
2. Have a Call to Discuss Your Wants & Expectations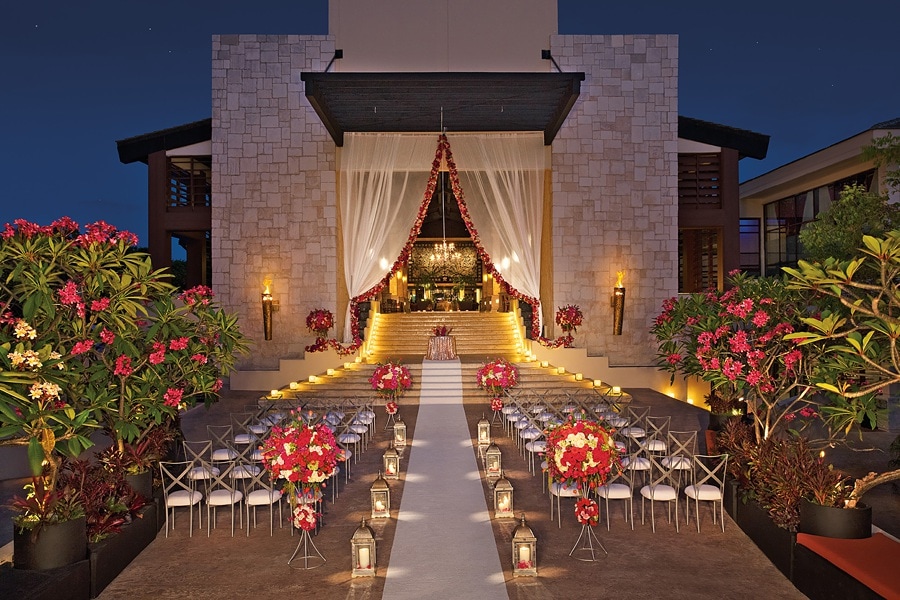 Once they have this information, Jack from Vacationeeze told us they like to schedule a call with the couple and anyone else you would like to be on the call (i.e. parents). During the call, they primarily discuss what the couple is looking for in a host resort, personalities of the bride/groom, and the guests. They will discuss the resorts the couple might already have looked at and answer general destination wedding questions. They also discuss budgets for the wedding events and for the guests staying at the resort.
Jack told us that it is important to create a list of 3-5 resorts that are a good match for the guests and the couple. He also indicated it is important to understand where the guests are flying from. As an example, if most guests are flying from Boston or Hartford it probably does not make sense to look at a resort in Cabo or Hawaii especially since the average guest stay is only 4 nights.
3. The Travel Agent Finds Your Dream Destination, Resorts & Venues
Once your destination wedding travel agent has a better understanding of what you're looking for they contact a group of resorts to request proposals with pricing and various perks you'll receive. They will also check with the resort to make sure your desired wedding date, time and venue are all available. All 3 of these are very important. Jack told us that in the past, a bride/groom will call a resort who will tell the couple that the date is available but it isn't until 30 days prior to their wedding that the resort will assign a time and wedding location.
4. Review Proposals with Your Travel Agent and Choose a Resort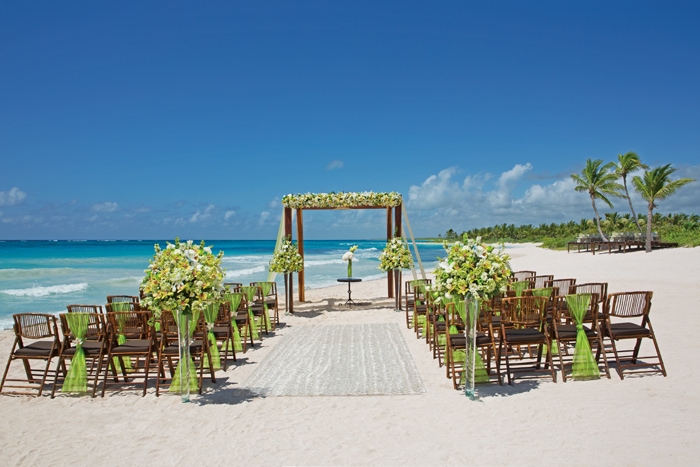 Within 3-5 days, Vacationeeze told us they will set up a call with you to review the proposals from the various resorts and discuss each one in detail. You will discuss site visits, the specific wedding packages from each resort, and review pictures of rooms, the resort, and venues.
5. Finalize the Wedding Package & Guest Room Allotment
Once you decide on a resort, your destination wedding travel agent will request contracts from the resort for both the rooms and the wedding. They will discuss room allotments, wedding packages, and any other questions. Jack Benoff of Vacationeeze told us that there are two ways to deal with rooms for your guests:
A flex Group – With this type of group you are not guaranteed a specific rate or number of rooms. Most travel agents will not suggest this. Some brides/grooms like it as there is usually no deposit required. The problem is that all of your guests can potentially pay different amounts and the resort can run out of rooms. Even more importantly, most of the time you will not get any perks or freebies.
A Contracted Group – This is how most destination wedding travel agents will suggest you proceed. With a contracted group, you will hold a specific number of rooms for your wedding stay. This way all of your guests will get a discounted rate, you don't have to worry about running out of rooms and you will get perks such as free rooms and upgrades. A resort will typically require a $100 per room deposit to hold the room but you will get all the money back once your guests make their deposit. If you hold more rooms than you end up needing, you just give them back by the dates in the contract and there will be no penalty. Your travel professional will work with you to understand these dates.
6. Pay Deposits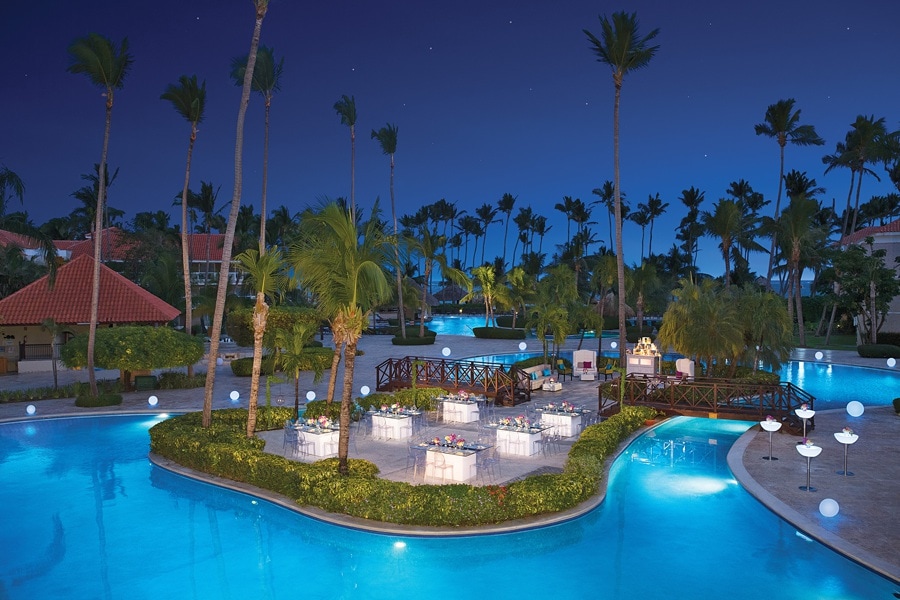 After you decide how you will deal with guest rooms (i.e. a flex group or contracted group), your next step will be to put down deposits. There are typically two deposits.
Deposit to hold the wedding date – Once this is paid the resort will assign a wedding designer/coordinator to you. Your travel specialist should make the introduction to your wedding designer who you will start working with to customize your events, menus, and décor. Jack at Vacationeeze told us that he typically works very closely with the bride/groom during this process to answer any questions they might have in working with the resort wedding coordinators.
Deposit for rooms- Each guest will typically pay a $100 to $150 deposit and their final payment is usually due approximately 45 to 90 days in advance of their travel date. During the time between the deposit and final payment, guests are free to make payments as well.
7. Your Travel Agent Manages Travel Arrangements for You & Your Guests
For some of your guests, this may be their first time traveling out of the country and they will have plenty of questions. Do you really want them calling you 20 times about their passports, asking if the resort has gluten-free food, what is the dress code at the French restaurant, and what happens if they need to cancel their trip? Your travel agent will handle all of it. Once all the travel details are finalized, your travel agent usually creates a brochure and/or website for the wedding guests to plan their travel.
A great travel professional will be there to help your guests customize their travel plans, answer questions about the resort, arrange tours, and even arrange transportation from the airport to the resort. The travel professional will be the primary point of contact for your guests so you don't have to be.
Jack from Vacationeeze told us just some of the ways they work with wedding guests: "We will work with guests to collect their deposits, make interim payments if they want and then charge their final payments. Our team helps guests with any special requests for dietary needs, bedding requests, even help them arrange a special birthday celebration. We can even help your guests that want to come early or stay later to extend their stay. And within 2-4 weeks of departure, we will send the guests their travel documents with travel tips as well as tips about the resort."
8. Coordinate Last Minute Details
Jack also told us that they send an updated rooming list to the bride/groom on a periodic basis, so they can see what guests are attending and for what dates. As you get closer to the wedding, they will also provide you the flight information for each guest so you can schedule their welcome events, welcome bags, or see who is arriving at what time. They can also work with you to plan special events such as private cocktail cruises, groomsmen zip line trips, family shopping trips, or excursions once they know which guests are actually attending.
9. Optional On-Site Assistance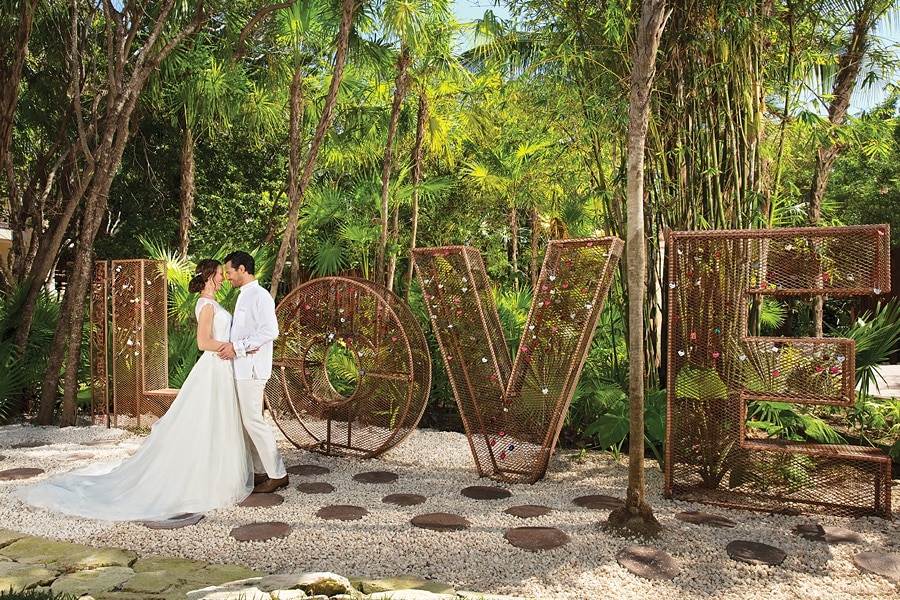 Some travel specialists will even attend the wedding at no additional charge — they just ask that you pay for their travel expenses. Jack Benoff, from Vacationeeze, told us: "We attend many of our weddings and usually attend all of our large weddings. We typically will arrive a day before most guests and meet with the resort to ensure there will be no problems with the rooms and to coordinate the transportation to/from the airport as well as schedule a group meeting with the wedding designers and all of the vendors that will be involved with the wedding. We want to assure you that the couple has an amazing stress-free wedding."
Contact Vacationeeze
I hope this helped clarify the process for you but if you still have more questions, you can contact the travel team at Vacationeeze by filling out the form below and they will respond to you directly.
Disclosure: This post was sponsored by Destination Weddings by Vacationeeze. The opinions expressed are the author's own and do not necessarily reflect the views of Destination Wedding Details LLC. See Disclaimer.