I remember spending hours at a local Mexican flower shop as one of my best friend's chose her beach wedding flowers. She was stressed. I was exhausted. My big take away? I was absolutely determined to not make the same mistake for my own destination wedding.
And I want to help you avoid some common mistakes because with everything else you have to think about, choosing your beach wedding flowers should be the fun part! So in this post, I'm sharing 4 tips you should keep in mind when choosing your beach wedding flowers- as well as some ways that you can save money on those fleeting little things.
4 Tips for Choosing Beach Wedding Flowers
1. Consider Your Destination's Climate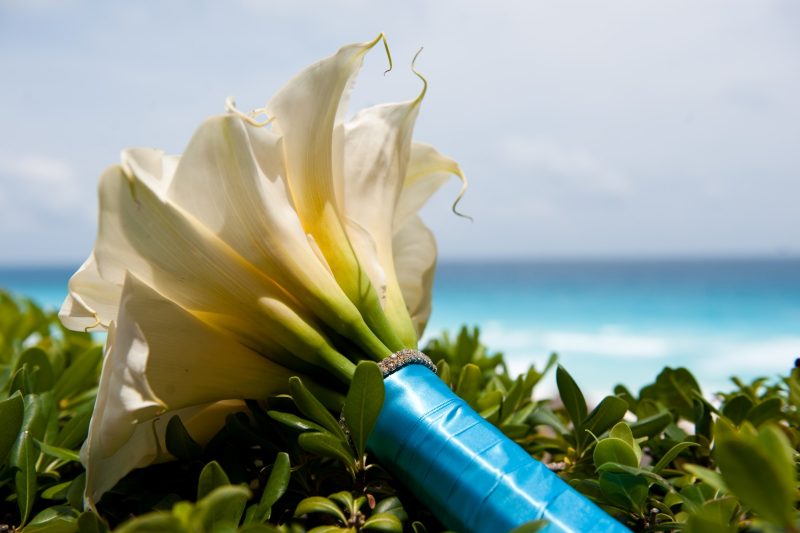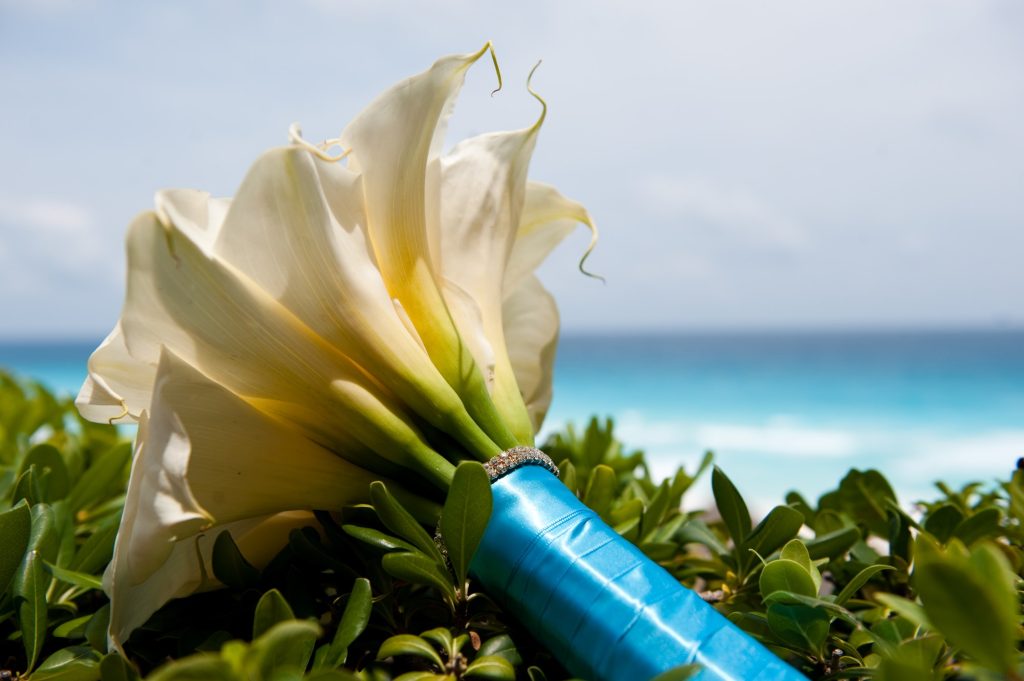 I'm starting out with this tip because it's a big challenge that is unique to beach and destination weddings. If you're getting married early in the day when the sun is beaming, make sure that the type of flower you choose will stay fresh throughout the ceremony and reception. You don't want to have your flowers wither before you even get to the first dance.
2. Work With Nature & Not Against It
When you have an amazing, scenic background like the beach, a garden, or mountains, your job is to enhance what nature so generously gave you. Don't overdo it. Not only will you stress yourself out and spend unnecessary funds, but you'll also take away from the natural beauty of your location. And wasn't that the whole point of a destination or oceanfront wedding?
3. Beach Wedding Flowers Don't Always Have to be Ultra Beachy
Some brides think that beach wedding flower arrangements have to be covered with seashells and starfish from top to bottom. That is simply not the case. You can, if that's your taste, but you don't have to. You can accent your arrangement with a few seashells here and there- or you can have absolutely zero beach elements.
4. Don't Assume You Must Choose the Beach Flowers in Your Resort Package
If you're tying the knot at an all-inclusive resort, they will probably present you with a few different package options. Each package will include a certain type of floral arrangement.
You might be led to believe that Orchids are your only option if you choose the "Diamond" package. But that's not always the case. They won't volunteer this information, of course, because it's more work for them.
Just ask if there are other options you can choose from. Tell them your likes and dislikes and they will probably be willing to work with you. If they don't have what you want, ask if you can bring in an outside florist. Sometimes they'll allow you to for free or might charge an outside vendor fee.
How to Save Money on your Beach Wedding Flowers
Recycle Your Beach Wedding Flowers Throughout Your Events
The typical ceremony lasts 15-30 minutes. Why would you spend a ton of money on expensive arrangements that will go to waste after such a short period of time?
Ask your coordinator or florist if you can have some of your ceremony arrangements moved to your reception area.
When I tied the knot, I took the flowers from my ceremony altar and used them at my reception's sweetheart table. You can take your bridesmaid's bouquets and put them on the buffet table. Just get creative. This photo you see below is the arch from a destination wedding in Mexico, which was first used in the ceremony and then reused as the reception entrance.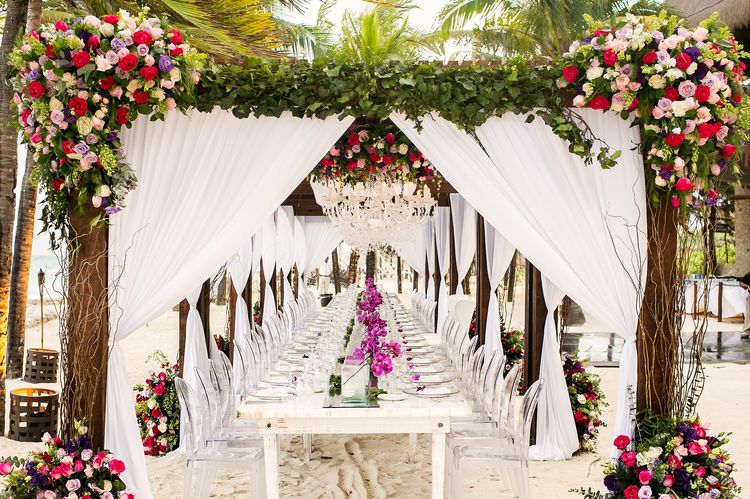 Consider Artificial Flowers
Before you balk at the idea of fake beach wedding flowers, hear me out. Like you, I was also skeptical when I first heard about the concept of using artificial floral arrangements.
I always thought silk flowers looked incredibly tacky. But I'm not talking about your regular run of the mill silk arrangements that you would buy at your local arts & crafts store. Just check out this gorgeous bouquet which was made with artificial flowers by the bride's best friend, who plans to hang it in the nursery for her future daughter.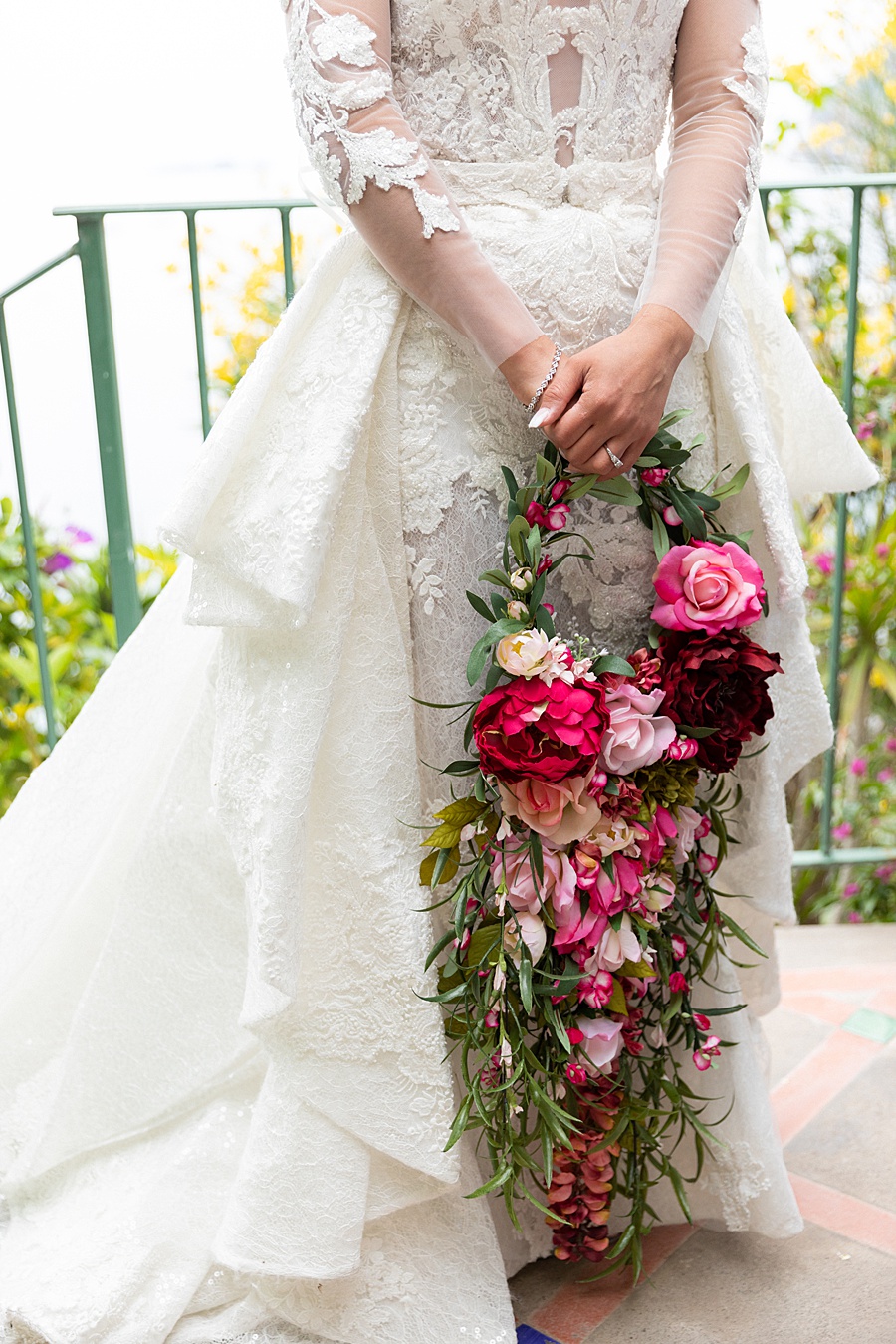 There are some fantastic retailers who have responded to the growing trend of destination weddings with flowers and beach bridal bouquets that look so real you have to see and touch them to believe it!
Some resorts charge an outrageous amount of money if you want fresh flowers outside of what's included in their package, and this can be a great way to save some serious money.
Substitute
You can save a ton of dough by choosing a less expensive alternative to your favorite flower. For example, Dendrobium orchids are a lot cheaper than Cymbidium orchids but just as stunning.
Choose Local Blooms That Are In Season
Try choosing flowers that are grown in your destination. If you're having a destination beach wedding, flowers that are very exotic can usually be purchased for much less than you would pay in the U.S., because they don't need to be imported.
Go Green
Use lots of tropical green foliage in your arrangements. They're a lot cheaper than flowers, and the bright green really pops against the beach colors.
Best Type of Beach Wedding Flowers
For a beach wedding, flowers that evoke an exotic/tropical feel and which can withstand heat, sun, and wind are your best bets.
Related Post: Check out more ways to save money on your beach wedding
Beach Wedding Flowers for your Boutonnieres
We usually spend so much time on the bouquet, centerpieces, and arch decoration that we neglect our grooms & their posse (AKA the groomsmen)! When choosing the boutonnieres, try to get one stem of the same flower you're carrying in your bouquet but a smaller version.
If you're carrying calla lilies, have him wear a mini calla lily. If you're carrying roses, he should have a rose. On the other hand, the groomsmen's boutonnières should match the flowers your bridesmaids will carry.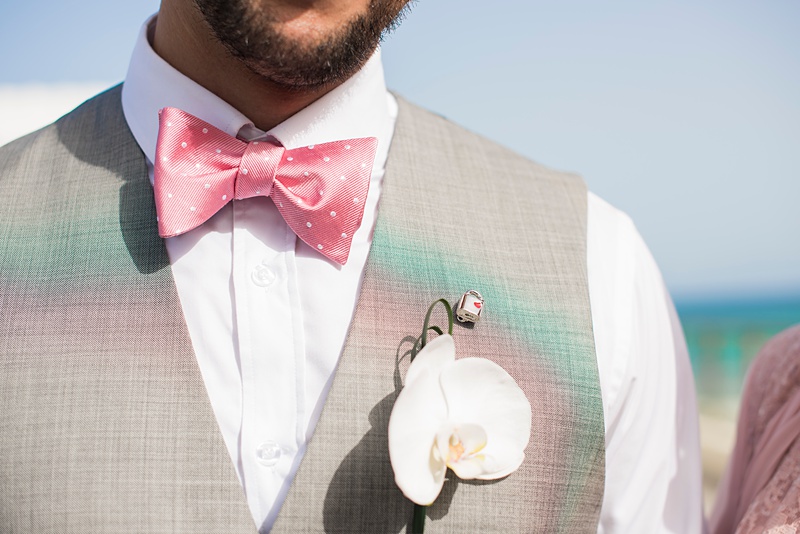 Galleries of Beach Wedding Flowers
My beach wedding flowers are one of the elements of my destination wedding I spent the most time on. I knew it would be one of the first things my guest's eyes would be drawn to when they walked into the venue. And I wanted them to look awesome! What does awesome mean? I didn't want something so simple that it would fade into the background, but I also didn't want to overdo it. And there really is a fine line you have to tread to find that perfect balance.
The perfect beach wedding flowers can make an already spectacular backdrop even more breathtaking. But there are so many different types, that choosing one can be hard! Browse the different articles below for tons of helpful advice and pictures to inspire you.