Who says a beach wedding can't be as chic and glamorous as you want it to be? Stacey and Scott's destination wedding at El Dorado Maroma blows all others out of the water when it comes to sheer sophistication and style. Everything from the pretty and pristine cake, to the oversized elegant floral arrangements, elevated this beach wedding in a way you usually just see in the bridal magazines.
And that dress. With the number of gowns I see as a destination wedding enthusiast and editor, you'd think I'd seen it all and had somehow become immune to the power of a truly show-stopping dress. Nope! This one did it. This dress is angelic, sexy, regal and effortless all at the same time. And once it's on Stacey? Game over! I have to shout out the entire party's attire though! The subtle rosy pink hues on the rest of the crew perfectly pops against the vibrant aqua ocean backdrop creating some picture perfect moments captured by the folks at Bridal Moments Mexico.
What I love most of all, is how these two could not be more adorable and clearly in love. I know a lot of couples claim to be best friends, but these two really have a sincere connection you can't fake for the camera. 10/10 would scroll this photo album again.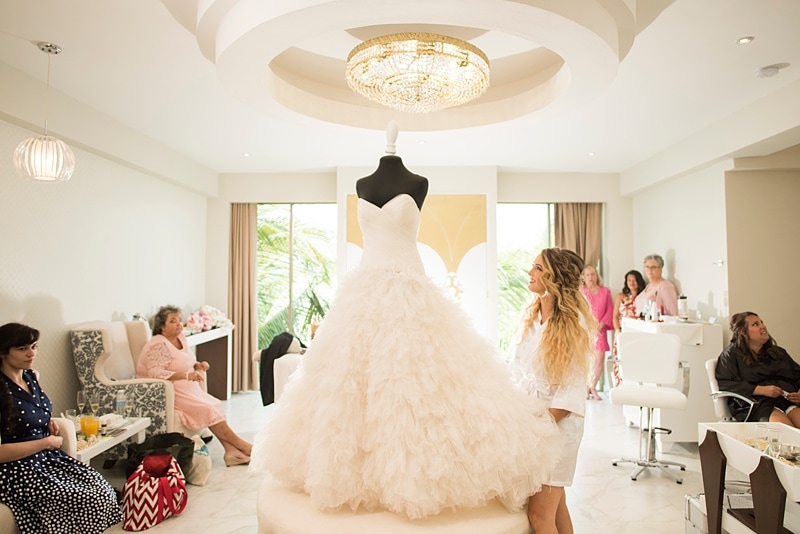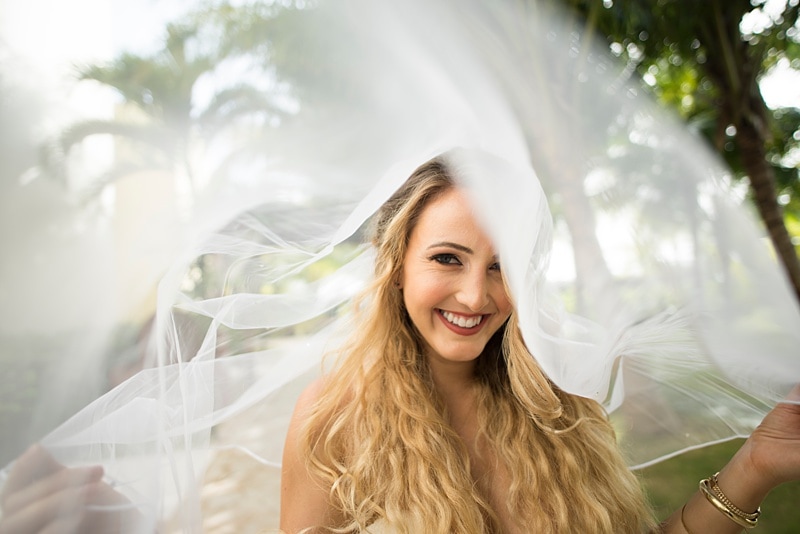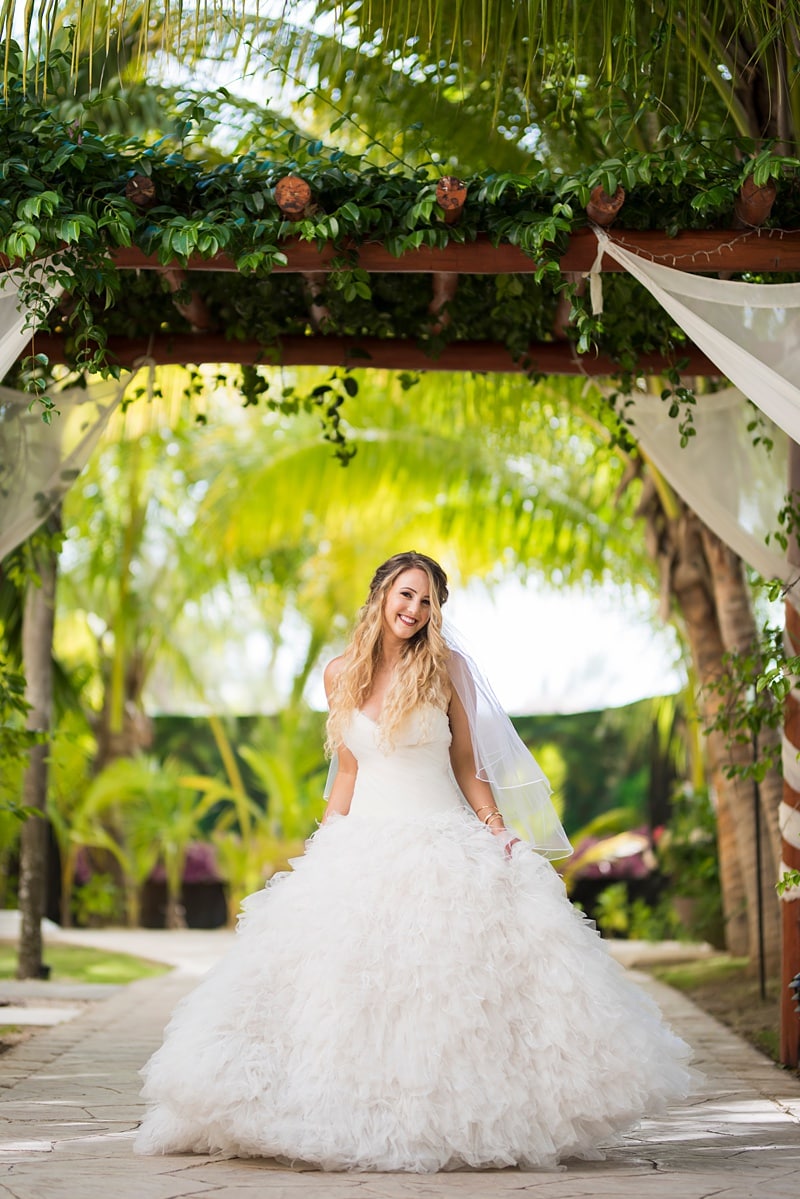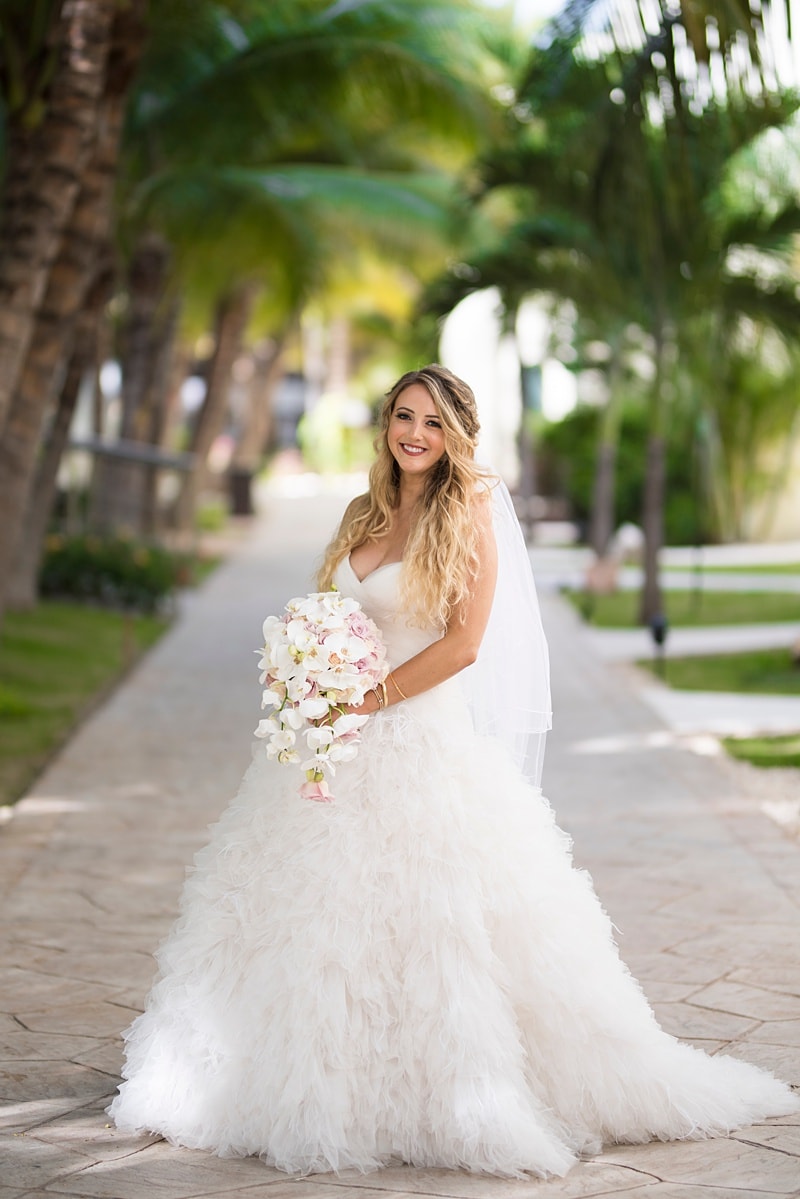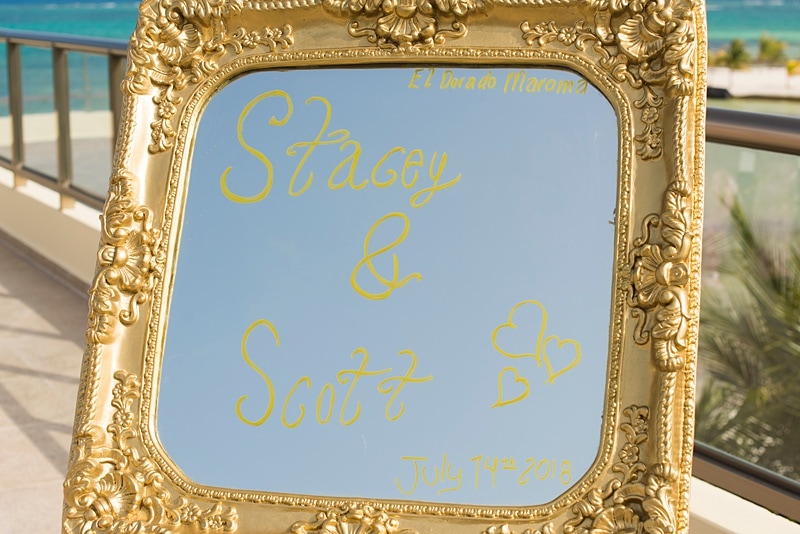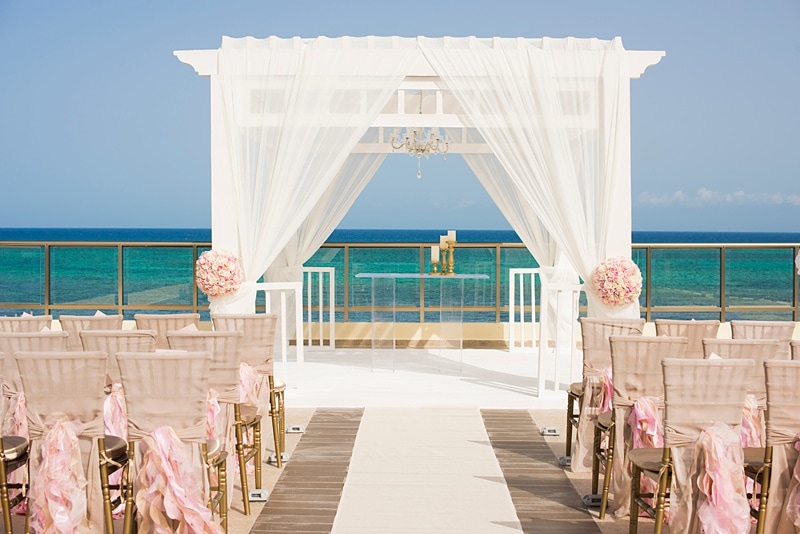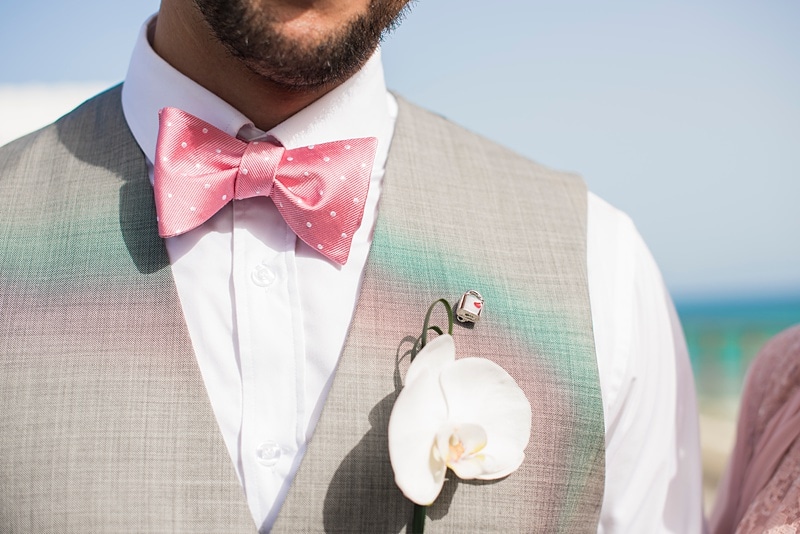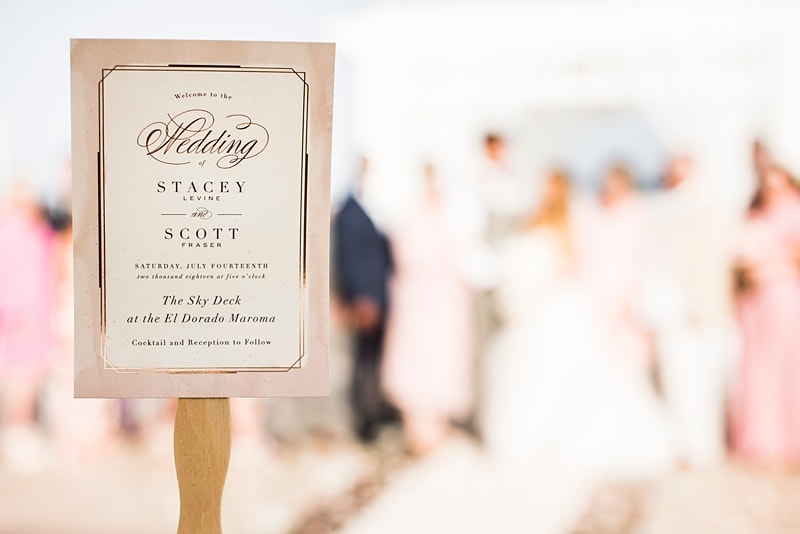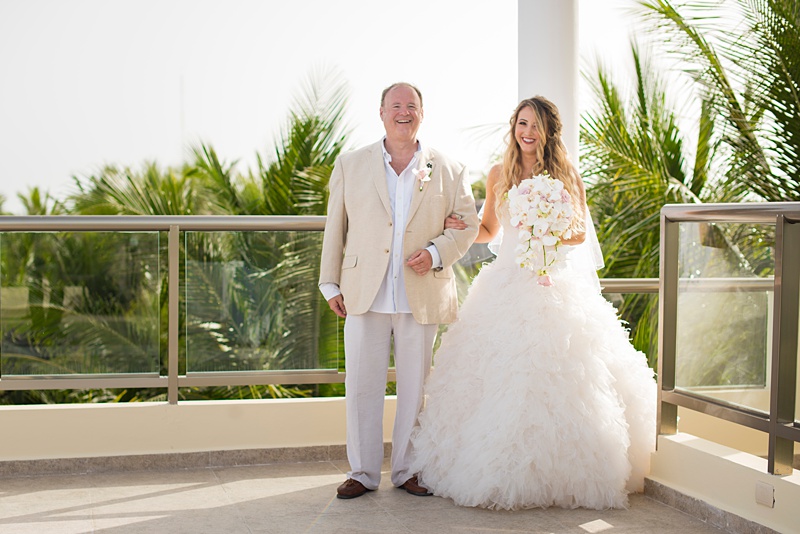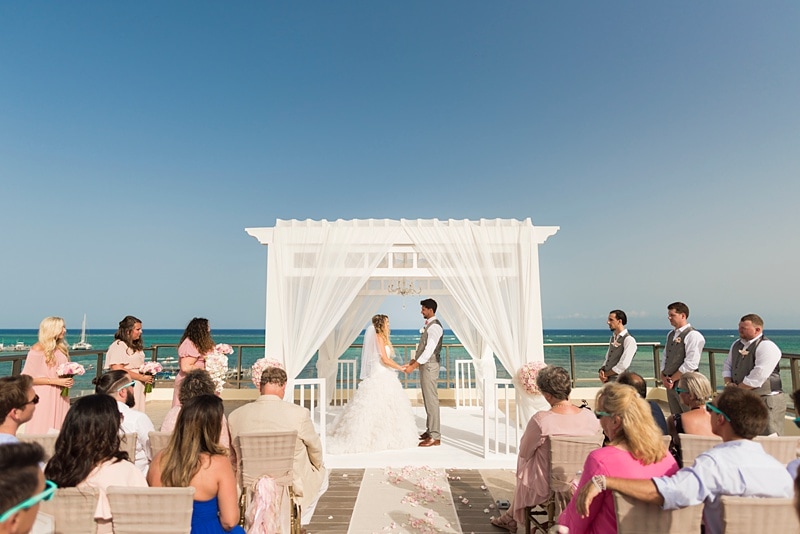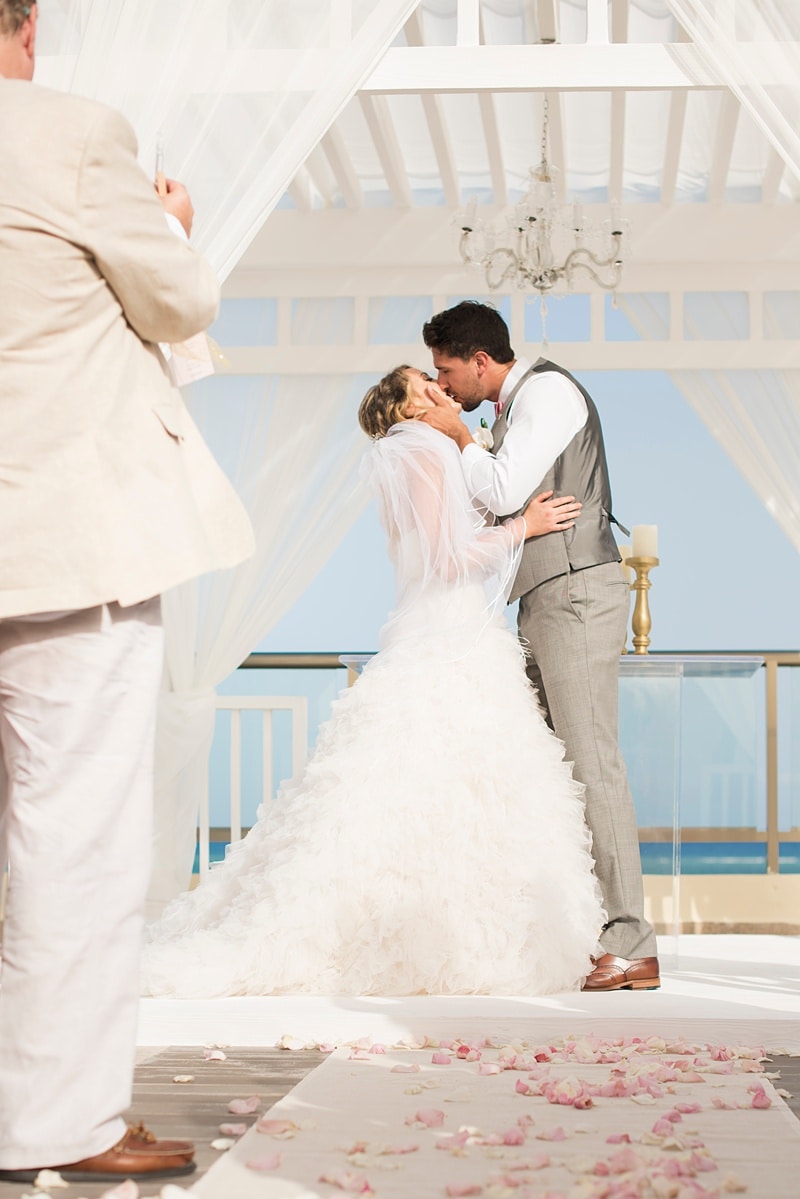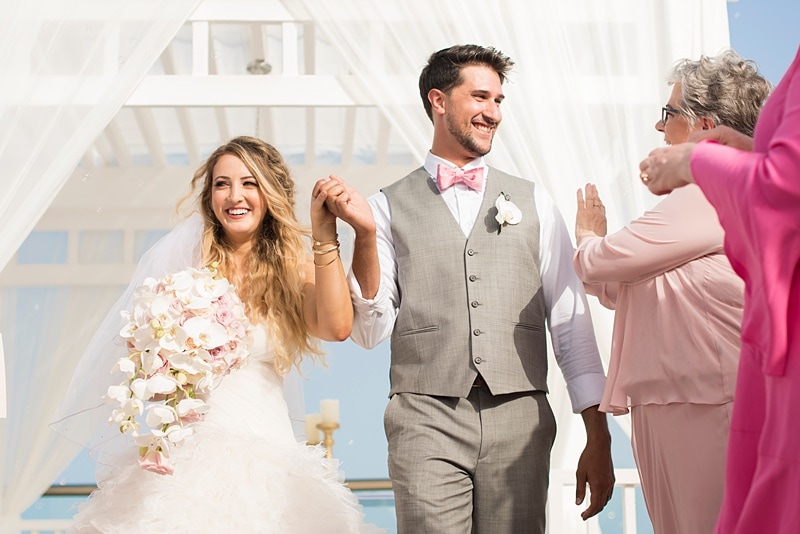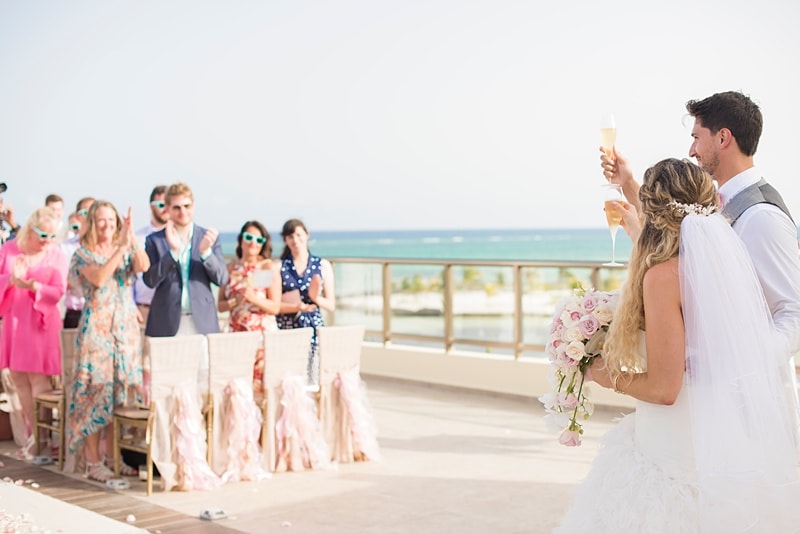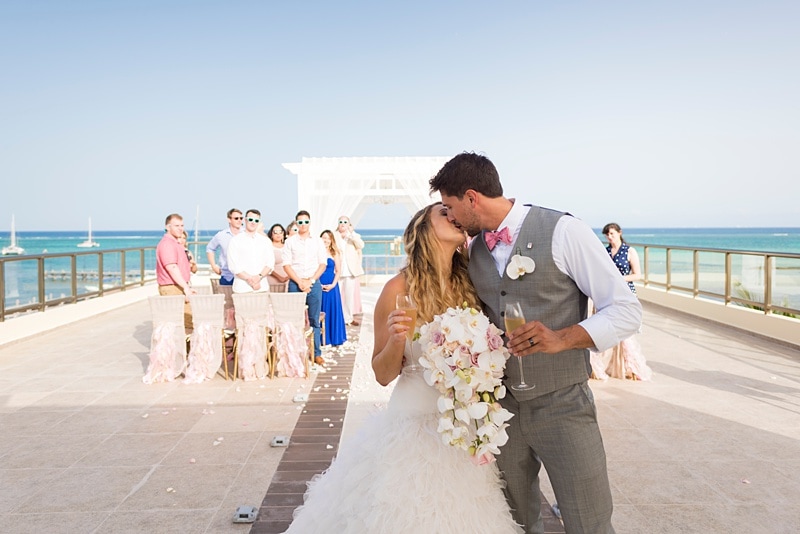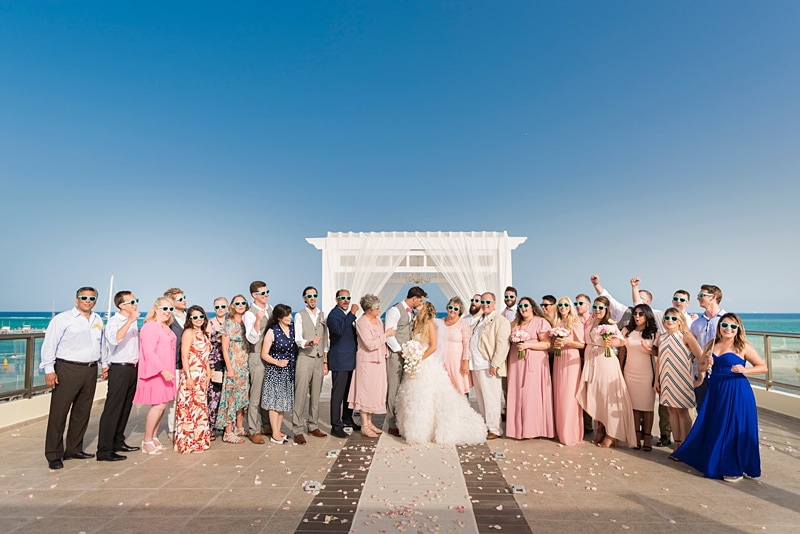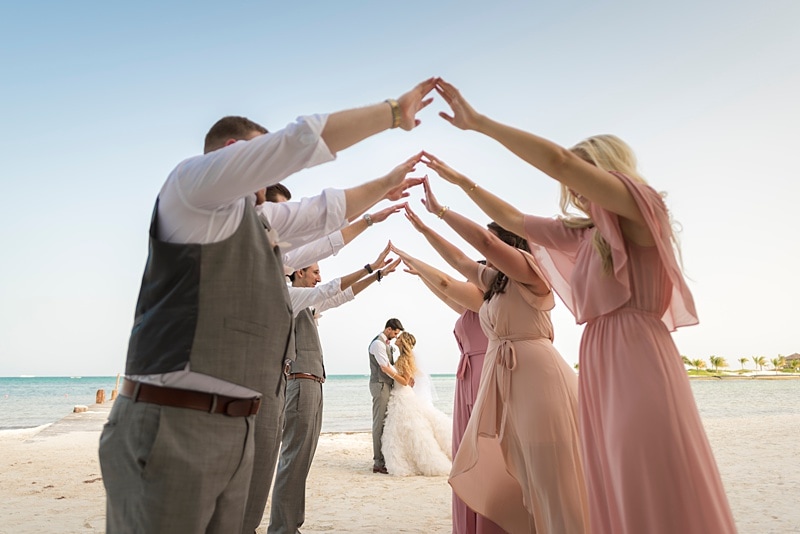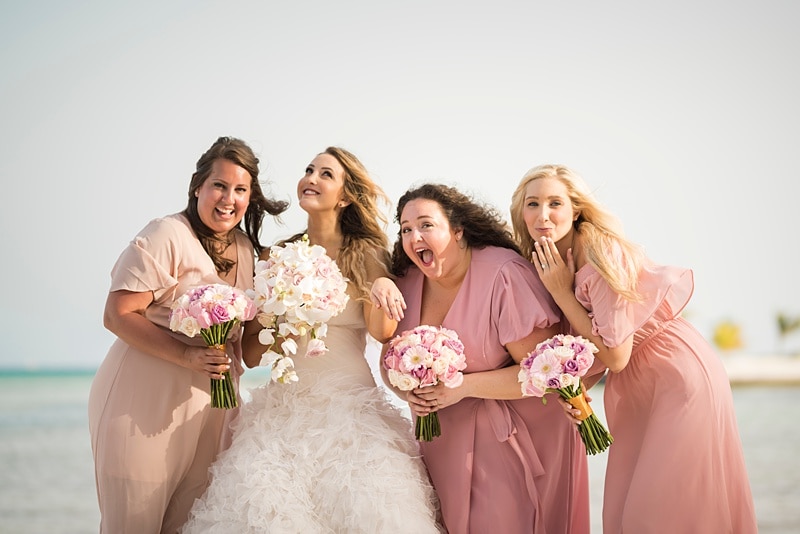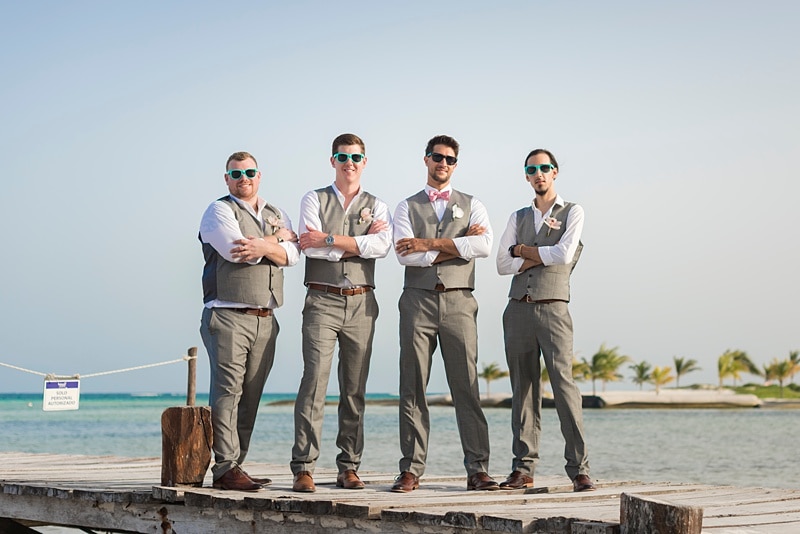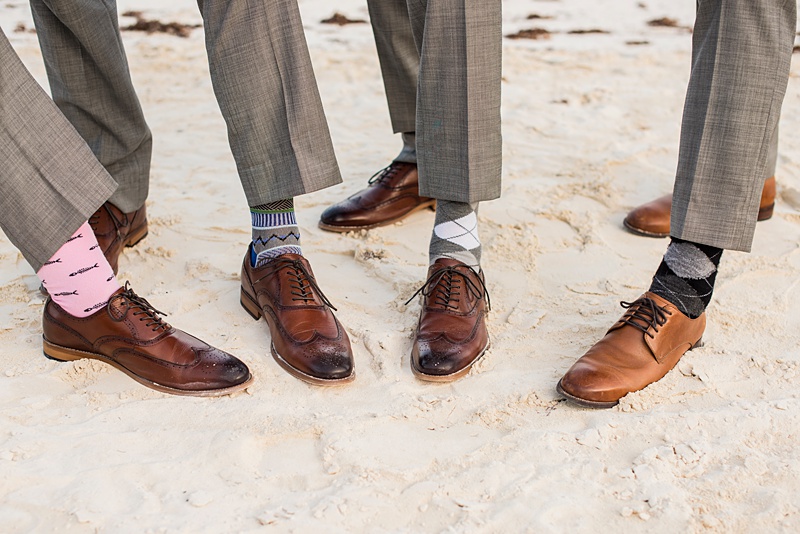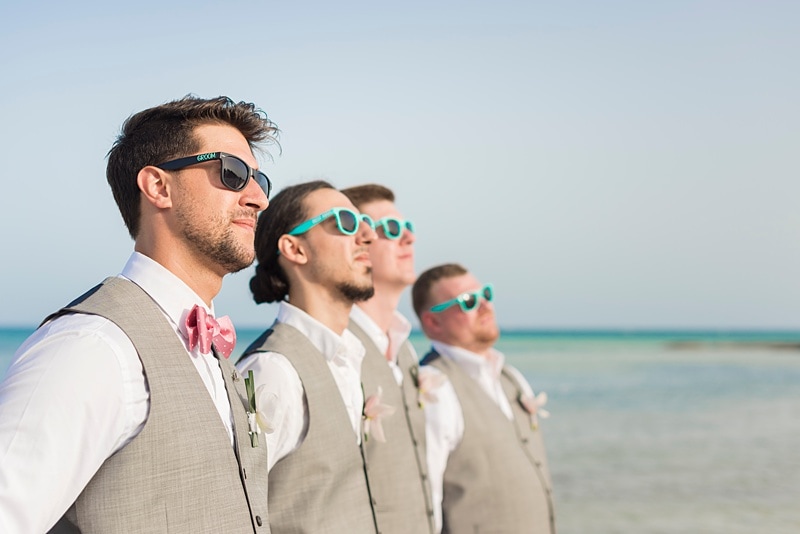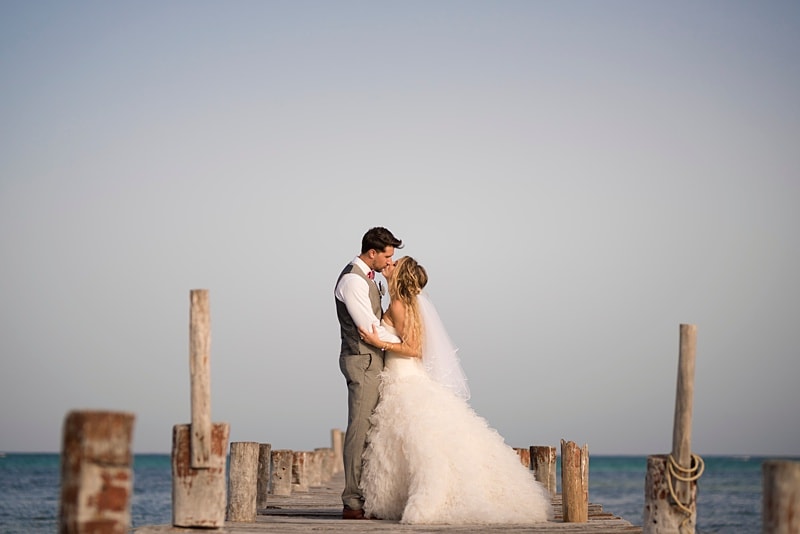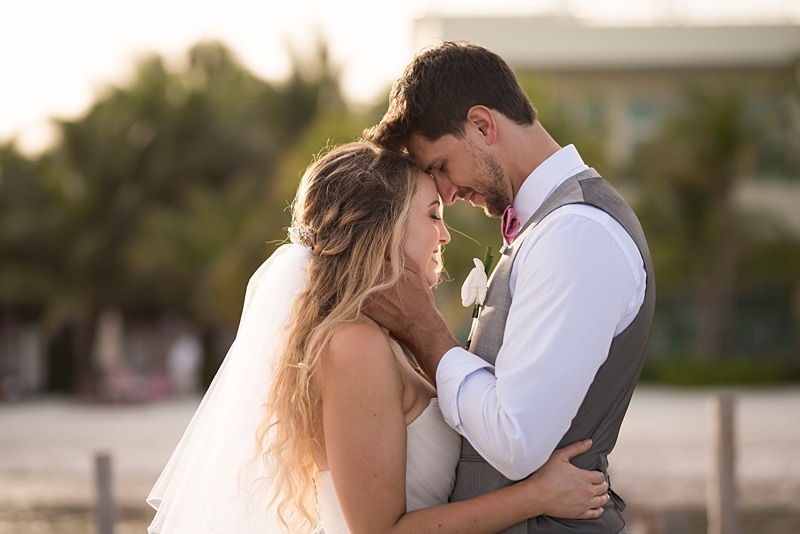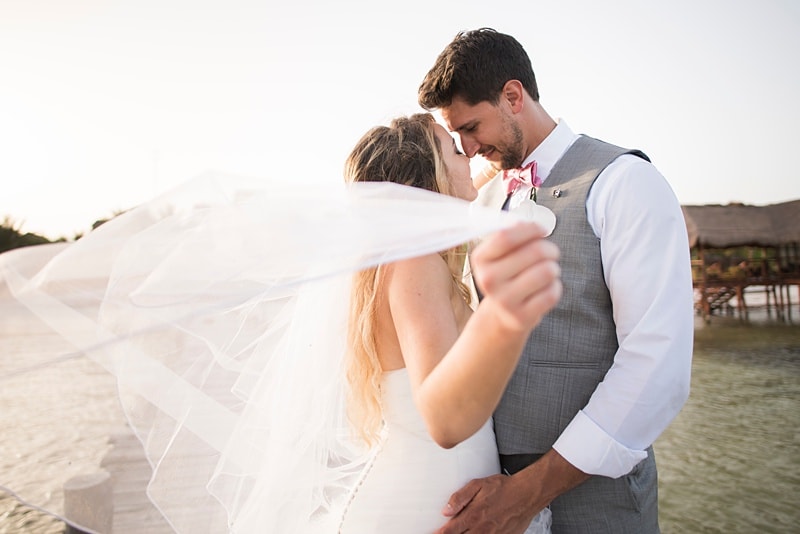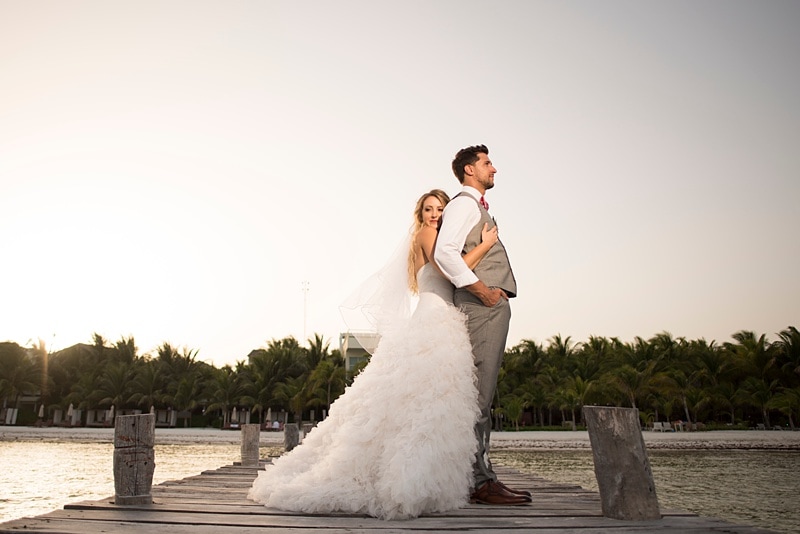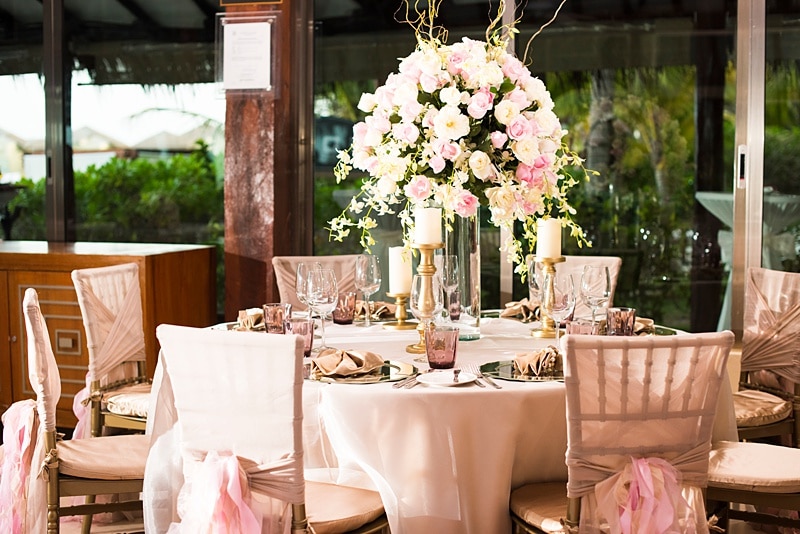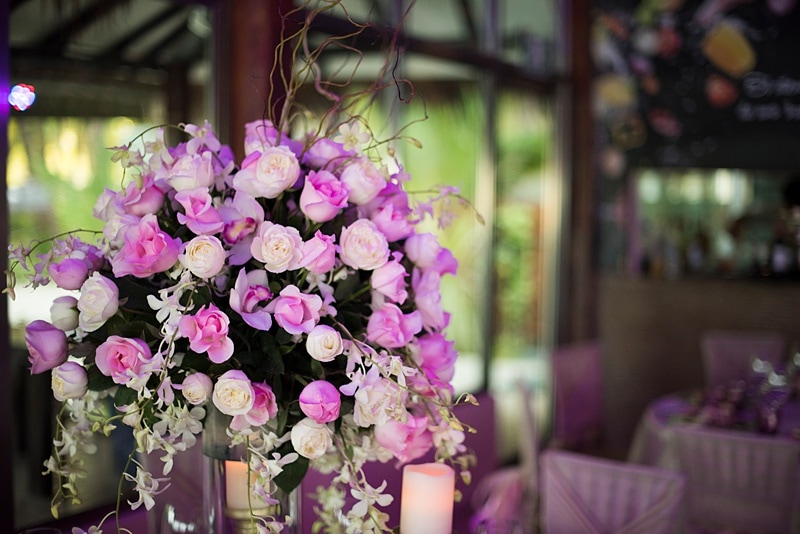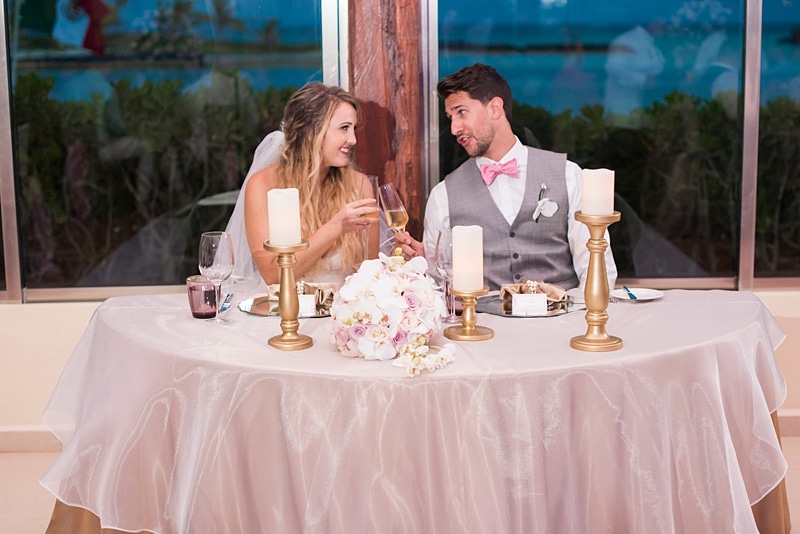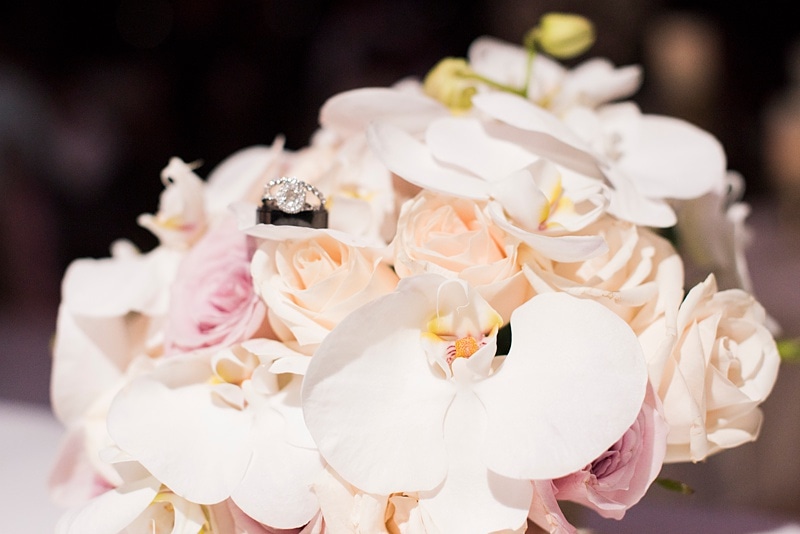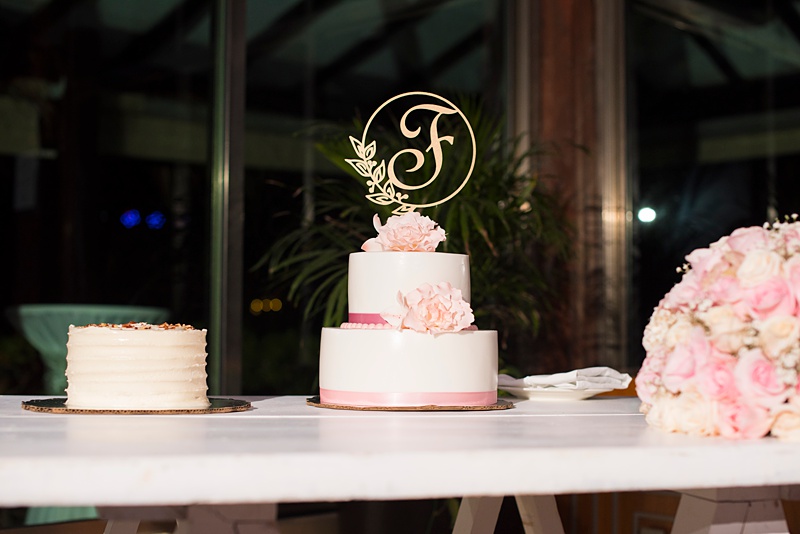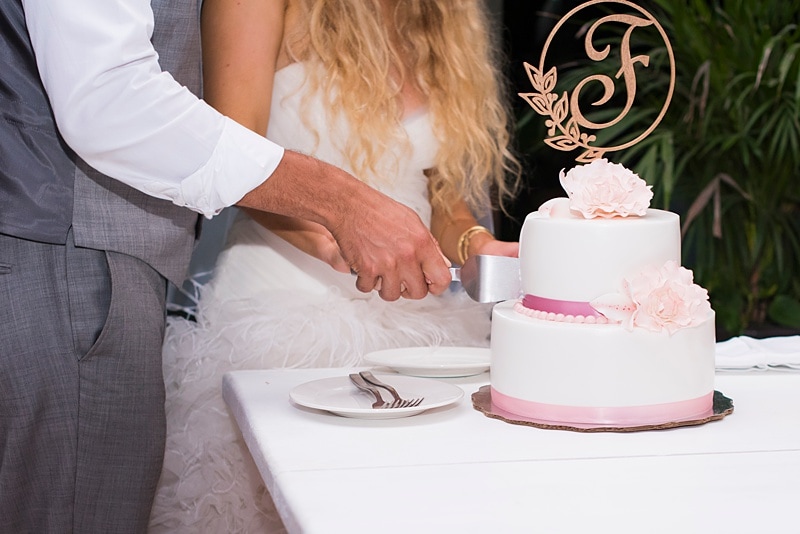 Q&A with the Couple
How did you meet?
The story of how we met is relatively simple, we met at the gym. Both of us would wake up at 4:30 in the morning to go workout and after months of seeing each other and saying nothing, Scott finally approached me with the line: "You're killin' your shoulder workout today!". After that comment, we became fast friends and worked out together every morning. He eventually asked me out and we went on our first official date to a comedy show. I laughed so hard that night, and he has kept me laughing ever since!
Tell us a little a bit about your wedding vision
Our wedding inspiration was "Pure Glamour." We selected a very elegant design that included all the finer elements you would expect to see at a large wedding, all from the comfort of a sandy beach in Mexico! Also, my sister came up with a great idea to have all the guests take a polaroid of themselves and add it to our guest book. Now when we look through it, not only can we see all the well wishes for a happy marriage, but we have a candid snap shot of them from the day of our wedding.
What were your favorite parts of the day? (memories and stories)
The most memorable moment for Scott and I would have to be what the staff was able to do for us at the last minute. I wanted to change the location of our rehearsal dinner to a spot that was exclusive to the Palafittos side. We had 20 people attending so it was no small change, but the staff at El Dorado Maroma made it happen for us. They are truly incredible! A funny moment for us was when we scheduled our candlelight dinner on the beach, got all set up at the table only to realize we were sitting in the wrong spot. We ran across the beach to get to our reserved candlelight dinner before our waiter noticed we weren't there. Besides the wedding, our favorite part of the trip was being able to lounge around the pool and hang out with our guests. It's not about doing all the activities you can, but being able to spend time with family that you don't see that often.
Do you have any advice for couples planning their destination weddings now?
Our biggest piece of advice to future couples planning a destination wedding would be to enjoy the process. Make short lists of thing you want to accomplish or decisions you need to make. Just remember you both are a team, and in an instant, the whole planning process will be over. Enjoy the process, it's a journey!
What was the best part of having a destination wedding?
From the time I was little, my mother has always been an advocate for both my sister and I to have a destination wedding. It was honestly a no brainer! Plus I love the idea that our guests can all make a little vacation out of it too! Scott worked with our wedding coordinator, Brenda Metzger, to find the perfect location. Luckily Brenda had been everywhere so she was able to suggest the perfect location that matched all of our requirements.
What was the biggest challenge of planning your destination wedding?
Scott and I have only been to Mexico once before. We took a huge leap of faith planning our wedding at a resort neither of us had ever been to, but it turned out beautifully. Brenda played a huge role in helping us find the perfect location!
Vendors
Photography: Bridal Moments Mexico | Venue: El Dorado Maroma | Travel & Accommodations: Destination Weddings Travel Group | Wedding Dress: Kenneth Pool | Groom's Attire: Men's Wearhouse | Headpiece: Tania Maras