Kara and Thomas hosted their destination wedding aboard "The Pride of Maui" catamaran and treated their guests to the most amazing oceanside cliff views of Maui. The Hawaiian islands are simply breathtaking, and a slam dunk choice to host a wedding. It is an undeniably romantic and relaxing destination – and this wedding proves it! Going with a brilliantly clever theme of "Cinco de Maui," this couple treated their guests to the type of party you'd expect on the fifth of May – one full of great Mexican food, drinking, and dancing. Everything was just gorgeous like the island itself. Their nautical-chic attire and decor played perfectly with the setting – especially Kara's mermaid dress and long fishtail braid.
I especially love the many ways Thomas and Kara swapped tradition for something unique. For example, her bridesmaids carried parasols in lieu of bouquets – so cute… and functional in that Hawaiian sun! The faux flowers Kara made herself for her hairpiece and bouquet are gorgeous, and will never wilt! And of course, the very act of getting married aboard a catamaran in Hawaii is the biggest break with tradition of them all. There is so much inspiration to be found in this gorgeous destination wedding. I hope you enjoy these gorgeous photos, captured by Eva Rieb Photo, just as much as I did!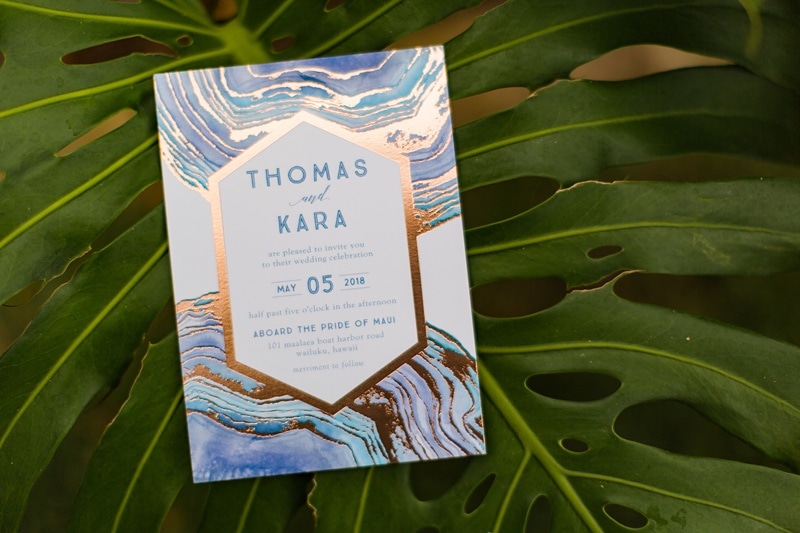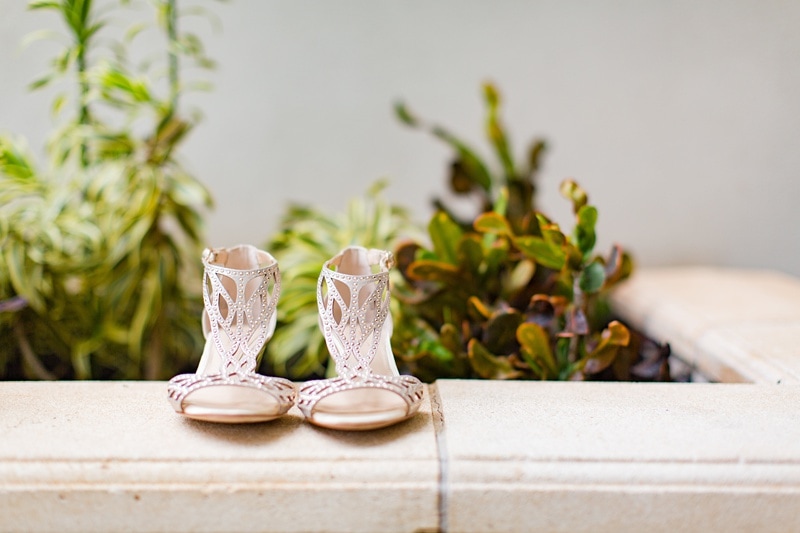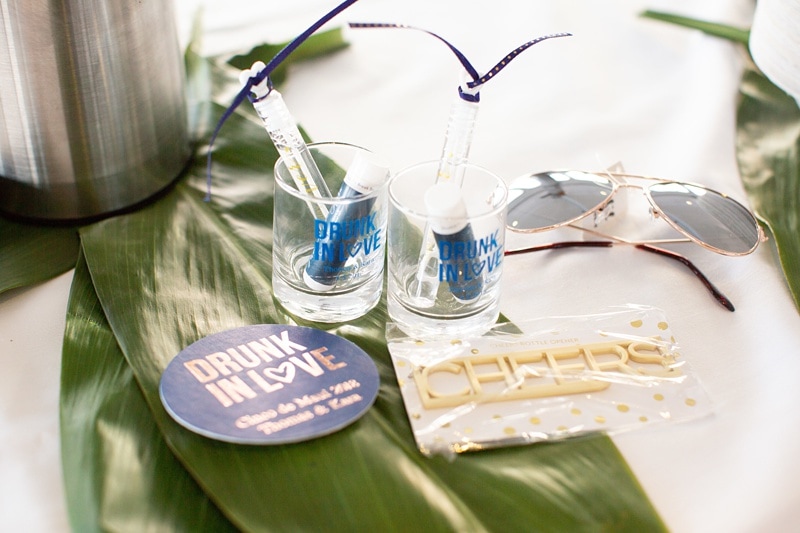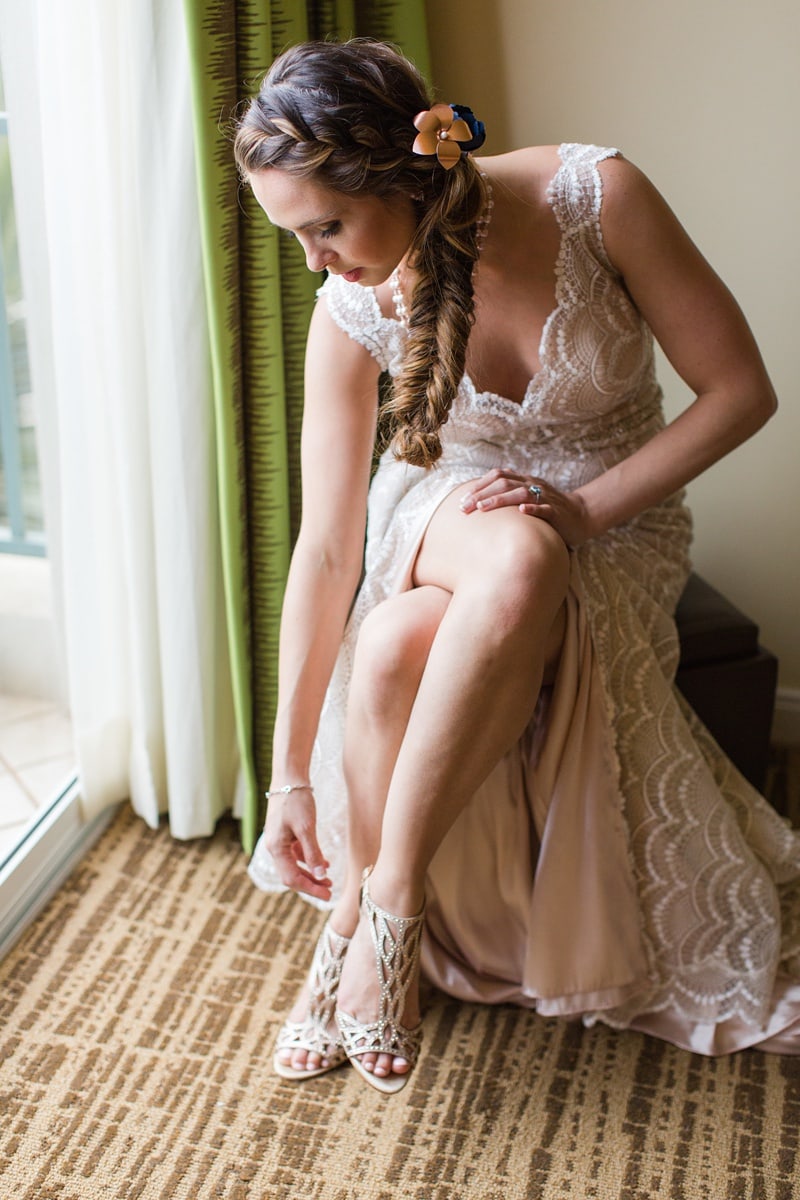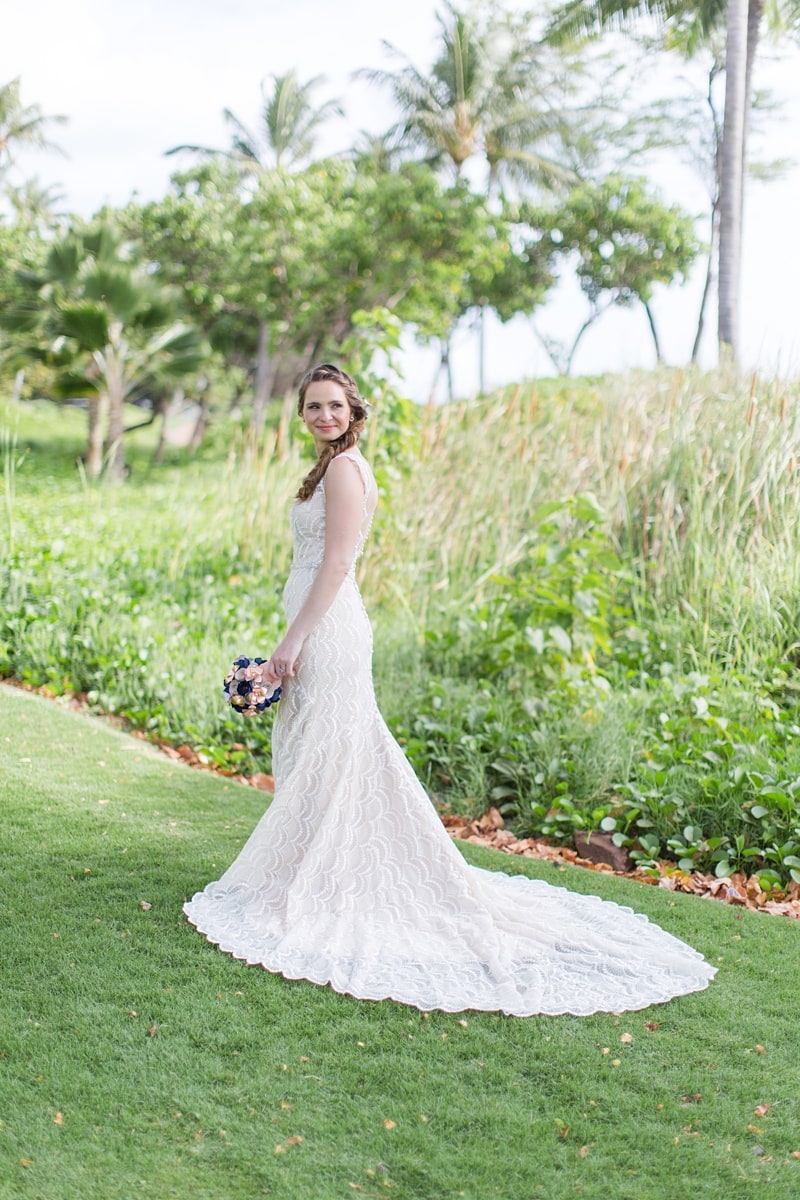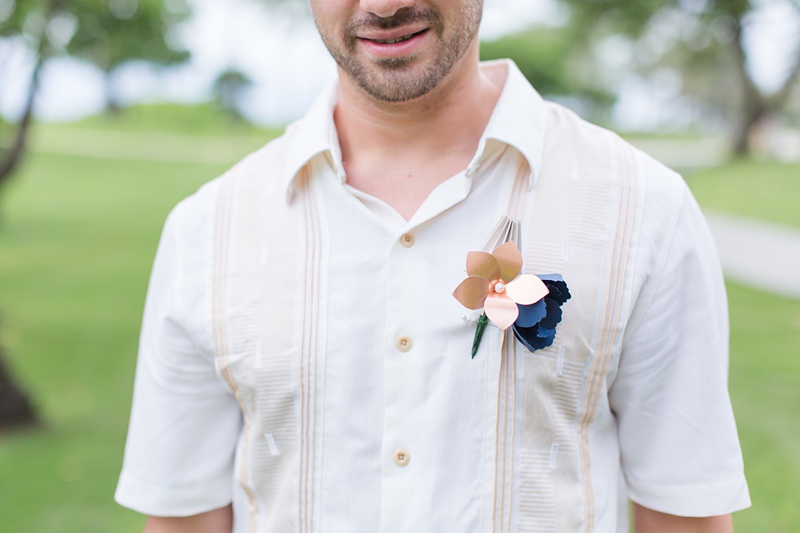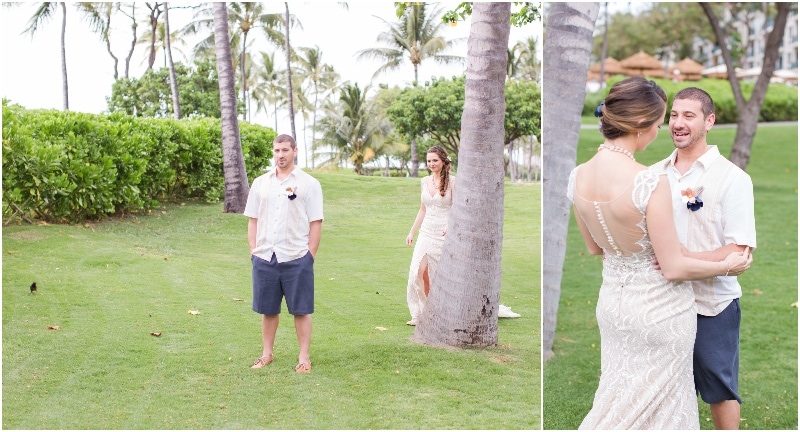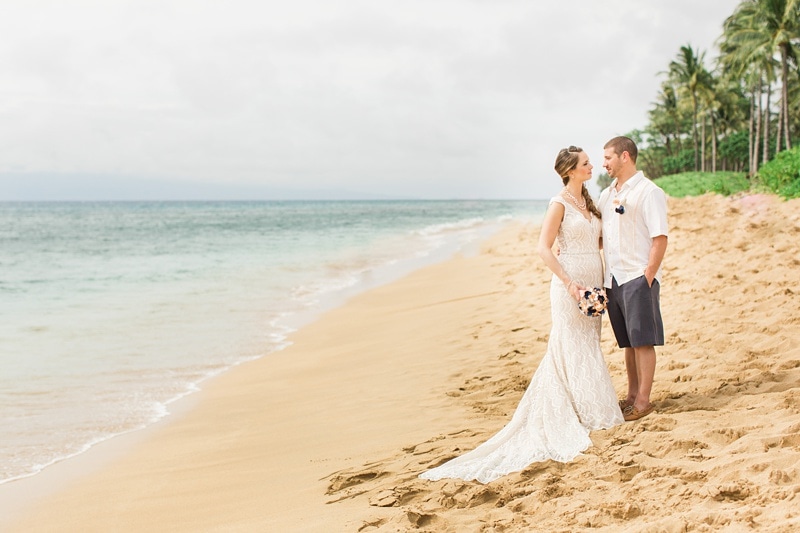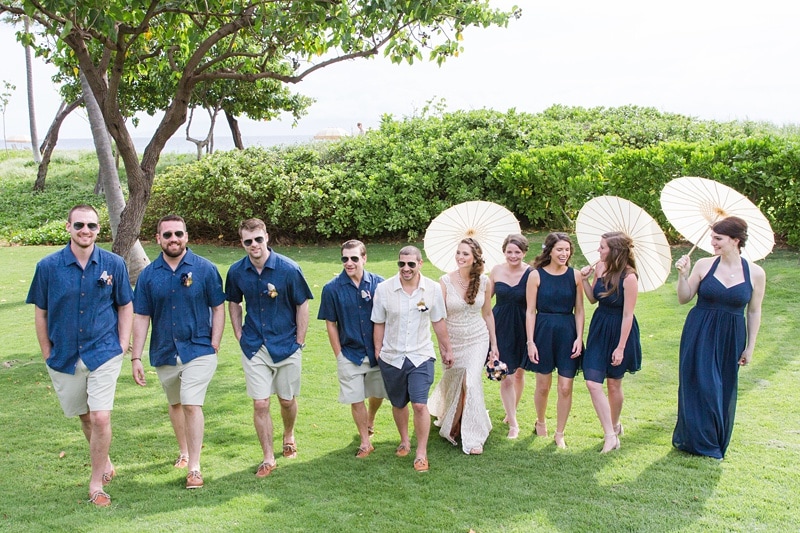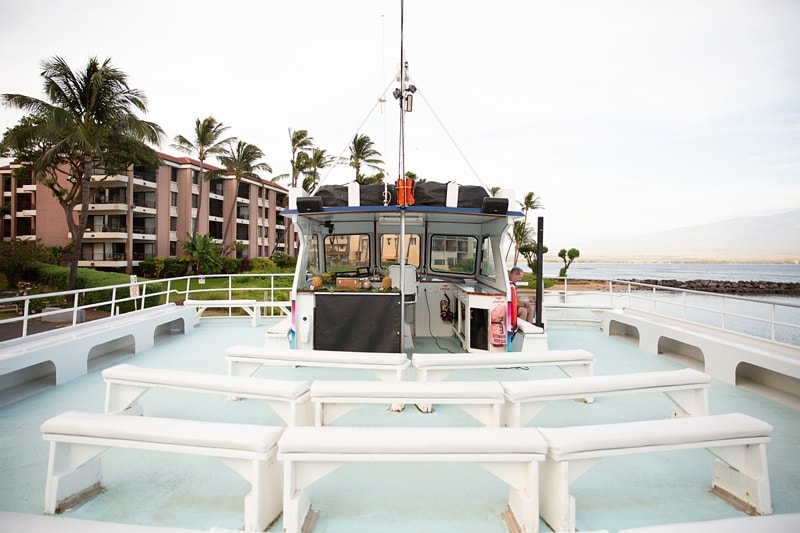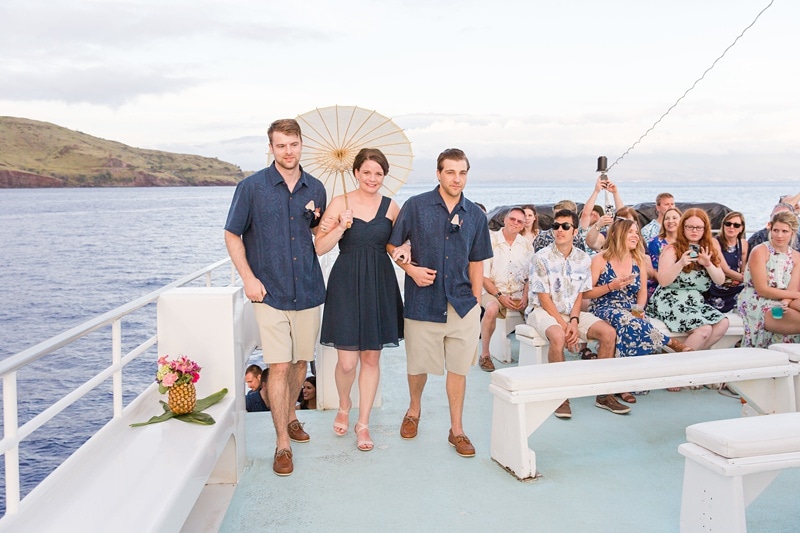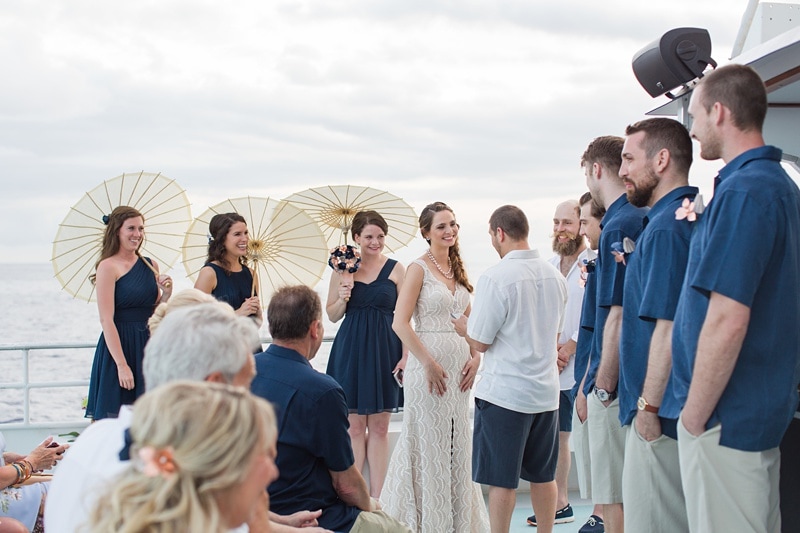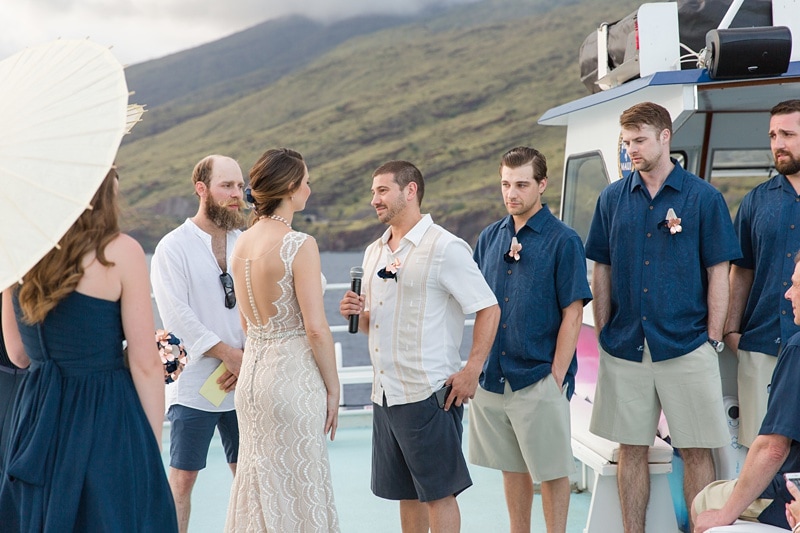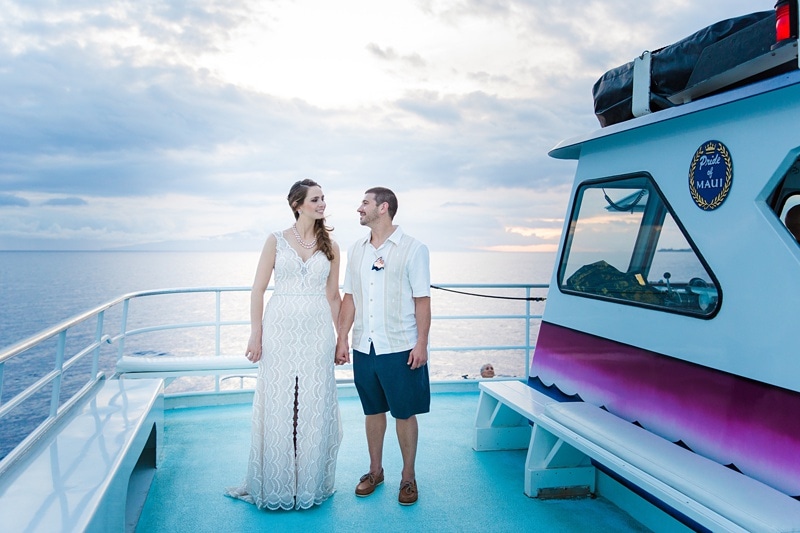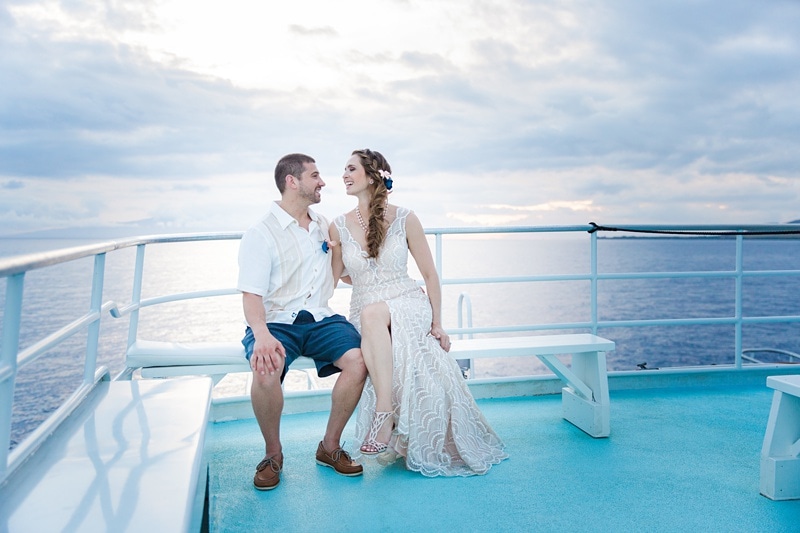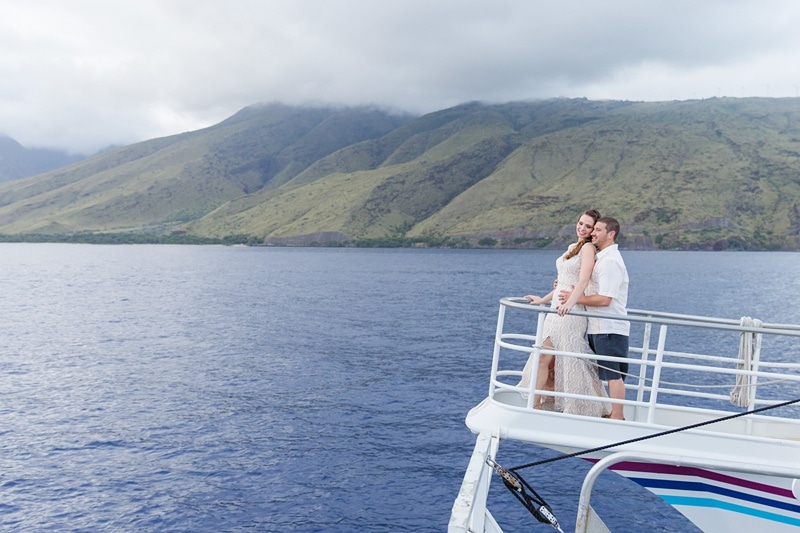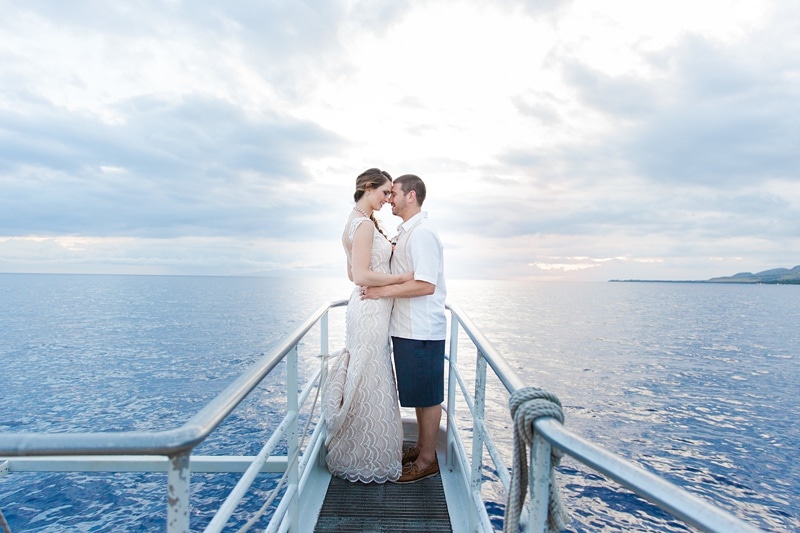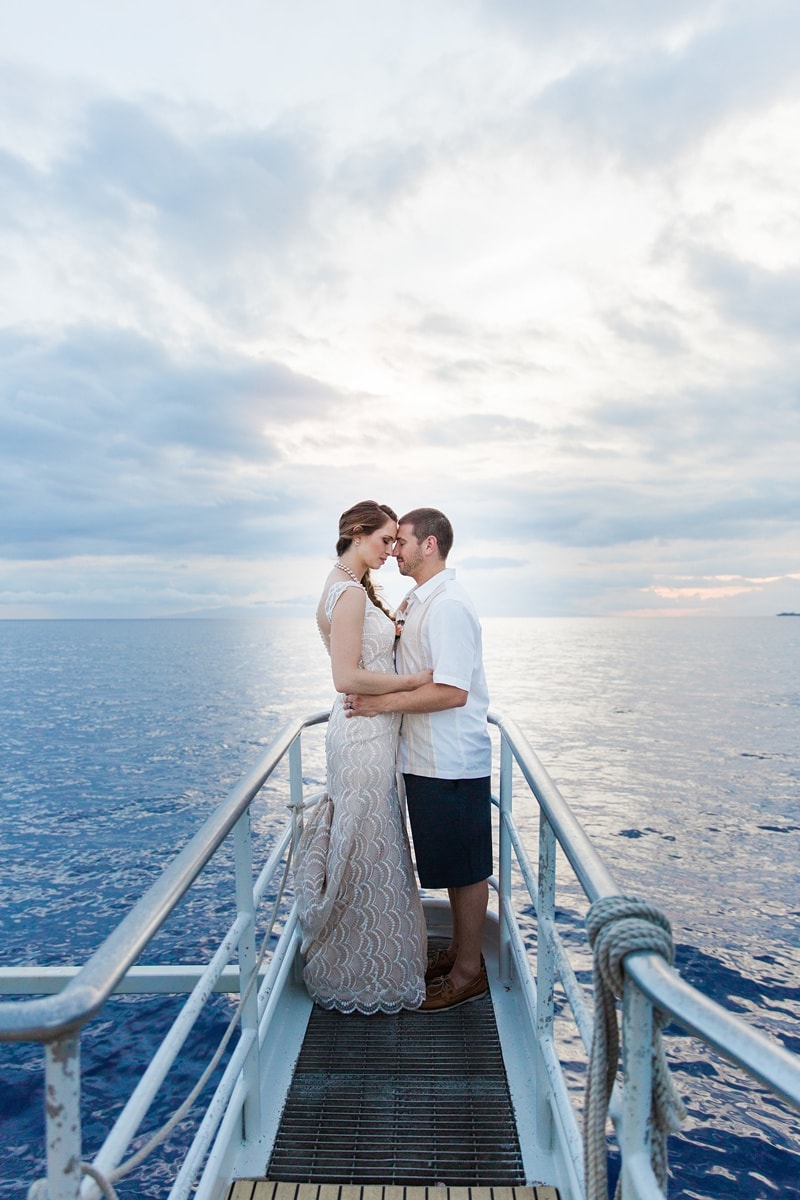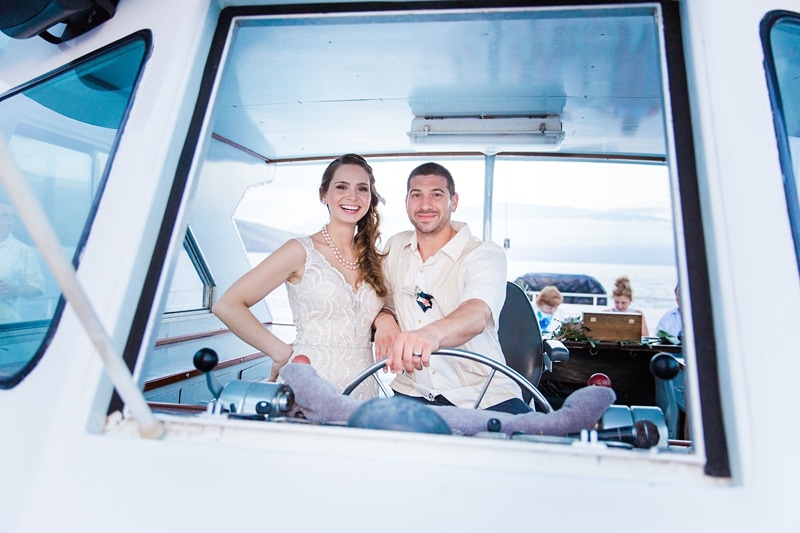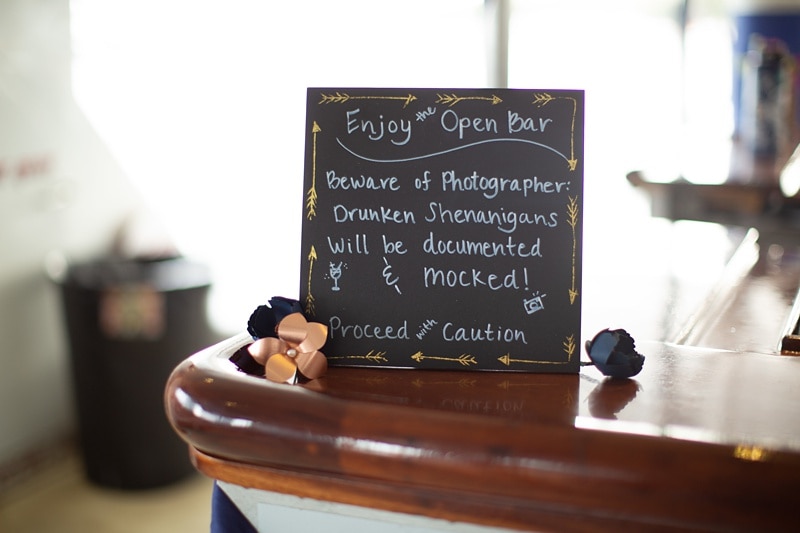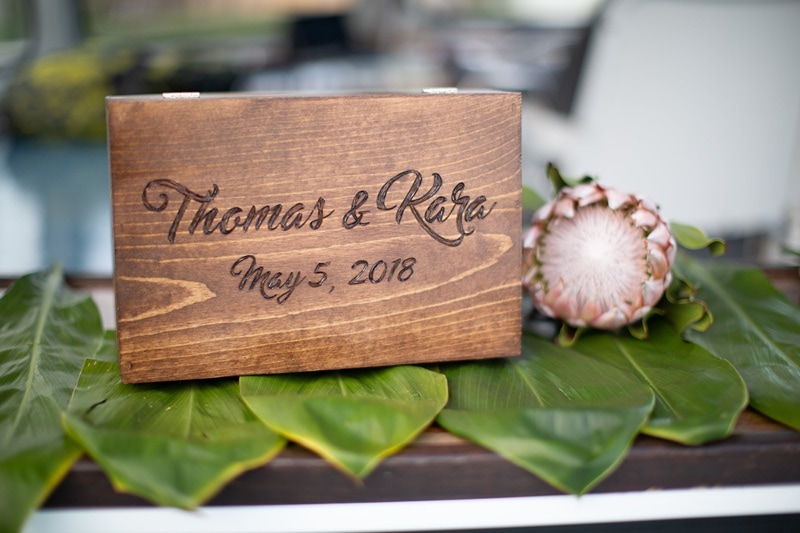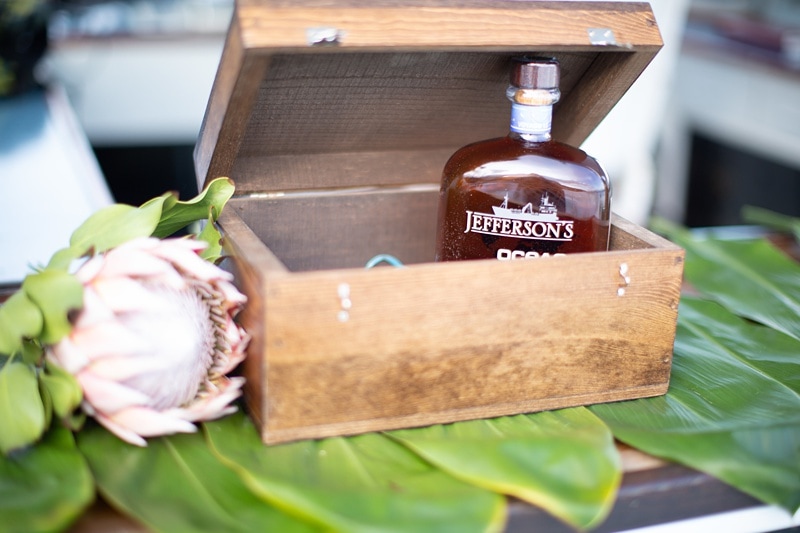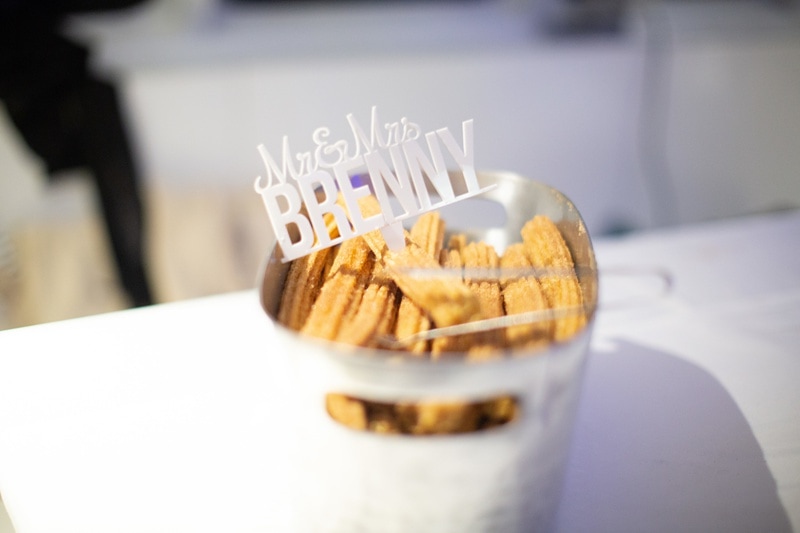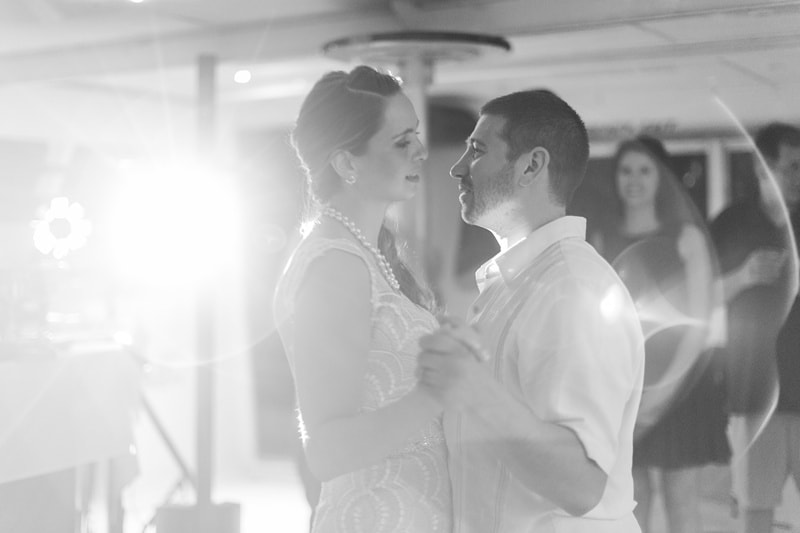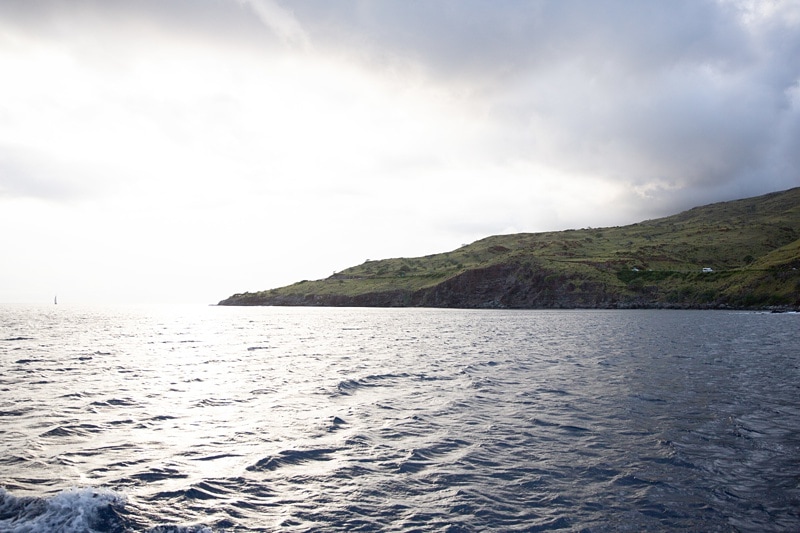 Q&A with the Bride
How did you meet?
We met online using the match dating site.
What is your proposal story?
We went on a mini vacation to Palm Springs for our 6 year dating anniversary and when we checked into the hotel, he had rose petals spelling out "will you marry me" on the bed. I walked in after him and he got down on one knee and proposed.
Tell us a little a bit about your vision for your destination wedding:
Our wedding was very much personalized to us. We got married on May 5 – also known as Cinco de Mayo. Our wedding hashtag was #cincodeMaui and our food was Mexican fajitas. Our colors were navy, rose gold and ivory. We got married with a small wedding party on a boat off the coast of Maui. I made all the wedding flowers out of paper, the bridesmaids carried parasols instead of bouquets, and our exit music was the theme song from "Top Gun". We wrote our own vows and even though they were a surprise to each other- we both referenced "Top Gun". It was what we watched on our 2nd date and is still his favorite movie.
Tell us about your attire.
It was a destination wedding in Maui so we kept it very simple and cool. Bridesmaids wore navy blue dresses they picked out from Azazie. Groomsmen wore Tommy Bahama shirts and pants with boating shoes. My dress was a mermaid style with a slit in the front and a light gold scalloped lace fabric. I wore a pink freshwater pearl necklace and I wore my hair in a fishtail braid. I've never felt more like a mermaid which is exactly what I was going for.
What was most important to the two of you while planning your catamaran wedding in Maui? Was there anything that you chose to splurge on or skip?
We splurged on Maui being our wedding destination. I splurged on my dress and on favors for the people who came all the way across the ocean just for us. We skipped on real flowers since costs were high and the landscape is beautiful enough.
What were your favorite parts of the wedding day?
My favorite part was getting ready with my bridesmaids, saying the I-do's, dancing with my dad and the entire reception – which was a non-stop party.
Tell us about your wedding flowers.
I made my own bouquet and floral hair pieces. I used card stock to make rose gold plumeria flowers, navy blue poppies, and ivory swirl roses. I love the idea that it will always stay beautiful and will never wilt. The rose gold plumerias were accented with a freshwater pearl at the center. I also made mini ivory umbrellas for the groomsmen boutonnières to match the bridesmaids' parasols.
Tell us about your wedding cake.
We planned to have cupcakes. Unfortunately, they never arrived due to the baker not filing properly and they missed the entire order. They accidentally filed it under the 15th instead of the 5th. Luckily we had churros on board to appease the crowds.
What did you do for favors?
I gave out personalized wedding bags with anchors on the front. It had our names, wedding date, and "Cinco de Maui" all in small print. Inside the bags were sunglasses, personalized chapstick, personalized shot glasses and coasters that said "Drunk in love" and a "Cheers" as well as bottle openers and bubbles for the send-off.
Did you include any family heirlooms or special traditions?
Both my mom and my mother in law gave me a hand embroidered heirloom handkerchief. I had one in my bodice and the other in my clutch.
Do you have any advice for couples planning their destination weddings now?
Don't stress out. It's impossible to do, but really try your hardest to relax. Take some time for yourself during planning to get a massage. And remember- most likely something will go awry. But you're going to marry your best friend so anything bad that happens seems so minute in the grand scheme of things. Just enjoy the day you've been planning for so long.
What was the biggest challenge of planning your destination wedding?
The biggest challenge was communicating with all the guests where to be and when. Since our venue was mobile, the guests really only had one chance to get aboard. It also meant my timeline couldn't get off track or I could miss my own wedding! Plus finding vendors while not being in town was a very real challenge.
Vendors
Photography: Eva Rieb Photography | Ceremony & Reception Venue: Pride of Maui Hair & Makeup: love and beauty maui | DJ: DJ Dan Maui | Wedding Dress: Charlotte's Bridal | Groom's Attire: Tommy Bahama | Bride's Shoes: Vince Camuto | Gifts: Ray Ban Sunglasses | Wedding Dress: Madison James