So, you've picked the perfect destination to say, "I do." Now it's time to nail down some of the specifics – like your bouquet! Creating the perfect bouquet is such an important part of completing your bridal ensemble – it's like a centerpiece that ties your entire look together! But have you ever considered artificial wedding bouquets?
I love exploring the unique alternatives to classic wedding traditions – and the bouquet is no exception! You may remember that I previously discussed real touch wedding bouquets on here, so consider this a friendly reminder of just how great of an option they really are.
Maybe you or a member of your bridal party is allergic to certain flowers… or the rare/tropical flower of your dreams is too difficult to source in your destination, or just downright too expensive.
And, real flowers die! What's that about?
Enter Plumeria Bouquets.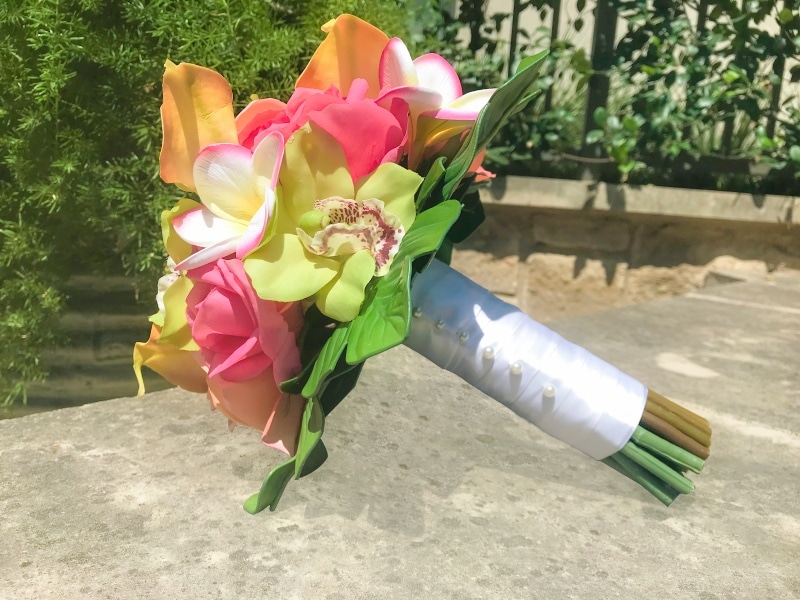 What I love About Plumeria Bouquets
Plumeria offers some of the most gorgeous, eerily deceiving artificial wedding bouquets in the game. The bouquet you create with them can echo your theme, compliment the décor, or represent something sentimental. Best of all, unlike traditional bouquets that end up in the trash, this will also serve as a gorgeous keepsake!
Sandy, the owner of Plumeria Bouquets, was gracious enough to send me a sample in the mail. I was surprised by how quickly it arrived. The package was also insured and included tracking. And that's the norm– I wasn't even getting special treatment there. I realized quickly that Sandy and I were kindred spirits with a similar passion for destination weddings. She was a destination bride too, so she just gets it. This isn't just her business, it's so clearly her passion and she takes great pride in her work. Don't just take my word for it – check out some great, detailed reviews from brides like you! I echo their sentiments exactly… Sandy is an absolute BOSS at what she does.
My Experience with Plumeria Bouquets' Real Touch Flowers
The Packaging
When I opened the box, the first thing I noticed was just how carefully the bouquet was packaged. It was in mint condition when I took it out of the box. There was even a nice personalized note, because… it's all about the details!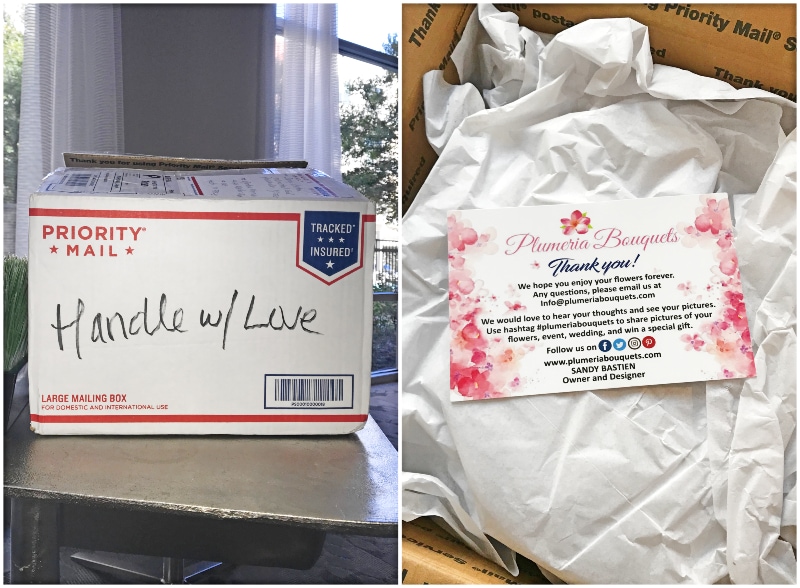 The Quality of Plumeria Bouquets
I'm not kidding when I say my bouquet looked and felt so authentic I could hardly believe it was made of faux flowers. I had to poke and prod a little just to make sure because even the texture felt so real. These are not the silk flowers you find at your local arts and crafts store. I'm kind of fascinated by the texture and how authentic it feels.
The bouquet was the perfect colorful and tropical design I adore out of a good bouquet, and it was tied together with a classy white satin ribbon wrapped around the stem and secured in place with decorative pearl head pins.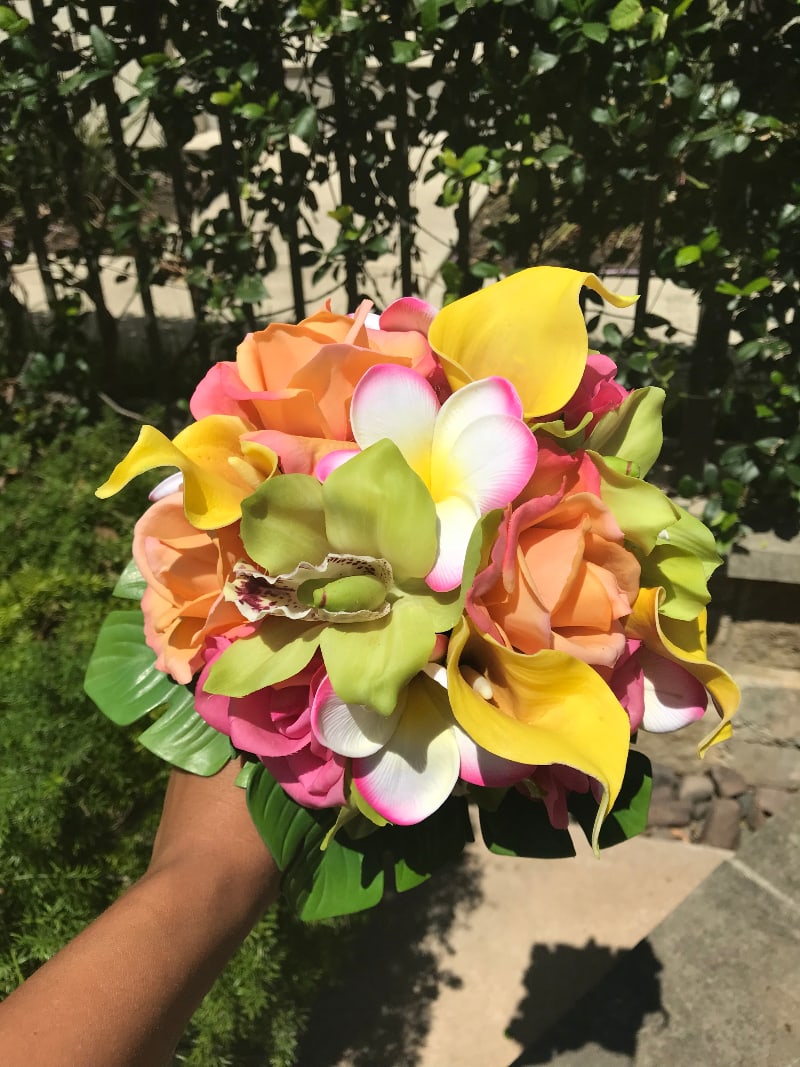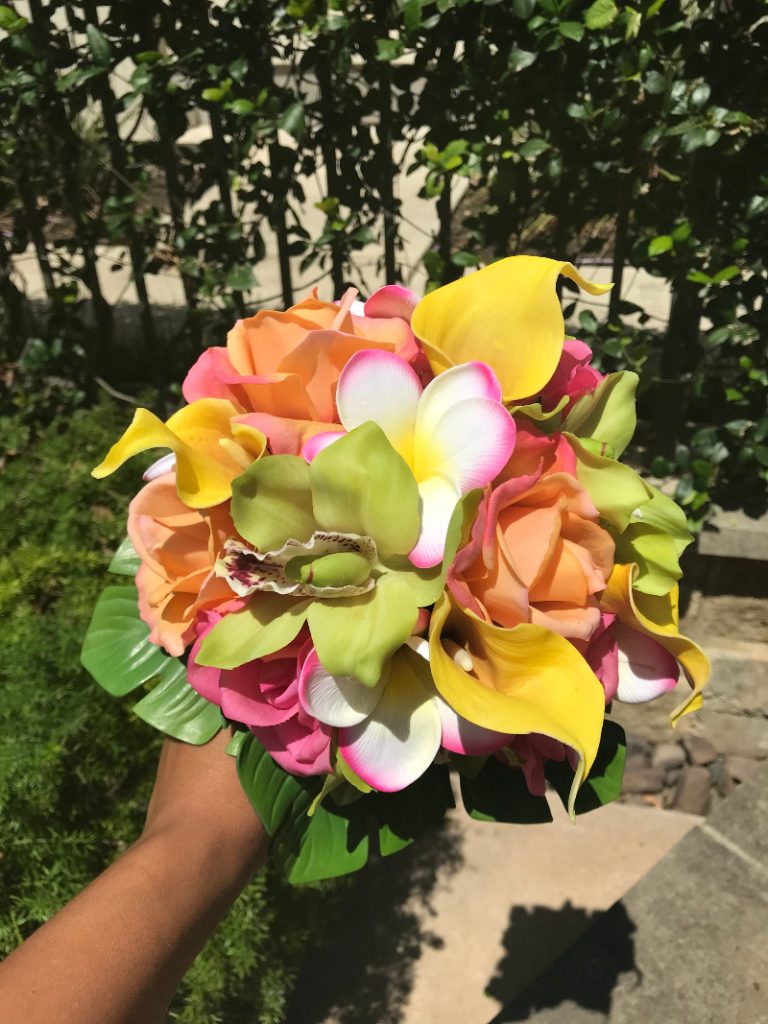 Although the artificial wedding bouquet I received was full of colorful and exotic flowers, you can customize your own in any color or assortment of flowers you want. And if the thought of deciding between plumerias, hibiscus, roses, lilies, and orchids makes your eyes cross… never fear, Sandy's got your back. With all that experience, you better believe she can concoct the perfect arrangement based on just a few conversations regarding your style and vision for your bouquet. Also, she has a ton of happy customers who've shared images of their bouquets in her gallery – so it's like your own personal dream board for inspo!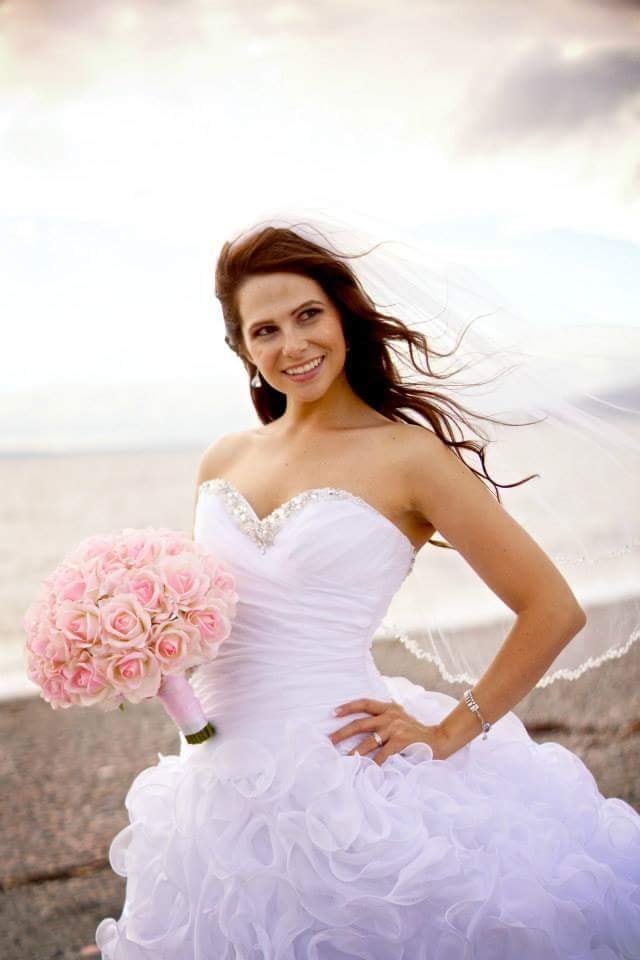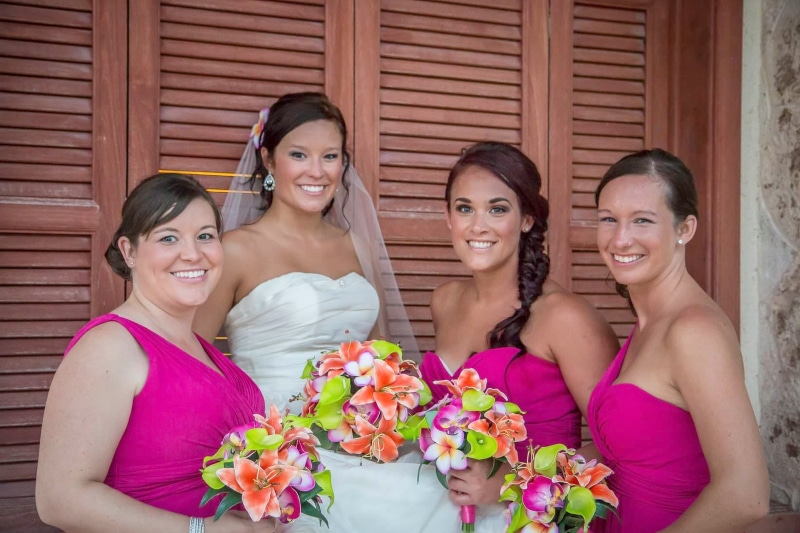 Traveling with your Artificial Wedding Bouquets
If you're wondering whether your artificial wedding bouquet will travel well, I'm here to tell you that you won't have a problem at all. This is not some cheap, flimsy silk bouquet that is going to fall apart en route. These are some strong, high quality and flexible flowers that travel well. Although I'm sure these would be just fine in your luggage, I suggest you carry on all of your important wedding day items in case of lost luggage.
If a picture is worth a thousand words, a video is worth a million! So I went ahead and shot a short video with my phone to show you the packaging and quality first hand.
Ordering Your Artificial Wedding Bouquets Online
I completely understand how hard it is to vet these things online – and that without having the bouquet in the flesh, you may not feel comfortable making a decision based on photos alone. But, I hope you guys trust that I would never do you wrong on here. My entire mission is to share my genuine experiences, and only offer recommendations on suppliers that I believe can elevate your wedding planning experience.
My policy is: if I wouldn't have considered hiring them for MY wedding, I don't recommend them to you. The best part of my job is being able to experience new, awesome products and services while talking shop with elite professionals in the destination wedding industry. I do it for you! Ok, and for me because if you hadn't realized it yet, I am a true fan of all things destination weddings – the more unique, the better! So, that's why I was so excited to test Plumeria products and evaluate the service first-hand. And my opinion is this: Plumeria Rocks!
Disclosure: This post was sponsored by Plumeria Bouquets. The opinions expressed are the author's own and do not necessarily reflect the views of any company, agency, or organization. See Disclaimer