Positano is one of the most magical wedding destinations in the world. But in case you have any doubt in your mind, Alexis & Daven's wedding album is the only proof you'll need. Every detail of this wedding was chosen to highlight all the things the region is known for –the cobalt blue of the ocean, the magenta of local bougainvillea, bright lemons, and ceramics. When we asked about her decor inspiration, the bride told us: "I was drawn to romantic watercolors and florals, but also the classy elegance of modern fonts and glass decor. I wanted to immerse our guests in a classic Italian vacation, and that's exactly what we did. Anyone can go to Italy on a vacation, but it's a rare occasion to be able to say you went to celebrate a loved one's wedding."
Now, I wasn't a guest at this wedding, but based on these amazing photos shot by Koby Brown, I'm going to venture out and say that she absolutely nailed her vision and gave guests a memorable, once-in-a-lifetime experience. And if that's not destination wedding goals, I don't know what is. Enjoy!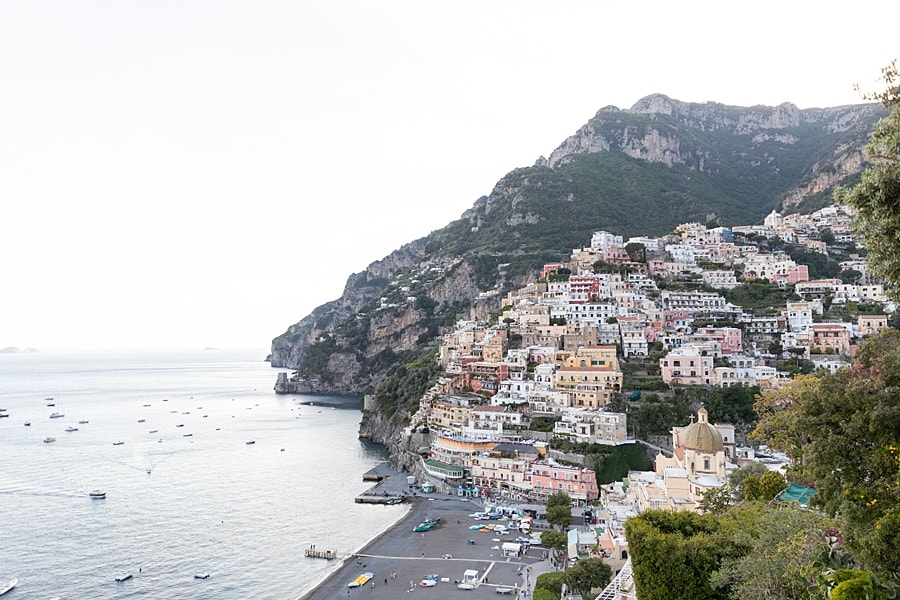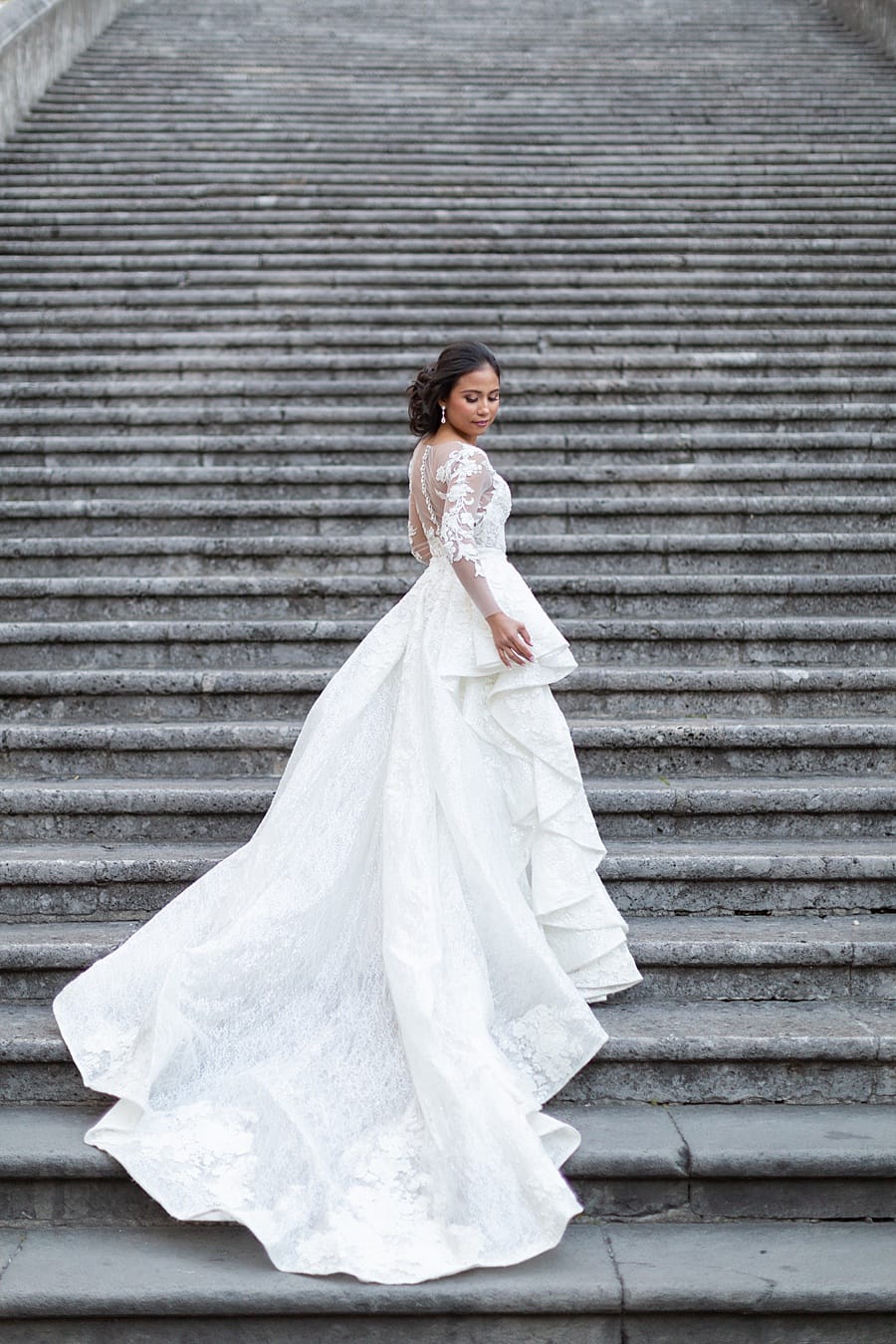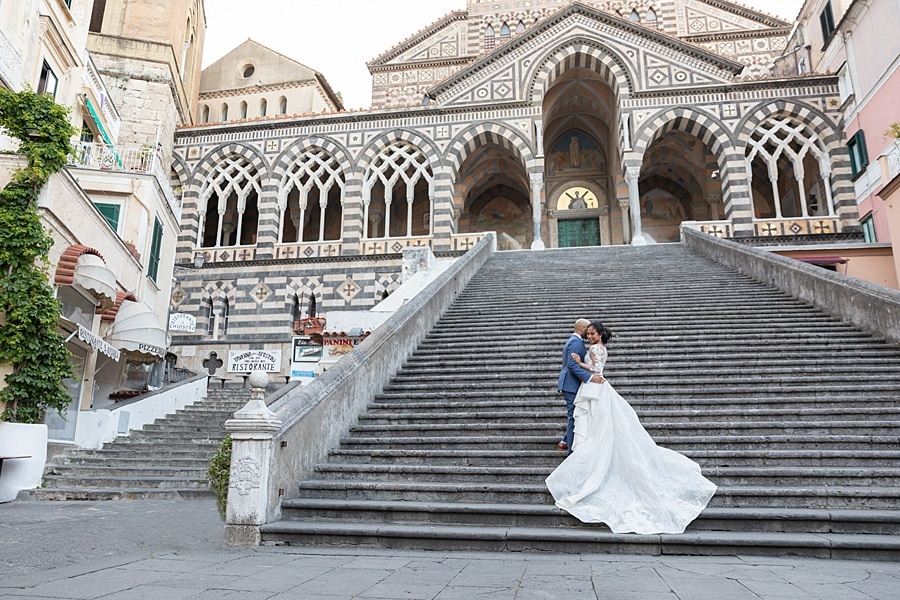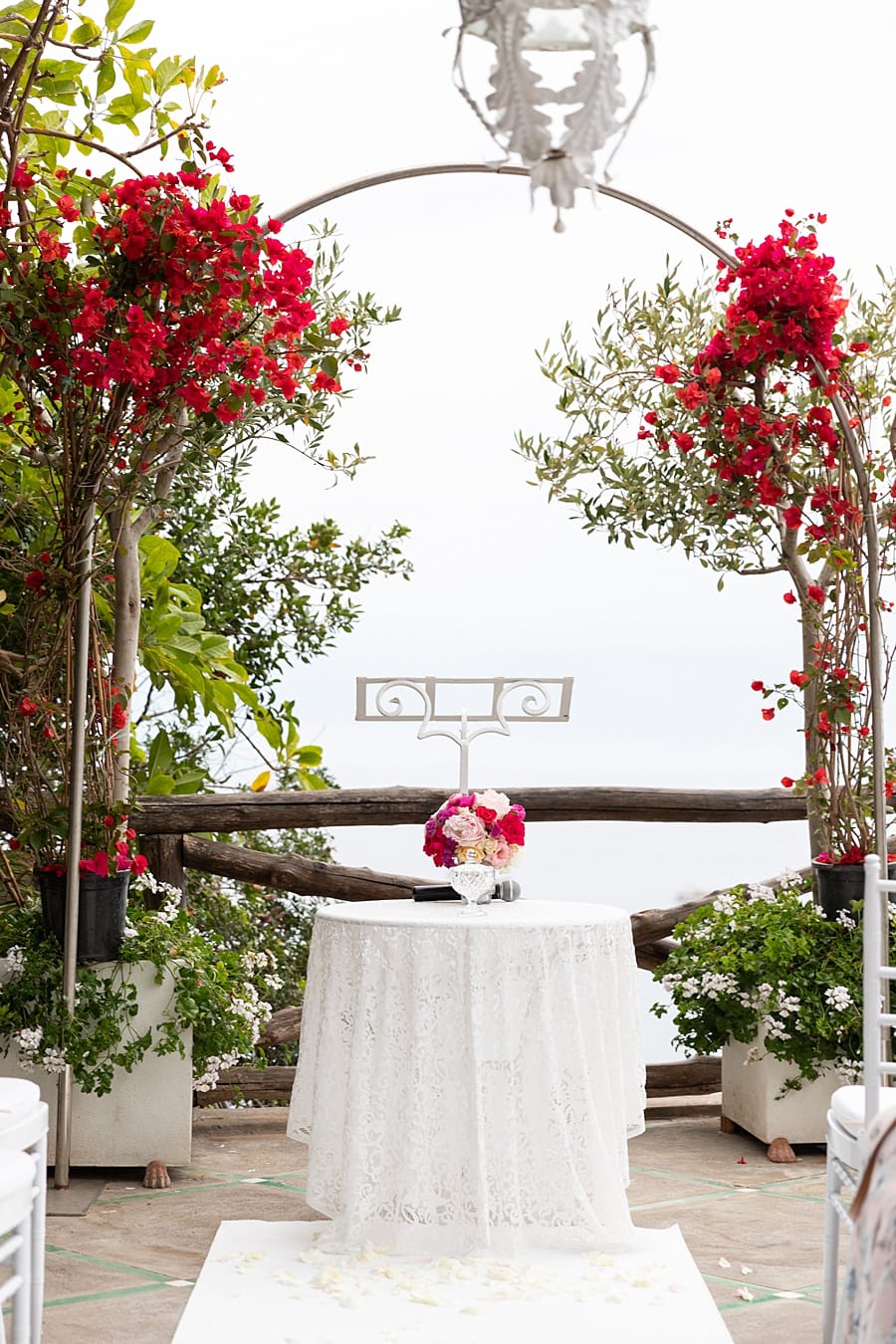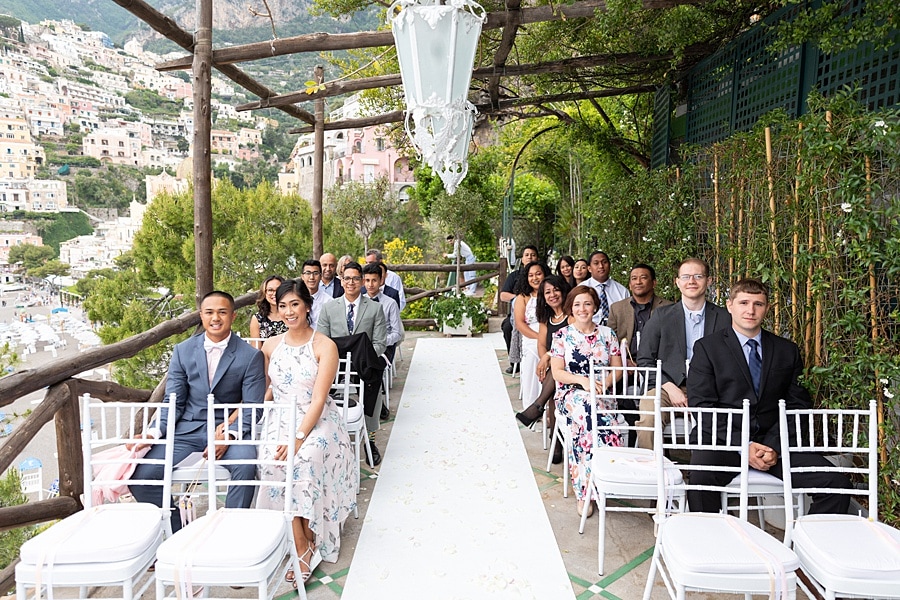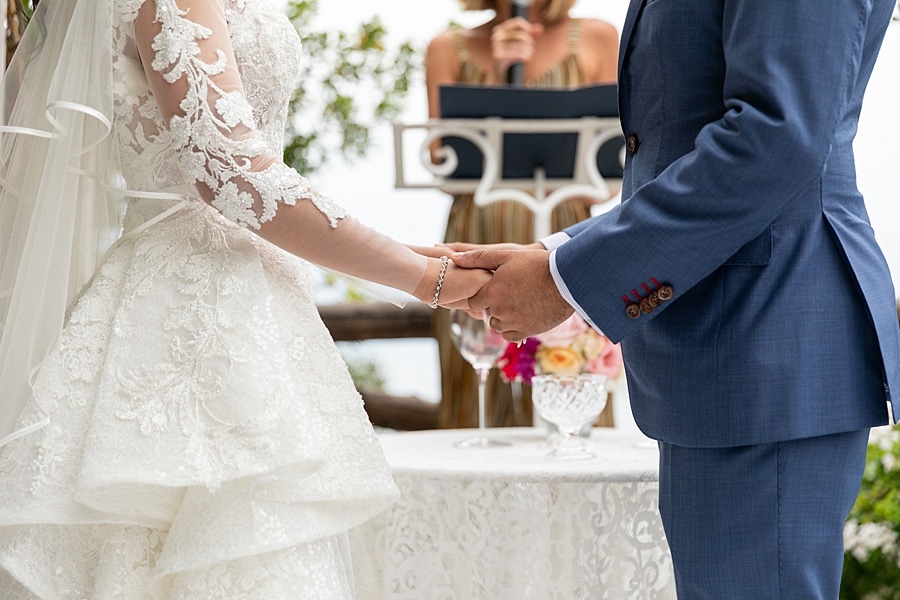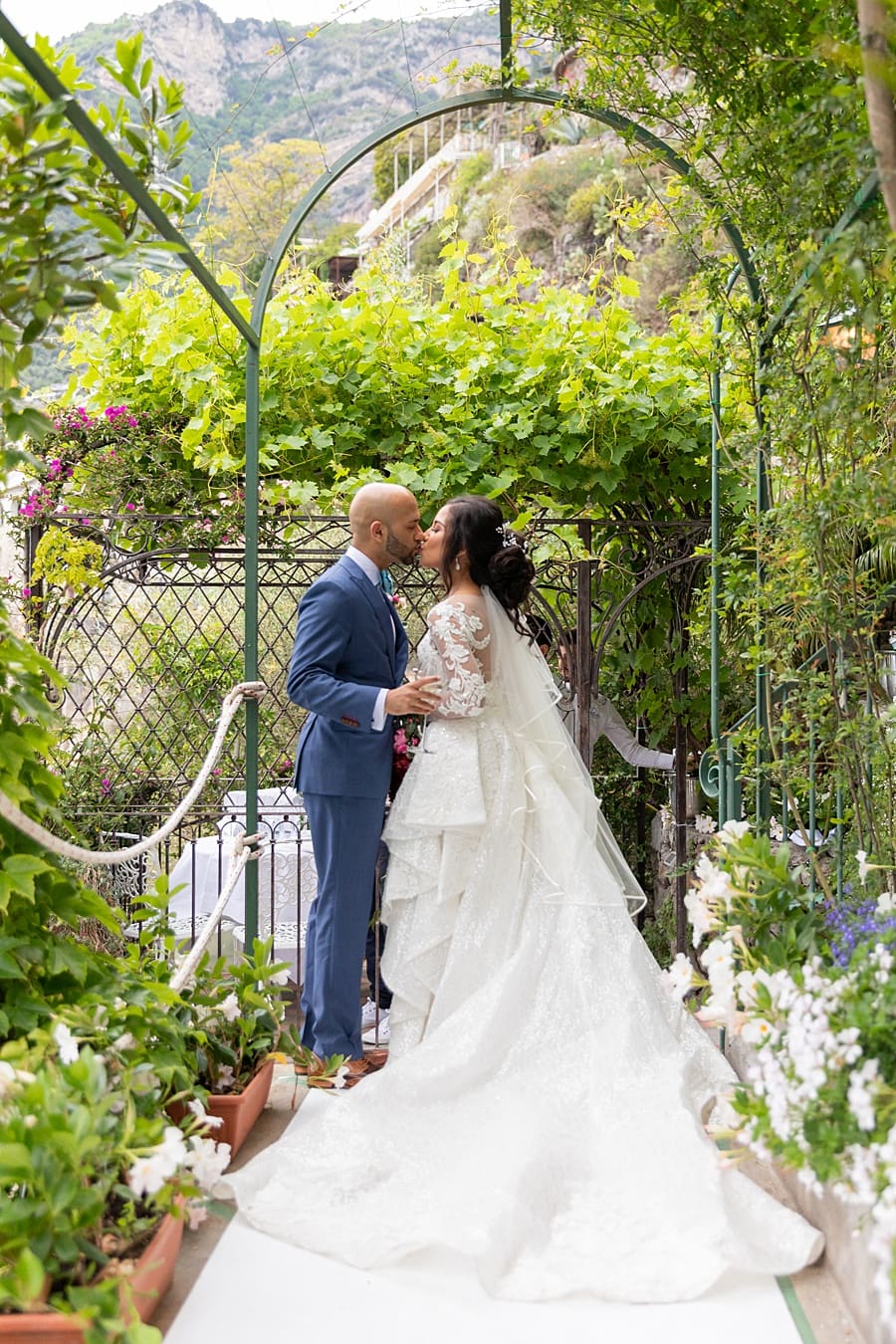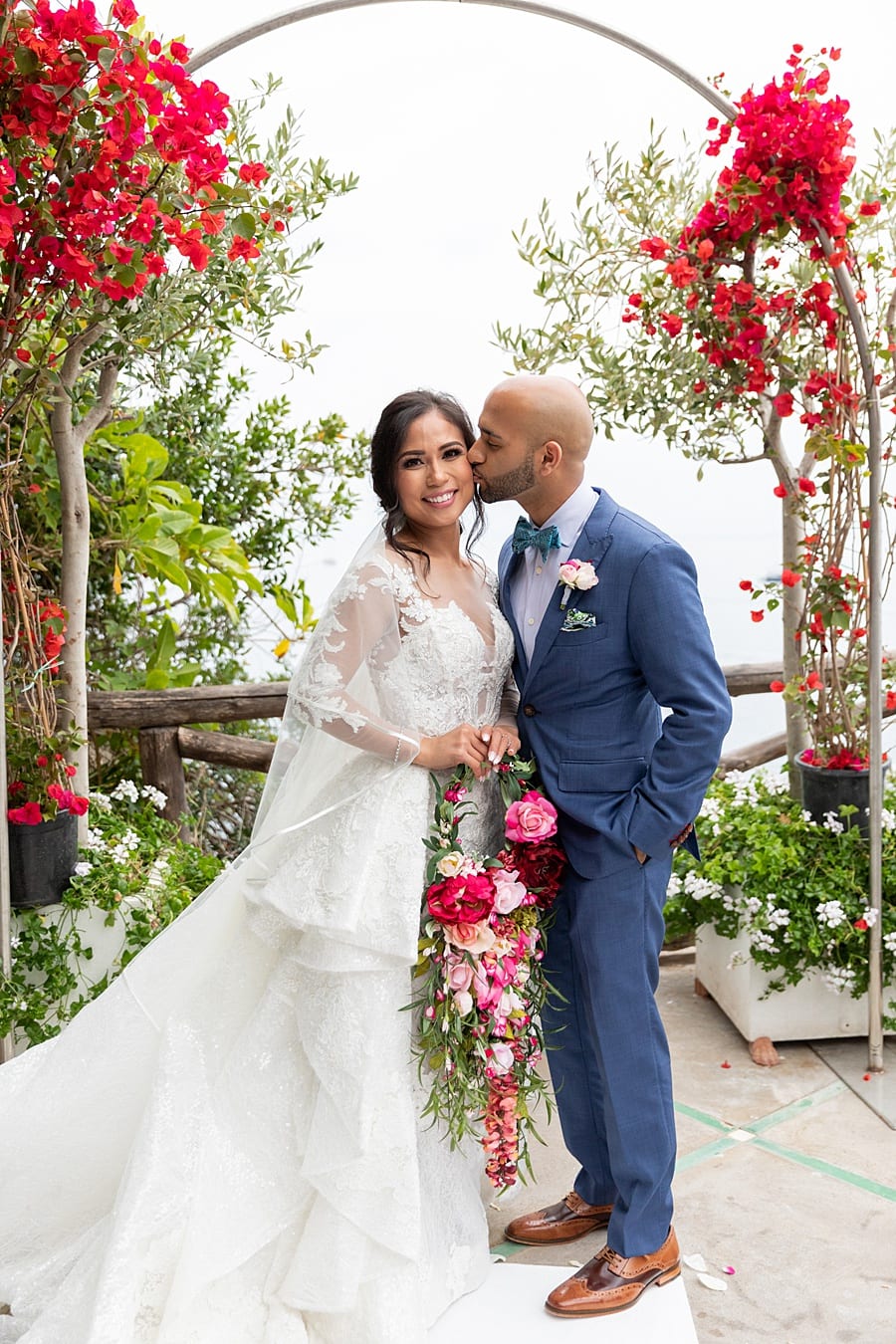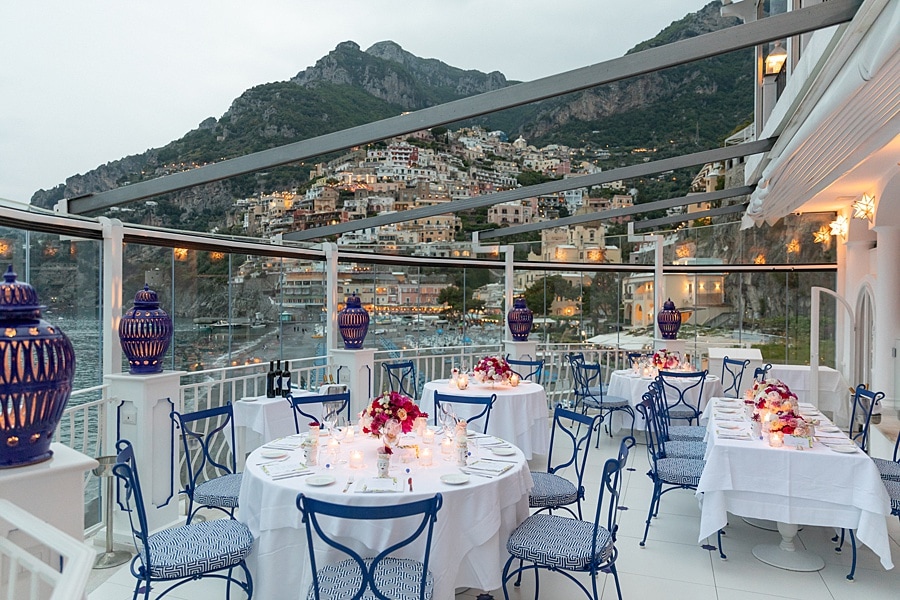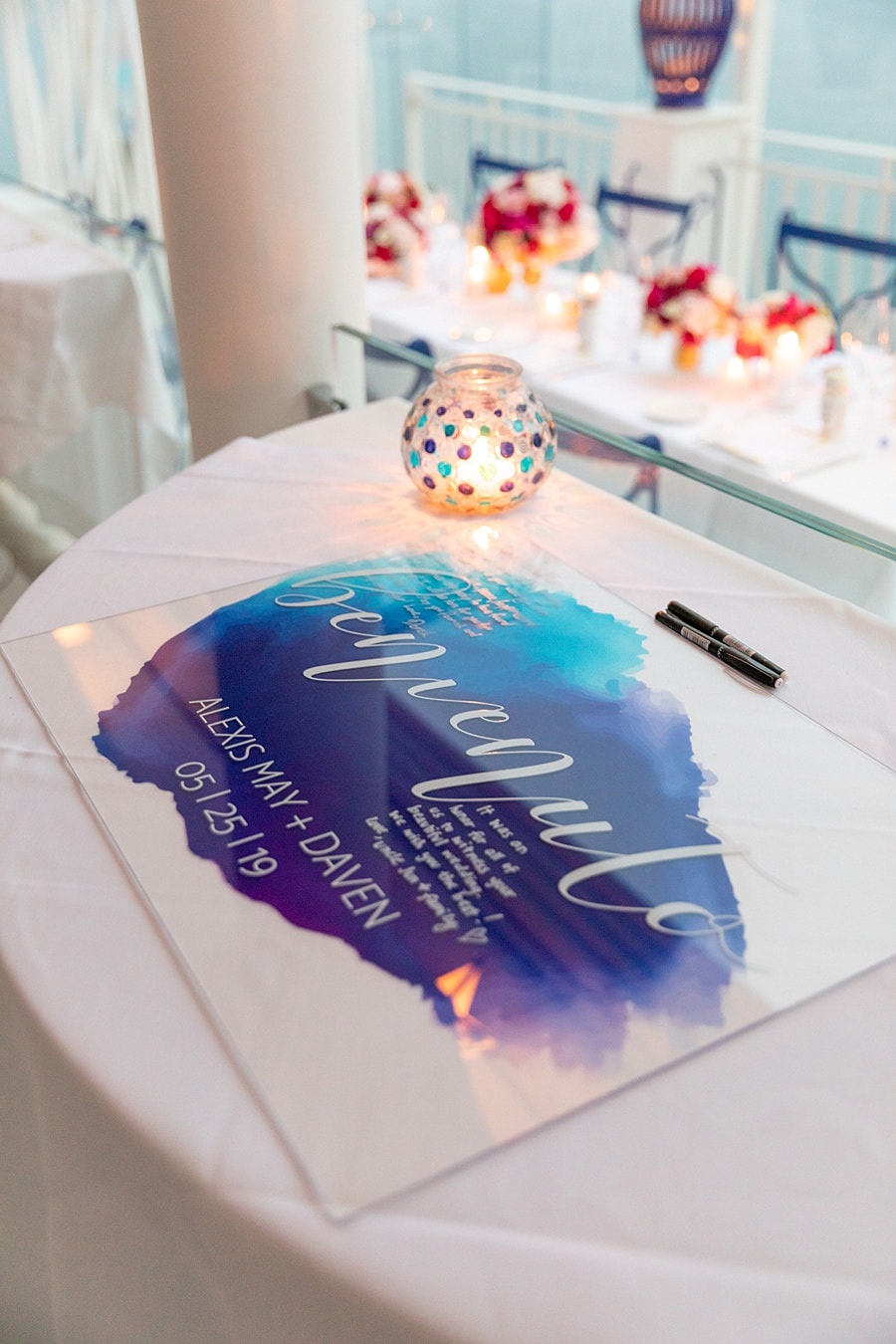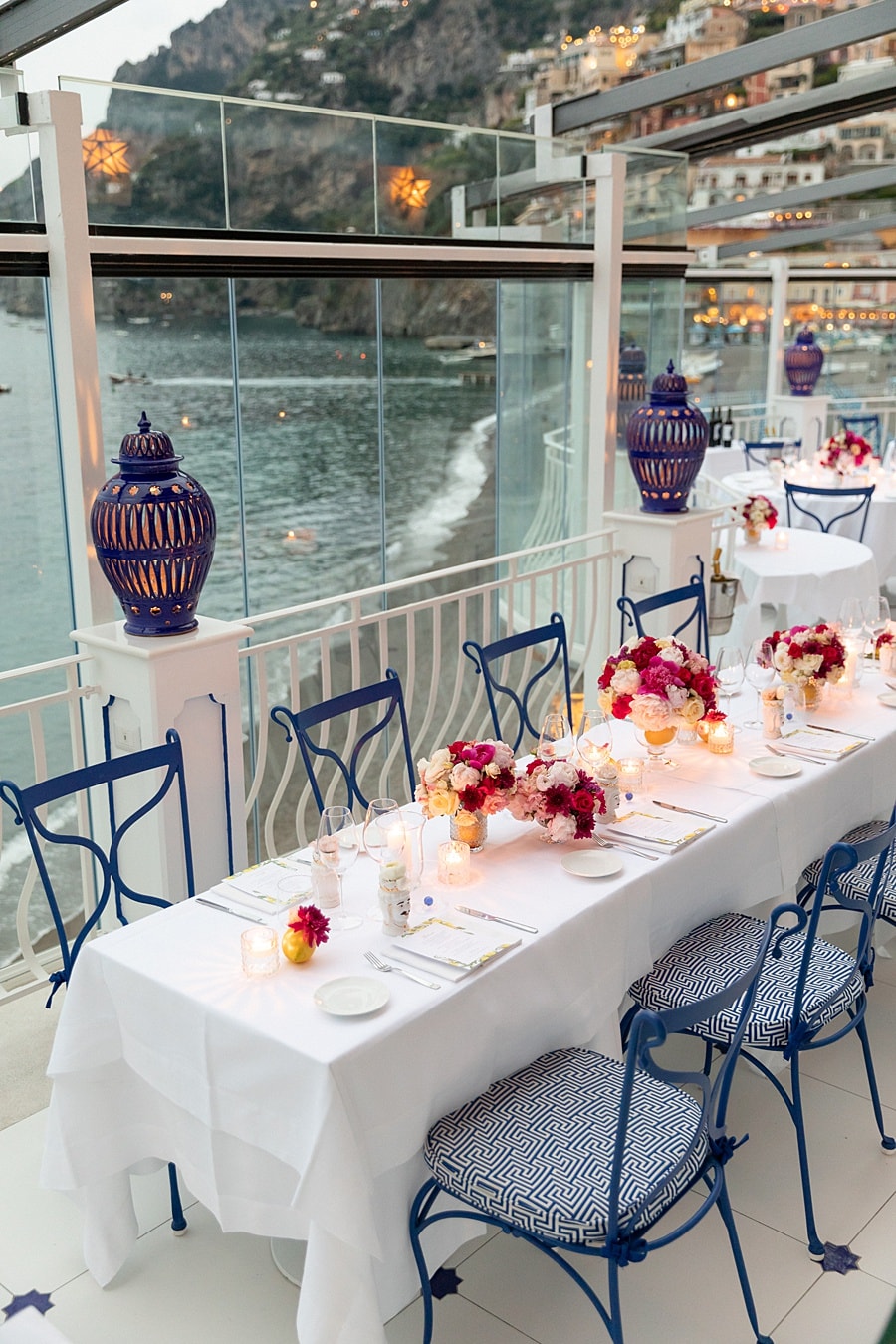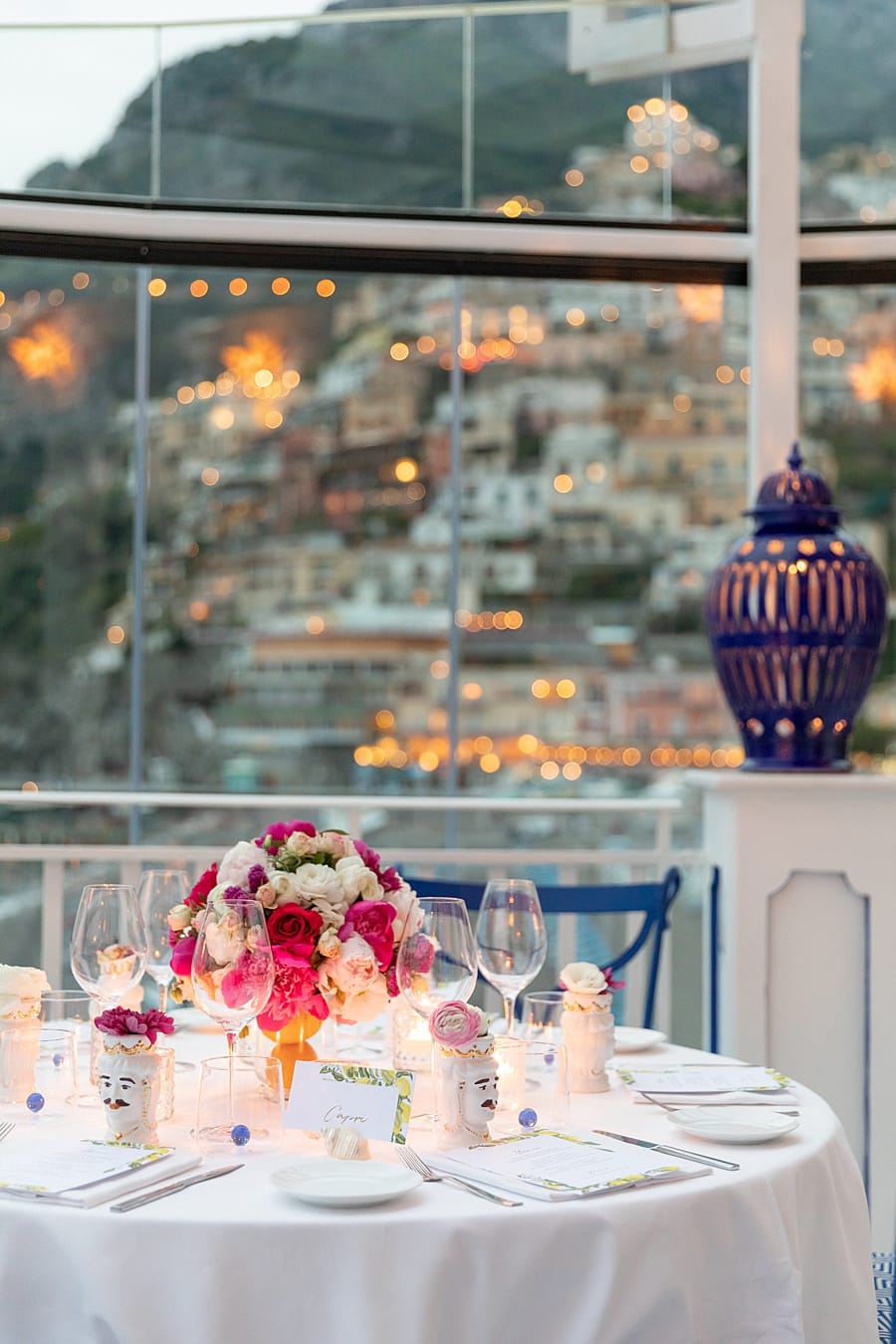 Q&A with the Bride
How did you meet?
We met while we were going to school in the beautiful, coastal town of Monterey, California.
What is your proposal story?
We were having dinner at our favorite sushi restaurant & Daven asked me to spend the rest of our lives together. It was an easy decision to say, "Yes!" to life with my best friend!
Tell us a little a bit about your wedding in Positano (your vision, color, style, and venue choices).
I spent some of the best years of my childhood living in Southern Italy. I was thrilled at the thought of sharing the things I loved with my guests to make it a truly memorable wedding. The hillside of Positano is so stunning and romantic; it made such a wonderful backdrop for the event.
Tell us about your attire.
The groom's suit was custom made by a wonderful tailor based in Washington, D.C. We were able to match the buttons to his shoes, and add details of his favorite color along the stitching. The groom's pocket square was chosen to liken the famous ceramic tile designs throughout the region. The wedding dress was so glamorous! It was the perfect gown to compliment the beauty of the Amalfi Coast. Since Positano is built into the mountainside, I needed a detachable train that would provide the luxuriousness of a modern ballgown when necessary, and not be dragged down a hundred flights of stairs! The train itself is covered with thousands of sequins that sparkle in the sun. It was absolutely gorgeous. I wouldn't have worn anything else.
What was the most important to the two of you while planning your destination wedding?
Before we decided whether to invite guests or to elope, we told our photographer that in either case we needed him there. The photography was so important to us in order to preserve the memories we would make. We ended up splurging on our attire as well since we love dressing up and celebrating. We decided to forego having bridesmaids and groomsmen beyond having a matron of honor and a best man. Our goal was for our guests to fully experience everything from food, to drinks, to music, to the freedom to sit in the audience to take it all in.
What were your favorite parts of the day?
We did an early morning photoshoot before all the guests started trickling into the destination. We drove with our photographer down to Amalfi, and had so much fun shooting for hours. He knew exactly how to make us feel at ease and really enjoy the moment. After the wedding, our venue provided a VIP lounge for us to continue celebrating at the world-famous Music on the Rocks dance club. It was so much fun to dance with all of our friends and family. The bouncer wasn't thrilled, but when else would we get to go clubbing with my 11-year-old cousin?!
Tell us about your wedding flowers.
The fresh decorative flowers, boutonnieres, and corsage were all provided by the talented event coordinators at Rada Restaurant. They were a lovely combination of bougainvillea, peonies, garden roses, burgundy dahlias with a pop of lemons. My bridal bouquet was arranged out of real-touch artificial flowers by one of my best friends. We came up with a mixture of a cascading hoop and wreath design that I will get to hang in the nursery for my future daughter. We were very pleased to see that the design we made separately ended up matching the floral decorations during the wedding.
Tell us about your wedding cake.
Our wedding cake was a very traditional Italian millefoglie cake with layers of puff pastry, custard cream, fresh strawberries and whipped cream. It was so unique compared to having a sponge cake base and absolutely delicious! I was also very grateful that the venue threw in a complimentary dessert bar. It had different kinds of Jordan almonds (traditional Italian "confetti" wedding favors) and different mousse cakes and pies.
What did you do for favors?
We gifted each guest a personalized ceramic Moorish head vase which also doubled as placeholders. These legendary pots are seen in many different sizes and variations throughout the region. I was so excited to give our guests a piece of the famous Majolica ceramics.
Did you include any special traditions?
We asked our friends and family to read the Seven Blessings from Jewish tradition.
Do you have any advice for couples planning their destination wedding in Positano now?
There are so many options nowadays for couples to do things differently. You can buy designer pre-owned wedding gowns at a fraction of the cost, or rent beautiful yet inexpensive artificial floral arrangements. You can have an intimate number of guests, and you can travel any destination. Don't be afraid to make the day one that you want to think back on and enjoy every memory. Do what you want to do. There's bound to be push back, no matter how tradition or unconventional your wedding is; don't worry about it. At the end of the day, your wedding is about you and your partner celebrating your love. Make the memories count.
What was the best part of having a destination wedding?
The best part of having a destination wedding was being able to spend time with an intimate group of friends and family over the course of several days all while giving them a memory they'll never forget! The amount of expenses and effort necessary to transform a naked venue simply cannot compete with the natural backdrop, food, culture, and exoticism of a destination. The memories and the photos are so unique, and those are the details that will last a lifetime. We definitely loved being able to focus our attention on our closest loved ones over time compared to being torn between hundreds of guests for one day.
What was the biggest challenge when planning your destination wedding?
The biggest challenge planning a destination wedding is making sure your guests are aware of all the details, locations, and timelines to ensure everything goes smoothly. Not everyone chooses to activate international roaming on their cellphones. And in those cases, they need to have all the details well beforehand. Your loved ones are traveling to attend your wedding, but not everyone is comfortable in a foreign area or an experienced traveler. Be mindful of this. Work with your wedding planner/coordinator, and allow plenty of time in-between events to make sure everyone is present or has the means to get where they need to be.
Vendors
Photography: Koby Brown Photography | Ceremony & Reception Venue: Rada Positano | Hair & Makeup: Magnificence Professional Makeup | | Favors: Ceramica Assunta | Wedding Dress: Crystal Design Couture | Groom's Attire: The Capital Tailor | Bride's Shoes: Badgley Mischka | Groom's Shoes: Stacy Adams