When your beau proposes to you on a trip to Italy, it is only right that you go back to that same spot to get married! For Sophie & Sean, the plan for a destination wedding formed almost immediately. "Sean organized to hire a boat which he drove around the lake and planned to stop in front of Isola del Garda which is where he got down on one knee and proposed. We popped the Prosecco and celebrated by spending the rest of the day swimming in the lake. We fell in love with Lake Garda and said one day we would love to get married there."
When it came to design, it was all about that effortlessly elegant Italian style. With venues steeped in centuries old character, it is hard to go wrong! This idyllic lakeside ceremony is the stuff of dreams. I'm pretty sure arriving by boat to your ceremony needs to be standard! After their romantic waterside ceremony, they headed up the mountains for a cliffside reception.
Surrounded by your favorite people at one of the most romantic places on earth, this wedding is definite goals! Scroll to see all the beauty captured by ElsieLove Photography!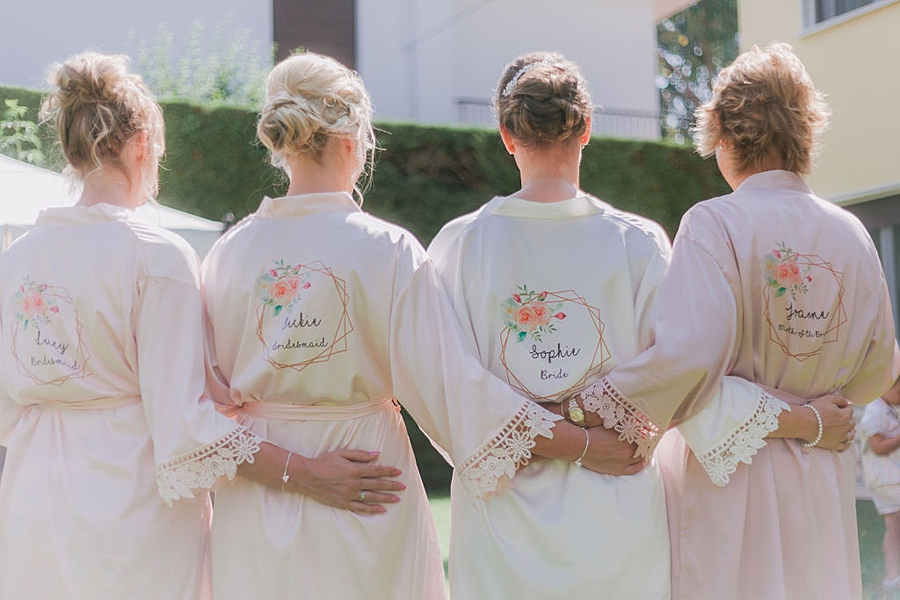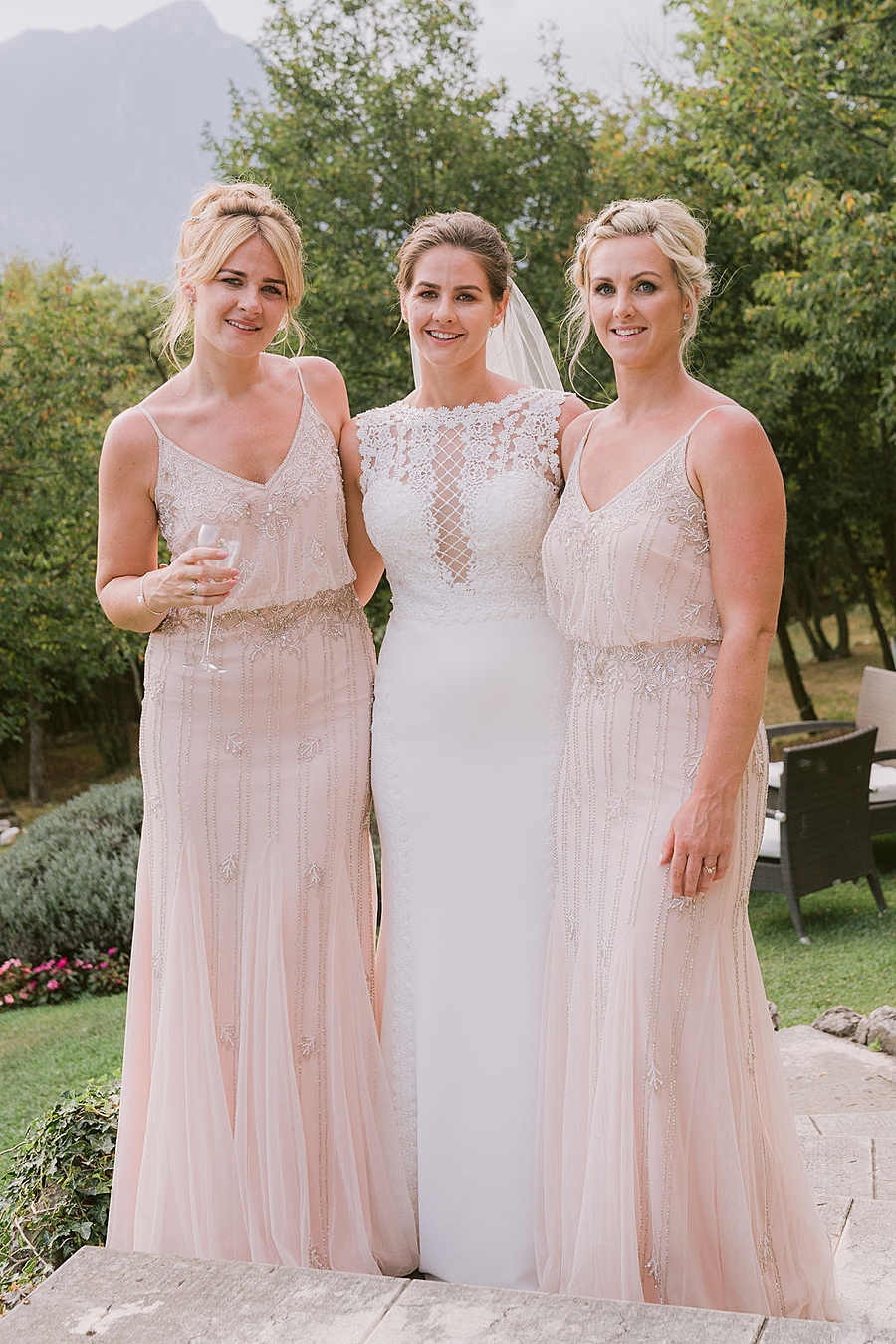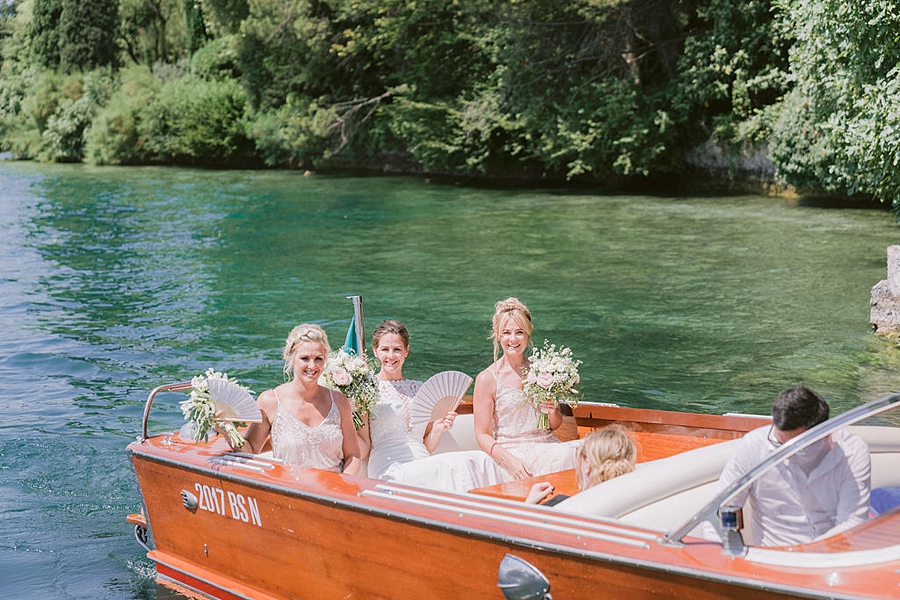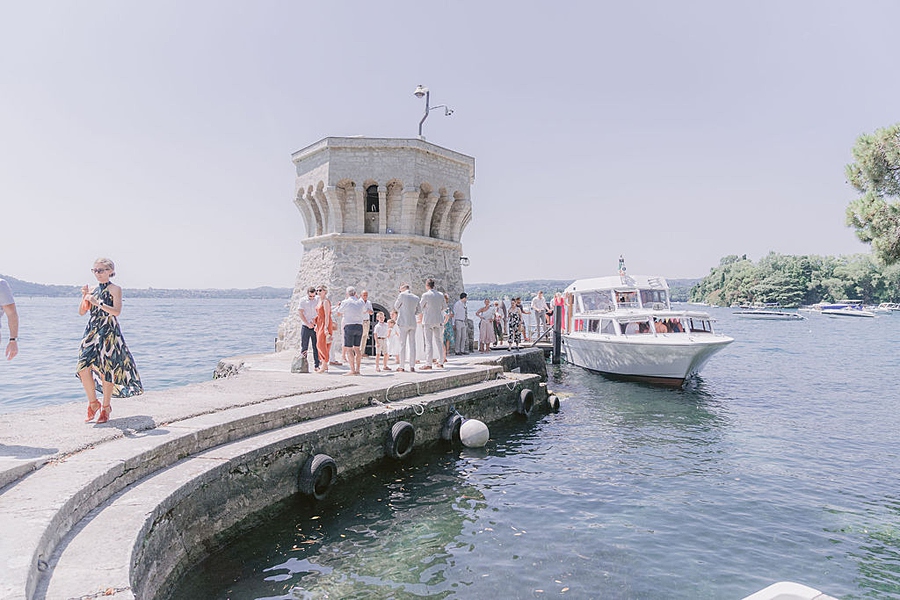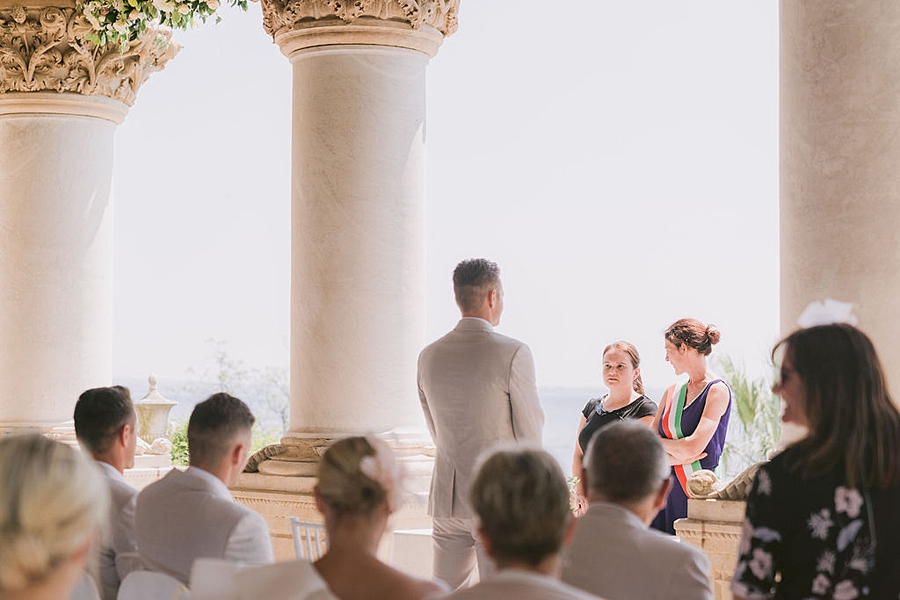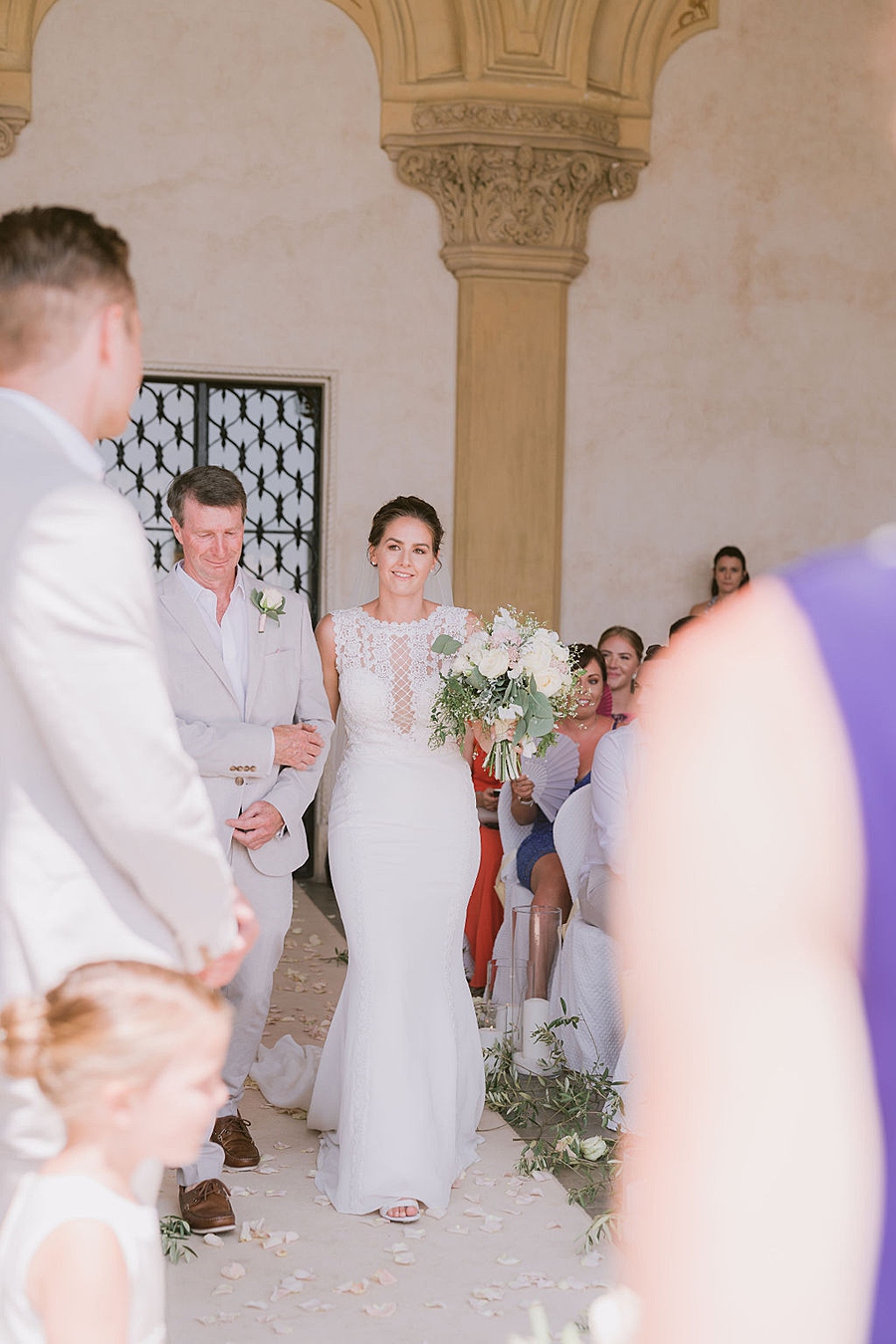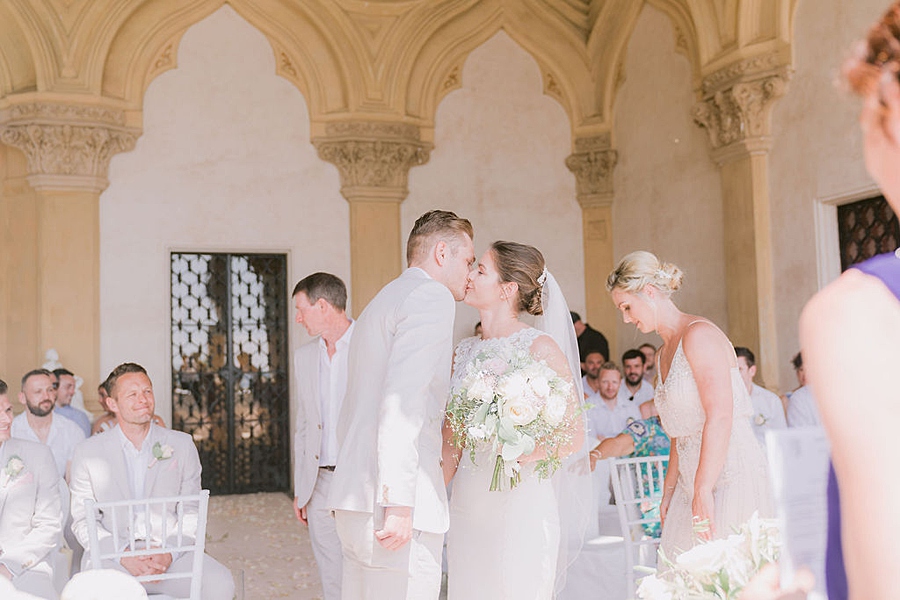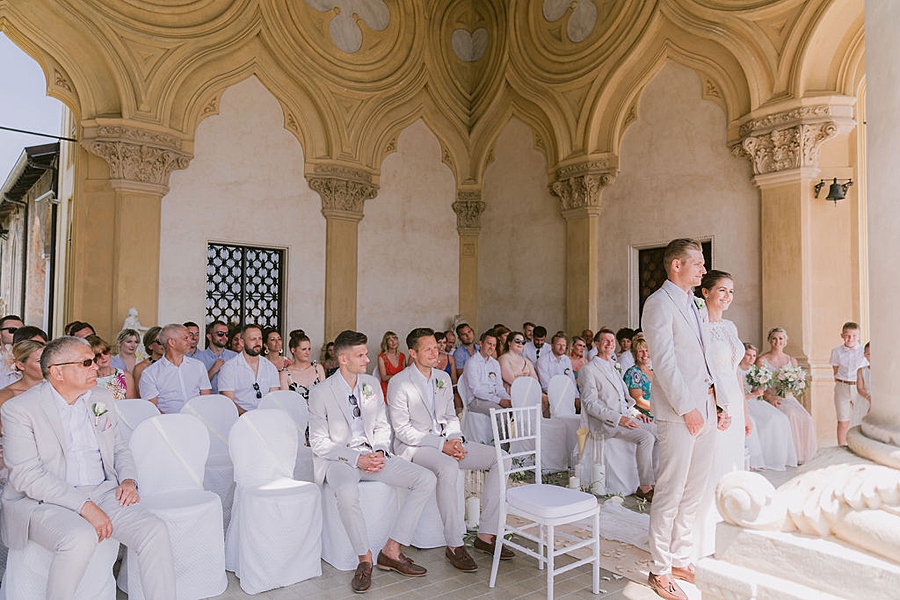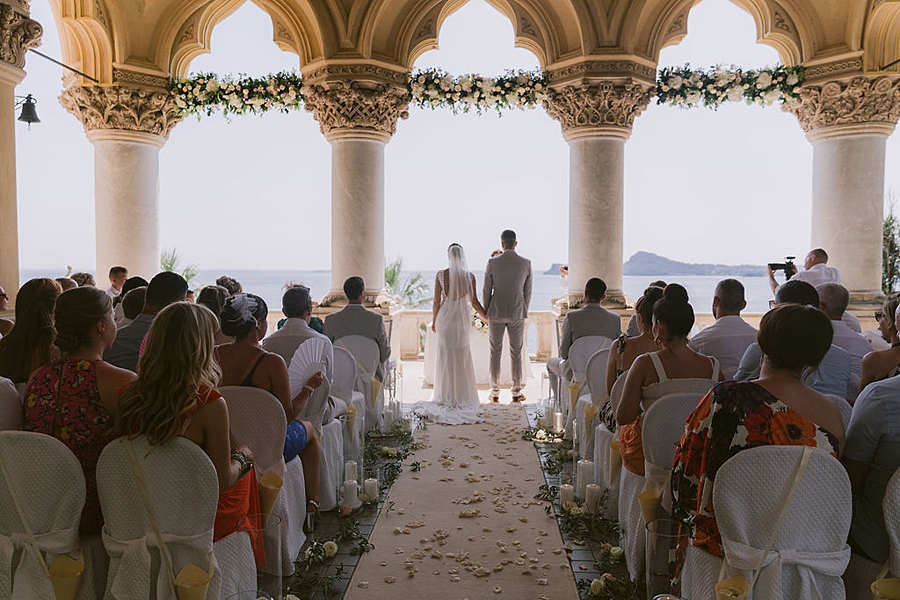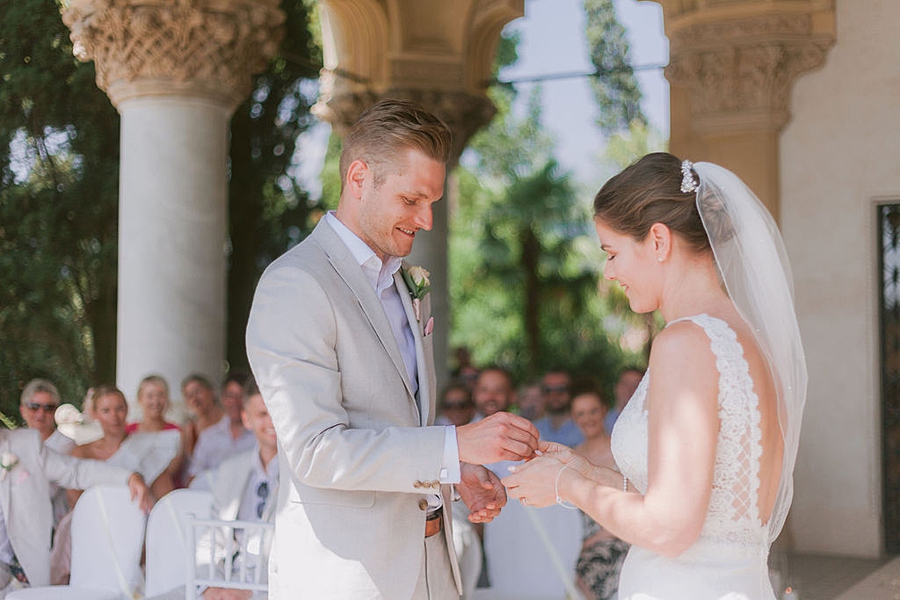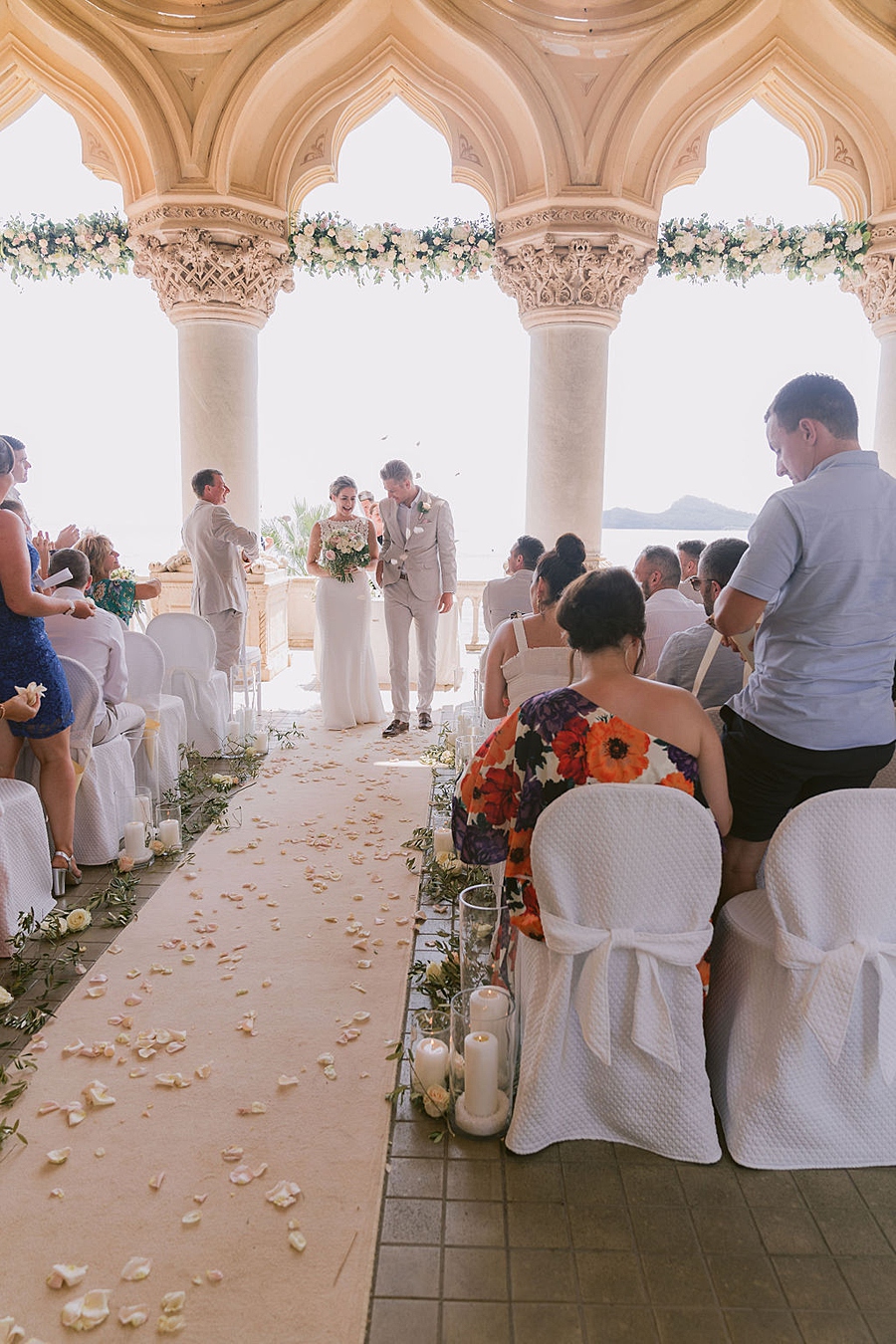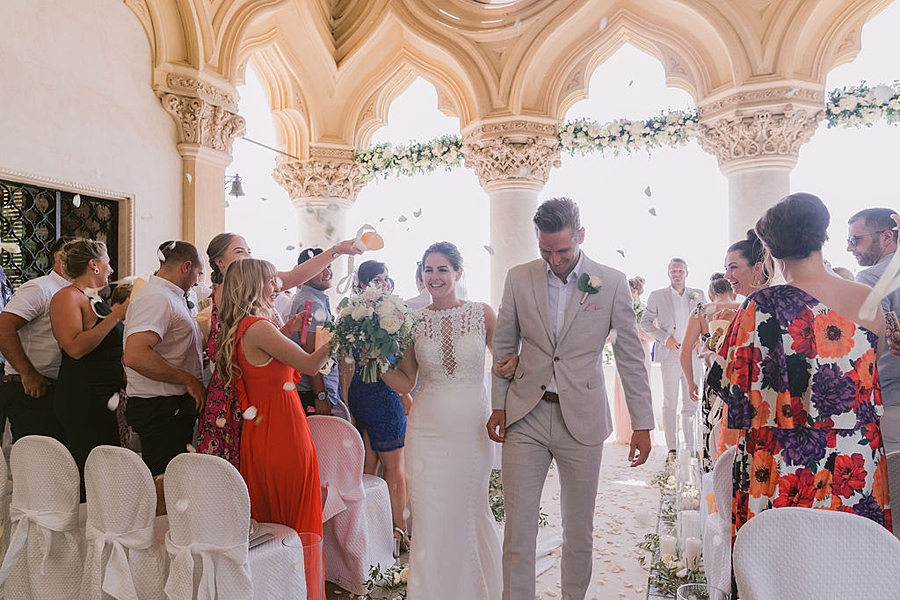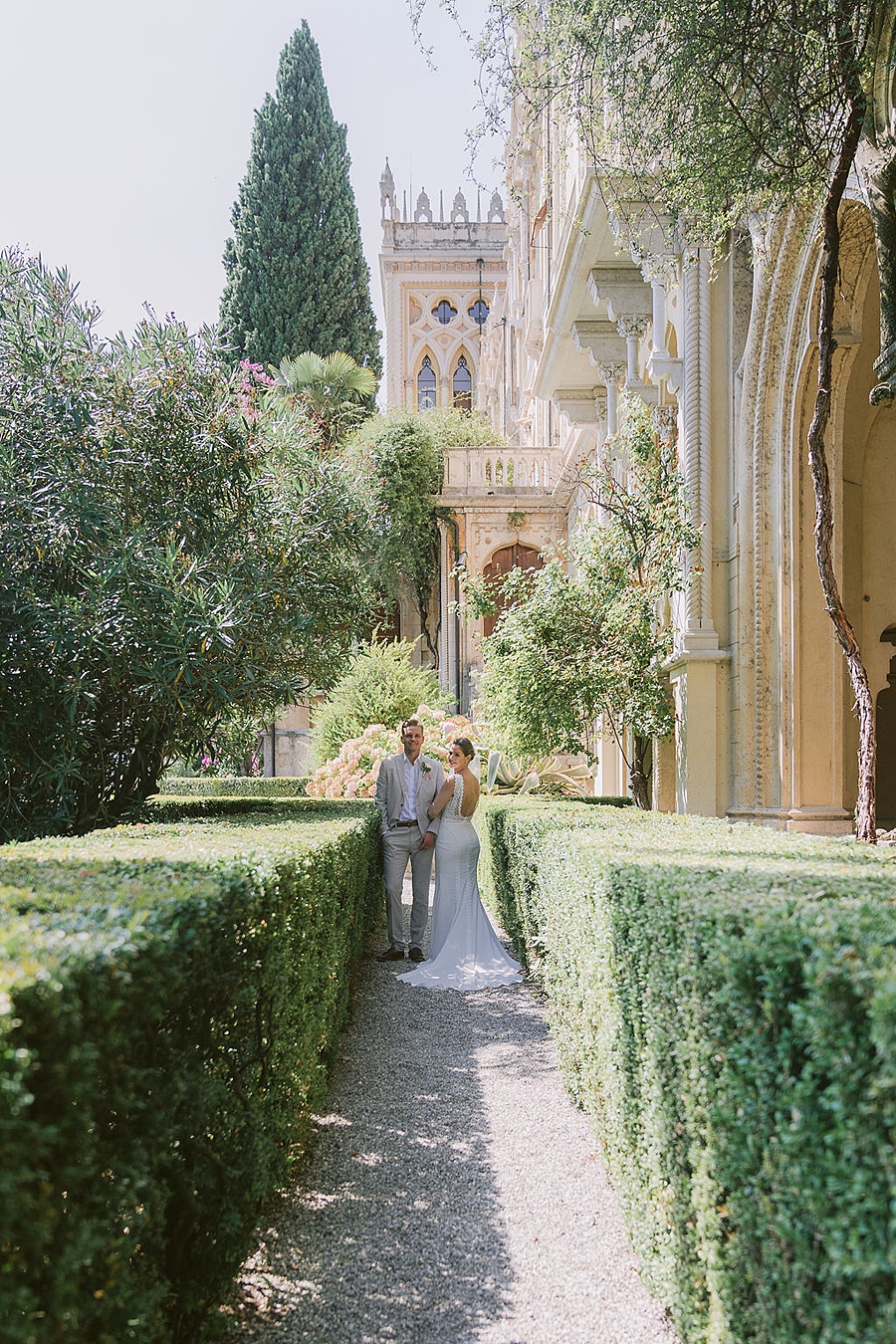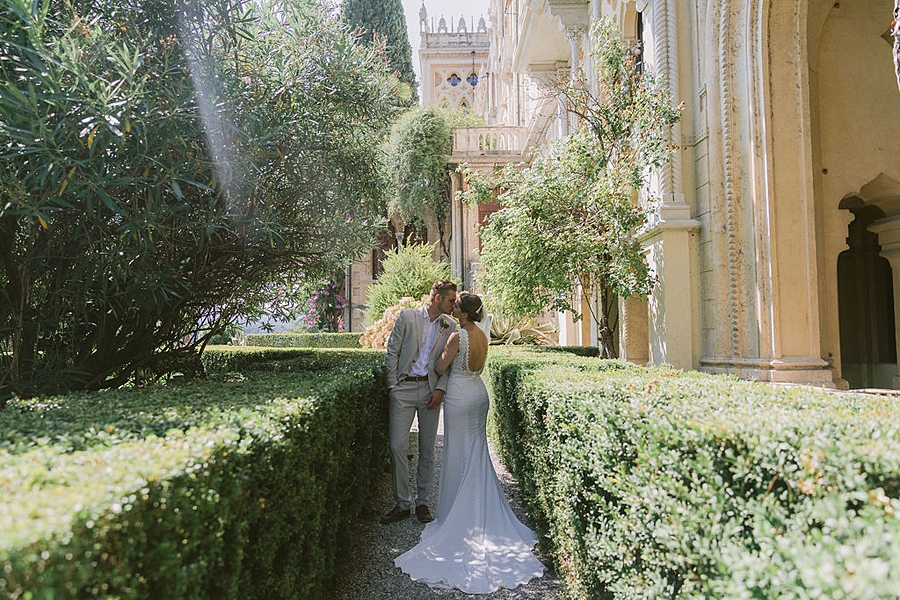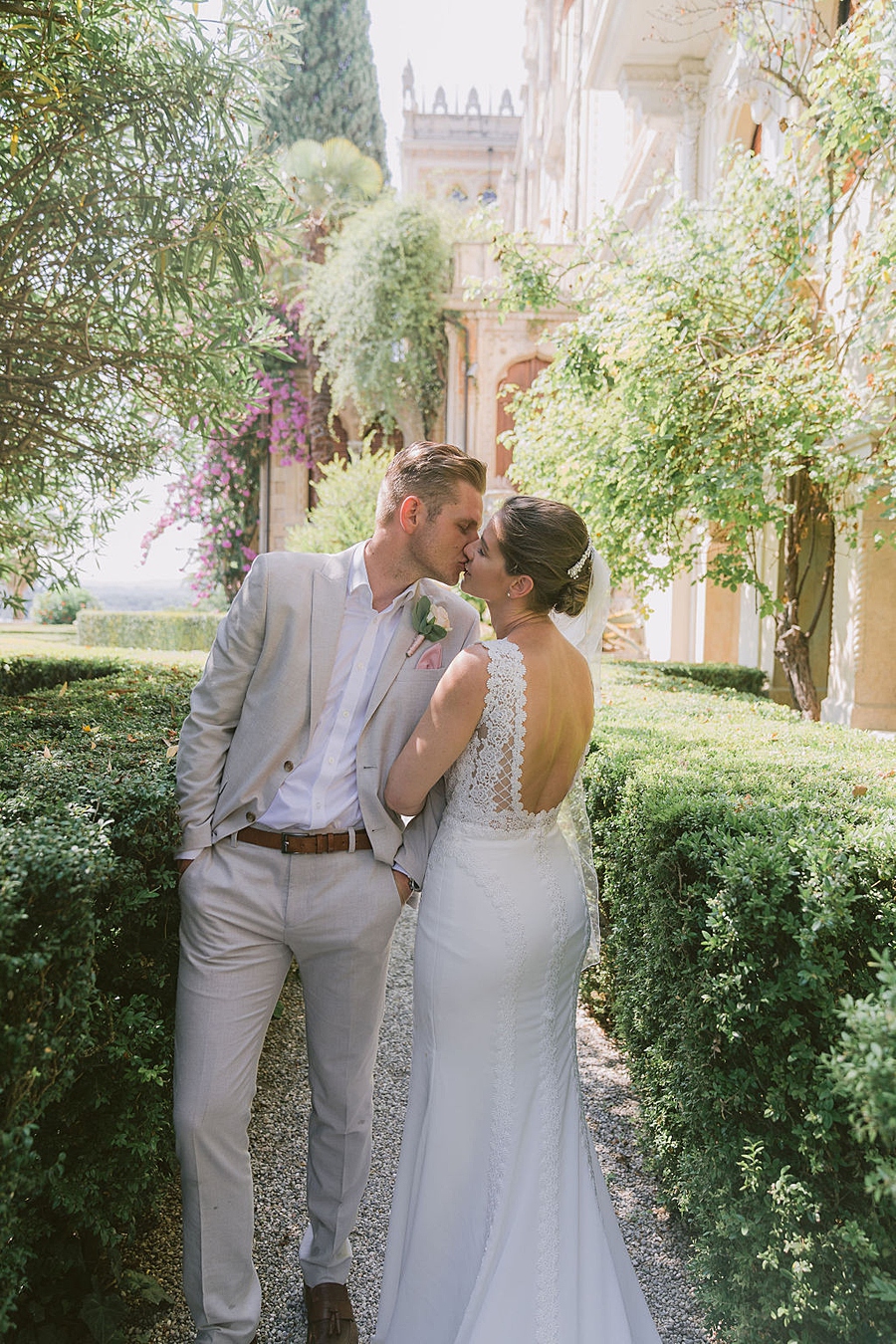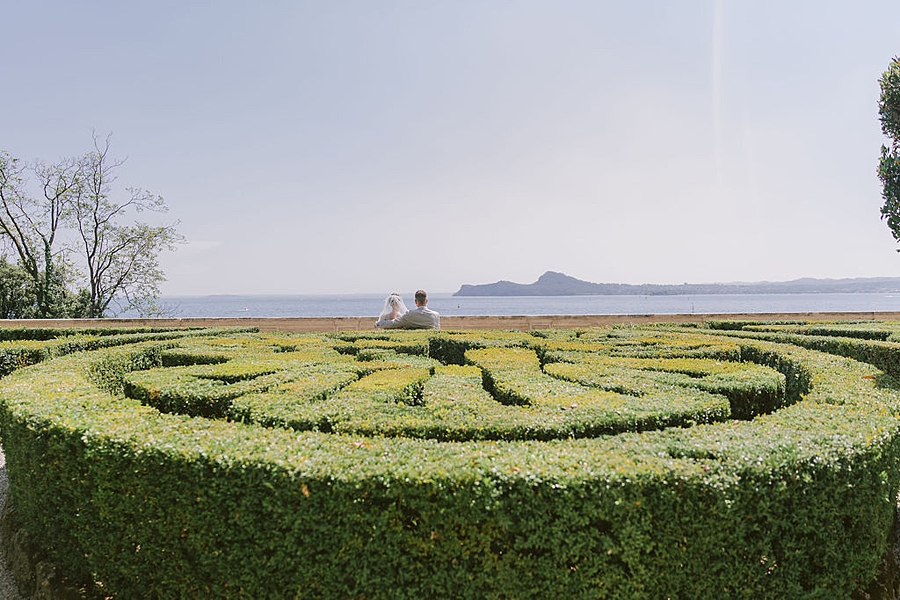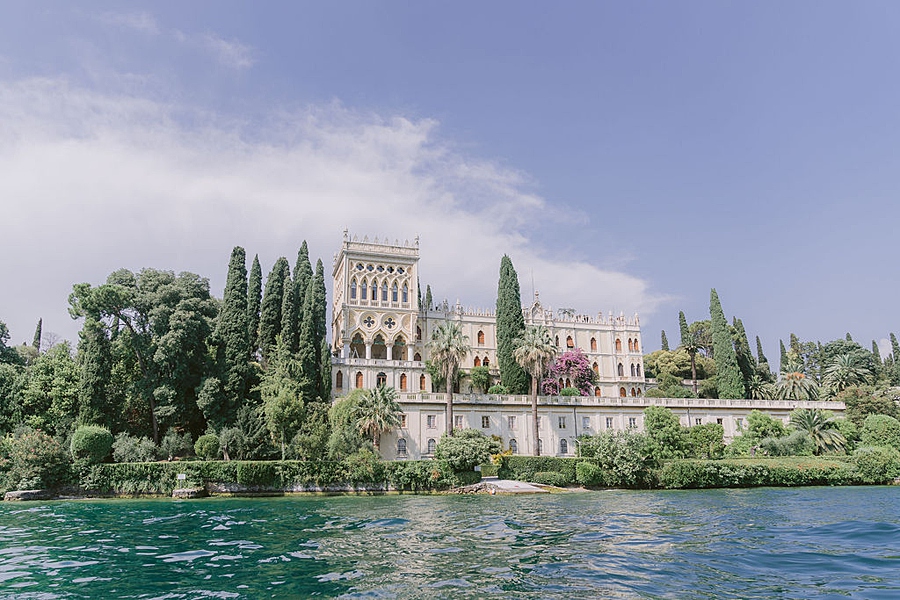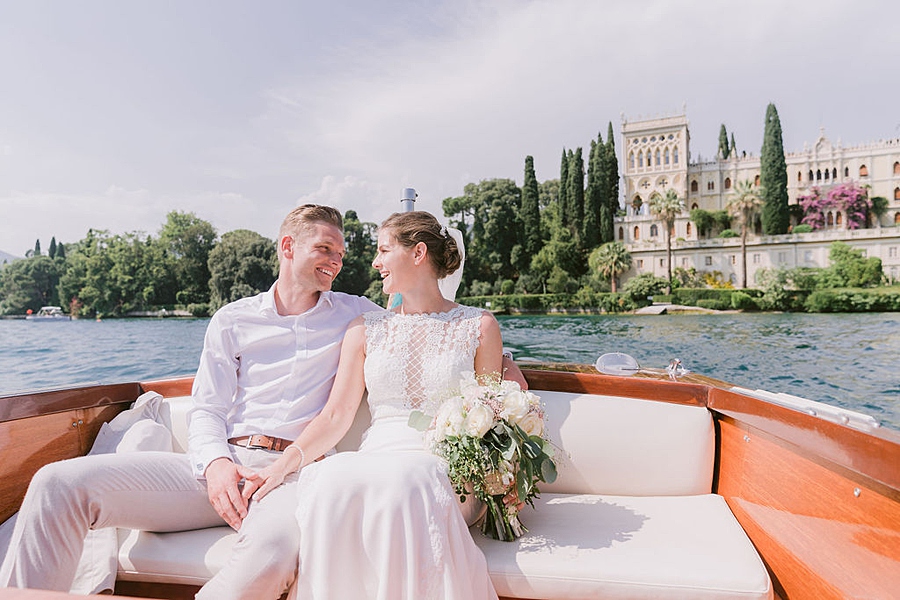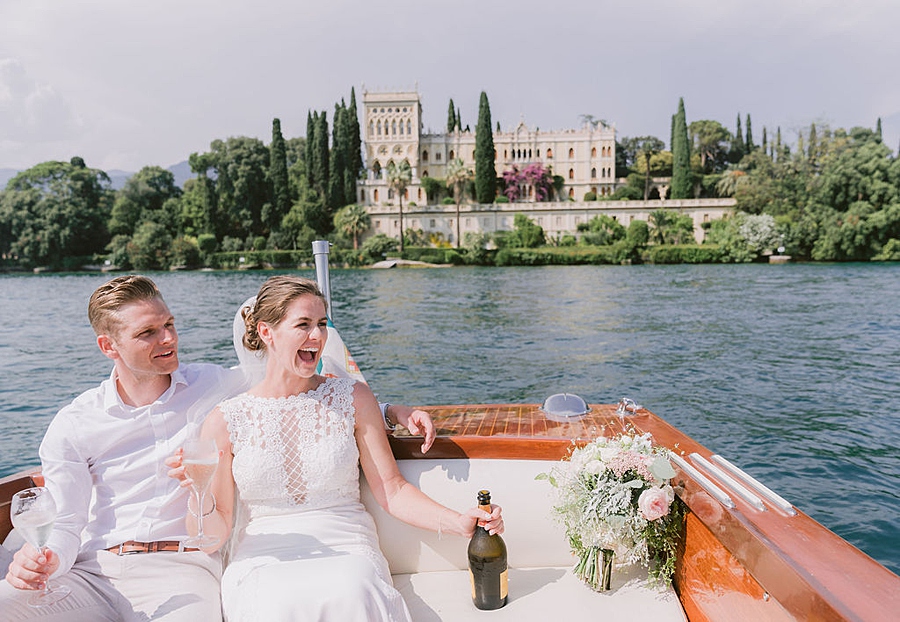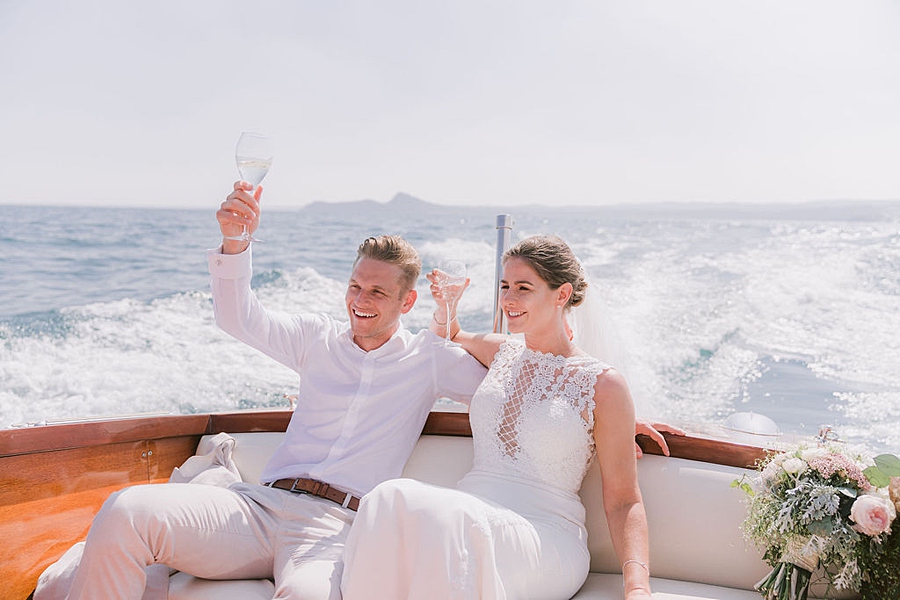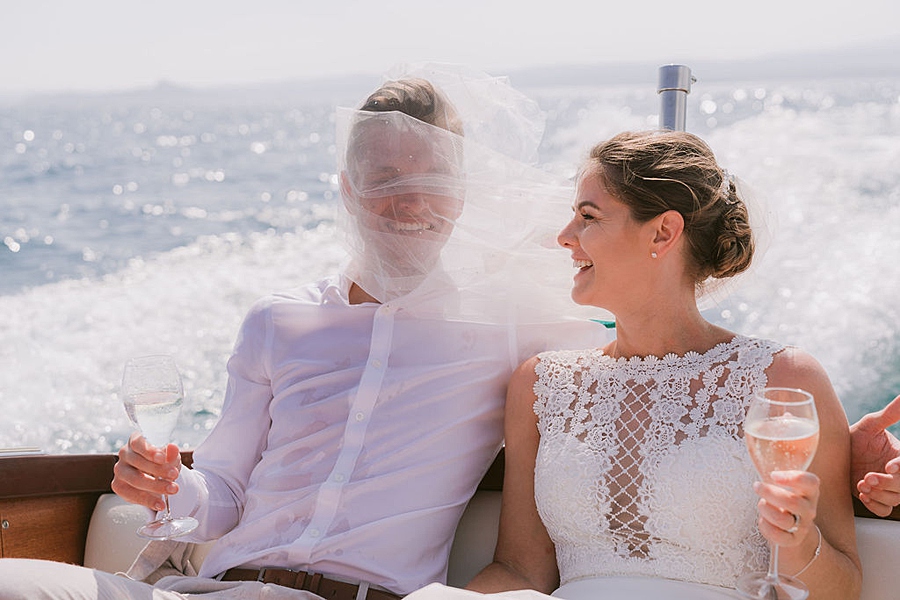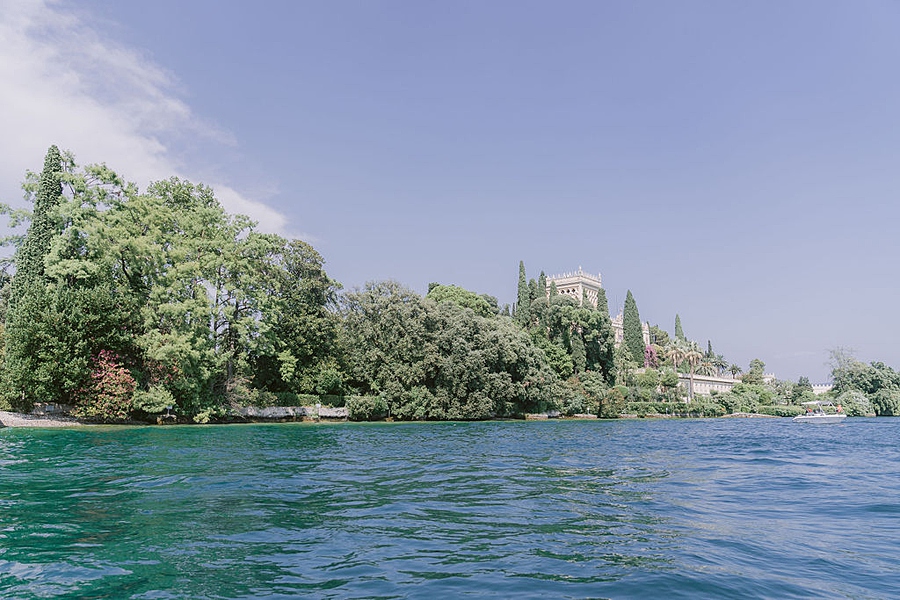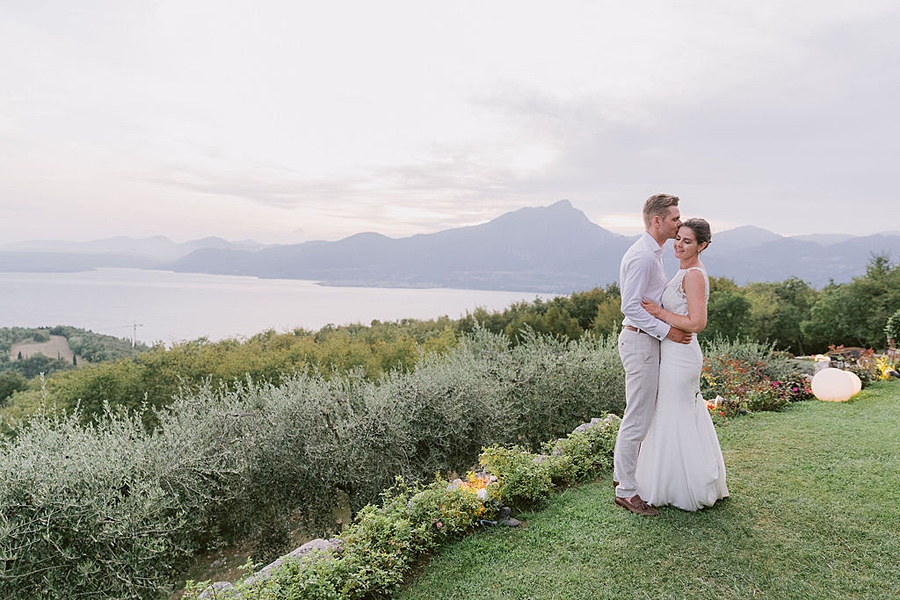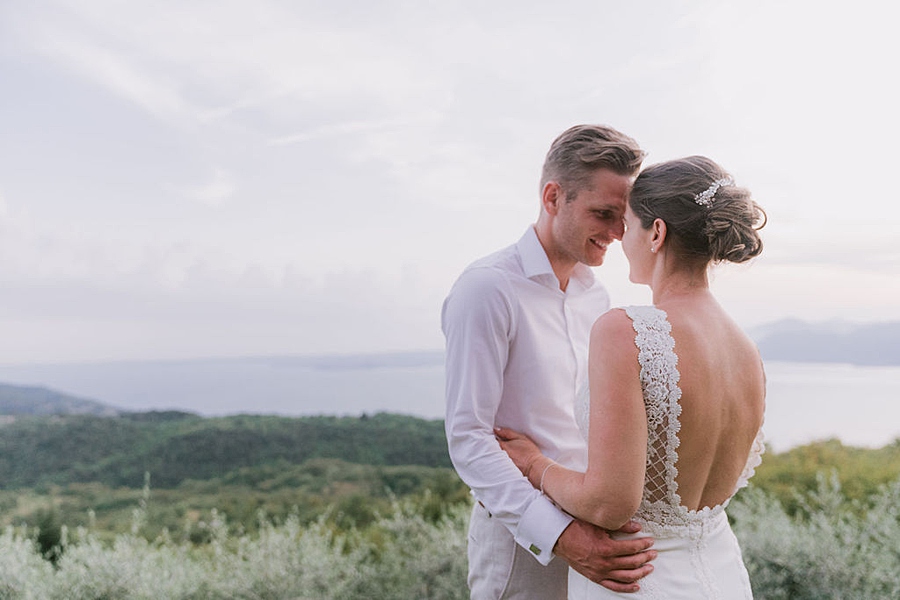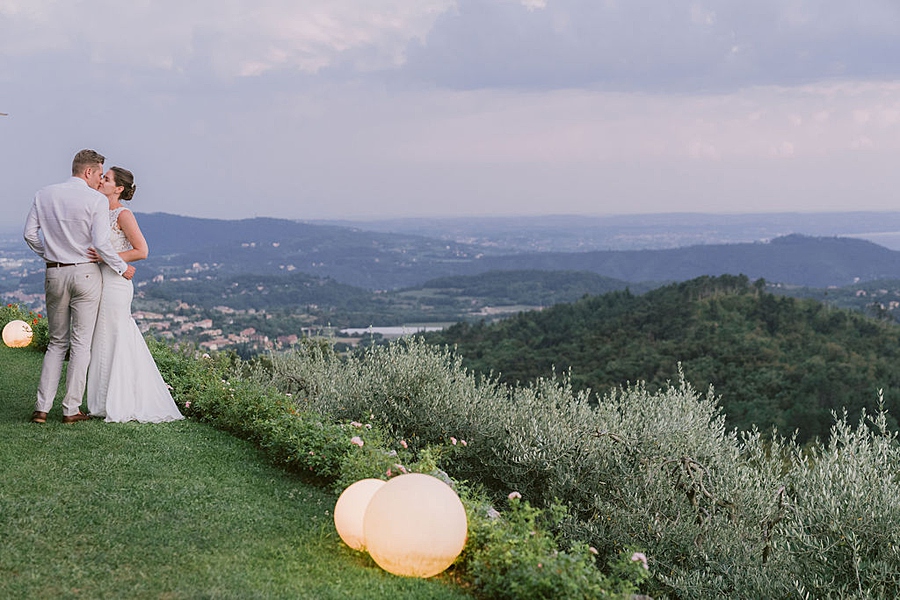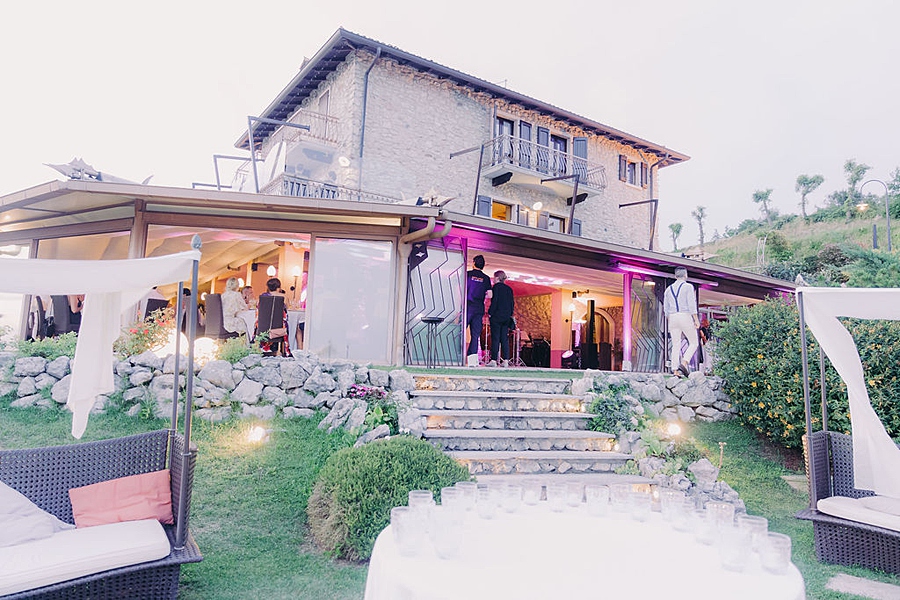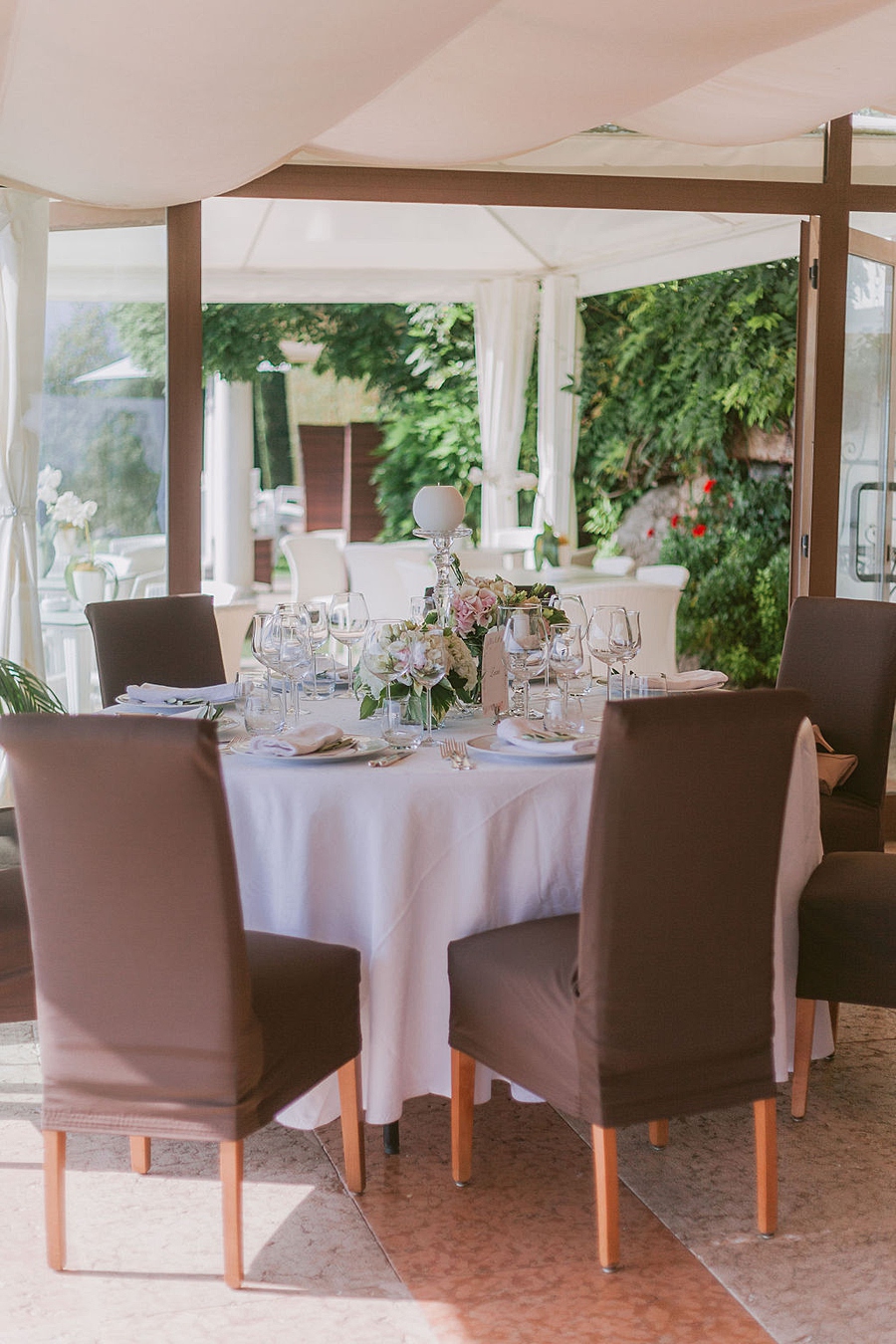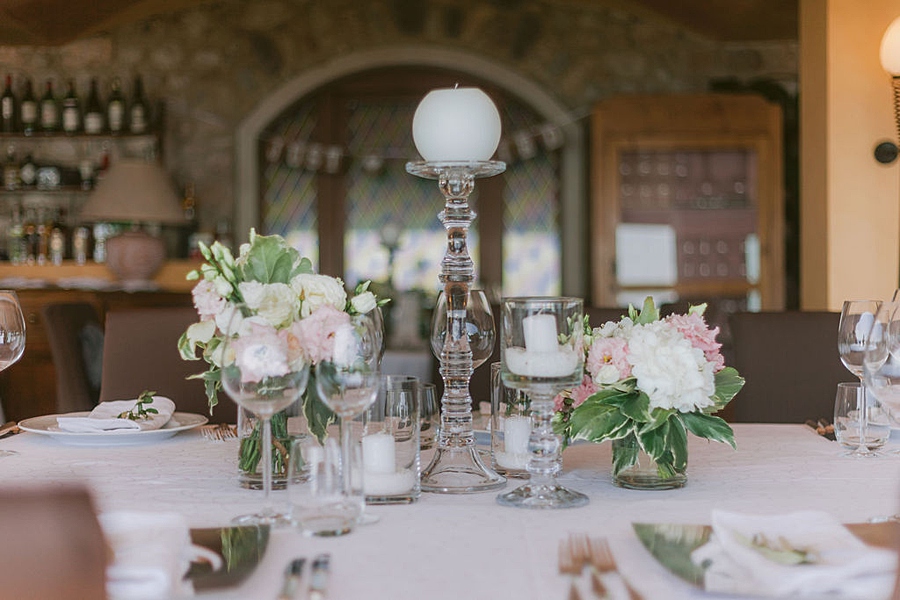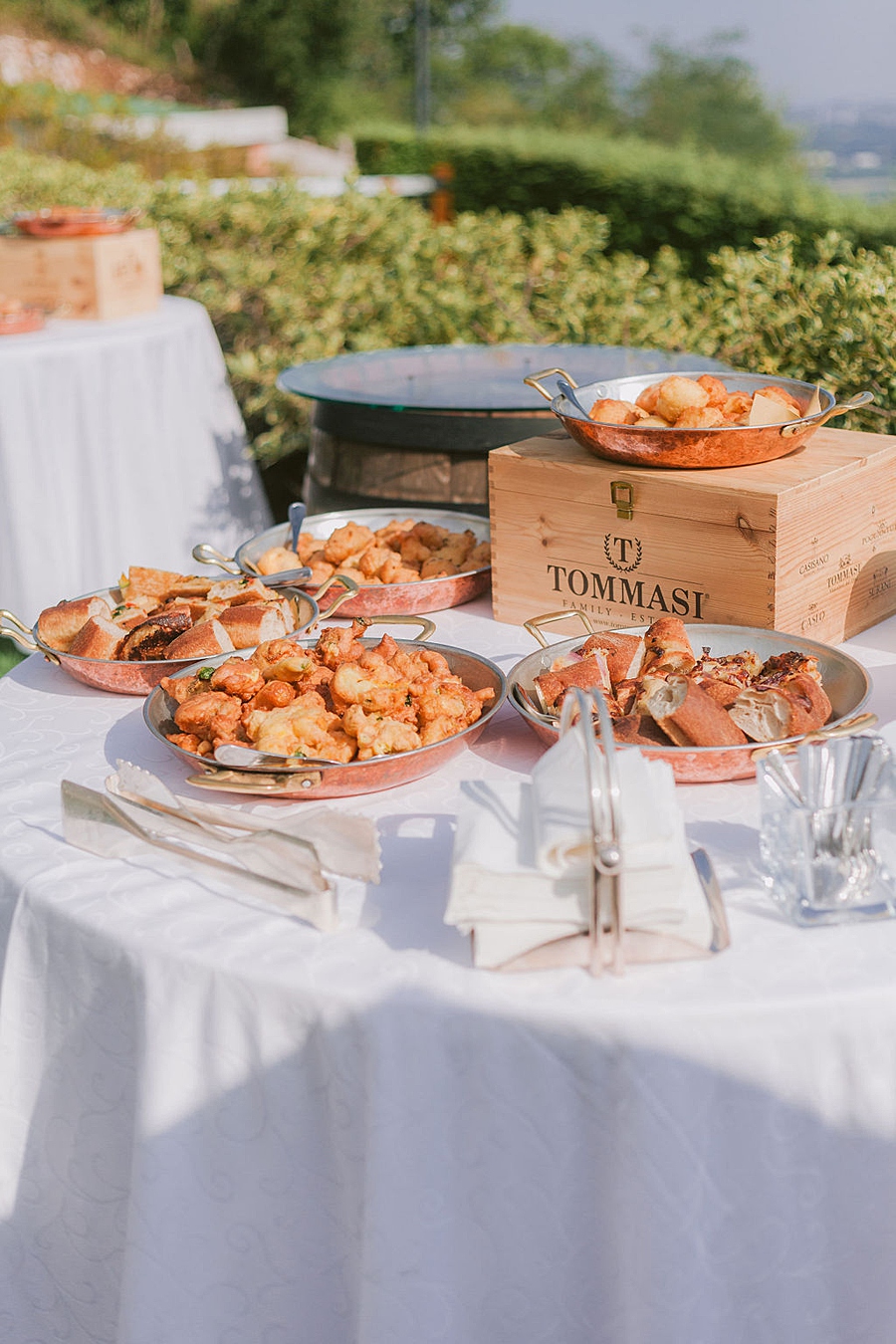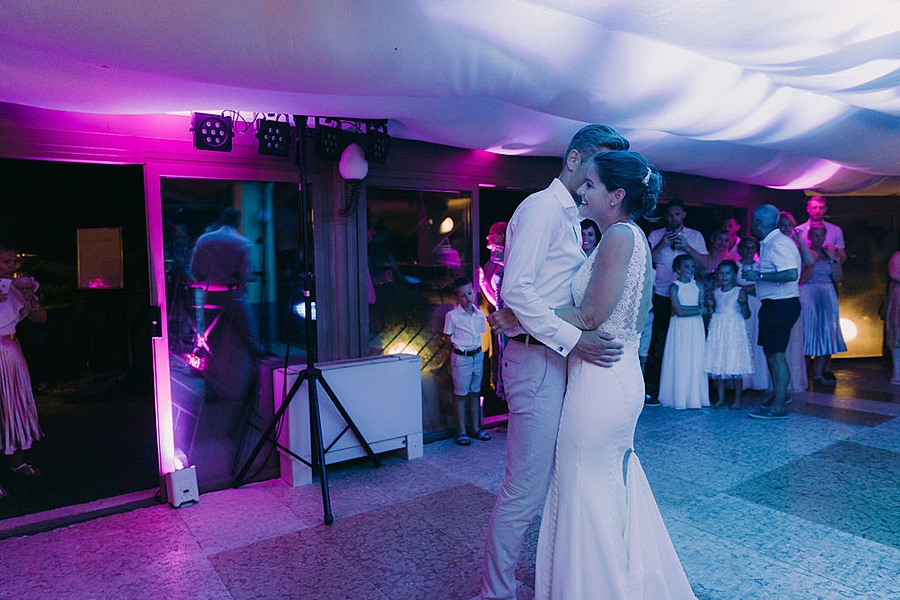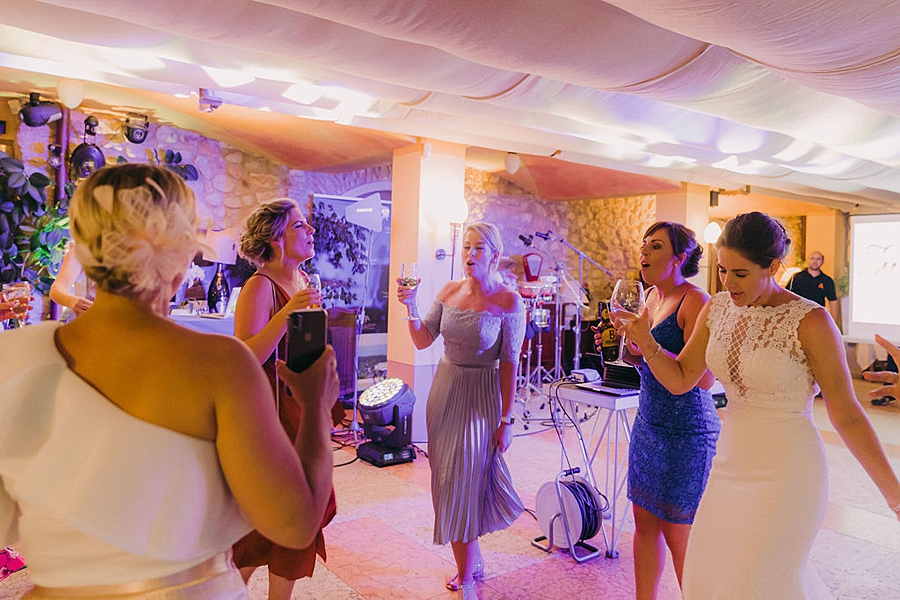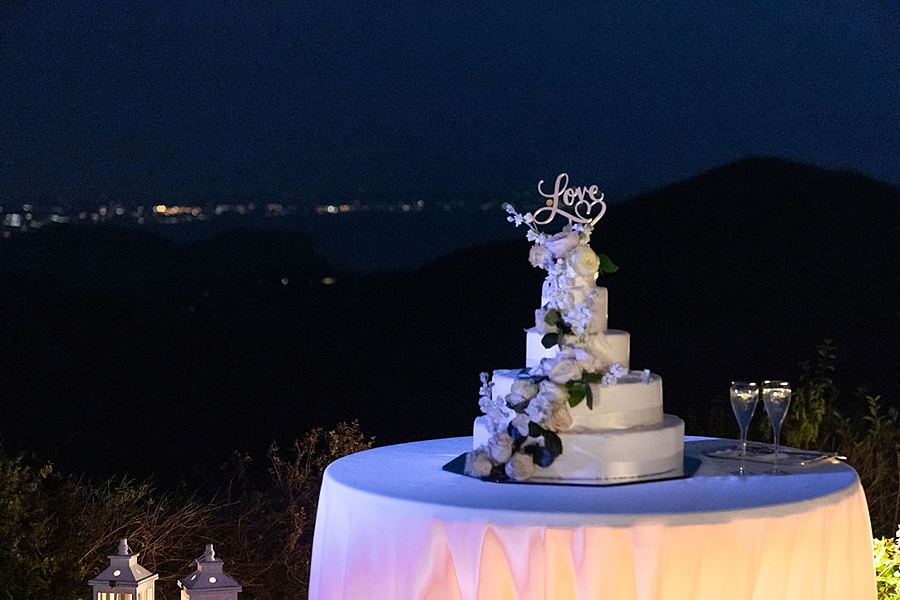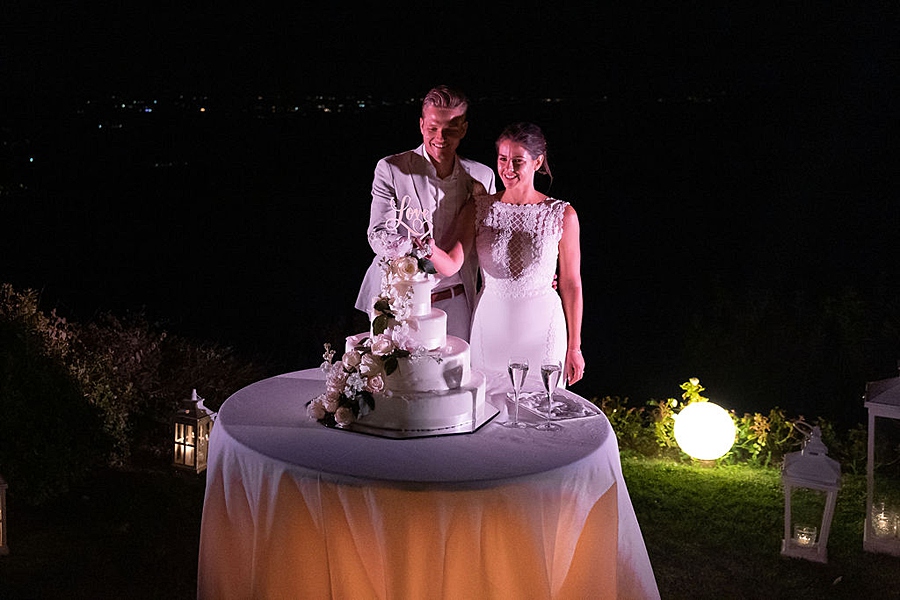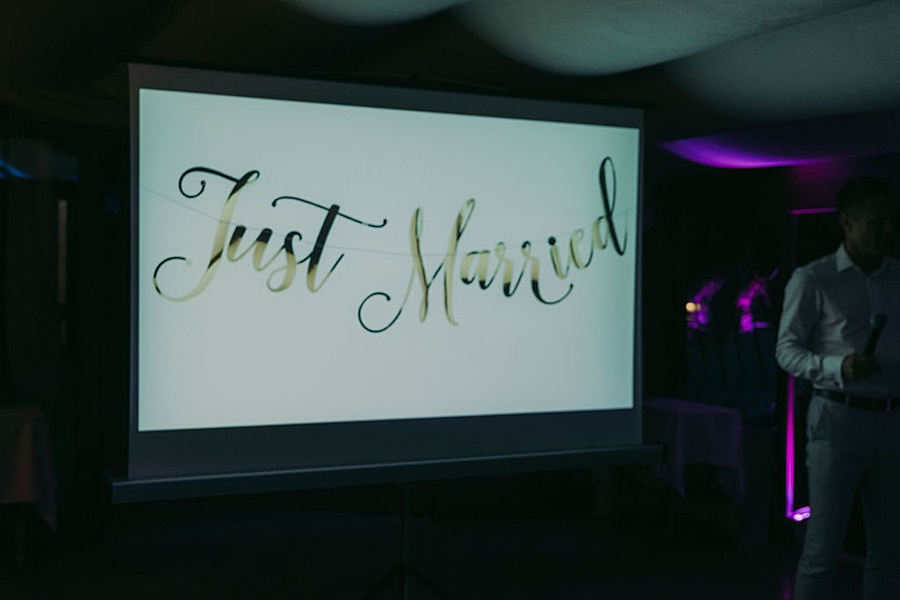 Q&A with the Bride & Groom
Tell us a little a bit about your wedding destination, vision, color, style, and venue choices.
After first setting eyes on Isola and then returning with my mum and sisters for a viewing we knew it was our dream wedding venue. Isola has been passed down through generations and has been looked after by the Cavazza family for over a century. Although Isola del Garda and our reception in the mountains, La Casa Degli Spiriti, have a lot of class we wanted the wedding to feel sophisticated, as Italy is, but very friendly and informal. To do this we added little touches such as a lovely reading from our flower girl aged 9, ice lollies after aperitifs at the ceremony and a Polaroid camera with wooden pegs and twine for guests to hang their photos on at the reception. The colour theme was very much in keeping with the bridesmaid dresses which was blush pink and we had simple olive tree branches on the table napkins and in our flowers.
Tell us about your attire.
The sparkly beading on the bridesmaid dresses added some glitz and linked to the gatsby style of Isola del Garda and the ushers opted for an open collar white shirt with no tie as we wanted the guests to feel relaxed in the summer heat with many male guests opting for shorts and a shirt.
What was the most important to the two of you while planning?
The most important thing to us was that everyone had fun. On the way back from the ceremony to the reception guests traveled by boat. We had tunes such as Sister Sledge 'We are family' as the bride and groom boat travelling alongside the guest boat. We arranged for a band called Gatsby to travel from the UK for our wedding reception. They are an amazing talented band and made sure the dance floor was full all night. The food and drink was also very important, we wanted all our guests to have enough food and there was no need to worry about that! We had aperitifs after the ceremony followed by a welcome buffet at the reception and a 3 course meal followed by wedding cake and pastries as dessert. We had local Prosecco and wine as well as Italian beers and Hugo's for guests to enjoy all day and into the evening.
What were your favorite parts of the wedding day?
Walking through the streets of Lazise and being greeted by local and tourist well wishers before travelling to Isola on a boat with my two Sisters as bridesmaids was a surreal moment. Taking in the beautiful scenery of Lake Garda to and then from the ceremony with my husband whilst our guests were travelling on a boat alongside was a lovely moment. We felt like movie stars! Our guests singing along to the Gatsby band in between food courses and then everyone dancing the night away together.
Tell us about your wedding flowers.
Our wedding flowers were blush pink and white flowers with green foliage. We had a lovely garland of flowers across the arches at Isola to compliment the view of the lake.
Tell us about your wedding cake.
Our wedding cake was layers of vanilla sponge with lemon cream in keeping with the local region and northern Italy's famous lemons.
What did you do for favors?
We gave a bottle of local Lemoncello to each guest with our names and wedding date on.
Do you have any advice for couples planning their destination weddings now?
Enjoy every moment even some pressured times as the planning and the wedding day itself goes so fast. Go with your heart and don't sacrifice what's important to you but at the same time the main thing to remember is why you are getting married as that can get lost when you get wrapped up in the planning. As long as those important to you are there you will have the best day.
What was the best part of having a destination wedding?
The best part of a destination wedding was having our friends and family altogether in the Italian sunshine for a a few days which lengthened our wedding celebration. We all went to the beautiful lakeside town of Sirmione the day before our wedding and swam off the boats spending a lovely afternoon together before having drinks in Lazise in the evening.
What was the biggest challenge when planning your destination wedding?
The most challenging part was initially finding a wedding planner to trust, someone who you haven't met but you believe will be able to plan your special day. I was so lucky that all the suppliers we chose and had to put a lot of trust lived up to their promises and more. That's where we were really lucky with Wedd Italy who were so thorough and had great attention to detail. We also were lucky that other talented suppliers such as our photographer Melissa and my great friend and bridal stylist Lindsey were happy to travel abroad.
Vendors
Photography: ElsieLove Photography | Ceremony Venue: Isola Del Garda | Reception Venue: La Casa Degli Spiriti | Wedding Planning: Wedd Italy | Floral: Fiore all'Occhiello | Ceremony Musicians: Elodea | Hair: Bridal Hair by Lindsey | Entertainment: Gatsby Band | Makeup: Lucy Crawford | Bridal Salon: Brides of chester | Wedding Dress: Maggie Sottero | Bridesmaid Dresses: Silk Fred | Headpiece: Debenhams