Sponsored by Joy

All weddings require communication with your guests, but destination weddings amplify this need. Between RSVPs, traveling to your destination, where to stay, tips for sightseeing, logistics of all the wedding events, guests special requests, and so much more, you'll need to share and receive tons of information. This can be overwhelming if you're trying to accomplish it all through email, phone calls, texts, or paper invites. Luckily, there's a simple solution: a wedding website.
Read on to find out how a wedding website can transform your destination wedding planning experience for the better.
1. Get a jump on sharing your wedding details with guests
Destination weddings require significant planning on the part of your guests, so it's wise to get the pertinent details out to them as soon as possible. Free wedding website providers like Joy make it easy to post the when, where, and what as soon as you get those specifics nailed down. Your guests will appreciate this forethought, as it gives them plenty of time to request time off of work, arrange childcare, and book travel.
2. Set the tone for your destination wedding through your website design
Get your guests excited about the location you're asking them to travel to with a wedding website that emanates the magic of your destination. Wedding website builders allow you to choose from hundreds of tasteful designs that will excite your guests for the great times ahead at your destination.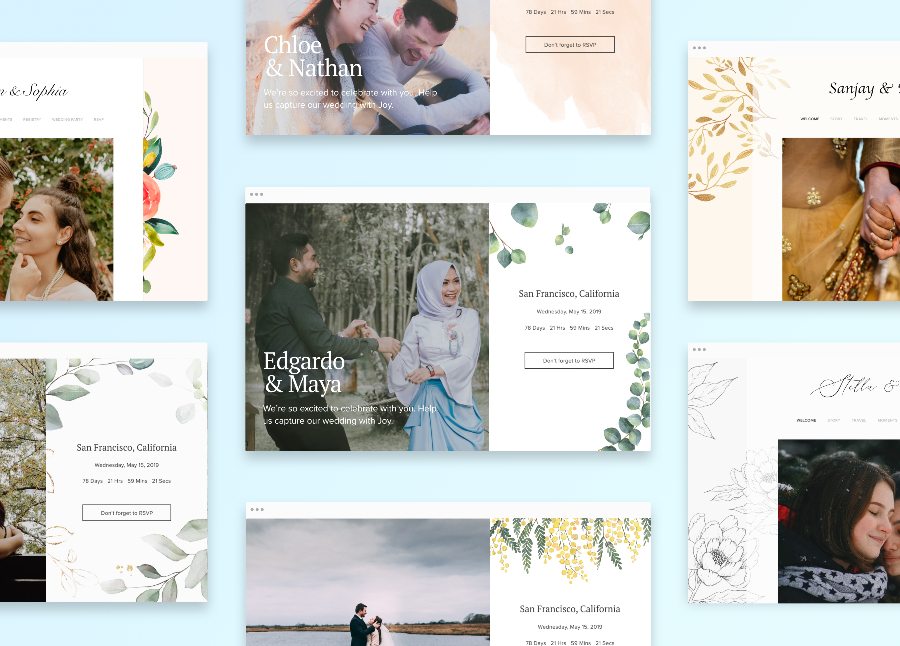 3. Ensure your guests are in the know with travel tips and a Q&A
Wedding guests have questions – especially when traveling to a destination. Save yourself time from fielding calls and texts from guests by answering all their questions in one easily accessible location.
The travel tips portion of a wedding website answers questions about what airport to fly into, if a ferry, rental car, or other forms of transportation needed, insight into the local transit system, where to book accommodations, if a shuttle for wedding events will be provided, and any other details guests need to know to get to and around your destination smoothly. This is also a great place to share your favorite places to eat and things to do, to help your guests have the best experience during their trip.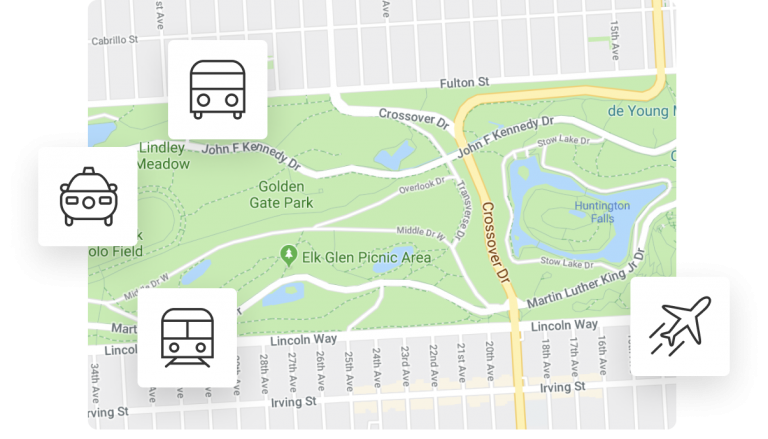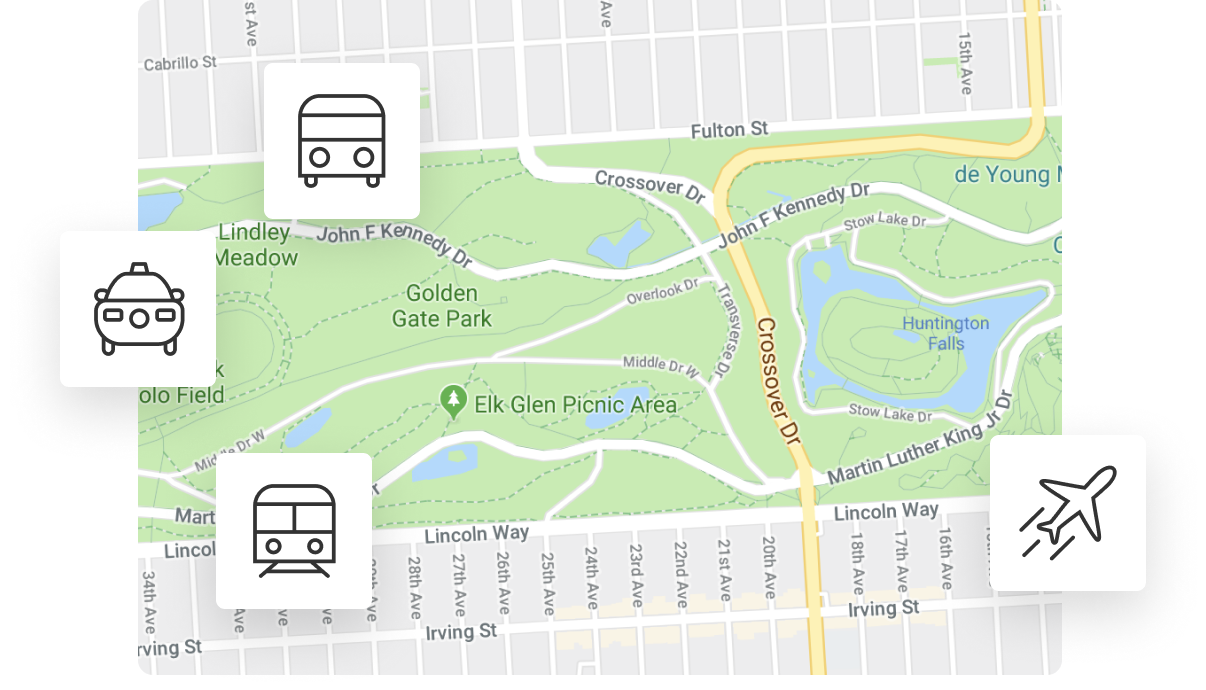 In addition to travel tips, share a detailed Q&A with guests to help answer any other questions that may cross their mind. Explain your dress code and recommended footwear, whether children are allowed, and any other information that will inform their plans. This will save you from answering last-minute questions in the weeks ahead of your big day!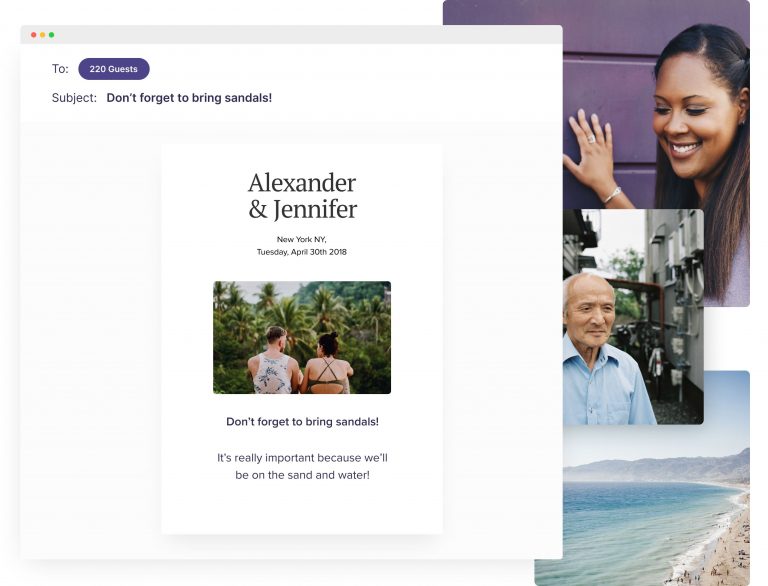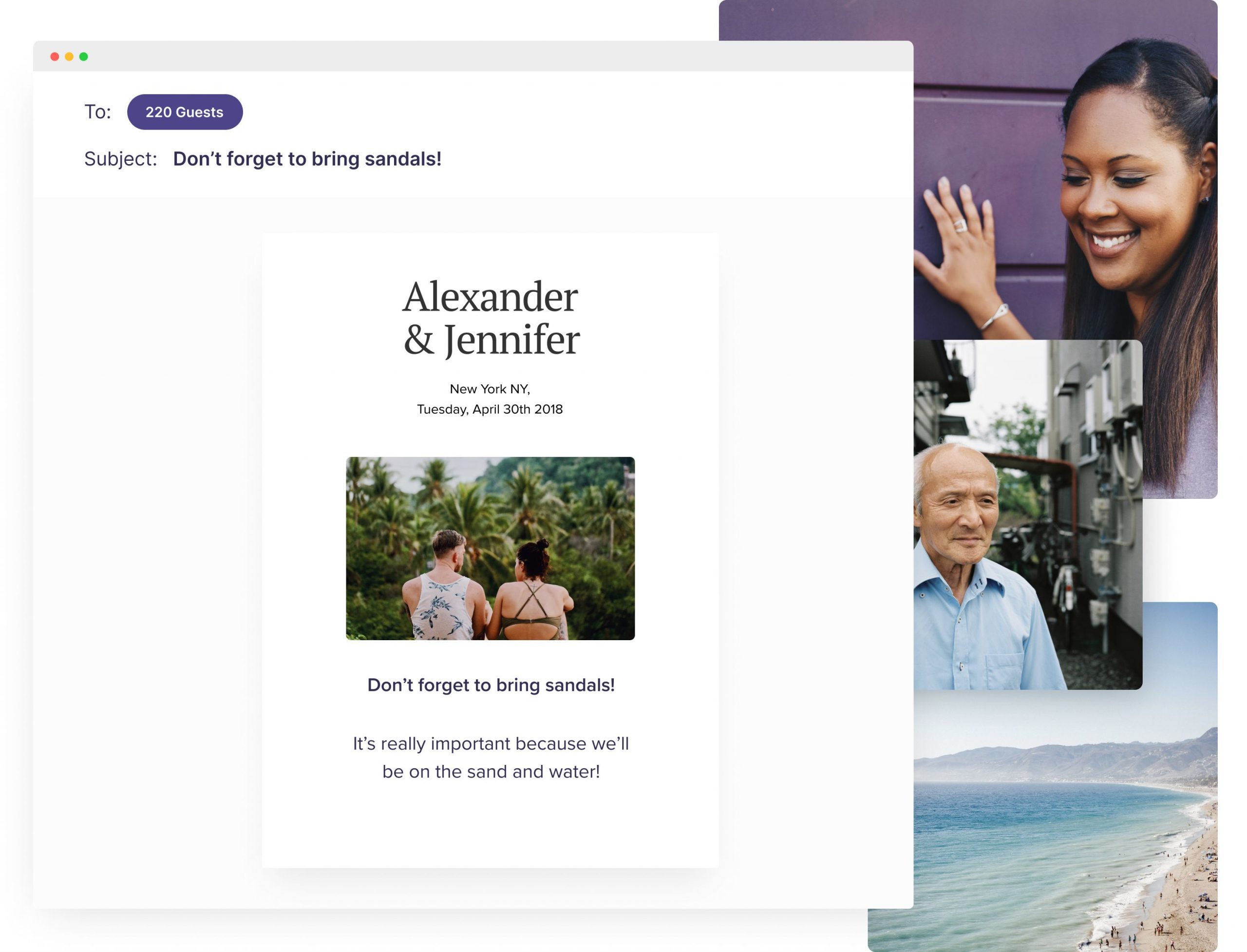 4. Help guests book travel directly from your wedding website
Supplementing the Q&A and travel tips section is Joy's Booking Assistant feature, which helps guests find the best deals on a variety of accommodations in the vicinity of your wedding celebrations. This is especially helpful if you haven't blocked off rooms at certain hotels, or if guests would prefer to book more customized accommodations through a service like Airbnb. It also ensures guests book the right dates and location, as that information is pre-set for them.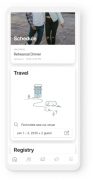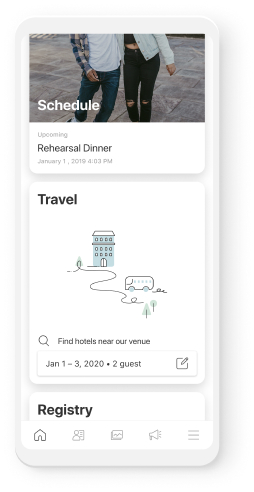 5. Carry your destination website theme over to your digital save-the-dates, invites, and e-cards
For couples that prefer to send digital invitations that are cohesive with their wedding website design, many wedding website providers have beautiful, matching digital save-the-dates and invitations. For example, Joy offers free save the dates, invitations, and e-cards, that allow you to easily send updates or reminders to your guests at a moment's notice.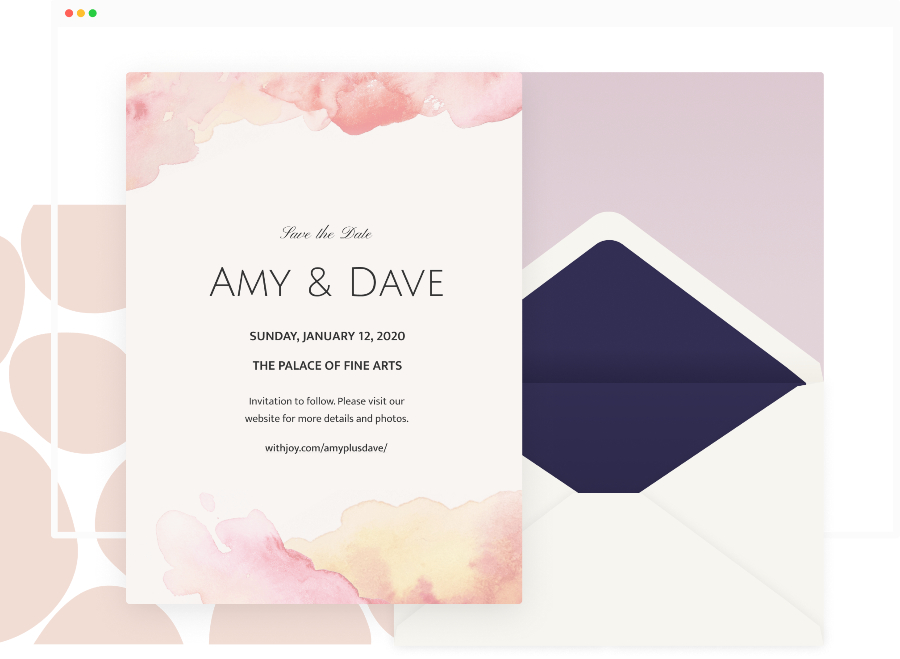 6. Create custom RSVP questions to help you plan
In addition to being able to digitally track in real-time who is attending your wedding events, Joy's RSVP system lets you gather detailed information about each guest's requirements and plans. You can not only inquire who is planning to attend each event, but ask about meal preferences, food allergies, whether a room in your hotel block is needed, when they will be arriving, or anything else you want to know to help you plan.
For a destination wedding when you need to accommodate many guests' needs and schedules, gathering as many details as possible via custom RSVP questions will make your life much easier in the long run.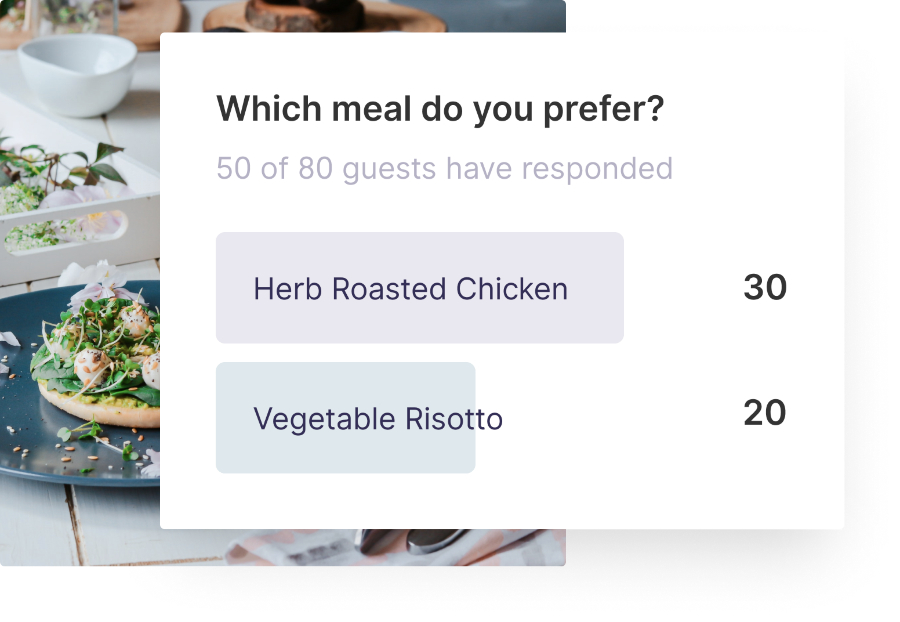 7. Keep track of who's coming with the Guest List Manager
Keeping track of who is and isn't attending your various wedding events can be a big headache if you're manually recording this information and updating spreadsheets. Joy's Guest List Manager takes that responsibility off your shoulders by keeping up-to-date lists of who has said yes or no to your celebrations, who is bringing a plus one, and how each guest has answered your custom RSVP questions. Having all of this information at a glance lets you easily send a reminder to guests that haven't replied, and helps you easily export your latest headcounts to your venue and vendors.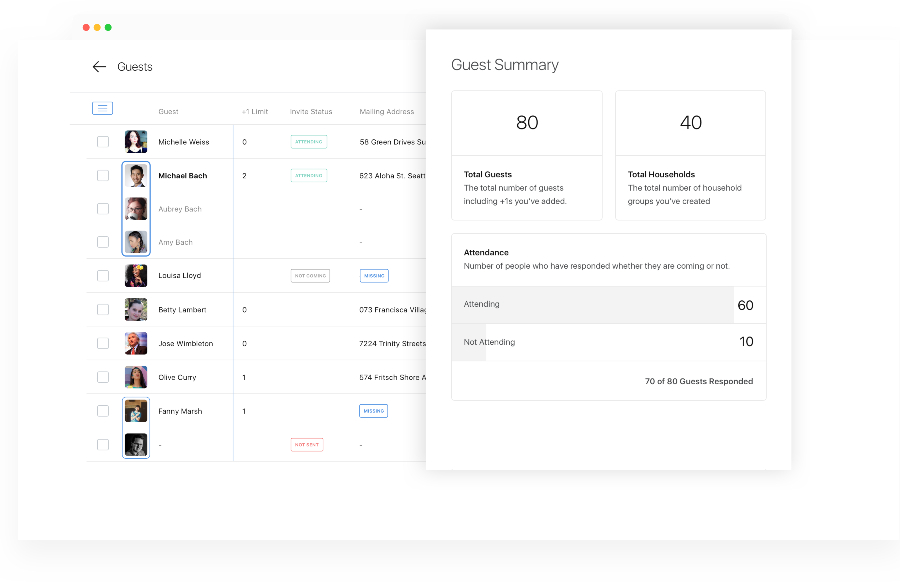 8. Shared Photo Album
While professional photos are an incredibly worthwhile investment, it's also fun to see the unpolished side of your wedding festivities. Relive all your wedding memories with a shared album where guests can upload all their photos from your big day.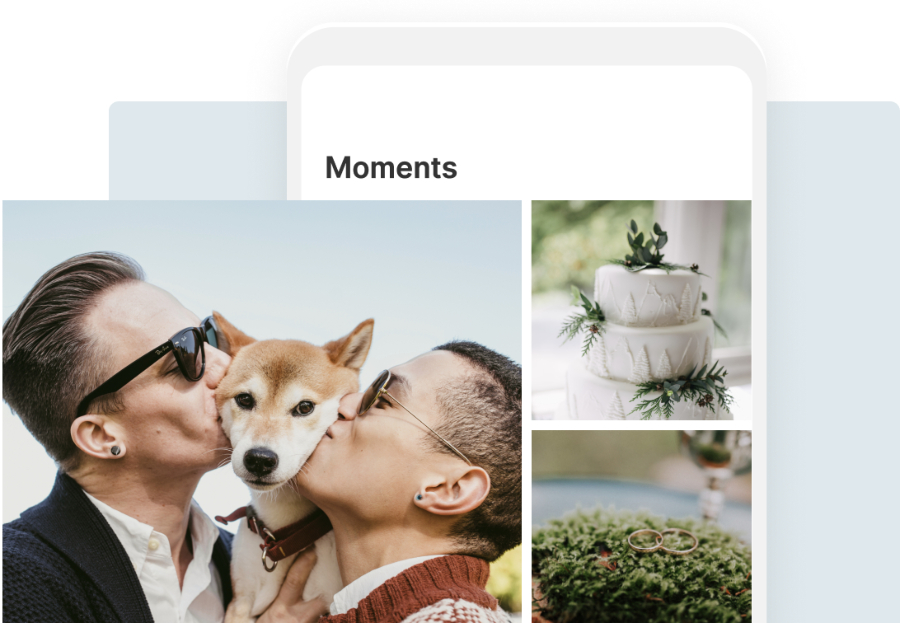 Wedding websites help you stay organized, save you time as you plan your wedding, and make your and your guests' lives easier from the moment you create your website through the time you enjoy at your destination.
Disclaimer: This post was contributed and sponsored by Joy. The opinions expressed are the author's own and do not necessarily reflect the views of Destination Wedding Details LLC. See Disclaimer
Related Posts