Corissa and Jason have been been visiting Mexico together since they were just seventeen years old. They got engaged in Cancun, and a year later had their destination wedding at a cenote in Tulum called Zazil-Ha. Corissa found Zazil-Ha by chance after her first choice became unavailable. I think you'll agree after you see these pictures that it was the best thing that could've happened to them. Not only is the venue stunning, but it was completely private just like Corissa and Jason had always wanted. A huge thanks goes out to the talented team at Genya + Erik Shenko Photography for capturing every detail and sharing this inspiration with us. Enjoy!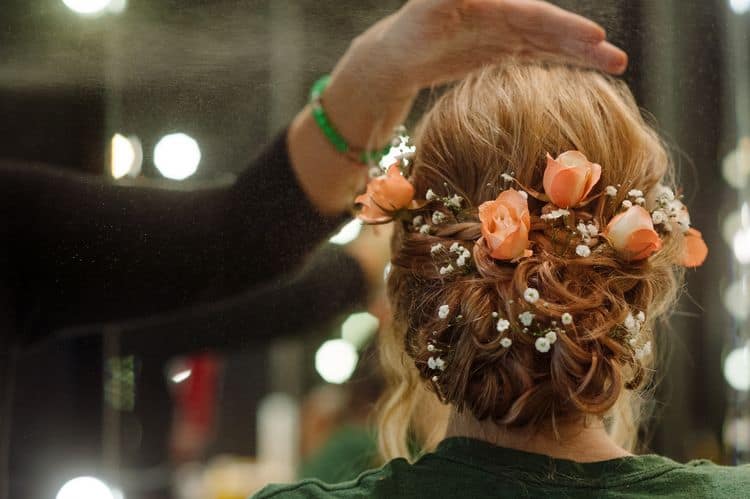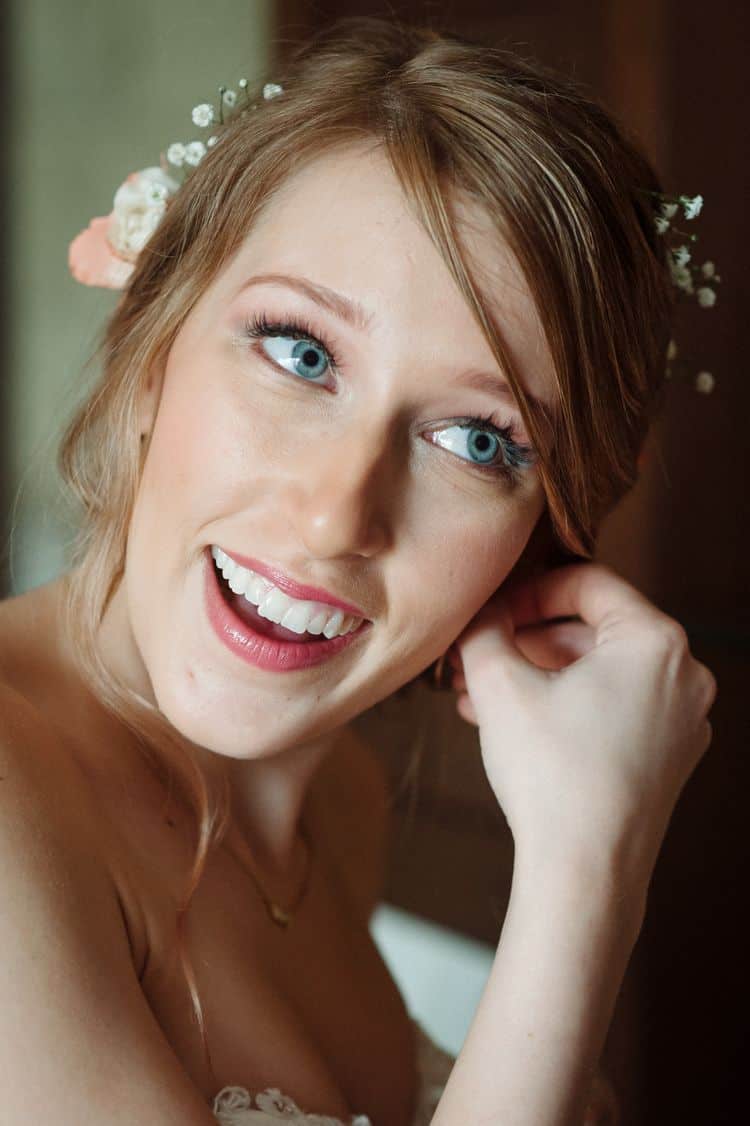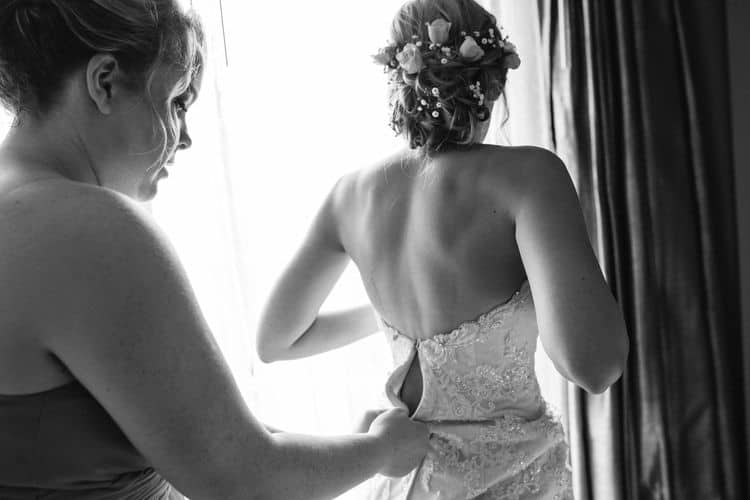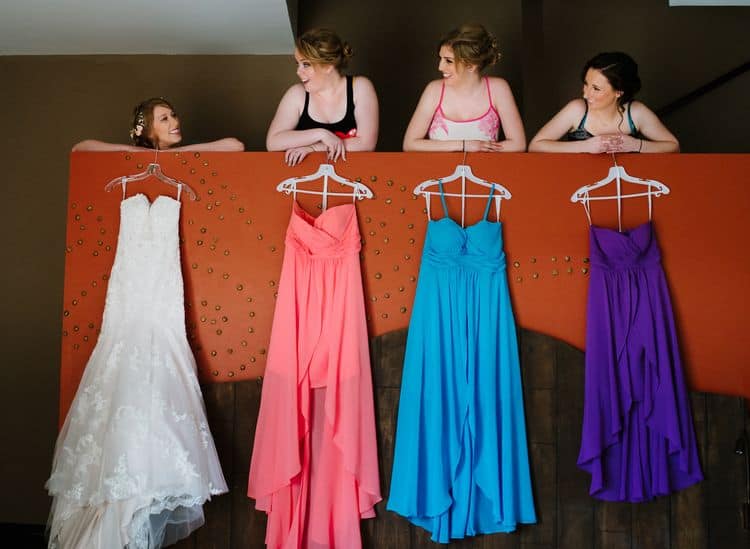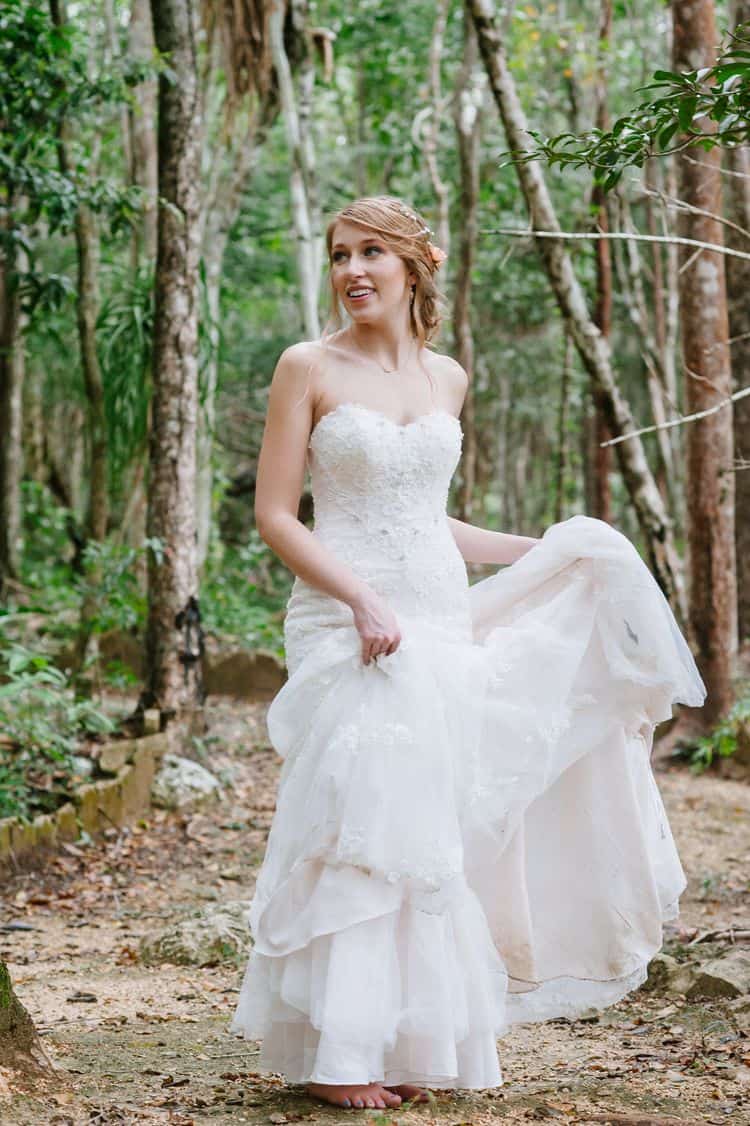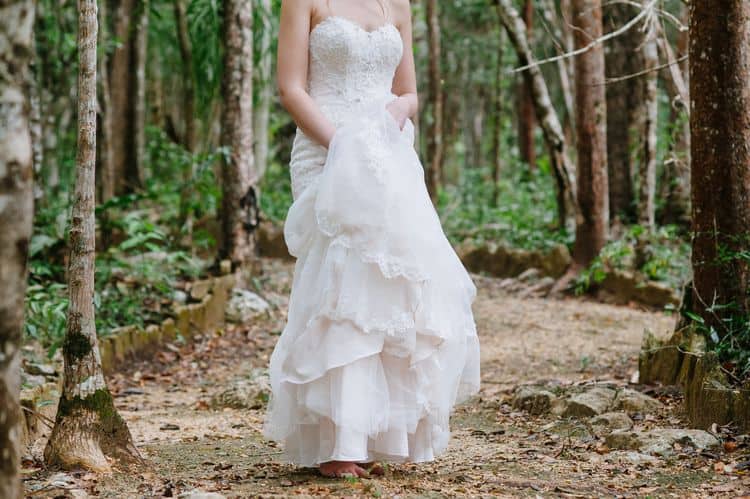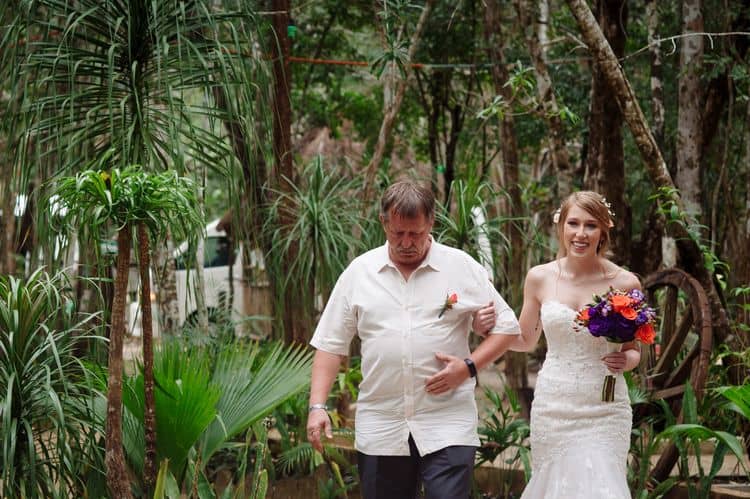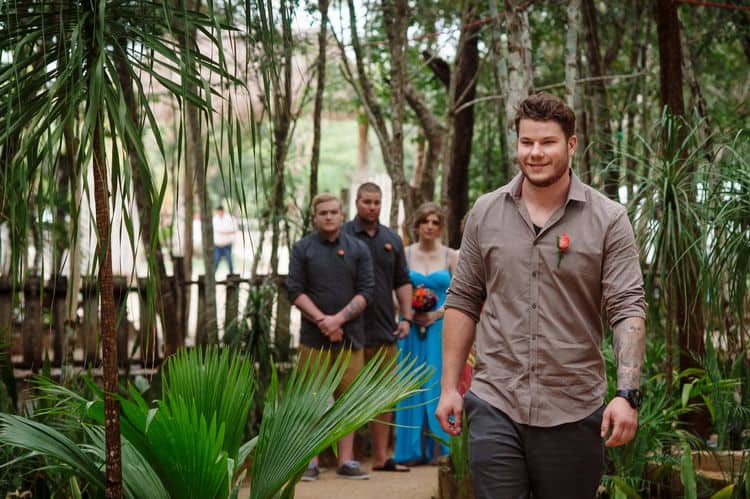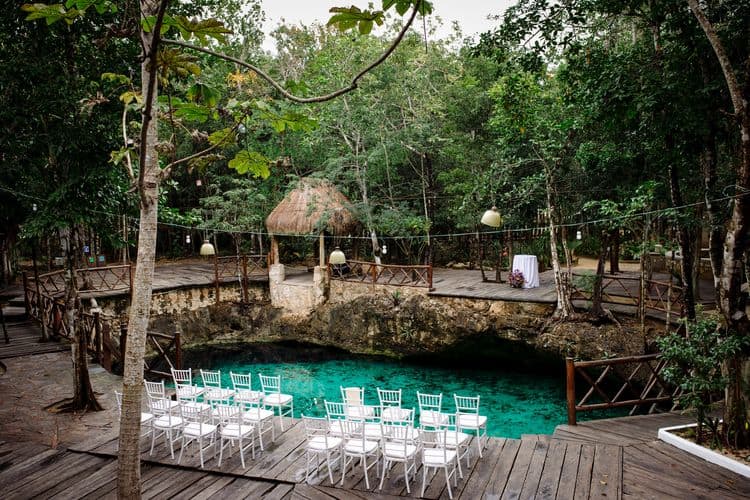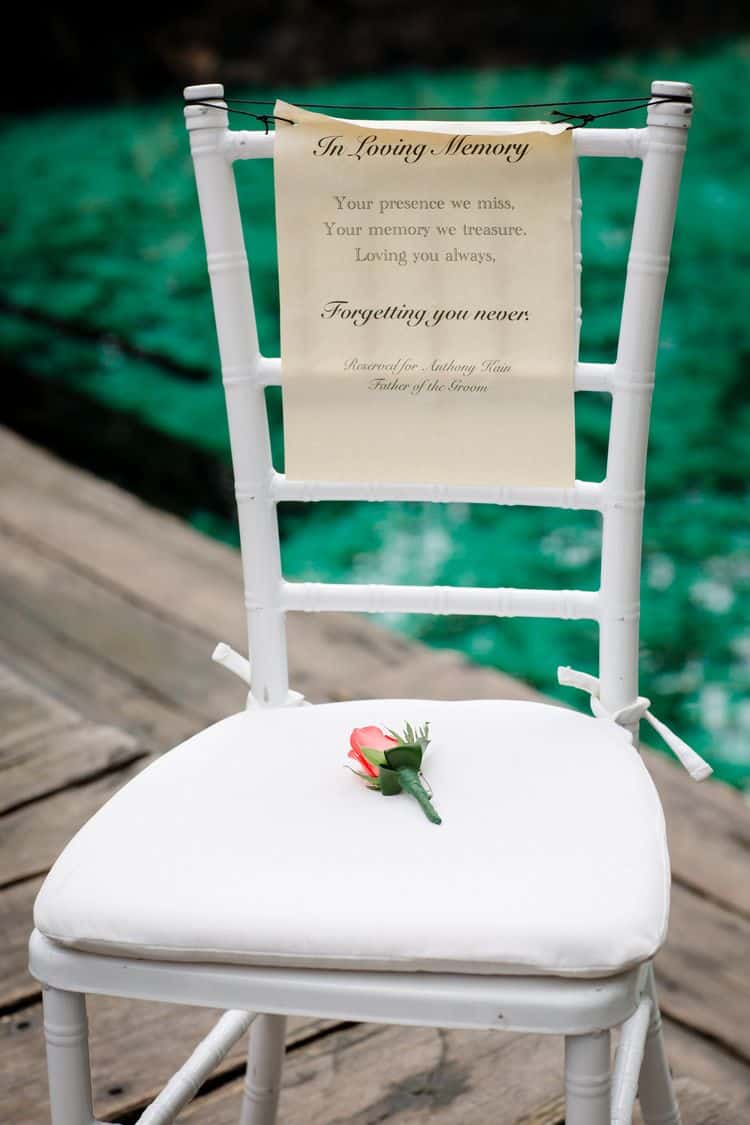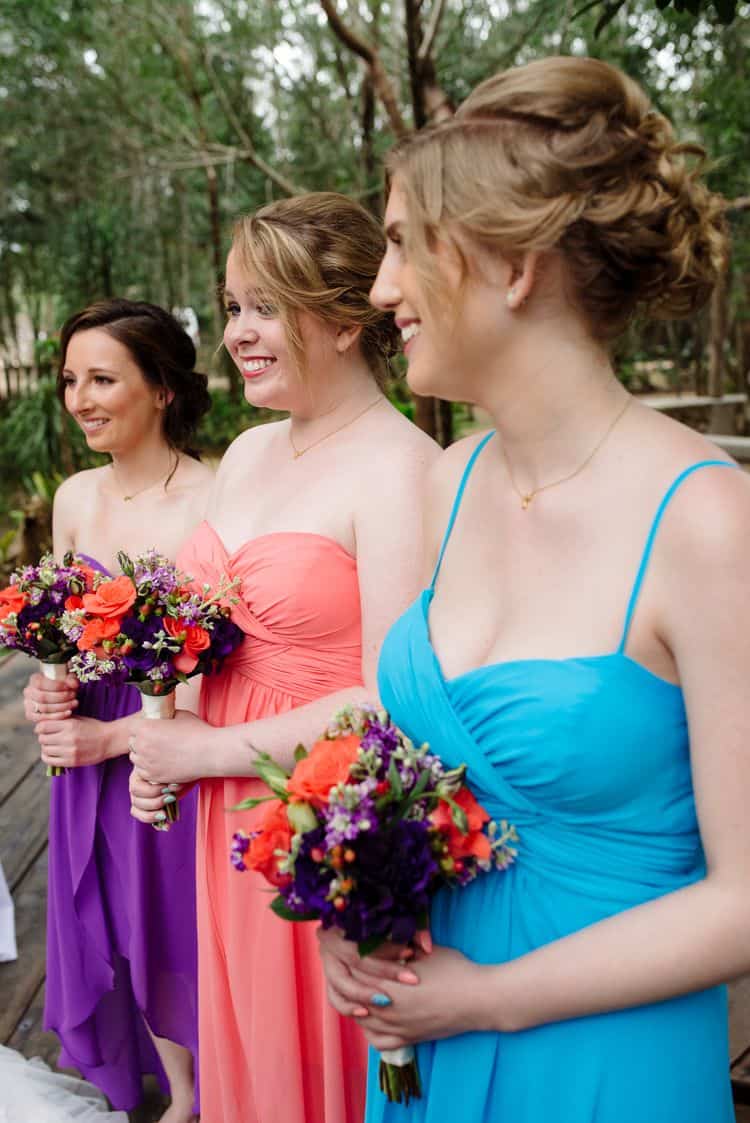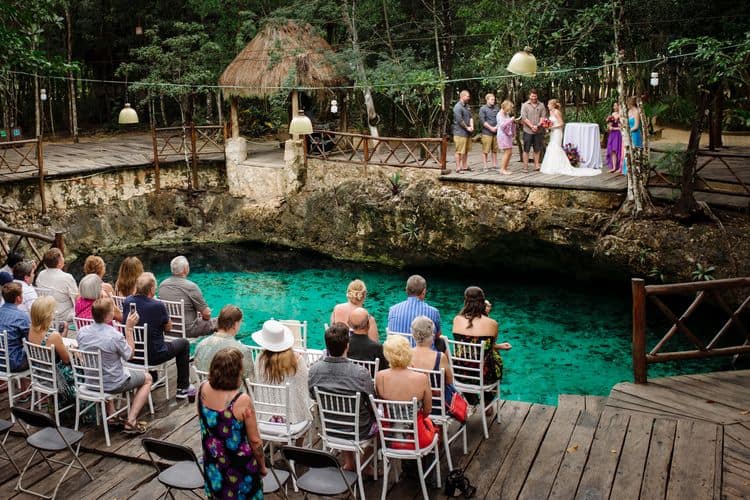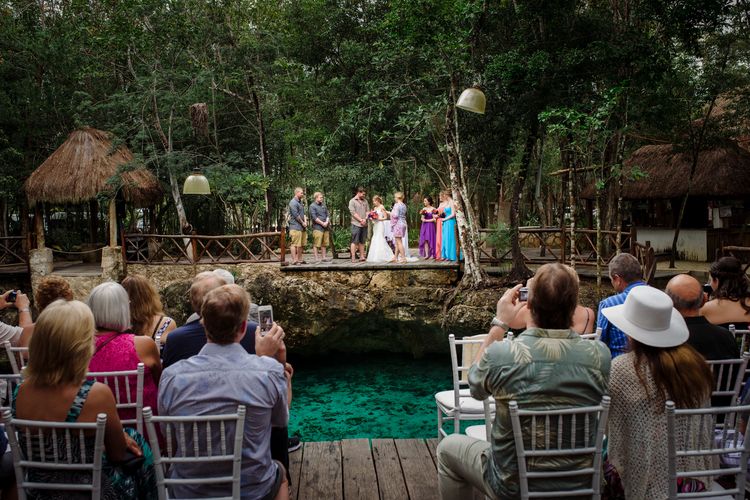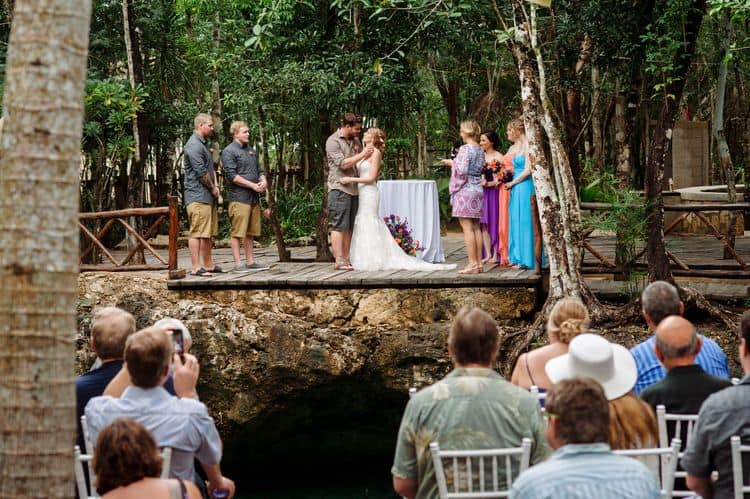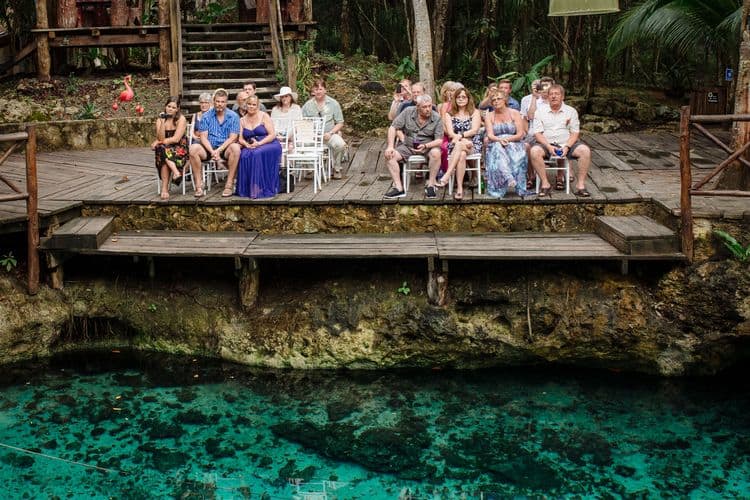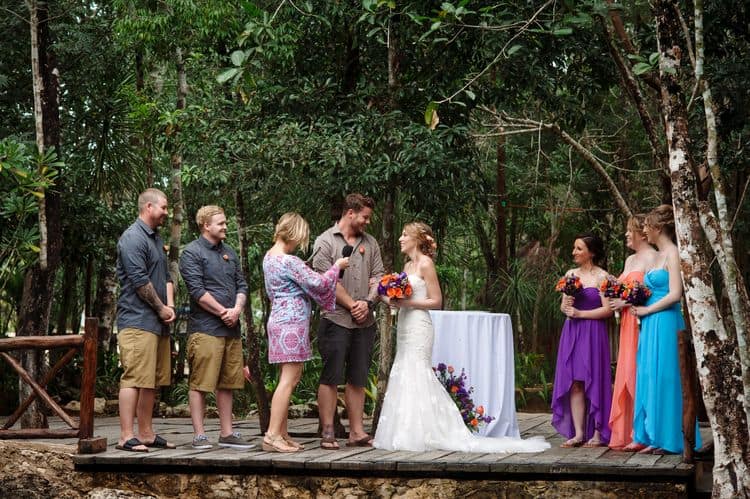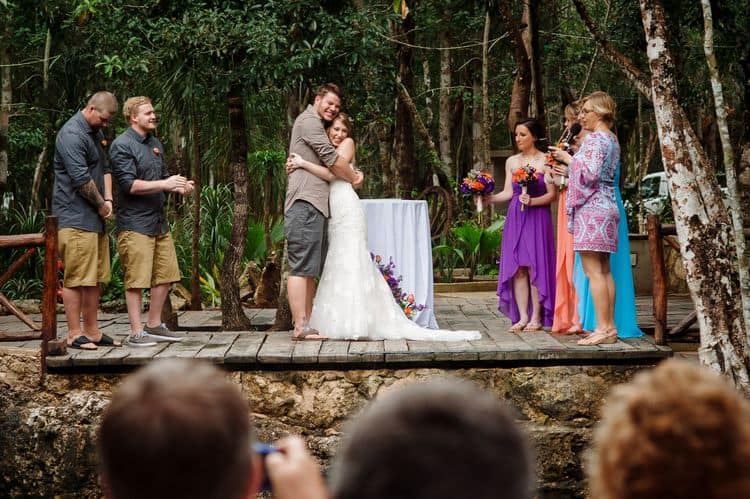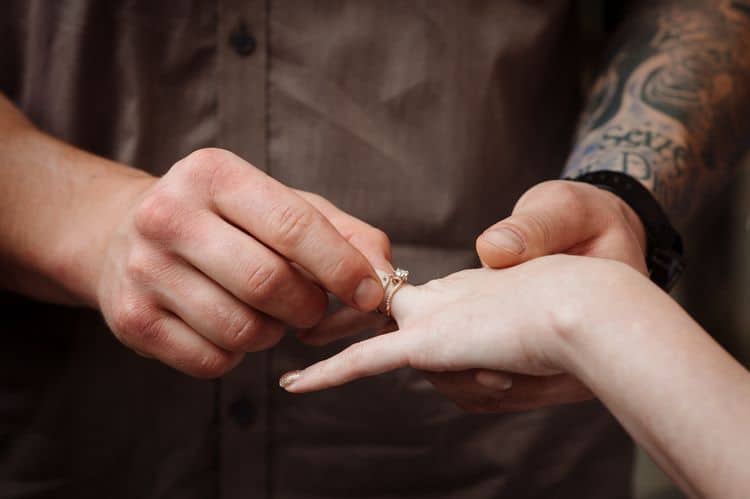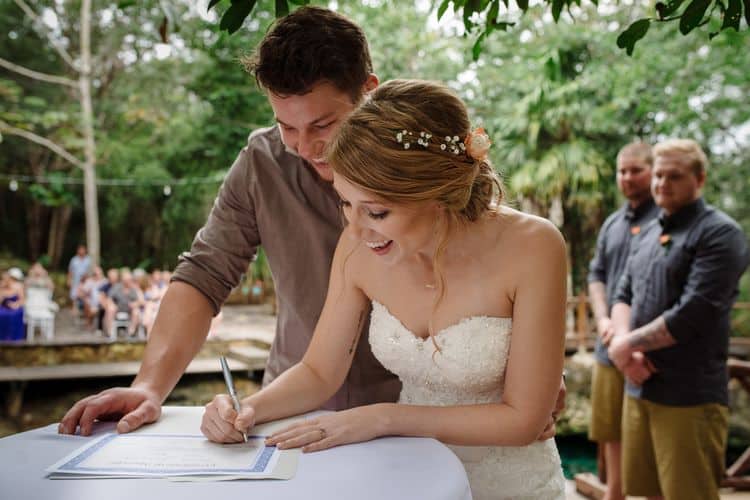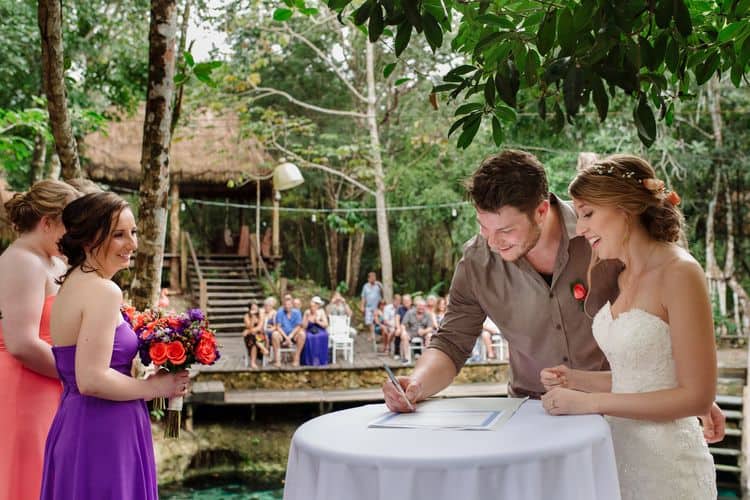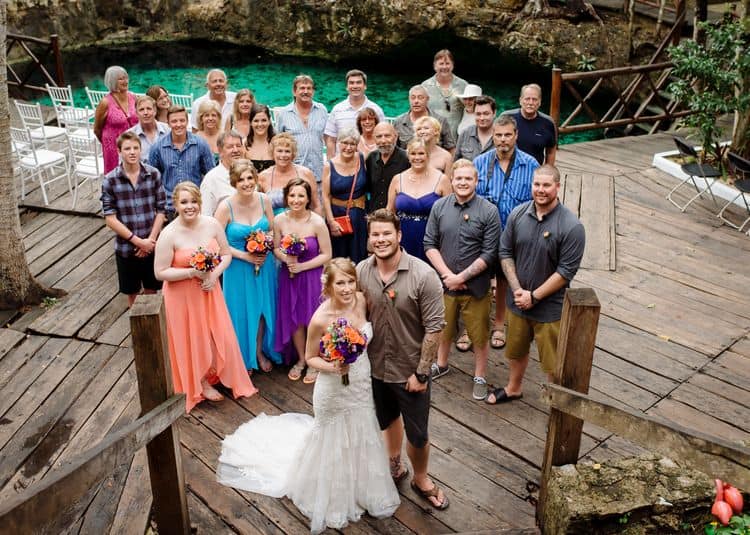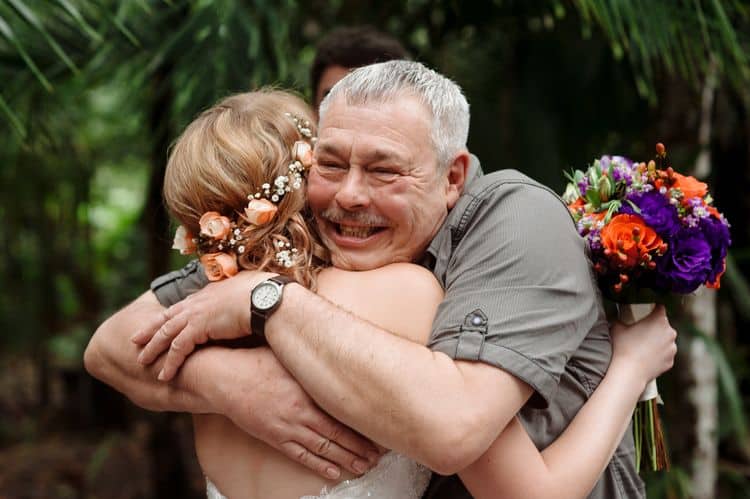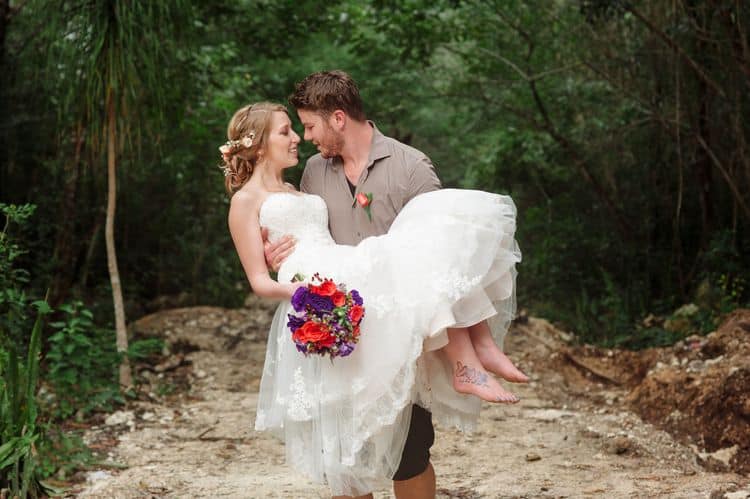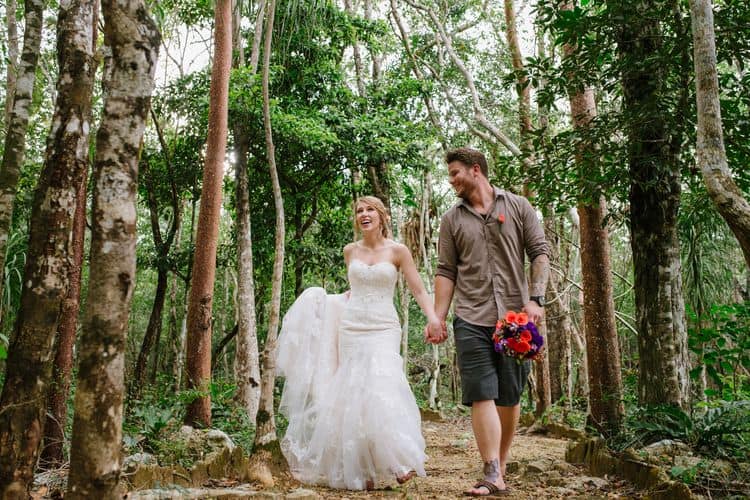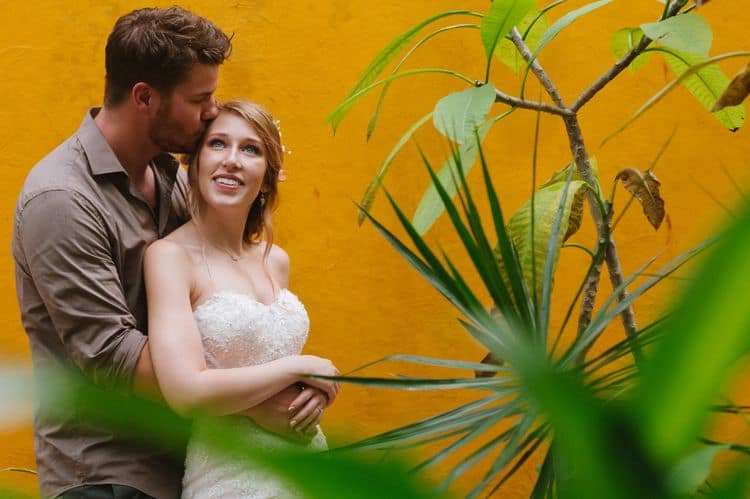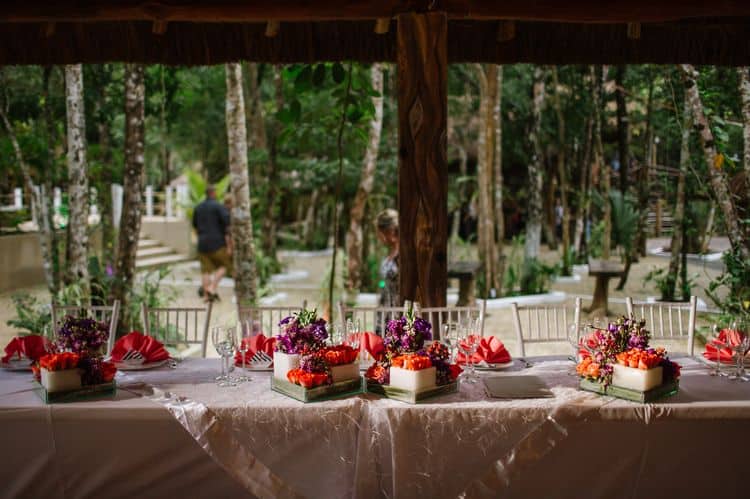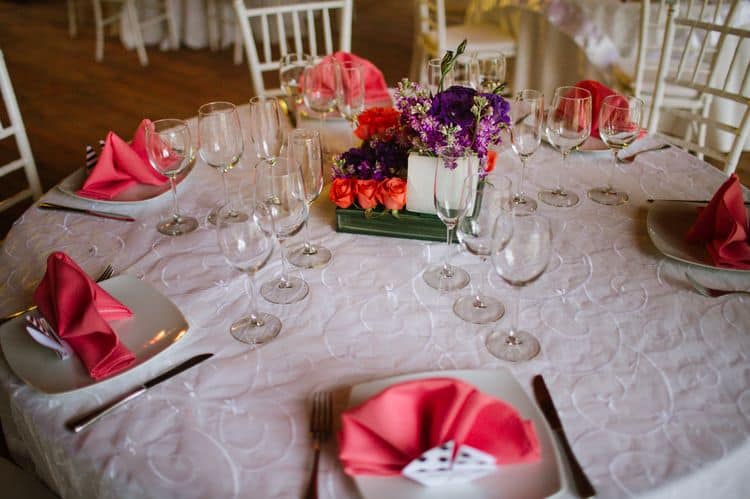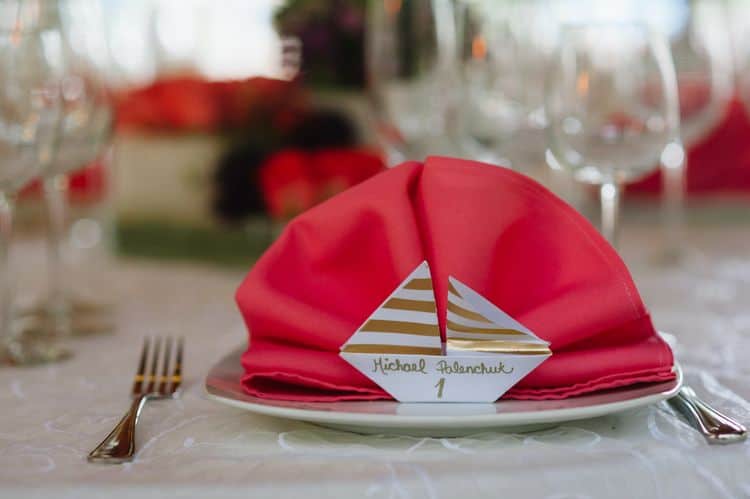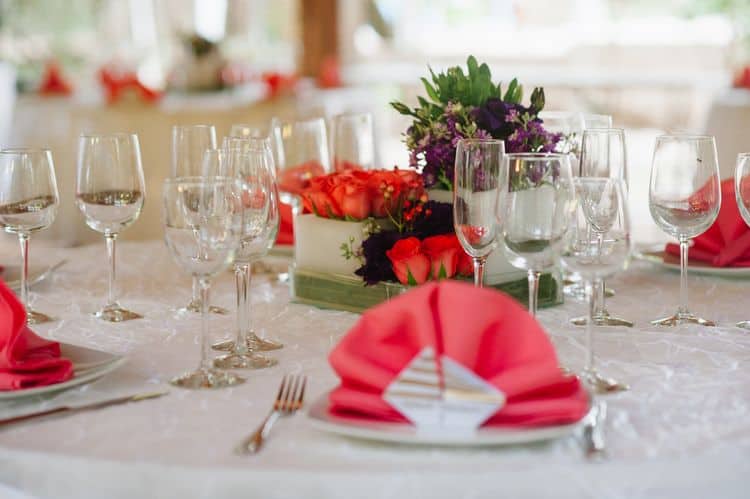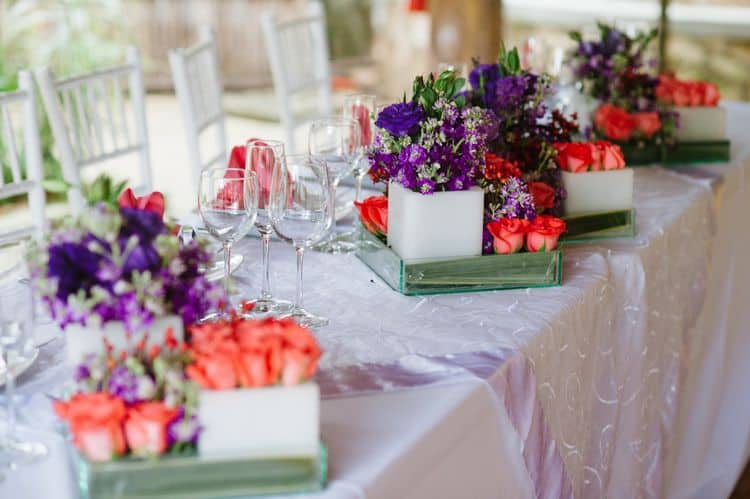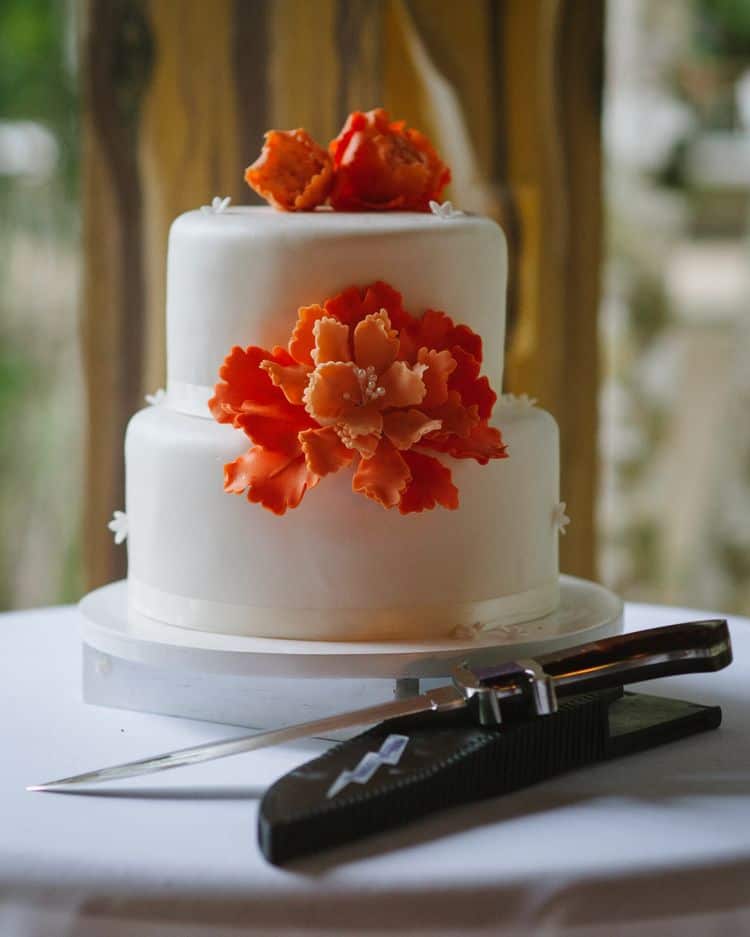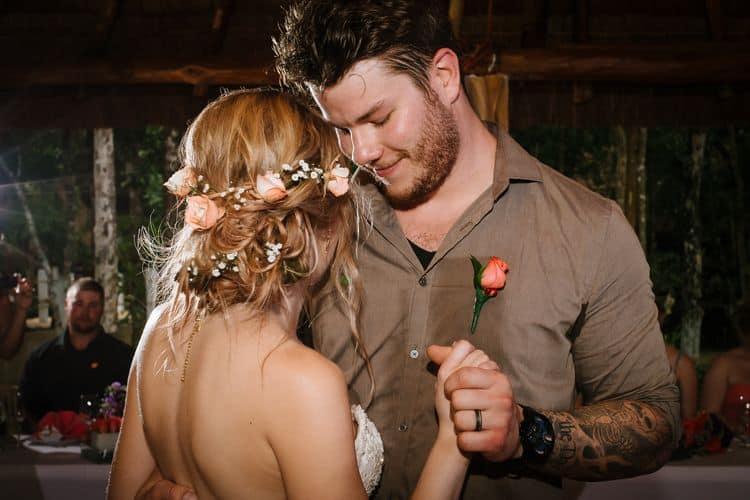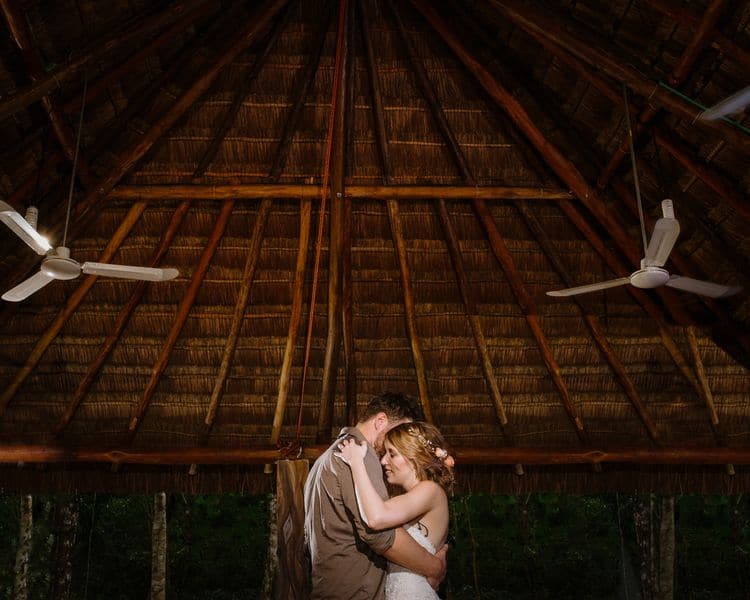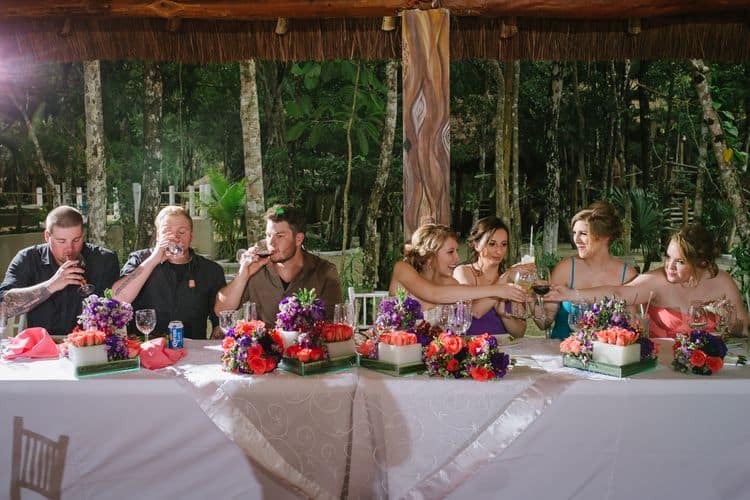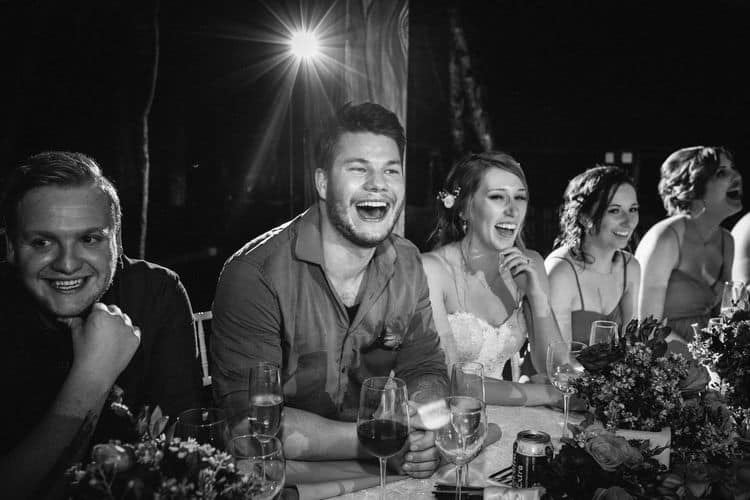 Real Destination Wedding Advice from the Bride
How many people attended your destination wedding?
27 people. 29 if you include the two of us.
What were your sources of inspiration when choosing your colors, flowers, cake, etc..?
We didn't have a theme. We just chose our favorite colors.I used Pinterest a bit. Mostly I just let our wedding planner, Sabrina, send us photos of things and we would pick our favorite.
What was your favorite wedding detail and why?
Being able to have the ceremony in front of a beautiful cenote, across from our loved ones. The venue was everything we had dreamed of and so much more. It was also completely private which is something that was very important to us.
Was there any tradition that you skipped for your destination wedding or a tradition that you put a "destination wedding" spin on?
We had a very relaxed wedding and wedding experience. The bridesmaids had the freedom to choose their own dresses and color. It was just by chance that they all loved the same dress. I also didn't wear shoes or sandals for the entire day which made me feel so free and relaxed.
What was your favorite part of having a destination wedding?
Getting to visit with all of our loved ones before, during, and after the wedding day. Also having the ability to have such a small and intimate ceremony and reception. We were surrounded by the people in life who are most important to us and no one else. I truly believe that it made the whole experience perfect. There was no stress involved at all, and absolutely everyone had fun together.
What was the most memorable, crazy, special, unique, quirky, emotional or unusual thing to happen on your wedding day?
When our best man almost dropped Jason's wedding band in the cenote in the middle of the ceremony! Everyone gave a collective gasp when it happened and a huge sigh of relief when he retrieved it from the dock before it fell in!
What was the biggest challenge in planning your destination wedding?
Definitely getting started in the whole planning part of the wedding. Until I found our wedding planner I felt very overwhelmed trying to find a venue and even secure a date. Once Sabrina came into our lives everything went so smooth and easily.
If you could some advice to others planning a destination wedding, what would it be?
The most important thing to remember is that at the end of all the craziness, the planning, and the emotions that come with a destination wedding, you and your soul mate are going to leave as partners for life. There is not one thing I would change about our wedding. It was stress-free and fun because the only thing that ever mattered to me was marrying my best friend. The rest was just a huge bonus.
Vendors:
Photographer: Genya + Erik Shenko Photography
Planner: Sabrina at Sabry Iyswim Weddings
Venue: Xacil Ha Cenote
Hair and Makeup: Hard Rock Riviera Maya
Bride's Dress: Stella York
Bridesmaid Dresses: Pretty Maids
Grooms Shirt: Le Chateau
Groom's Shorts: Volcom
Brides Rings: Zeghani
Groom's Ring: Lashbrooke
Brides Jewelry: Earrings-Thomas Sabo, Necklace-Kate Spade
Bridesmaid Gifts: Kate Spade Necklaces
Food: Tomás Soberanis from Gourmet Soberanis