Harmony & Bobby had a simple, clean, and natural theme at their destination wedding at Secrets Akumal in Riviera May. Since they chose to have a beach wedding, they didn't want a ton of details that would distract from the natural beauty of their venue. For their color palette, they went with neutrals and light pinks to compliment the crystal blue water and towering green palm trees. My favorite detail has to be the bridal party's attire. In a very unique twist, Harmony's bridesmaids each wore skirts in different colors but matching white tops. The groomsmen went for a casual look with white shirts and grey slacks. To stand out from his crew, the groom added a vest to his attire. And the bride looked stunning in a boho gown.
If you're looking to plan a simple destination wedding, this album shot by Hannah Way Photography is full of inspiration. The bride was gracious enough to share her experience, challenges, and advice, so make sure you read all about it at the end of this post!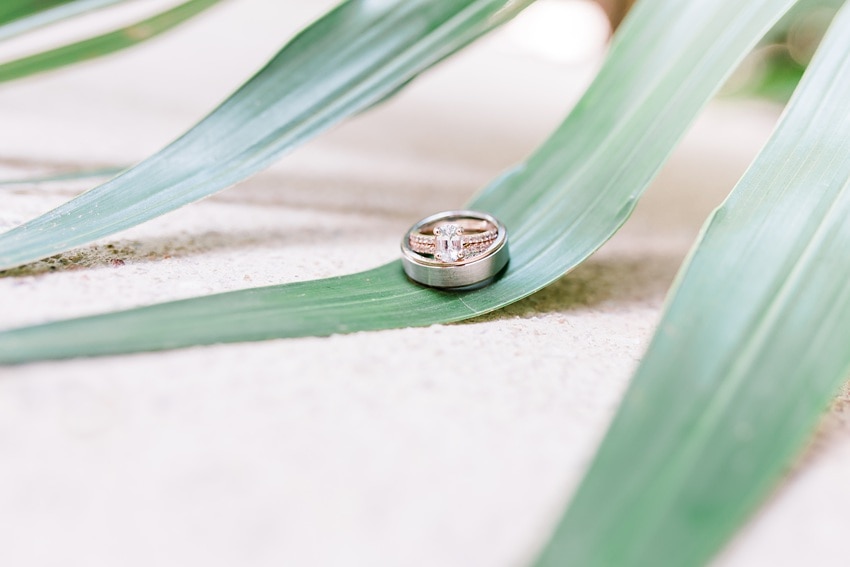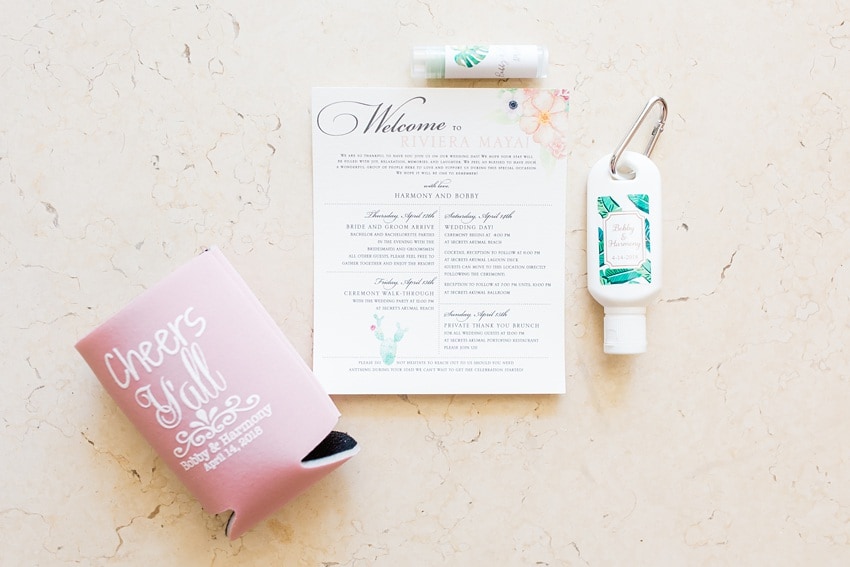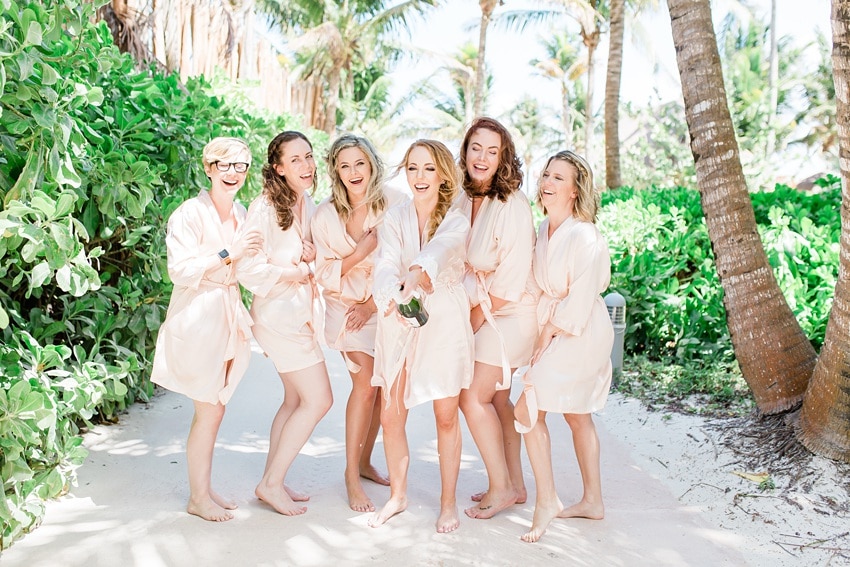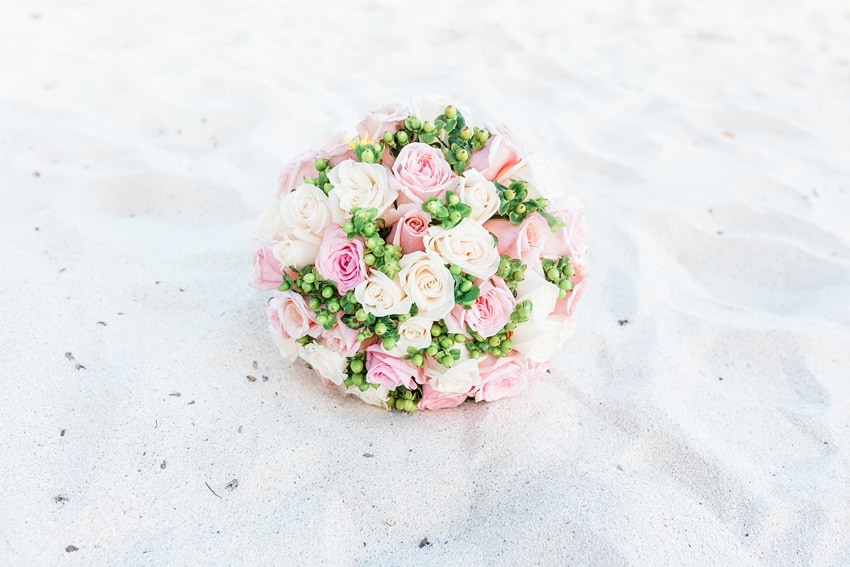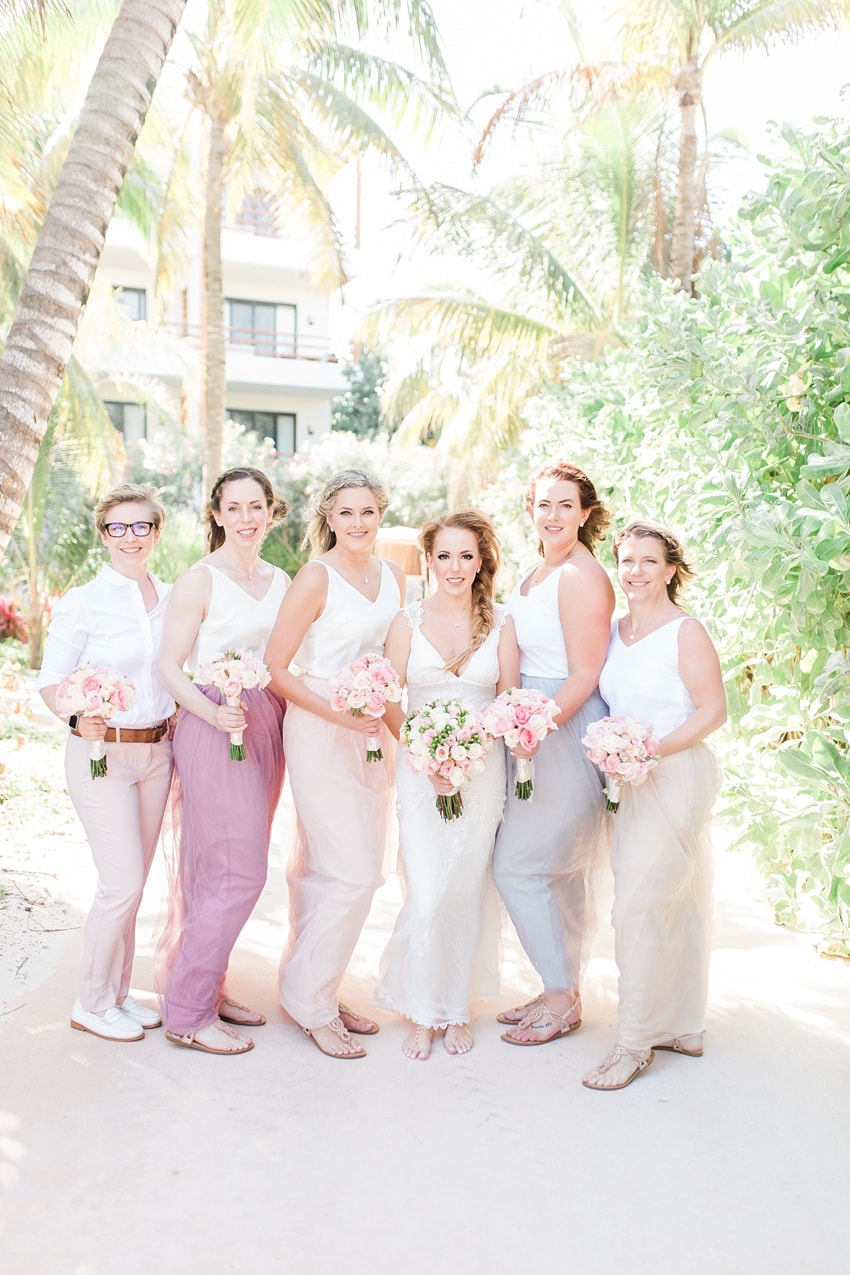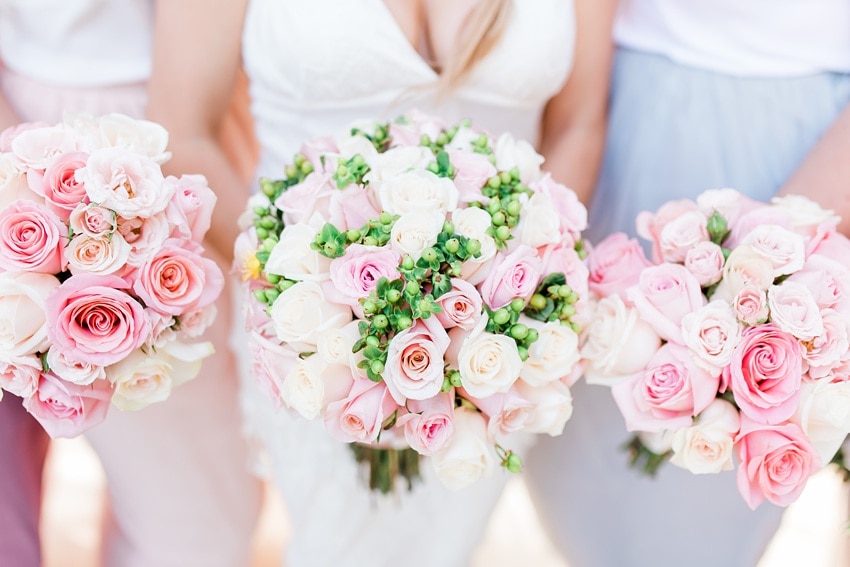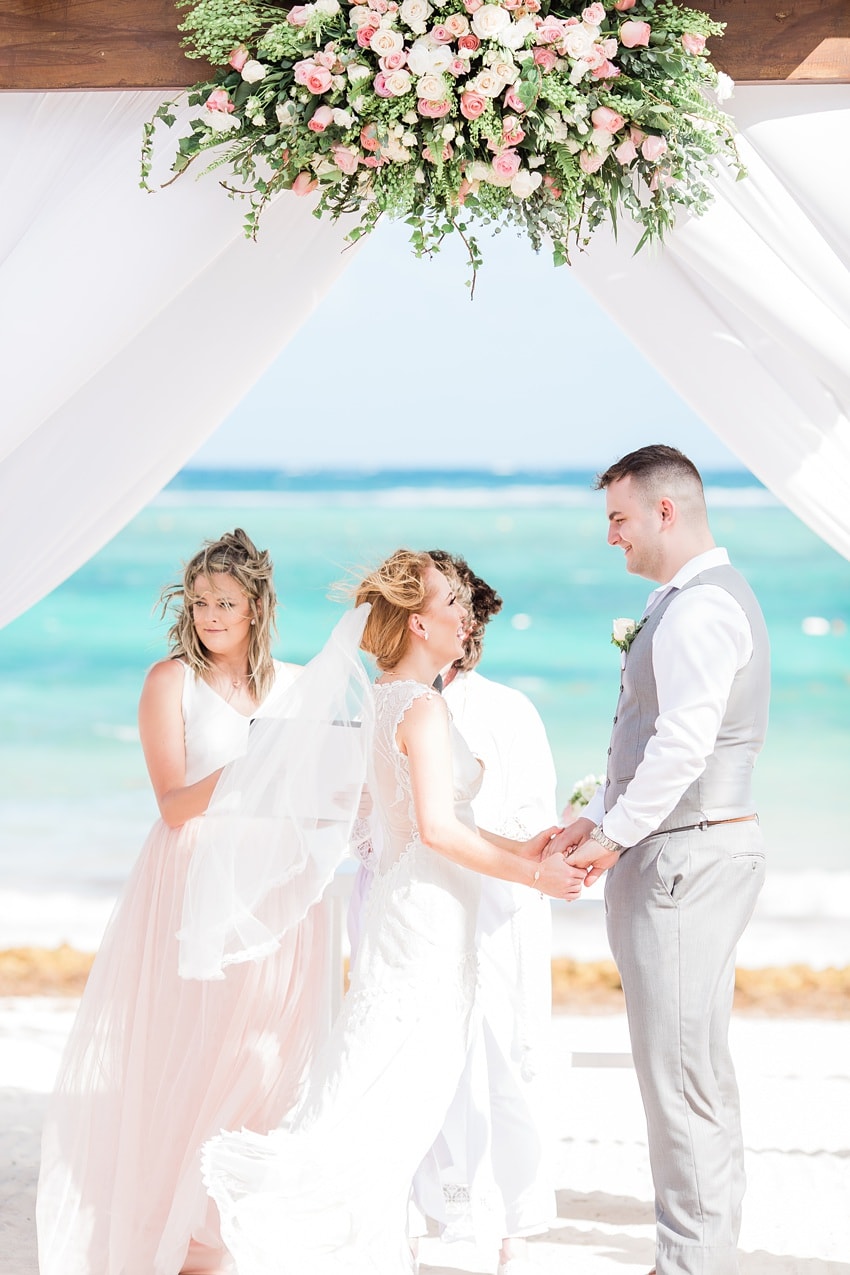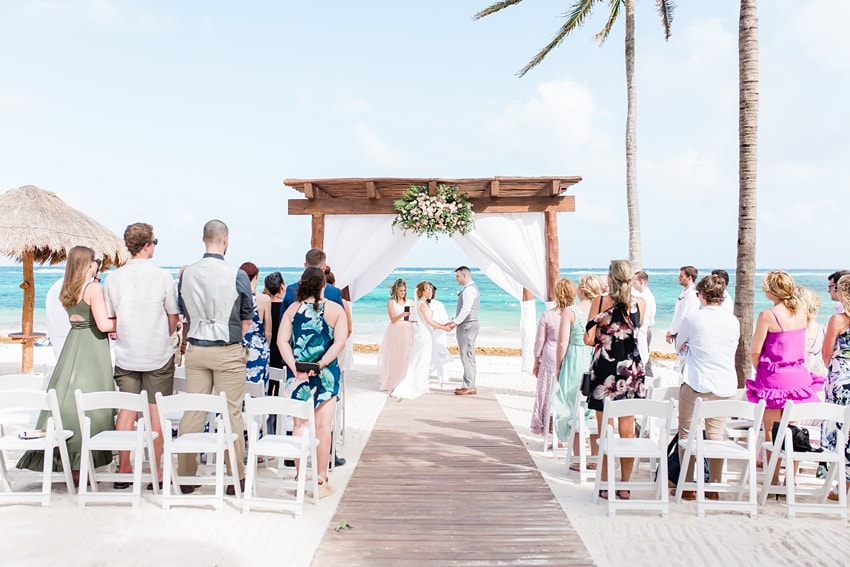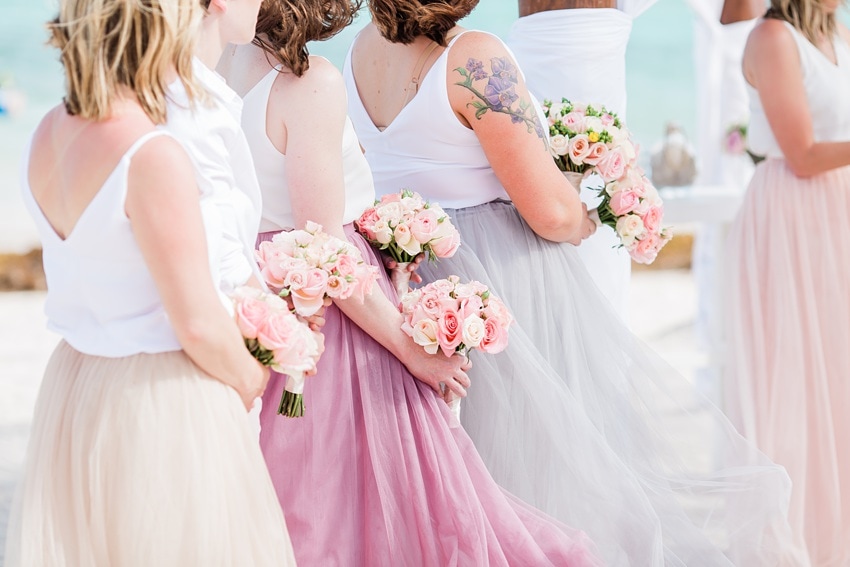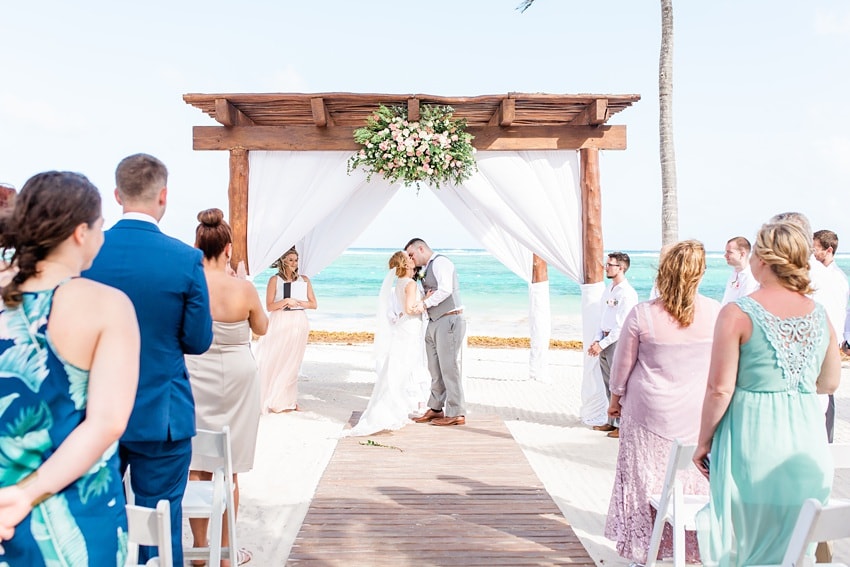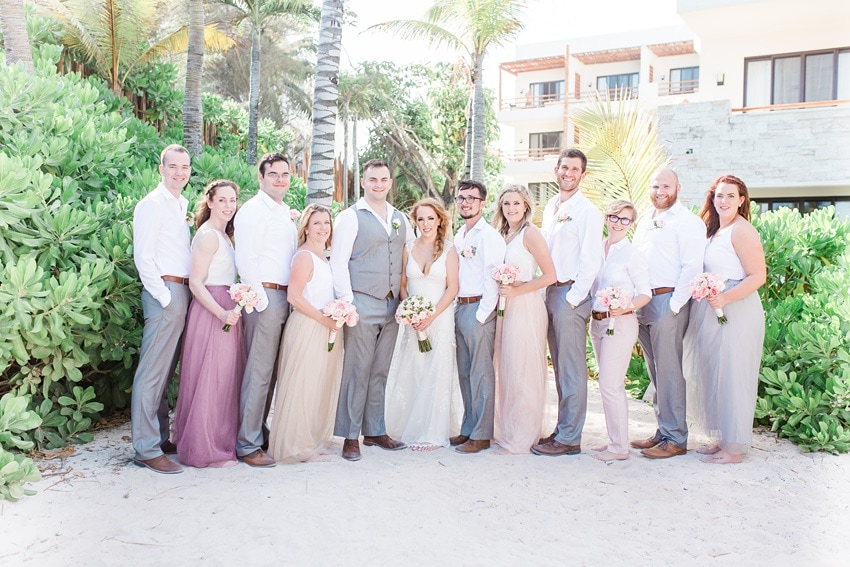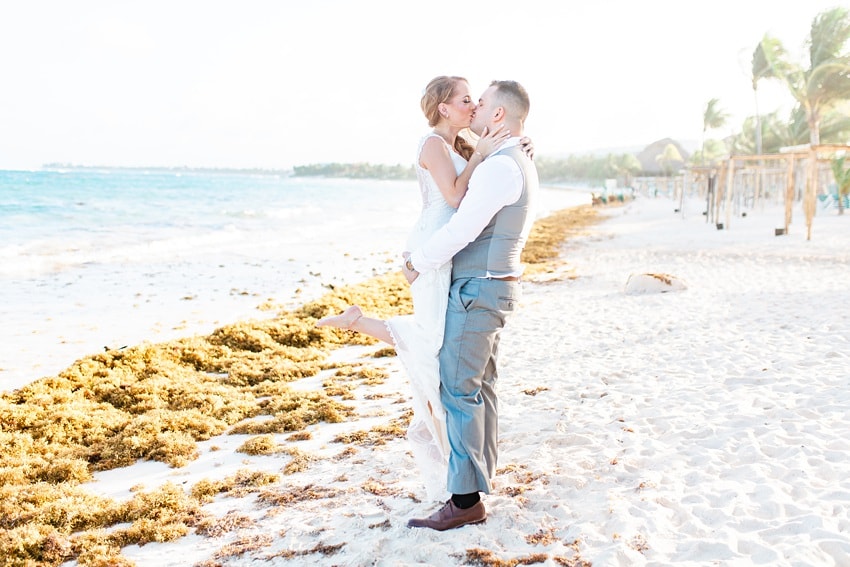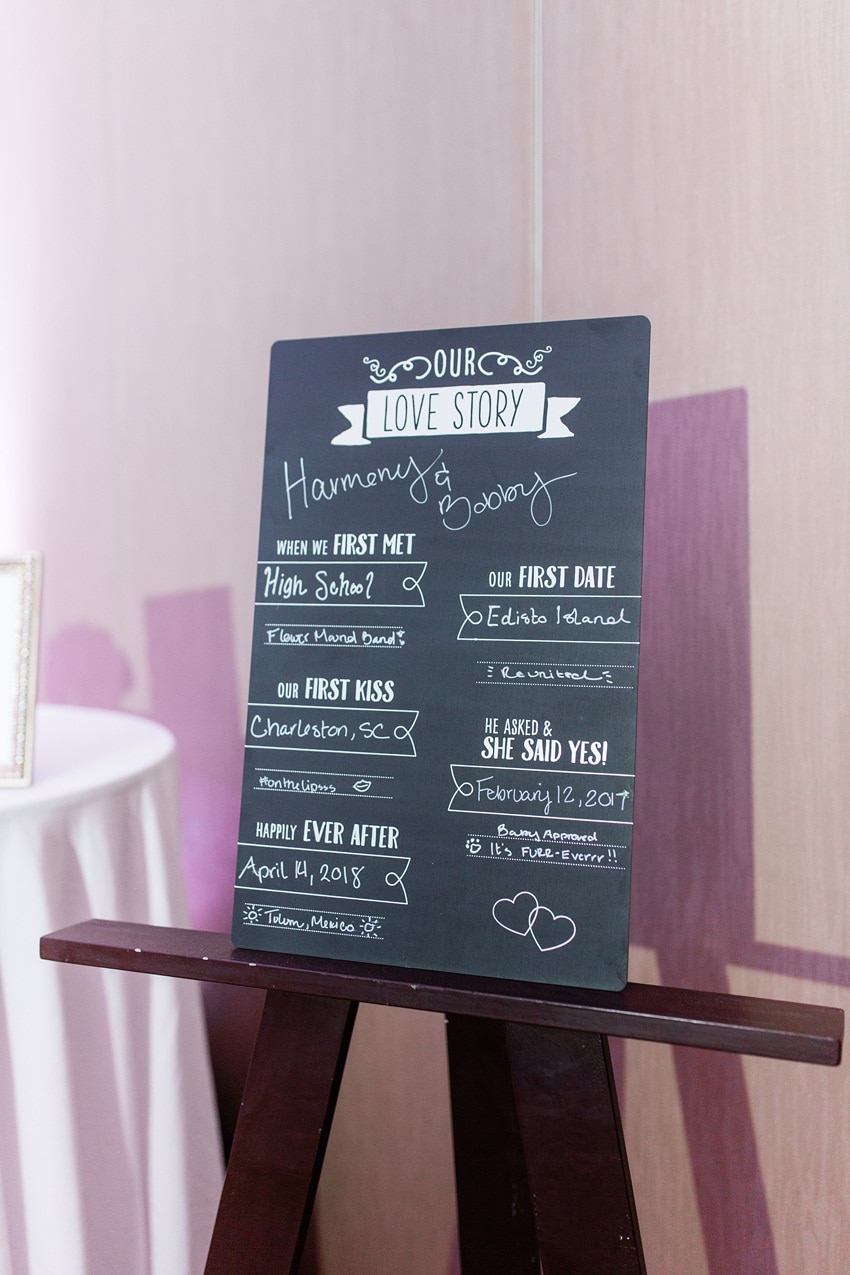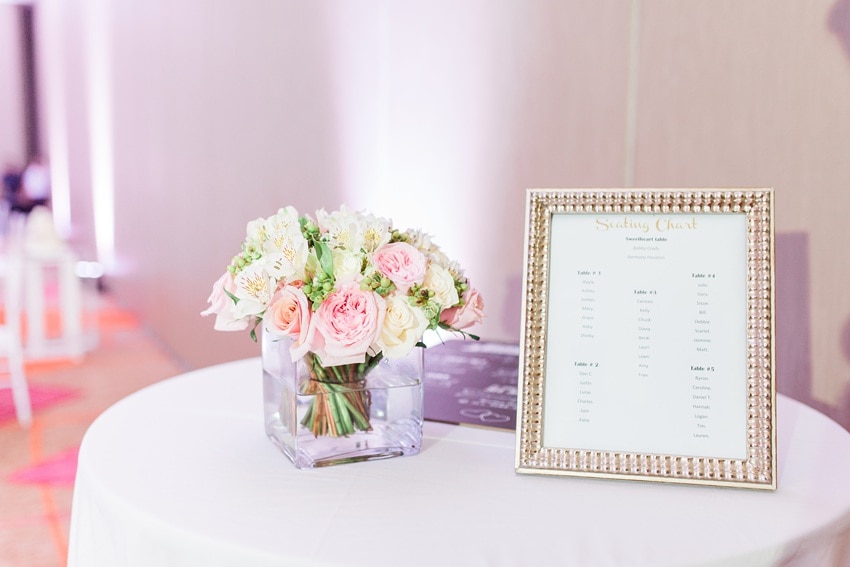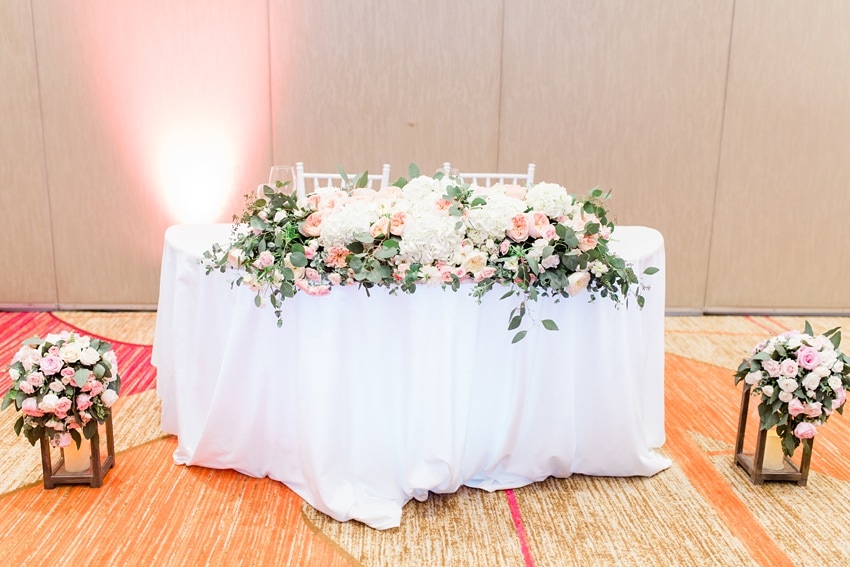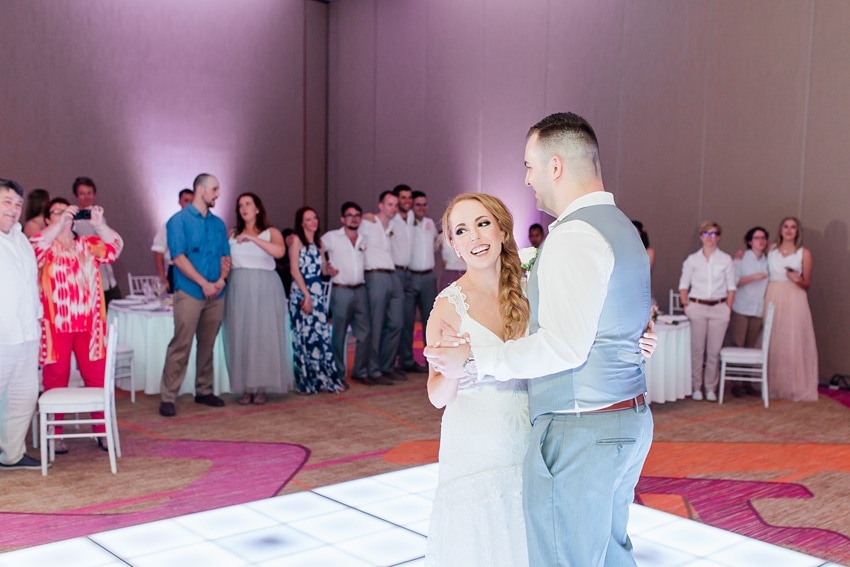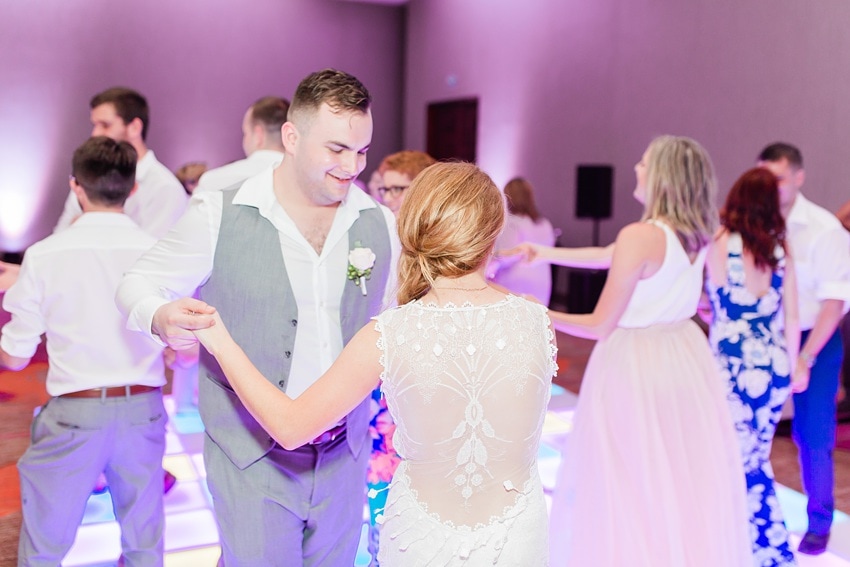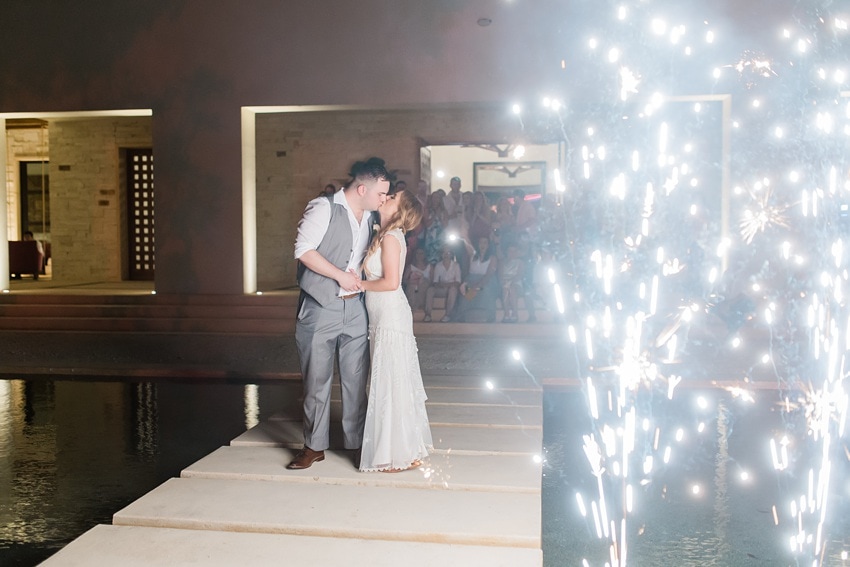 Q&A with the Bride
How did you meet?
We met in High School, but we were only friends. We "reunited" in Charleston, South Carolina where I had just moved to for a job, and he had just been stationed to for his job.
What is your proposal story?
He took me out for brunch at my favorite restaurant (in a blizzard!), and when I came home my dog greeted me with a ring box around her neck. My dog is my whole world (besides my husband!), so it was very special to incorporate her into the proposal.
Tell us a little a bit about your wedding vision
I liked the idea of the all-inclusive resort so that everyone could simply relax and enjoy the party! Having a wedding planner picked for me from the resort was so nice; she did a fantastic job and it was great having everything from one place instead of multiple vendors spread out. I also really wanted to keep the guest list small so that I would have time to spend with each guest, which I did!
What was most important to the two of you while planning your destination wedding at Secrets Akumal?
The most important thing to me was that everything stayed very organized so that no one had to lift a finger and could just come along for the ride! Bobby's most important thing was that I was happy 🙂 AND we did splurge on the DJ, which was a great choice! The DJ the resort provided was awesome, and I was very happy to not worry about the music choices all night. Besides all this, the one thing I was most concerned about and I wanted to be absolutely perfect was my photographer, and boy did I get lucky when I found Hannah! She and her wonderful husband came to Mexico with us to shoot my wedding, and not only did she do a FANTASTIC job, but she was a wonderful friend (and wedding coach!) throughout the entire weekend!
What were your favorite parts of the wedding day?
The dancing was by far the best part! Every single person got out on the dance floor at least once, and it was so nice to have all the generations together partying! My other favorite part was taking pictures of myself and the bridesmaids in our robes. It was so windy and our robes kept flying up and we were laughing so hard! Since guys take 5 minutes to get ready (lol), Bobby enjoyed hanging out with the guys all day playing games and relaxing!
Tell us about your wedding flowers.
I knew I wanted something simple and natural, and this one was a tough one for me. When you choose the resort package, they include some simple flowers with your package, or you can spend (a lot) more for more custom flowers. I had planned out custom flowers, but when it came down to the price it just wasn't worth it to me to spend so much on them. I ended up deciding on the very simple pink and white flowers that came with the package for bouquets, but we did choose to have the larger arrangement above the altar which was a nice touch.
Tell us about your wedding cake.
It was very simple and delicious! I asked for a simple white frosting all over with a natural design and flowers on the layers. I bought a simple, hand-made, wire cake topper. We did red velvet cake on one layer, and traditional vanilla on another.
What did you do for favors?
We did custom coozies, custom lip balm, and custom sunscreen; all the beach essentials! I had this delivered to each guest upon their arrival, and the bags included a card with the weekend's activities listed out so each person knew the agenda.
Please describe any DIY, handmade, or personal details.
The main thing I did on my own was my hair and makeup. I had a hair stylist teach me how to style it before the wedding so I would know what to do, and I am a makeup artist so that part was easy 🙂 I also (with the great help of my MOH and one of the bridesmaids) did the bridesmaids' makeup and hair.
Did you include any family heirlooms or special traditions?
Not really, however, I had the pleasure of my aunt ordaining the ceremony! That was truly special.
Do you have any advice for couples planning their destination weddings now?
Stay organized, and always give yourself extra wiggle room with timing! That was the one thing that was a little stressful was getting everyone (including myself) ready and together on time. But don't stress over the little details! People will only notice about a quarter of them, and the day goes by so fast you don't even notice! Keep it simple and make the main goal to have fun.
What was the biggest challenge when planning your destination wedding at Secrets Akumal?
The biggest challenge of the destination wedding was simply not being at the venue physically for any of the planning until I got there 2 days before! I was assigned a wonderful wedding planner from the resort named Abigail, however, our only communication was through email which was a little stressful. But in the end, she had everything down to a T!! I am so glad we decided to do a destination wedding, and we loved it so much we are going back for our anniversary this April!
What was the best part of having a destination wedding?
The best part was that I was on vacation during my wedding, and so were all my guests! Being able to spend time with them not just at the wedding but for several days was SO special, and I loved every minute of it.
Vendors
Photography: Hannah Way Photography | Venue: Secrets Akumal Riviera Maya |Hair & Makeup: Indigo Makeup Artistry | Wedding Dress: A Bridal Closet | Groom's Attire: Perry Ellis | Bride's Shoes: Etsy | Bridesmaid Dresses: Morning Lavender | Veil: Something Bleu Bridal | Bridesmaid Robes: Etsy | Jewelry: Kendra Scott