Michelle & Matthew originally planned to elope, but when they realized how sad it made their families, they decided to have a small destination wedding in Hawaii with only their children, their parents, siblings, and a few close mutual friends. They tied the knot at the Hau Terrace (Halekulani Hotel) overlooking Waikiki Beach. Their colorful tropical decor exuded a happy Hawaiian vibe that I love! And wait until you see photos of the breathtaking "trash the dress" shoot the newlyweds did in a beautiful cove after the wedding. A huge shoutout goes to Absolutely Loved Photography for capturing all these beautiful details and sharing them with us.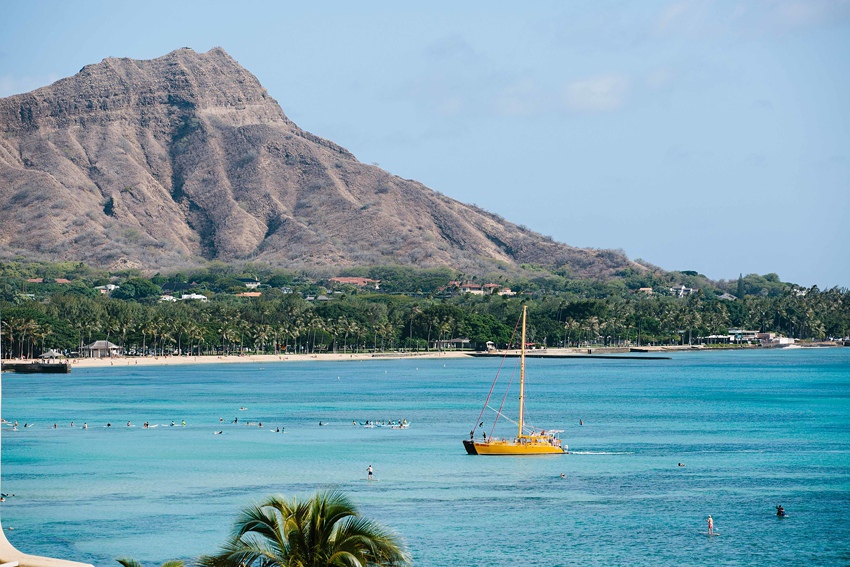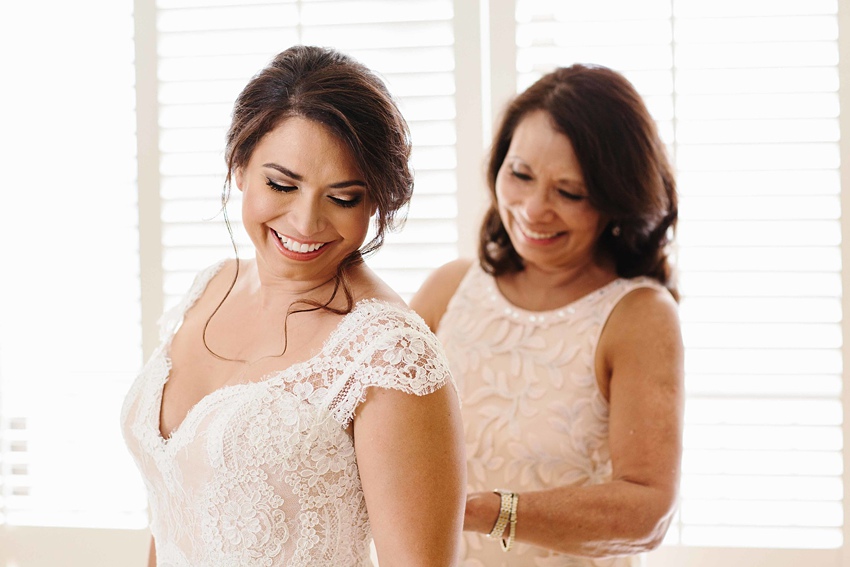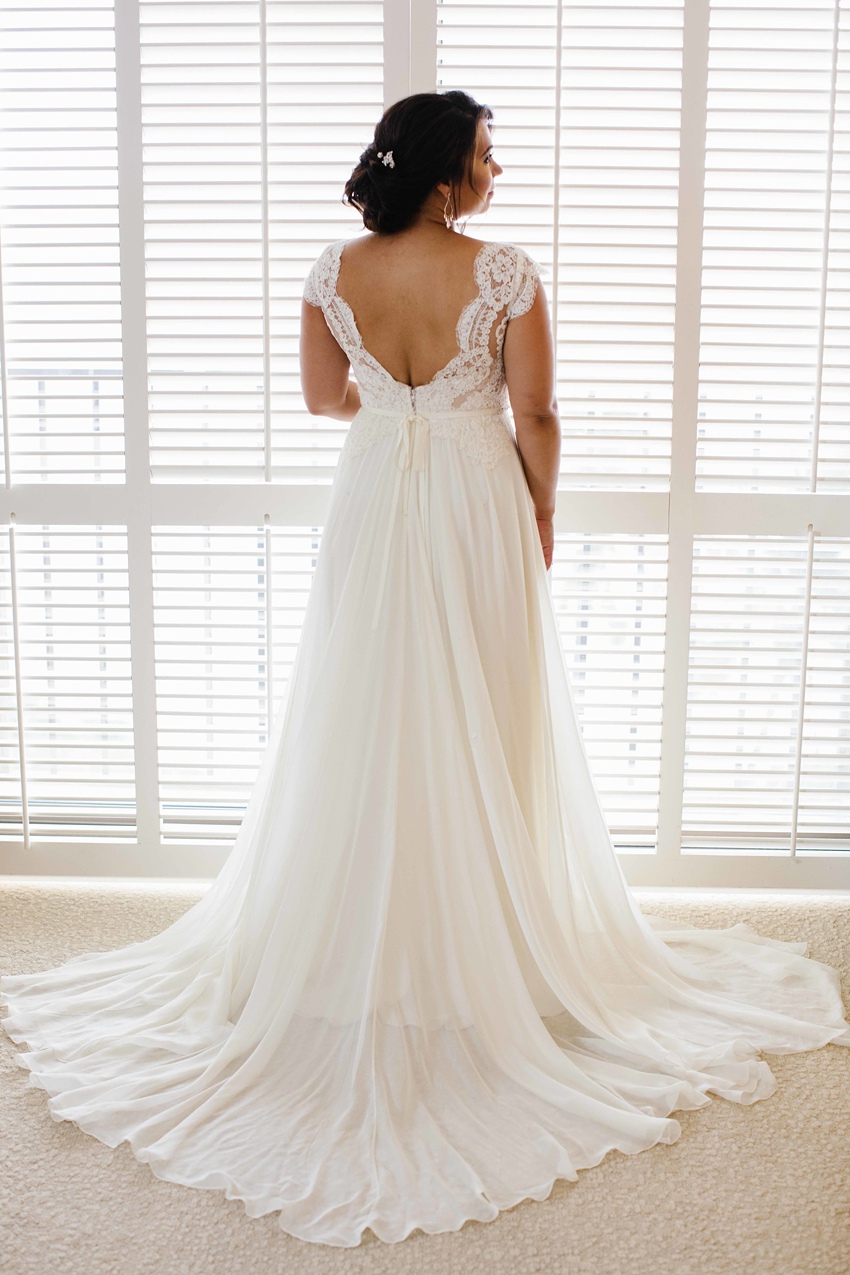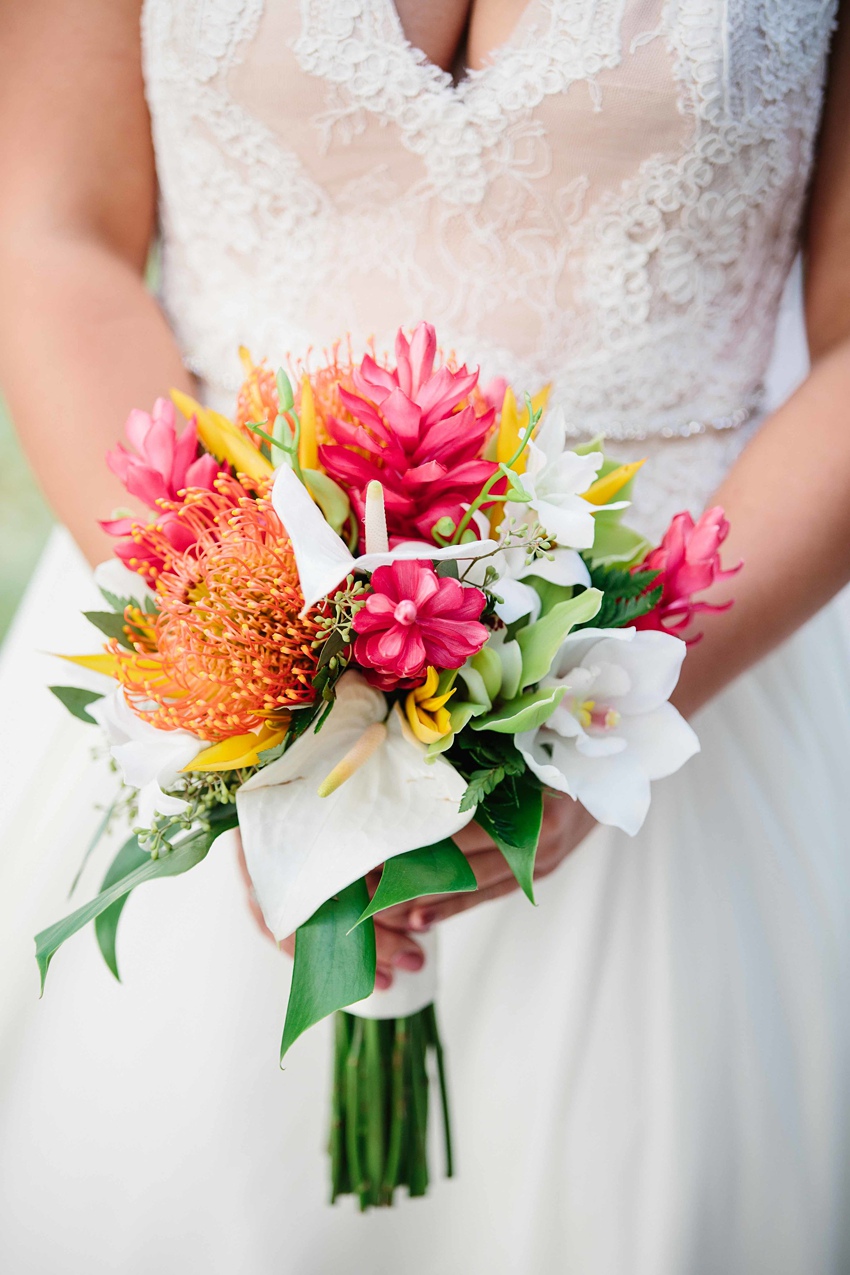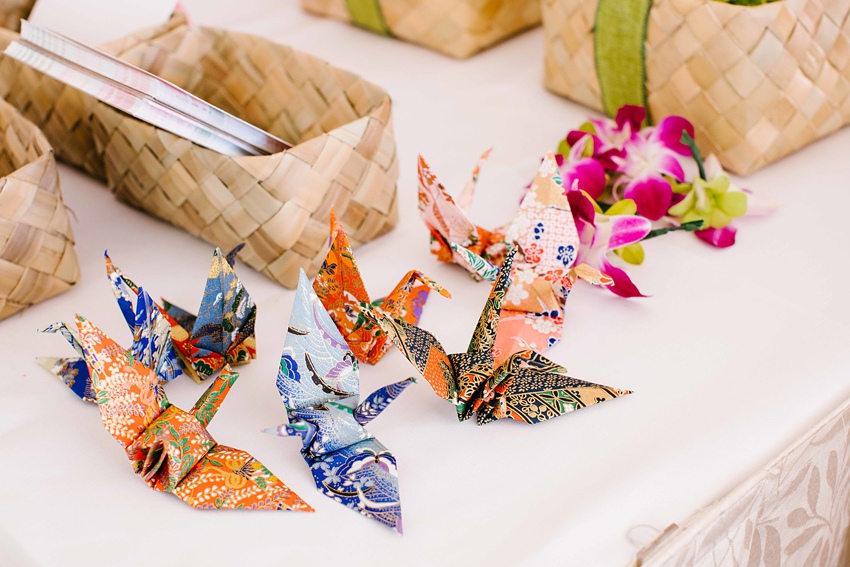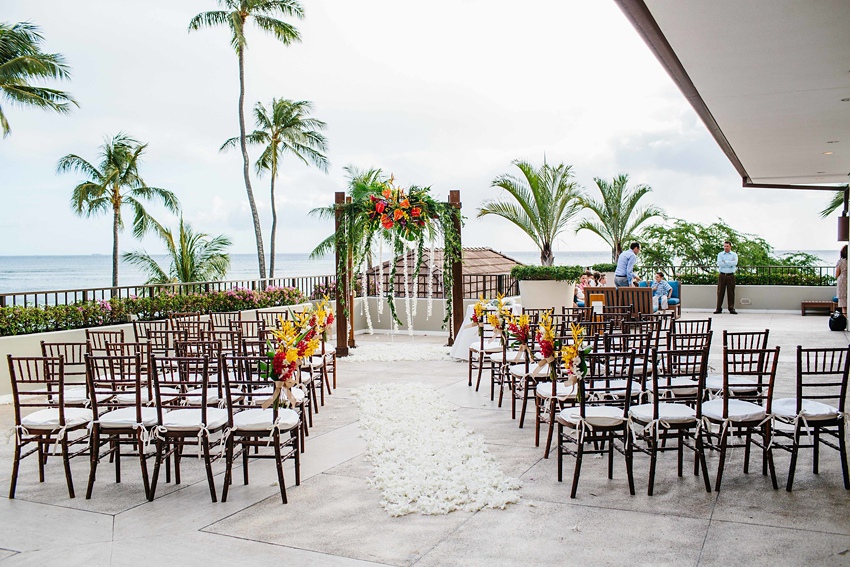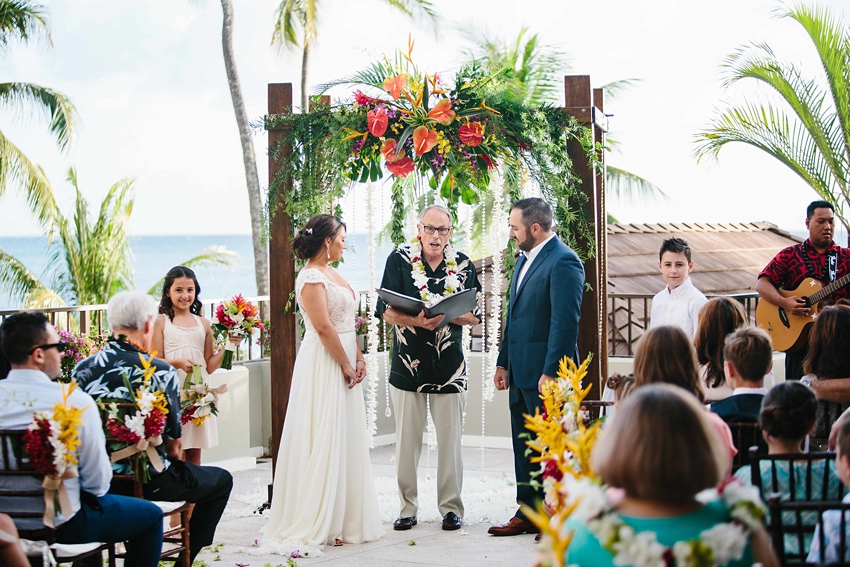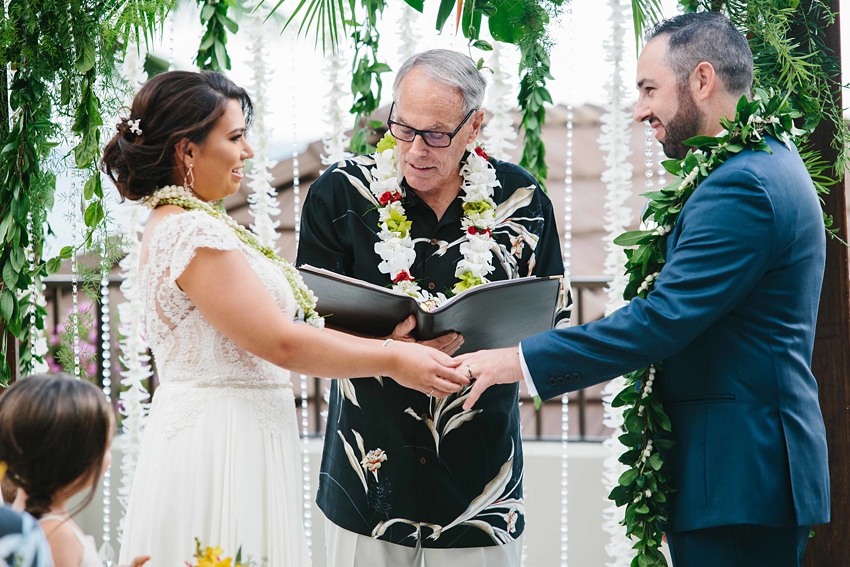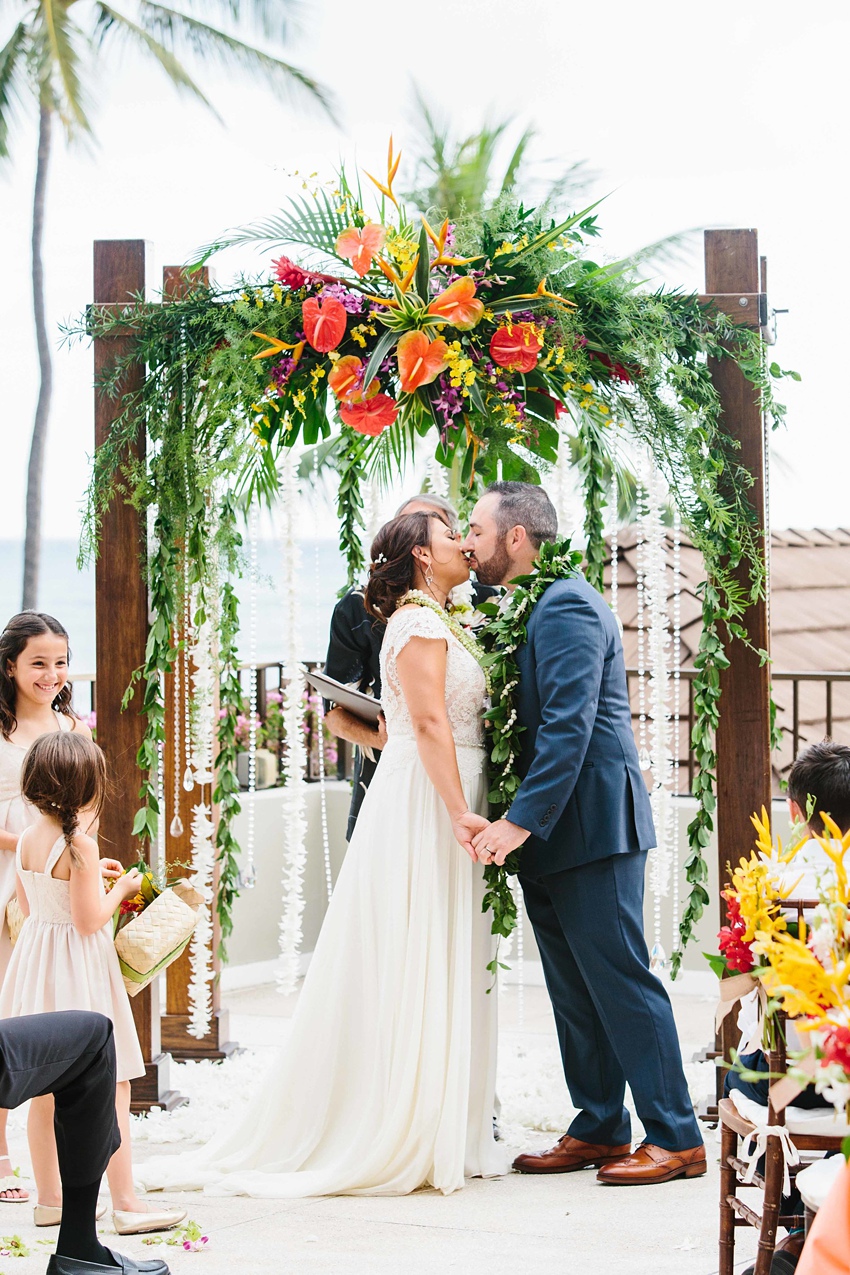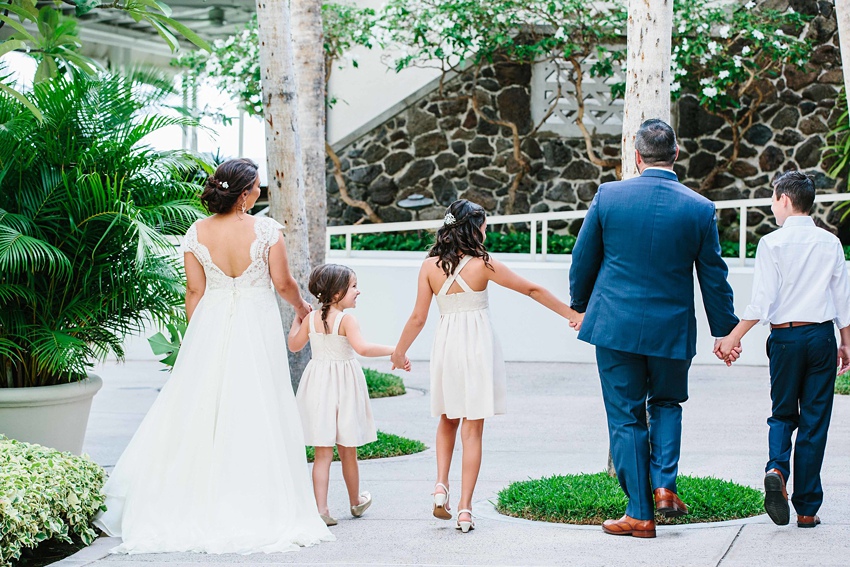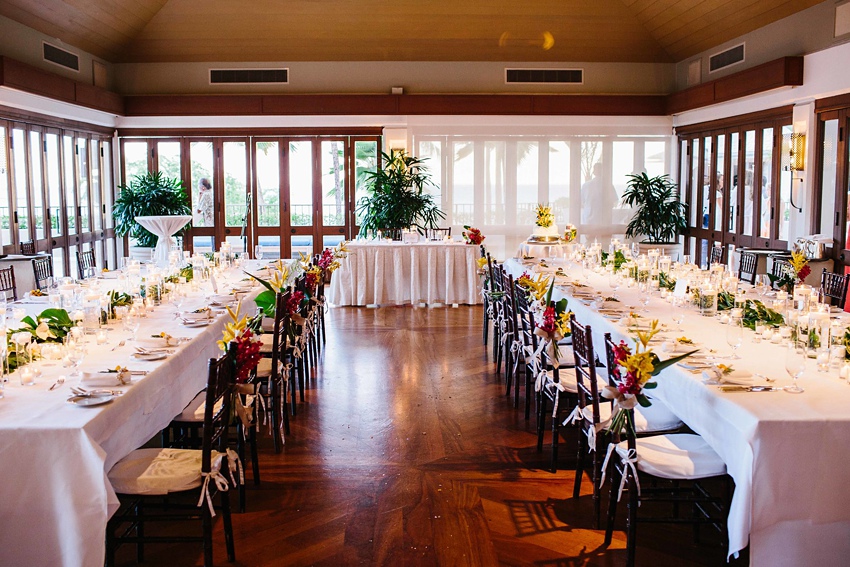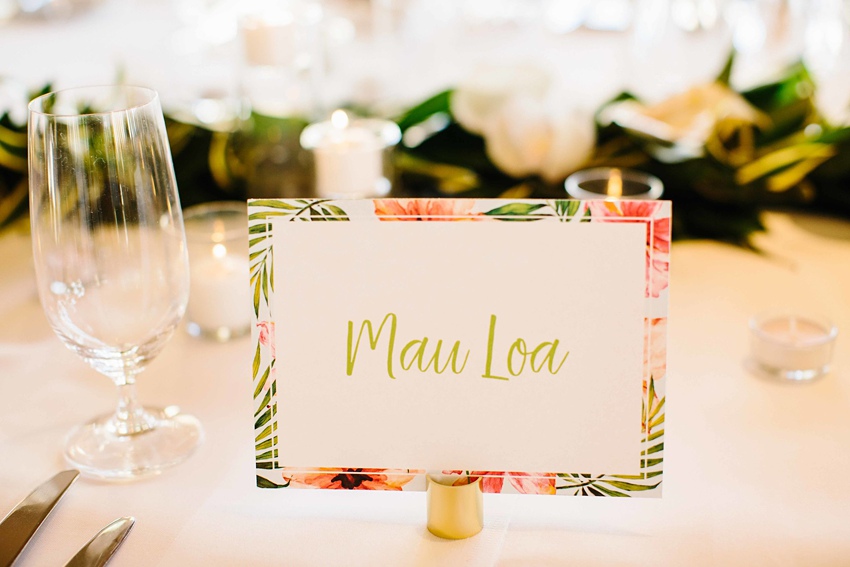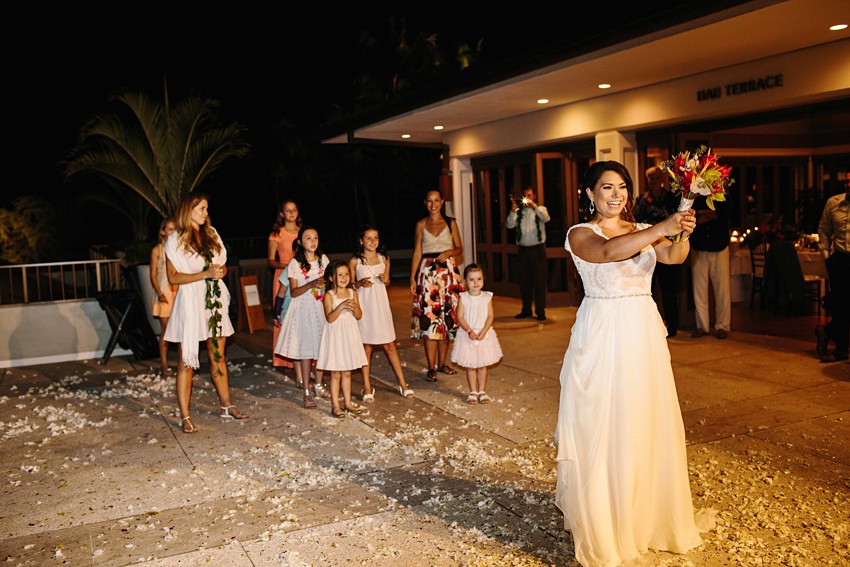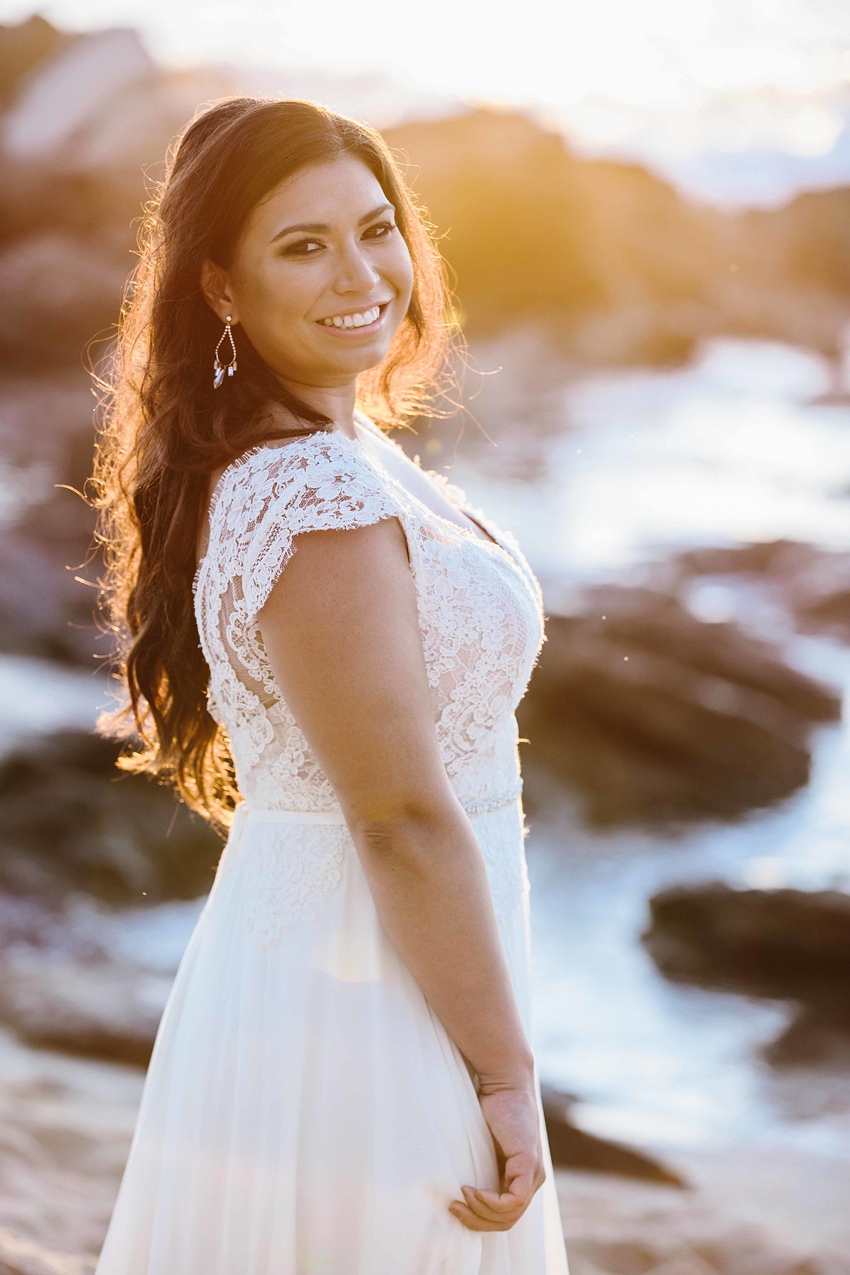 Q&A with the Bride
How did you meet?
We met in law school and have been friends for almost 15 years.
What is your proposal story?
Michelle was at a family reunion in San Francisco, while Matt was at a work event in San Diego. Matt snuck away from his work event and coordinated with Michelle's parents to take her to the marina on the way to the airport. Matt was there with flowers and had set up a private sailing trip in the San Francisco Bay. Before they boarded the boat, he gave her a card and surprised her with the ring!
What made you choose to have a destination wedding in Hawaii & at the Halekulani Hotel
We had both been married before, and we wanted to keep our wedding small. Originally we had thought about eloping, but it made our families sad, and we wanted to be able to include Matt's children. So we decided to do a wedding in Hawaii with immediate family (Michelle's parents and Matt's parents, siblings, and their families), and a few close mutual friends. Michelle's mom was born and raised in Hawaii, and both of us had lived in Hawaii, so it was a special place for us.
Tell us about your attire choices.
Along with the original idea to elope, Michelle had planned to wear a very simple dress, but went dress shopping with her mom for fun. Of course, she fell in love with a gorgeous Leanne Marshall dress that was nowhere near the original idea she had planned. Matt wore a navy suit from Nordstrom, along with our son, Will. Michelle's mom made our daughters', Abby and Olivia's, dresses. We took the girls shopping for fabrics, and eventually settled on matching lace and chiffon, but slightly different styles.
What was most important to the two of you while planning?
We wanted to have an intimate wedding with people that had been with us and knew us the best. We wanted to be able to spend a lot of time with them and to ensure they had a great trip to Hawaii. To that end, we had everyone attend a luau at Paradise Cove at Ko'Olina, as well as chartered a catamaran for everyone to go sailing the next day.
What were your favorite parts of the day?
The best part of the day, other than getting married, was being able to spend a lot of quality time with people that knew us best. We were able to really be ourselves, relax, and have fun. One of our favorite parts was a trivia game about Matt and Michelle that Matt wrote questions for. We gave away silly touristy Hawaii gifts (coconut bra tops, dancing dashboard hula girls, etc.) for answering a bunch of silly and hilarious questions about us. Everyone was laughing and having a great time! One of Michelle's favorite parts was being able to include the kids in the ceremony and in the entire process. It was a wonderful way to bring us all together as a new family.
Tell us about your wedding flowers.
Michelle's mother worked with Fujikama florist and Lin's leis to come up with a beautiful tropical backdrop to the altar, as well as to line the aisle. There were strands of leis mixed with strands of crystals, surrounded by local, tropical flowers. Inside, Michelle wanted to have a romantic runner of greens and lots of candles.
Tell us about your wedding cake.
Because we were getting married at the Halekulani, we had to have their famous coconut cake covered with coconut shavings, and our florists dressed it up with some birds of paradise. Everyone agreed that Halekulani's cake is phenomenal!
What did you do for favors?
Michelle's mom made candy leis for all of the children and shell bracelets for all of the guests. Because we had only immediate family and a few close friends, instead of favors, Matt wrote a series of hilarious trivia questions about him and Michelle, and the correct guessers were treated to a variety of carefully selected touristy souvenirs from KMart, including coconut bra tops, dancing hula girl statues, and colorful plastic leis.
Please describe any DIY, handmade, or personal details.
Michelle and her mom made shell napkin rings, that doubled as bracelets for the guests to take home. Michelle's mom made candy leis for the children's table, and Michelle folded paper cranes for good luck. We also had each of the children give us some marriage advice, and created a marriage advice board for everyone to read.
Did you include any family heirlooms or special traditions?
We included a fair amount of special traditions. Because Michelle is Chinese Hawaiian, and spent a lot of time in Hawaii, we exchanged leis, blessed the rings with salt water from the ocean, and wrapped a lava rock with a ti leaf. The leis represent an unbroken circle, like a wedding ring, of commitment. The rings are blessed by using a ti leaf to sprinkle salt water in a kal bowl, while reciting a Hawaiian prayer. The blessing of the rings washes away hindrances and ushersi in a new life together. Matt's dad is originally from New Mexico, and both Matt and Michelle included Spanish in their vows.
What was the biggest challenge when planning your destination wedding in Hawaii?
Hawaii is not an easy place to visit from Utah, so it was a bit challenging to do most of our planning over email and phone calls. We did take a few trips over to the islands to meet with people, but it was challenging to fit everything we needed to do in these little trips. Luckily, with the ease of the internet and communications today, all of the people we were working with were always available and happy to answer questions. We worked with Sayaka at the Halekulani, and she really helped everything run amazingly smooth.
What was the best part of having a destination wedding in Hawaii?
The best part about having a destination wedding was that we got to spend a lot of time with the small group of people that came to celebrate with us. Instead of just a few minutes of talking with each person, we spent at least three full days with our family and closest friends.
Vendors
Photography: Absolutely Loved Photography | Ceremony & Reception Venue: Halekulani | Hair & Makeup: Cherbu by Cheryl Hazlegrove | Floral: fujikama florist | Wedding Dress: Leanne Marshall | Bridal Salon: Alta Moda Bridal | Bride's Shoes: bagley mischka | Jewelry: Swarovski | Jewelry: john hardy | Groom's Attire: Nordstrom