Beach weddings are fun and romantic so it is only normal that you would want to capture all of the feelings of that day in your beach wedding photos. Your beach wedding images can be as dreamy as you like since you have the best of nature on your side.  The natural and relaxed ambiance will be the best backdrop any wedding photographer can ever ask for. Having your nuptials on the beach is one of many wedding ideas that will allow you to be footloose and just have fun with the people you love.  Once you've decided on the dress, beach wedding hairstyles and décor , you can start thinking about the perfect scenery for photos that you will look back on for years to come.  Below are a number of beach wedding picture ideas to help inspire your seaside wedding photo shoot.
Beach Wedding Photo Ideas for Couples
1. The Rugged Bedrock
A good metaphor for the solid foundation of a marriage, a bedrock formation also makes a great location for a wedding photo shoot.
2. The Breathtaking Sunset
If you're willing to wait for the sunset, you will be gifted with a vivid, colorful sky that can take your breath away. Take beach wedding pictures to remember with a sunset photo that might as well be a painting.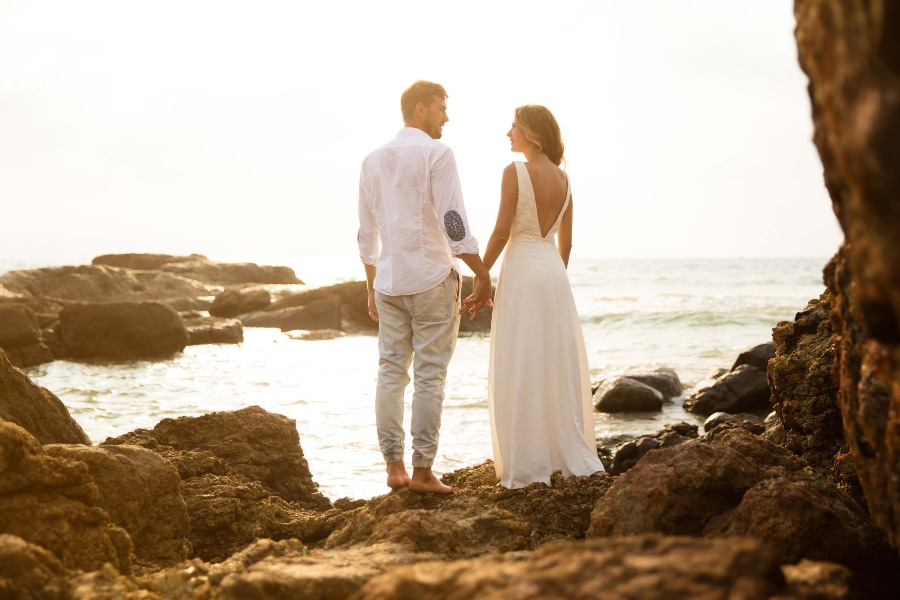 3. Hand in Hand
Run hand in hand along the shoreline for amazing photos that reflect the fact that you are taking this journey together.

4. The Reflection Shot
Being around for high tide means you can try a double take photo that captures you both as well as your reflection in the water.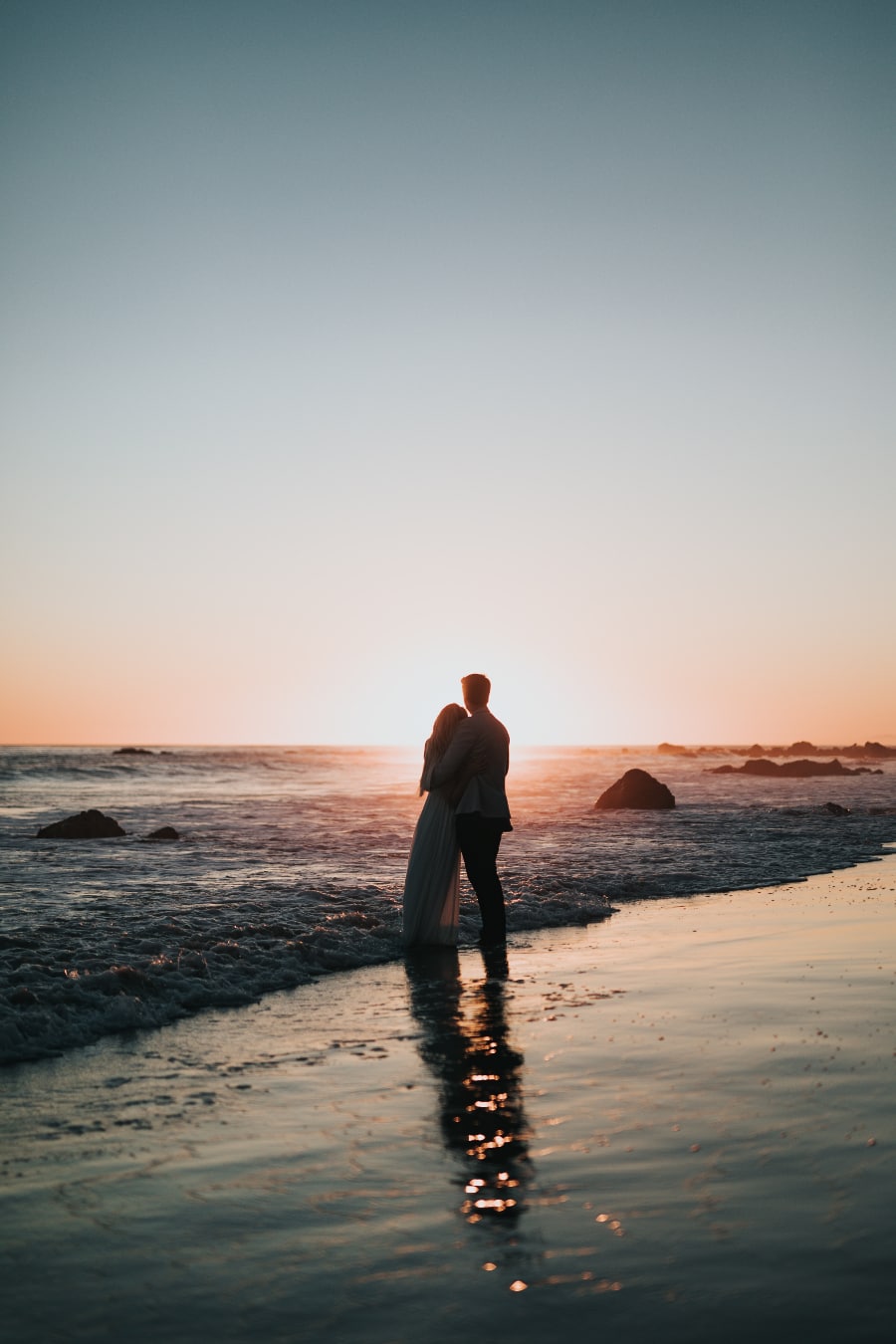 5. The Fairy Tale Shot
If you're looking for easy, casual beach wedding photos, why not try a background of hidden coves, craggy rocks and crashing waves. Allow nature do most of the work, as your mythical backdrop creates the perfect fairy tale shot.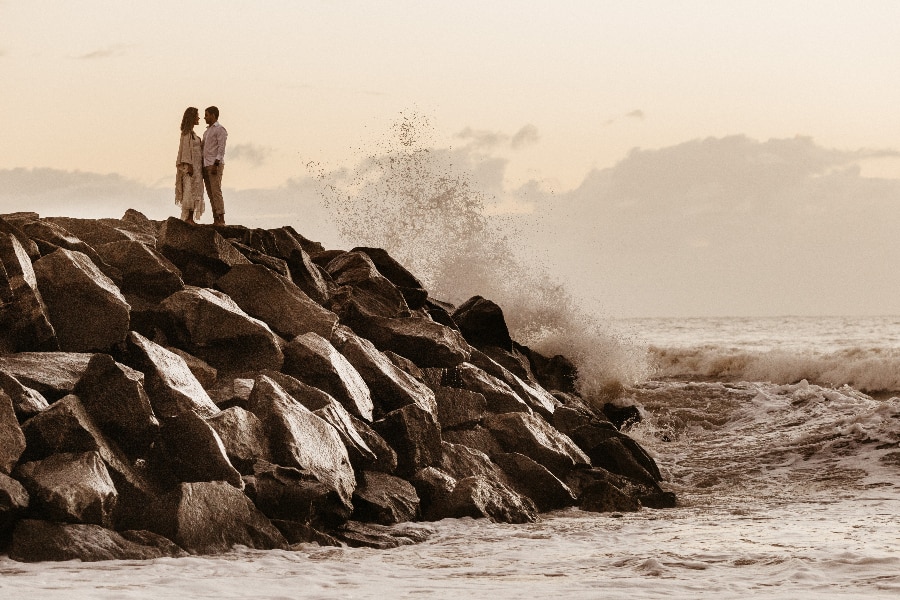 6. Trash the Dress
A beach wedding is not complete until you get in the water. So why not make a show of it and take memorable photos as you trash your dress and tux in a photo-op dare.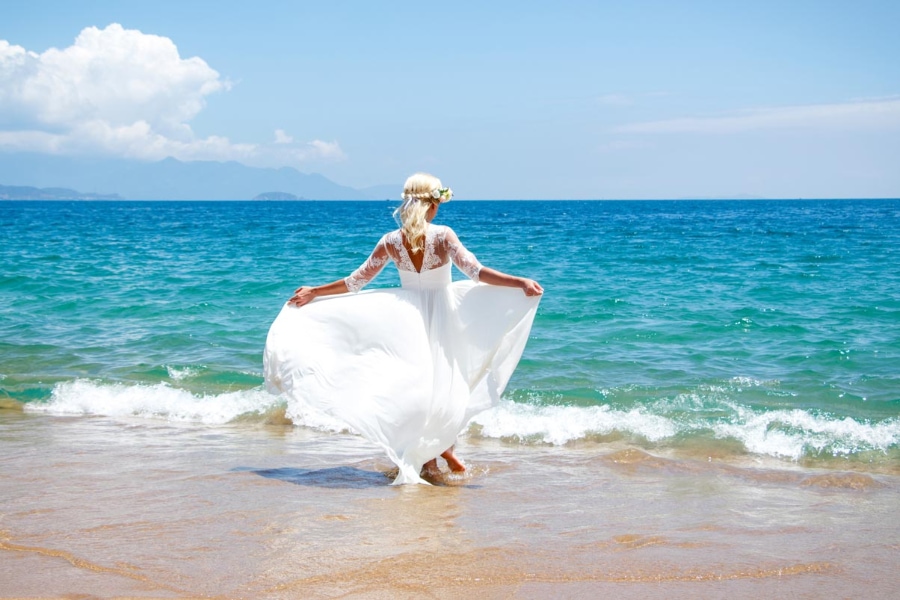 7. A Walk on the Beach
Just like the running shot, a walk would do as well. A picture of you both, hand in hand beginning your love story with a casual walk in the sand.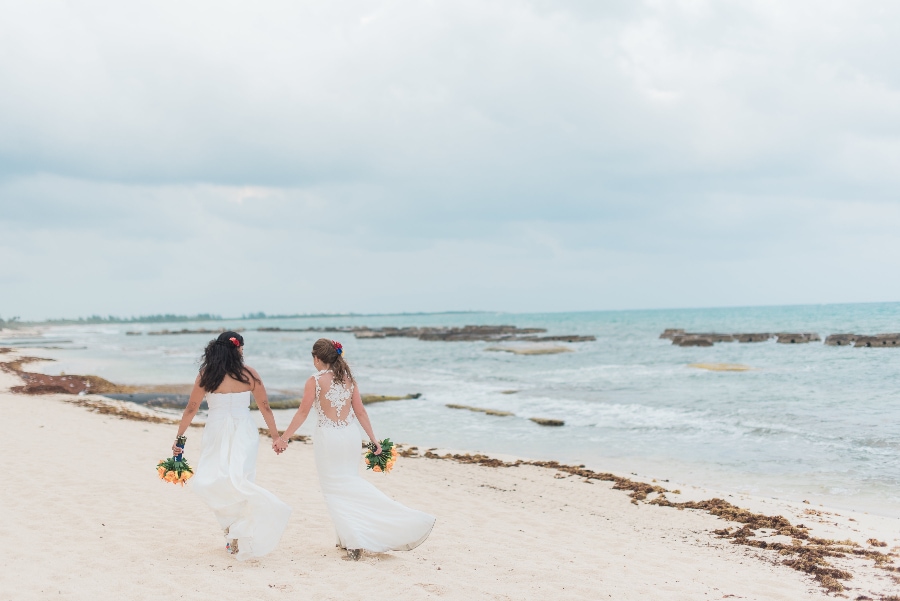 8. From Above
Don't dare leave such an expanse of fabulous nature without an aerial shot. With the right poses you can capture the ocean scenery with dazzling views from every angle, all from above, with the most beautiful subjects in the middle.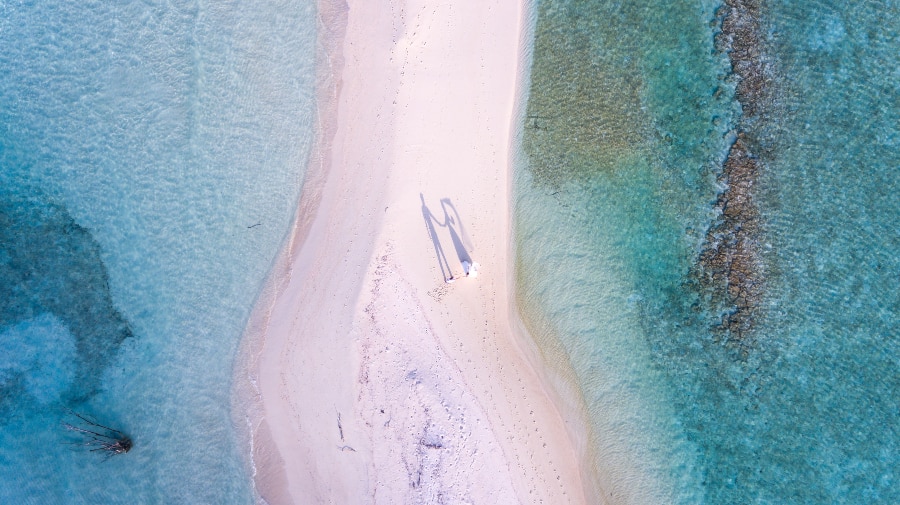 9. The Perfect Kiss
The image of beach wedding would be incomplete without a picture of the perfect kiss. With such amazing views and a killer backdrop, it would be a waste to leave without capturing a kiss against the shoreline, or among the beautiful waves.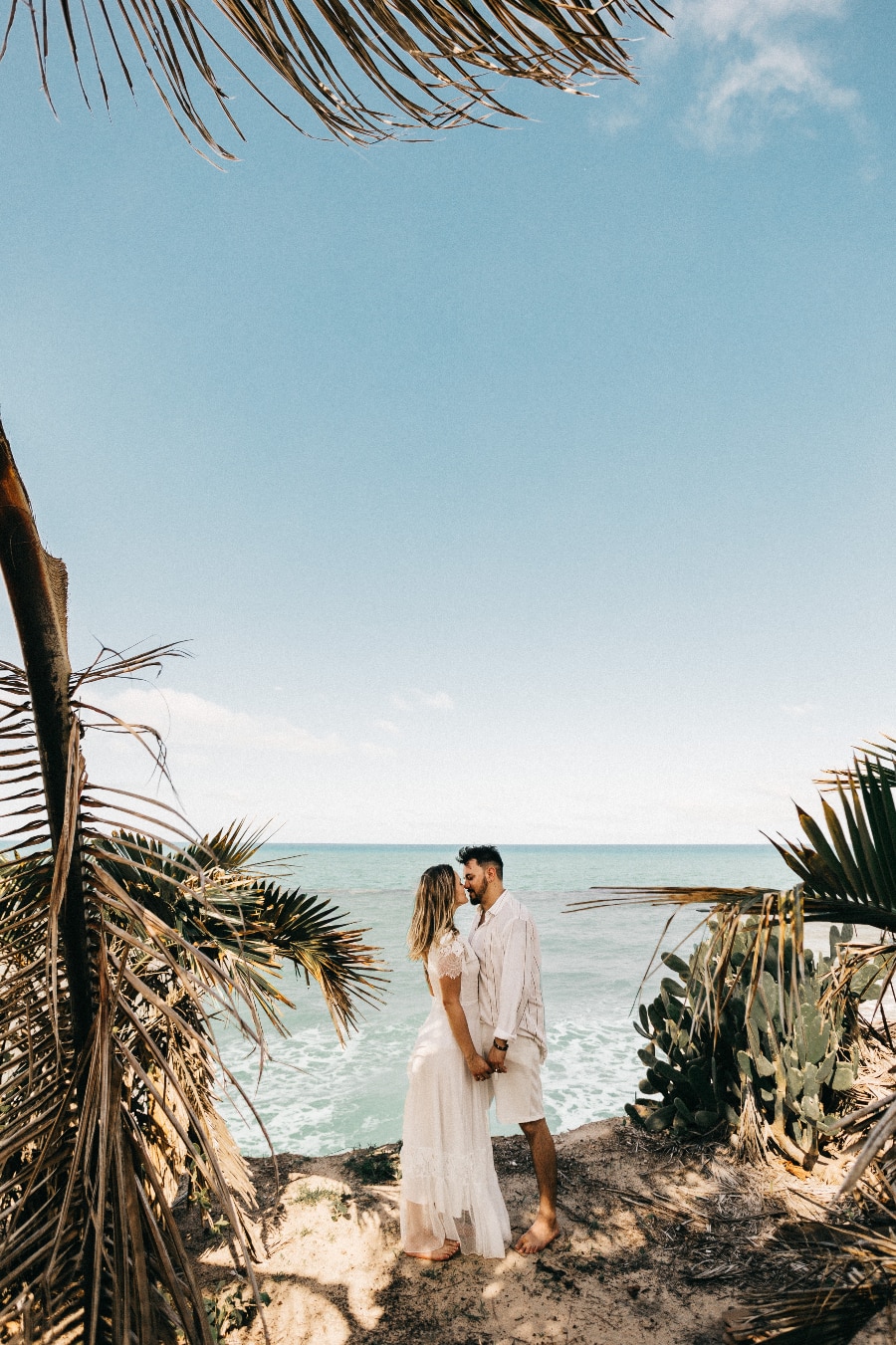 10. The Coastline
A shot that can capture the beauty of the coastline. Dramatic views from a rugged scenery against the soft, crashing waves. This will give you postcard perfect photos and worthy moments to remember.
11. The Beach Trees
The water isn't the only beautiful backdrop. Be it palm trees or any other type of beach tree. They make unique and artistic backgrounds for wedding photos.
12. A Nautical Shot
Don't hesitate to use props like a sailboat for that nautical shot, or a canoe for a shipwreck theme. Add some drama to the romance of your special day.
13. Wild and Carefree
Capture the essence of a beach wedding and the laid back vibe of your day with camera as you jump and dance your hearts out, creating fun loving moments with every shot.
14. Boulder Photo
A boulder is another perfect opportunity for a picture that sets you apart from the rest of the party. A private moment for just the two of you.
15. Mesmerizing Cliffs
Create the most picturesque photos on breath taking cliffs overlooking the crashing waves of a sea that is just as endless as your love for each other.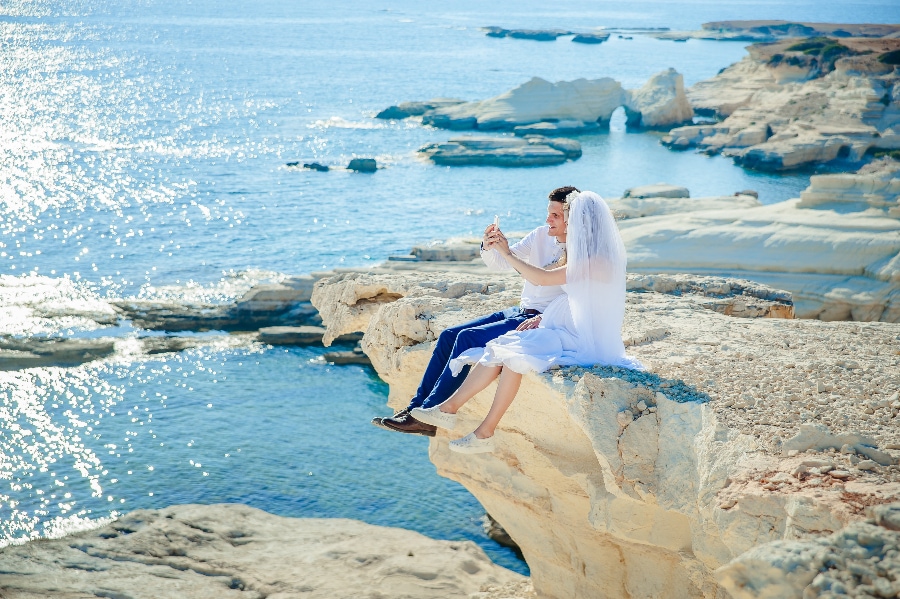 There's no paradise as freeing and laid back as one with the sand between your toes and wind in your hair. With beach wedding photography you can capture every special moment on your big day. With these unique ideas, you can create beach wedding photos that capture the magic of your wedding destination, to have with you forever.
Disclosure: This post was sponsored and all content produced/written by Wedding Forward. The opinions expressed are the author's own and do not necessarily reflect the views of any company, agency, or organization. See Disclaimer