Ashley & Gwaltney originally wanted to host their destination wedding ceremony at the Ocean Key Resort, but it was still undergoing renovations due to a hurricane. Since they wanted their guests to experience the history of Key West, and love it as much as they did, the venue selection was very important to them. To capture the essence of Key West, they hosted their ceremony at the Audubon House – a beautiful historical home with amazing green shutters and a beautiful tropical garden in the back. Ashley said: "It really shows the history of Key West. We loved the fact that it was outdoors, especially in a tropical town like Key West where the sun is always shining." The reception was held at Casa Marina, where guests enjoyed an outdoor cocktail hour with beautiful beach views and an indoor reception in a ballroom decorated with wood beamed ceilings and dark wood floors.
The wedding palette was blush and ivory so as to not distract from the beauty of the venues. Everything about this destination wedding in Key West was classic and elegant! Shoutout to Ambrosio Photography for capturing every detail so perfectly. Make sure to scroll all the way to the end, to read more about the wedding details and the couple's advice for others planning a destination wedding in Key West. Enjoy!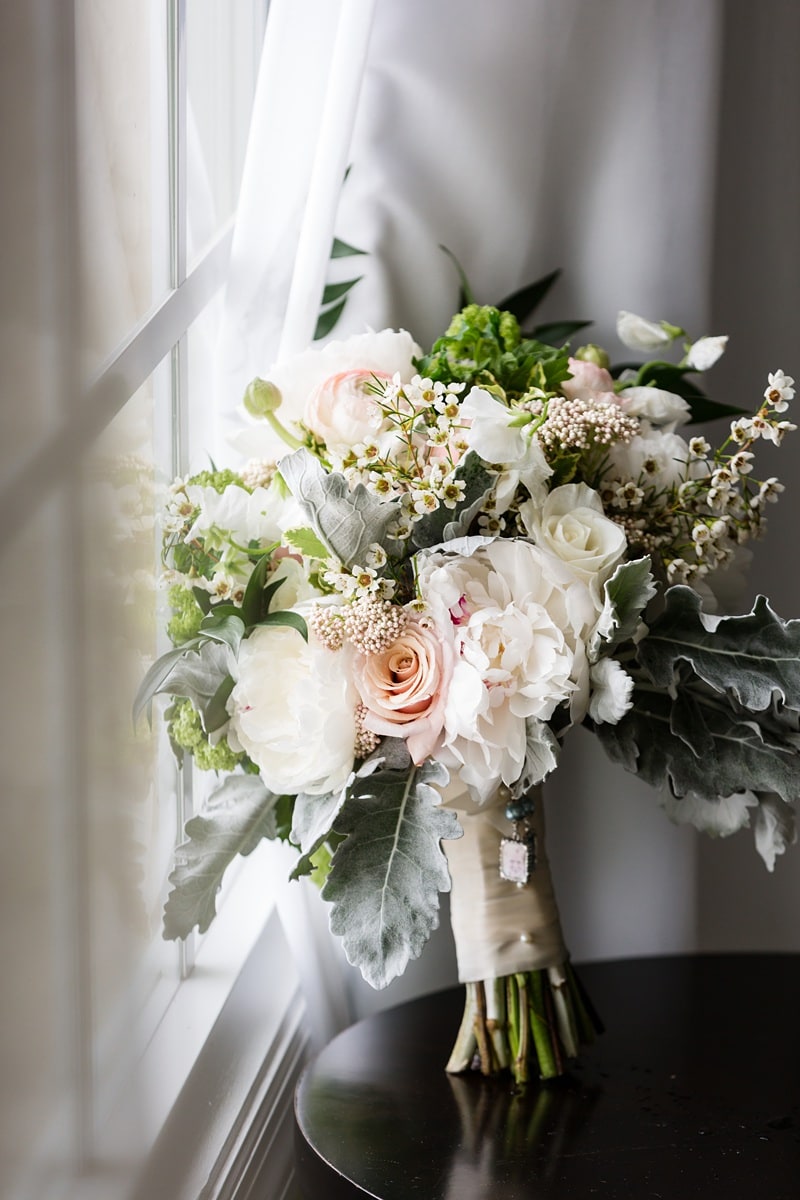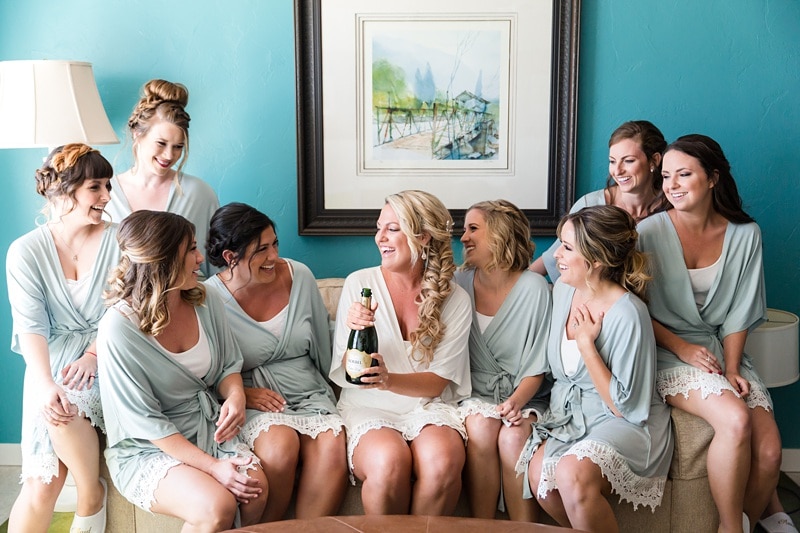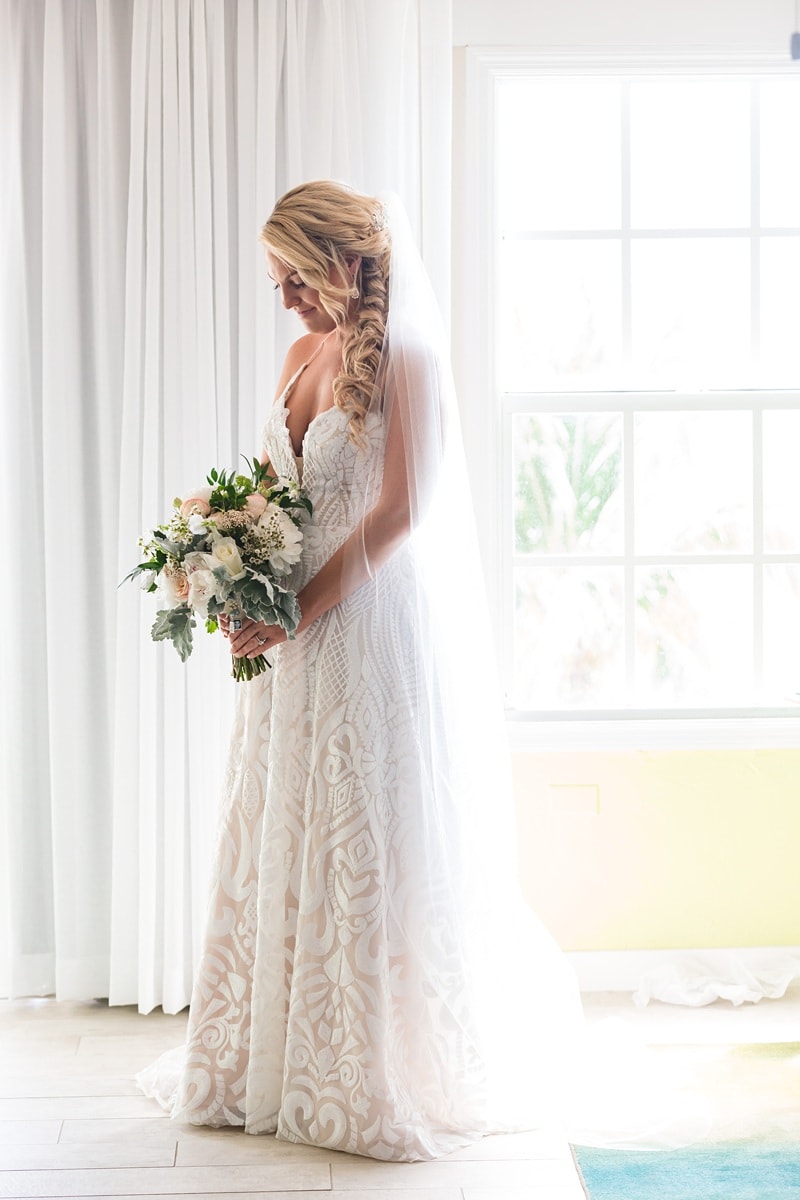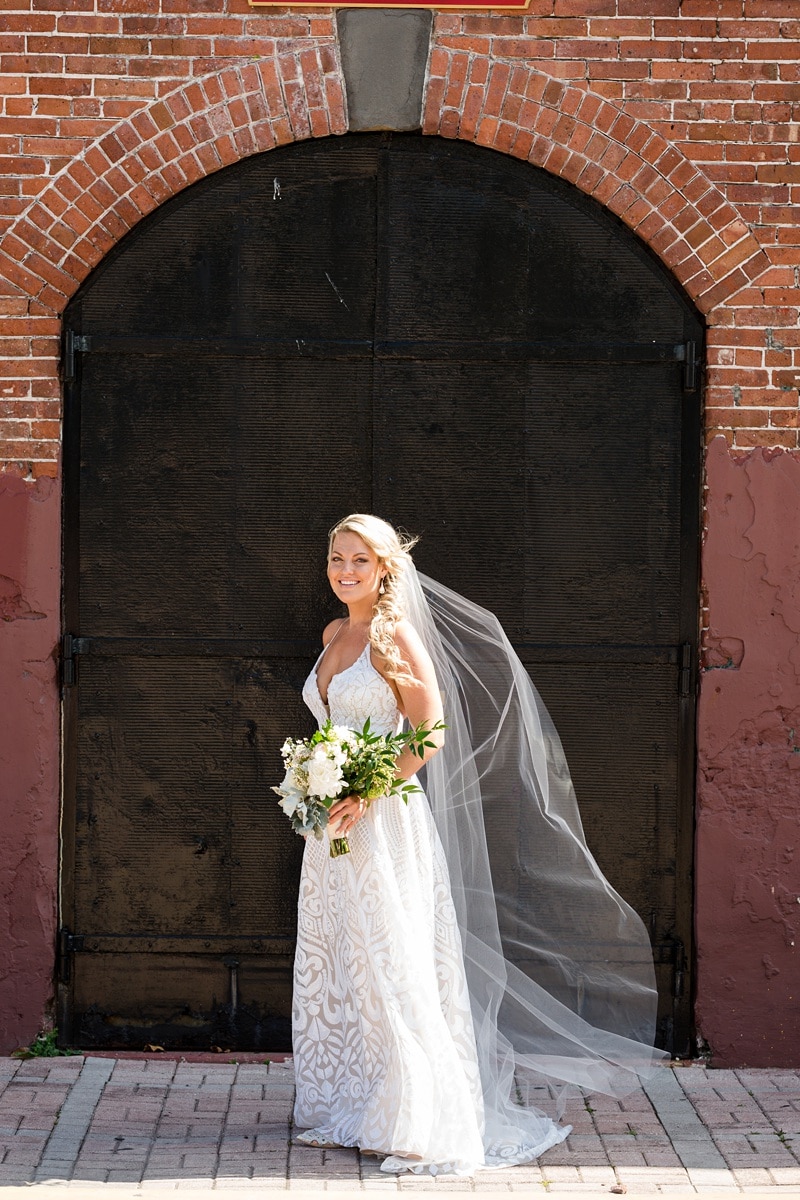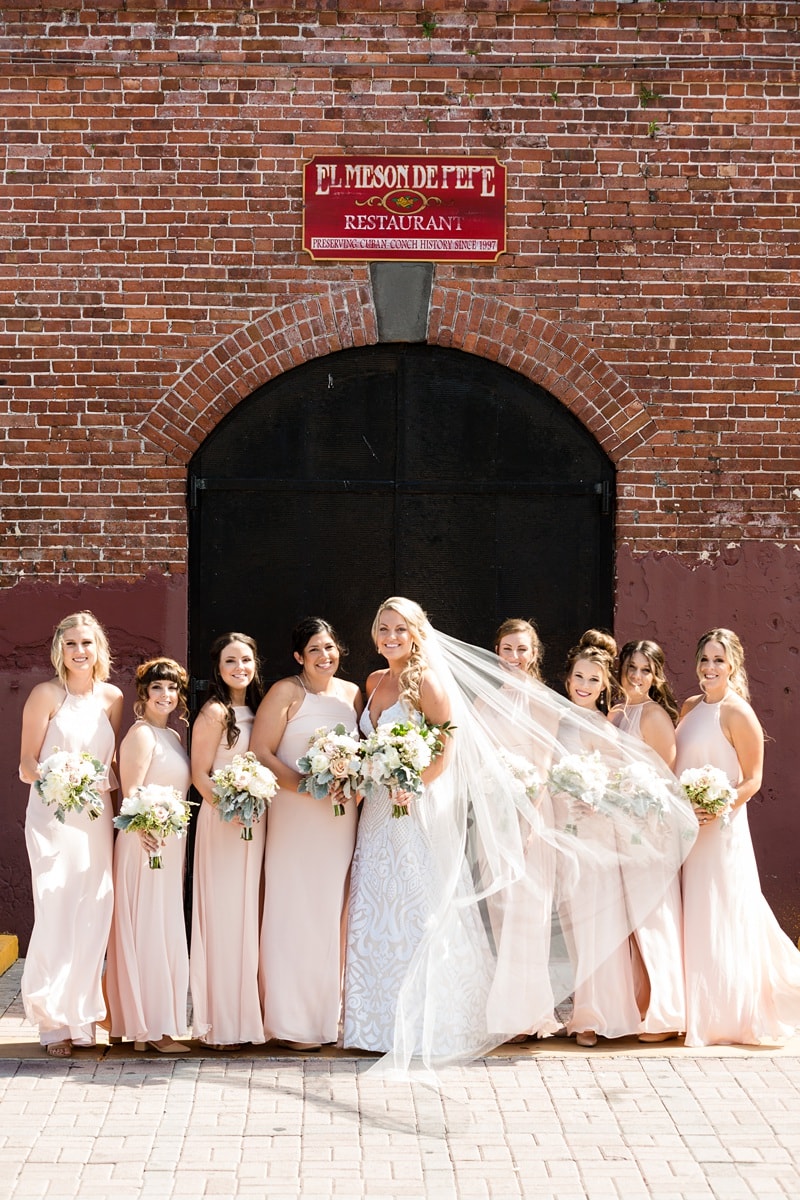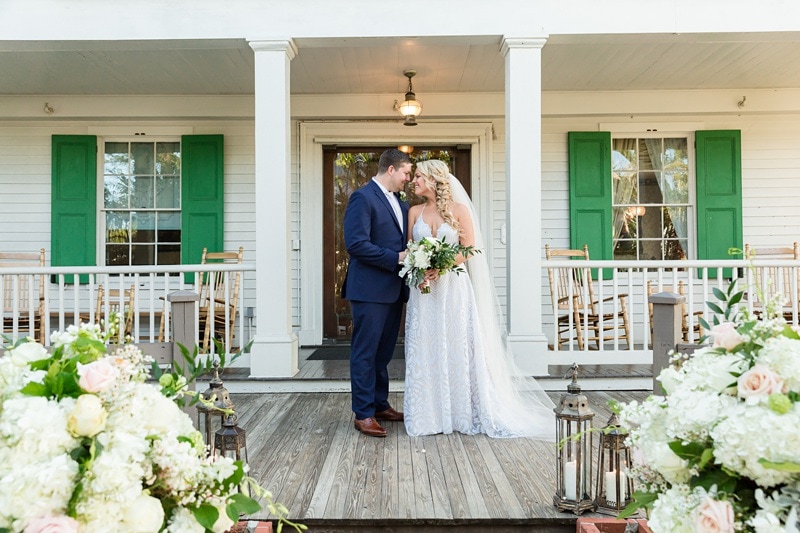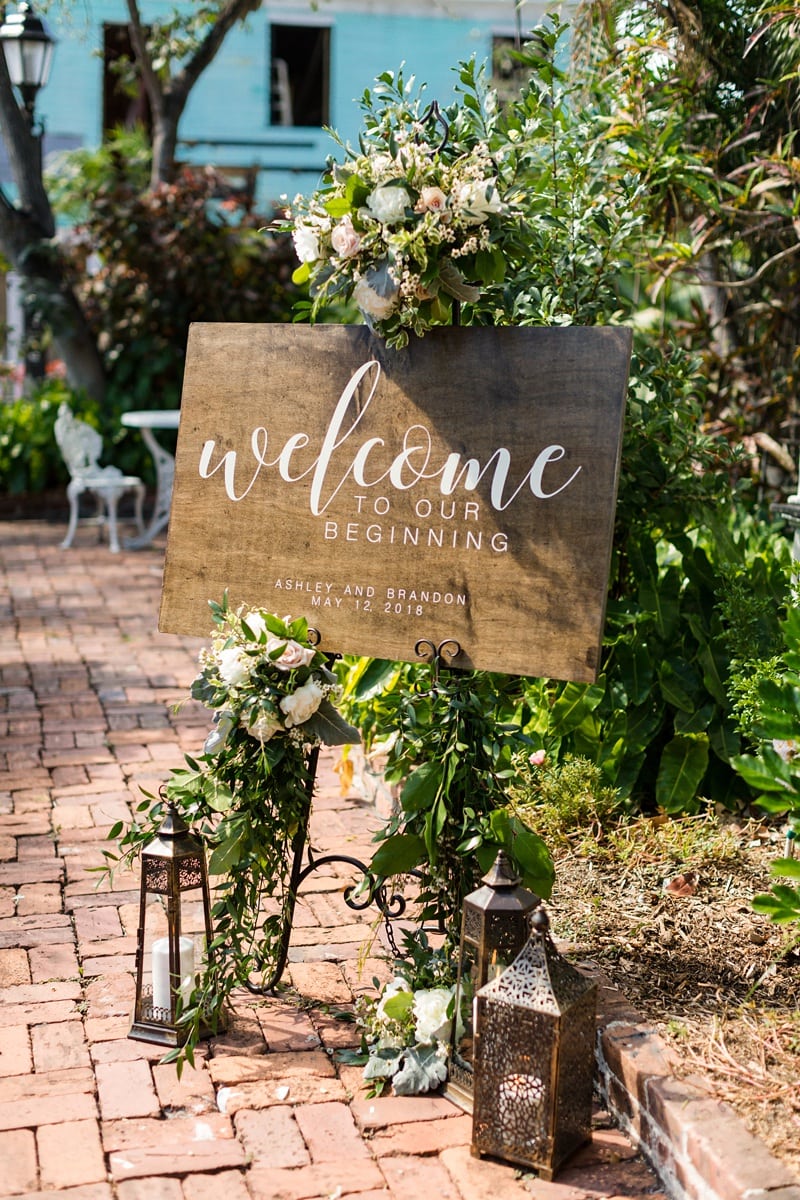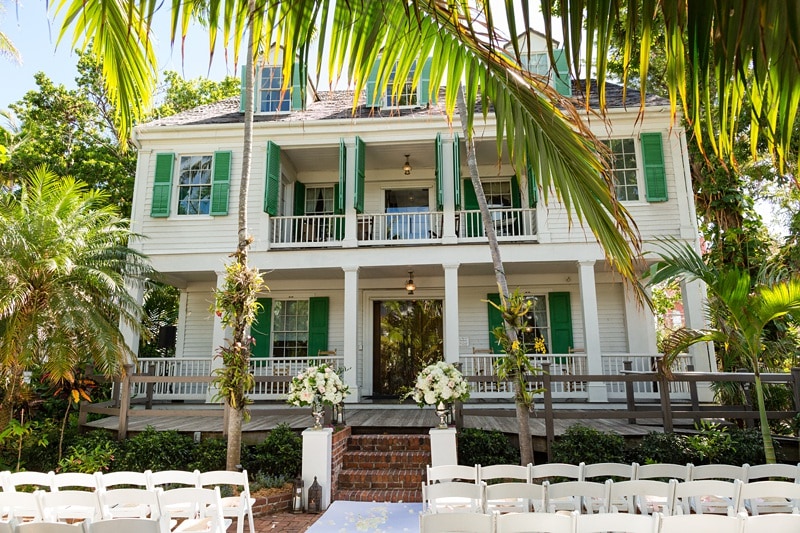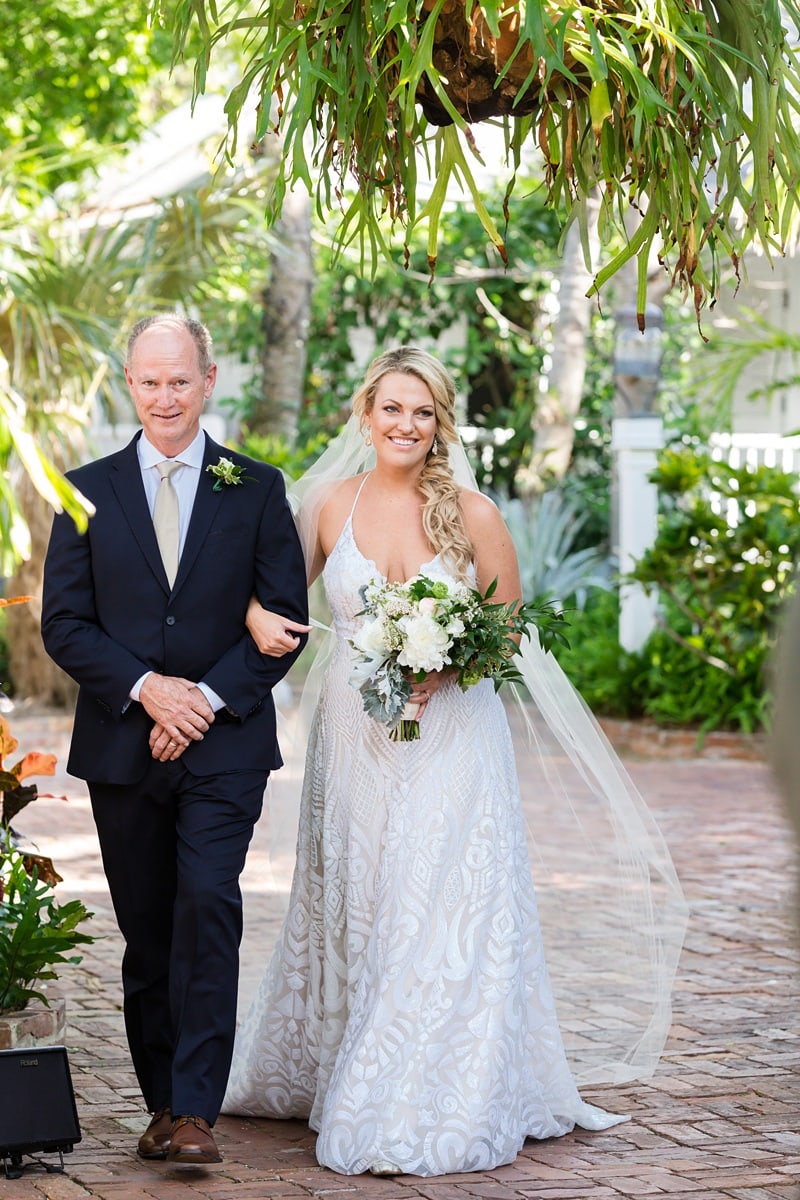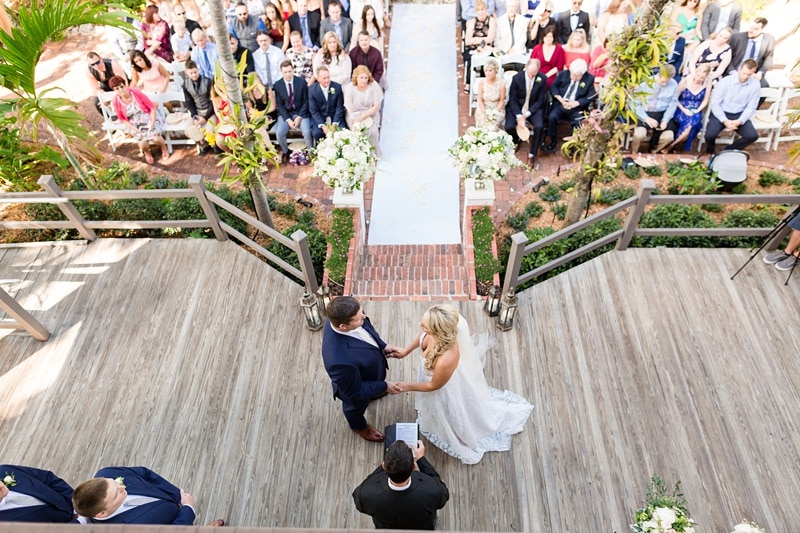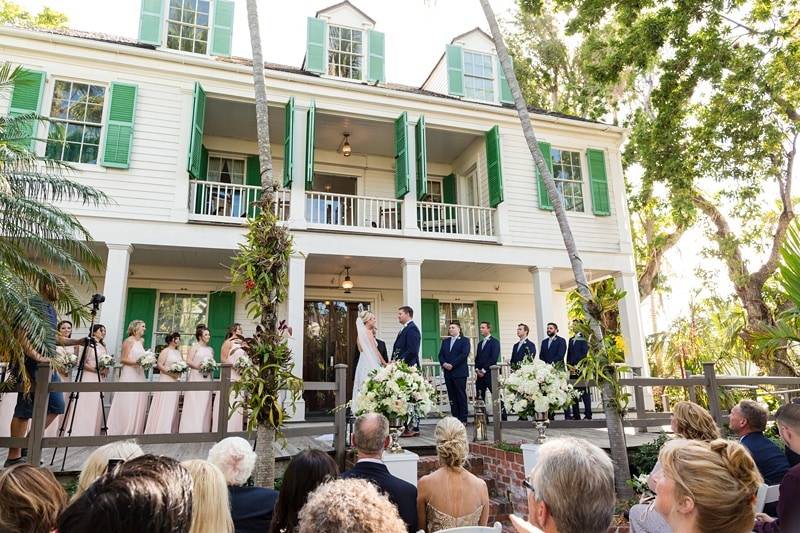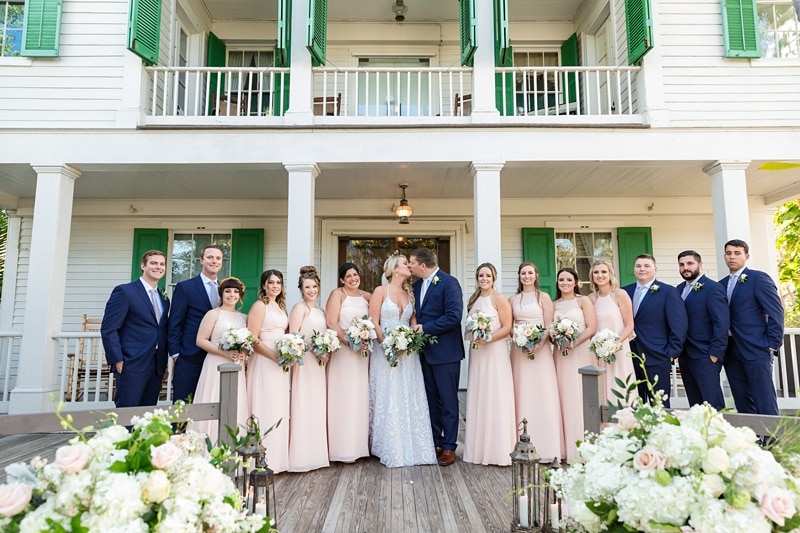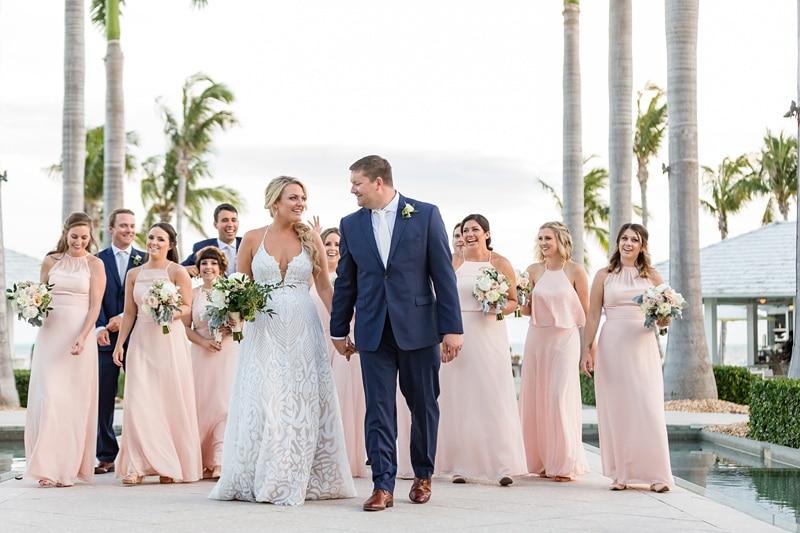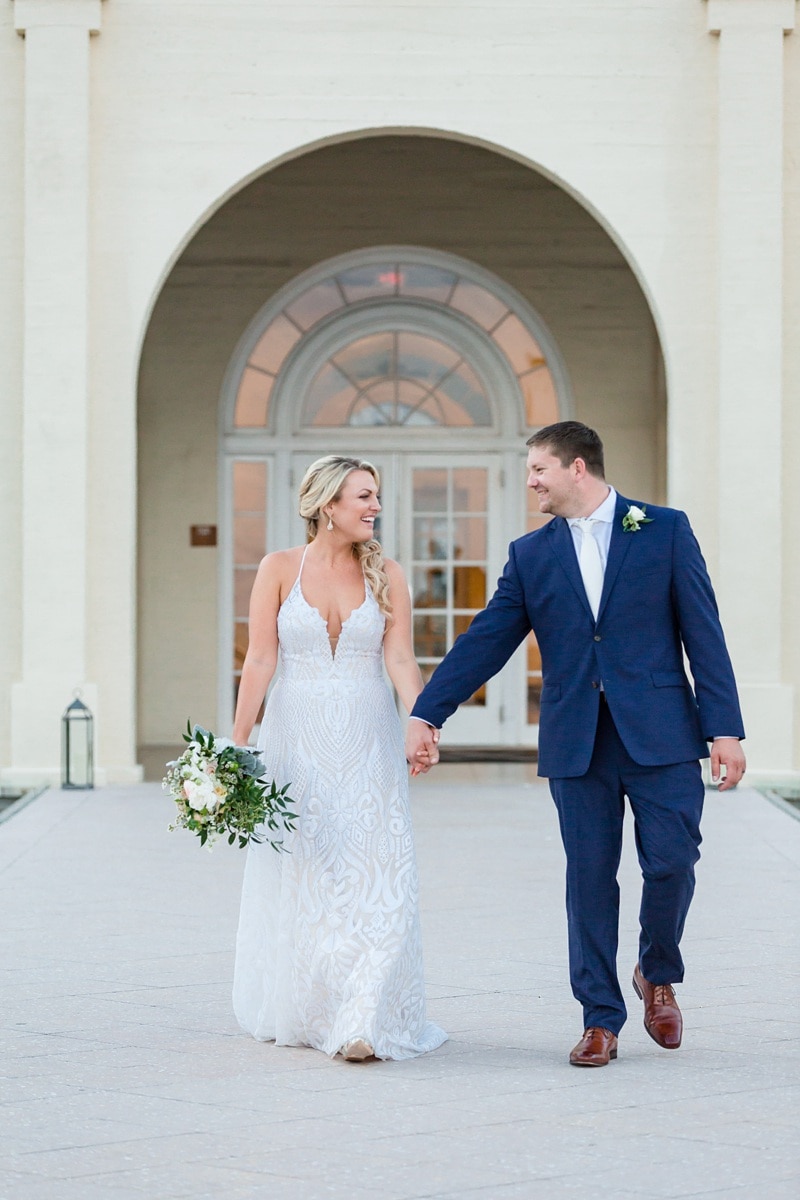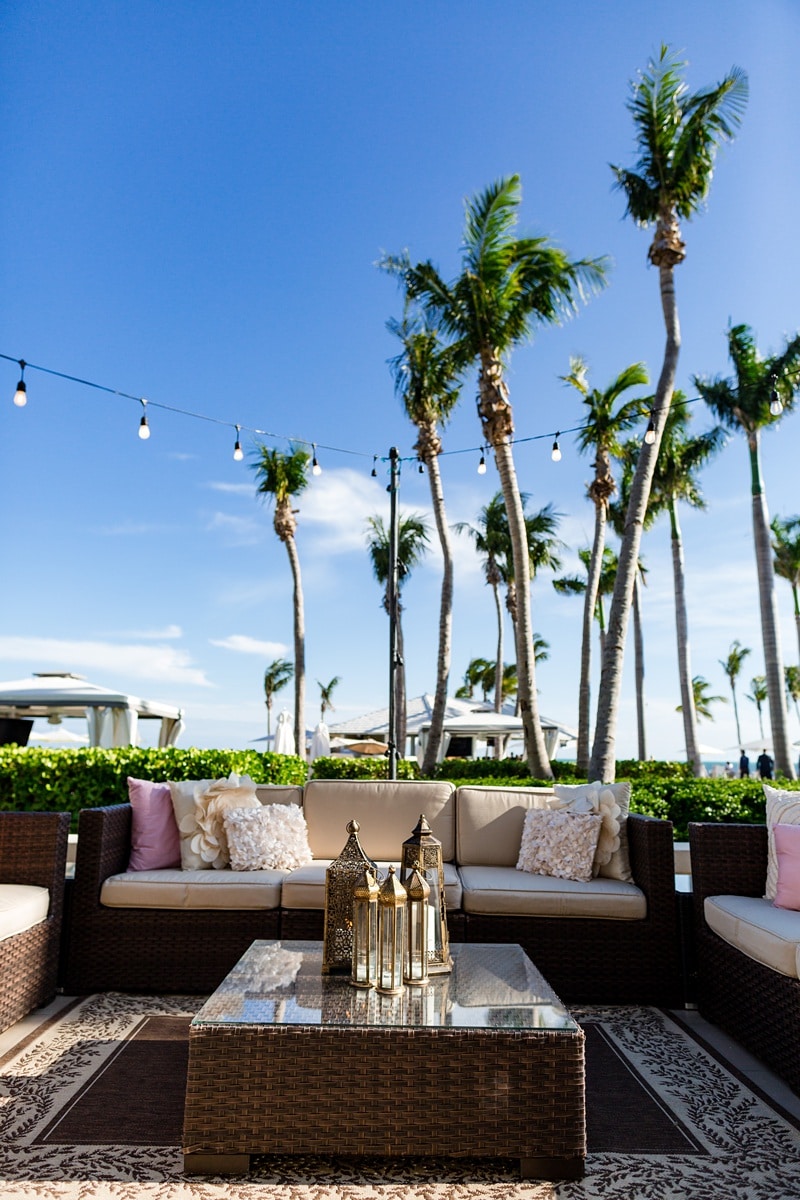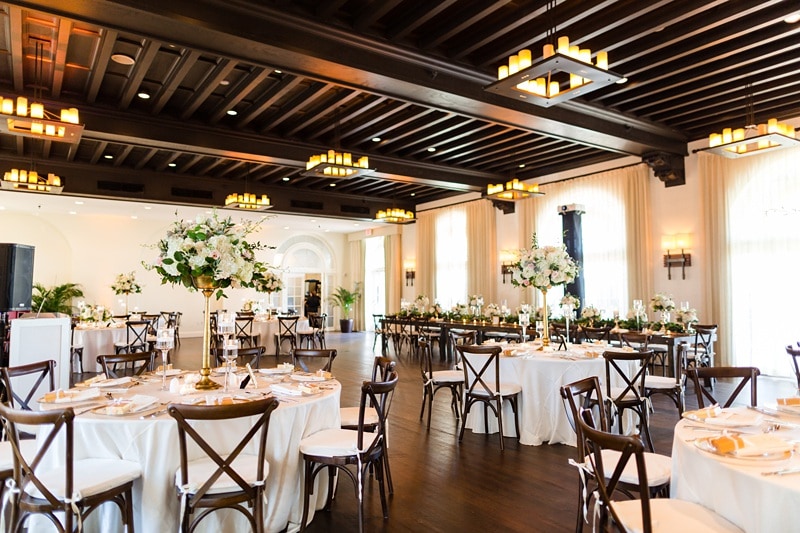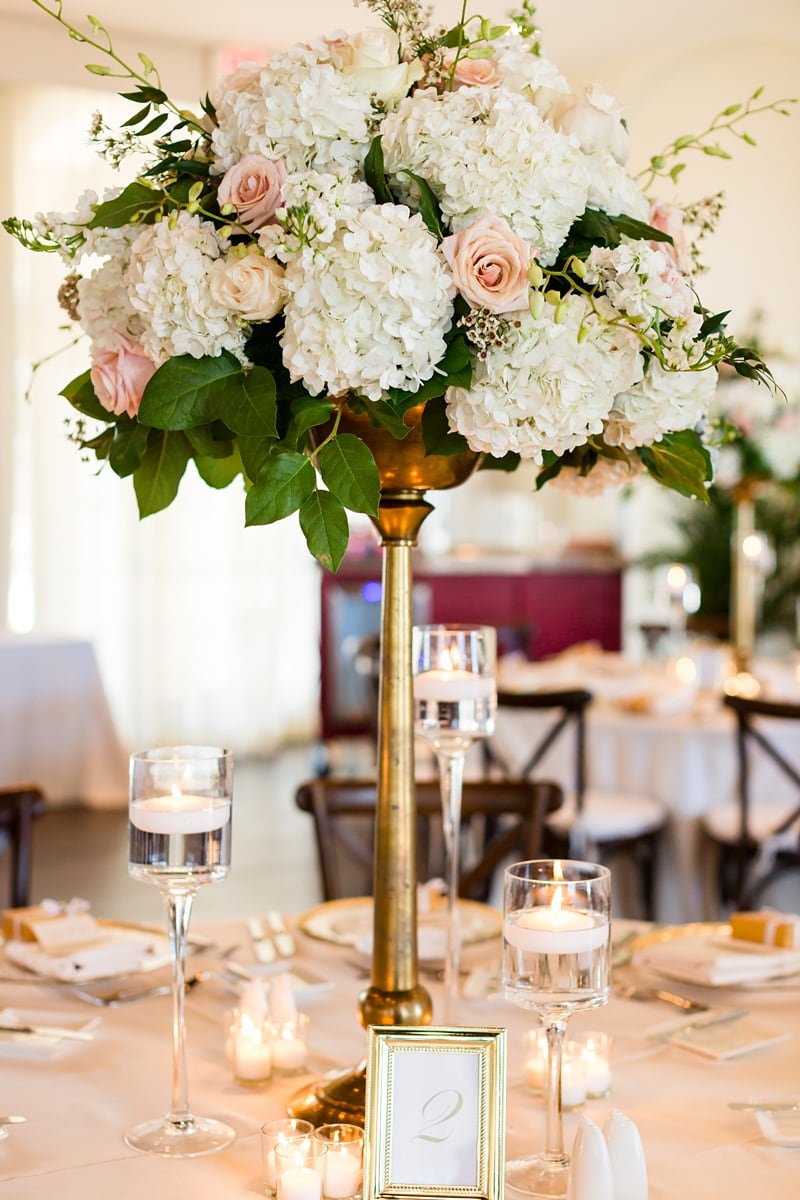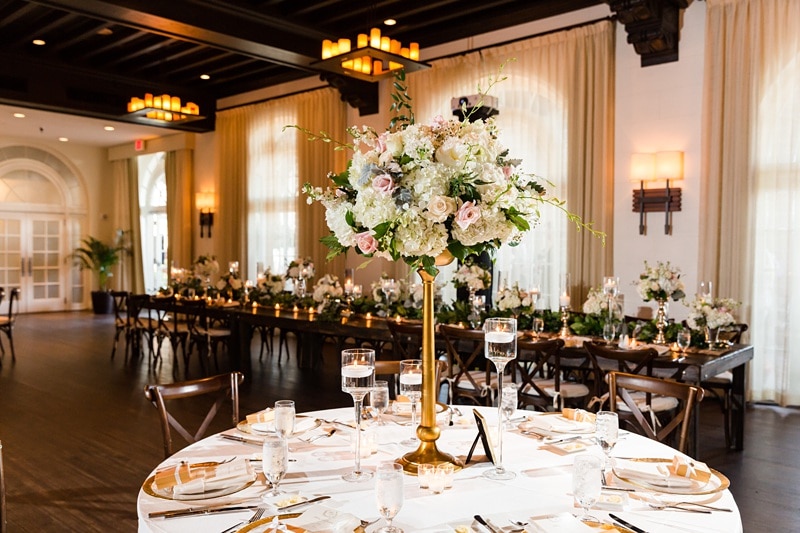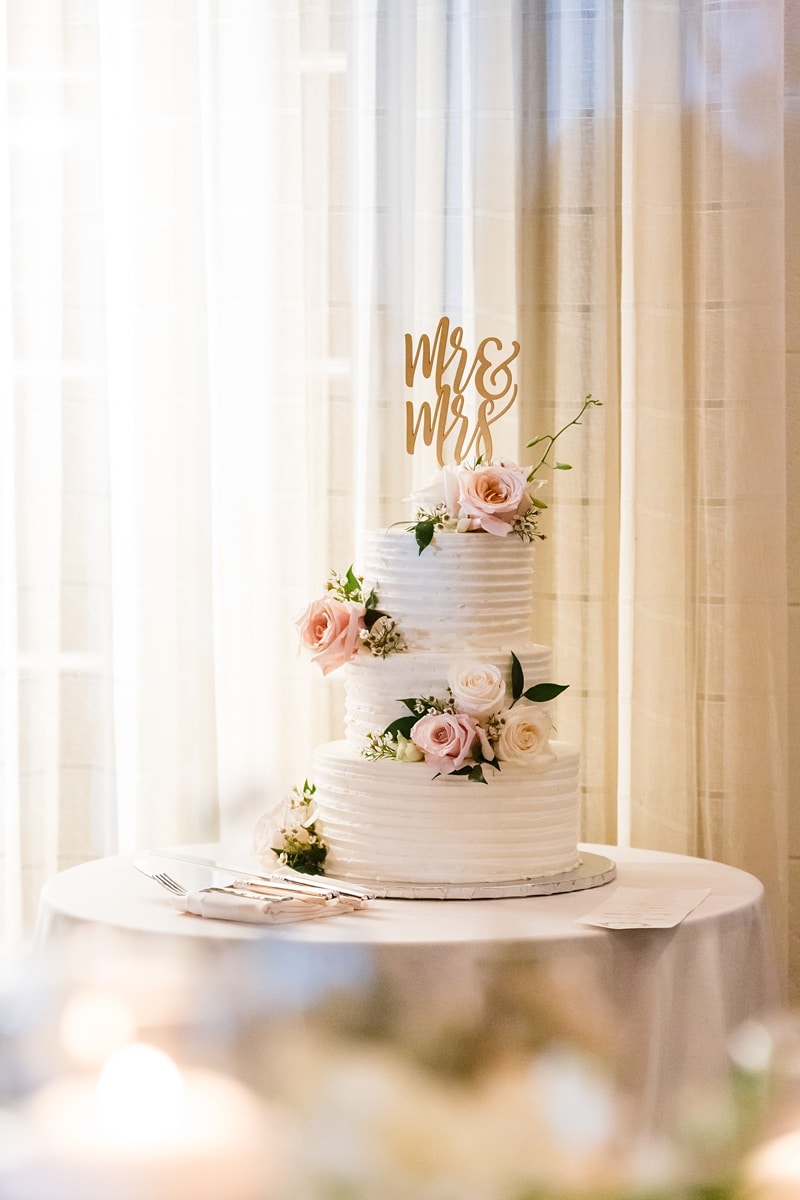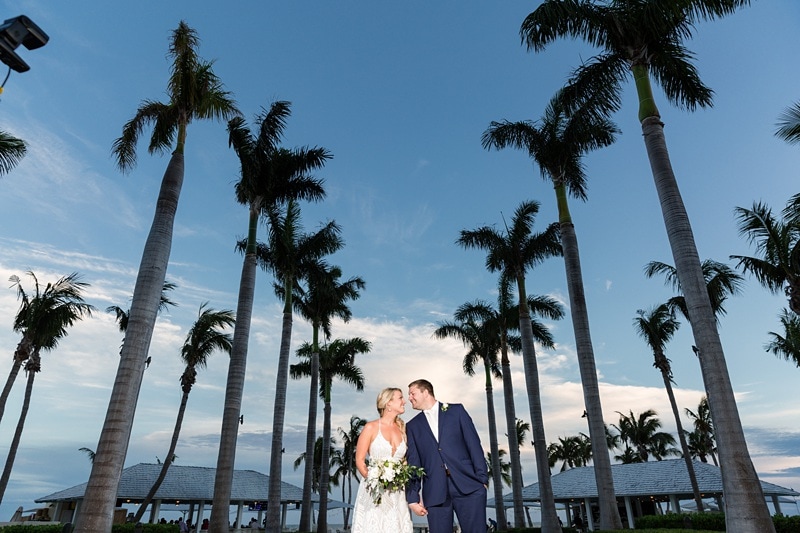 Q&A with the Bride and Groom
How did you meet?
We met through mutual friends while I was in college and Brandon was in the military. We became friends, but soon after; Brandon was deployed overseas. Once he finished his deployment, he came back to Florida and we instantly reconnected.
What is your proposal story?
Brandon wanted it to be a complete surprise. He told me that we were meeting his family for dinner in St. Petersburg and told me to get dressed up because it was going to be a fancy dinner. He told me once we were parked that his family was running late and took me to walk by the water on St. Petersburg bay. We were walking by the bay and looking at the Christmas decorations and that's when he dropped to one knee and asked me to marry him!
Tell us about your attire choices.
I went with my mom to search for my wedding dress. I knew she would give me an honest opinion and knew it would be such a fun time spending that time together. I had tried on a few gowns before trying on the Hayley Paige Delta Gown. We both looked at each other and knew this was the one to beat. I kept thinking about the dress after I took it off and went home and just knew it was the one. A couple of days later, we went back and I tried it on again and just fell in love all over again. It was flowy and elegant all at the same time. It has this beading on it that sparkled when you walked under the string lights at night. Brandon's suit was from Ralph Lauren. We both ended up really loving the light navy color of the suits. It seemed to match perfectly with my gown and the bridesmaids blush gowns. We chose a champagne tie for Brandon to wear. It matched the undertone of my dress really well and flowed nicely with his light navy suit.
What was most important to the two of you while planning? Was there anything that you chose to splurge on or skip?
The most important thing to us while planning the wedding was for everyone to have fun and to get a true experience of how beautiful Key West truly is. We loved our DJ and musician combo. We had the DJ playing the music and Rusty Lemmon who would come out and sing the songs with the guests on the dance floor. They kept the guests dancing the entire time. We also incorporated glow sticks at the end of the night for the guests to use on the dance floor. Every age really had fun with those.
What were your favorite parts of the day?
Brandon: Watching Ashley walk down the aisle! Ashley: Walking down the aisle to Brandon. I remember being so nervous and feeling like I had every emotion running through my head. My dad walked me down the aisle and we made a pact prior to the actual ceremony. I made my dad tell me something funny prior to us walking in front of the guests when it was just him and I. It really kept my composure and I think his too when we were in front of all of our guests. Once I was able to see Brandon though, all I could think about was marrying him.
Tell us about your wedding cake.
Our wedding cake was classic and elegant. It had white frosting with beautiful blush flowers around it. The cake also had a taste of Key West. One of our favorite layers was the Key Lime cake flavor with the Key Lime filling. Super delicious!!
What did you do for favors?
Our favors were Godiva Chocolates. They were so delicious!
Did you include any family heirlooms or special traditions?
My mom and I chose to spend the night together the night before the wedding. I have such a close bond with her and knew she could help to calm my nerves. The morning of the wedding before everyone came over to start getting ready, my mom surprised me with a beautiful remembrance of both of my both of my grandmothers who had passed. She wanted to incorporate them into the wedding since they could not be there physically. She gave me two little pictures of them that I could hang off of my wedding bouquet while I walked down the aisle. I was very close with them and really felt this was the perfect item to keep them close to me in such an important time in all of our lives.
Do you have any advice for couples planning their weddings now?
Have fun! You can make it as stressful as you want, but you can also make it the best time of your life planning something with your soon to be husband or wife! I was lucky enough to have my husband and mom helping me plan it, and I really felt it brought us even closer together planning such a fun and exciting time in our lives.
What was the best part of having a destination wedding?
The best part of having a destination wedding was being able to travel down to Key West multiple times! It always gave us an excuse to take a mini-vacation.
What was the biggest challenge when planning your destination wedding?
The biggest challenge was having to do a lot of the planning from far away. Even though we were able to travel a few times to Key West, we also had to do most of our planning from phone and email conversations. Luckily, we had an amazing wedding planner, Julie who helped with this challenge. She really knew all of the vendors so personally and gave her honest opinion when we needed it.
Vendors:
Photography: Ambrosio photography | Ceremony Venue: Audubon House and Tropical Gardens | Reception Venue: Casa Marina | Event Planning: Simply You Weddings | Floral: Milan Event | Wedding Cake: Key West Cakes | Hair& Makeup: Studio Marie Pierre | Wedding Dress: Hailey Paige | Bride's Shoes: Badgley Mischka | Bridesmaid Dresses: Bill Levkoff