I love my job. It warms my heart to see so many beautiful love stories every day. I absolutely love that in some small way, I can help inspire so many couples to plan their dream wedding. And I can honestly sit here and gawk at wedding photos all day and never grow tired of it. But every once in a while, a wedding album lands in my inbox that makes me want to go beyond just looking at the photos.
Sometimes I get a wedding so special that I find myself wishing I could've been a guest. Christina and Geoffrey's destination wedding in Cancun is a prime example. From the bride's fairy tale arrival in a horse-drawn carriage, to a fun choreographed dance routine, all the way to the end when the entire bridal party jumped in the pool–this wedding was both beautiful and fun from start to finish.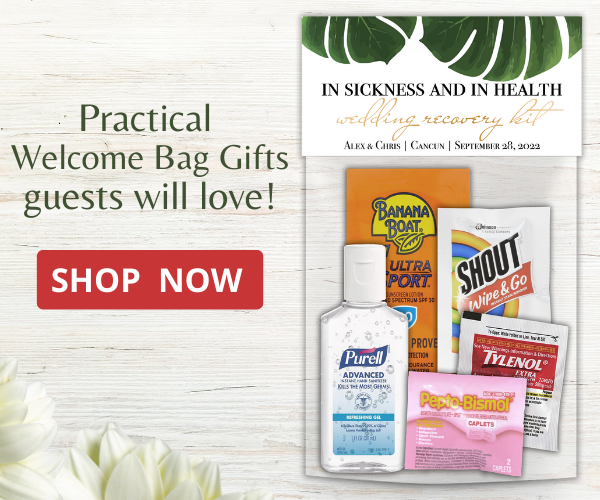 Thank you so much to the amazing Elizabeth Burgi for sharing every stunning detail with us. Sit back and enjoy!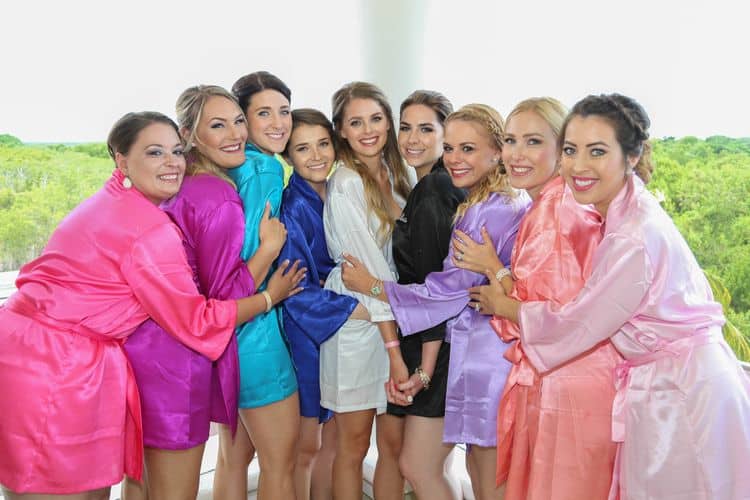 What were your sources of inspiration when choosing your colors, flowers, cake, etc..?
Pinterest was a huge inspiration for our wedding colors, cake and decorations. I really loved looking at other 'real weddings' and being able to pick and choose things I saw from other weddings that ultimately inspired ours. Of course, I also wanted it to be unique to us, so I made sure we incorporated our personalities throughout the day. I also decided that I didn't want to use real flowers for our bouquets, as I knew the heat and the humidity would ruin them; so I ended up creating my own fake flowers. In the long run, I love that I didn't use real flowers, as I get to keep my bouquet forever.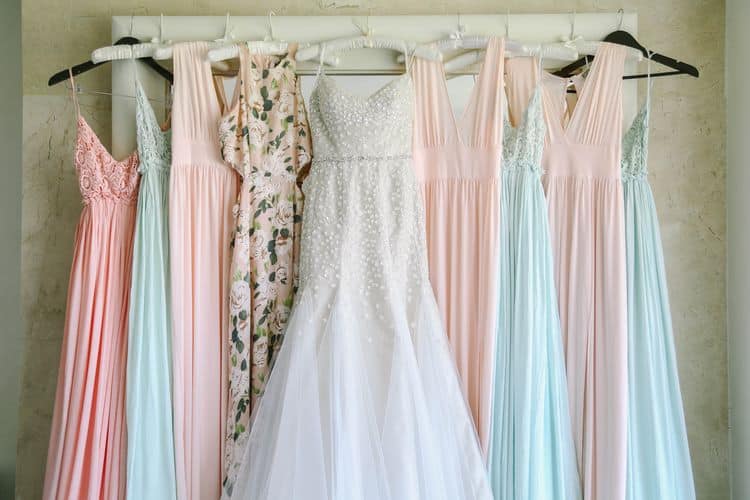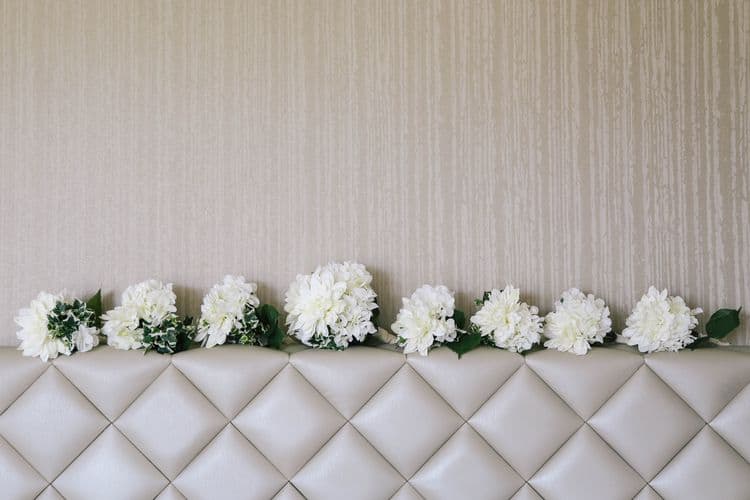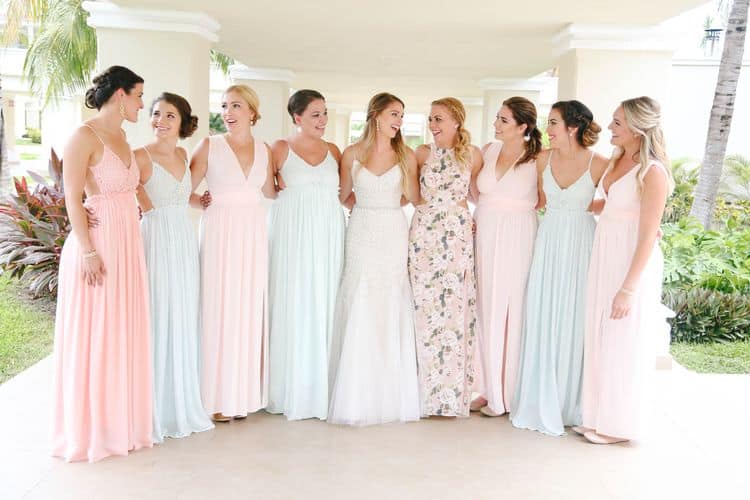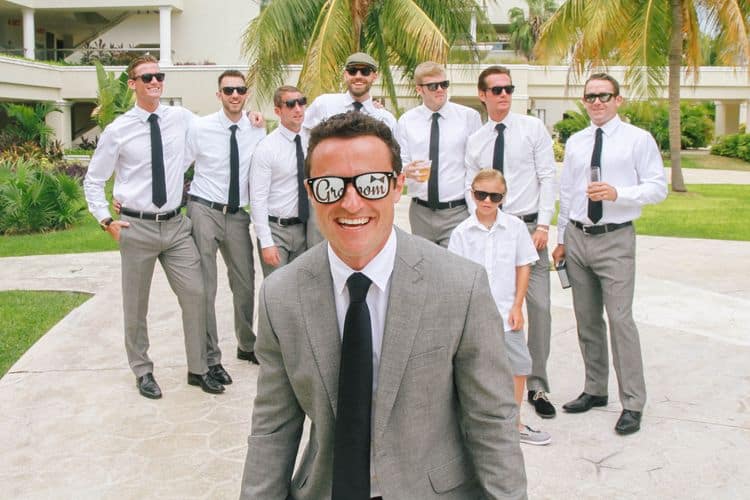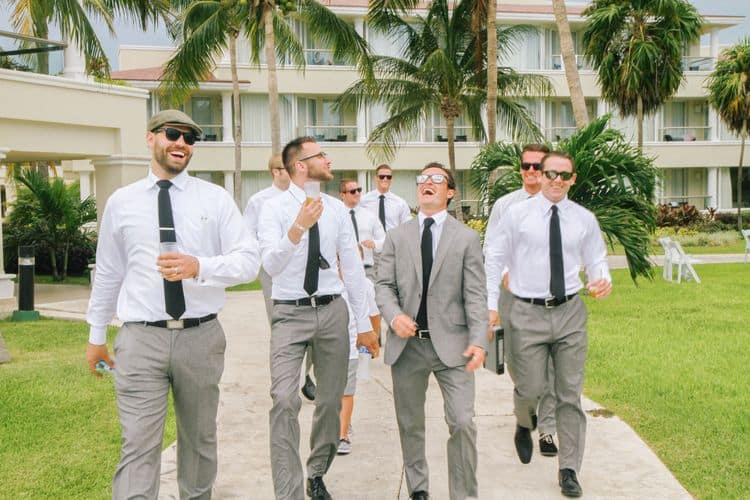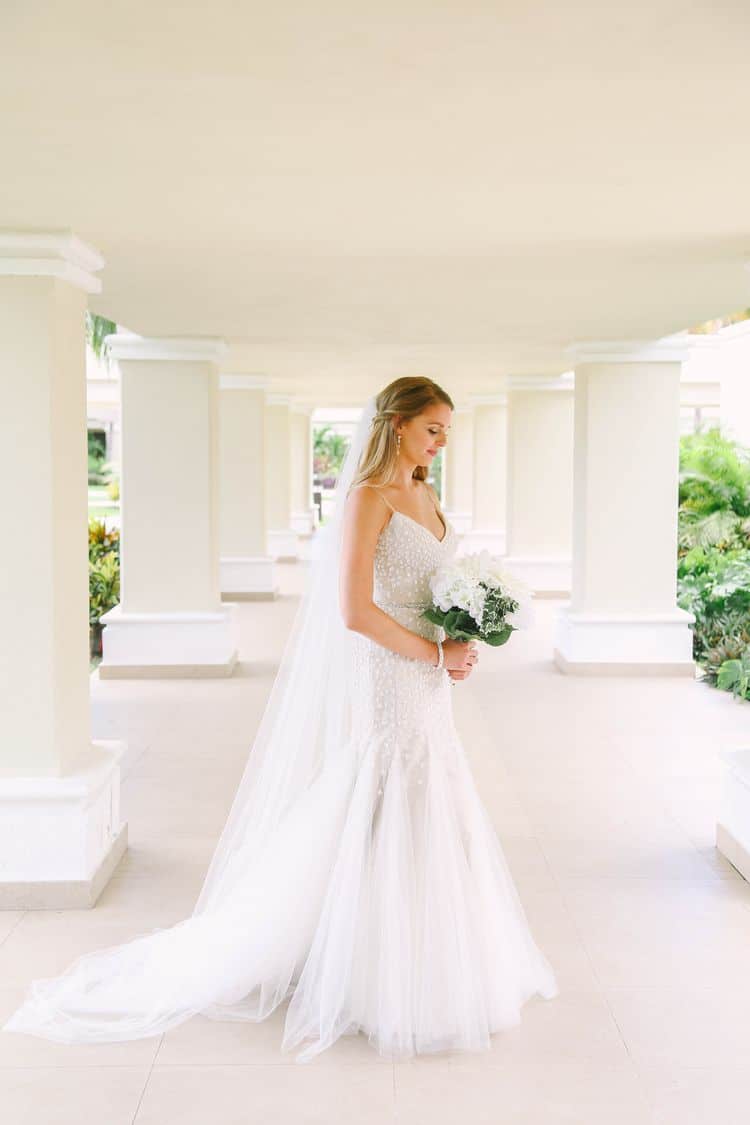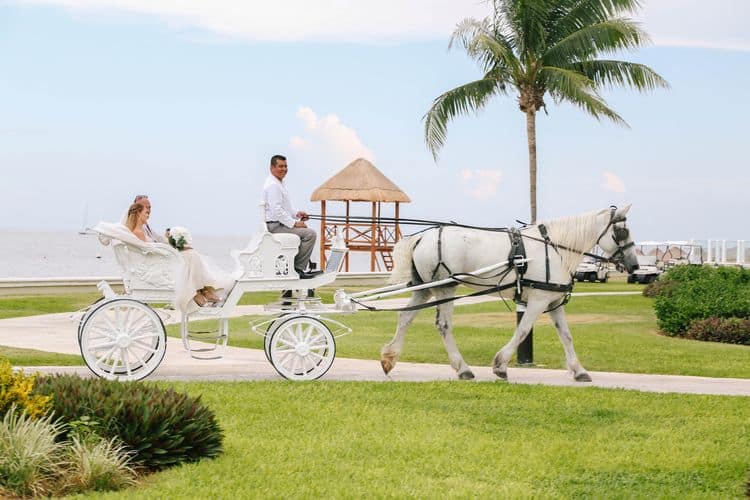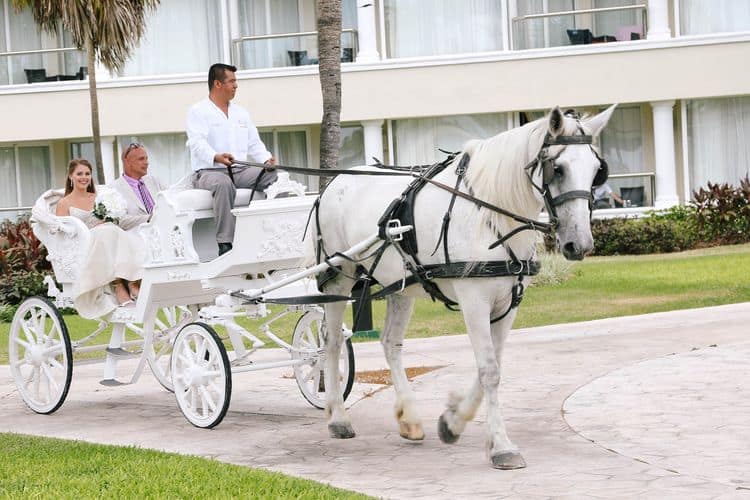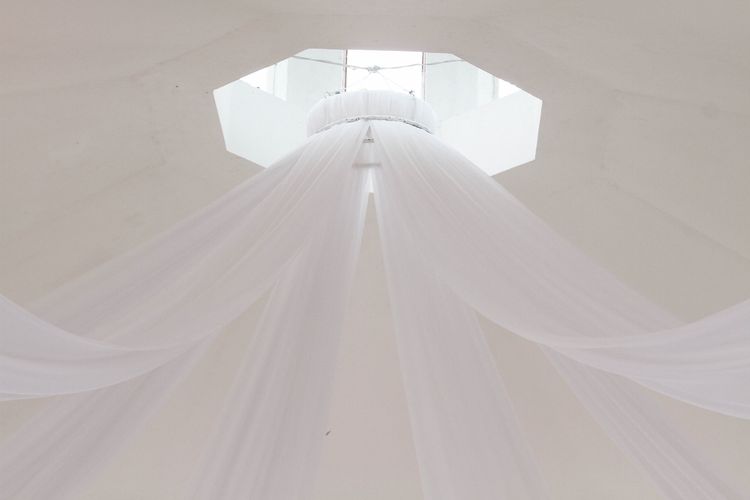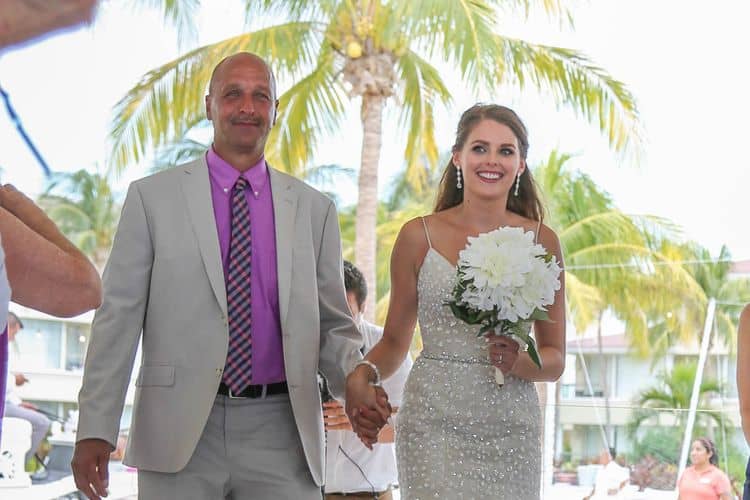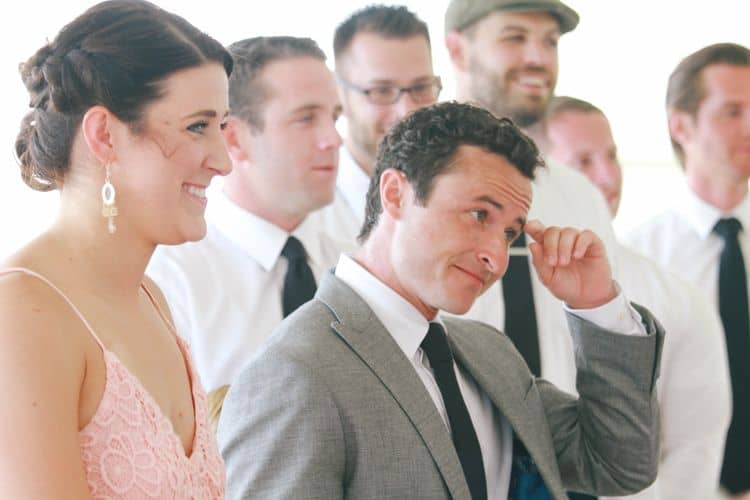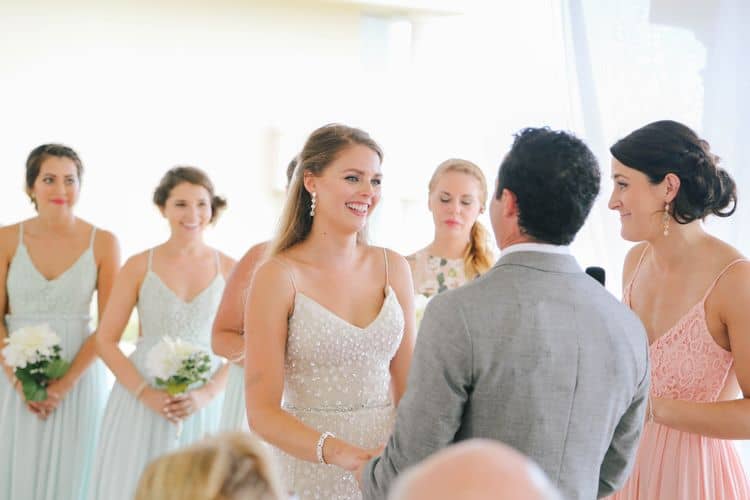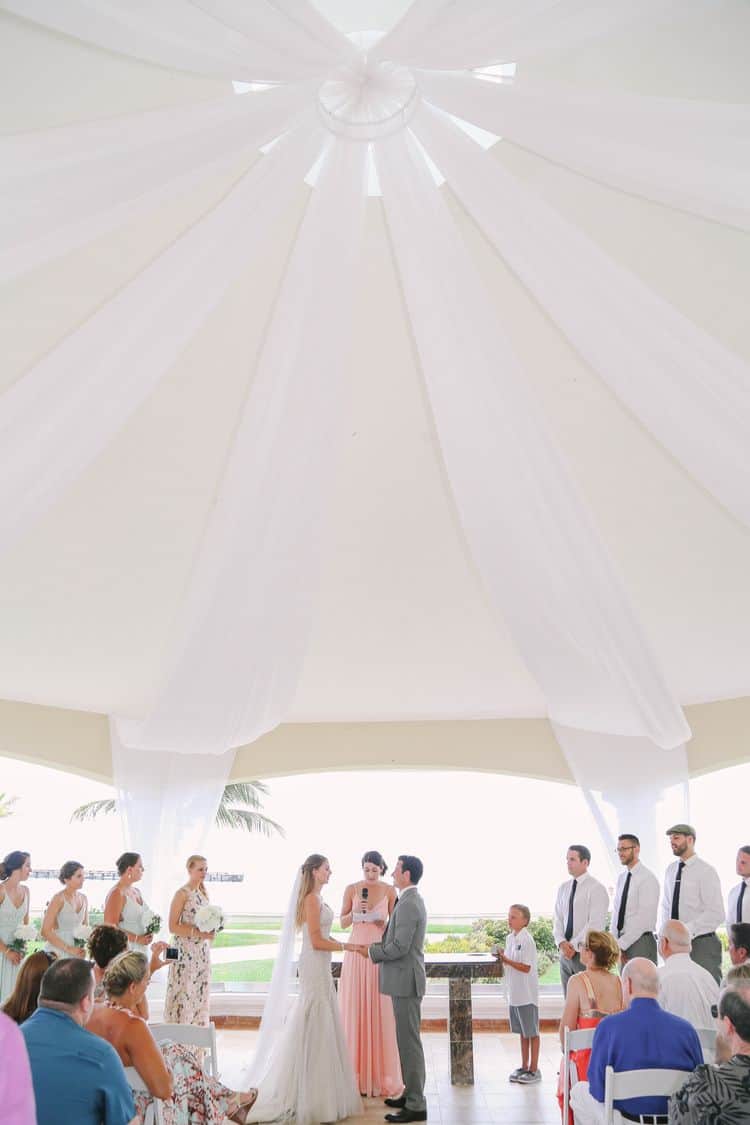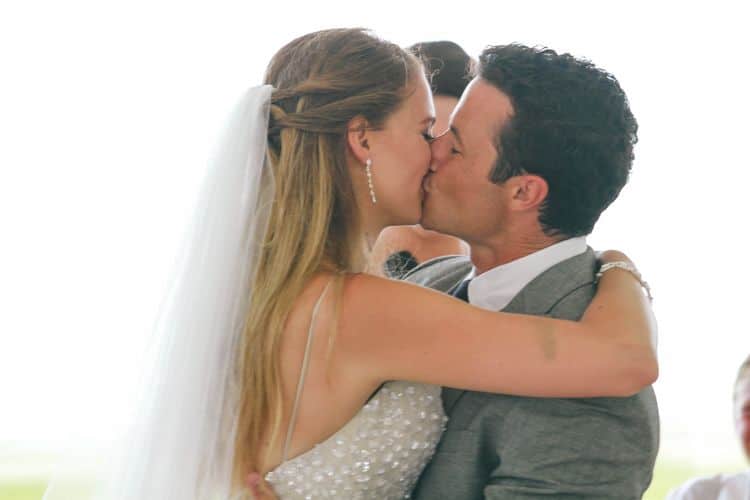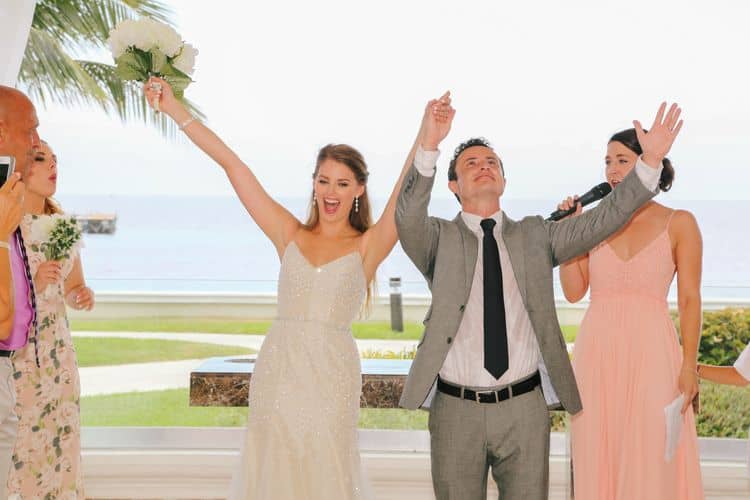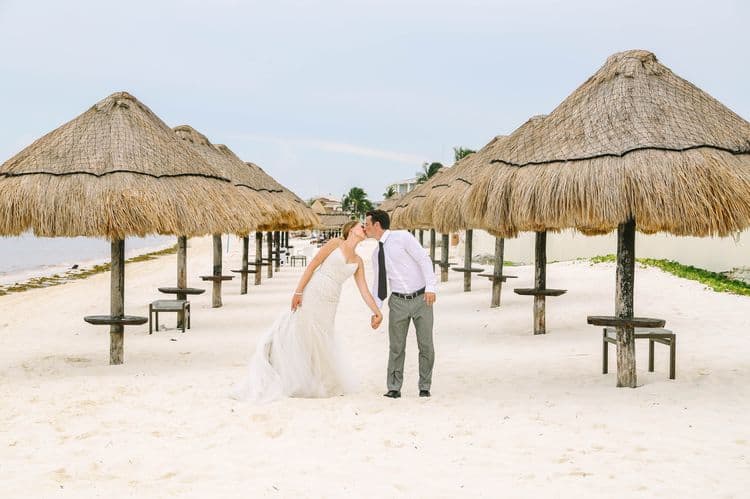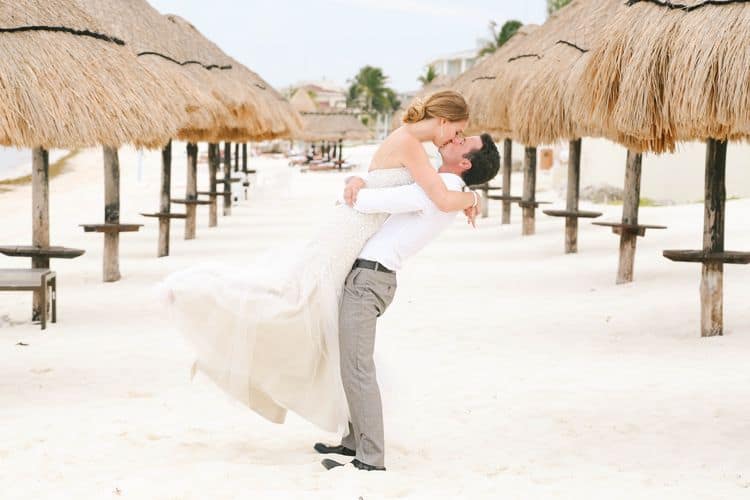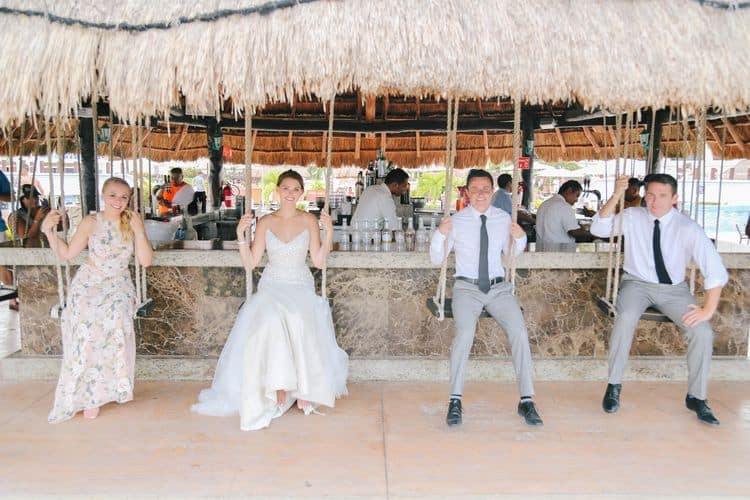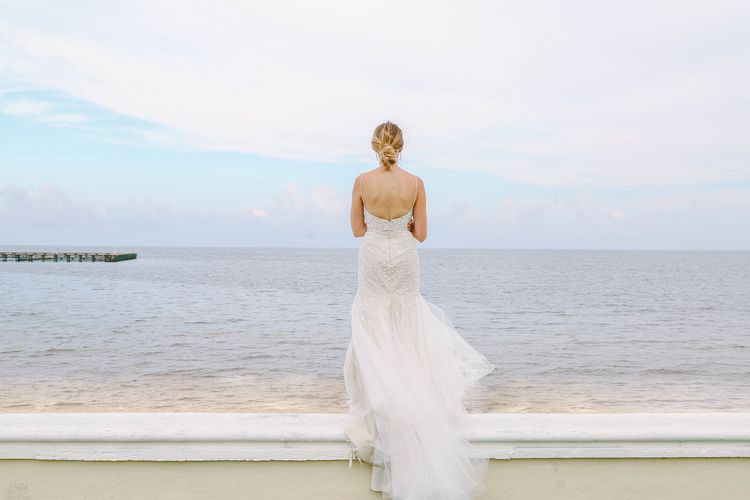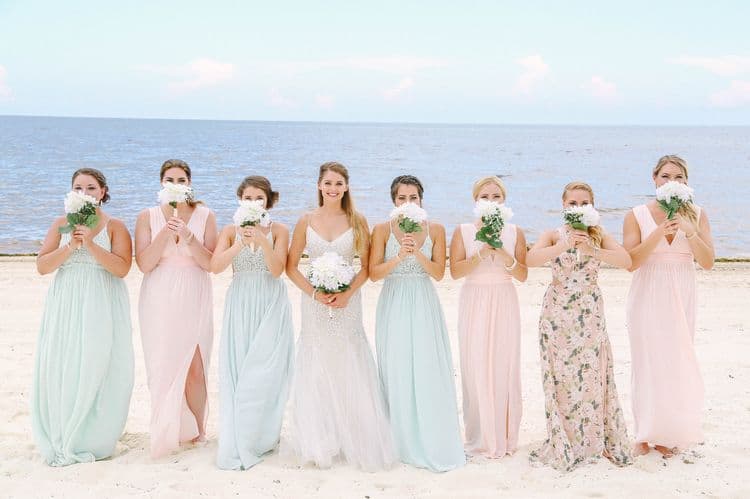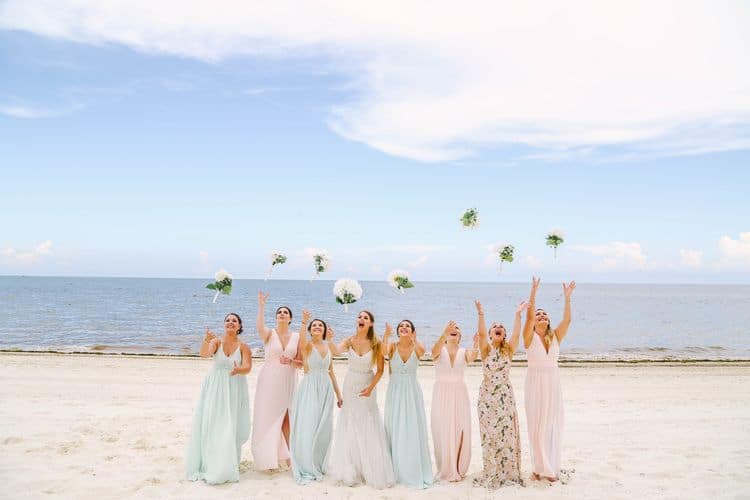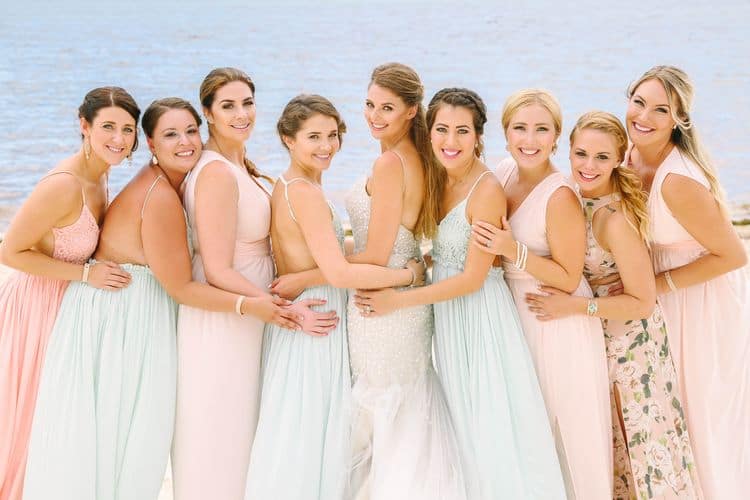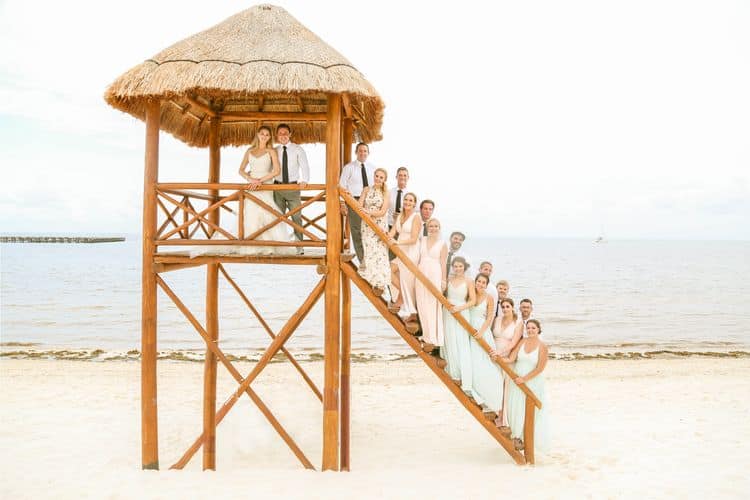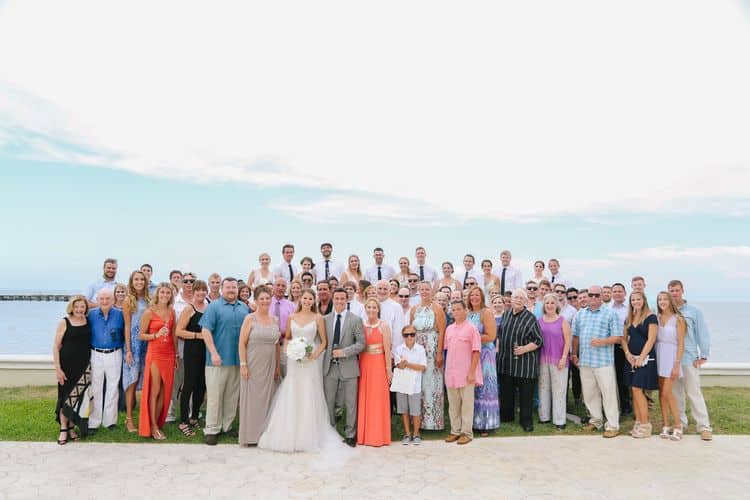 Was there something unique or special that you incorporated into your wedding décor/theme?
We had a couple of unique things for our big day. One of the more unique ideas we came up with, was instead of having a traditional wedding guest book for our attendees to sign, we decided to recreate movie posters! We shot these 'movie posters' during our engagement photoshoot with our amazing photographer, and she worked her magic to recreate them as close to the real deal. They were a huge surprise for our guests! Additionally, we worked with RockTheParty Choreography in Los Angeles to help make our first dance very special. Our song, since we first started dating back in 2008 has been Chris Brown's 'Forever', and we mashed it up with the 'Pony' song, famously known from the Magic Mike movies. Our guests were completely surprised and blown away with our first dance. And many guests at the resort came up to us the following days to say they had to stop and watch because they had never seen anything like it!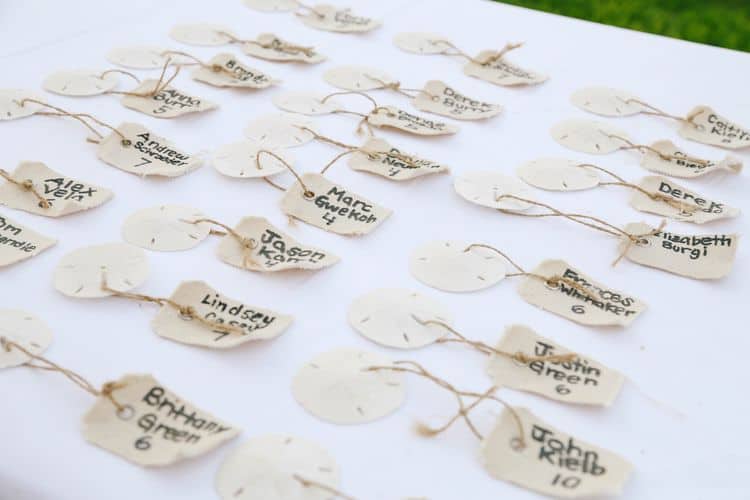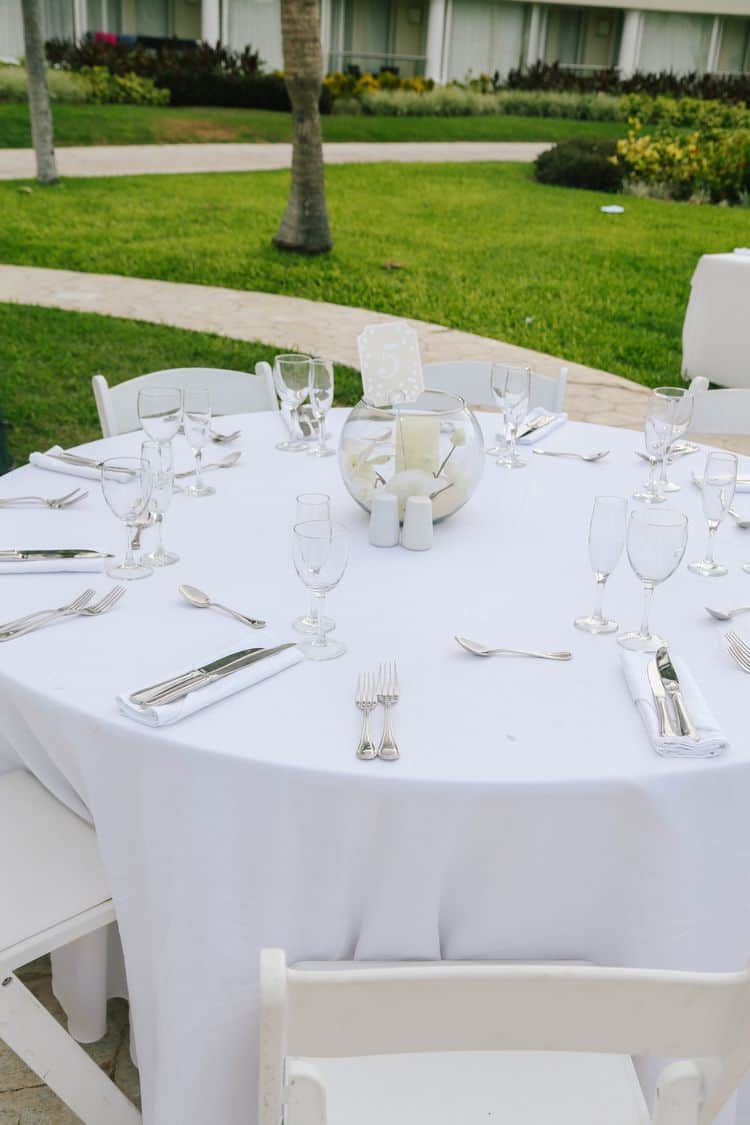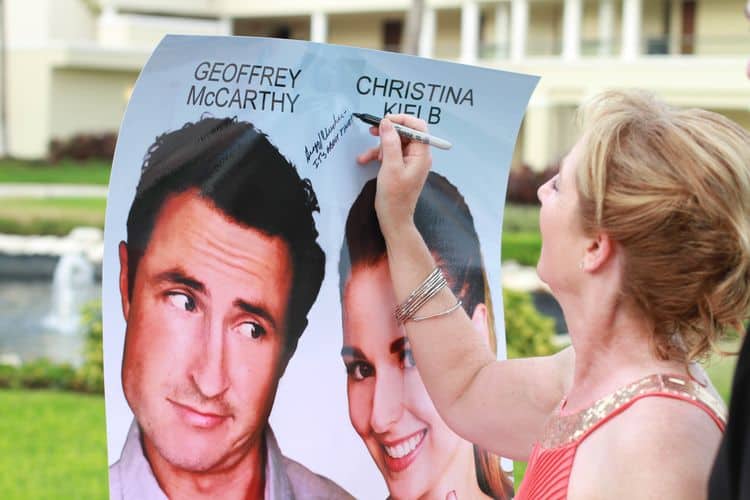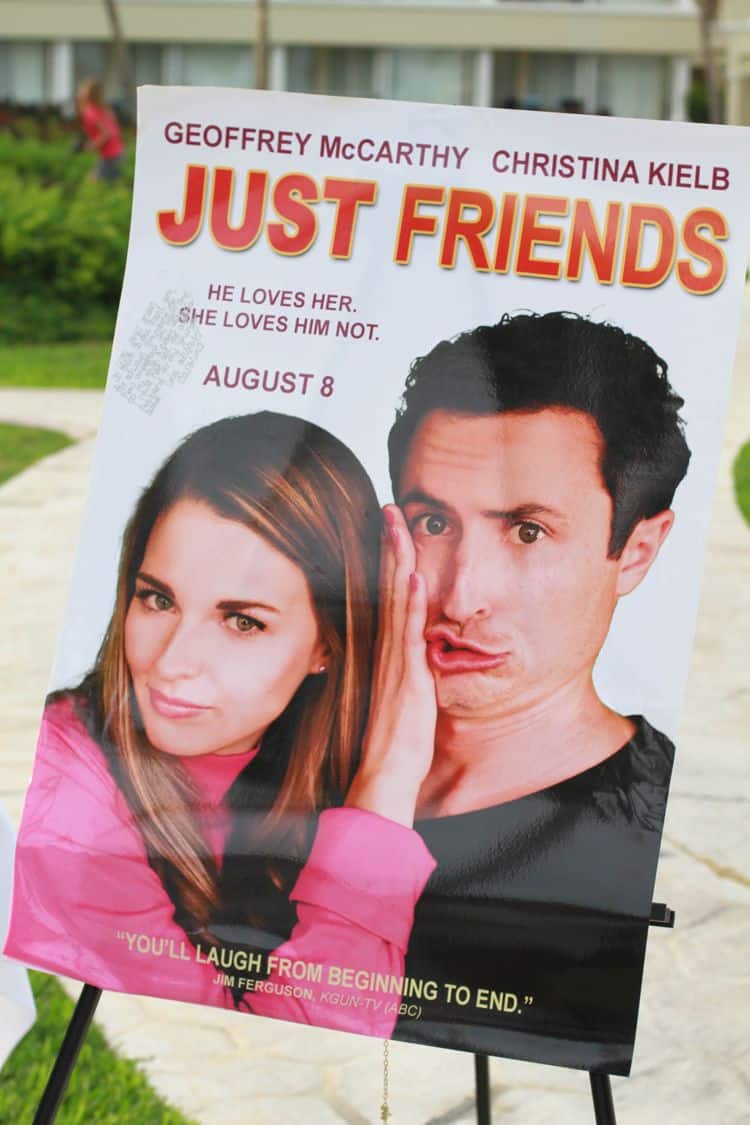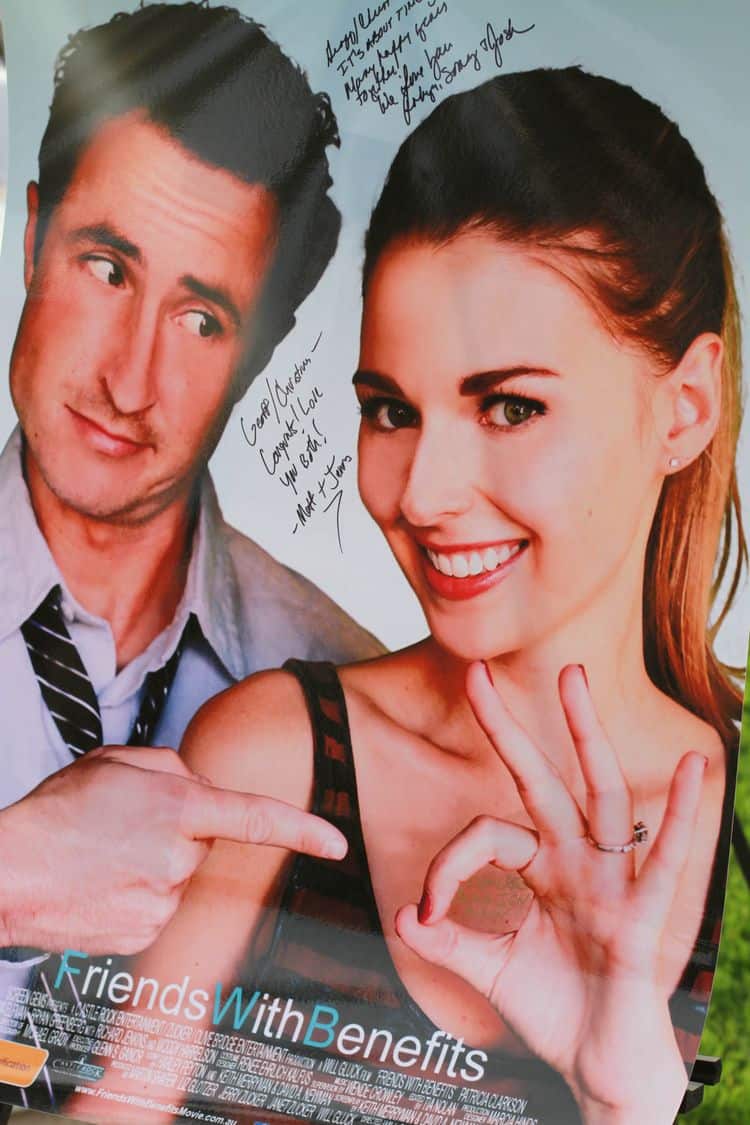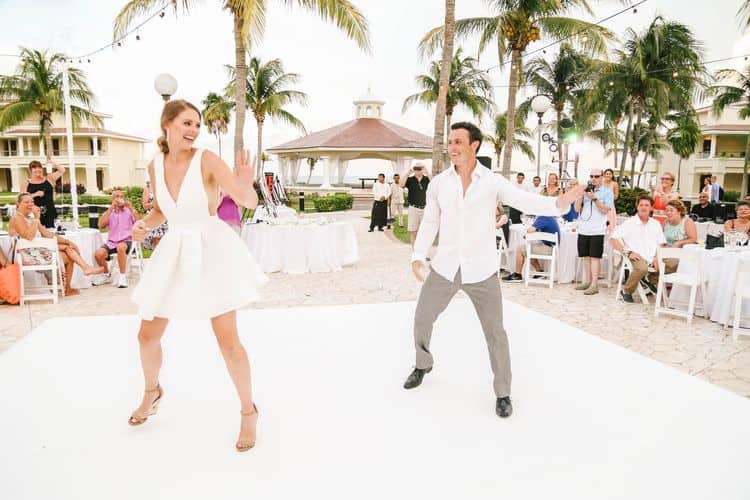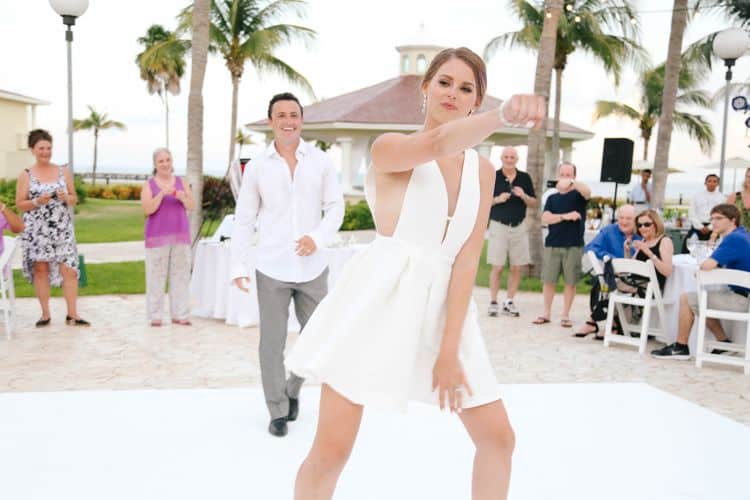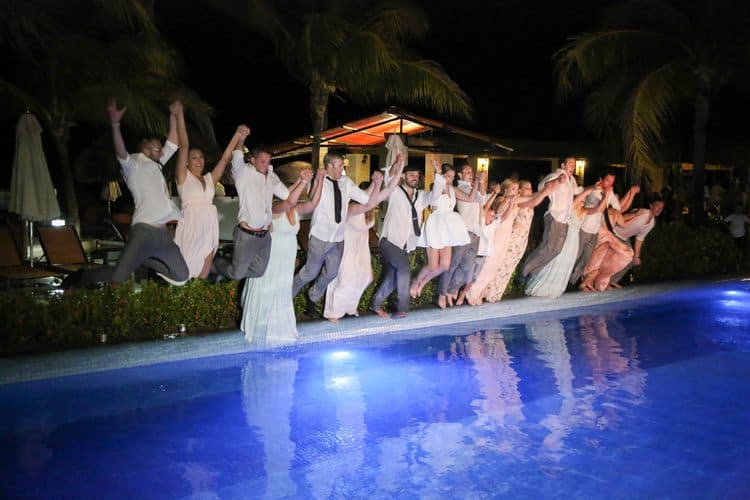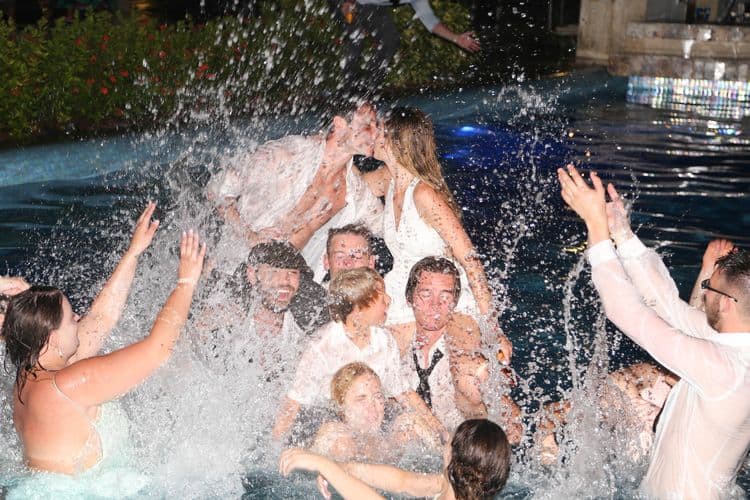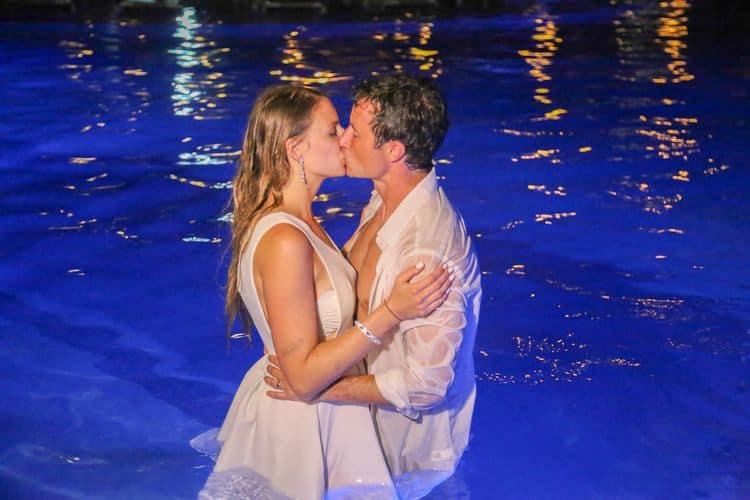 Real Destination Wedding Advice from the Bride
Why did you choose to have a destination wedding in Cancun and how did you decide on the Moon Palace?
My husband Geoff and I currently reside in Los Angeles, however we're both transplants. I grew up in Pennsylvania, and he is from the suburbs of Chicago. We met in college at Arizona State University and moved to California after we graduated. When we started planning our wedding, we knew that no matter where we got married, it was going to be a destination wedding for our friends and families. We also think that wedding celebrations should be more than just a day, so we knew that we wanted it to be a long weekend that we could spend time with everyone. Two of our very best friends got married in Cancun in 2011, and we had so much fun during our trip, that we thought it would be the perfect place to go back to. We worked with Destination Weddings to help pick our exact location, and after telling them all of our ideas and wishes, we agreed that Moon Palace would be the perfect place to celebrate!
How many people attended your destination wedding
In total, we had 76 guests join us for our big day.
What was the most memorable part of your wedding day?
Our reception was supposed to last until 10 p.m., and right around 9:15, this huge downpour came out of nowhere! We all rushed to the gazebo that we got married in to try to stay dry. Our wedding coordinator Lucia had forewarned us that should it rain the day of our wedding (and we chose to keep our events outside) that it would cancel the event. I know this may sound like a shock to most brides, but this was probably my favorite thing that happened that day! It was completely unexpected yet incredibly fun! We managed to bring a few beers and champagne bottles out of the storm and into the gazebo to continue the celebration. Since we were already wet from the storm, we thought it would be a great idea to have the entire bridal party jump in one of the pools at Moon Palace, and luckily our photographer and videographer joined in to capture the moment.
Was there any tradition that you skipped for your destination wedding in Cancun?
We actually skipped the bouquet and garter toss. But we were able to have a 'Welcome Party' in addition to our Rehearsal Dinner and Wedding. Doing a destination wedding in Cancun was great because we got to spend a lot more time with our friends and families than you typically do with guests staying at different hotels, houses, etc.
What was your favorite part of having a destination wedding in Cancun?
Being able to continue the celebration for as long as we could! The destination gave our friends and families opportunities to have a vacation in addition to joining the celebration. It was also great spending days in the sun with everyone!
What was the biggest challenge you faced when planning your destination wedding?
One of the obvious challenges was accepting that not all of our friends and families were going to be able to join us. Additionally, communication was a bit difficult from our travel coordinator and our wedding coordinators. Of course, at the end of the day, we were lucky to have the wedding that we had always dreamed of.
What's your destination wedding advice to other couples?
Be accepting and patient. Accept that not all of your guests are going to be able to make the journey with you, no matter how far in advance you let them know. Be patient with your guests and your coordinators. We had some guests decide to join our wedding days beforehand (while we were in Cancun!) However, we were lucky enough to make the additional accommodations with our coordinator, which was amazing. You also need to remember that these coordinators have additional weddings that they are also working on, however they are keeping track of your wants and needs. We would sometimes go a week without hearing from them, but once we did, they would answer all of the questions that we had leading up to their response.
Vendors
Photographer: Elizabeth Burgi Photography
Venue: Moon Palace
Bridal Gown: Jim Helm from JLM Couture
Bride's Shoes: Michael Kors
Bride's Second Dress: Necessary Clothing
Bride's Second Shoes: 7 for All Mankind
Bride's Hair: Olivia Schultz and Brittney Golden
Beauty: Brittany Green Make-up. Email: BGreenMakeup(at)gmail(dot)com
Bridesmaid Dresses: Lulu's (Mint); ASOS (Peach); Misguided (Floral Maid of Honor dress)
Bridal Party Gifts: (Robes) BridalPartyRobeShop on Etsy
Groom's Attire: Banana Republic (Suit); Zara (Shirt)
Groom's Shoes: Kenneth Cole
Groomsmen Attire: Banana Republic and Men's Warehouse
Videography: Gallardo Films
Dance Instructor: Rock The Party
Invitation Designer: Minted
Cake Topper: BetterOffWed on Etsy
Flowers: DIY – Michael's