Have you been dreaming of a destination wedding in a location with stunningly beautiful turquoise water and powdery white sand? With lots of activities to keep your guests entertained? And an abundance of All-Inclusive resorts that offer every service you could possibly need? Then you've been dreaming of a Cancun Wedding.
Here you'll find my favorite Cancun resorts as well as marriage requirements.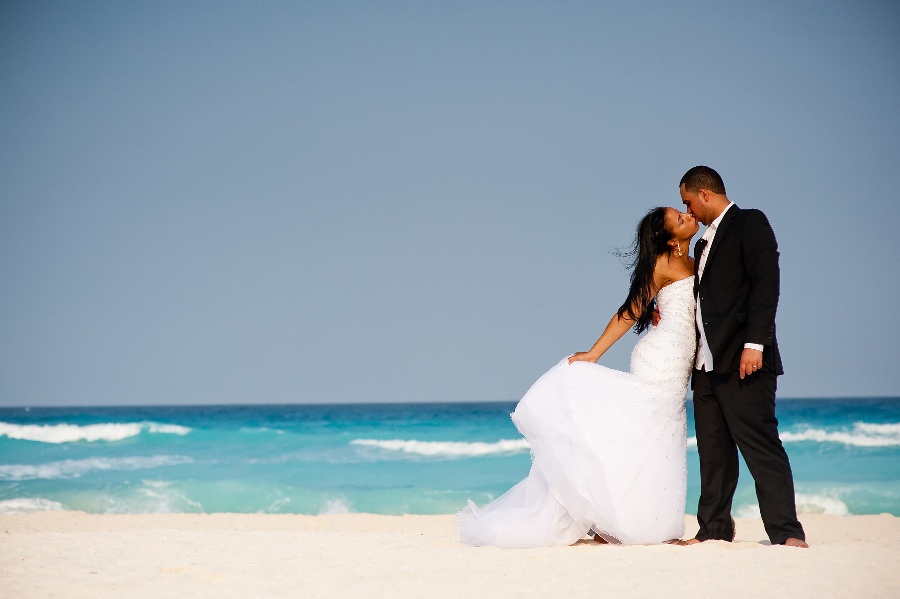 I know the beauty and magic of Cancun first hand because it's where I got married myself, and it was nothing short of amazing! During our many Cancun visits, we scouted tons of venues. We fell in love with more than one spot so we did something out of the ordinary by hosting the rehearsal dinner, ceremony, and reception in three different venues.
Our guests loved the chance to experience different sights & sounds during their trip to Cancun. Of course, you don't have to follow our footsteps because any one of the following Cancun wedding venues would be perfect for hosting all your events.
Go on a site visit to the best destination wedding resorts in Cancun.
Great Cancun Wedding Venues
Sandos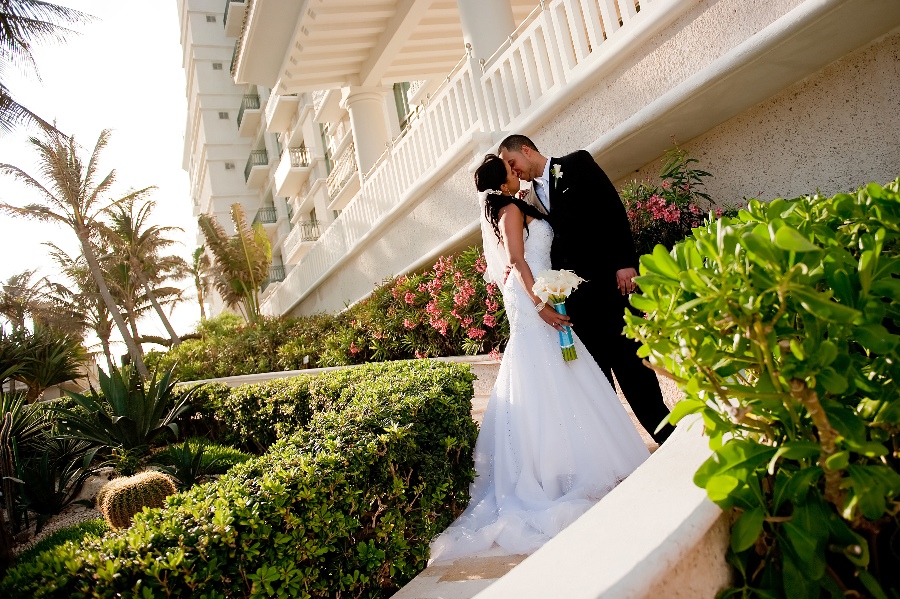 Sandos is where I had my very own reception (when it was called Le Meridien), and to this day, my guests still rave about how no detail was overlooked, everything was perfect and they had the time of their lives. I highly recommend this venue.
Everything about this resort is top-notch. The architecture is a gorgeous blend of European opulence and Mayan influences. Although located right in the heart of the Cancun Hotel Zone, it isn't the typical 1000 room resort you'd expect to find in this town. It has an upscale look with a very laid back feel.
They have a selection of beautiful and unique spaces that are just perfect for your ceremony and reception. But my personal favorite is the gazebo which offers amazing views of the turquoise ocean.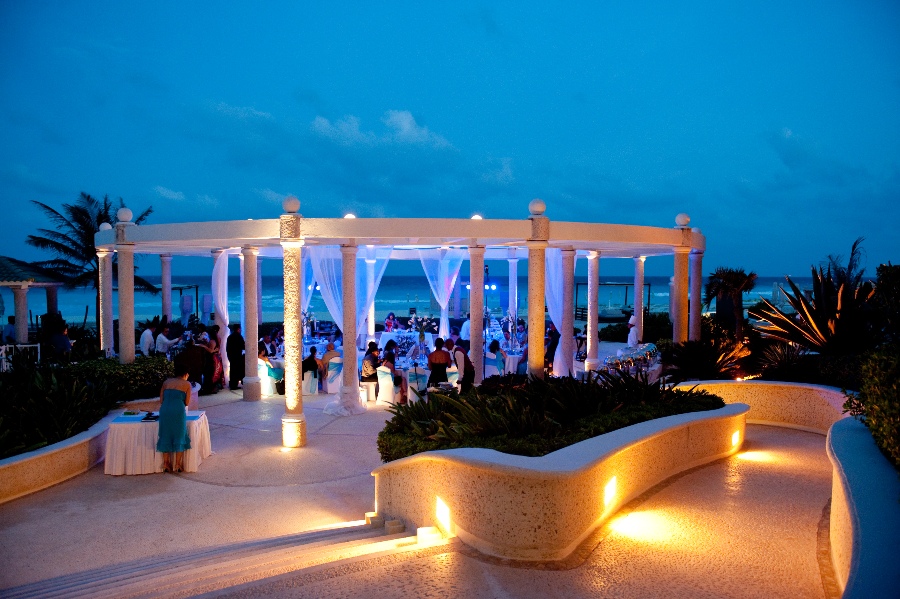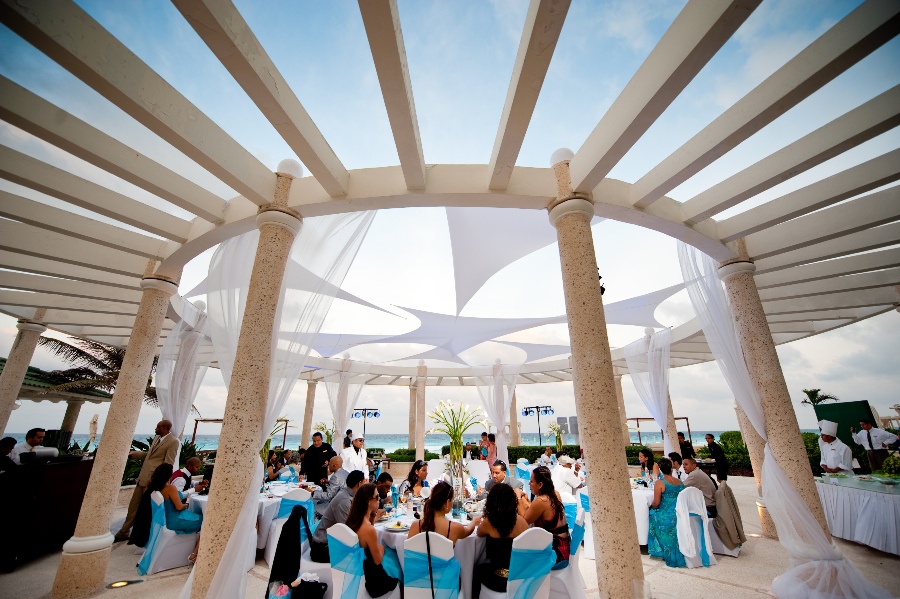 Their experienced coordinators will give you personal attention, handle every single detail of your big day, and cater to your every desire. The food, service, views, and unique architecture make Sandos just perfect for any Cancun wedding ceremony or reception.
Gran Caribe Real
Gran Caribe Real is where we had our ceremony and rehearsal dinner for all our guests. If you're looking for an affordable all-inclusive resort and don't mind the crowds, this is a great choice. They have a really good selection of venues including beach locations, oceanfront gazebo, ocean-view terrace, and indoor ballrooms.
We had our rehearsal dinner on the property's beach at sunset. They took care of all the details from decorations to hiring fire dancers. The food, entertainment, and décor was spectacular.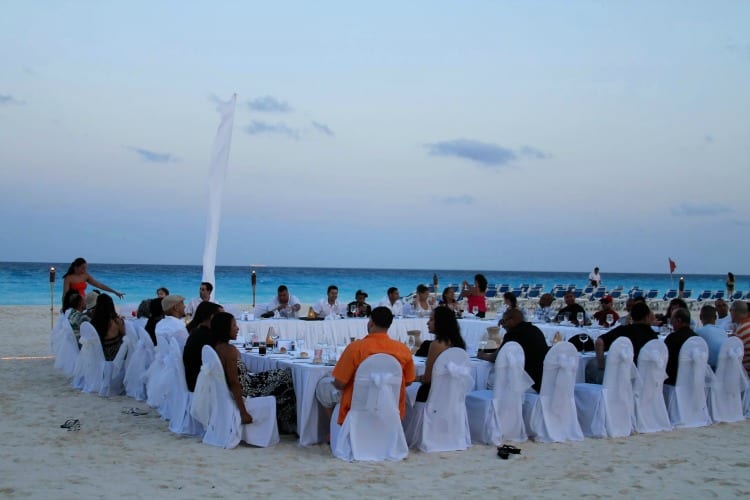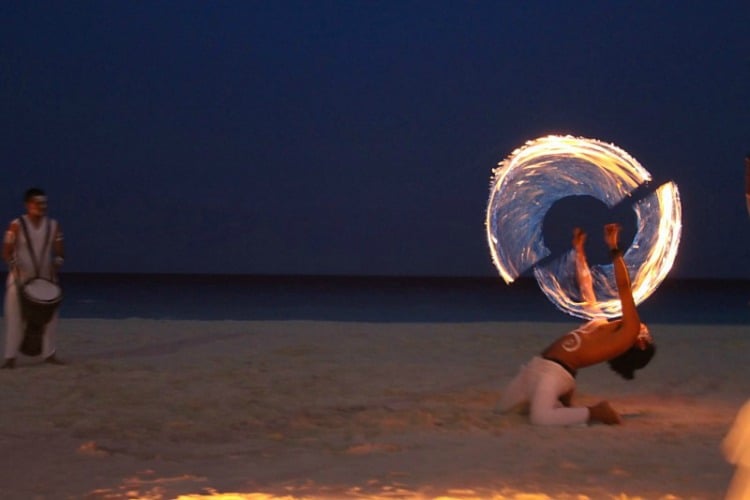 The next afternoon, we exchanged vows in the resort's gorgeous oceanfront glass chapel – the only one of its kind allowed to perform Catholic ceremonies in the area.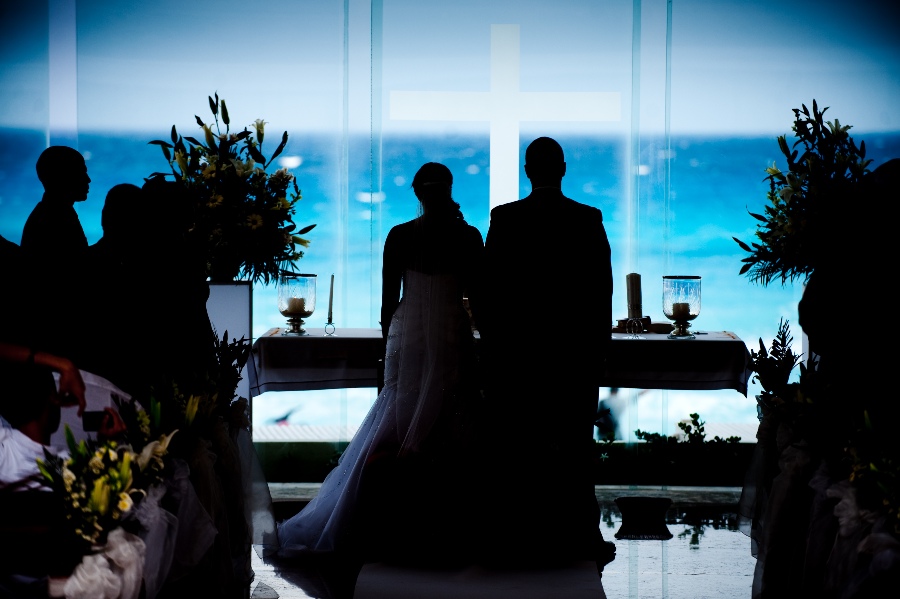 Paradisus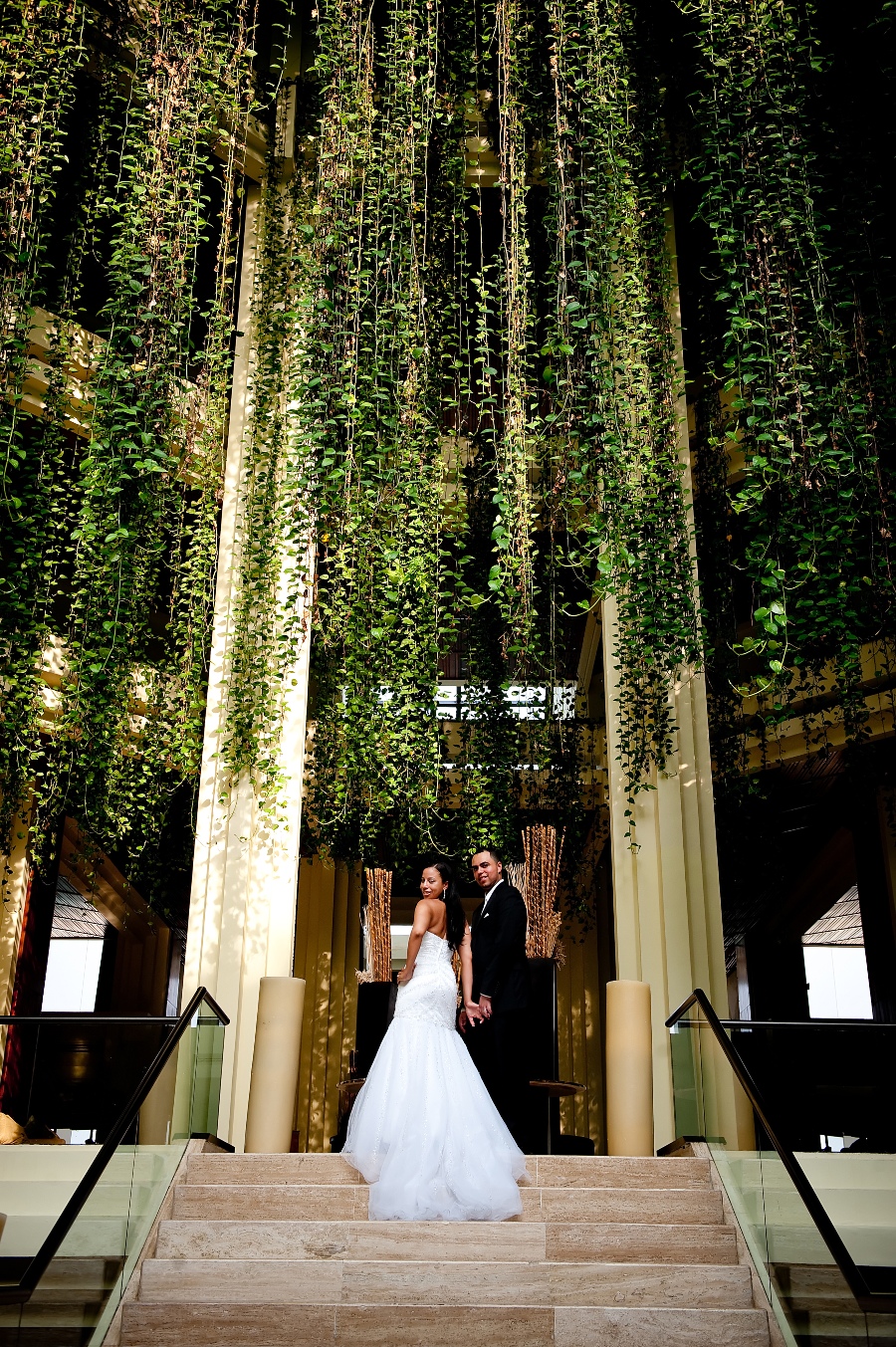 This mega, 5-star luxury property is perfect if you have a lot of guests and you want everyone to have their own space throughout the week. This Massive hotel is located right on the beach and is made up of 5 connected buildings in the shape of pyramids.
From the moment you walk in you'll be blown away by the impressive pyramid-shaped skylight, hanging vines, and real tropical fish ponds in the lobby. They have 4 pools, 7 restaurants, a golf course and a spa recognized as a Leading Spa of the World.
Although you wouldn't expect it from a property this large and beautiful, the rates are very reasonable and the hospitality is one of their strong suits. You can say your vows on the beach, poolside, or in a lush garden. For your reception, you can choose from a number of outdoor or indoor venues that can accommodate small gatherings or large ones of up to 1,100 guests!
You can see more of my destination wedding in Cancun in the real destination wedding section of this site.
Dreams Cancun
This all-inclusive property is a favorite amongst couples, so it's no wonder they have destination wedding planning down to a science. They have a number of pre-set packages to choose from, but the big draw is the many impressive venues. The most popular is the gorgeous gazebo that is perched above the sea that surrounds it on each side.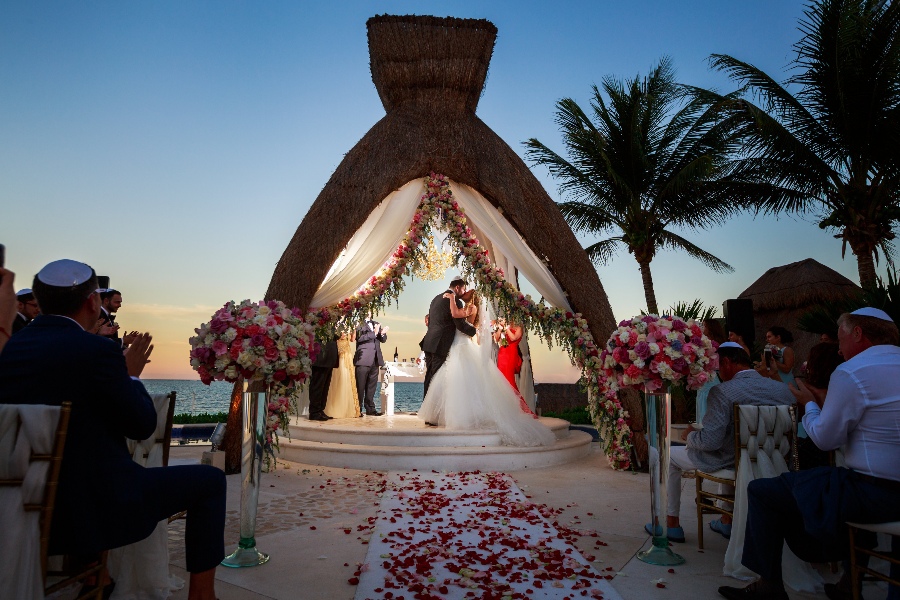 Moon Palace
This is one of the most romantic places for a Cancun Wedding. It made our list because they have picture-perfect backdrops, many indoor and outdoor venues, and a large variety of packages to suit every style.
But what I love most is that you can arrive at your ceremony in a horse-drawn carriage! They also have great tools like a bridal website, with a honeymoon registry, and announcement cards. Read about my site visit to the Moon Palace Cancun.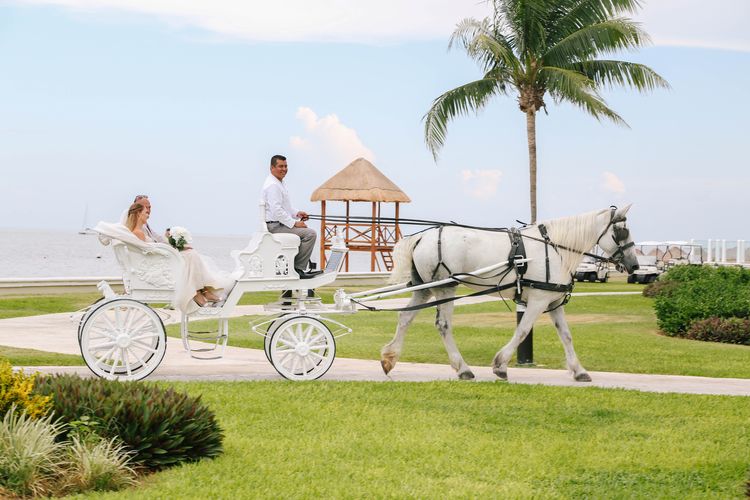 Beach Palace
Rounding out of our list of top Cancun Wedding venues is the Beach Palace. Why?
They're part of the same family of resorts as Moon Palace and offer many of the same features and amenities. But I love this particular property because they have a rooftop venue that holds up to 100 guests. The Skylight Terrace affords sweeping views of the ocean and makes for some really beautiful sunset photos.
Getting Married in Cancun: Legal Requirements
Making your Cancun Wedding legal can seem a bit complicated at first but the good news is that most resort coordinators can help guide you through the process.
As an alternative, you can have your legal ceremony back home (i.e. in city hall) and just have a symbolic one in Cancun. This is what I did and it saved me a lot of work (and money).
If you do decide to do it all in Cancun, you will need to provide originals and at least 2 copies of each of the following documents 3-5 business days prior to your ceremony:
Valid Passport
One additional valid picture I.D.(for example, a driver's license)
Original birth certificate (or certified copy)
Mexican entry visa or tourist card (This will be provided by Customs at the Cancun International Airport)
Completed and signed Marriage Application. You can get these forms at the local registry office in Mexico and is usually coordinated through your resort.
Divorce Certificate, if applicable. Must be dated at least one year prior.
Death Certificate, if applicable
Other Cancun Marriage Requirements
Blood test taken in Mexico 3-14 days prior to your ceremony. Your resort planner can usually help you coordinate the test so make sure to ask. There is a fee for the blood test which varies by resort.
Two witnesses for the bride and two for the groom (four witnesses total). And they too must provide a Mexico entry visa or tourist card, passport and another picture ID.
All documents including birth certificate, divorce, or death decrees must be legally translated to Spanish and certified by an Apostille.
DISCLAIMER: The above information is meant as a guide to help give you a general idea of Cancun marriage requirements. Although we make every effort to ensure that the content is both current and accurate, errors can occur. Plus, given the changing nature of laws, rules, and regulations, there may be omissions, or inaccuracies in the information contained in this content as time passes. We are not responsible for any inaccurate or omitted information or for the results obtained from the use of this information. You should always confirm all marriage requirements, timing, and costs with the marriage registry office and/or your local wedding coordinator.

Congratulations and Good Luck with your planning!
Related Posts
Unless otherwise credited, photos within this post are credited to Morgan Lynn Photography