After over a decade of dating, Crystal and Steven decided to get married in a breathtakingly gorgeous seaside wedding in Playa Del Carmen. Inspired by both the stunning ocean waters and Crystal's own mother's wedding, they chose a variety of minty aquas, classic whites and a few pops of peach for the wedding colors. This played so beautifully with the natural coastline, and helped to create Crystal's vision for a "beach romantic" theme for their big day. It's almost as though I can feel the ocean breeze just looking at these photos – thank you to photographer Mikkel Paige for capturing the beauty of Riviera Maya just so. Also, just let me say that I'm absolutely taken by the ornate barefoot sandals worn by the bride and her girls – can we PLEASE see more of this trend in beach weddings?
So many adorably personal details were included in Crystal and Steven's beachside wedding. Their cake topper was custom made to feature not only Crystal and Steven, but their dog Haze too! Also, Steven's father brought his childhood sombrero all the way from Costa Rica – always a surefire way to get the party started. My favorite moment though…was that Crystal handed Steven a hot sauce packet during their vows that said, "I do"on it. Before you start scratching your head, there's a great story behind it! When Steven proposed, he gave Crystal a hot sauce packet that said, "will you marry me?" – so it all came full circle, with Crystal offering Steven a sweet little surprise that brought a tear to his eye at the alter. So sweet!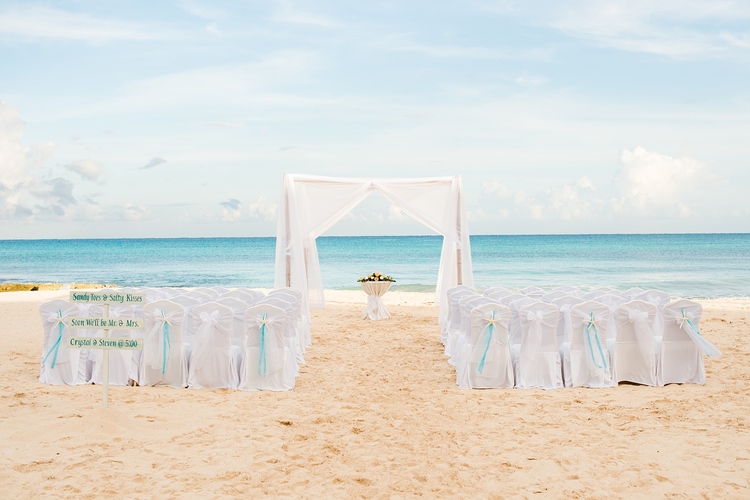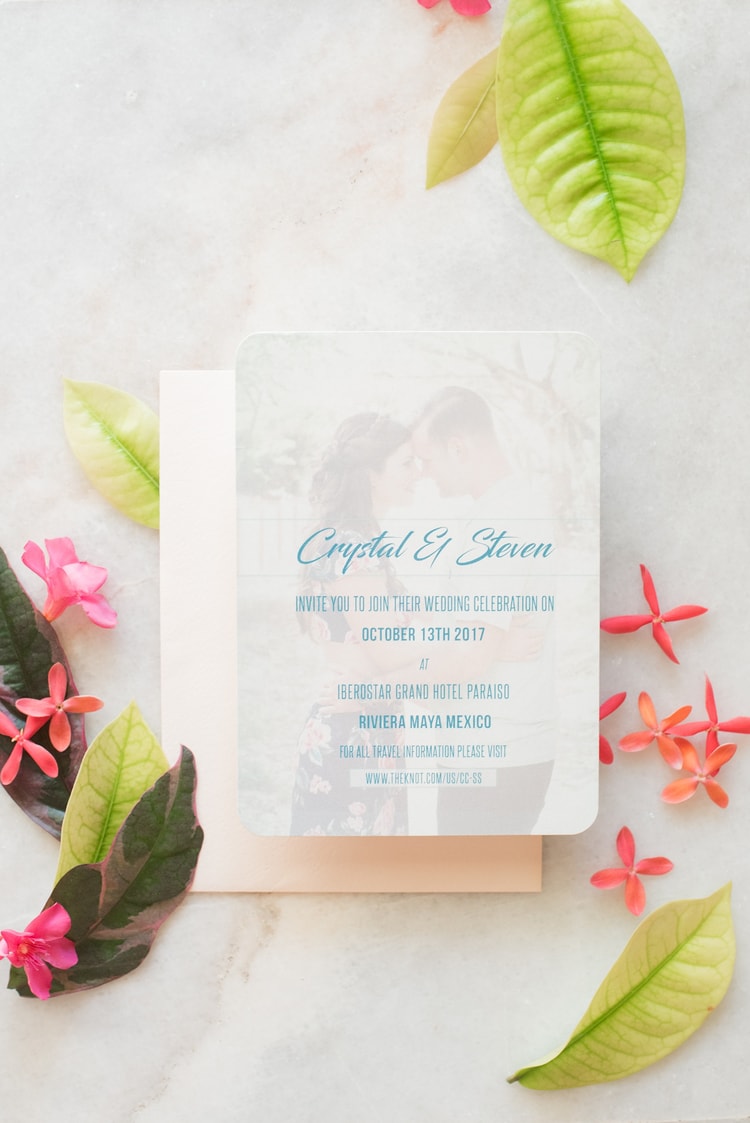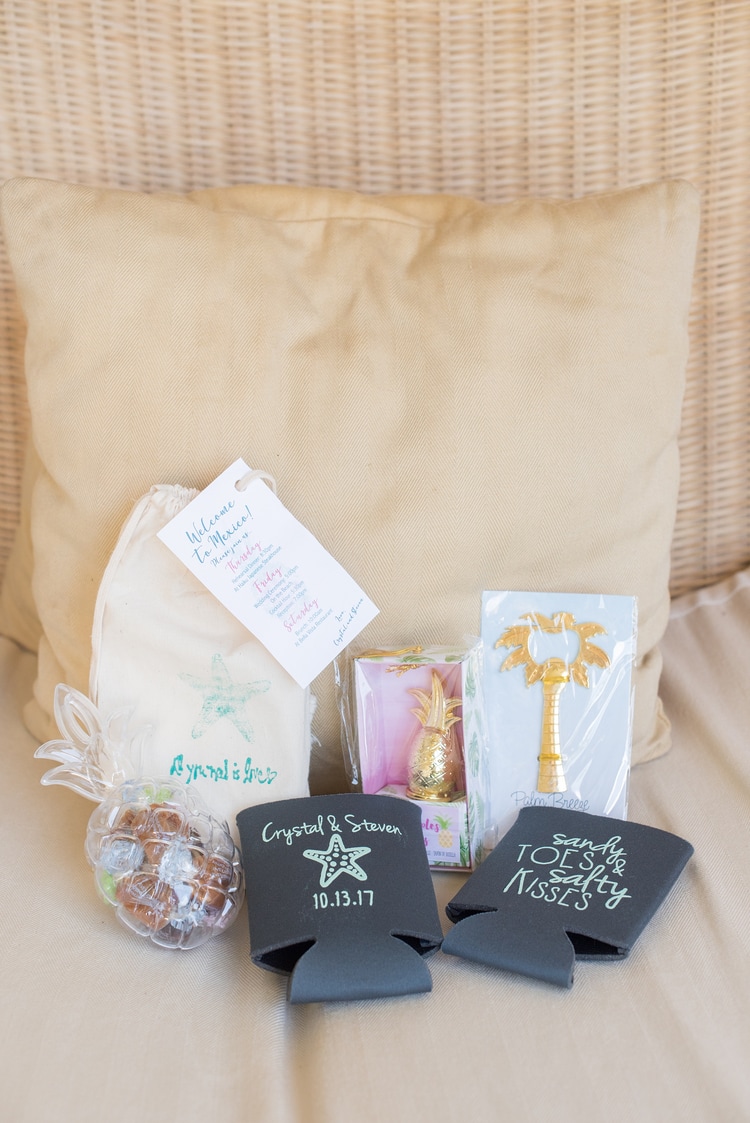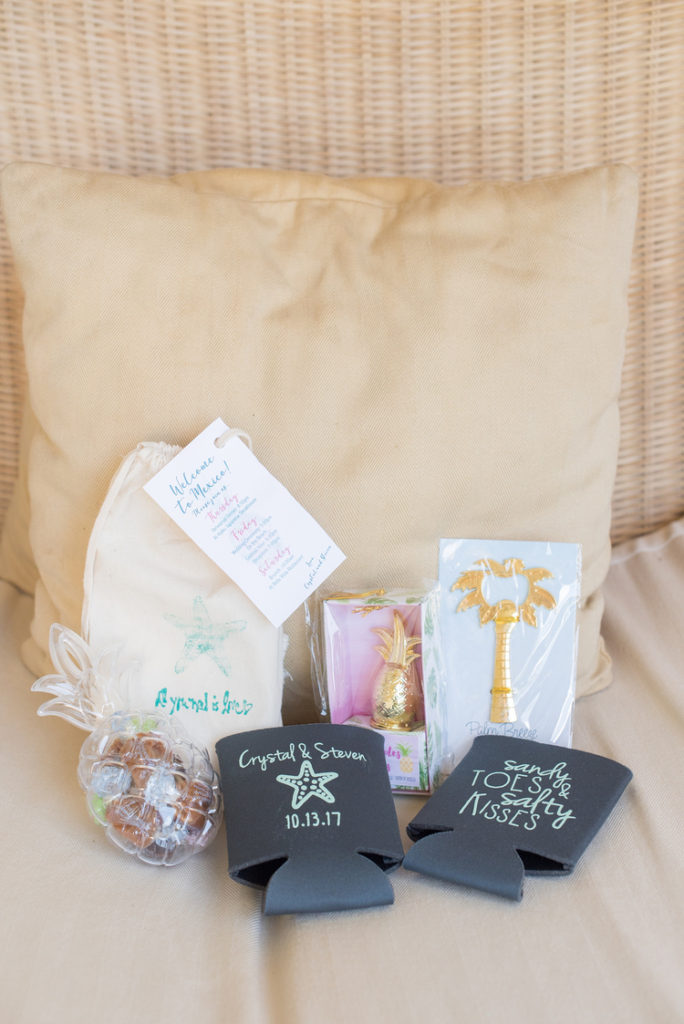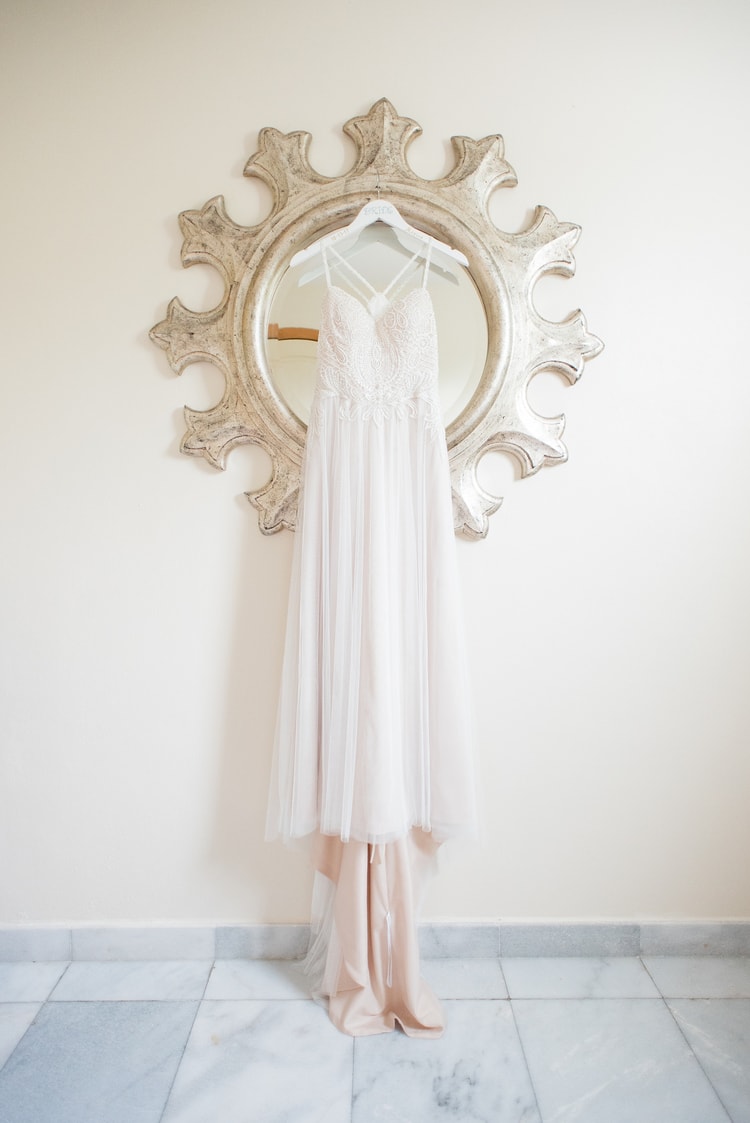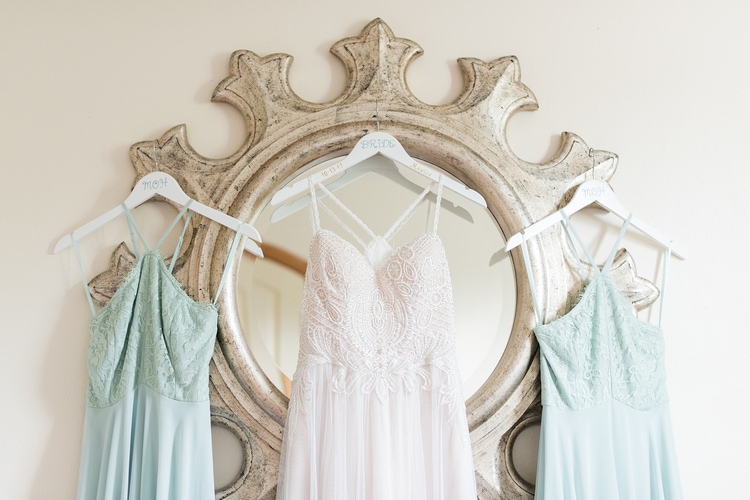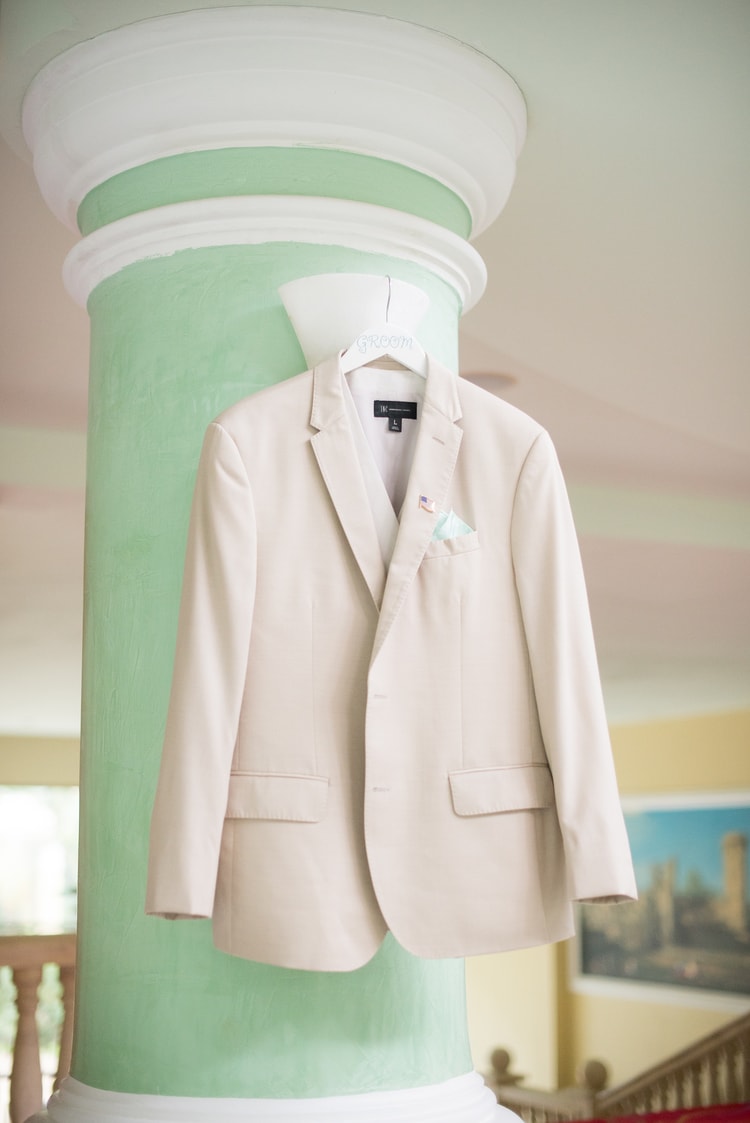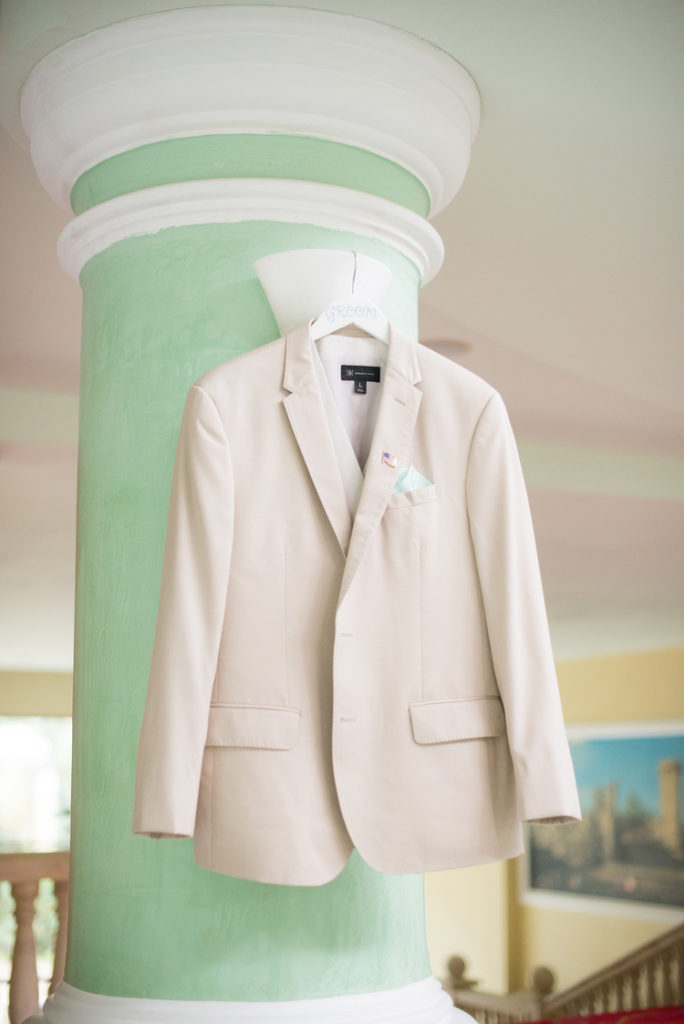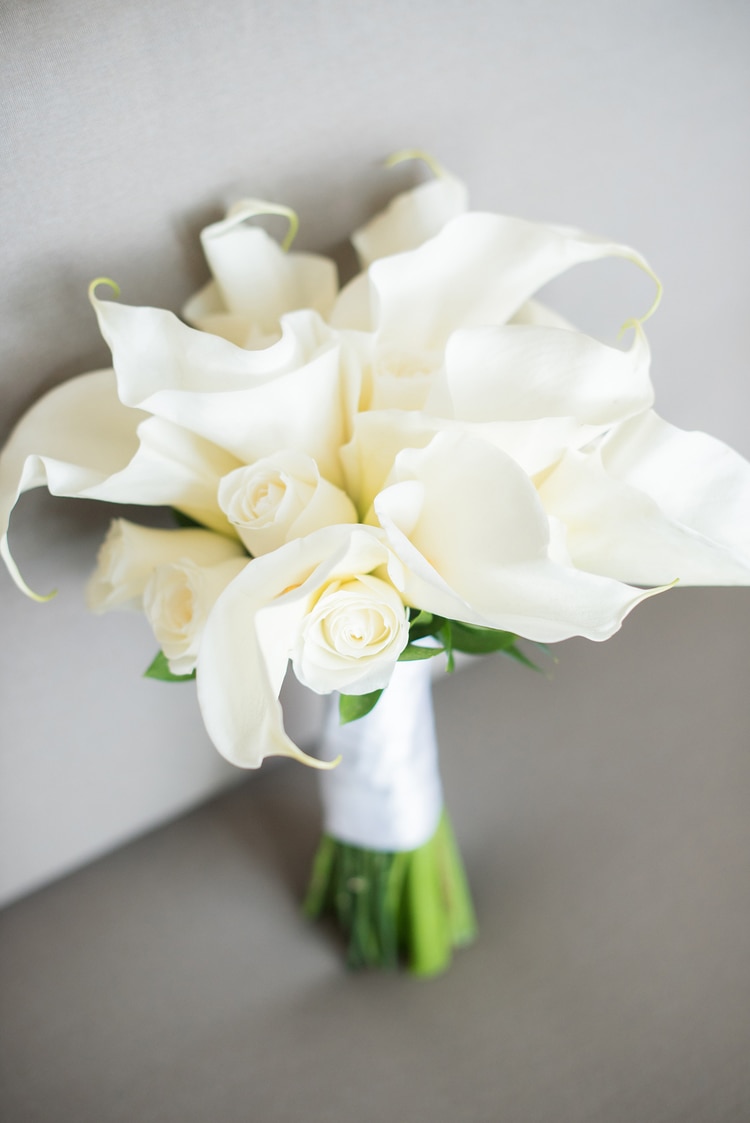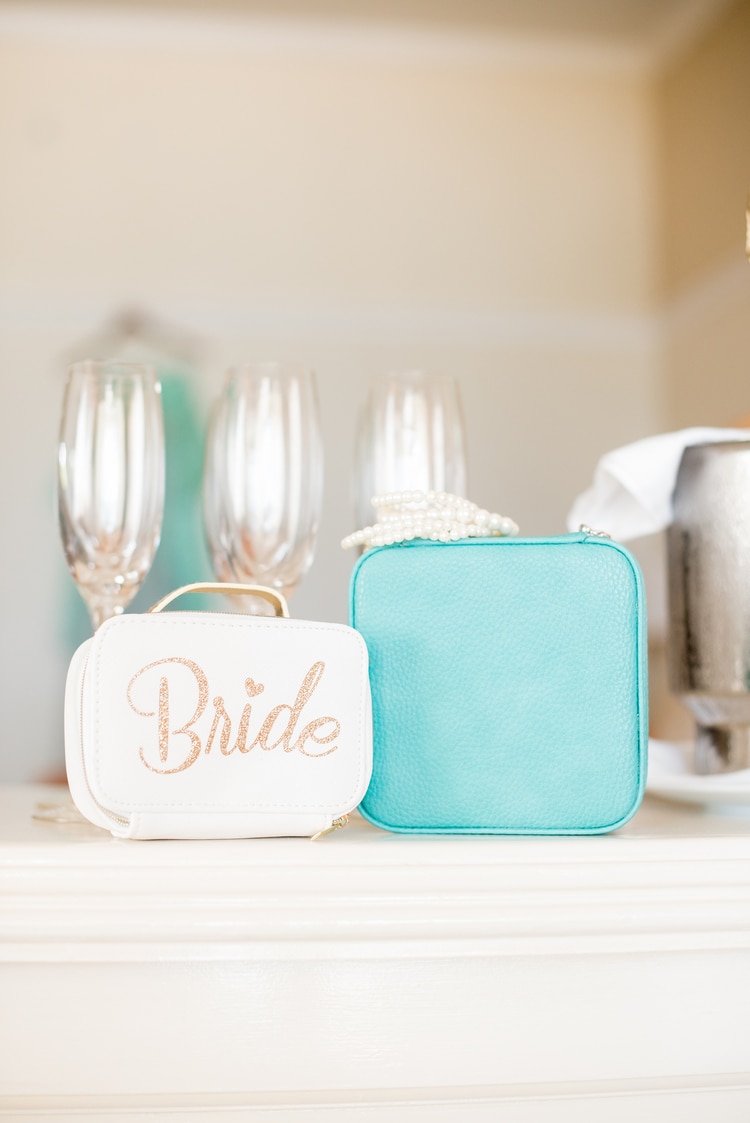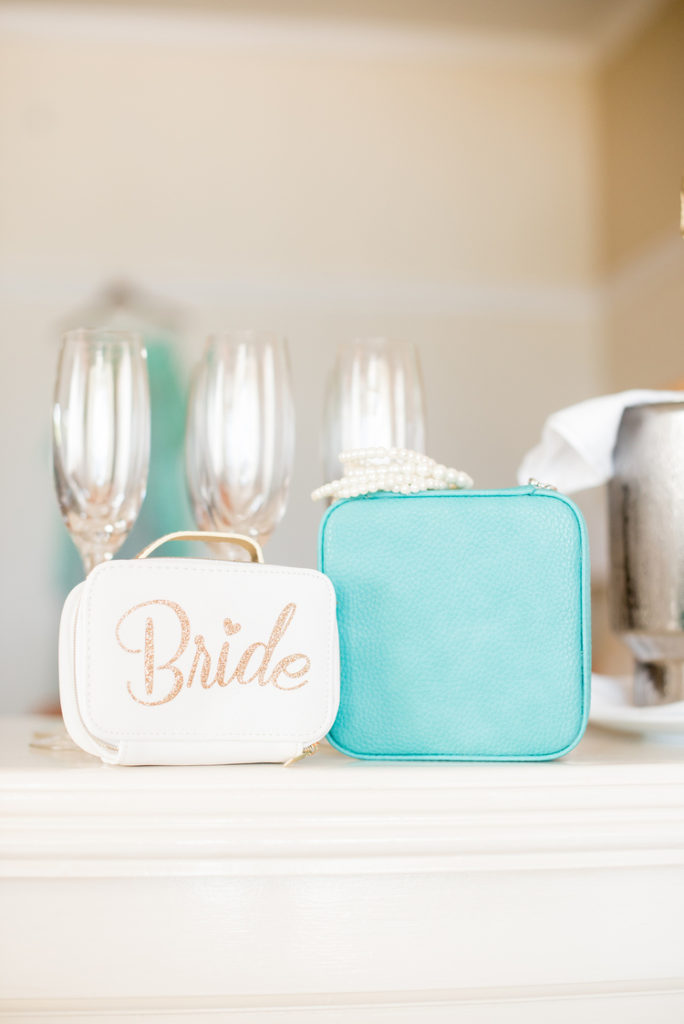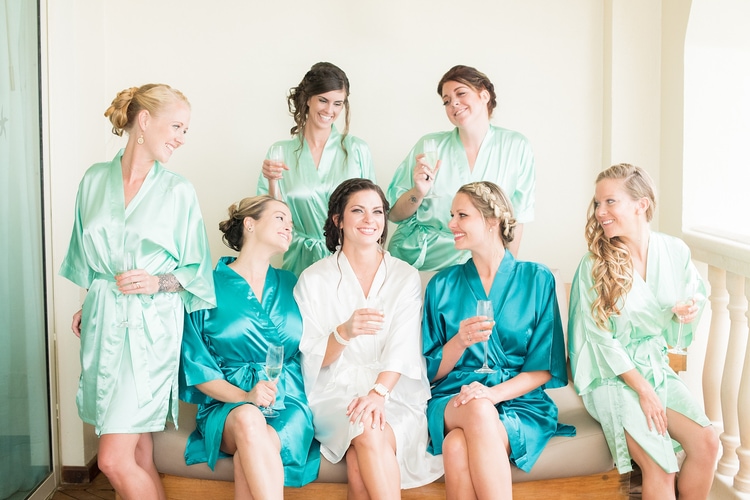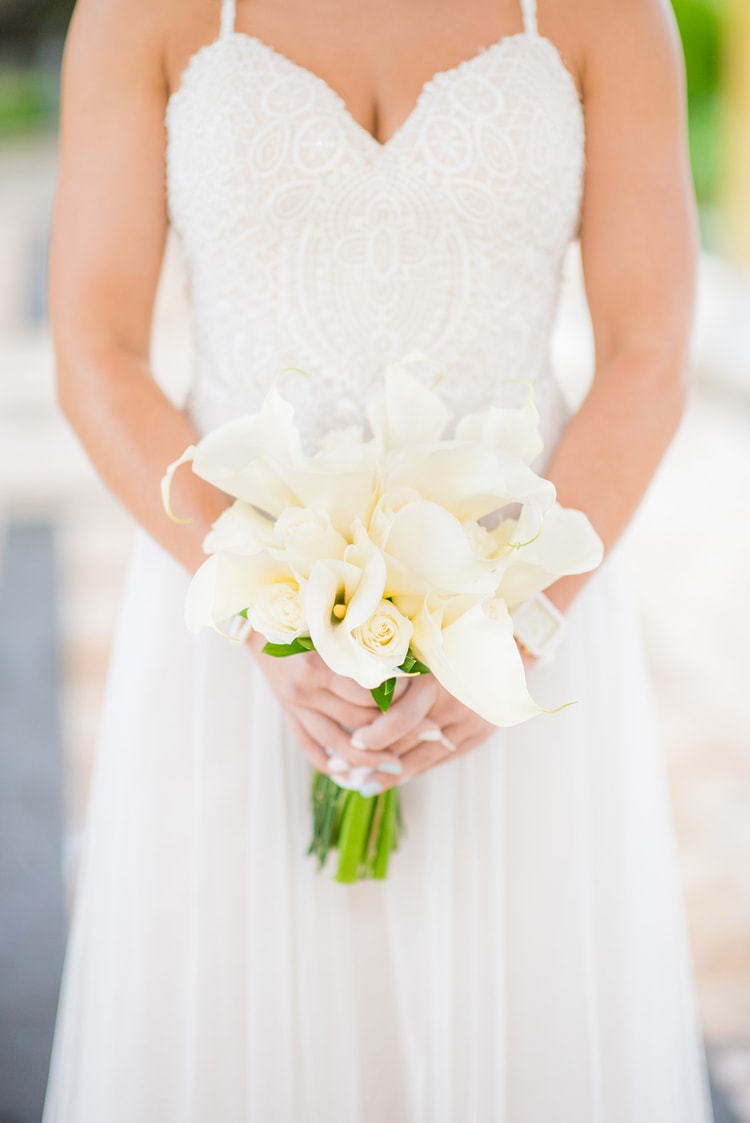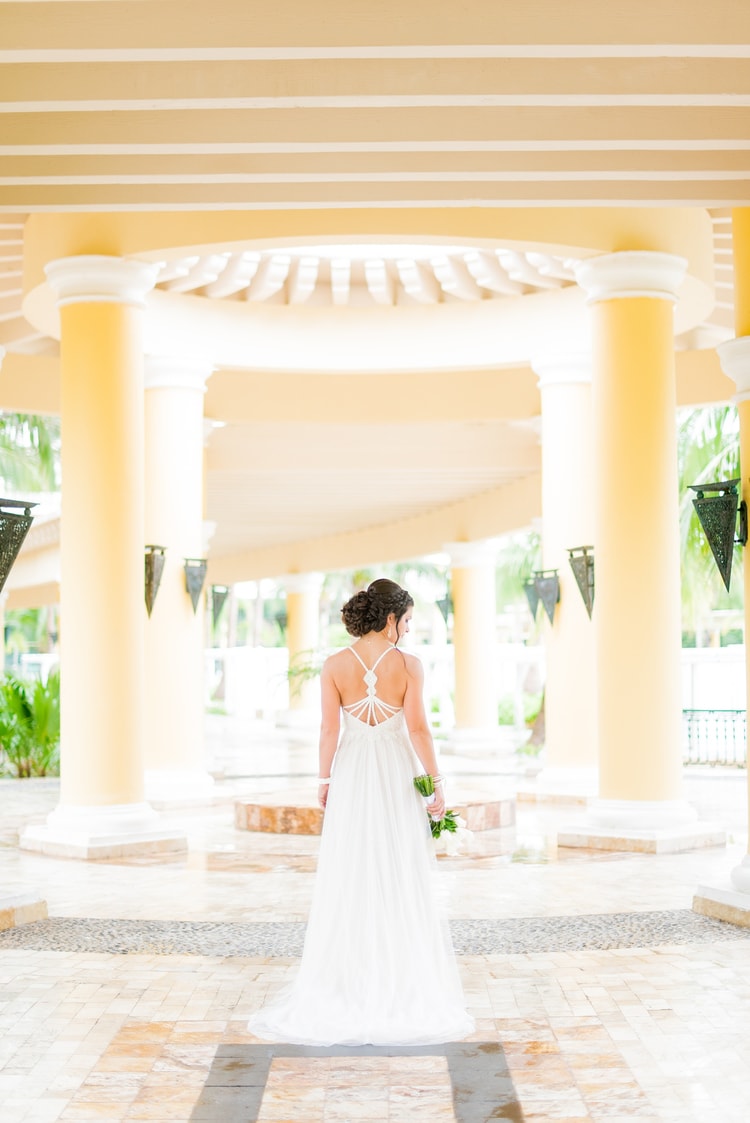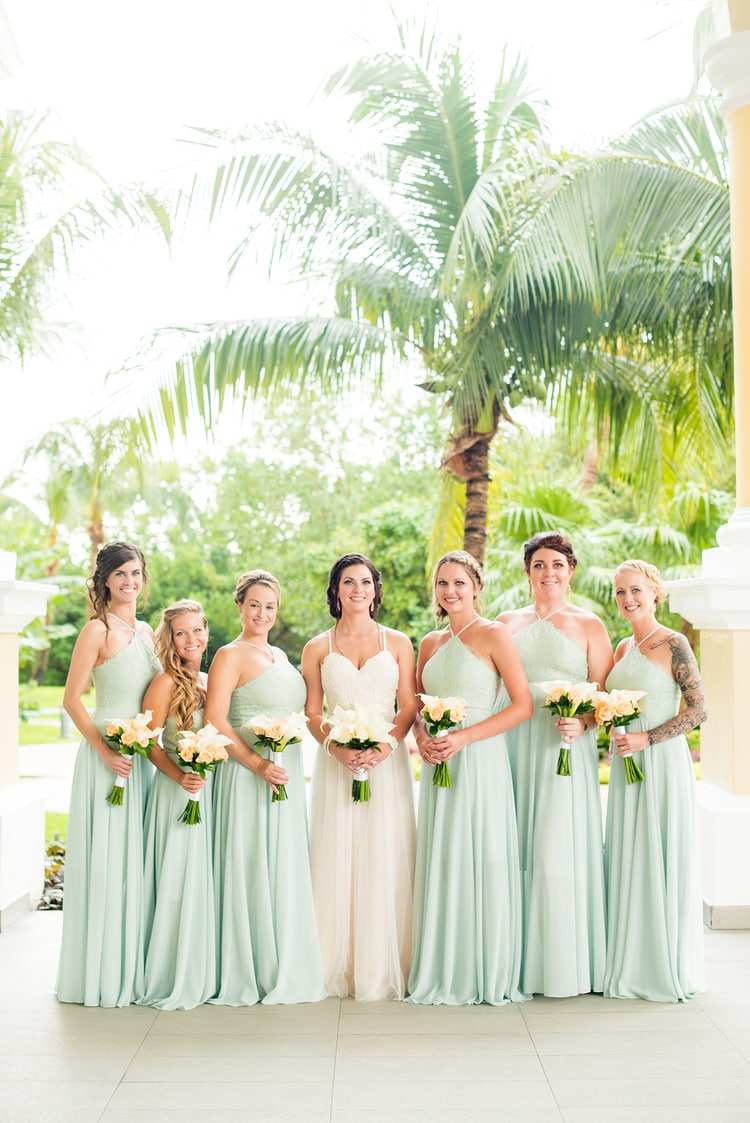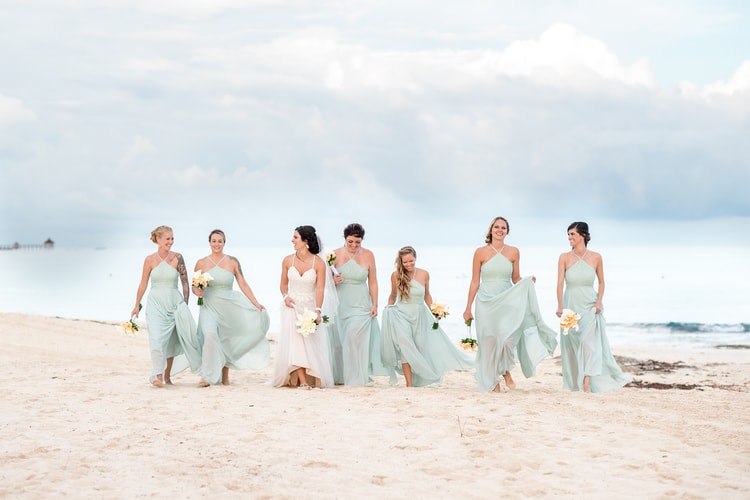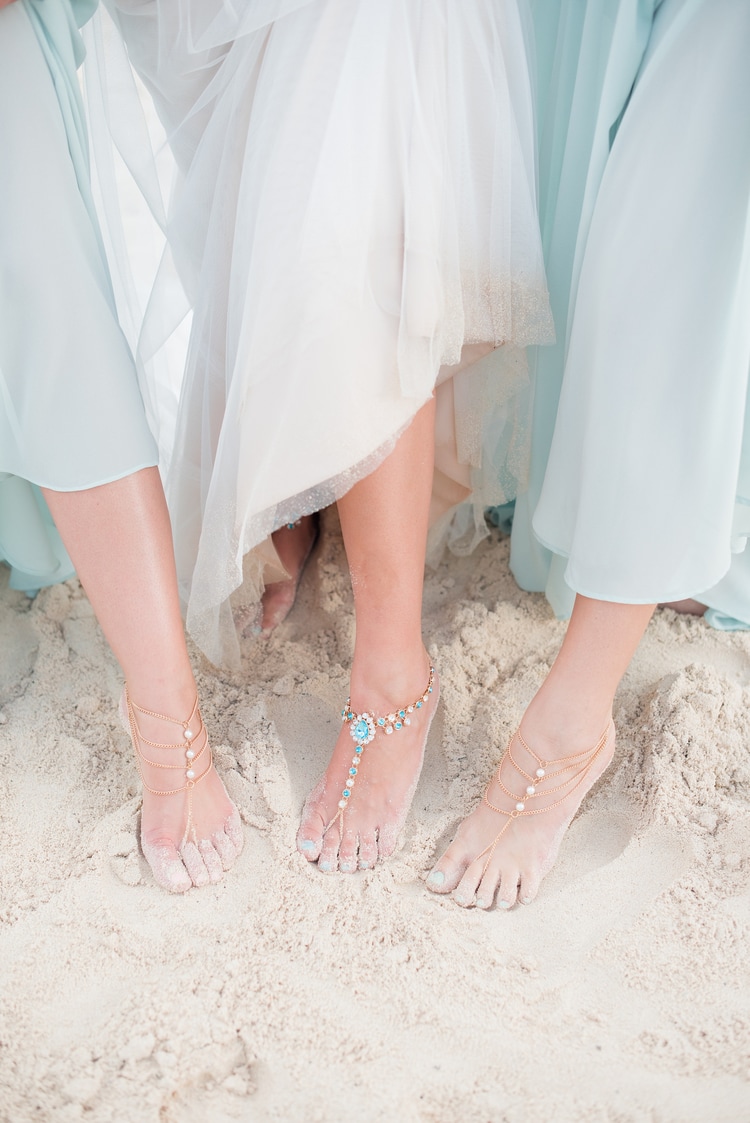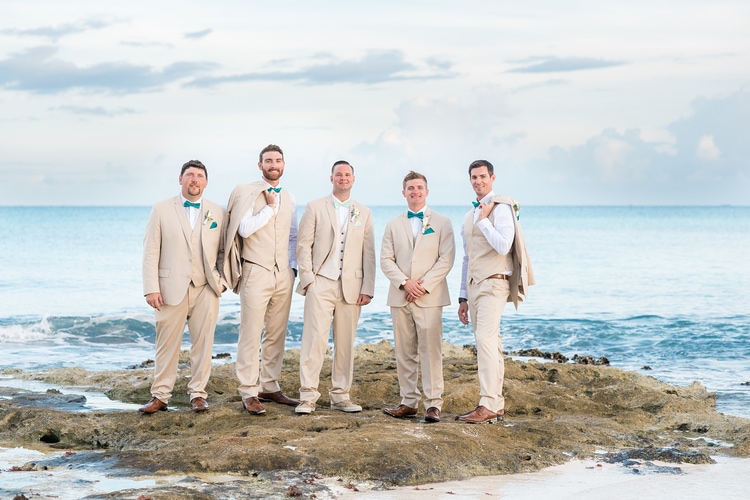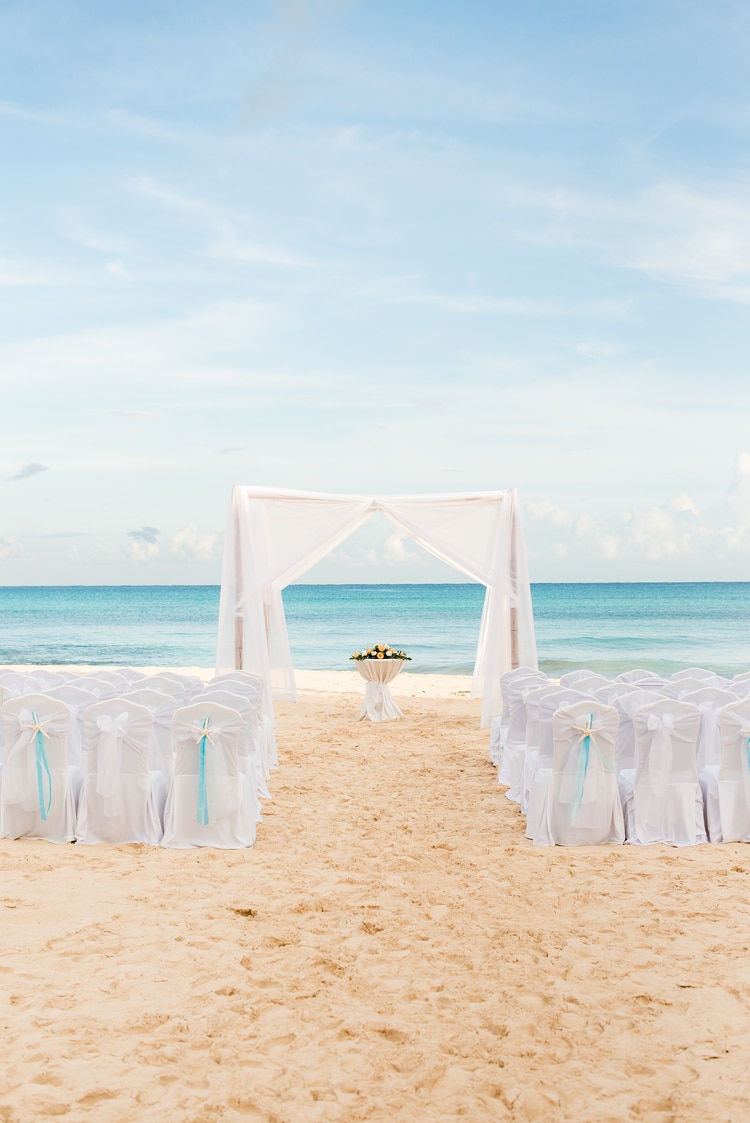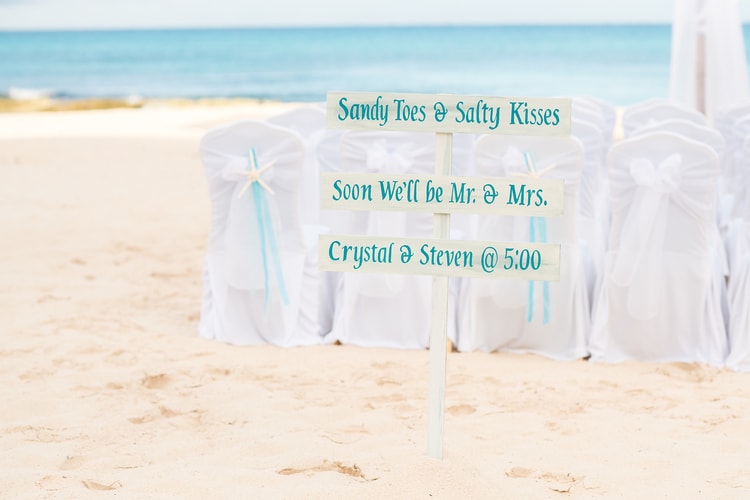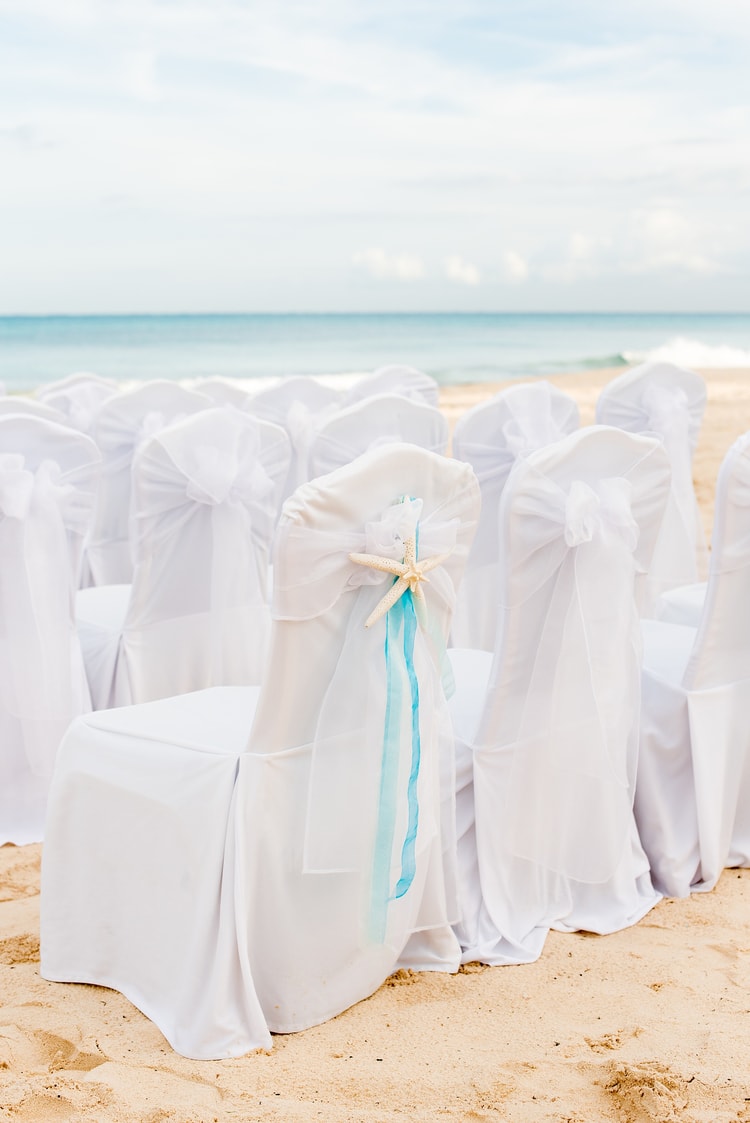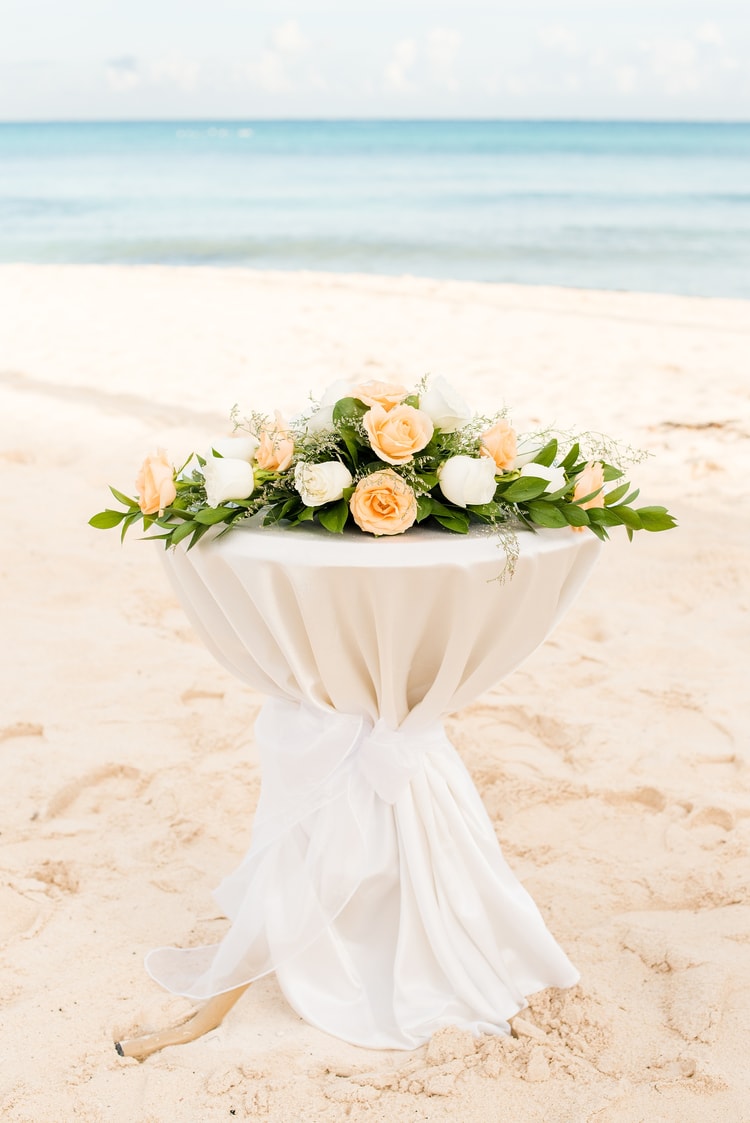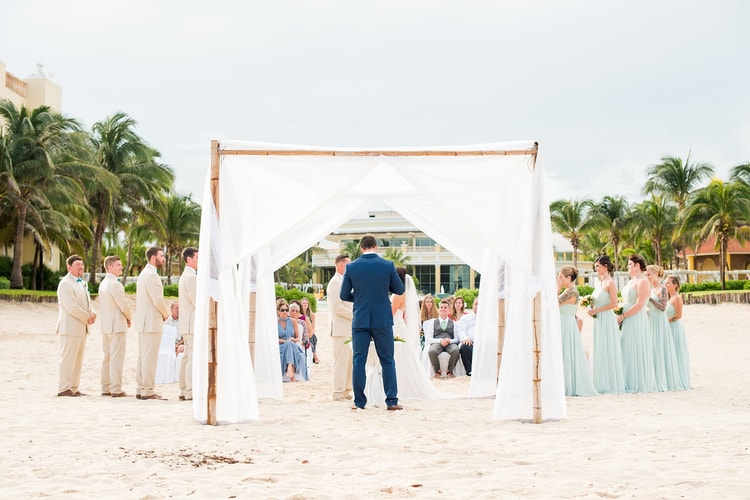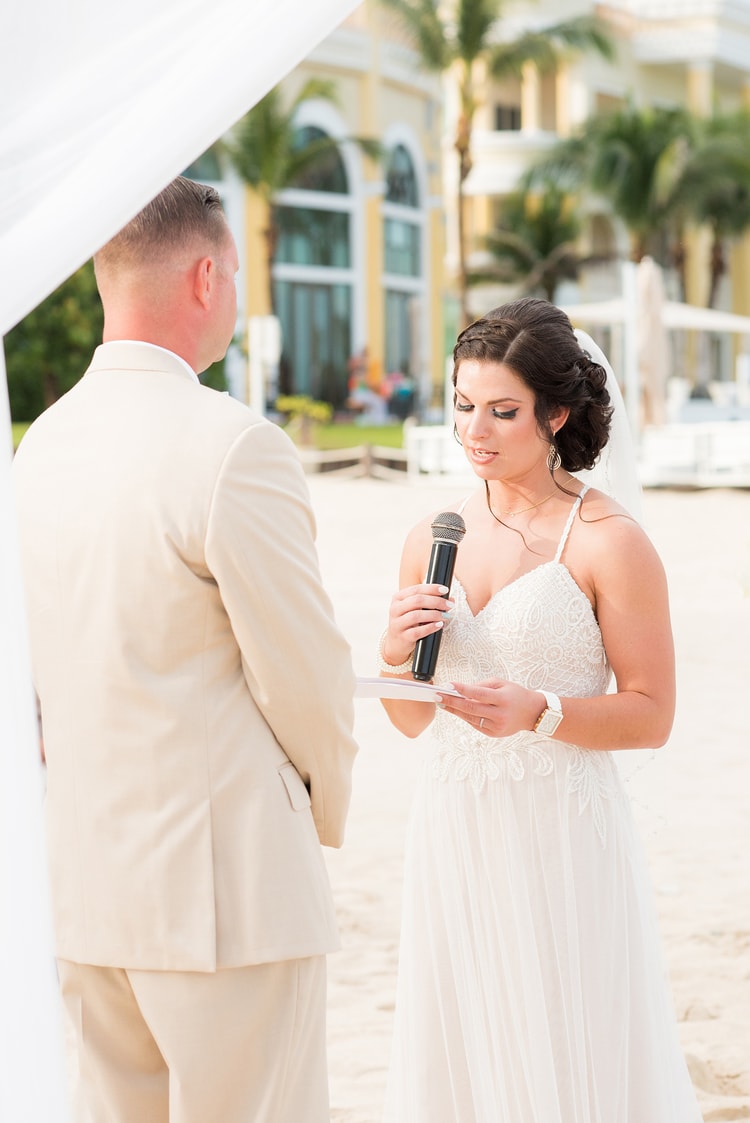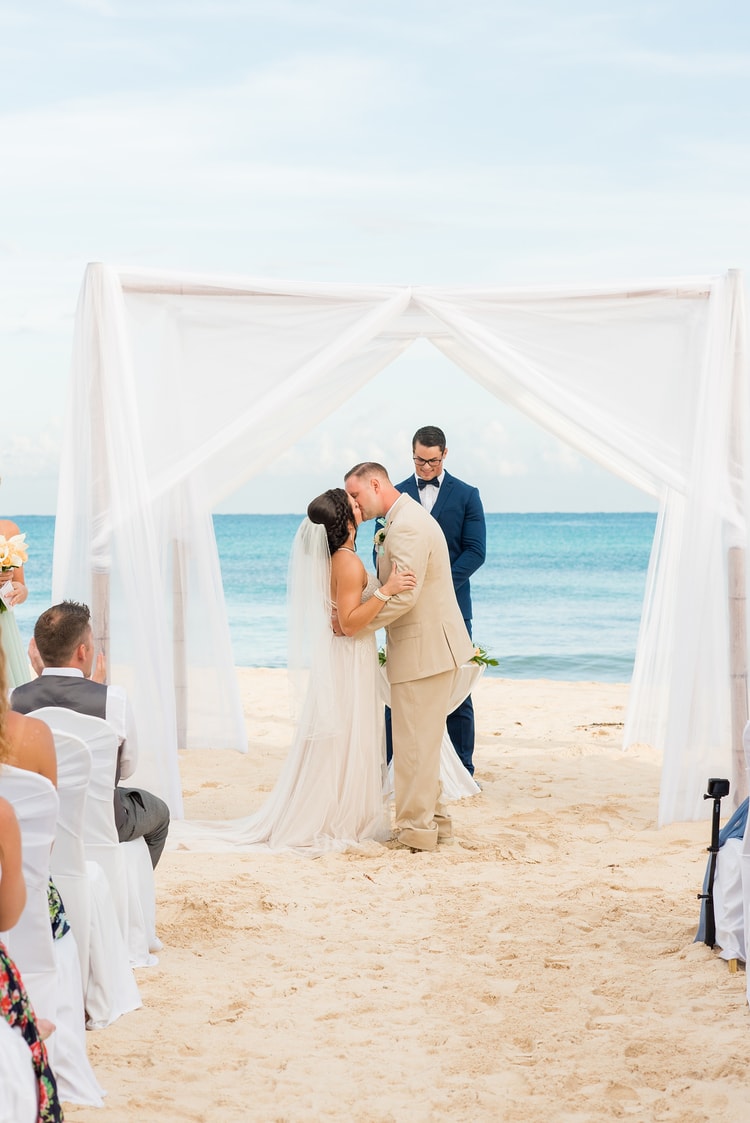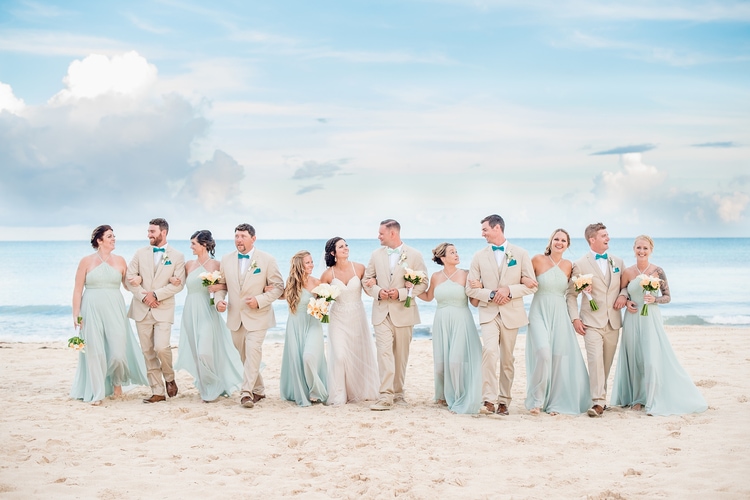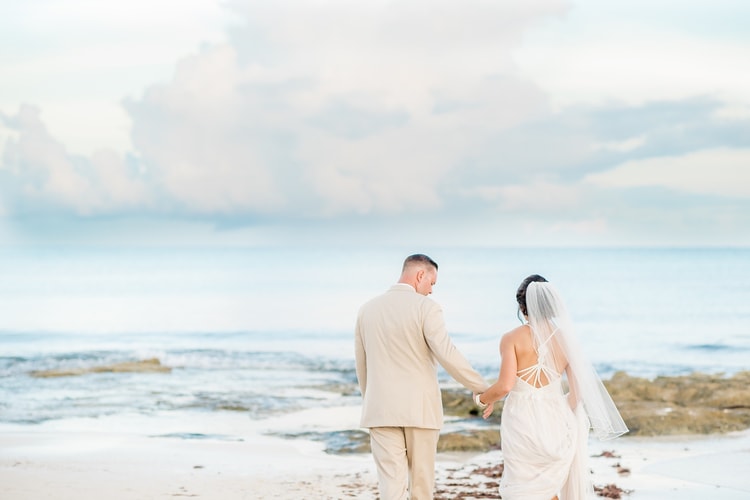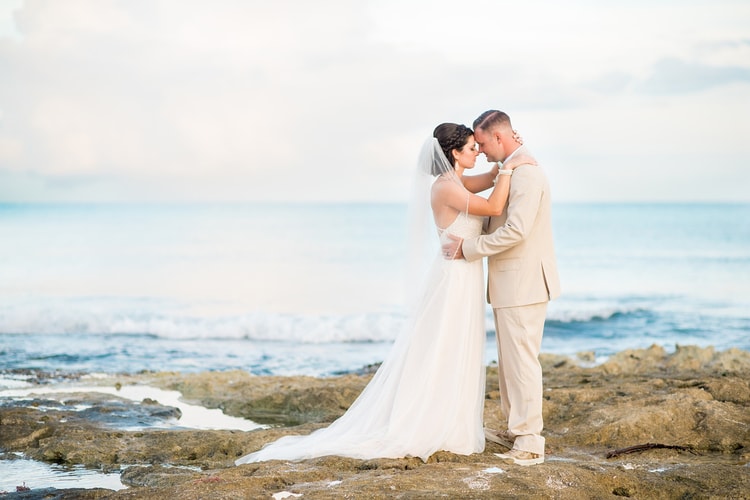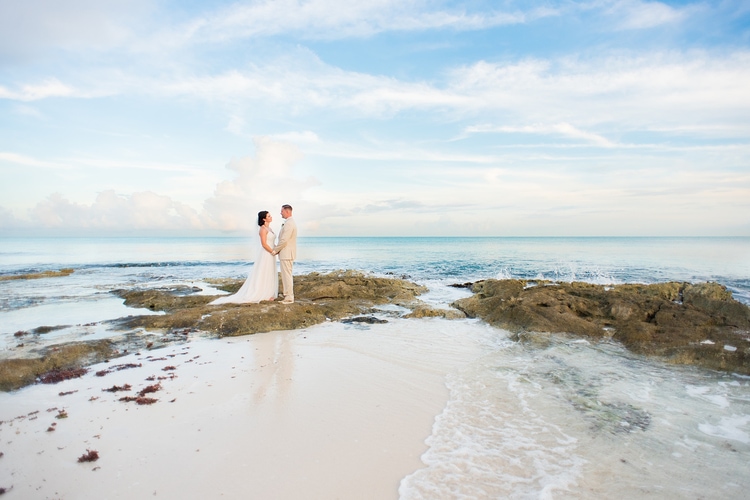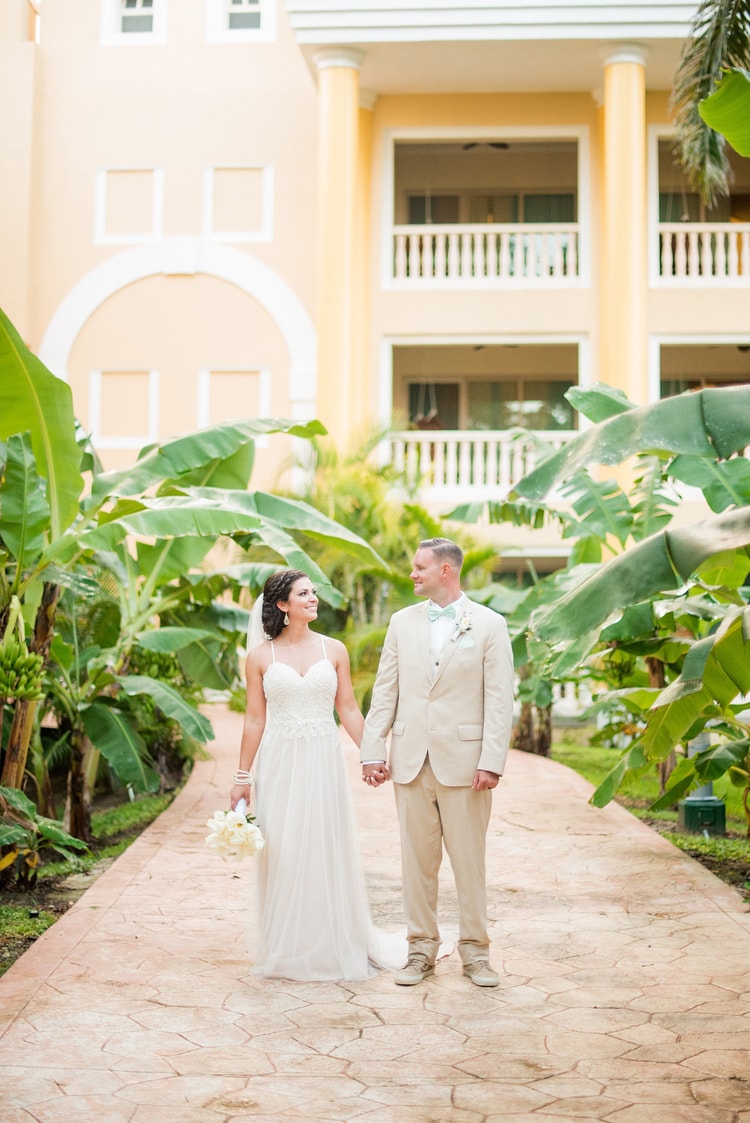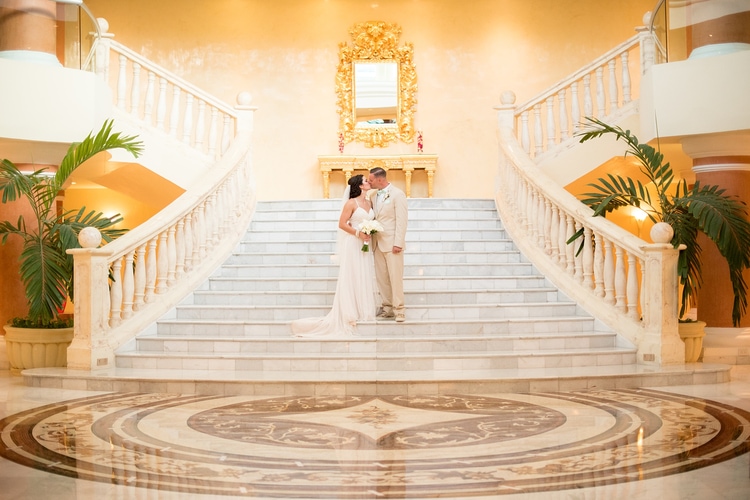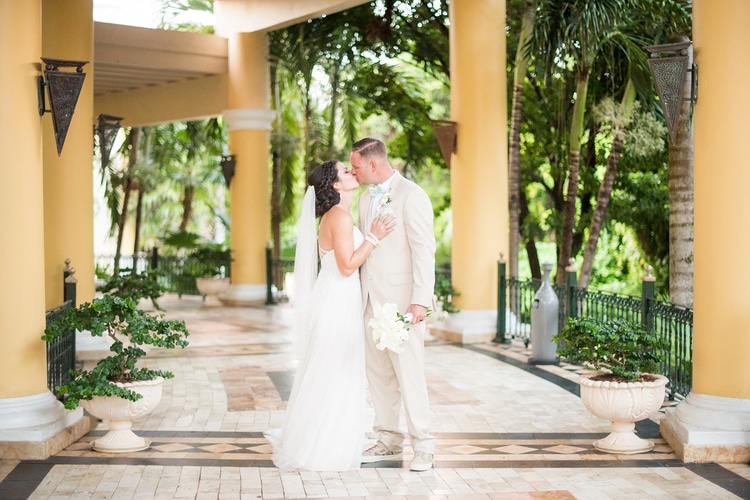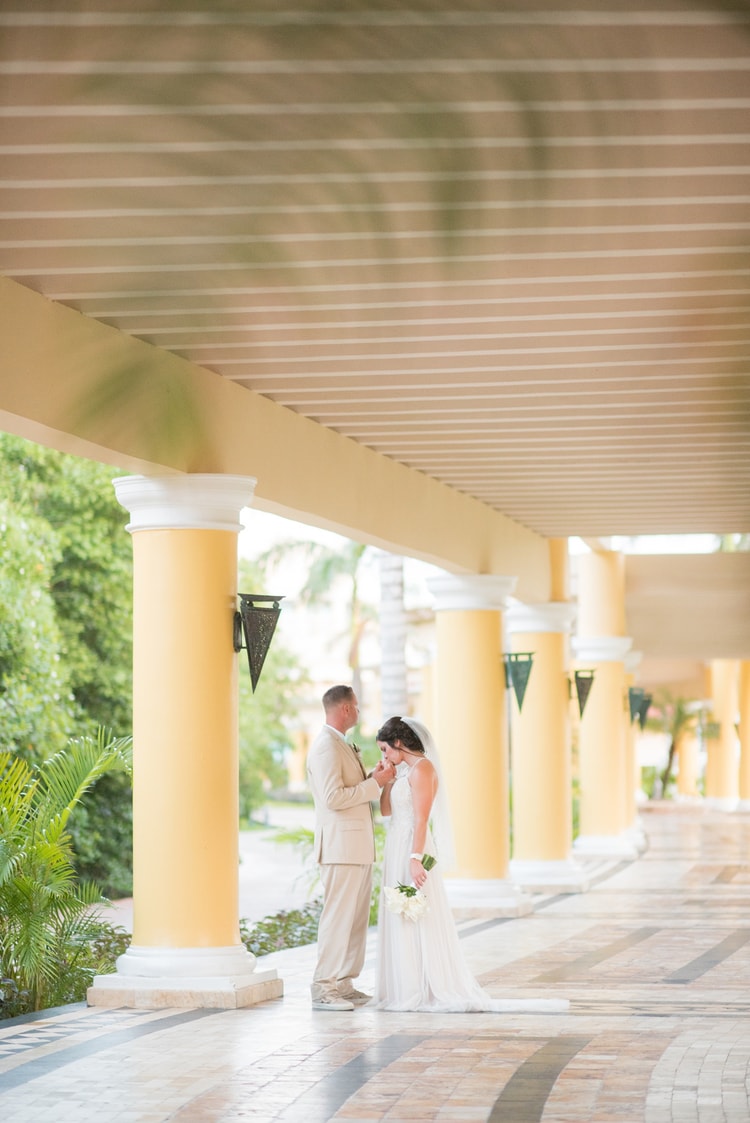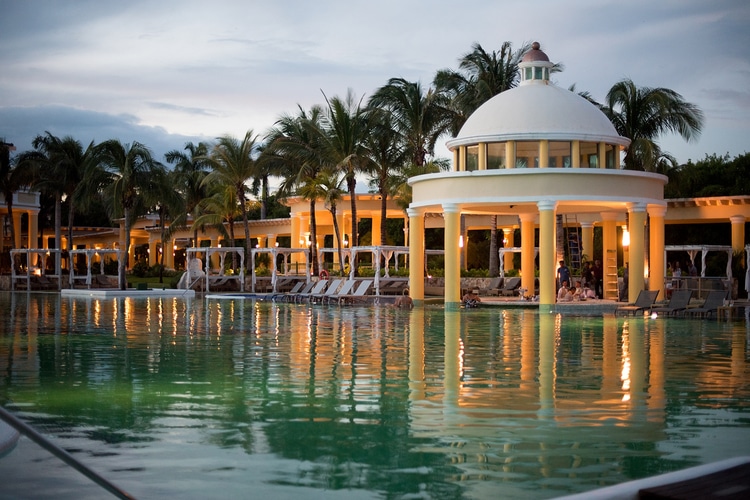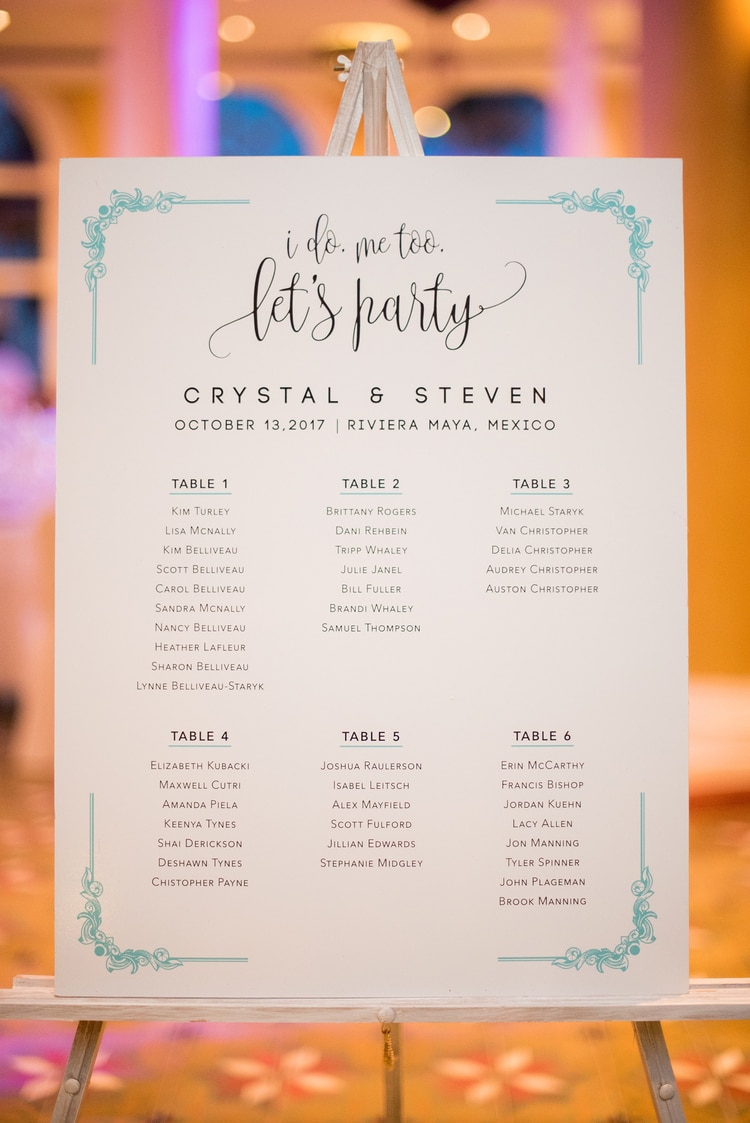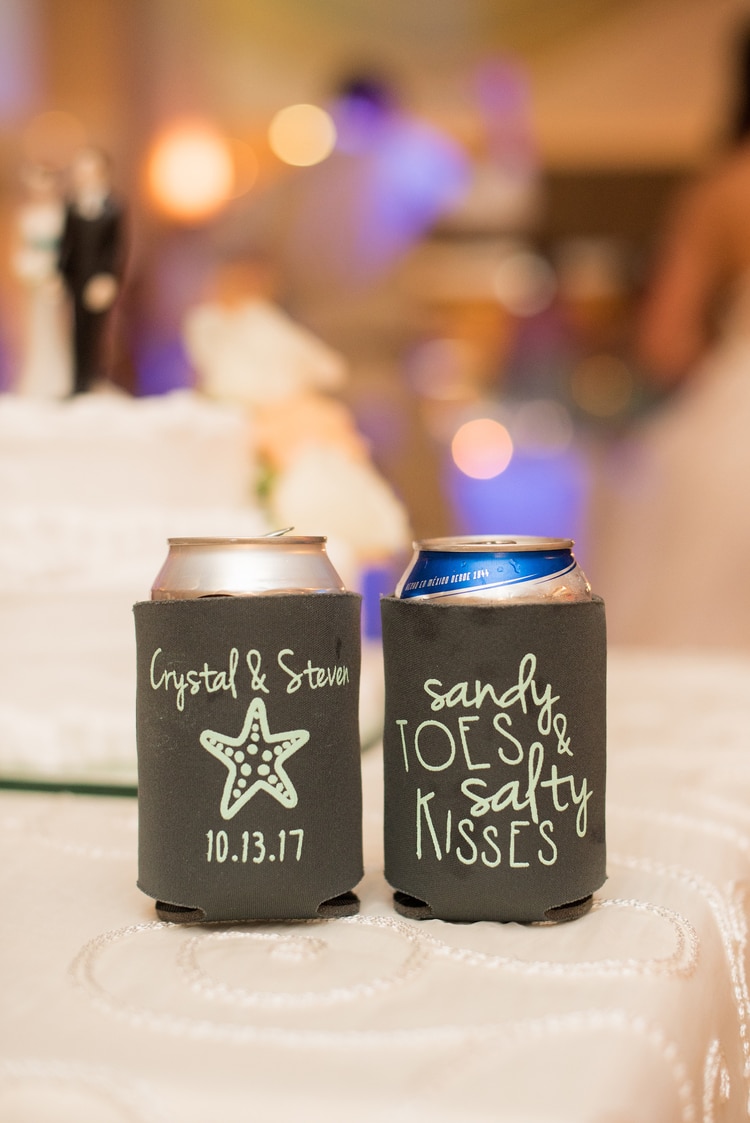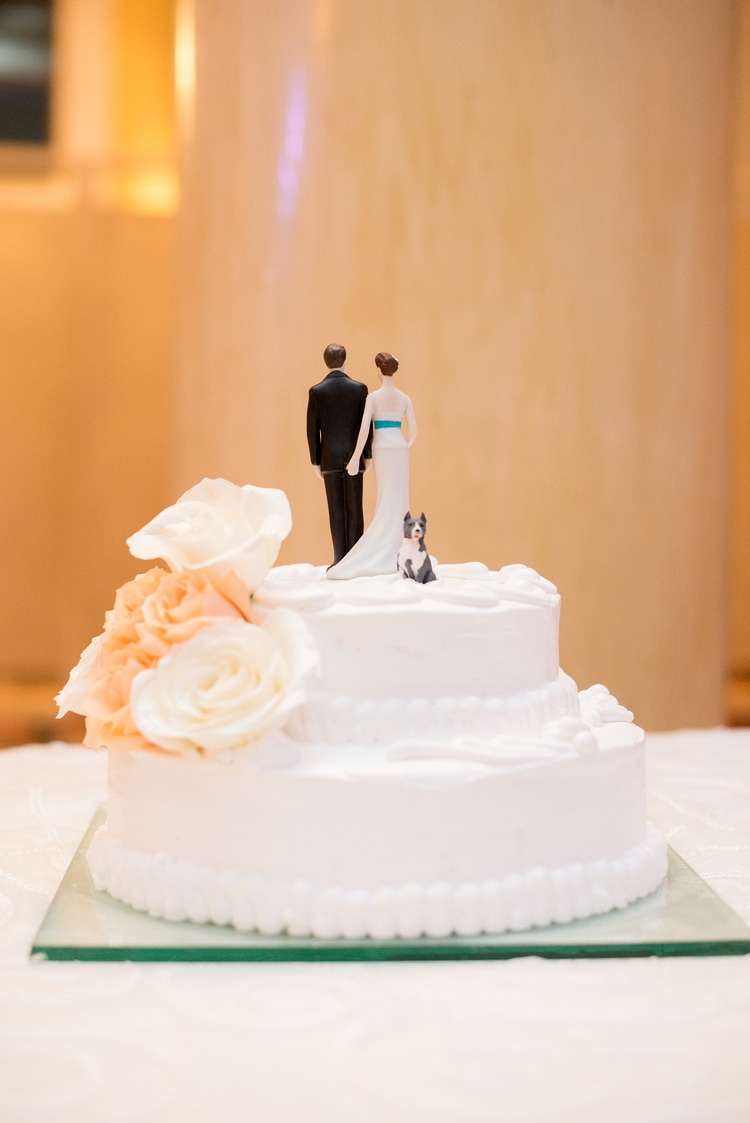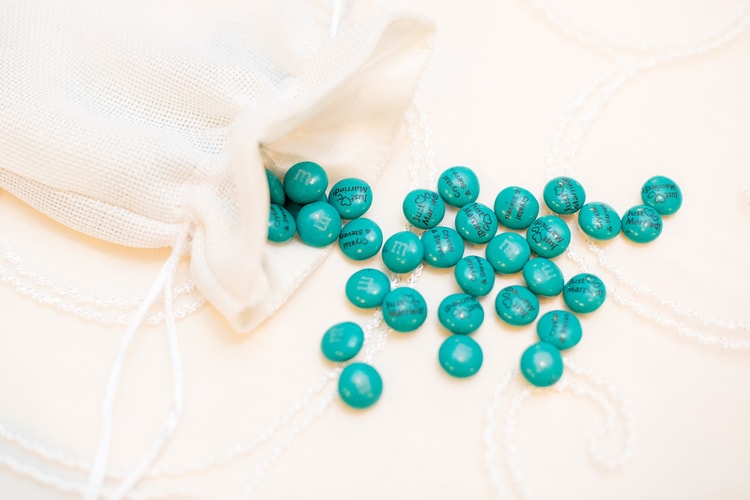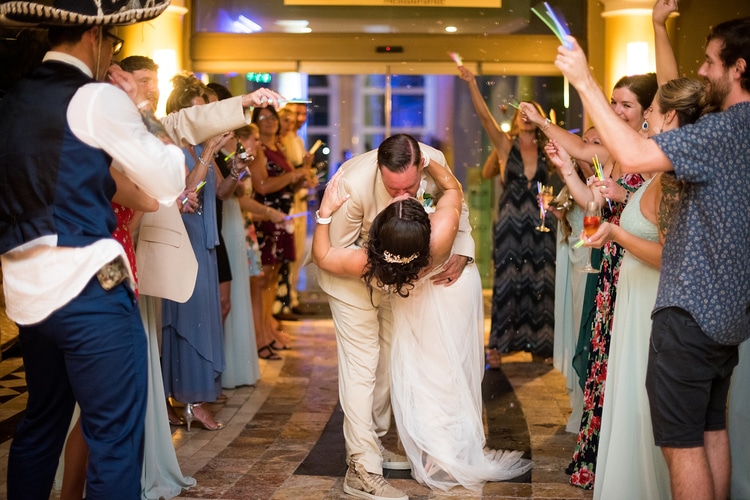 Q&A with the Bride
Why did you choose to have a mint green destination wedding in Playa del Carmen?
We chose this area of Mexico for our destination wedding because it boasted beautiful coastline, warm waters and was economical for our guests' travel. We chose Iberostar Grand Paraiso because they only host one wedding per day. The Iberostar complex was great for our guests because it allowed them the option to stay at four other hotels on the property with access to the Grand on the big day.
How many people attended your mint green destination wedding in Playa del Carmen?
45 total
Tell us about your destination wedding. Did you have a wedding theme?
If we had a theme, I would call it beach romantic. Lots of pearls with lace and burlaps accents.
What were your sources of inspiration when planning your mint green destination wedding?
We chose teal and mint as our wedding colors. This was inspired by the beautiful surrounding ocean waters. The bridesmaids' dresses were a soft mint as I considered the girls different skin tones and hair colors. The bouquets were white calla lilies and peach roses, which really popped against the mint and teal. I knew they would look great together as my mother inspired me with pictures of her own wedding colors.
Was there anything unique or special that you incorporated into your mint green wedding?
Everyone loved our cake topper which was custom made with the two of us and a figurine of our dog, Haze. Although she wasn't able to make the trip, she has been a part of our family for over ten years and we wanted her to be included in some way.
What was your favorite detail from your destination wedding?
Our favorite wedding detail was our seating chart! It was custom made by one of our best friends, Josh. At the top, it said "I do, Me too! Let's Party!" I even hand painted an easel and brought it in our suitcase to tie into the beach wood look of the wedding decor.
Was there any tradition that you skipped?
Steven actually proposed to me with the wedding band. Of course, I didn't know that at the time of the proposal, nor did I know that I would be receiving a diamond during the ring exchange at the ceremony! We also wrote our own vows and repeated the same one to each other. It was a great way to speak from the heart and yet make the same commitment to each other.
What was the most memorable moment of your destination wedding?
Steven's father, Michael brought a sombrero all the way from Costa Rica- one that Steven had when he was a child. Not only did the groom wear it during our big entrance into the reception, it eventually made its way around the entire celebration! It was so fun to get our beautifully edited photos back and point out the friends and family members at the reception who passed the sombrero from one person to the next.
What was your favorite part of having a destination wedding?
I think our favorite part of having a destination wedding was being in paradise. We didn't have the stress of traveling from the wedding to a nice honeymoon- we were already there!
What was the biggest challenge in planning your destination wedding?
The biggest challenge in planning a destination wedding was luggage! Traveling to and from Mexico swayed our decisions for decorations, welcome bags and bridal party gifts. We were careful to select things that weren't too large and were not breakable and still ended up bringing seven suitcases!
Do you have any advice for other couples planning a destination wedding?
Hire a travel agent! Our travel agent had been to Mexico over 300 times and pointed out the pros and cons of several resorts. We were not only blown away by the outcome of our wedding and stay, all of our guests were able to schedule their airfare, private transportation and hotel accommodations with one phone call to the travel agent. Many of our guests were not well versed in travel, let alone international travel. Other than hiring a fantastic photographer, working with a travel agent is the single greatest decision we made in planning our wedding.
Vendors
Photographer: Mikkel Paige Photography
Venue: Iberostar, Grand Paraiso Mexico (Playa del Carmen/Riviera Maya)
Wedding dress: Ti Adora | Katherine's Bridal Boutique 
Hair Clip: Hair Comes the Bride
Bridesmaids gowns: Lulus
Travel Agent: Tammy – Travel Leaders High Point
Bridal Party Gifts: Kate Spade | Alex and Ani | Leatherman
Wedding Coordinator: Pamela – Bodas (Iberostar Resorts Playa del Carmen)