An informal beach wedding dress doesn't have to be boring. There are tons of simple but gorgeous styles that will highlight all your best body features while setting the tone for a casual celebration by the sea.
Informal Beach Wedding Dress Ideas
A popular trend for brides searching for the perfect informal beach wedding dress is a midi silhouette with a full tulle skirt. We also love the gorgeous beading on the fitted bodice.
Disclosure: This post contains some affiliate links and any purchase made by clicking on those links will result in a small commission to us at no additional cost to you. Your support of our affiliates is how we keep this site running.
A tea-length hemline is also great for an informal ceremony and reception because it falls directly in the middle of formal and completely casual. This design also has a gorgeous cowl draping the back of the dress for an unexpected and elegant touch.
You can also look for an informal dress that has a simple yet interesting design element like a bow detail on the shoulder. We love the simple and understated elegance of this gown.
Shop for a dress that has some sparkles sprinkled throughout the bust to draw the eye upward toward the smallest portion of your body. A little sparkle goes a long way on this basic yet beautiful gown.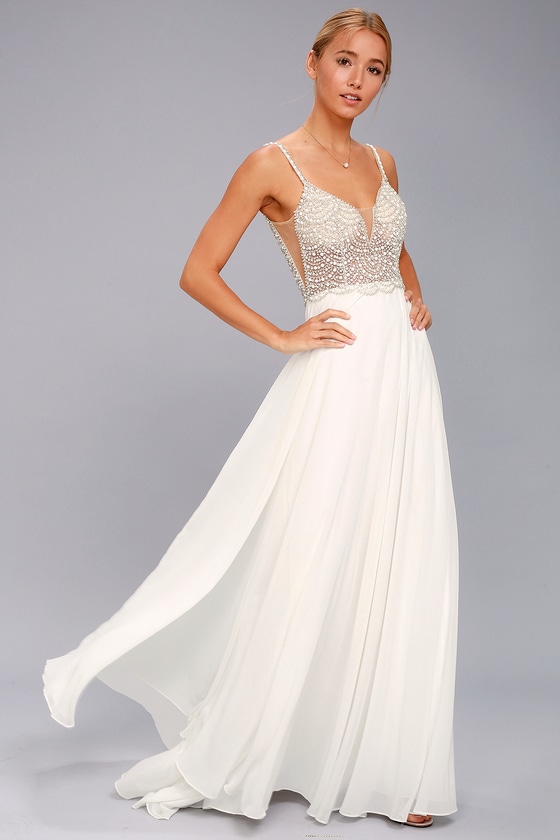 Another casual style that's just fabulous, is a dress composed entirely of lace. A plain but textured dress adds depth and instant elegance to any look, without being over the top for a beachside celebration.
It looks especially chic when paired with a birdcage or fingertip veil that will gently blow in the ocean's breeze as you walk down the aisle. This dress also provides some basic structure for brides who need a forgiving fabric to flatter their feminine figure.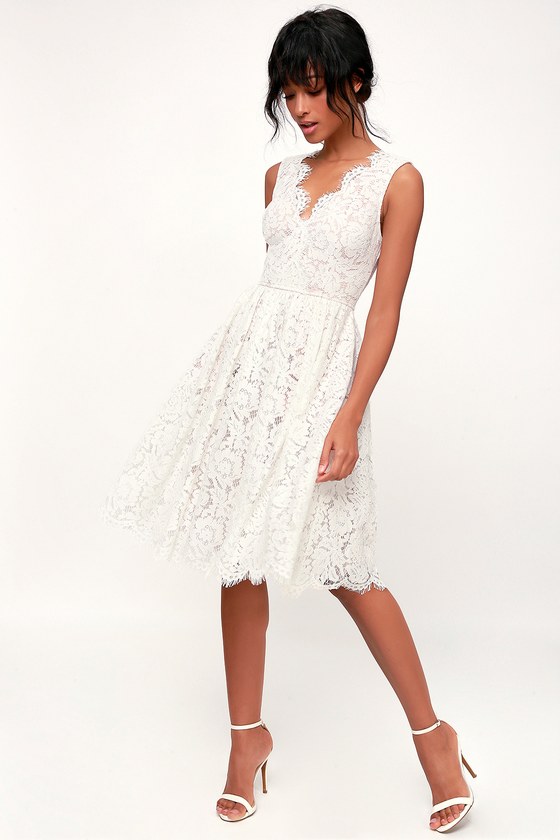 Check out more short wedding dress ideas.
Show off your legs with a tulip hem that fully covers your backside. The one-shoulder silhouette is unique, simple, and stunning!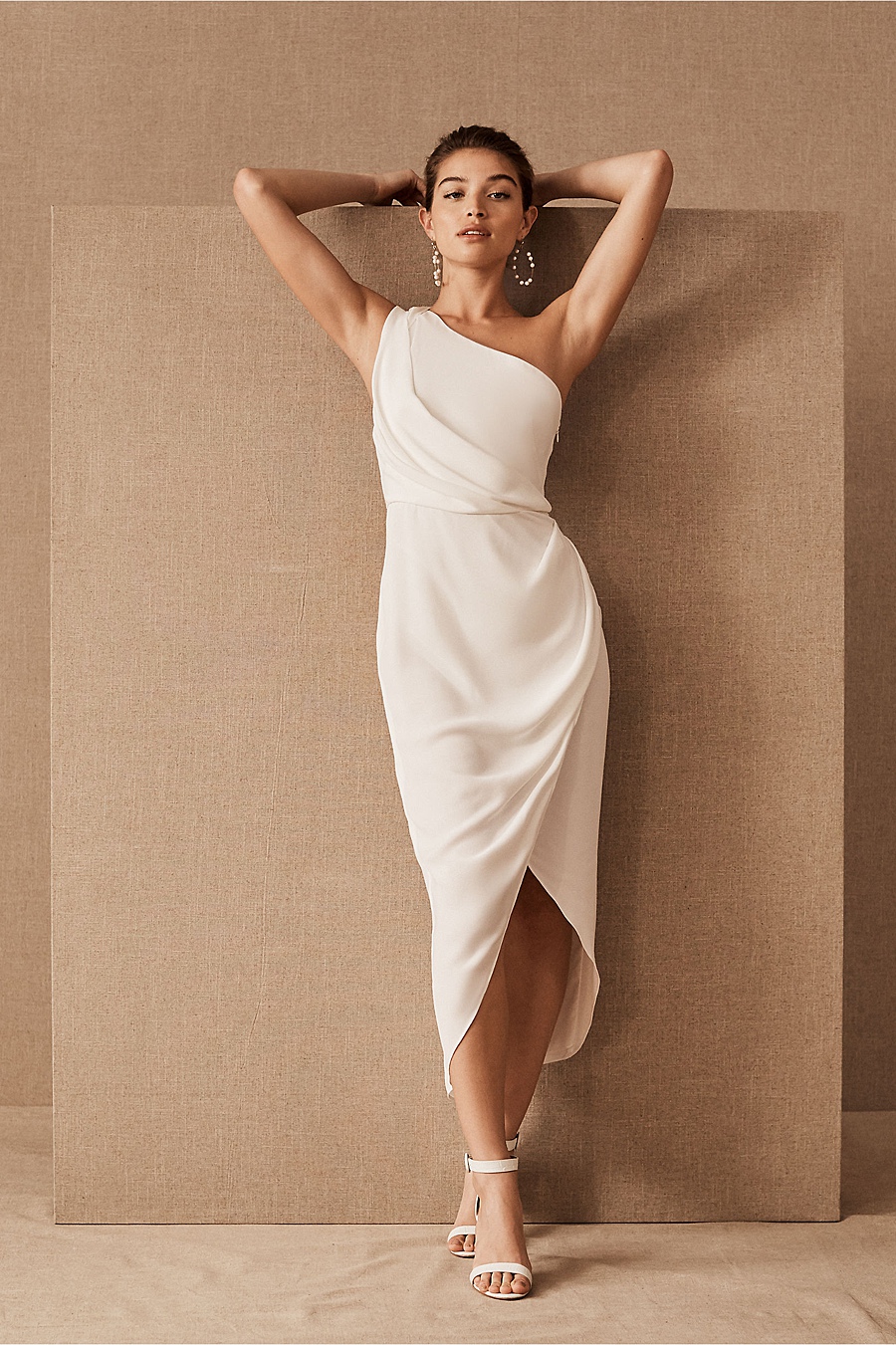 If you just love the look of a classic bridal gown but want a completely informal style, shop for a dress that is designed in a silky and soft fabric that will move with your body.
Lulus has some gorgeous, high quality, and really affordable informal beach wedding dresses. This maxi dress pictured below is one of my favorites. It's called "Make Me Move Maxi Dress" and they're not kidding. I purchased this dress from them in a different color for an event I was attending and I loved the fit! As soon as I tried it on, I thought it would be the perfect informal beach wedding dress if purchased in white. The fabric is soft with a lot of movement and the style is very figure-flattering. You can check out their full destination wedding dress collection here.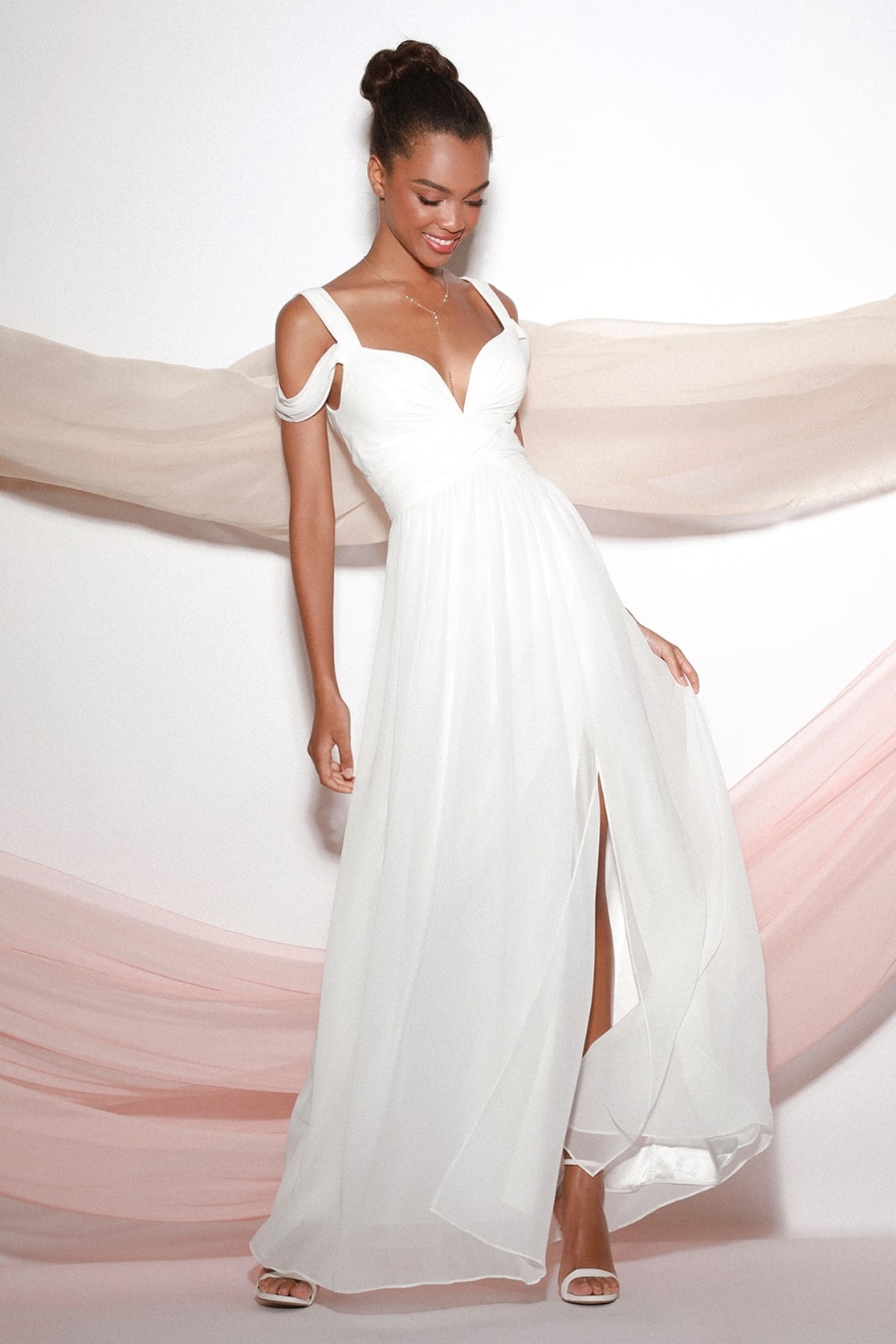 If you want an informal beach wedding dress for your upcoming ceremony, consider shopping some of the styles above to help you achieve the casual but classy look you desire.
Related Posts You'll Enjoy
Did you land on this page because you saw a dress style on Pinterest or google that you loved? Unfortunately, dress designers update their designs every season and sometimes they discontinue a design. We try to keep this page updated with the latest informal beach wedding dresses.