Are you planning a Dominican Republic wedding?
I can't think of a better place to tie the knot if you're looking for a combination of GREAT beaches, history, culture, people, music, and fun!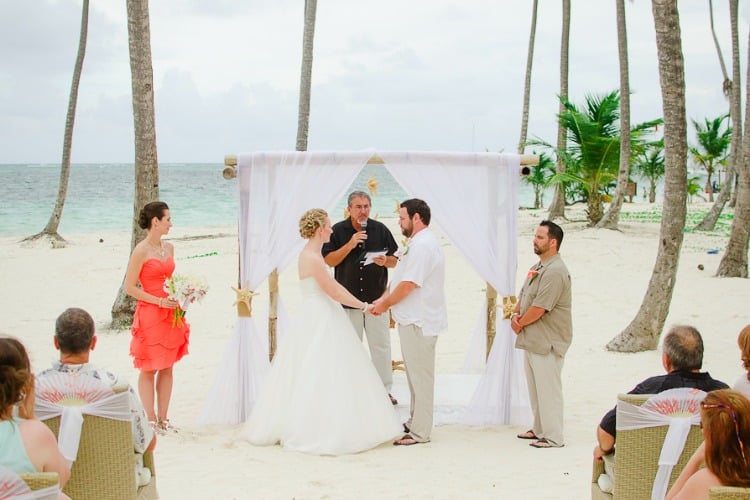 I know this island well because I visited many times as a child and then again as an adult. I've been from coast to coast and am always amazed at the diverse locales and how there's always something new to discover. The Dominican Republic has a rich colonial history, old Spanish towns, striking terrain, the highest mountains in the Caribbean, coral cliffs and an amazing turquoise blue ocean with powdery white sand beaches.
My first memory of a Dominican Republic destination wedding was when my friends got married there many years ago…and it was simply magical! Nowadays, the Dominican Republic wedding market has become more competitive, which is good news for you because almost every all-inclusive resort offers affordable (or free) destination wedding packages that come complete with an on-site coordinator.
Best locations for a Dominican Republic Wedding
La Romana
Casa De Campo is an impressive 7,000-acre all-inclusive resort featuring villas and a residential community in the Southeast of the island.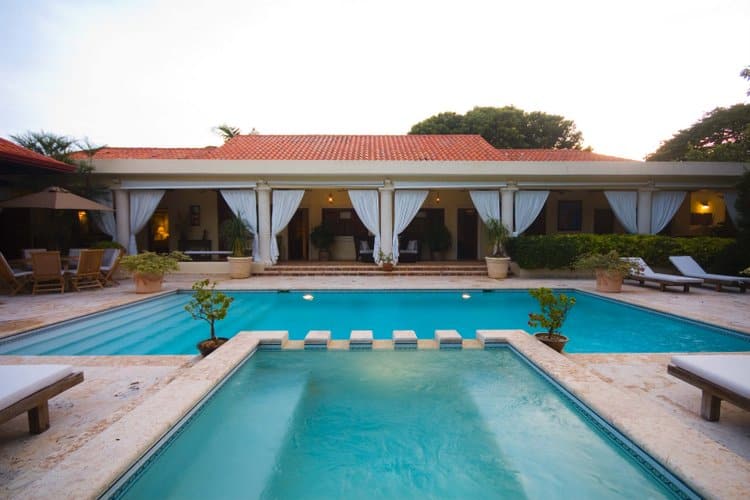 They can host your wedding or reception on-site or just down the street at Altos de Chavon, a stunning replica of a Mediterranean village on a hill high above the Chavón River. This breathtaking cultural center set along cobblestone streets features dining, shopping, and local artisan art galleries.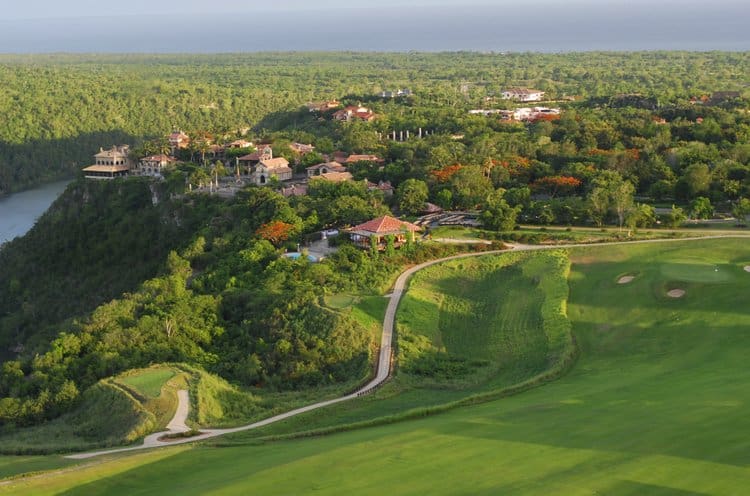 A popular spot for ceremonies and receptions is The Church of Stanislaus, a beautiful chapel made of stone with wooden doors. You can even have a candlelight reception right in the Church's courtyard which features stone fountains and great views of the river.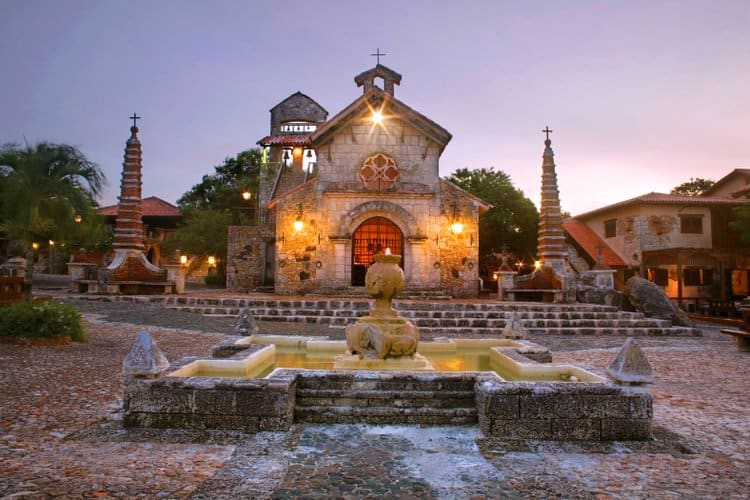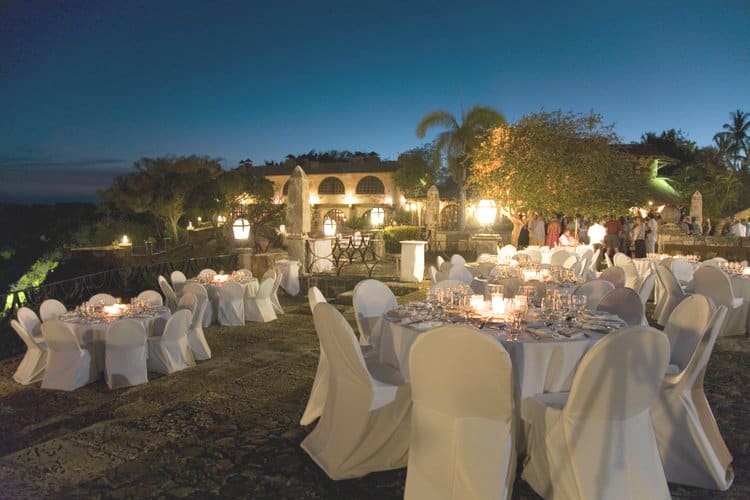 There is an abundance of other venues to choose from including the impressive Grecian Amphitheater, a private villa, one of the resort's restaurants, or a private beach.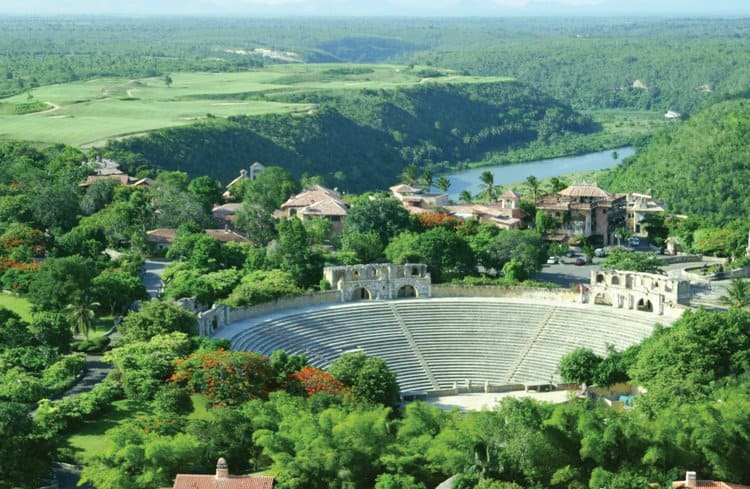 Punta Cana/Bavaro
I love Punta Cana for so many reasons.
Not only is it home to some of the most scenic and stunning beaches in the Dominican Republic, you will also find a big variety of amazing all-inclusive resorts for all budgets. This beach resort town offers romance, adventure, relaxation, a vibrant nightlife and delicious food.
With so much to offer, it's not surprising that it has quickly become a top Dominican Republic wedding destination. You can have a picture perfect and magical destination wedding in Punta Cana, Dominican Republic at a fraction of the cost you'd pay back home.
Here are some of our favorite Dominican Republic Wedding Resorts in Punta Cana:
Dreams Punta Cana – This family-friendly, all-inclusive resort has an impressive wedding gazebo surrounded by water fountains and towering palm trees. They have other locations too (such as the beach) but chances are you'll fall in love with the gazebo as soon as you see it.

Gran Bahia Principe Punta Cana – This beautiful resort has a nice mix of luxury, fun activities, great service and delicious food. You'll get everything you expect from an all-inclusive luxury resort but at very affordable prices.
Melia Caribe Tropical – A fantastic option if you want a family-friendly resort without sacrificing all-inclusive luxury.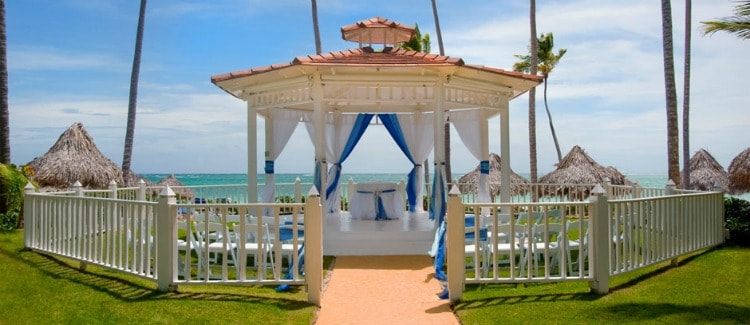 Dominican Republic Wedding Requirements
The requirements may seem like a lot at first but your resort coordinator should be able to guide you and answer any questions about what you need to produce to make your Dominican Republic destination wedding legal and binding. Just to be safe, I suggest you get the process started at least 3-6 months before your ceremony.
Marriage Requirements:
You must register to be married in the the Civil Registry Office (Oficialia de Estado Civil). There will be a fee for this.
You need two witnesses over 18 who are not family members.
You will need the following documents:
Original, Valid Passport as well as copies
Original or certified copies of your birth certificates
A notarized "Single Status Affidavit" for each of you certifying that you're single and eligible to marry. You must bring the originals. This document can be prepared by a lawyer and notarized, then sent to the Dominican Consulate in your country for approval and translation to Spanish
If you were previously married, you must provide a copy of the divorce or death certificate for your previous spouse
There is no residency requirement, waiting period or blood tests required for a Dominican Republic Wedding
Important Note: The above information is meant ONLY as a guide to help give you a general idea of Dominican Republic Wedding requirements. This is not meant as legal advice and you should always confirm all legal requirements, timing and costs with the Civil Registry or your local wedding coordinator. If you are a US citizen getting married in the Dominican Republic, you can get more info on Dominican marriage requirements here.
Featured Vendor:

Destination Wedding Travel Specialists, Vacationeeze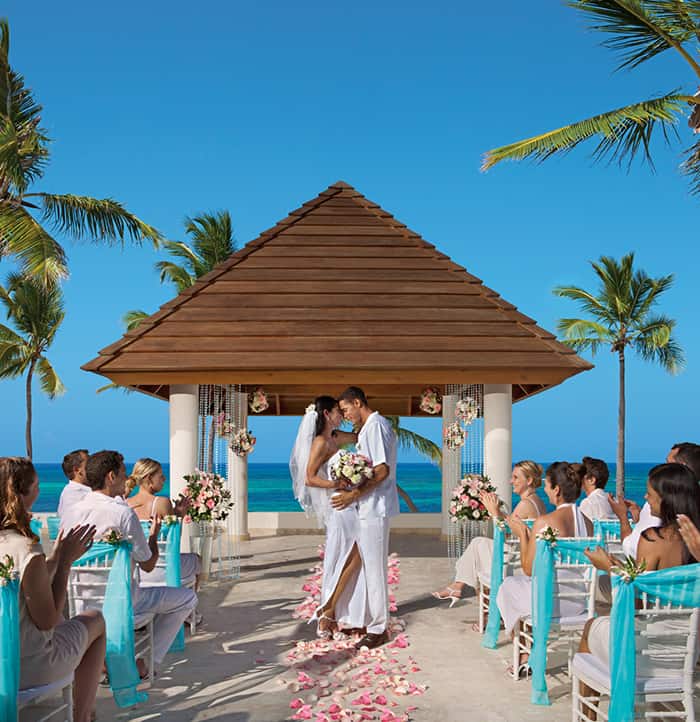 We've teamed up with the amazing destination wedding travel team at Vacationeeze, to bring you a behind the scenes look at some of the best wedding destinations in the Caribbean and Mexico! Discover this month's featured venue and watch an exclusive video interview with the on-site wedding planner!
Plus find out how you can get special perks like a complimentary package or even free airfare for the bride and groom. Read our post.
Dominican Republic Wedding Resources & Inspiration
If you've decided to get married in the Dominican Republic, I've put together some helpful resources right here on this site to get you started.
Congratulations and have fun planning!