Have you been thinking about getting married in Jamaica? In this post, you'll find our favorite beaches and resorts plus a list of requirements you'll need to make your destination wedding in Jamaica legal and binding. No matter what your exotic destination wedding fantasy, you can find it in the Caribbean's third-largest island… From over seven miles of beaches in Negril to diving reefs or waterfall climbs in Ocho Rios.
Getting married in Jamaica can be an amazing experience you and your guests will never forget. That's because culture abounds in the birthplace of Bob Marley, reggae music, and Jamaican jerk chicken. With so much beauty and culture, you might not give it a second thought but there are some things to consider before you set a date. Avoid the months of June – November since that's hurricane season in Jamaica.
Most large resorts have in-house coordinators who can help you plan every detail, but if you're getting married in a Jamaica villa or a smaller resort, you should hire a local planner who knows the lay of the land and can help everything run smoothly.
Resources to help plan your wedding in Jamaica
Great Beaches and Resorts for a Destination Wedding in Jamaica
Montego Bay
If you have an eye for landscapes, you will love Montego Bay with its rim of mountains and turquoise ocean.
The Half Moon Resort has been lauded as one of the world's best Caribbean resorts. Expect elegant and spacious accommodations beyond your imagination.
They have activities suited for all your guests, as the estate boasts a golf course, fitness center, tennis courts, and various waterfront activities.
Here are some other popular hotels where you can get married in style:
Ocho Rios
Ocho Rios is known as one of the most romantic spots for Jamaica weddings because of its couples-only resorts and private beaches.
The Couple Tower Isle is a great spot because of its intimate, romantic atmosphere. The resort offers a basic complimentary wedding package or you can design something more deluxe with the help of the on-site planner.
They even have a package called the "Tower Isle" which lets you exchange vows in a secluded private offshore island!

The Moon Palace is a very popular oceanfront resort among destination brides. It has an abundance of amenities for the whole family and a gorgeous gazebo with a long paved pathway to walk down the aisle. Want to see more photos of this real wedding at Moon Palace. Check out the photo album and read the bride's experience of getting married in Jamaica.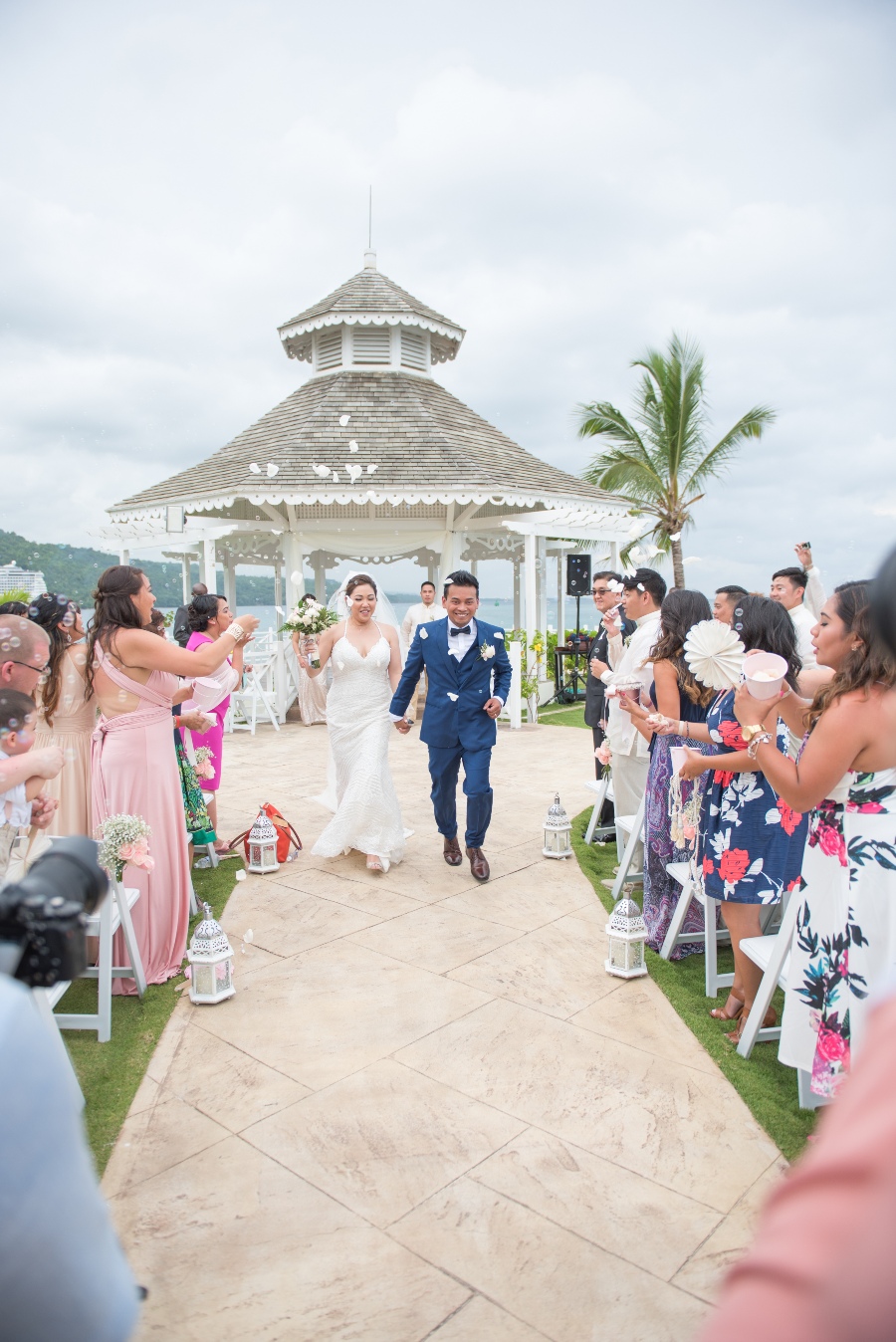 Jamaica Inn is another great option for getting married in Jamaica, especially if you're looking for a small luxury hotel.
After tying the knot, be sure to explore what fabulous Ocho Rios has to offer beyond the hotel, including tours and excursions the unforgettable Dunn's River Falls, lively Margaritaville, and the rocky gorge of Fern Gully.
Negril
If you're thinking of getting married in Jamaica, you'll find that Negril is a great option. It is home to the famous Seven Mile coastline and there is no shortage of venues to host your destination wedding.
Villas Sur Mer is a boutique hotel with rental villas on the cliffs of Negril. Here is a photo of a wedding in Villas Sur Mer, sent to us by Roan Robinson of Candid Expressions Photography. I was seriously blown away by this venue and wanted to just pack my bags and take the next flight out to Negril. Just the view of that crystal clear turquoise ocean from the top of that cliff is enough to take your breath away.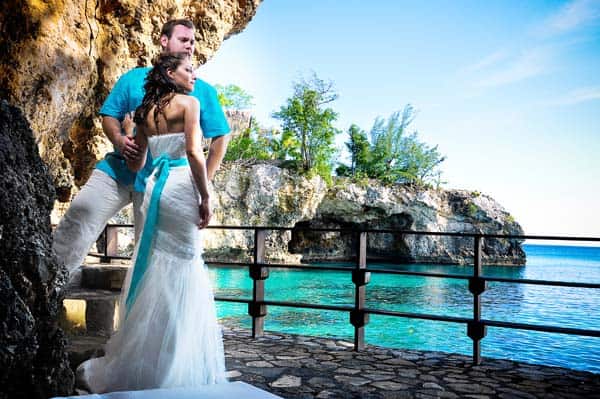 Legal Requirements for Getting Married in Jamaica
Getting married in Jamaica is surprisingly simple as long as you plan ahead. You should make sure you consult with your coordinator as early as possible to make sure everything runs smoothly. Here are the steps you'll need to take before you can legally tie the knot:
DISCLAIMER: The above information is meant as a guide to help give you a general idea of what you'll need before getting married in Jamaica. Although we make every effort to ensure that the content is both current and accurate, errors can occur. Plus, given the changing nature of laws, rules, and regulations, there may be omissions, or inaccuracies in the information contained in this content as time passes. We are not responsible for any inaccurate or omitted information or for the results obtained from the use of this information. You should always confirm all marriage requirements, timing, and costs with the official tourism board and/or your local wedding coordinator.
Check out these other posts if you plan on getting married in Jamaica: