A Catholic destination wedding, on the beach in Punta Cana, with a surprise appearance by belly dancers? Yep, they did it all! Vanessa and Omar show that dream weddings are real – and we've got the photos by Julia Eskin to prove it! Gorgeous pink, gold and white details gave this seaside party an elegant and upscale feel, while the turquoise blue waters kept everyone relaxed and breezy. Oh, and Vanessa's gorgeous gown had her lookin' like a beautiful mermaid – how appropriate!
And wow… their reception looks like one heck of a party – not only does it feature a light-up dancefloor and oversized "LOVE" light display that I'm obsessed with, but Vanessa and Omar surprised everyone with a Crazy Hour: an over-the-top Dominican tradition full of dancing, stilts, balloons, masks and more… I can only imagine what a treat this was for their guests. What a way to get the party started!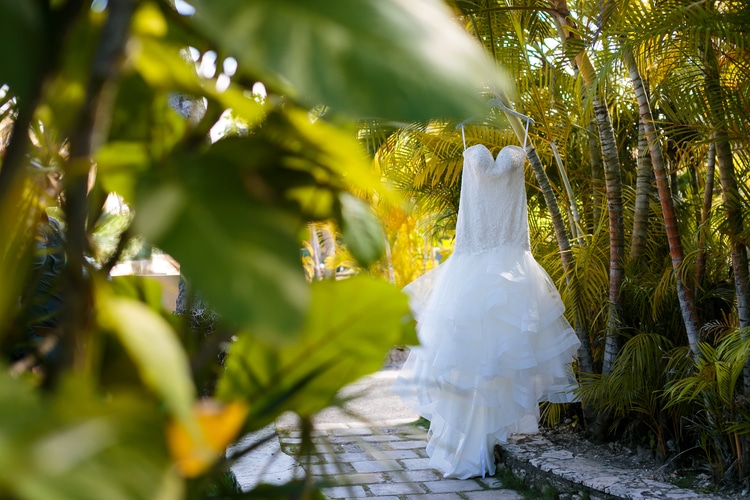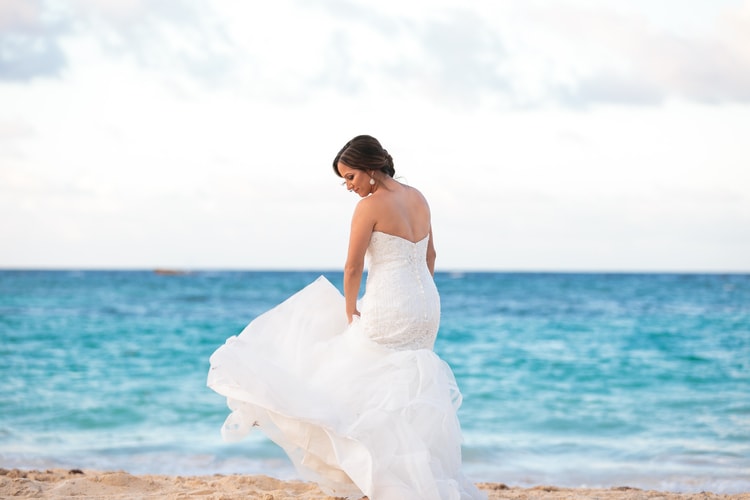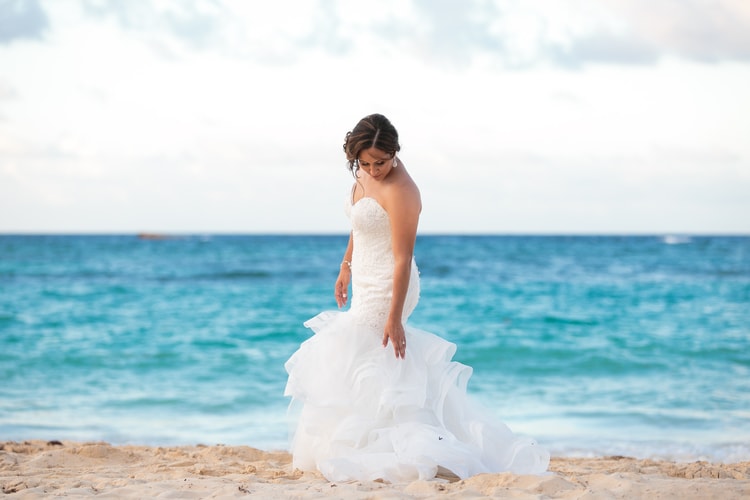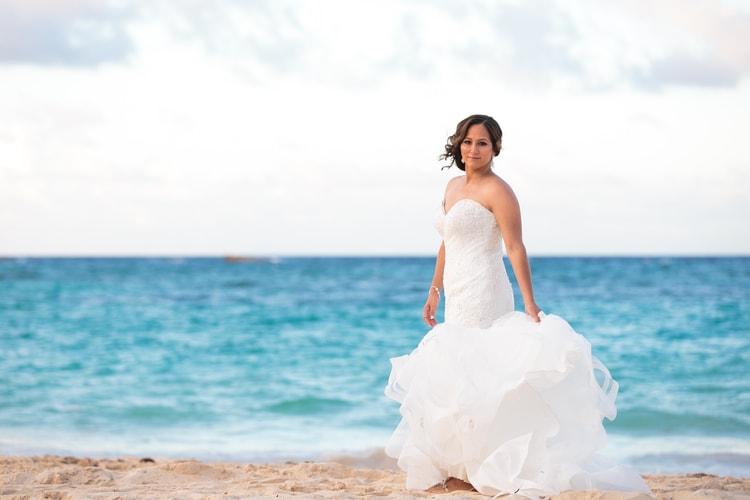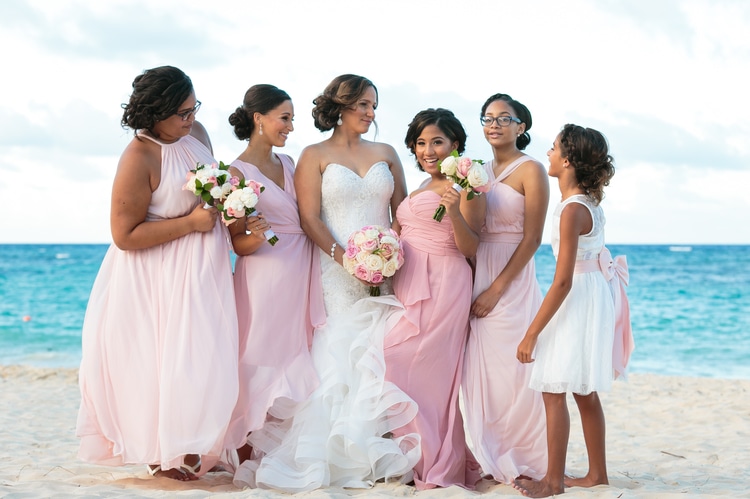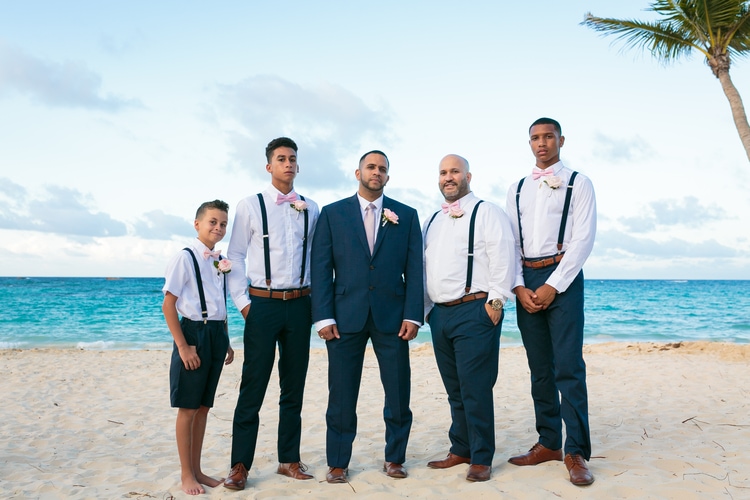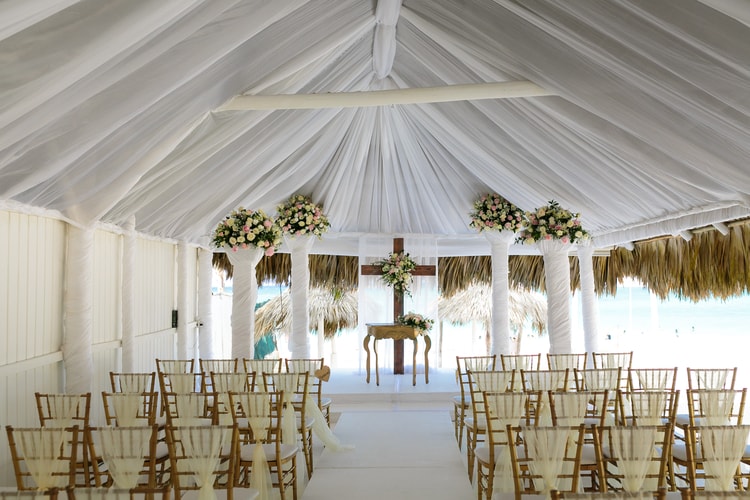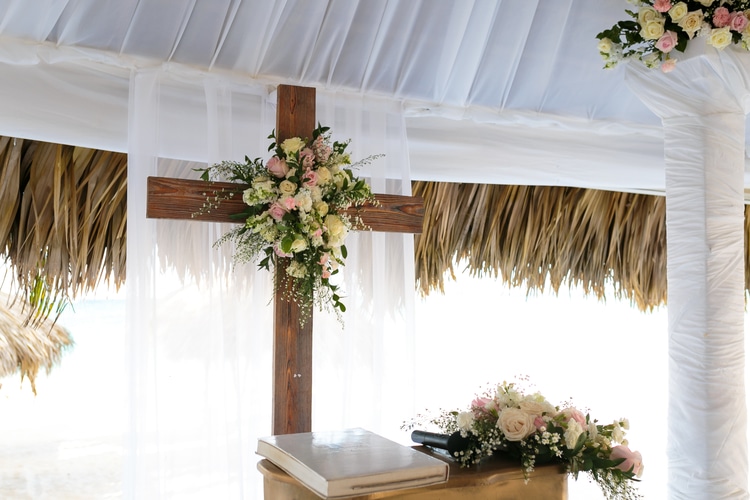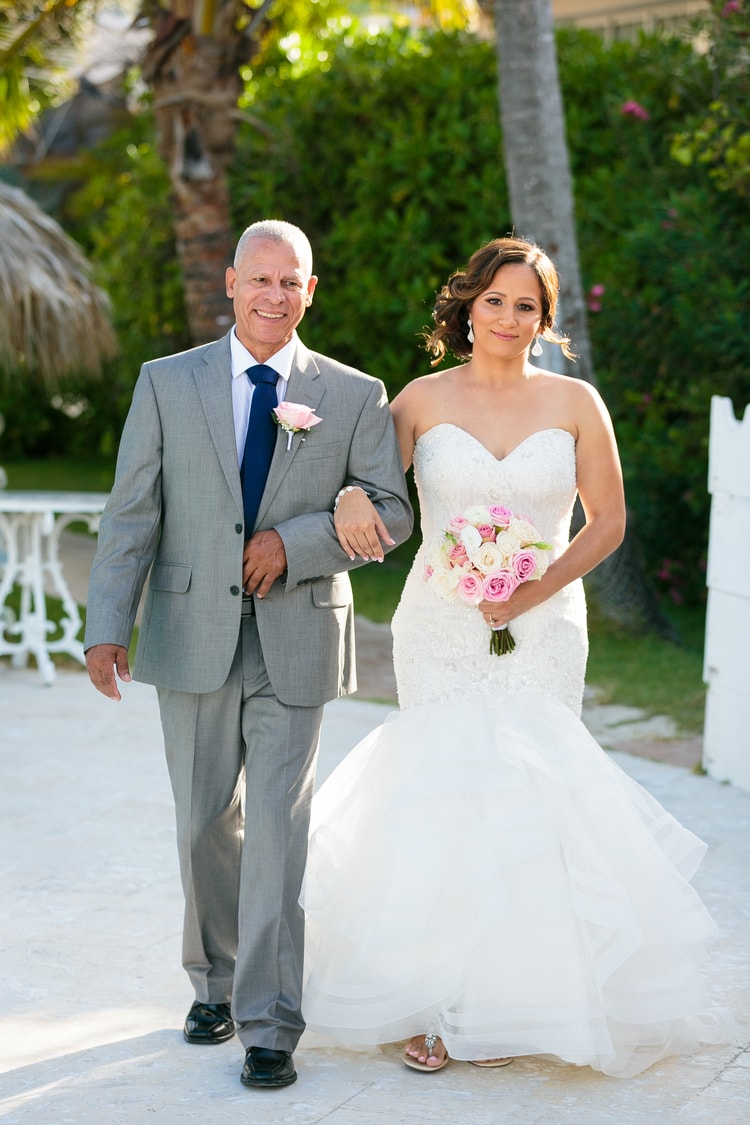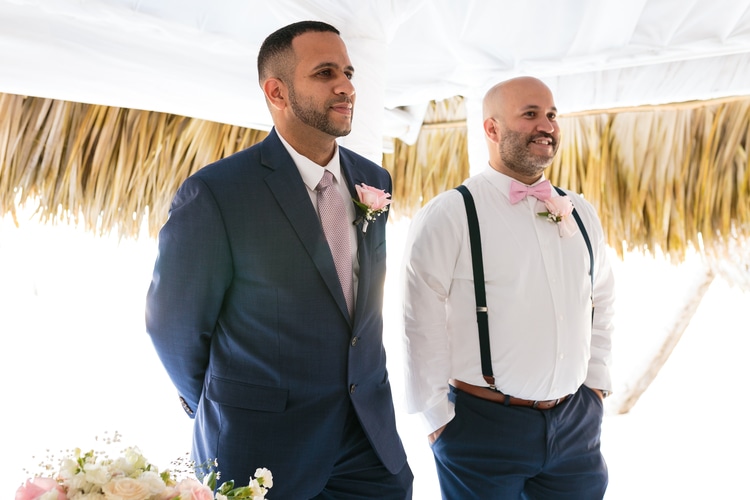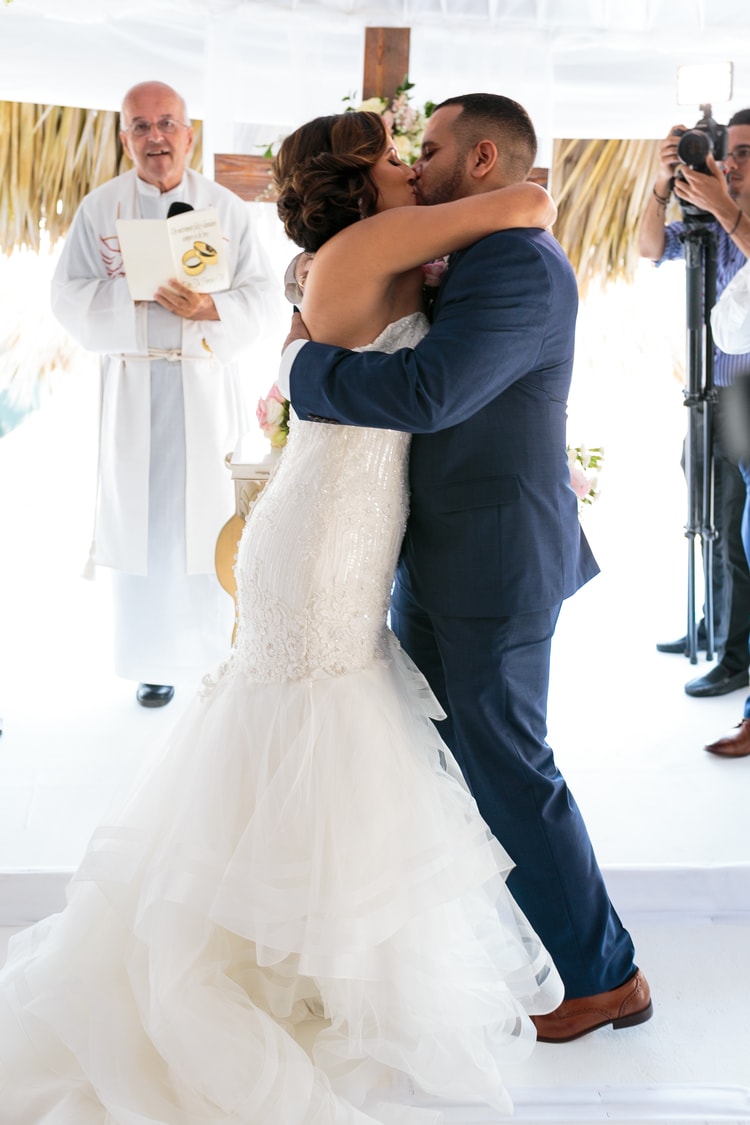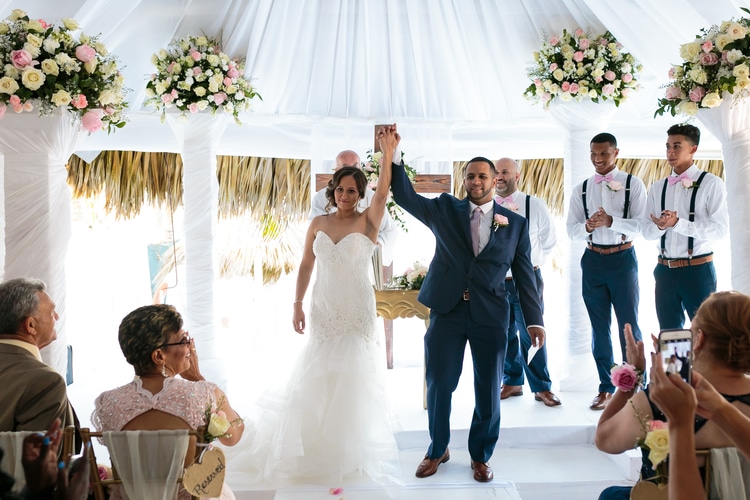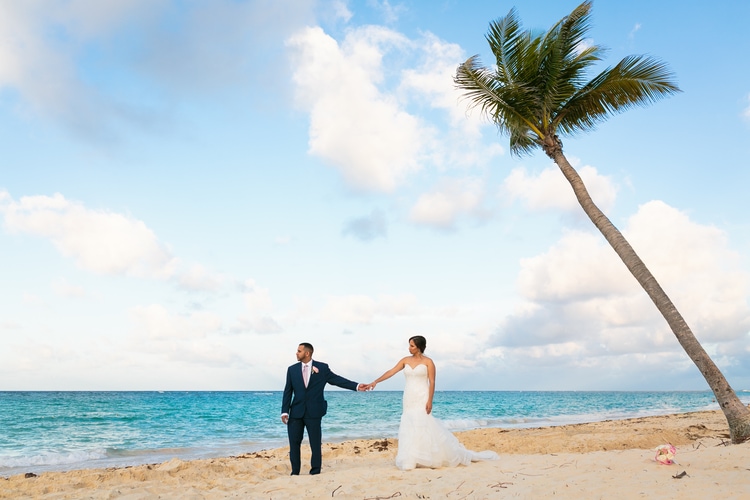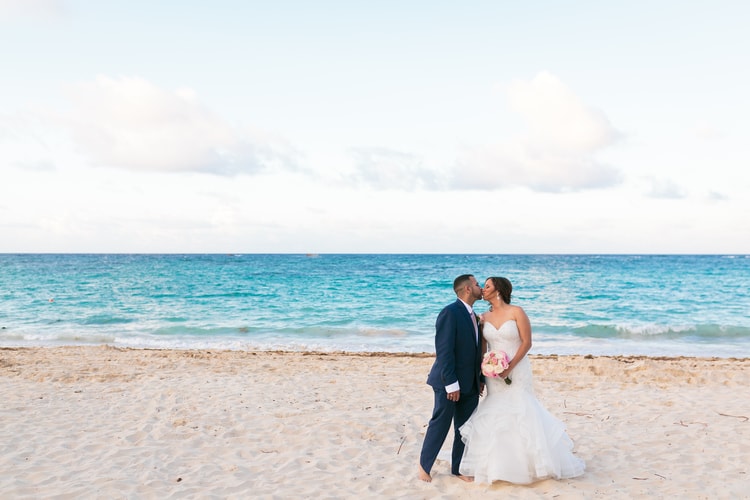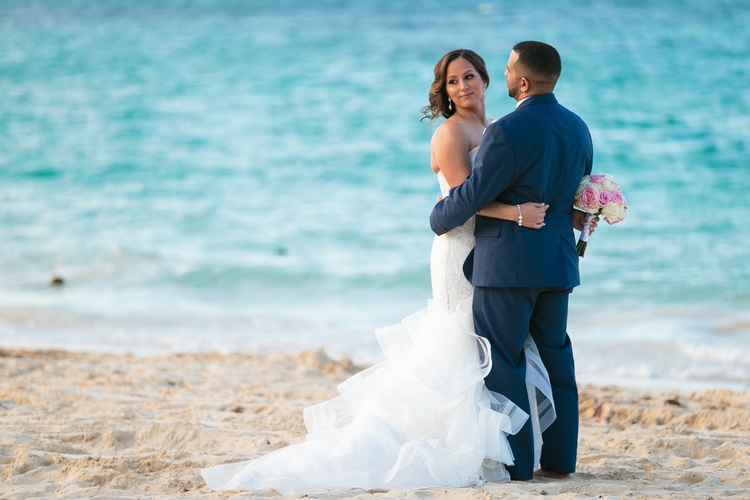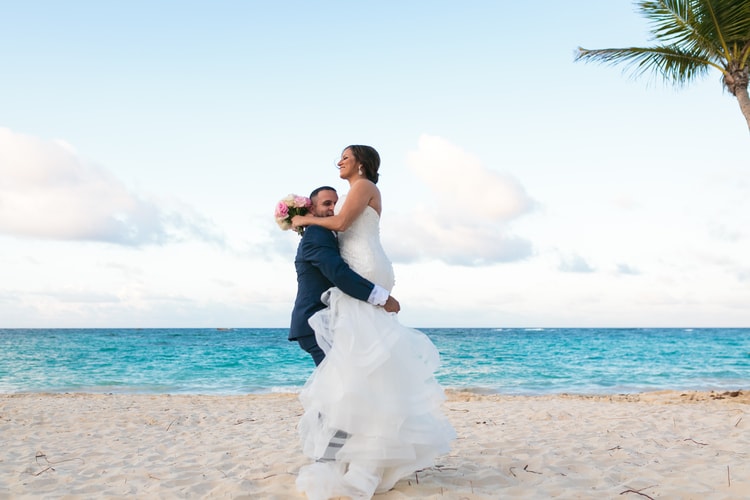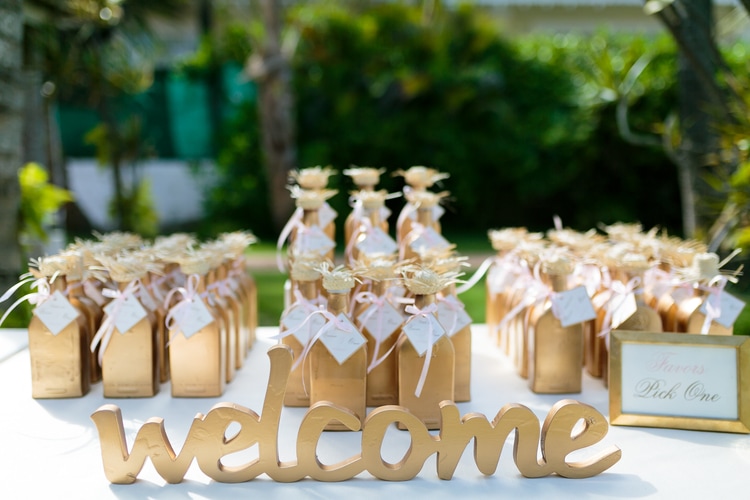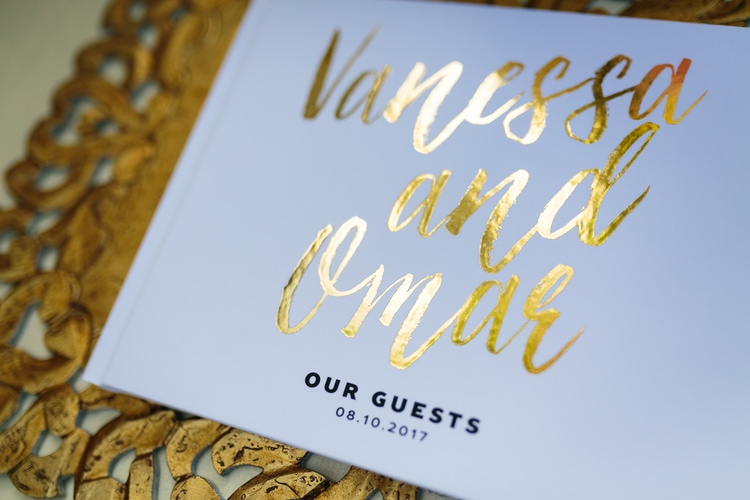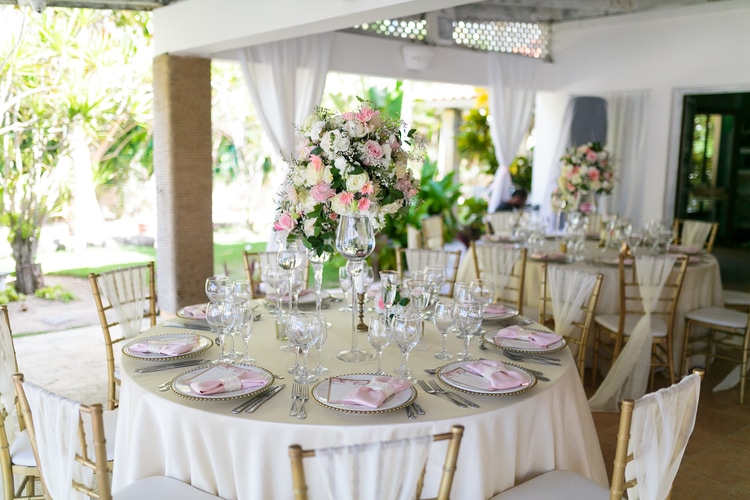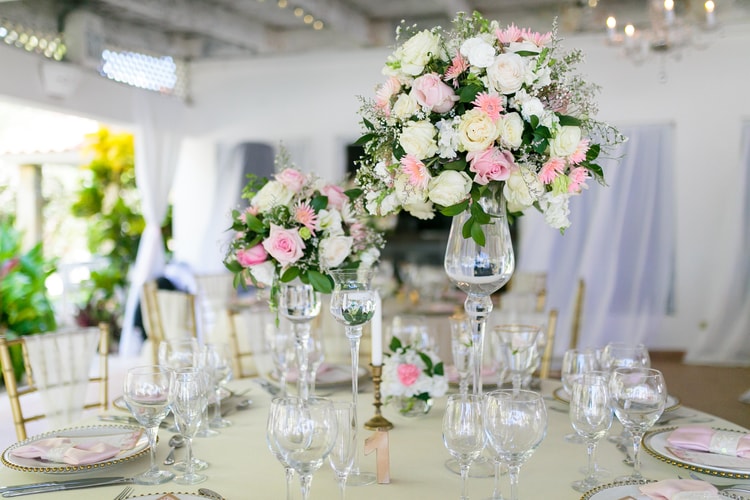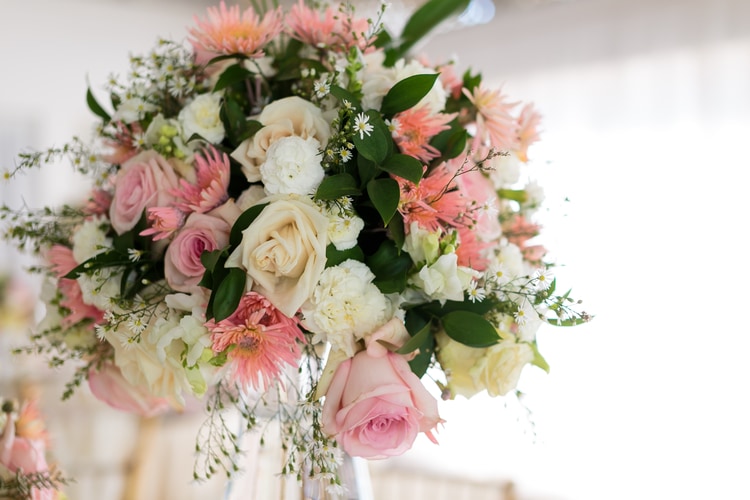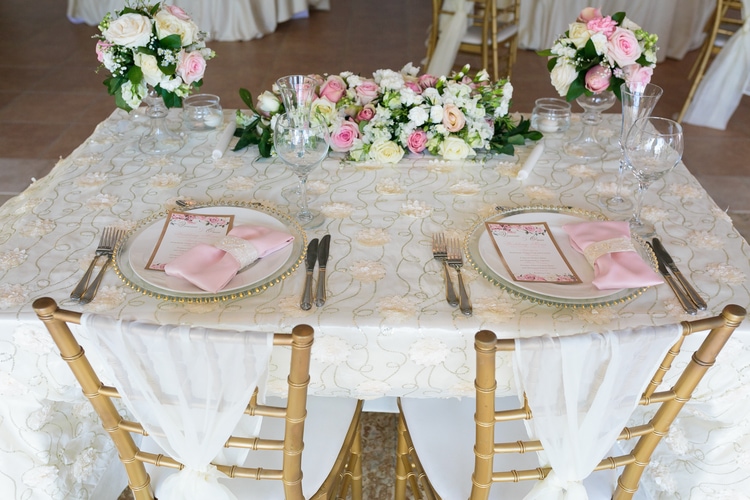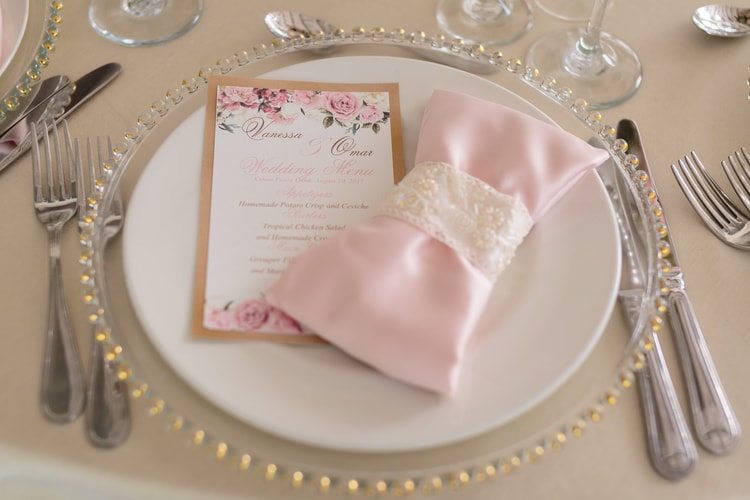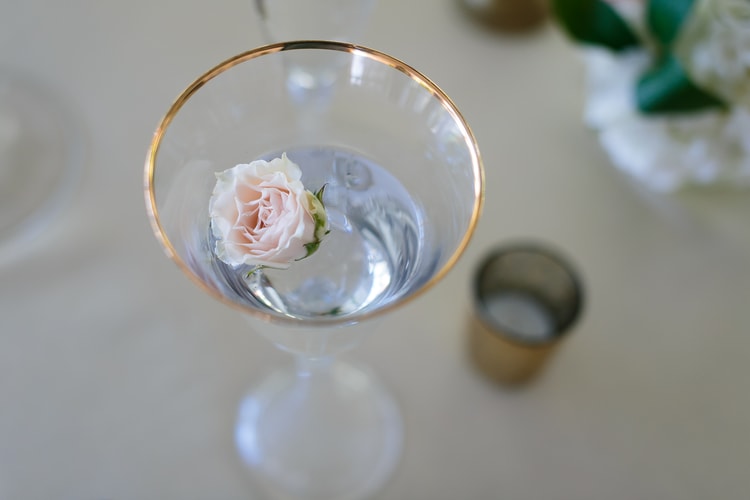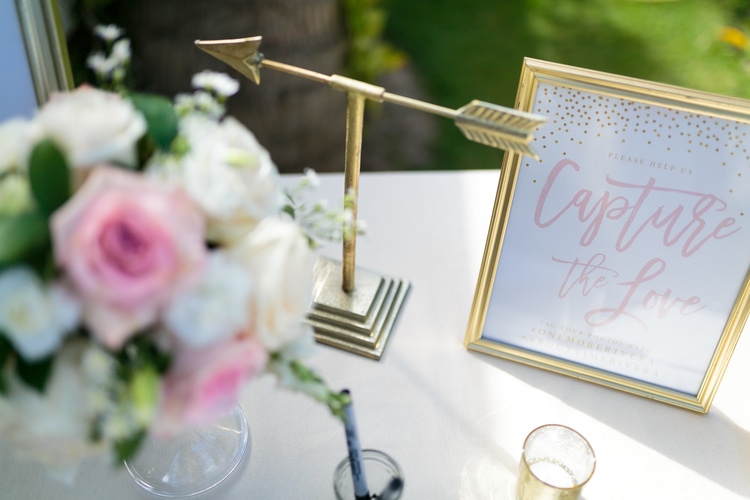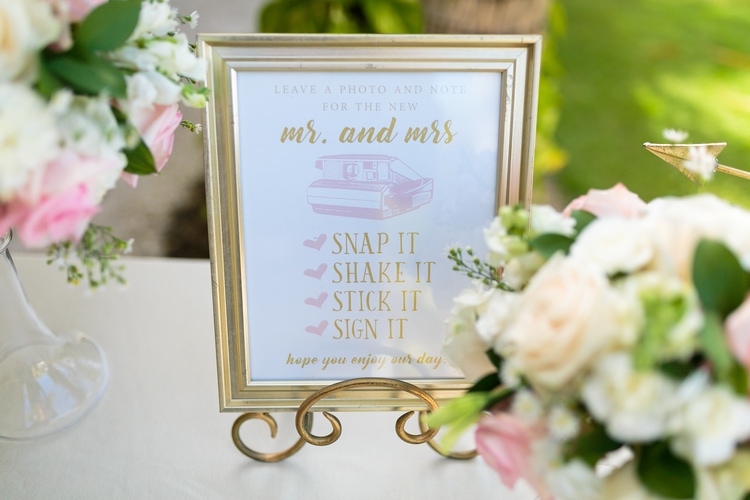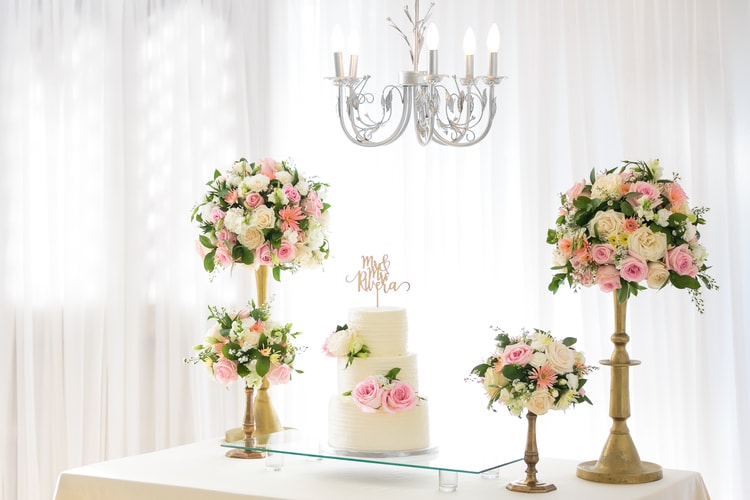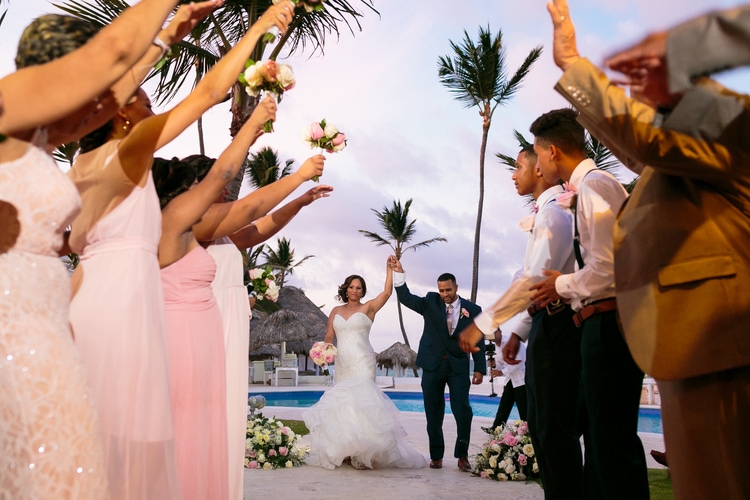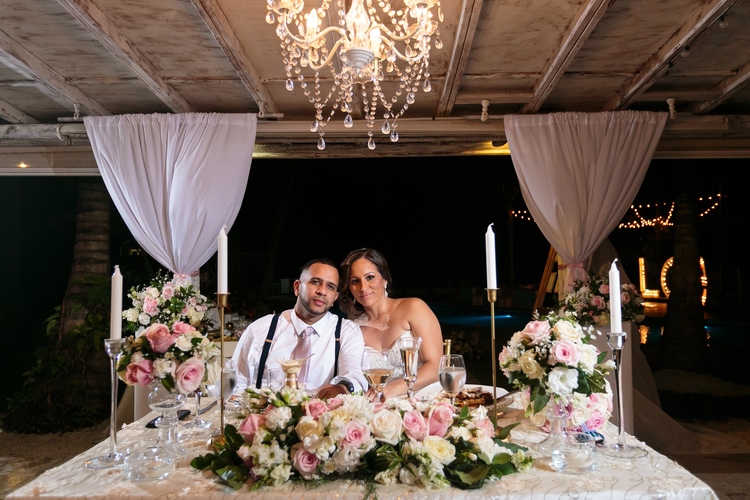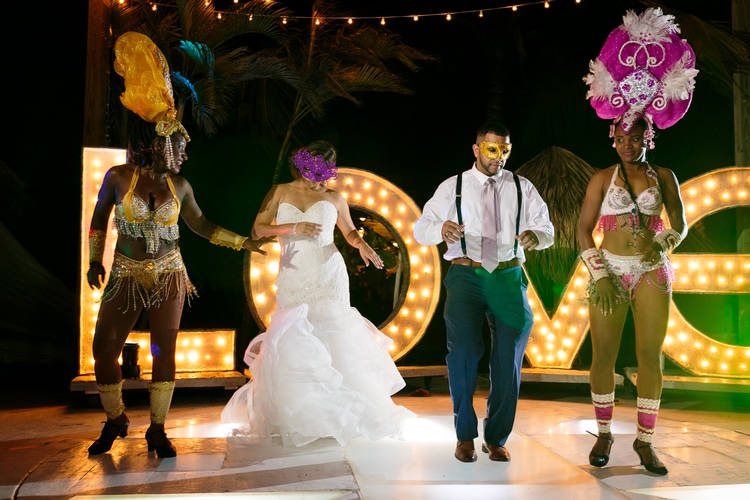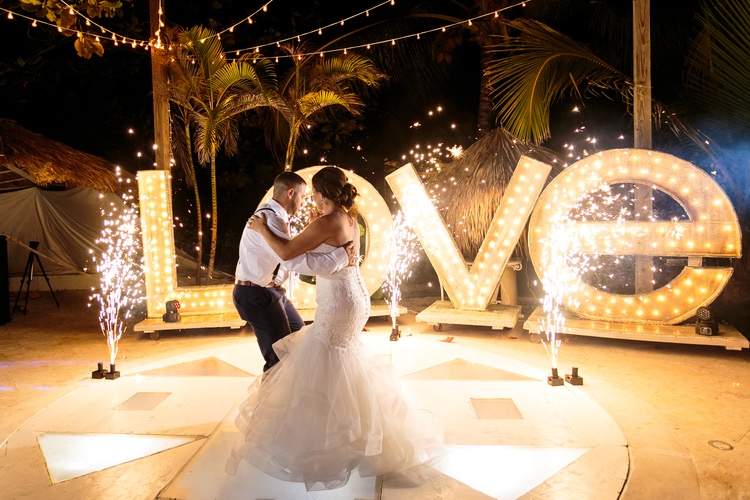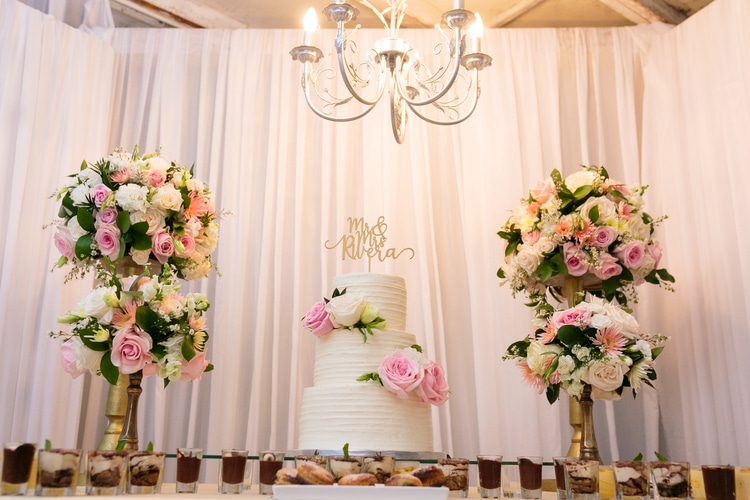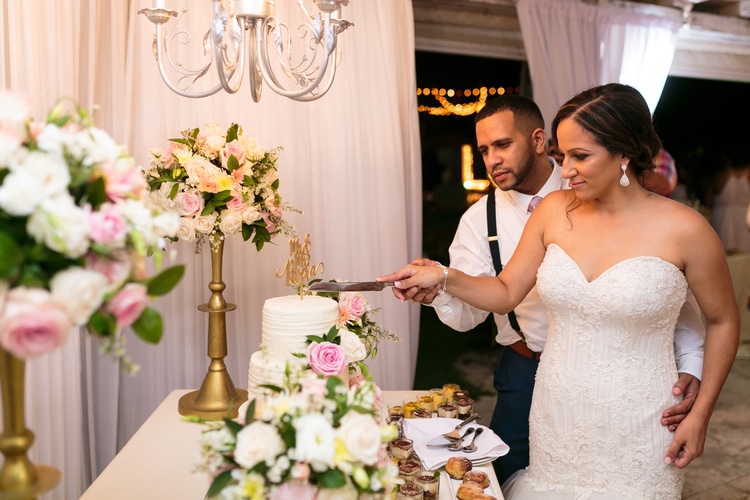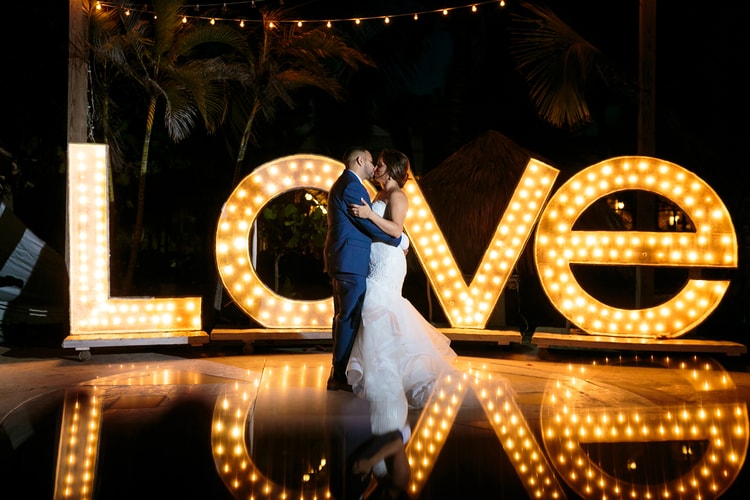 Q&A with the Bride
Why did you choose to have a wedding in Kukua Punta Cana?
We wanted an intimate wedding with our closest family and friends on a white sandy beach with turquoise water and palm trees blowing in the breeze. Punta Cana was the perfect destination! We are both Catholic so it was important to have a Catholic ceremony, but the ceremony couldn't take place in the sand. I found the perfect solution to this problem when I came across Kukua Restaurant and Beach Club. They offered the Palapa Wedding Chapel as a location to have a Catholic ceremony. The Palapa (palm roof) is a private area with beautiful ocean views. It is literally on the beach but not in the sand. I instantly knew this was the place I wanted to get married.
How many people attended your Kukua Punta Cana destination wedding?
60
Tell us about your wedding theme!
I wanted a blush, ivory and gold wedding with a combination of elegance and relaxed vibes. My favorite color has always been blush pink so I knew this color would be incorporated into my wedding day. It blended well with gold and ivory. It was the perfect color combo for me.
What were your sources of inspiration for your wedding in Kukua Punta Cana?
My sources of inspiration were Pinterest, Punta Cana Brides Facebook group, Kukua Restaurant Brides and Grooms Facebook group, Destination Wedding Details and Kukua Punta Cana on Instagram, Wedding Chicks and the Wedding Wire.
Was there anything special or unique that you incorporated into your Kukua Punta Cana Destination Wedding?
Since we having a Catholic Ceremony, it was important to have the cross in the Palapa. We opted out the traditional wedding guest book and did a polaroid guest book. Also we had gold painted mamajuana bottles with thank you notes as favors for all of our guests.
What was your favorite wedding detail?
My favorite wedding detail was the crazy hour: traditional Dominican folklore dancers, Brazilian belly dancers, and men on stilts. It was a surprise to our guests and was a huge hit at our reception. The dancers and men on stilts were amazing and got all the guests involved in all the fun: masks, white balloons, and limbo. Most definitely got the party started and put the celebration over the top.
Was there any tradition that you skipped?
We did skip the bouquet and garter toss. Besides skipping the bouquet and garter toss, we decided to do a bachata song for our first dance. We danced to Promise by Romeo Santos and Usher.
What was the most emotional thing to happen on your wedding day?
The most emotional thing that happened on my wedding day was my niece (my flower girl) getting ill and having seizures on our wedding day as the girls and I were getting makeup and hair done in the bridal suite. Everyone was scared because we didn't have a clue what was happening. My sister (my niece's mom) who was my maid of honor was starting to give CPR. I just freaked out and started to cry! My niece had to be rushed to hospital. My wedding coordinator's husband took my sister and niece to the hospital, stayed with them and provided me with updates on my niece's condition.

Sadly my sister and niece missed most of the day. The seizures came from my niece being dehydrated. My niece was released from the hospital. My sister and niece surprised me at the reception right on time to give the maid of honor speech. Shortly after our first dance, my niece had another seizure and had to be taken back to hospital. She was taken to a different hospital this time and was released the following day. Thank goodness my niece is doing great and back to her normal self.

It was so hard to continue with our wedding without my sister and niece there. With prayers and the love and support from our family, friends and my amazing wedding coordinator, we able to get married and celebrate our union. It wasn't easy at all but the phone call from my sister when she was at the first hospital with my niece most definitely helped. I talked to her a few minutes before the ceremony started. She told me "to have a beautiful wedding and to make sure I have a good time and apologized for not being there for me". I told her not to apologize and her daughter's well being was more important than anything. I was thankful my photographer was able to capture some pictures of my sister and niece when they came back to reception to surprise me.
What was your favorite part of having a destination wedding in Kukua Punta Cana?
The favorite part of having a destination wedding was the great times with my family and friends in Punta Cana. I never had a vacation with my family and friends. It was the best of both worlds. My group had a great time together and is already asking when the next trip is.
What was the biggest challenge of planning your wedding in Kukua Punta Cana?
The biggest challenge was planning a destination wedding without doing an initial visit to the venue. I had to rely on pictures, videos and past bride reviews.
Do you have any advice for other couples planning a destination wedding?
Planning a destination wedding is the best decision. You get a beautiful wedding and vacation. Do a site visit for your venue and resort if it fits in your budget. Try to give yourself about 2 years to plan a destination wedding. It gives enough time to save money as well as give guests to pay for their travel. Join different Facebook bride groups for your choice of destination. It was very helpful to talk about different things with other brides in the planning process like me.
Vendors
Photographer: Julia Eskin
Bride's Dress: Allure Bridal Style 9364
Bridesmaid dresses: David's Bridal
Bridal Shoes: Badgley Mischka
Groom's Attire: Ralph Lauren
Wedding Planner: Bego Celaya/Kukua Restaurant and Beach Club
Hair: Jazmin Abad Brito
Videography: Araña Productions