What's YOUR destination wedding etiquette question?
The idea of destination weddings is still a pretty novel concept, so it can be hard to find one place with answers to all those questions that keep you up at night!
When do you mail invitations? How do you tell your guests' kids aren't allowed? Who do you invite to the at-home reception? Is a bridal shower appropriate? Who pays for what?
I've been there, and I feel your pain. That's why you'll find tons of advice and answers to all your destination etiquette questions throughout this website. And if you don't find what you're looking for, just ask away and I'll try to personally respond with real advice and tips based on real experience. Due to the overwhelming amount of questions I receive each day, it's difficult to answer every single person but I do try my best to get to most questions. Before you ask, make sure you check out the following pages because you might find your questions already been answered.
Still didn't find the answer to your destination wedding etiquette question? No problem, just go to this post and ask your question -we will answer you personally.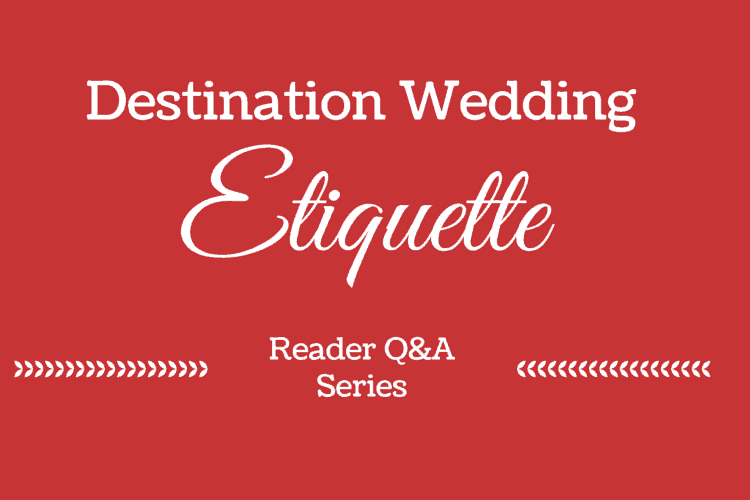 Ask Your Destination Wedding Etiquette Questions
What's your destination wedding etiquette question?
If you didn't find answers to your question, just drop me a line here. I know how hard it can be to navigate all the do's and don'ts of destination wedding etiquette, especially because most of the advice out there is geared towards traditional hometown marriages. My goal is to help everyone out there plan a stress-free celebration. Sometimes all you need is advice from someone who's been there, done that! I'm happy to help.
Destination Wedding Etiquette Q&A
Click below to see destination wedding etiquette questions submitted by other visitors to this site.
At-home reception invitation etiquette






I am creating a friend's Save-the-Date and invitations for their destination wedding. They are only inviting close friends and family to their destination …
Destination Wedding RSVP Deadline






What is the best way to get an accurate headcount for a destination wedding? What is the best deadline timeline to ask for an RSVP for a destination wedding? …
Inviting guests to the shower but not the destination wedding






I know it is not proper etiquette to invite anyone to the shower who isn't invited to the wedding, however, when I mentioned the wedding to a few coworkers, …
Destination wedding with no guests






My fiance and I have been engaged for a few months and are planning to get married in a simple ceremony on a tropical island on our Thanksgiving Break …
Destination wedding/honeymoon etiquette






My fiance and I are planning to spend 3-4 days with our guests prior to the ceremony but would like guests to leave the morning after our wedding…
Destination Wedding Invitation Etiquette Not rated yet
My fiance and I live outside of Chicago, IL and are planning a destination wedding in Marco Island, FL. We are only inviting around 30 people and it will …
Destination Wedding Engagement Party Not rated yet
We are having a Destination Wedding and would like to invite everyone to a pre-celebration. What could that be? An engagement party? A couples shower? …
Sending Destination Wedding Invitations to Guests Who Can't Afford to Attend Not rated yet
Is it proper to invite people that are close to me but that I KNOW full well, cannot afford to come?
DESTINATION WEDDING GUIDE ANSWER
The …
Should you still send an invitation to guests who told you they can't go to your destination wedding? Not rated yet
If you already know that someone is not able to make it to the destination wedding, do you still send them a formal invitation and do you invite them to …