If you're searching for the perfect location for your destination wedding, Costa Rica should be right at the top of your list! This page has the information you need to kick-start your planning, including a breakdown of the different types of settings and venues, the best time of year to go, marriage requirements, and a list of some of the most popular planners.
The first question that pops into many people's minds about the country is, how safe is it for my destination wedding? Costa Rica, you'll be glad to know, is one of the safest, friendliest, and most politically stable countries in Latin America! They abolished their army more than five decades ago and that long history of political stability shines through. The people are known for being kind and friendly to tourists.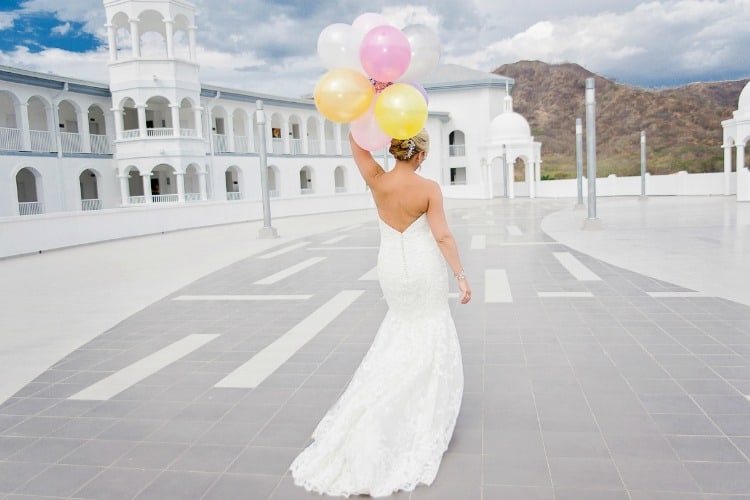 Marriage Requirements
When it comes to the legal requirements for your destination wedding, Costa Rica makes the process very simple. You don't need blood tests, birth or civil status certificates, or a minimum stay.
What do you need?
Well, at least one month before your ceremony, you'll need to send basic information like profession, passport #, copies of your passport, and mailing address. Costa Rican law also requires a sworn statement attesting your civil status, date, and place of birth, and parent's names.
All weddings performed outside of the Catholic Church require a lawyer. They will file all the legal documents with the Costa Rican Civil Registry as well as your Embassy to ensure your marriage is legal and recognized back home.
The documents will be processed and mailed to you about three months from the date of your wedding, at which point your marriage will be valid in your home country. You can usually have the documents rushed for a fee.
If you're the bride and you've been married before, you'll need to wait 300 days after your divorce (or husband's death) to remarry. The divorce decree or death certificate must be provided as proof.
You will also need two witnesses who can't be family members to the third degree – that means no parents, grandparents, siblings, uncles, aunts, cousins, nephews, nieces, in-laws, etc. In other words, you should probably stick to friends.
DISCLAIMER: The above information is meant as a guide to help give you a general idea of what you'll need before getting married in Costa Rica. Although we make every effort to ensure that the content is both current and accurate, errors can occur. Plus, given the changing nature of laws, rules, and regulations, there may be omissions, or inaccuracies in the information contained in this content as time passes. We are not responsible for any inaccurate or omitted information or for the results obtained from the use of this information. You should always confirm all marriage requirements, timing, and costs with the official tourism board and/or your local wedding coordinator.
Best Venues
There are so many things to consider when choosing the perfect setting for your destination wedding. Costa Rica is the ultimate location because of the infinite amount of stunning and unique backdrops and many activities.
With over 300 exotic beaches, volcanoes, rainforests, and all different kinds of accommodations, you might get a headache just trying to narrow down a location.
If you're feeling overwhelmed and don't know where to start, take a look at our ultimate list of Costa Rica Beach wedding locations.
And don't forget to check out my guide to the top venues for a destination wedding in Costa Rica.
If you're feeling adventurous and want something more unique, make sure you check out my suggestions for backdrops like a volcano or waterfall.
Related: Browse our Costa Rica Destination Wedding Guide to find vendors, photos of real weddings, and more tips.
Wedding Planners
If you're having a destination wedding, Costa Rica wedding planners are a must-have! Well, maybe not a must-have but they really do make things a heck of a lot easier.
Although most resorts have on-site coordinators, a professional planner can help you navigate all the legalities, catering, flowers, and even your travel arrangements. They're especially helpful if you want to tie the knot in a villa or private residence. And if you're really picky and have a vision of how you want your decorations, flowers or cake, a planner will already have a team of vendors to help bring that vision to life.
Find a planner in our Costa Rica vendor directory.
What's the best time of year to get married in Costa Rica?
Now that you have an idea of the legal stuff and the best places to say your vows, you might be wondering, what's the best time of year for your destination wedding?
Costa Rica has the best weather from January – April, but because it's their high season you can expect higher prices. The rest of the year is the rainy season or "green season" as the locals like to call it, and it lasts from May – November.
The upside of visiting during the green time of year is that you'll get better travel deals and fewer crowds. You should definitely consider the weather when planning, but don't get too caught up in it because quite frankly mother nature has a mind of her own, regardless of how well you plan.
Which dates are you better off avoiding altogether? Christmas, New Year's, and Easter because the whole country practically shuts down and heads to the beach. That means that not only will it be really difficult to find available vendors (they're all on vacation), but you'll also have to deal with very busy beaches and almost no privacy. Easter week is an especially huge holiday for this predominantly Catholic country and aside from everything I already mentioned, you'll also have to deal with the fact that alcohol sales are suspended the Thursday and Friday before Easter (and you probably want some liquor to toast your big day, right?)
Two other dates you should try to avoid, if possible are Valentine's and Mother's Day because just like in the U.S., florists are extremely busy, prices are higher and you'll have a more limited selection of flowers.
If you decide to have your destination wedding in Costa Rica, you and your guests will embark on a truly unforgettable journey. The beginning of your new life will be truly unique, stunning, and memorable!
Real Costa Rica Wedding Inspiration:

Check out the real Costa Rica destination weddings we have featured on this site to get inspiration for your own wedding.