Costa Rica has been on my radar for a while as an all-time great for destination weddings. You really can't beat the views – especially at sunset. And truly, the venue Paola and Zach chose is one of the most breathtaking I've seen and capitalizes on all the beauty Costa Rica has to offer. I mean, is it a house? Is it a resort? Is it a private penthouse in the sky complete with infinity pool, sweeping views of the ocean and endless amenities? YES to all of the above.
Paola and Zach were most concerned with ensuring each guest felt taken care of, at home and pampered – and they certainly accomplished that with this stunning destination wedding in Costa Rica.
I love when couples are able to let the natural beauty of their destination do the talking – keeping it simple with the bamboo chairs, simple décor and local tropical flowers made for a lovely setting. And what made this ceremony stand-out was that they were actually hit with quite the Costa Rican torrential downpour as Paola prepared for her walk down the aisle, but just as she stepped out, the clouds parted and they were greeted with a gorgeous sunset. In fact, my favorite photo captured by Jennifer Lourie is of Paola and Zach by the pool, overlooking the ocean at sunset – they really need to frame this shot, it's amazing!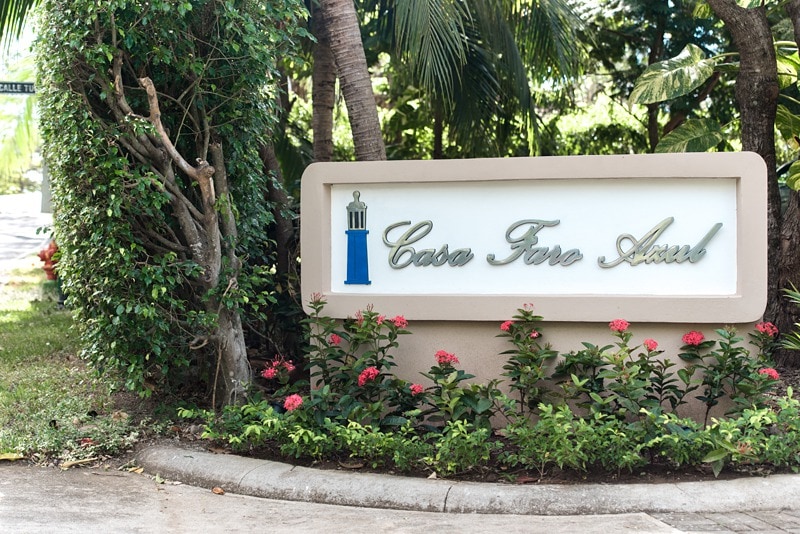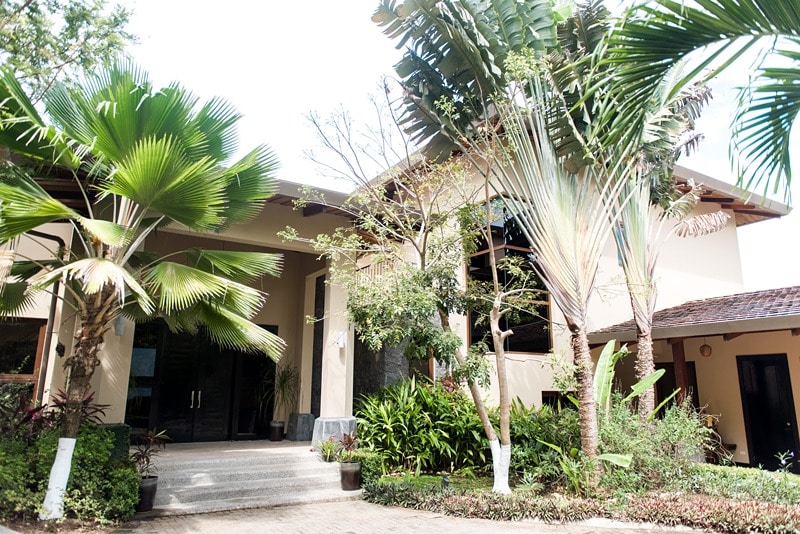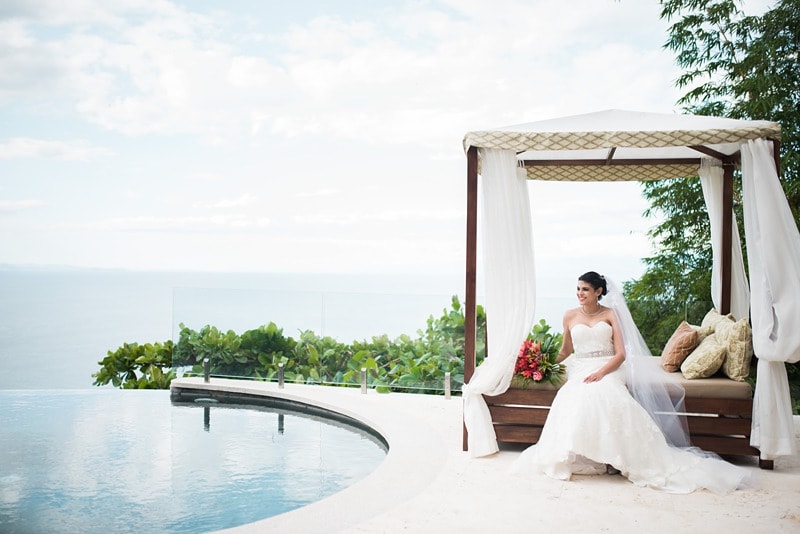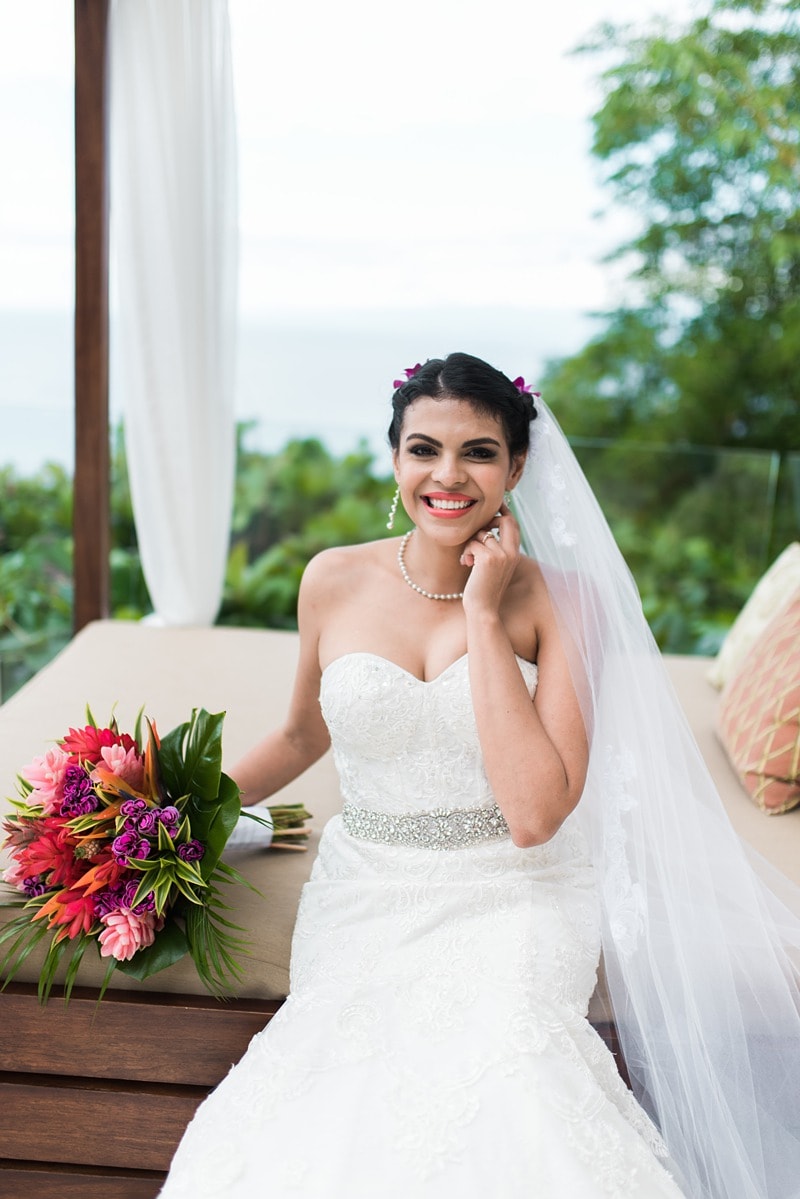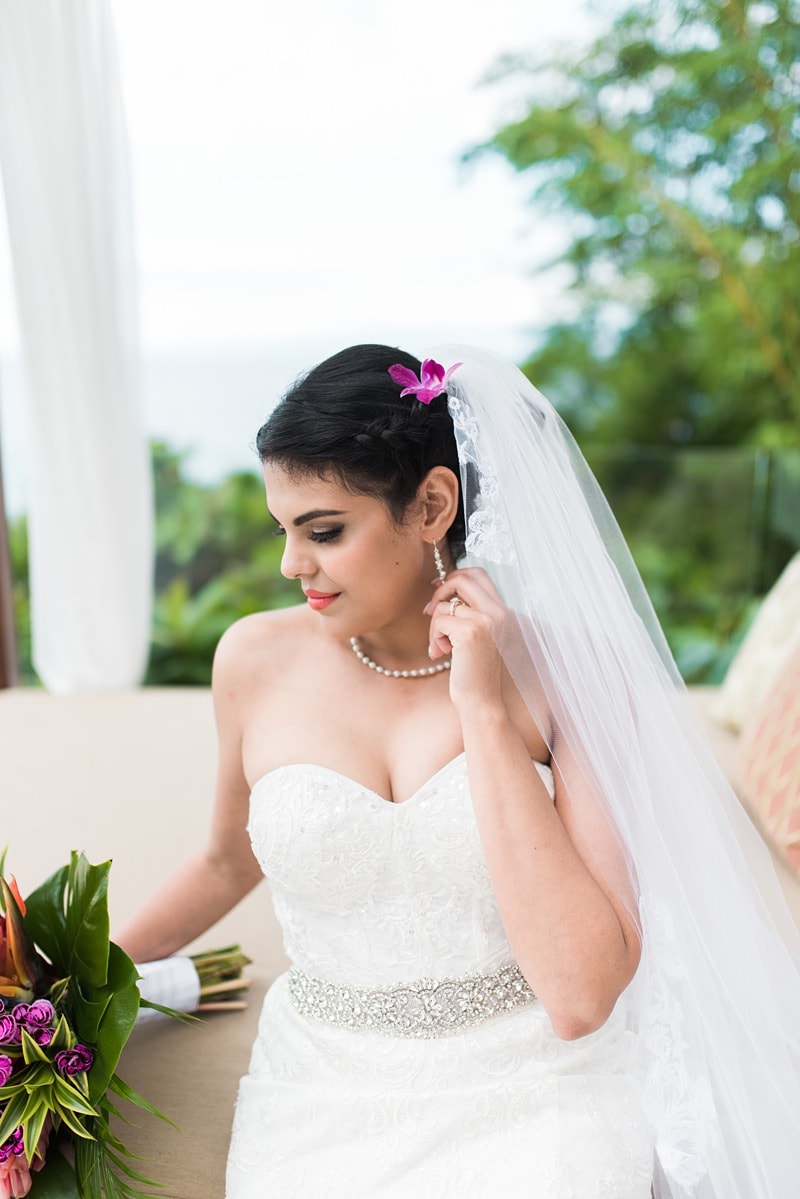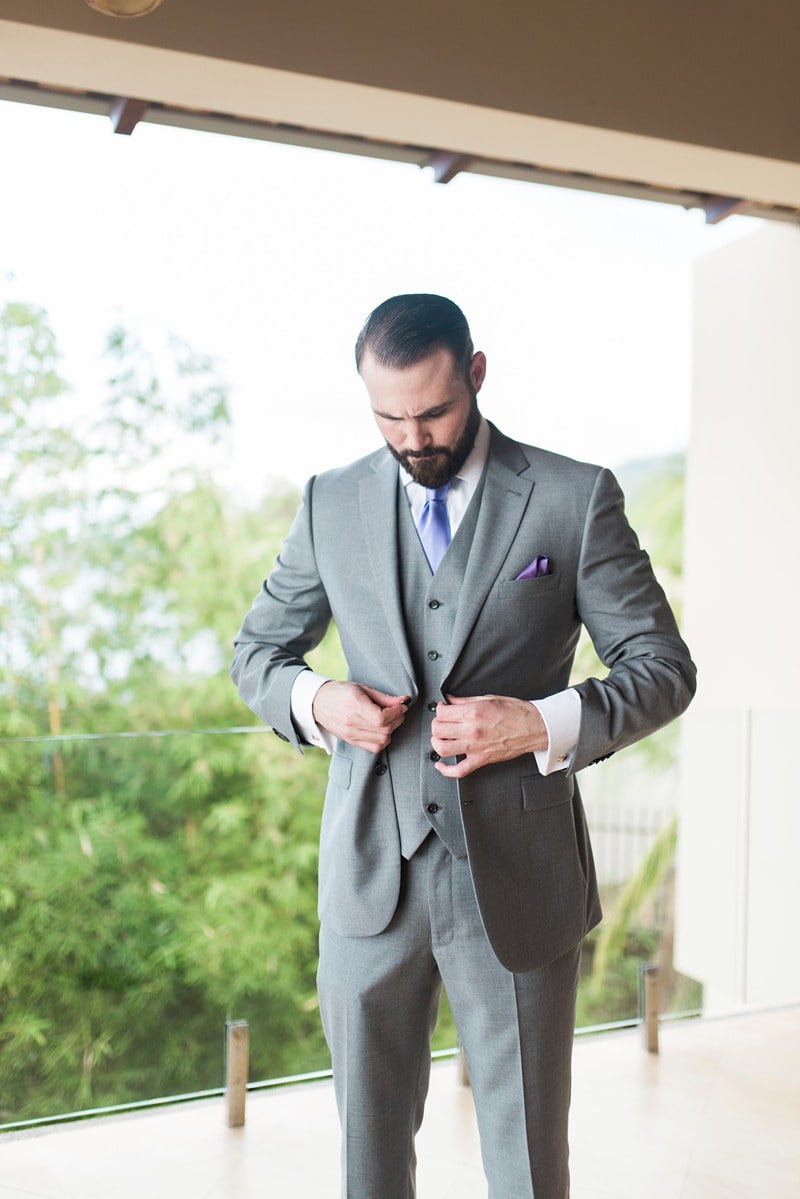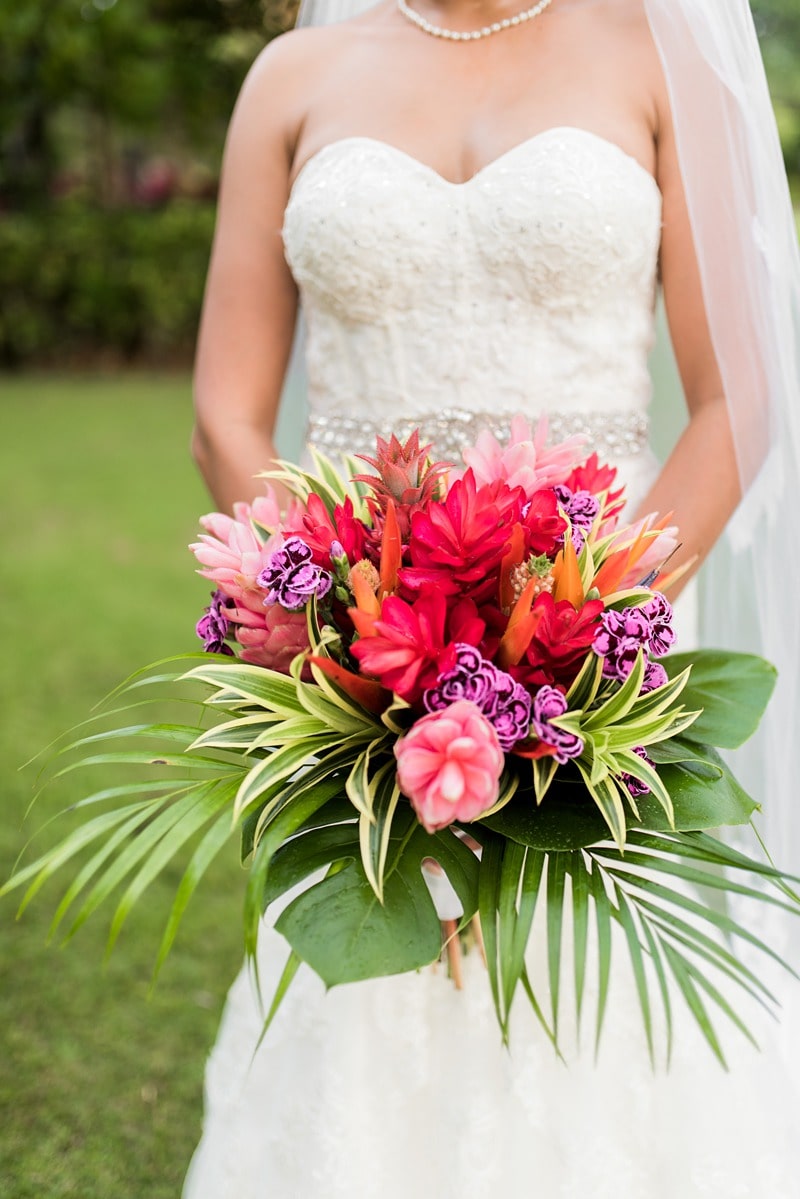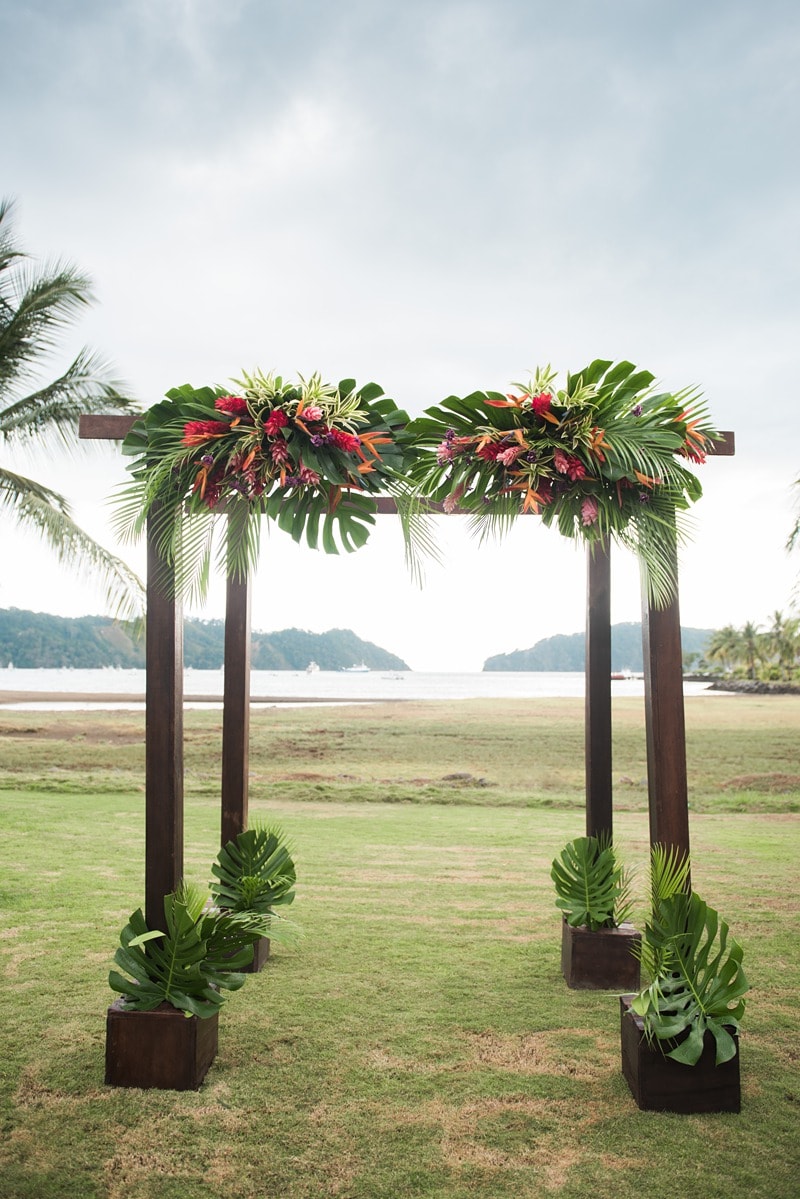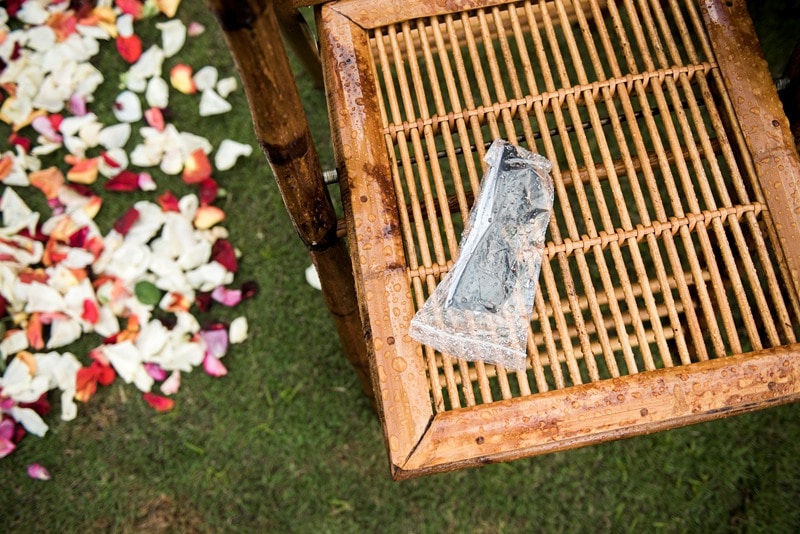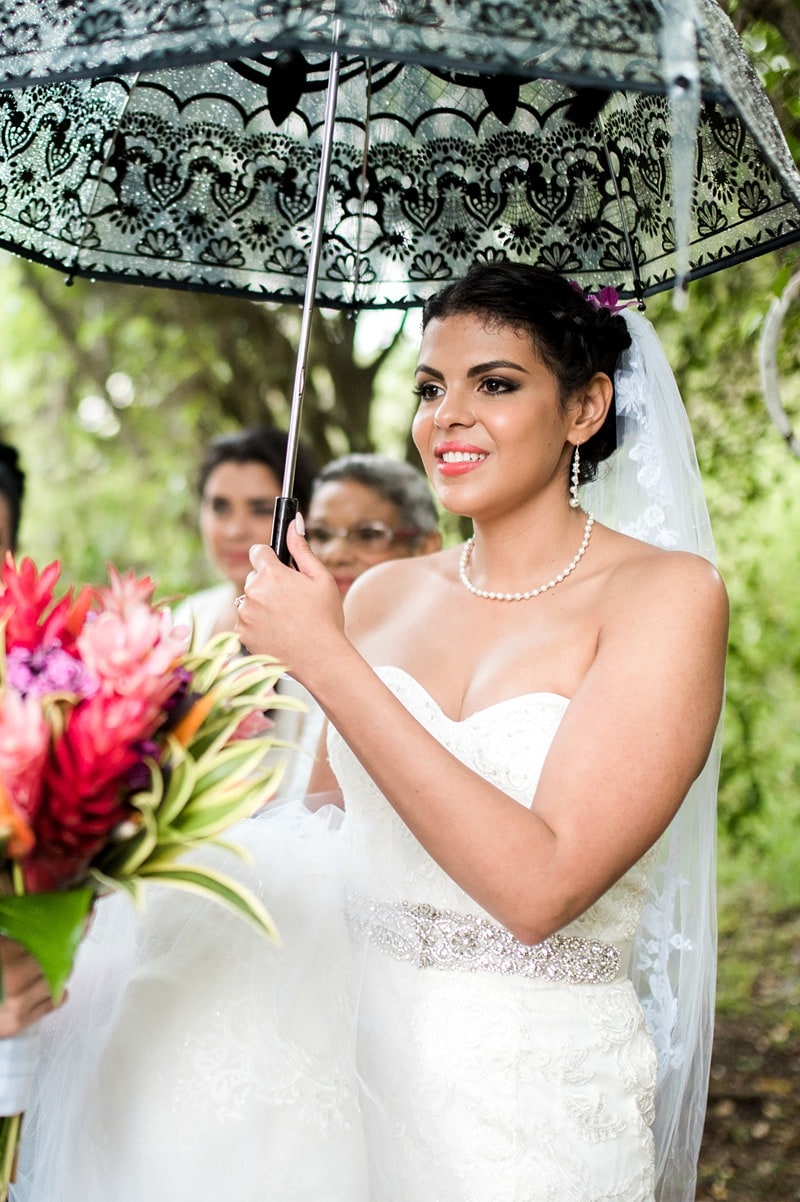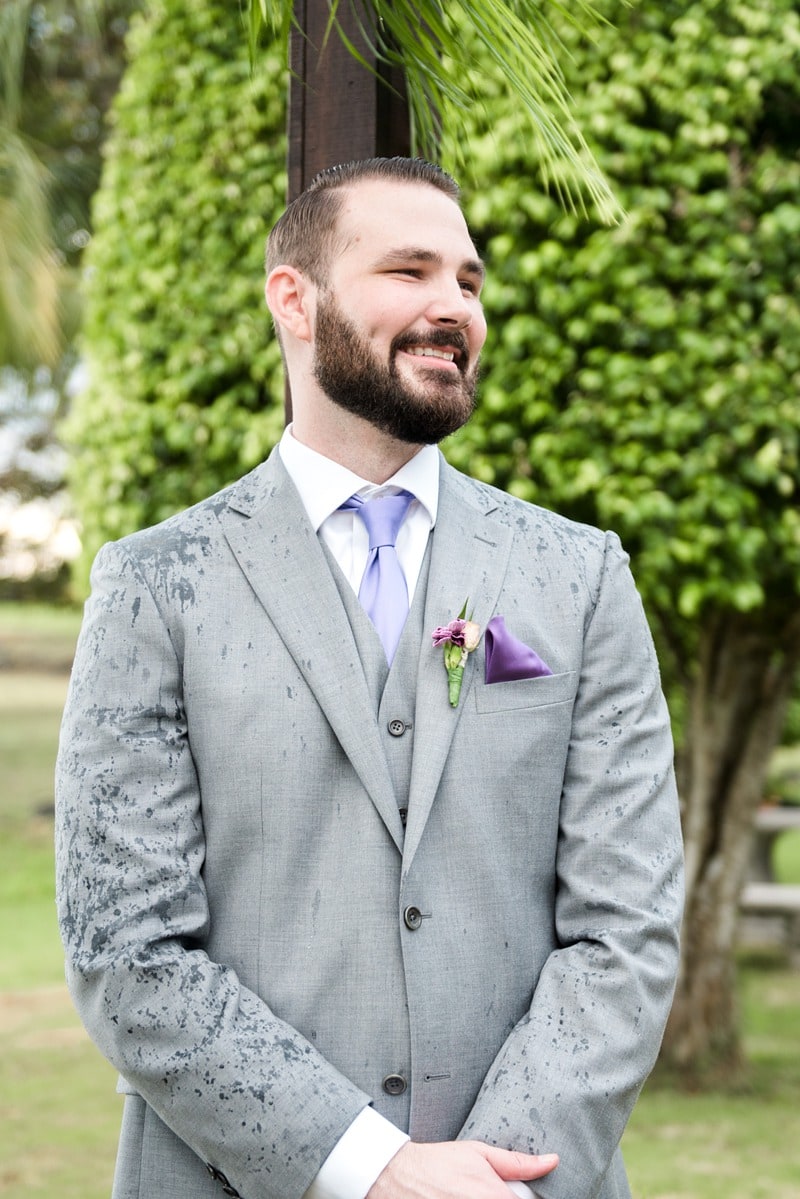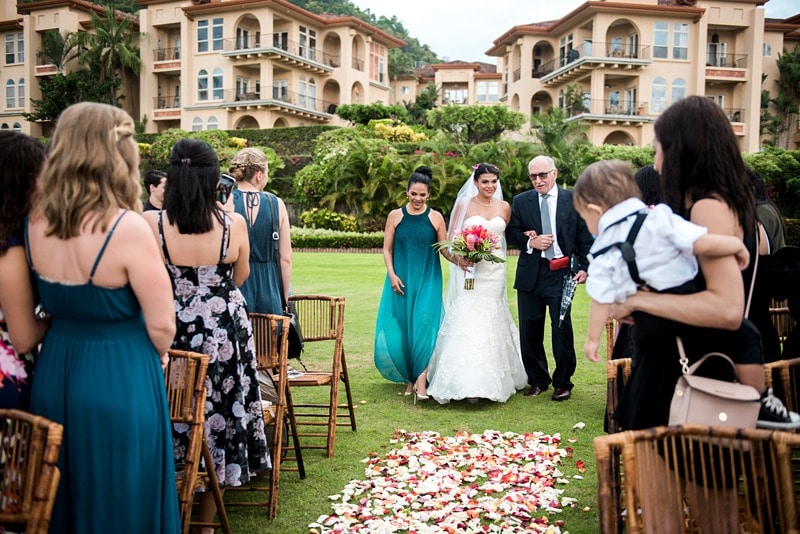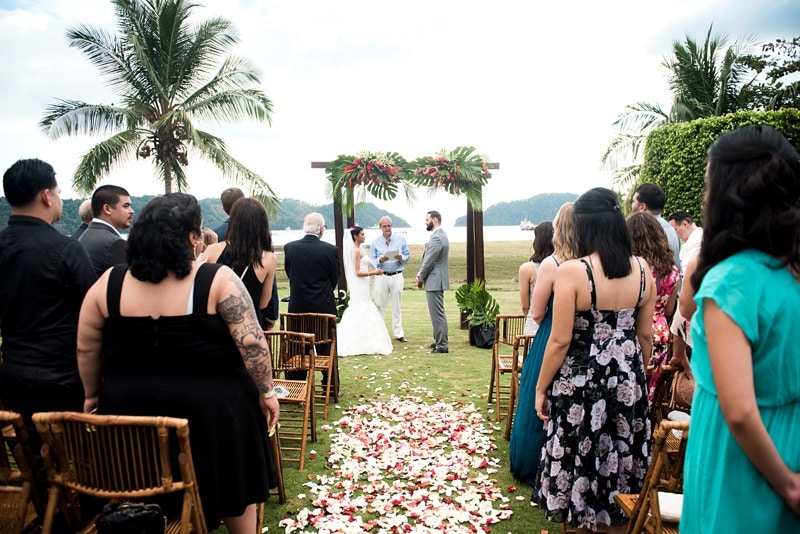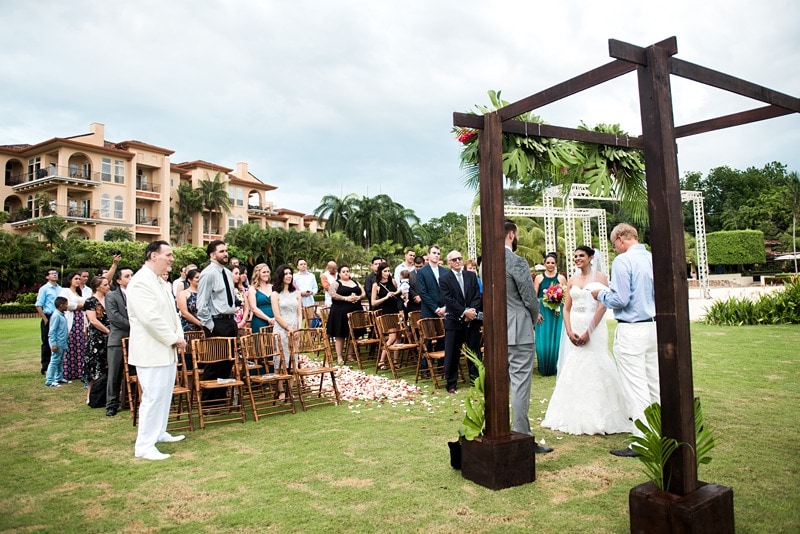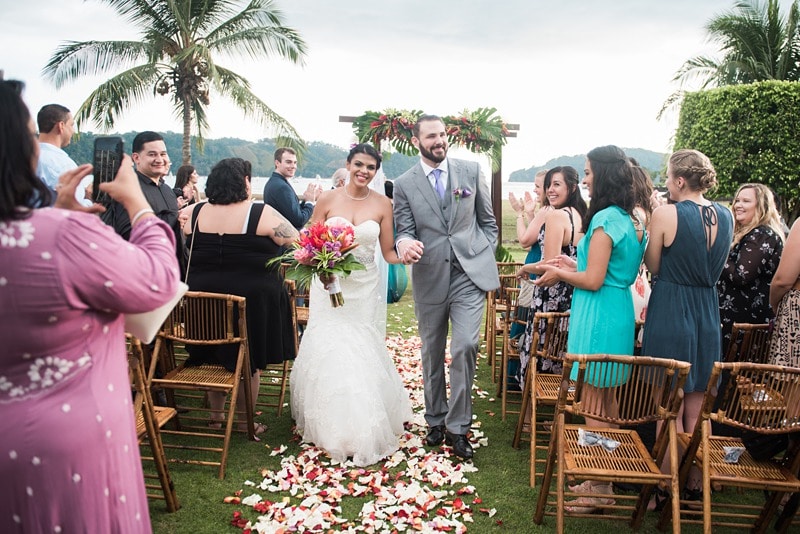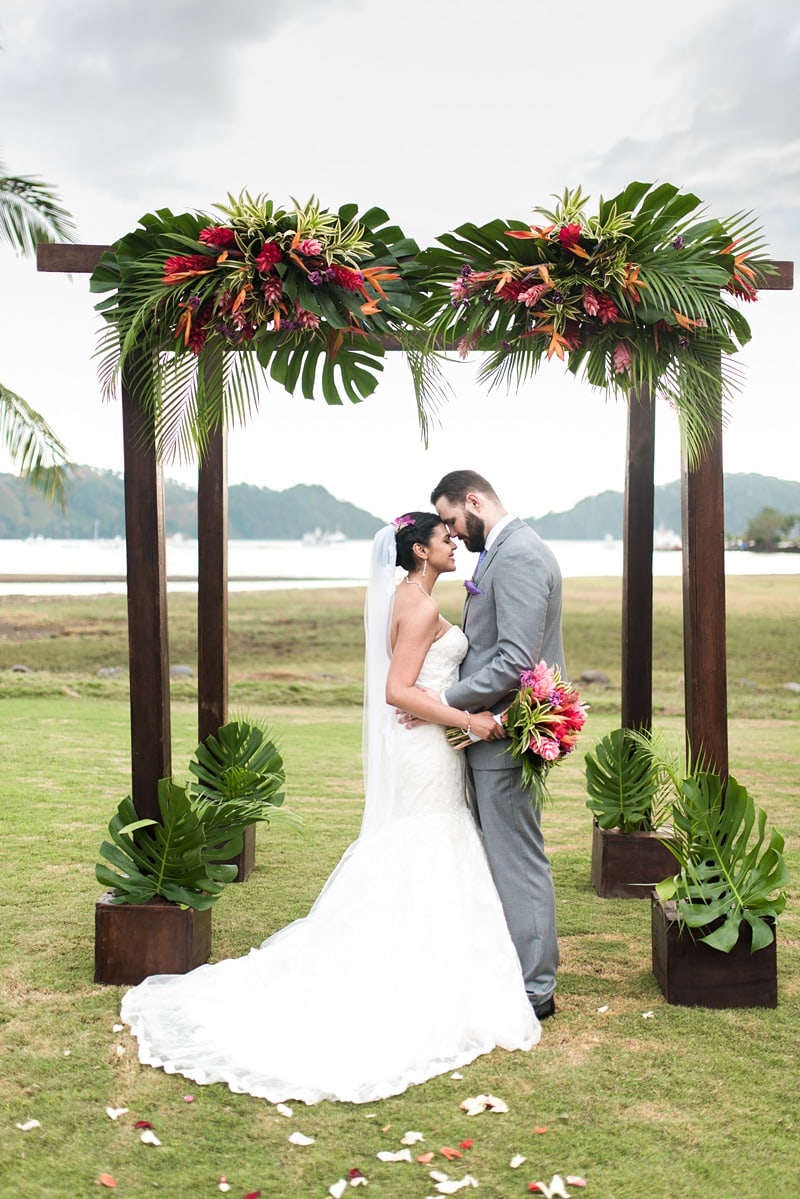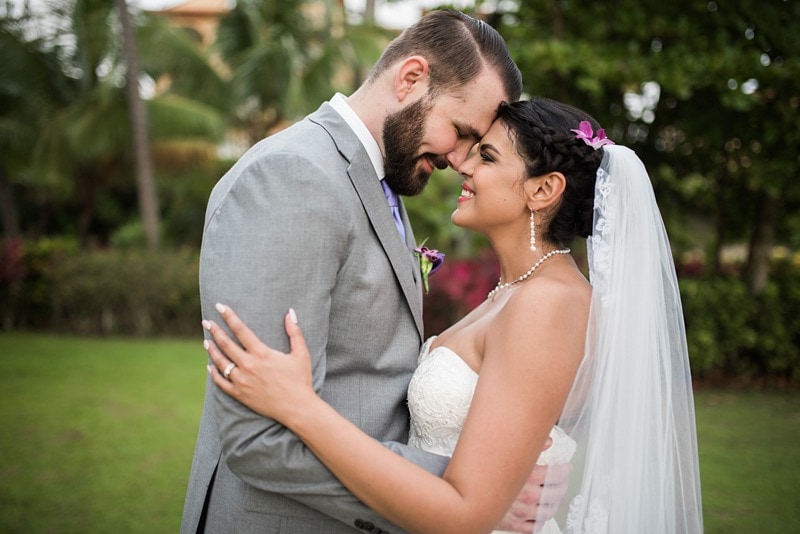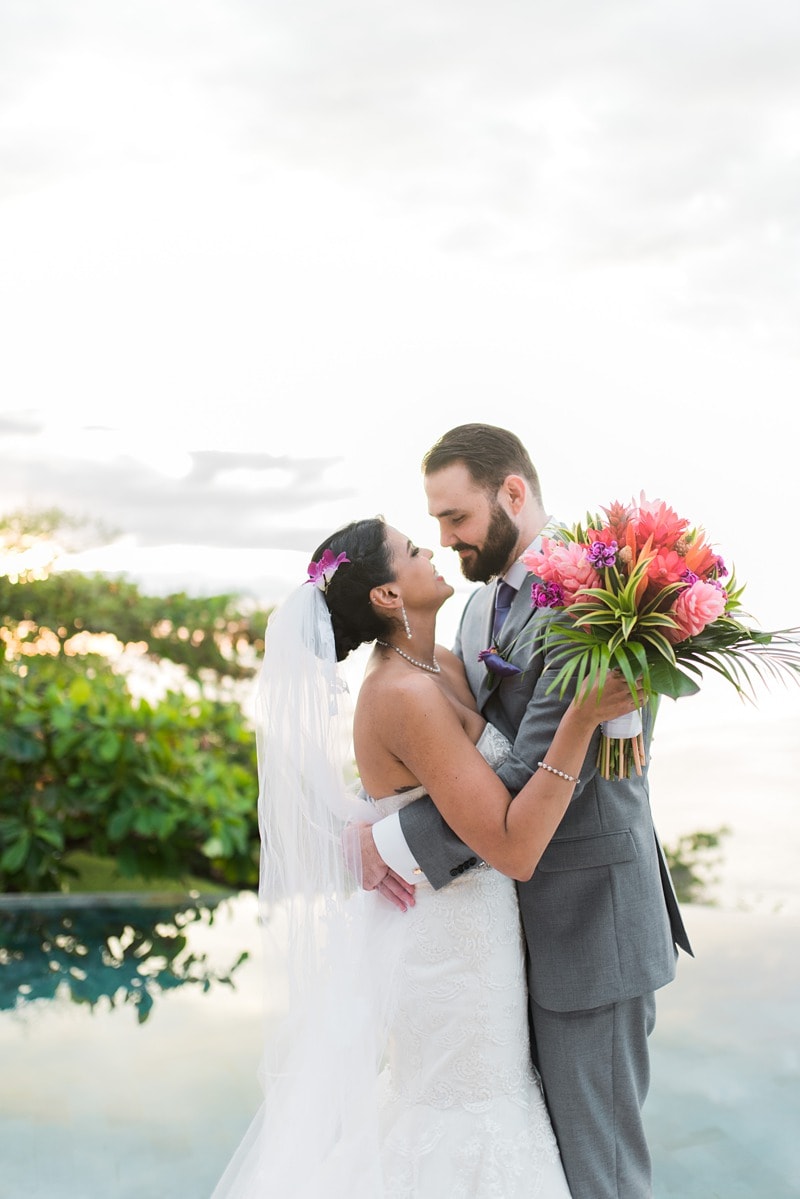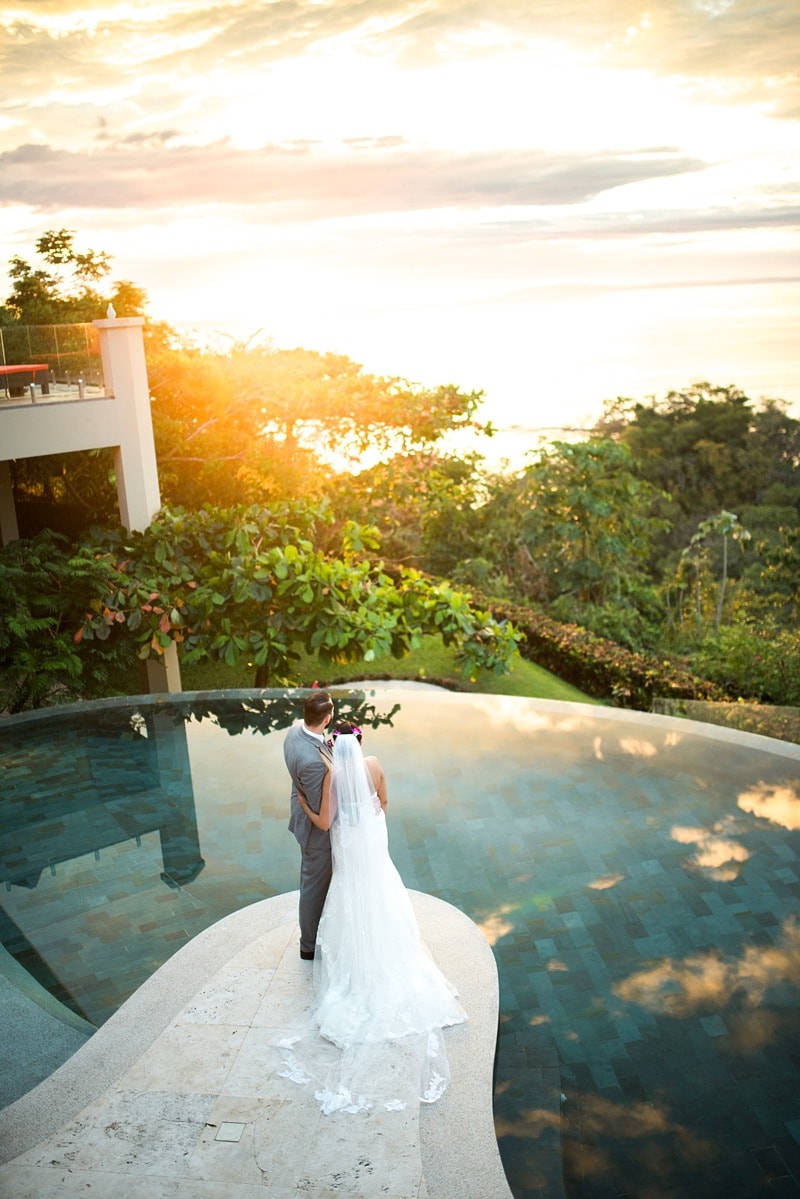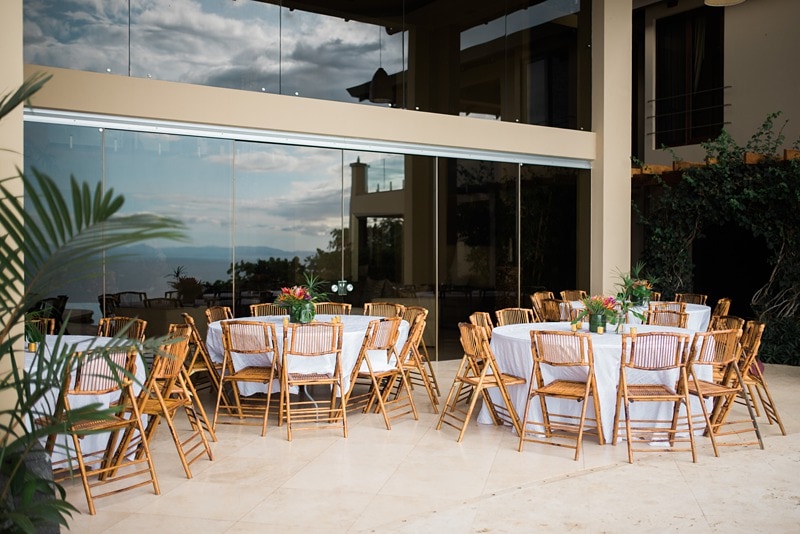 Related: See our full review and video of this amazing Costa Rica wedding venue here.
Q&A with the Bride
How did you meet?
Zach and I met in Old Town Pasadena, California. I was out with friends, and we were leaving a club after getting bored. All the sudden, I hear these two guys, behind me, complaining that the music was really bad (it was mainly music played on the radio). Anyways, I looked back to see who these people complaining were, and I saw this really handsome guy. So, I obviously left my friends by slowing down and kind of walking backwards, and told him, "the music was not that bad" and we starting talking about the music, and the rest is history.
What is your proposal story?
We went to Vegas to celebrate Zach's birthday in July 2016. One of the mornings, Zach surprised me by getting on one knee (I was still in bed) and asking me to marry him. Since he had been acting weird all week, my response was "I knew it!" and he then he said, "so, is that a yes?"… of course, it was a yes!
Tell us a little a bit about your wedding (your vision, color, style, and location choices).
There is nothing more amazing than having your dream wedding at your dream location. When Zach and I even started talking about marriage, I always told him that I wanted a destination wedding in Costa Rica. The reason, my family lives out there and I couldn't imagine our big day without them. Therefore, when we got engaged we immediately told everyone the wedding would be in Costa Rica! We had our wedding reception at Casa Faro Azul in Costa Rica.

This house is beyond beautiful. The way the pool is built looks like it goes into the ocean. We felt like we were floating. The best part of the reception is that we felt so loved. Everyone was there for us. Not one person had anything negative to say. Everyone took a journey to be part of our special day and it meant so much to Zach and I. We danced and partied the night away with our closest of friends and family. The music was so much fun and lively! PS: the music was mostly salsa and reggaeton, which goes with the theme of being in Latin America!
Tell us about your attire.
Zach wore a grey suit because I thought it would look elegant for a beach wedding. I wore a sweetheart mermaid bridal gown, that I fell in love with the moment I tried it on.
What was the most important to the two of you while planning your destination wedding in Costa Rica?
The most important thing for us was having a beautiful venue to make our family and friends feel at home.
What were your favorite parts of the day?
We asked Peter to be our officiant since he can speak both English and Spanish, because all our guests speak both or only one of the languages. Therefore, it was very important for us to have everyone understand the ceremony. Having the ocean behind us made me feel very connected to my home country and to my family.

Zach and I wrote and said our own vows, which made everyone cry. The funny part is that we both said that we wouldn't say our own vows in front of everyone, but it meant a lot. At that moment it really felt like it was just the two of us right there alone in the universe in our little bubble. Something that happened right before the ceremony was that it started pouring down rain! I was so bummed, even though I know it means good luck, I couldn't help but feel disappointed. But the moment I decided to walk down the aisle, the sky cleared up and it became the most beautiful sunset. It was truly magical. Which you can see in the beautiful pictures from Ms. Jennifer.
Tell us about your wedding flowers.
We didn't pick a theme per say. Since Costa Rica is naturally beautiful we let the background do all the work. We went with tropical flowers, and bamboo chairs for everything to look a little rustic but simple and elegant.
Tell us about your wedding cake.
We asked for a small simple cake for us to cut, and 60 cupcakes. The cake was chocolate with dulce de leche buttercream. The cupcakes were filled with dulce de leche.
What did you do for favors?
We got everyone sunglasses. Since it was a beach wedding, we thought they would be useful.
Do you have any advice for couples planning their destination wedding?
Invite the people you want to see at your wedding. We had a total of 50 people attend and it really made a difference. Each person that attended we know, we hang out with, and love. These 50 people also really meant to be there for us and truly love us. Take it one day at a time and reach out for help. Don't be scared to be a little demanding on the days leading up to the wedding.

I'd also suggest taking lessons for your first dance! Zach and I had a ton of fun learning the steps with a private instructor for our first dance. It was fun and challenging, because we CAN'T dance! So we laughed a lot. It made us feel closer leading up to the wedding because it was our activity. Also, our dance looked bomb in front of everyone…well, at least I'd like to believe that. Our first dance was to "Baby I'm Yours" by the Artic Monkeys.
What was the best part of having a destination wedding?
The best part was having so many people take the trip for our wedding. For a destination wedding, we had a big group. Also, having my family there made this wedding a dream come true.
What was the biggest challenge of planning your destination wedding?
Honestly, the biggest challenge was having a destination wedding. If it had not been for my mom who helped me get in touch with the vendors and helped me with the event, I don't think I would have been able to accomplish my dream wedding. She had all the contacts and knew where to go to get last minute details done. Having a wedding planner really helps for destination weddings. Costa Rica, especially in Jaco, Puntarenas, is a small community. Not many people are available for wedding services. As an example, my original make-up artist literally canceled on me two weeks before the wedding, over a misunderstanding. I was so distraught. Anyways, Carol, my wedding specialist/event planner, knew exactly who to contact next, and found me an even more amazing make-up/hair artist.
Vendors:
Photography: Jennifer Lourie Photography
Reception Venue: Costa Rica Luxury LifeStyle
Stationery: Jo. M Design & Prints
Wedding Cake: Shea's Cakes
Hair & Makeup: Makeup Art & Beauty
Wedding Dress & Veil: David's Bridal
Groom's Attire: Jos A Bank
Bride's Shoes: Betsey Johnson
Related: See our full review and video of this Costa Rica wedding venue here.