It's not every day you meet your future spouse on a scuba diving trip to Mexico, so it's no surprise Yvonne and Adam threw one heck of a unique destination wedding on the beach. Their passion for the ocean and each other shines brightly throughout this gorgeous destination wedding on a Private Oahu beach which was full of fun, untraditional details.
The venue itself really captures the best of what Oahu has to offer: private beaches and breathtaking views. Yvonne walked barefoot down the aisle, wearing a gorgeous flowy lace dress while holding a bouquet that celebrated Hawaii's ridiculously gorgeous natural flora. While the attire and décor were kept fairly simple, their choice to feature pops of aquamarine and "sunshine yellow" created that real deal beach vibe. And nothing says Hawaii like shaved ice and pineapple – how cute is their "you had me at Aloha" party favor? But I have to say, my favorite detail of all was the photo bus. I mean come on! That thing is so darn cute, and such a fun way to help guests capture their memories of the night. Shout out to Chelsea Stratso for sharing all these gorgeous shots with us.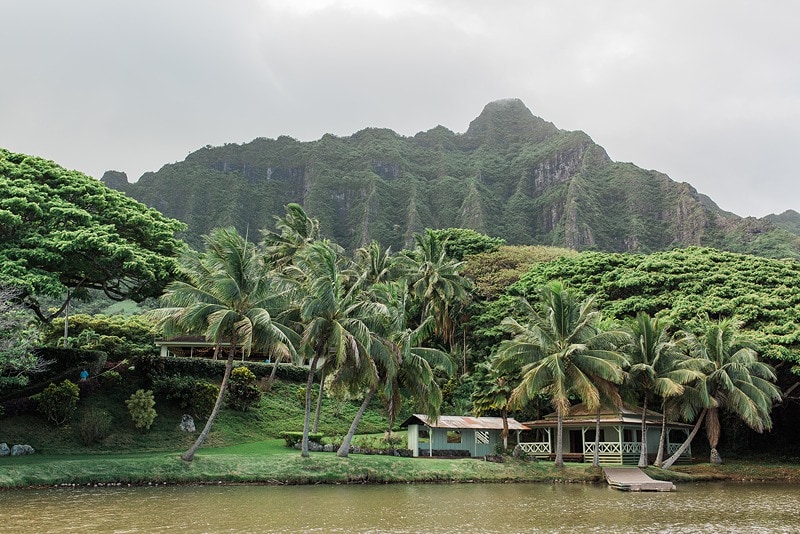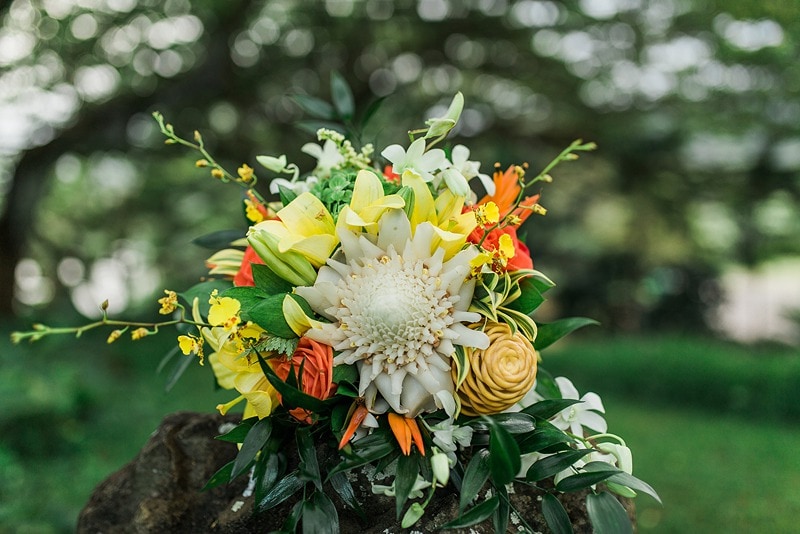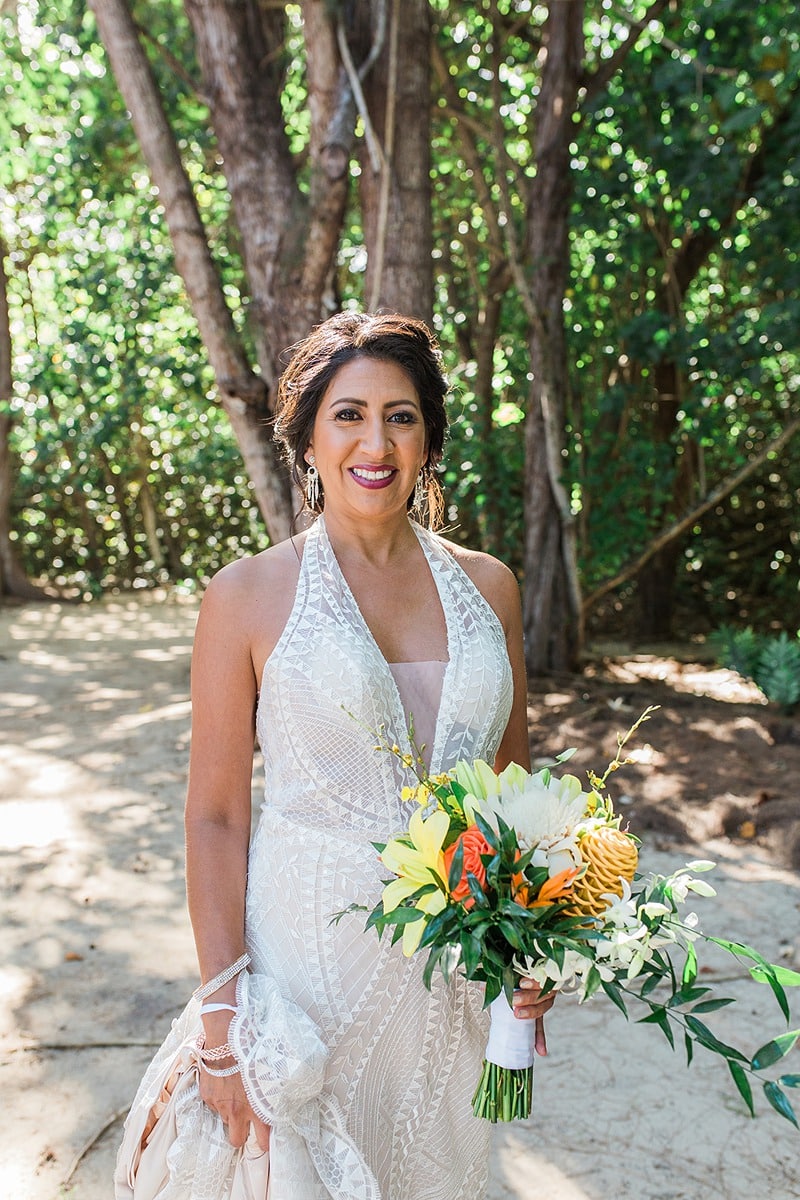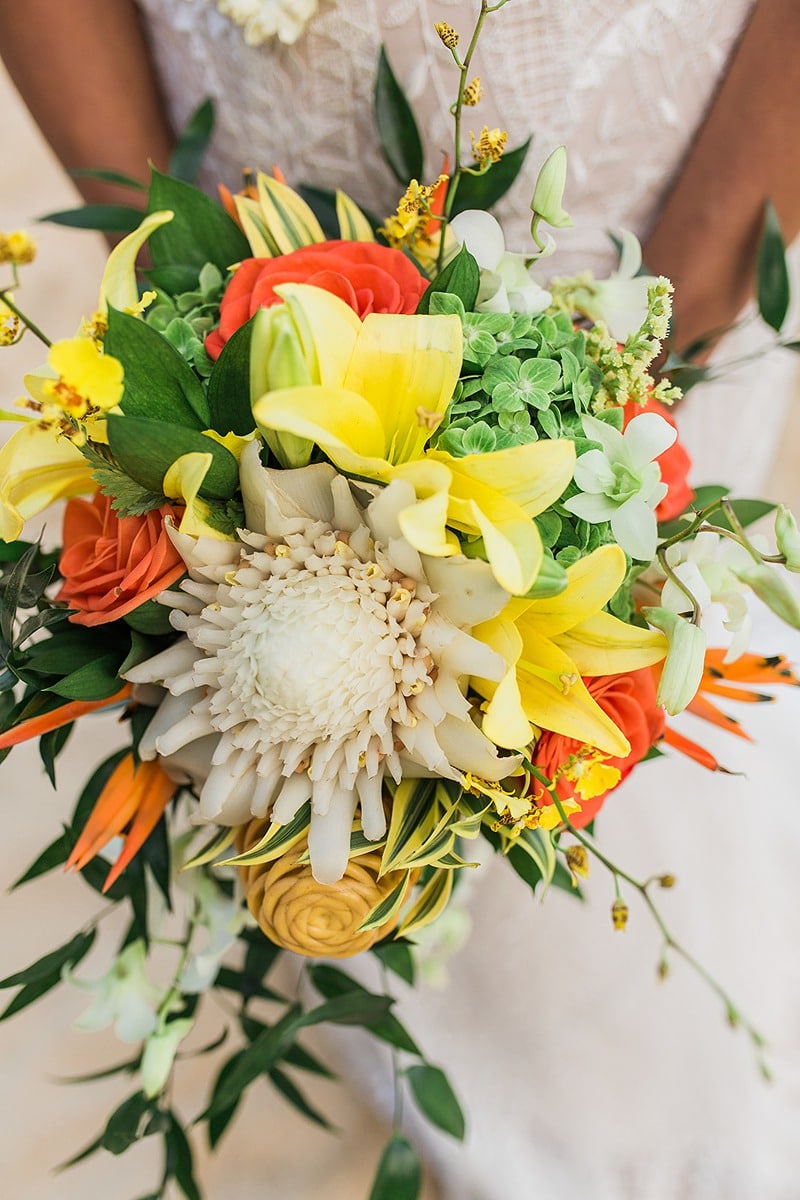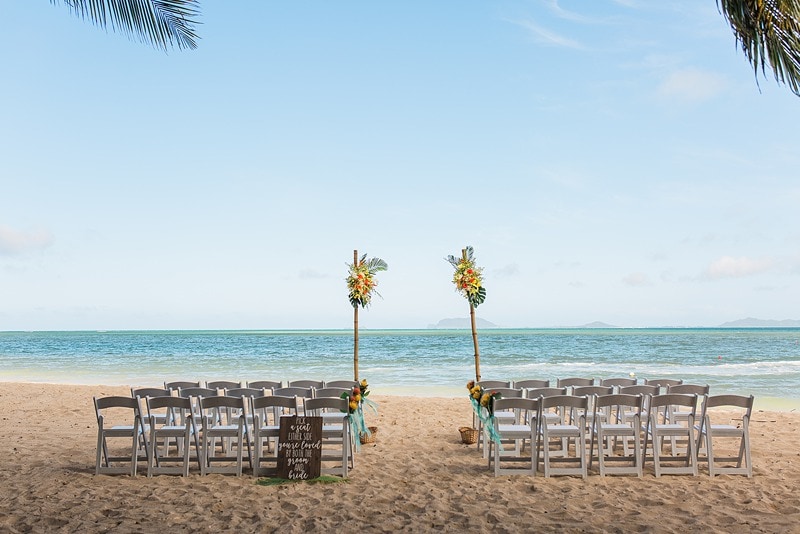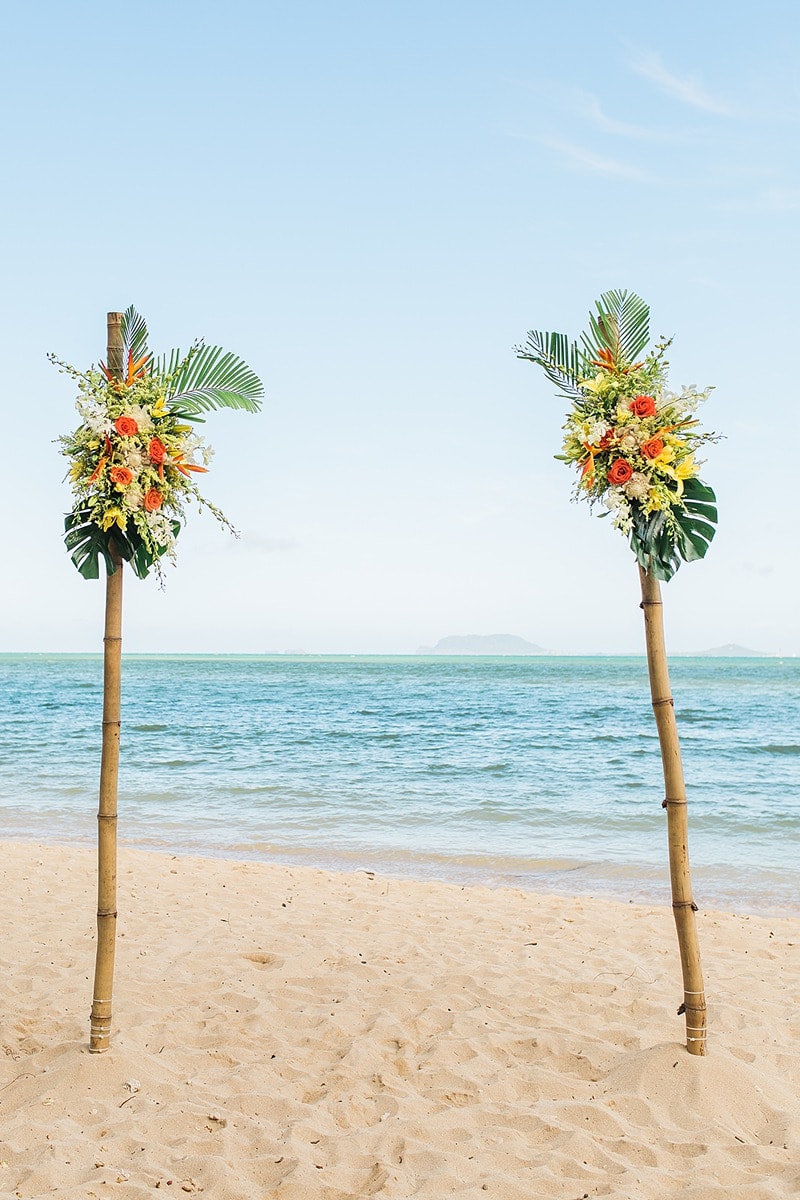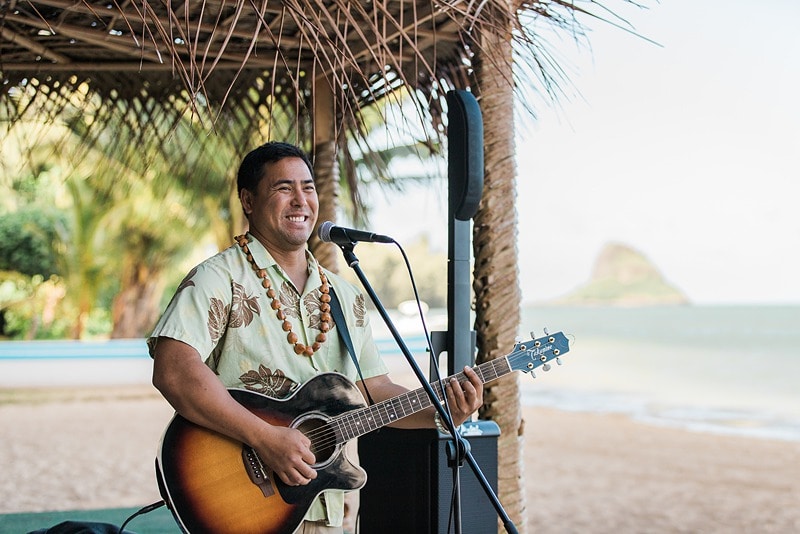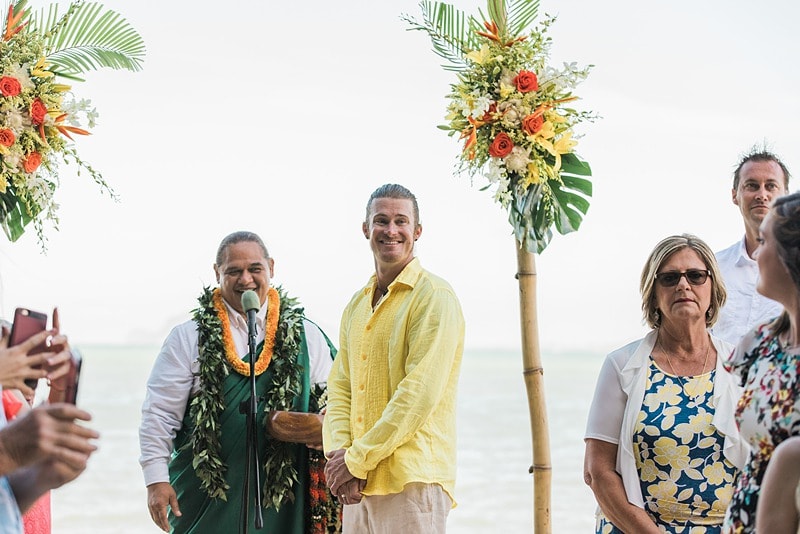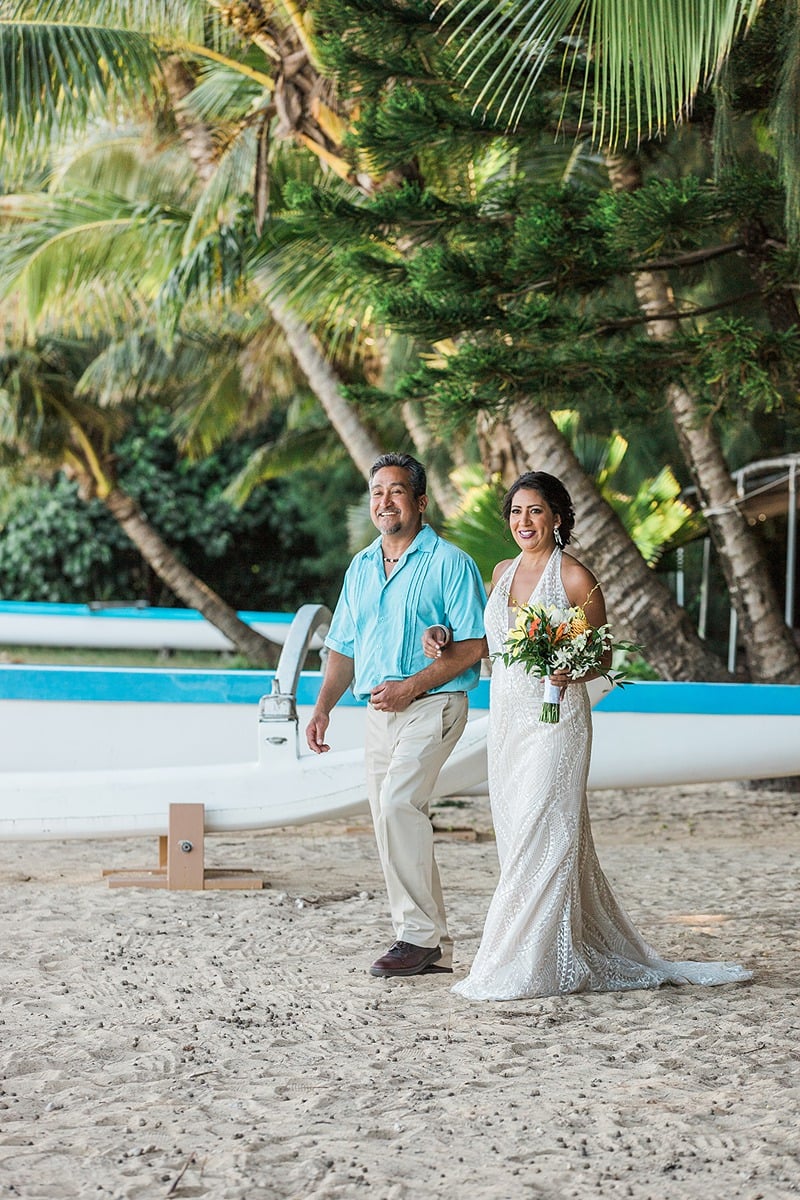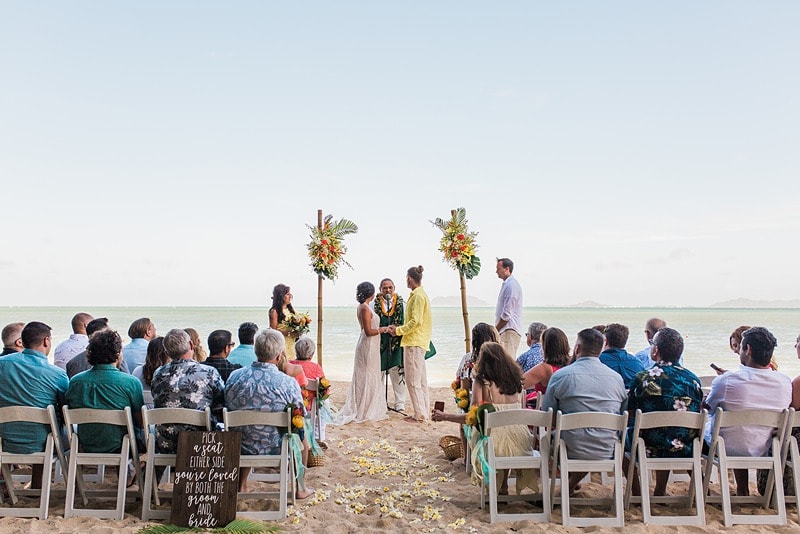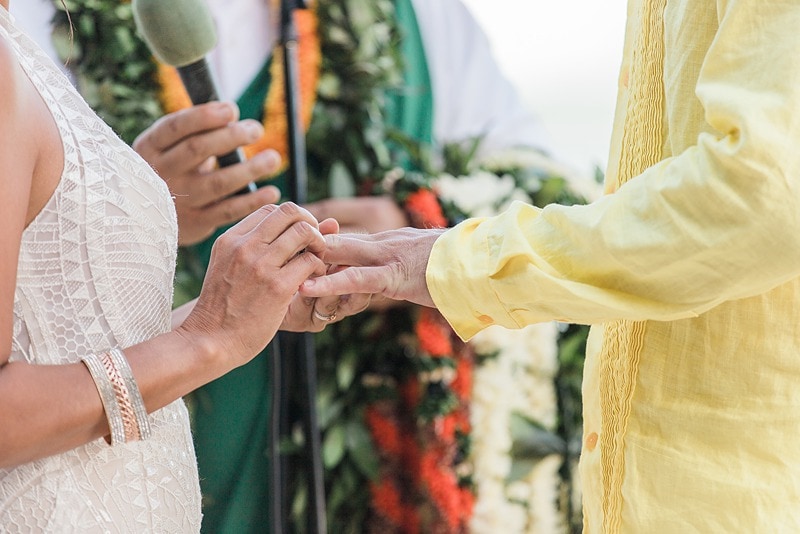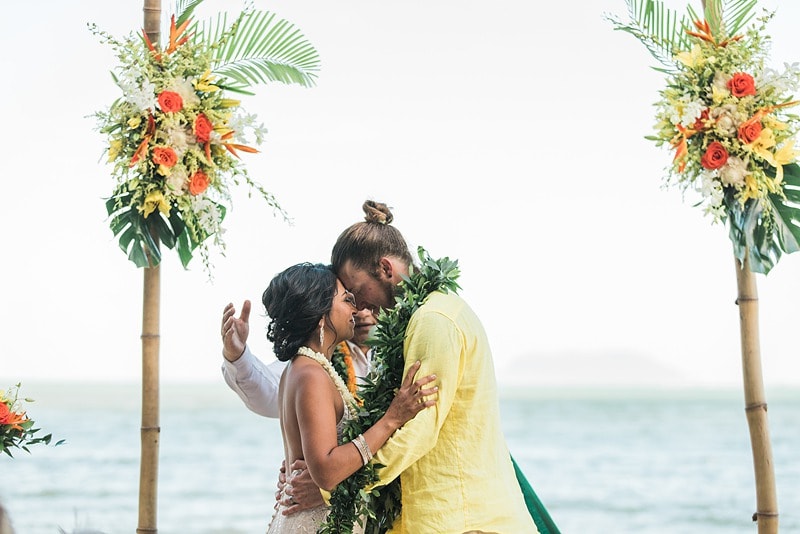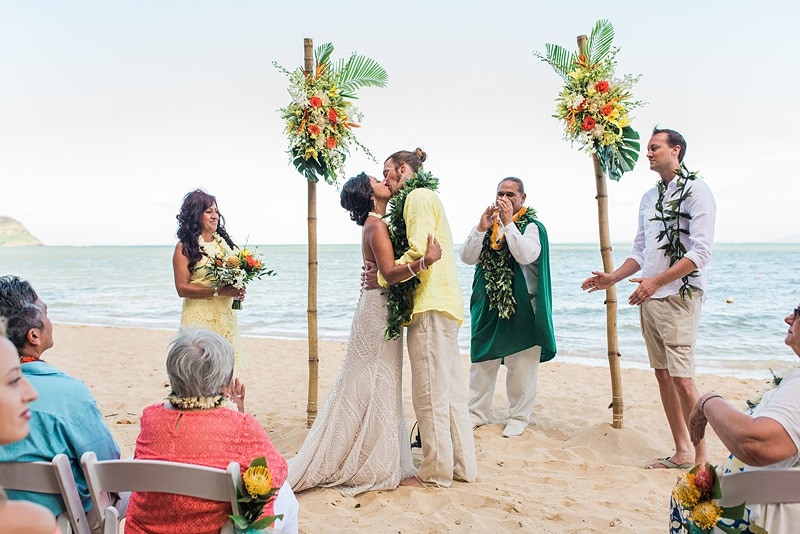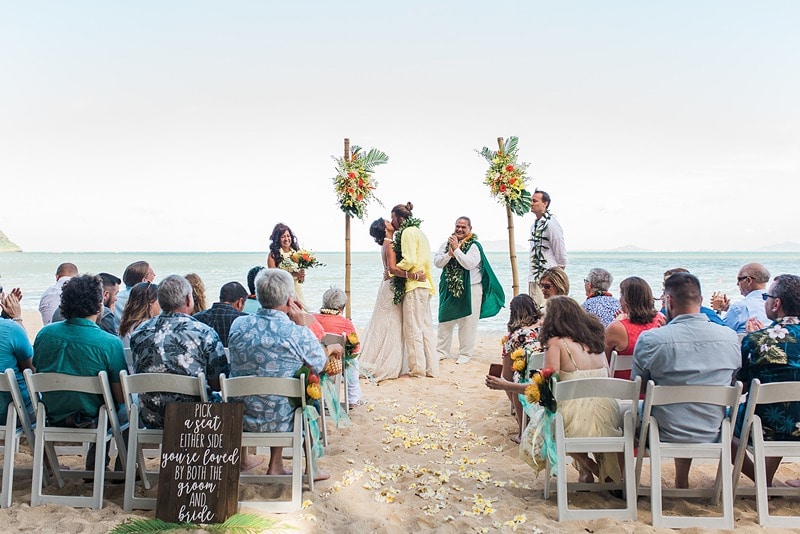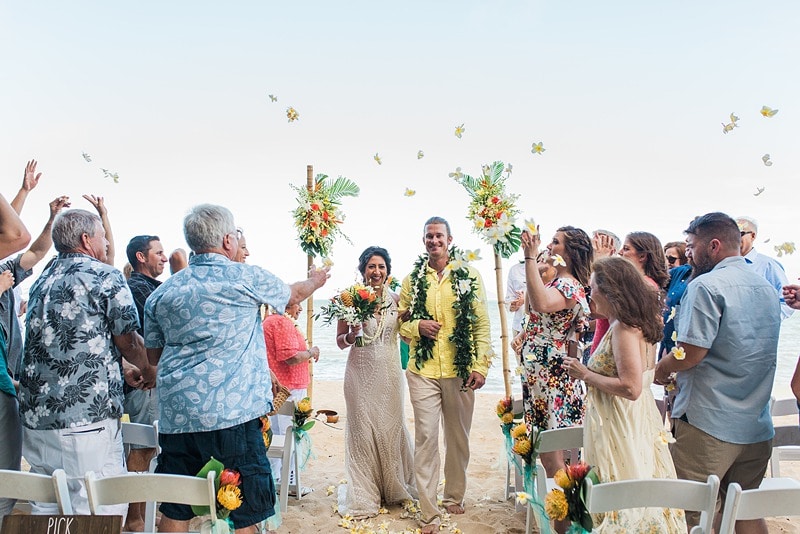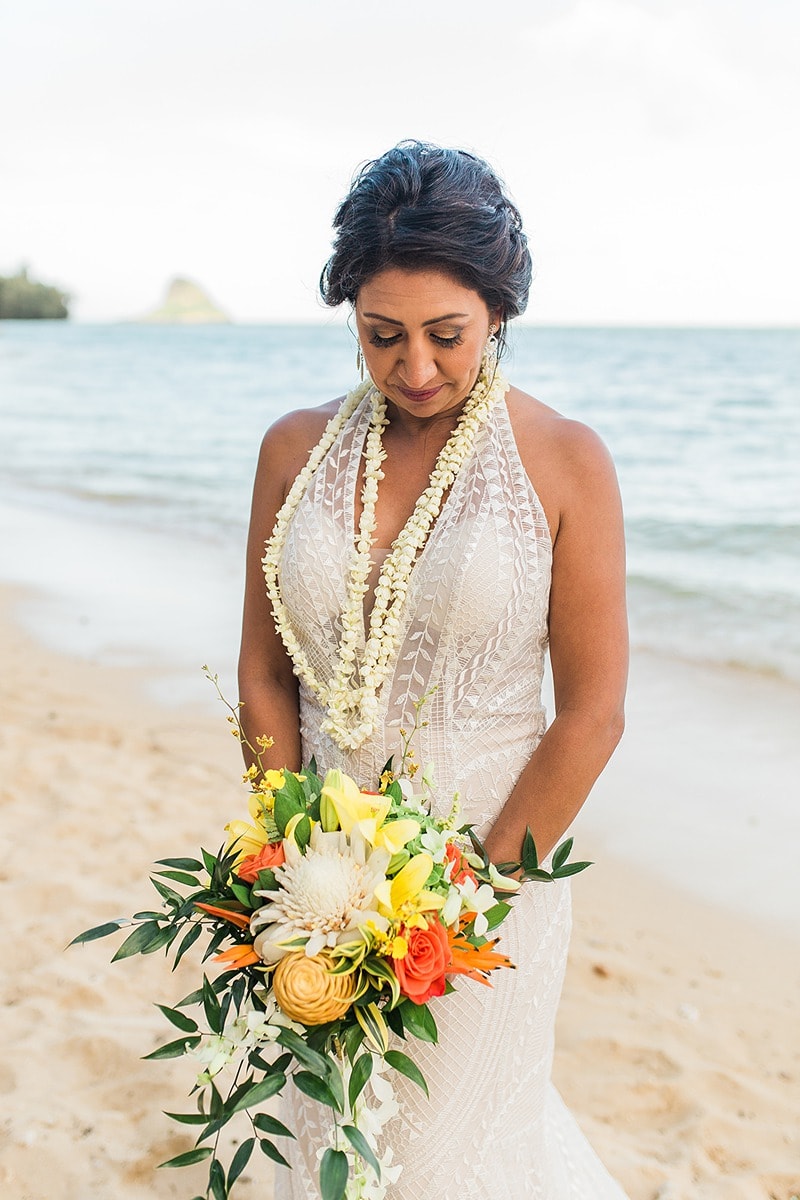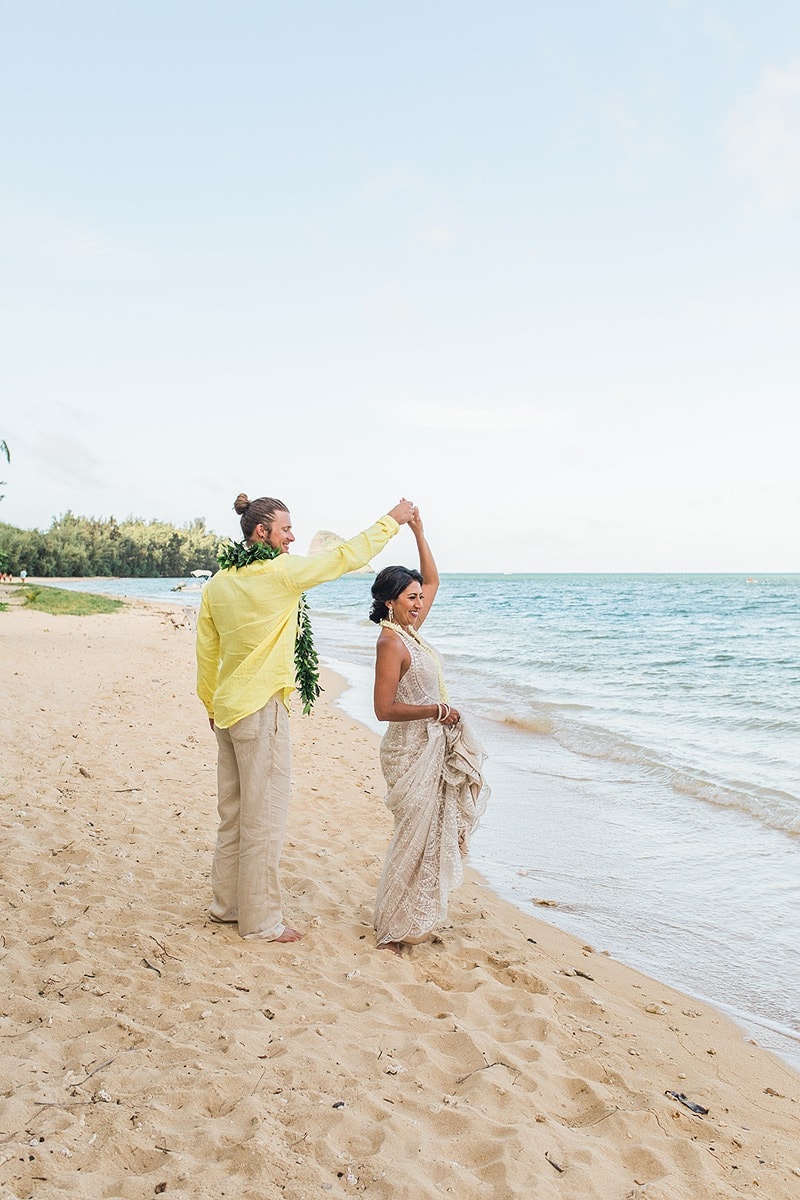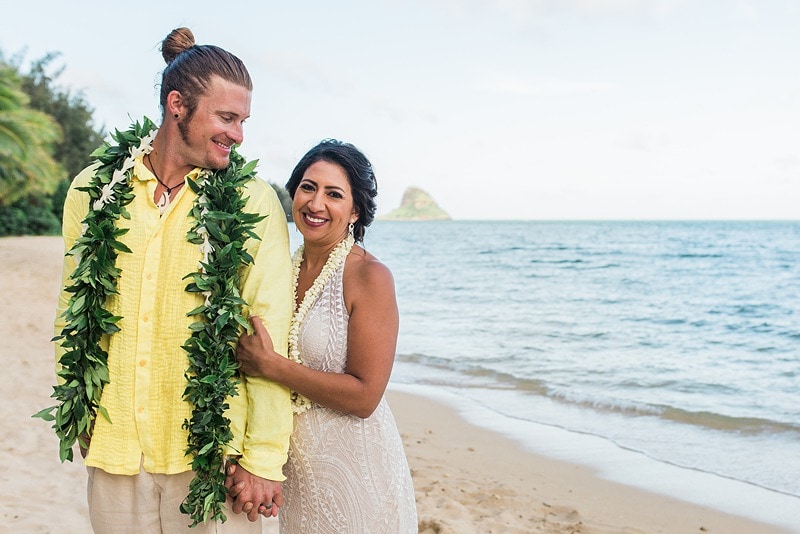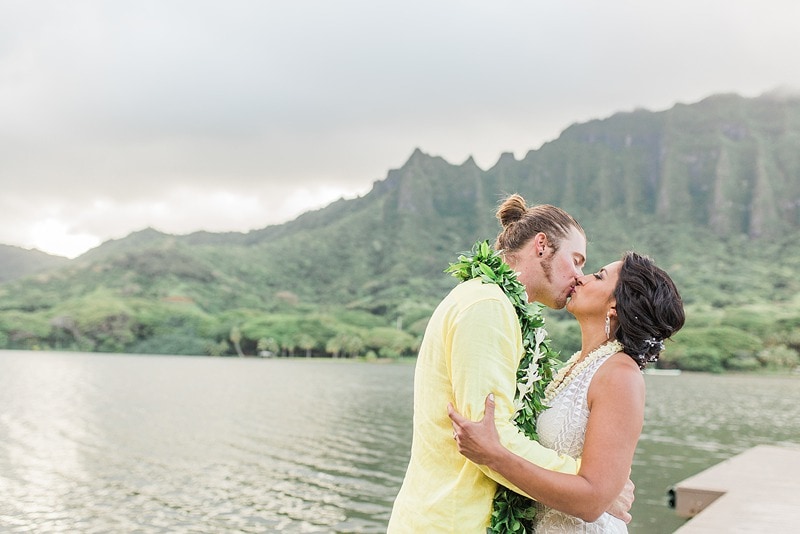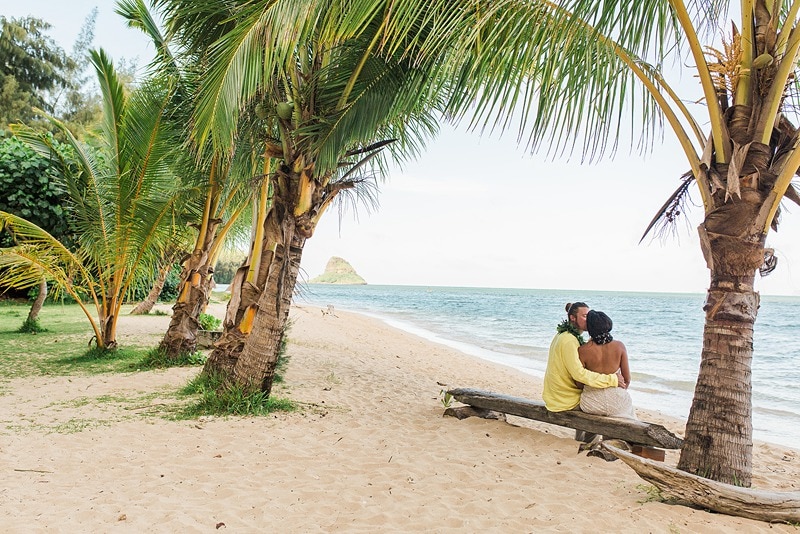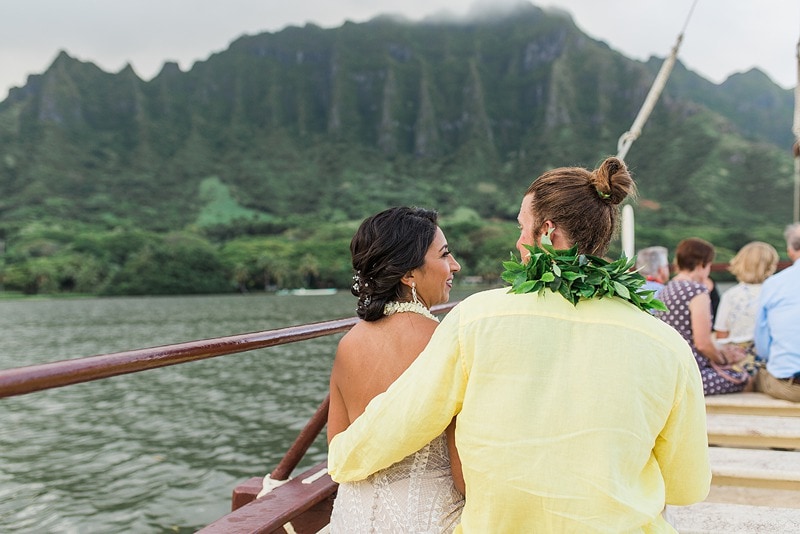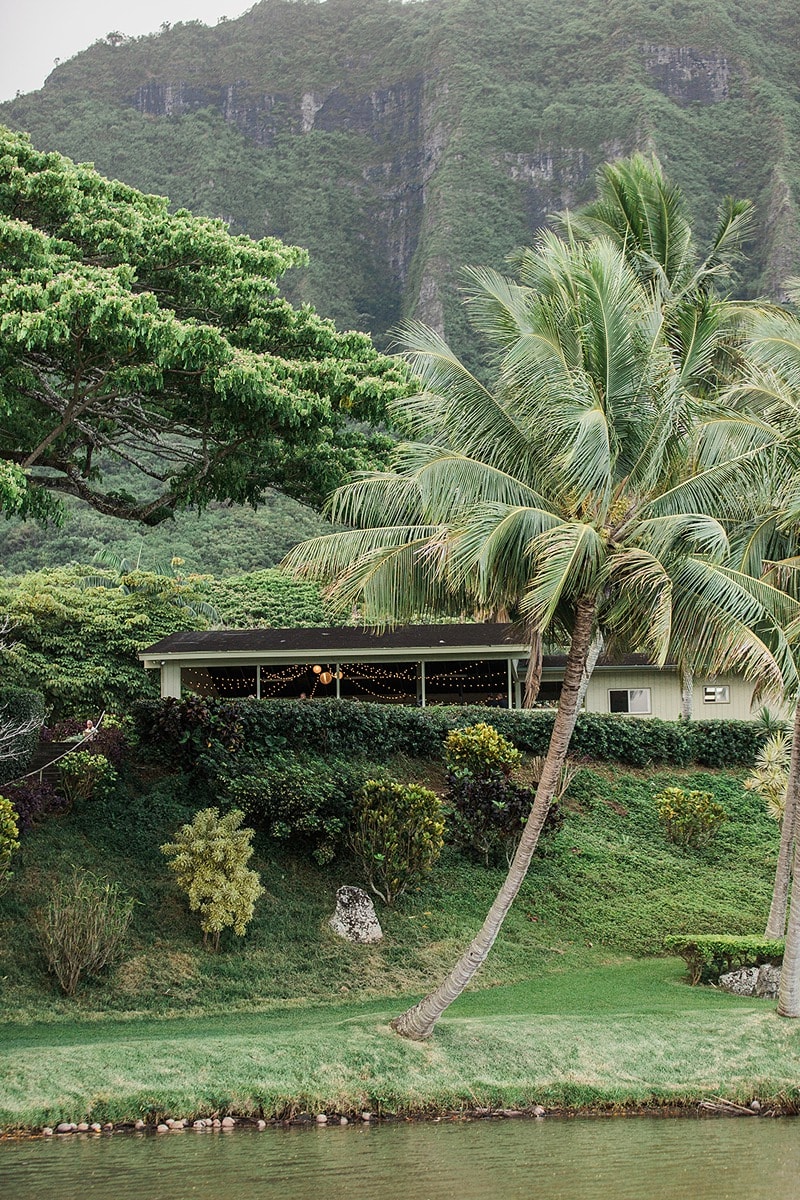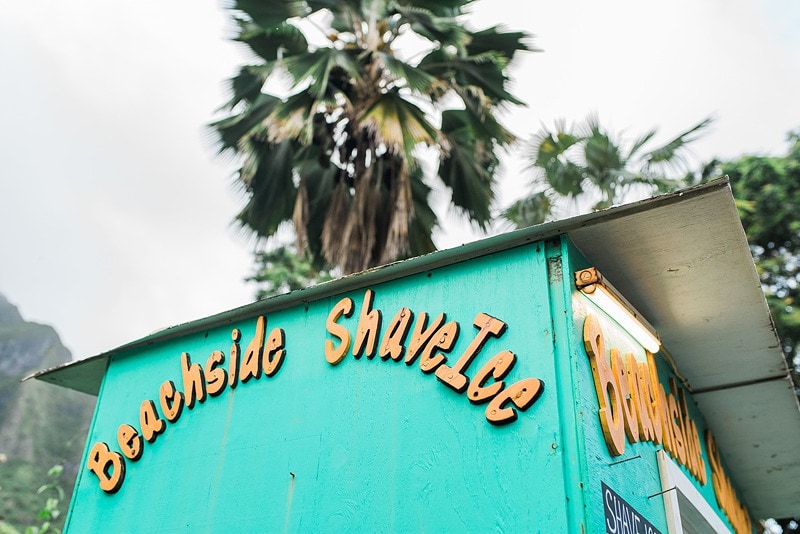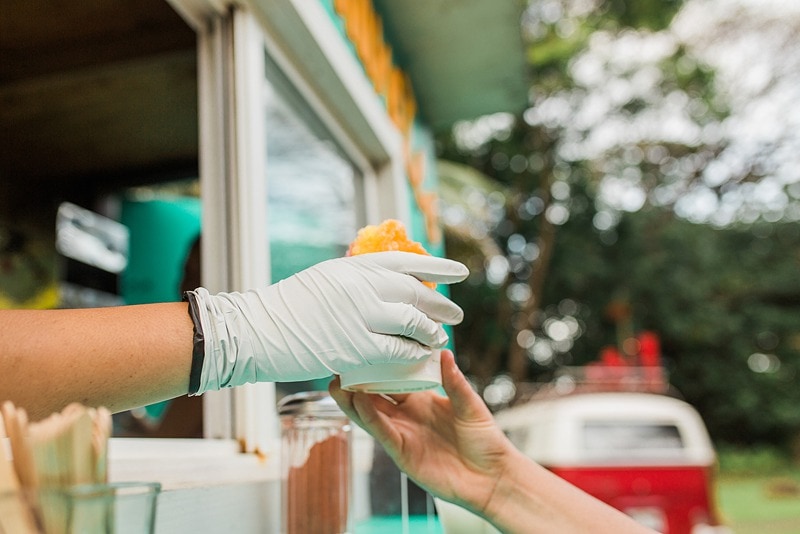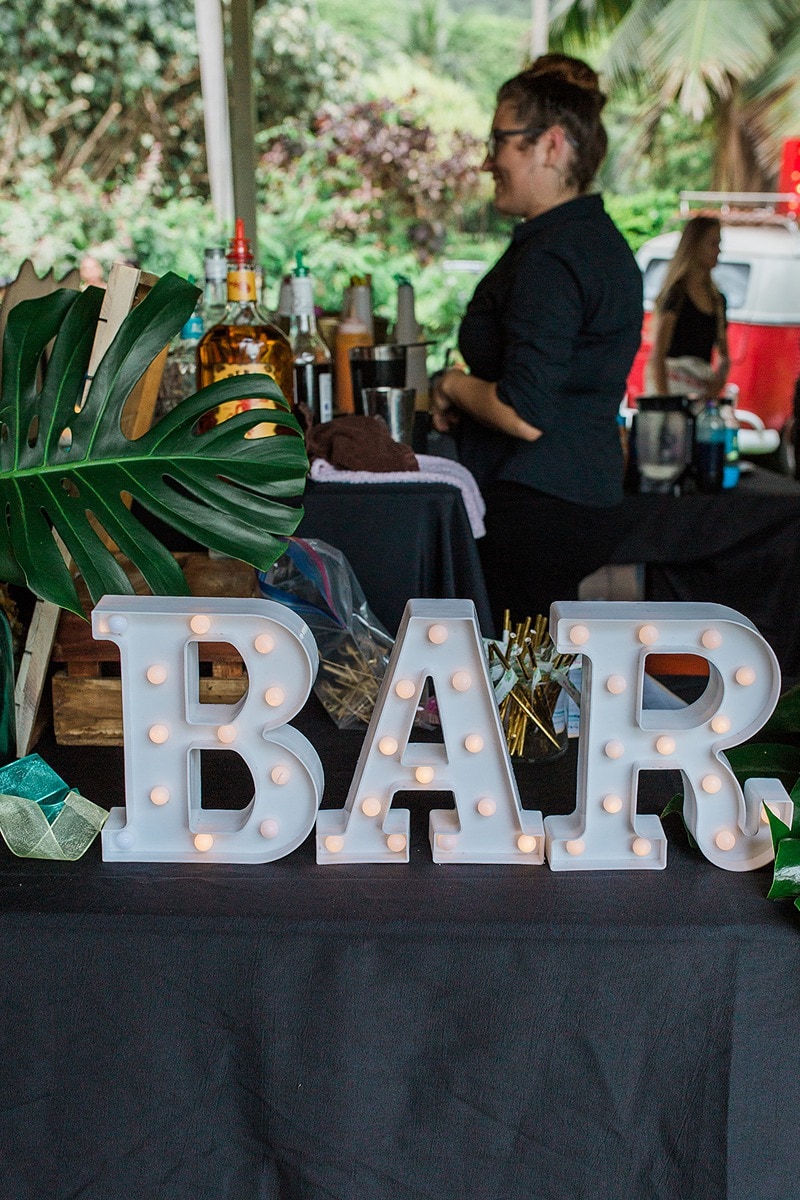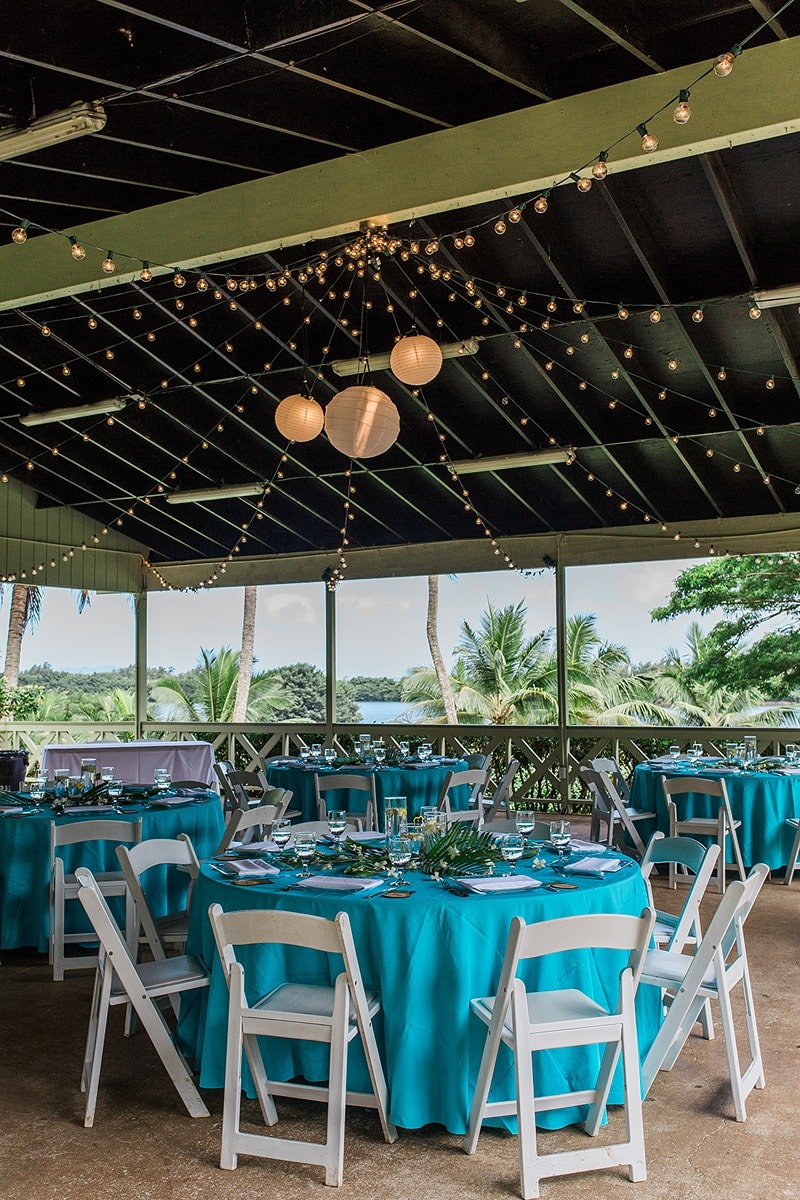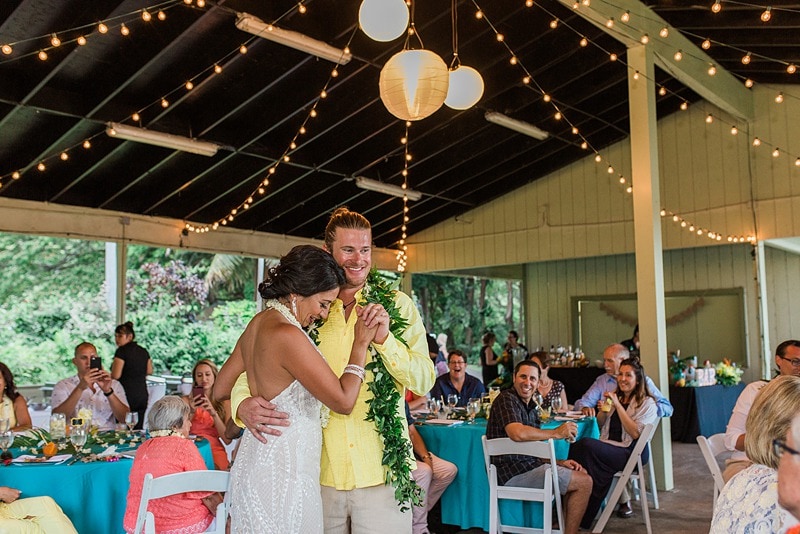 Q&A with the Bride
What is your proposal story?
Adam surprised me with the ring and proposal on a pier in Jamaica. It was early in the morning and we had just prepared our scuba equipment to dive later that morning. So, of course, my mind was focused on what else I needed to get my equipment all set. As we walked away from the dive shop I noticed his best friend was walking out towards the pier (clearing the way) and I wondered why he was going out there. Then Adam suggested we go out and join him. Well, I reluctantly agreed, completely unaware that he was taking me out to the end of this beautiful wooden pier overlooking the clear blue Caribbean waters of Jamaica to ask me to marry him!
Tell us a little a bit about your destination wedding in Oahu.
We have visited Hawaii many times over the years and just love the diversity of the island of Oahu. So it was a pretty easy decision to get married on Oahu, just had to figure out the best venue. And Kualoa Ranch had everything we wanted and more. We could get the private beach wedding we wanted and a protected fully capable reception area to party in afterward! The boat ride in between the two locales was ideal for us as we love being on the water. Our wedding style was all tropical, very Hawaiian focused, not much of a traditional feeling to it. Aquamarine blue and sunshine yellow were the theme throughout to keep the tropical vibe going.
Tell us about your attire.
Adam wore tan linen pants and a sunshine yellow linen top. My ivory dress was long and a halter style with light embedded flower designs and jewels lining it. I was barefoot for the beach ceremony but had tall jeweled heels to match my dress for the reception and dancing.
What was the most important to the two of you while planning your destination wedding in Oahu? Was there anything that you chose to splurge on or skip?
We splurged on the experience. We skipped the cake, the bouquet and garter toss, and anything else that seemed too traditional and not our style. We wanted to maximize our time dancing and extended the photo bus since everyone seemed to love it. We also had a shaved ice truck on site before dinner and that was totally worth it. Instead of cake, we had Malasadas served to the guests. And we had to choose to either close the photo bus down early or do the bouquet and garter toss, we kept the photo bus and do not regret it.
What were your favorite parts of the day?
The toasts from our family were so memorable. The dancing was great! I did a "thank you dance" to thank all of the guests for coming to Hawaii for us. So the DJ started the song we wanted and encouraged everyone to get on the floor with us and dance to it. Then once everyone was out there I had planned for my nieces to throw mini beach balls on the dance floor. That's when everyone started throwing the balls at each other and dancing to fun music and I think my 84-year-old mother had the most fun tossing beach balls at family's heads!
Tell us about your wedding flowers.
Beautiful tropical flowers throughout. With yellow plumeria leaves lining the aisle. So pretty!
What did you do for favors?
Pineapple shaped "you had me at aloha" cork coasters with our namesake on it. Gummy bears in cellophane bags with our name and beach chairs on it. Blue Cocktail napkins that said our names on it and a thank you.
Please describe any personal details.
The thank you dance was all my idea. And my nieces and sister in law helped immensely with the signs and decorations. They made it all so beautiful without me even asking. I am so grateful for that!
What's your advice for other couples planning a destination wedding in Oahu?
Do what you want. It's just money and you won't regret splurging on such an important day. It made all the difference to me to say yes to the things that really mattered. Our food was great, I didn't need to pay more for it to be fancy. Because it didn't matter to me. But if it matters to you, splurge!
What was the best part of having a destination wedding?
The best part was the beautiful tropical location on the beach that I couldn't get in Arizona.
What was the biggest challenge of planning your destination wedding?
The biggest challenge was figuring out how to pack the wedding dress, pack the big wooden signs (which my nieces somehow stuffed in their luggage), and all the favors and decorations that I bought ahead of time. I found that shipping to Hawaii was not practical. It was less expensive to pay for the price of one extra piece of luggage then it was to ship one small item to Hawaii.
Vendors:
Photography: Chelsea Stratso Photography
Venue: Kualoa Ranch
Event Planning: Tropical Moon Events
Floral: Events by Vanessa Olsen
Hair & Makeup: Whik'd Hawaii