If you choose to elope, especially to a destination as picturesque as the Shenandoah Mountains, you need to bring a team of talented vendors like those featured in today's styled bohemian elopement. Because it's not just the views from on top of the peaks that stunned me – it was the intense deep greens of the forest mixed with the jewel-toned flowers by Farida Florals that really stood out.
I'm floored by the trees that were strung up with an assortment of flowers that brought to life the bohemian vibe they were looking to portray. Every detail styled by ARJ Productions was impeccably chosen to echo that bohemian vibe, with the bride wearing a flowy two-piece dress, and the groom in classic navy blue. Even the bride's lovely custom ring resembles a starburst or a flower, and it really tied their look together. I am absolutely blown away by these photos which were captured perfectly by Maddy Williams. Enjoy!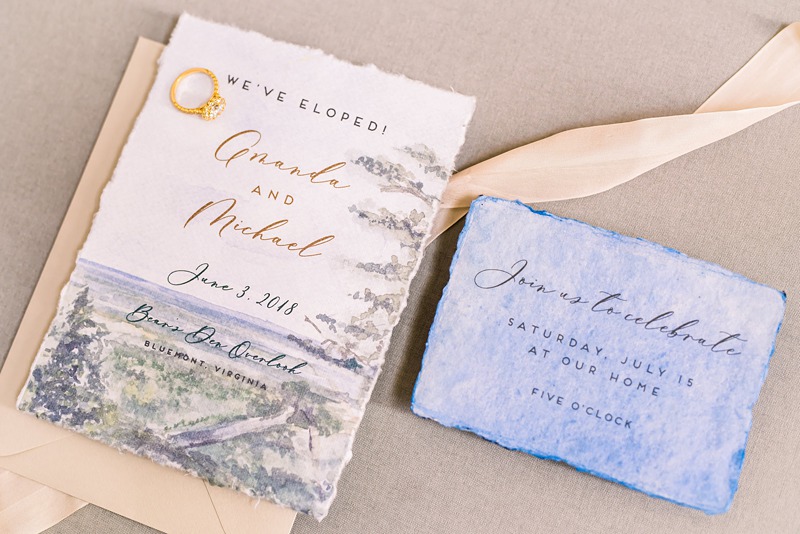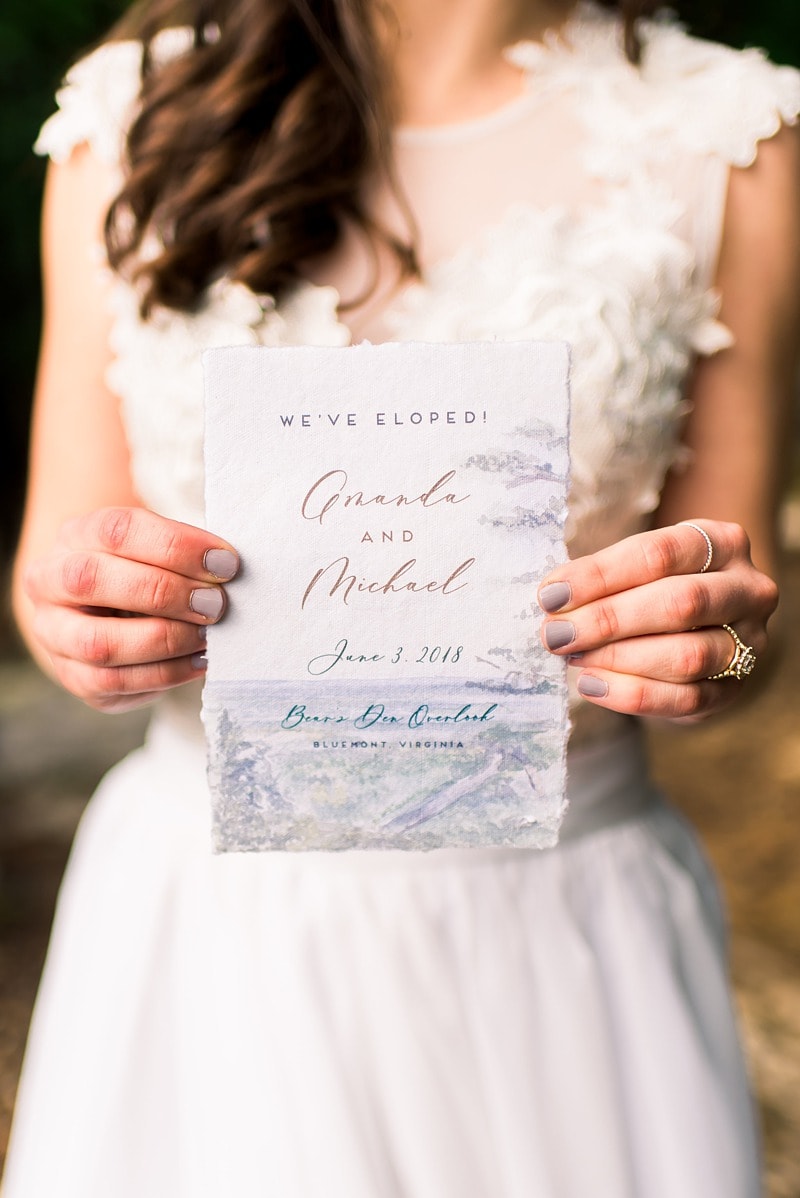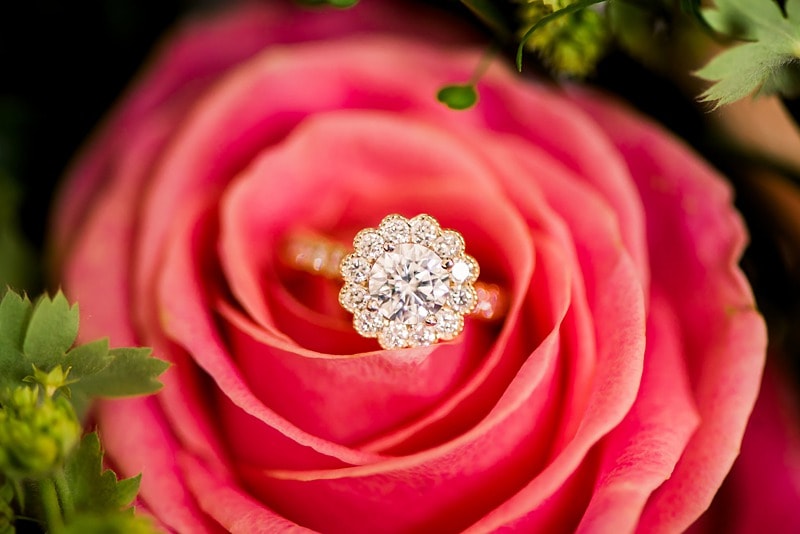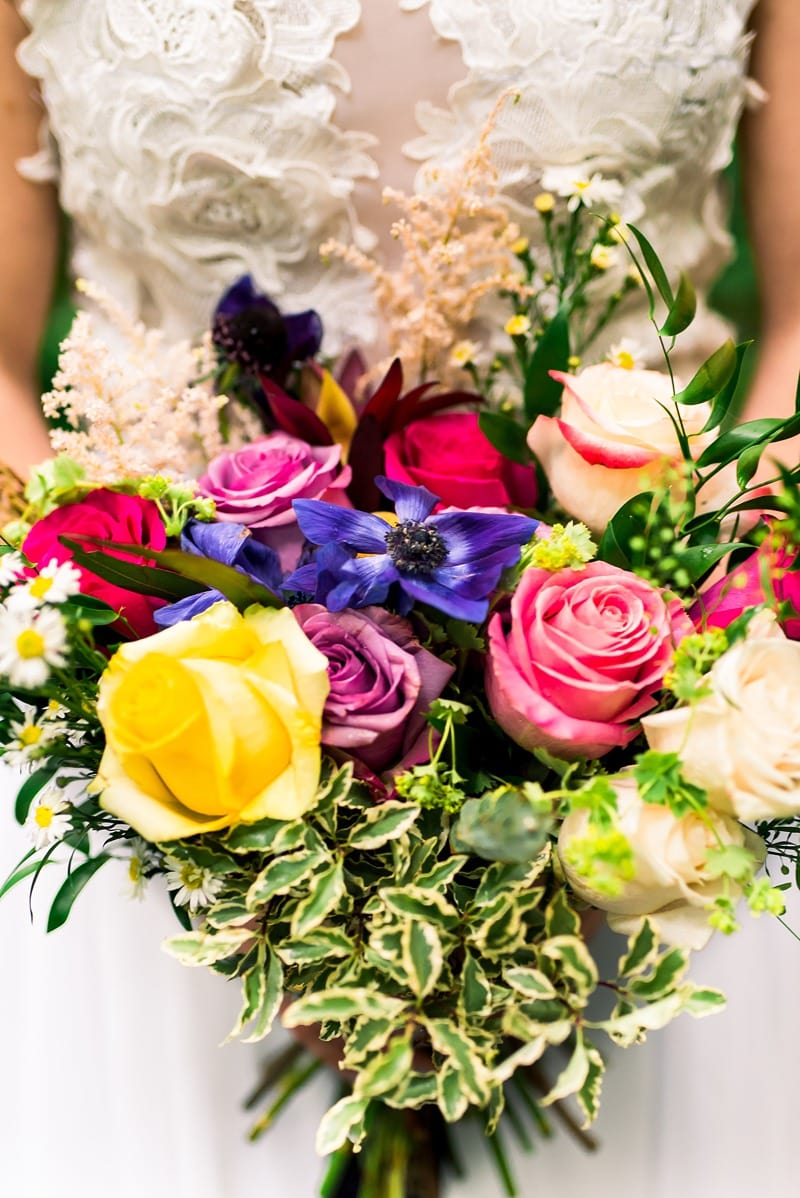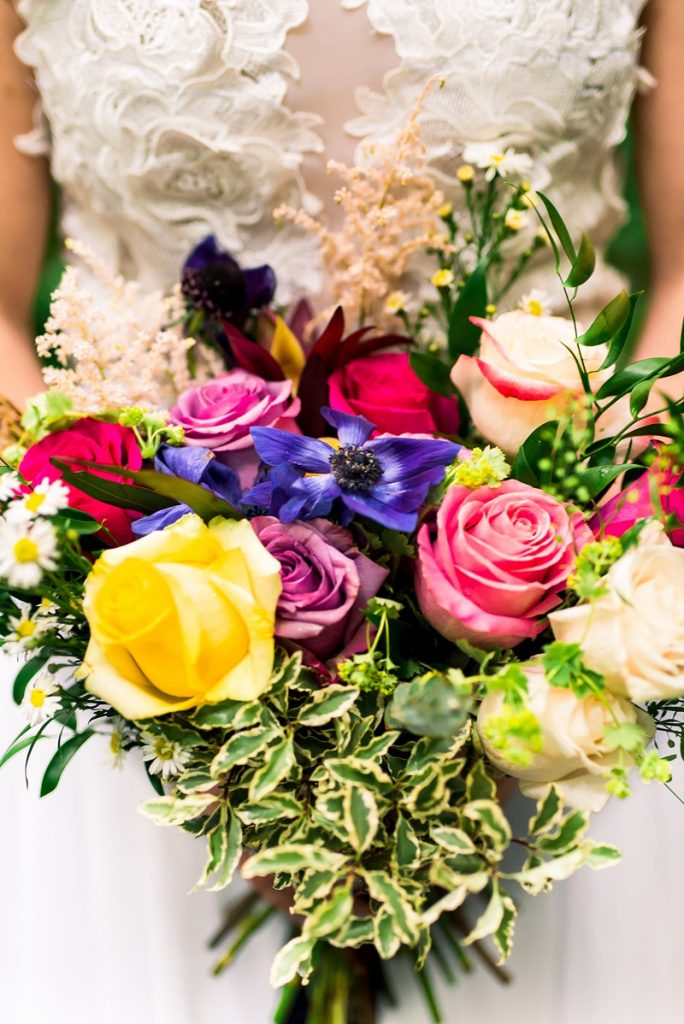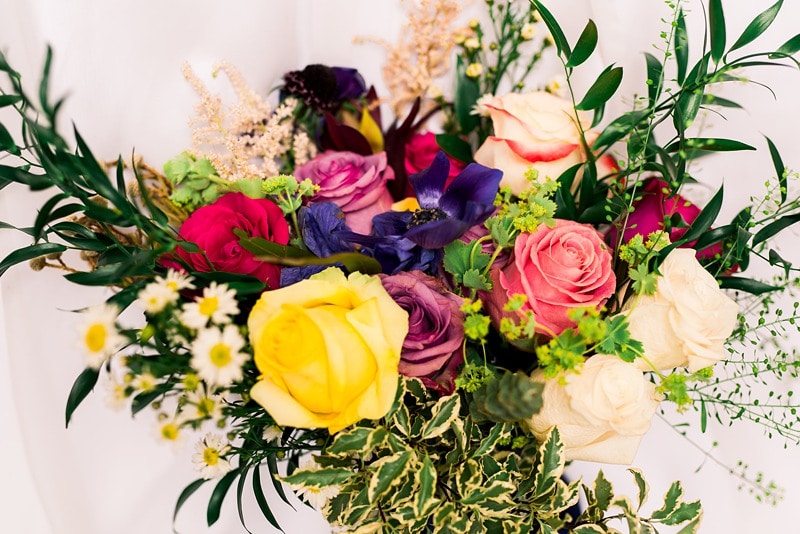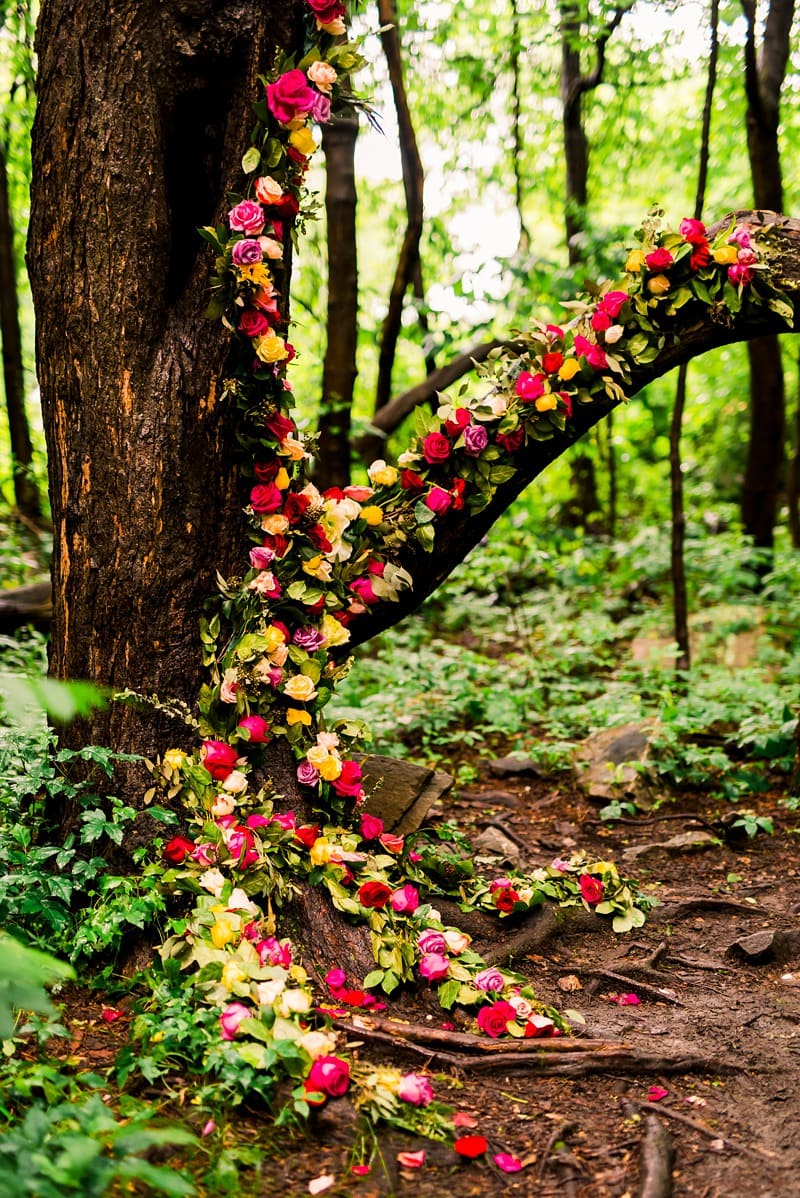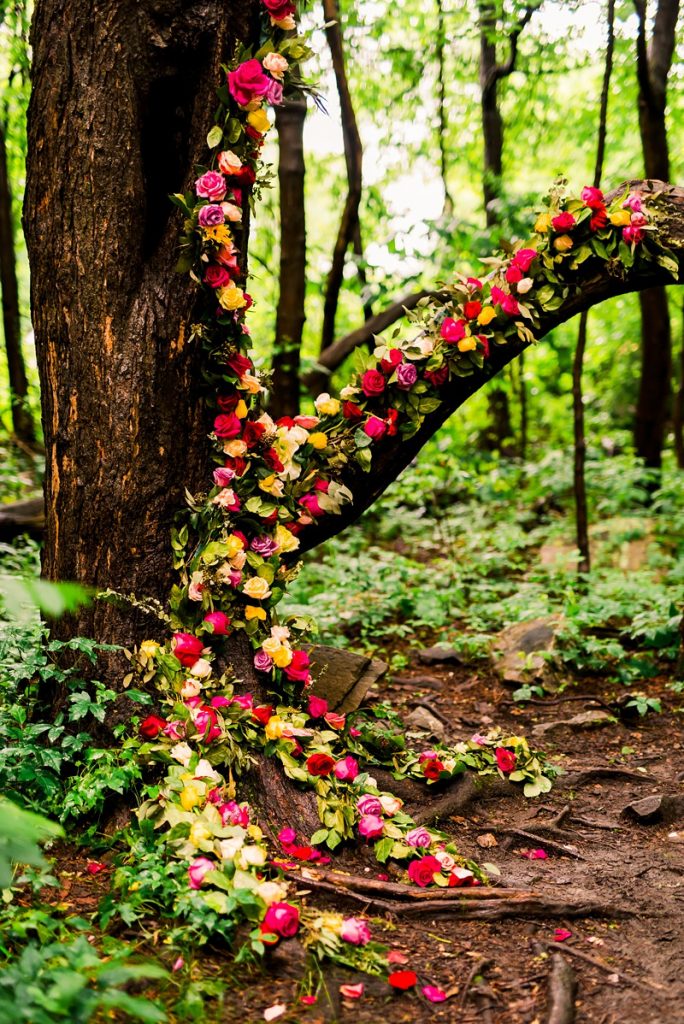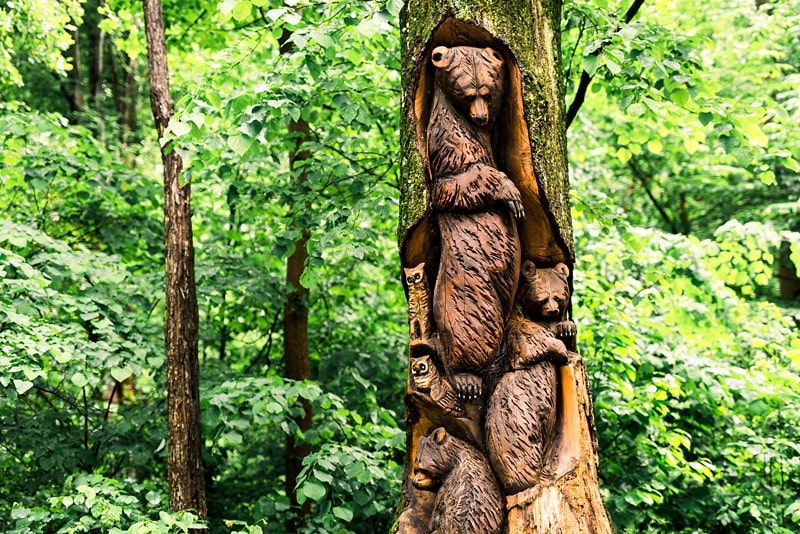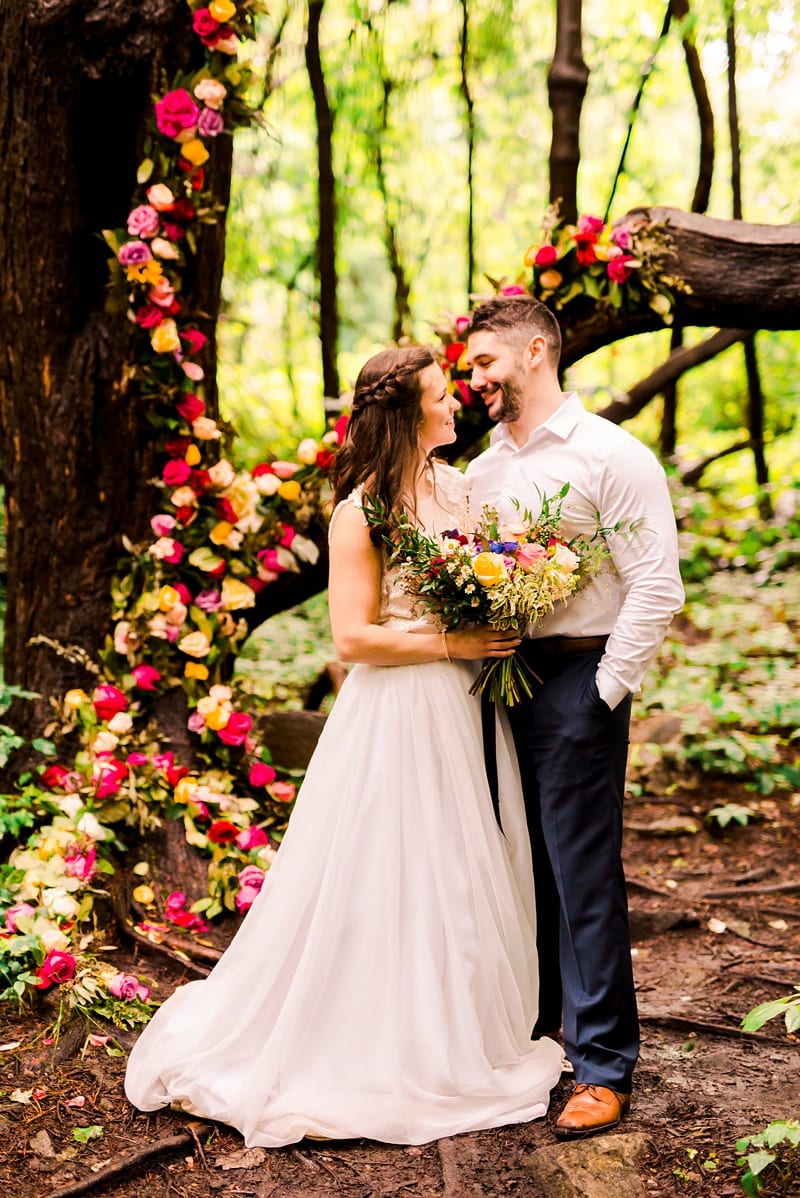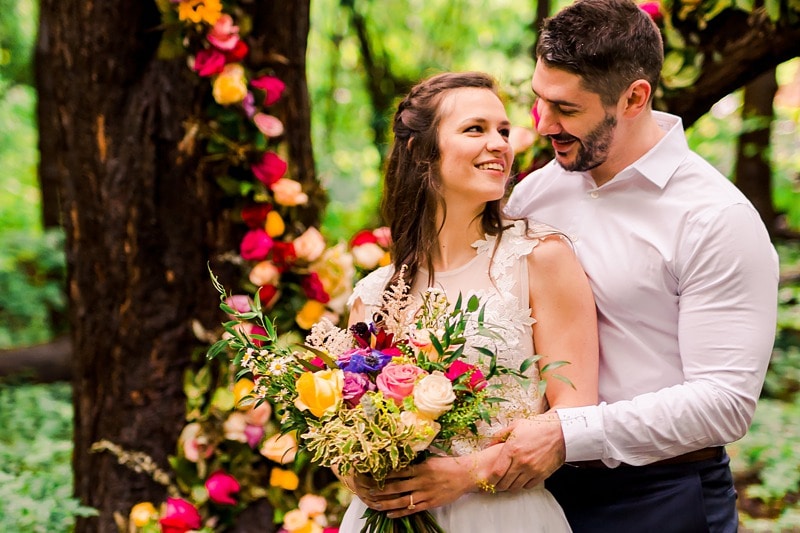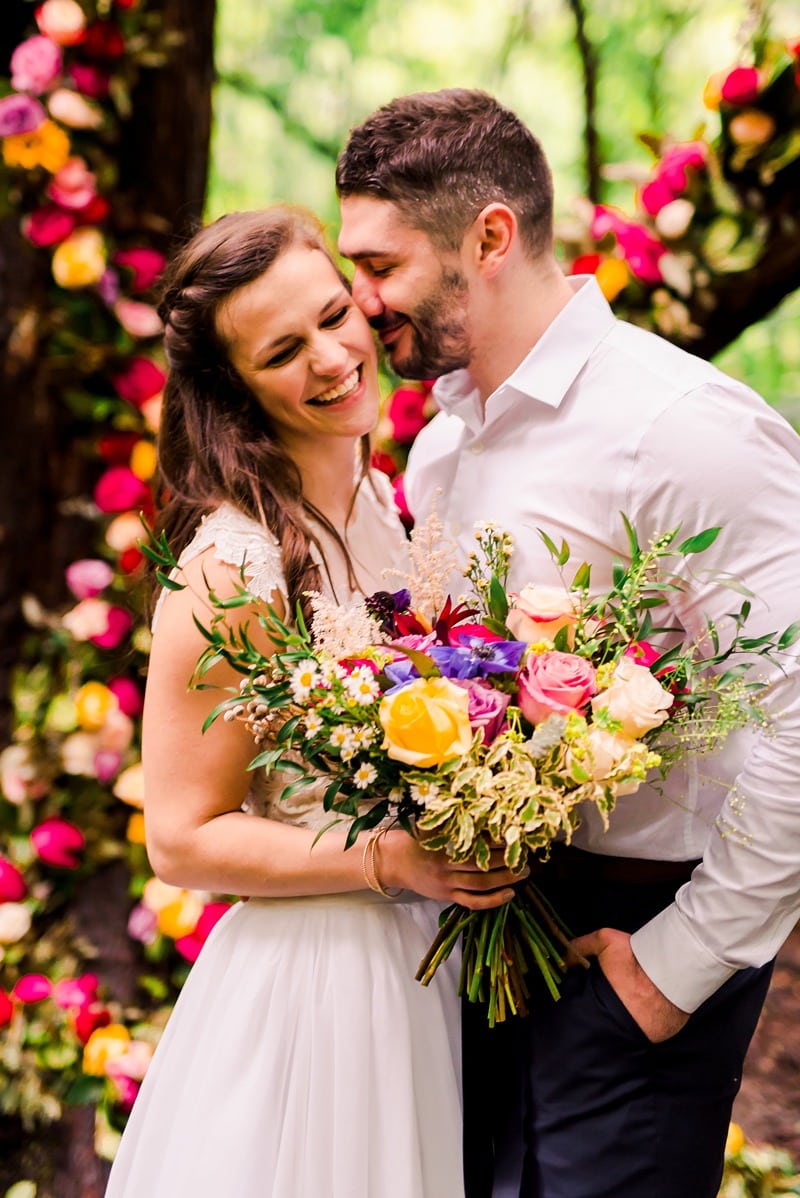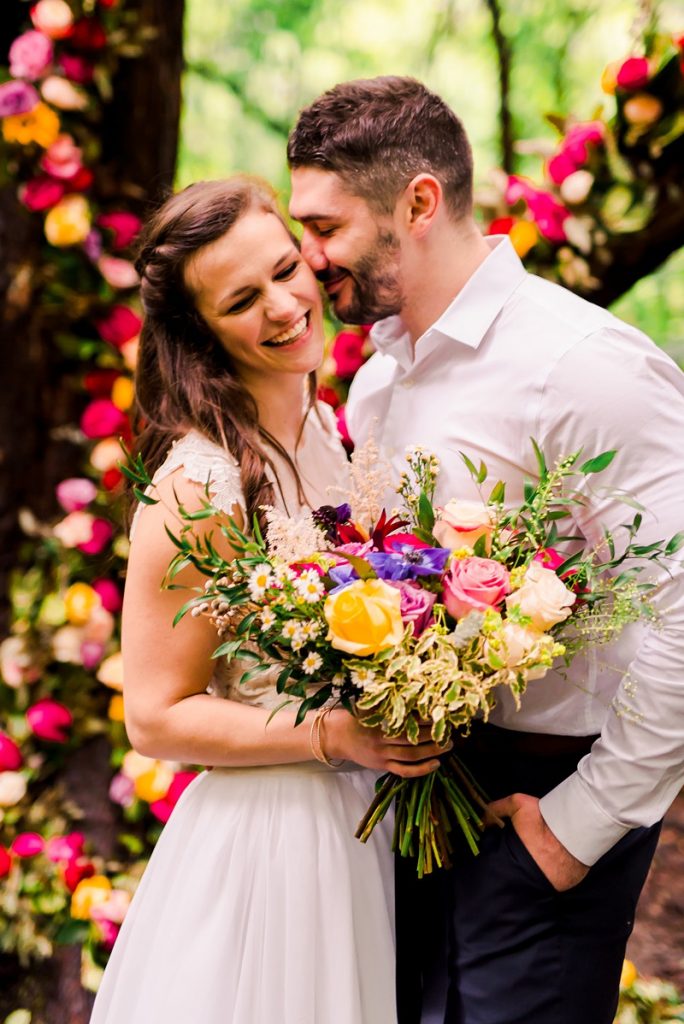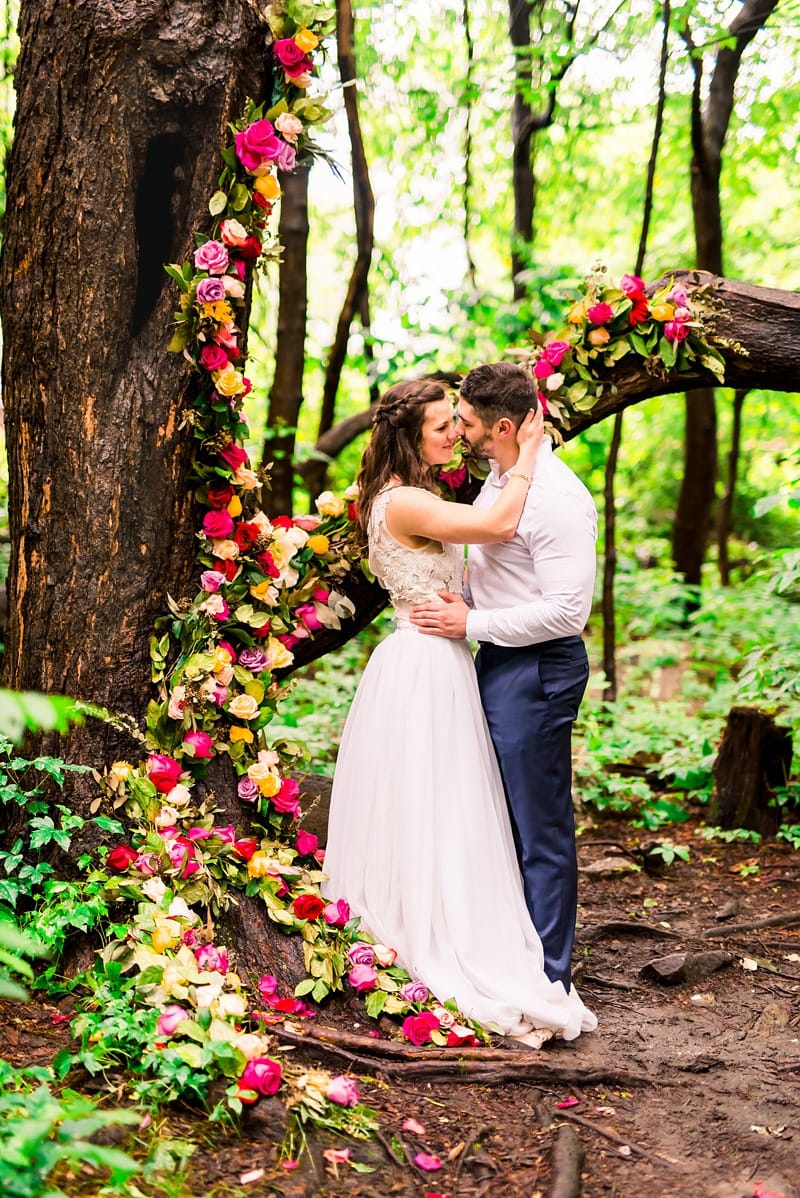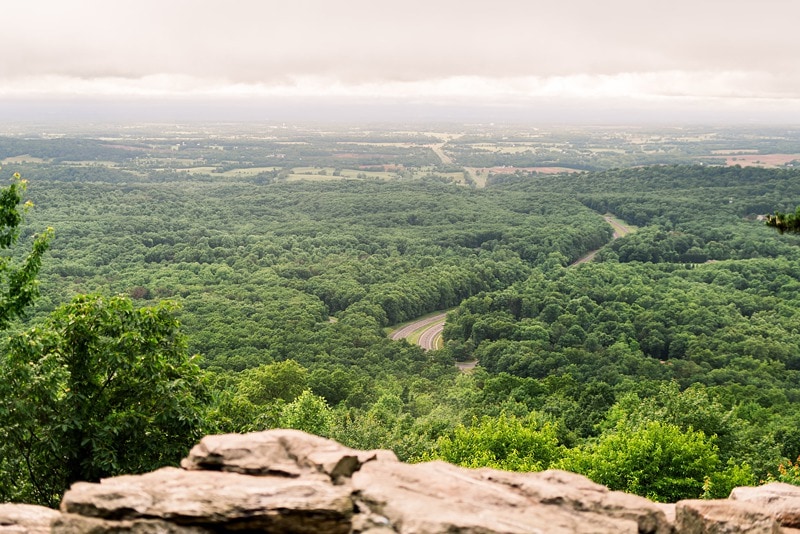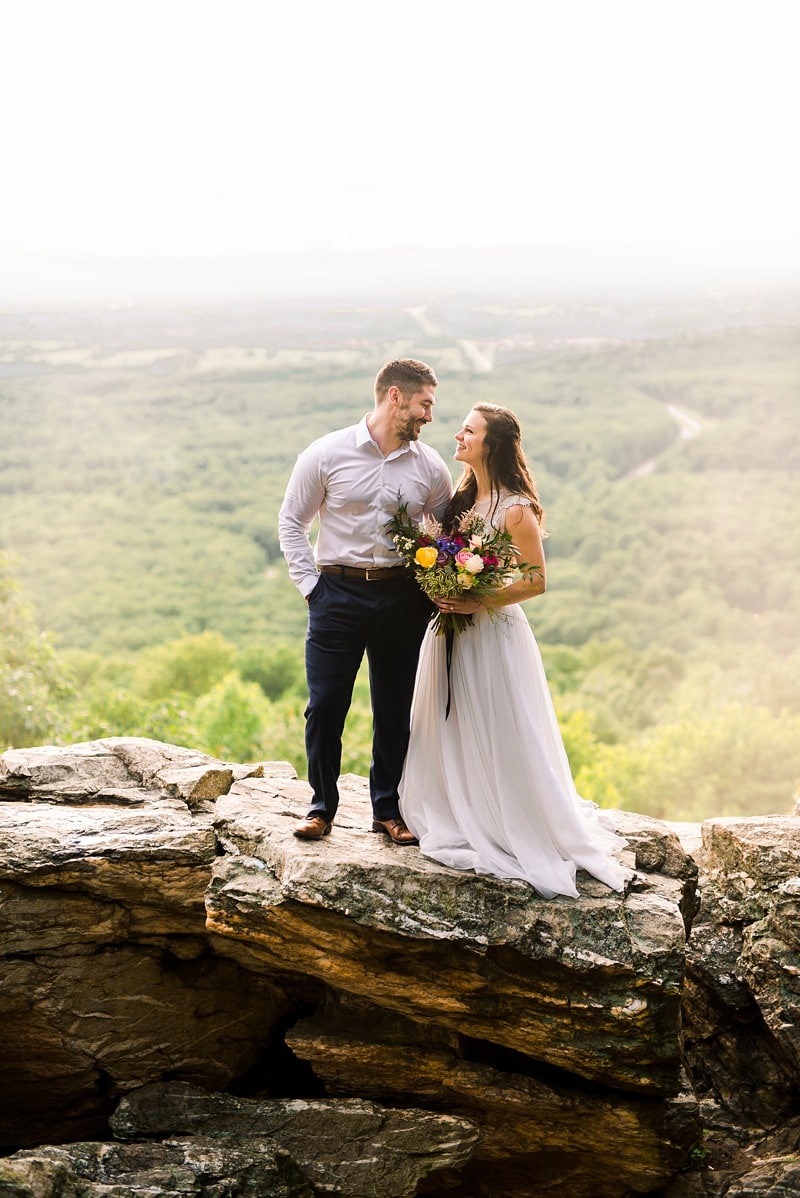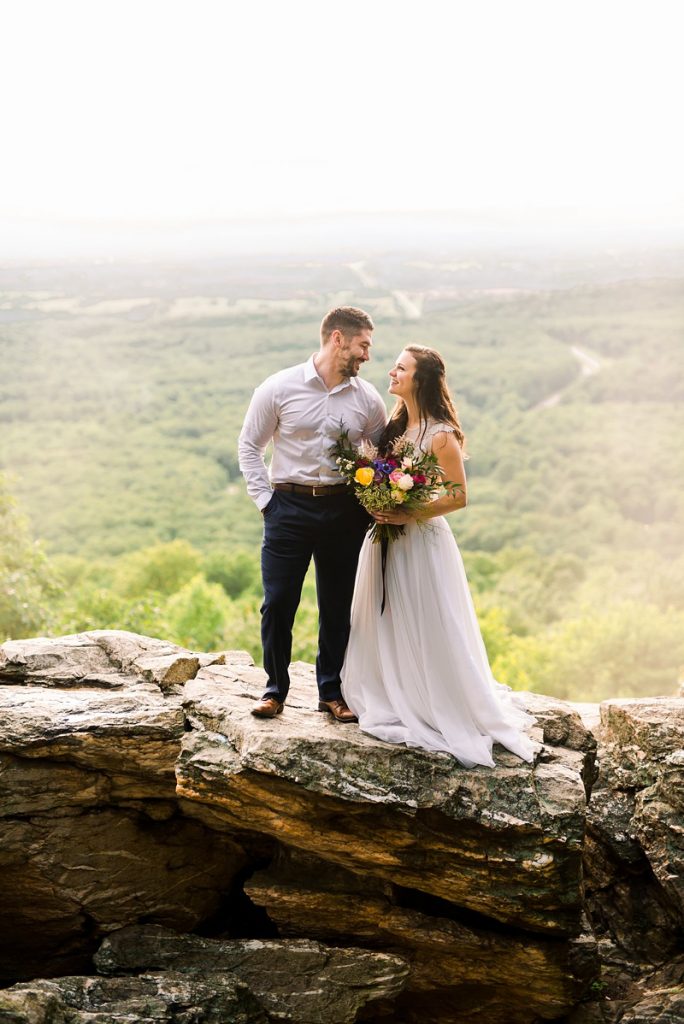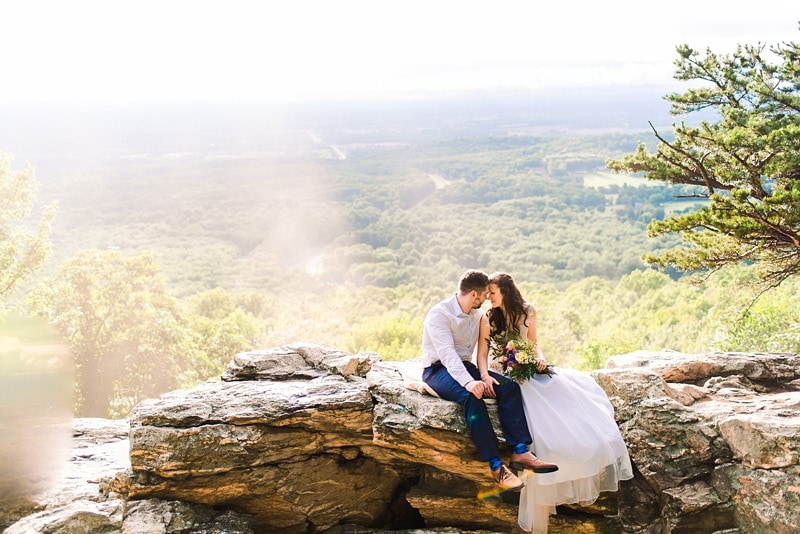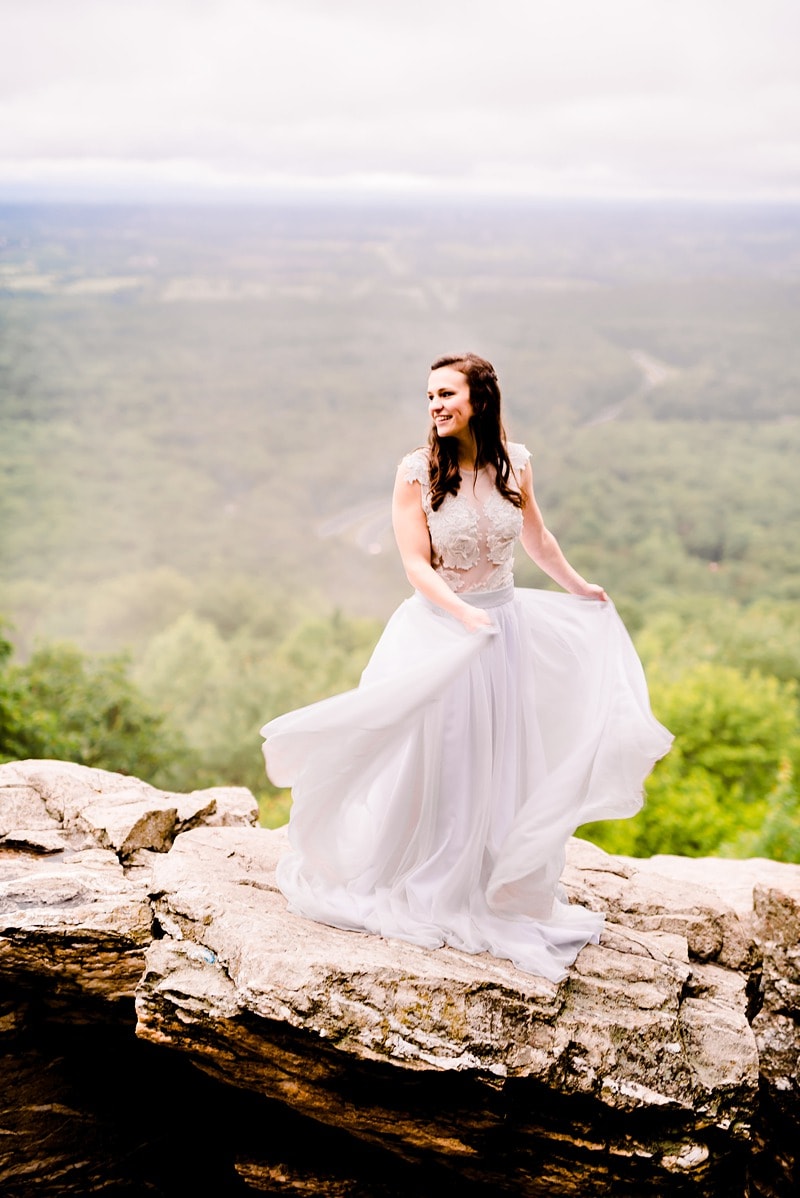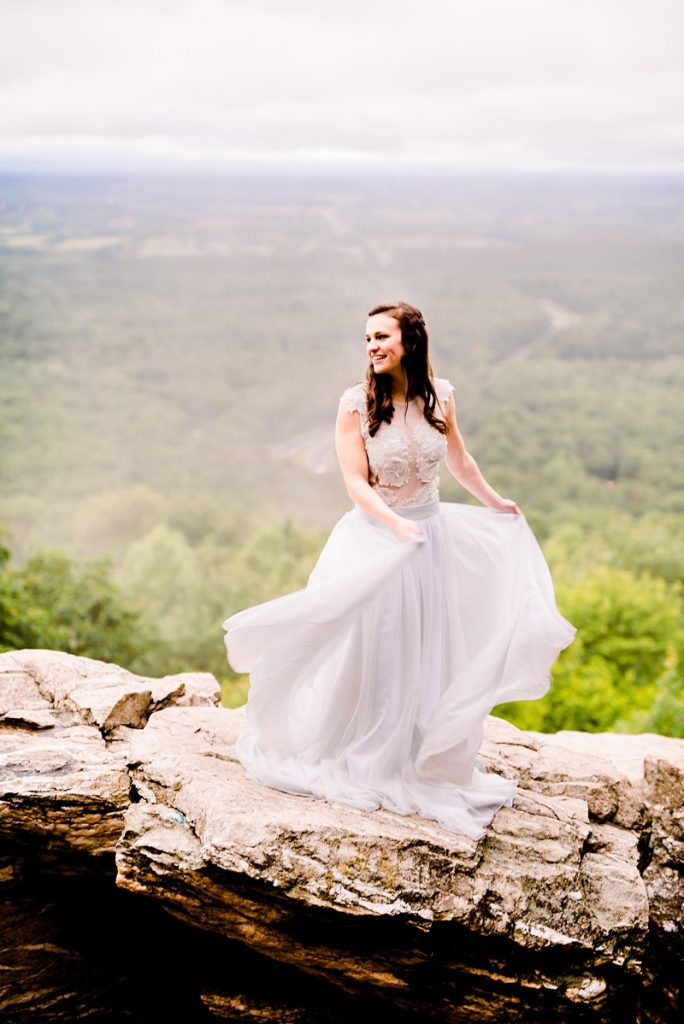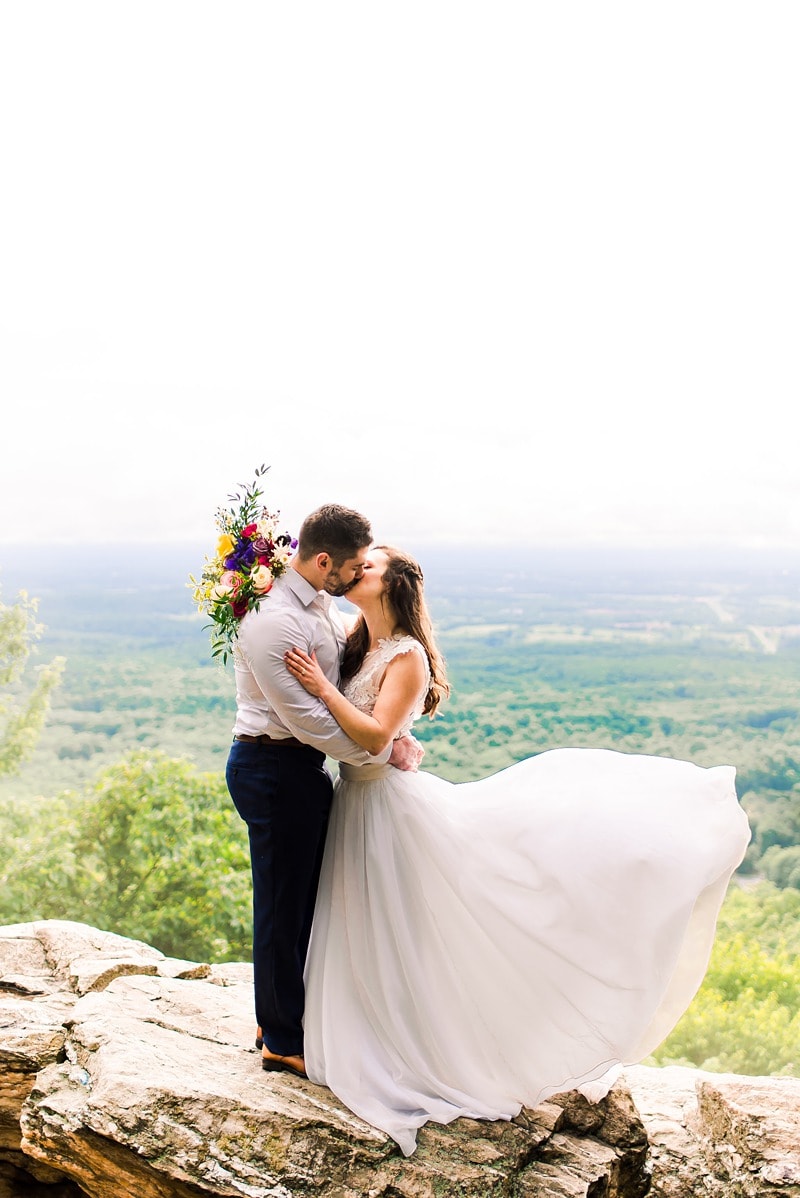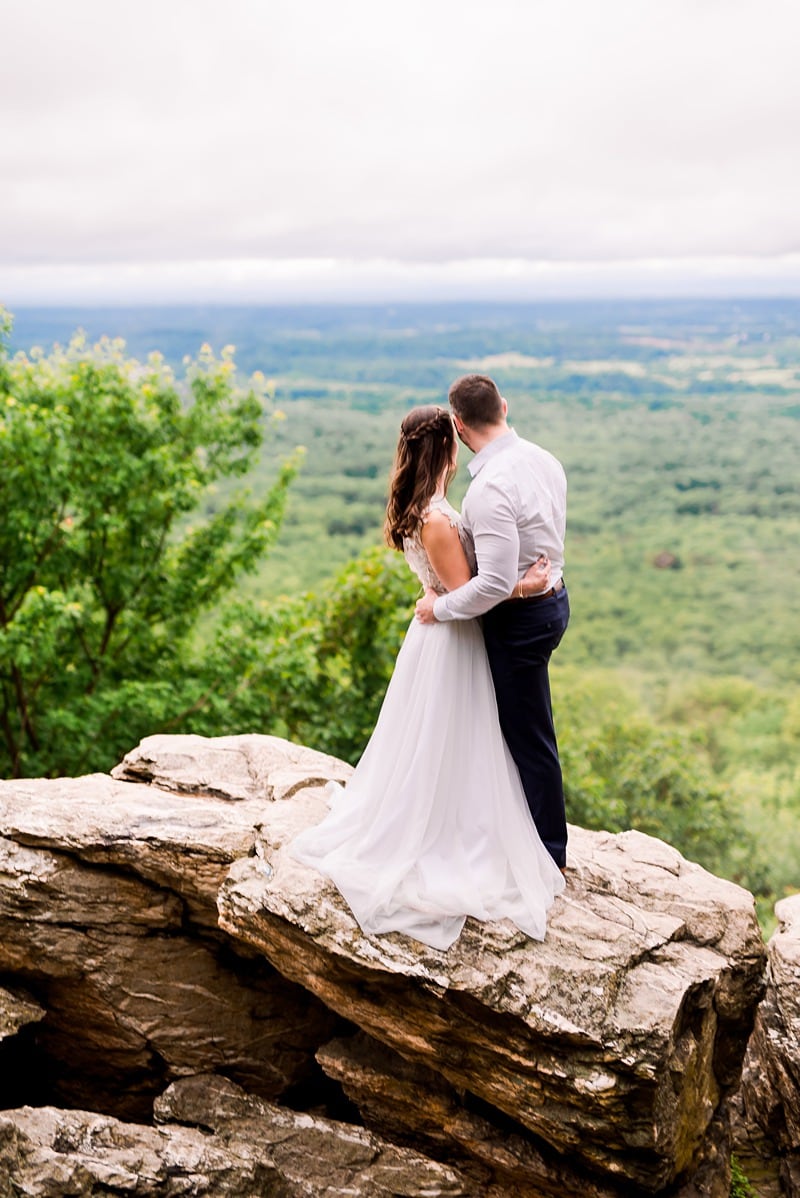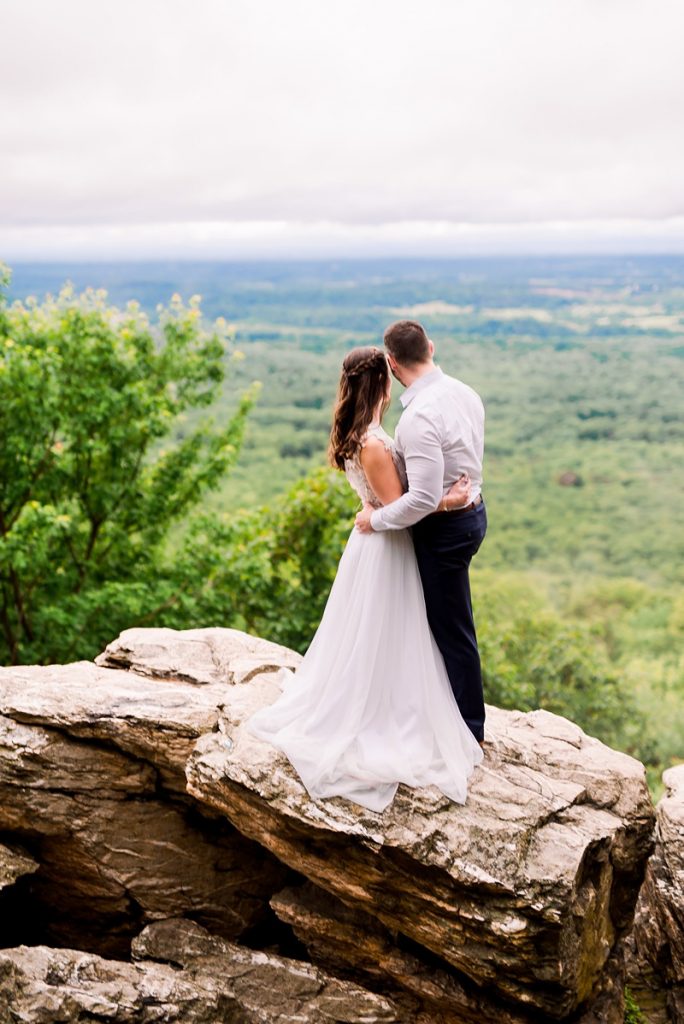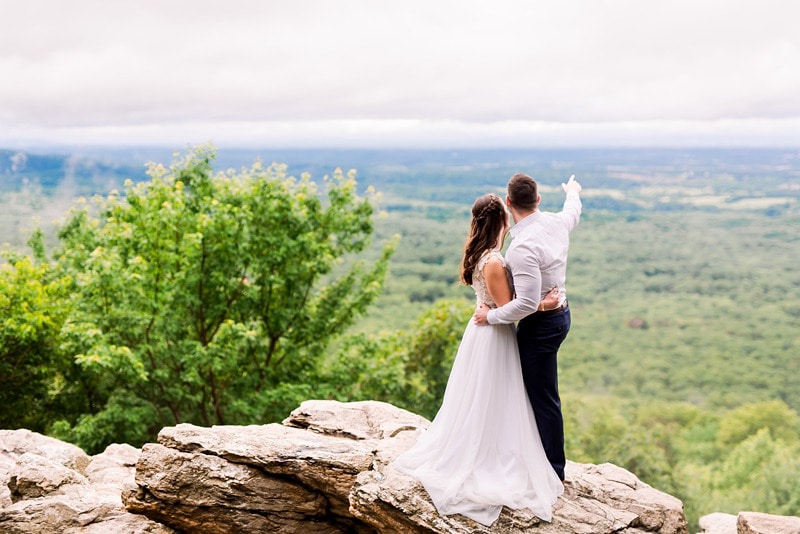 ARJ Productions on their Inspiration Behind this Styled Shoot
We chose this stunning overlook in the Shenandoah Mountains with picturesque scenery and captivating views of the Shenandoah Valley for our styled elopement shoot. Our couple, Michael and Amanda, have been together for years and are a fun loving couple with a passion for the outdoors! And when the photographer, Maddy Williams, discovered this hidden wonder while she was on a hike with friends she knew it would provide the perfect backdrop for a style shoot. Farida Floral took our vision of magnificent pops of colors and truly brought it to life.
What was your design inspiration?
Our design inspiration was the natural look of this spectacular overlook in the Shenandoah. The rich greens, colorful hues of florals and blue skies were the basis for our vision. We went with an organic, bohemian feel for our bride with her dress, hair and makeup look. Our florist created an oasis in the woods with magnificent pops of jewel-toned flowers nestled in one of the trees found right in the middle of Bear's Den Overlook, our outdoor venue. Our invitations were made on natural cotton papers and hand painted with deviled edges and a gorgeous watercolor interpretation of the landscape. The bride's engagement ring was a one of a kind flower shaped diamond.
Describe your flowers.
Our floral look was bohemian and colorful and featured bright hues of pinks, reds, oranges, and greens. We mixed real cabbages in with vibrant roses to create a unique and organic look. Florals cascaded through a duet of thin trees at the overlook which provided the perfect backdrop for our bride and groom. The bridal bouquet was a loosely tied combination of jeweled tone flowers with flowing strands of satin ribbon tied to the stems.
Describe the cake.
Our cake was a simple and elegant three-tiered sweet almond cake with white fondant icing on each layer. We used accents of eucalyptus and some simple pops of colors to coordinate with our natural theme.
Tell us about your attire choices.
Our groom selected his own blue suit to perfectly illustrate how a styled elopement can be a more casual and organic way of getting married. The bride wore a lovely free flowing two-piece dress from Sweet Caroline Styles with accents of Chantilly lace and a soft chiffon white skirt.
Vendors:
Photography: Maddy Williams Photography
Ceremony Venue: Bear's Den Overlook
Floral: Farida Floral
Stationery: Third Clover Paper
Wedding Cake: Cakes by Wanda
Wedding Planning: ARJ Productions
Hair & Makeup: Best Face Forward
Jewelry: quest fine jewelers
Bridal Salon: Sweet Caroline Styles