Interested in destination weddings in Costa Rica? This is your ultimate guide to some amazing venues perfect for destination weddings in Costa Rica. Choosing the perfect location is not an easy thing to do. It's a relatively small country, but boy do they have options for different types of accommodations to fit every different personality and taste.
Whether you prefer the seclusion and luxury of a private villa rental, the fuss-free convenience of an all-inclusive resort, or the more rustic, authentic experience of a boutique hotel, this guide has it all.
Private Home/Villas ideal for Costa Rica Destination Weddings
A lot of couples planning destination weddings in Costa Rica often choose Villas for their guest accommodations and their ceremony. For some, it feels like a more authentic experience than the more sterile environment of a big resort. Others love them because you get more privacy and seclusion without sacrificing luxury.
Renting a private home or villa is also a really unique opportunity for those guests who might be more used to a hotel or resort. And as an added bonus, these types of accommodations are usually more cost-effective for large groups of people than booking individual hotel rooms.
Another advantage of private villas is that you have a blank canvas and get to really personalize your big day as opposed to choosing from a resort's pre-packaged cookie-cutter weddings.
There are a few drawbacks to renting villas for destination weddings in Costa Rica. For one, you have to hire all the vendors on your own or a wedding planner to help you. Some brides complain that after the ceremony they didn't truly experience a reception because their guests felt at home so they kicked off their shoes, changed into their comfy clothes, and just hung out on the couch.
You have to weigh the pros & cons when deciding if this is the right type of venue for you. If you decide to go in this direction, you'll be happy to know that there are some really breathtaking villas where you can truly experience what this piece of paradise has to offer!
I gathered a list of favorite private home/villa rentals from couples who had their destination weddings in Costa Rica.
Casa Faro Azul
I have so much to say about this spectacular villa that I wrote an entire post about it so make sure you check it out to see photos, videos, and a real wedding at Casa Faro Azul. You can thank me later.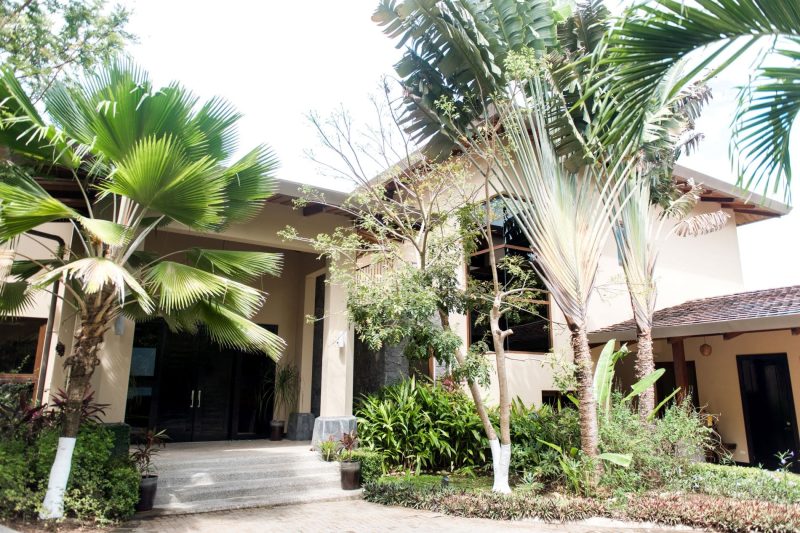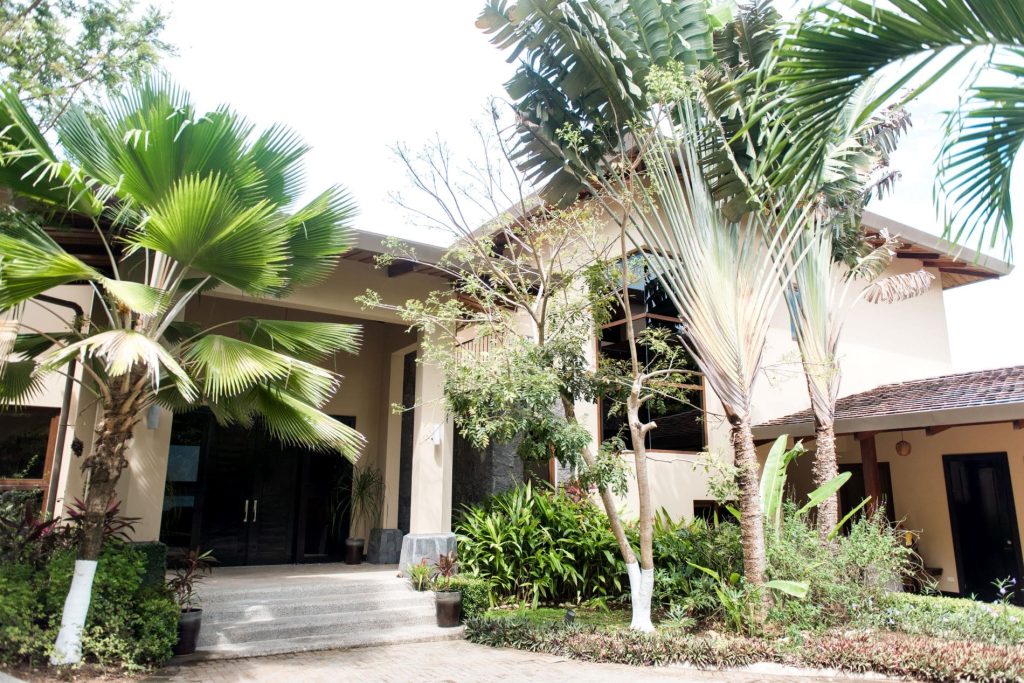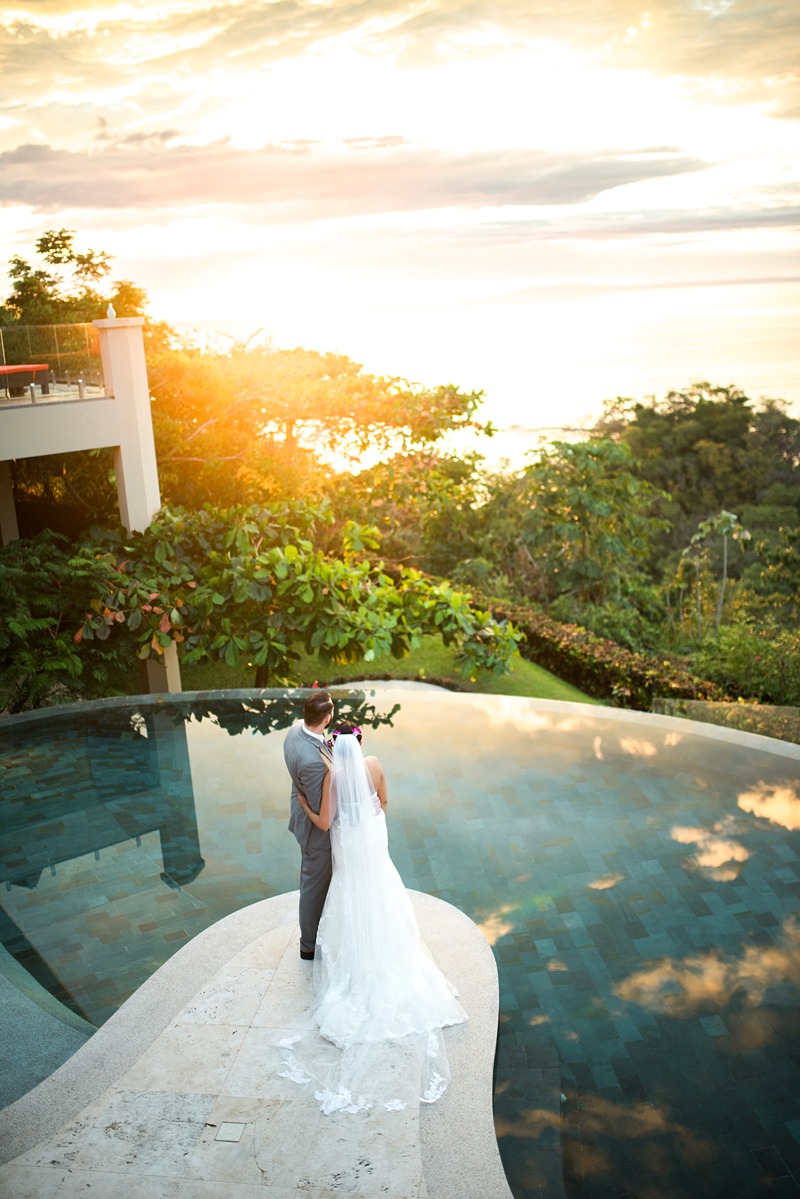 Casa Fantastica
This means Fantastic House in Spanish – and by the looks of it they couldn't have found a better name for it. Almost everywhere I searched, and everyone I asked mentioned this luxurious villa as a favorite.
It is a secluded, ocean-view, 3-story home located in Manuel Antonio. It has 8 bedrooms/8 baths, an infinity pool, jacuzzi, gym, indoor & outdoor dining areas, and many other luxurious amenities. The view from the pool is amazing and a great place for a reception.
Casa Nova Estate
Also located in Manuel Antonio, this is another favorite. It has 4 bedrooms, 4 baths and is surrounded by 4 acres of tropical gardens. It is the most private of all the vacation homes in the area, making it perfect for smaller more intimate destination weddings in Costa Rica.
Casa Las Brisas
Another Manuel Antonio gem, this 5 level (yes five levels!) home has sweeping and amazing ocean views. With 9 bedrooms/9 baths and a 750 square foot roof-top deck, it's one of the larger homes in the area making it a great option if you're expecting a few more guests.
Castillo del Sul
This 8 bedroom property is located in Dominical on top of a tropical cliff, offering panoramic ocean views.
Villa Cascada
This villa is pretty impressive. Anyone planning destination weddings in Costa Rica with more than 30 guests will love this venue. Not only is it all-inclusive (a rare find) but it has 16 private bedrooms! They have a ton of amenities like an infinity pool with a waterfall, jacuzzi, three fully stocked bars, and a full-time staff of 9 people. It's located just a few steps from the black sands of Ocotal Beach.
I found this great website with a listing of some really awesome villas all over Costa Rica. Check it out at VillasCostaRica.com/weddings
All-Inclusive Destination Weddings in Costa Rica
If you're one of those people who want a fuss-free experience, where you can arrive, lock up your wallet, and have nothing else to worry about for the rest of your stay, then an all-inclusive resort might be just what the doctor ordered. You won't find a huge selection of all-inclusive venues for destination weddings in Costa Rica, but they do have a few gems that offer unlimited food, drinks, and fun!
Hotel Villas Sol Playa Hermosa
This all-inclusive resort is located in the Guanacaste area of Costa Rica. It is a beautiful and luxurious all-suite resort surrounded by rainforests and beaches – it's perfect for destination weddings!
Check out a real destination wedding at Hotel Villas Sol Playa Hermosa that we published.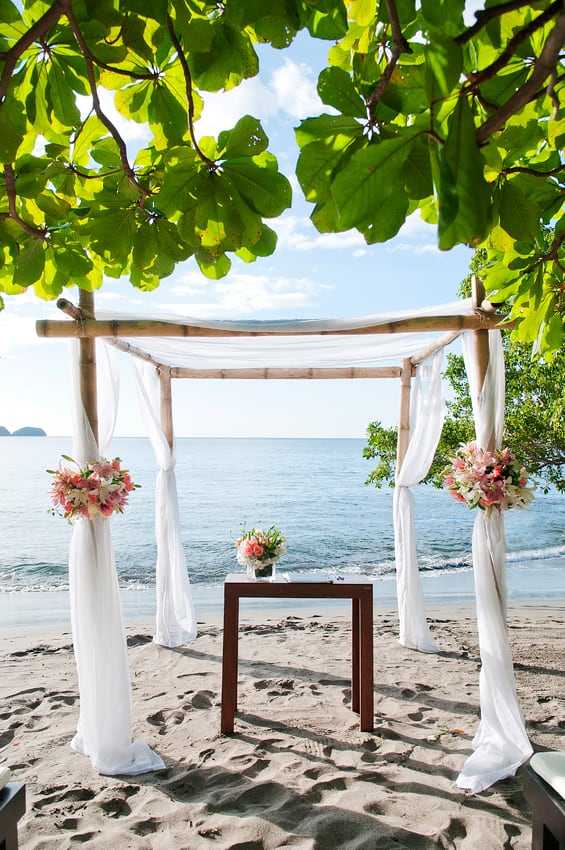 Occidental Grand Papagayo
Located in the Papagayo area of Costa Rica, destination weddings at this luxury resort are very popular for couples seeking an all-inclusive setting. The property has some pretty stunning ocean and sunset views.
If you book 10 or more rooms for at least 3 nights, you can have a free basic package for 20 guests that includes an on-site coordinator, ceremony décor, floral arrangements, bouquet & boutonniere, judge, and document services, cake, champagne toast, and breakfast in bed. They also have a few other packages you can choose from or customize.
For those looking to have affordable and laid back destination weddings in Costa Rica, the Allegro Papagayo, Barcelo Langosta and Hilton Papagayo are all fantastic options.
Boutique Hotels for Intimate Destination Weddings in Costa Rica
While Mexico and the Caribbean have mastered all-inclusive resorts, Costa Rica is the land of eco-chic boutique hotels.
Here are just a few top picks.
Villa Caletas
Villa Caletas is one of those luxury boutique hotels that offers a magical backdrop for destination weddings. This resort is perched on a rainforest hilltop, 1150 feet above the ocean, and has stunning panoramic views of the mountains and crescent beaches of Jacó, Herradura. And the sunsets? All I have to say is wow. Your pictures will speak a thousand words!
They have an on-site coordinator and a number of pre-set packages you can choose or add special touches to. The real draw is the spectacular venues within the hotel that can host your ceremony/reception.
When most people think of destination weddings in Costa Rica they imagine a barefoot ceremony on the beach but this hotel has so much more to offer!
If you don't want to set foot in the sand and have instead been dreaming of a Costa Rica wedding destination on a hilltop with breathtaking ocean and mountain views, then you'll love this hotel's amphitheater where you can exchange vows amidst an absolutely amazing view!
Luxury Non-Inclusive Resorts perfect for Costa Rica Destination Weddings
Los Suenos Marriott Ocean & Golf Resort
This resort is located in Herradura, Costa Rica, and surrounded by gorgeous tropical rainforests and a great ocean view. Couples who got married there love it because of those absolutely beautiful gardens. It was even chosen by Travel & Leisure readers as one of the Worlds Best.
JW Marriott Guanacaste
The JW Marriott is a relatively new resort in a wonderful, quiet location near Tamarindo. It has a ranch look with an antique feel and a very beautiful, but busy pool.
Couples love it and the resort has responded to the tune of up to 5 destination weddings in the same day (a no, no for many brides looking for exclusivity on their big day).
A couple of other favorites are the Four Seasons Resort in Guanacaste and Cala Luna in Tamarindo.
So there you have it – a selection of venues that have hosted many beautiful destination weddings in Costa Rica.
More Costa Rica Wedding Planning Posts